When building our eBay dropshipping store, eBay product research is one of the most critical steps. This includes researching which products are most profitable, will sell the best, and generate high revenues. Plus, there are many dropshipping suppliers and other key factors to consider. Thus, naturally, there will be a few metrics to take into account when conducting product research.
However, although the product research might be tasking, there are tools to help us with the process. With eBay product research tools, we're able to easily discover key product metrics and analyze the data. These metrics and data help us make the right decisions for our dropshipping store. With that said, an eBay product research tool will enable us to scale our profits.
With this in mind, in this article, we'll explore an extremely useful eBay dropshipping tool; Zik Analytics. We'll provide a step-by-step guide to navigating the platform along with exploring the key benefits of using Zik Analytics. 
What Is Zik Analytics?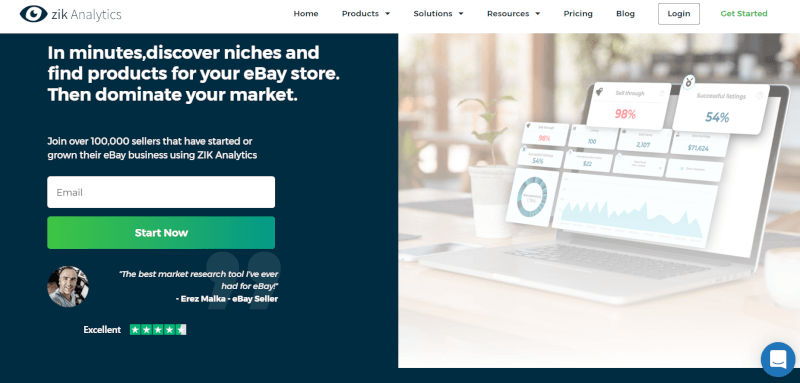 Zik Analytics is an eCommerce analytics platform designed for eBay users that collects key insights for eBay products. As an eBay dropshipping tool, it helps us find products to sell on eBay. The platform allows us to automatically find the best-selling hot products on eBay in order to grow our dropshipping store and increase profits.
Notably, identifying profitable products and niches is key and with Zik Analytics we can do so with ease. On top of that, Zik Analytics provides us with key metrics to help us conduct eBay product research. This helps us easily understand what products are working well and why.
Keeping in mind that the eBay product research is backed by sales data, the product choices we make with the help of Zik Analytics will lead to substantial sales. Now, we'll be able to find low-competition, high-demand, high-profit items and sell them in our dropshipping store.
How To Use Zik Analytics To Find Products To Dropship On eBay
So, now we know that Zik Analytics offers us multiple ways to find trending products on eBay for our business venture.
With tools like product research, competitor research, category research, and keyword and title optimization, Zik Analytics might be our magic bullet. As such, it will help us improve our eBay dropshipping store and increase profits. It even offers an updated list of 500 best-selling eBay items.
Moreover, to understand just how useful Zik Analytics can be we'll take a look at all the tools before diving deeper into their Product Research tool.
Competitor Research Tool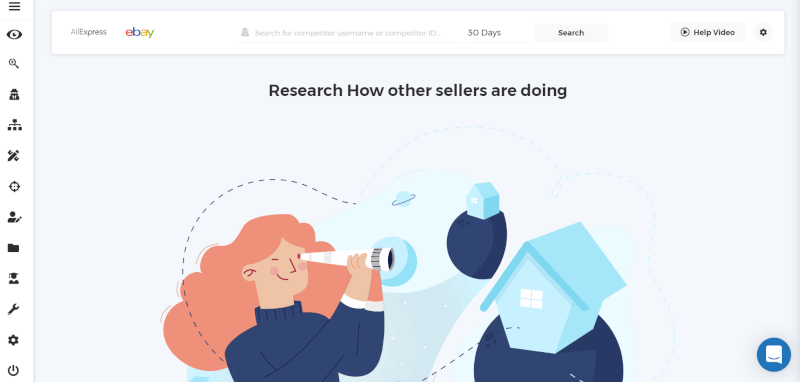 With Zik Analytics' Competitor Research Tool we'll be able to stay one step ahead of the competition. With this tool, we're able to scan any eBay seller and get inspiration for new product listings.
Moreover, we'll be able to see what products are selling well for our competitors and why. Consequently, we can learn what strategies are helping our competitors thrive on eBay and learn from them for our own dropshipping store.
Category Research Tool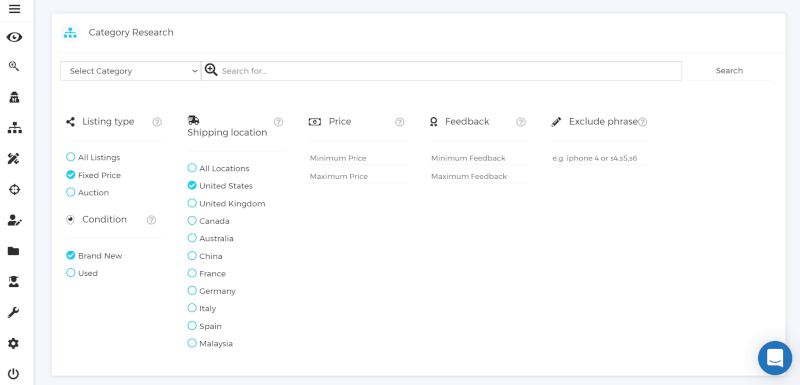 Next we'll take a look at the Zik Analytics Category Research tool. This tool shows us what categories are booming and profitable. It follows metrics like the total sales on eBay, average product price, sell-through rate, and selling trends from Google to showcase any category's selling potential.
Moreover, once we figure out a category with good selling potential, we can dive deeper into the niche. This way we'll be able to find the top-selling products and highest-ranked listings.
Keyword & Title Optimization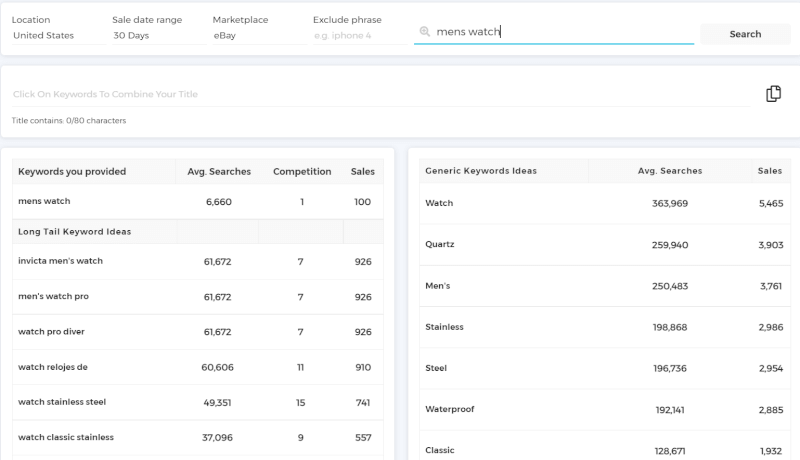 Now, let's take a look at Zik Analytics' Title Optimization tool. In order to rank higher on the eBay search page or even get on the first page of the search results, we'll need to optimize our title. Zik has a tool that scans the best keywords for any eBay product, sorted by the number of competitors and sales. Then, it uses data to build titles that rank our products high and drive sales to your listings.
At last, let's dive into how to fill our eBay dropshipping store with hot products. With Zik Analytics Product Research, we'll be able to get sales data that will showcase which products have good selling potential. As such, we'll be able to filter by sales, price, and feedback to track down the best-selling and high-profitability items that we can then export to our store.
With this in mind, let's go through a step-by-step process that will help us best navigate and leverage Zik Analytics' Product Research Tool:
Step 1: Create An Account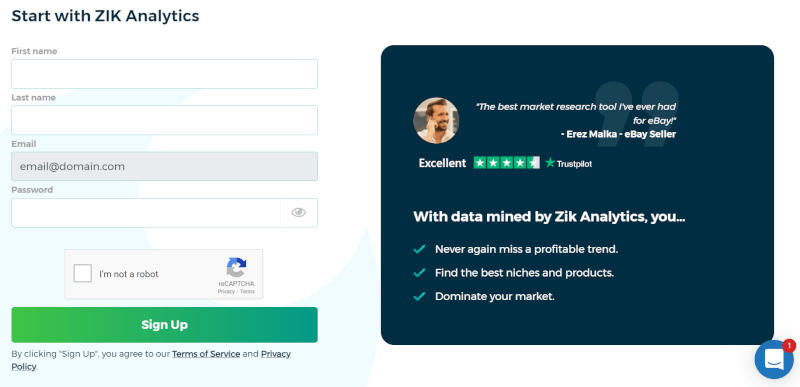 First, we'll need to create an account on Zik Analytics by simply filling in basic details like email, name, and password. Additionally, we'll need to link our store after creating an account. But, don't worry we'll explain this further in the steps below.
Step 2: Navigate To The Product Research Tab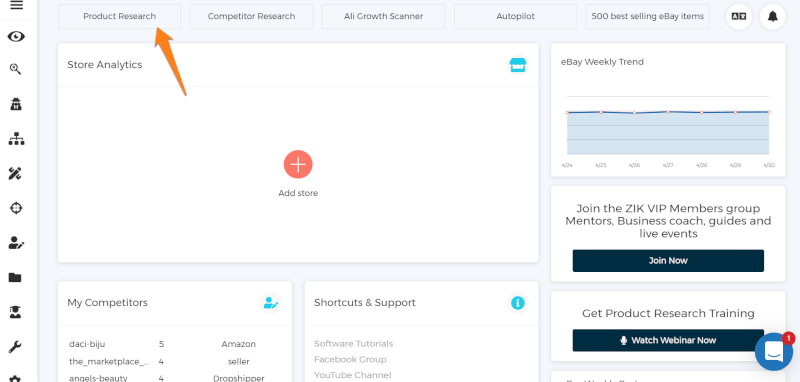 Now, once we've registered, we'll see a dashboard on our screen. We'll then navigate ourselves from the dashboard to the upper left corner where we can spot the Product Research tool.
Once we're there we'll be able to adjust various aspects. For example, the shipping location, price, feedback, listing types, etc., and find the best selling products within our set parameters.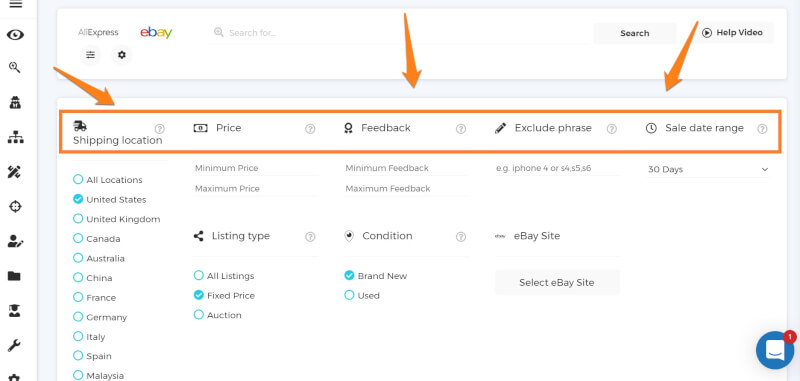 Additionally, this tool is beneficial because it helps us validate our product ideas by backing them with sales data. In addition, it helps us find our niche. Building a niche is important because it helps us build an audience and it makes it easier to list better products for our ideal customers.
Furthermore, it analyzes the best match result on eBay. What this means is that the eBay algorithm decides for us what would be a best seller for us based on our search, for example, "protective phone glass". Now, on this product page on eBay, when customers search for the products we sell we need to rank high.
Consequently, this will help us drive sales and increase profits. In fact, this is where Zik Analytics comes in to help us through the process. It feeds us the necessary information we need to choose the most profitable products and rank higher so that buyers purchase our products.
Step 3: Search For A Product
Since we have now made our way to the Product Research tool, we can utilize the search bar from the same tab in the previous step. We can locate the search bar at the top of the page to look up the product we're interested in selling. However, if we don't know what product we want to search for, we can utilize the eBay best seller tools that we will discuss later on.
As a demonstration, we can search for a protective phone glass. The metrics for this product will be analyzed in more detail in Step 4. After we search for a protective phone glass we can see all the insights that Zik Analytics provides. Then we'll analyze the listings in order to come to an informed decision about what we will list in our store. It gives us the sell-through rate for our chosen item which shows how fast items are selling. The higher the sell-through rate, the better.
Then, an important metric to consider is the number of sold items as well as the sales earnings for that product. These metrics are important to us because they show us the product's selling potential. It also gives us the average price that helps us get a better idea of how to price our own listing for a protective phone glass.
Furthermore, it shows a very helpful and useful graph of the sales fluctuations over the past few months.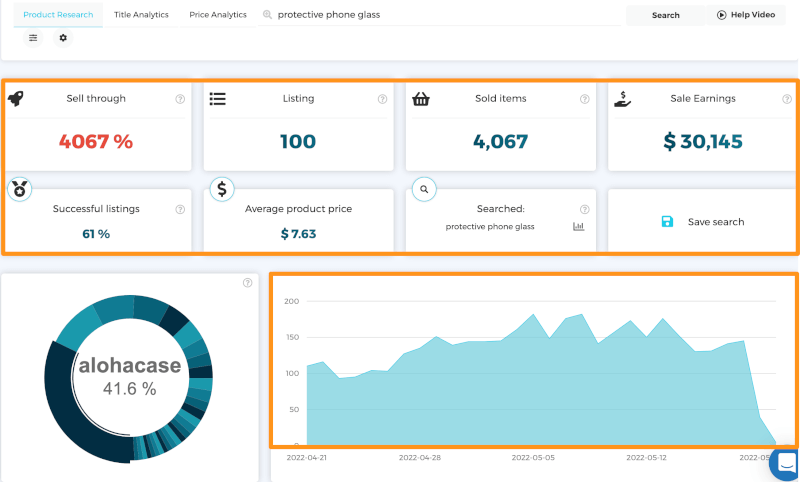 Top 100 Product Entries Tool
However, the metrics don't stop there. Then, we continue further down the page to check out the top 100 entries for the product, in our case the protective phone glass. This list also shows the number of sales, price, and location for the listing.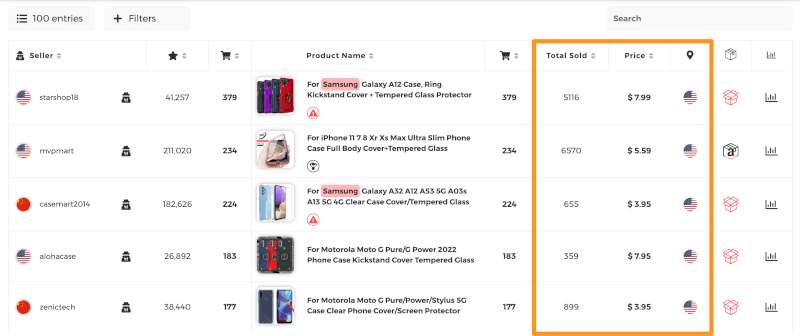 These metrics help us get a better understanding of the product, its performance, and profitability. Additionally, the location gives us insight into the market performance which will help us with audience targeting.
Step 4: Analyze The Key Insights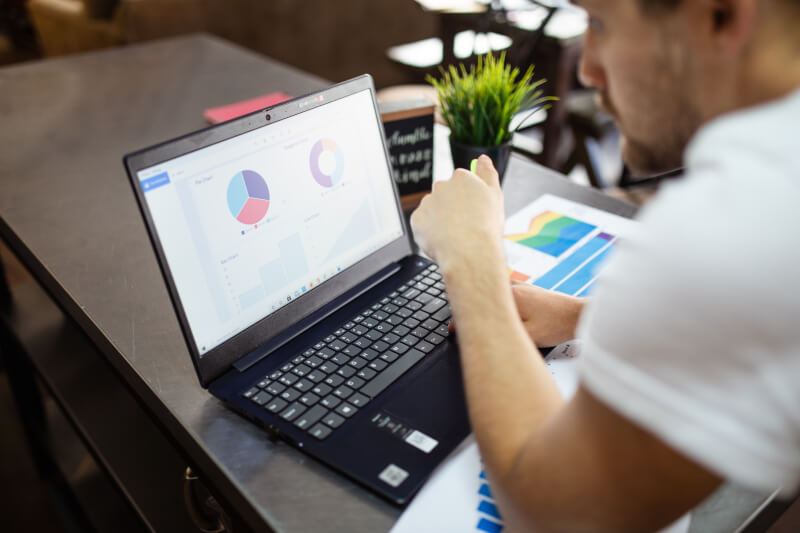 Now, our process continues with analyzing the data that Zik Analytics has given us about our chosen product.
First, let's look at the sell-through rate. The sell-through rate shows how fast a product is selling. So for example, if a product, like the protective phone glass, has a sell-through rate of 4027%, that means that each listing has gained approximately 40 sales.
Second, an important metric to consider is the number of sold items. This metric shows the total amount of sold items from the listings being analyzed. This gives us an idea of what the selling potential is for this product.
Additionally, if we follow the graph we can also see the fluctuations in sales over the months which will also help us learn the selling potential and trajectory. With this data, we can analyze the success of a chosen product.
Third, we'll look at the sales earnings and average price of the product. This will help us optimize our pricing compared to the competition as well as keep up a solid profit margin. For example, if sales earnings are low it means we're most likely not going to be able to earn higher profit margins and vice versa.
Importantly, these metrics are crucial for us because they show us the overall performance of the product we're interested in listing. Consequently, the product's performance is directly related to our future success in selling this product in our dropshipping store. 
And lastly, we can go over the top 100 listings and check out their metrics. This allows us to research and compare the listings and see what's working and why. With this information, we'll be able to create a lucrative listing for our dropshipping store that will drive sales.
Step 5: Click On Amount Of Feedback Filter

Moving on to the next step in the process, which is checking the amount of feedback with a filter. We will be able to locate this filter as a star icon in the table with the top 100 listings. This will filter out sellers with the highest and lowest amount of feedback.
This is a continuation of eBay product research as it helps us do a form of competitor research. It helps us understand what is working well for competitors so we can adopt a similar strategy and optimize it even further.
Moreover, from this filter, we can see if the seller is a new seller. If the seller is a new seller and they're already succeeding with a product, we can see why they've seen such success. In fact, as a new seller, it's usually harder to bring in lots of sales. However, if someone is seeing great success in their sales it means that the product has a lot of potential. With this in mind, we should pay attention to this data and utilize it for our own store growth.
But, even if the seller is not a new seller and they're seeing great success with a certain product, that's proof that the product is profitable. Consequently, we should consider listing the product ourselves as it has shown great sales and earning potential. This helps us understand how and whether we can achieve good profit margins.
On top of that, we can also see how many times the product is sold, the price it sells at, and the market region. This information gives us a solid ground on which we can build our listing strategy.
Step 6: Compare The Profit Potential
To demonstrate how useful Zik Analytics really is on a whole different level, let's check out the 500 Best Selling eBay Items tool and the Amazon Turbo Scanner. We can find the Amazon Turbo Scanner once we go into the 500 eBay Best Seller tab.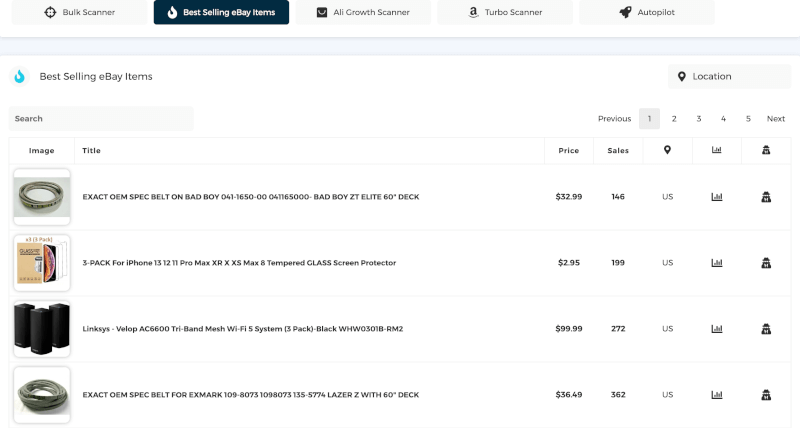 We can utilize these tools to find the profit potential for a product that we want to sell in our dropshipping store. By taking this step we can compare the average price of our selected item on eBay and the average price of that same item on Amazon.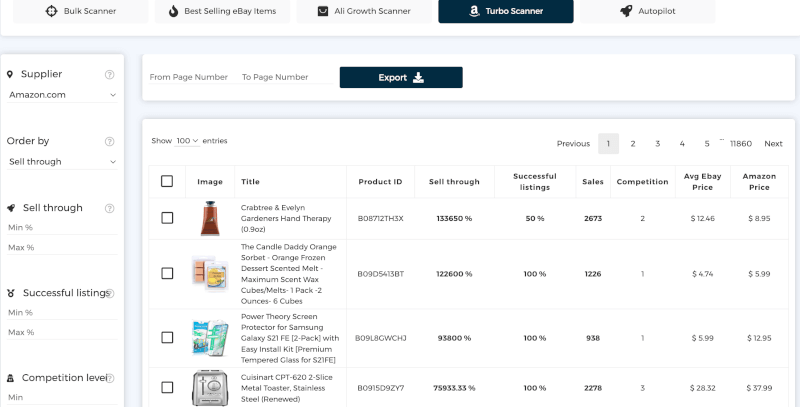 On top of that, an additional step we can take to ensure that we maximize our profits is to utilize the AutoDS eBay Fees Calculator. The calculator helps us calculate our eBay selling fees when we want to list an item. What this will do is help us know what our break-even point and profits are. Additionally, it will help us understand how much we should price this product.
Comparing Profit Potential Between Listings
For example, let's take an item from these tools (Amazon Turbo Scanner or Bestselling eBay items) and compare the price on eBay and Amazon. Let's say we take the example of a men's watch. On eBay, the price for this item is approximately $56.14.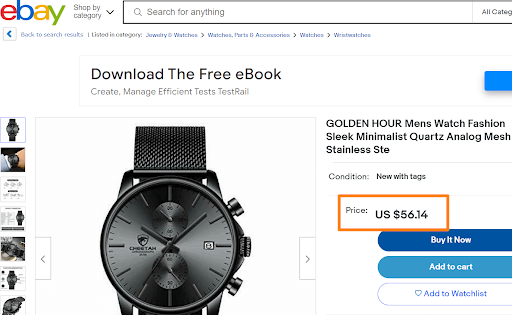 However, when we look at the price of the same item on Amazon, we can easily see the difference in price. On Amazon, the same men's watch is close to $38. Although the selling price is lower on Amazon, we have a better chance of profiting from eBay as we can price items higher and remain competitive.
This enables us to buy low and sell high. As such, we can clearly find the profit potential we can leverage from listing on eBay by using Zik Analytics.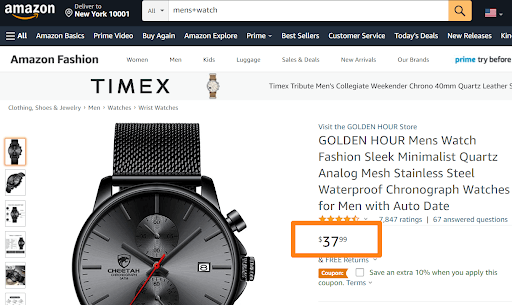 Consequently, by listing on eBay and finding the optimal price for our product listings, we'll be able to enjoy higher profit margins. With this in mind, the convenience of using Zik Analytics is unmatched due to all of the information it provides us under one screen.
How To Add Profitable Products To Your Dropshipping Store
Now, after we've found our perfect niche and products from Zik Analytics, we need to add them to our dropshipping selling channel. Notably, Zik Analytics integrates with AutoDS where we can add our products and automatically list them in our dropshipping store.
With that being said, by easily importing our researched best-selling products to our AutoDS store, we'll be able to start earning money with little to no time investment. This is due to AutoDS automating the dropshipping process for us.
Let's look at the step-by-step integration process:
First, we'll need to add the AutoDS store to Zik Analytics. To do so, we'll open the "My Setting" section from the Zik Analytics platform.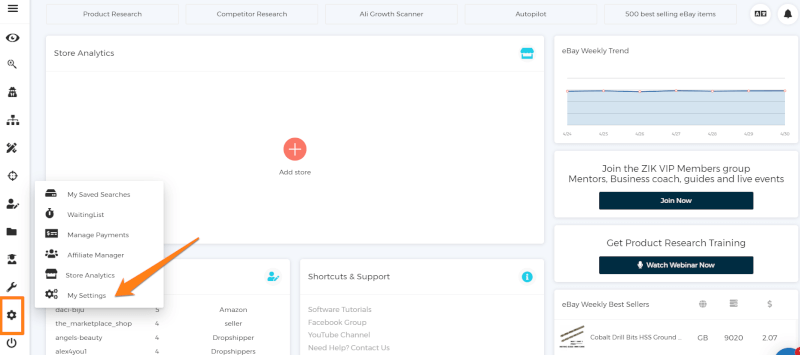 Then we'll locate and click on the 'Integrations buttons' which we'll find in the top right corner. We'll then follow that by clicking the 'Choose Type' button.

From here we'll choose AutoDS and then click "Connect AutoDS Store". We have now integrated AutoDS with our Zik Analytics dashboard.

Uploading Products From Zik Analytics To Your AutoDS Store
Now, once we've added AutoDS to our integrations, we can then move on to finding the best products and adding them to our AutoDS store. After taking the steps above, what we'll do next is go back to the Product Research tool and search for a product that we want to list.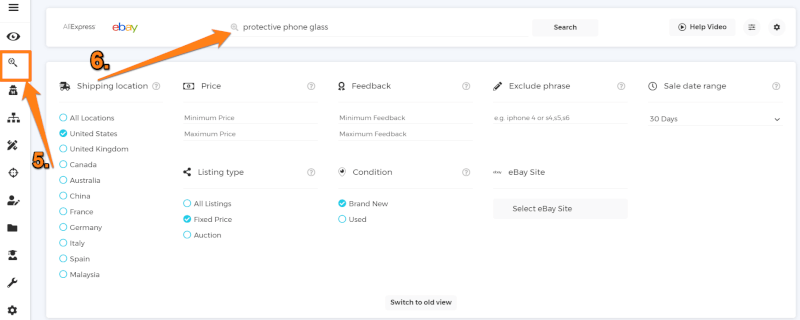 Since we're on the dashboard for our chosen product, we'll scroll down below the graph and find the list of the top 100 listings. We'll proceed by clicking the box icon on the right of the table.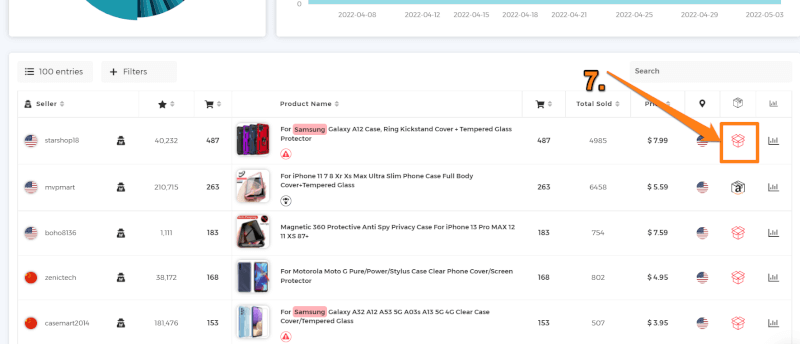 We'll choose the listing that best fits our store and open a folder where we can collect all similar products. If we're adding an item to an existing folder, the folder will appear in this section.

Once we've added the item to our folder, it will appear in the My Products section. In this section, we can see all of the folders we've made filled with our selected items.

For our next step, we'll open the folder we created and select the item by checking the empty box on the left of the listing. Then, at the top, we will see the option to 'choose our store'. We'll click on that and choose AutoDS. 
Next, in that same row, we'll find the 'Upload Selected' button and conclude the process by uploading our product to our AutoDS store.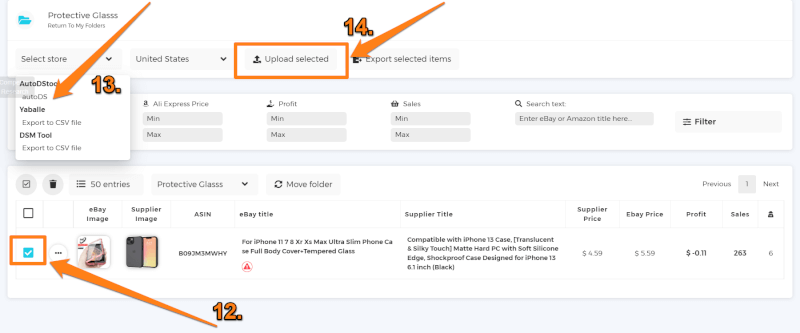 We'll then be able to find our imported listing on the drafts page of our AutoDS store. From here we can use AutoDS to automate our product importing process.

Product Optimization 
Once we've found our item in the 'Drafts' section, we can then click on the arrow next to the 'Import" button. Now, we will find ourselves in the editor where we can optimize our product.
First, in the 'Product' section we can control the title and improve our SEO, as well as setting our optimal tags. Additionally, we can edit the location, shipping methods and brand.
Moving on, we can go down the line of optimization options and take control of our listing into our own hands. With that being said, by utilizing the rest of the tools we can control and optimize our description and item specifications. In addition, we can also control and edit our product variants and images.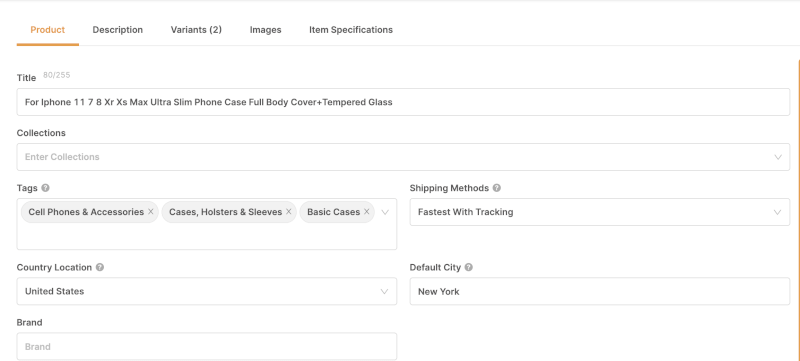 Now, after we've optimized our product using AutoDS, we can finalize the process by clicking the 'Import' button. Once we import our product to our dropshipping store, the item will move from 'drafts' into the 'products' section. Finally, after we've done that, our product will be live in our store and available for purchase.
Scale Your Dropshipping Business With Zik Analytics & AutoDS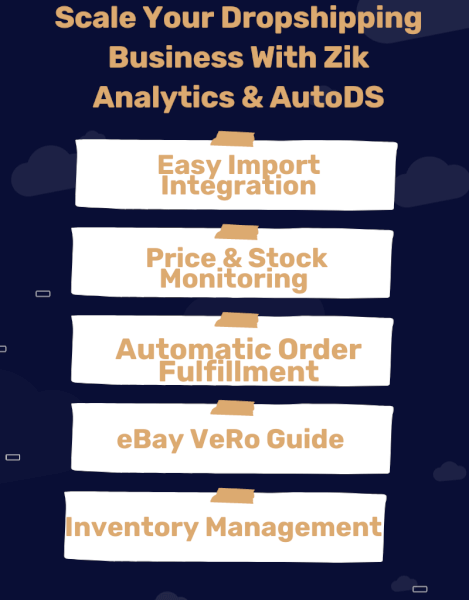 At last, we've set up our AutoDS integration and learned how to navigate through the process of doing eBay product research. By using Zik Analytics we'll be able to find the best-selling and most profitable products on eBay. With this, we've taken the first step towards building a dropshipping store that will generate sales and profit. However, after finding the hottest and most profitable items for our dropshipping store, we're now ready to scale our business.
In fact, one of the best ways to scale our dropshipping business is by automating it. Manual dropshipping can get complicated, laborious, and time-consuming. In contrast, using an automation tool like AutoDS will save us a ton of time and effort that goes into running our own dropshipping business. AutoDS does the work for us while optimizing our stores by reducing errors in importing products and order fulfillment.
With that being said, let's take a look at some of AutoDS' automation tools that will enable us to grow our business to new heights:
Thus, by combining Zik Analytics and AutoDS we'll have a winning combination. This will give us the best support to grow our dropshipping business. In fact, these platforms not only support our store but improve it as well, which will drive sales and translate into high-profit margins.
Frequently Asked Questions 
How Can I Find Products To Sell On eBay?
By using Zik Analytics we'll be able to find the best selling and most profitable products to sell on eBay. Through their eBay Product Research, we'll get the necessary metrics to help us find the best items for our eBay store. Be sure to check out this article for a more detailed explanation of finding products to sell on eBay. 
What Are The Best eBay Dropshipping Tools?
Some of the best eBay dropshipping tools include Zik Analytics and their Product Research tool, their Title Optimization tool, and Competitor Research tool. In addition, Zik integrates with AutoDS which has great eBay dropshipping automation tools. Make sure to read this article to learn more about the best dropshipping tools. 
How Can I Use Zikanalytics For Dropshipping? 
We can use Zik Analytics to do eBay product research, competitor research, and optimize our listing titles. Zik Analytics is used to better our dropshipping store by giving us all the necessary data and metrics. These metrics help us offer profitable listings and create great dropshipping strategies for our store. 
How Much Does Zik Analytics Cost? 
Apart from their free trial, Zik Analytics has a Pro subscription that costs $29.99/month; Pro+ is priced at $59.99; and Enterprise with a price of $89.99/month. In any case, whichever Zik Analytics subscription we choose, we'll be able to utilize the metrics to scale our business. 
Is Zik Analytics Good For Product Research On eBay? 
Zik Analytics is the best eBay dropshipping tool because it is created to do great eBay product research. It helps us find the best-selling, most profitable items from eBay and can export them to our dropshipping store. Be sure to check out this article to learn more.
Conclusion
Finally, we are equipped with all the tools necessary for our eBay dropshipping business. With an eBay dropshipping tool like Zik Analytics, we'll be able not only to compete but to get ahead of the competition.
We're now ready to conquer the dropshipping world using the best eBay dropshipping tools like Zik Analytics and AutoDS. The support from these tools is unmatched and will guarantee our long-term success.
In essence, there is no challenge big enough that we can't tackle with the proper support and dedicated effort. To help you out in your journey, check out these helpful articles and guides: