Whether you're a beginner dropshipper or already have multiple dropshipping stores, finding new profitable products to sell in your store can be a timely task.
Product research is a crucial factor in the success of your dropshipping business. That's why we make sure to share all the greatest methods and strategies.
One of the many tricks to finding hot products is to focus on a specific supplier and dive deep instead of a product or niche.
Today's article will show you how to significantly save time on your next product search and minimize product testing by taking advantage of Walmart's clearance section.
Keep reading to learn how to implement this method to find your next best-seller.
How To Find Trending Products In Walmart Clearance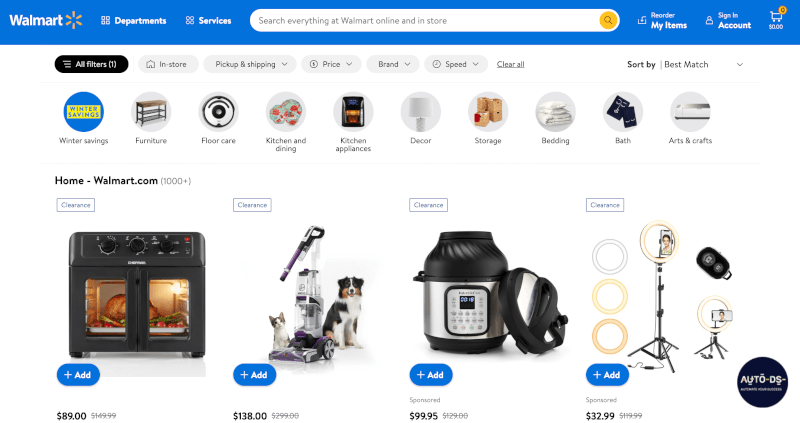 If you haven't used Walmart as a dropshipping supplier yet, now's the time to start. Besides their massive, diverse selection of products, Walmart is well known for its attractive deals.
Along with their generally low prices, Walmart offers a clearance section, making it even easier for us dropshippers.
So, how can we make the most of Walmart clearance and score killer dropshipping products?
Let's break it down.
Select A Clearance Category – You can choose a general product category or narrow it down to a niche and then a product category within that niche.

Sort By Best Seller/Match/Price – Filtering down using one of these three parameters will help narrow down your search and save you additional time.

Read Product Reviews

– Once you find an item and think it has potential, make sure to check reviews. You want to offer quality products that customers will be happy with, which can save serious headaches down the line.

Read Seller Reviews

– Even if you feel certain about a product, be sure to check the seller too. No one wants to deal with an unreliable seller.
By sticking to these four simple steps, you will be upgrading your product-finding process and have more time to focus on scaling your dropshipping business to new heights.
Save Time Importing Walmart Products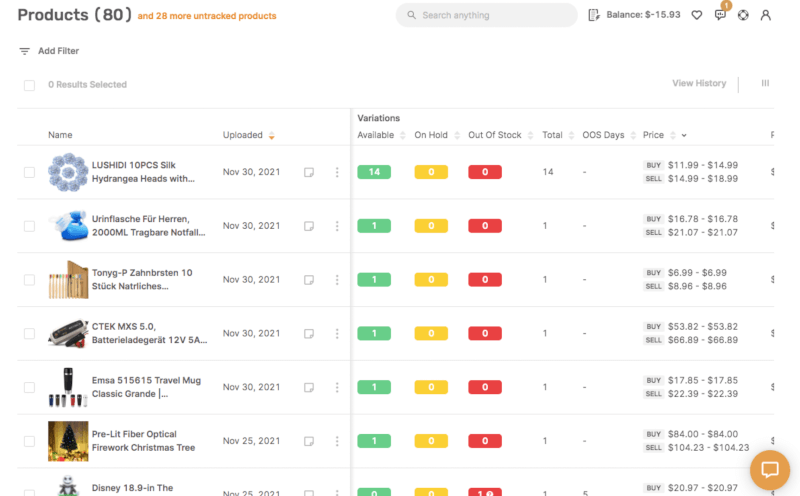 Now that you have a new way to find products, let's get into product importing. Manually importing products is fine when you're starting out, but to grow a big and successful dropshipping business, automation is vital.
That is why we've developed multiple time-saving importing solutions. The fastest way to add up to thousands of new products to your store in just a few clicks is by using our AutoDS Helper extension.
Here is a step-by-step guide on how to do so:
Start by downloading the AutoDS Helper extension. Once you have added it to your Chrome browser, go to Walmart's Clearance Section, and filter by a category, price, or any other filter option you prefer.
When you reach a search page with multiple items you'd like to start selling, look for the round AutoDS logo that will appear on the bottom right corner. That is our Helper extension.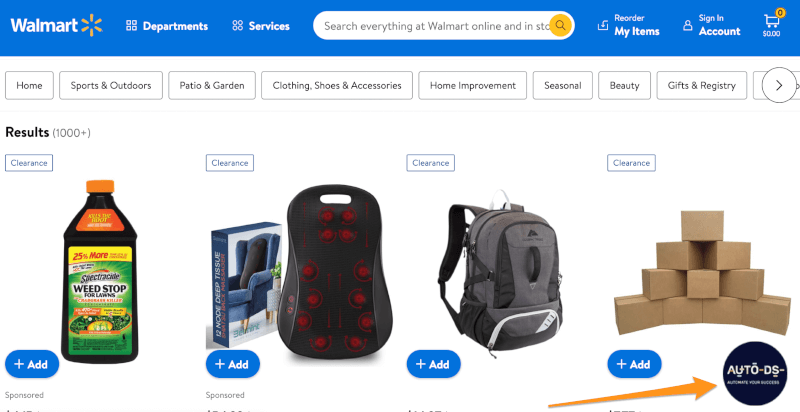 Activate the extension by clicking on it. As soon as you click, the extension will open up, and you'll see a few buttons.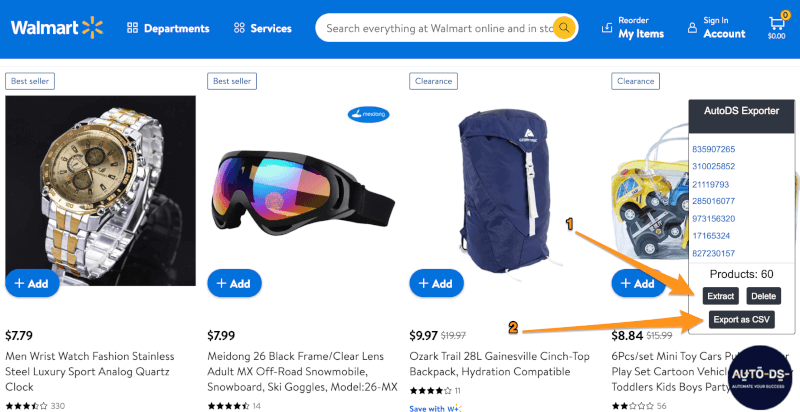 This is where the magic happens. By clicking 'Extract' followed by 'Export as CSV', the AutoDS Helper extension will automatically create a CSV file of all the products on your search page.
Within seconds you will have a ready-made file of all your new products to upload to your AutoDS account and then to your store.
Once the file is downloaded, head to your AutoDS account, click Add Products > Multiple Products > Upload CSV.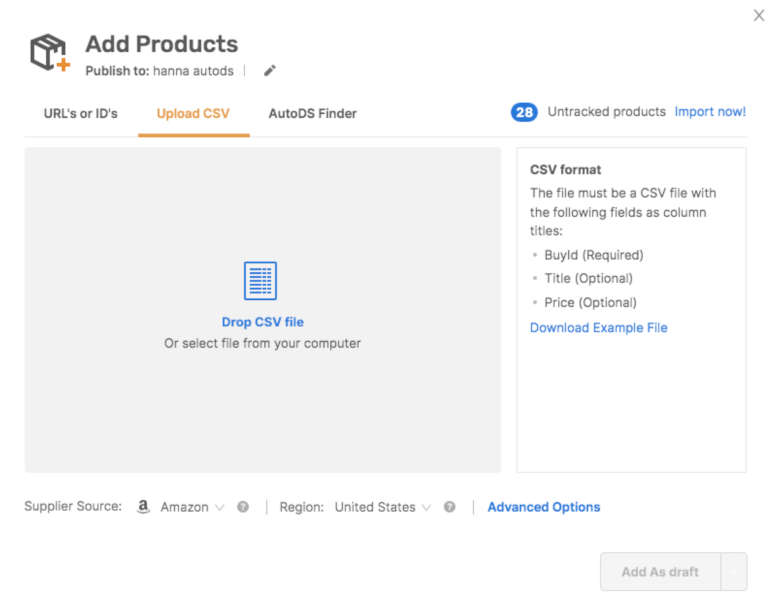 This is where you will upload your newly created CSV file. From here, there are two main importing options.
You can either import all your new products straight to your store, or to your 'Drafts' page on AutoDS.
By choosing to import first to 'Drafts', you can edit and optimize your product's title, images, description, specifications, and more.
Additional importing methods by AutoDS include:
Conclusion
When it comes to finding trending dropshipping products, there are countless ways to approach this task. Whether you choose to search by a supplier or prefer a niche-focused search, be sure to test multiple items to get the best results.
Another thing to consider is the number of suppliers you're using. One of the biggest mistakes dropshippers make is using just one supplier for their dropshipping business. If that is the case for you, don't be afraid to expand to more suppliers. This is a great way to start scaling.
For more product-finding strategies or dropshipping product recommendations, check out the following articles: