Looking for the best Halloween products to sell this season? Great timing! The holiday season is right around the corner, and to kick off the 2021 Q4, as always, we have Halloween up first. What started once as a Gaelic festival has now been celebrated by the western world for decades.
Besides dressing up, carving pumpkins, and trick-or-treating, Halloween has become a time for spending. It's no secret that industries capitalize on every holiday and all its related products, and Halloween is no exception.
This is a real treat for us dropshippers. By adding the right Halloween products to your dropshipping store, you can take advantage of the first Q4 holiday to rake in some serious sales and profits.
Additionally, Halloween is October 31st. If you haven't started adding Halloween products to your dropshipping store yet, now is the time. Although Halloween sales can be made even the week of, consumers start preparing in advance.
So what are the best Halloween products to sell in your dropshipping store to skyrocket sales in 2021? Keep reading to find out. In this article, we share the hottest trending products to get your customers into the spooky spirit.
Top 10 Halloween Products to Dropship in 2021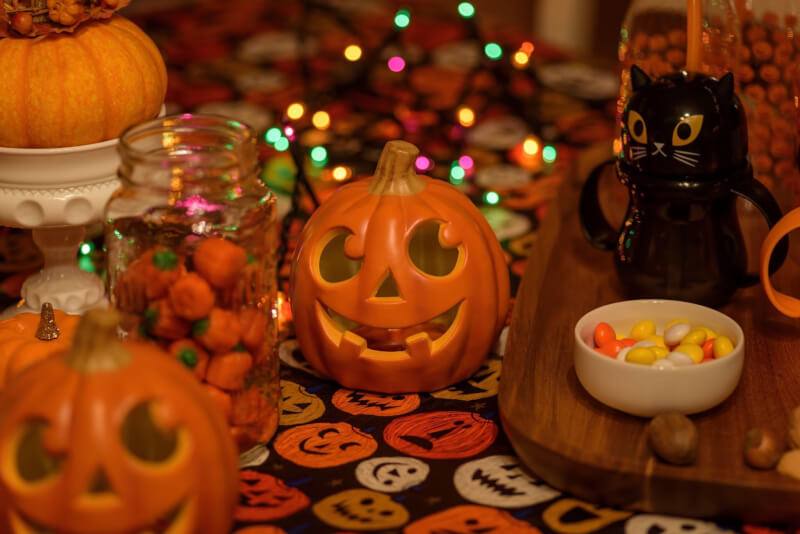 What comes to mind when you think of Halloween? Costumes, haunted houses, and candy, right? Well, there are plenty more strong product categories with several winning items to sell.
Don't worry; we narrowed it down to the top ten to save you time. We covered all the hottest Halloween sub-categories to find those golden nugs for you.
No one likes last-minute rushed shopping, especially around the holidays. This means if you wait until the last minute to add these products to your store, you're going to miss out on the best sales time.
So without further ado, here are the top 10 Halloween products for you to dropship in 2021. 
1. Halloween Costumes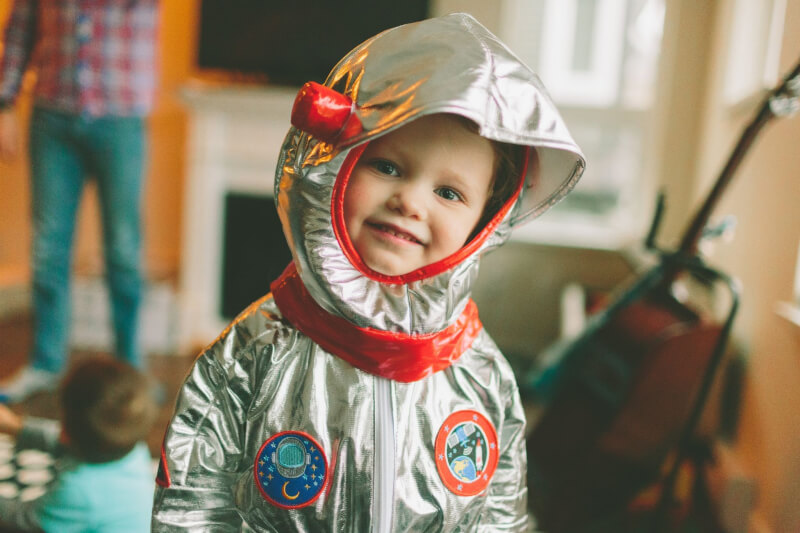 First up we have Halloween costumes. Costumes are a big part of the Halloween holiday, but not only.
Costumes are an actual trend and are a wonderful dropshipping product choice for a lucrative business all year round. That's due to the popularity of costume parties both for children and adults.
Since anyone can enjoy dressing up, it is critical to have something for everyone. This means selling costumes for women, men, and kids.
Niche costumes have become a popular trend with superhero costumes, group Halloween costumes, couple costumes, period costumes, historical costumes, costumes for pets, and family Halloween costumes are growing in popularity each year.
To assure your store a hefty amount of sales and high profits, dropship Halloween costumes. Here are two well sought-after costumes to have in your dropshipping store for this Halloween season.
Women's Costume – Cruella de Vil From Cruella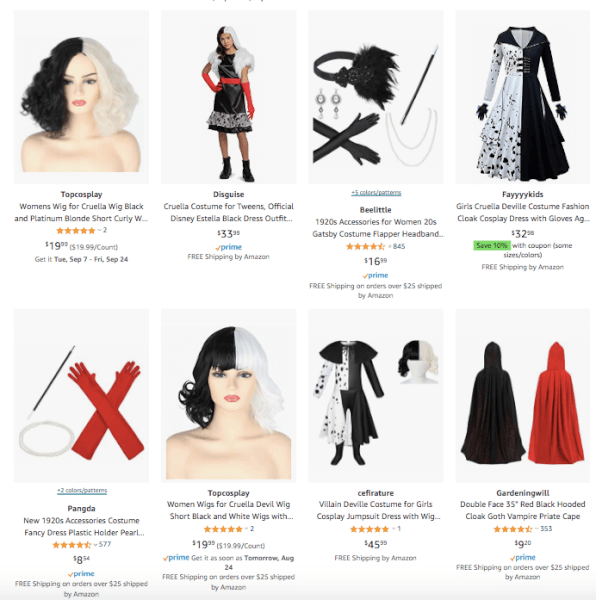 Cruella De Vil is the main antagonist of Disney's 1961 animated feature film 101 Dalmatians. She is an eccentric, fashion-obsessed heiress who wishes to use the skins of 99 Dalmatian puppies to create a spotted fur coat.
More recently, a live-action feature spin-off starring Emma Stone, the character has gotten back into the spotlight.
We see single products that make up the costume are in demand as well as full complete sets… Single products that sell include her famous black and white hair wig, elbow-high gloves, and pearl necklace.
Complete costume sets are trending too, which include dresses, cloaks, capes, and other accessories.
Men's Costume – Joe Exotic (Tiger King)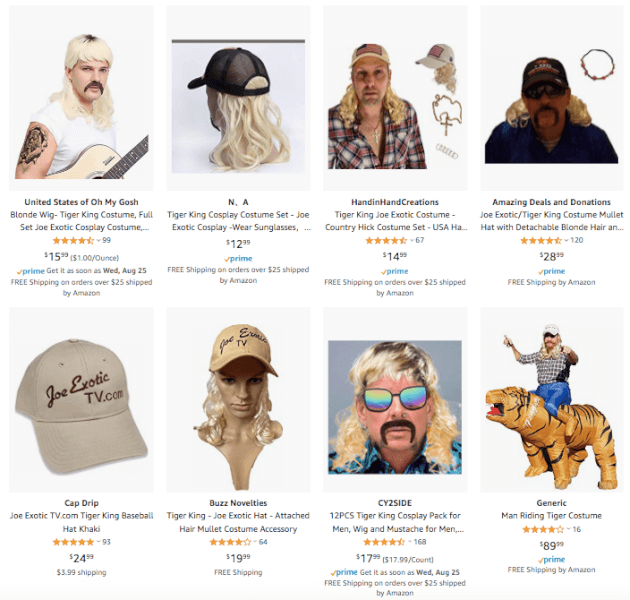 Joseph Allen Maldonado-Passage, known professionally as Joe Exotic and nicknamed "The Tiger King," is an American media personality, businessman, and convicted felon who operated the Greater Wynnewood Exotic Animal Park in Wynnewood, Oklahoma.
He has been a public figure for years but more recently got a lot of attention tfor his feud with Carole Baskin. Baskin is an American big-cat rights activist and CEO of Big Cat Rescue, a non-profit animal sanctuary near Tampa, Florida.
The two have been rivals for years and gained popularity due to numerous fights, threats,  shows, and documentaries revolving around them both.
In short, Joe Exotic is a part of American pop culture now. He became a meme and now a Halloween costume. Since the story is still fresh, it is safe to say for every Joe Exotic costume; there will most likely be a Carole Baskin costume too.
2. Halloween Party Masks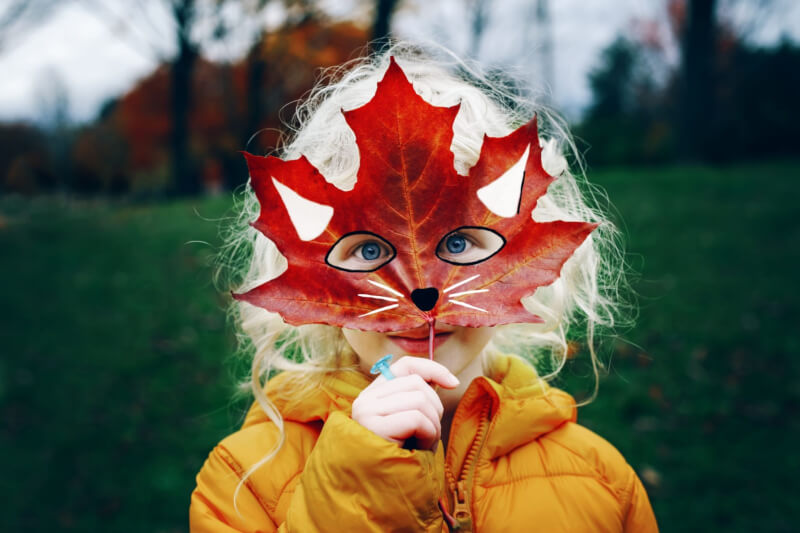 Next up we have Halloween party masks. Whether worn at a Halloween party, a costume party, or out trick-or-treating, these are always a Halloween hit!
There are tens of thousands of masks to choose from, so here are two trendy masks to get you started.
Here are two hot Halloween masks to dropship this year. 
Masquerade Masks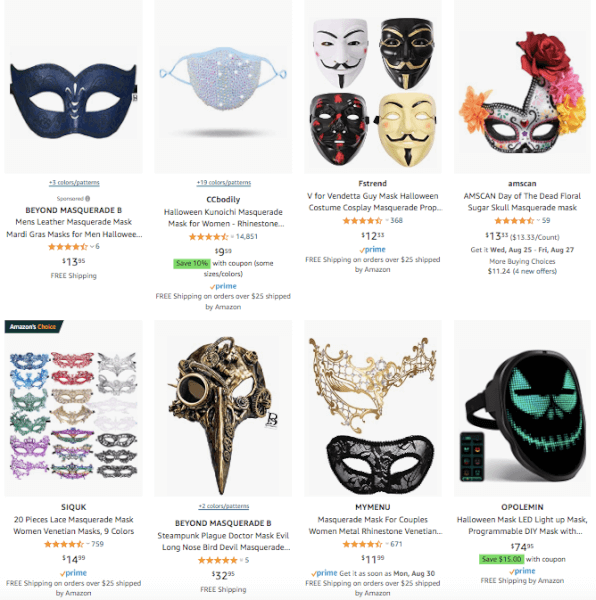 The tradition of the masquerade mask started in the 13th century when Venetians would hold celebrations and parties from December 26th until the start of Lent and wear elaborate masks to conceal their identity.
Fast-forward to the modern-day; they are used at masquerade balls and for Halloween costumes. The designs vary and can be for both men and women.
They can be tossed on with a t-shirt and jeans for those that are lazy or be paired with a proper costume as well, making them a favorite year after year. 
Scary Clown Masks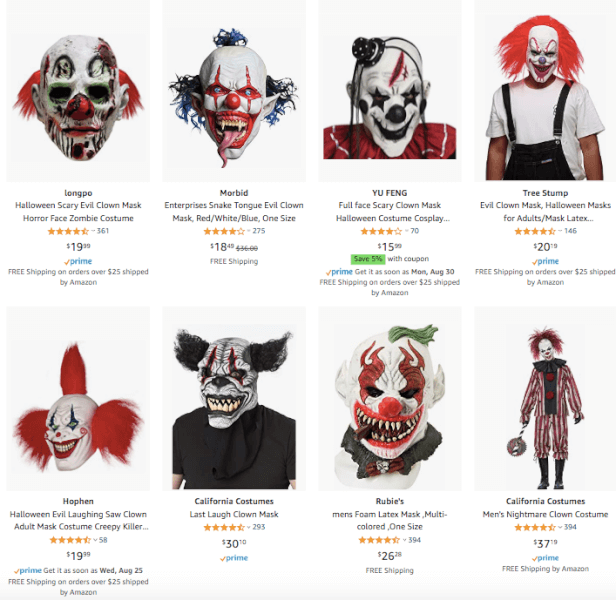 On to our second mask, we have the timeless scary clown mask. If you wondered when clowns went from being a goofy kids' birthday attraction to the sinister characters we know today, there is one general theory.
Many claim it was due to Stephen King's novel "It" back in the 80s or Steven Spielberg's thriller "Poltergeist."
Regardless of why the scary clown mask has evolved over the years and now have many versions. They have been popular every Halloween for years and don't seem to be going out of style.
3. Halloween Makeup Kits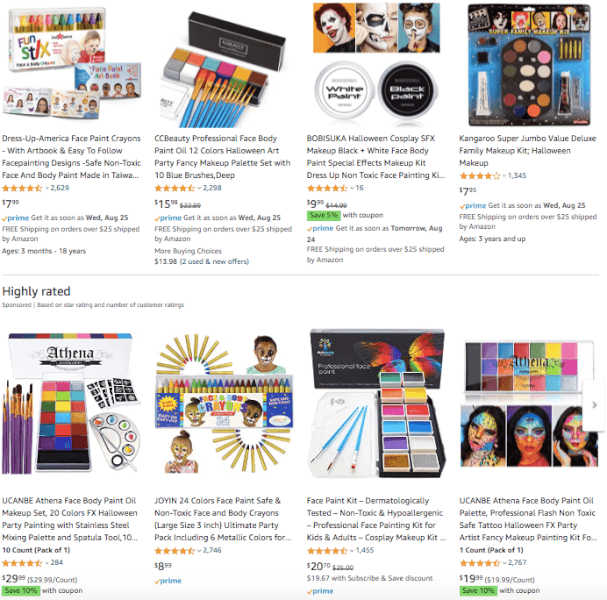 Third on our list, we have Halloween makeup. Makeup can help transform costumes from fantastic to incredible. Whether to create an eye look or a transform our face into a scary skull, these kits are perfect for the job.
There are numerous types of makeup kits. Some are oil-based makeup and others water-based. Additionally, there are colorful sets and some that contain just black and white paint.
Furthermore, some come with brushes, and others without.
Make sure to add a variety of dropshipping Halloween makeup sets to truly get the most out of this product this Q4.
4. Halloween Pillow Covers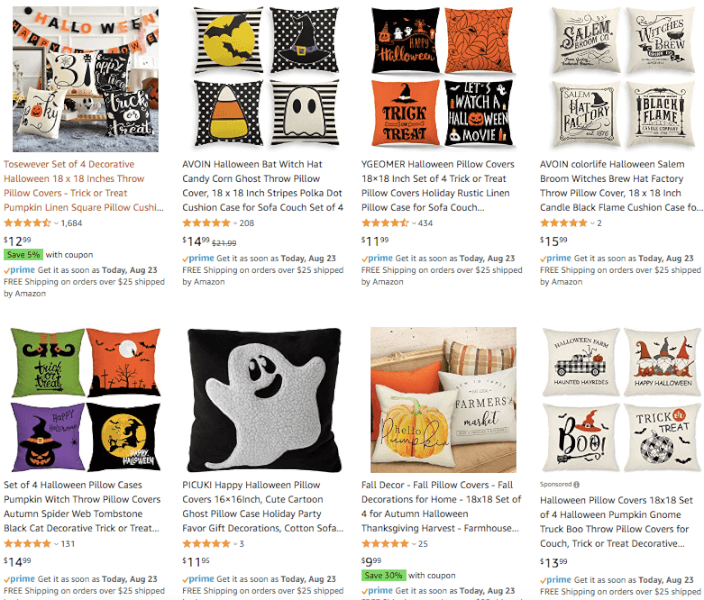 Now that we have the heavy hitters out of the way, let's get into another hot Halloween category. These adorable Halloween pillow covers are a perfect way to decorate while staying practical too. Decorative pillows are an easy and delightful way to bring in a pop of color and holiday cheer to any space.
Whether for the living room couch, bedroom, or hallway nook, they stand out and are a lovely way to welcome guests in.
There are endless cute pillow cover designs, so be sure to add variations and have a selection to offer to your buyers.
5. Halloween Trick-Or-Treating Bags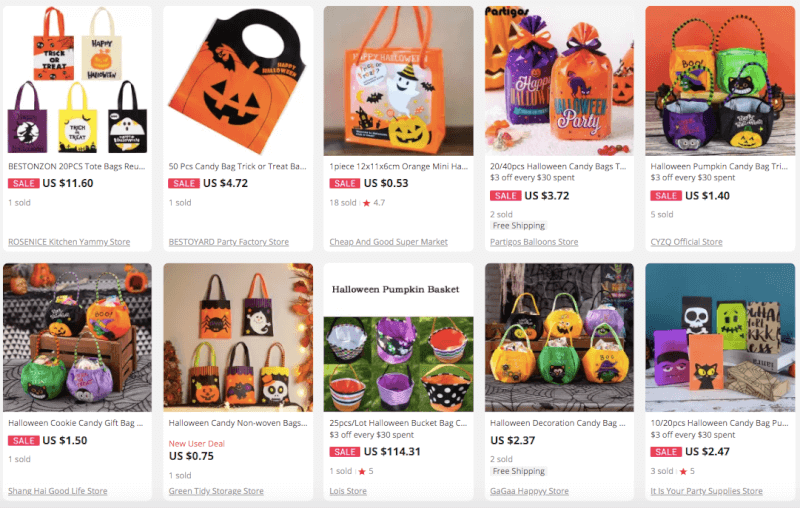 Fifth up we have the infamous Halloween trick-or-treating bangs. Candy collecting is a big part of the holiday, and what better way to collect candy when going door to door than these cute eerie little bags.
From ghosts, jack-o-lanterns, skulls, and Frankensteins, any Halloween-related designed baggie can be found. Offer various designs, bag types, and sizes to make the most of this Halloween best-seller. 
6. Halloween Yard Stake Signs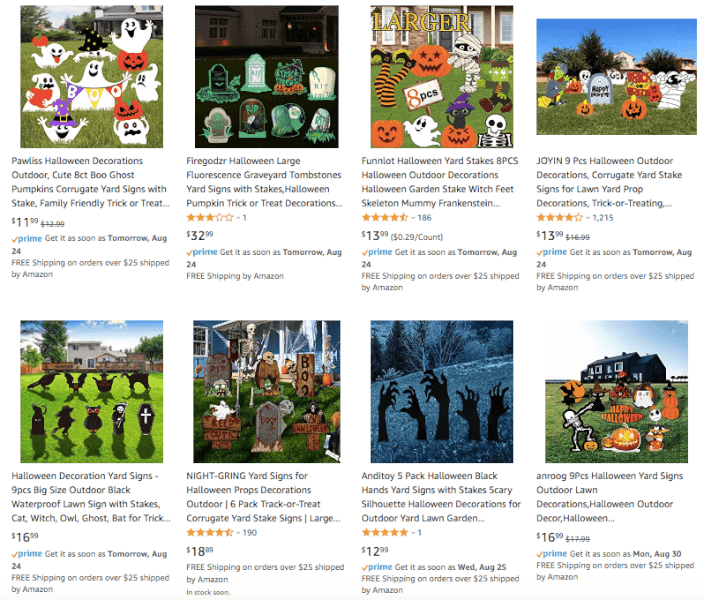 Up next, we have a trendy item from the Halloween decoration category. These yard stake signs are perfect for creating a fun scene on lawn, porch, patio, or sidewalk.
With a selection of scary spine-chilling signs and some more friendly and fun ones, sell to a broad audience of holiday enthusiasts.
7. Halloween Hanging Decorations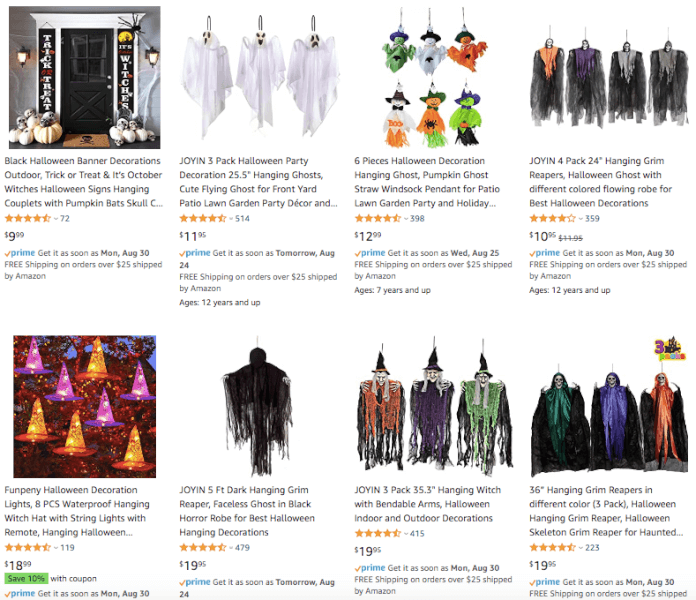 Number seven on our list of 10 Halloween products are these cute yet creepy hanging decorations. This is another perfect example of a hot-selling product from the decoration department and a must-have in your store.
Great for indoor and outdoor use, these are generated to give a good scare to anyone walking past them. Make sure to have a variety of styles.
Some are even motion-activated and will move, dance, or make mysterious noises. Be on the lookout since these will be at a higher price point and have a potentially higher profit margin.
8. Halloween Inflatables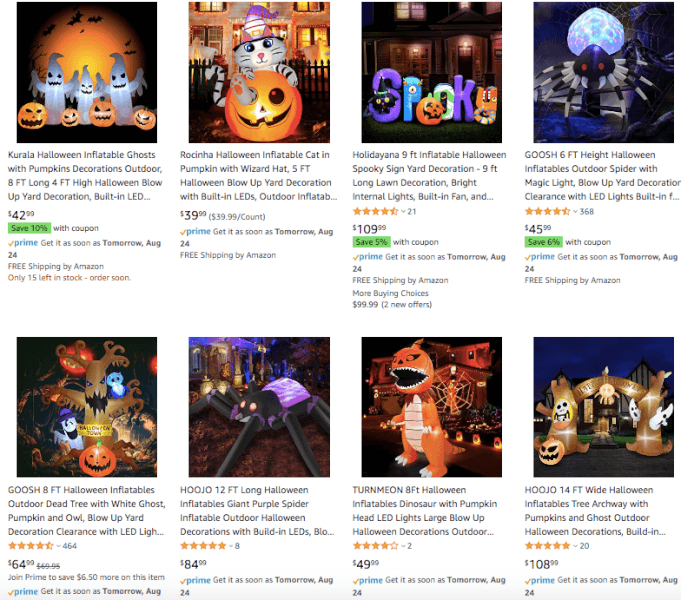 Another best-selling Halloween decoration option are these lively Halloween inflatables. Some people like to hang out a few decorations and call it a day. But then you have those that like to go all-out.
Halloween inflatables are a fantastic addition to any Halloween display, ensuring entertainment and fun.
Additionally, this is a medium to high ticket price range item, which means higher profit margins for us dropshippers.
Furthermore, Similar to the previous decorations, these too come in a wide variety of sizes and designs. 
Some are family-friendly, and others are a bit more ominous. As always, offer your buyers a nice selection to choose from.

9. Halloween Trick-Or-Treat Candy Bowls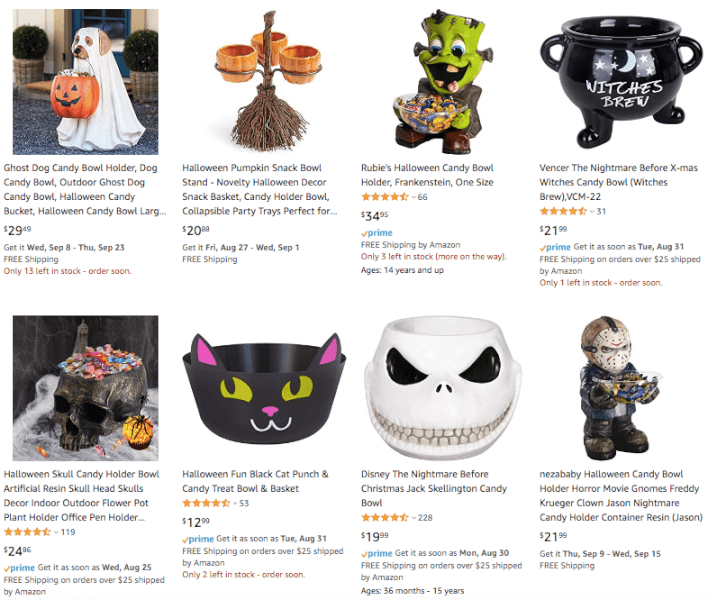 Going back to trick-or-treating, we have Halloween candy bowls. This item is both functional and decorative.
When it comes to Halloween candy bowls, there are two main types. Hand-held bowls for people to hand candy out of and bowls built into a sculpture of some sort to leave outside the door.
Be sure to offer both in your store since many go out trick-or-treating and would like to leave out a big bowl of candy for others to take from.
10. Halloween Fog Machines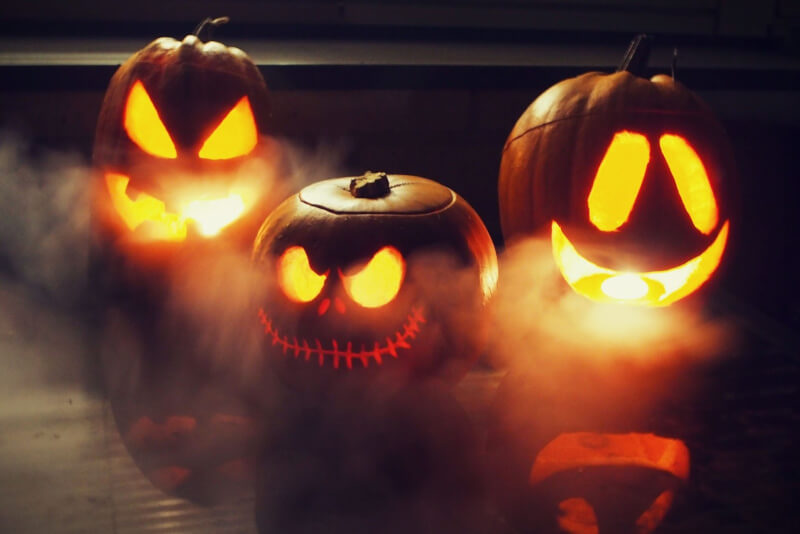 Last but not least, we have two spectacular options and a bonus item. Fog machines are not necessarily a Halloween item but are widely used for Halloween parties and haunted houses.
We wanted to mention both as they are in high demand for this holiday, and one is more for practical use, while the other doubles as a decoration on its own.
Fog Machine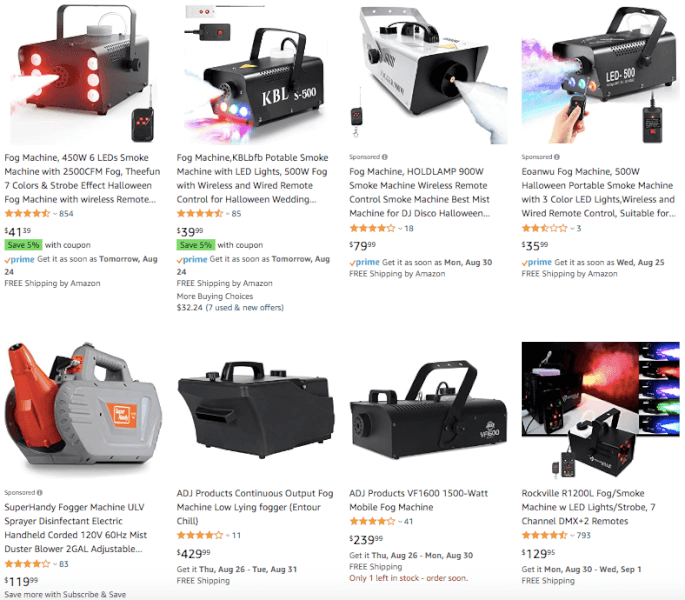 First we have the classic fog machine. You may have seen them before at concerts or clubs as they are often used at big events.
This is a great way to add that extra kick to a party and spice up any setting. Additionally, fog machines come in all price ranges. Have at least a few options from each different price point to appeal to a broader audience.
Furthermore, as you can see from the image above, fog machines are a high-ticket item with quite the profit margin potential.
Halloween Fog Atomizer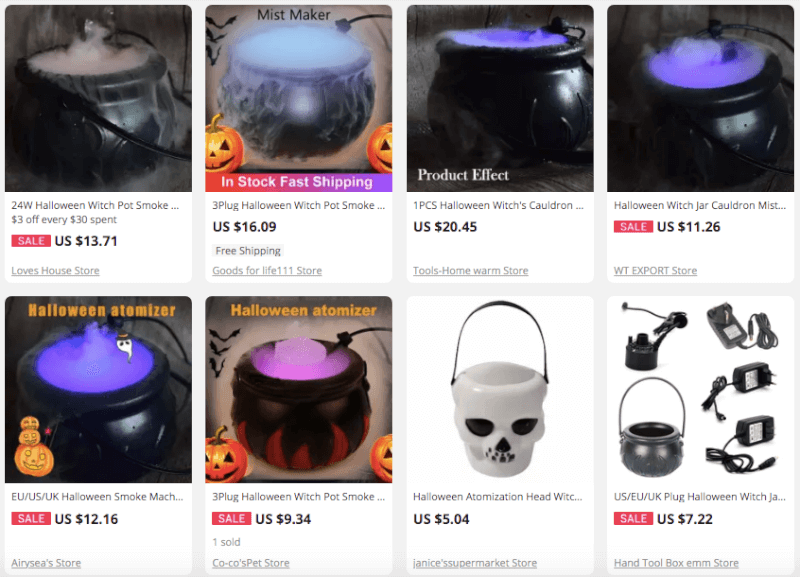 The second fog creating device we have is the Halloween fog atomizer. Unlike the first option, which is meant for behind the scenes, this is an actual decoration.
Who doesn't want to switch out their garden gnome with this supernatural witch potion pot for Halloween?
This is a much cheaper option for some foggy fun, and no additional products are necessary, as it just needs to be plugged in and turned on. Which leads us to our bonus item…
Fog Machine Fluid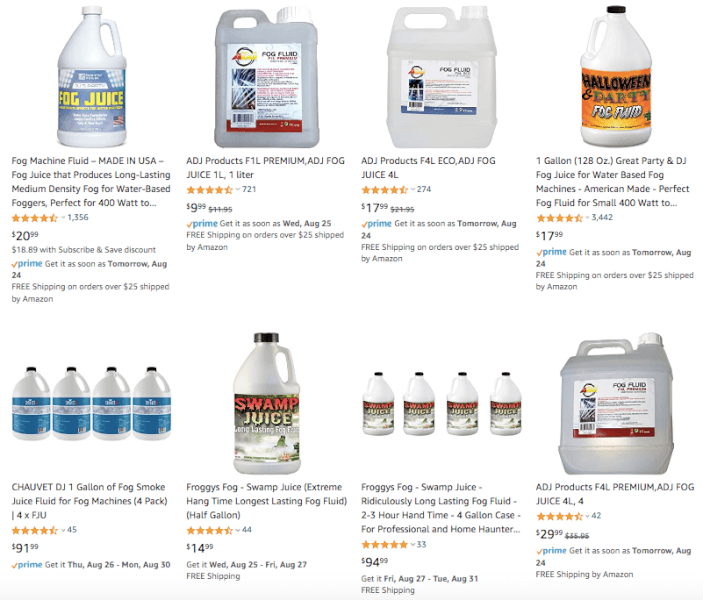 Anyone using a fog machine for Halloween will need some fog fluid to go with it. You may get customers that buy both from you, as it can be an excellent up-sell item, or both may be bought separately.
Either way, offering them together in your store will maximize sales.
[post-banner]
Save Time With the One-Click Importer
Now that you know which Halloween products to sell for Halloween 2021 let's show you the fastest way to import them to your dropshipping store.
In order to use this method, you will first need to download our AutoDS Helper Chrome extension.
Then start browsing your favorite supplier for products. Once you find a product you want to add to your store, simply use the One-Click Importer by clicking on the 'Import to AutoDS' button that will appear on the product page.
This is by far the easiest way to import a single product.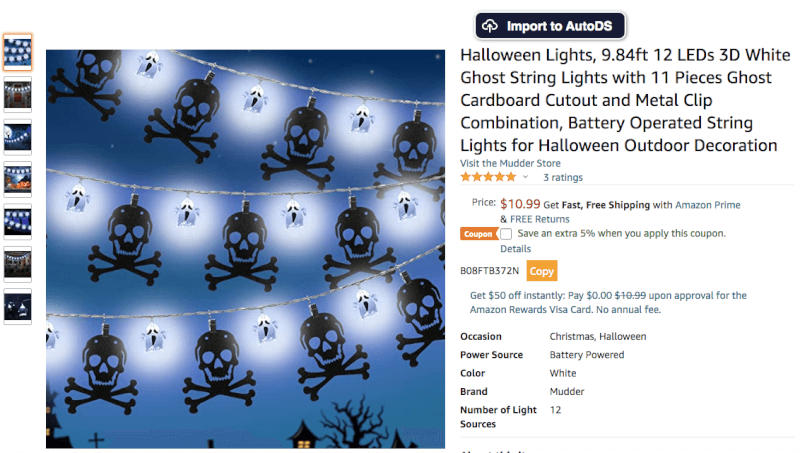 As soon as you click 'Import to AutoDS,' the button will start blinking to indicate that it's ben activated. When it stops blinking, that is your queue that the import has been completed.
Then it is time to head over to your AutoDS account and open the 'Drafts' page to edit, optimize, and finalize the import process.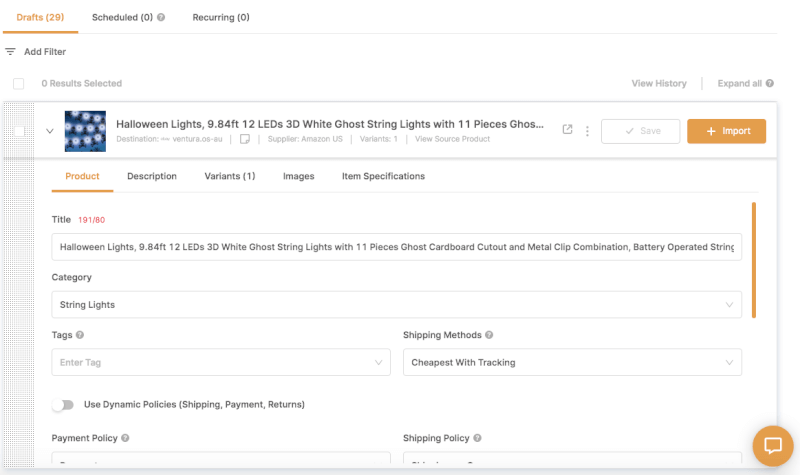 From here you can edit the title, item description, images, item specifications, and much more.
Additionally, we recommend adding tags or creating collections for products. This will make it easier for future tracking, analysis, and inventory management.
Additional product importing methods are executed using our AutoDS platform's product lister.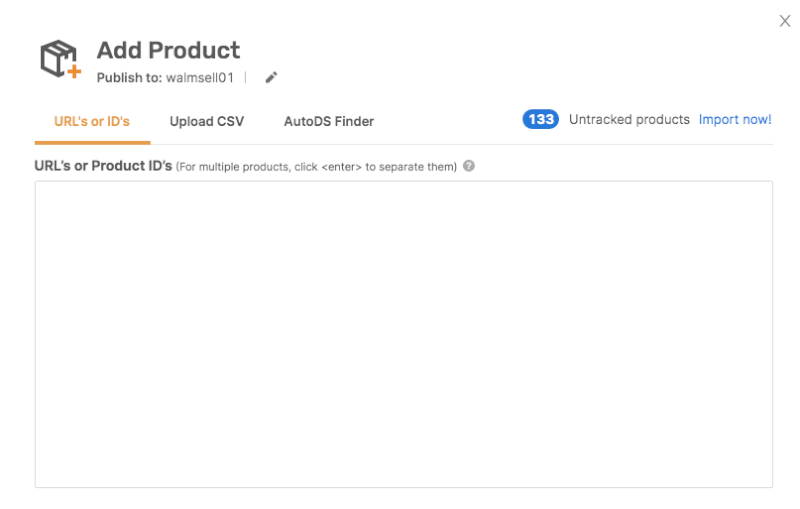 Using our lister's first option, you can import products by product URL or product ID. To bulk import products using this method, simply add multiple product URLs or IDs.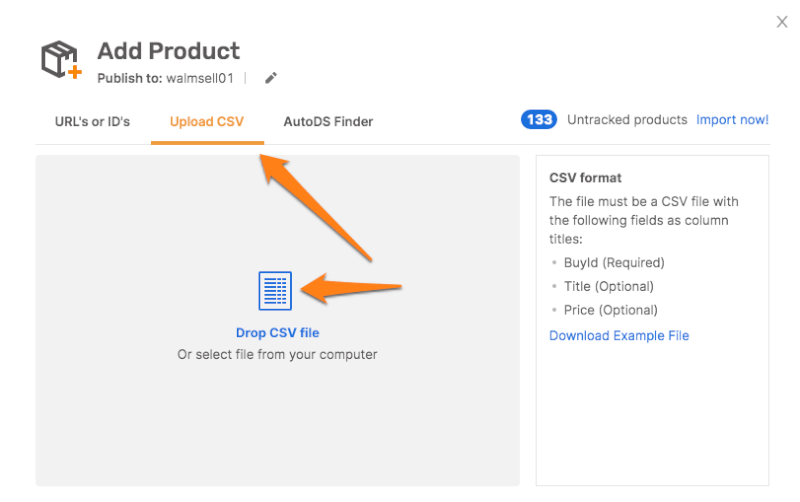 Another bulk importing solution is via CSV file. For this, you will also need the AutoDS Helper extension. Select 'Upload CSV' and drop your file to import directly to your dropshipping store. 
Final Wicked Words
Since Halloween has so many traditions to it, there's a little bit of everything and something for everyone. This makes it a very profitable holiday and a fabulous way to start the Q4 holiday season since there are literally endless products to sell.
Remember, it is best to start preparing now for the holiday season. The sooner you start, the more ahead you will be of your competitors, and the more sales you will accumulate.
Additionally, work with multiple suppliers for a wide range of products to sell to stand out even more.
Good luck, and happy dropshipping everyone. Let us know in the comments below which products were most successful for you and how much your dropshipping business grew during the Q4!
For more winning products, check out our product research articles.