Where can a dropshipping store find high-quality products to sell from the home improvement category? Thankfully, there is no shortage of these products in the US. However, you can always count on Home Depot to supply excellent new products for lower prices.
There is hardly a US household that hasn't heard of or shopped at The Home Depot. After all, home improvement is part of American culture. The massive retailer carries replacement parts, construction materials, tools, paint, and so much more in stores across all fifty states.
When you combine Home Depot's product offerings with its excellent customer service, it's no wonder that dropshipping stores pick Home Depot as their top supplier.
In this article, we'll learn how to find valuable products in the Home Depot New Lower Prices section. When you've finished reading, you'll know how to find top Home Improvement products with the best bang for your buck.
Home Depot New Lower Prices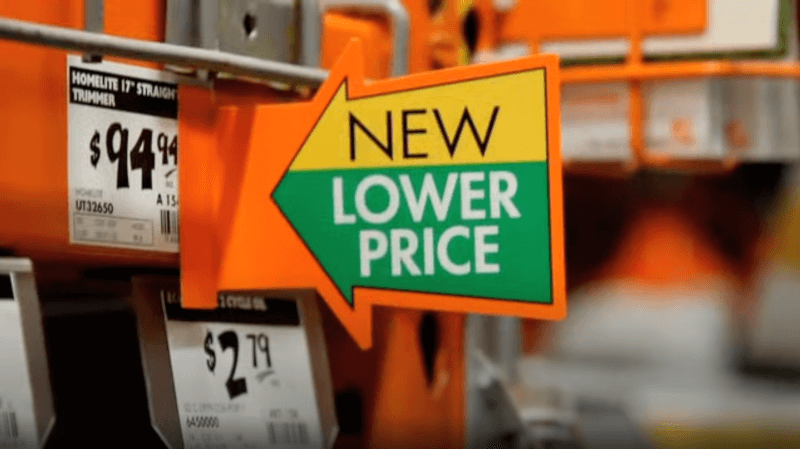 Part of what makes Home Depot such an excellent dropshipping supplier is the Special and Offers section, where you can find lots of fantastic deals.
Today, we're focused on New Lower Prices, where Home Depot lists every item currently on sale, with the newest ones appearing at the top.
Depending on the sale, at any given time, you can find hot products from just about any department, except for major appliances (those are listed in the 'Special Buy' section).
The discount level offered on New Lower Prices can range from about %10 to %35. Such discounts serve as a perfect opportunity to provide your customers the best home improvement items on the market at unmatched prices.
As a result, the lower price gives you a better profit margin. 
Home Depot New Lower Prices Dropshipping Categories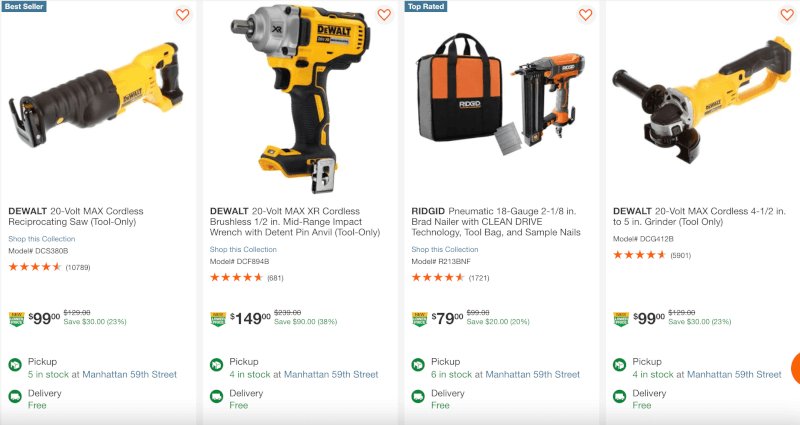 Being a section of Home Depot, all products on the New Lower prices page fall broadly under the Home Improvement category. In general, almost anything home improvement-related is an excellent choice for dropshipping.
You'll find Tools, Hardware, Outdoors, and Kitchen products, all of which are fit and relevant for dropshipping. 
Products Unsuitable For Dropshipping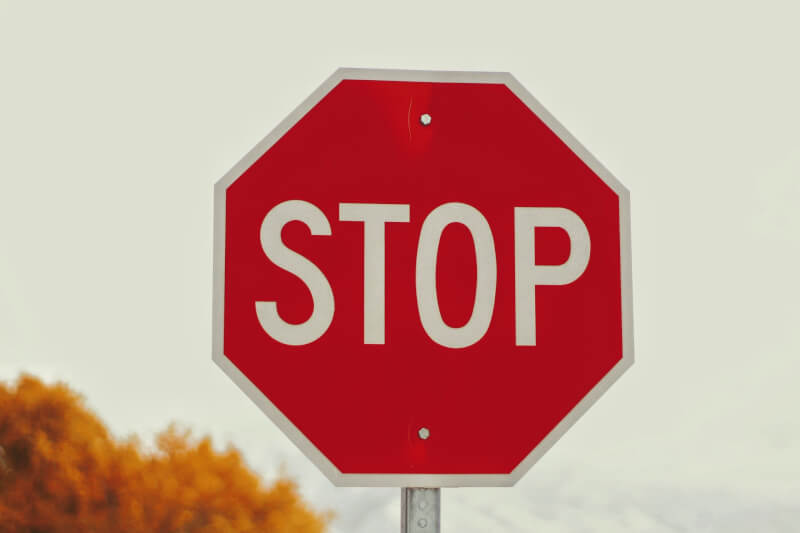 However, in each category, some items might not be a good fit for dropshipping. For example, you should not dropship a lawnmower. Likewise, under the Flooring category, it's not a good idea to list cleaning chemicals.
Stay away from hazardous products or items that require specialized knowledge to troubleshoot as a rule of thumb. Remember, when something goes wrong, customers call you and not Home Depot.
To protect yourself from copyright violations, don't list items from companies on the eBay VeRO database. In short, eBay VeRO is a list containing many popular and unpopular brands that forbid reselling their products on any platform.  
How To Find Trending Dropshipping Products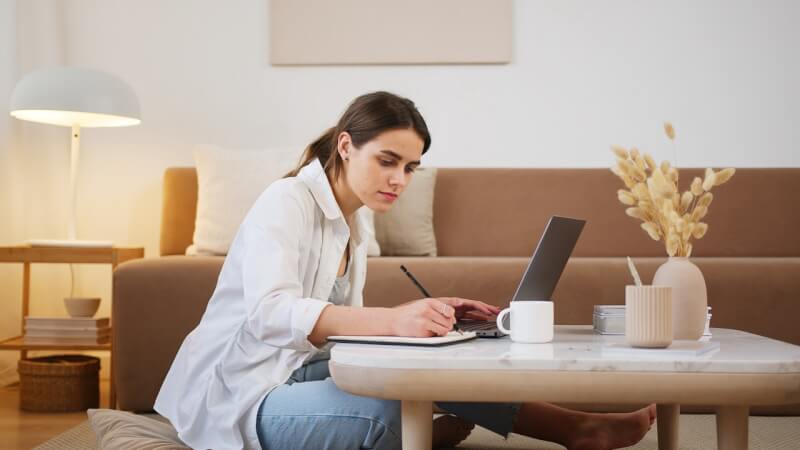 Now that we're familiar with the New Lower prices section let's dive in and find products to sell in our store.
Remember that Home Depot is a niche supplier, so the key is to "micro-niche" and find a suitable subcategory in any of the main ones.
To illustrate, we'll start with the 'Tools' category—lots of beginner dropshippers like selling tools because they are a staple product in the average American household.
The constant demand for tools makes it an evergreen category, meaning that you can dropship it at any time of the year and get sales.
To begin, open the 'Department' drop-down menu on the left side of the page and select 'Tools.'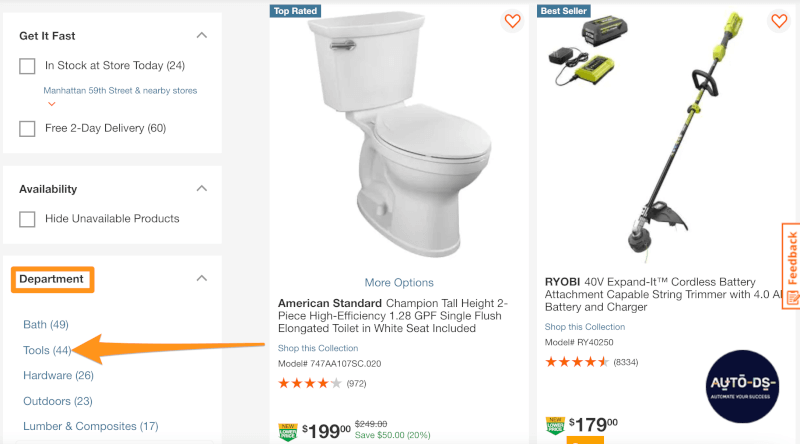 Next, filter the results so that you'll only see products with ratings of four stars or more. We filter this way because we only want to dropship the best products with a decent chance of selling.
Like Department, you can find the rating filter in the left column. Click on the fourth star, and the results update accordingly.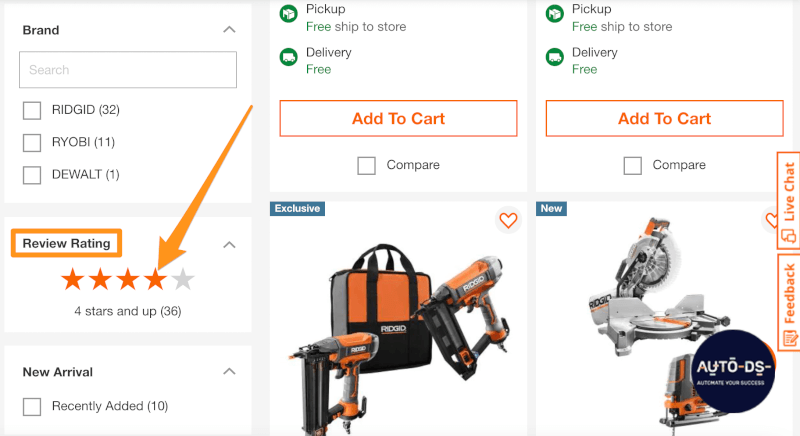 In the results, you can find plenty of power tools that people use both for big construction jobs or minor home improvement projects.
As you scroll through the results, you might notice some drills and drivers. Since every household needs a basic drill and driver in their toolbox, such a product has an excellent potential to sell.
However, some drivers and drills are more specialized than others. We're looking for a basic one, so we can attract both regular buyers and construction workers.
And there it is! A highly rated drill/driver combination that is simple to operate. For convenience, it comes with a battery, a charger, and a case.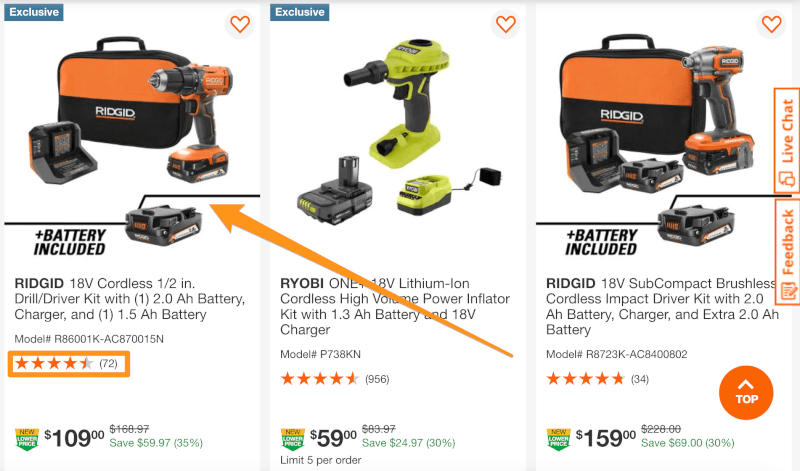 The price tag is also perfect. For one, it is discounted from $168.97 to $109.00, a deal you won't find every day. Second, the price is not too high to scare buyers off, yet low enough so we can earn a good profit from it.
The only thing left to do now is to list the product in our store. However, before we move to that step, we want to keep in mind the competition.
Since the product is so desirable, there are probably other dropshippers selling it. Your job is to have your listing stand out by optimizing the product page, images, title, and description. 
Import Products From Home Depot To Your Store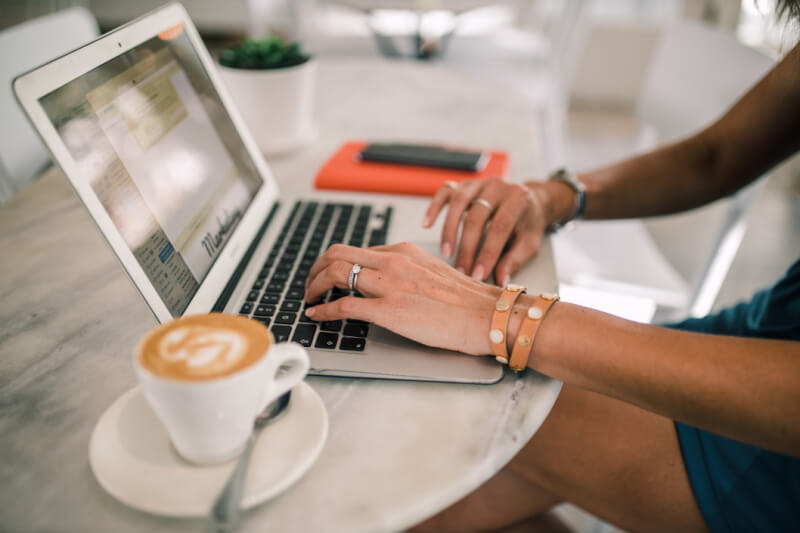 Good job so far on product research!
Now it's time to import the product to our dropshipping store.
There are two ways to import a product: the old-fashioned manual or the fast and automatic way.
Today we'll focus on fast and automatic importing methods so you can save hours of work and use the extra time to find more winning products.
By now, you're hopefully all set up to dropship from the AutoDS platform and have installed the Chrome AutoDS Dropshipping Helper extension. You'll need both for fast importing.
With AutoDS there are three ways to import a product: The one-click importer, copying and pasting a product's URL, or bulk importing with the AutoDS button.
All of these methods are excellent. However, for complete customization options, you're better off copying and pasting the product URL or ID and pasting it into the AutoDS platform.
Here's how it work in the example of importing a drill from Home Depot:
Start by going to the product page and copying the URL from your browser.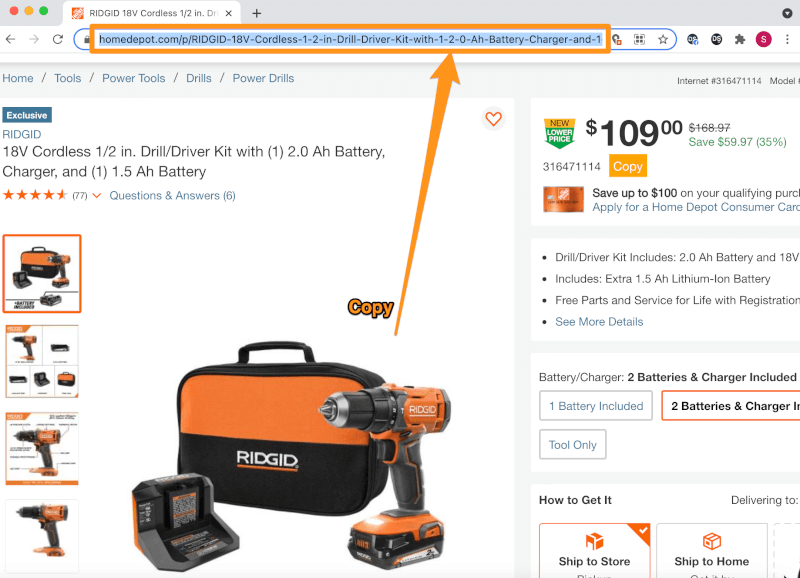 Next, open a new Chrome tab, go to the AutoDS platform, and click on 'Add Products' from the left column. This action opens up a popup window where you can begin the importing process.
In the add products window, you'll need to choose where you want to list the item. Then, paste the product URL into the empty box.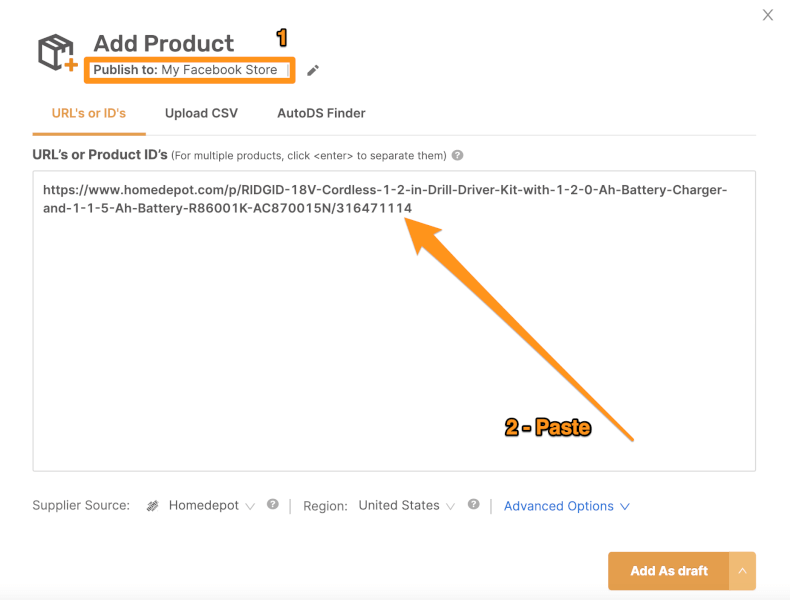 Next, decide what to do with the product. You can publish it right away or schedule it to publish at a later date and time. Alternatively, you can send it to the draft page. For all options, you can always edit the upload settings before launching the product.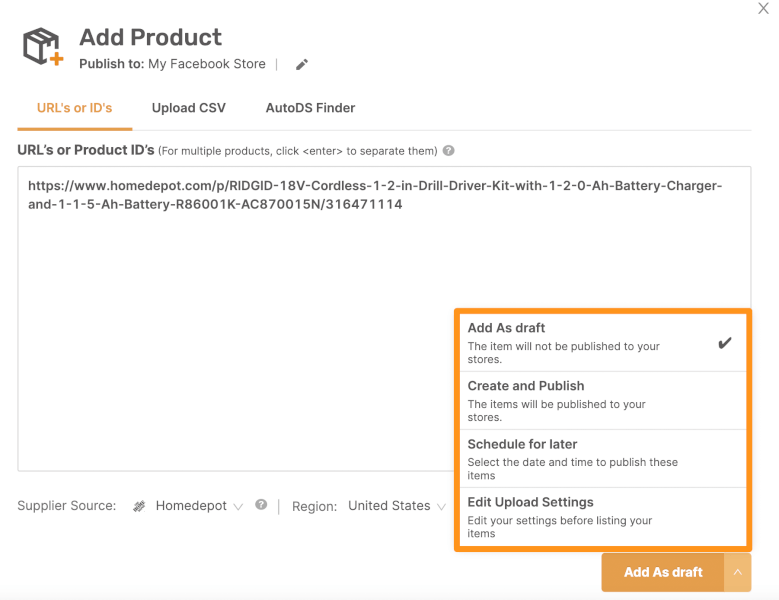 If you are looking for a more straightforward importing method, you can always use the import button on the product page and send it to the drafts page in one click.
But for multiple products, your best bet is to use the AutoDS bulk importer. This feature lets you import tens, hundreds, or thousands of products in a few clicks. 
Final Thoughts
Whether you're new or advanced in the dropshipping world, you've just gained valuable information on how to find top selling products in Home Depot's New Lower Prices section.
Don't worry if you can't remember all the details; feel free to come back here for reference.
And while you're still here, learn to diversify your product offerings by getting products from other suppliers and categories. It is the perfect way to increase your profits.
Here are a couple of helpful guides to get started: