Is it possible to find winning products for your store in Amazon's New Releases? You would think that newly released products can be a risky endeavor. As many of us know, the most important and determining factor of a profitable store is your ability to find products that will sell.
The truth is that the New Releases section not only contains valuable gems for your store but can give you a competitive edge. Furthermore, as long as you know how to spot the hidden gems, Amazon's New Releases can become your source for many products in the long run. 
In this article, you will learn why Amazon's New Releases section is one of the best places to find dropshipping products.  Then, we'll guide you through the best tips of tricks for finding the hottest items in the section.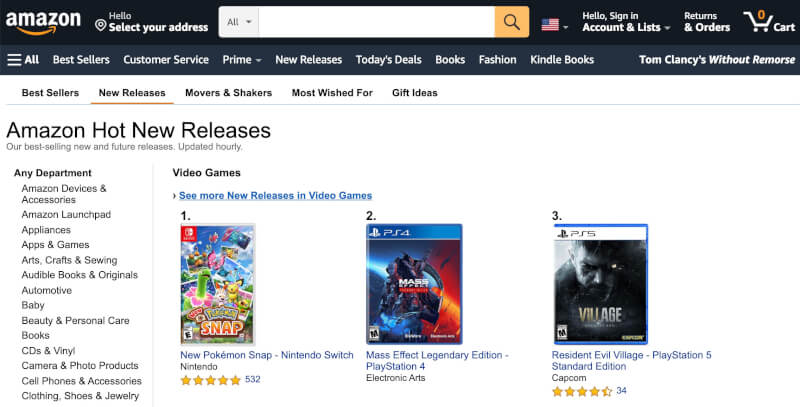 As one of the largest and most popular e-commerce websites globally, Amazon is a gold mine for dropshipping stores. You can find almost any type of product in hundreds of categories. For every product that doesn't sell, there are plenty that will.
There are many ways to slice and dice through Amazon and find good products for your store. On the other hand, it's essential to know what sections and categories are relevant for dropshipping. We can't just add any product and expect it to sell.
Amazon's New Releases section allows us to catch hot trends before anyone else. The sooner we grab and import them to our stores, the higher the chance to start a hot selling streak.
However, not every product from Amazon's New Releases will become a bestseller. Some won't sell at all, while others will sell like hotcakes. So, how do we save time separating the products that won't sell from those that will? Keep reading to find out.
How To Find Products On Amazon's New Releases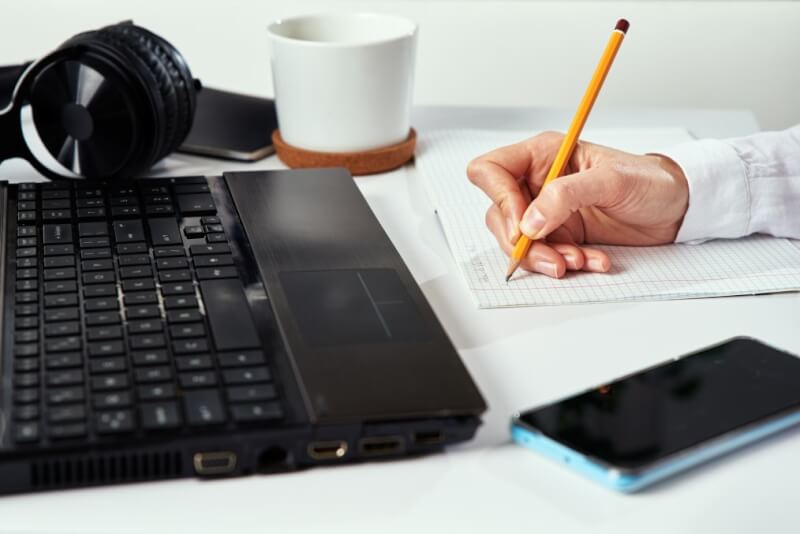 Ready? Great! Let's look at the tips and tricks on picking out the best products from the section.
Once you're on the New Releases page of Amazon, take a look at the left side of your screen. You'll see plenty of departments with new products. While not every department is relevant for dropshipping, there are more than enough perfectly fit categories. We'll learn more about them further below.
In this example, let's go with Office Products, one of the most popular and relevant categories for dropshipping.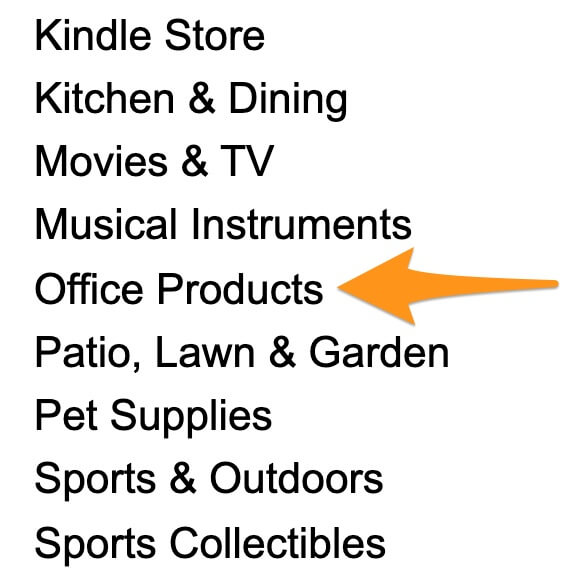 But don't stop here. While plenty of results show, let's narrow it down to a more specific sub-category. 
Many of us work from home these days. Plenty of shoppers are looking to enhance their workspace with all sorts of office equipment. In this example, let's pick out a good desk lamp so our customers can get all the lighting they need to brighten up their desks.
First, go into the 'Office Products' department, and click on 'Office Lighting'. Next, select 'Desk Lamps'.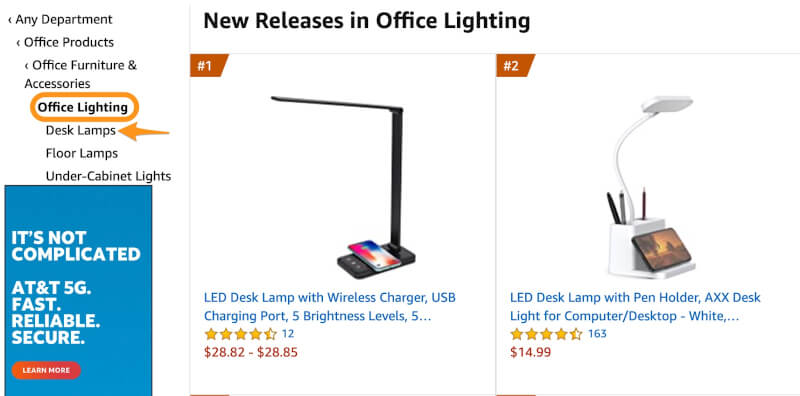 We can spot hidden gems that others haven't gotten to by zeroing in on a specific category. The deeper we dig, the more we'll find.
Before choosing a particular item, try to scroll down a bit and look at its ratings. Products with many reviews give us a clue that the seller may be testing a new product variation. For example, it could be a blue desk lamp now selling in red.
Overall positive reviews for the blue lamp mean a decent chance a red lamp will be popular too. It could be a great product for us to list.
Conversely, if the product has no reviews or only very few, it probably is brand new. We can't know for certain how well it will perform. In that case, it is best to research the particular seller's ratings and other products they sell. If the seller gets high reviews and sells other high-quality products, they might be onto something.
Finalizing Your Product Choice
After some research into desk lamps from Amazon's New Releases, we found one with a five-star rating but only two reviews. We're getting warmer.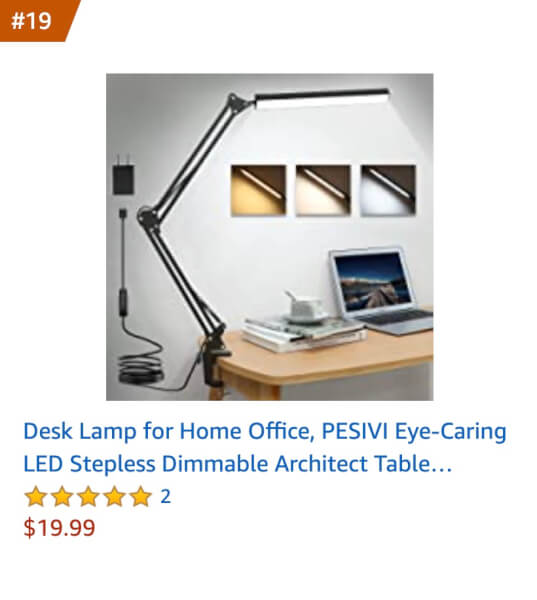 Let's go into the product and find out if the seller has other high-quality products. We want to find some evidence that the supplier has a good reputation. 
Click on the product, and then, under the product description, you'll find the seller's store.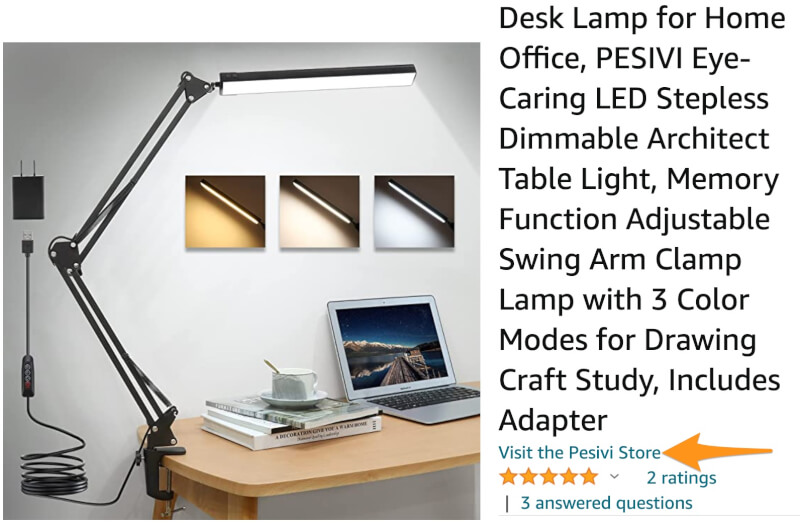 Next, go into the store and look for other products. 
If the seller has other products with relatively high reviews, then more than likely, your chosen product has a good chance to do well in your dropshipping store.
Research Product Success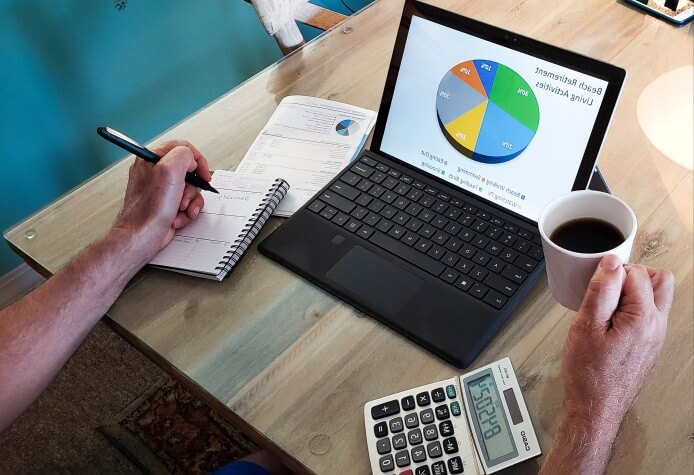 Before we list the product from Amazon's New Releases in our dropshipping store, we want to check who else is selling it and whether they are doing so successfully. Other dropshippers may already be selling the product elsewhere, and you would not know this by looking only on Amazon.
If no one else is selling the product, then this is a good opportunity to be the first to test the waters. Go ahead and list the item and see what comes of it. 
Conversely, if others listed this or a similar product, then they are already testing it for you.  It is a good idea to check whether they sold units. If the product is selling, you can join the party. In fact, this is an opportunity for you to stand out and optimize the product listing with a better title or images. This way you might be able to beat the competition.
As you may guess, if you see listings for the product that aren't selling, then there is no point in wasting time on it. You can always seek out other products with better sales. 
There are three different ways to research other sellers, depending on whether we run an eBay, Shopify, or Facebook Marketplace business.
If you dropship primarily on eBay, go to the eBay homepage, and copy the main keywords from the product's title on Amazon. Then, paste it into the eBay search bar. 
After clicking 'Search', scroll down, and on the left column under 'Show Only', make sure that only 'Sold Items' is selected.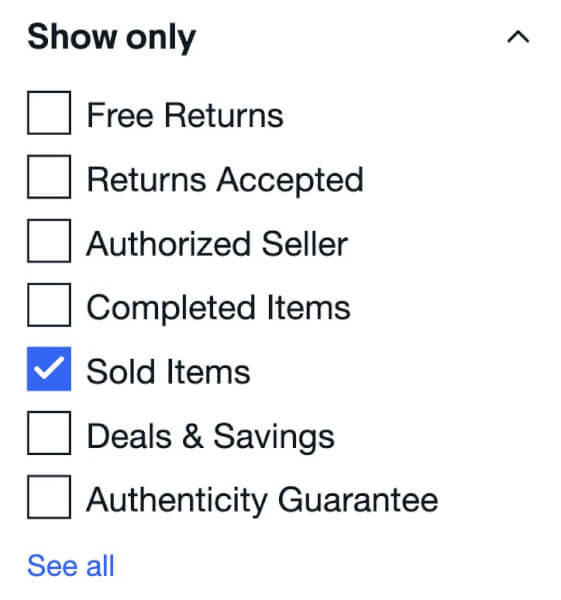 The results give us a good idea of the amount of competition on the market. Additionally, it tells us where in the world sellers are dropshipping the items from.
However, not all dropshippers list products the same way. Some optimize the titles, while others simply copy phrases from the original title.
Therefore, look for the products by searching for the keywords from the title on Amazon New Releases. This way, you have a good tally of how many times the product, or similar ones, are listed regardless of the exact title.
In this scenario, we searched the whole title and found that only four US dropshippers listed and sold similar items for a profit. Similarly, we found only about 4-5 sold listings of this product type when searching for keywords. This gives us plenty of room to get a slice of the pie.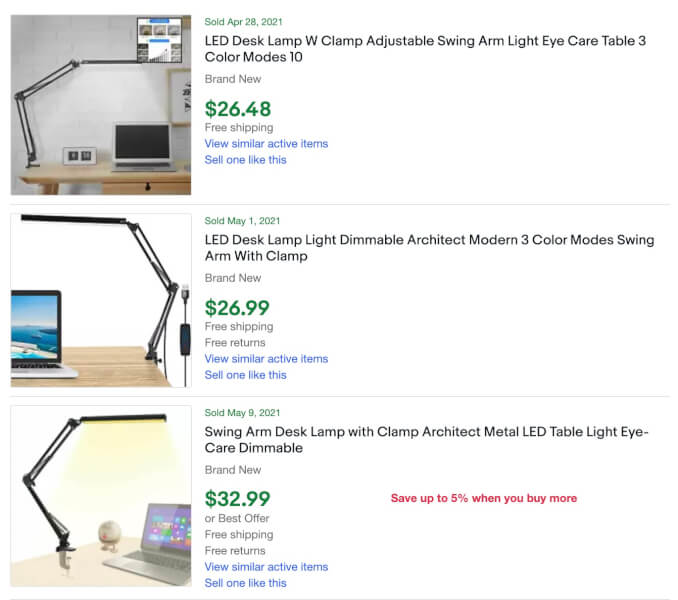 Filtering out results by listings that successfully sold gives us a good indicator of how to price the product. While the product sells on Amazon for $19.99, dropshippers on eBay sold at an approximate range of $27-$40.
We can list our product in that range for similar profit. Or you can price it slightly lower than others did and create an additional incentive for customers to buy from you.
Regardless of how you price the product, don't forget to optimize the title, specifications, and images. Simply imitating other eBay listings won't allow you to stand out and lowers your chances of selling the product.
Nevertheless, we can still learn from other dropshippers on eBay to make more profits. If we see a dropshipper successfully selling a given item, it indicates that consumer demand exists for that type of product.
We can ride this wave by creating a line of similar products for our dropshipping business, and we have a good chance of earning profits from it.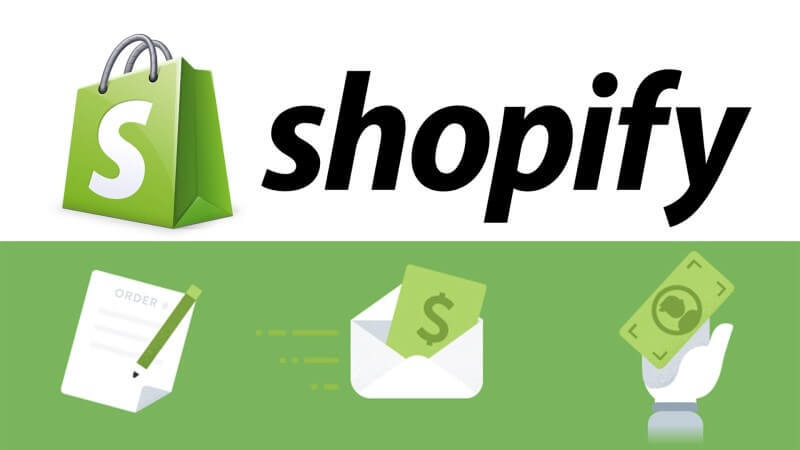 Those of us with a Shopify store can search for other listings of this lamp via google. Simply search the title either in full or only the keywords and see how many results come up.
If not that many results show, you have a solid chance of successfully selling the item on your own Shopify dropshipping store.
There are alternative ways to research whether and how many sellers currently advertise and sell an item from Amazon New Releases. We cover that more in-depth in our free Shopify A-Z Dropshipping Course. 
Last but not least, if your primary selling channel is Facebook Marketplace finding out if others are selling a product is straightforward. As a relatively new platform for dropshippers, chances are that others are not selling what we found. Just to be sure, search for the product title in the search bar. 
Given that Facebook is up and coming, you can list the product even if it isn't listed there yet. You have nothing to lose. On the contrary, you gain valuable information by testing it on Facebook buyers.
Which Products/Categories We Can And Cannot Dropship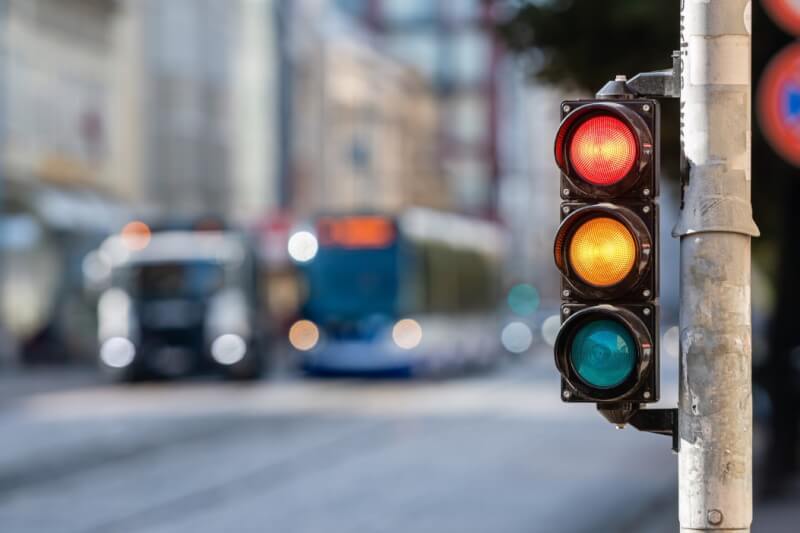 We've seen how simple it is to find products from Amazon's New Releases section. There are many more product-finding methods. As you keep locating suppliers and products, you'll find dropshipping to be both fun and profitable.
However, keep in mind that not every product is relevant for dropshipping. In fact, several types of items and categories are forbidden altogether, depending on the selling channel you are using. 
Which Products You Cannot Dropship
If you are concerned about keeping your store in good standing, the eBay VeRO list is a great place to start. It includes a comprehensive list of sellers who enforce their trademark and copyrights. As a rule, steer clear of anything on this list.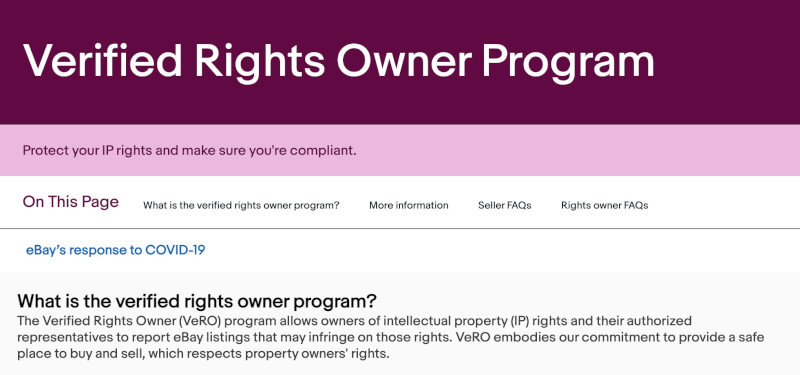 Luckily you don't need to search for each product on VeRO. With an AutoDS subscription, you'll immediately get a warning if the item you're adding is on the VeRO list.
Aside from VeRO products, there are several categories that you should generally stay away from, including Alcohol, drugs, and tobacco. 
Finally, be sure to follow each selling channel's specific rules. For example, look out for Facebook's detailed Commerce Policies which include prohibitions on hateful content. Similarly, Shopify's Acceptable Use Policies prohibit the sale of various weapons and ammunition-related items.
Products We Can Dropship 
In contrast, there are plenty of categories that you can sell from. Some popular ones include Office or Home and Garden, among many others. Here are the main categories relevant for dropshipping:
 Arts Crafts & Sewing 

Automotive

Baby

Beauty & Personal Care

Cell Phone & Accessories

Clothing Shoes & Jewelry

Computer Accessories

Electronics 

Handmade Products

Health & Household 

Home& Kitchen 

Industrial & Scientific

Kitchen & dining 

Musical Instruments

Office Products 

Patio, Lawn & Garden

Pet Supplies 

Sports & Outdoors 

Tools & Home Improvement

Toys & Games
However, keep in mind that hidden gems for your store are found by digging into the subcategories.  
Save Time Importing Multiple New Releases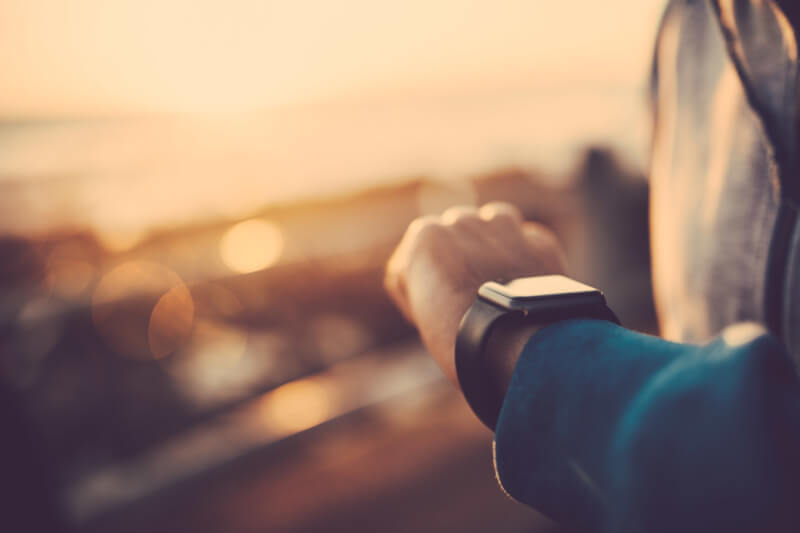 While not everything on Amazon is fit for dropshipping, it contains more than enough products to make you a ton of profits. In fact, when we find good products on Amazon's New Releases section, it opens the floodgates for many more similar products we can list.
For example, if the lamp we found earlier starts attracting buyers, then our radar is working as it should. There probably are many more good targets on the same page!
Once an item sells, you can find similar products on Amazon under the same category or on other supplier websites and list all of them in your store.
However, listing so many items is time-consuming and defeats the purpose of making our dropshipping store a passive income source. This is where the free AutoDS Helper Extension comes into play.
The extension gives us the option to import hundreds, thousands, or even tens of thousands of products at a time. 
When you want to import multiple products on the Amazon New Releases page, scroll all the way down so all products load. Then, click on the AutoDS button in the bottom right corner.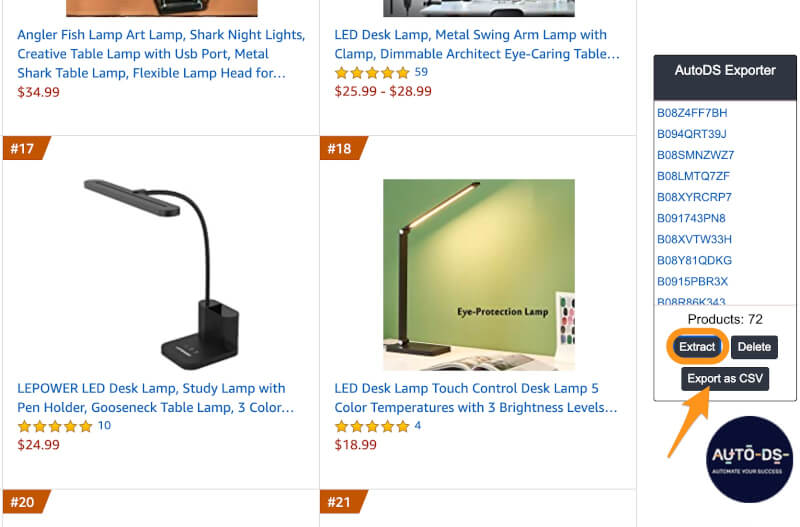 Now Click on 'Extract', then 'Export as CSV'. You now have a CSV file with all the products in it.
Next, you can import all of the products from the Amazon page to your AutoDS Platform. This is done by clicking 'Add Products', 'Add from CSV' and dragging the CSV file into the appropriate box.
Finally, configure your import settings for those products, and that's how simple it is to import multiple products in just a few clicks. 
Wrapping Up
We've gained a good understanding of finding hot products for our store from Amazon's New Releases. We've also learned how to research the competition and what kinds of products you can and cannot sell.
Finding products is important, but it isn't that difficult. All the information you need is at your fingertips. Just remember to focus your efforts on finding Amazon products and listings that count. The hard work pays off in the long run and translates into dropshipping profits.
Keep a positive attitude, and don't forget that for many of the obstacles you might face, AutoDS has a solution. From our AutoDS Finder that helps automate product research to our great courses, we're with you every step of the way.
Once the profits start coming in, you'll wonder why you didn't start dropshipping earlier. So stay the course, you got this!
To further expand your product-finding knowledge and skills, don't miss these valuable gems: