Once our eBay seller account is ready, our PayPal account is verified, and both accounts are linked, it's time to find our first products to sell on eBay.
When we are dropshipping on eBay, we know that we don't need to buy stock or pay for products that haven't sold. Therefore, we can easily test products to research the market and see what sells.
But before finding the right products to list on our store, we first need to choose where we are going to get these products. Who will be the source?
We can dropship from multiple suppliers, including AliExpress, Chinabrands, Costway, Banggood, Amazon, Walmart.
We will start with AliExpress since it is a Chinese online retailer with an endless number of suppliers and manufacturers. And, they are super dropshipping-friendly.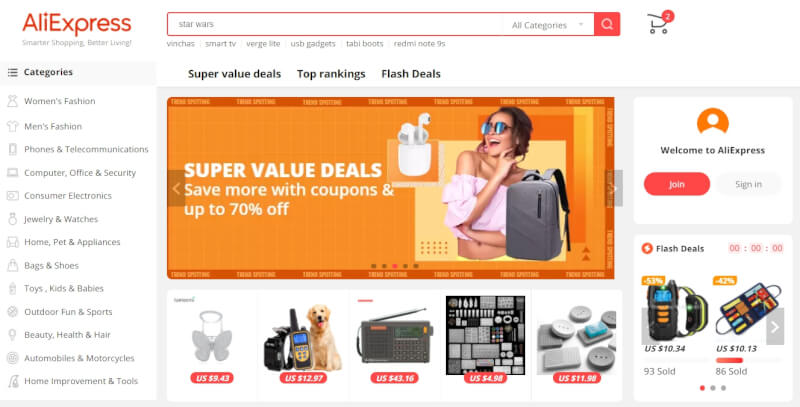 AliExpress' sellers store their products in warehouses mainly in China and the US, Europe, and other countries.
All in all, AliExpress is a perfect place to start when you are at the beginning of your dropshipping journey.
So, how can we find and sell our first hot-selling products from this popular supplier on our eBay stores? Let's find out.
1) AliExpress Flash Deals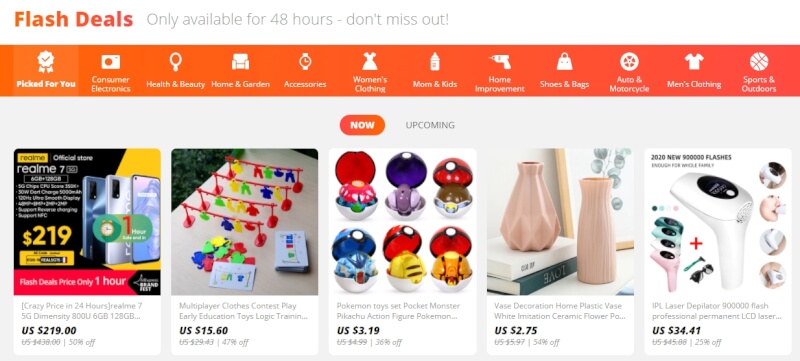 On AliExpress, there is a special section called Flash Deals. This is a place where we can find huge discounts on many popular items spread throughout different categories. 
We can see deals that are happening now and upcoming deals that will start soon. These deals expire and renew every 48 hours on the clock!
To take the most out of the flash deals, we recommend you pick a niche or a specific category. For example, let's go with the Home Improvement category by clicking on the category on top.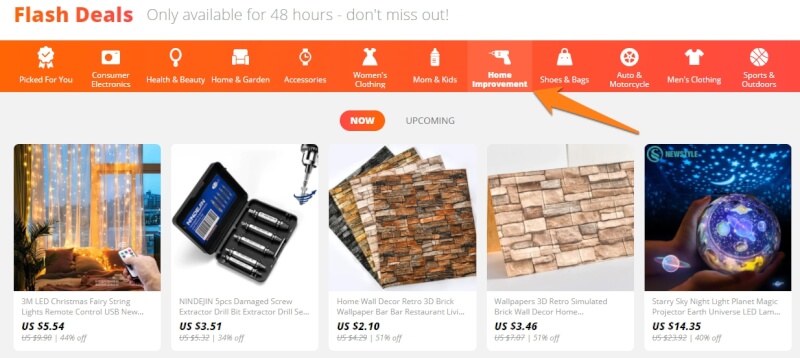 AliExpress will show us only Home Improvement products that have flash deals.
The key here is that AliExpress is showing products that are hot-sellers with special discounts.
Since we don't need to buy the products before selling, we can simply grab all of these products using the AutoDS Helper Extension.
With the extension's help, we can import all of the items on this page to our store in just a couple of minutes.
Keep in mind that grabbing multiple items is only useful if we have high limits on eBay. New accounts with a limit of up to ten items should add them one by one.
To import as many products as we can on a certain page, we need to scroll down so the AutoDS Helper can scan and collect all of its products.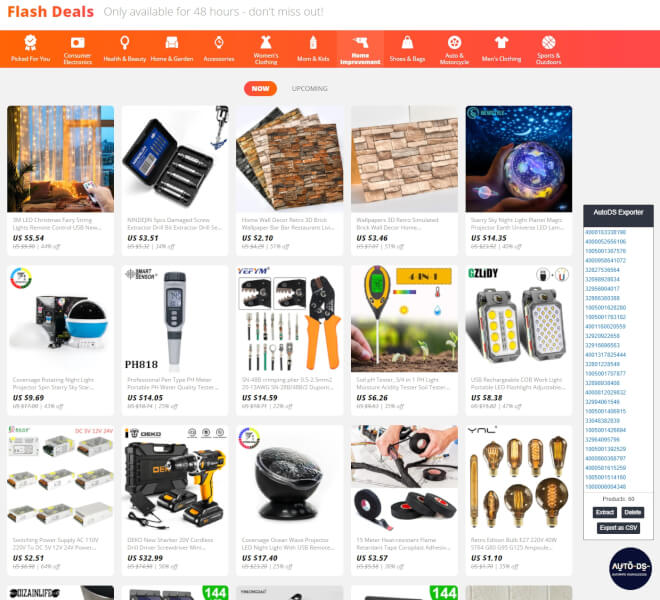 This AliExpress Flash Deals will help you find products that are trending and on sale. The best part is, your competitors on eBay are mostly not aware of these sales.
And because you will be using a product monitor tool like AutoDS, your prices are being monitored all of the time. So, when your supplier increases the price of a product or when a deal ends, your prices will automatically increase accordingly.
This alone gives you an advantage over other dropshippers that are not using monitoring tools to dropship from AliExpress, and are therefore not paying attention to price drops.
Product Finding Technique
We can use the flash deals to expand our product finding methods. 
Since we already know that the flash deals include hot-selling products that are on sale, what's to stop us from finding other products that are similar to these best-sellers?
This way, we can differentiate ourselves from our competitors who copy and paste whatever they see. 
Let's take this product from the flash deals, for example: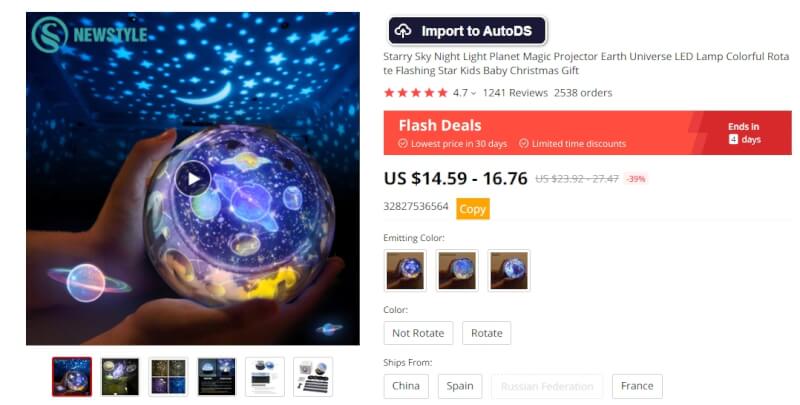 Let's break down the long title into exactly what this best-selling product is: Sky Night Light Projector.
Now we'll take that title and search for it on AliExpress: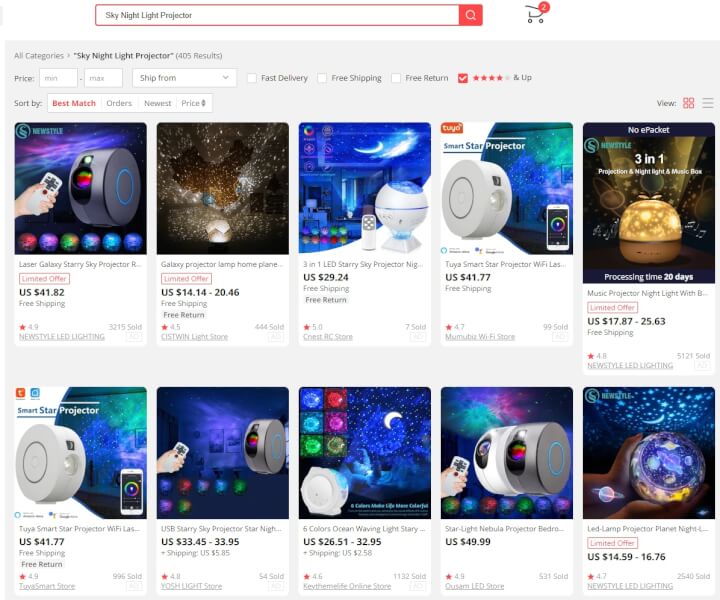 Low and behold, we have hundreds of similar product results! 
It's easy to see how well this niche is selling by the number of orders and positive reviews. This is a great way to test a product-line and find those hidden gems inside.
When your buyers are interested in a product they are viewing, they will check your store for similar products. Therefore, you should always have similar products to those that are selling. 
That pretty much wraps up the flash deals method. Keep in mind that you can use the same technique on other suppliers, like Amazon, Chinabrands, Banggood, and so on. 
It's essential to learn how to implement these product-finding techniques because hot selling products change from time to time. But, the techniques stay the same. 
"You can lead a horse to water, but you can't teach him to drink."
2) AliExpress Dropship Center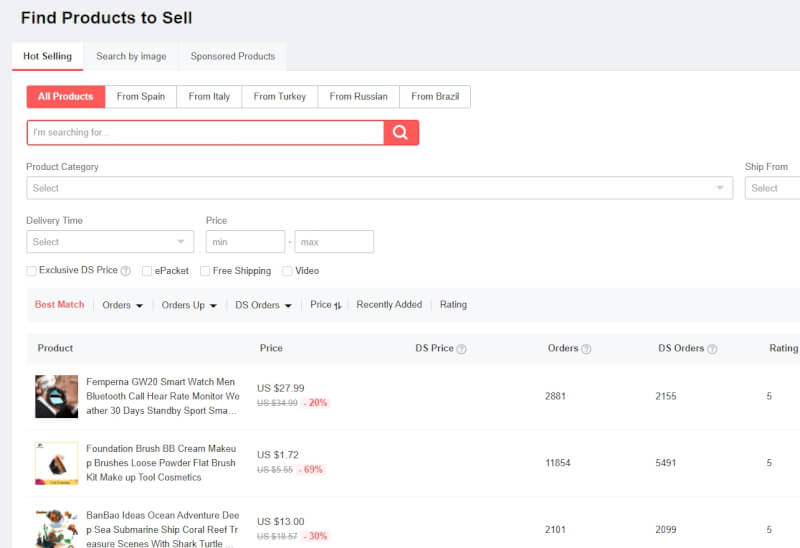 One of the best places to find our first winning products to sell on our eBay stores is through the AliExpress Dropship Center – a relatively new feature with super-strong capabilities. 
AliExpress created this feature to help dropshippers analyze any product or category performance. 
Instead of using paid tools to help us get these statistics, it is now a free built-in option for all dropshippers. How neat is that?
We can use the AliExpress Dropship Center to find products to sell and generate new ideas with the product analysis feature. The more products you test, the better your results to find your first and next winner. It's as simple as that.
Browse around the different categories, search for products that you found in the flash deals, check out their selling statistics, and continue adding products similar to those best-sellers. Rinse, repeat, and watch the magic happen!

While we are dropshipping, we find ourselves using tools and extensions that boost productivity, make our jobs easier, and save us as much time as possible.
When dropshipping from AliExpress, there are free extensions that we can use to help us do just that. One of the best extensions to help us along the way is the Alitools shopping assistant.
This extension helps us nail the product research phase in several ways:
Check seller ratings to avoid bad sellers.

Find similar products to the one you're viewing.

Image search: Find similar products using a photo.

Product price history

Price-drop notifications … and more!
As you can see, there's more than one way to have this extension help us with our product research. 
For one, it's easier to check seller ratings through the extension to avoid buying from bad sellers.
Plus, we don't have to search for the product's title to find similar products. Alitools can display similar products at the click of a button. We can even search for similar products using the product's image.
Furthermore, we can check out the price history of every product. This helps us to get an understanding of when prices usually drop and by how much.
To take it one step further, we can have the extension notify us of specific price-drops, saving us the hassle of remembering to check. This way, we can prepare our stores on time for special holidays, events, and more.
To sum up, we can see that there is more than one way to conduct our product research. This topic should not be taken lightly, as our stores' products are the heart of our business. Our profits come through them, and they are the reason our customers are browsing our stores.
It comes with a lot of testing, deleting, adding more, getting sales, multiplying our success by adding more products similar to our best sellers, and a lot of rinsing and repeating. As time progresses, you will watch your store grow, and your business will prosper.
If you want to accumulate additional winning product ideas for your dropshipping business, be sure to read the