Oh, Canada! With such a massive country, it can be hard to differentiate our online stores from the competition. However, selling one-of-a-kind products will undeniably help us stand out from the crowd. So, what kind of business model allows us to customize items fit for every Canadian customer? Print on demand is the answer!

Before we proceed, let's first explore the wonders of dropshipping POD products. In dropshipping, we can offer items without physical inventories. If we partner that with the POD model, we'll enjoy a low-risk and profitable business.
So, let's explore the top trending print-on-demand products in Canada and where to source them. As a bonus, we'll also learn how to start our print-on-demand dropshipping empire in Canada. Let's get the ball rolling.
Is It Worth It To Dropship Print On Demand Products In Canada?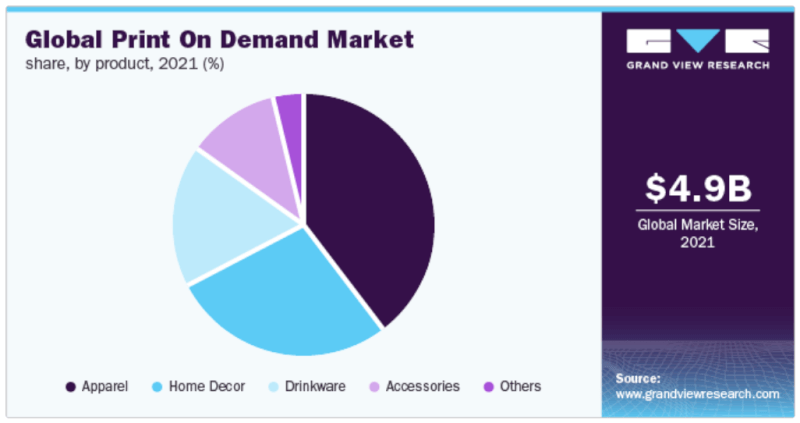 Undoubtedly, the eCommerce industry in Canada is flourishing. To illustrate, Statista reports that the eCommerce revenue in the country generated about 53.77 billion USD in revenues in 2021. Correspondingly, online sellers in Canada can expect this value to increase to almost 90 billion USD come 2025.
Meanwhile, the worldwide print-on-demand industry achieved a 4.90 billion USD market value in 2021. Additionally, the market forecasts a 26.1% compound annual growth rate (CAGR) from 2022 to 2030.
With all these figures, dropshipping POD items in Canada is a promising and profitable venture to start. However, we first need to take some considerations into account before establishing a POD business in Canada. Let's explore these factors in the next section.
Is It Easy To Start A Print On Demand Canada Business?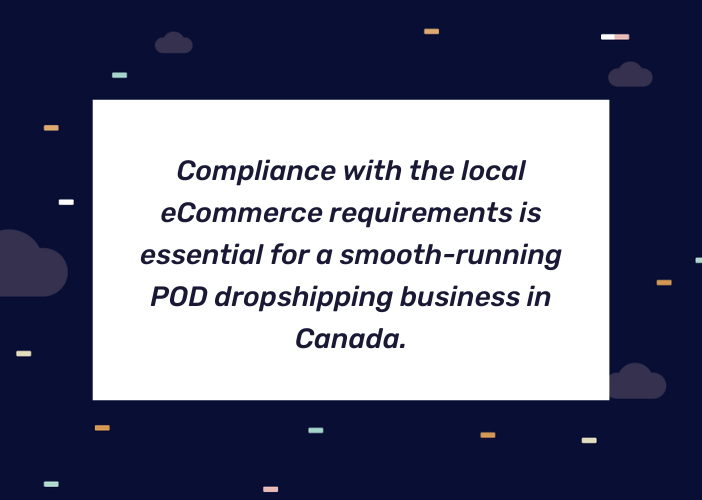 Yes, starting a print-on-demand business in Canada is easy. However, like any legal business, sellers must abide by government rules. So, here are key factors to remember when starting a POD business in Canada:
Offer legal products

Adhere to eCommerce regulations

Tax obligations
Particularly, our product listings should only include legal items. At all costs, we must avoid hazardous, age-restricted, and copyrighted POD products. For example, these Intellectual Property protected products include those that belong to branded clothing lines.
Another consideration is the adherence to the Canadian government's eCommerce regulations. For instance, the Excise Tax Act governs the sale and distribution of POD dropshipping products in the country.
Then, POD dropshippers must fulfill tax obligations when selling in Canada. Some examples of taxes are the Harmonized Sales Tax (HST) and the Goods and Services Tax (GST).
Essentially, the HST is a 13% consumption tax charged to applicable goods in some Canadian provinces. Meanwhile, the GST is a 5% value-added tax for taxable products. In general, customers pay these taxes for every purchase, and we transmit the taxes to the Canadian government at the required schedules.
Overall, we must comply with these requirements when doing business in Canada. Non-compliance can lead to legal sanctions and financial penalties, such as suspension of our business. That's why being aware and compliant with these requirements will lead to an easy and hassle-free business establishment in Canada. 
The Top 20 Print On Demand Products To Sell In Canada
Yay! On to our highly anticipated part. Here, we'll uncover the top 20 products that will help us grow our print-on-demand business in Canada:
Let's start diversifying our product listings, beginning with our first POD item.
1. Beach Towel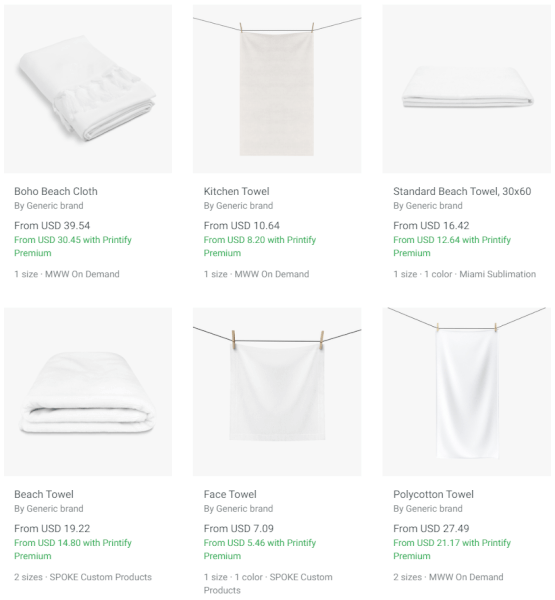 Kicking off our list, the beach towel is Canada's top print-on-demand product. The versatility of this item allows it to become a drying towel, blanket, or picnic mat.
When selling this item, we can go for sand-free, lightweight, and quick-drying options. Meanwhile, beach towels come in several colors, sizes, shapes, designs, and styles. Thus, these customizable features make beach towels a perfect POD product to dropship.
2. Phone Case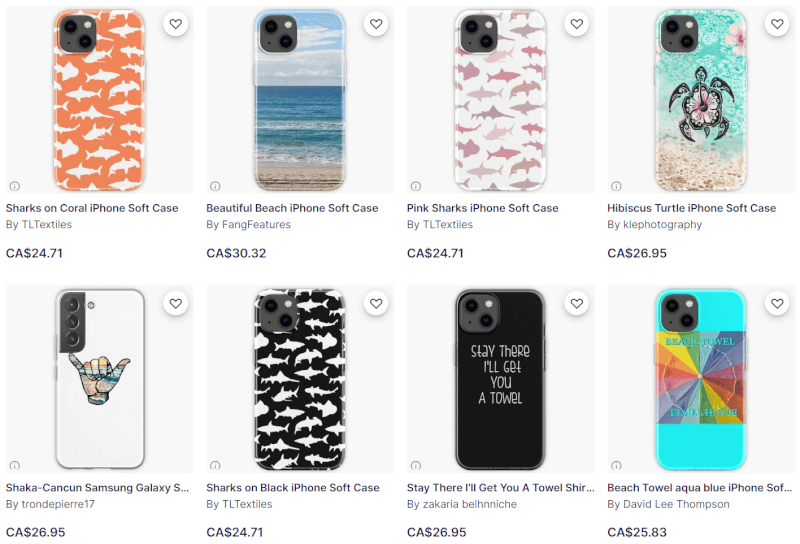 Chic and personalized phone cases are increasing in demand in Canada. Thus, selling these POD items can lead to massive dropshipping sales.
With that said, we should sell phone cases that suit different phone models, such as iPhones or Samsungs. Also, we can add perks like printing of names or images on the cases. Moreover, adding chains, lanyards, or other accessories can make phone cases even more unique.
3. Cushion Cover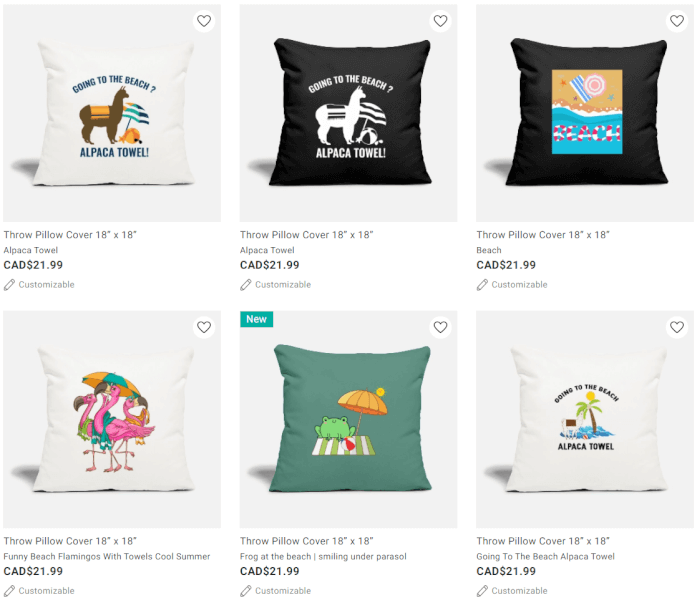 Next on our trending print-on-demand products list is the cushion cover. These covers are ideal for customized designs. As such, they usually match couches and other furniture pieces.
In line with that, cushion covers are available in various sizes and shapes. We can offer choices with solid colors, patterned designs, printed texts, and more. In addition, some options include glitters, sequins, furs, feathers, and other add-ons that result in stylish designs.
4. Wall Decals
As aesthetic designs, wall decals give life to plain walls in homes or public places. Hence, their popularity makes them a top print-on-demand choice in Canada.
With a vast selection of styles, wall decals range from patterned designs to creative messages. With these decals, our customers can easily add a spark of creativity to their rooms without the need to install any wallpaper.
5. Pop Socket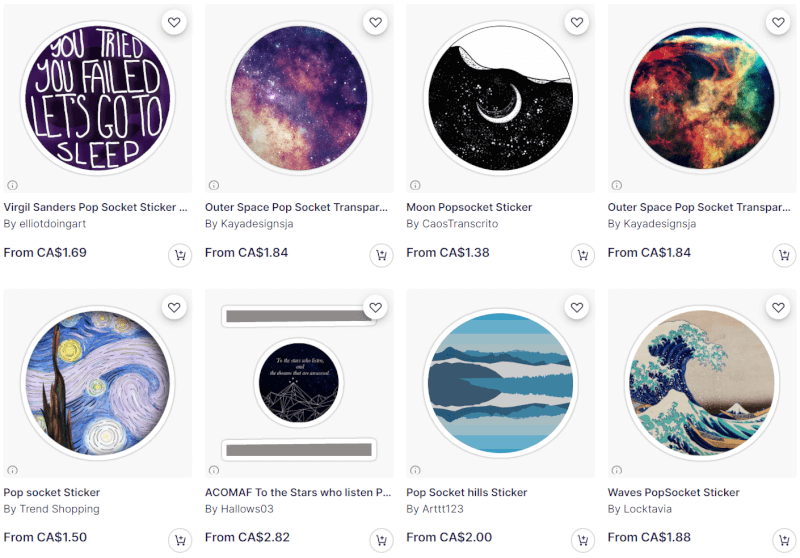 Are your customers tired of phones slipping from their hands? Well, that makes the pop socket a popular product among Canadian consumers. With this accessory, users can have a secured grip while using their gadgets.
Now, pop sockets come in various styles, shapes, and sizes. In particular, we can sell crystal, furry, glittery, and other exciting designs. These pop sockets also serve as phone or tablet stands, so customers can maximize the functionality of these items.
Beginner's Tip: We can cross-sell phone cases with pop sockets, so customers can enjoy these matching products and we can increase our average order value.
6. T-Shirts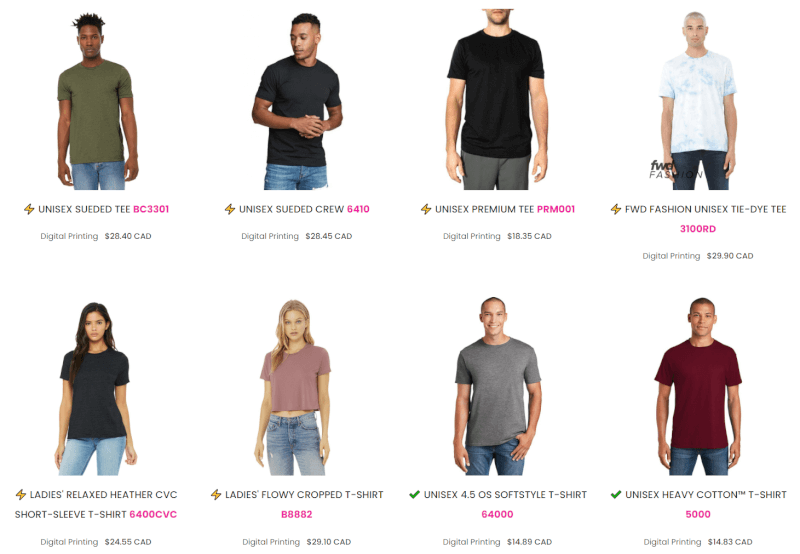 When we talk about print on demand in Canada, t-shirts will never go out of style. As an ideal POD item, we are free to put any design on t-shirts. Thus, the uniqueness of these items entices customers to purchase them.
For t-shirts, we have endless variations in sizes and colors that we can offer. Likewise, prints and designs can include rubberized, glow-in-the-dark, metallic, and more. Remember, the more choices we provide, the higher our chances of incredible sales conversions.
7. Socks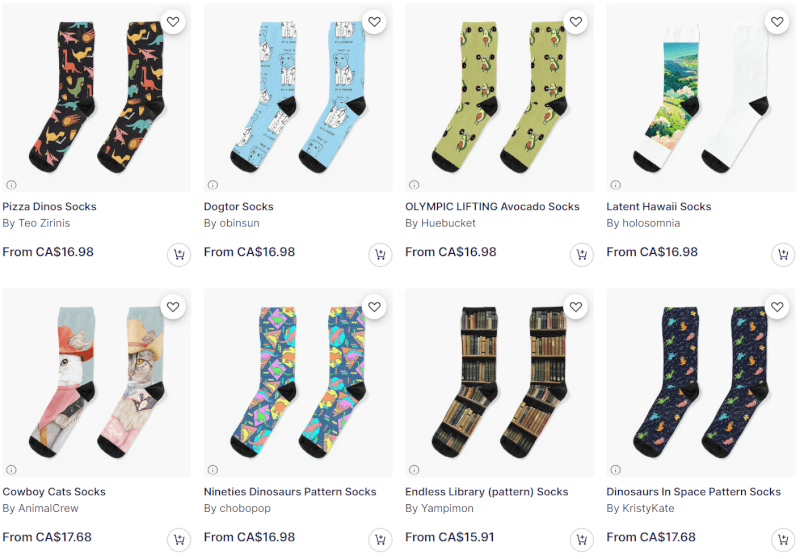 Whether it's for abrasion protection while wearing shoes or to keep feet from getting cold, socks are everyday essentials. For this reason, socks are trending print-on-demand items in Canada.
When dropshipping socks, we can add several variations in lengths and sizes. Additionally, these items can be printed with all-over designs or knitted with texts. Nevertheless, we should ensure to offer high-quality sock materials that will bring comfort and style to our customers.
Beginner's Tip: We can offer socks in sets, such as packs of 3, 5, and more, at a bundled rate.
8. Baseball Cap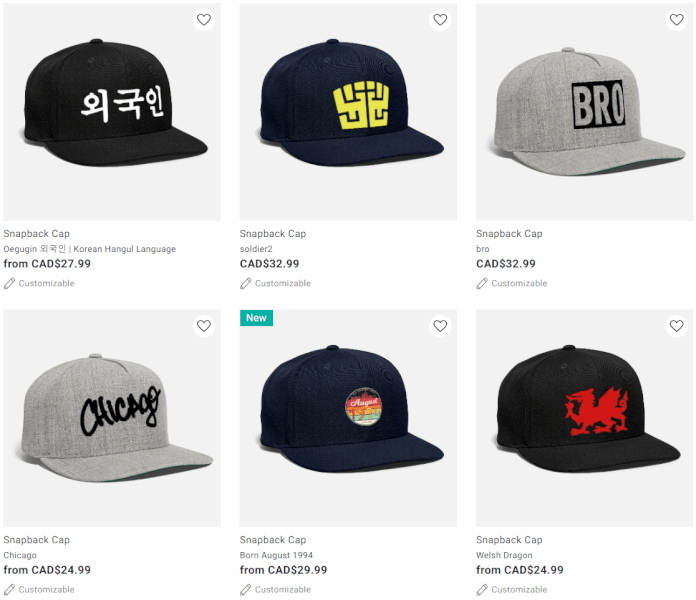 For Canadian baseball team lovers, one way to show their support is by rocking a stylish baseball cap. Aside from sports enthusiasts, baseball caps are perfect for anyone who wants a sporty look.
From a vast selection of baseball caps, we can sell fitted, snapback, strapback, and paneled options. Plus, we can combine colors, texts, and images on these caps. Surely, our customers will love finding unique baseball caps in our stores.
9. Baby Onesies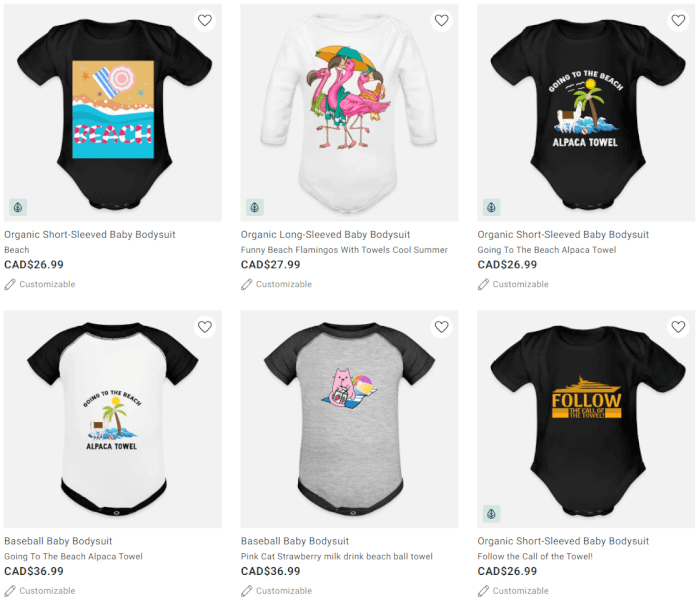 One-of-a-kind fashion statements aren't only for adults but also for little ones. That's why baby onesies are ideal print-on-demand products to sell.
Primarily, onesies range from sleeveless to long-sleeved options and from closed toes to open leg holes. Additionally, we should include many sizes, colors, and design variations. As such, we can offer onesies that have embroidered baby names for a more unique style.
10. Bibs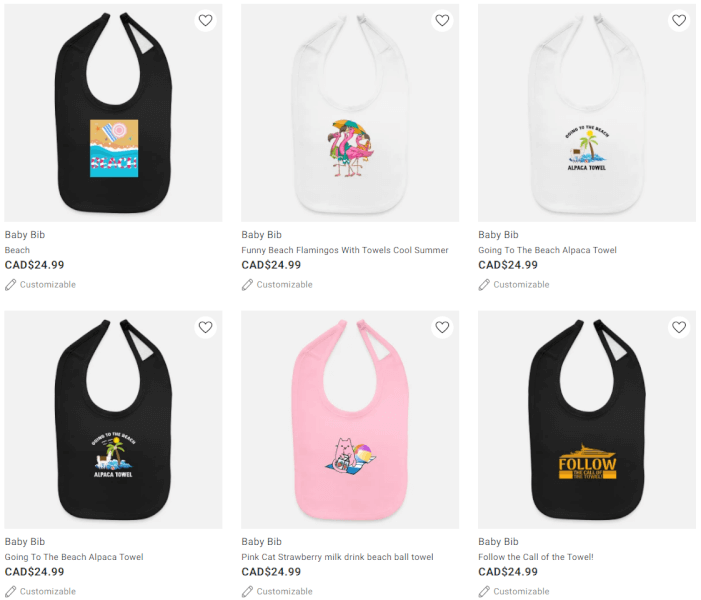 From onesies, let's proceed to bibs. These excellent print-on-demand items protect baby's from spilling liquids or excess food onto their cute little outfits.
Subsequently, there are many fancy bibs in the market that we can offer. For instance, we can sell bibs with days of the week texts or animal print designs. We should also offer bibs with pockets, ribbons, laces, and other accessories that add to the value of this product.
11. Scarves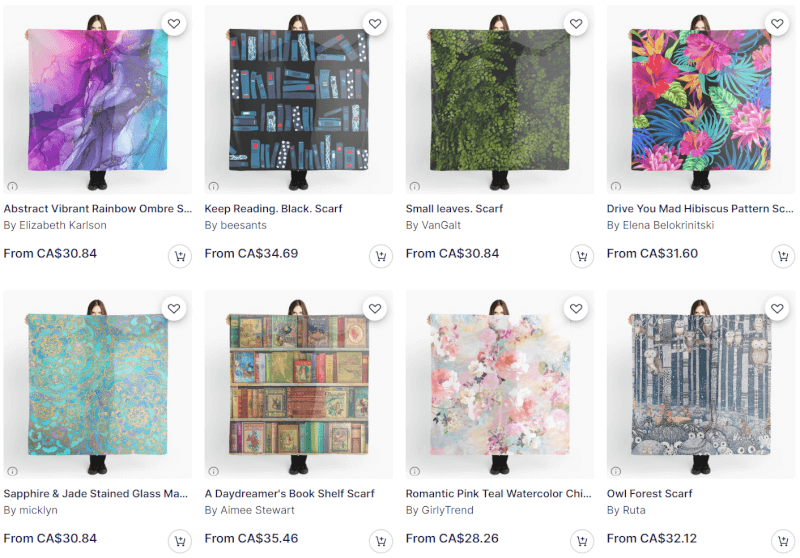 Next up, we have print-on-demand scarves. As functional items, scarves serve as sun defense, cold protection, or a fashion accessory.
With that said, scarves are made of wool, silk, lace, linen, cotton, and other high-quality materials. So, we can incorporate different designs and prints on these materials for customized styles. Remember, broader unique product listings can lead to more interested customers.
12. Tote Bag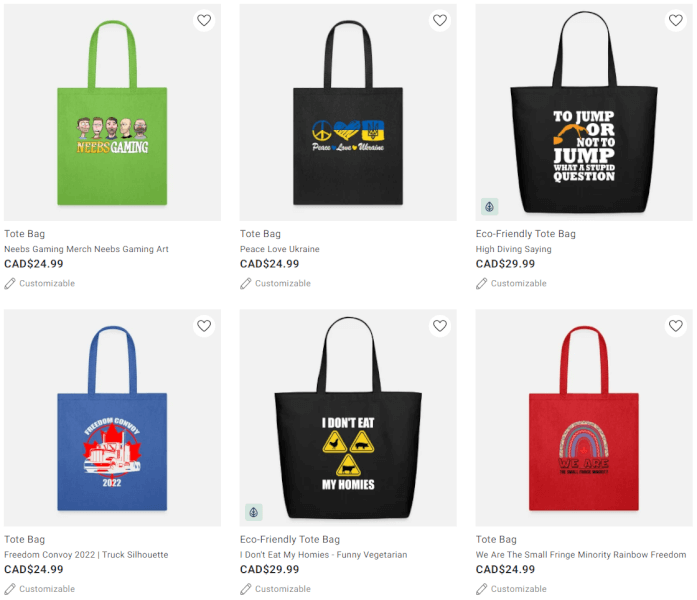 One of the widely-used print-on-demand products in Canada is a tote bag. Its versatile features allow it to become a shopping bag, fashion accessory, and more. Hence, it's a profitable item to start dropshipping.
Essentially, tote bags can be customized with several pockets, secured locks, and more. Besides that, tote bag materials, such as canvas, are easily printable with any design. Plus, we can enhance them by adding furs, embroideries, laces, or ribbons that will attract a wide range of buyers.
Beginner's Tip: We can focus our marketing efforts on those who live in big cities, as tote bags are the talk of the town.
13. Cosmetic Bag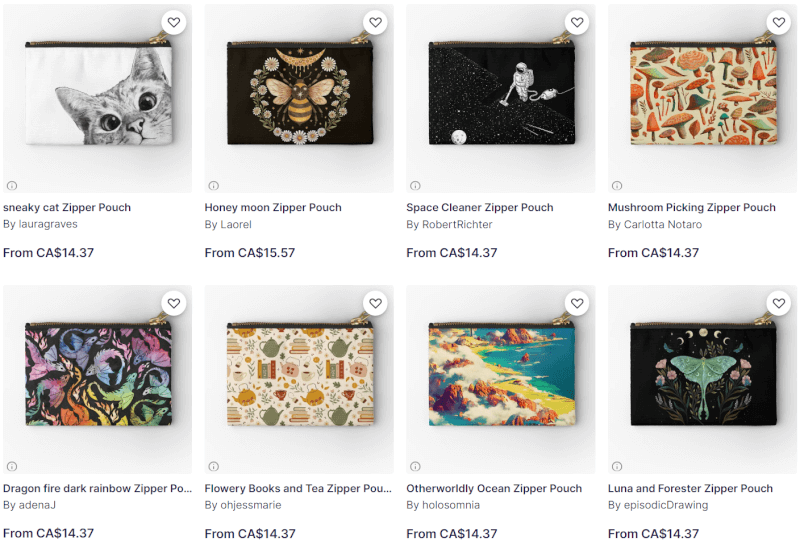 Another superb idea for customized designs is a cosmetic bag. By personalizing these cosmetic and hygiene essential carriers, we give more value to the product. As such, this item is mainly for women who need to retouch their makeup while carrying a stylish bag.
Therefore, we need to add cosmetic bags in different sizes, colors, and shapes. Moreover, these bags are made of plastic, canvas, and other fabrics that can be printed or embroidered. Remember, when we offer personalized products like this, we'll stand out from the competition.
14. Luggage Tag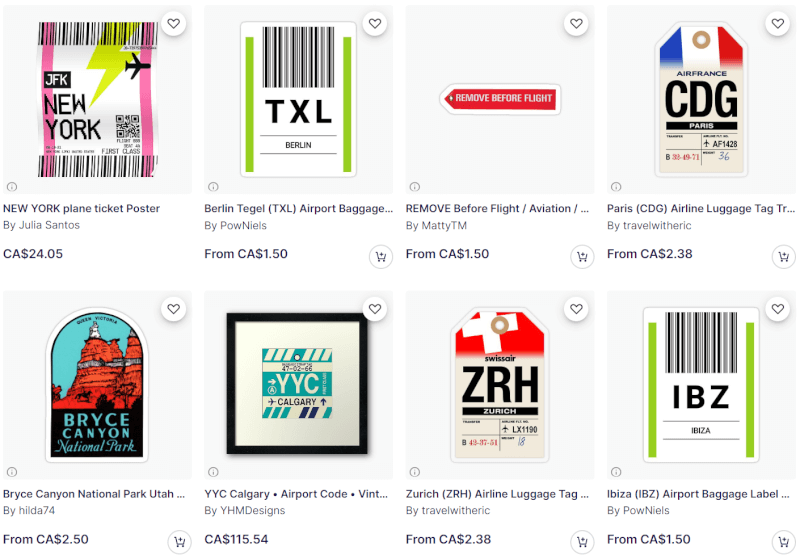 Claiming pieces of baggage can be challenging, especially when having similar bags with others. So, to ensure that customers pick the right bag, a luggage tag is a helpful accessory.
Apart from distinguishing one's luggage, these tags also contain the users' personal information. Moreover, we can customize tags into different shapes, colors, styles, and designs. With all these features, luggage tags have high sales potential as print-on-demand products.
15. Buttons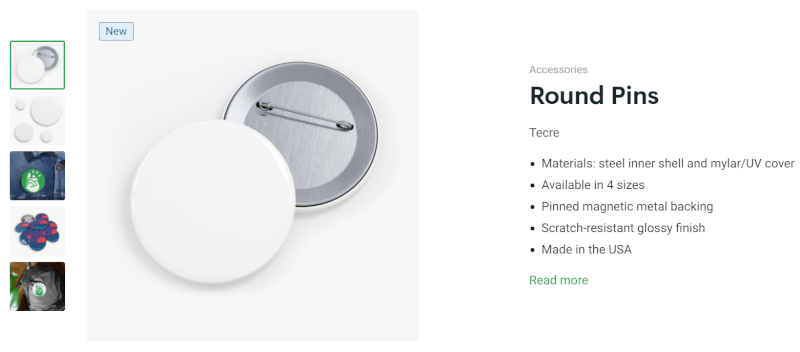 Are you seeking functional and personalized accessories? Then, buttons are lovely print-on-demand products for your store. Usually, these buttons come with pins that we can attach to bags or pin on wall boards.
In addition, buttons are popular in circular forms, but they can be customized into different shapes and sizes too. On these items, we can print names, images, and other designs. As a matter of fact, buttons became popular in the 90s and are still thriving today.
Beginner's Tip: Personalized buttons are often purchased as party favors, so we can offer discounts and generate more sales.
16. Mouse Pad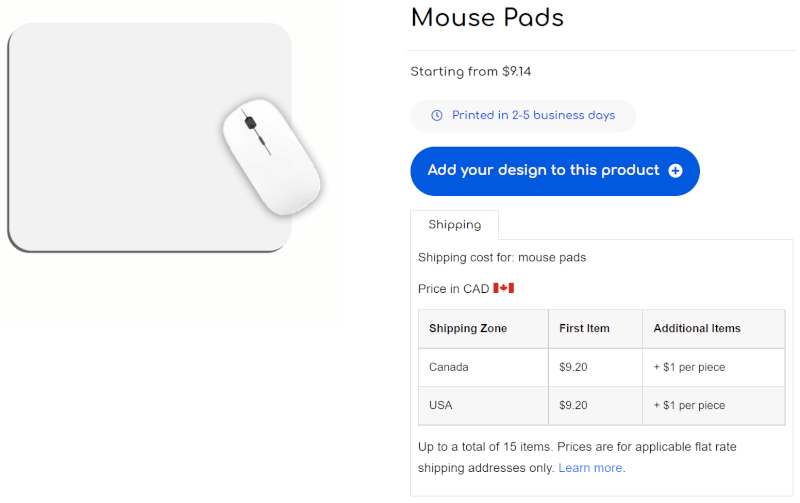 In general, a mouse pad is an essential computer accessory. And, a customized pad is a more extraordinary idea, especially for gamers and remote workers.
Thus, we should offer pads in different shapes and sizes. Also, we can customize rubber, leather, plastic, polyester, and other durable materials. Lastly, don't forget to add attractive colors and designs to maximize audiences' interest in the item.
17. Pet Placemat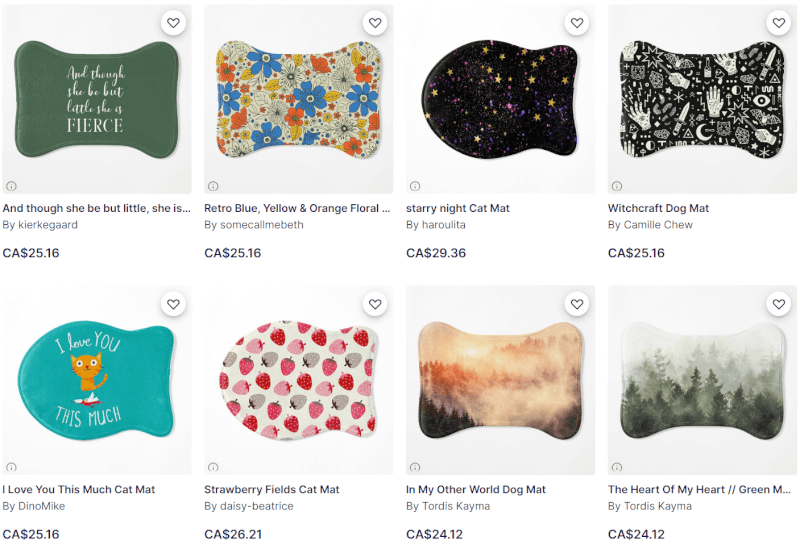 Our product choices become more exciting as we near the end of our list. With that said, a pet placemat is our next dropshipping item. This print-on-demand item is best for our furry little friends' sleeping or eating times.
To dropship this item, we should source soft and comfortable mats like those made of microfiber, rubber, cork, and more. Plus, this product is highly customizable. It comes in different shapes, designs, and sizes that suit a variety of pets.
18. Mugs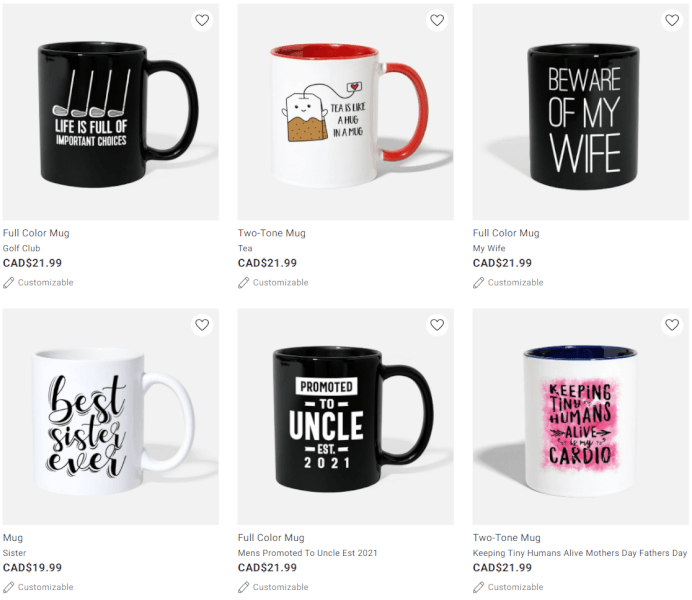 Among the print-on-demand products in Canada, mugs are one of the most customizable options. As such, we can print images and texts on different mugs.
In particular, we can customize mugs made of ceramic, plastic, glass, steel, and more. Plus, they come in varying sizes and styles, suitable for customers' morning coffee or afternoon tea.
Beginner's Tip: Mugs are excellent personalized items that have high sales volumes, especially during events like Mother's Day and Christmas.
19. Notebooks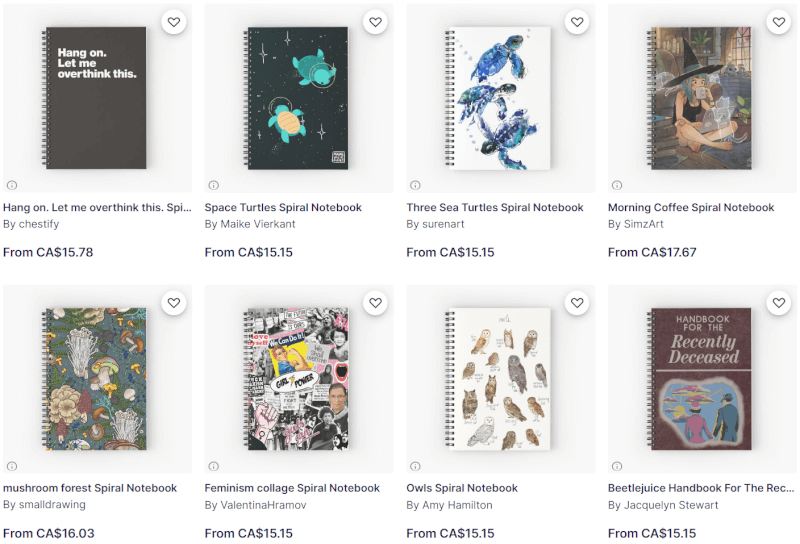 Another superb print-on-demand item is a notebook. Since almost every Canadian uses notebooks for different purposes, these products have high demands. Thus, selling them can help us stay ahead of the dropshipping competition.
What's more, we can customize notebooks by printing unique designs on covers. Besides that, pages can be dotted, plain, graphed, ruled, and more. In addition, we can offer craft, white, black, or colored pages for more attractive aesthetics.
20. Magnets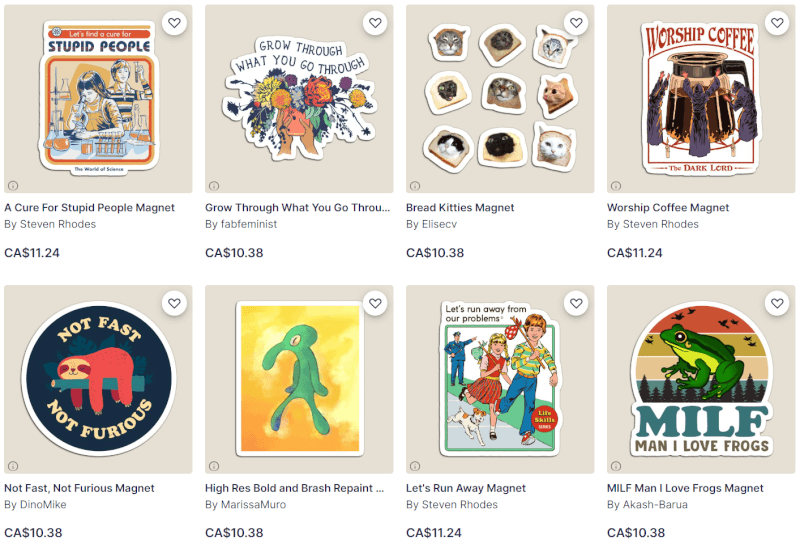 Finally! We're down to our last trending print-on-demand product in Canada. Undeniably, magnets are popular and profitable items to dropship. Since they're widely used as souvenirs, their demands are massive year-round.
When offering magnets, ensure to provide different shapes, sizes, and styles. We can also sell ceramic, metal, vinyl, wood, and other high-quality varieties. Apart from plain and printed designs, we should add embossed and holographic options to entice more buyers into our stores.
All in all, remember that the quality of the POD products we're selling depends on our suppliers. That's why we'll find out the best sources of POD products in Canada in the following section.
9 Best Print On Demand Canada Suppliers
Next, we'll proceed to the top nine most reliable POD suppliers in Canada. Among the vast selection of print providers, here are the best ones:
Without further ado, let's start exploring what these suppliers offer our business.
1. Printify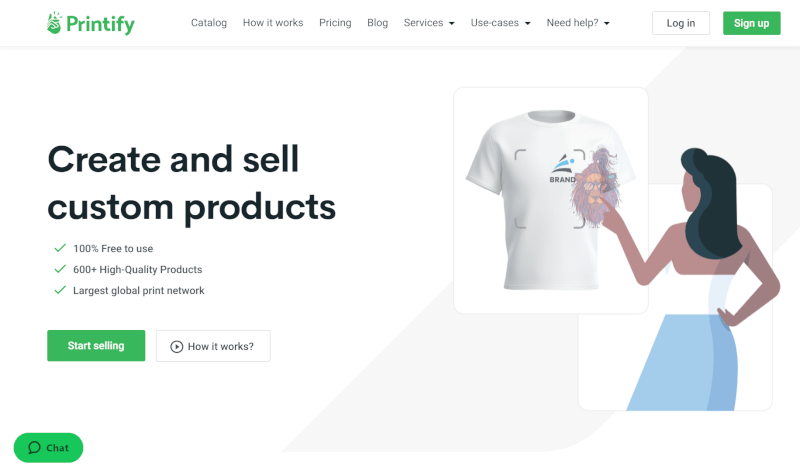 To start off our list of print-on-demand suppliers in Canada, we have Printify. As a famous eCommerce company, this supplier offers a great selection of POD items. Besides that, here are more features of Printify to check out:
Pros
Great selection of items

Integration with eCommerce platforms

Exclusive discounts for Premium members
Cons
Limited branding options

Varying product qualities of print providers
With the vast selection of POD products, we can dropship high-quality items ranging from t-shirts, blankets, mugs, and more from this POD supplier. Plus, we have a different selection of printing methods, such as sublimation, embroidery, and cut-and-sew. Additionally, Printify integrates with excellent selling channels like WooCommerce, Shopify, eBay, and more.
However, Printify offers limited branding options. Additionally, different print providers offer varying product qualities. Thus, it's crucial that we test products first before we add them to our stores, ensuring top-notch quality.
Pricing
Generally, signing up with Printify is free. But, we need to pay fees that come with the stocking of items we want to offer. Meanwhile, we can take advantage of the Premium package for only $29/month, and it comes with a 20% discount on our products.
2. Redbubble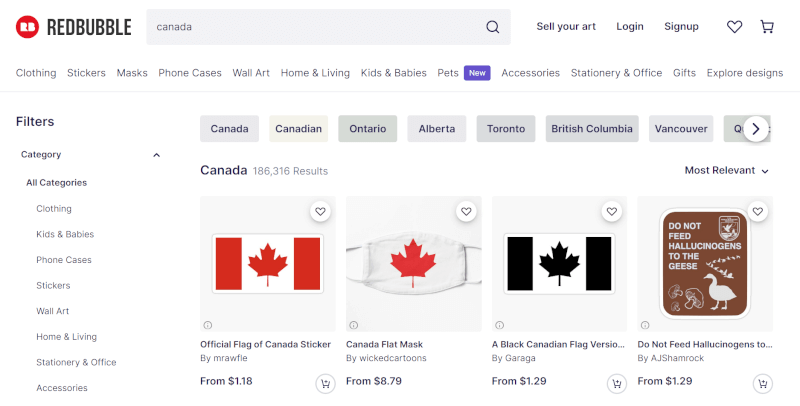 Next up, we have Redbubble, a popular print-on-demand marketplace that offers a variety of products to sell. This excellent POD platform has the following benefits and drawbacks:
Pros
Vast customization options

High-quality products

User-friendly interface
Cons
No branding solutions

Sudden price changes
Redbubble, as an all-in-one POD solution, provides vast customization options, from bags to clothing, and more. We can also score high-quality products from this POD service provider. Moreover, Redbubble's user-friendly interface allows sellers to easily search for products on the website.
On the downside, we can't easily build our brand when sourcing POD products from Redbubble. Then, it has sudden price changes on-site without prior information. Thus, we should make sure to monitor base prices regularly, so we can apply necessary changes in our selling prices.
Pricing
In general, we can purchase items from Redbubble at the supplier's base price. Then, we can set our selling price, depending on the profit we want to achieve. Lastly, signing up on Redbubble is easy and free.
3. Printful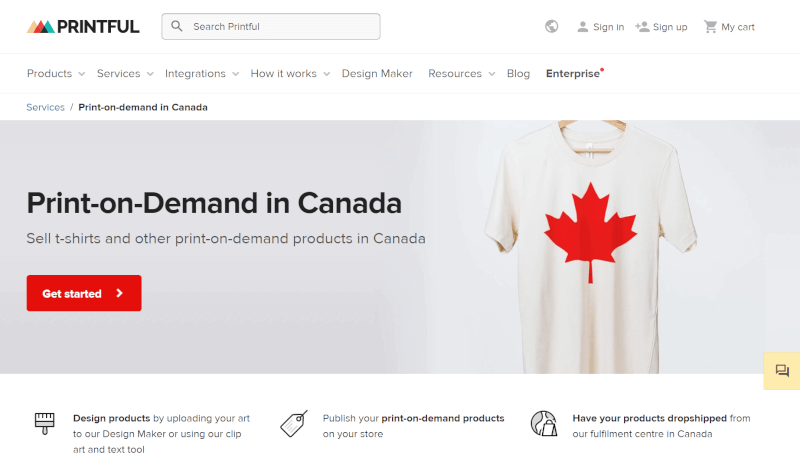 Another outstanding print-on-demand platform we can work with is Printful. As such, this POD supplier enables us to produce any POD product from scratch. Apart from that, here are the advantages and disadvantages of Printful:
Pros
Many branding solutions

Discounted sample orders

Automatic order fulfillment in Canada
Cons
Complex shipping

Lower profit margin
In general, Printful offers eCommerce solutions for us to establish our brand. Additionally, sellers who wish to purchase sample test orders get a 20% discount.
Plus, one of the most significant benefits when working with Printful is its automatic order fulfillment service in Canada. Through this feature, we can fulfill customer demands efficiently, leading to an excellent shopping experience.
However, sourcing products from Printful means complex shipping arrangements. Also, we will likely achieve a lower-profit margin when selling POD items from this print provider due to the higher prices of complex designs. Nevertheless, we can select trending POD items from Printful to maximize our sales.
Pricing
When establishing your product listings, no initial cost is required in sourcing POD products from this supplier. Additionally, there are no subscription fees when we sign-up. On a similar note, you will only pay the product fulfillment fee when a customer places an order.
4. Gelato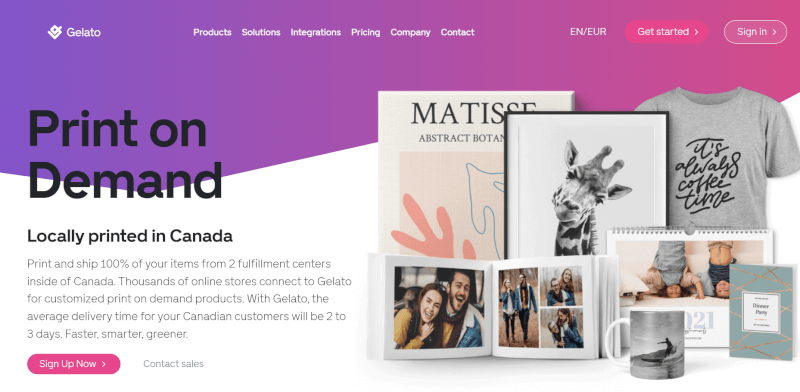 Do you want to work with a supplier that provides worthwhile benefits to your POD business? With Gelato, you can enjoy a great set of perks that will help you expand your POD venture. Without further ado, here are the features that this print provider offers:
Pros
Canada warehouses 

Discounts based on monthly sales

Superb customer service
Cons
Longer order processing

No branding solutions
Having two local distribution centers in Canada, sourcing products from Gelato is convenient. Another benefit that POD dropshippers get is a set of discounts based on monthly sales. On top of that, Gelato extends superb customer support, like assisting sellers in cross-border invoicing, VAT issues, and more.
Apart from these benefits, Gelato also has some drawbacks, such as the extended processing of orders that takes 2-6 days. Then, we can't freely establish our brand because of the lack of packaging customization. But with the top-notch POD product selection on Gelato, we can attract substantial Canadian customers to our stores.
Pricing
When subscribing to Gelato, we can opt for a free initial plan. Another option is to subscribe to a $7.99/month plan, giving us access to premium apparel finds.
5. Printeez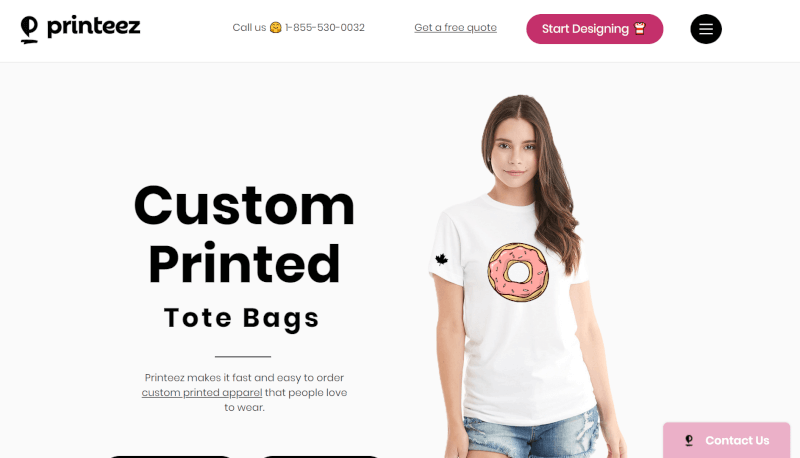 Our fifth outstanding POD supplier is Printeez. Well-known for its custom apparel printing, this supplier helps sellers to establish their business. Next, let's explore other features that Printeez has:
Pros
Top-quality products

No minimum order requirement

Wide range of shipping options
Cons
Lesser product varieties

Additional fees for unique design features
As an in-demand POD supplier in Canada, Printeez offers a great selection of top-quality products. Plus, we can source these items without a minimum order requirement. Moreover, this supplier has a wide range of shipping options with transparent shipping costs.
Now, let's move on to the downsides of Printeez. For one, this POD supplier provides lesser product varieties. Moreover, additional fees come with added features like when using Printeez's mockup generator. Nonetheless, we gain a return on investment when we have unique POD designs for our stores.
Pricing
In general, sourcing items from Printeez requires us to pay for the product's base price. Afterward, we can set the selling price of the item, depending on the profit we want to achieve.
6. Spreadshirt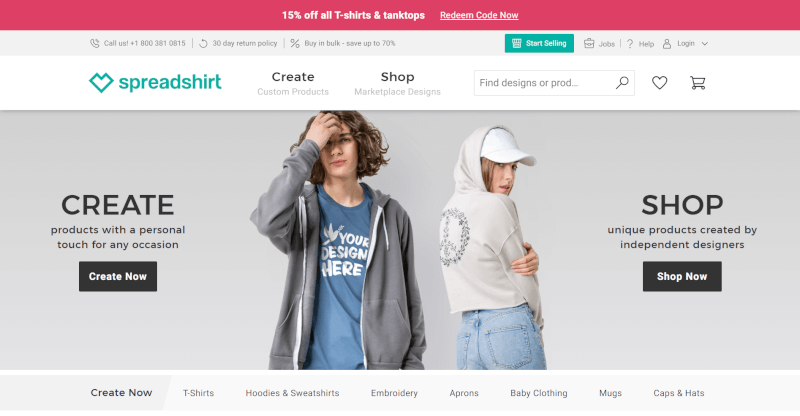 Among the vast selection of POD suppliers, Spreadshirt is one of the high-rated print providers in Canada. With that in mind, here is the list of characteristics of this platform:
Pros
Straightforward sourcing process

Several payment methods

Environmentally-friendly print methods
Cons
Pricey complex designs

Marketing is up to us
Conveniently, Spreadshirt provides a straightforward process for sellers, making it easy to get products from this supplier. Additionally, Spreadshirt provides several payment methods, such as PayPal. Ultimately, Spreadshirt commits to utilizing environmentally-friendly and sustainable printing methods.
Meanwhile, POD products that have complex designs are more expensive. Furthermore, marketing is entirely handled by the seller. As a final note, remember that the right marketing resources can help us achieve success.
Pricing
Similar to other POD platforms, a subscription is free on Spreadshirt. Also, the prices we pay depend on the cost of products we want to dropship.
7. Teehatch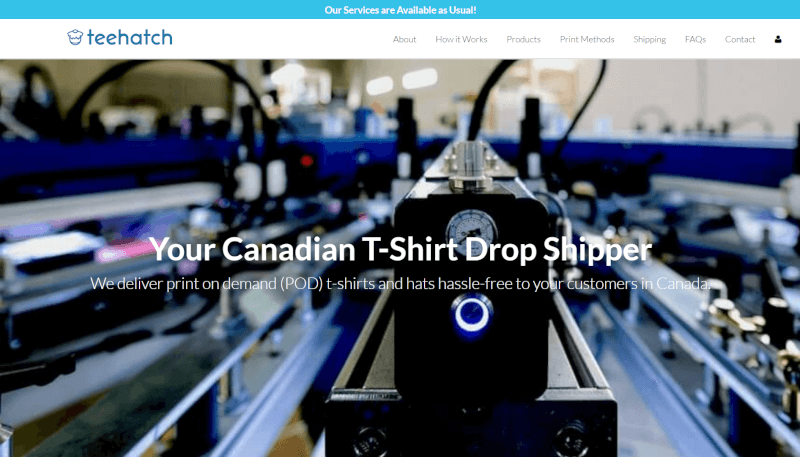 There's nothing better than a Canadian supplier providing services and products to Canadian online sellers. Well, Teehatch offers the best of both worlds for our POD business. As such, we'll uncover the attributes of this print provider:
Pros
Domestic warehouse

No minimum order requirement

Integration with eCommerce platforms 
Cons
Lack of print samples

Poor customer support
With a local warehouse in Canada, we can fulfill customers' orders in the least amount of time possible. In addition, Teehatch doesn't require a minimum order for online sellers. Apart from these benefits, the integration with major selling channels allows us to import products from this supplier easily.
On the other hand, the lack of print samples doesn't allow us to check product qualities. Also, customer support takes time and requires follow-ups. That's why we should aim to provide better customer service to our customers, for instance, keeping them informed about any shipping delays. In this way, we can attain customer loyalty.
Pricing
All in all, signing up with Teehatch is free. As such, you only pay for the supplier's cost of the item, when a customer buys the product.
8. Printbest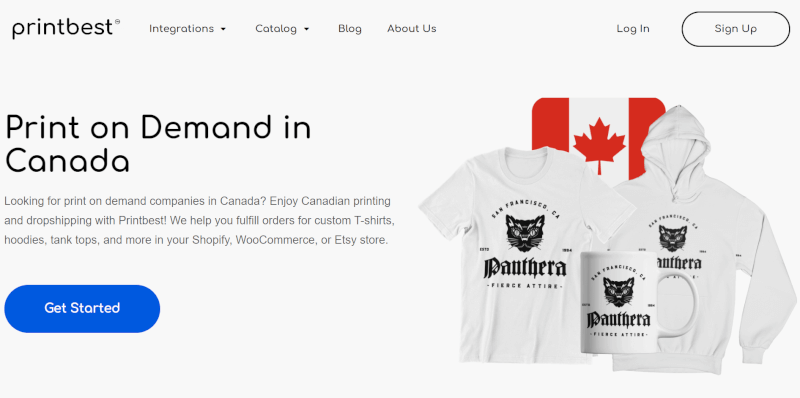 On to our next POD service provider, Printbest is a wholesale platform that caters to the Canadian market. Here, we'll discuss the advantages and disadvantages of this supplier:
Pros
Advanced printing technologies

Practical reprint and refund policies

Accessible payment methods
Cons
Longer production time

Lack of branding options
Interestingly, Printbest has advanced printing technologies worth around 20 million USD, allowing it to produce top-quality items. For unsatisfactory items, this supplier allows customers to request for reprint and refund within 10 days upon delivery. Moreover, Printbest has accessible payment methods, including PayPal, credit cards, and the Printbest Wallet.
However, Printbest has its downsides. With that in mind, Printbest's production time takes about five days to accomplish. Additionally, we can't enjoy branding solutions when sourcing products from this supplier. Remember that establishing our POD business branding is crucial for us to rise above the competition.
Pricing
You can start dropshipping POD items from Printbest for free. Then, shipping fees depend on the number of products purchased.
9. Print Geek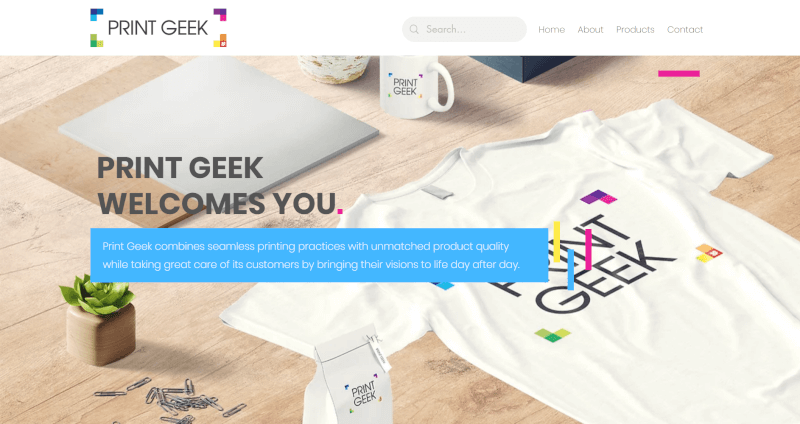 Lastly, Print Geek is another print-on-demand service provider in Canada. This Canadian company has the following perks and drawbacks:
Pros
Integration with eCommerce websites

Domestic warehouses

Efficient shipping arrangements
Cons
Hard to navigate interface

Products not accessible online
Conveniently, Print Geek integrates with different eCommerce platforms, paving the way for a direct transaction from the supplier to our online stores. Also, the presence of domestic warehouses enables a faster order fulfillment period. Likewise, shipping to Canadian regions only takes 2-5 days.
On another note, navigating the website can be confusing. In addition, we can't access the list of products on site. As such, we have to send an inquiry or visit their physical store to do so.
Pricing
Meanwhile, the shipping fee starts at 9.90 USD and adds up, depending on the number of products. Otherwise, we need to send a query to this POD supplier to inquire about any additional costs.
How To Start A Print On Demand Business In Canada
Are you now ready to establish your print-on-demand empire? Well then, let's discuss the six easy steps in starting a POD business in Canada:
Let's get your creative juices flowing, as we start with the first step.
Step 1: Find Winning Products- Canada Product Research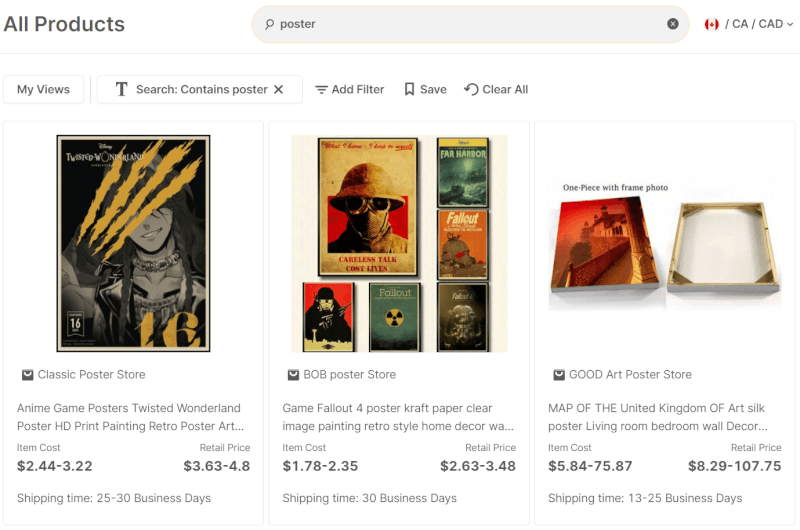 The first and most crucial step in starting a print-on-demand business in Canada is finding what products to sell. We can achieve this by conducting product research. By doing so, we'll gain insights into the needs and preferences of the Canadian market.
Essentially, we have lots of product-finding methods. But you don't have to worry anymore, as we've curated a list of the most efficient ones:
Search supplier's trending products

Google Trends

AutoDS product research tool

Analyze your competitors
To begin, searching on suppliers' websites can give us insights about the best-selling POD products. As such, we can add these in-demand items to our stores and see if they work for our business.
Next up, seeing the most trending searches on Google Trends allows us to analyze the current activities and preferences of the Canadian market. With this information, we can identify the best products to offer them.
Another exceptional way of finding products is by utilizing the AutoDS Product Research Tool. Through this platform, we can access a wide array of best-selling and in-demand products. Then, we can source these items from our POD suppliers.
Additionally, the AutoDS Product Research Tool allows us to filter search results for a more accurate selection. For instance, we can set filters, such as suppliers, warehouses, price ranges, shipping times, and more. Afterward, we can easily import these items to our selling channels in just one click.
Furthermore, analyzing our competitors will let us uncover what products are selling fast in their stores. For instance, we have the Koala Inspector for Shopify stores, allowing us to uncover the secrets behind the successes of our competitors. Subsequently, we can adapt and improve their techniques and see if these strategies will help us expand our business.
Overall, we can start by listing the POD best-sellers provided in this article. However, we must constantly update our product listings with the latest trends in Canada.
Step 2: Work With The Best Canadian POD Suppliers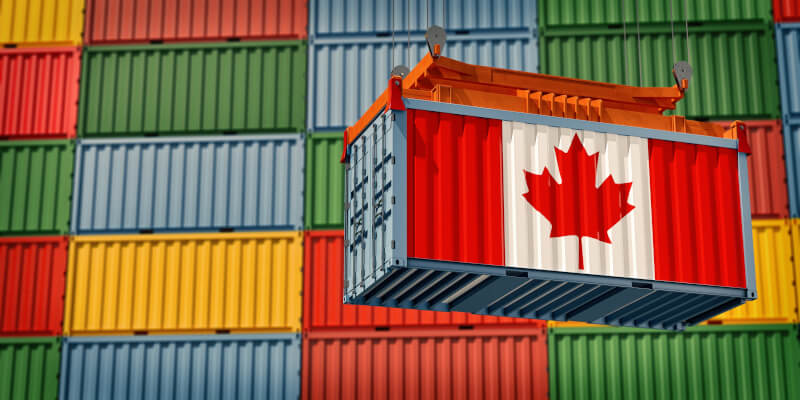 Previously, we covered the top print-on-demand companies and their benefits and drawbacks. From this information, we'll cover the key features of a reliable POD supplier:
Vast product catalog

MOQ flexibility

Positive reviews

Great customer service

Fast shipping

Practical return policy
One of the most crucial factors to look into when selecting a POD supplier is the product catalog. We must ensure that we're sourcing top product ideas that will cater to every customer's need.
Aside from that, we should choose suppliers with minimum order quantity flexibility. In this way, we can source products on a per order basis, which is in line with the dropshipping business model.
Moreover, seller ratings and product reviews set apart excellent suppliers from the rest. Through this data, we can analyze whether a supplier is trustworthy or not.
Aside from these features, excellent customer service is an essential part of our business. Therefore, we must work with suppliers who offer top-notch products and services since we extend the same to our customers.
Furthermore, fast shipping within Canada is one of the things that customers look for in a store. As such, the faster we deliver packages, the more satisfied buyers become with our business.
Finally, a practical return policy is essential in POD dropshipping. When our products and services become unsatisfactory, our customers can file for returns or exchanges. Remember, our customers deserve the best products we can offer, and they will feel valued when we cater to their concerns.
Step 3: Choose A Selling Channel

The next question is, where do we sell our print-on-demand products? Don't worry, because we'll uncover the best-selling channels here:
Shopify Canada

Wix Canada

eBay Canada
Now, let's explore the reasons why we should work with these platforms.
Shopify Canada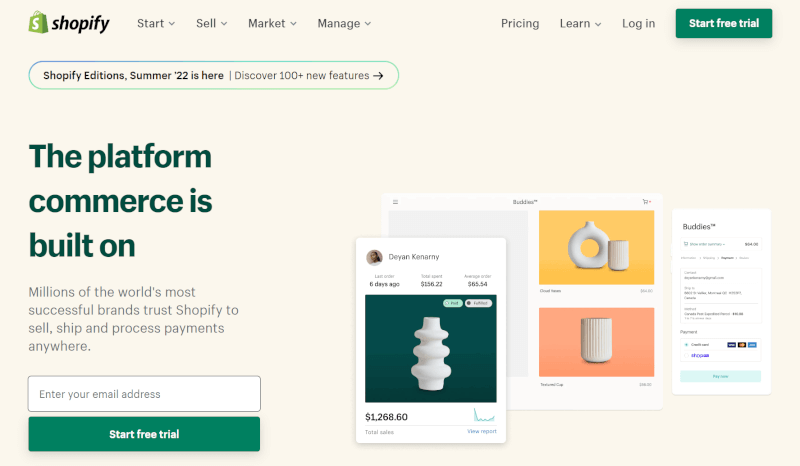 As one of the most diverse POD selling channels, Shopify Canada allows us to customize our store branding. In this way, we can optimize our stores according to the nature of our POD items. Also, we can add as many products as we want since Shopify has no selling limits.
As a drawback, however, this selling channel has no organic traffic. Hence, we should adopt effective marketing techniques to maximize our sales.
Wix Canada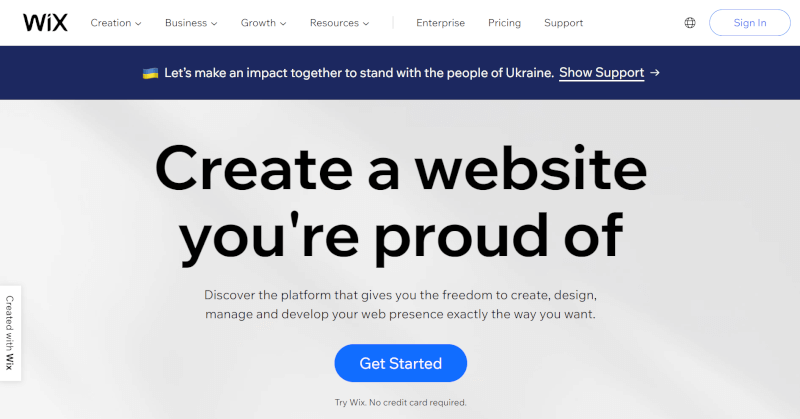 Another dependable selling channel in Canada is Wix. As a website builder, Wix allows us to customize our POD websites fully. Remember that an optimized store leads to a greater shopping experience.
However, just like Shopify, Wix doesn't have organic traffic. Meaning, we must allocate a budget for marketing to increase our website's traffic. Overall, Wix is a promising platform where we can sell POD products due to its unique interface. 
eBay Canada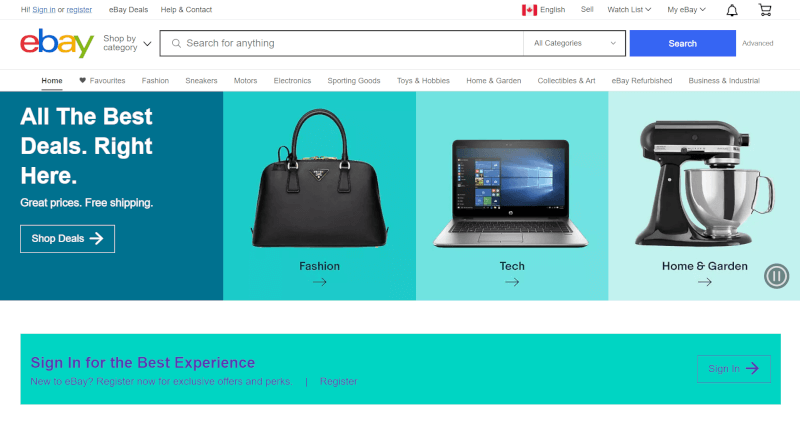 Essentially, eBay Canada is a well-known marketplace where we can find a wide selection of POD items. Despite the high selling fees on eBay, we can still achieve huge profit margins because of the vast array of high-quality products we can sell.
Morever, eBay's free organic traffic allows more audiences to freely access our stores. As a result, more sales will come our way.
Step 4: Write Up Your Business Policies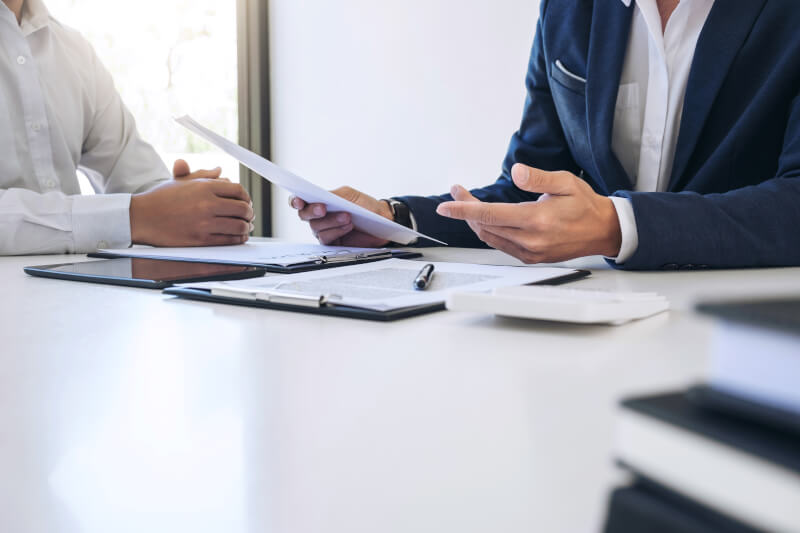 After setting up our selling channels, we need to add business policies. Setting up our business policies is integral to the success of our business. However, manually drafting them takes a lot of time and effort.
So, how can we speed up the process? Look no further, as AutoDS offers ready-made templates that will help us create our policies quickly:
Generally, these business policies enable us to set our business' identity, making us distinct from our competitors. Moreover, these policies guide us on how to properly manage our stores.
In a similar manner, business policies help customers understand our business processes. For instance, they can get insights about returns and shipping information.
These policies apply to the above-mentioned selling channels, except for eBay. Uniquely, eBay Canada doesn't require us to create these policies. However, we can establish our stores' policies according to the business criteria provided by eBay.
Overall, business policies equate to professional and legal ventures. Thus, customers will trust our business if we can present clear policies.
Step 5: Create Your POD Designs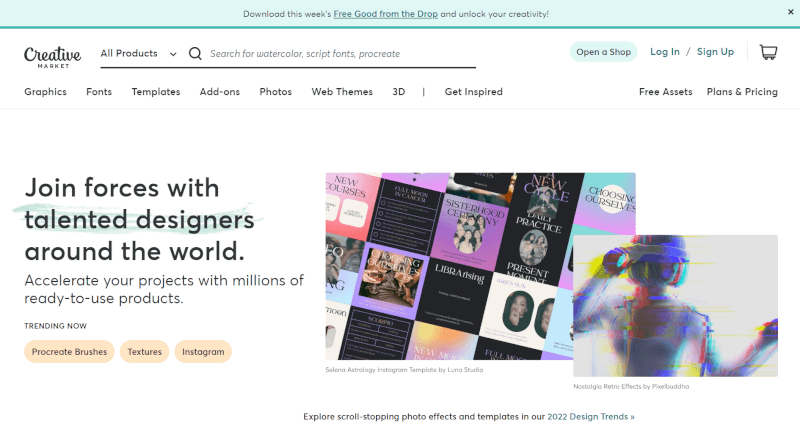 Interestingly, print on demand enables us to create one-of-a-kind products. By doing so, we can stand out from the vast eCommerce competition. Similarly, specially-made items satisfy varying customer preferences.
With this in mind, there are many ways to create unique designs for our POD items. Here are some of the most efficient means to do so:
Create them yourself

Hire designers

Buy a template or design
If you're a seller and an artist in one, you can conveniently create designs for your POD items. In such a manner, you can save financial resources. This is because you don't need to depend on the services of other people or products from other websites. Plus, this option gives you the liberty to produce designs according to your preferences for free.
However, not all sellers are designers. In this case, we can hire designers to create designs for us. We can invest in top-rated designs by getting the services of freelancers from websites, such as Fiverr.
Aside from these two options, we can easily buy ready-made design templates from websites like Creative Market. While this is a faster way of getting designs, these designs come at a cost. Nonetheless, a good design can help us obtain higher sales conversions due to their uniqueness and quality.
Step 6: Promote Your Products To The Canadian Market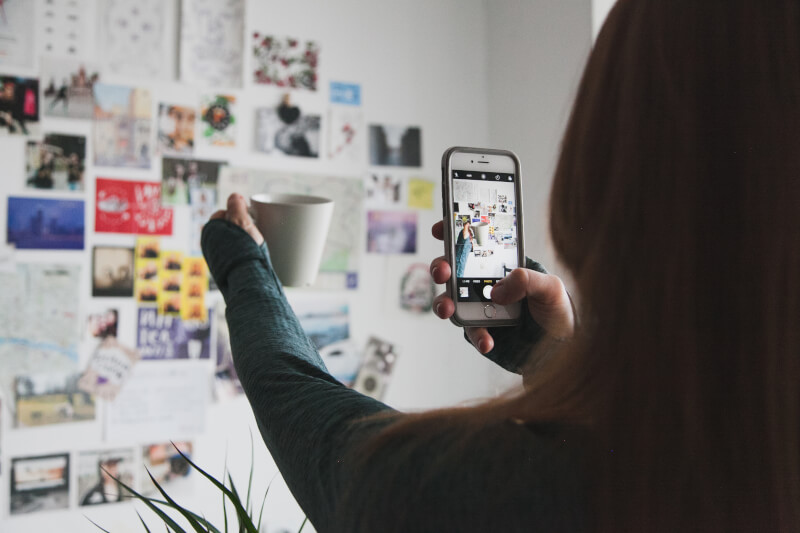 Alright! After creating over-the-top designs for POD products, it's time that we market these items to the Canadian audience. Through efficient marketing strategies, we can promote our print-on-demand business to more customers.
When more people have access to our product listings, we can attain greater sales. Therefore, we must select the best marketing method, depending on our selling channel.
For Shopify and Wix, the most effective techniques to promote our POD business in Canada include:
Meanwhile, eBay has the following top-notch ways to market our POD products:
All in all, marketing is an essential part of running our POD dropshipping business in Canada. Even though most of these methods come with fees, they can help us attain high-profit margins in the long run.
Step 7: Start Selling & Earning Profits!
When everything is set, we can start selling our print-on-demand products in Canada. With that said, we'll start earning massive profits. Yay!
But wait, there's more. Before offering POD products for sale, we recommend that you test samples from your suppliers first. By doing so, we can personally test the quality of the POD items we'll sell.
Likewise, it's always a good idea to explore more POD product choices in the market. With that in mind, thorough product research will help ensure that we're selling the right products to our Canadian customers.
As a final note, remember that customer service is the key to the long-term success of our POD dropshipping business. With superb customer support, we'll gain customer loyalty, resulting in repurchases and better business relationships.
Frequently Asked Questions
How Much Can I Make From Print On Demand Canada?
Our gain from selling print-on-demand items in Canada depends on the supplier's price and the profit margin we want to achieve. To illustrate, a POD t-shirt costs $19.99 from our supplier. Then, we sell it for $34.99 in our online store, giving us a $15 profit.
Is Print On Demand Legal In Canada?
Definitely! The print-on-demand business model is entirely legal in Canada. As long as we adhere to the local rules and policies. For instance, we have to fulfill tax obligations and sell legal items.
What Are The Best Print On Demand Canada Companies?
There are a lot of print-on-demand companies in Canada that we can work with. To help you maximize business efficiency, it's best to work with multiple POD print providers. For example, we have Printify, Redbubble, and Printful.
Conclusion
Way to go! With the comprehensive knowledge we've gained, establishing our print-on-demand business in Canada is now as easy as one-two-three. Plus, we now have access to the most profitable and in-demand POD items that we can offer to the Canadian market.
Subsequently, we can scale our POD business to greater heights by continuously testing new product ideas. Similarly, creating high-quality designs for our one-of-a-kind product listings can help us move ahead of the competition.
To learn more about dropshipping in Canada and the basics of print on demand, let these articles guide you: