With the advent of digital personalization, the desire for print on demand products is on the rise. However, how do we step ahead of the competition in the vast market of customized goods?

To clarify, the print on demand (POD) venture allows us to offer one-of-a-kind products. Consequently, we only sell these products on a per-order basis, making it a perfect venture for dropshipping.

Furthermore, dropshipping is a low-risk eCommerce model that enables us to start a business without the need for a physical store. Therefore, dropshipping is a perfect avenue for POD since it works on a per-order basis. As a result, we don't have to maintain inventory or worry about unsold goods.
Now, let's uncover what makes dropshipping print on demand products a lucrative online business to undertake. We'll learn about the best POD items that will help our dropshipping business grow.
What Are Print On Demand Products?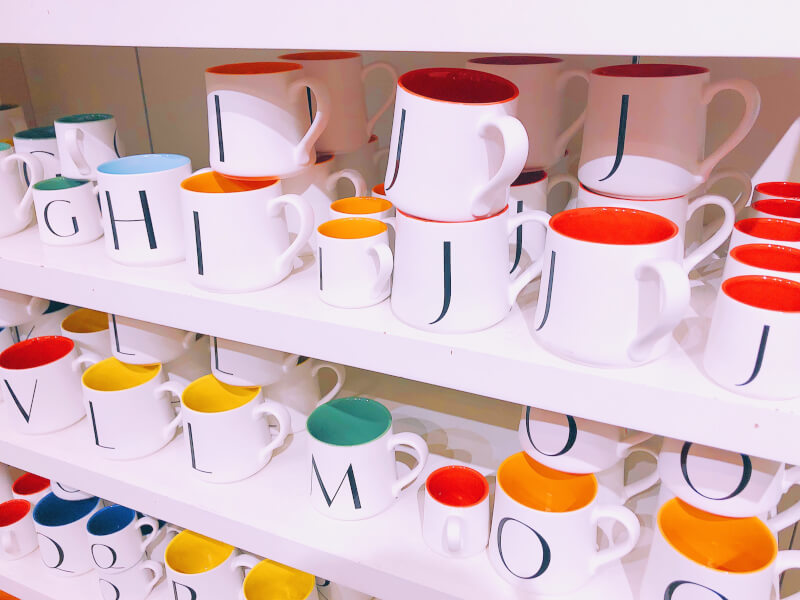 As mentioned, print on demand products are custom-made items that permit us to apply digital arts to various goods. For us POD dropshippers, we earn a profit from our unique designs.
Additionally, POD allows us to work with white-label suppliers, so we can easily brand our POD dropshipping stores. For instance, we can print our logos into the products themselves or on the packaging. Doing so helps us build brand awareness and enables our business to stand out from the competition.
Generally, selling POD products is highly profitable because most of these goods are what people use in their daily lives. Thereby, lots of consumers will likely purchase these items regardless of the time of the year. Examples of these products are mugs, t-shirts, bags, caps, and other everyday-use items.
Furthermore, dropshipping print on demand products is a straightforward process. All we have to do is create our special designs and upload them to our dropshipping stores. Once customers place their orders, our suppliers will take care of the printing and shipping of products.
Finally, POD dropshipping enables us to make profits while supporting artistry. Similarly, this time-saving eCommerce model allows us to allocate our efforts to creating new designs and expanding our business.
6 Printing Methods For Print On Demand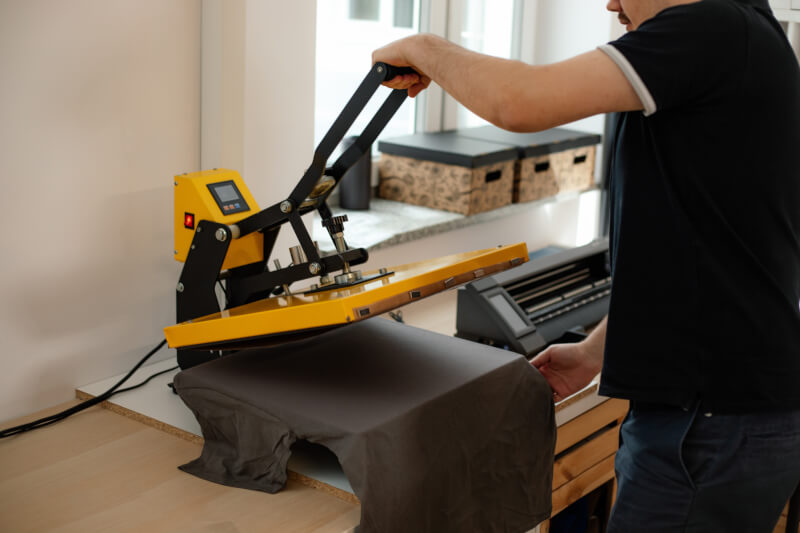 Before we proceed to the best print on demand products to dropship, let's first discuss a crucial part of POD – the printing process. Essentially, the printing process greatly affects the quality of end products. Therefore, we must pick the most suitable printing methods that can produce top-quality POD dropshipping items.
When choosing the best printing technique for our POD dropshipping products, we need to set standard criteria. Aside from print quality, here are other important considerations we should have in mind:
Efficiency of the rate of production

Costs that come with the printing process

Suitability of the method to various materials
As print quality is one of the crucial factors in a POD dropshipping business, we have to be knowledgeable about various printing techniques. Now, presenting the commonly-used printing methods that can produce high-quality custom products:
Dye sublimation 

Direct to garment

Laser printing

Screen printing

Heat press printing

Vinyl cutting
1. Dye Sublimation
Our first POD printing method is dye sublimation. This printing method is traditionally applicable to light fabrics, such as polyester. However, today, we can utilize this technique for ceramic, plastic, and other materials.
2. Direct To Garment
Like sublimation, direct to garment (DTG) produces full colorful prints for various materials. This printing technique is suitable for silk, polyesters, cotton, linen, wool, and the like.
3. Laser Printing
The next excellent POD printing method is laser printing. Overall, it's a cost-saving printing option, allowing lesser expenses at faster speeds. Also, it's ideal for high-quality, large-print materials.
4. Screen Printing
Unlike the above printing methods, we can do screen printing by hand or with a machine. Aside from fabric, screen printing is compatible with wood, plastic, metal, and plastic. It is a popular method for work garments and sports uniforms.
5. Vinyl Cutting
The fifth technique to apply designs on POD products is vinyl cutting. While this method is favorable for both mass production and small-scale printing, it is most common for logo printing. 
6. Heat Press Printing
Another popular POD printing method is heat press printing, which provides long-lasting, heat resistant, and water-resistant designs. On the downside, heat press printing is not advisable for materials with low heat sensitivity or dark fabrics, since the wax is translucent.
Excellent! We now have a selection of efficient printing techniques for our POD dropshipping products. However, the choice of printing methods depends on the type of product we're dealing with. Moreover, we should check with our POD suppliers regarding the printing techniques that are available to them.
12 Best Print On Demand Products For Dropshipping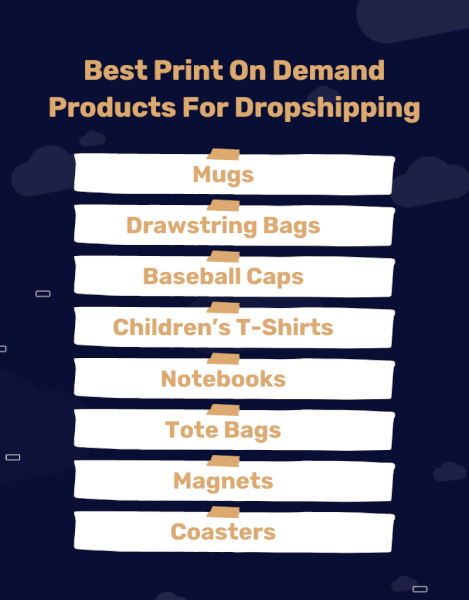 Now, let's proceed with our list of the most trending print on demand products to dropship:
Up next, we'll leap into action by beginning with our first POD product.
1. Mugs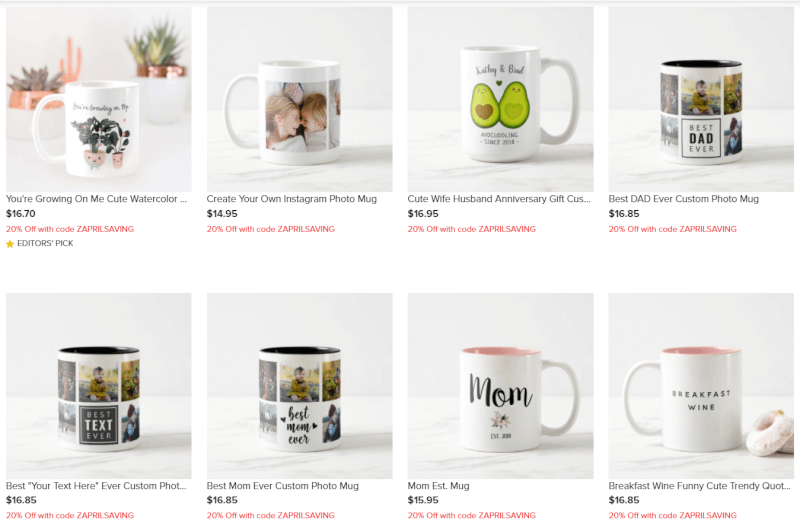 At the top of our list of the best print on demand dropshipping products are mugs. Whether it's for everyday use or as gift ideas, mugs are in-demand items. Thus, dropshipping POD mugs will surely bring profits to our online stores all year round.

When selling print on demand mugs, consider ceramic, metal, glass, and plastic materials. Additionally, we can offer customized shapes and sizes to suit customer requests.
Moreover, shoppers will surely love finding vast color and design choices in our stores. Plus, we can sell POD mugs with complementing boxes, for a personalized shopping experience.
Beginner's Tip: During holiday seasons, make sure to offer special POD mug editions to fit the occasion.
2. Drawstring Bags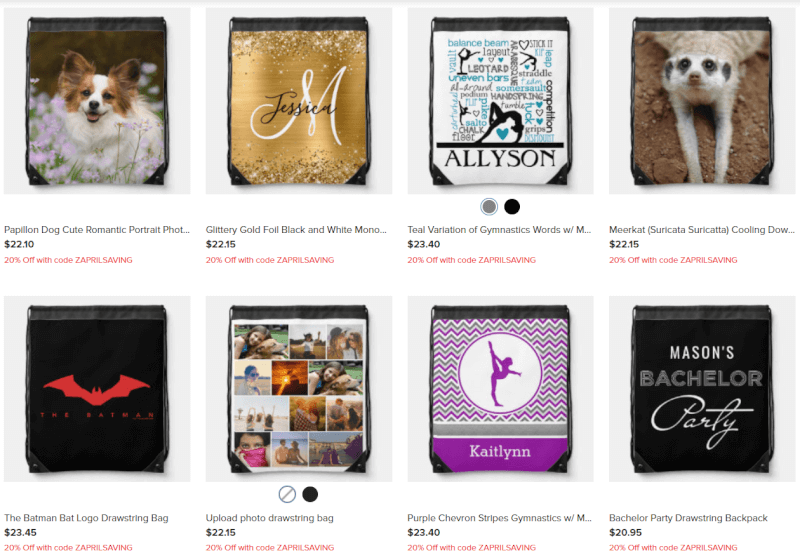 Drawstring bags enter the second spot in our trending print on demand products list. This top product idea is easily customizable, so it's great for large quantity orders.
For drawstring bag materials, we can add eco-friendly and biodegradable options like burlap. Other bag materials we can consider are canvas, cotton, mesh, nylon, and polyester.
In addition, dropshipping POD drawstring bags requires different bag sizes and string lengths. Also, design variations can be printed or embroidered. Therefore, let's offer a vast selection of these bag features for our customers to choose.
3. Baseball Caps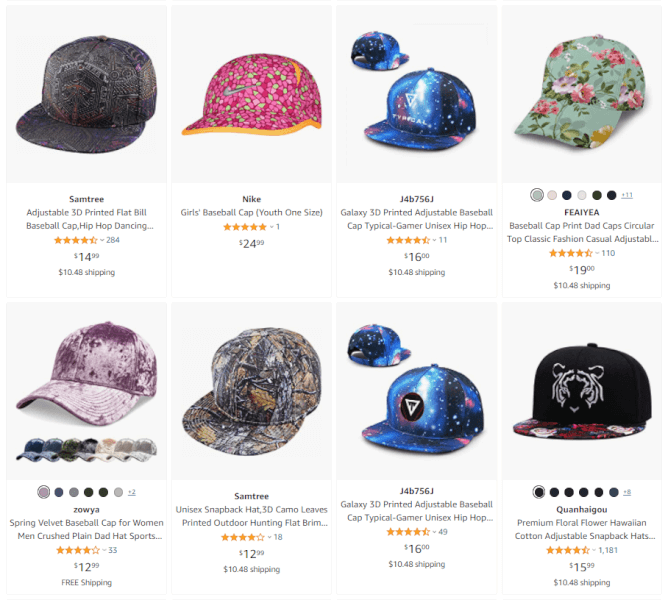 Next up, we have the ever-popular print on demand product – a baseball cap. This POD item is a convenient way for our customers to support their favorite sports team. Aside from that, POD baseball caps are trendy accessories to match outfits of the day.
With that said, selling the right pieces of POD baseball caps will likely pull sports enthusiasts or fashion lovers to our stores. Therefore, we can add variations like snapback, fitted, and adjustable ones.
Additionally, baseball cap materials that we can design include brushed cotton, wool blend, color dye, and a lot more. We should also offer a wide array of colors, sizes, and designs to suit different customer preferences.
Beginner's Tip: During baseball season, we can add pre-designed baseball caps for each sports team, so customers will easily find their teams.
4. Children's T-Shirts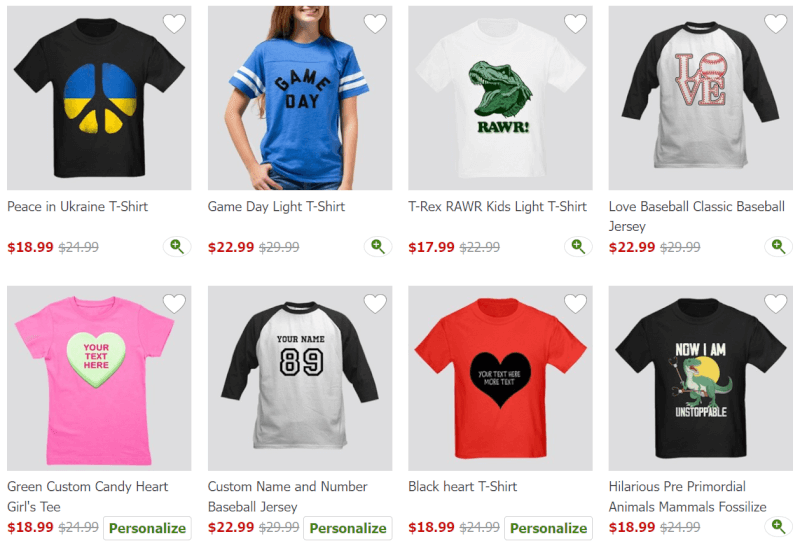 Who doesn't love wearing one-of-a-kind t-shirts? Children definitely do, making children's t-shirts another excellent print on demand dropshipping product. With this in mind, selling top-quality t-shirts for kids can help us gain huge sales.
Now, remember to offer different t-shirt sizes and colors for kids of all ages. Since we're talking about young ones, don't forget to provide hypoallergenic material options.
Also, we can utilize kid-friendly design templates to attract children and their parents to our stores. Similarly, children would surely appreciate over-the-top designs like glow in the dark.
Beginner's Tip: We can include a size chart, so customers can choose the right fit for children's t-shirts.
5. Notebooks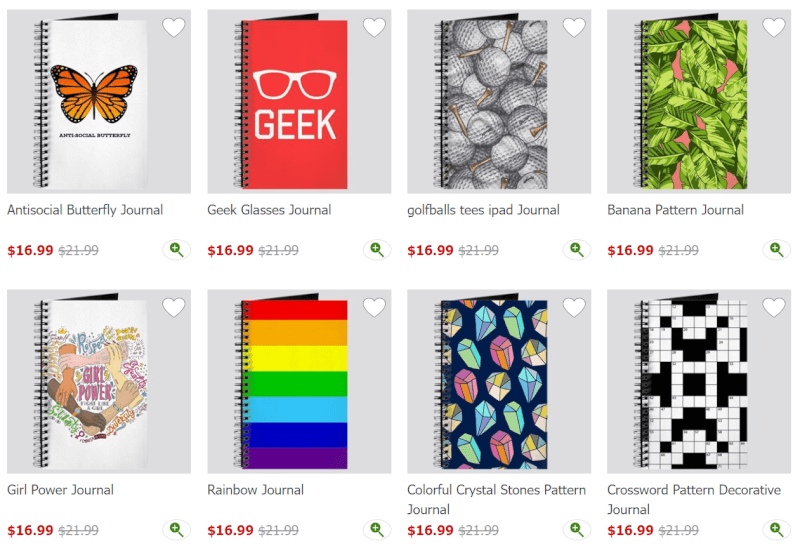 Our fifth in-demand print on demand dropshipping products are notebooks. The market competition for customized notebooks is fairly tight due to their year-round demand. In order to step ahead of the competition, we must sell exceptional designs at reasonable prices.
Generally, notebooks can be fully customizable from the cover to their inside pages. Meaning, we can offer options like ruled, grid, dotted, and plain pages. We can further personalize notebooks by incorporating unique images or texts on every page.
Furthermore, notebooks come in different sizes, colors, and page quality, so make sure to add viable options. Finally, it will be a great idea to provide customers with several notebook binding options, such as stitched, sewn, glued, and spiral.
6. Tote Bags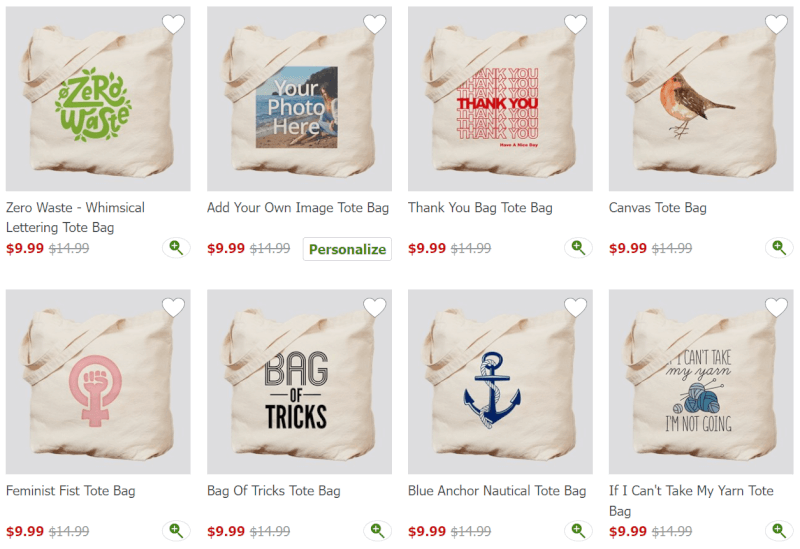 When we talk about the best print on demand dropshipping products, tote bags will not be left behind. Tote bags can be an everyday use item for quick errands or a quirky fashion statement. Because of their versatility, tote bags are profitable items to dropship.
Usually, people use tote bags as promotional materials or party giveaways. Therefore, we can sell them at competitive prices. In addition, tote bags come in different styles, like with zippers, magnetic snaps, and buckles.
Moreover, tote bag designs can be made from perforated leather, denim fringe, canvas print, and more creative options. Likewise, they are available in many sizes and colors. So, ensure that these unique finds are available in our dropshipping stores.
Beginner's Tip: To improve functionality, we can offer choices with money pockets, bottle compartments, or key holders.
7. Magnets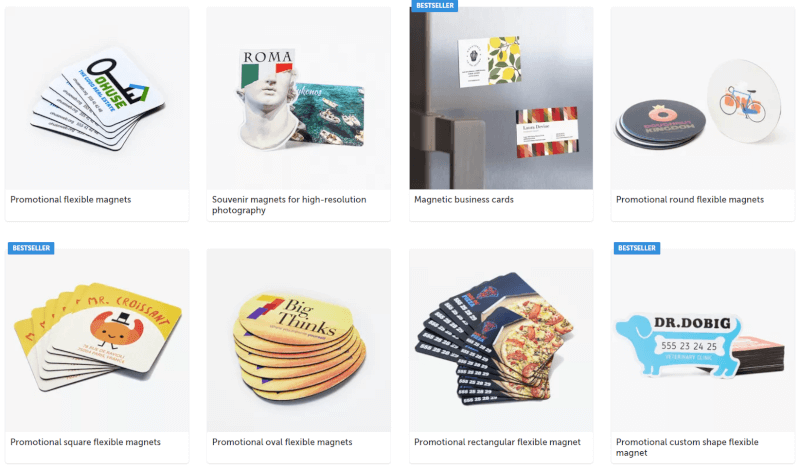 Our next trending print on demand dropshipping items are magnets. These personalized products are common purchases for travel souvenirs or event freebies. So, selling these memorabilia can favorably attract collectors or enthusiasts to our stores.
In general, magnets are customizable items we can form into numerous shapes and sizes. Thereby, this feature allows us to offer the perfect match for our diverse customers.
Also, we can create endless design ideas, like texts and images, on magnets. Furthermore, magnets are made from different materials like metal, rubber, acrylic, glass, and ceramic. Offering vast options of magnets will attract more customers into visiting our stores.
Beginner's Tip: Since this dropshipping item is commonly used as a travel keepsake, we can increase its value by adding postcards along with the magnet.
8. Coasters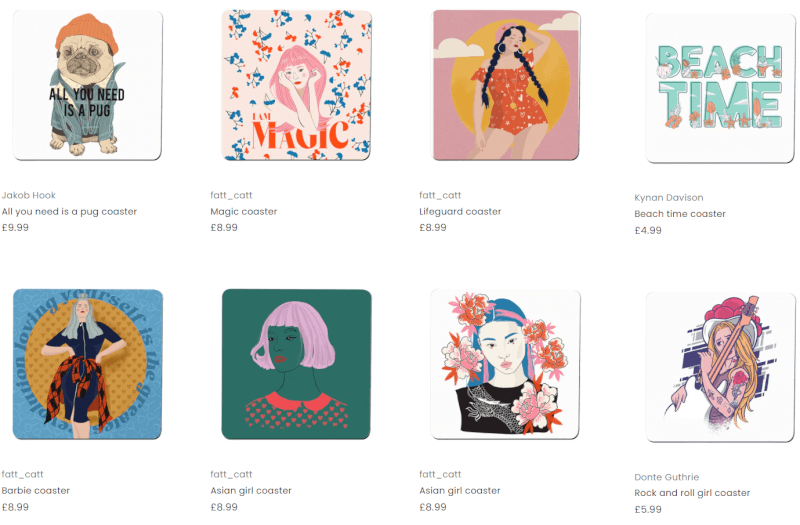 Another home or workplace essential are print on demand coasters. Whether for hot drinks or cold cups, the use of coasters is a must to protect countertops from scratches or moisture. Due to their popular use, dropshipping coasters can lead to high sales.
With that said, we can put designs on wood, ceramic, silicone, leather, and other high-quality coaster materials. Aside from the conventional circular or square forms, irregular coaster shapes must be available.
Besides that, consider adding various sizes to accommodate different cups or bottles. Lastly, coasters are relatively compact and low-cost, meaning, we can sell them in bundles at discounted prices.
Beginner's Tip: For sets of coasters, we can add custom-made holders for organization and aesthetics.
9. Keychains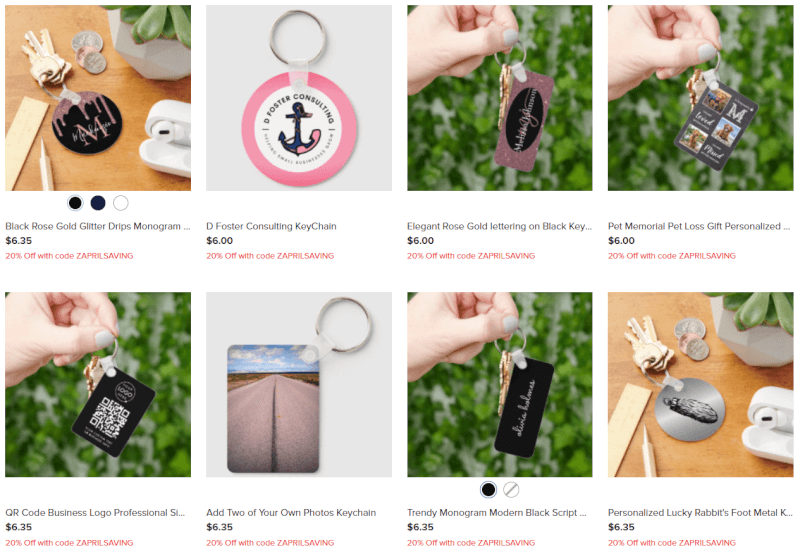 Similar to other accessories, keychains are fully customizable. As a result, they are a prominent print on demand dropshipping product. Apart from being souvenir finds, keychains also offer other functionalities, making them in-demand.
In line with that, keychains can serve as key organizers, name placers, accessory holders, and more. Therefore, we can personalize keychains according to customers' needs.
What's more, keychains come in different designs, colors, and shapes that we can sell. Most commonly, keychains are made of rubber, leather, wood, and metals. So, keep in mind that adding variations will provide a diverse selection for our customers.
10. All-Over-Print Hoodies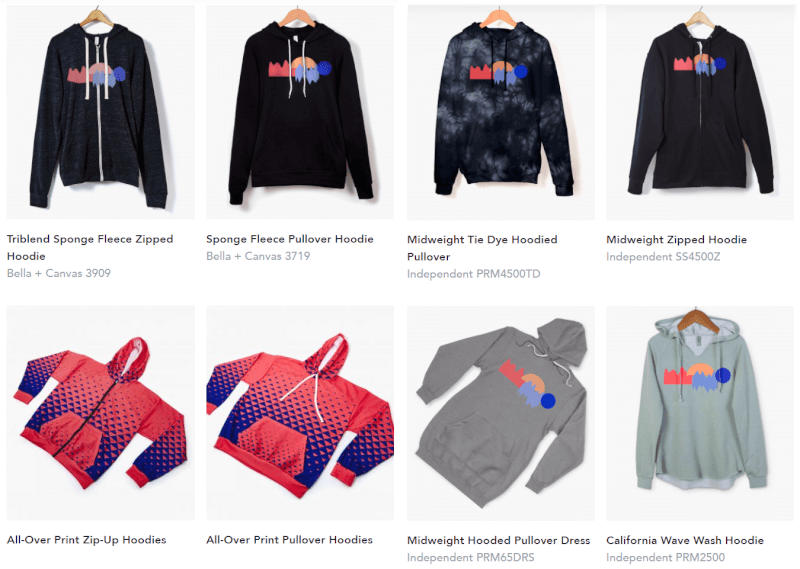 In the tenth spot of our best print on demand dropshipping products, we have the all-over-print hoodies. This product idea helps protect shoppers from the cold or just lets them match with current fashion trends. This trending dropshipping product offers promising sales because of its worldwide demand.
When dropshipping all-over-print hoodies, remember to include sizes suitable for all genders and ages. Plus, we can sell hoodies having all-over texts, graphics, or a combination of colors. Moreover, hoodies are available in fleece, cotton, polyester, nylon, and other comfortable fabrics.
On top of that, we can consider adding zipped, buttoned, or closed hoodies. Finally, we should include customized pockets and drawstrings, so customers will have more style options for their all-over-print hoodies.
11. Bedsheets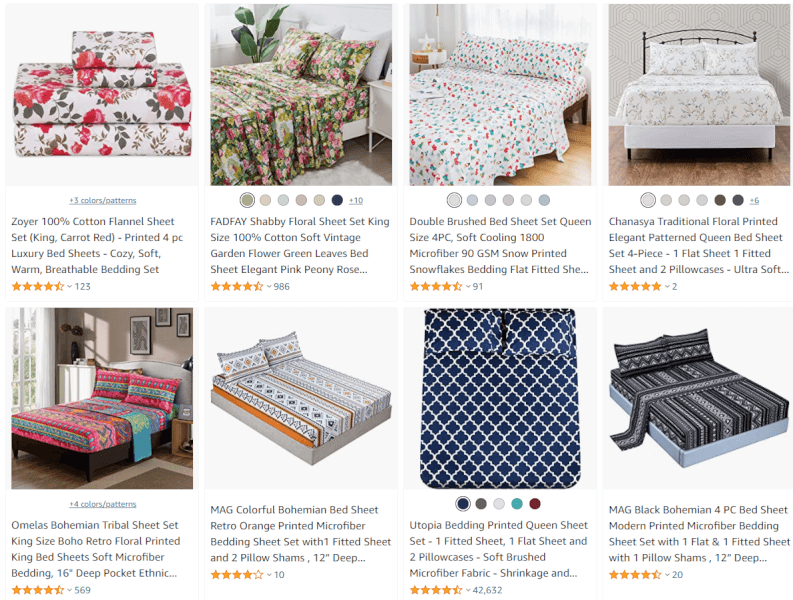 There's no doubt that all of our customers will value high-quality bed sheets. Having this in mind, bed sheets are perfect products for print on demand dropshipping. Since bed sheets are home must-haves, we can certainly gain profits from selling these printed items.
Subsequently, bedsheets commonly come in single, double, queen, and king sizes. Also, there are quilted, fitted, or flatbed types that we should dropship.
Bear in mind that comfort is key – so selling high-quality bed sheets is the best option. Some examples of excellent bed sheet materials are satin, microfiber, linen, and flannel.
Beginner's Tip: Upsell your bedsheets by offering matching pillowcases or comforters.
12. Fanny Packs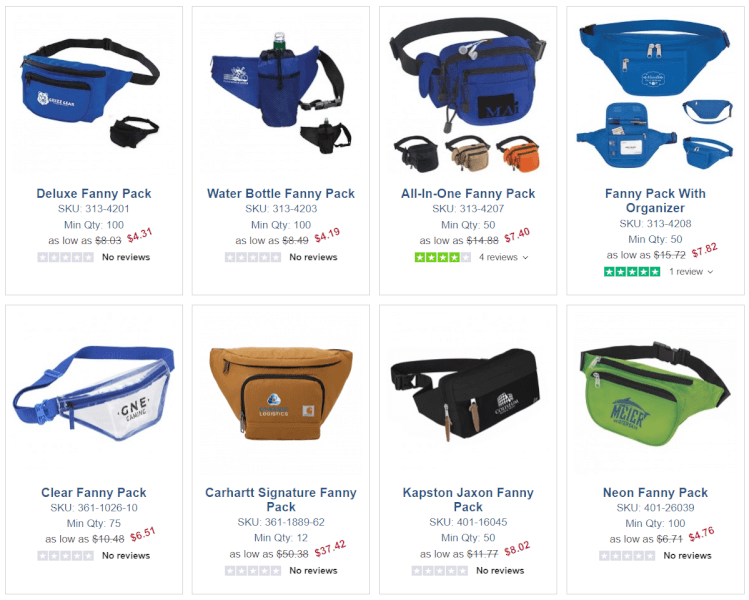 Last on our top print on demand dropshipping products list, we have fanny packs. These trendy fashion accessories are great for attending parties or going on a stroll. More than being a fashion craze, fanny packs can securely hold belongings while keeping them close to one's body.
Since fanny packs are versatile, it's a must that we offer variations that fit a variety of users. Likewise, selling vast choices of unisex designs for fanny packs can attract customers regardless of gender and age. We can also customize the number of pockets or strap adjustments.
When it comes to the general design, we should offer different sizes and holding capacities. Additionally, we can opt for water-resistant plastic materials or conventional fabric options.
Beginner's Tip: Try offering fanny packs that are transformable from being a waistband to becoming a sling bag, so customers can maximize the use of these bags.

Finding Best Selling POD Products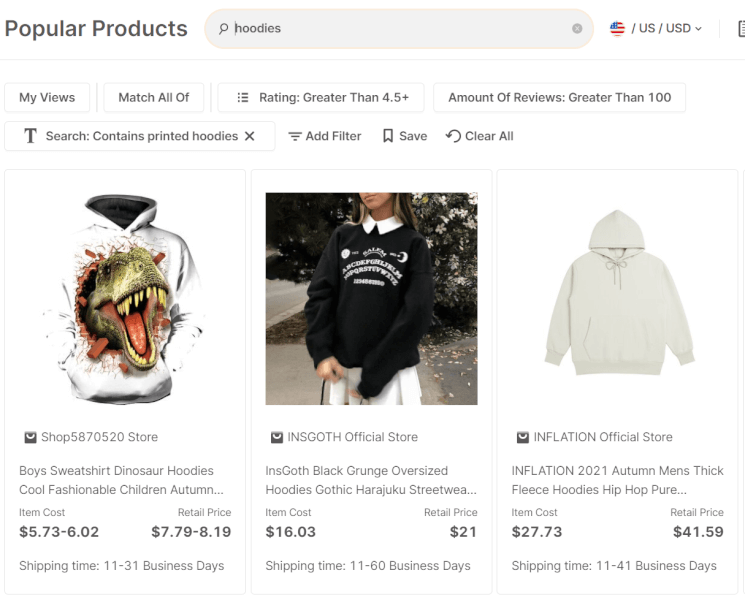 While dropshipping print on demand products, it's crucial that we stay up to date with the latest market trends. In this way, we can offer products based on customers' needs, and gain more sales.
To help us discover in-demand POD products, the AutoDS Product Research Tool is an excellent feature that we can utilize. Using this product-finding tool, we can search for best-selling and high-quality POD products.
Meanwhile, the AutoDS blog can help us score our next winning POD items through its updated product-finding content. With these resources, we can easily source best-sellers and continuously optimize our POD dropshipping store.
How To Dropship Print On Demand Products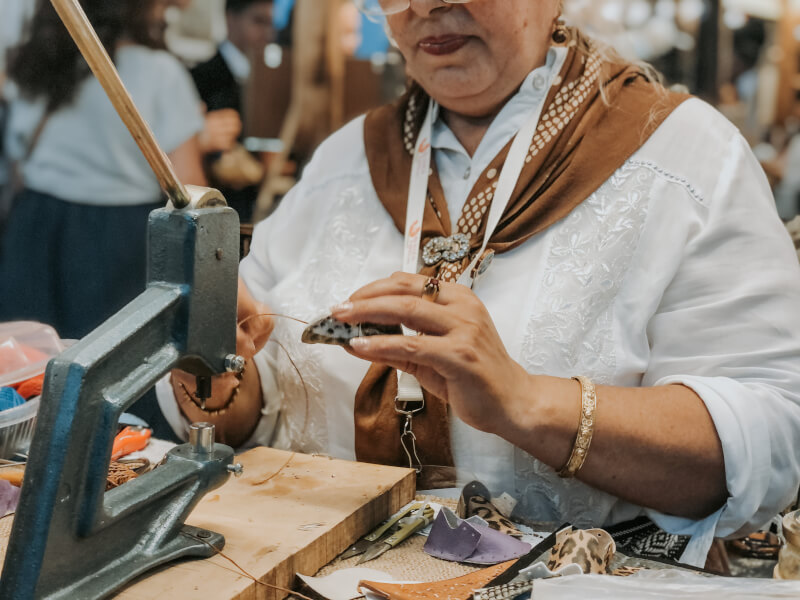 Yay! We now have trending print on demand dropshipping products to sell. Once we have POD products in mind, we can start dropshipping them.
 But before we can do that, we need to choose where to source these in-demand POD dropshipping products. Then, we must identify the platforms where we can sell these items.
Print On Demand Dropshipping Suppliers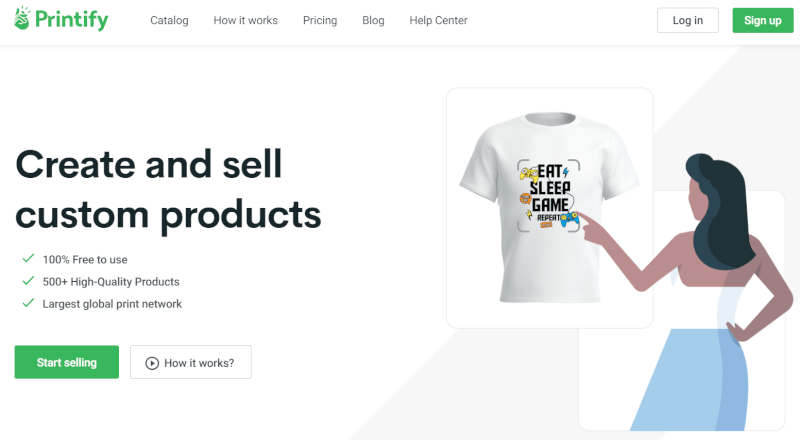 Now, let's tackle picking the most reliable POD service providers for our dropshipping business. Remember that our POD dropshipping suppliers handle the manufacturing, printing, and shipping of items. Therefore, it's crucial that we work only with outstanding POD service providers.
With this in mind, here are the features we want to see in a POD dropshipping supplier:
Dropshipping-friendly

Wide product categories

Top-quality POD items 

Oustanding customer service

Efficient shipping with tracking updates

Good customer feedback

Clear return and refund policies
With that being said, Printify, Prinftful, CustomCat, SPOD, and T-Pop are among the best POD dropshipping suppliers we have in the market. We can check out the products and services they offer, and see if they are a perfect match for our POD business.
Print On Demand Dropshipping Selling Channels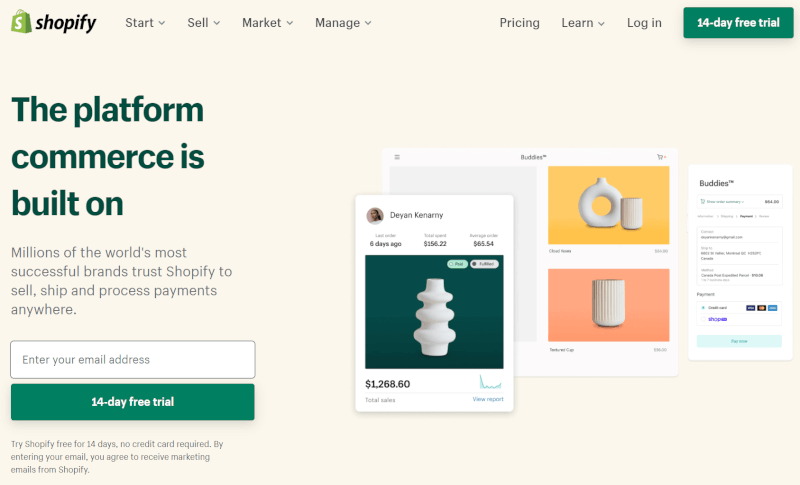 Subsequently, we'll be setting up our selling channels after we identify the sources of our POD dropshipping products. In particular, a selling channel is a platform where we market our POD products. Additionally, it is where customers purchase our dropshipping items.
So, what are the factors that could determine a good selling channel? Here are some of the most essential ones:
Organic traffic

Store customization

Sign-up requirements

Subscription plans

Listing limits

Business policies

Marketing methods
Some examples of top-notch dropshipping selling platforms are Shopify, eBay, and Wix. To choose which ones best fit our POD dropshipping business, we should ensure they meet our requirements as per the above factors.
Finally, to continuously scale our print on demand dropshipping business, we must constantly market our online stores. With the right marketing strategies, we can make our business more visible to consumers, resulting in significant sales.
FAQ
What Is Print On Demand?
Print on demand is a business model that allows us to work with white-label brands. It enables us to sell customized products with our logos on them, to help brand our business.
What Products Can You Print On?
We can print on almost any daily-use product with POD, but the most common ones are t-shirts, mugs, bags, and accessories. You can discover more in-demand products you can print on under the '12 Best Print On Demand Products For Dropshipping' section of this article.
Can You Still Make Money With Print On Demand?
Yes, you can absolutely make money with POD. Since POD products are custom-made on a per-order basis, you don't have to worry about losses due to unsold stocks. Moreover, you can set more competitive prices on POD products, since they are one-of-a-kind items.
Conclusion
Cool! Today, we've finally discovered the best print on demand dropshipping products for our online ventures. With trending product choices, our dropshipping stores will surely grow into more profitable businesses soon.

To begin our dropshipping adventures, let's pick the most reliable suppliers and selling channels. Then, we'll proceed with listing the best-selling POD dropshipping product ideas.

Finally, intensify your dropshipping knowledge and become a master in dropshipping. With these related articles, you will surely gain worthwhile dropshipping insights: