Want to add some new hot-selling Spring products to your store? Great! Let's help you do some spring cleaning for your dropshipping store. 
Spring is the perfect time to have a look and see an overview of your store's performance and do some rearranging. 
If you have any products lingering from last year's winter season or winter holidays that have stopped producing sales, then now is the time to remove and replace them. 
Whether you have a general store or niche store, this article has something for you. We made sure to bring you at least one hot Spring product from every popular niche. 
We hope you enjoy the article. Give us your thoughts in the comments section below!
The Top 10 Dropshipping Products To Sell In Spring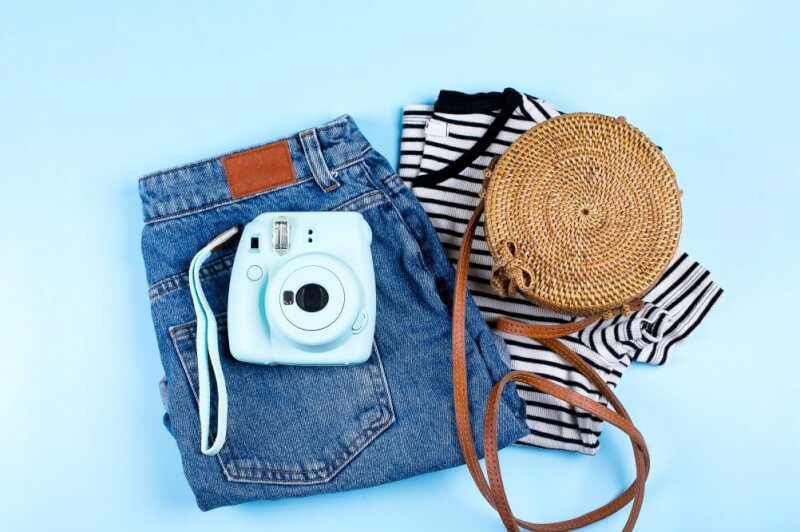 Swimwear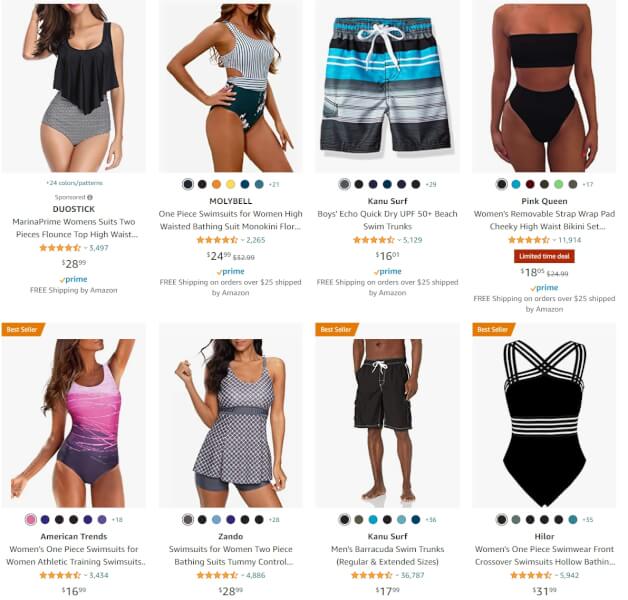 First up on our list of best dropshipping products to sell in Spring , we've got swimwear. Winter has passed, and the weather is getting nice and warm. People want to go travel or even just make a trip to their favorite local beach or pool. 
College kids are getting ready for their big Spring break, and this year more than ever since, COVID-19 has kept us locked in our homes. When you start selling swimwear, make sure to have something to offer to everyone. 
Men, women, and kids are all in need of swimwear. Here are the two most popular and hot-selling from within the niche.
Women's Bikinis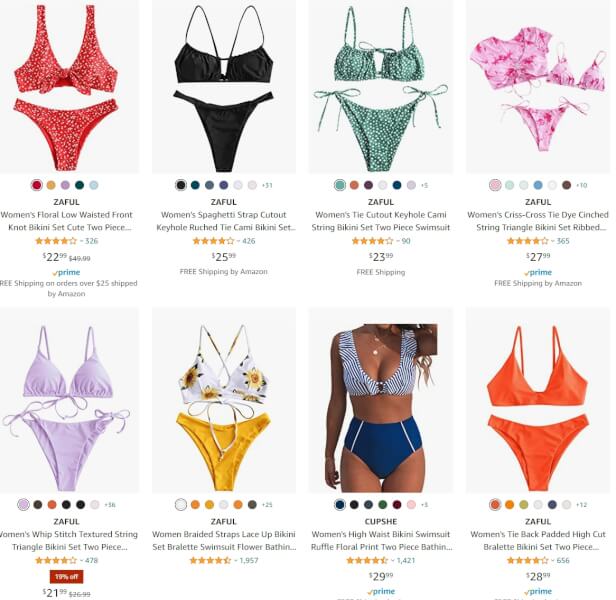 Keep in mind the different styles, colors, and sizes to rake in the most sales. There are plenty of pretty patterns or classic designs to choose from. 
Keep an eye out for those you see who have already made a few hundred sales. 
Men's Swim Shorts 3D Print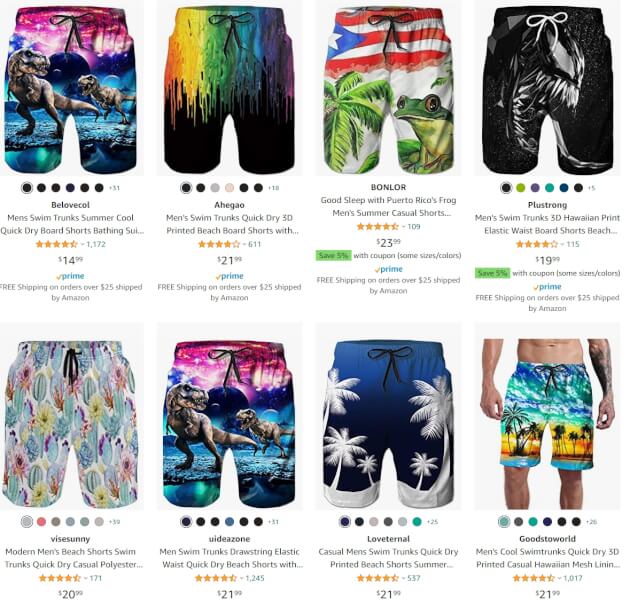 Within men's swimming shorts, the current trending style is the 3D print pattern shorts.
 Rather than going with the plain classic shorts, men express their style even when choosing their swimwear. Diversify designs and offer a nice size range.
Want to take it a step further? Sell swimwear and/or aqua accessories for dogs. Pet lovers will be thanking you! 
2. Hair Removal Products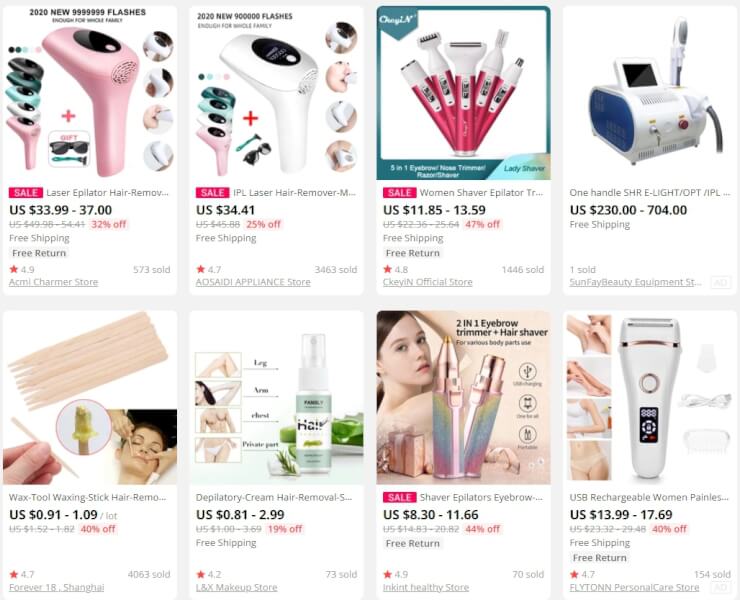 The second product on our list is hair removal products. 
After the cold winter months, we naturally tend to let ourselves go a bit; Spring is here to get us looking nice and fresh again. 
This too is a comprehensive variety product. You can sell hair clippers for men, electric shavers for women, and women's facial hair removers.
Another hot-selling option for hair removal that is super trendy is men's grooming kits. An all-in-one kit offers a perfect set of products for every man's beard and mustache's needs.  
3. Portable Power Bank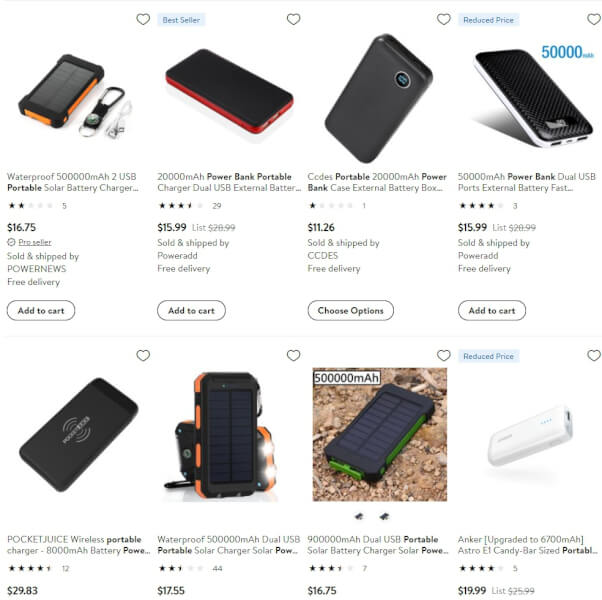 Up next, we have the infamous portable power banks. Let's face it; whether we like it or not, our devices are a big part of our everyday life. Finding yourself out and about and glancing at your phone to suddenly see 3% is always irritating. 
Power banks are a product with high demand and can be profitable all year round due to their usefulness. 
So why did we add it to our Spring article in particular? This helpful product made it onto our Spring bestsellers list because it is the perfect time to enjoy the great outdoors. 
Hiking, camping, road trips, day trips to the beach. Everyone is looking for some fun in the sun without worrying about their phone or other device dying on them. 
4. Robotic Vacuum Cleaner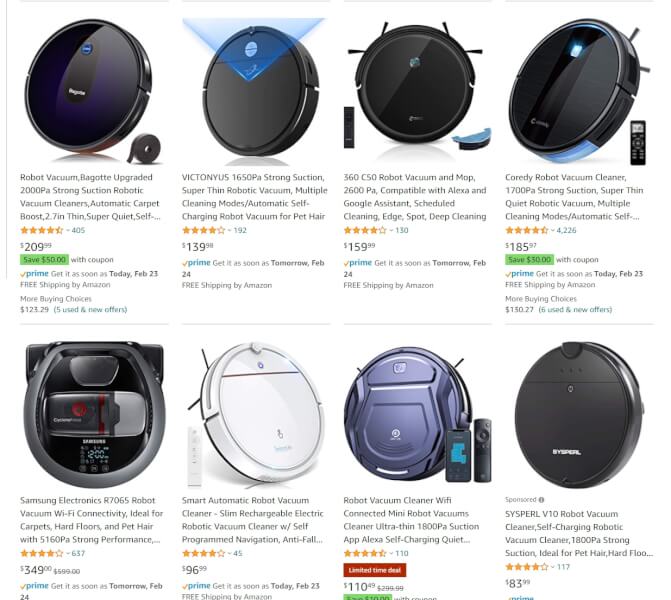 As number four on our list of best dropshipping products to sell in Spring , we bring you the robotic vacuum cleaner. Although everyone wants a nice and tidy home all year round, we have the term "Spring cleaning" for a reason. 
This cute product will be a helping hand to any home but can also be great for offices. For anyone with pets, it will be especially useful. 
As soon as the weather gets warm again, our furry four-legged friends start to shed more. A robotic cleaner will minimize their hours spent on cleaning and let them enjoy more of their days. 
5. Planter Raised-Beds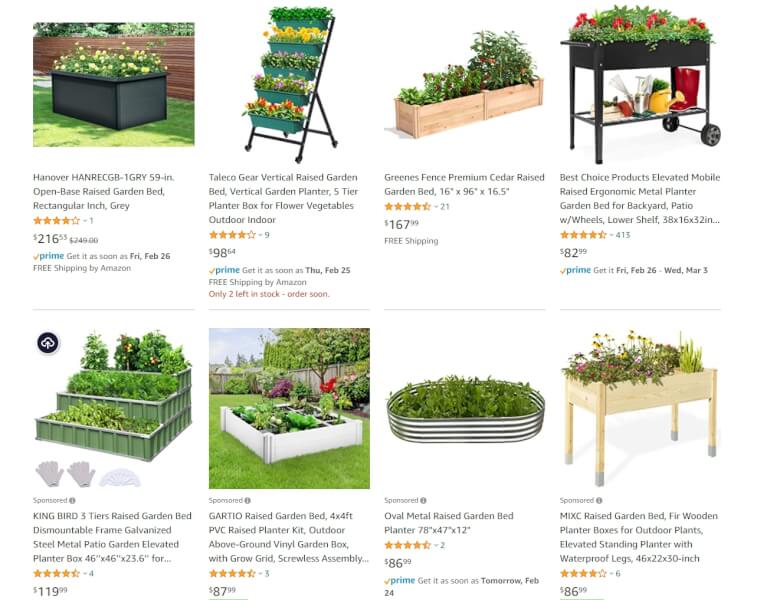 Next on our list, we bring you a gardening product. Spring and gardening go hand in hand. Spring is the prime time to start working with soil and get new seeds planted. 
Why are raised beds such a hot product? Raised beds warm up more quickly in the spring and drain better, allowing for a longer growing season and better-growing conditions. 
Perfect for long-time gardeners and beginners, make sure to offer different sizes and styles of raised beds to make the most out of a best-seller like this.
6. Pet Dental Care Toys & Treats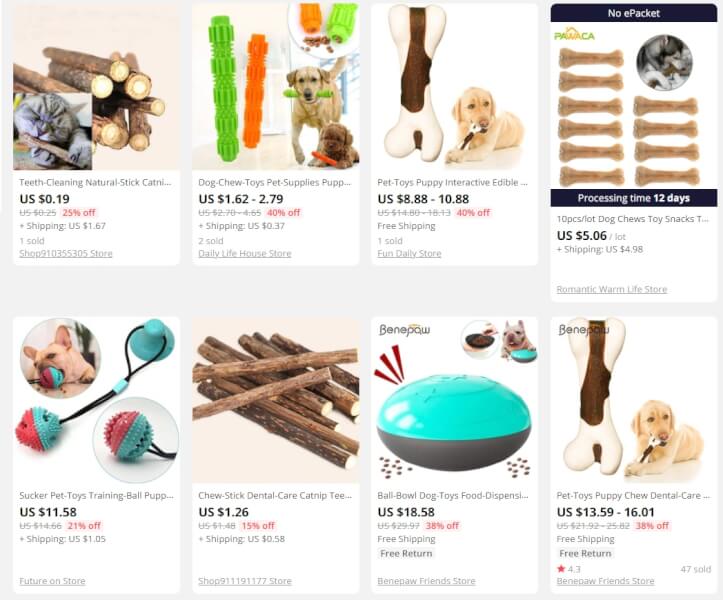 Moving on, we have something for our lovable, furry friends. Dental care toys and treats have been and remain in high demand. Before these products came along, people would be taking your dog to the vet for professional teeth cleaning. 
That is simply a hassle for the dog, not to mention costly for the owner. These are the perfect alternatives. Fun and easy for the pup and doesn't break the bank. 
They come as treats or toys, so make sure to offer a variety. When selling toys, take into consideration the different sizes/breeds of dogs as well. 
7. BBQ Toolsets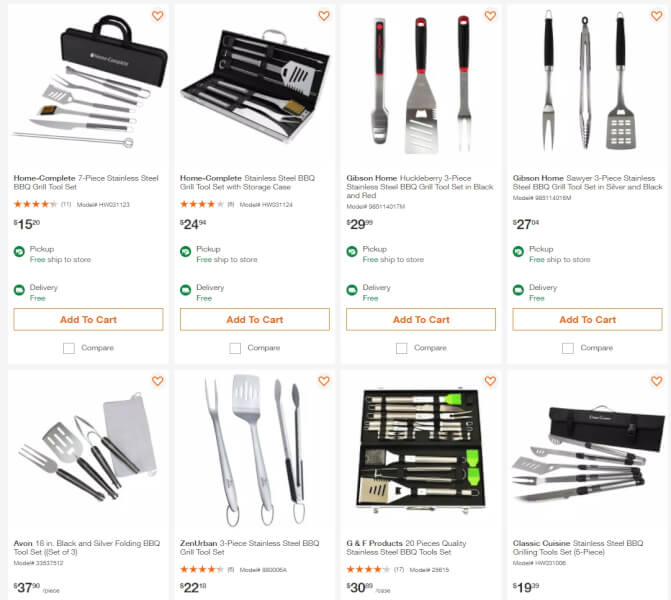 Next, as number seven on our list of spring dropshipping products, we have BBQ Toolsets. 
Spring is the perfect time to start selling them since it's this time of year that people are heading outdoors. Whether it be families or friends getting together, a bbq is to be expected. 
And while it may be difficult to sell the barbecues themselves, selling their accessory products is perfectly fit for dropshipping.
Additionally, don't forget that Summer comes after Spring. Therefore, BBQ-related products will continue selling way after Spring.
Many start planning their trips and activities, which means purchasing necessities early. Check out the different kinds of packs, sizes, and price ranges to offer your buyers a nice and wide variety. 
8. Epoxy Resin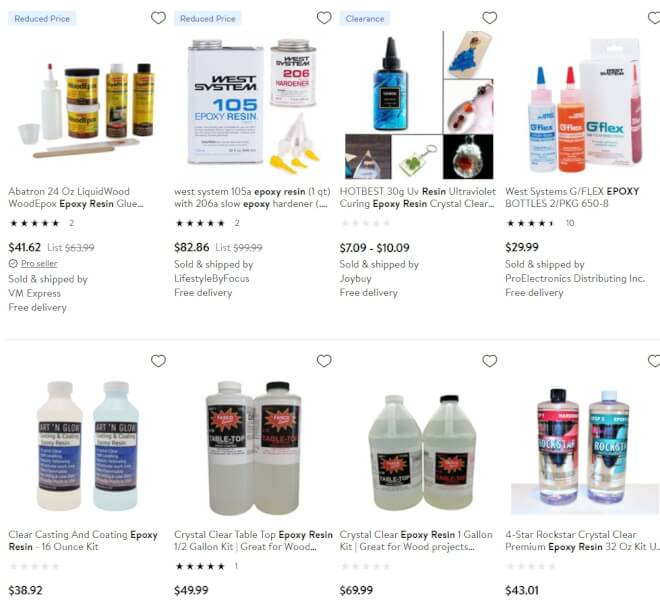 Our next item is for art lovers! Resin art has taken the world by storm and is getting very lucrative. 
Furniture, wall hangings, and even coffee tumblers; epoxy resin can decorate it all. Epoxy can be sold to artists to be used in their next masterpiece or arts and crafts lovers to play around with their next DIY project. 
It is a great Spring product since you have students on Spring break with free time, parents looking for activities to do with their kids since they are on vacation too, and others will be buying since it has proven to be in high demand regardless!
Although the epoxy trend has been around for a while now, it still is not considered saturated. So, if you're not selling it yet, now is the time to start. Have a look at the various price points and package sizes when deciding on which to add to your store. 
9. Face Roller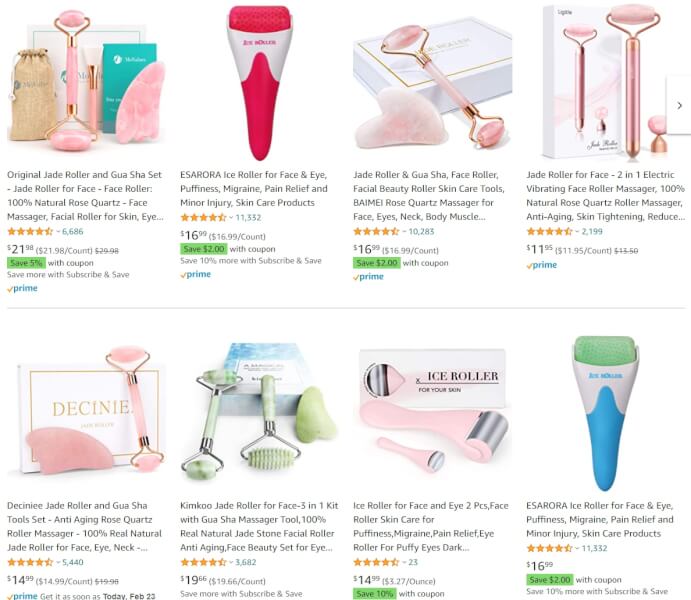 Second, to last, we have another super trendy item. These cute face rollers are in high demand since, well, anything in the beauty niche blows up fast. Cosmetics go beyond just makeup, creams, and serums. 
Wellness accessories are loved worldwide just as much, and this nifty little gadget has gotten everyone's attention. 
Known to help with under-eye circles, wrinkles, acne, and helping skincare products absorb more easily into the skin, face rollers are being sold by many brands and suppliers. 
Remember to offer multiple types to see which will be most profitable for you and then optimize. 
10. Fishing Gear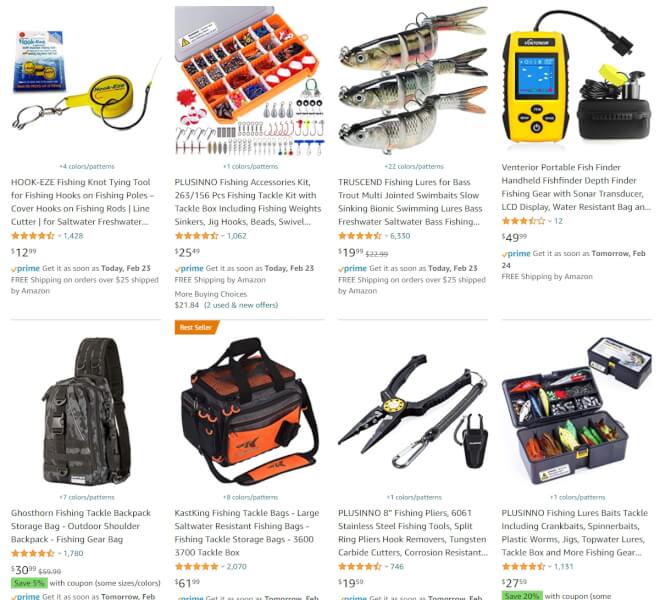 Last but certainly not least, we bring you a hot Spring niche along with its best-selling dropshipping products! Fishing is a beloved hobby that requires all sorts of gear. 
Lucky for you, we have searched and found the best, so here are some hot products you're going to want to have in your store for Spring. 
10.1 Fishing Soft Bait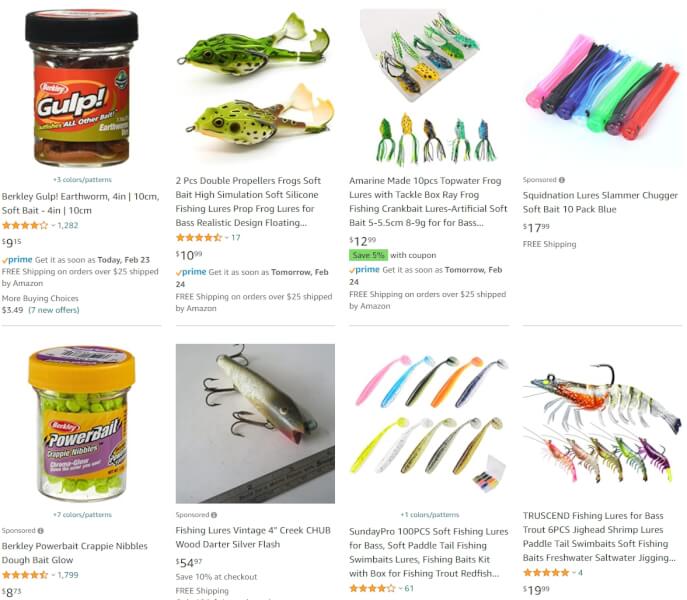 Everyone knows the necessities needed before going out for their fishing trip. 
A fishing rod might be the first thing you think of when hearing "fishing," which is fair, but you won't be catching anything without bait. Good quality reliable bait is a bit harder to find. 
These scented nibbles are selling like hot-cakes, and they're here to stay. Make sure to check out similar products from other brands, too, since this option is just one of many examples of soft bait. 
10.2. Thermo Battery Heated Gloves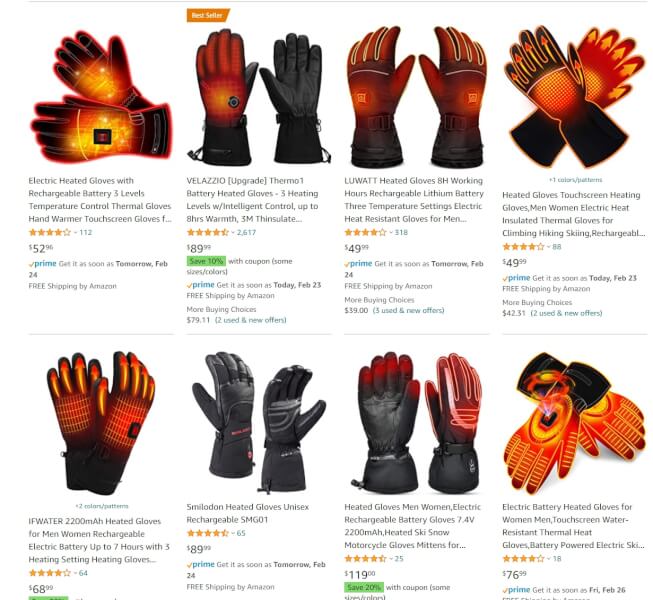 The second out of our three hot fishing dropshipping products for Spring are these lovely thermo gloves. Battery heated gloves have proven to be super popular amongst fishing enthusiasts. 
In some areas, Spring doesn't necessarily mean warm weather, plus some fishermen/women can be out fishing very early or very late in the day when temperatures are not so friendly. 
So for a hobby that requires your hands quite a bit, here is the perfect accessory.
Furthermore, these aren't strictly for fishing. Campers, hikers, or any outdoor lover could enjoy these on their next trip. 
Offer them in different colors and sizes to cater to more buyers and increase your sales and profits.
10.3. Braided Fishing Line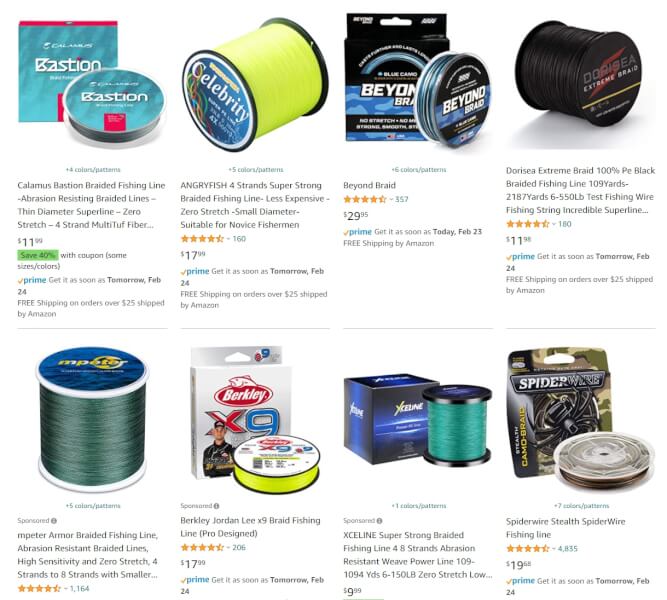 Now here we go back to the basics. What do you do with some good old bait? Well, you hook it onto your fishing line. Braided fishing lines have become a favorite. 
No more flimsy stretching, or worst of all, snapping lines. If you want to offer a good quality option for your client's next fishing trip, then look no further. 
Dropshipping From Multiple Suppliers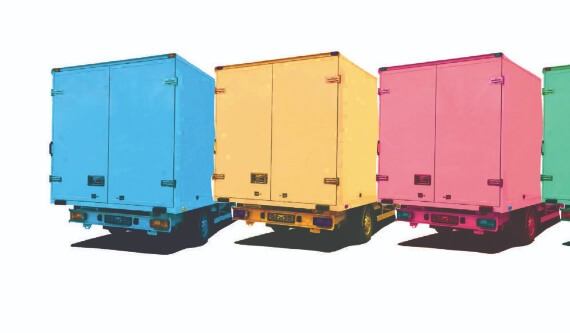 If you are still using just one supplier for your dropshipping business, now is the time to change that! It's ok to dropship using only one supplier, but why limit your store? 
The most recommended number of suppliers to work with when dropshipping is three. Working with more than three can get messy and overwhelming. That can stop you and your store from reaching your potential.
Expanding to multiple suppliers is not only easy but, in a lot of cases, safer for you, not to mention also tremendously helps scale your business!
There are plenty of benefits that come from working with multiple suppliers.
First of all, diversity. You automatically get a wider range of products. Not every product you come across is widely available; some are through specific suppliers. Expanding to more suppliers also lets you differentiate yourself from your competitors since many stick to one supplier. 
Another reason is safety. Of course, we hope for the best, but we must prepare for the worst. What if a best-selling item of yours goes out of stock, or the supplier suddenly changes their shipping time?
If you have only one supplier and experience this problem, you either have no choice but to stop selling the item and lose sales and if you had sales come in, you would need to cancel orders. No one wants that. 
So, expand to more suppliers to save yourself the headaches mentioned above and have a much easier and more smooth time while dropshipping. 
Tagging Products For Optimization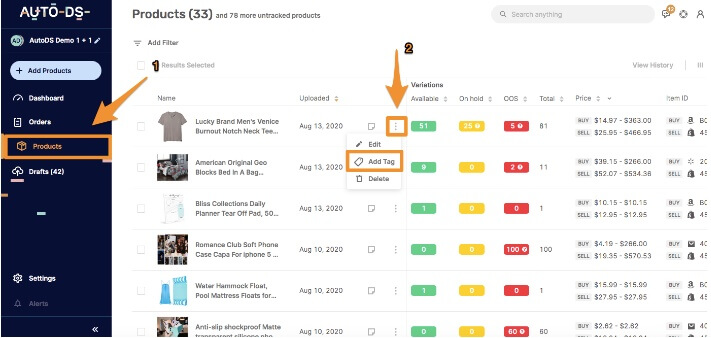 This one is for AutoDS members. On our platform, we have a neat feature called "Tagging."
Creating tags for niches is a great way to keep track of your products. 
Once you start adding Spring products to your store, you can create a "Spring" tag and add all relevant products to it. 
Additionally, take the face rollers we mentioned as an example. There are so many types of tags you can create. 
Naturally, some products will sell better than others. 
Let's say you add a few to your store and create a "Face Rollers" tag to organize your store. Using tags will make it much easier to analyze and optimize these products' performance in the future.  
Time-Saving Dropshipping Tool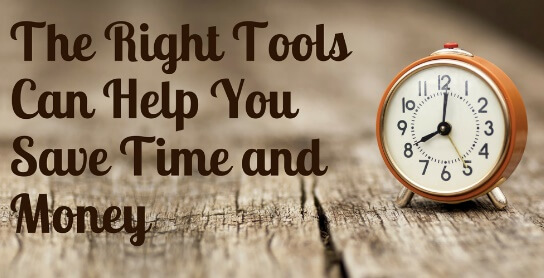 Let's give you a freebie! Here at AutoDS, one of our biggest goals is to save you time and simplify your business. 
Along with our innovative platform, we offer our very own Chrome Extension called the AutoDS Helper Extension. Our Helper can add tens, hundreds, and even thousands of products to your store with just a few clicks. 
Once you've downloaded our extension, simply go to your desired supported supplier, search for your product, click on the extension icon in the bottom right corner, then click "extract" to grab all featured items. 
A CSV file will be automatically created for you. 
Now, all you have to do is import that CSV file when adding products on AutoDS, and they will all import to your store. It's that easy! 
Click here to add it and start taking advantage of our Helper to save precious time!
Final Thoughts
For our Spring dropshipping products best-sellers, we wanted to give you a well-rounded list. We truly believe we put together a plan with something for everyone. 
We hope our article gives you an idea of how to approach your following product or niche search. 
Remember, to test a new niche correctly; you will need at least 20 products from that niche because you want to gather enough data for analyzing its performance. 
This way, you will also easily find your next bestseller and start multiplying your success.
If you're looking at a specific product with many different styles/variations, then you will need at least 5 of that particular product to be able to test that product's worth in your store. 
We hope this has been helpful and enjoyable for you. We'd love to hear your thoughts and opinions in the comments section below. If you have any questions or requests, feel free to let us know too! 
Lastly, check out these related articles to continue empowering your knowledge and dropshipping business: