Do you want to offer profitable products online that are specially made for your UK customers? With the dropshipping business model, you can achieve that. In line with this, print-on-demand (POD) is a popular venture that offers one-of-a-kind items that customers will surely love.
With print on demand, we can offer custom-made items, on a per-order basis. Interestingly, connecting POD to dropshipping enables us to sell unique products without maintaining physical stocks. As a result, we'll gain massive profits while enjoying low business risk.
With this in mind, it's time to start dropshipping trending print-on-demand products in the UK. So, let's explore the top product ideas and where to source them. In this article, we'll also discover how to jumpstart our POD venture in the UK.
Is Selling Print On Demand Products In The UK Profitable?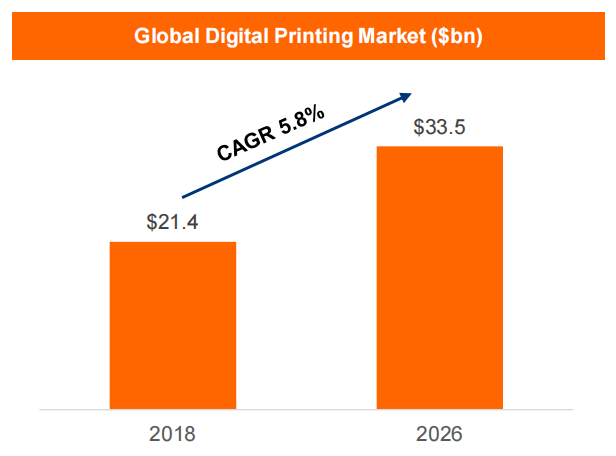 Yes, selling print-on-demand products is one of the most lucrative ventures in the UK. To illustrate, ComCap reports that the Global Digital Printing Market will reach 27.8 billion pounds come 2026.
Moreover, the eCommerce industry in the UK has low market competition. With that said, we can easily stay ahead of the competition within the dropshipping industry. However, before achieving that, we must sell best-selling items and extend reliable services to our customers.
But don't worry! We'll provide a list of top products to offer to ensure high sales. All in all, when we combine the dropshipping model with POD products, we can attain higher profit margins.
Can Anyone Start A Print On Demand UK Business?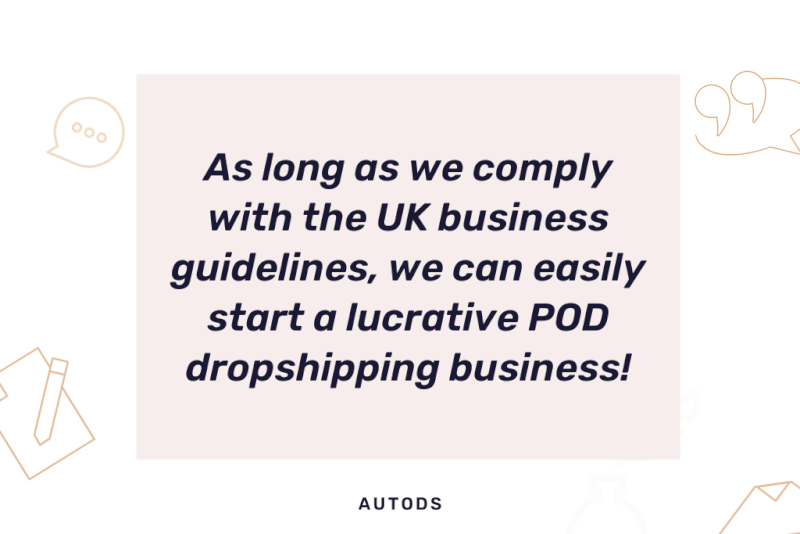 So, can any regular person start a POD business in the UK? Absolutely! However, there are some obligations we must abide by when starting a POD dropshipping venture.
Primarily, we must follow the UK's business policies for dropshipping. Besides that, there are UK tax obligations we should fulfill.
Since our POD business will be under the UK government's jurisdiction, we must comply with the eCommerce local rules. Likewise, there are UK income tax obligations and custom duties that we need to fulfill.
These obligations are necessary for us to run our business legally. On the other hand, we can face financial penalties and business suspensions if we fail to comply with these requirements.
Despite these legal responsibilities, POD dropshipping in the UK is an easy industry to enter. Thus, our online business can attain substantial profits if we follow the correct processes.
But of course, another way to secure massive income from POD dropshipping is by selling in-demand items. Next up, we'll discover a wide range of unique POD products.
17 Best Print On Demand Products To Sell In The UK
As a recap, POD items are custom-made, making them unique and one-of-kind. Meanwhile, dropshipping these items allows us to create and ship them on a per-order basis. Most of the time, these customized products have higher profits due to the uniqueness and complexity of the designs.
Now, let's get ourselves ready as we uncover the top 17 print-on-demand products to dropship in the UK:
Alright, let's kick off the list with our first best-selling POD product.
1. Tote Bags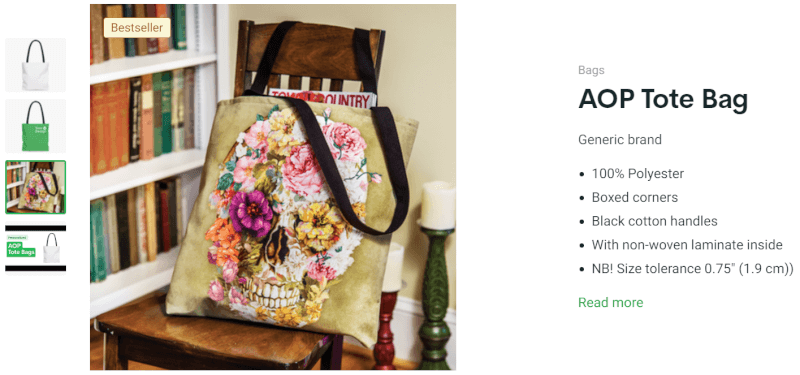 As an everyday essential, tote bags are our top print-on-demand product in the UK. Interestingly, tote bags are famous for their versatility. They can serve as unique fashion accessories or reusable grocery bags.
In general, tote bags are available in canvas, woven, jute, cotton, and other eco-friendly variations. They also come in open, zipped, or fastened options. In addition, we can sell an endless selection of tote bag sizes and colors.
As a great print-on-demand item, tote bags are fully customizable using texts and graphics. We can even add accessories like keychains or ribbons when offering these bags. With that said, they are perfect as souvenirs or party favors.
2. All-Over-Print Hoodies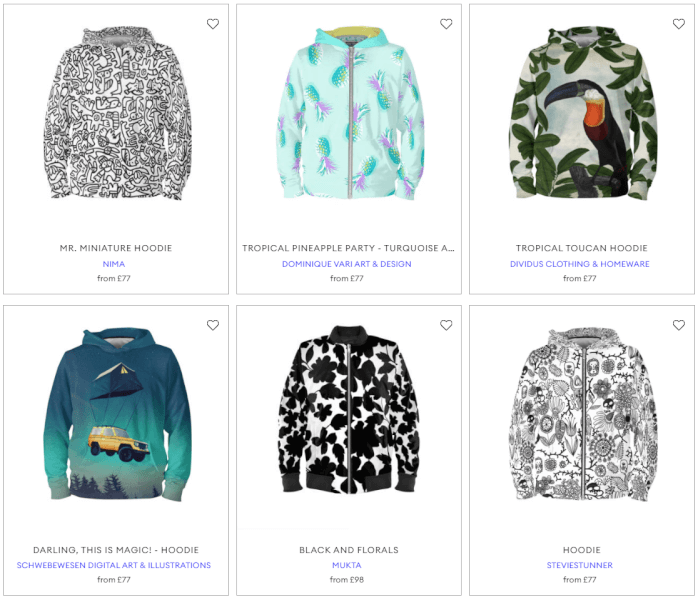 Do you want to sell one-of-a-kind fashion trends? With the all-over-print hoodies, you'll definitely earn huge sales. As its name suggests, this piece of clothing is made of cotton with full vibrant prints.
Essentially, all-over-print hoodies are unisex and available in several sizes. Plus, we can dropship pocketed, buttoned, or zipped variations.
Oftentimes, these hoodies are tie-dyed. Alternatively, we can sell choices printed with images or filled with texts. These style options make all-over-print hoodies exceptional print-on-demand products.
3. Mugs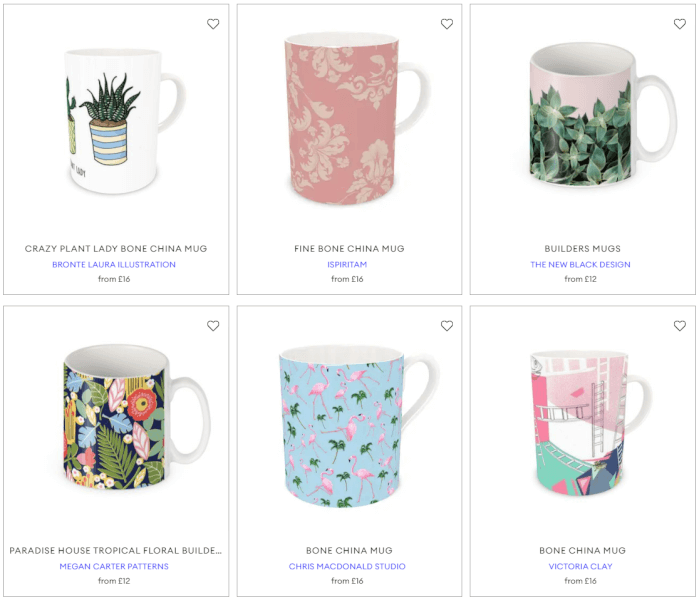 Undoubtedly, mugs are one of the top print-on-demand products and are adored by any type of customer. Whether as personalized gifts or kitchen must-haves, mugs never go out of style. Therefore, selling unique mugs can lead to massive profits for our dropshipping business.
To begin, we should sell POD mugs that change colors or images when holding cold or hot liquid. With these unique features, POD mugs will have an increased perceived value. Besides that, we can offer mugs with various texts or graphics.
Furthermore, we can sell customizable steel, plastic, and ceramic mugs. Don't forget to offer customers size options, from espresso shots to oversized capacities.
Beginner's Tip: Add value to POD mugs by adding crinkle papers, ribbons, message cards, and boxes to the packaging, making them perfect as gifts.
4. Coasters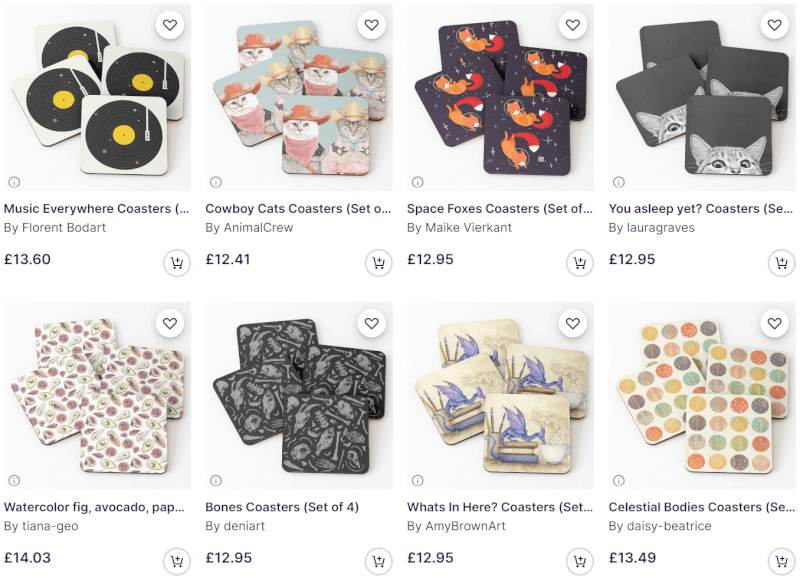 Undeniably, mugs or glass stains on table tops are unpleasant surprises. Thus, the use of coasters helps customers enjoy their coffee or tea without worrying about spills and stains.
When dropshipping POD coasters in the UK, we can offer ceramic, glass, metal, acrylic, and wooden choices. As these products are customizable, we should add various coaster prints. For example, designs vary from geometric, patterned, flowery, solid-colored, and even actual photos.
Moreover, coasters come in different shapes and sizes. We can also sell coasters individually or in sets. So, ensure that we're giving our UK customers all possible options according to their preferences.
Beginner's Tip: Coasters are a perfect match for mugs. Thus, we can cross-sell these items together.
5. Stickers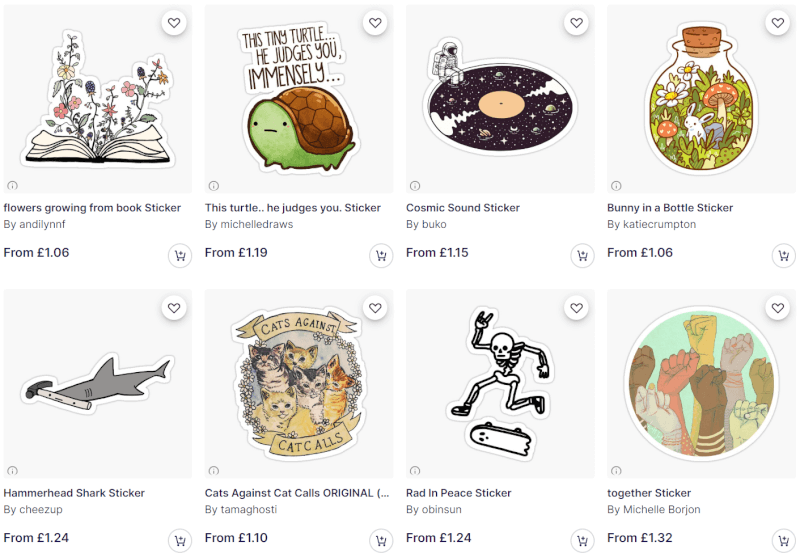 Whether as car, computer, wall, or sign decals, print-on-demand stickers are excellent choices. These stickers give a personal touch to one's belongings. Aside from that, the use of stickers can help businesses build their brands by showcasing their logos.
For customized stickers, we can offer holograms, metallic stampings, special inks, embossed, and other great options. Likewise, there are vinyl, glossy, matte, and transparent stickers that we can sell.
To give our UK customers more freedom to choose, we can extend large-scale prints or multiple pieces in small sizes. On top of that, we have waterproof and heat-resistant stickers, which are perfect for everyday use items.
6. Yoga Mats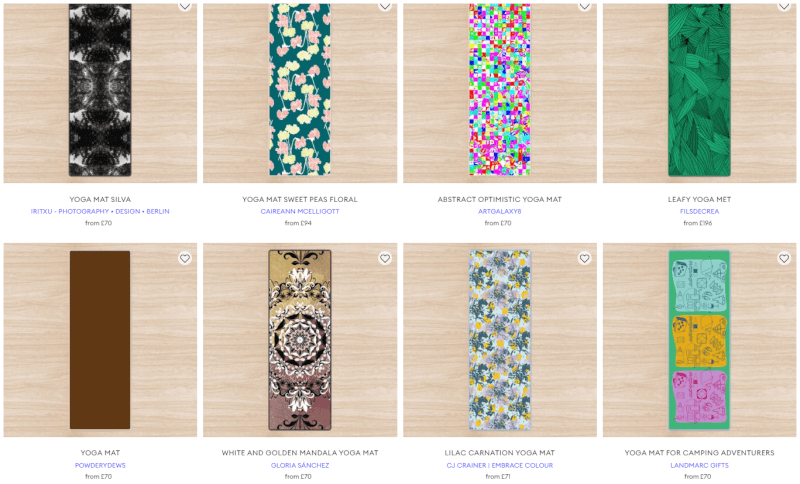 The next in-demand print-on-demand product in the UK is yoga mats. This POD dropshipping product is for those who love exercising or relaxing their bodies. Hence, selling the right yoga mats will entice customers to purchase from our stores.
Aside from the common vinyl, yoga mats are also available in eco-friendly variations. For instance, we have recycled rubber and natural cotton.
Since these products are used during exercises, it's crucial that we offer highly absorbent, quick-drying, and hypoallergenic options. Finally, buyers will love finding different yoga mat sizes, shapes, and designs in our stores.
7. Fanny Packs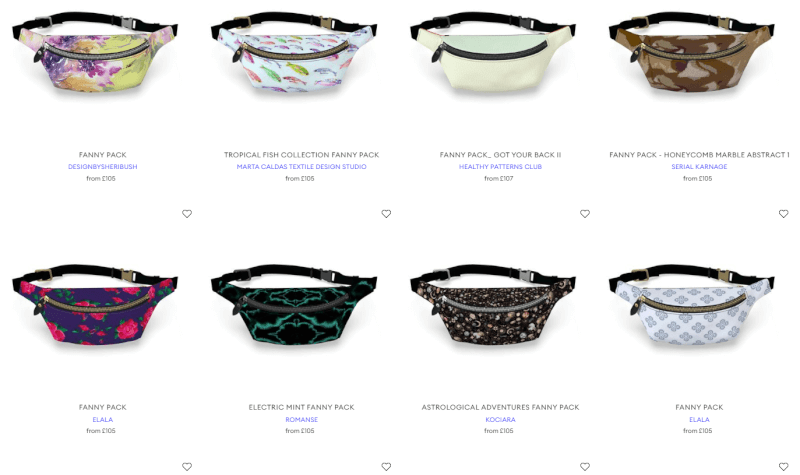 Who doesn't love a convenient way of securing essential belongings while on the go? Well, fanny packs are the answer! Technically, fanny packs are pouches with belts, carried around the hips or over the shoulder.
Generally, fanny packs are made of different fabrics. However, new varieties include waterproof features like those made of plastic. Nevertheless, we can print quirky designs on fanny packs, such as creative graphics or personalized names.
In addition, fanny packs differ in sizes that cater to children and adults. We can also dropship these items in several styles that fit our customers.
Beginner's Tip: When marketing fanny packs, focus on targeting travelers as these items are useful to them.
8. Phone Cases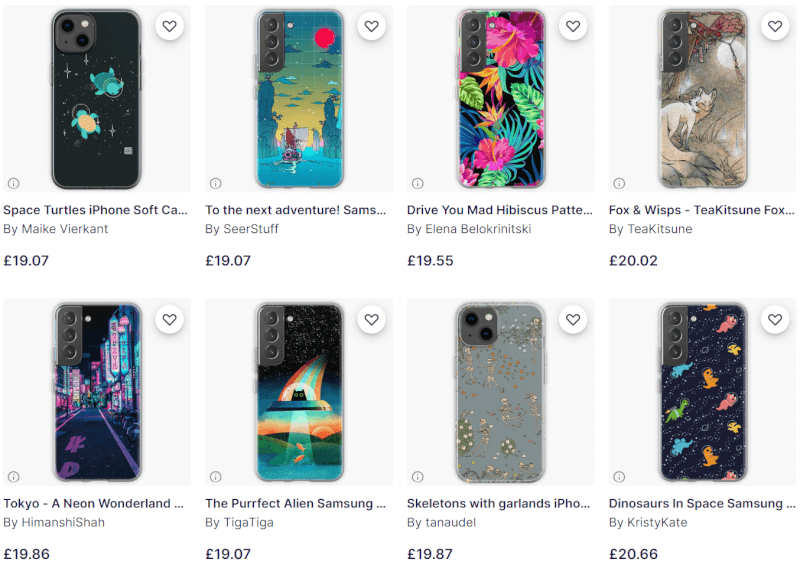 Phone cases are another superb print-on-demand product that we can offer our UK audience. Customized cases add a personal touch to phones that customers adore. Thus, offering phone cases will likely lead to substantial dropshipping profits.
Primarily, we should consider offering cases that suit different phone models. We can consider customizing hard, silicone, gel, leather, and other printable materials.
Also, we can add special accessories along with the phone cases. For instance, we can add matching keychains or lanyards. Other unique designs include key rings or pop sockets, that give more function to phone cases and increase our average order value.
9. Socks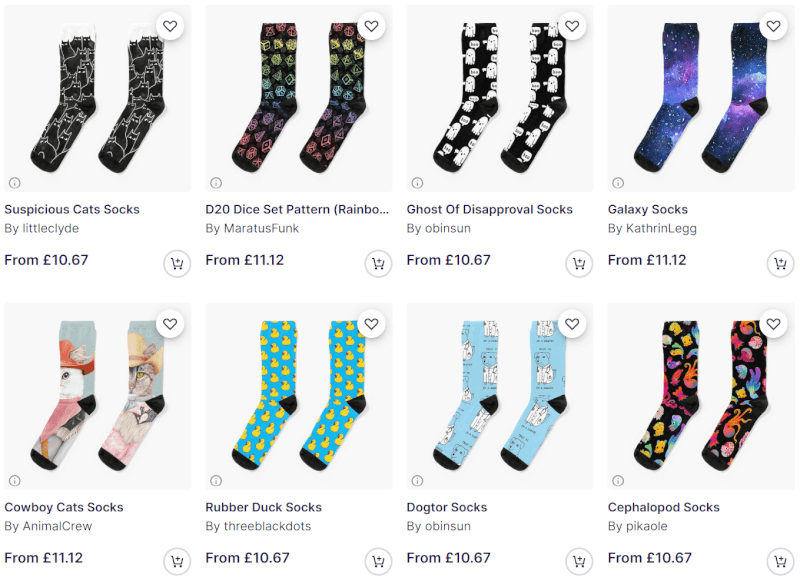 Yay! Onto our ninth trending print-on-demand product in the UK, we have socks. Whether one wants an extra layer of comfort while wearing shoes or as protection from cold weather, socks are daily essentials.
To add funk to this everyday wear, we can offer attractive socks that are knitted or dye sublimated. We also have solid colored and printed options.
Apart from that, we should sell varying lengths, ranging from ankle socks to knee-highs. Generally, unique socks are loved by children and adults alike. So, we must consider selling different sizes for our diverse UK audiences.
10. Backpacks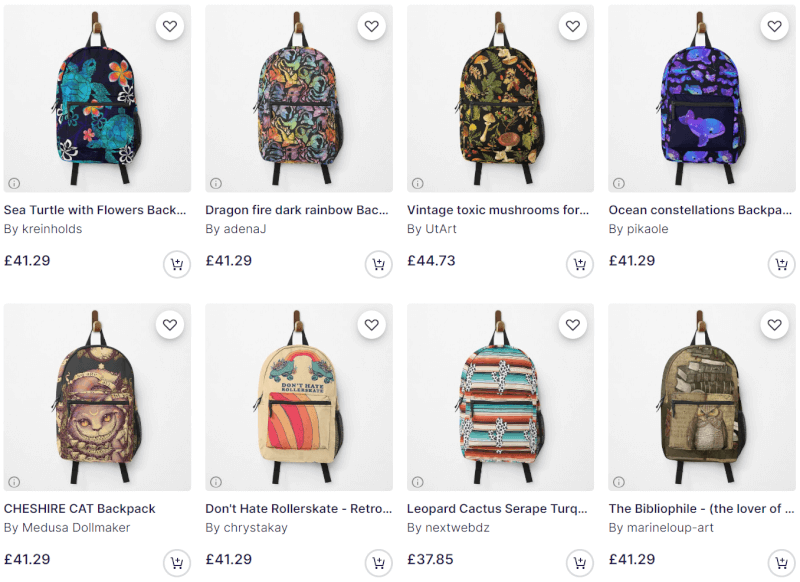 For print-on-demand products, backpacks are among the most popular ones. These practical items carry everything, from small items to bulky belongings. That's why their functionality leads to high market demands.
When customizing backpacks, we can offer the printing of personalized texts and graphics. Also, we have all-over print options that customers love. Aside from the designs, styles that come with pockets and compartments are a must.
Meanwhile, we should also consider various styles and sizes of backpacks. Plus, there are polyester, nylon, leather, canvas, denim, and other materials where we can print designs. Therefore, ensure to provide customers various choices, whether it's for school, work, or travel.
11. Drawstring Bags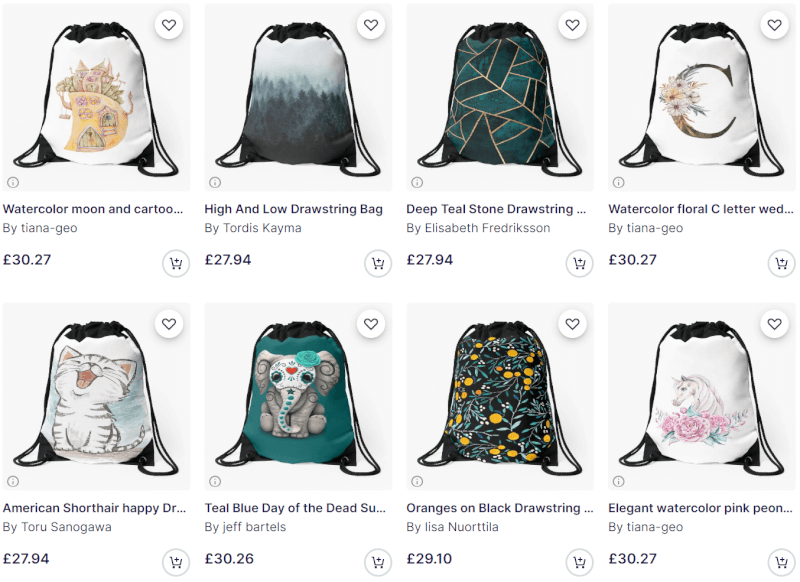 Yet another product to hold belongings, drawstring bags are popular on-the-go accessories. Due to their easy-to-customize nature, drawstring bags are best-selling print-on-demand products in the UK.
Among the vast varieties of these bags, the most popular options include canvas, parachute, mesh, and nylon. Mostly, drawstring bags are produced as eco-friendly substitutes for plastic shopping bags.
Being a POD product, we can add one-of-a-kind prints, like quotations or names. As such, drawstring bags are suitable for giveaways, as they are low-cost and easily mass-produced.
12. Magnets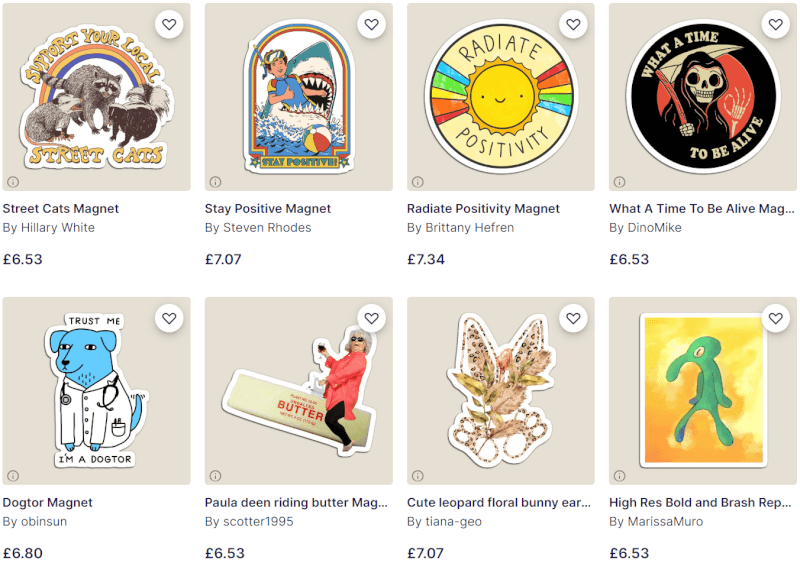 As popular souvenir items, magnets are among our top print-on-demand products in the UK. Generally, magnets are perfect as refrigerator ornaments, but they can also serve as wall designs.
Interestingly, there are numerous types of magnets we can customize and sell. In particular, we can offer ceramic, polyvinyl, silicone, rubber, metal, and other great options. Subsequently, these magnets can be adapted to different designs, like cityscapes or animals.
On the other hand, we can incorporate other uses into the magnets we're selling. For example, we can add a bottle opener to a refrigerator magnet. The more functions, the greater our customers' satisfaction is with the product.
Beginner's Tip: Since magnets are everywhere, take advantage of this item's popularity by adding your brand logo to the designs. As such, your brand awareness will increase, and with that, your sales.
13. Unisex T-Shirts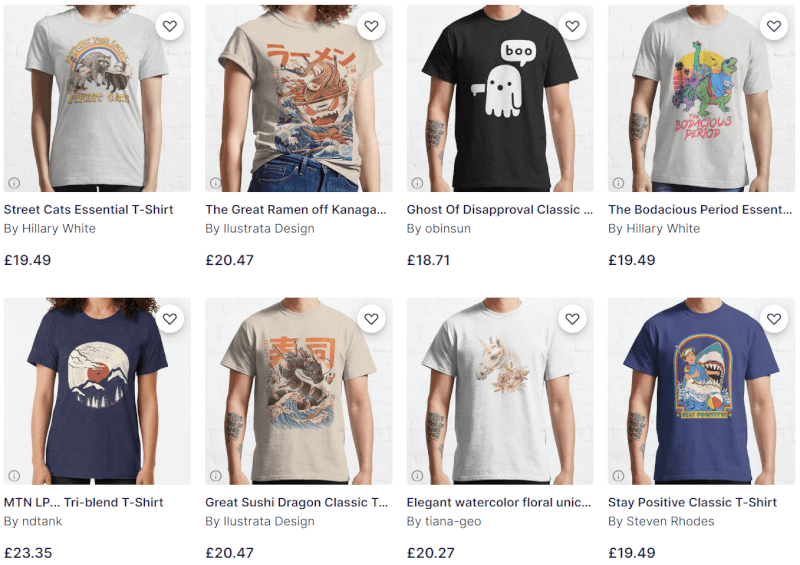 Undoubtedly, the print-on-demand products list will not be complete without unisex t-shirts. From classic tees to v-necks, we can put any design on t-shirts. As a year-round necessity, t-shirts are a great source of income when dropshipping.
Most often, these POD items include statement t-shirts. But, we can also add personalized t-shirts with printed photos and messages. On top of that, we should offer matching t-shirts for couples on anniversaries or for families during reunions.
When customizing t-shirts, we can add designs through different printing processes. For instance, we have screen printing, dye sublimation, heat press printing, and more. Lastly, special effects like glow in the dark, embossed, rubberized, and other options will attract customers.
14. Keychains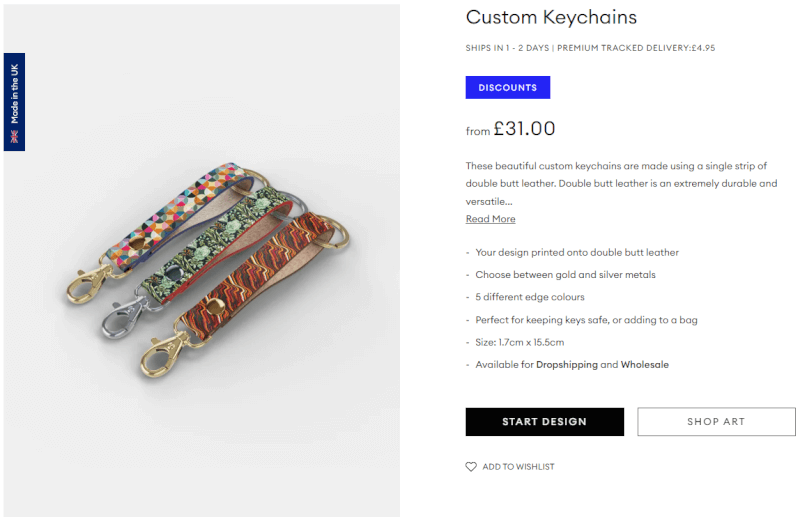 Aside from magnets, keychains are top-selling souvenir finds. Since they're easily customizable, keychains are promising print-on-demand products in the UK. These items can function as nameplates, key holders, or bag accessories.
For keychains, we can add a selection of shapes and materials. In particular, keychains are available in fabric, rubber, plastic, neoprene, leather, wood, and other materials. Some keychains are pre-designed, while others allow engraving.
Remember to include different sizes, shapes, styles, and colors. On the other hand, we can add other features to keychains, such as whistles, hooks, nail clippers, and more.
Beginner's Tip: Keychains are generally low-cost and handy. So, we can sell them in bundles at special rates, such as buy 10 at 10% off.
15. Notebooks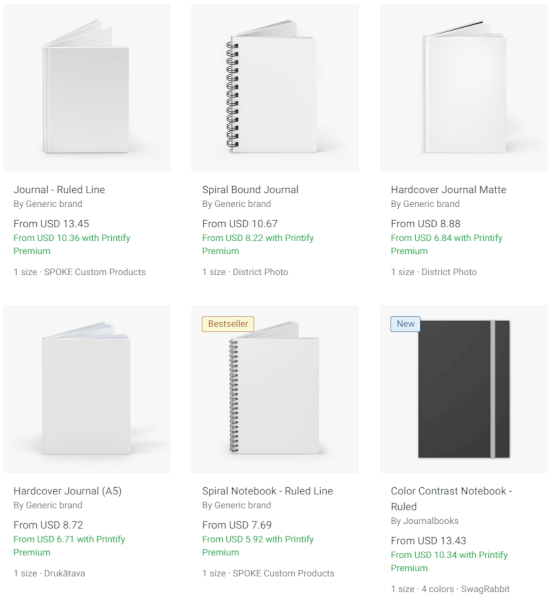 The UK audiences love anything personalized, especially notebooks. That's why notebooks are the top print-on-demand products in the region. Whether it's for taking down notes or journaling, customized notebooks are superb ideas.
So, POD notebooks come in ruled, grid, dotted, and plain pages. Likewise, we can offer the personalization of pages, such as the addition of names, colors, or graphics. In addition, we have stitched, spiral, and binder options.
Furthermore, notebooks can be hard plastic, paper, leather, and other covers that we can print on. For added aesthetics, we can add wrap-around strings, page dividers, and pen holders. Finally, let's remember to add different sizes and shapes, so customers can conveniently carry around their aesthetically pleasing notebooks.
16. Aprons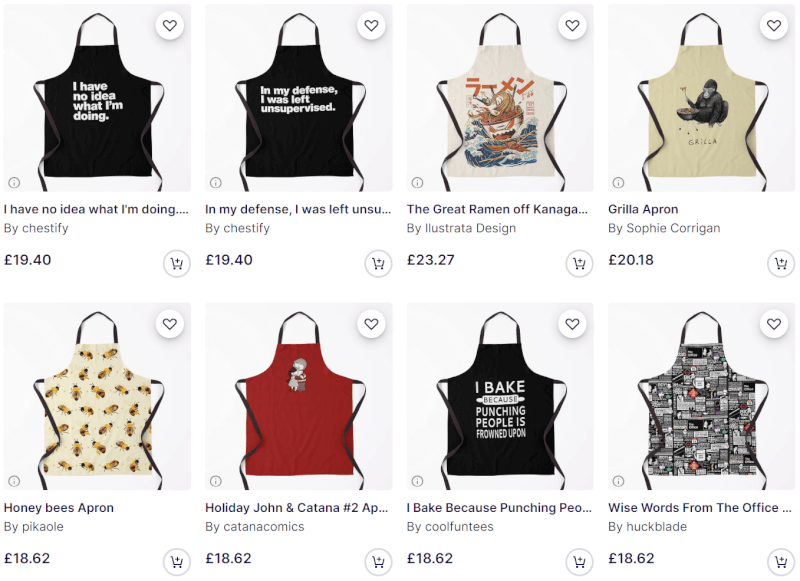 Cooking or gardening can be more enticing when wearing creative aprons. Aside from protection from spills and dirt, aprons are kitchen or garden necessities. So, users can remain fashionable while doing hands-on tasks.
Most often, aprons are made of different fabrics that are absorbent and washable. But, other varieties include plastic aprons that are waterproof. Regardless of the materials, aprons can be customized with prints and designs, suitable for our customers' varying needs.
When dropshipping aprons, we have the bib, waste, bistro, four-way, and other popular options. We should also include different sizes and styles, such as aprons with pockets to hold gardening tools.  
17. Posters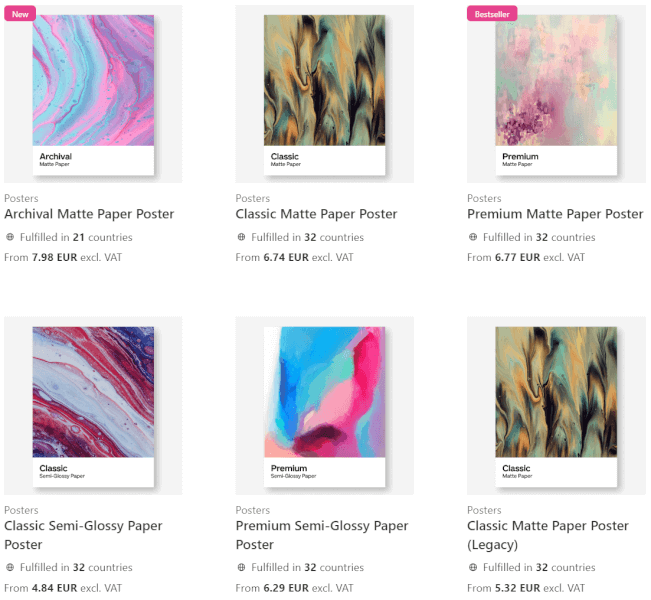 To end off our list, we have posters. Essentially, posters can showcase self-portraits, inspirational words, and other works of art. They can serve as gifts to loved ones or decors for plain walls.
Primarily, posters come in different sizes that we can dropship. There's also a vast variety of poster materials we can add. Specifically, posters come in foamed PVC, paper board, corrugated plastic, acrylic, and other durable materials.
Here's some great news: we can print whatever we want on posters! So, depending on our target audience, we can offer anything between vibrant designs and minimalist creations.
Now, the next thing we have to do is identify top print providers that offer high-quality POD items on our list. Thus, without further ado, let's discover some great POD suppliers.
Top Print On Demand UK Companies
After exploring the best print-on-demand products, we'll need to know where to source them. That's why our next goal is to identify the most reliable POD dropshipping suppliers in the UK. So, here's our list of the top eight suppliers:
Next, let's find out what makes them the best UK suppliers for our POD dropshipping business.
1. Inkthreadable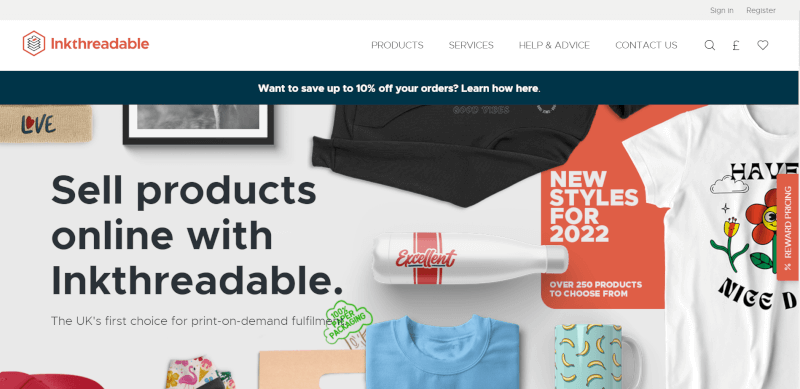 Kicking off our suppliers' list, we can source UK print-on-demand products from Inkthreadable. Through this dropshipping supplier, we can offer a vast variety of customized items for our online stores. Now, here are Inkthreadable's features that we should consider:
Pros: 
Environmentally-friendly

UK domestic warehouse

High-quality POD items
Cons:
Some products are expensive

Shipping outside the UK can take time
Popularly known as an eco-friendly UK company, Inkthreadable integrates sustainable processes and materials in producing POD items. This attracts clients who want to take part in the protection and preservation of nature.
Moreover, Inkthreadable houses a domestic distribution center in the UK, allowing us to deliver UK customer orders in about seven days. On top of that, this UK supplier provides a vast range of POD products. For instance, it offers high-quality t-shirts, bags, mugs, and more.
However, some products on Inkthreadable are quite expensive. Additionally, shipping outside the UK can take some time.
But because our target market is the UK, it's a perfect supplier. As such, we can ensure that we're sourcing top-quality items from this supplier.
2. Printful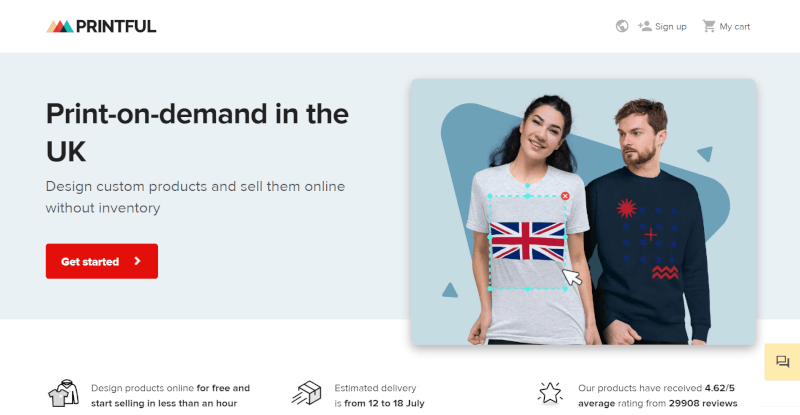 Next up, Printful is one of the most popular POD companies in the UK. As one of the top POD suppliers, dropshipping from Printful ensures various POD product options. Besides that, here are the benefits and drawbacks of working with this POD dropshipping supplier:
Pros:
Several printing techniques

Discounted sample orders

POD branding solutions

UK fulfillment center
Cons:
Complex shipping  

Lower profit margins
Primarily, Printful utilizes many printing methods to produce high-quality POD dropshipping products. To mention some techniques, we have embroidery, direct-to-garment, and sublimation printing. Meanwhile, Printful extends a 20% discount for sample orders, when sellers want to test the product quality first.
In addition, this print-on-demand supplier provides branding solutions to online sellers. As such, Printful allows the addition of logos and other branding labels to packages. Through this feature, dropshippers can establish their brands, enabling the distinction of their businesses.
On the downside, setting the shipping arrangements on Printful is complex. And, compared to other POD suppliers, profit margins with this supplier are lower. Therefore, we should set flexible prices and market one-of-a-kind products in order to attract buyers.
3. Redbubble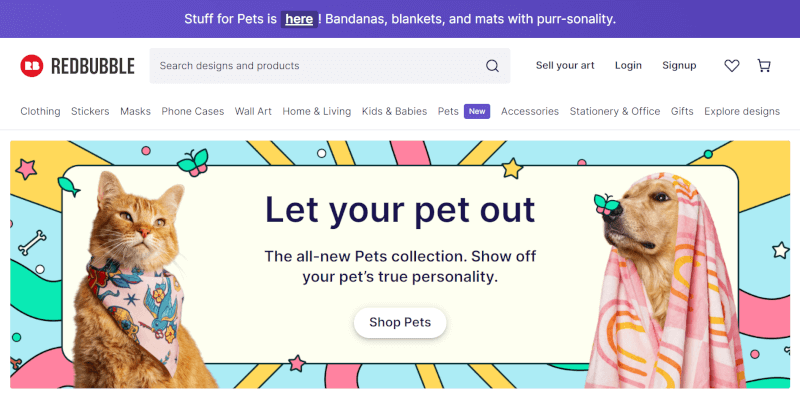 When we talk about print-on-demand products, Redbubble will definitely be a top choice. From its product options to seller support, it is one of the most reliable POD dropshipping suppliers. With that said, let's discover the advantages and disadvantages of working with Redbubble: 
Pros:
Wide array of POD products

Minimal marketing expenses

Integration with AutoDS
Cons:
Inconsistent product quality

Slower shipping times
As one of the biggest POD dropshipping suppliers, Redbubble offers over 70 product ideas on its site. With this wide variety of products, our customers can conveniently find products that fit their needs.
Additionally, Redbubble adopts a marketplace-like set-up, so buyers can easily search for our products. In this way, we can establish a substantial customer base, without spending much on marketing. Ultimately, Rebubble integrates with AutoDS, so processes from product finding to order fulfillment can be automated.
Unfortunately, a vast selection of items doesn't always guarantee good quality products on Redbubble. That's why it's a good idea to sample a product to ensure top-notch quality for our customers.
Apart from that, dropshippers should expect slower shipping times for some products from Redbubble. But overall, Redbubble is an excellent POD supplier for our dropshipping business.
4. Printify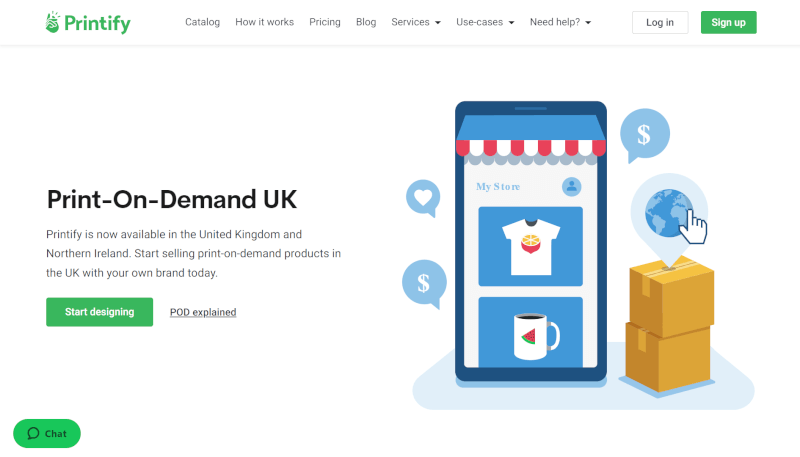 Another well-known POD dropshipping supplier in the UK is Printify. With this supplier's customization features, we can offer a comprehensive catalog of POD dropshipping products. Now, let's see other factors that make Printify an in-demand supplier among dropshippers:
Pros:
Numerous print partners

Premium package

Integration with popular selling channels
Cons:
A bit difficult to find the right partner

Product quality depends on the print provider
Essentially, Printify works with leading print-on-demand service providers in the UK. The company also allows dropshippers to work with different print partners, so we can have more outstanding product options.
As an added feature, Printify provides a premium package with a 20% discount on all orders upon sign-up. Apart from that, this supplier also integrates with popular selling channels, such as Wix, Shopify, and eBay.
Despite having several print providers, online sellers can sometimes find it difficult to pick the right partner for their business. In relation to that, the product quality depends on the print provider. That's why we have to carefully pick the partner that can provide us with over-the-top POD products and services.
5. Contrado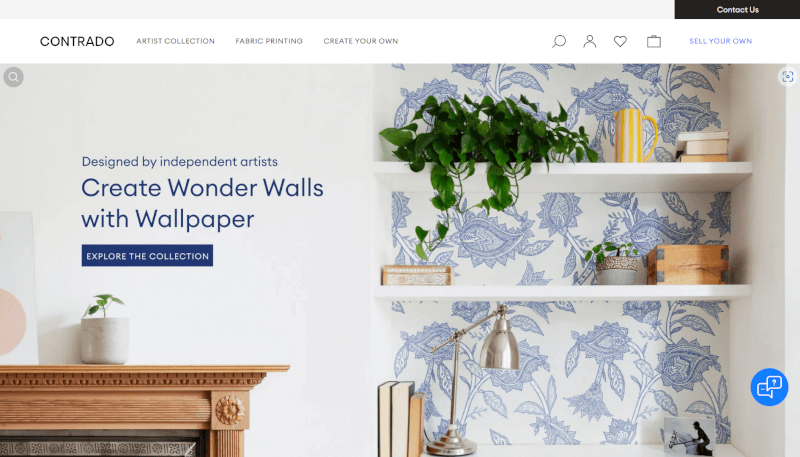 Moving on to our next print-on-demand supplier in the UK, Contrado is an expanding POD business in the region. Promising to put life into design ideas, this POD supplier offers a one-of-a-kind product catalog. To explore more of Contrado's features, let's discuss the following pros and cons:
Pros:
POD production facility

Efficient production procedures

Business branding solutions
Cons:
More expensive

Limited product catalog
Since Contrado has its own production facility, we can ensure consistent quality of the POD products we dropship in the UK. Also, the absence of subcontractors can minimize the fees of having middlemen, allowing sellers to save on other costs. Likewise, Contrado's facility ensures low-waste, low carbon, and swift production methods.
Moreover, dropshippers can take advantage of the branding solutions that this POD supplier extends. For instance, we add our business labels and include notes in customer packages. By doing so, we can have a distinct brand name that customers will remember.
On the downside, Contrado has a limited product catalog, and most of these items are a bit expensive. Nevertheless, this supplier provides the best POD products for our business. Even with a limited product catalog, we can ensure that we're sourcing high-value items that can satisfy customers' expectations.
6. Snuggle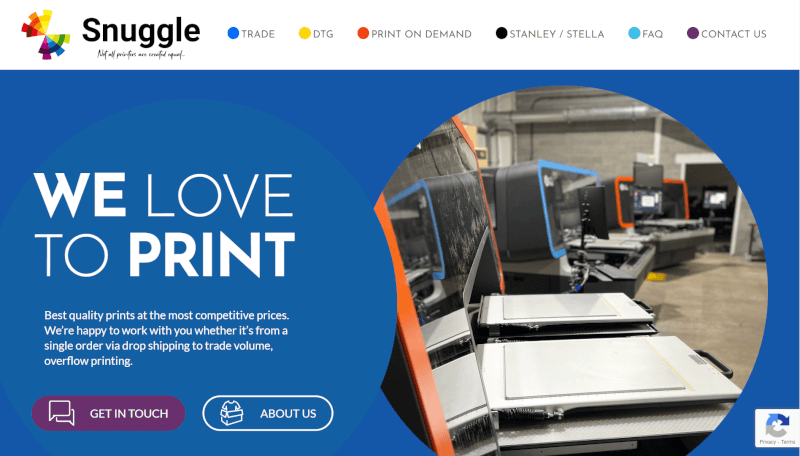 As a thriving print-on-demand supplier, Snuggle is making its way up the UK POD business industry. Aiming to partner with online sellers, this supplier offers worthwhile benefits to growing online businesses. As such, here are the benefits and drawbacks when working with Snuggle:
Pros:
No minimum order requirement

High standard printing

Competitive prices
Cons:
Fewer product options

Less customization
Interestingly, Snuggle doesn't require a minimum order requirement. Thus, sourcing products from this supplier is great for wholesalers too. Besides that, we can score huge discounts from bulk orders on Snuggle.
Adding to the perks, this POD supplier in the UK utilizes modern printing techniques. As a result, we can get high-standard printed products at competitive prices.  In this way, we can gain huge profit margins from selling POD products.
However, it offers few product options for now. Also, we have less freedom to customize our POD items. But overall, Snuggle is a perfect match for starters in dropshipping, due to the support that this supplier extends to sellers.
7. Two Fifteen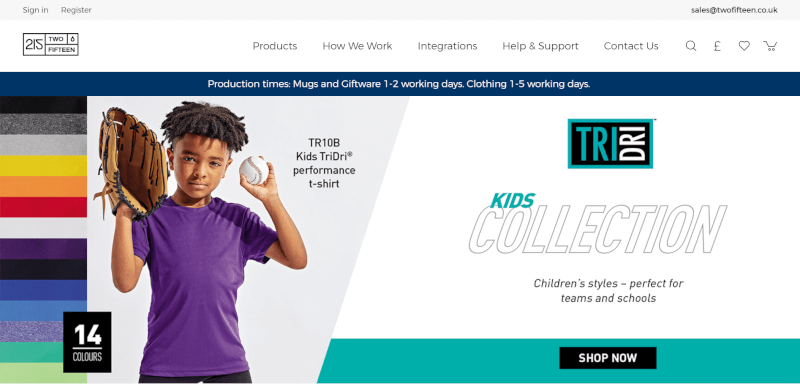 Proceeding to another outstanding print-on-demand supplier for our UK dropshipping business, we have Two Fifteen. Offering excellent customer support for sellers, Two Fifteen is a top choice in the eCommerce scene in the UK. With that said, let's weigh the advantages and disadvantages of working with this supplier:
Pros:
UK domestic center

Real-time shipping updates

Integration with eCommerce tools
Cons:
Limited POD product catalog

Shipping to other regions is slow
As a plus, Two Fifteen provides local industry support with domestic facilities. With the presence of these domestic centers in the UK, we can serve UK customers' orders in as fast as one to five days. On the same note, Two Fifteen provides real-time shipping updates, improving customer experience.
Furthermore, this POD supplier in the UK integrates with different eCommerce platforms, such as Shopify, Etsy, and more. As a result, product importing becomes easier and faster.
However, we have a limited selection of POD products on Two Fifteen. In addition, shipping to other places can be slow and complicated. Despite that, Two Fifteen ensures that it serves UK audiences with high-quality products and efficient services.
8. Gelato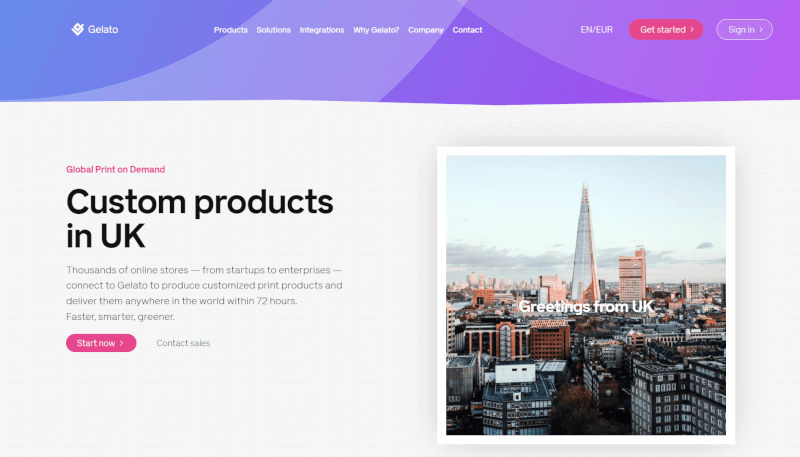 The last UK print-on-demand supplier on our list is Gelato. This popular POD service provider is best for beginners. With that in mind, here are Gelato's perks and drawbacks:
Pros:
Seller-friendly environment

No minimum purchase requirement

Integrates with eCommerce websites
Cons:
More expensive

Product customization limitations
As a seller-friendly platform, Gelato assists dropshippers from the calculation of taxes to invoicing. Additionally, this supplier allows a quick way to access products available on its site with no minimum order requirement. Likewise, it utilizes top-quality equipment to produce unique POD products.
Above all, Gelato integrates with eCommerce platforms for easier product listing and selling procedures. For instance, we can automatically connect our Shopify stores, so we can source POD items faster.
On the other hand, working with Gelato means more expensive pricing on some products. Also, other items have limited customization options. But then, these downsides are nothing compared to the excellent quality of POD items and the support that Gelato extends to UK dropshippers.
Now that we have reliable print-on-demand service providers, we're ready to start our POD business in the UK!
How To Start A Print On Demand UK Business
Woo! Now we're getting into the exciting stuff. So, without further ado, here are the six steps to follow to establish a print-on-demand UK business:
Let's explore the processes, starting with the first step.
Step 1: Find Best-Sellers- UK Product Research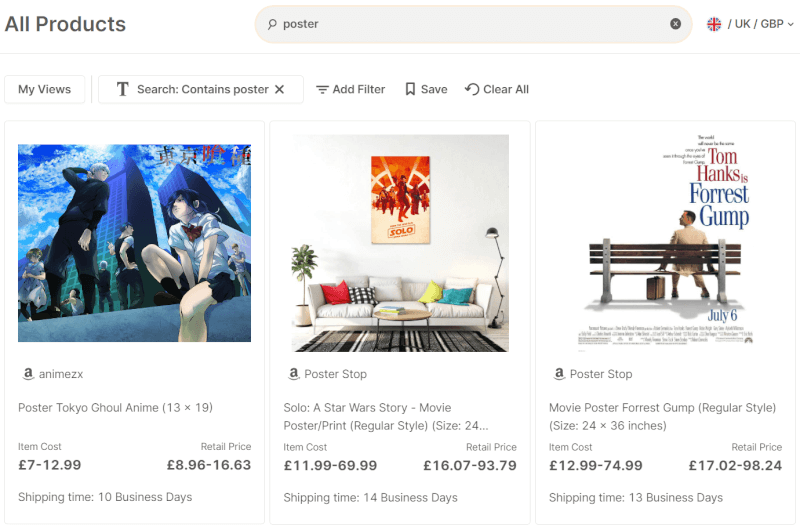 To begin POD dropshipping in the UK, we must find best-selling items through product research. With that said, at the beginning of our business, we can either establish a general or niche store.
Regardless of the nature of the store we have, we have to conduct in-depth product research. By doing so, we'll see the items that will sell best with our target UK market.
Now, what are the different ways to find the best POD products to dropship in the UK? Well, here are the most effective product-finding methods that we can utilize:
Search supplier's trending products

Google Trends

Analyze your competitors

AutoDS Product Research Tool
Search Supplier's Trending Products
Essentially, our suppliers' websites give helpful insights regarding recent purchases and trending products. For example, Redbubble enables us to filter search results according to the 'Best Selling' ones. Through this, we'll know what clients search and buy the most, allowing us to adopt these product ideas into our stores.
Google Trends
Another excellent way to track market behaviors is Google Trends. By searching for relevant keywords, we'll see how many searches a specific topic gains in the UK. 
Likewise, we can relate the graphs and data to the popularity of certain topics among UK consumers. Overall, we can use this data to ensure we're offering the most trending POD products in today's market.
Analyze Your Competitors
The next technique to find top-sellers is by analyzing our competitors. For instance, the Koala Inspector is a spy tool for Shopify stores. With this, we'll gain knowledge on what other sellers offer and how much sales they gain from their product listings.
AutoDS Product Research Tool
On top of everything, the AutoDS Product Research Tool is an all-in-one product-finding solution for our UK dropshipping business. As such, we can filter search results, such as UK warehouses, suppliers, price ranges, and more. Ultimately, the tool lets us search millions of items from several suppliers in just a few seconds.
Now, we can start our journey towards finding our next winning items, such as those included in the best-sellers list in this article.
Step 2: Choose A UK POD Supplier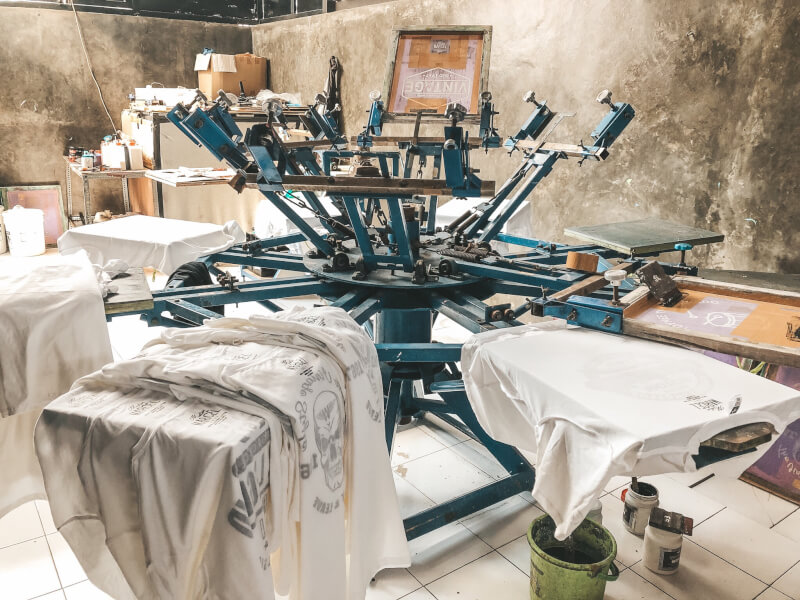 Following the search for best-selling items, now we need to select a print-on-demand supplier in the UK. Earlier, we identified the top POD service suppliers and their features. Now, we can analyze the benefits and drawbacks of these platforms for us to choose the right supplier for our POD business.
With that said, here are the factors to look out for before choosing a UK print-on-demand supplier:
Product catalog

Positive reviews

Minimum order quantity

Great customer service

Fast shipping times

Return policy
So, what makes each factor significant for our business? Let's take a look.
Product Catalog
In general, a supplier's product catalog is an important factor to consider. For one, a great selection of POD products will help customers find what they're looking for. As a result, our POD dropshipping stores will gain substantial sales.
Positive Reviews
Another factor we should be on the lookout for is customer reviews. When the products and services get high positive feedback, the supplier is doing a great job. As such, we can rest assured that we choose a reliable and credible source for our store's POD listings.
Minimum Order Quantity
Next up, the minimum order quantity (MOQ) is crucial when running a POD dropshipping venture. Remember, we only give what the customers ask, so we cannot source more than the demand. Therefore, suppliers with no MOQ go at the top of our list.
Great Customer Service
Of course, great customer service is essential to running a POD dropshipping store. Remember that the quality of products and services we're getting from our suppliers are the same ones we provide our buyers. 
Additionally, outstanding customer service is integral to our business success. As such, it differentiates our business from the competition, establishes a loyal customer base, and more. Thus, we must ensure that we offer only top-caliber customer support.
Fast Shipping Times
Moreover, the speed of shipping equates to customers' satisfaction. Meaning, the faster we deliver orders, the happier our UK customers become. Remember, satisfied customers, become loyal to our business, helping our stores thrive in the market.
Return Policy
Finally, practical return policies are necessary to run a smooth business. Hence, we must provide clear policies for aspects such as, returns and exchanges. Once again, our customers are our business partners, so we must address their concerns too.
Step 3: Select A Channel For Your Store

Once we have our UK suppliers, the next step is to select where to sell our POD dropshipping products. Essentially, a selling channel is a platform where we offer our items for customers to purchase.
That's why, in this section, we'll discuss the top-performing UK selling channels:
In the sections below, we'll explore the features of each selling channel.
Shopify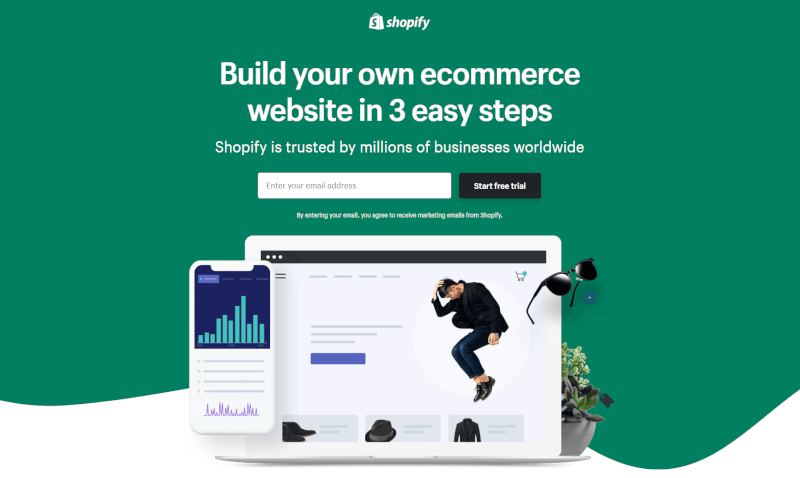 Primarily, Shopify has no free organic traffic. Therefore, we need to incorporate effective marketing techniques in order for us to attract a substantial UK audience.
On the other hand, we can enjoy endless POD product listings on Shopify because it has no selling limits. On top of that, Shopify stores are fully customizable, allowing us to produce a unique store. In this way, we can build our business' branding, enabling our store to stand out from the competition.
Wix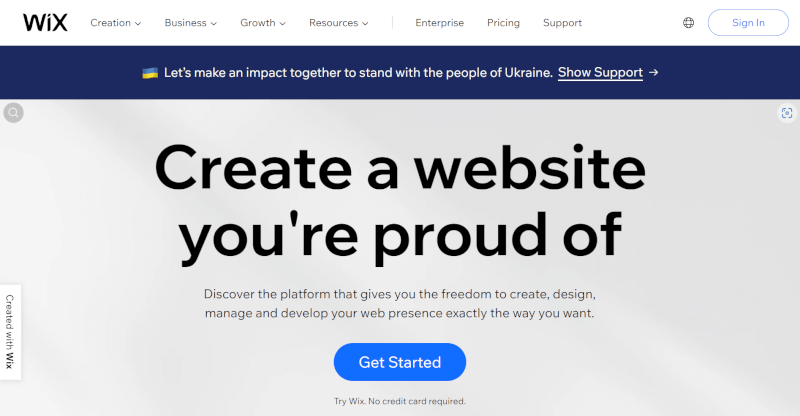 Just like Shopify, Wix lacks organic traffic too. So, aside from marketing, we can also optimize our POD product listings so they become relevant to customer searches.
Since Wix is a website builder, we have the freedom to create an attractive store from scratch. As such, we can add links, navigations, banners, and other templates that will optimize our stores' appearance.
eBay

In contrast to Shopify and Wix, eBay is an online marketplace. Therefore, we can enjoy free organic traffic on the platform. Aside from that, eBay provides free seller accounts, which is helpful to beginners in eCommerce to build their stores.
On the downside, we can't fully customize our eBay stores on eBay. What we can do is set up cover images, business labels, product categories, and featured products in our stores. By optimizing our eBay stores the best possible, we can extend an excellent shopping experience to customers.
UK Print On Demand Dropshipping Business Policies
Apart from the features of our selling channels, another crucial aspect of our POD dropshipping venture is creating business policies. These guidelines can take significant time and effort to create.
But now, you don't have to worry, as AutoDS is here to provide your business with ready-made templates.
Overall, these business policies are integral to the success of our business. Moreover, they serve as guidelines, so customers will understand how we extend our services to them.
Once again, these policies are a must in every business, so ensure you add these templates to your POD dropshipping stores. 
Step 4: Create POD Designs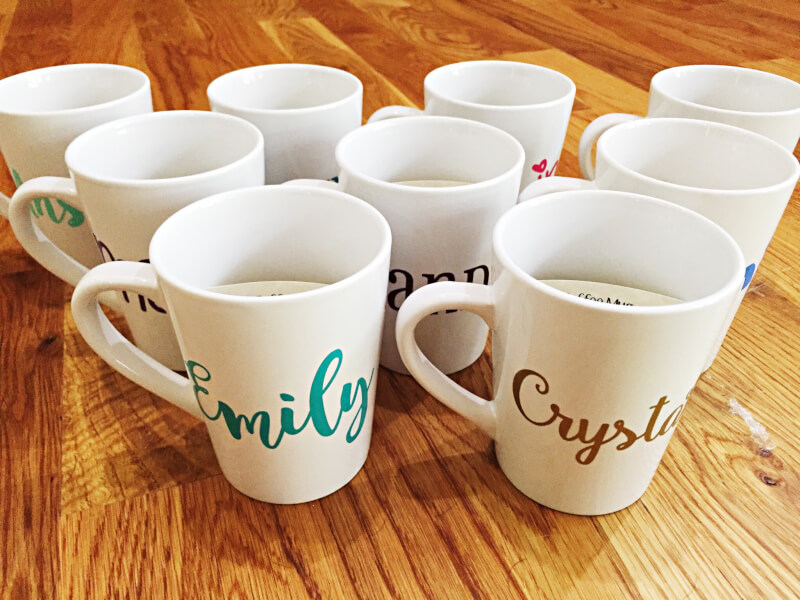 Once we've established our print-on-demand dropshipping store, we can start creating one-of-a-kind designs for our products. Interestingly, this is one special thing about POD – it allows us to design our products uniquely. As a result, we can offer distinct items that stand out from the eCommerce competition.
Now, the question is, how do we create designs? So, here are ways to produce extraordinary creations for our POD products:
Create them yourself

Hire designers

Buy design templates
One of the most straightforward ways to create designs is doing them yourself. If you have an innate artistic mind, you can utilize design tools to produce a design.
However, if you don't have the capabilities to create unique designs, you can hire designers. You can find freelance designers to produce the designs for you on websites like Fiverr. In this way, you won't worry anymore about what creations to incorporate with your POD items.
Lastly, we can purchase design templates. Websites like Creative Market offer a vast selection of pre-designed templates that you can use. By buying design templates, you don't have to spend so many hours brainstorming your POD designs.
Step 5: Show Your Products To The World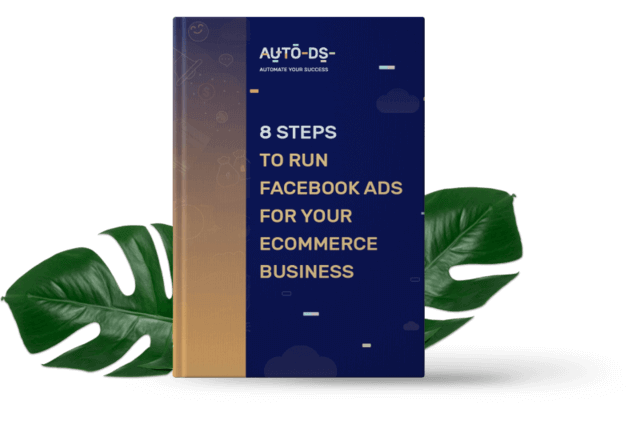 In general, customized products are valuable since they require creativity and uniqueness. That's why POD products deserve to be showcased to the UK market.
By effectively marketing our POD items, audiences will easily discover our product listings. Thus, we'll be able to convert more viewers into buyers, as they visit our online stores.
Next up, let's find out the essential marketing techniques suitable for the different selling channels.
Shopify and Wix
Since Wix and Shopify don't have organic traffic, we need to utilize proven marketing tools to attract UK customers to our stores. That's why we have the following marketing strategies to consider:
eBay
Meanwhile, eBay has significant organic traffic. However, there is huge competition in this marketplace. Therefore, we have to integrate effective marketing methods for us to stay steps ahead of the tight market competition:
As a final note, these marketing strategies are crucial for us to maximize our online influence. Remember, the more visible our products become, the higher our chances of obtaining massive sales.
Step 6: Launch Your POD UK Business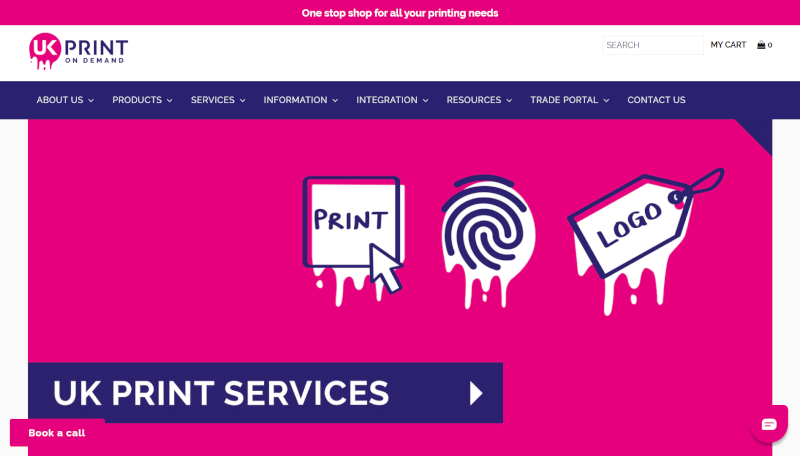 We're finally ready to launch our print-on-demand business in the UK. As such, we can start selling trending POD products and reap the rewards! 
But before you can offer a diverse selection of POD items, we advise that you test samples from your suppliers first. By doing this, you can ensure that you're delivering high-quality products to customers.
Of course, it's important to consistently stay at the top, and the best way to do this is through product research. Bear in mind that you need to sell the right products, according to your target UK market. All in all, opening our POD business in the UK paves the way to significant profits.
Frequently Asked Questions
Is Print On Demand Legal In The UK?
Yes, print on demand is legal in the UK. Your POD business is good to go as long as you adhere to the UK government's eCommerce policies and fulfill your tax obligations.
Can You Really Make Money From Print On Demand UK? 
Print on demand in the UK is a profitable business. Generally, the POD worldwide market is expected to reach 27.8 billion pounds in market value by 2026. All in all, you can earn large profit margins when running a POD business in the UK.
What Are The Best Print On Demand Products To Sell In The UK?
There is an endless list of print-on-demand products to dropship in the UK. Among these choices, Tote Bags, All-Over-Print Hoodies, Mugs, Coasters, and Stickers are the best-selling products. 
Conclusion
Magnificent! With the products and suppliers we've learned about, we're steps closer to starting our print-on-demand business in the UK.
Now is the best time to jumpstart your POD dropshipping business. So, start adding one-of-a-kind POD products to your online store and multiply your eCommerce fortune in no time.
To attain massive profits, we should diversify our knowledge in dropshipping and discover other worthwhile niches. Thus, here are insightful articles to guide you towards dropshipping success: