With new trends constantly emerging, the toys and hobby market is a highly in-demand industry. By 2027, the Toys & Hobby market revenue is projected to reach a value of $55 billion. As such, there is a huge profit potential for dropshipping toys in 2023.
So, in this article, we will list the top 17 toy products to sell in our dropshipping stores. So keep an eye out as we reveal the latest trending products. And, as a bonus, we'll show you the most efficient method for importing them to increase our profits quickly.
Is Dropshipping Toys Legal?
Since many big companies manufacture toys, some may wonder, "Am I Allowed To Dropship Toys?" In short, the answer is yes. However, we should only dropship legal toy products.
This means that you should not sell toys that are copyrighted, patented, or otherwise protected by intellectual property laws. For instance, we cannot sell toys based on Disney characters without their permission.
Besides that, we should also avoid selling dangerous toys that could potentially harm children. By following these guidelines, we can legally and safely dropship toys.
Beginner's Tip: Refer to the VeRO guide for additional guidance on how to avoid illegal products.
17 Best Dropshipping Toys Products To Sell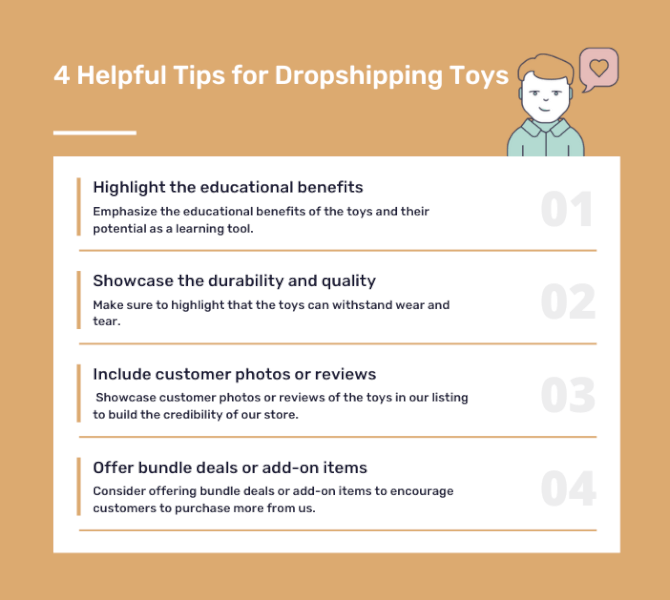 When it comes to dropshipping toys, there is a wide range of options available. However, remember that while toys are primarily intended for children, the target market is their parents. After all, parents are the ones who buy toys for their children.
With that in mind, here are the 17 best dropshipping toys products to sell in 2023:
Let's learn about each of them in detail.
1. Flying Orb Ball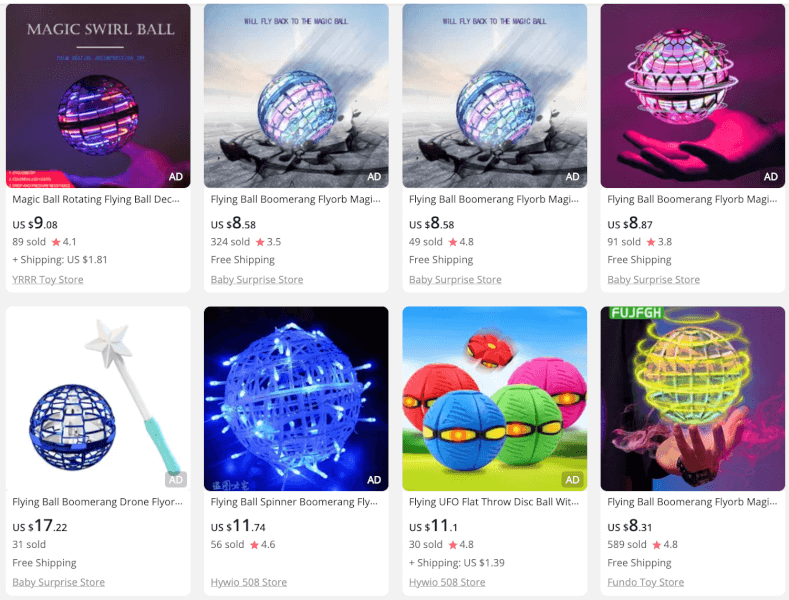 To begin, we have the Flying Orb Ball. This toy product is a small, spherical device designed to hover and move through the air. Some flying orb balls are drop-resistant, making them durable. Also, these toys typically have motion-activated RGB lighting. Additionally, it uses gyroscopes to stabilize its flight and maintain balance.
Beginner's Tip: Dropship flying orb ball toys that can be controlled by a remote. This allows the user to direct the toy's flight path and perform various tricks and stunts, thus increasing the product's value.
2. Kids Lawn Mower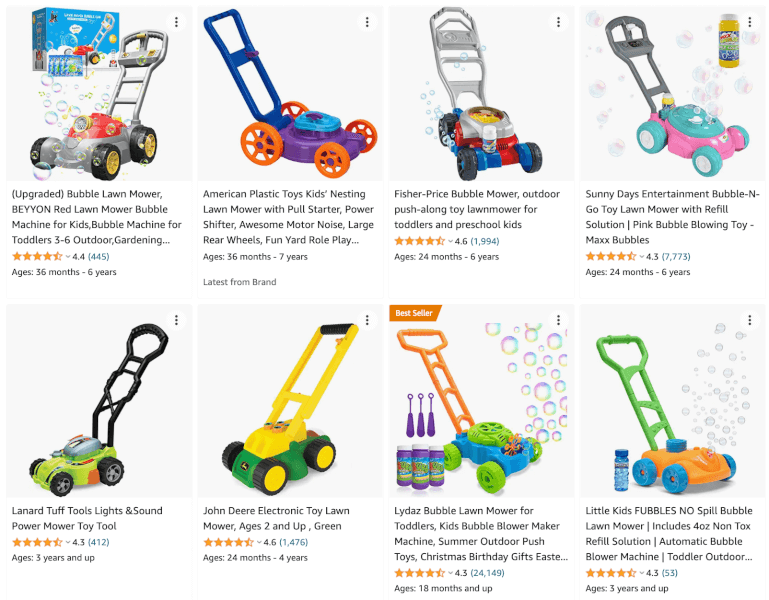 Next up, we have the Kids' Lawn Mower. This dropshipping toy product is designed to mimic the appearance and function of a real lawn mower. It is often made with durable plastic and has small motors or pedals that allow children to push or ride them. On top of that, many kids' lawnmowers also make realistic sounds and have interactive features to enhance the play experience.
3. Writing Tablet / Doodle Board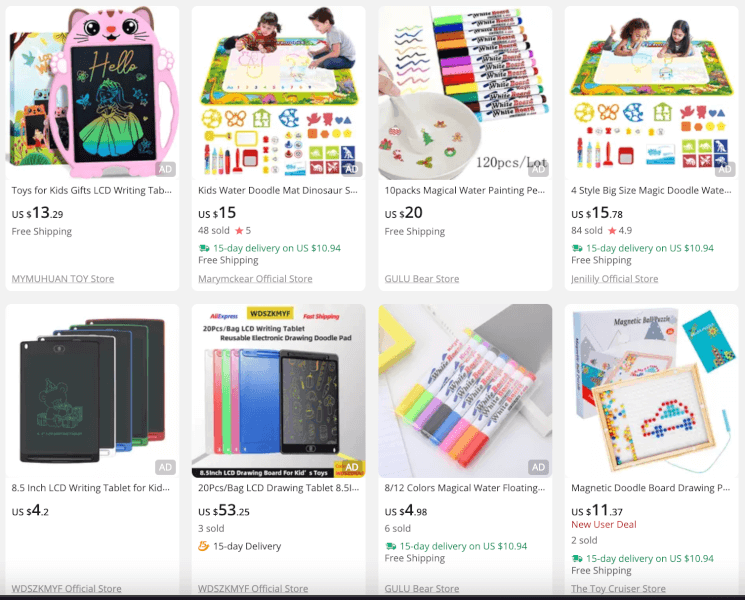 Offering a convenient way for kids to create digital drawings, the Writing Tablet or Doodle Board is an excellent dropshipping toy product. These thin and lightweight toy products allow a natural writing and drawing experience. Plus, they are compact, making them easy to take on the go. On top of that, it has a built-in eraser to rub out drawings.
Beginner's Tip: List writing tablets that allow kids to save their drawings and sketches on the device or export them to other devices for added value.
4. Mini Toy Car Set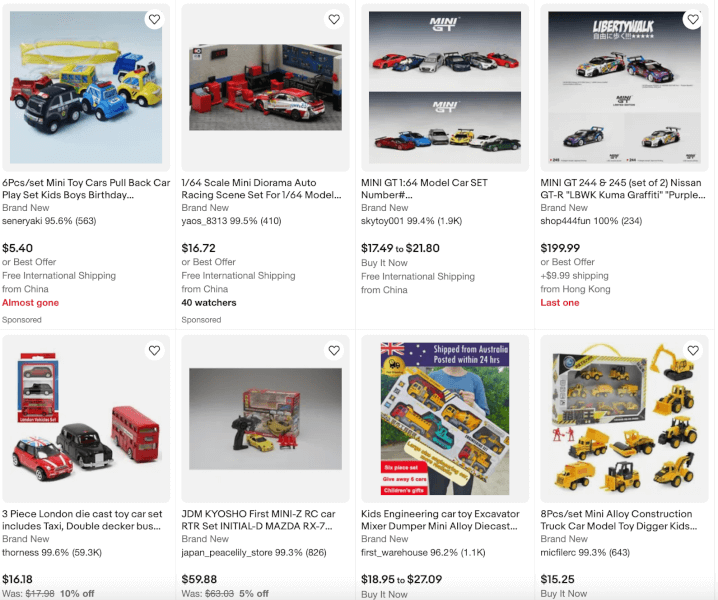 One of the popular toy products among many kids, the Mini Toy Car Set is a fantastic toy product to dropship in 2023. The mini toy car set includes various types of cars. Additionally, they are made with durable materials and are designed to withstand wear and tear.
Beginner's Tip: Include other accessories such as buildings, roads, and figurines as a bonus set, as children love creating their own miniature worlds and scenarios.
5. Magnetic Building Blocks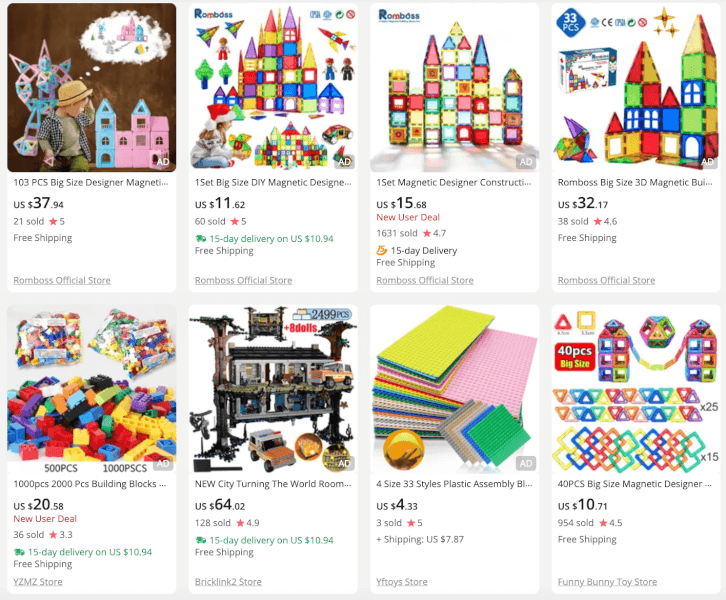 Another fantastic dropshipping toy to sell in 2023 is the Magnetic Building Blocks. It is a type of toy that consists of small blocks with magnets embedded in them. As these blocks are easily connectable using magnets, children can build various structures and designs. In addition, they are also fun and educational toys that children of all ages can enjoy.
Beginner's Tip: Sell sets of magnetic building blocks with a wide range of geometric shapes and colors, allowing for even more creative possibilities.
6. Kid's Rocket Launchers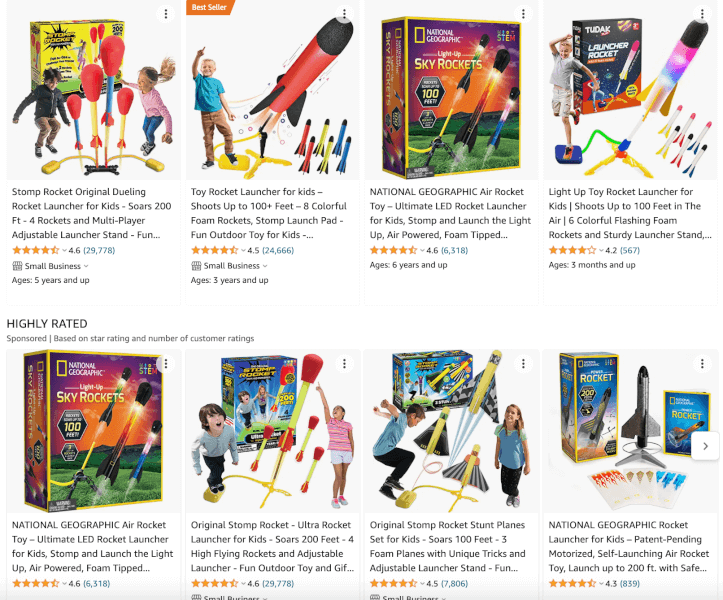 Next up on our list of dropshipping toys in 2023 is Kid's Rocket Launchers. These toys allow children to launch small rockets into the air. As such, they come with a launching pad and multiple rockets that can be loaded onto the pad and launched using a hand-held trigger. Plus, these launchers are available in bright colors and fun themes to appeal to children.
Beginner's Tip: When dropshipping Kid's Rocket Launchers, include safety tips for the toy so parents can be at ease when purchasing it.
7. Dollhouse Set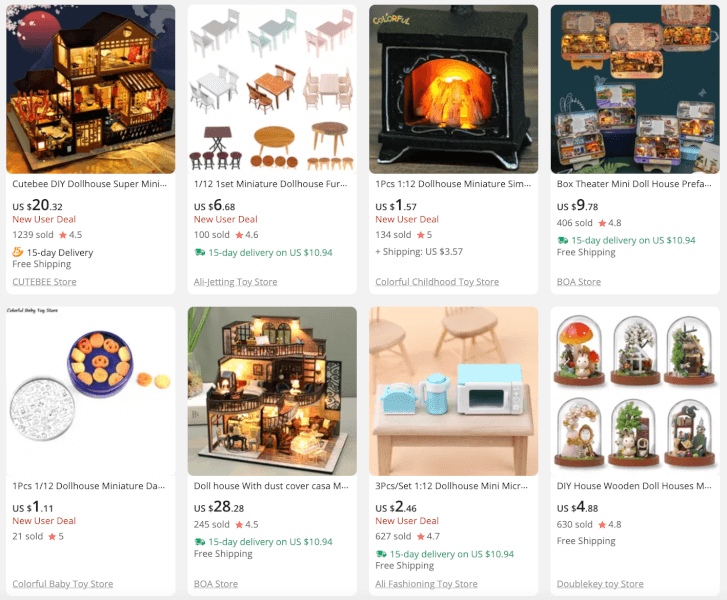 Especially popular amongst girls, the Dollhouse Set is an excellent dropshipping toy product to sell in our stores. This product consists of a miniature house or building and a collection of small toy furnishings such as beds, couches, tables, and chairs. Lastly, dollhouse sets can be made of paperboard and plastic. 
8. Mini Drone For Kids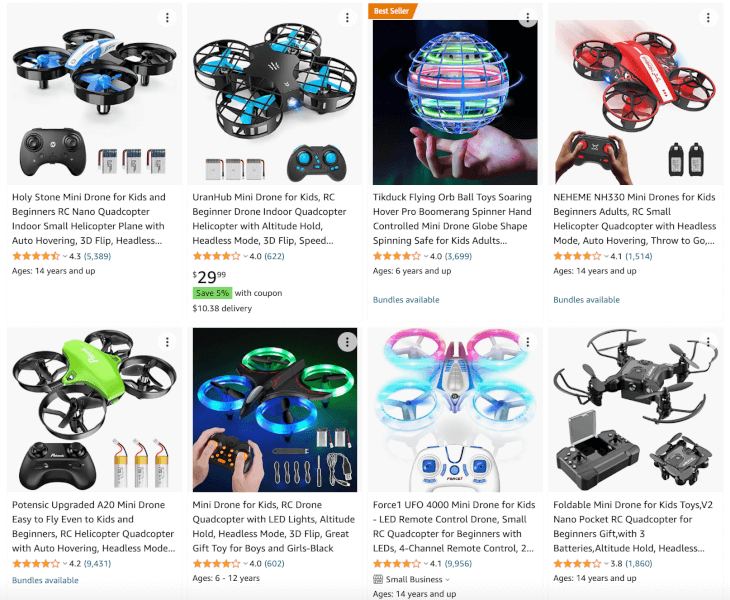 If you want to dropship a toy for tech-savvy kids, the Mini Drone For Kids is one of the best options out there. It is a small drone specifically designed for children to play with and operate. Therefore, it has a compact size and a simple, user-friendly design.
As we enter 2023, children are becoming increasingly interested in technology. This presents a unique opportunity for dropshippers to offer a high-tech toy that parents will actually buy.
9. Toy Trucks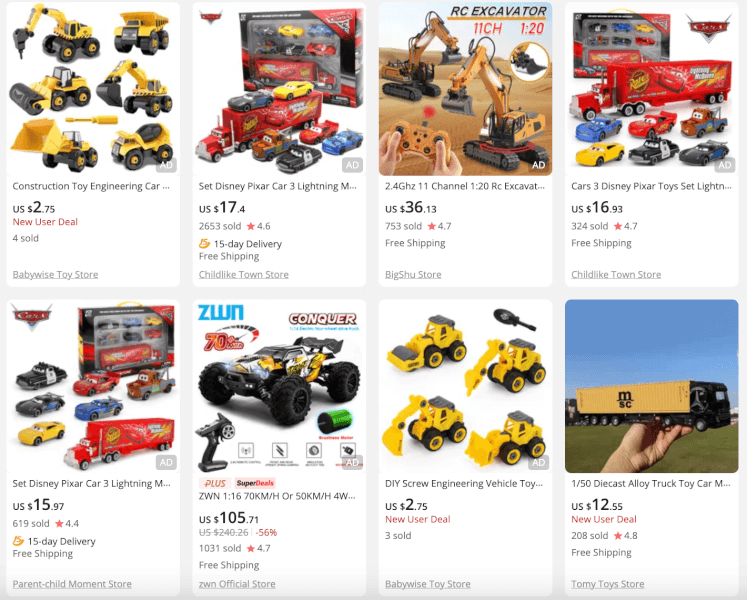 Enjoyed by children of all ages, Toy Trucks are classic products to dropship in 2023. This product includes monster trucks, bulldozer trucks, dumper trucks, and more. These trucks are made of sturdy materials, including plastic, metal, and wood. Plus, some may also have rubber tires, painted-on logos, or moving parts for a more realistic feel.
Beginner's Tip: Dropship toy trucks that include light and sound effects, such as flashing lights or engine sounds, for added value.
10. Remote Control Train Set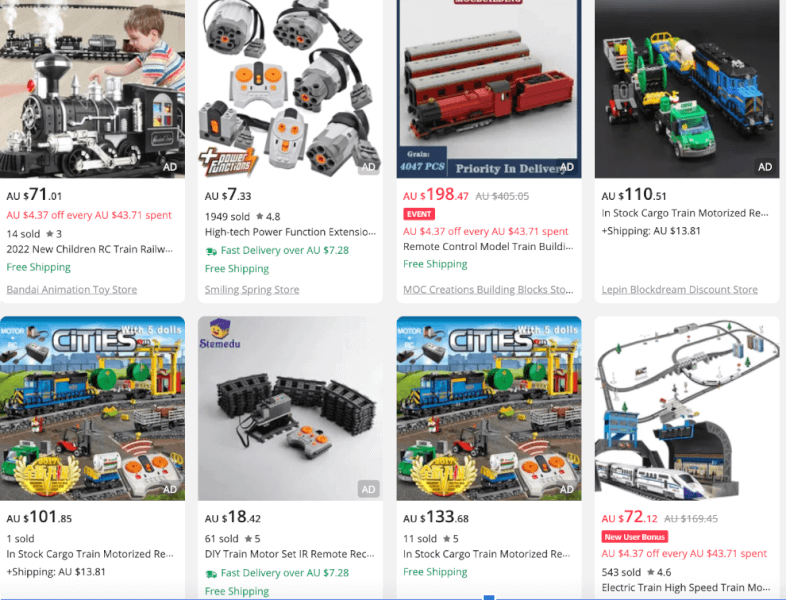 As many children love remote-controlled vehicles, the Remote Control Train Set is a collection of small battery-powered trains, a track layout, and a remote control. In general, we can dropship train sets with different train models. Plus, some train sets may include working headlights and engine sounds.
Beginner's Tip: We can sell the remote control train set where children can control the train using a smartphone or tablet with Bluetooth connectivity.
11. Robotic Dog Toy For Kids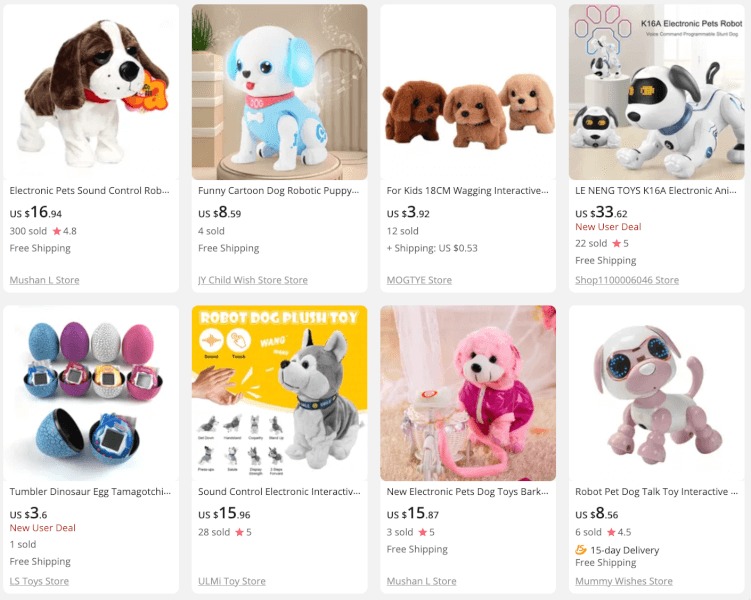 As kids love both pets and toys, the Robotic Dog Toy For Kids is a toy product that offers the best of both worlds. Designed to imitate the appearance and behaviors of real dogs, this product has features such as wagging tails, barking sounds, and the ability to follow commands.
Plus, they are powered by rechargeable batteries. Best of all, these items have different shapes and sizes to mimic different breeds of dogs.
Beginner's Tip: When dropshipping Robotic Dog Toy For Kids, ensure that they have sensors that allow them to respond to touch or movement, making them even more interactive.
12. Hand Gesture Remote Control Car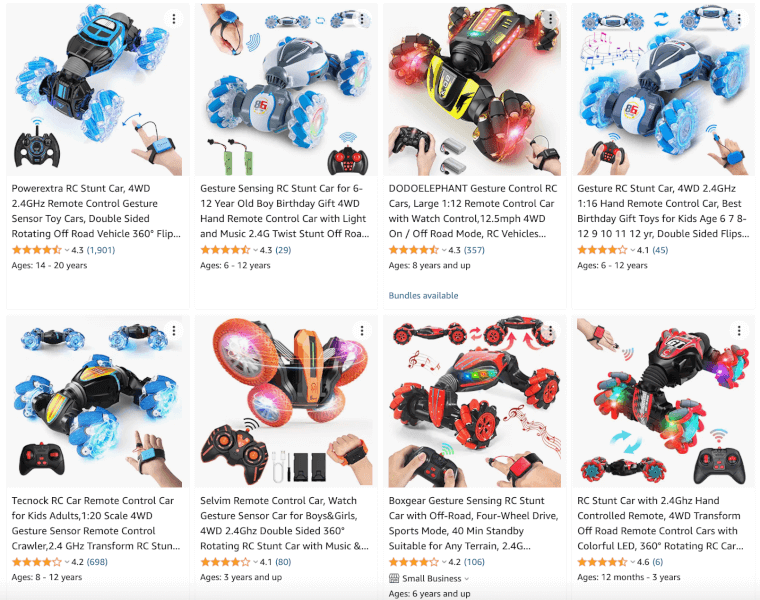 If you are looking to sell a better version of remote control cars, the Hand Gesture Remote Control Car is a perfect choice. This toy is equipped with sensors that can detect hand gestures. As such, kids can speed up, slow down, turn, or reverse the car with hand gestures. Additionally, some models may also feature sound effects, such as revving engines, honking horns, and cool music.
13. Toddler Ride On Car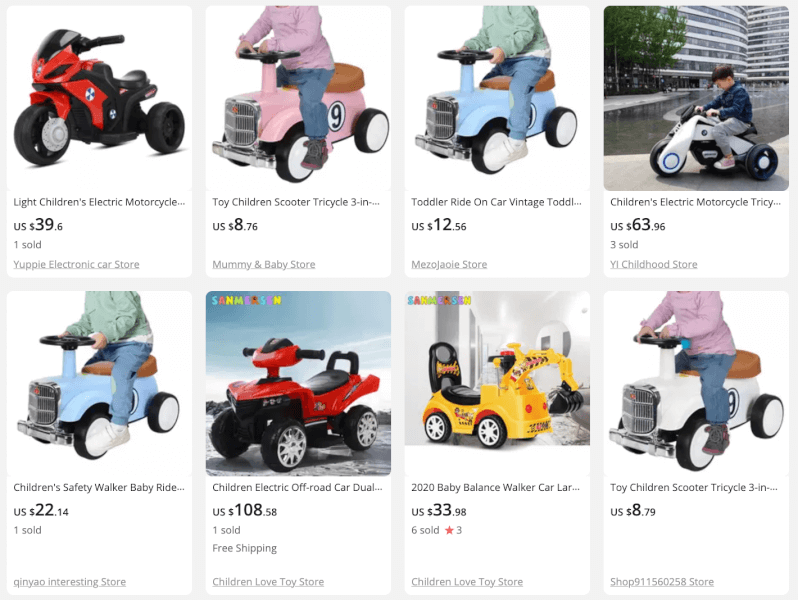 Moving on to another fantastic toy product to resell in 2023, we have the Toddler Ride On Car.  This toy is a small, battery-powered vehicle for young children to ride and play with. It is generally available in a wide range of styles and designs. And some toddler rides on cars have adjustable speed settings, which allows parents to limit the max speed.
Beginner's Tip: Since children ride this toy, ensure the car has safety features such as seat belts, padded seats, and a solid structure.
14. Kids Hoverboard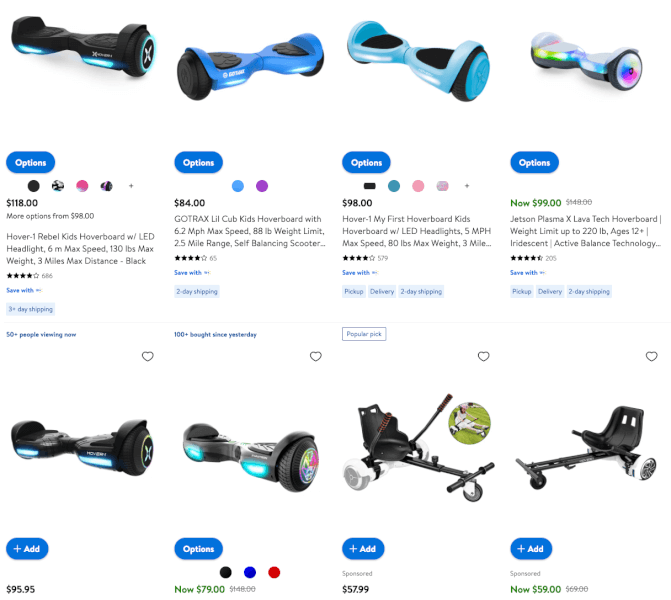 Next up, we have the Kid's Hoverboard. This toy product is a self-balancing electric scooter that allows children to ride on two wheels. Interestingly, it is a battery-powered device operated by leaning in the direction the rider wants. Furthermore, the product also has built-in music, speakers, and colorful deck lights.
Beginner's Tip: Offer free protective gear, a manual guide, and a disclaimer for parents' supervision when using a hoverboard. This minor detail can build our store's credibility and increase sales significantly. 
15. Art Easel Set For Kids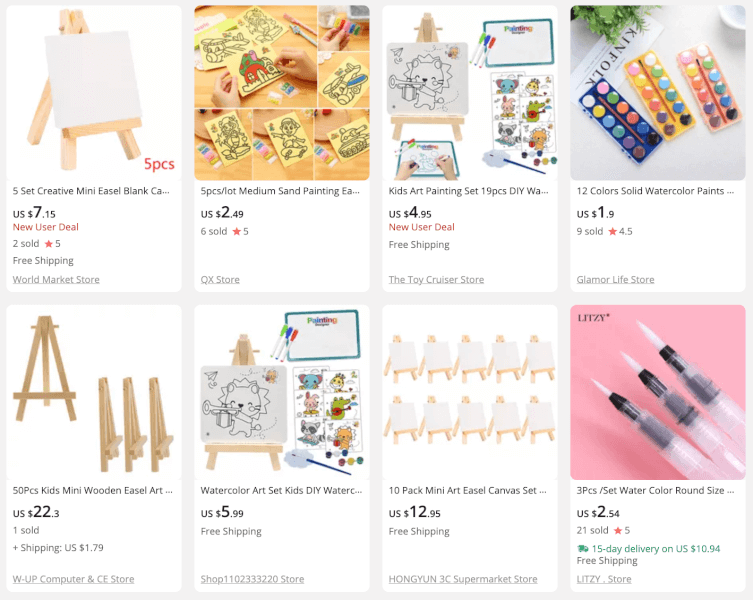 Not every child likes cars and trains; some kids use different toys for entertainment. Therefore, the Art Easel Set For Kids is an innovative product that helps children develop their artistic skills and imagination. With an easel and canvas, children can make their dreams come true.
Beginner's Tip: Make sure to use high-quality product photography to showcase the art easel set in a visually appealing way to increase the chance of a sale.
16. Pretend Kitchen Set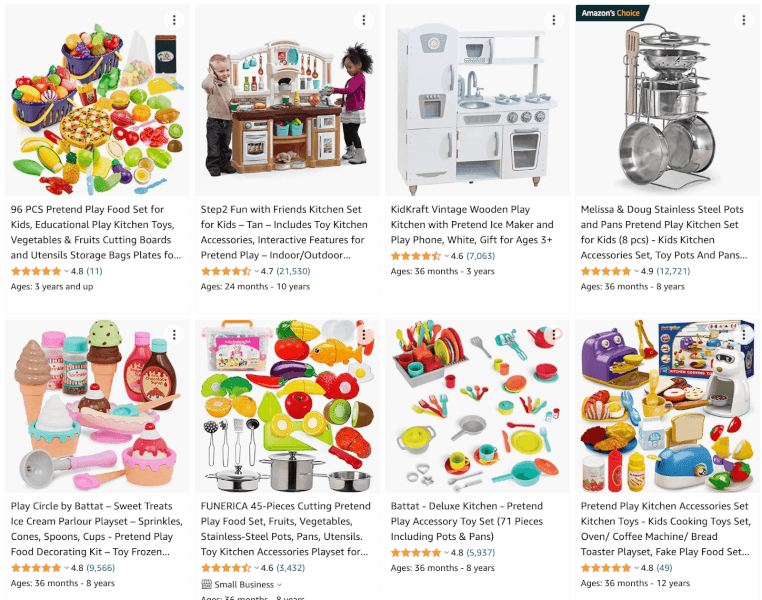 One of the most popular dropshipping toys is the Pretend Kitchen Set. This toy allows children to role-play in a mini kitchen environment. Plus, the set includes a small kitchen counter with appliances and utensils. Furthermore, the set is made using chemical-free plastic with dull edges and vibrant colors.
17. Puzzle Ball Fidget Toy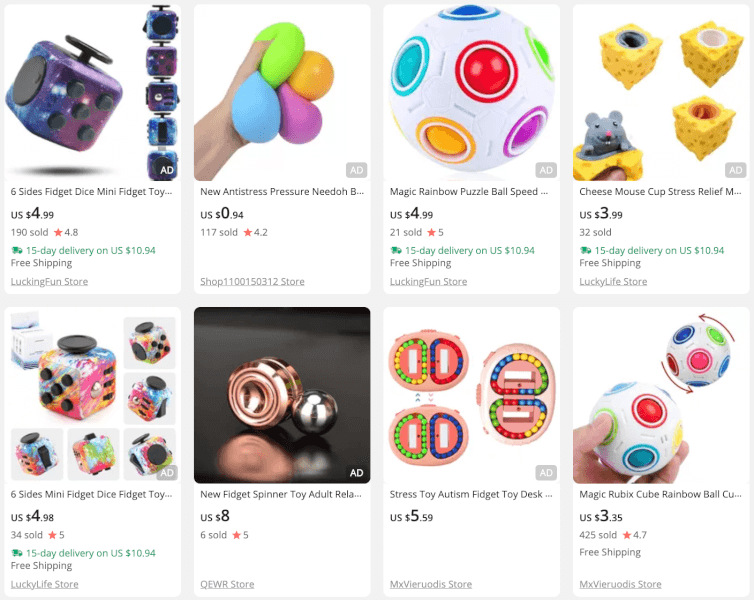 Last but not least, we have the Puzzle Ball Fidget Toy. In essence, it is a small, handheld device designed to provide a calming, focus-enhancing activity for those struggling with stress and anxiety. Additionally, they are made of high-quality plastic that doesn't quickly wear with frequent use. Lastly, these fidget toys are available in different colors.
Congratulations! Now we know about the best dropshipping toys. With these in-demand and trending toy products, we can quickly increase sales and scale our business. 
How To Import And Dropship Toys Quickly
Now that we have a list of the 17 best dropshipping toys, we can start importing them to our stores. In general, we can import toy products in two different methods: manual and automatic.
With manual product importing, we must copy product information such as titles, images, descriptions, and variations from the product page. Then, we have to paste them into our stores. Undeniably, it takes a lot of time and manual effort to complete the product import process.
In contrast, with the automatic method, we can import products with dropshipping software. To elaborate, dropshipping automation software such as AutoDS extracts product information automatically. Overall, we can import toy products in a few seconds, whereas it takes 5-15 minutes with manual product importing. 
AutoDS Product Importer
Let's learn how to import products using the AutoDS automatic product importing tool. Essentially, there are 4 different importing methods we can use, which are:
One-click Importer

Single Product Importer

Multiple Product Importer

Bulk Upload with a CSV file
For demonstration, let's import one of the toys using the One-click Importer feature. Before importing, register for an AutoDS account and install the AutoDS Dropshipping Helper Extension.
After installation, go to a supplier's website (e.g., Banggood) and type the title of the toy product. For instance, let's import Mini Drone For Kids to our store. From the supplier's website, go to the product page and click on the Import to AutoDS button above the product's title.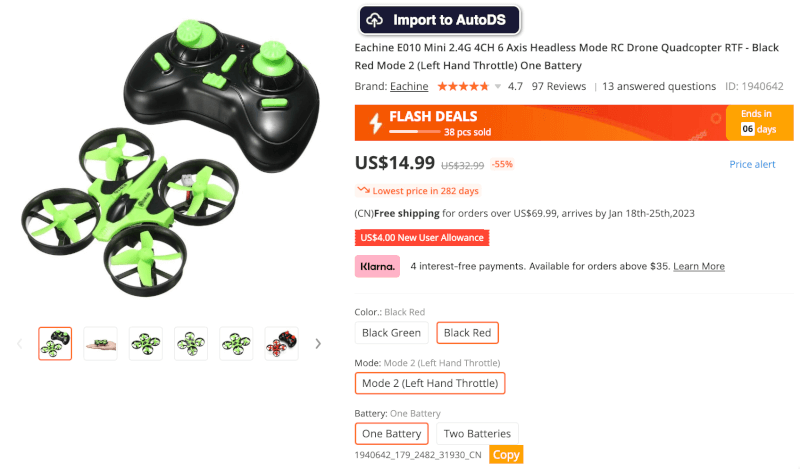 This will extract all the product information of the toy, such as the toy's title, images, variations, and description. Then, the AutoDS importer tool will upload the information to the draft page in the AutoDS platform. To clarify, the draft page is where we can optimize the product before publishing them in our stores.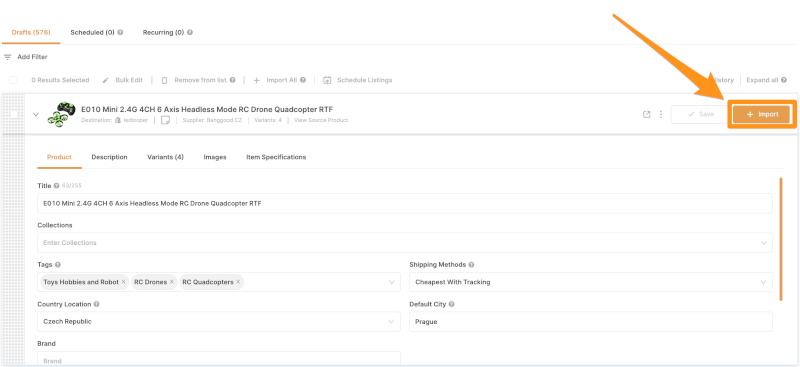 In general, we must always enhance our product listing to make it more search engine optimized. In addition, it helps our listing stand out from the competition, thus increasing our sales. Overall, automating this process helps us import products efficiently and quickly.
Dropshipping Automation Features
Besides product importing, here are more AutoDS automatic features that will help us operate our business smoothly:
Complete Order Fulfillment

Advanced Product Research Tool

Price/Stock Monitoring

Automatic Price Optimization

Inventory Management

Tracking Numbers

and more!
These automation features save us time and effort while dropshipping. And with the saved time, we can grow and scale the business, improve customer experience, and expand to new markets.
Frequently Asked Questions
Are Toys Good For Dropshipping?
Yes, toys are an excellent niche to dropship in 2023. As parents spend more money to keep their children happy, dropshipping toy products are in high demand. On average, Dropshipping toys can result in a 20-40% profit margin.
What Are The Best Dropshipping Toys To Sell? 
The best dropshipping toys to sell are the Flying Orb Ball, Kids Rocket Launcher, and Mini Drone For Kids. As they are some of the in-demand items in the toys & hobbies niche, they have a high-profit potential. 
How Can I Start Dropshipping Toys?
To start dropshipping toys, first, we need to find trending toy products. Then, we must choose a reliable dropshipping supplier of toy products. Next, we should promote the toy products and start fulfilling orders. Finally, we should use dropshipping automation software like AutoDS to run our business efficiently. 
Conclusion
Great job! We can instantly list the 17 best dropshipping toy products to gain tremendous profits in 2023. It's proven to be an evergreen niche, meaning it is consistently in demand throughout the year.
Check out more product ideas, but remember, we will need to add at least 20 products from each niche. This way, we will easily find our next best-seller and skyrocket sales. With that in mind, here are some articles with valuable information: