Any good dropshipper knows that product research is the determining factor of success. But how do we find winning products to sell? Luckily, Walmart offers daily deals on quality products, making it an excellent place to start your product research.
It's not for no reason that the retail giant is a household name across the United States. By now, Walmart has become a go-to destination both in-store and online, offering competitive prices on millions of products with rapid and free shipping.
With such a track record, dropshippers of all levels turn to Walmart to find products for their store. However, many aren't aware that they can find products of similar quality at significant markdowns.
In this article, we'll learn how to find discounted quality products through Walmart's Daily Deals section. In the end, you'll know how to find a winning product and import it to your store with relative ease.
Walmart Daily Deals Section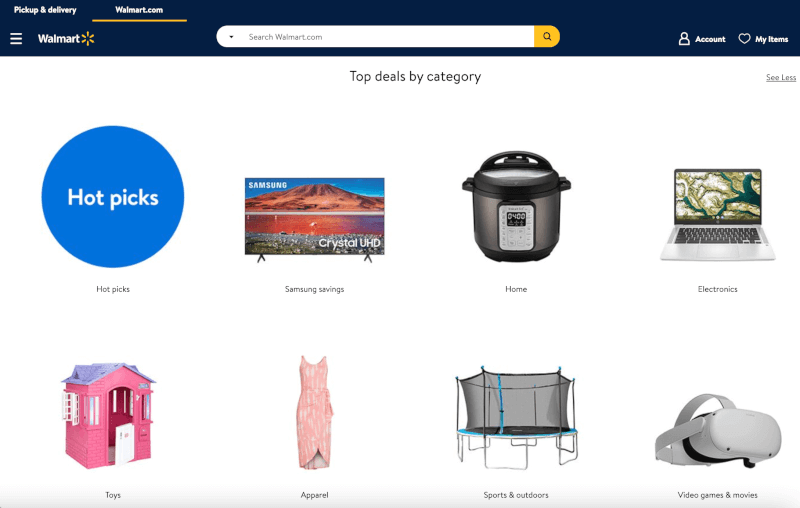 Before we learn how to find products on Walmart's Daily Deals, let's first understand what this section is all about.
The daily deals section gathers the best deals from across the many departments of Walmart and displays them in one place. Some of the products have lower prices due to clearance or a rollback. Other items are best sellers or of great value.
These products have in common that they allow you to pick out great items for your dropshipping store at low prices.
As a result, both you and your customers win. You increase your profit margins while they get your products at a better price than other online stores can offer.
Walmart Daily Deals Dropshipping Categories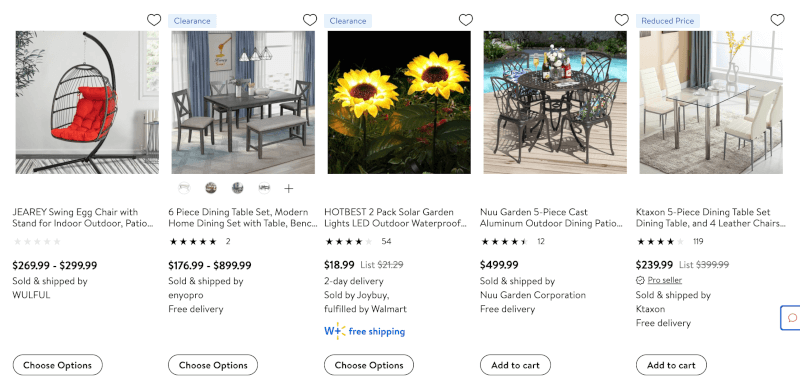 So, what kinds of products can you find in the Daily Deals section?
Whether it is Home, Office, Sports, or Toys, there is always something to dropship from this lucrative page.
As you browse this section, you'll notice several categories. Some of them are evergreen, meaning relevant and fit for dropshipping year-round.
Here are the evergreen categories in Walmart's Daily Deals:
Home 

Toys

Apparel

Home Improvement 

Pets

Office

Crafts & Hobbies 

Patio & Garden 

Electronics

Sports & Outdoors

Beauty

Auto & Tires
Walmart Categories To Avoid Dropshipping From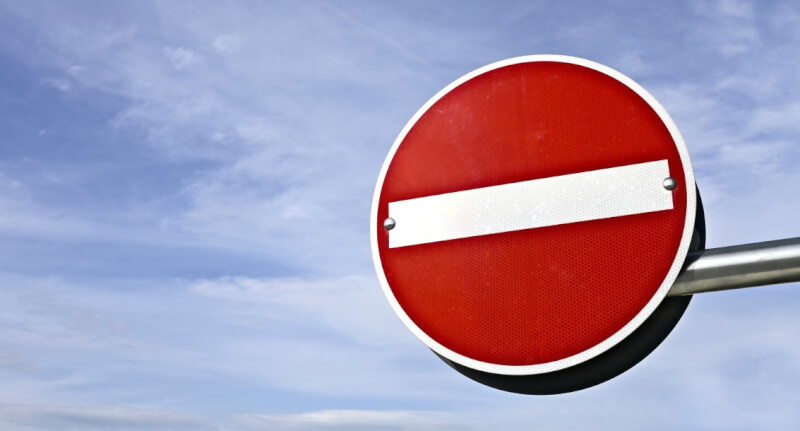 Conversely, there are categories not usually fit or relevant for dropshipping. The reasons to steer clear of these categories can vary from liability to copyright issues.
Therefore, when conducting your product research on Walmart's Daily Deals, avoid the following:
Samsung Savings 

Video Games & Movies

Personal Care & Health
Additionally, avoid dropshipping products from any brand that participates in the eBay VeRO program. The database contains a list of copyright holders who don't allow reselling of their products. As you can imagine, this rule applies to any selling channel and not just eBay. 
How To Find Dropshipping Products On Walmart's Daily Deals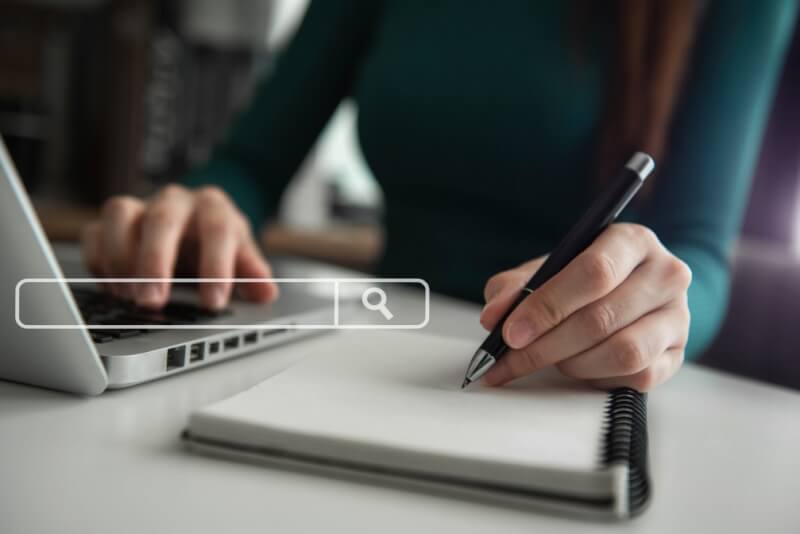 Now that we know what categories to look out for, we'll demonstrate how to find the best products on Walmart's daily deals section.
First, make sure you are in the Daily Deals section (sometimes called Deals For Days). Walmart is a big website with lots of sections, some of which have similar-sounding names.
Once on the right page, select a department.
Let's start with the Home Department since it is popular and evergreen.

The link leads us to the results page with plenty of home-related products. With over 1200 possible options, we'll try to narrow it down a bit.
Since the Home department includes many subcategories, let's focus on 'Kitchen & Dining,' where products are always in demand.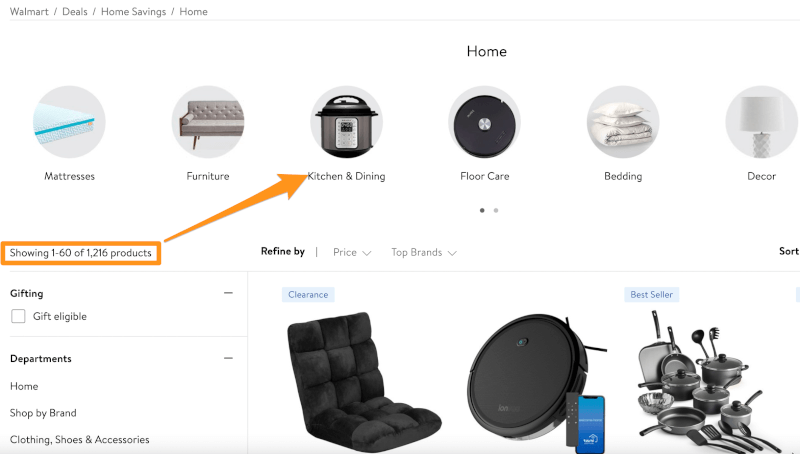 Five hundred fifty-four products match this criterion, but not every item will necessarily perform well in our store. We only want merchandise that's proven itself.
Thankfully, a product's customer ratings will give us the answers we're looking for. On the left column, scroll down to 'customer ratings' and opt to see products with four stars or above.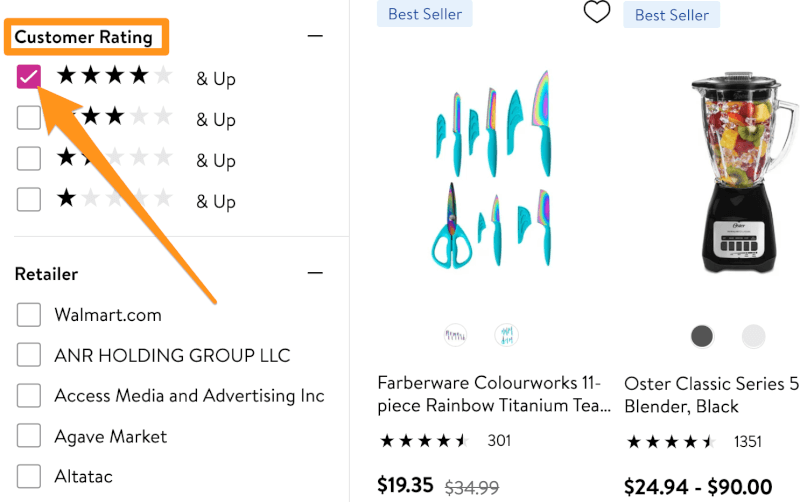 Other than lower-rated products, let's also ensure to filter out products that Walmart won't deliver.  Products strictly available for pick up aren't relevant to us.
Select the 'Deliver to Home' option at the top left.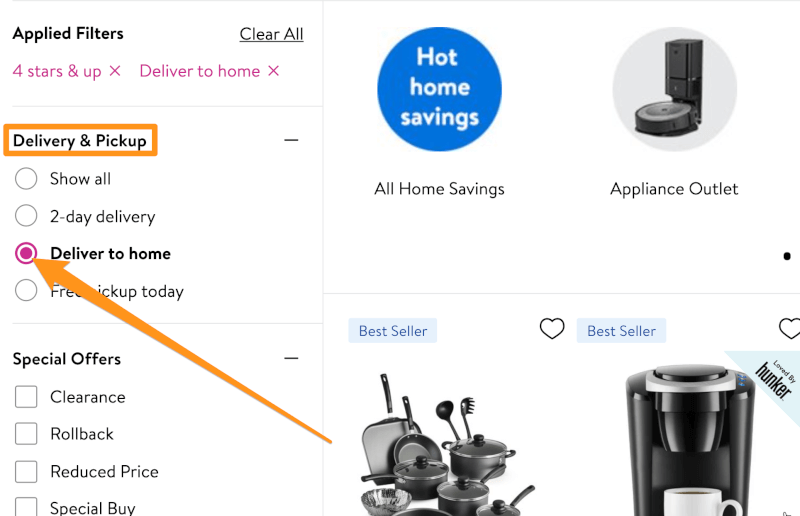 Now we have about 460 highly rated products available for delivery. Let's see if we can find an excellent product to test. 
Pick A Product For Your Dropshipping Store
The results on the first page look promising, with plenty of discounts on attractive items.
After browsing a bit, we decided to see what was on the next page. Much to our delight, we've spotted a highly rated air fryer with the price tag of $62.98, a rollback from $89.00!
DIY healthy cooking is quite popular nowadays, and lots of customers are looking for a way to cook rich deep-fried food without all the oil and extra fat. Air fryers do just that; they fry foods, but without a drop of oil.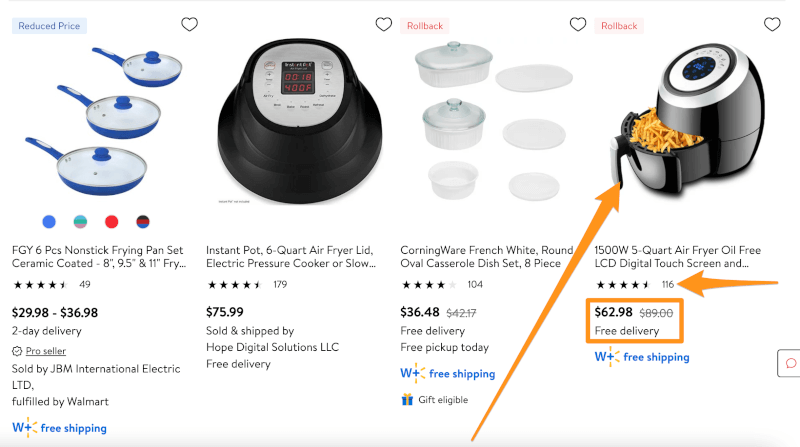 To be sure, head over to the product page by clicking on the product. You'll now be able to see the exact rating and what customers had to say about the air fryer in the comments.
Sure enough, the customer rating average is a whopping 4.8, and most of the comments are from happy customers 🙂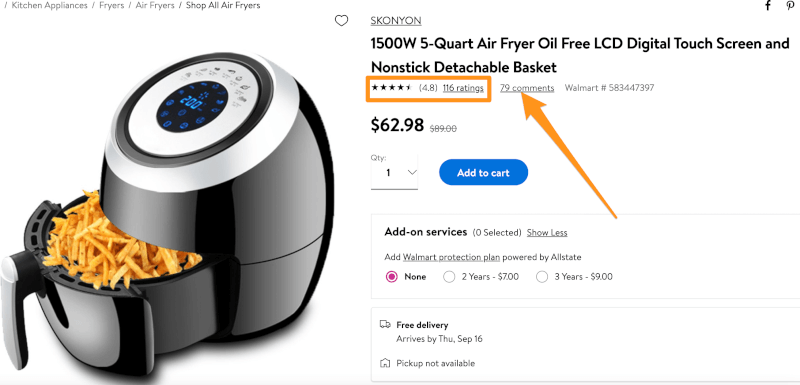 The bottom line is that this air fryer is a steal for both you and the customer. Furthermore, because it is a high ticket item, you increase your store's Average Order Value.

However, given how good this product is, we're likely to face plenty of competition from other dropshippers selling this item. If we want buyers to purchase the Air Fryer from our store, we'll need to stand out from the competition.
And how do you stand out? Regardless of which selling channel you use, make sure your product page looks better and more trustworthy than other stores.
Use creative templates, optimize the product title, and post a different first image than most sellers do. 
If you consistently stand out from the competition, you won't have to worry about who else is selling your product. Instead, you can spend the time and energy testing more hot products and increasing your revenue.
Import Products To Your Store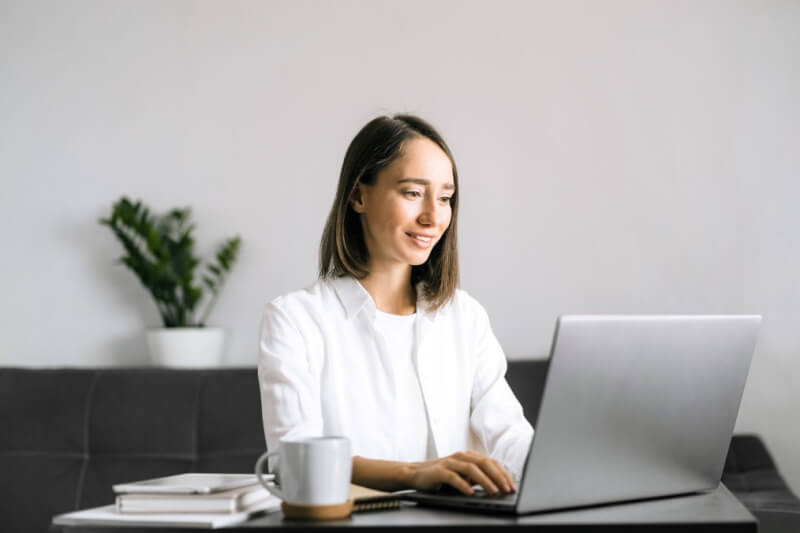 We've done the research and found the product we want. Now, all we have to do is import it to our store.
Technically anyone can import a product manually. You'll need to download the images, copy and paste the title and description, and keep track of price and stock movements.
However, these activities take up precious time and limit our ability to scale and expand our success. Therefore, it's best to import products from Walmart the fast and easy way with AutoDS.
To begin, add the AutoDS Dropshipping Helper Extension to your Chrome browser.
The extension gives you the option to automatically import the product with its title, images, and description to AutoDS.
There are three different ways to import a Walmart product automatically:
Use the

one-click importer,

which sends any product you like directly to the AutoDS drafts page.

Copy

the Product URL/ID and paste it into AutoDS. 

Utilize the

Bulk Uploader

to import as many products as you want in a few clicks. 
One-Click Product Importing
Since we're still in the testing phase, let's add this Air Fryer in one click. Hover over the product on the results page and click on the cloud symbol. Or, if you're already on the product page itself, click 'Import to AutoDS.'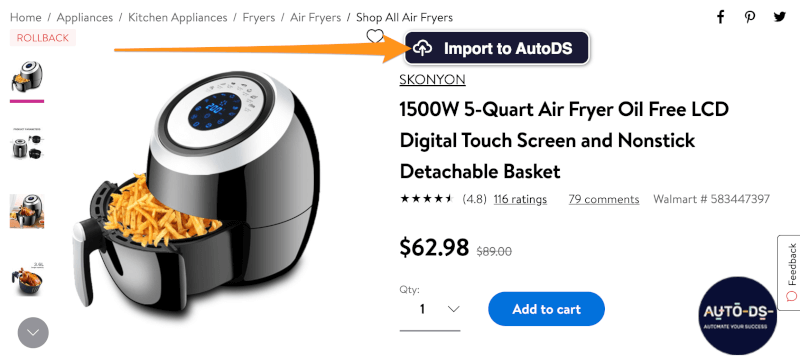 Upon clicking the Import button, the product begins uploading to AutoDS. In a few moments, AutoDS completes the import process, and you can start customizing it on the drafts page.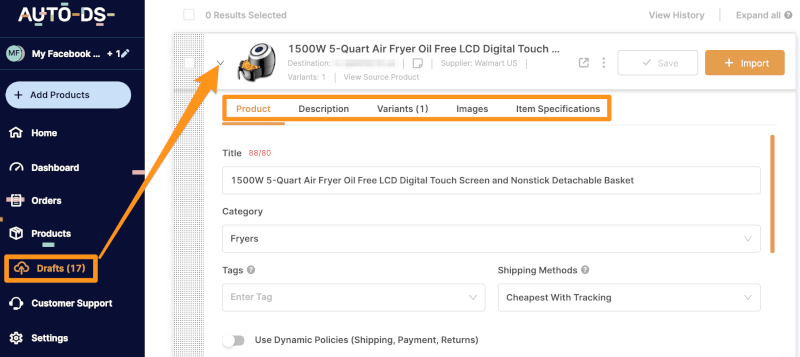 See if you want to change the title or description. Likewise, double-check that your profit settings and store policies are in order.
Satisfied? Great!
Click the '+ Import' button to the right, and in a couple of minutes, your product goes live, ready for customers to view and purchase. 
Import Using The Product URL/ID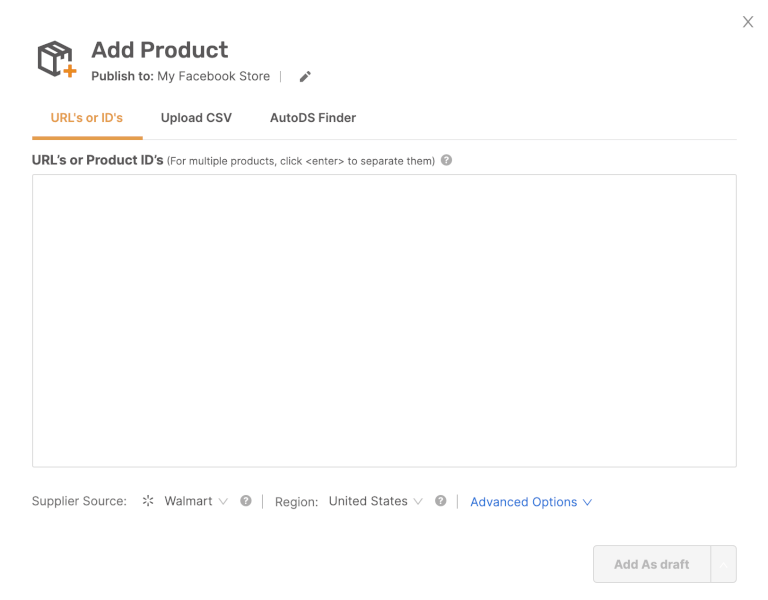 Other than one-click importing, you can also add products to your store using the URL/ID.
The URL/ID method gives you more customization options than one click importing. For example, you can split variants of a single product into multiple separate listings.
The URL/ID import process consists of four steps. Copy the URL or Product ID, paste it into the Add Products section of AutoDS, customize the settings, and choose if you want to upload directly to your store or the drafts page. 
Import Multiple Items Using The Bulk Importer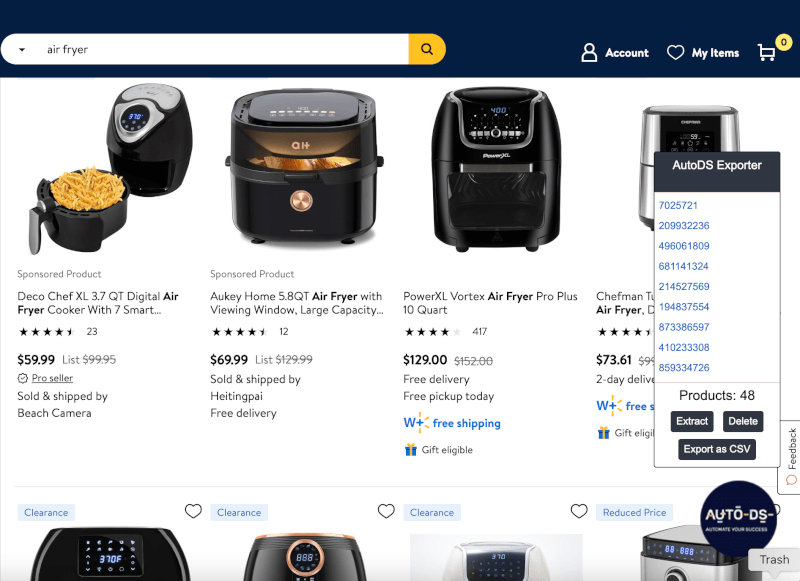 On the other hand, the Bulk Uploader option is the perfect import method once you strike gold. If the air fryer brings in sales, you can list multiple air fryers by uploading them in bulk using the AutoDS button.
On any results page, click the AutoDS button, extract as many products as you want, and export the list as a CSV. Then, drag and drop the file into the Add Products section of AutoDS. Finally, follow the same steps you did with the product URL/ID option.
Keep The Momentum Going 
If you've gotten this far, you're doing a great job on product research. In the long run, you'll reap the rewards with more sales, repeat buyers, and increased profits.
So keep searching for more dropshipping products on Walmart's daily deals, and see if you can add a few more to your store.
However, don't limit your search to Walmart. AutoDS supports over twenty-five suppliers where you can find excellent products.
Learn more about Walmart as a supplier and boost your product research with the following resources: