AliExpress is one of the most widely-used suppliers when it comes to dropshipping. That's because they are super dropshipping friendly, and rely on the success of dropshippers such as yourselves – even if you're only just getting started. That's one of the few good reasons why entrepreneurs engage in AliExpress to eBay dropshipping.
Whether you are at the beginning of your AliExpress to Ebay dropshipping journey or need to sharpen your skills to reach a level of success, we've got you covered.
In this article, we are going to walk you through everything you need to know about this gigantic marketplace so that you can create and run a successful eBay dropshipping business using AliExpress as your supplier.
By the end, you will know all of the pros and cons when working with this supplier, how to overcome common obstacles, tips and tricks to find winning products, increase your profits, handle customer service, payment methods, save a lot of time while you work, and more. 
What is AliExpress?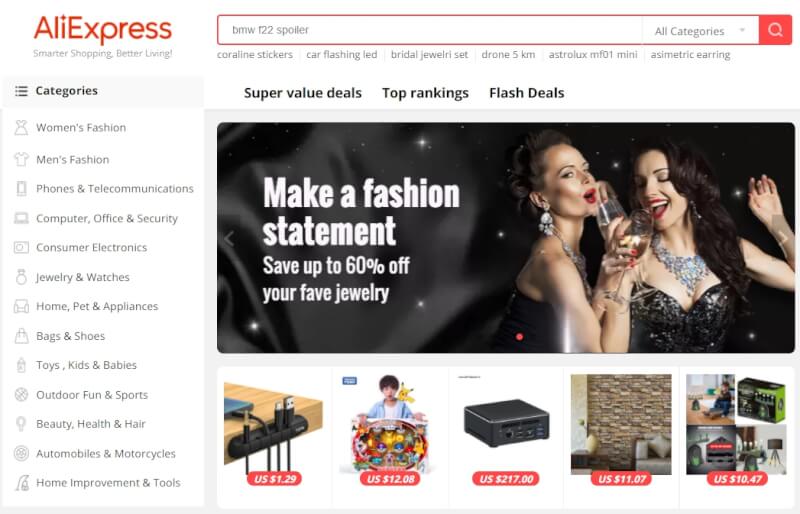 AliExpress is a sister site to Alibaba. It allows sellers to purchase items in smaller quantities, whereas Alibaba is a bulk purchase wholesale site. 
AliExpress was started by Chinese billionaire Jack Ma (Chinese business magnate, investor, politician, and philanthropist) who also co-founded and was a former executive chairman of Alibaba. In February 2019, Jack Ma was dubbed "The Richest Man in China."
AliExpress is not a manufacturer, but rather a platform of third-party selling individuals or companies reselling to you, with over 100+ million products available for you to re-sell.
Although you won't get the lowest price as you would buying bulk wholesale, you will still get buyer protection. Plus, the ability to order in a single quantity makes it perfect for dropshippers.
In addition, AliExpress translates to multiple languages, making it easier to navigate in your native language.
Russian, Portuguese, Spanish, French, German, Italian, Dutch, Turkish, Japanese, Korean, Thai, Vietnamese, Arabic, Hebrew, and Polish are some examples of native languages that AliExpress supports.
Can You Dropship On eBay From AliExpress & Is It Legal?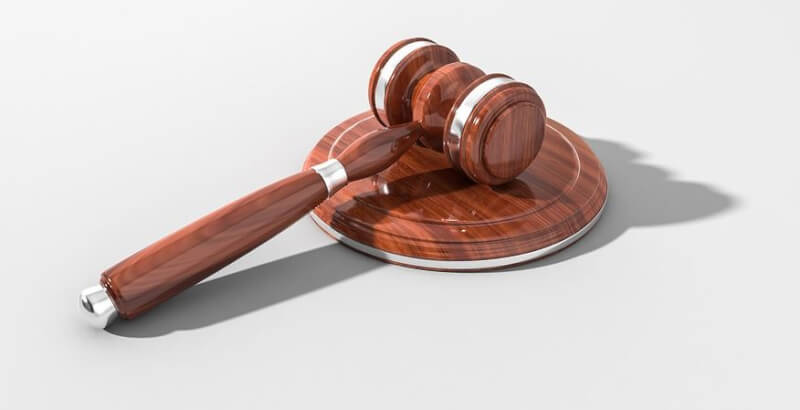 Definitely! There is no law or policy against AliExpress to Ebay dropshipping. Ebay is looking for overall customer satisfaction. Their buyers are their products, and it is up to us – the sellers – to make sure that eBay's customers are satisfied when buying from us. 
Therefore, as long as you pick sellers with fast shipping times and good reviews (and process your orders out right away), there shouldn't be any problems maintaining a healthy seller level.
Be sure to check your customer's messages daily, return/replacement cases, and take care of any open task. A high level of communication is key.
Why Is AliExpress So Cheap?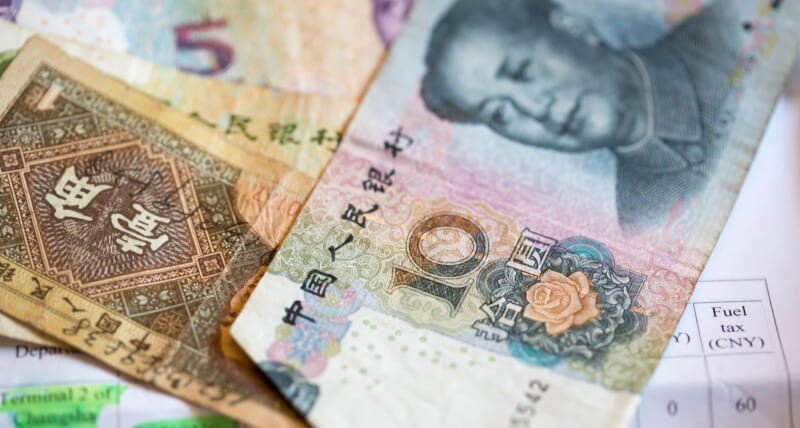 Many people think that cheap products are priced that way because they are of 'low-quality'. While this is true in some cases, a cheap product from China doesn't necessarily mean that the product isn't of high quality like you would see at your local store.
It's all a matter of who you are buying from, and what they have to offer.
That being said, there are a few factors that together make shopping on AliExpress cheaper than almost any other alternative. Let's go over the main reasons why they are so cheap, which helps dropshippers profit well on their sales.
Products produced and stored in China are relatively cheaper than those produced and shipped from other countries. That is because China has a strong business ecosystem with low taxes, duties, and competitive currency practices.
The competition is fierce between Chinese agents/sellers. They all want a piece of the cake from the US and global market and are therefore willing to sell at competitively-low prices to undercut the market and rake in as many sales as possible.
Chinese sellers would rather sell more units with less profit than the other way around – just to have more customers on their side. They want customers to return and purchase from them again, and not from their competitors. The lower they price their products, the more sales they get, even if it means selling close to their break-even mark.
Does AliExpress Have Worldwide Warehouse Locations?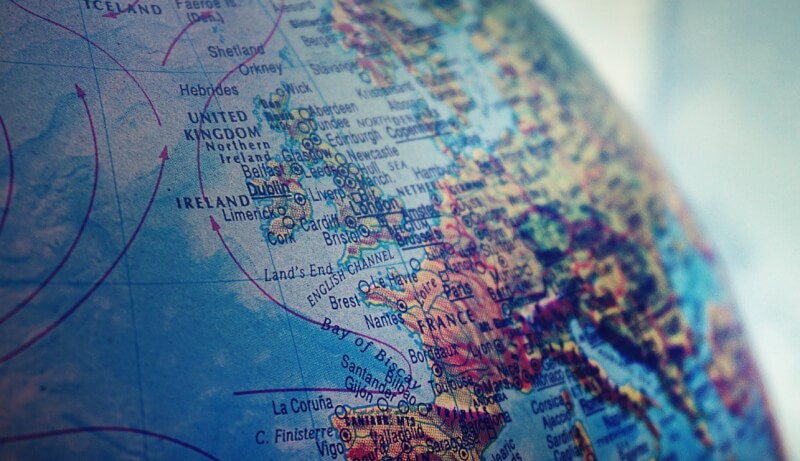 AliExpress doesn't own warehouses – but many of their sellers do. And, we're not just talking about China. Today, you can also find products in warehouse locations throughout Asia, Europe, and the US, thanks to the AliExpress sellers who are taking it one step further and thinking outside of the box.
Therefore, for a large range of products, you can choose which warehouse you want to ship from, ultimately speeding up your delivery time. Remember when we mentioned that speedy shipping and delivery times positively affect customer satisfaction? Well, multiple warehouses worldwide is a good example of how you take advantage of that.
What Are The Pros & Cons When Dropshipping From AliExpress to eBay?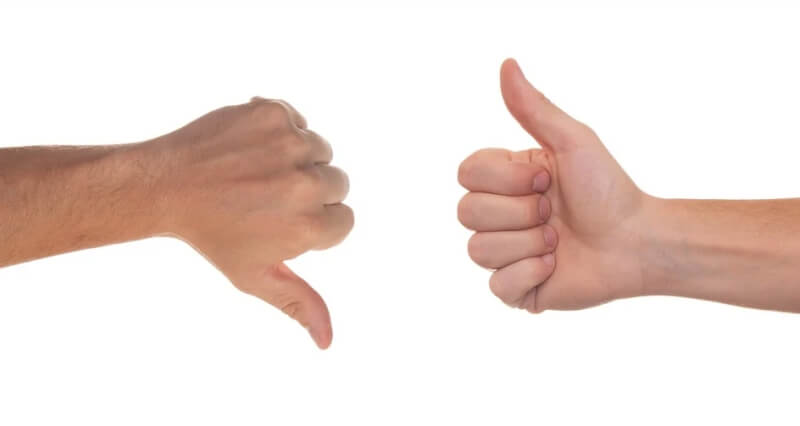 Just like anything else in life, working with AliExpress comes with its Pros and Cons. What are the advantages and disadvantages when working with AliExpress? Is this the right dropshipping supplier for you? Let's find out.
AliExpress to eBay PROS:
AliExpress has over 100 million products to choose from.
It's easy to research and analyze products with AliExpress's Dropship Center.

Prices are extremely low, which gives you plenty of room for profit.

Quick "Trend" products seem to appear on Al

iExpre

ss overnight. (Remember Fidget Spinners?)

Buyer and seller protection (

resolution center

) keeps everyone safe.

Very supportive of dropshippers.

Endless product categories to choose from and re-sell in your store.

Supports many fast and cheap shipping methods from worldwide locations along with tracking information.
Supports Paypal on all orders enabling a smoother cash flow experience.
Ships to almost anywhere in the world, which brings a lot more traffic and sales.
AliExpress to eBay CONS:
Shipping can take more than a month in some cases. That's why you need to check your seller's shipping methods and overall rating.

No way to bundle items from multiple suppliers and have them arrive at the same time. Each product is shipped separately.

The first-time purchase can take a few extra days (2-5) for your credit card information to be verified. So if you're new, be sure to plan ahead of time.

Communication issues can occur with some suppliers as they do not all speak fluent English. Another good reason to check your supplier's overall rating before adding their products to your store.
What Are The Common Issues When Dropshipping From AliExpress?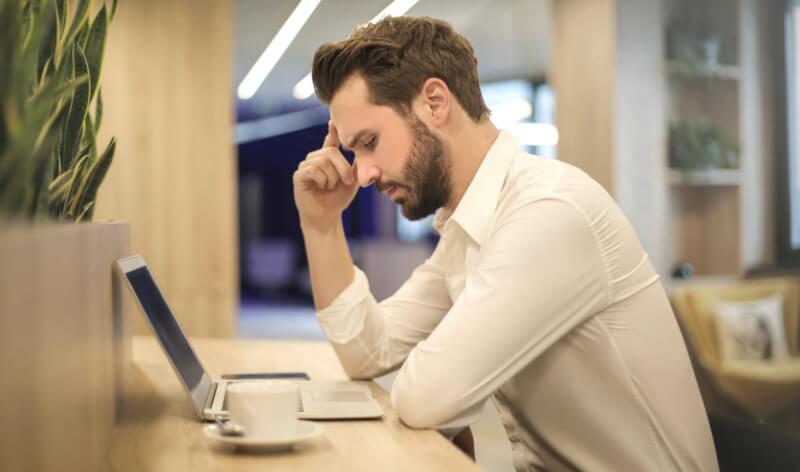 Besides the Pros and Cons from the previous paragraph, it's wise to know the common issues that most dropshippers encounter when working with AliExpress. To simplify it for you, we rounded up the most common questions and issues with their solutions in an orderly fashion:
Is AliExpress A Safe And Legit Dropshipping Platform?

This is a great question, since when you're dropshipping from AliExpress to eBay – AliExpress are not the ones selling to you. They are simply a selling platform where other sellers register to sign up, create a store, and import listings to start selling (sound familiar?).
Therefore, before importing products from their sellers, be sure to check the seller's overall rating and history on the AliExpress platform. Skip new sellers (less than one year) or sellers with a lower than average feedback rating.
This way, the chance to deal with a fraudulent or low-quality seller is slim to none.
Does AliExpress Offer Free Returns And Replacements?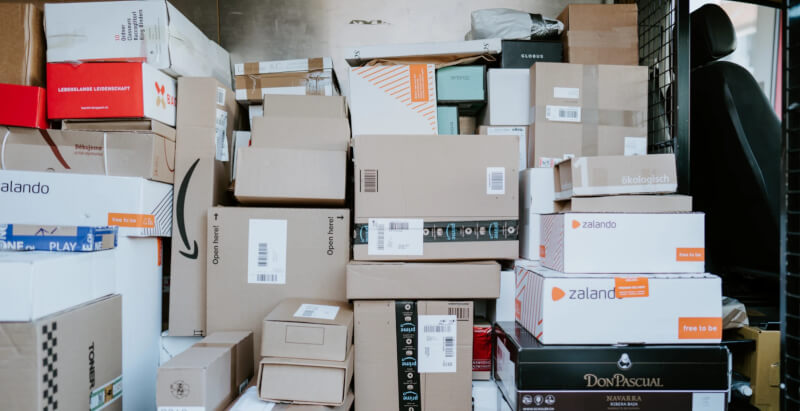 AliExpress allows free returns up to 15 days after receiving the product, for any reason you wish to return. As long as the product is untampered in its original packaging, you have up to 15 days to open a free return request for a full refund. You can also open a return request if the product arrived damaged, or not as described.
Simply reach out to the seller and let them know that you wish to return the product. If you don't get a reply within 24-48 hours, proceed to open a dispute on AliExpress, and they will step in to help.
To be eligible for free returns, when searching for a product on AliExpress, make sure that you have the 'Free Returns' box checked in on the top:

Then, once entering a product listing, look for the Free Return icon under the 'Buy Now / Add To Cart' buttons. It should look like this:

Although, keep in mind that the return policy doesn't support replacements. But, once you get the refund, there's no problem to simply re-order the product.
In other cases where the buyer simply doesn't want the product, the seller can charge for return shipping. If the buyer agrees to pay for the return shipping, pay the seller, and when the product returns, send your buyer a refund minus the return shipping cost.
Does AliExpress Offer Free Shipping?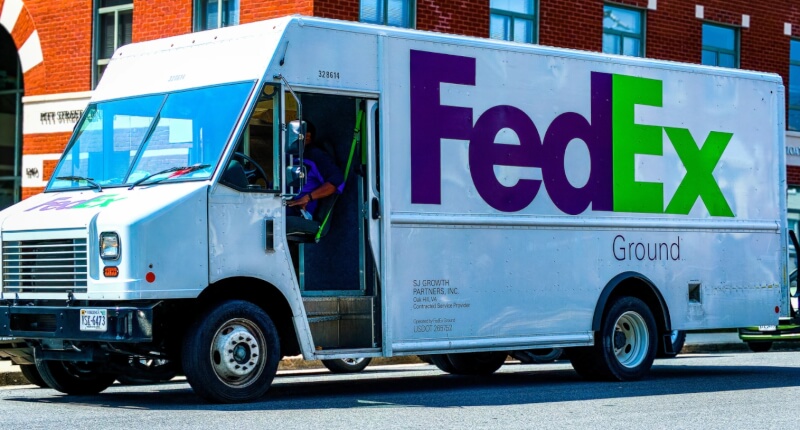 You bet. Many sellers offer free shipping on their products. When searching for products on AliExpress, on the bottom of the search field, click in the 'Free Shipping' filter to see only products with free shipping:

That's all there is to it. Now, all of the products that you see in the search results are products with free shipping.
Will My Customers Know That The Products Are Coming From AliExpress?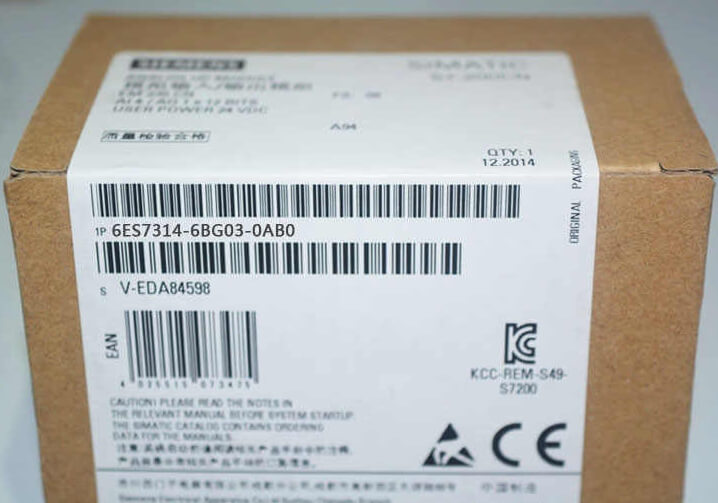 While there's no way to avoid seeing where the product came from, there are a couple of extra precautions you can take to hide the source.
Choose shipping methods other than 'AliExpress Standard Shipping', since it will be shown on the package. (For example, ePacket).
Send the seller a message to hide any company logos or source information on the packaging.
At the end of the day, the customer may receive an SMS that a package has arrived at their destination country. In some cases, it may say that the product is from AliExpress.
In other cases, there won't be a direct reference. While we cannot control what these messages say, the customers need it to help track and receive their package.
Although this should be the least of your worries. Most customers do not pay attention to it, or simply do not care where the packages came from. As long as they got what they ordered and are satisfied with the product.
As mentioned, dropshipping is a big part of the eCommerce industry, and if anyone looks hard enough, it's almost always possible to find a cheaper source somewhere else. That doesn't stop customers from buying, and this rarely ever an issue.
Does AliExpress Ship Worldwide?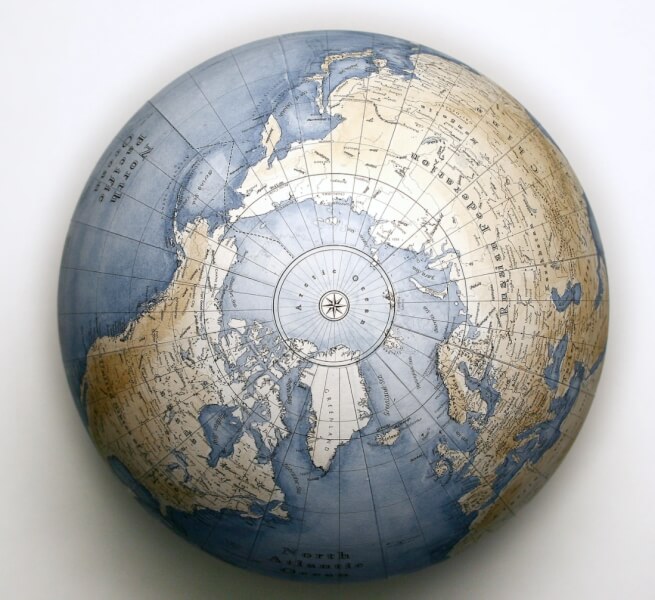 Yes, AliExpress ships internationally, anywhere around the globe. There are a couple of methods to see or change which country you wish to ship to.
On the top bar, click on the country flag/currency icon. Here, you can change the 'ship-to' country, the currency you wish to see, and the language to display. Once you change the 'ship-to' country, all of the products in your search results can ship to the selected country.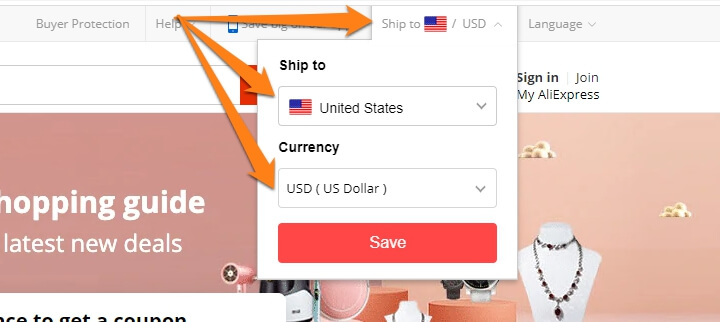 The second method to change the 'ship-to' country is by entering a product listing, and clicking on the ship-to country, on top of the 'Add To Cart / Buy Now' buttons. Here's what it looks like: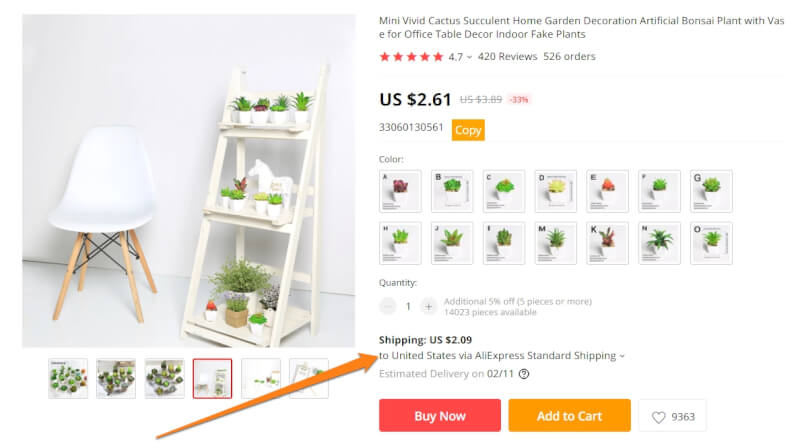 On the pop-up window, you can change the 'ship-to' country, as well as the preferred shipping method. Notice the different shipping prices, along with their estimated delivery dates to that specific country, and if tracking information is available.
Those are the two methods to find out which products can ship worldwide, or to specific countries that you are targetting.
Can I Use AliExpress On My Mobile Phone/Tablet?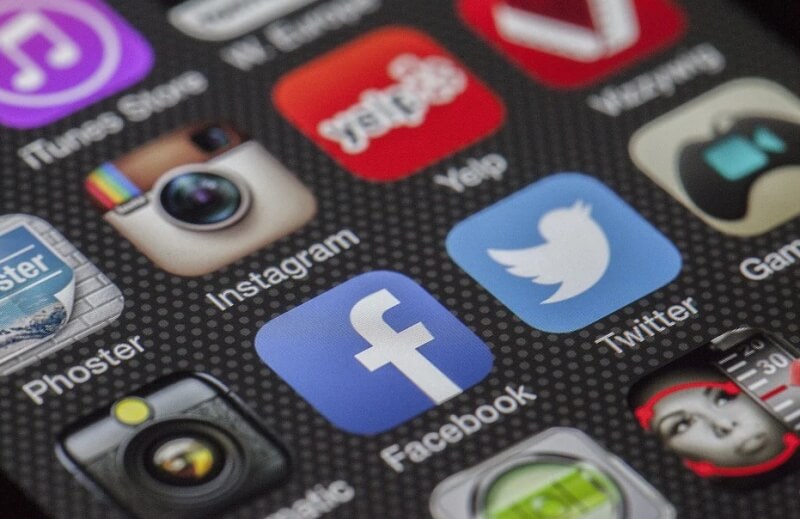 Definitely. Just search for the AliExpress app on your Android or IOS. You can do pretty much everything, from buying to sending messages, opening disputes, tracking your orders, and almost everything else that is available through a PC.
How Can I Protect Myself From Fraud And Counterfeit Brands On AliExpress?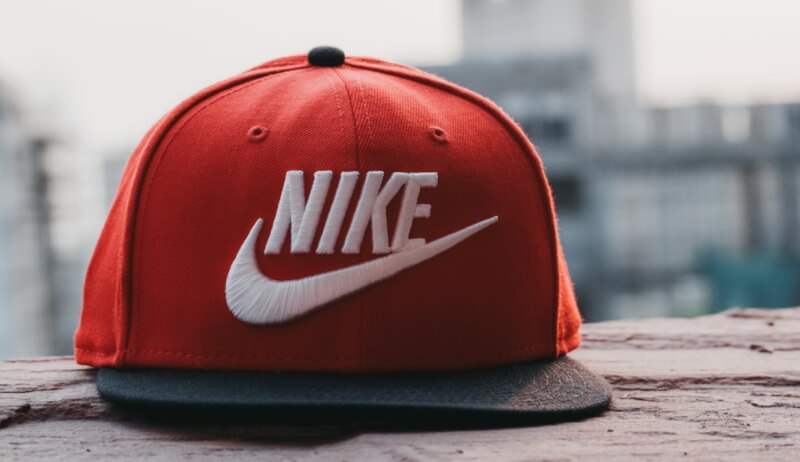 Like any other buying and selling platform, scammers are all over the place. Knowing to spot and avoid them by choosing reliable suppliers is how you can protect yourself and your customers from a great deal of trouble. And, quite frankly, it's not that hard to filter out the bad sellers from the good ones.
Stay Away From Known Brands
First off, when it comes to known brands (for example Sony, Microsoft, Nike, Adidas, etc.), stay away from marketplaces like AliExpress. The sellers there are not official re-sellers of those products (neither are you!), and those branded products are usually cheap knock-offs. This is a big no-no when it comes to dropshipping and re-selling in general.
Next, when choosing a supplier to work with, make sure that they have a high seller rating. While inside a product listing, hover over to the seller's name on the top. The positive feedback rating should be at least 95% or above, and the seller should be active for at least one year on AliExpress.
In addition, the 'Detailed Seller Ratings' should be 4.6 Above Average and above.

Lastly, make sure that the product itself has a strong positive feedback rating. With at least a couple of hundred reviews and an average rating of 4.6 – 4.7 and above. When you mix between the seller and product ratings and reviews, you can't go wrong with a fraudulent seller.
Take these extra precautions and your purchases will be safe from sellers with a bad reputation, which is no good for the dropshipping business model.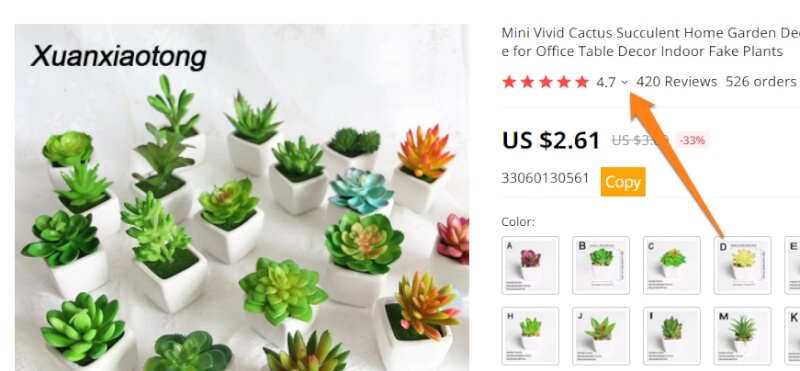 Another way to test the overall seller quality is by sending them a message. See how long it takes them to reply. Some will reply quickly and on point. Some will take more time, and other might not answer. Furthermore, some Chinese sellers speak fluent English, while others will be difficult to understand.
If you are looking to build a long-term relationship with a seller who's products are selling well for you, testing their communication skills is a must.
To help protect your seller account, AutoDS has a large refreshing database of copyrighted manufacturers. So, whenever you add a product that is considered a trademark violation, the system will let you know and you can decide whether to cancel the import process or proceed at your own risk.
Do My Customers Have To Pay Customs/Duties/Taxes?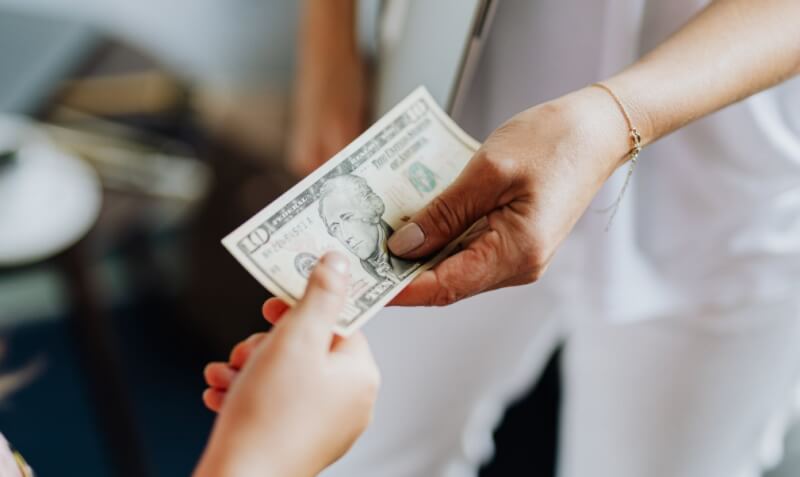 Each country regulates incoming packages differently. It doesn't matter whether the product is coming from AliExpress or any other supplier. When it comes to customs, VAT, and import taxes, your customers should be aware of the terms and conditions according to the country they reside in.
In this case, it's wise to add at the bottom of your product page description that the customer is responsible for all taxes and import/customs fees. While you will be protected by eBay as it is written in their policies this way, it's always better to avoid situations where your buyer did not know that there might be extra taxes during the import process.
Can I Get A Dropshipping Agreement From AliExpress?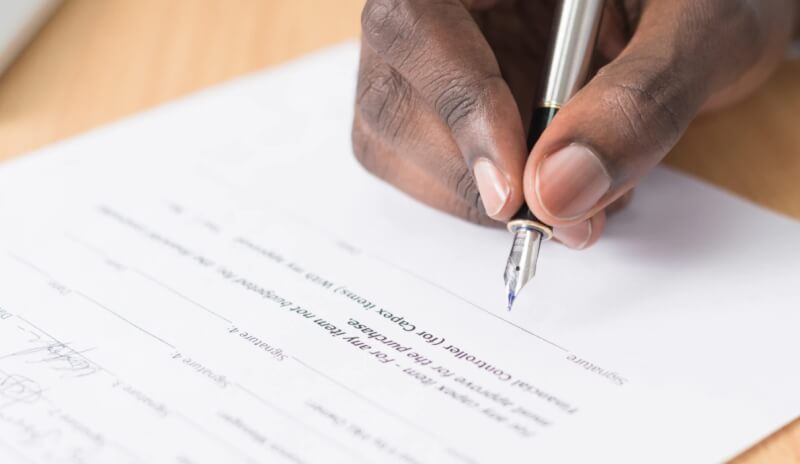 While AliExpress does not offer any formal dropshipping agreements, their sellers will be happy to provide one for you. So, if for any reason you need a dropshipping agreement, simply reach out to a seller and ask them to generate one.
Keep in mind that it's better to request this document from sellers with whom are you already doing business. There's a higher chance that they will be able to whip one up for you, as they all appreciate a good long-lasting relationship with successful dropshippers such as yourselves.
How Do I Start Dropshipping With AliExpress?
Ready to begin? Great! Head over to AliExpress, and click on 'Account' on the top right. Then, click on 'Join'.
Enter your email address and a new password, then click on "Create Account".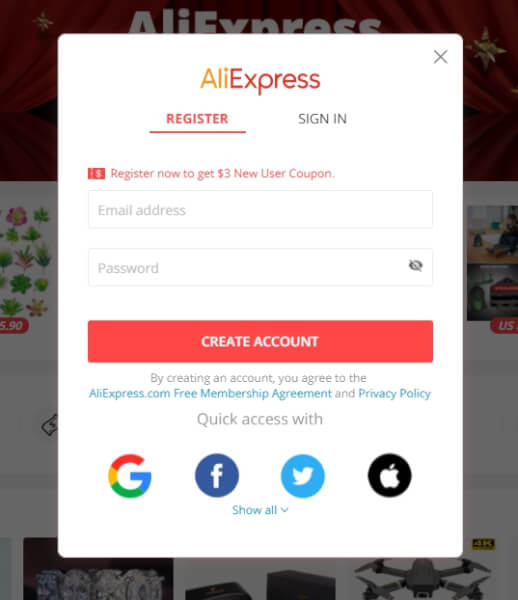 Presto! Nice and easy. You're in! Now, you are ready to start listing products from AliExpress. But first things first, head over to your profile settings and enter your payment method for the orders that will start coming in soon. 
Since you're dropshipping on eBay, you'll get paid through PayPal (as long as you didn't opt-in for managed payments). In this case, you can use PayPal as your payment option for all of your orders, which will make the cashflow much smoother, since you are getting paid and you're paying for the products on the same platform. Your accountant will thank you!

Your eBay business policies help your customers understand what are your terms and conditions when it comes to shipping times, and return policies. Your policies will have to be competitive for eBay to rank you higher on their search engine, but you'll also have to comply with your policies and make sure you're not crossing any limits.
Let's go over AliExpress's policies, and create matching eBay business policies accordingly.
Return Policy

AliExpress's Buyer Protection Program favors buyers over sellers (On AliExpress, you are the buyer). They want to ensure that you get exactly what you order and protect you at every stage of the delivery process.
In most cases, if there is an issue, it's probably because the order doesn't arrive or it doesn't match the description.
If the order never arrived, AliExpress can step in and refund the entire purchase. 
If the order is not as described, you can return it to the seller to get a full refund, or you can let the customer keep the item and offer them a partial refund.
In this case, you'll have to work with both the AliExpress supplier and the customer to make sure there's an agreement on all sides. The customer will have to provide photos of the damaged or non-matching item in order for you to proceed with the dispute.
eBay Returns Policy Configuration For AliExpress
Here's the recommended returns policy set-up on eBay. For a more detailed explanation on how to set it up, read our full help article on How to Set Up AliExpress Dropshipping. You'll also get an explanation of how to calculate your break-even % and overall profit when dropshipping from AliExpress.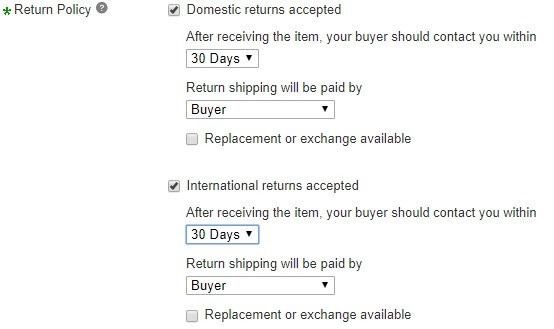 Notice that the return shipping should be paid by the buyer (domestic and international), even if in some cases you may be eligible for free returns.
eBay Shipping Policy Configuration For AliExpress
Here is the domestic shipping policy configuration for AliExpress to Ebay dropshipping. Don't worry about offering free shipping even on products that don't have free shipping on AliExpress. That's because AutoDS adds the shipping price to the source price before calculating your break-even and profit.

Furthermore, the handling time specifies the time it takes to add tracking information. It's best to go with 3 business days or below to rank higher on eBay's search engine. However, this isn't possible with every seller on AliExpress.
Therefore, check each seller rating before adding their products. Make sure that their shipping times have high ratings, and start with 4 business days in the handling time. After putting in a couple of orders, keep an eye on how long it takes them to provide a tracking number and update your handling time accordingly.
Once your shipping and return business policies are set up, you can start importing products from AliExpress to eBay.
How To Find Winning Products For AliExpress To Ebay Dropshipping

The million-dollar question for all dropshippers at the beginning of their journey is what are the winning products that they should be selling. Well, the million-dollar answer is that there's more than one method to start with the right products. No method is better than the other. A combination of all of them will point you in the right direction for your store.
Here are the best performing product-finding techniques:
A relatively new feature with super-strong capabilities. AliExpress created this feature to help dropshippers analyze any product or category performance. Instead of using paid tools to help you get these statistics, it is now a free built-in option for all dropshippers.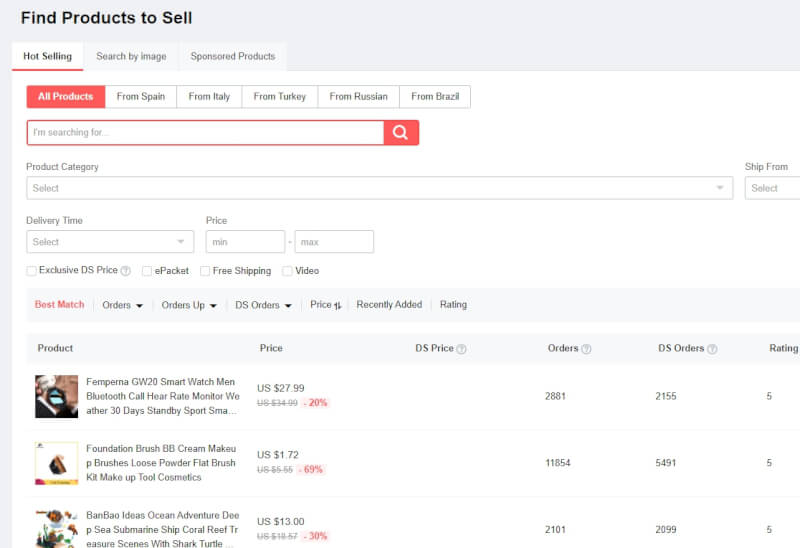 Use the AliExpress Dropship Center to find products to sell, and generate new ideas with the product analysis feature. The more products you test, the better your results to find your first and next winner.
      2. AutoDS Finder Hot Product Finder For AliExpress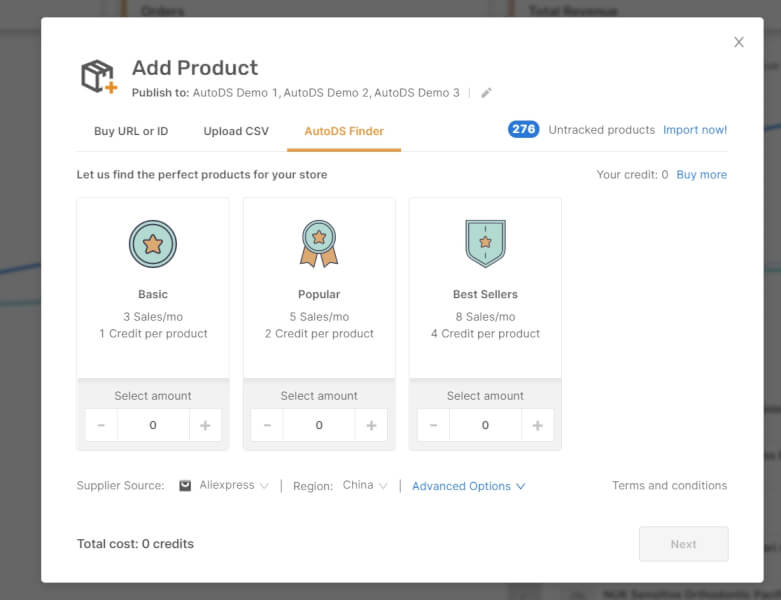 No time for hours of extensive product research? No problem! Our algorithms and databases at AutoDS are scanning tens of thousands of successful sellers and hot products every day. Use the AutoDS finder to find these hot products for you and import them to your store, now or at a scheduled time and date of your choosing.
All you have to do is choose your product parameters (Sold X times in the past month), set the quantity, and configure the import settings. In just a few clicks, all of the hard work will be done for you, and you can start testing out these hot products right away.
     3. Special Events / Holiday Sales
China is different from the rest of the world. When it comes to holidays and special events, they have their own special sales and deals that not a lot of people are aware of.
One of their biggest events of the year occurs on November 11th (11.11), which is called the 'Chinese Singles Day'.
On this particular holiday, AliExpress is filled with huge discounts and promotions, similar to our known Black Friday deals. They spend a lot of money on campaigns prior to this holiday, and anyone who prepares in time enjoys the fruits.
This is one of the most profitable times of the year when it comes to AliExpress to Ebay dropshipping!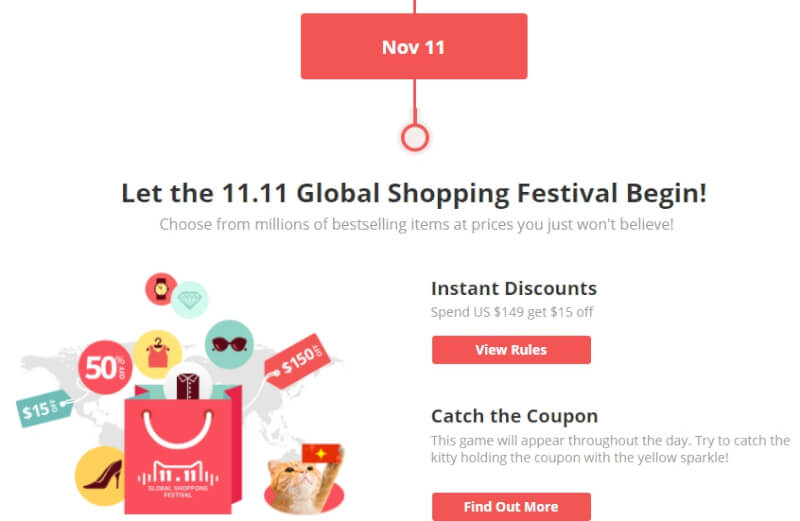 4. Flash Deals and New Arrivals
These two methods are a great way to find winning products, and also rake in some good profit along the way.
First, there are the Flash Deals which can be found on the front page. There, you'll find products with incredible deals that will be worth your while. Check out the deals, and be sure to refresh the page at least once a day to snatch new deals before anyone else.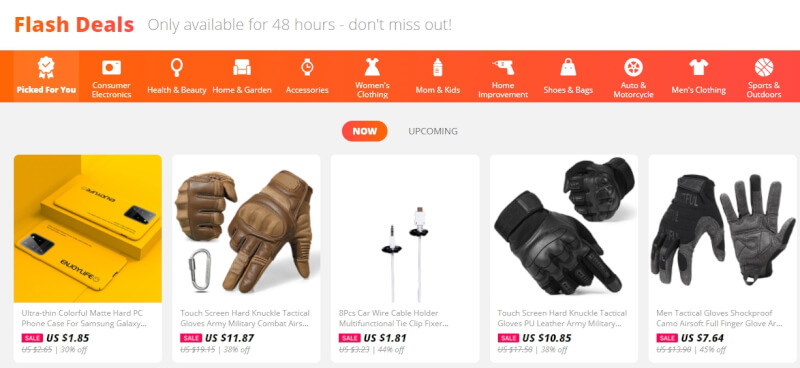 Next, you have the "New Arrivals" section which many sellers have on their store page. The best part about catching new arrivals is the ability to spot hidden gems that other dropshippers haven't found. This is one way to start a profitable selling streak.
Keep in mind that not every seller has a 'new arrivals' section. But, if you have a product that is selling, there's a good chance that you found a seller with winning products. You won't find out unless you try! There are a couple of ways to do this:
1. When inside a product listing, look for a top bar with a 'New Arrivals' link. Click on it to be taken to the seller's new arrivals section.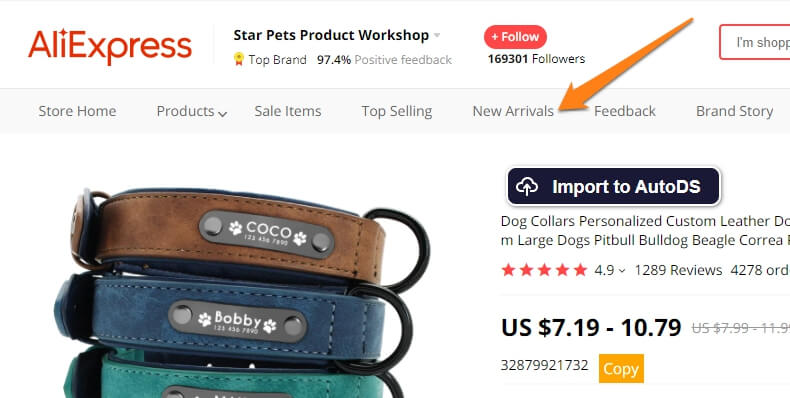 2. Hover your mouse over the seller's store name in any of their product listings, then click on 'Visit Store'.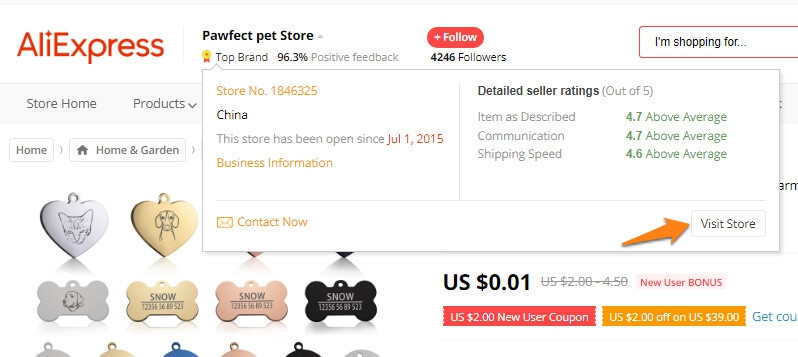 Once inside their store, you should see a top bar with quick links – including the seller's new arrivals. Click on it to see all of the seller's new products for sale. Also, check out their top-selling products to catch additional product trends.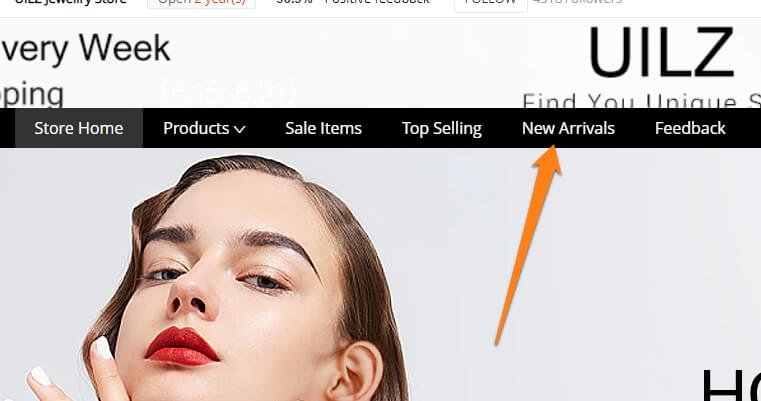 That's all there is to it. Remember – if you have a product that is selling, be sure to add more of the same seller's products. Whether in best-sellers or new releases, you're bound to find more products that will sell.
It doesn't have to be from the same product or niche, as long as you are targetting a seller whose products are proven to work for you.
     5. Choosing Sellers With A Good Reputation

As mentioned above in the 'How Can I Protect Myself From Fraud And Counterfeit Brands On AliExpress?' paragraph, you have to filter out the bad sellers from the good ones. Even if it means paying more, going with a seller with a good reputation will go a long way in the overall success of your store.
Once again, check out their seller history, overall seller rating, and product rating/reviews. When put together, you'll have a clear picture if you should work with this seller or not.
When you have a product that is selling well, reach out to that seller and try to formulate a long-term business relationship with them.
They are always looking for dropshippers to contact outside of the AliExpress platform where they can sell to you for lower fees, and you can profit more from products that don't even exist on AliExpress.
This is a more advanced stage of dropshipping, and much more profitable than the alternative.
For more information on product-finding and special methods to import and optimize your products, check out our article on AliExpress Product Finding And Strategies.
Copyright Infringement Warning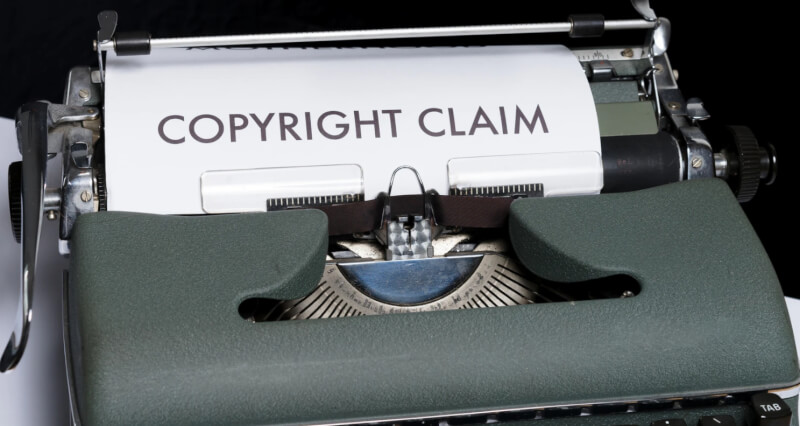 Designer knock-offs are very common on AliExpress. It is recommended to avoid these items at all costs. We've mentioned this above. On marketplaces like eBay, your seller account will be in jeopardy when dropshipping copyrighted items, or 'VeRo' products.
But, if you do decide that you are going to list them (not recommended!) you must state explicitly that these are copycat products. As you have probably already come to find out from experience, consumers are not always the most observant or think they are just getting super huge discounts on popular brands.
The problem with these buyers is that when they get their item and realize it's not the super deal they expected, you will get negative feedback, returns, and negative messages. Nobody wants that for just a few more bucks of profit.
Therefore, it's much safer and easier to just sell non-branded items to avoid violations, lawsuits, etc. 
How To Reach AliExpress Customer Support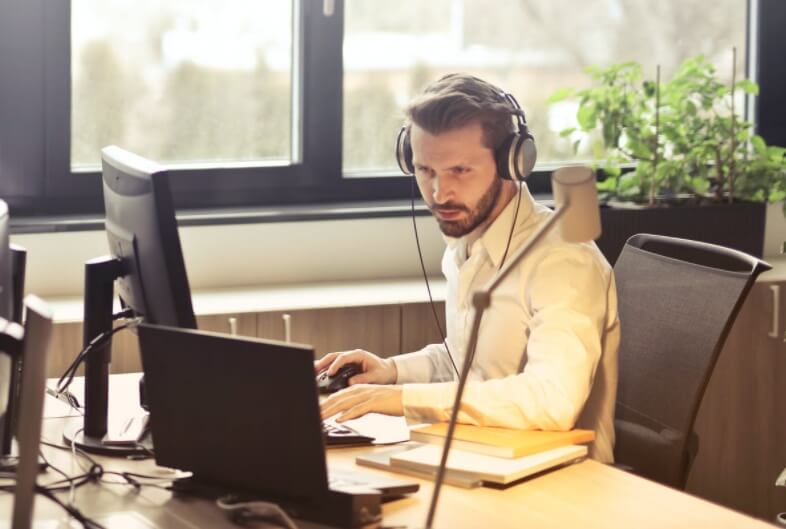 For any issue you may be having, to reach out to AliExpress's help representatives, head over to their Online Service Team available 24/7. Use the drop-down menu to select your issue and a relevant chat representative should be available shortly. 
Before reaching out to their chat support, try saving your time by checking if there's a ready solution to your issue on their Frequently Asked Questions / Common Issues page.
If you couldn't find a solution there, then wait for a chat agent and they will help solve whatever problem you are having.
What Payment Methods Are Available On AliExpress?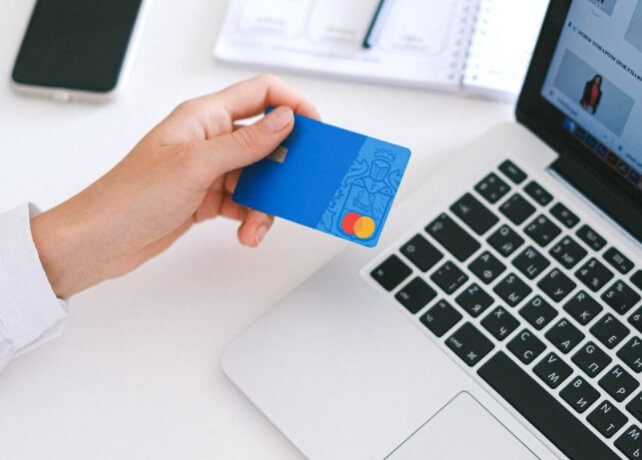 AliExpress accepts a wide variety of payment methods. For example, credit/debit cards, PayPal, Western Union, WebMoney, and more. If you're looking for additional payment methods, check out AliExpress's full list, along with their conditions and limits.
Paypal is usually the preferred method by eBay dropshippers, since the buyer payments are also done through PayPal, it helps make the cashflow experience much smoother.
Furthermore, you can pay in any currency that you wish, as long as your credit card company (and AliExpress) support it. You can change your currency on the top bar when clicking on the country flag, as mentioned earlier.
Automate Dropshipping With The AutoDS Helper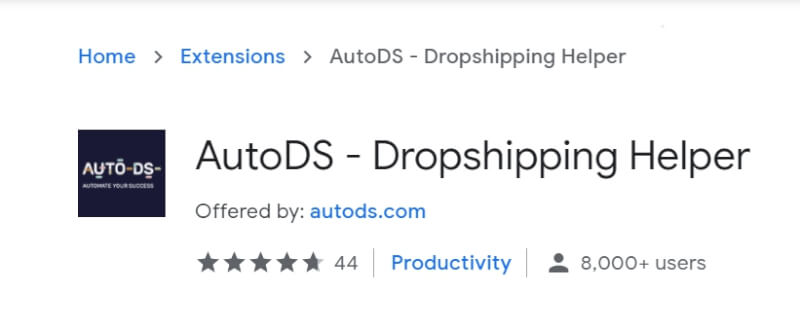 When it comes to searching for products and importing them to your store, our AliExpress to eBay dropshipping tool comes in handy. With the help of the AutoDS Helper Extension, you can run quick searches on any of the 25+ supported suppliers, and add as many products as you want in just a few clicks.
These features will help you with these time-consuming tasks, so you can invest your time on what's important for growing your dropshipping business.
Install the extension, and follow the steps below to run quick-searches and import tens/hundreds/thousands of optimized products at once:
1. Create a quick search
Click on the extension on your toolbar. Then, select the supplier and supplier region that you want to search on. Next, type in what you want to search for, and click on 'Find All'. your supplier page should open up with your search results: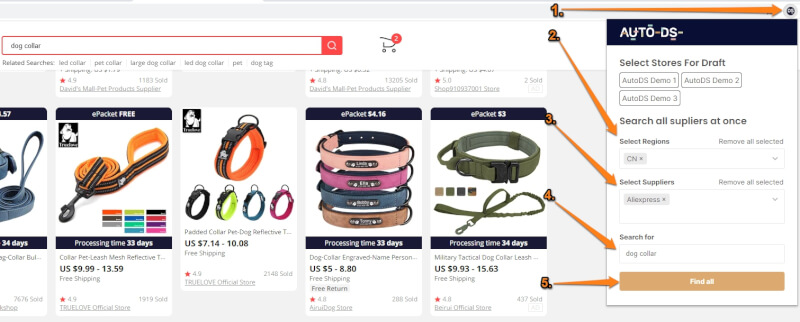 2. Extract and Export CSV
Once you've conducted your search and are ready to add the products to your store, stay on your supplier's page with all of the products that you want to import. Then, click on the AutoDS circle icon on the bottom right section of your screen.
Click on 'Extract', and you should see all of the product IDs loaded in the extension.
Next, click on 'Export as CSV', and an export CSV file will download onto your computer.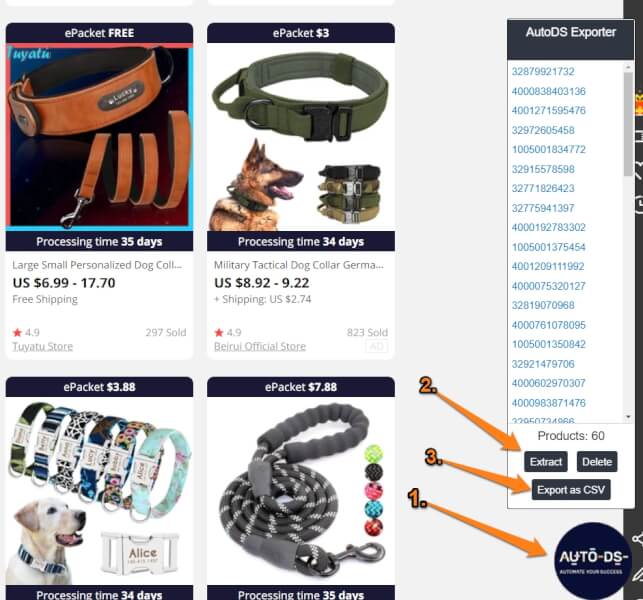 3. Import The CSV File
The final step is to head over to your AutoDS dashboard, and on the left menu, click on 'Add Products'. Then, click on the "Upload CSV' column. You'll be greeted with the 'Drop CSV File' window, where you can drag and drop that CSV file from the AutoDS Helper.
Alternatively, you can click on that window to open up your file browser. Navigate to that extracted CSV file and double-click on it to load it into the import process. Once the CSV file has been processed, you will see a message stating that the 'File is uploaded':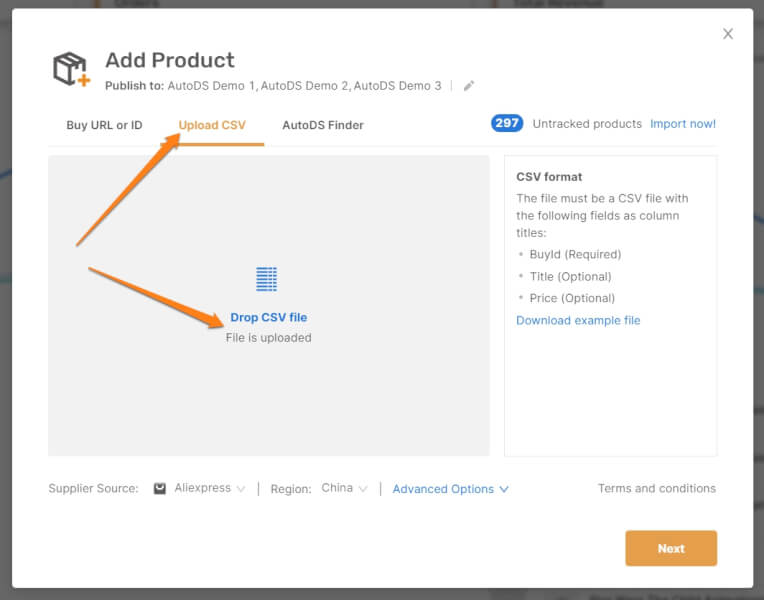 Now, all of the product IDs in that CSV file will import to your selected store(s). Follow through with the import configuration settings for those products, and watch how AutoDS will automate the whole process for you.
Whether you're adding tens, hundreds, thousands, to tens of thousands of products at once – the process is the same and takes just a few minutes.
Be sure to take advantage of the AutoDS Helper and all of the free time-saving features it has to offer.
Automatic Order Fulfillment + Tracking Updates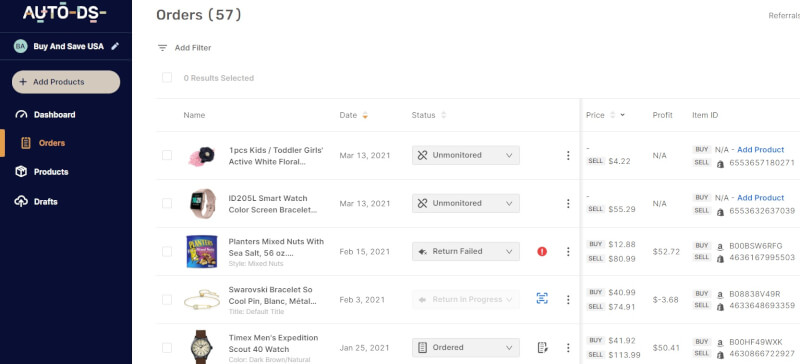 One of the most essential business automation tools that you need to be able to scale your success and profits is by automating your orders and tracking updates. In other words, whenever you get an order, the order will be process automatically from AliExpress directly to your customer.
Additionally, when tracking information is available, it will update in your store so that your customer can track their packages. On top of that, the order status will update accordingly to the current order status, so you'll always know what's going on with each order.
Did we mention that all of this is done automatically? That's right – you don't have to do a thing. AutoDS is programmed to automate all of your AliExpress orders, should you choose to accept it. Your customers are well taken care of, even while you sleep.
This feature not only saves you a lot of time but also leaves no room for human error. Therefore, it's a must for anyone looking to scale and profit without limitation.
There are two methods to automate your orders and tracking information on AutoDS – Automatic Orders, and the Fulfilled by AutoDS service. Read on for the difference between the two.
In this method, AutoDS will automatically process your orders using your buyer account on AliExpress. Meaning, your payment details on your buyer account will be used to process each order. Tracking information will also be updated automatically.
Also, each order status will update itself automatically and accordingly to the current status of the order, so you'll always know what the status of each order is.
Using the Fulfilled by AutoDS service, you won't need to supply your own buyer account. AutoDS uses its own buyer accounts and deducts your order prices from your managed account balance.
All you have to do is make sure you have enough balance to process your orders, and AutoDS will do the rest. Of course, this also includes automatic tracking number updates. To start a return, the one-click return feature makes this service even more worthwhile.
To opt-in for any of the two services, or to read more, click on their links above to get the full explanation and how-tos. Again, this is a must if you want to scale your dropshipping business to new levels.
Wrapping It Up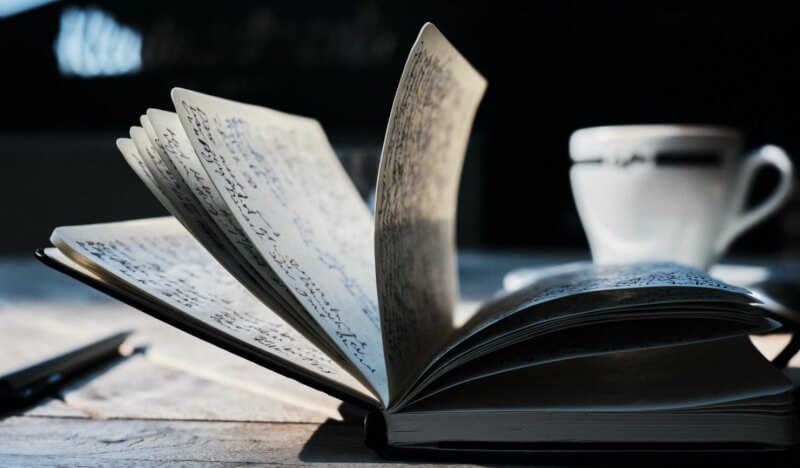 In summary, after a small learning curve, you can turn AliExpress into a very profitable dropshipping supplier. Once you learn how the system works, you will know how to take advantage of it to your benefit.
Don't forget to use the AutoDS helper to save you hours and days of work when adding multiple products to your store.
Keep strengthening your knowledge, and watch the results follow. Ready to become an AliExpress expert? Great! Here are a few more good reads to work your brain muscles. Good luck with this wonderful supplier, and happy dropshipping!