What is Banggood
Known best for their motto "Best bang for your buck," Banggood was founded in 2006. Before they were the mega online retailer they are today they only specialized in computer software research and development. Banggoods motto came about by ensuring that they have exclusive deals and special promotions. Most importantly of all ……
"Banggood Fully Supports Dropshipping"
They also provide a "New User Guide."
Warehouses locations
They have a network of warehouses in China (most items shipped from), Asia, Europe, Australia, and North America
Dropshipping from Banggood Pros & Cons
Pros:
No dropshipping fees

Photos do not have watermarks

Receive personalized recommendations

5 – 20% discount on product listed pricing

eBay management center

CSV import of orders

Free standard shipping in some countries

Banggood mobile app

Banggood Review Club

No minimum order quantities
Cons:
Complicated returns policies

Warranties on electronics that didn't cover basic parts

The repair process takes entirely too long for items that break or malfunction

Returns are not free
Dropshipping from Banggood special & unique things
Banggood has a special section called "Dropship Center" and it includes everything you need as a dropshipper.
200000+ Products

14+ product categories

800+ Brands

No membership fees

Personalized product recommendations

A credit point accumulation system

Reports on what's trending and is selling well on Banggood, so that we may get ideas on what to upload to our eBay stores

Option to download images of the items with no watermarks

Dropshippers VIP levels, that provide to drop shippers discounts up to 20%.
Banggoods is unique in that you have an option to actually "Remove Banggood Logo from Package." Just by clicking a box at checkout.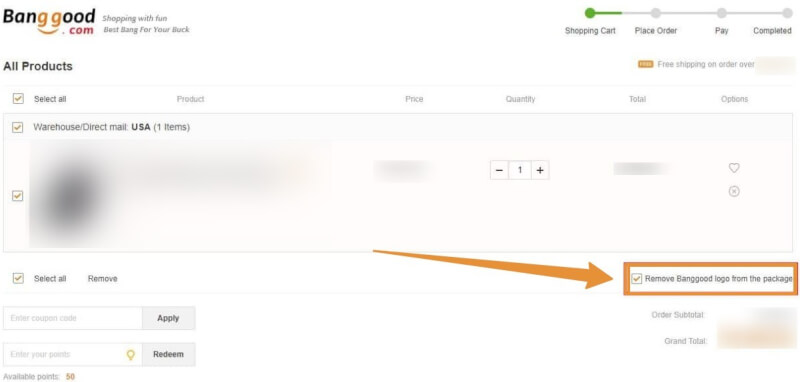 An interesting and important fact that many of you may not know. Banggood has warehouses, not only in China but also in the United States. (Banggoond CN and Banggood US)  What is amazing is that you can get super low Chinese prices and have them delivered fast from US warehouses?
Banggood dropshipping agreement
Banggood provides a dropshipping contract. This special contract is available to all AutoDS customers. All you need to do in order to receive a copy is to contact support and request it.  That way if you are ever asked to provide a certificate for dropshipping from this supplier you will have it readily available.
Special programs
Receive 50 Banggood points after completing the registration process;

Pro Videos
Earn points for each order you place and then redeem them for a discount.
Refer your friends and receive a $3.00 off coupon when they register a new account.
Join our affiliate program to earn money with us.
How to become a Banggood Dropshipper?
Start by clicking creating your account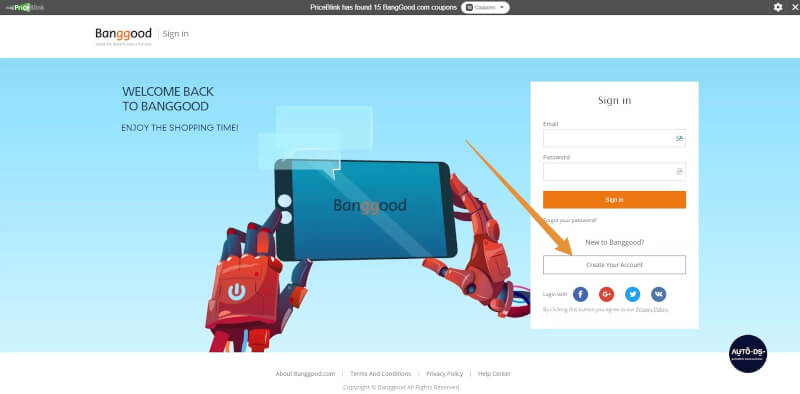 Then, fill in the needed information and follow the 5 steps below.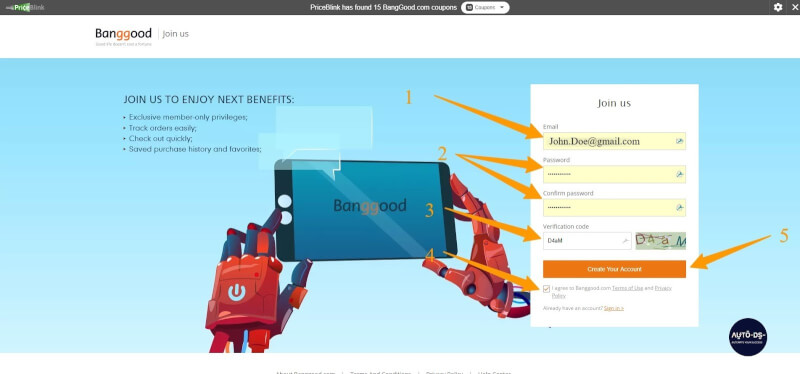 Success!  Now click, verify now.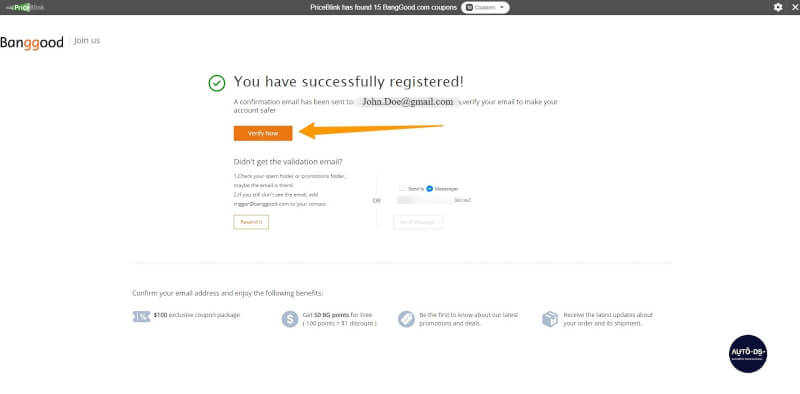 Check your email as instructed and click the button to verify your email address.  Take note that your user name is also included in this email as well as informing you of new member bonuses you may receive.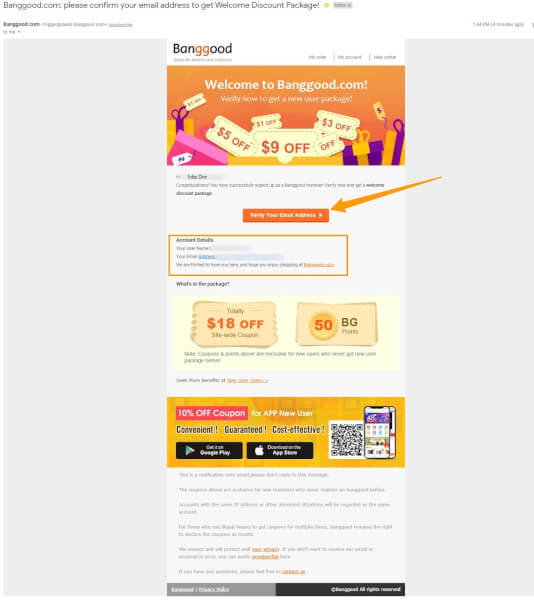 Congratulations! You are a Banggood member.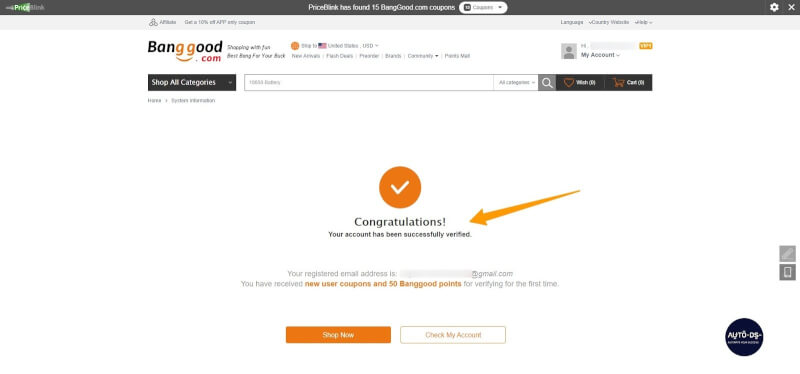 Now that you are a Banggood member you need to signup for the "Dropship Program."
First, click on the application link and fill in the requested information as shown below: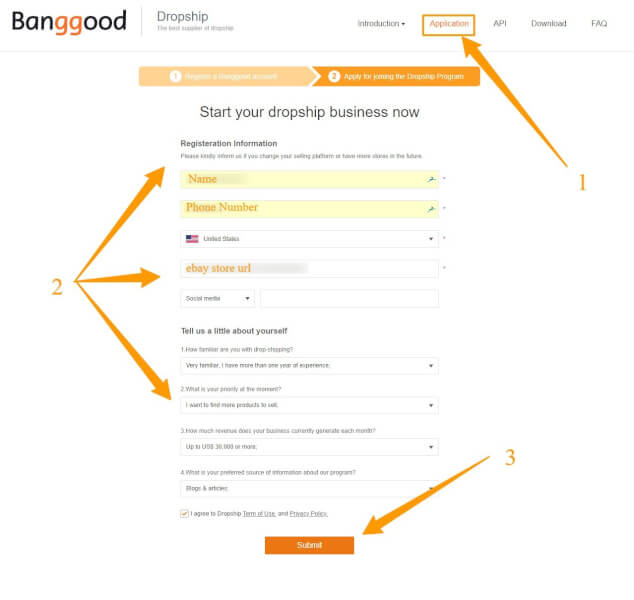 Submitted…  Now you will wait about 24hrs (during business days Mon-Fri)

Policies & Recommendations
Return Policy
If the product arrives damaged or is not working, it may be returned to Banggood within 14 days after delivery or 30 days after shipment in case the delivery date is not traceable. If the order has been shipped to Brazil or Russia, you can send it back to Banggood within 40 days after shipment. Be aware that some products have different policies or requirements associated with them.
General return policy "Extensive details."
Other return policies to be aware of here.
Recommended eBay returns policy
Below is our recommendation, but you should read all the policies stated in the links above and decide if you are comfortable having free returns or buyer paid returns. Free returns will always equal more sales of course.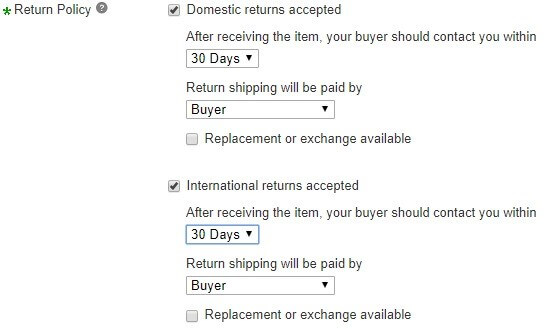 Shipping types and explanations
US and CN shipping charts below.  See all available shipping charts here.
Shipping Times from US warehouses

Shipping Times from China Warehouses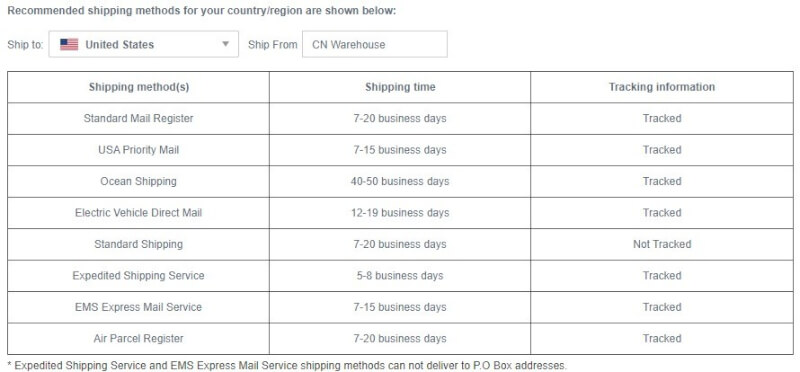 Recommended US Warehouse Shipping Policy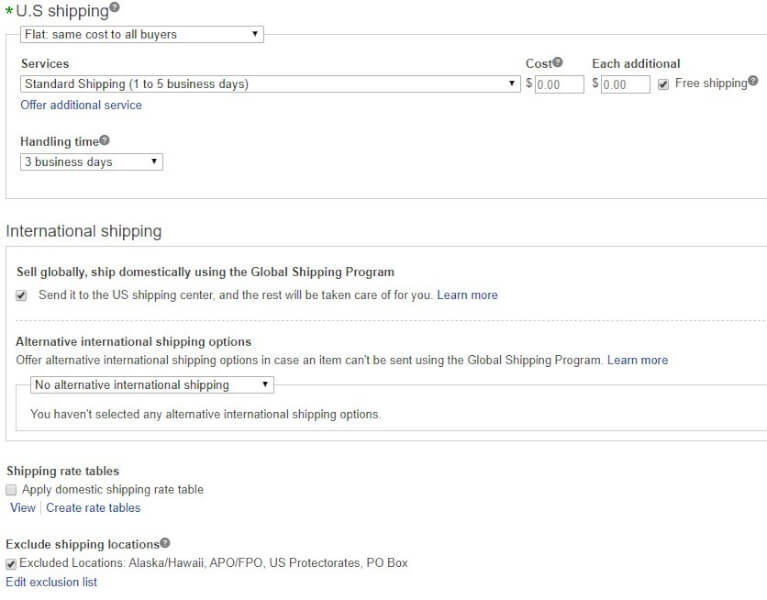 Recommended Non-US Warehouse Shipping Policy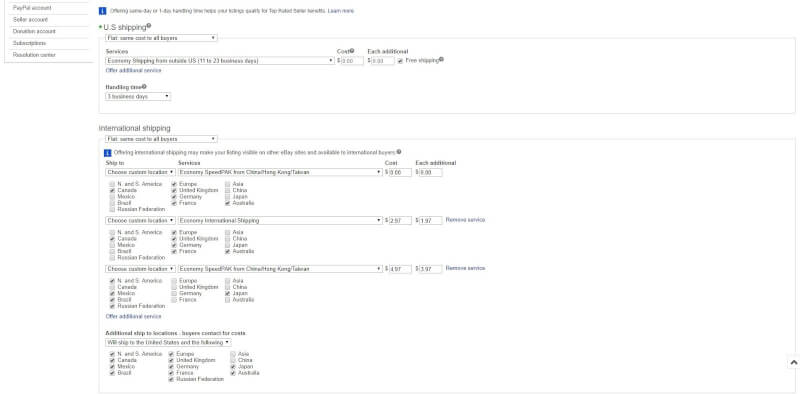 How to find products to dropship from Banggood?
Outlet
Everyone's favorite, the "Outlet" section gives you access to items that are up to 80% off regular pricing.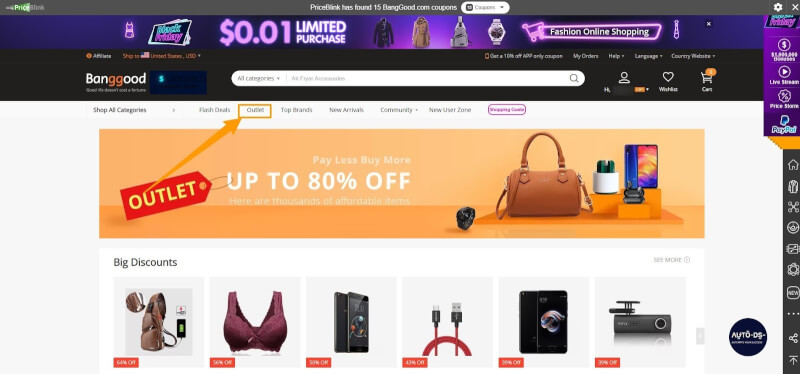 Top Brands
They call it "Brand Street." Here you will find all the top brands, brand deals, and even recommendations tailored to you.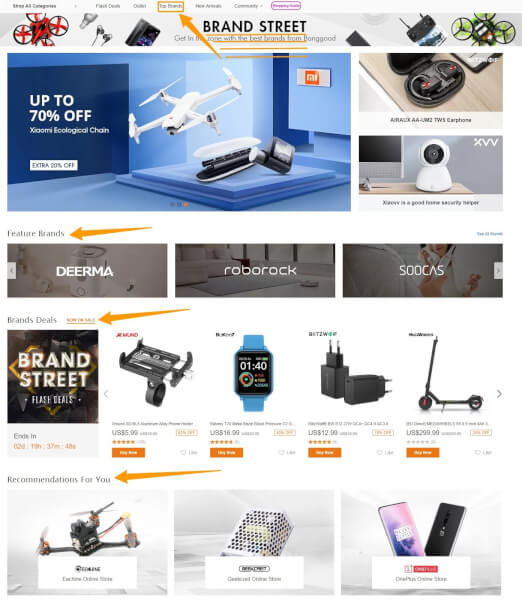 New Arrivals
The "New Arrivals" are the newest stars to the show. They are even ranked giving you what they see as the top 3 medal winners.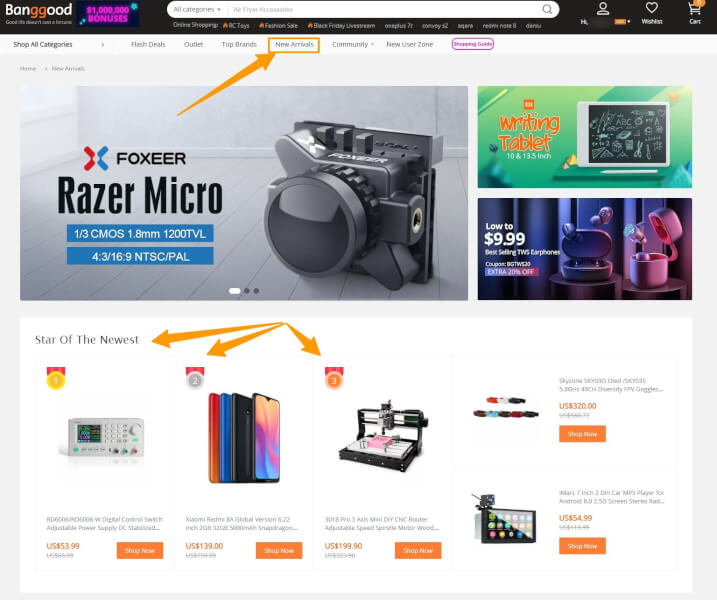 Banggood Customer Support
Chat is recommended for most to use if you are not comfortable speaking with others over the phone.  It is normally a fast and easy solution to finding a resolution to your issues.
For full contact details and options, you can see them here. Banggood will give you their recommendations based on the options you choose from this page.

Payment Methods
The most commonly used methods used are PayPal or Credit/Debit cards for there buyer protection programs.  However, they do accept many other forms of payments.

Credit or Debit Cards – details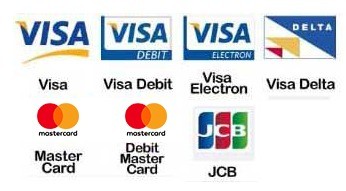 All accepted payment methods – details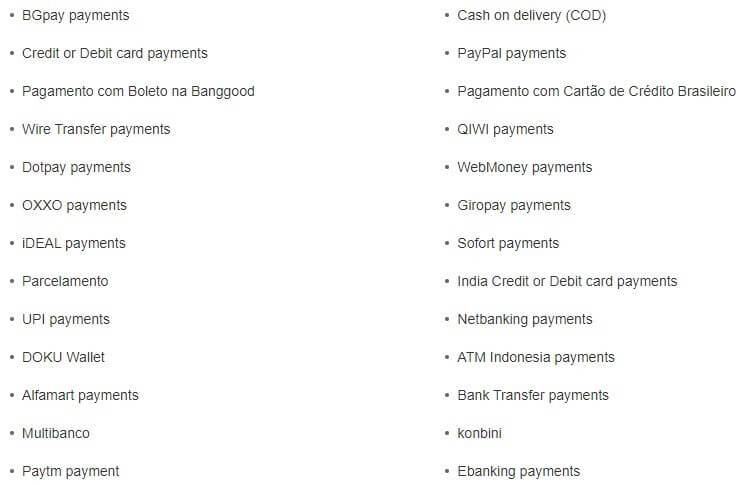 Dropshipping from Banggood using AutoDS
This is where the Banggood to eBay dropshipping tool comes in, you can save wasting time and make your dropshipping business model much better. With the help of our tool AutoDS Helper Extension, you can extract all products from a specific page at once to help assist in speeding up the listing process by following the steps below.
Select your category you wish too narrow your search to. Click on the AutoDS helper tool icon. Next, click extract to grab all product id's from the entire page. Lastly, you will export to CSV file and login to AutoDS to upload your new items.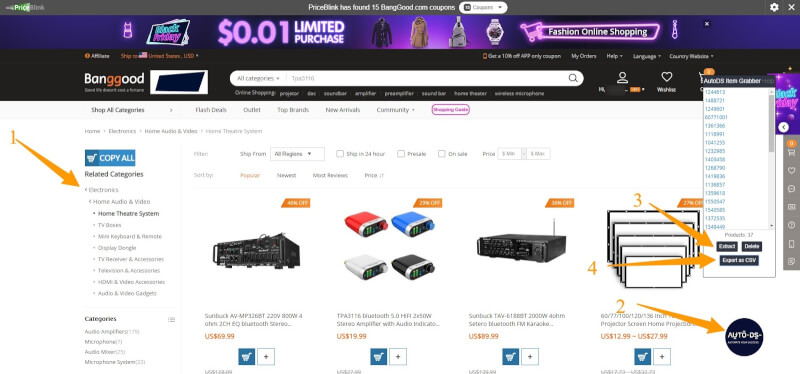 Once you are logged into AutoDS, you will click on the Add product. Then upload the CSV file you exported with the AutoDS helper tool.
Next is very important, you must ensure you change the supplier to Banggood and to which eBay site and Banggood warehouse location you will be using.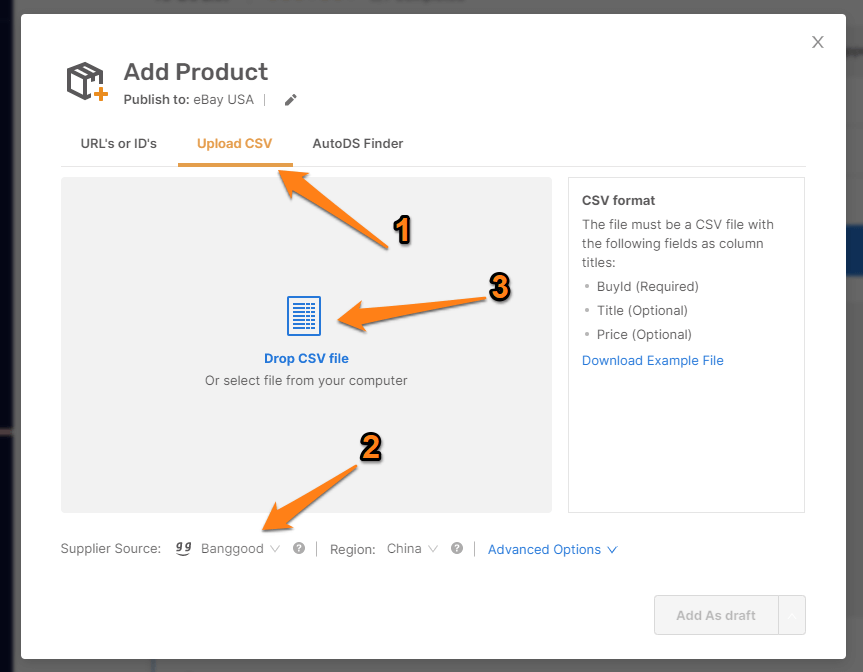 Summary
How is Banggood helping your dropshipping business?  We want to hear about your success stories and experiences below.