As the eCommerce industry continues to set new record highs every year, we notice how many marketplaces rise to new heights. One of the biggest marketplaces we have our eyes on is eBay Australia. 
According to the International Trade Administration (ITA), Australia is nearing the top ten largest eCommerce markets globally. Revenue is expected to reach a whopping $32 billion by 2024.
Needless to say, Australia is a secret gem for dropshippers. While most dropshippers focus on selling to the US market, the few selling to the Australian market are enjoying their fruits.
That's why this article will teach you everything you need to know about dropshipping on eBay Australia. In the end, you'll know how to run a successful dropshipping business to the Australian market.
What Is eBay Australia?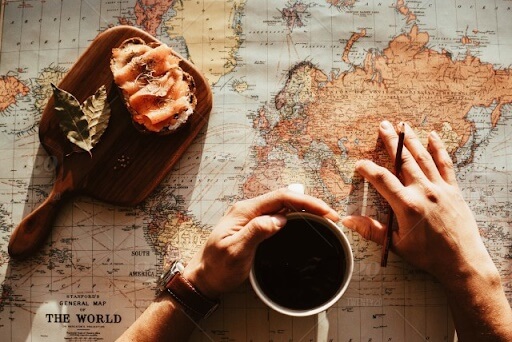 eBay came a long way from being available to only one or certain countries. Today, there are marketplaces worldwide that allow fast domestic shipping to each region.
For example, when an eBay marketplace becomes available in a specific country (like Australia), sellers in that region can source and ship items domestically instead of shipping internationally. 
Australian buyers will have their shipping location set to Australia. So, any product they search for on eBay will show products available to ship to Australia.

Therefore, residents of that country enjoy fast shipping and delivery times for shipped products from and to their country. This is much better compared to waiting for the product to arrive from China or anywhere else.
Today, eBay has marketplaces in the US, UK, Germany, China, Australia, Italy, France, Hong Kong, China, and Spain.
Is It Legal To Dropship In Australia?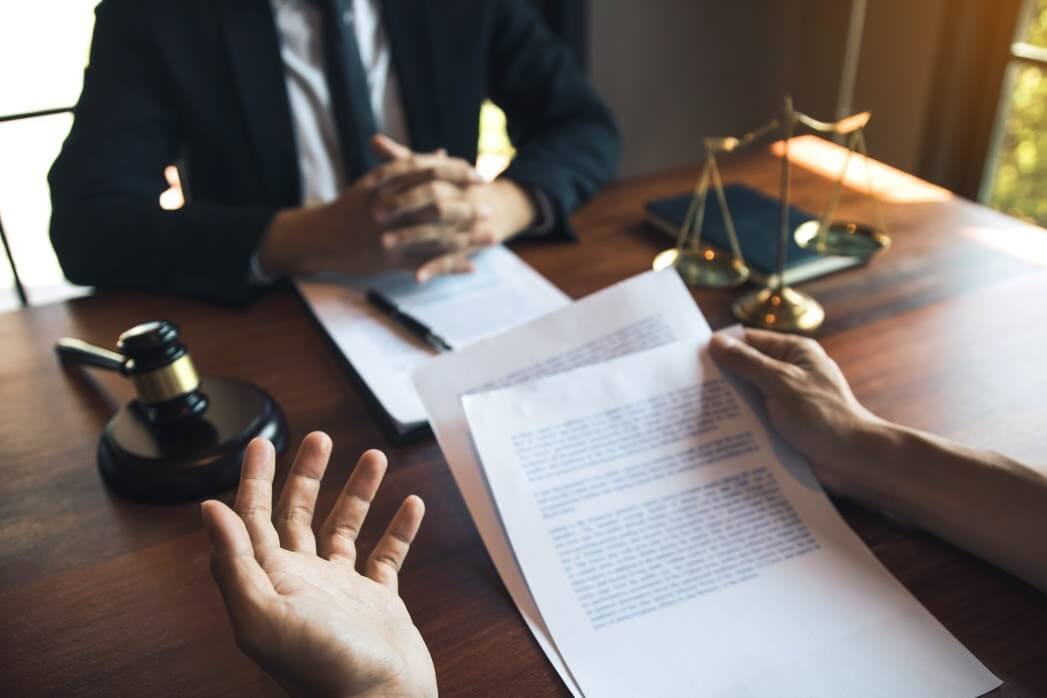 Dropshipping is a legal business model that's been around for years. It's all around us, whether we choose to see it or not.
Thus, dropshipping in Australia is no different. The question isn't whether it's legal in Australia, but rather, it is legal to drop a certain product. For example, selling tobacco or alcohol is illegal, no matter which country you're selling on. 
At the end of the day, eBay is looking for customer satisfaction. That is the number one priority on their list. 
The end customer is their product, and that's what we, as dropshippers, need to take care of. Ship out the products on time, respond to their messages/cases/returns, and make sure they are satisfied with their purchase.
It doesn't matter where you're sourcing your products from. As long as the customers are getting what they ordered, the item description matches, and the order is delivered on time; the road is yours.
If you want to learn more about eBay's dropshipping policy and how to avoid making amateur mistakes at the start, we recommend reading eBay Dropshipping Policy Explained.
Is Dropshipping Profitable In Australia?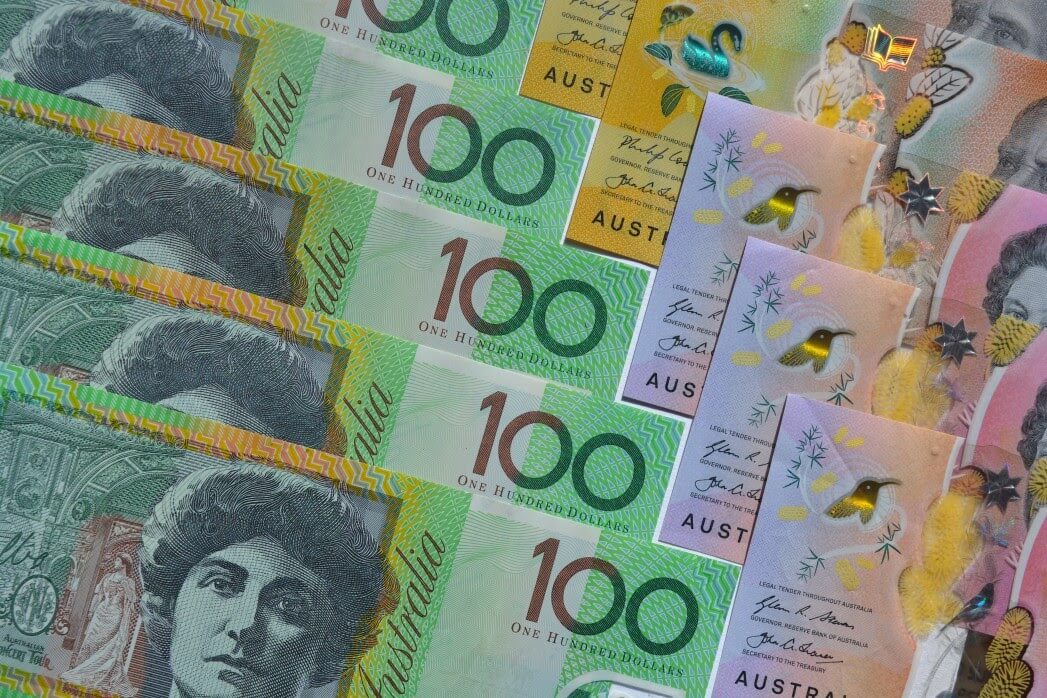 You can bet your bottom dollar that dropshipping is profitable on eBay Australia. 
We're talking about a huge marketplace that not many dropshippers are selling on (yet). And if there's one thing we know for sure, it's that Australians love shopping online.
Compared to dropshipping in the US, which is what most dropshippers are doing, the difference is definitely felt. The same product that sells in the US can sell in Australia for a higher price tag, meaning more profit.
That's because most dropshippers are dropshipping domestically to the US (eBay US seller accounts), making the competition fierce. 
Does that mean we cannot profit on the US market? Definitely not. With the right product research, anything is possible, and nothing is out of the question. More transactions are happening in the US.
On the other hand, with fewer sellers and more buyers looking for their next product, dropshipping on eBay Australia is proving to be one of the most profitable marketplaces to sell on today.
Do I Have To Pay Taxes To Dropship In Australia?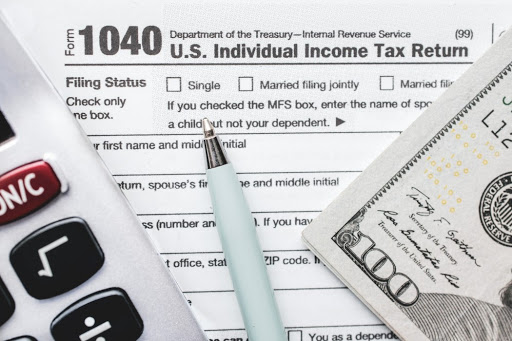 One of the most frequently asked questions when selling on eBay Australia or other regions is regarding tax. How does it work, and who needs to pay?
Here's what you need to know regarding the tax:
1. When a buyer purchases a product from our eBay store, eBay charges a sales tax on the transaction. The buyer pays us the tax, and eBay deducts it from our account.
2. When we purchase the product from our supplier and send it to our buyer, our supplier also charges us for tax. So, we're paying tax on what we're purchasing, and our buyers are paying us tax which eBay collects from us.
3. The final tax that we need to pay, aside from paying our suppliers for each purchase and allowing eBay to collect from each transaction, is the income tax.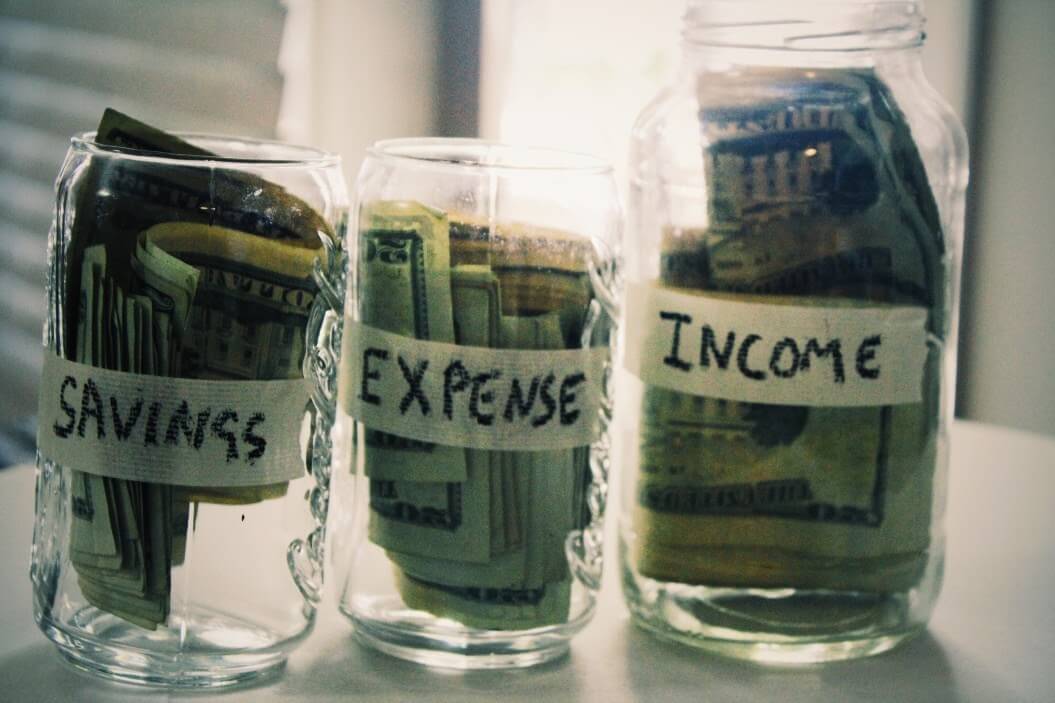 Income tax is a tax that we need to pay our government as long as we are generating an income. Every country has its own set of rules and conditions for income tax. 
Therefore, if you live in Australia and are dropshipping to Australia (or any other country), you are subject to pay income tax to the country you reside in (not where you're selling to).
If you're not aware of income tax, we suggest reaching out to a local financial advisor/bookkeeper to understand how and when you need to pay income tax for your earnings. 
How To Sell Items On eBay Australia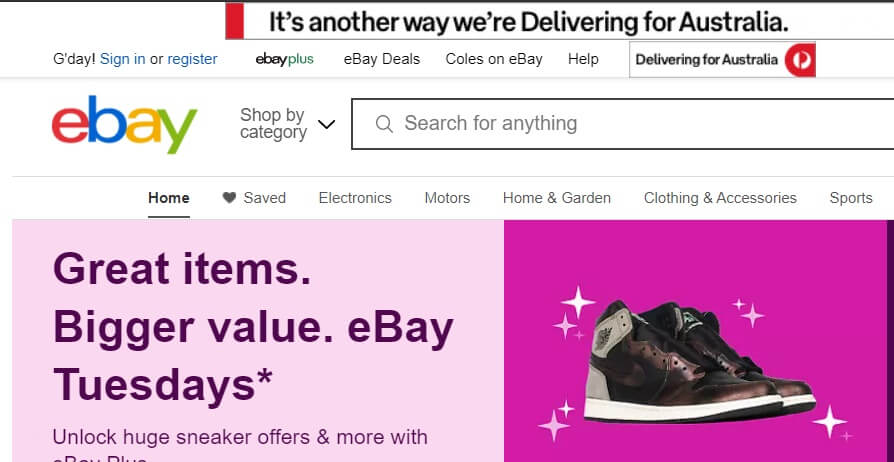 Before we start selling items on eBay Australia, we first need to configure our stores to match our dropshipping business model.
To begin dropshipping on eBay Australia, the first thing we need is to register an account on eBay Australia.
The reason for that is so our domestic shipping policies will be in Australia and not in any other marketplace. Our Australian buyers will see our listings first before seeing other sellers from different regions.
Once we create the account, we need to connect it to our PayPal account. If you don't have a verified PayPal account with your eBay store, click on the link to learn and implement every step of the process.

Now that our eBay Australia and PayPal accounts are set up and verified, we'll move on to the next steps – creating our business policies, setting our break-even fees, product research, and finding Australian dropshipping suppliers to work with.
Configure Business Policies (Payment, Shipping, Returns)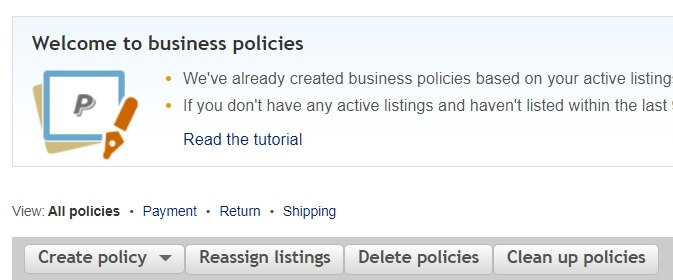 Before we begin listing items on eBay, we need to set up our business policies. The business policies include our payment, shipping & return policy for the items we're selling.
First, opt-in for eBay business policies. Then we can begin creating our policies. 
Payment Policy
Let's start with the payment policy. Click on 'Create policy,' then 'Payment.'
In the 'Policy name,' choose a name for this policy. For example, 'Paypal Payment Business Policy':
Now, in the 'Payment options,' select 'PayPal,' and type your email address registered to your PayPal account.
Furthermore, make sure to check in the 'Require immediate payment when buyer uses Buy It Now' checkbox. This option will ensure that our buyers will pay for our products before shipping them out to them.
Return Policy
Now, let's create the return policy for dropshipping on eBay Australia.
In the business policies, click 'Create policy,' then 'Return.'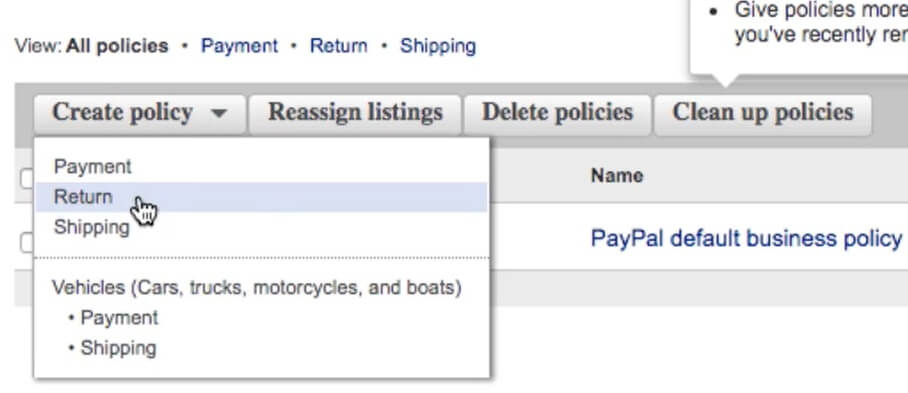 Give your policy a name – for example, 'Default Return Policy – Australia.'
For the return conditions, ensure that the policies we choose for our buyers match what our Australian suppliers are giving us. We will get to the Australian suppliers soon.
For example, if we choose to work with Amazon Prime and know that they offer us 30-day free returns, that is exactly what we will offer our customers.
Begin by selecting 'Domestic returns accepted.' Then, choose the 30-day return period on the drop-down menu, and set the return shipping to be paid by the seller (free returns).
Click in the 'Replacement or exchange available' checkbox. 

Keep in mind that offering 30-day returns help us rank higher on eBay's search results when comparing to 14-day returns or no returns.
Shipping Policy
Our final policy to set up is our shipping policy. This policy is for how many days it takes us to provide a shipping label for each order and the overall delivery time.
In the business policies, click on 'Create policy,' then 'Shipping.'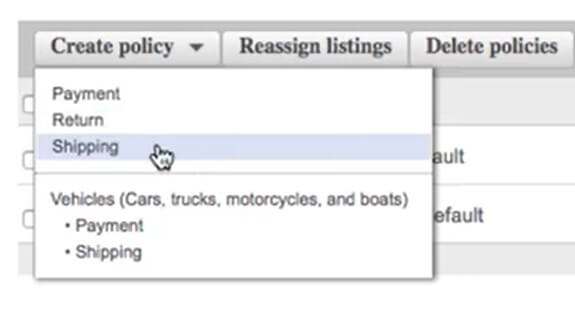 Under 'Domestic shipping,' select 'Flat: same cost to all buyers.' 
Next, under 'Services,' choose 'Expedited shipping (1 to 3 business days).' This means that once we ship out our items, the package must be delivered within 1-3 business days. Make sure the supplier you're working with can handle that, otherwise change the selection accordingly.
Since AutoDS has the option to combine the shipping cost inside the product cost and offer free shipping, you can select 'Free shipping' on the right checkbox. 

Offering our buyers free shipping helps us rank higher on eBay's search engine. Therefore, it is essential to offer free shipping – even if our supplier charges for shipping since AutoDS helps combine it in our product price.
The 'Handling time' states how many days it takes to provide tracking information once an order comes in. Again, this depends on the suppliers we are working with (which we will get to soon). 
In this example, we'll go with three business days, which should be enough for suppliers who ship quickly. Note that exceeding three days will rank us lower on eBay's search results. Therefore, it's crucial to select suppliers that ship out their packages quickly.
Exclude Shipping Locations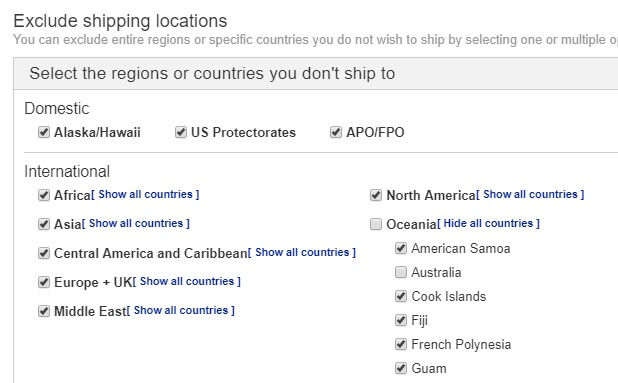 While we can ship internationally using eBay's GSP or other services, we'll keep things more simple in the beginning. Therefore, at this point, we will not enable international shipping.
To exclude shipping to additional locations outside of Australia, scroll down to the 'Exclude Shipping Locations' and click on the 'Edit exclusion list' link. 
Then, check-in every box to exclude shipping to every state except for Oceania – Australia. 
eBay Australia Selling Fees

Before we begin listing and pricing our products, we need to know how to calculate our selling fees and break-even settings. Here's the breakdown:
eBay Fees
eBay provides new seller accounts with 40 free (fixed-price) listings. Once we used up those listings, each additional listing will cost a $1.65 insertion fee (For non-store subscribers). 
Once you pass the limit, start looking at eBay Australia store subscriptions and choose a plan that best matches the number of listings you want to have within the next month or so.
Plus, on every sale we get, eBay will charge a 10.9% fee from the total transaction. 
PayPal Fees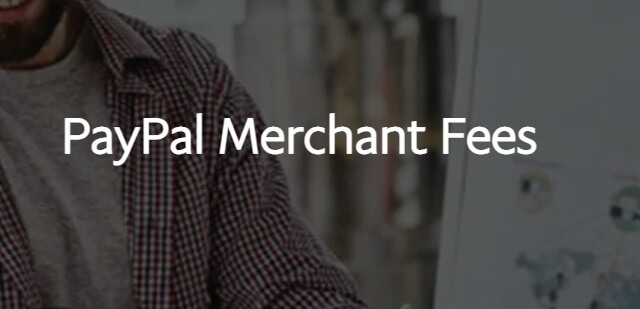 PayPal, our service for receiving payments, also charges a fee on every transaction.
For domestic transactions (buyers from the same location as the seller), the PayPal fee is 2.6% + AUD 0.30 per transaction. 
For international transactions, the PayPal fee is 3.6% + $0.30 AUD per transaction.
Break-Even Calculation For eBay Australia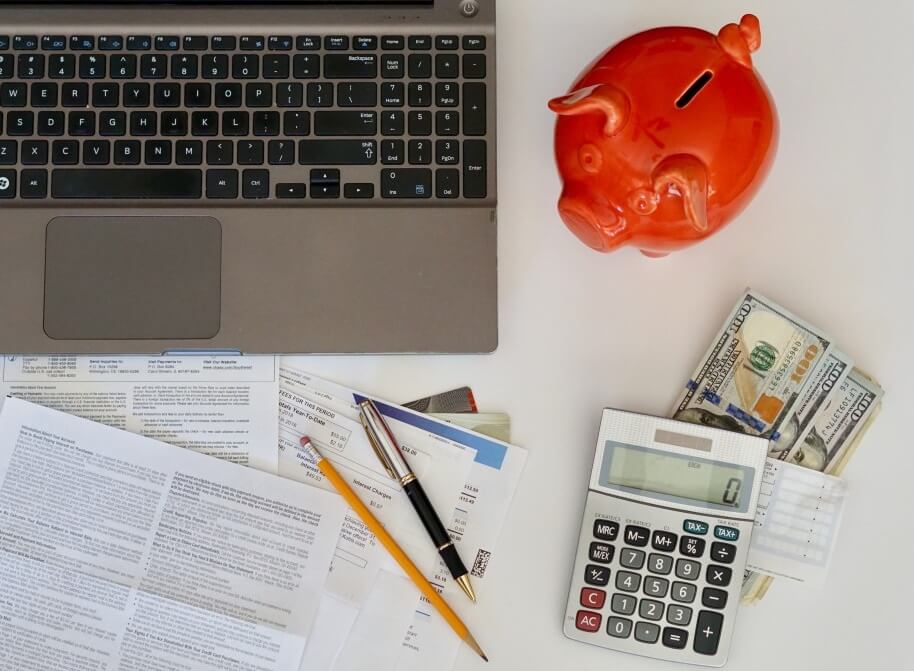 Knowing that eBay charges a 10.9% final value fee (transaction fee) (for non-store subscribers), and PayPal charges 3.6% (we're taking the international rate), together, we're at a break-even of 14.5%. 
But, what about tax for our purchases? When we purchase from our suppliers, most chances are we'll have to pay tax. Keep in mind that this can go as high as 10% of our buying price. 
Since our break-even fees calculation is taken from the selling price on eBay (and not our lower buying price), we can average it to around 6%. 
In summary, 14.5% + 6% = 20.5% which makes for our total break-even calculation when dropshipping on eBay Australia.
Australian Dropshipping Suppliers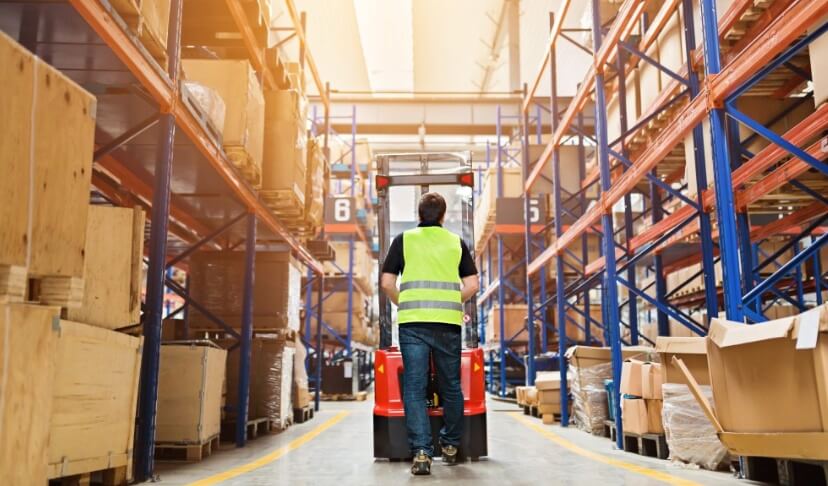 The suppliers we choose to work with are what help build our brand and business. It is crucial to work with reliable suppliers that ship their products quickly and have easy and practical returns, along with excellent customer service.
If we don't ship out our products on time according to our business policies, our customers will open cases against us. The same goes for poor customer service. Since we're all here for the long run, let's go over some of the best Australian dropshipping suppliers we can work with on our eBay stores.
AliExpress Australia
Believe it or not, AliExpress is not just a Chinese supplier anymore. Today, they have warehouses all over the world. With hundreds of new products entering the platform every day, hidden gems are sitting there, waiting to be found.
So, how do we begin finding products that are stored in Australian warehouses? Head to AliExpress, and on the top right corner, click on the country flag it's currently set on.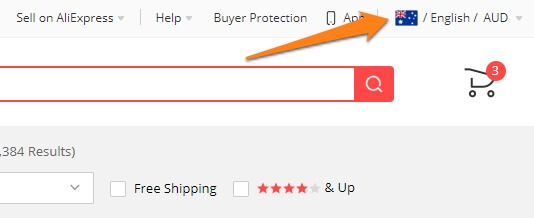 When we search for products on AliExpress, it will only show us products that can ship to Australia. 
The next step is to search for any product on AliExpress or enter any category. You will see the 'Ship From' option on top of the search results: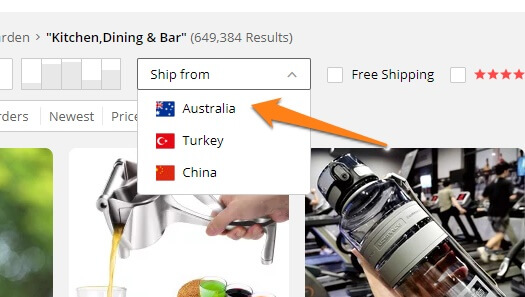 Choose to ship from Australia. Now, all of the products that we see on AliExpress are stored in Australian warehouses. 
In other words – you can now buy from AliExpress and ship quickly to Australia! How neat is that? Be sure to check the delivery time and select the proper shipping policy. You can create as many policies as you need to match each supplier.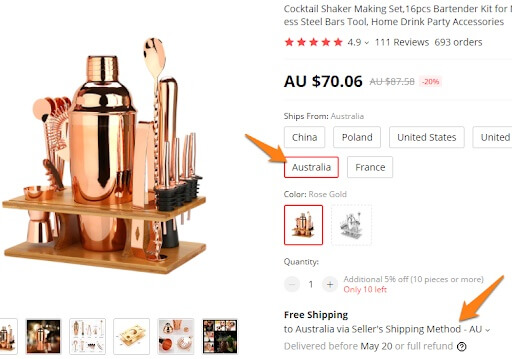 Banggood Australia
Another excellent dropshipping-friendly supplier, Banggood, also has warehouses in Australia. While not too many people know about this, you'll always be one step ahead of the game by reading our blogs.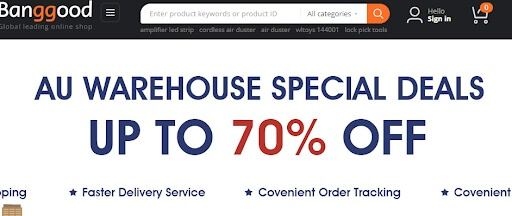 All of the products in Banggood's Australian warehouse are available through that link. From there, familiarize yourself with all of their flash deals, and enjoy extra discounts and profiting.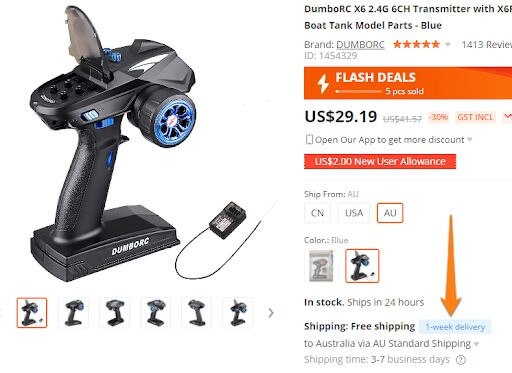 Just like in the AliExpress example above, keep an eye out for the shipping dates and select the proper handling time when adding products to your store (we will get to importing products soon).
Amazon Australia
We cannot skip out on of the best suppliers out there. Whether it's the range of products, niches, prices, delivery speed, or returns/refunds – Amazon is nothing short of a powerhouse.

With warehouses worldwide, including Australia, all we need is a cheap Prime membership to ship out our orders quickly. Along with fast shipping, we'll also benefit from 30-day free returns, no questions asked.
To see products in their Australian warehouses, head over to Amazon AU and click on the 'Deliver to' on the top left corner. 
Next, change to a postal code in Australia (for example, 2148). Select any city/suburb from the dropdown menu and click on 'Apply.'
Now, we can begin our product research (coming up), seeing products only from Australia.
How To Find Hot Products To Dropship On eBay Australia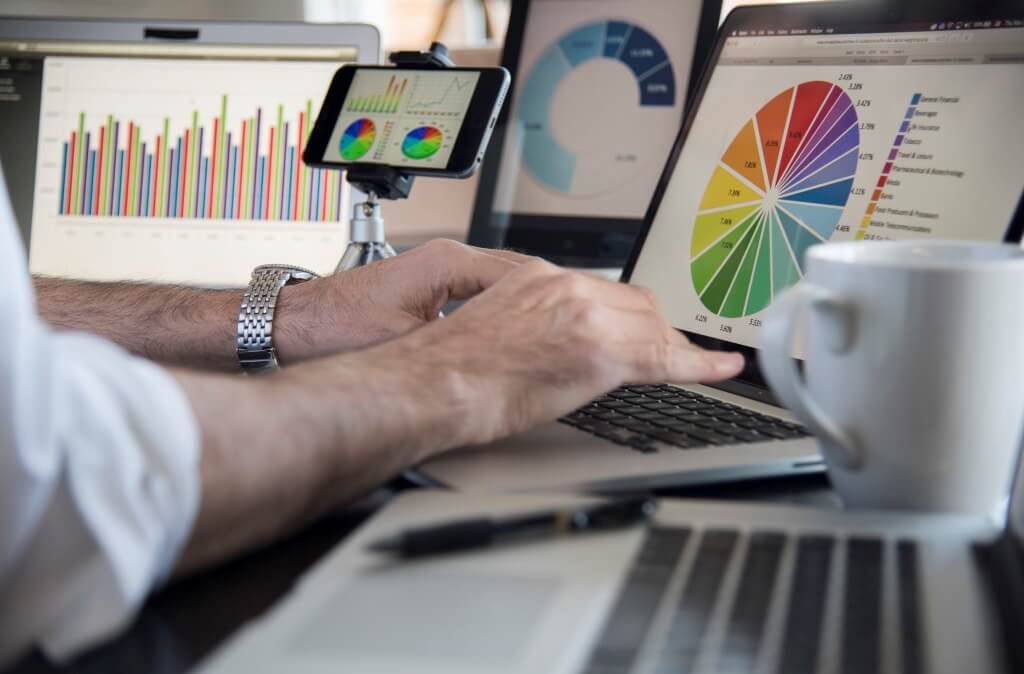 Once our eBay store policies are set up, our PayPal accounts are linked and verified, and we chose our Australian dropshipping suppliers, we can move on to the next step. 
Which products should we sell? How can we increase our chances of selling right from the start and build a strong base for our eBay dropshipping business?
This part comes down to product research. And, the harder you work on it, the faster you will start seeing results. It's a grind in the beginning until we start finding those bestsellers. But, once we start selling them, it quickly becomes addicting and fun.
Here are the best ways to conduct product research, and when dropshipping on eBay Australia, dig out those hidden gems from the bunch.
1. Best Sellers & New Releases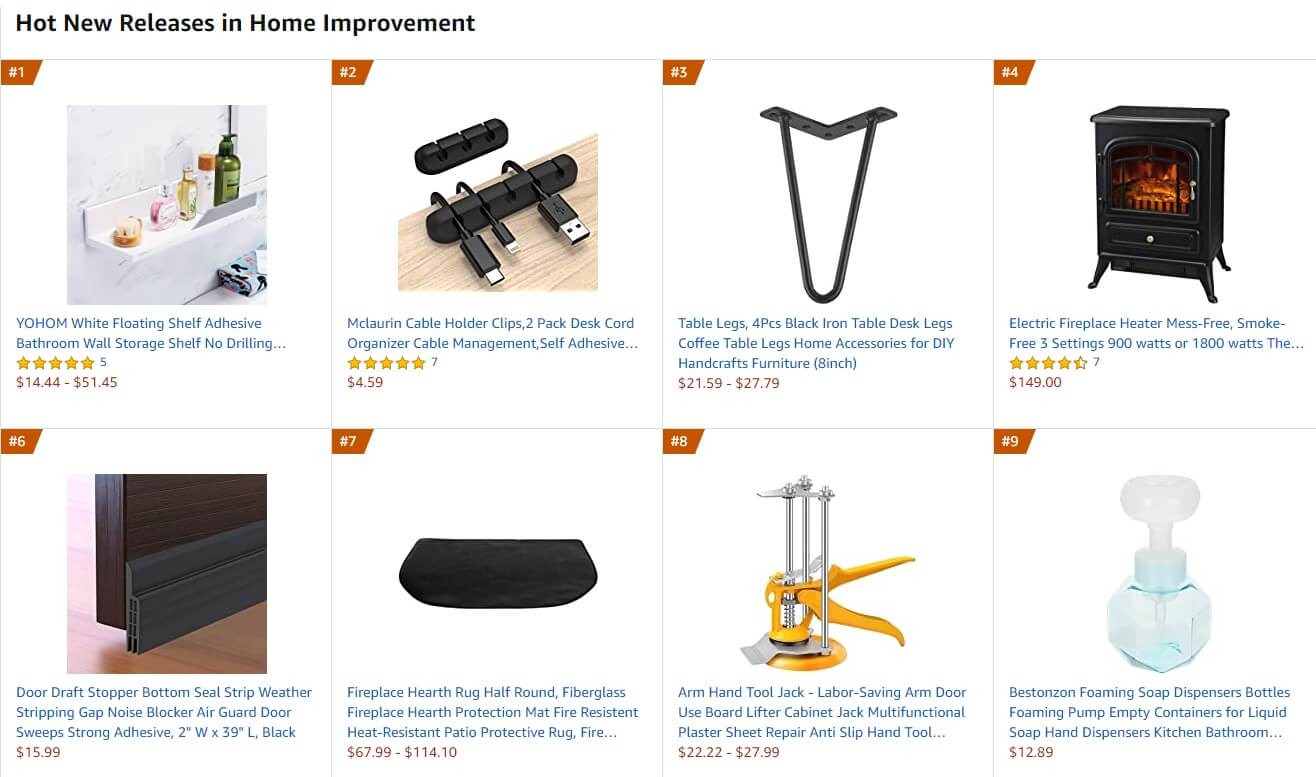 A quick way to hop on rising trends is to check out our suppliers' best sellers. There, we can familiarise ourselves with what products are selling today, and look for similar products to add to our stores.
Once we know which products are selling hot today, we can look for different variants of them to stay unique. We can also search for new variations that just came out in places like Amazon's New Releases.
No matter where we're getting our products from, make sure the product has good reviews, along with the seller who is selling them.
2. Get Inspired From Competitors
Every successful business learns from seeing what's working well for their competitors. Learning from their best practices helps inspire us to do the same.
However, keep in mind that this is not a copy and paste game. If we copy the same product, title, descriptions, etc., our competitors will most likely continue to sell those products instead of us.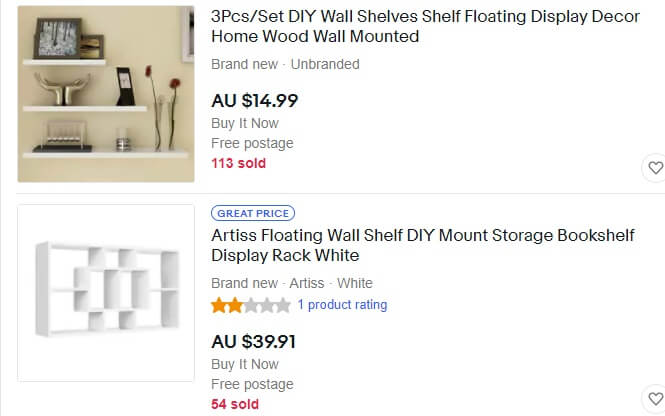 As long as we are selling similar products and not the same, we don't have to be cheaper or more competitive than our competitors to get those sales. 
Therefore it's crucial to optimize our product pages, especially our product titles, because that's how viewers will find their way to our eBay stores.
To find successful competitors, enter a product listing from one of your dropshipping suppliers on eBay. Find other dropshippers who are selling the same product and what their profit margin is.
Next, on the search results, on the top right, make sure you see the results for items that ship to Australia.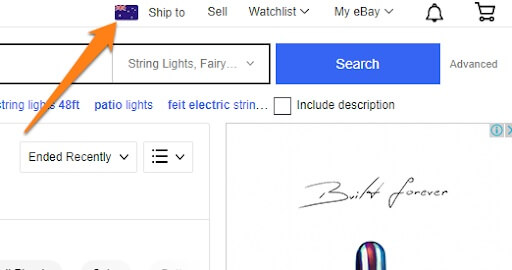 On the left menu, scroll down and click in the 'Sold items' checkbox. This will show us only listings that have sold at least once.
Now we can see only successful listings. Enter each product listing, and search for items that sold a few times in the previous month. This will greatly increase our chances of finding a hot seller.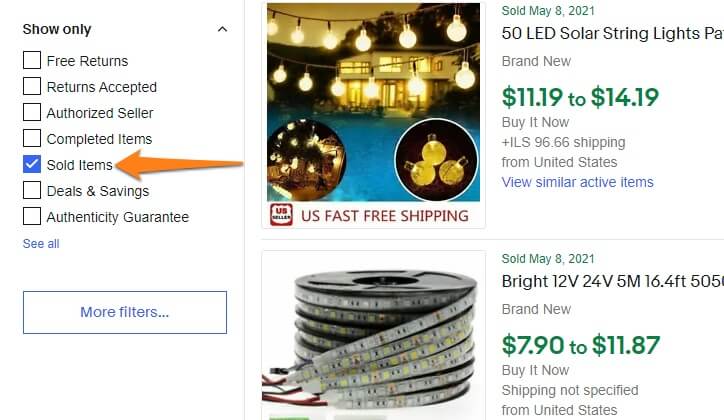 Once we find several listings with high potential, we'll search for similar listings through our suppliers. Add at least ten listings from each niche to test it correctly. The more, the better.
When a listing sells, add at least twenty more products of the same type. Also, open the seller's listings on eBay where you found that item and search for additional product ideas to add to your store.
Rinse and repeat and watch your store start to grow in sales!
How To Import Products To eBay Australia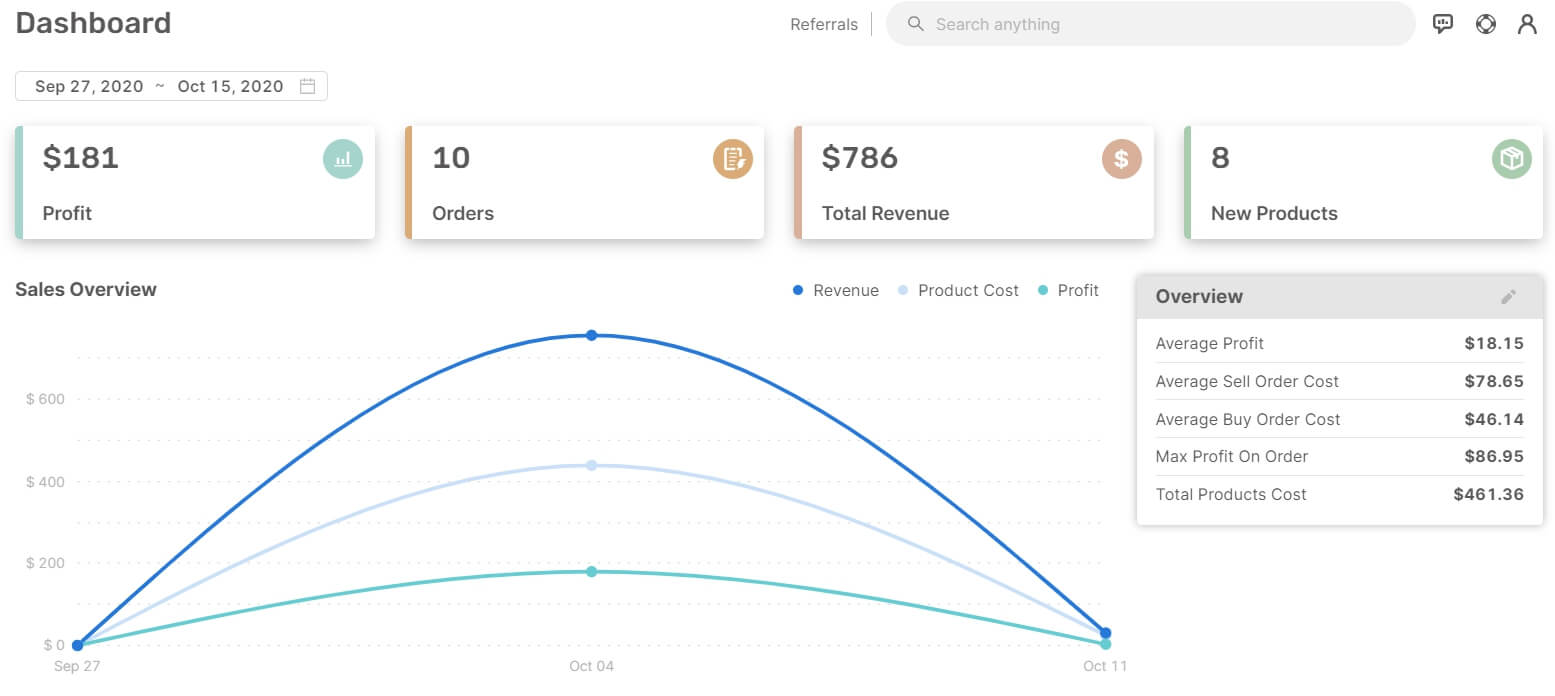 Now that we nailed down the product research, it's time to start importing products to our dropshipping stores and testing the market.
We can do it the manual way by listing the item through eBay, but each product will consume a great deal of time and limit us from expanding and growing our business. 
Thanks to AutoDS, we can automate and easily scale our dropshipping business with price/stock monitoring, product importing, customer support management, support for virtual assistants accounts to help us run our stores, and much more.
All you have to do is register for an AutoDS account, link it with your eBay store, and begin the automation. 
Once our eBay Australia dropshipping store is linked with AutoDS, click on 'Add Products' on the left menu.
Next, in the URL/Product ID text box, enter the product's URL or ID as shown on your supplier's site. You can add multiple products by making a line break between each URL/ID.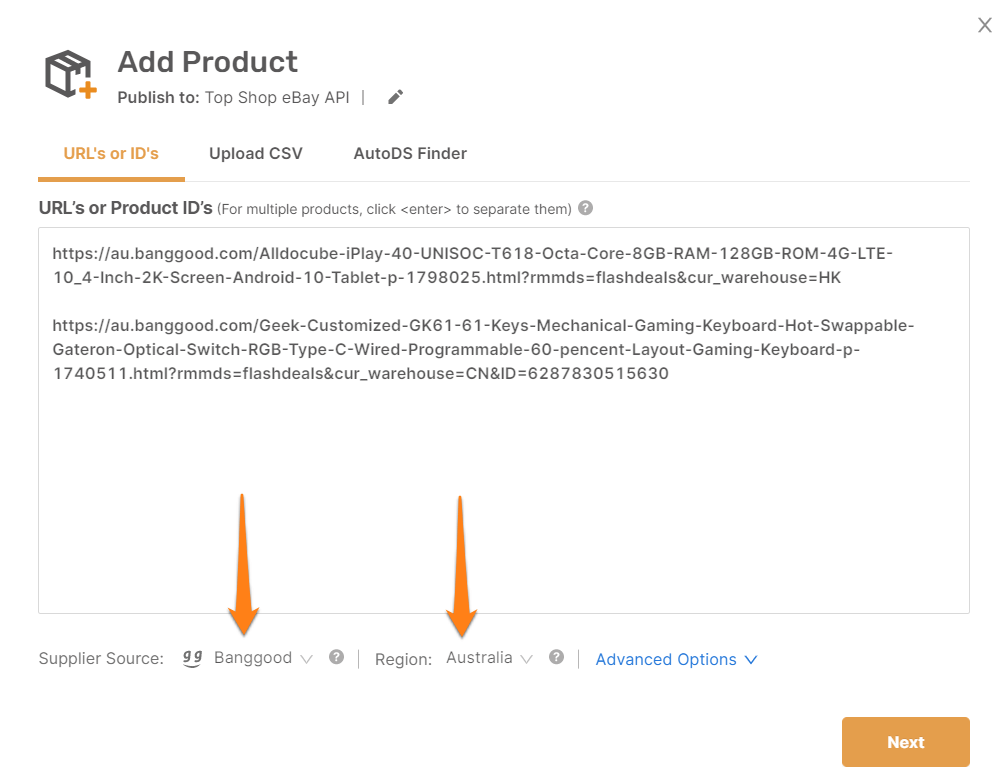 Also, make sure that the supplier source is set to the correct supplier, along with the region. 
Then, continue with the import settings for this import process, including the pricing settings (break-even as explained above), choosing the right business policies (also above). Finally, you'll have the option to import them to the drafts section to continue optimizing before publishing them to your store. Or, you can publish them right away or schedule to import them at a chosen date and time.
There is more than one way to add products quickly and efficiently with AutoDS. If you have high limits on your eBay store, we recommend importing in bulk (CSV). 
For more information on adding products to your stores (in singles or bulk) in a matter of seconds, read How to Add Products to Your Store Using AutoDS.
Handling Returns & Refunds On eBay Australia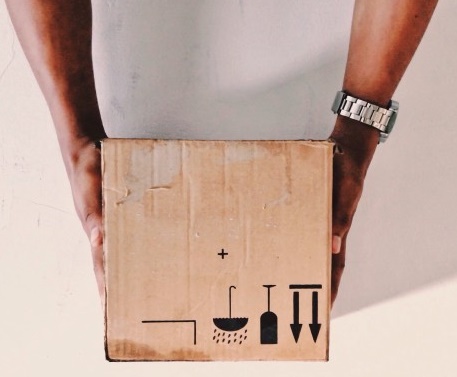 When it comes to returns and refunds, we need to give the best possible service to our customers. That's why we're choosing suppliers who ship quickly and offer great customer service.
However, it's crucial to know the return policy of each supplier and ensure that we're assigning the right policy for the products that we are importing to our stores.
For example, we know that the Amazon Prime membership gives us free 30-day returns, no matter why.
On the other hand, AliExpress allows returns if the product was damaged during transit, not as described, or other reasons that are in fault of the seller on AliExpress. Even then, they will prefer to settle for a partial refund rather than send the product back to their warehouse.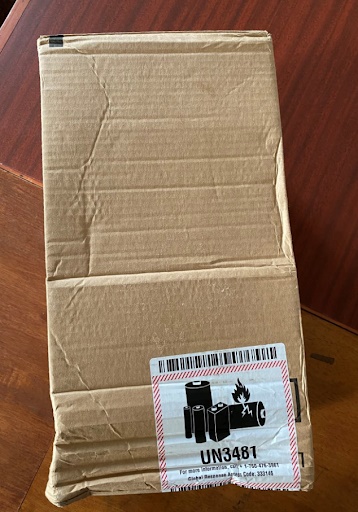 Since AliExpress is very customer-oriented, any problem that we have will get taken care of. Nonetheless, it's wise to go over their Return Policies and get to know them to create the proper return policies, as explained above.
Thankfully, returns and refunds make for a tiny percentage of our total transactions, so we won't have to worry about it too much, especially since we're adding products with high reviews and are proven to be of high quality.
So, if a buyer wishes to return a product, we'll forward that information to the supplier we bought the item from and continue from there. When we get the return label, we can send it to the buyer and wait for the item to return before issuing the refund or sending out a replacement.
Final Thoughts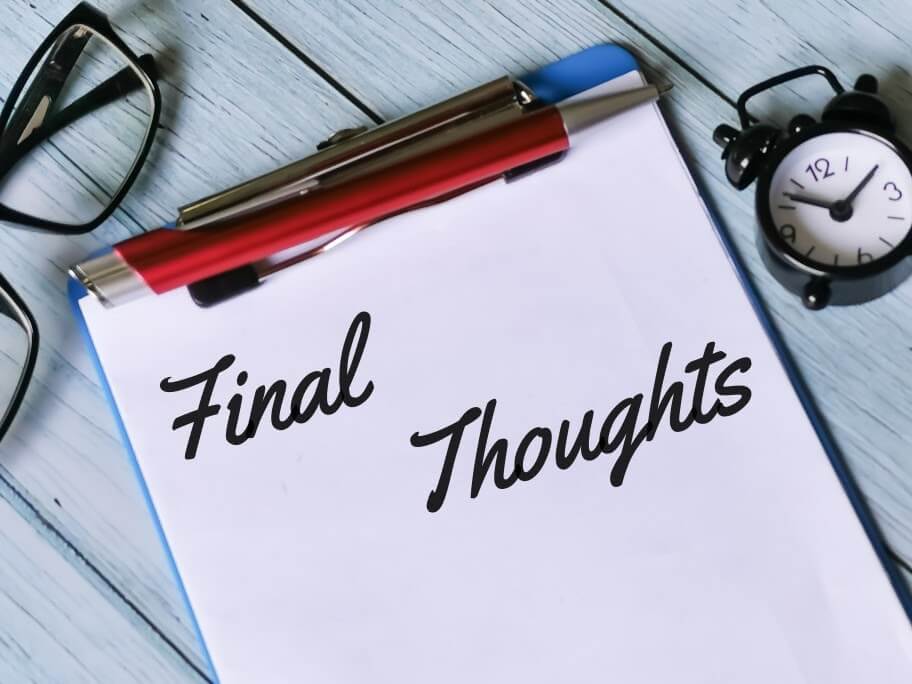 Now that you know how to begin dropshipping on eBay Australia get winning products to sell, and are familiar with some of the best Australian dropshipping suppliers, it's time to take it to the next step.
Take your time when learning and even more when researching products to sell, especially if you're in the beginning stages of your dropshipping journey.
Lastly, enjoy a very profitable and untapped dropshipping marketplace. Besides that, we can also learn step by step guide to dropship in Australia and start our stores in different selling channels.
Let us know about your success dropshipping on eBay Australia, and you may very well be our next success story!