Amazon has introduced a solution for orders that were affected by delays; we can now change their shipping time during the Coronavirus to the regular prime shipping, which is 1-2 days.

As you can see here, this order was placed on 10 April, but instead of 1-2 days prime shipping, the estimated delivery date is 20 April. Which means it will get delayed.
To change this order shipping time and make it faster, go to the order you want to speed up.

Click "Change shipping speed" and this page will come up.

And then click "Confirm"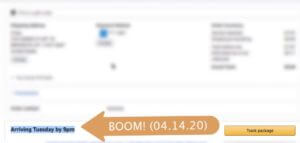 Congratulations, the order will now be delivered in four days. Which is much better than the ten days that Amazon assigned initially.
Although eBay isn't punishing late shipments these days. Giving your eBay customers faster shipping times and better customer experience will help you grow. Also, win buyers' trust that may lead to positive feedback.
Remark: The option of changing the shipping time doesn't work on all orders, sometimes you will get one of two options:
1- Amazon will tell you that it is not possible to speed up this order.
2- Amazon will delay the speed up, then you will have to monitor the order. And after a few hours, the order will get speeded up. Or Amazon will tell you that they could not do it and that it is impossible to change the shipping for that order.
With that said, from what we saw here at AutoDS through our analytics on our managed accounts and also our testing of this option of changing shipping speed, we can assure you that it works most of the time as expected.
Conclusion
Awesome! Now you're equipped with inside tips and tricks to ensure your dropshipping store succeeds, pandemic or not. But, besides speedy order fulfillment, how else can we satisfy our customers to ensure customer loyalty? Well, the best way to do so is by continuing to expand your knowledge with insightful information. With that said, check out these articles to learn more about how to attain dropshipping success: