What is Wayfair?
Wayfair formerly known as CSN Stores (2002–2011) was founded in August 2002 by Niraj Shah and Steve Conine.  One of the most amazing facts about Niraj and Steve is that they actually began as dropshippers themselves.
By offering 14 million items from more than 11,000 global suppliers, Wayfair is the perfect supplier for dropshippers with specific "Niche" in categories for "Home Goods" i.e. furniture, home appliances, décor, and pet accessories.
They provide a convenient help center, details below:
Wayfair US Help Center
Wayfair UK Help Center
Warehouses locations
Wayfair has offices and warehouses in the US as well as in Canada, Germany, Ireland, and the UK. Both the US and UK have 800K products alone in their warehouses.
Pros:
Orders over $49 qualify for FREE shipping

Free shipping on all orders for MyWay members

Convenient Help Center
MyWay

 Program

Wayfair Charitable Giving Program

An inspiring example of what a dropshipper can accomplish.
Cons:
MyWay Loyalty Program costs a yearly fee of $29

Limited Categories for "Niche" dropshippers
Dropshipping from Wayfair special & unique things
Special programs
The Wayfair Charitable Giving Program
Encourages company employees to donate their time and money to nonprofit organizations.

Every WayFair team member is given 1 day off every year in order to participate in a special community service project.
Wayfair

 MyWay Loyalty Program
For $29 a year you are able to become a "MyWay loyalty member" (automatically renews every year until canceled)
Here are a few reasons why it makes sense for you to become a member;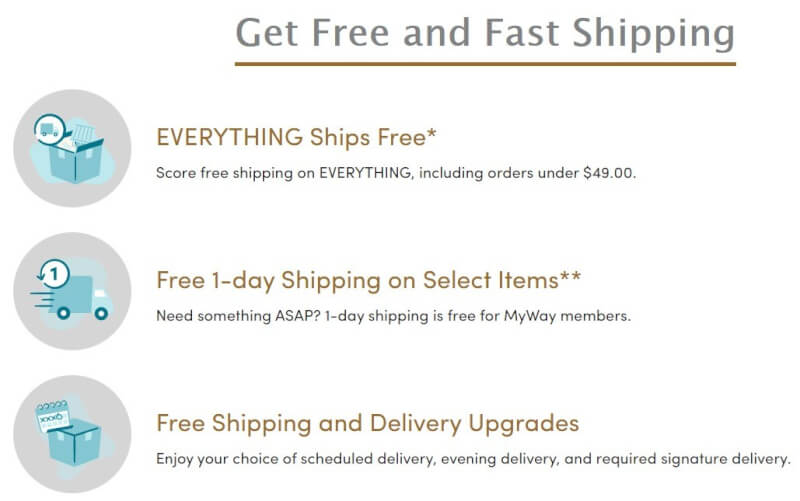 Free shipping is only available in the contiguous U.S. Some exclusions apply, including flooring, large fixtures, and non-standard items.
One-day shipping is only on certain items depending on your location and the time of order.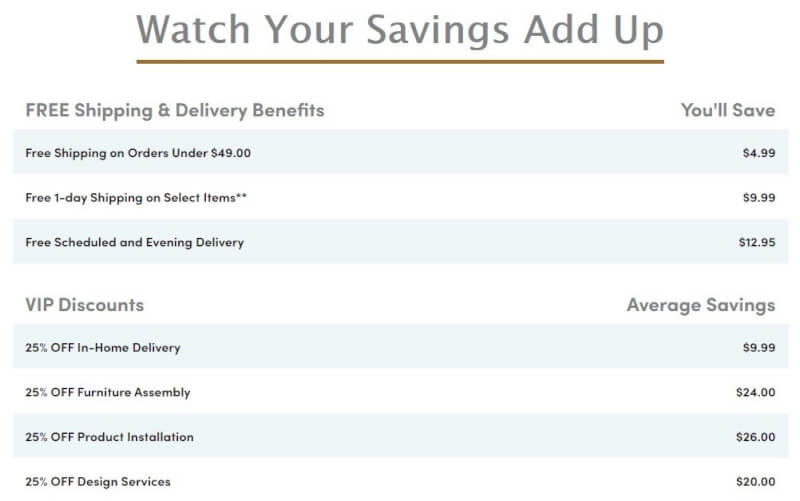 Bonus – MyWay benefits can also be used on purchases made at AllModern, Joss & Main, and Birch Lane. At this time, your benefits cannot, however, be used with their other sister site Perigold.
Joining Myway begins by clicking here
How to become a Wayfair Dropshipper?
Start by signing up for a new account.

Click Continue, and literally all you have to do on the next screen is add a password and you are done. The account is created.
Once created, you can go into account settings and update your personal information as needed.
Policies & Recommendations
Return Policy
Wayfair US does have a few "Modified Return Policies" for items such as mattresses, wedding registry, extended holiday and large appliances.  Also, check out Wayfair's "Returns and Exchanges" help center article for more return information.
Un-Returnable items:
Clearance items

Gift cards

Personalized items

Discounted Bundled items

(unless the entire bundle is returned)

Items marked "

Non-Returnable

" on the sale page

Items you have already assembled
**Wayfair UK Return Details
Recommended eBay returns policy
Wayfair's return policy says that you may return an item within 30 days of delivery in the "original condition and packaging" for a refund minus return shipping costs.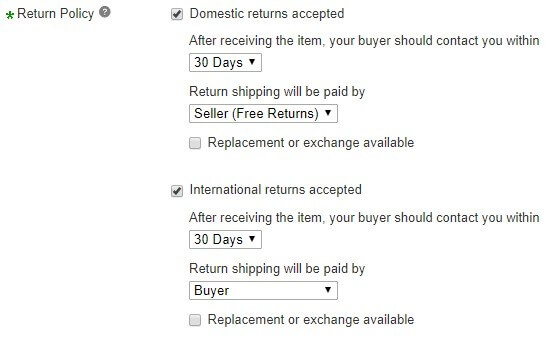 Shipping types and explanations
Most orders at Wayfair ship for free!!! It is important to know however that if your listing cheaper items you may have a small shipping fee.
A flat shipping rate of $4.99 applies for orders under $49.
Orders over $49 qualify for FREE shipping!
For more detailed information click "Wayfair Shipping Costs" or "Wayfair Shipping Types." 
***Side note for Wayfair UK sellers. (Free delivery for UK orders over £40)
Recommended Wayfair US Shipping Policy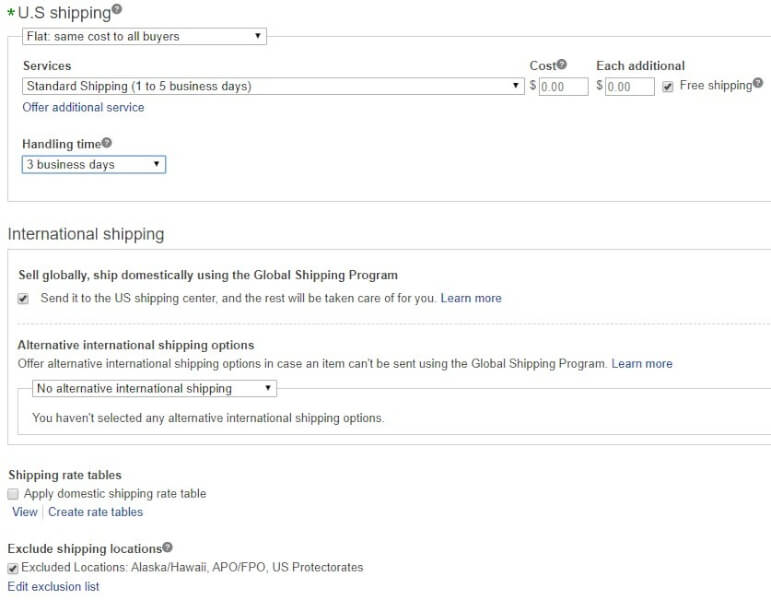 How to find products to dropship from Wayfair?
Seasonal deals
There is nothing like the holiday season to spark sales for dropshippers.  A fixed category on the Wayfair homepage is the "Holiday" Tab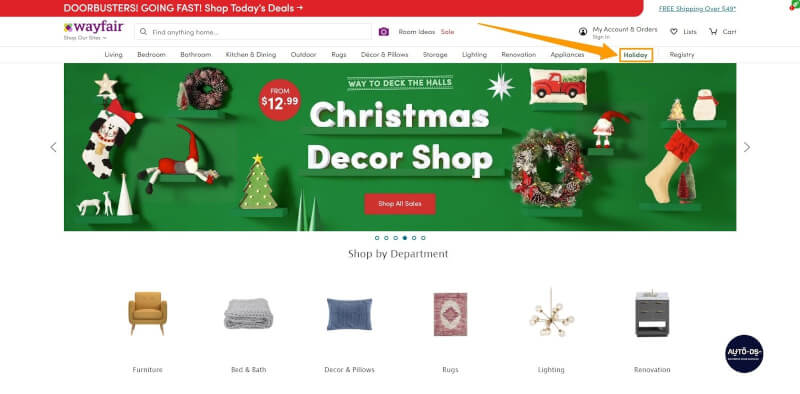 Pick a select holiday or select shop ALL.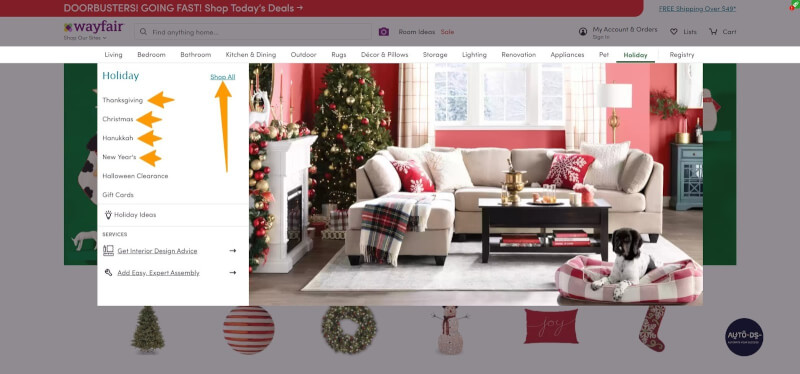 Room Ideas
Who better to give you ideas than Wayfair.  Their "Room Ideas" section has many great products that buyers are seeing and being pushed as trending items.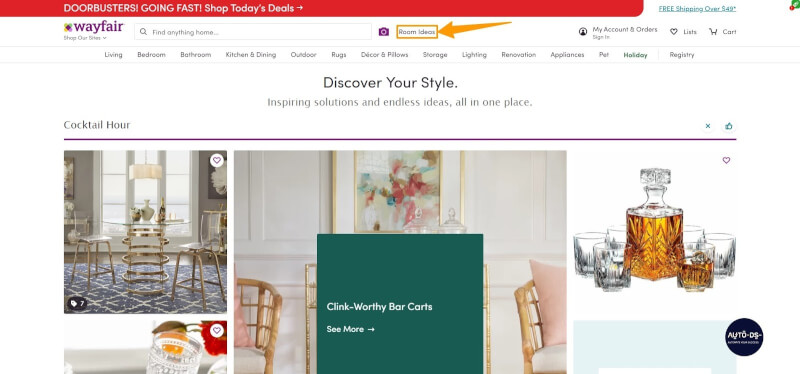 Sale Items
If you are wanting to find items currently on sale to boost a few listings, the "Sale" section is always a reliable place to start your search.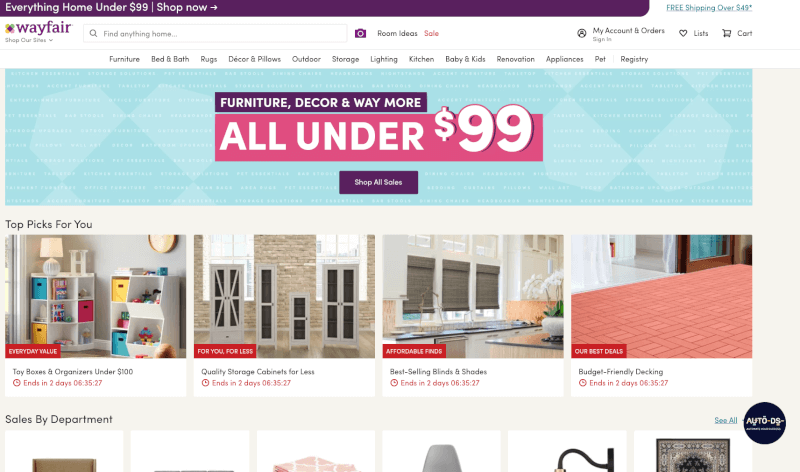 Doorbuster Deals
"Doorbusters" are closeout items and you should check often as new items are added daily.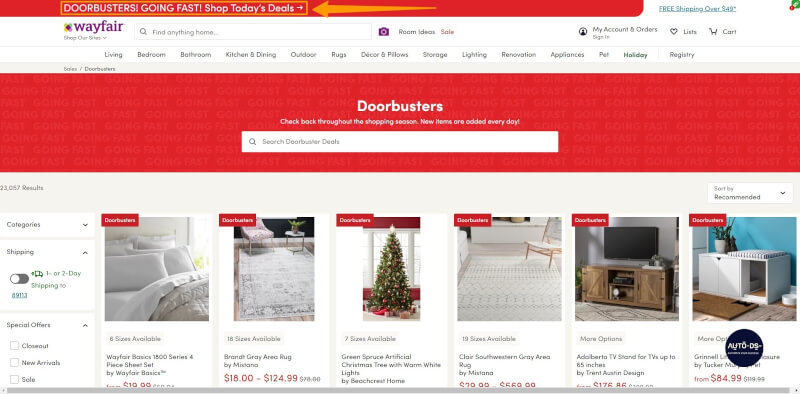 Wayfair Customer Support
Wayfair has a "Quick Service" customer support contact us feature.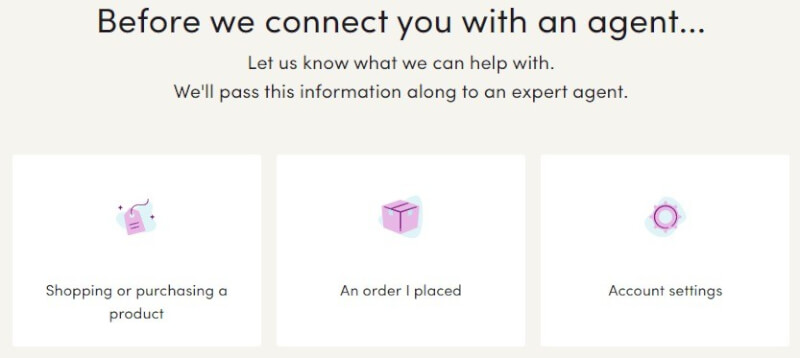 The Wayfair US Hours of Operation posted online are (All times [EST] Eastern Standard Time Zone):
Mon – Fri:         8 AM – midnight
Sat:                 8 AM – 8 PM
Sun:                 9 AM – 6 PM
The Wayfair UK Hours of Operation posted online are (All times [GMT] Greenwich Mean Time Zone):
Mon – Fri:         08:00 – 19:00
Sat:                 08:30 – 17:00
Sun:                 08:30 – 17:00
Payment Methods
Wayfair Credit Card
Wayfair also accepts the following additional payment methods:
Credit/Debit Cards (American Express, MasterCard, Visa, and Discover)

Wayfair Gift Cards and Store Credit

Wayfair Rewards

PayPal

Affirm

Personal Checks, Cashier's Checks, and Money Orders

Purchase Orders

Wire Transfer
Dropshipping from Wayfair using AutoDS
Using the Wayfair to ebay dropshipping tool,  for your dropshipping business to become much easier and fruitful. Plus, dropshipping on eBay has never been easier with the help of AutoDS! With the help of the AutoDS Helper extension extract all products from a specific page on Wayfair at once to help assist in speeding up the listing process on eBay by following the steps below. 
Choose your category. Then, click to select the "AutoDS Helper Tool." Scroll to the bottom of the page and then click "Extract"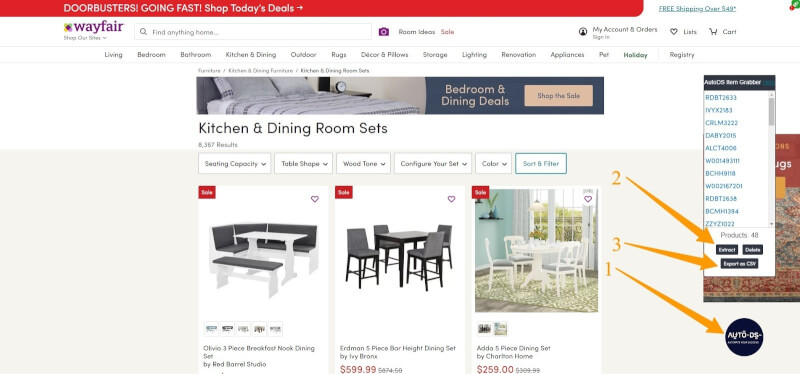 Next, go to your AutoDS account and click 'Add Products. Make sure to change your source product site to Wayfair US. Finish your preferred selections and upload your new listings. Enjoy sales.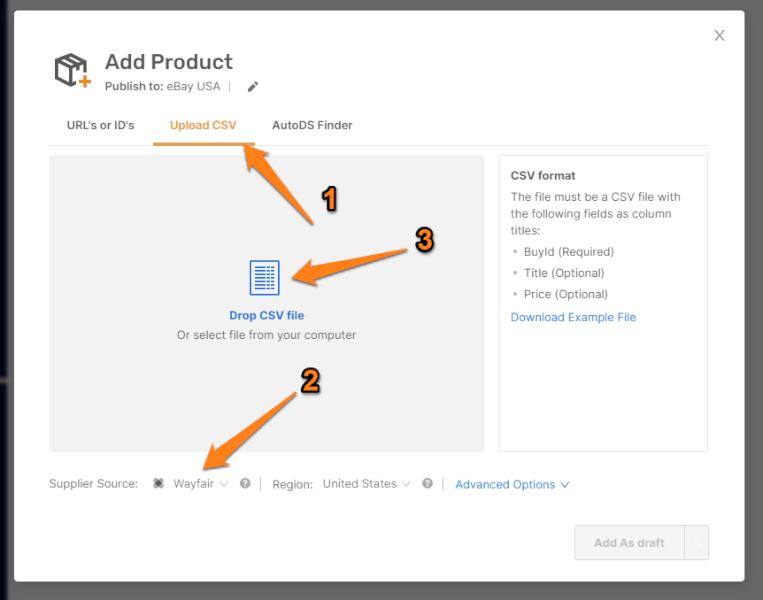 Summary
How is Wayfair helping your dropshipping business?  View the previous article on Wayfair here. We want to hear about your success stories and experiences below.