Home decor is the aesthetic and atmosphere of a house. It is quite endless, made up of products, accessories, and everything in between; this niche is perfect for dropshippers.
Paintings, frames, posters, wall mirrors, furniture, vases, and so much more! Anything decoration that adds a spark to space can be considered home decor.
Additionally, home organizational products and renovation products are often sold in this niche too. That alone already expands you up to a whole new audience.
The beauty and appeal of any home besides the architecture is the interior design, and without home decor, you can't design the interior.
In this article, we will dive deep into selling products from within the home decor niche. We will go over all the burning questions. Which products to sell, what suppliers to use, as well as how and why.
So keep reading to learn how to start your very own online home decor dropshipping business.
Why Home Decor is Profitable for Dropshipping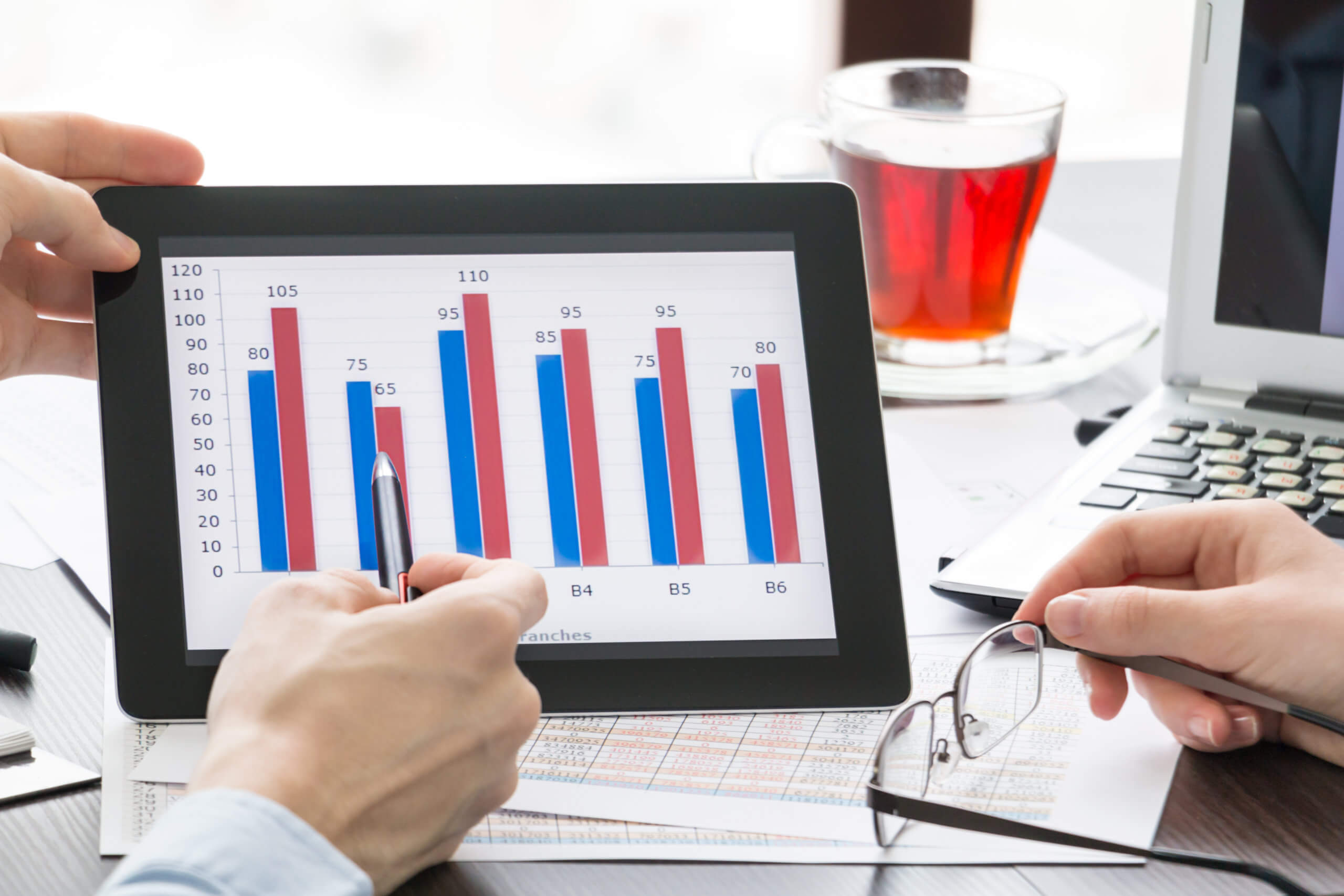 The value of the home decor industry in the US alone was forecast to reach 202 billion dollars in 2024. That would be a 20% increase from the previous 2019 value, which stood at 169 billion.
The home decor is one of the biggest evergreen niches that just keeps growing from year to year. One of the key factors about this niche is that it covers such a wide range of products.
As a dropshipping store owner, this gives you the flexibility to narrow down your product search, go for specific product categories, or give your buyers a vast selection.
Top Home Decor Product Categories
As stated above, the home decor niche is such a rich and diverse niche to sell. This is why we made sure to mention the top product categories, so you know exactly where to start.
This is by no means all of the different categories, just the most prominent ones. Starting with furniture, which has a global market value of over 500 billion dollars.
Home furniture & decorations

Textiles and rugs

Art and prints

Storage and space organization

Curtains & blinds

Plants

Garden furniture & decorations
There are tens, if not hundreds of thousands of products in each category listed. You will never run out of products to sell. You could even build multiple dropshipping stores using the home decor niche—one for each product category.
Additionally, make sure to dive deep into each category. There are tons of hot sellers to be found, so don't just select the general best sellers from each category.
Furthermore, check out each category's subcategories. Example – From furniture, you can get into bedside tables or couches. The further down you go, the higher the chance you will have to find hidden gems.  
Besides that, we can instantly achieve success by importing these winning home decor products to our store.
Best Home Decor Dropshipping Suppliers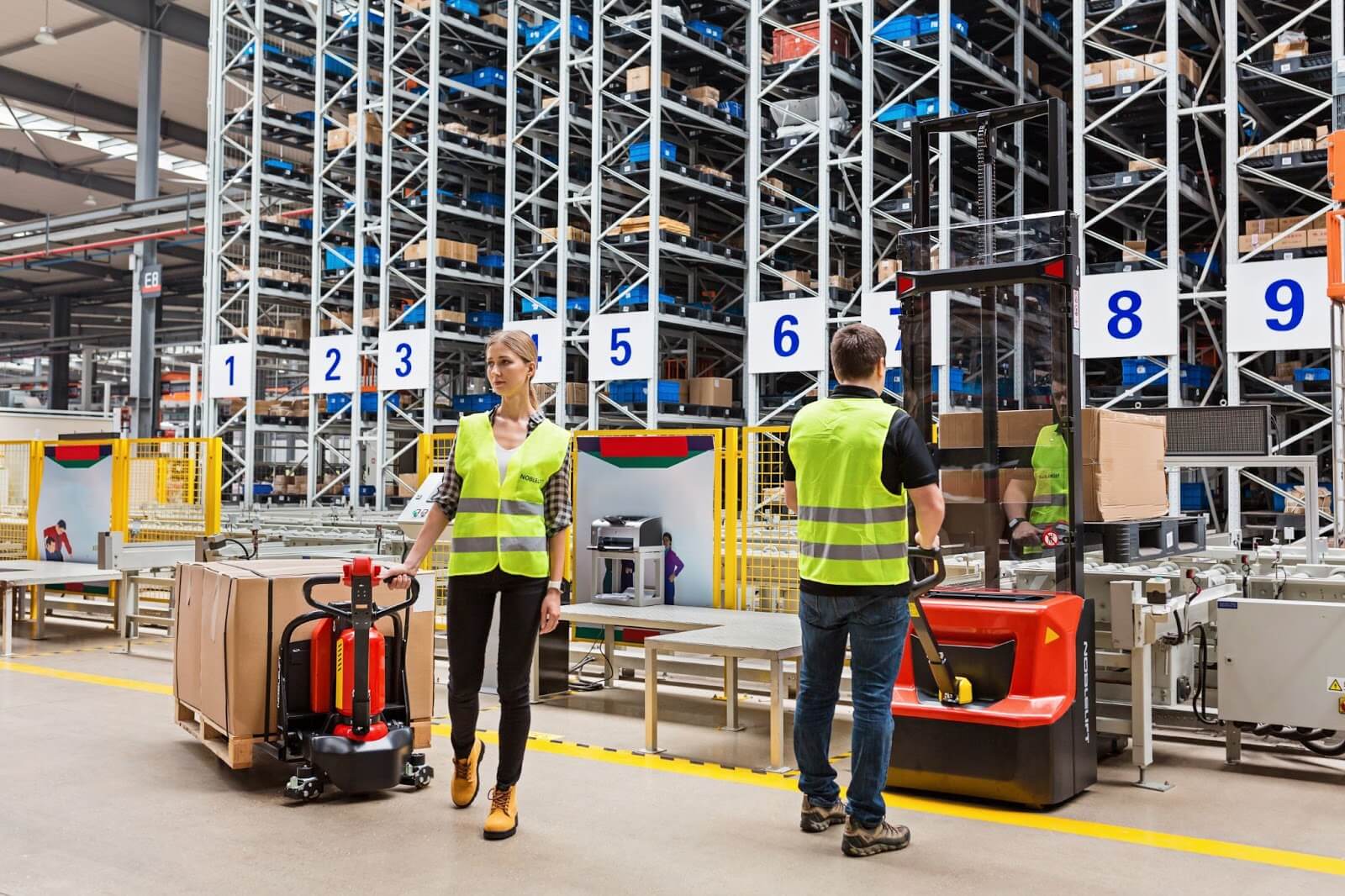 So now that you know more about the home decor niche, let's get into the best home decor dropshipping suppliers to use for your eCommerce business.
Choosing the right supplier is key. You want good quality products with decent shipping times to ensure your business's longevity.
Luckily, AutoDS supports 25+ suppliers worldwide (US, EU, CH, CA, AU), most of which could be used to find home decor best-selling products.
We researched for you and gathered the top 10 home decor dropshipping suppliers to narrow it down for you.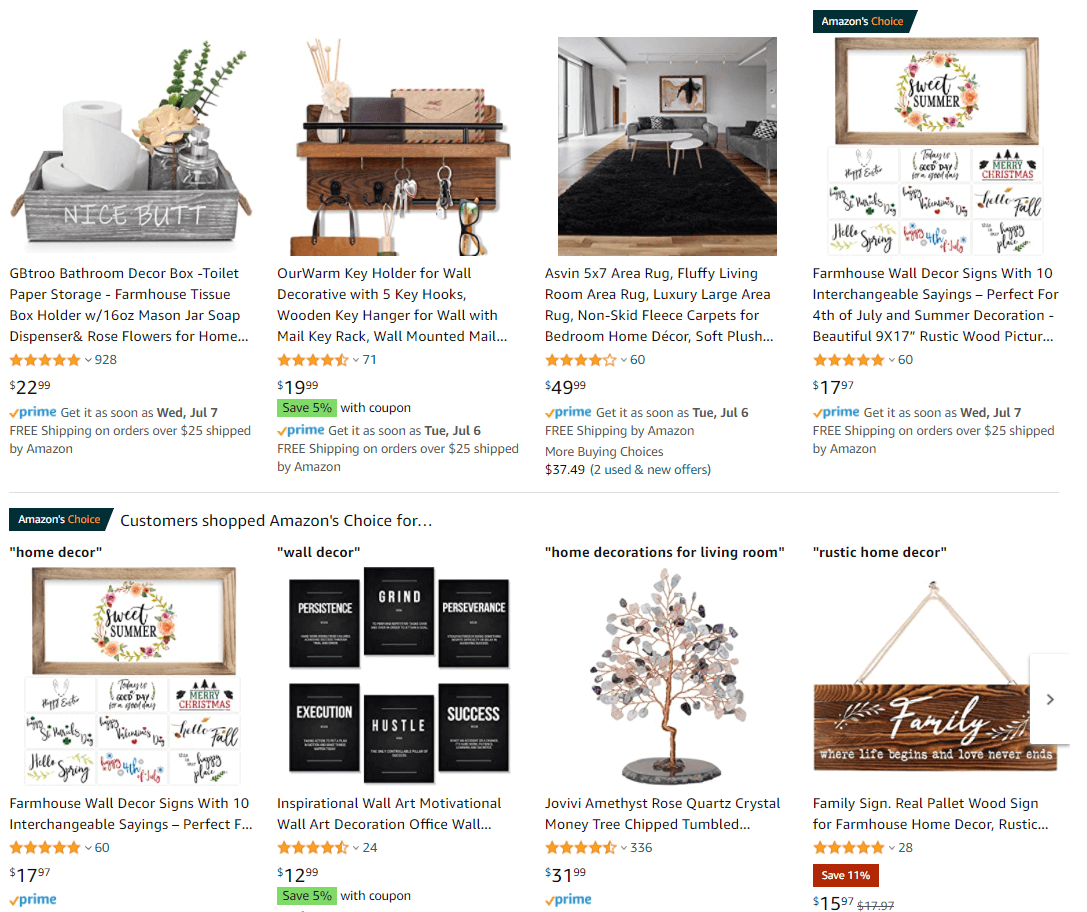 First on our list is the biggest online marketplace. It is no surprise that Amazon is usually the first on all lists, simply because they have it all!
The home decor niche is thriving on Amazon, along with all of its product categories. To go with their HUGE selection of home decor products, Amazon's shipping is top-notch.
Fast and reliable shipping is provided for all products. Additionally, same-day to 2-day shipping is offered on tens of thousands of products when using their Prime membership option.
Another big factor as to why we dropshippers love Amazon is their fantastic customer support. If there is ever a case of shipping or tracking issues, cancellations, returns, or a problem with a delivered item, you can rely on Amazon to help.
Take advantage of the world's most massive marketplace and start your home decor business with one of the most popular dropshipping suppliers. 
Next, we have AliExpress. AliExpress is an online retail service based in China and owned by the Alibaba Group. Many call it the eBay or Amazon of China, as the platform format is very similar. Suppliers and independent sellers get to market their goods to buyers.
Since AliExpress has such an extensive choice of suppliers and literally over 100 million products, we recommend searching for specific home decor categories and then subcategories to make product finding easier.
One of the biggest perks of using a Chinese supplier such as AliExpress is that their prices are low compared to American or European suppliers. This means you can offer competitive prices and outshine your competitors and still keep a high-profit margin on your sales.
Their shipping is worldwide, so you are not limited, plus you can use their US warehouse when selling to the US market.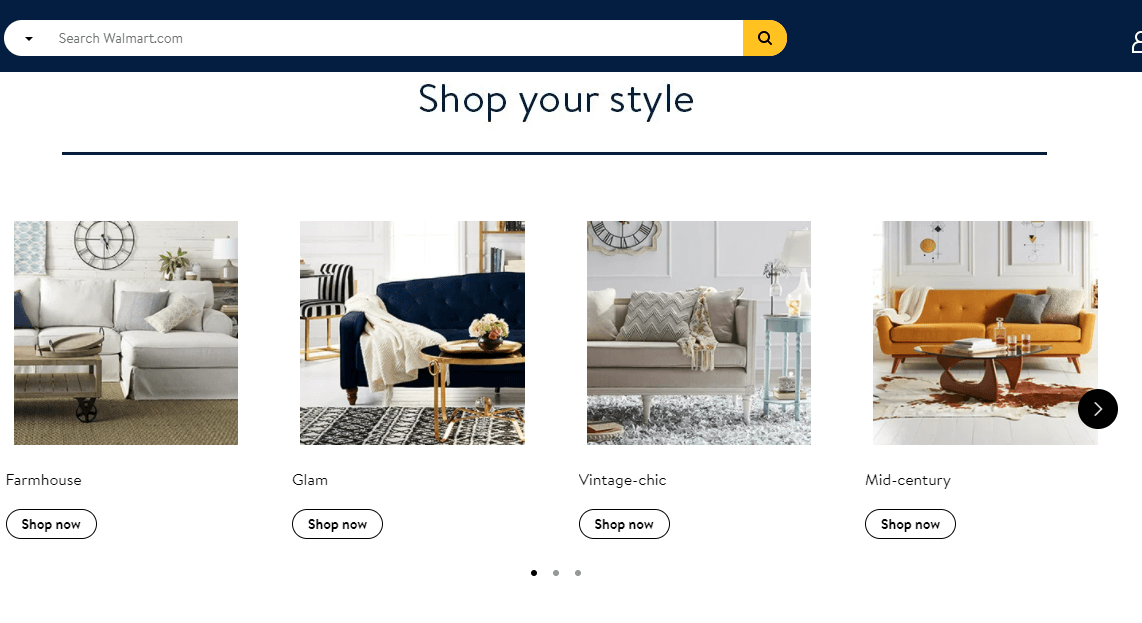 Third on our list is Walmart. With over 50 home decor product categories, Walmart is another great American supplier to use for finding home decor products to sell in your dropshipping store. 
They offer plenty of high-ticket items that raise the potential profit margins and offer free next-day shipping. That helps with accumulating returning customers. 
Another fun fact about Walmart is that they have a "price match" policy. This means that if you buy a product from them and the product price decreases within the return period, you can get the difference refunded.

Next up is Target. Shopping from the 10th biggest retailer in America definitely has its bonuses.  Target offers 45 private label brands to shop from, many of which include home decor products. 
Alongside quality products and overall good service, free 2-day shipping is provided for any order above $35.
Furthermore, if you have a decent amount of products from Target in your dropshipping store, signing up for their special program that gives you same-day delivery will surely be beneficial.
Another advantage that Target has to offer is their "Red Card". Target RedCard holders get Free 2-day shipping without any minimum purchase. Additionally, another extra 5% discount is given at checkout for most purchases.
Lastly, let's go over returns. Returns for dropshippers can be a tedious task. Target makes it especially easy for their Red Cardholders by adding an extra 30 days to the 90-day return policy.
Needless to say, there are plenty of ways to truly save a lot of money and hassle by joining their Red Card club.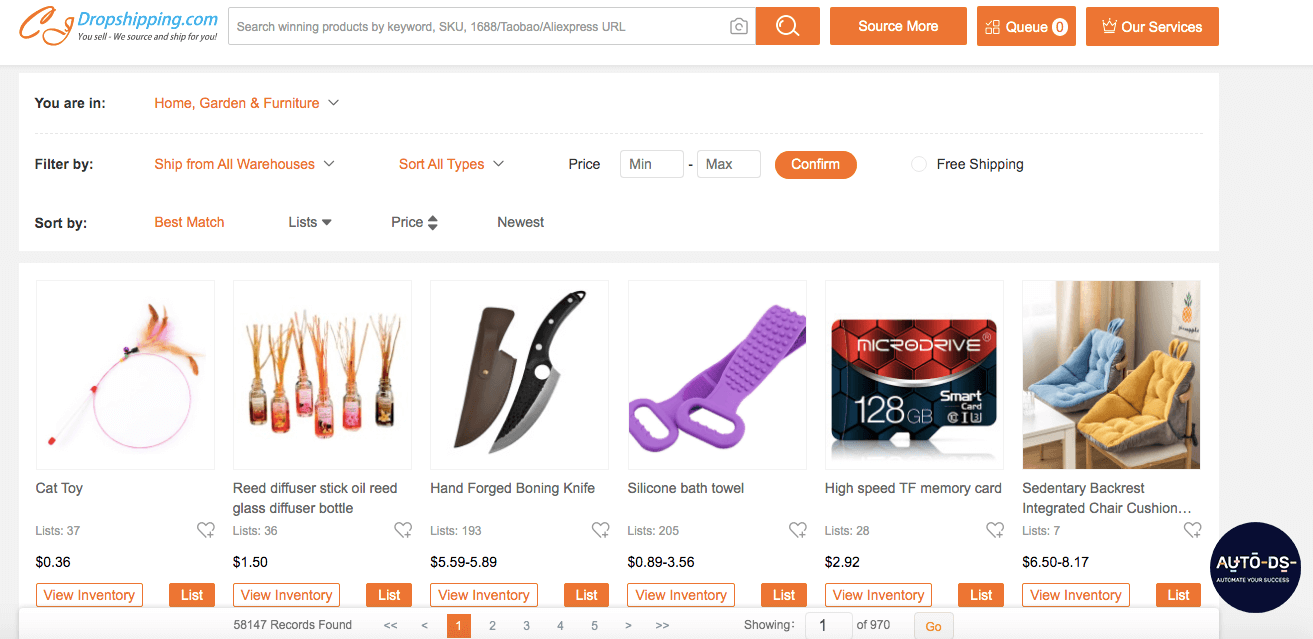 Fifth on our list, we have another great Chinese supplier. If you haven't already heard of Cj Dropshipping, let's let you in on a dropshipping jewel. Cj Dropshipping is special compared to other big dropshipping suppliers because of their extra services and solutions. 
General "features" are their low prices, huge selection of categories, subcategories, and products. This is to be expected from a Chinese supplier.
Multiple things truly set them apart from other top suppliers. 
Order fulfillment is taken very seriously.  This can be seen by the number of warehouses in the US and all over the world. 
This allows for their shipping and delivery times to be faster than most other Chinese suppliers, and that within itself is already a big plus.
Another neat thing is their sourcing and negotiating of deals. This means if there's a product you want to sell from a different supplier and can't find it on their site, you can post a sourcing request to CJ APP.
They will find the product for you and offer a competitive price. They will also provide you with quality images and videos for you to use in your product listings.
Additionally, Cj dropshipping can aslo source items for you in their warehouse. If you find a product that is selling well but it is from China and you want to be able to provide faster shipping to your buyers, no problem.
You can get a quote from them and have them store it for you in their warehouses and pay them only after getting some sales first.
Lastly, if you're looking for branding options for your store, Cj Dropshipping offers white-label options. That includes your own logo and custom packaging.
All of these benefit your store and can help scale your business immensely.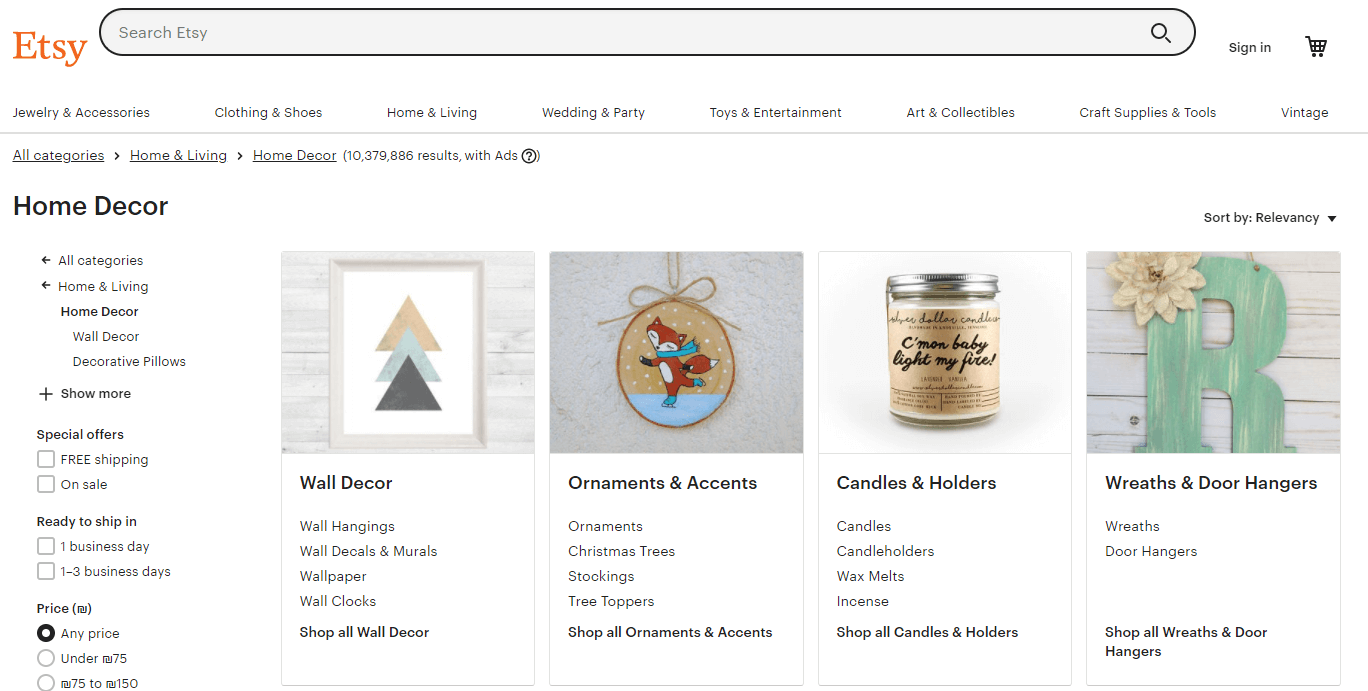 Sixth on the home decor dropshipping suppliers list, we have a marketplace that took the world by storm. Etsy definitely stands out from the other suppliers, as it focuses on craft products, vintage items, and handmade items.
If you're looking for something unique and eye-catching, Etsy is the way to go.
Due to their clear goal of straying away from mass-produced products, you can easily find funky specialty items and offer your buyers a mix of more personalized or custom items.
Plus, the more funky and quirky, the more people are willing to spend. High profits can be made more easily when selling hard-to-find items.
Outshine your competitors with more eccentric items and wow your customers.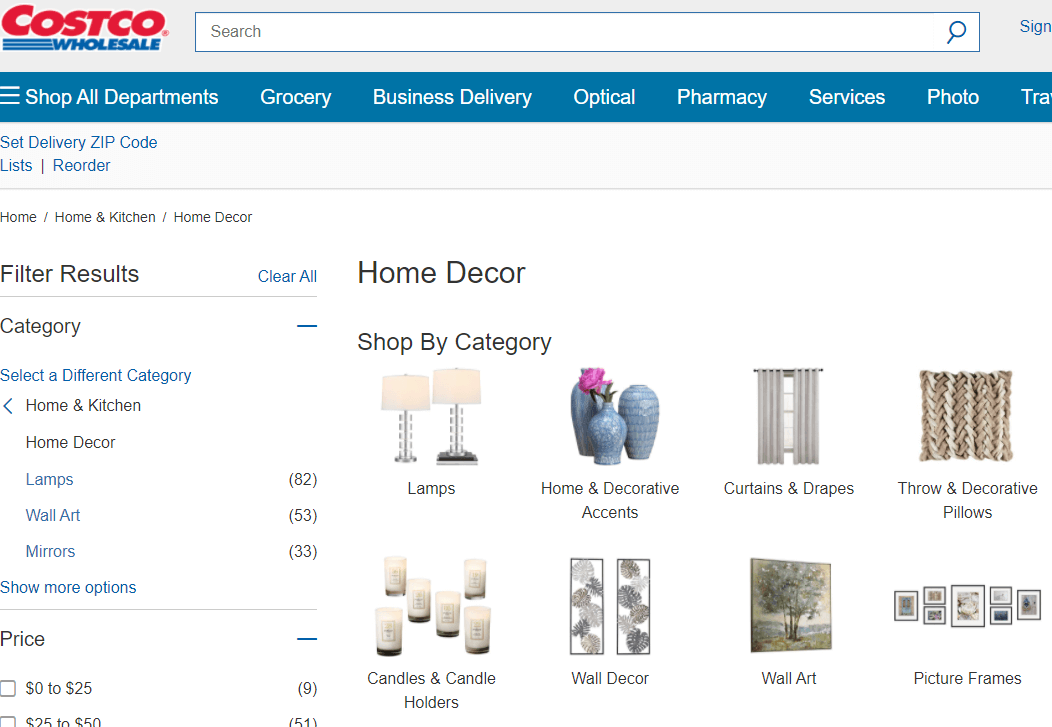 Our next American supplier is a known giant. Being one of America's biggest wholesale suppliers, they've become a dropshipping favorite. Costco is unlike any other supplier due to its business model.
Their revenue profit actually comes from their monthly membership card fees and not the products they sell. They offer great prices and all sorts of deals to keep customers coming back, so their margin on items is quite low.
They have a huge catalog of items, and their home decor section is very diverse. Costco's shipping time is 3-5 days so that you can offer buyers quick and reliable shipping.
Their return policy is up to 90-days on almost all items, which is another perk for dropshippers, and when it comes to supporting, they're spot on.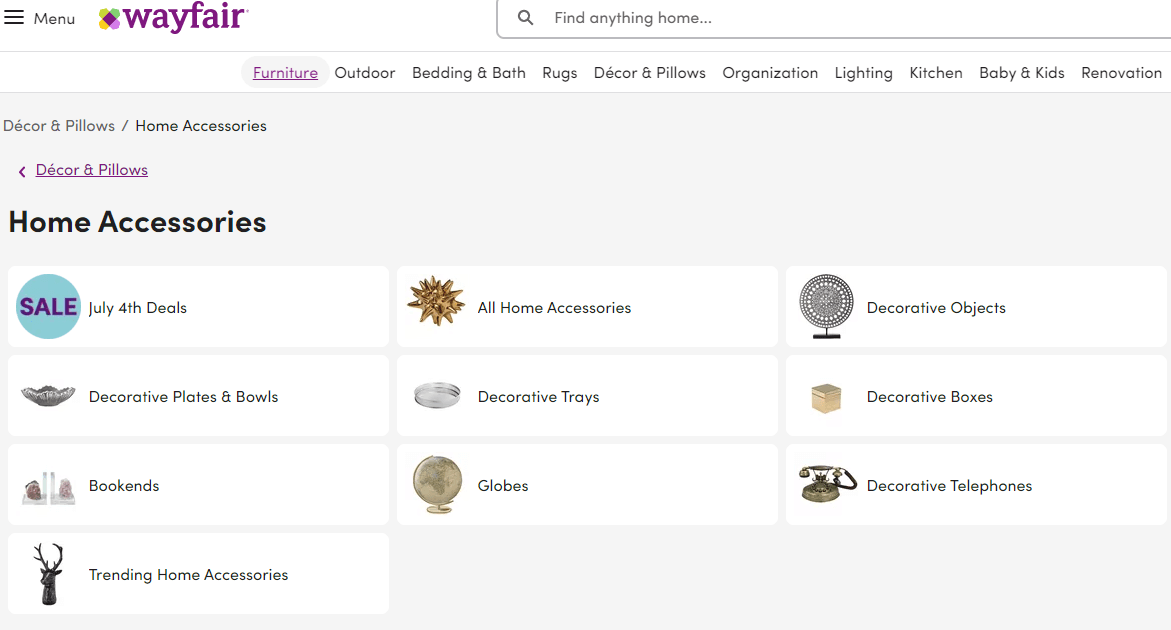 Following Costco, we have another beloved American supplier. Wayfair actually started as a furniture and home goods store. It quickly grew from a small private business to a platform that hosts 14 million items from more than 11,000 global suppliers.
Our favorite features and benefits about dropshipping from Wayfair start from products. They have plenty of unique items that are not so easy to come by, and price ranges vary.
Wayfair provides 2-day shipping on all products without charging extra fees on products $49 and up and $4.99 on anything under.
When it comes to placing orders, Wayfair has Paypal as a payment method which is perfect for dropshippers who want to avoid using personal credit or debit cards.
For those wanting additional benefits, Wayfair has a "MYWAY" program for recurring customers.
If you start dropshipping their products, you can sign up to get free shipping on all products and access to thousands of exclusive products for just $29.99 per year.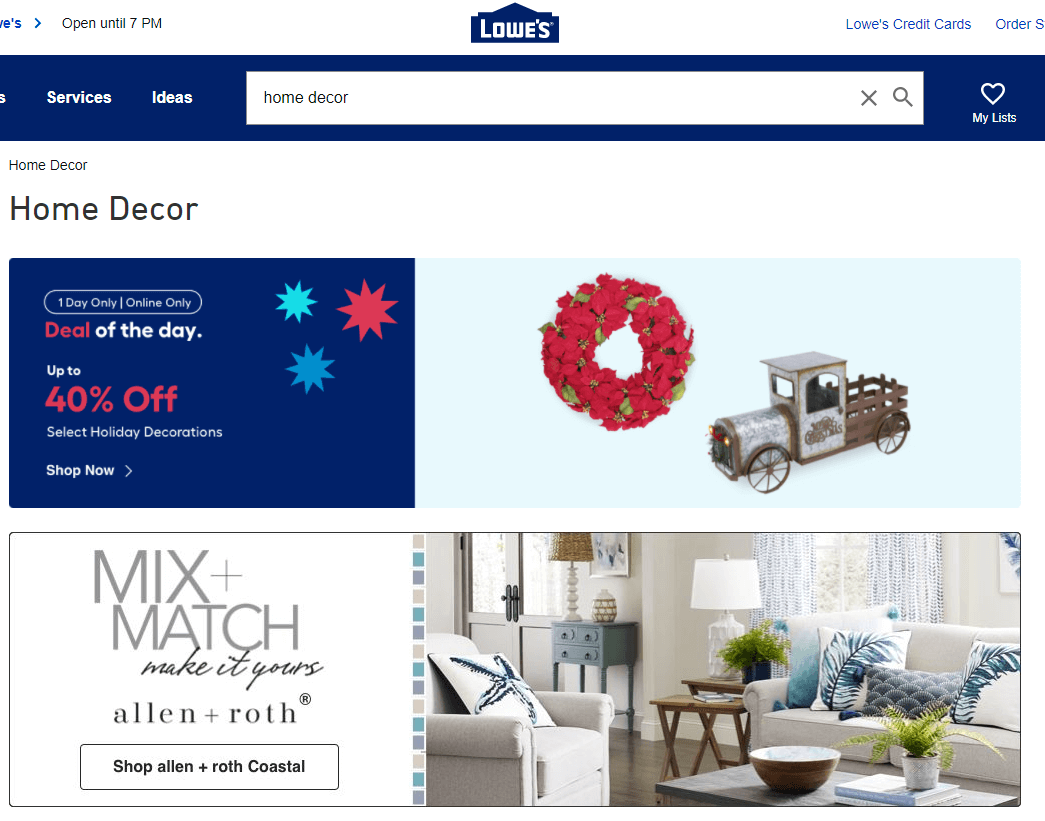 Second to last, we have Lowe's. Known as the second-largest American retailer specializing in home improvement products, it is a perfect choice for finding home decor items to dropship.
With such a big selection of products, hundreds of home decor products are easily found for even multiple dropshipping stores.
As for delivery, Lowe's offers 3 shipping types. Standard: Delivery in one to four business days, Two-Day: Delivery within two business days, and Next-Day: Delivery the next business day. Free standard shipping is available on orders of $45 and up.
Additionally, they have a "Pro Loyalty Program." Benefits include; Personalized offers relevant to your business, spending tracking and purchase history for any registered card, and Lowe's tools to help manage your business.
If you start using them as a supplier for your dropshipping business, consider signing up for their protection plan. This is like an extended warranty.
The 3 key features are; No deductibles or extra fees, coverage can be transferred to a new owner at any time, and your wallet and product are protected from day one. Putting this to use just takes filing a claim on their site, which is quick and easy.
On top of all these great features, our favorite has got to be the "Lowe's Business Cards."
As a cardholder, you will receive exclusive daily 5% discounts, lines of credit or prepaid accounts, discounted deliveries, convenient billing and invoicing options, and even exclusive cardholder events.
There are 3 card types to choose from; Monthly or Revolving Payments, Pay in Full, and/or prepaid.
To put it simply, they go above and beyond for customers, and their perks are pretty incredible. 
Last but not least, we have Costway. In 2008 Costway started as a small online retailer. They quickly spread out and started selling their name-brand products on large third-party platforms like Amazon and eBay. 
There are many reasons why we love Lowe's as a dropshipping supplier. One of them has to be the fact they offer "dropshipping certificates". Additionally, Costway offers a  pre-arranged 3% discount exclusively for AutoDS members.
Another very dropshipping-friendly perk they offer is providing CSV files daily after the certification, which contains everything you need. This includes links to images, descriptions, and stock management.
Shipping is also very convenient. Costway offers free standard shipping on all items. UPS, USPS, or FedEx delivers all orders. Orders are normally handled within 24 hours, and shipping time is 3-5 days, depending on the destination and the carrier chosen.
Lastly, Costway rewards buyers by providing redeemable coupons plus other hot offers. You can earn a rebate of up to 3% according to how much of your store sold.
As you can see, Costway supports dropshippers and makes our lives easier. It is definitely a quality supplier to use for your dropshipping business.
Adding Home Decor Products to Your Dropshipping Store
Now that you have multiple home decor suppliers to choose from, the next step is adding products to your store.
To save you hours of tedious manual work, we have our very own Helper extension that is specifically designed to help you add products to your dropshipping store.
The AutoDS Helper Extension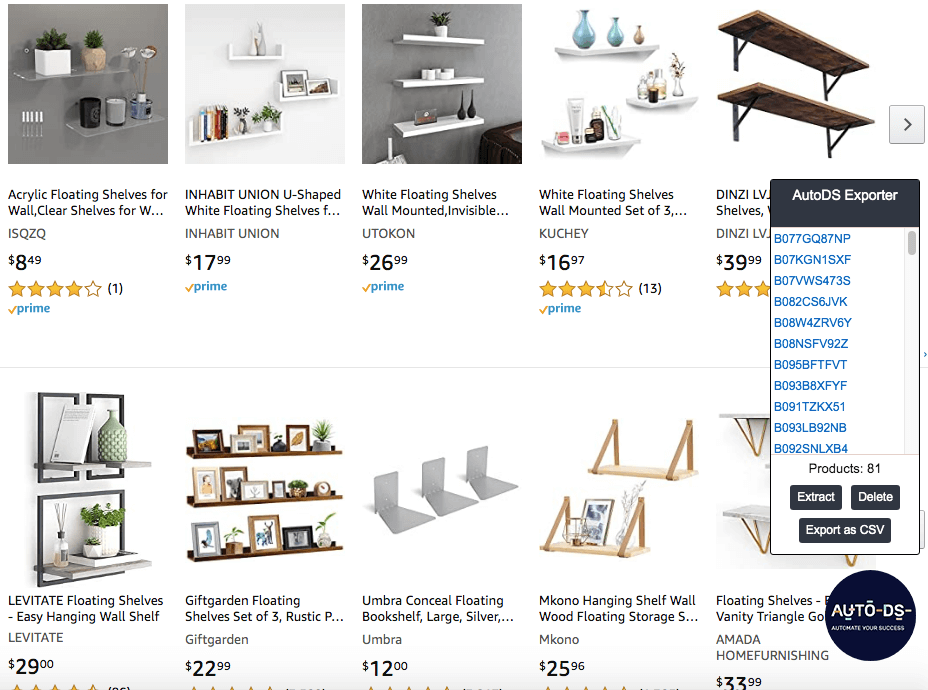 Our AutoDS Helper Chrome extension enables you to quickly grab and import products from any of our 25+ supported suppliers.
With just a few clicks, easily add hundreds or thousands of products to your dropshipping store. Add our extension to your browser, go to your favorite supplier, and start searching for products.
One-Click Importer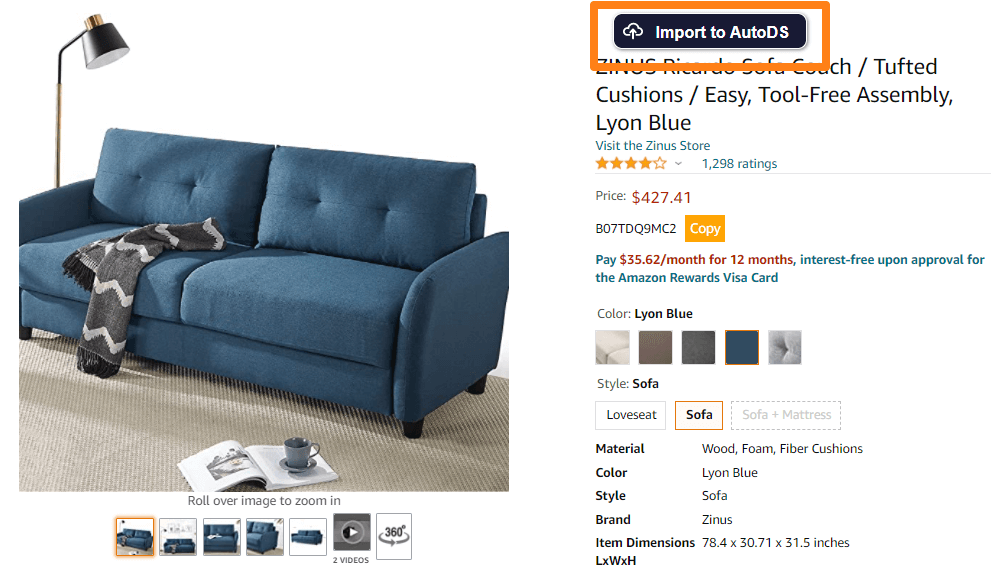 If you come across a product you want to add, click on the product and hit "Import" to add it automatically. It will then appear on the Drafts page in your AutoDS account. From there, you can edit and optimize before officially importing to your store.
Import Multiple Products in Bulk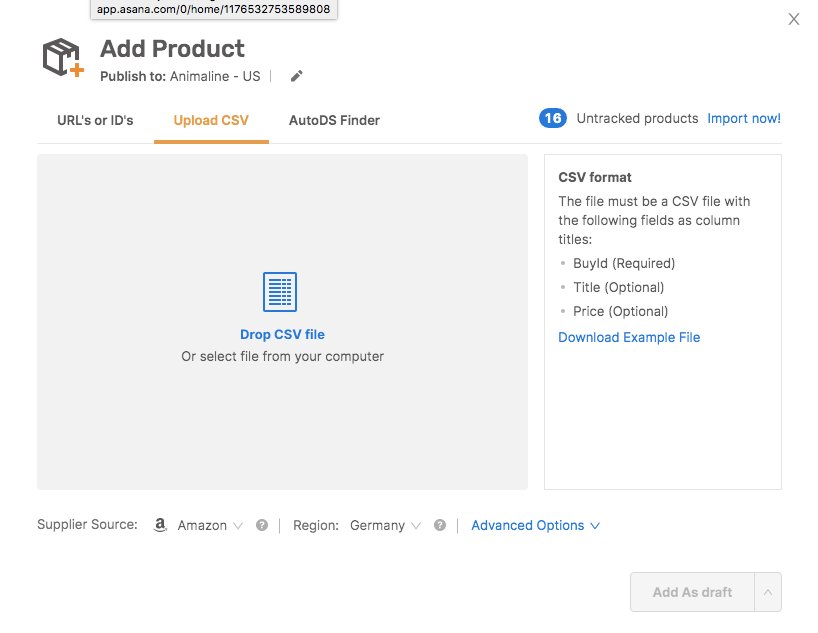 Additionally, to add multiple items at a time, click "extract" to grab all featured items and then "Export as CSV" to have a CSV file automatically created for you.
Next, go to the AutoDS platform. Using the top left menu, click  'Add Products,' then 'Upload CSV.' Drop that CSV file that the extension downloaded, configure your import settings.
That's all you need to save time importing tens, hundreds to even thousands of products at a time.
Automate Your Dropshipping Orders
Order fulfillment is another timely part of dropshipping. Not only does it take up a lot of our time, but in the long run, it can easily hold us back from scaling our dropshipping businesses.
Additionally, with automation, order processing can help reduce human error, improve operational efficiencies, and ultimately speed up the fulfillment and shipping process.
AutoDS has two main order automation solutions to help save you time, focus on improving and scaling your store, or just spend more time with family and friends.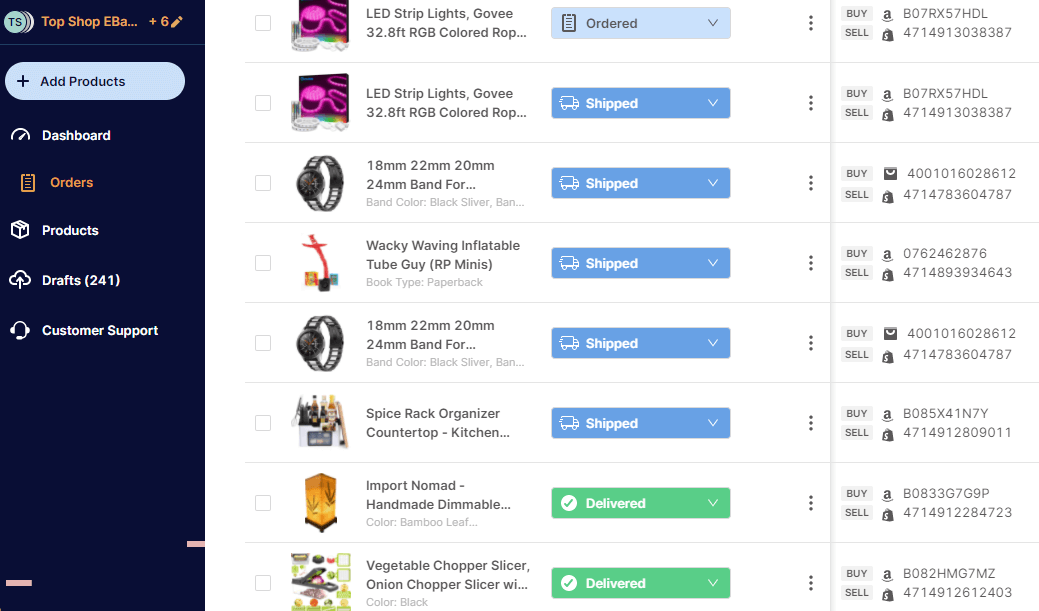 When using Automatic Orders, AutoDS will automatically order the products from your supplier for you. Additionally, our system automatically updates your buyers with their product tracking number information as soon as it is available from your supplier. 
Another great feature is our automatic messages to buyers. (relevant for eBay)
This helps provide a top-notch customer experience, increases your seller metrics, and helps you gain more positive feedback ratings for your store.
If you're dropshipping using any of the suppliers mentioned above, you can start using automatic orders. Just create a buyer account with your supplier, enter your payment details, and enable the feature in your AutoDS account settings.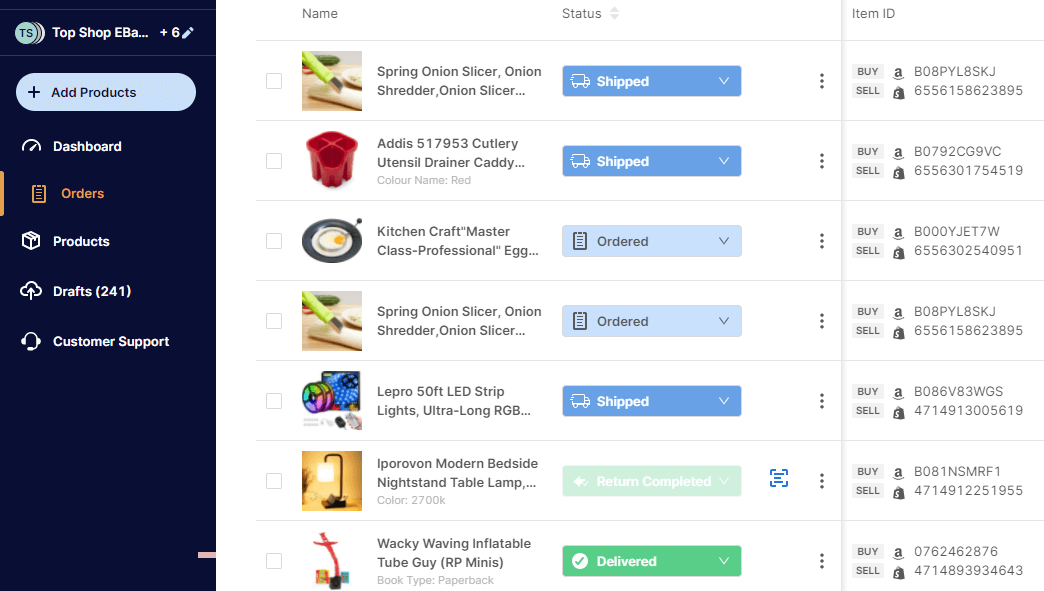 The second solution AutoDS offers to automate order fulfillment is through the Fulfilled by AutoDS service. This option is more advanced and has extra perks.
One of the differences between Automatic Orders and The "Fulfilled by" service is that AutoDS purchases all the products for your buyers. This means no more account locks/orders cancelations/credit card cash flow or limits.
Every item is ordered using our own accounts. All you need to do is load the balance using PayPal or Payoneer.
Another major feature is the quick and easy returns system. This means less hassle and time wasted for you. If an unsatisfied customer wants to return their product, you will see a "Return" status appear on their order on the Orders page.
When you click the button "Return," our team will get the return label and put it in the system for you. So orders and returns are a worry of the past.
Conclusion
We hope you enjoyed our quick guide to the home decor niche. Whether you are already selling home decor products and you were looking for new suppliers to use or you want to start selling items from within this niche, now you have everything you need.
There are many great suppliers to use, and as mentioned above, it is an evergreen niche. That makes it the perfect niche when looking for stability for your dropshipping business.
We'd love to hear your feedback on the article. Are you dropshipping home decor products? Have you been using any of our recommended suppliers? Let us know below in the comments. If not, go ahead and start and get back to us in a month to know how it's going for you!
If you're looking for more product or niche ideas, make sure to check out the following articles: