We will cover everything that you need to know to start working with this fantastic dropshipping supplier, called Overstock.
You will know everything from product finding, shipping methods, shipping speed, prices of shipping. Also, Overstock's special programs and policies. Without mentioning that we will also cover how to process returns from Overstock, which type of products can you sell from there and how does the Overstock customer support work.
1) 5 Shipping Days
The first thing that we want to talk about is that for sure, this is an American supplier. So we have up to 5 shipping days to any location in the United States.
2) Free Shipping
The second exciting thing here is that the shipping is free. So we can send all of the products of Overstock with one condition that we will cover by the end of this article.
It is something crazy for us as dropshippers because it allows us to be much more competitive.
3) Overstock Customer Support
If you go to the bottom of the page in Overstock footer and click "Contact Customer Care". You can easily access the live chat option.

So we can see the chat is open most of the time in the day, which allows us to communicate easily with Overstock. So we can give our customers the best customer support that we can provide.
They have excellent customer support compared to any other American supplier that you already tried.
4) Paying using PayPal
The thing about Overstock is that they support paying using PayPal.
Let us take a product, for example, this one. And click "Add To Cart".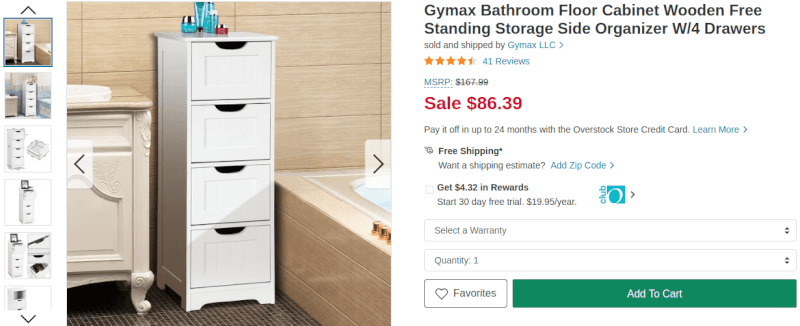 Then if you click on the cart, you will see that Overstock supports PayPal, which is excellent for us.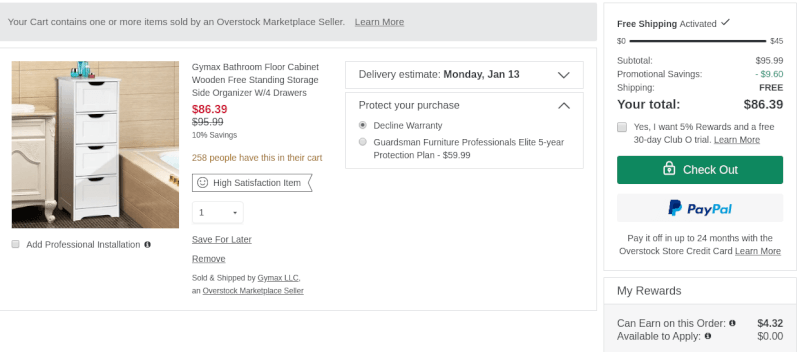 We don't need to have a headache about how to transfer money to our credit card and about cash flow. We get money by PayPal, and we can pay using PayPal directly on Overstock.
It is fantastic because many people prefer a supplier that accepts PayPal.
5) Fewer Warehouses, Fewer Taxes.
Overstock doesn't have a lot of warehouses, which is good for us as dropshippers.
Because the shipping time is fast, and we don't have to pay taxes to most of the states in the United States.
Overstock doesn't have warehouses in all of all the states, so in many cases, we will not need to pay these taxes.
Therefore the amount of taxes that we have to pay is low when we work with Overstock as a dropshipping supplier.
6) Club O Program
The club O program is a program of Overstock. It is Overstock's loyalty program where you can first try it for 30 days for free, and then it's just $19.95 for a full year.
It's nothing if you compare it to Amazon prime or any other site, you can see that this is cheap and worth it.
Using this program, you will have free shipping for all of the products.
You will get a 5% cashback for any Overstock order.
It allows us to get even more profit per sale. Now, let's jump into the last three things.
7) Price Match Guarantee
Overstock promises you that you will get the lowest prices in the market. 
So if you find the product cheaper in any other supplier, we can contact Overstock and get money back for the price difference.
It is incredible for us as dropshipping because we know that we will be able to be always the cheapest for any specific product. Because if we find it at a lower price with any other supplier, we can compete with them.
8) Return Policy
Overstock return policy says that they have 30 days returns, but after 30 days, Overstock still offers you a partial refund.

eBay promotes products that offer 60 days returns. So if you compete with someones else who do drop shipping from Overstock, you can put higher returns time And then you will be ranked over and much higher than they are in the search algorithm of eBay.
We recommended you to put for Overstock 60 days returns even if it means that sometimes you will lose money.
You will not lose all of the money and all of the price of the product, because they offer a partial refund.
9) Overstock Sales & Deals
Sales and Deals category in Overstock sorted in a very organized way. You can easily walk through it.

For example, let us choose the "Rugs under $100" to find outstanding products.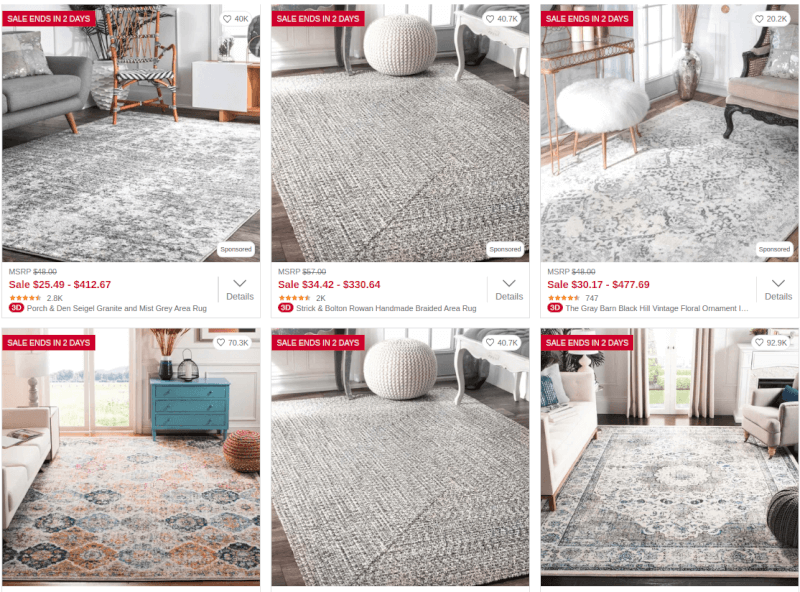 You can even sort the result by Best Selling, On Sale, Price, Customer Rating, and New Arrivals.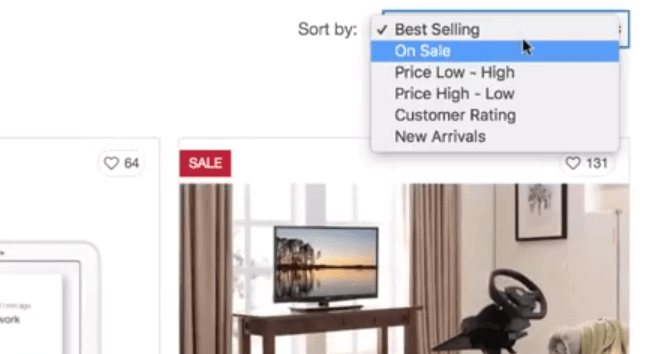 Now, look at how many different products we have currently on sale on Overstock.

Because not a lot of people are working with this supplier, we will be much more competitive than any other of your competitors.
If you go to this category every day and find products that have good discounts, you can list them using a dropshipping monitor tool like AutoDS.
This way, you will be sure that when the price gets increased, your selling price will also get increased because the monitoring system covers you.
So you can list products with this category, and start selling them immediately because you will be much cheaper than the competitors and then you will make a lot of profits.
We like this supplier, and we recommended you to at least try and work with them.
You can see that you also have coupons for them using PriceBlink.

Just jump into the water; don't be afraid. Take the risk, It will be hard in the beginning, but we promise you that's for the long term, it worth it.
Conclusion
Now we know why Overstock is a great dropshipping supplier for our stores. With all these great benefits, our business will surely succeed when sourcing products from Overstock. However the true key to success is to work with multiple suppliers that offer various niches. With that said, here are other great suppliers to help us scale our dropshipping business: