E-commerce has been on a continuous growth streak, with an astonishing 4.9 trillion US dollars in e-commerce retail sales in 2021. Predictions show that this e-commerce phenomenon does not show any sign of slowing down, with projections to double that in the next four years.
As part of the versatility of e-commerce, print on demand companies bring a certain uniqueness to our stores. Print on demand (POD) has proven to be a rising trend and a very profitable one that has grown 12% over the past four years. Since the tumultuous year of 2020, a lot of exciting growth has been noted in the print on demand industry, with as much as triple-digit growth.
In this article, we'll explore the world of print on demand. Following the customization theme, we've curated a custom list of the best print on demand companies to source from.
What is Print On Demand?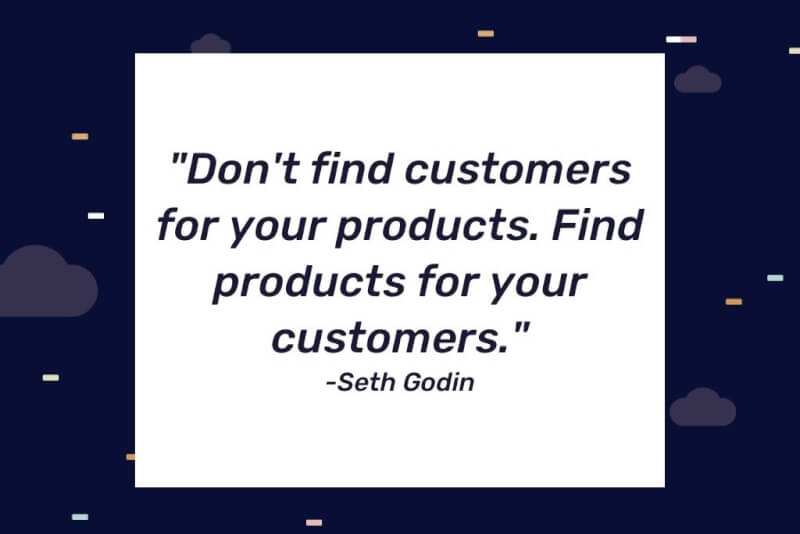 Selling custom products in your dropshipping store is not an easy labyrinth to navigate through. Since the concept of dropshipping is based on the fact that we, as dropshippers, don't hold an inventory, offering custom-made, unique products can seem difficult.
However, there is a trending solution that has given rise to product customization and has shown great appeal to the market (especially millennials and gen Z). Print on demand (POD) is a process where you work with a supplier that offers white label products and has the unique option of customizing and/or branding them. This allows for the unique opportunity to offer branded products in your dropshipping store. 
POD is one of the fastest rising trends in the dropshipping world because it emits the need to pre-purchase inventory. Rather, it works on a per-order basis, completely falling in line with the concept of dropshipping. With that in mind, it would be a good idea for us to jump on this trend and leverage it.
12 Best POD Companies 
Since we've covered the basics of POD, let's dive into that custom list of the 12 best POD companies. Plus, check out the comparison table below for a sneak peak of what's going to be discussed.
Now, let's start making our way down the list and find the print on demand company that's the best fit for us. Let's begin by looking at Printful.
Printful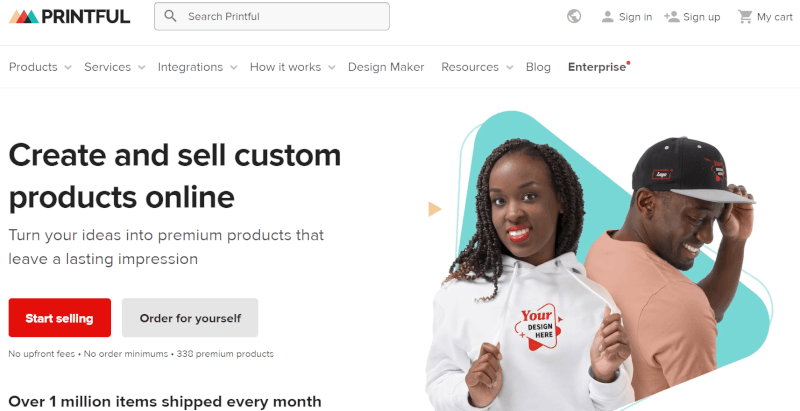 Printful is one of the most flexible print on demand services. Their product variety is up there, with 293 products waiting for our ideas to bring them to life. The platform is super convenient, offering us the choice to upload ready designs or even create designs.
Like most POD companies, Printful offers printing, order fulfillment, and shipping for your dropshipping store.
Let's look into some of Printful's key features that make it so attractive to dropshippers:
Design maker

Printing options

No order minimums

Free to use

Fantastic integrations
Notably, the design maker allows the customization process to be more consolidated on one platform. Rather than making designs and fishing for them in our extensive creative folders, we can create them directly on Printful.
Additionally, their printing options will make our dropshipping store completely unique. Having a product selection in our online store that has direct-to-garment, cut-and-sew, sublimation, and embroidery printing options will surely set us apart and have us beating the competition.
Notably, one of their most attractive features is their pricing. We can use Printful completely for free. In addition, we can design and order as many or as few products as we desire since they also don't have an order minimum.
Printful also has powerful integrations, including major marketplaces like Shopify, eBay, Wix, and even your personal store website.
Printify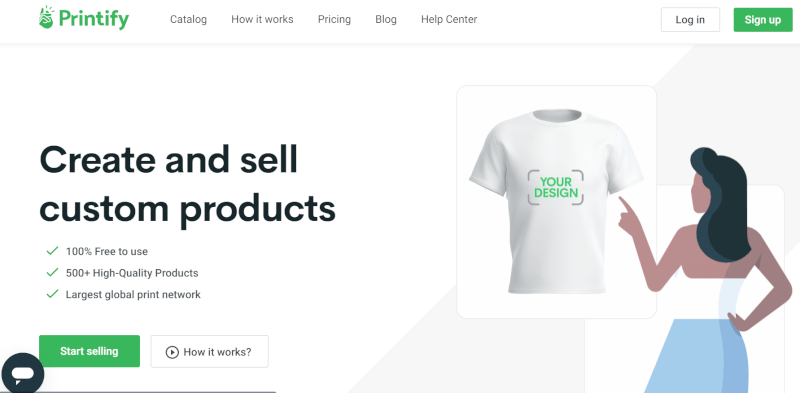 Printify is one of the most reputable POD companies offering the largest selection of white label products. Thir selection spans over 300 products with resources to source for scaling businesses. Printify's hottest selling items include accessories, mugs, t-shirts, phone cases, and custom hoodies.
With Printify, we can completely custom design numerous products and sell them on our terms in our dropshipping store. Additionally, in line with dropshipping, they handle all logistics. From printing to delivery, they have you covered.
Some of the key features that will pique your interest:
Mockup design 

Powerful integrations

Discounts

Printing partners in

over 90 locations

Self-serve help center
With that in mind, let's emphasize Printify's mockup designs and how they allow us to see the finished product even before we order it. We can upload any customized design on any of their 300 products and see realistic mockup previews.
Moreover, their powerful integrations offer the benefit of utilizing the biggest marketplaces to sell our customizable products. Whether we're using eBay, Shopify, or Wix,  Printify is on top of it.
In addition, Printify's locations span over 90 locations, including the United States, United Kingdom, Australia, China, and Germany. This enables us to dropship custom products to multiple regions internationally. Their discounts of up to 20% on all products allow us to remain dollar-conscious.
What's even better is their self-serve help center, where we can learn how to use Printify properly and resolve some common issues. Not to mention their fair pricing options. On Printify, we can start for free and then upgrade to their premium package later.
SPOD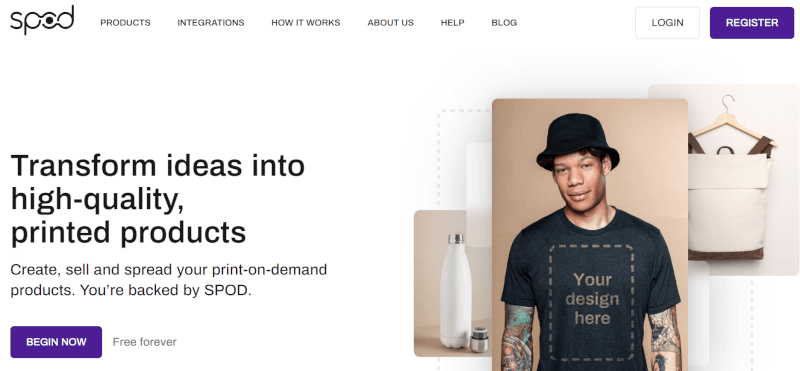 Next up we have SPOD. They worked over the years to become one of the most reliable and affordable print on demand services in the world. With their two production and delivery centers in the US and 3 in Europe, they enable dropshippers to cover more ground internationally.
In addition, SPOD is attributed with the title of "fastest fulfillment service" with a 2-day turnaround time. This means that customers will be able to choose from SPOD's variety of products for men, women, kids, and babies and get the items to their doorstep in no time.
Key Features: 
Production speed

Shipping calculator

Shopify integration

Free print on demand company
With a 48-hour production timeline, SPOD can ensure that customers get their products faster. Another key point that goes well with the fast turnaround time is their shipping calculator. This allows us to see exactly how much it will cost to ship our customized products. In tandem, these two key features allow us to be both time and money efficient.
Although SPOD offers some solid integrations like Shopify, it does fall slightly short of other POD suppliers. Other suppliers offer direct integrations with other major marketplaces like eBay and Wix, while SPOD connects with these marketplaces through a third-party management tool.
However, it more than makes up for that in its pricing in the sense that it has none. SPOD is free to use to your hearts' contempt. 
T-POP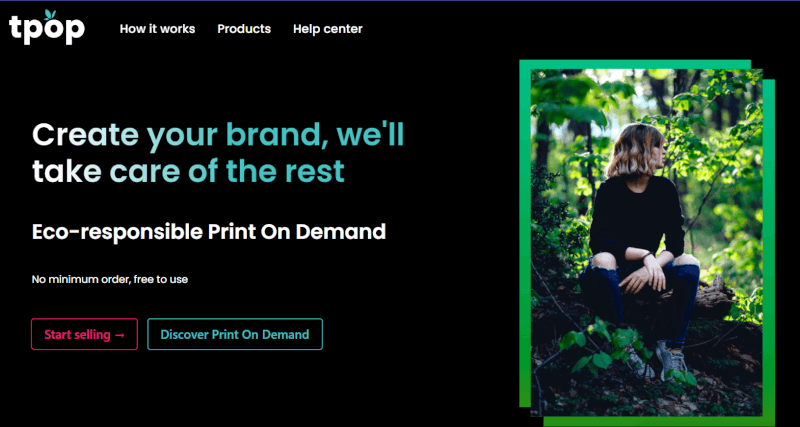 T-Pop is a European POD company that orders out of France and is one of the best out there that we can use for free.
Remarkably, they are fully committed to preserving the environment. T-Pop is synonymous with being green and environmentally friendly with its "zero-plastic" packaging and 100% recycled paper packing slips.
And if that didn't sell you on T-Pop, some of these features will get your head spinning:
Eco-friendly 

Personalization of packaging

Package tracking 

Niche-dedicated
T-Pop's dedication to preserving the environment doesn't end there. Their printing process is completely optimized to ensure that they leave an untraceable carbon footprint. They manage by utilizing inks with Vegan, GOTS, and Oeko-Tex labels in the printing process.
Even though they print in France, they offer full customization of the packaging slips. T-Pop makes this possible by translating the slips according to the destination and local language.
Notably, T-Pop is dedicated to offering eco-friendly products. Their recycled and organic cotton apparel items and accessories made from recycled materials stay true to form with their main objective of being eco-friendly.
With that being said, it's important to note that T-Pop focuses its product selection mostly on apparel and accessories. This company's product selection is not as extensive as some of its competitors, as they're niche-oriented with a mere 36 products available on their platform.
Nonetheless, once we've put the wheels in motion, we can track our shipments with real-time reports available on the T-Pop dashboard. However, a good thing to note is their limited integrations, including only Shopify, Woocommerce, and Etsy.
JetPrint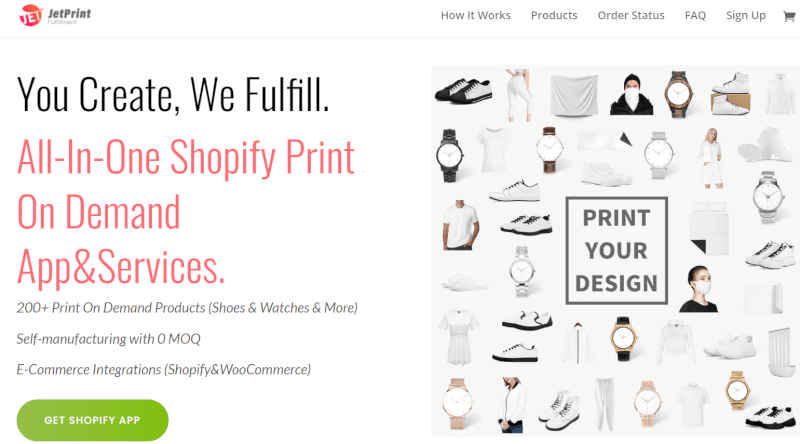 JetPrint is popular for its unique and exciting POD products. It is the best print on demand company for niche products like watches, homeware, yoga accessories, and even shoes.
By leveraging this niche and JetPrint's specialization, our dropshipping store will surely stand out. Particularly, they offer custom watches or homeware in their dropshipping store. What's more, they will guarantee your customers' satisfaction with their speedy process.
Some of its key attractions will get us excited about this POD company.
Key features:
Mockup generator 

Fast production and global shipping

Individual shipping rates
With JetPrint, we'll be able to get our custom products to our customers within a week and a half. This is due to their express 3-day quality production and 14 day global shipping timeframe. Yep, you read it right! 14 day shipping globally. On top of that, they keep reeling us in by offering individual shipping rates.
Additionally, with their mockup generator, we'll be able to get a quality preview of our designs on any of their products. This will not only help us get a better idea of what we're ordering but also help us edit the designs, sizes, and colors.
Although on one hand, they only offer a Shopify and WooCommerce integration. On the other hand, we can use JetPrint for free.
Gelato

Up next we have Gelato. Gelato is a global print on demand company that has grown to have over 100 print partners, in over 30 countries, delivering custom products to over 200 countries and territories.
Their global presence is only accentuated by their good product selection of over 90 products. Anything from stationery, brochures, business cards to apparel, decor, and much more. You name it!
Furthermore, the pull of their key features is undeniable. Let's see why.
Key features:
Express process 

Global presence

Free to use 

Sustainable 

Monthly discounts
First and foremost, Gelato is free to use! No subscription fees or any other payments. On top of that, they are sustainable and environmentally friendly. All the paper types used by Gelato are certified by the Forest Stewardship Council. How great is the fact that we can be both financially and environmentally conscious when working with Gelato.
Not to mention their presence in over 30 countries and delivery reach to over 200 countries make them one of the most globally accessible POD companies. Because of this, they claim to offer 72-hour global delivery.
Gelato also looks out for our best interest and helps us grow our dropshipping store by offering monthly discounts based on our monthly sales. The monthly discount is based on a percentage and is directly correlated to the number of sales we make using Gelato.
Moreover, their integrations do include great options like Wix, Shopify, Etsy, WooCommerce, and a few more.
CustomCat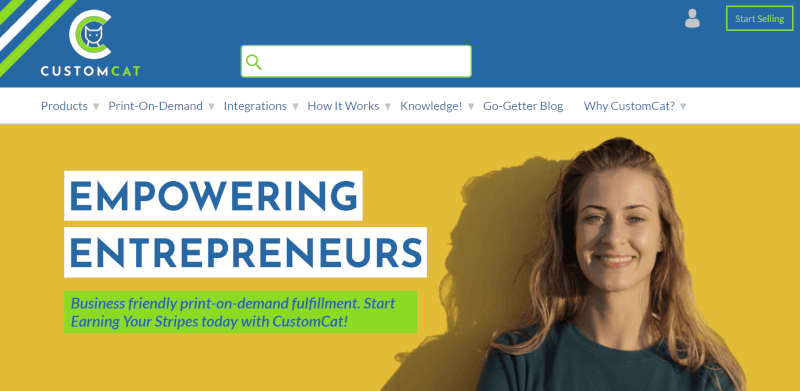 Next on the roster is CustomCat. CustomCat is a US-based print on demand company. But, don't let that fool you! Although they're based in the US, they ship globally.  They also offer one of the largest selections of customizable products in the POD game.
In addition, they offer different printing options, such as direct-to-garment, 3D dye infusion, and sublimation that will make our custom products stand out.
Some of their great features include:
No minimum order requirement

Global shipping 

Large product catalog
With no minimum order requirements, we'll be able to cater even to our customers' smallest desires. This gives us the option to order in larger quantities or in bulk, as well as the option to make single-item orders.
This in tandem with their global shipping options makes a winning combo. Apart from a few select countries, CustomCat offers global shipping around the world. We can even utilize their door-to-door tracking for over 32 countries.
CustomCat's huge product selection spans hundreds of items. Even if we might need some niche and unique POD products, chances are, we'll find them at CustomCat.
Be that as it may, their integrations include Shopify, Etsy, WooCommerce, and a few others, notably excluding eBay and Wix. However, although for most of their integrations there are no subscription fees, for our Shopify store, there is a $30 monthly fee.
Print Aura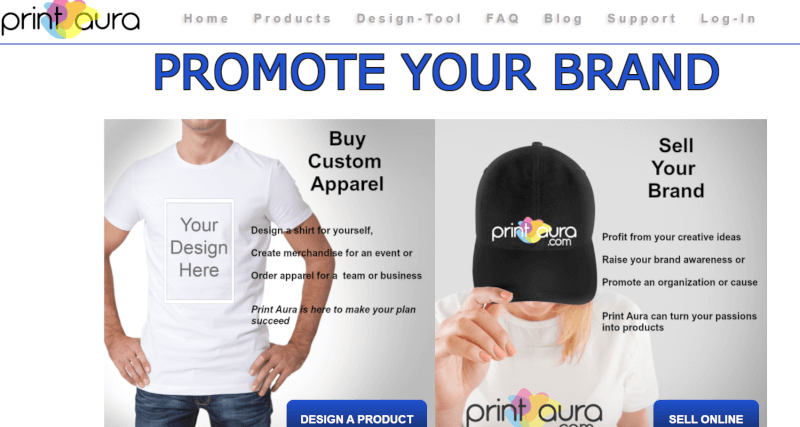 Print Aura is a good option as a POD company for small businesses with their no minimum order policy. They use the latest printing technologies and are so confident in the quality of their products that they will pay to replace any items that ship out with errors. Notably, they have US and global shipping.
Some of their interesting features will pique your interest.
Key features:
Specialty items

Design tool 

Great product offers
When working with Print Aura as our print on demand company, we'll be able to offer custom specialty items in our dropshipping store. Yep, that's right! Both specialty and custom.
With their design tool, we'll be able to easily create designs directly on their platform and see the mock-ups. On top of that, we can source from their great product offerings in tons of sizes, colors, and brands.
Not to mention, using Print Aura is free and it integrates with Shopify, Etsy, WooCommerce, Sorenvy, or OpenCart.
Redbubble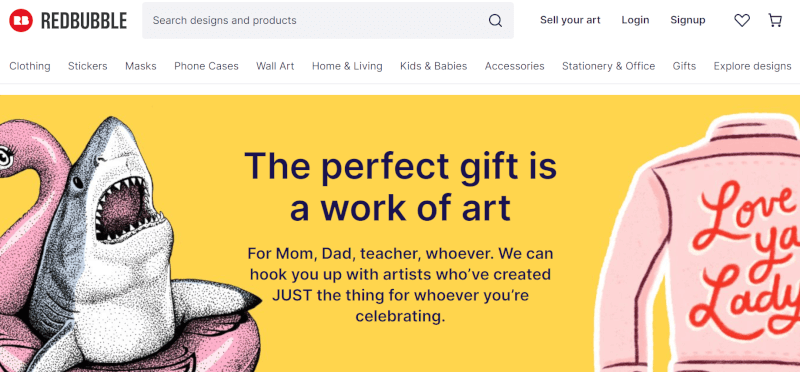 Redbubble differs from the other print on demand companies on our list. A veteran in the print on demand industry, it found its singularity in its eye-catching and unusual design offers. We can use our own designs, of course, however, we can also choose from their interesting and unique designs as well.
Redbubble follows the idea of a vast variety of choices, so while you can choose from their huge design collection, they also offer a large selection of products as well.
Let's dive into some of their key features and see why they are a good choice:
Huge art database

Easy returns

Global delivery options

Secure payments
Uniquely, Redbubble does a good job of connecting artists with businesses. Although we can use our own designs, we can also buy a design from any of the 700,000 artists.
With their delivery options, we can choose standard or express global shipping, depending on our budget and patience. In addition, with Redbubble, returns are easy, simple, and free, they're just a click away.
A feature worth mentioning is their secure payments system that uses industry-grade 256-bit SSL encryption. This means we can pay for our orders with peace of mind.
On top of that, a notable characteristic is the fact that Redbubble doesn't integrate with any marketplace. But, it is free to use. However, when we lack marketplace integrations, one thing we can consider is using a third-party source. On a platform like this, you'll be able to manage your sourcing. While another solution is to order the products separately and then add them to your store; this does slightly stray away from the basic concept of dropshipping.
Regardless, Redbubble is still a highly recommended print on demand supplier since it uniquely offers distinctive designs.
Gooten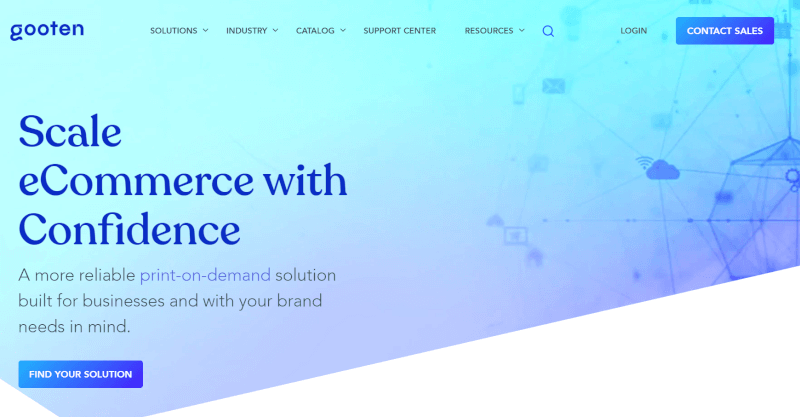 Up next we have Gooten. Gooten is attributed to having the best customer loyalty program. Interestingly, Gooten is optimized to support businesses to scale and grow. So, if our dropshipping store is starting to grow, Gooten is here to support us.
Moreover, a large variety of products is always a big plus. That's why Gooten would be a good choice for us since it offers over 150 products spanning several categories including fashion, baby, wall art, pets, and home.
Now, let's take a look at some of their most notable features.
Fast turnaround

Gooten VIM 

Multiple integrations
Gooten turnaround is around 1-6 business days. However, the average shipping time for the US is around 4 days, while it takes a little longer for our products to reach our customers internationally. This is because most of the Gooten products are printed in the US.
However, an eye-catching trait is the Gooten VIM (Very Important Merchant) program. Their loyalty program offers actionable and priceless advice and resources that will take our business to a whole other level.
And the winning combo: free to use and multiple integrations. It doesn't cost anything to set up and use Gooten. On top of that, they have integrations with Shopify, Amazon, Etsy, WooCommerce, and the standard option of an API (Application Programming Interface).
Printy6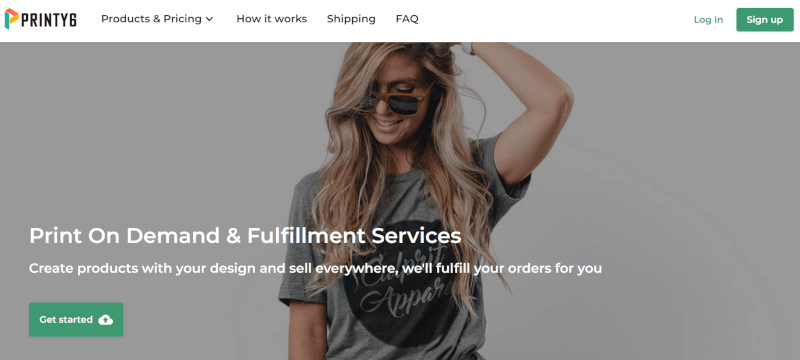 Next we'll take a look at Printy6. Printy6 is a POD site for Shopify that's based in China. This print on demand company is attributed to being very efficient in production. With that being said, it takes Printy6 1-3 days to print our products.
Now, how about we take a better look at some of their features:
Competitive prices

Huge product selection 

Quick shipping options
Like most Chinese suppliers, Printy6 offers very competitive prices enabling us to be money conscious. It offers a huge range of cheap and eye-catching products across multiple categories. Their selection of over 300 customizable products spans clothing, homeware, accessories, and a few other categories.
Also, they offer 2 shipping options catering both to the patient and impatient customer. However, since they are based in China, their shipping time is longer and can be more expensive compared to other suppliers. Their standard shipping takes on average 7-15 business days while their expedited shipping takes an average of 3-10 business days.
Moreover, Printy6 is free to use and integrates with some major marketplaces like eBay, Shopify, Amazon, and WooCommerce.
Teelaunch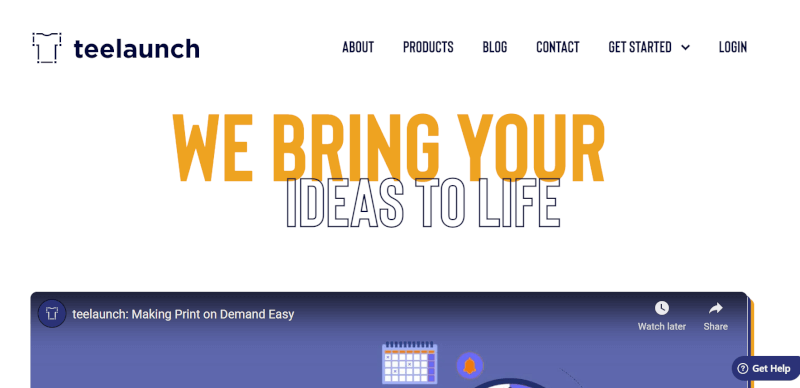 Teelaunch, much like Printy6, is a Shopify POD app. They have a global network covering multiple regions. Apart from having multiple factories across the US, they also have locations in Canada, The UK, Spain, and Australia.
So, let's look at Teelaunch's key features:
Unique product selection 

Various printing options
Teelaunch is a unique supplier because it offers a good product range available for customization. Interestingly, they offer items that aren't as generic as most print on demand products — including electronics, apparel, and homeware.
Apart from being able to use their designs, we're able to upload our own and utilize their different printing options. On Teelaunch we can choose if we want direct-to-garment, cut-and-sew, all-over print, and laser etching.
However, there are a few things to look out for. While it's free to use, its shipping is not cost-effective, especially when it comes to international shipping. But, it does integrate with Shopify, Etsy, BigCommerce, and WooCommerce.
Key Factors When Choosing a POD Company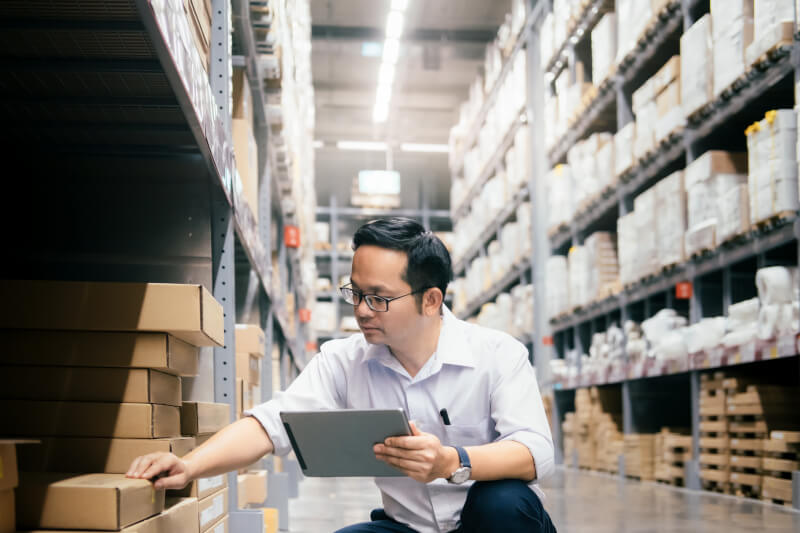 No matter which print on demand company we choose, it will definitely make or break our business and reputation. There are so many options, but how do we choose?
With this in mind, here are key factors to consider when looking for the perfect POD company for our store:
Product quality

Shipping times & warehouses 

Pricing

Customization options 

Compatibility with selling channels 

Customer service

Return policies
Product quality
One of the most important factors to consider is the product quality. No matter how beautiful and unique our designs are or all the customization options we offer, good quality is key. If the product falls apart after a few weeks, it will ruin our reputation. Bad reviews and poor experiences can be the downfall of our dropshipping business if we don't pay attention to product quality.
In order to avoid this, the best practice is to find a few POD suppliers that are compatible with our store and test their products. When testing, it's important to check not only the quality of the product but also check the quality of the print. We don't want to send out prints that break, fade or rub off.
Shipping Time & Warehouses 
Another factor to keep an eye out for is the shipping options your suppliers offer. This goes hand in hand with their warehouse distributions. If a company doesn't have a good network of warehouses, shipping might be slower and more costly. With that said, it's best to look for a supplier with products in the same location as your target audience to improve the shipping speed.
Of course, customers don't want to wait for weeks for their products to arrive. Ideally, we want our customers to receive their order within 1 week of placing an order.
And, if we are trying to target an international market, it's good to remember to check if our supplier offers international shipping.
Pricing
Although quality and speed are up there on the roster, if we are not being cost-effective with the products we source, we'll have a smaller profit margin. On top of that, if our product offering is on the more expensive side, our market interest might suffer. People now are not always willing to pay higher amounts when there are cheaper alternatives.
It's also important to look out for shipping costs. Customers love to see affordable shipping price tags. Because of this, odds are that they won't be willing to settle for higher delivery costs, and consequently, we might even lose a sale. Not to mention that if our supplier's delivery costs are higher, we won't be able to set a decent profit margin. 
Customization Options 
Depending on what we want to offer in our dropshipping store, it's important to look into the customization options our potential suppliers offer.
We may want to offer simple designs or we may want to go wild and express our artistic side, or we may even want to leave it up to the customer. In any case, looking into a supplier's customization options will ensure that we can deliver on our offerings.
In tandem, considering a supplier's printing options is good practice as well. Whether we want direct-to-garment, cut-and-sew, all-over print, sublimation, embroidery, 3D dye fusion, or laser etching, we need to check what our potential supplier can provide. The more options we are able to offer, the more diverse and unique our dropshipping store will be. 
Compatibility With Selling Channels
Let's do ourselves a favor and make sure our POD supplier is compatible with our selling channel. Different print on demand services allows us to sell via different channels. However, we must ensure that our POD supplier will enable us to sell on our selling channel.
Moreover, a good thing to keep in mind is leaving our options open for expansion. If we decide to expand our market reach and use an additional selling channel, double-checking if our POD supplier is compatible will save us the headache of looking for a new one. 
Customer Service
Equally important is having a print on demand supplier with helpful customer support. When choosing the right print on demand supplier, checking out the usefulness and competence of their customer service will save us a headache.
As we go down the path of building our dropshipping store, having good customer support from our suppliers will enable us to stay on top of things. Additionally, this will keep things running smoothly as we'll be able to combat any issues quickly and efficiently.
With that in mind, some things to look out for is how many ways there are to reach out to our supplier's support team. Having multiple modes of communication lets us find the best way to contact them. On top of that, we should check out how fast and reliable their customer service is. If they are fast and reliable, we'll be able to extend that to our customers.
Return Policies
Moreover, it's important to consider the fact that customers feel more comfortable shopping online when they have a safety net. Even though they might like our products, they still enjoy the possibility of being able to return them if needed. So, we need to keep an eye out if our supplier allows returns so that we'll be able to extend that same service to our customers.
Additionally, we should be checking the payment policies for returns. Checking supplier return policies will let us know whether payment for the return label is the customer's or the supplier's responsibility. Looking into these policies will allow us to foster transparency and avoid confusion down the line.
Therefore, having a decent return policy will put our customers at ease. If we don't provide this guarantee, then our consumers often become suspicious and will avoid buying our products.
Frequently Asked Questions
What Is Print On Demand? 
Print on demand is a process where you work with a supplier of white-label products (like baseball hats or tote bags) to customize those products and sell them on a per-order basis under your own brand and with your own designs.
Which POD Company Is Best?
Some of the best POD companies include Printify, Printful, and SPOD. However, there are a lot of great options out there, be sure to check out the 12 best print on demand companies in this article.
Can You Still Make Money With Print On Demand?
You can make money with print on demand the same way you make money with dropshipping. By targeting the right market, you may be able to set slightly higher profit margins for custom products. So, with POD you can make a healthy profit.
Conclusion
Now that we've had the chance to examine print on demand companies for our dropshipping store, we can take the next step in making our business stand out. Taking a deeper look into these top 12 POD companies will surely enable us to find the right fit and start offering custom items.
By offering a custom selection of products and even personal customization options for our customers, we'll be sure to attract more interest and scale our business.
Finally, before we let you go to concur the dropshipping and print on demand world, you might find these articles helpful for your journey: