To understand what eBay dropshipping is, first, we need to get an understanding of what dropshipping is in the first place.
1) What is dropshipping?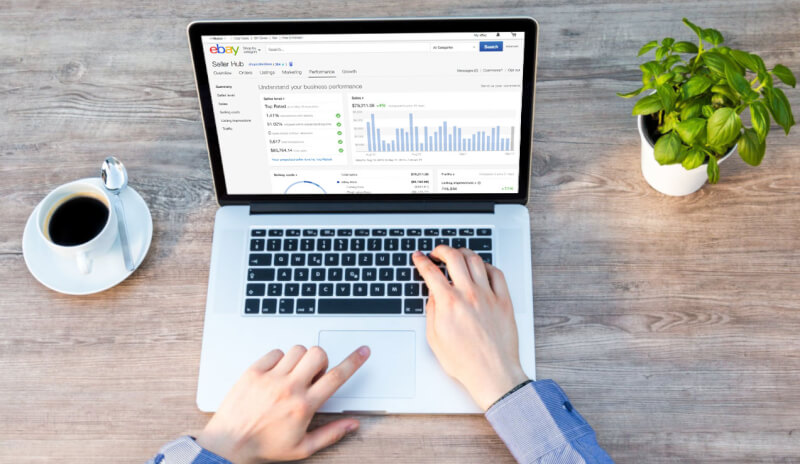 Dropshipping (also known as 'product sourcing') is a fulfillment method where the retailer/dropshipper does not keep the products in stock.
In other words, it's selling products without the burden of holding inventory. It's as simple as that.
In dropshipping, you do not have physical contact with the products you are selling; instead, you send the customers' orders and shipment details to a third party.
It can be a supplier or a manufacturer, whoever is responsible for shipping the products directly to the end consumer, who is your customer.
So, a dropshipper is the middleman between the supplier and the end consumer.
2) Dropshipping Requirements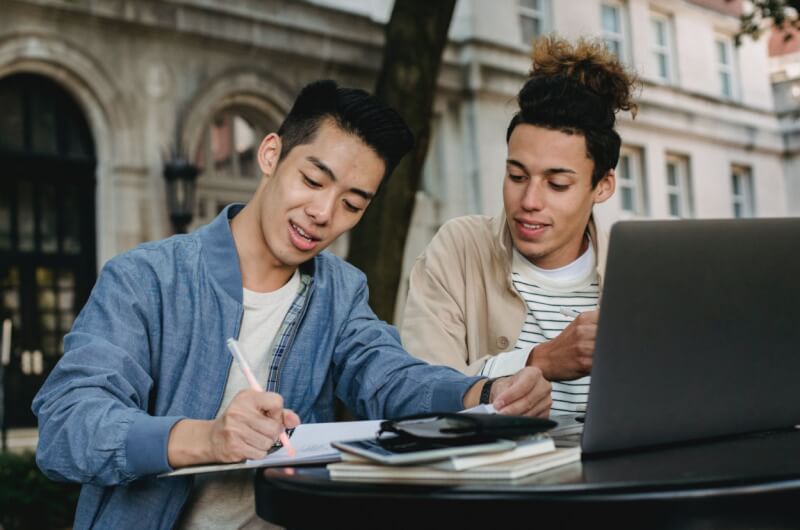 Starting a dropshipping business requires no initial start-up investment. Creating an online store is free, and you will only pay for products after being paid.
Although, a starting budget of $250-$500 will put you off to a better start since PayPal tends to hold funds in new accounts temporarily. Plus, bank transfers may take a few days to reach your country, depending on where you live.
Next, we need to create our online store. A store where we can put pictures and product details for the products that we want to dropship. Buyers from all around the world will be able to browse our stores and buy our products.
In summary, dropshipping requires an extremely-low start-up investment. All you need is an online store and the right knowledge to begin.
All of which you will learn through the course.
3) What Is eBay?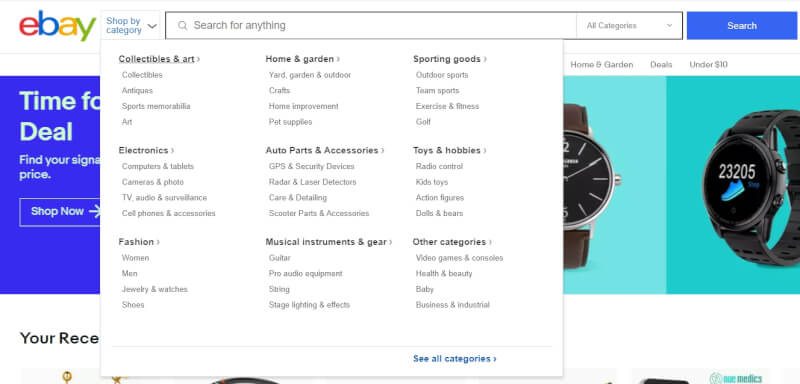 eBay is one of the biggest eCommerce platforms globally, with millions of active buyers from all around the globe. The traffic is organic, meaning you do not have to run ads to bring visitors to your store.
eBay has multiple marketplaces targeting a handful of countries. With more than 20 international sites, it makes for the number one option for anyone looking to expand their business overseas.
Once you set your shipping policy and the item location, you can showcase your products to millions of potential buyers, nationally and internationally—all in a matter of minutes.
Here are eBay's top 5 marketplaces:
Therefore, with eBay, we can create an online presence to advertise our dropshipping products and bring visitors to buy from our store.
Now that we have proper basic knowledge of the meaning of dropshipping, along with the eBay platform, let's combine them to get our winning formula.
4) What Is Dropshipping To eBay?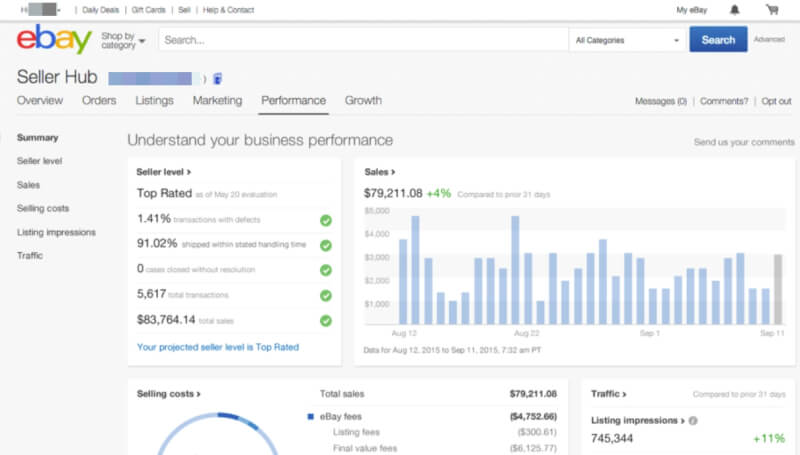 Chances are you may have purchased a product from eBay or any other similar eCommerce platform in the past.
Although, when the product arrived, you noticed that it's wrapped in AliExpress packaging. Or Amazon, or any other supplier. This means that that product was dropshipped to you.
While there are thousands of sellers from all around the world selling on eBay, in many of those times, you will notice that the product location is in China, for example.
The seller is from the US, UK, France, Bolivia, or any other country. How do you think that is possible?
Yes, you are correct! Many of those sellers are only dropshipping their products.
On the one hand, they can be large companies doing the same technique and scaling big. On the other hand, they are individuals like us, making a fortune each month without holding any inventory.
5) How Does Dropshipping Work?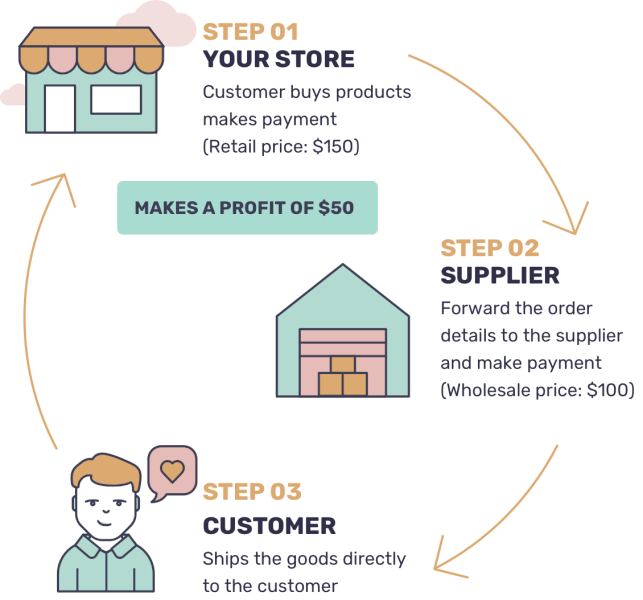 Here are the exact steps of how dropshipping works:
Find a supplier/manufacturer that is selling products online.
List the exact product with its pictures, title, description, item specifics, and whatever else information you have on that product. We will learn to optimize the product page throughout the course.
When a product sells, process the order with your dropshipping supplier. We will go over the multiple ways to do this. 
Finally, the supplier will ship out the product directly to your buyer's address. Along with tracking information that will help check the status of the package at any stage. 
Your profit is the difference between what you paid your supplier and what your buyer paid you for the product, minus the fees which we will explain in the coming lessons.
In the end, our buyer is satisfied with the purchase, and we are satisfied with our profit.
To sum it up, dropshipping is a business model that allows you to run an online store without brick and mortar stores' expenses: no paying rent and no paying for inventory. Pay once you get paid.
We will combine the dropshipping business model on eBay's eCommerce platform, where we will run our online stores.
With no initial upfront startup costs and tons of free organic traffic, it is the #1 place to start a dropshipping business.
Continue enriching your knowledge in the dropshipping field with these related articles: