Looking to establish a successful dropshipping business in Canada? With the increasing trend of e-businesses globally, e-commerce entrepreneurs are trying to capitalize on the enormous opportunities dropshipping offers. However, sellers often find themselves competing in a crowded field of established businesses.
That's why Canada is quickly becoming an ideal market for a dropshipping venture. As a relative newcomer to the territory, Canada offers us the benefits of massive demand for products and low competition from other sellers.
eCommerce's potential in Canada is simply undeniable. According to Statista, Canada's retail eCommerce market was valued at around 29.9 US billion dollars in 2021. This figure is expected to reach 40.3 billion US dollars come 2025.
Therefore, in this article, we will learn how to establish a Canada dropshipping business. Additionally, we'll cover essential questions on the topic, including the legality, profitability, and more.
What Is 'Canada Dropshipping'?
Before we proceed further, let's first understand what dropshipping is and how it works in Canada.
Dropshipping is an eCommerce business model that doesn't require a physical inventory of the product. Instead, dropshipping utilizes an order fulfillment framework that relies on third-party suppliers to store products and ship orders for us. Therefore, dropshipping carries lower risks than standard e-commerce and requires minimal working capital.
The dropshipping process includes these three basic steps:
Step 1

: Customer purchases a product

Step 2

: Seller forwards order details to the supplier

Step 3

: Supplier delivers the item
To give you a clearer view of how the dropshipping process works, let's use an example where a Canada-based customer buys a water bottle from a dropshipping store.
Upon checking out, the shopper pays for the water bottle at a price presented in our store, say $29. Then, the dropshipper forwards the order information to the supplier.
When the details reach the supplier, we pay the wholesale price of the water bottle, say $25. Then, the supplier prepares and ships the order directly to the buyer in Canada. The difference between what we paid the supplier and what the customer paid us is our profit.
Remember that anyone can dropship in Canada even when we don't live there. As long as we have the right tools, we can source products from anywhere globally and deliver them to Canada.
Is Dropshipping Legal In Canada?
Dropshipping is legal in Canada. However, we still need to abide by the local regulations of the region.
Here are the primary rules that every dropshipper in Canada should know:
Offer legal products

Adhere to eCommerce regulations

Settle tax obligations
First and foremost, we should take care to only dropship legal items. This means we should not dropship copyrighted, dangerous, or age-restricted items. Selling products from these categories pose a risk to our businesses and require expert knowledge to avoid legal troubles.
Second, sellers must follow the dropshipping policies set by the Canadian government, such as the Excise Tax Act. These regulations govern the transfer and sale of dropshipping goods in Canada. As dropshippers, we must abide by these policies to prevent sanctions or penalties.
Dropshipping Taxes In Canada
Third, there are several tax obligations that we need to fulfill when dropshipping in Canada. For instance, we have the Goods and Services Tax (GST) or Harmonized Sales Tax (HST).
The GST is the value-added tax in Canada, while HST is a consumption tax. Usually, taxable supplies are subjected to 5% GST or a 13% HST in select Canadian provinces.
As dropshippers, we collect these taxes from customer purchases and pay them at designated intervals to the Canadian government.
Do I Need To Register A Business To Dropship In Canada?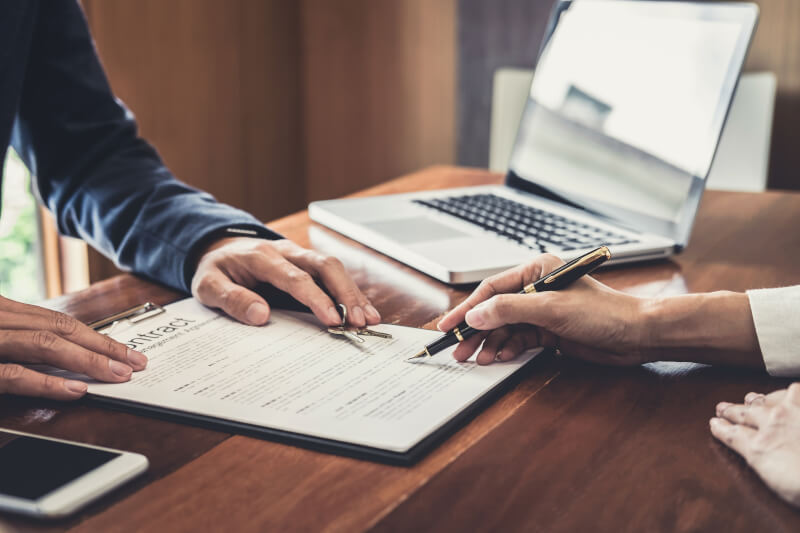 While the legal obligations of Canada dropshipping apply to everyone, that is not the case when it comes to registering a business.
One of the main factors to consider when starting a company in Canada is whether we live there or not.
Canadian Residents
If you reside in Canada and you decide to open your business there, you might need to register it with the government.
Here are the factors that determine the requirement to register your business:
Location of the main office

Places you want to operate in

Business name

Type of business
Different regions in Canada have their respective rules for opening and registering a business. For instance, in some provinces, sole proprietorships that operate under the business owner's name don't have to register.
Assuming you are required to register your business, you can select from the following types depending on your local regulations and business needs:
Sole proprietorship

Partnership

Corporation

Cooperative
However, as a beginner in the dropshipping scene, establishing your business as a sole proprietor is the best option. That's because such a business arrangement makes it easier to report finances and manage your accounting.
Once your business starts to grow, it will likely require additional employees to manage the added workload. Then, you can expand your business and convert it into a more extensive organizational structure.
Non-Canadian Residents
On the other hand, dropshippers who live outside Canada must seek professional advice from an accountant regarding the practicality of registering a business in Canada or in the country that you reside in (the latter is most likely the answer). Also, consulting with an accountant will help you understand your tax obligations and other requirements.
How To Start Dropshipping In Canada
Now that we know the legal obligations of dropshipping in Canada let's begin learning the step-by-step process of this eCommerce model.
The following are nine steps that will help lead us to dropshipping success:
Next, we will discuss each step in detail:
Step 1: Product Research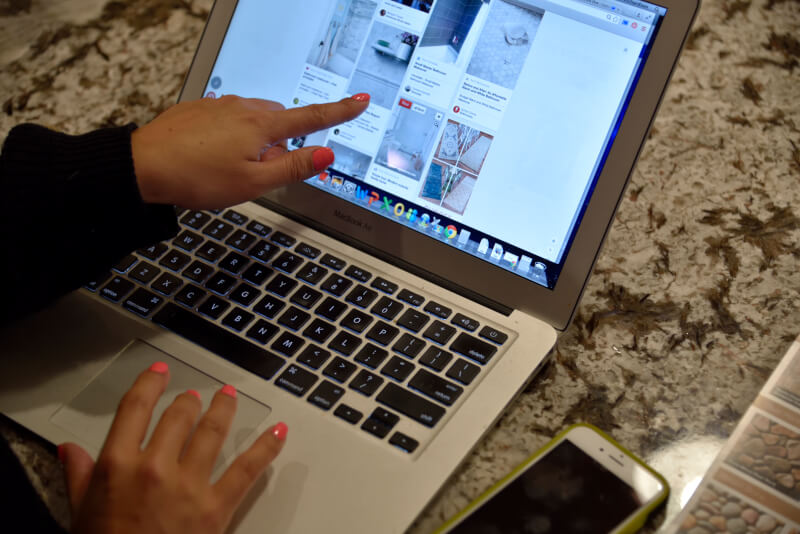 The first and most fundamental step to dropshipping success in Canada is conducting comprehensive product research.
After all, dropshipping is a consumer-oriented business. Therefore, only the products that suit the needs of Canadian audiences give us a chance to convert viewers into buyers.
Generally, we can search for products to sell in the Canadian market by discovering the top-selling and trending ones. However, such a search is not as complicated as it seems, thanks to some dropshipping product research tools at our disposal. 
Here are some platforms that can help us find in-demand products to dropship Canada:
AliExpress dropshipping center

AutoDS' new product-research tool

Amazon Canada's best sellers

AutoDS' blog page/YouTube Channel

AutoDS' product research dropshipping spreadsheet
One of the most best product research tools for AliExpress dropshipping in Canada is the AliExpress dropshipping center. The platform helps us identify top-selling products and analyzes their performance on the worldwide market.
Additionally, we can get lots of product ideas from the new AutoDS product-research tool. The platform gathers millions of products from multiple suppliers to one page. Also, it allows us to narrow down our product choices, and source these items from a Canadian supplier.
Another avenue for our dropshipping product research is Amazon Canada. Its informative trending pages like Best Sellers and Movers and Shakers help us discover high-demand products.
Furthermore, we can go through the product finding and best sellers section of the AutoDS blog page, as well as the 'Sell These Now' YouTube Playlist. There, we can find valuable content that uncovers the best dropshipping products to sell.
Last but not least is the AutoDS product research dropshipping spreadsheet. It helps us organize and narrow down products based on our criteria. To start using the spreadsheet, duplicate it and create your list of excellent products ideas.
Step 2: Work With Canadian Dropshipping Suppliers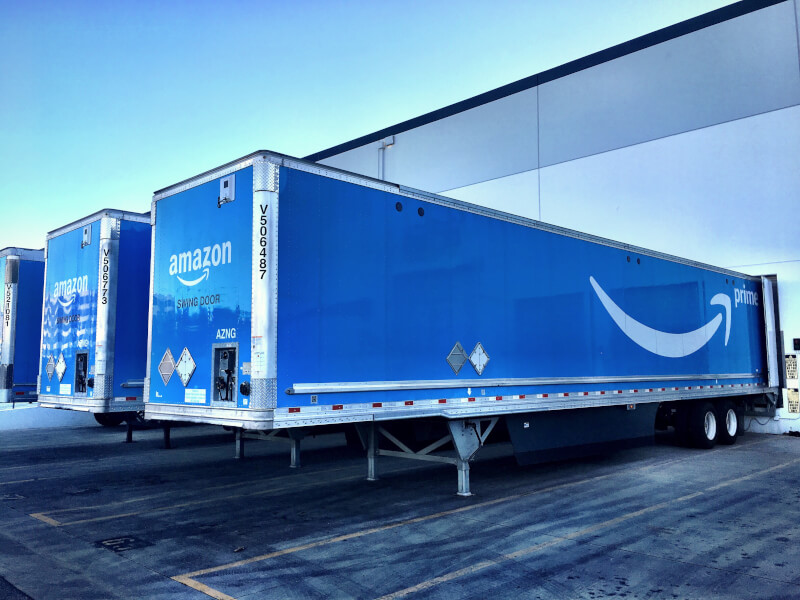 Now that we have product ideas in mind, we'll need to find Canada-based suppliers to source these items.
Canadian suppliers are entities that can deliver items to Canadian customers via local warehouses or international ones. Thus, effective Canadian suppliers can be located anywhere in the world but must possess the ability to deliver orders to any Canadian province.
While there are plenty of great Canadian dropshipping suppliers out there, here are 18 of the most trusted suppliers that have proven themselves time and again:
Now, let's take a look at AliExpress to discover what makes a reliable Canadian dropshipping supplier. 
AliExpress
Primarily, AliExpress is a China-based supplier that manages domestic warehouses in Canada. As an eCommerce retailer, it's one of the largest marketplaces that dropshippers prefer.
Key Features
Comprehensive product catalog

Low-cost prices

Quick shipping times
Due to its comprehensive product catalog, AliExpress dropshipping in Canada lets us access over 100 million items online. Plus, these products come at low-cost prices, allowing us to maximize our profits. Moreover, the presence of domestic warehouses in Canada enables quick shipping times that satisfy customer demands efficiently.
As a final note, we can optimize our dropshipping ventures by working with multiple Canadian suppliers. Working with several suppliers gives us more product choices, backup order fulfillment options, and better pricing.
Step 3: Choose A Dropshipping Selling Channel

Now that we have winning products and suppliers lined up, we are ready to pick a dropshipping selling channel.
Also known as an eCommerce platform, a selling channel is an avenue to offer our items to customers. The following selling platforms are the most optimized for dropshipping as they provide robust integration with automation software like AutoDS:
eBay Canada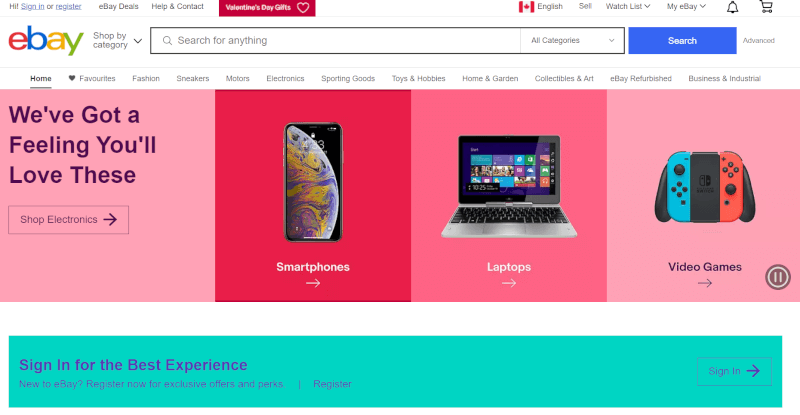 eBay Canada is one of the largest eCommerce marketplaces receiving millions of customers every day.
The free organic traffic on eBay Canada can lead to higher sales because more people visit your page every day. While eBay requires no store subscription, it has relatively high selling fees and limited customization options.
Pros:
Free organic traffic

No store subscriptions required
Cons:
High selling fees

Limited customization

Initial selling limits
Shopify Canada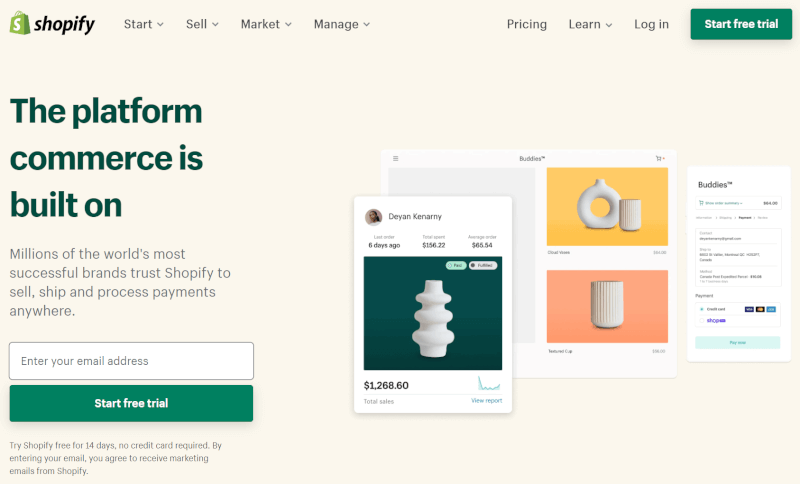 Shopify Canada is one of the most popular eCommerce platforms for online dropshipping stores.
The platform allows us to fully customize our stores' appearance. Also, it has no selling limits. On the other hand, it has little to no organic traffic, so we'll need to invest in active marketing strategies to get customers.
Pros:
Has no selling limits

Allows the full customization of your dropshipping store
Cons:
Has minimal organic traffic

Demands a higher marketing budget
Wix Canada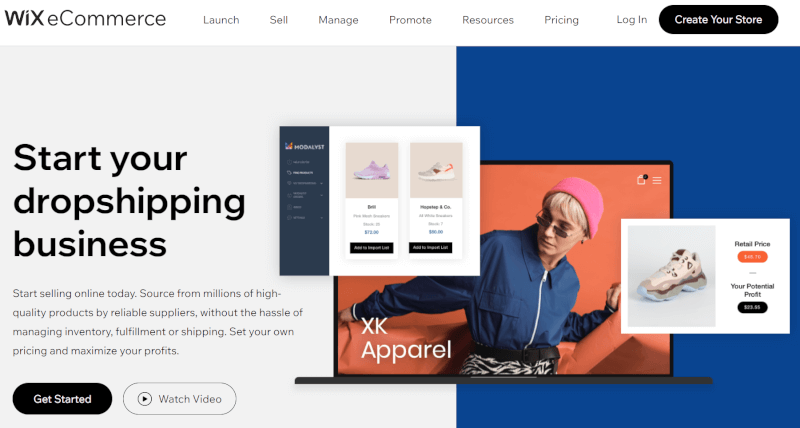 Wix Canada is a website creation platform that allows us to build attractive and personalized dropshipping stores.
The selling channel offers several benefits to dropshippers. For one, it has a vast selection of templates we can use to customize our stores according to our brand visuals. Also, Wix Canada offers a business email containing our store's domain name. Finally, Wix allows us to accept several payment methods such as PayPal, credit cards, offline payments, and more.
Pros:
Variety of page templates

Option to purchase a personalized email

Several payment processing options
Cons:
Requires upfront marketing investment
Step 4: Create Business Policies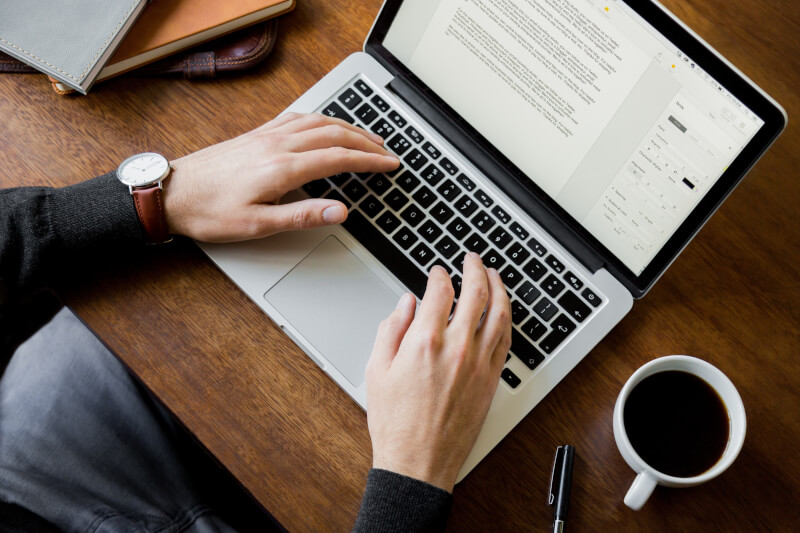 Once we've chosen a selling channel, we'll need to set up our business policies. Establishing business policies helps customers understand what they can expect when they make purchases and even after receiving their orders. These policies include shipping, return, and payment guidelines.
As a result, business policies give our stores a professional and trusting appearance. Additionally, setting up policies prevents issues with buyers that arise from unclear business rules.
How To Create Business Policies
Setting up business policies varies by selling channel. On Shopify Canada, we need to create legal pages with Terms of Service. Similarly, Wix Canada also requires the creation of legal pages.
Thankfully, AutoDS offers excellent Shopify and Wix legal page templates that make the task a breeze:
Conversely, eBay Canada does not require us to write up business policies. Instead, we create our business policies based on the criteria set by eBay.
Step 5: Import Your Products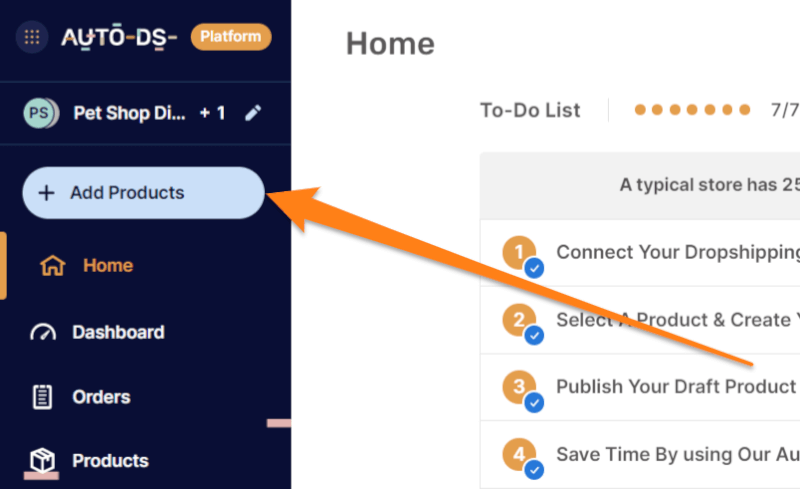 At this point, we are ready to set up our Canada dropshipping store by importing products to our chosen selling channel. Importing means sourcing trending items from our suppliers and making these products live in our stores.
We have two product importing methods available to us: manual and automatic.
In the manual method, we spend significant time entering product data and uploading images to our stores.
Therefore, automatic importing is the preferred method to add products to our store. It does all the work for us quickly and painlessly.
In that regard, AutoDS is a leading automation software in the dropshipping scene. It offers the following methods of automated product importing:
Using the one-click importer

Adding the single or multiple product URLs/IDs 

Importing products in bulk
Let's demonstrate an efficient way of importing one item at a time using the Single Product Uploader.
Single Product Uploader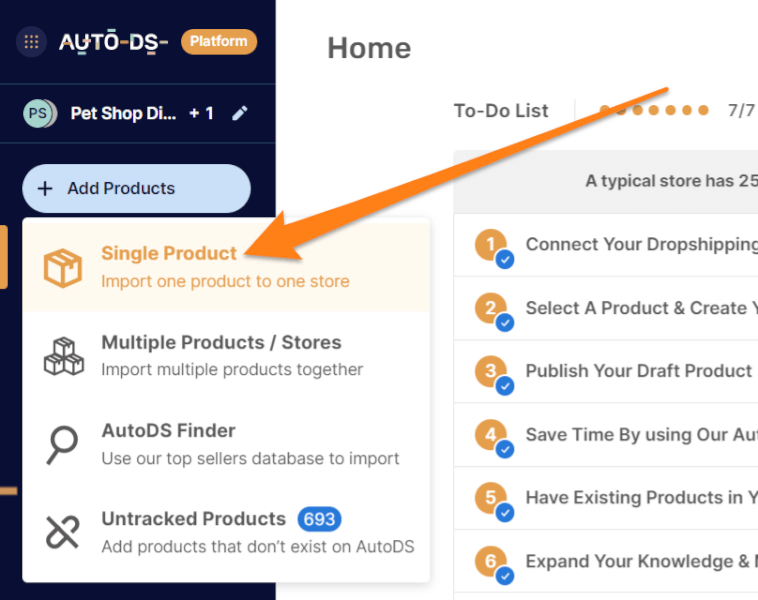 The Single Product Uploader enables you to import a single product in just a few seconds.
Here are the steps to import products using the Single Product Importer:
Step 1:

Go to the product page

Step 2:

Copy the product URL/ID

Step 3:

Add on AutoDS 'Single Product'

Step 4:

Optimize your draft

Step 5:

Import to your store
Begin the process by going to the product page of the item you want to import. Once on the product page, copy its URL or ID.
Then, go to the AutoDS platform and click on the 'Add Products' on the left section. On the dialog box, click the 'Single Product' option and paste the URL or product ID of the item.
After doing so, click the 'Edit Now (Quick)' button, and wait for an item editor to appear on the upper section of the page. When a dialog box appears at the top portion of the page, the importing process has begun.
Next, wait for the 'Save' and 'Save and Import' on the dialog box to change color. After the color change, you can begin optimizing your products. Product optimization enables you to edit the product details, description, images, specifications, tags, and more.
After optimizing the product, click 'Save' to apply the changes.
Finally, import the product to your selling channel by clicking the 'Save and Import.'
Now, the item moves to the 'Products' page of the AutoDS platform, which signifies that your product is now live in your online store, and shoppers can start buying it.
Step 6: Market Your Products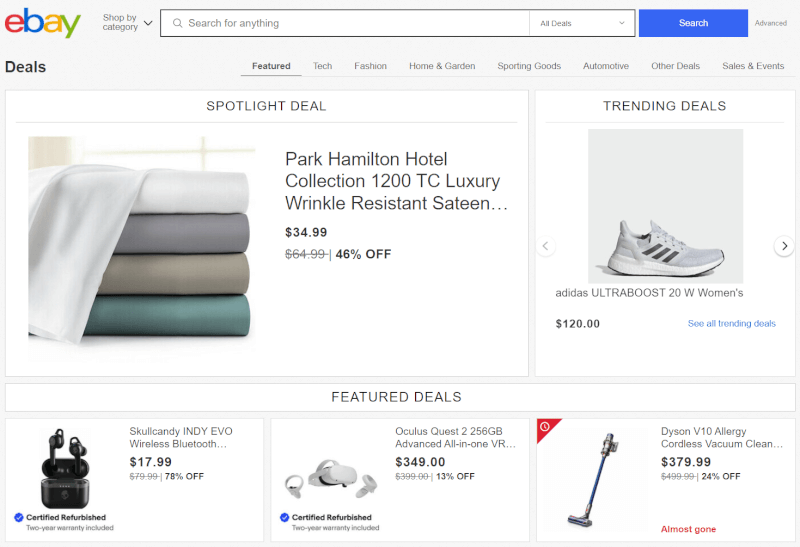 After successfully launching our Canada dropshipping stores, we need to market our products by increasing their visibility to potential customers.
Here are the most effective marketing strategies when selling on Shopify, Wix, and eBay:
Marketing On Shopify Canada And Wix Canada
Facebook Ads

Influencer Marketing

Email campaigns
Advertising on Facebook is an effective marketing strategy because the platform has a broad reach of users globally. It allows us to target any Canadian audience we want depending on the product we want to dropship.
Another option is to work with influencers who can advertise our products. People trust the opinion of influencers, including their item reviews. Therefore, influencers can help entice more customers to try our items.
Lastly, email marketing offers a free way to reach shoppers in a highly targeted fashion. Oftentimes, this strategy relies on sending out promotional materials to customers who have already visited our store or made a purchase.
Marketing On eBay Canada
Promoted Listings Standard

Promoted Listings Advanced (eBay PPC)
Unlike Shopify and Wix, eBay Canada provides us with internal marketing tools to help reach more customers. Two of the most effective eBay Canada marketing methods include Promoted Listings Standard and Promoted Listing Advanced (PPC).
Promoted listings standard is a feature that advertises our products across eBay Canada's website. Alternately, eBay PPC allows us to target the top spot on eBay search results, giving us higher chances for sales.
Step 7: Fulfill Orders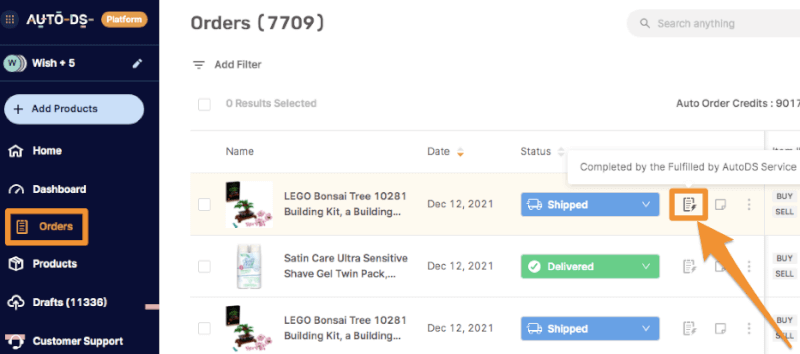 After our Canada dropshipping stores start getting orders, we must fulfill them promptly and precisely.
There are two ways to fulfill dropshipping orders: manual and automatic.
When manually fulfilling orders, we go to our supplier's webpage, find the product we imported to our store and purchase it for our customer. At checkout, we enter our customer's details and shipping addresses.
Conversely, a dropshipping software does all the work for us by utilizing automatic fulfillment. Immediately after a customer order comes in, the software forwards all customer information to our supplier and orders the item. As a bonus, some dropshipping software sends tracking updates to customers as soon as they're available from our suppliers.
That's precisely why many dropshippers opt to work with AutoDS' automatic orders service. The service automatically uses your buyer account to fulfill orders and updates tracking information.
Step 8: Deliver Outstanding Customer Service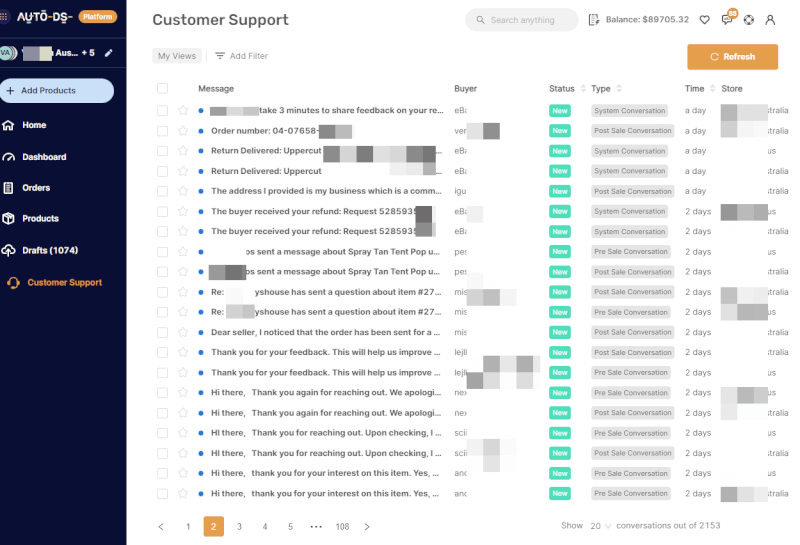 One of the essential keys to Canada dropshipping success is offering superb customer service. Remember, happy customers have higher chances of repurchasing from our stores.
Here are some ways to deliver outstanding customer support:
Customer Service On Shopify Canada And Wix Canada
When selling on Shopify Canada or Wix Canada, we manage customers' messages through our dashboards or email addresses linked to our domain. We must constantly monitor new messages and reply to them as soon as possible. Take note that customers feel more appreciated when we can address their concerns well.
Customer Service On eBay Canada
When dropshipping on eBay Canada, we can utilize its messaging service to reply and take action on customer questions or cases. However, many prefer the AutoDS' eBay customer management service because it synchronizes our eBay inbox with the AutoDS platform and manages all messages under one screen.
Step 9: Scale Your Success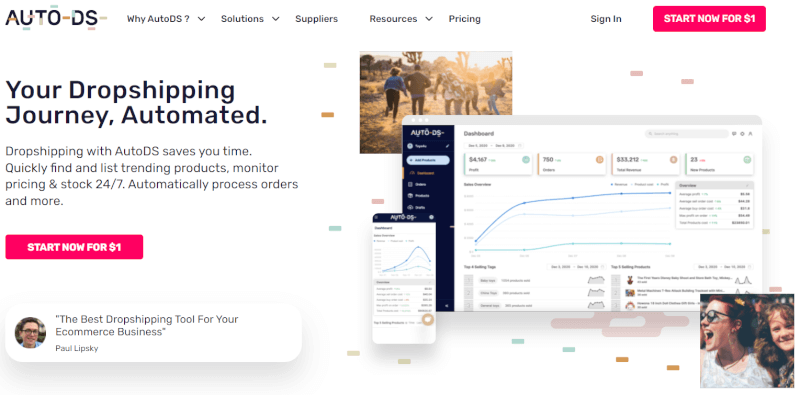 After undertaking all the necessary steps to Canada dropshipping success, all that's left is to scale to greater profits.
When we establish our dropshipping business, we offer trending products to our customers in order to maximize sales. Therefore, one of the best ways to start scaling is to offer similar items to those already hot. Additionally, we can scale by increasing our capacity to handle more orders.
The Benefits Of Scaling With Automation
Business automation plays a crucial role in scaling our dropshipping ventures to the next level. Instead of spending time and resources on getting more sales, dropshipping automation does the hard work on our behalf. Furthermore, automating the scaling process removes the limits of human capital so we can keep growing without hindrance.
What Is The Best Dropshipping Automation Software For Scaling?
There is a vast selection of automation software on the market to help you scale. However, your business deserves to utilize only the most efficient platform.
So, we're letting you know about AutoDS, the leading all-in-one dropshipping software in the eCommerce industry. It automates various processes and boasts features, such as:
Multiple Selling Channels
This automation software can help you find the top-selling products in the market through its product finder features.
To make scaling easier, AutoDS has a product tagging system, which allows you to analyze the performance of products in your store. Once you see a tag that's working well, you can add similar products from the hot category to increase your sales.
Additionally, AutoDS can help us import multiple products at blazingly fast speeds, scaling our product offerings.
Furthermore, AutoDS automates order fulfillment. It processes orders, gives tracking updates, and manages returns for you. As a result, you increase your ability to handle more orders and scale to higher profits.
Managing Returns & Refunds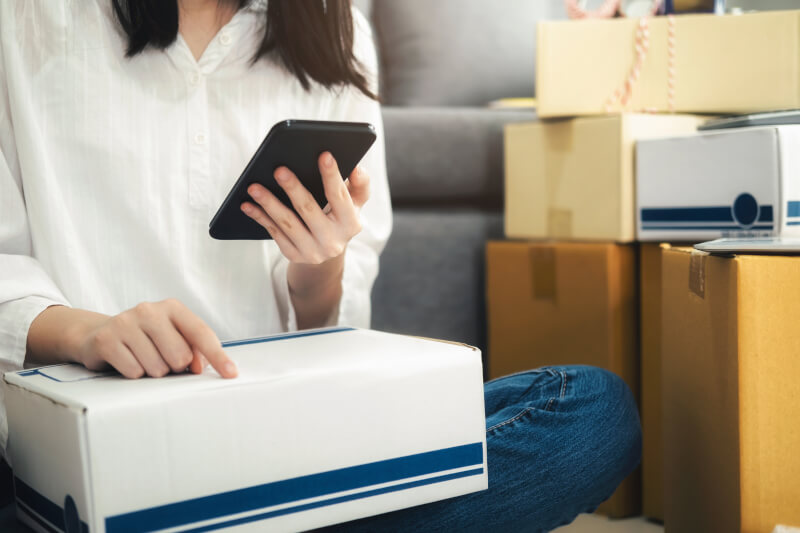 Even when we do everything right, sometimes our Canadian customers will ask for refunds or returns, and that's ok. 
There can be various reasons why a customer wants to return a product. However, as long as their reasons are justified by our business policies, we must honor the request.
Here is how we can manage returns in the best possible way:
When a customer wants to return an order, first ensure that your supplier approves the return request. Then, secure a return label from your supplier.
Next, provide the label to the buyer.
Once the buyer returns the item, wait for a refund from your supplier. Finally, send the refund to the buyer.
So, let's discuss an example of a fair returns and refunds policy of one of the best Canadian suppliers on our list.  
When managing returns and refunds on AliExpress, it has a Buyer Protection Program, giving rights to customers to file for refunds. However, AliExpress encourages buyers to settle with the supplier first for issues with customer orders. In an instance that the supplier cannot address customer concerns, AliExpress offers refunds in the following scenarios:
The product's description is misleading and doesn't represent the actual item

The item received is fake or defective

The package is not yet shipped, and the customer wants to cancel

The order arrives late or fails to arrive 
When a customer concern falls in any of the above-stated categories, a refund dispute can be opened. As such, the buyer has up to 15 days from the delivery date or a maximum of a 60-day delivery deadline to do so. Essentially, we can apply these guidelines to our  AliExpress dropshipping business in Canada.
With a practical returns and refunds policy, we can ensure that customer concerns are well-taken care of. Remember that the policy our supplier implements is the same one we'll extend to our customers. 
Final Thoughts
Hooray! We are now knowledgeable in the art of dropshipping in Canada.
Now is the time to venture into a hot market like Canada that not many are onto yet. With new product ideas that we introduce to the Canadian market, we can surely get significant sales in no time.
To further expand your dropshipping knowledge and become a pro-dropshipper, check out the following articles: