Clothing just like anything else has come a long way in history. What once started off as a way to cover and protect our bodies, has now transformed itself into a multi-trillion dollar business. If you're looking to dropship clothes, this is the article you need to read before.
Not only is clothing a necessity, but to many, it is a form of expression. But whether you're one who stays on-trend or has their own style, fashion apparel is something we can't avoid.
This lucrative niche is perfect for dropshipping. It is broad and full of categories, subcategories, and so much more.
In this article, we get into women's clothing, men's clothing, and even a bonus sub-category/niche for both.
Keep reading to learn just how profitable this niche can be, and what are the hottest clothing products to sell in your dropshipping store for 2022.
Why Dropship Clothes?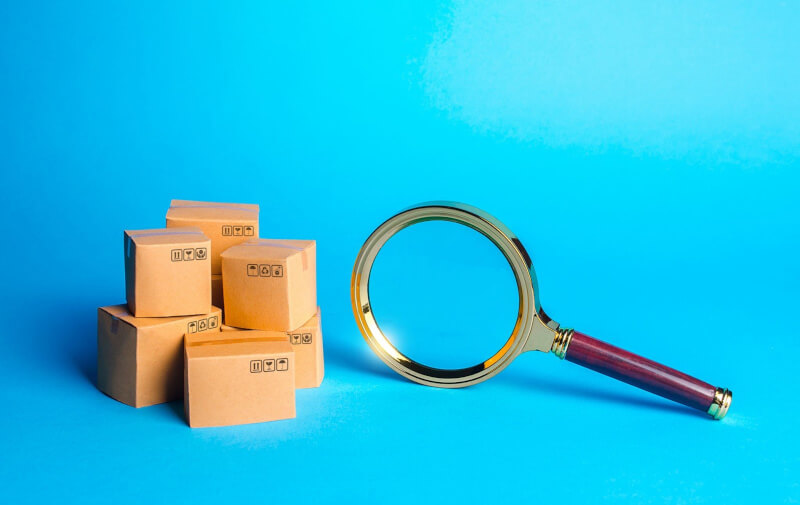 There are many reasons why you should dropship clothes. Fashion is a world of its own, and not just because of the size of the fashion industry. Clothing should be seen as far more than just a product category. 
As mentioned earlier, for many it is a way to express themselves and can be seen as a form of art. Some people love classic blue jeans paired with a basic tee, while others like to be bold and stand out.
There is also another way of seeing the different approaches people have to clothes. There are conservative shoppers that buy what they need, while many constantly splurge and add to their "collection".
All this boils down to the fact that clothing is a mix between being an evergreen niche (which means it is always in demand and selling all year round), and a passion-driven niche.
If that wasn't enough to build our case to dropship clothes, we will let the numbers speak for themselves. Check out the growing yearly interest in clothes according to Google Trends: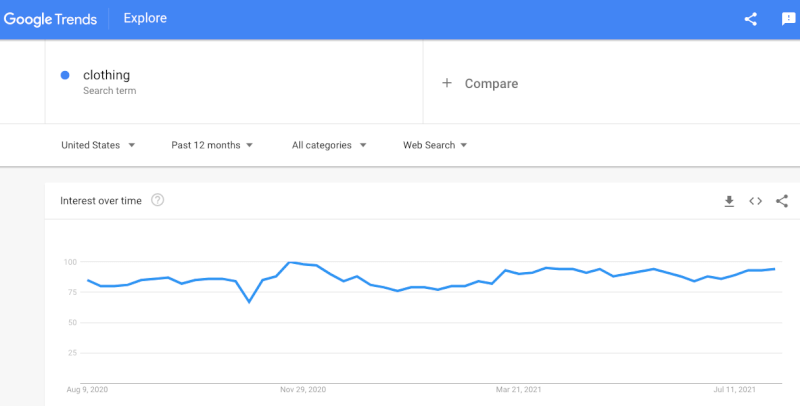 What is even more exciting for us dropshippers is that eCommerce makes up almost 50% of apparel sales, making it much more worthwhile to dropship clothes.
Together with our hot clothing recommendations in this article and all of our top-notch dropshipping suppliers, you can start raking in sales in no time.
Right before we get to the trending clothes product list, remember to display size information and material on your listings. Whether in the images or product description, shoppers need to know exactly what size they are buying, otherwise, they'll skip on to the next listing or store. Sizing information and material need to be clear and transparent!
Top Trending Clothing Products to Dropship in 2022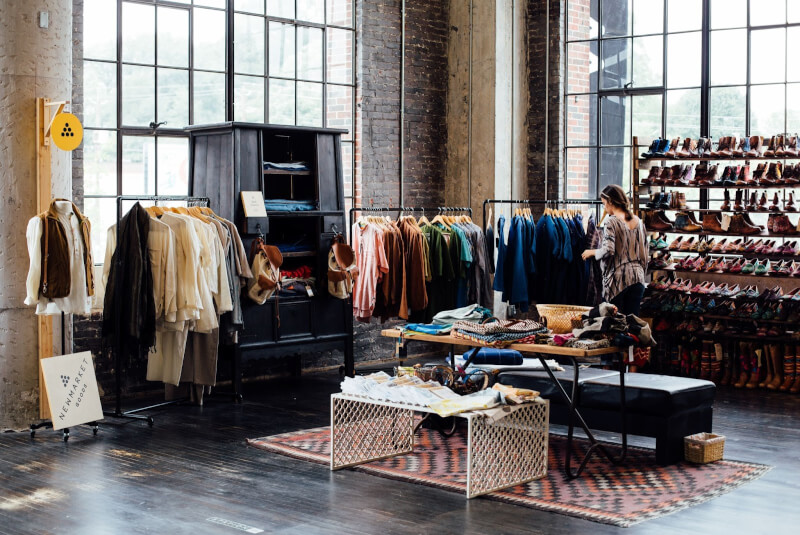 So now that you know what tremendous potential there is here, let's get to the fun part. Clothing is a wide-ranging market.
We have tons of niches, categories, and subcategories. The three main sections to start with are women's clothing, men's clothing, and children's clothing.
You can choose to dropship clothes products from one and have a more niche dedicated store or all three if you prefer a more general clothing dropshipping store.
For anyone you choose, you will then have plenty of product categories. Shirts, pants, jeans, jackets, and so much more.
Additionally, each category has subcategories.
Let's take jackets as an example. There are hooded jackets, bomber jackets, jeans jackets, biker jackets, and so many more.
As you can see there are endless possibilities, but don't let this overwhelm you.
To save you time, we gathered 14 hot clothing dropshipping items from both women's clothing and men's clothing to give you a head start. Let's get started.
Best Women's Clothing Products to Dropship in 2022

As we explained above, there are many product categories within the broader category. Don't worry, we made sure to give a nice range of products.
Additionally, there are trendy products and some timeless evergreen products. Within our 5 hot women's clothing products, we give you the best of both worlds.
1. Bralettes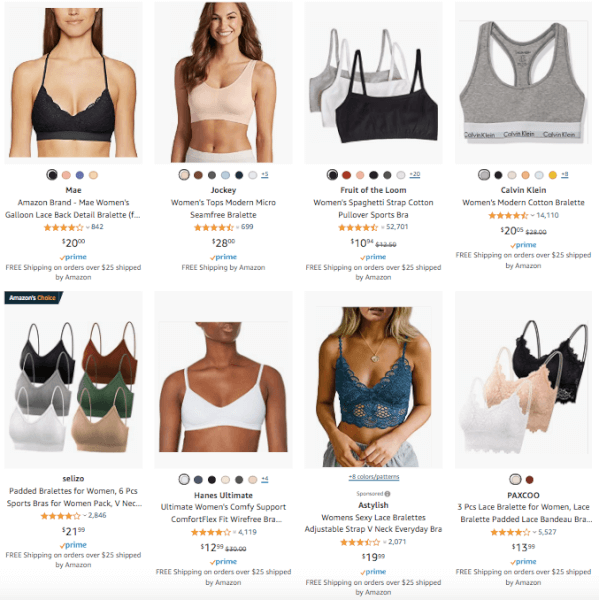 First on our list from within the women's clothing products is a timeless, trendy, and evergreen product. Bralettes. They were originally designed to be a more flexible and comfortable bra, and along the way transformed into casual wear.
From an alternative to stiff wired bras, they are now worn as pajamas, a top, under dresses, and the newest current trend, paired with a blazer on top.
There are plenty of designs, styles, and colors, so be sure to offer variations. Sizes should also be taken into consideration. Be inclusive and offer plus-size measurements.
2. Bodycon Dresses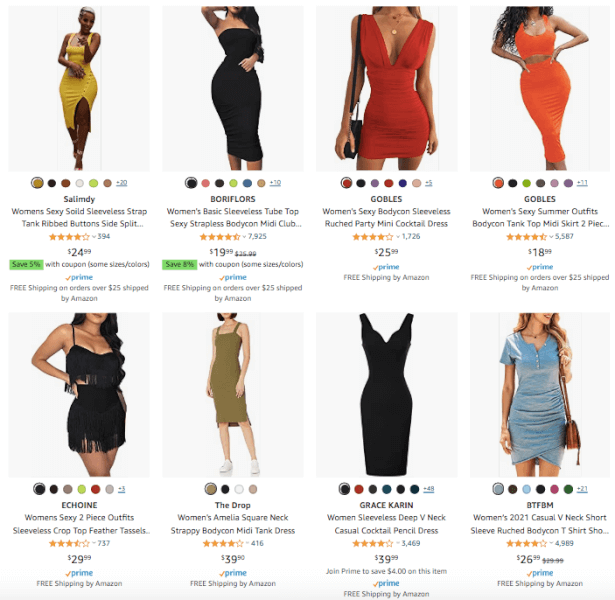 Second up we have the infamous bodycon dress. The name derives from "body confidence" or, originally, "body conscious".
Bodycon dresses are known for their tight figure-hugging feel and are often made from stretchy material.
They have been a staple piece of clothing in women's closets for years and don't seem to be going out of style any time soon.
This is another item that comes in hundreds or even thousands of styles. Make sure to offer a variety of styles.
 Low cut bodycon, bodycon with an exposed back, some that are plain, and some with extra embellishments or other special designs.
Colors and sizes are a must, so look for variations for each dress you offer.
3. Oversized Padded Blazers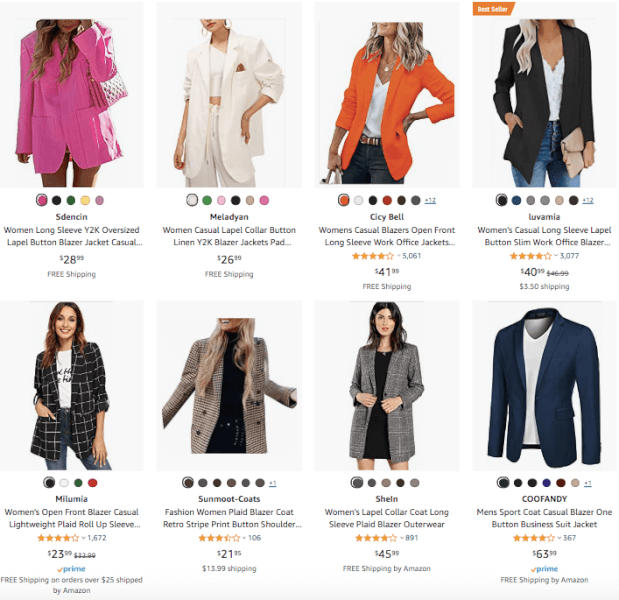 The third hot women's clothing item is a bit of a blast from the past. A super trendy statement piece from the 80's surely made a comeback this last year.
Oversized padded jackets and blazers are everywhere, so it's time they made their way into your dropshipping stores too! 
Different prints and patterns are fun and eye-catching, but the classic plain blazers are great too. Have a bit of both to make the most of this item.
4. Wide-Legged Pants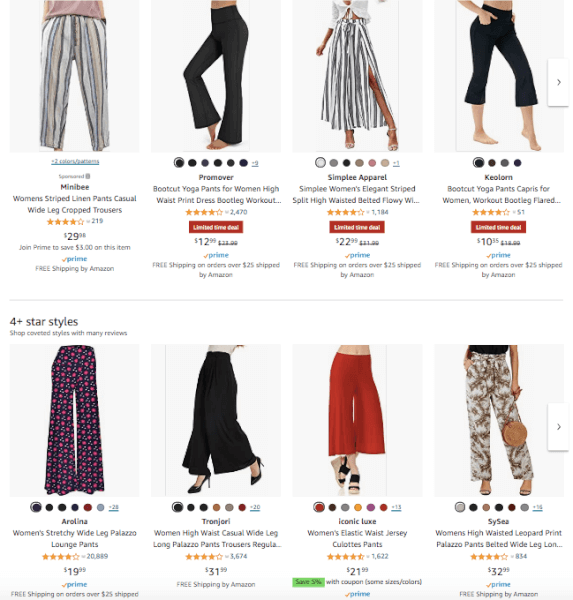 Now for some pants. Unlike bell-bottoms and flares, wide-leg pants are as wide at the hem as they are throughout the rest of the leg.
This trouser has stayed an essential in every women's wardrobe because it is the perfect choice when wanting something comfy but classy.
As usual, add different colors, designs, lengths, and sizes to attract more buyers. Make use of multiple suppliers for different price points too.
5. Maxi Dresses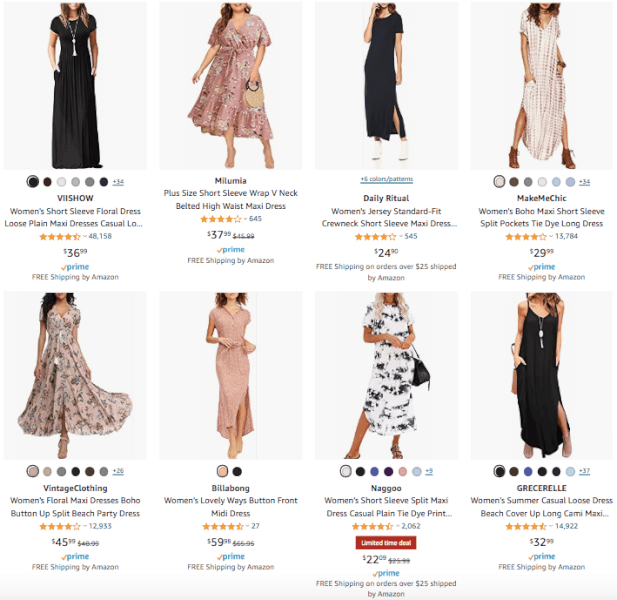 As our last women's clothing product, we have maxi dresses. While bodycon are meant for flaunting, a maxi dress does the exact opposite.
Their loose and flowy design might make them seem casual, but don't be mistaken, maxi dresses come in all sorts of styles. From simple and monochrome, to colorful and sequined.
Additionally, keep an eye out for different fabrics for different times of the year. Maxi dresses can easily be worn with sandals on a hot summer day or be paired with nice boots and a jacket in the winter season.
Top Trending Men's Clothing Products to Dropship in 2022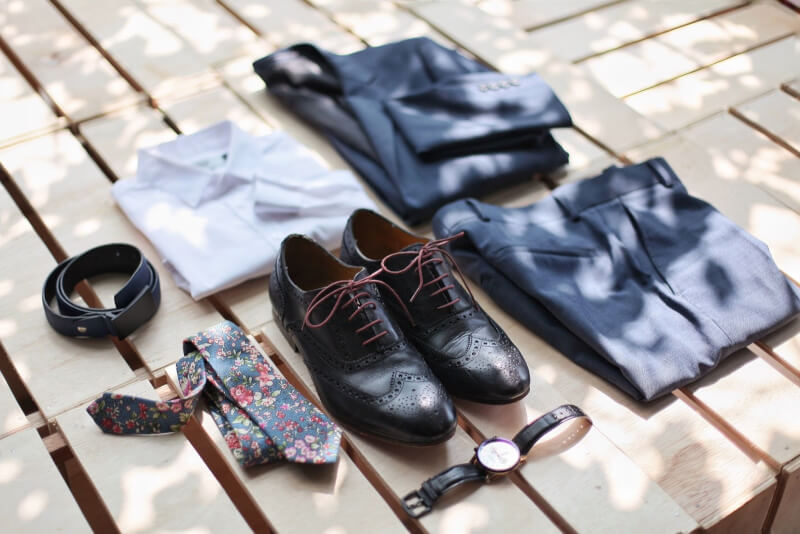 Now that you have some hot women's clothing products to dropship, let's get into the men's dropshipping clothing. 
Don't worry, we stuck to our same guidelines. Within our 5 best men's clothing items we have hot, evergreen, and trendy products.
We made sure to give a decent range here as well, but don't forget about all the other possible categories.
6. Cargo Pants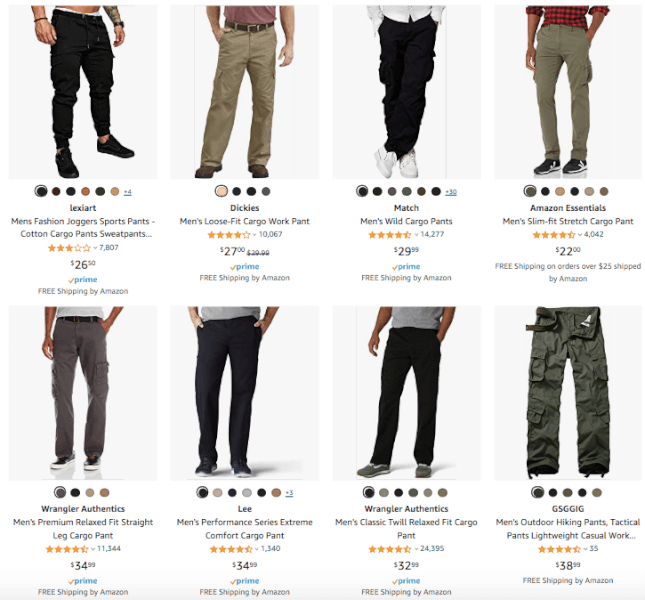 The first men's clothing product is cargo pants. These too are a product that made a comeback but also a dive into mainstream fashion.
Cargo pants are typically outdoor wear for camping, hiking, or other less casual conditions. They are loose-fitting, are made of thicker and more resilient fabric, and have tons of pockets.
Although mainly worn for outdoor adventure, in the last year they have become super popular amongst a younger crowd, and have been trending for a while now. 
Add a range of colors and sizes, but also have a look and the pocket count. Some have more than others, so offer multiple options.
7. Slim-Fit Trousers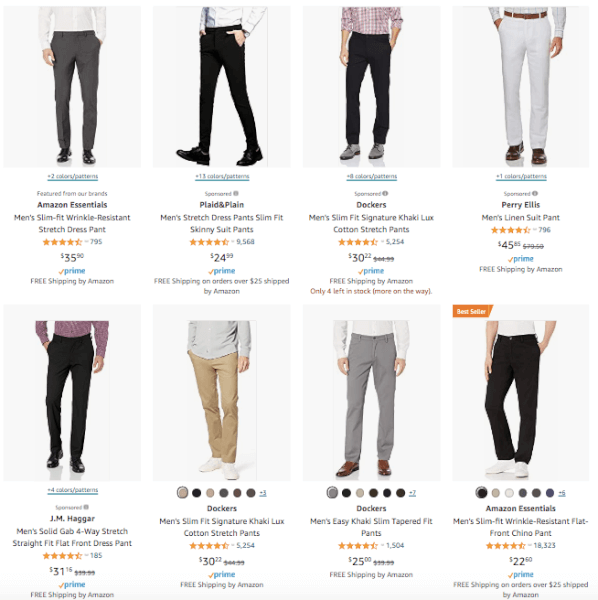 Second up we have slim-fit trousers. Whether for everyday wear for work or a once in a while occasion, trousers are a must have in any man's closet.
Slim-fit trousers are currently very trendy, but there are many other trouser styles to dropship as well. You can add chino trousers, wool trousers, corduroy trousers, and many more.
As always, having color options is crucial. Sizing is important too. If you don't see bigger sizes available, search for "plus size men's trousers".
8. Denim Jackets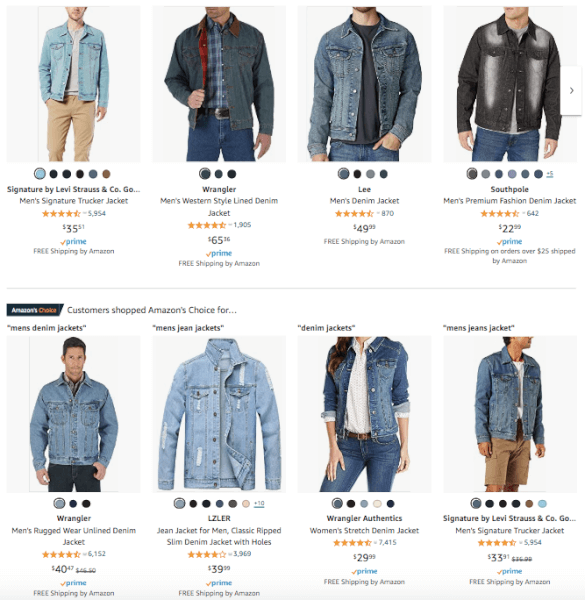 Up next we have denim jackets. Introduced in the United States in the late 19th century, they have been a very popular choice of casual apparel for both men and women.
With many fashion critiques calling it an iconic element of American fashion for decades, it is safe to say there will always be around.
A more recent version of denim jackets includes a mixture of fabrics. The classic denim is paired with a hoodie or soft cuffs. 
To bring in the big bucks, add a few classic blue jean options, black denim jackets, and hooded denim jackets in your dropshipping store.
9. Corduroy Shirts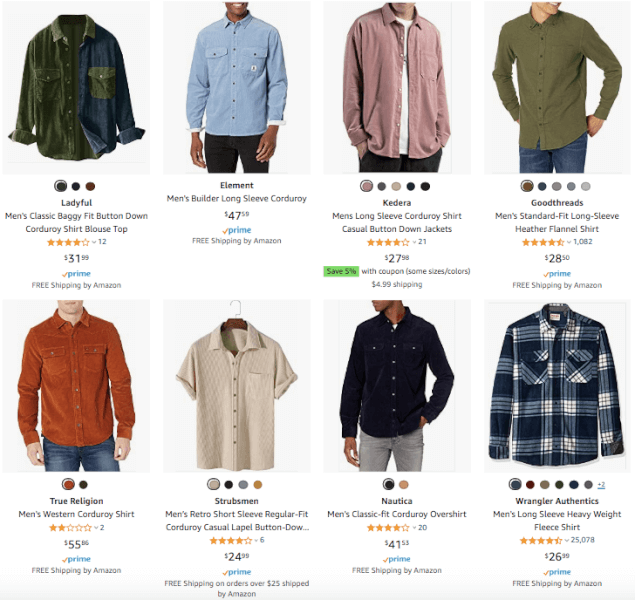 While denim is strong standing, Corduroy is one of those fabrics that seems to go in and out of fashion. After its drastic peak between the 1950s and 1970s, it somewhat disappeared.
It popped up again in the 1990s and in the 2010s and has had a strong stance until now. Although it is thick and warm making it perfect for fall and winter clothing, short sleeved corduroy shirts and even vests are in demand. 
Since corduroy is a fabric and not a design or cut, feel free to dive into other corduroy products. Pants, jackets, hats, and so much more can be found.
10. Floral Shirts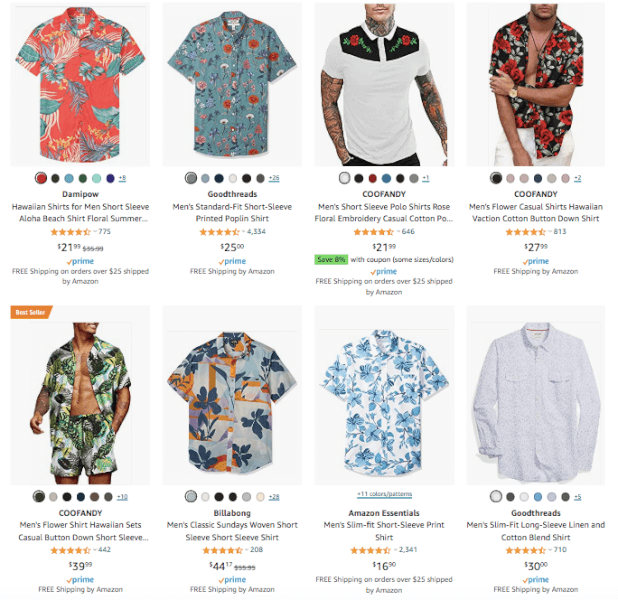 For our final men's clothing product, we have floral shirts. Although in the past anything floral may have been deemed as a more "feminine" design, men have been rocking floral designs for quite some time now.
These colorful printed shirts are eye-catching and fun. Due to their design, they naturally sell more in the spring and summer.
Nevertheless, depending on length and fabric type, they can be worn all year round.
Top Trending Accessories to Dropship In 2022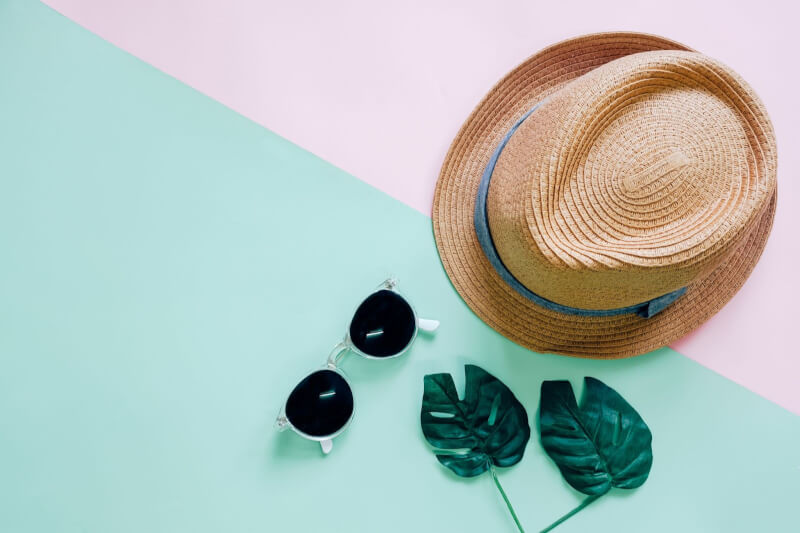 Time for that bonus we promised! Accessories are a huge part of fashion, so we couldn't leave them out. When you dropship clothes, this add-on is a must.
Although clothing may be the main part of your outfit, accessories add essence to it. An accessory can be one small item that spices up your look and puts that cherry on top, or a few paired together to make you really stand out in a crowd.
Keep in mind, although many shoppers search for accessories specifically, oftentimes they come as an additional unexpected purchase.
Interestingly enough, retail stores strategically place accessories in front of the cashiers and along the sides to catch the eyes of those in line.
Therefore, when we dropship clothes, they can act as the perfect up-sale item too.
So without further ado, here are some hot and trendy women's, men's, and unisex accessory items to dropship in 2022.
11. Sunglasses
The first accessory is sunglasses. Sunglasses are a great accessory since they are both stylish and useful. Who doesn't want to elevate their look while protecting their eyes from UV light.
There are two styles of sunglasses that are currently in crazy high demand, so if you decide to start dropshipping sunglasses, these two should be first on your list for 2022.
11.1 Retro Sunglasses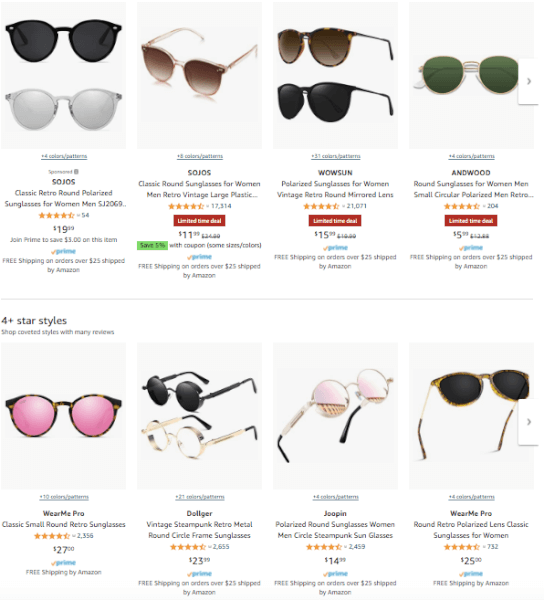 Just like we see older clothing styles make their way back (the more you dropship clothes, the more you'll notice them), accessories are no different. Retro sunglasses have taken over this past year, so hop on the trend while it's hot.
They can be bought and worn all year round by many, making them an evergreen product. 
Obviously, they are great for when the sun is shining, but again, sunglasses are a fashion statement too.
11.2 Mini "Y2K" Sunglasses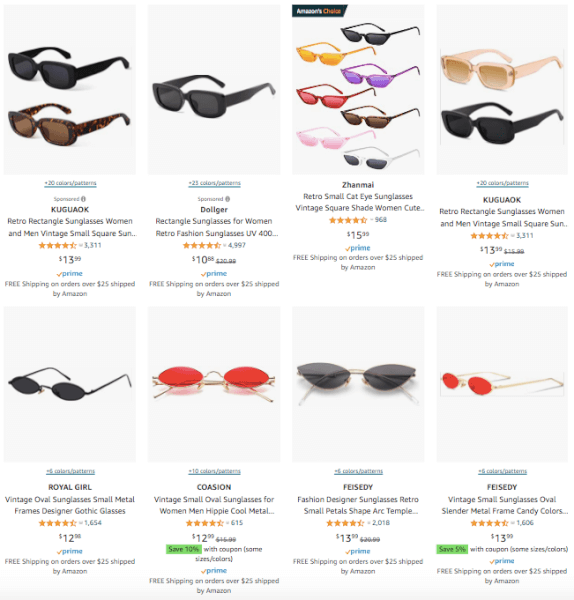 For our second sunglass type, we have another vintage design. These small sunglasses are part of what's now being called the "Y2K" style or aesthetic.
While adopted and brought back by Gen Z, these bring quite a nostalgic feeling for millennials. Both generations are crazy about this trend, so by selling them in your store you get a wide range of customers.
Take advantage of the hype and be sure to check out other Y2K products to offer in your dropshipping store.
12. Mini Purses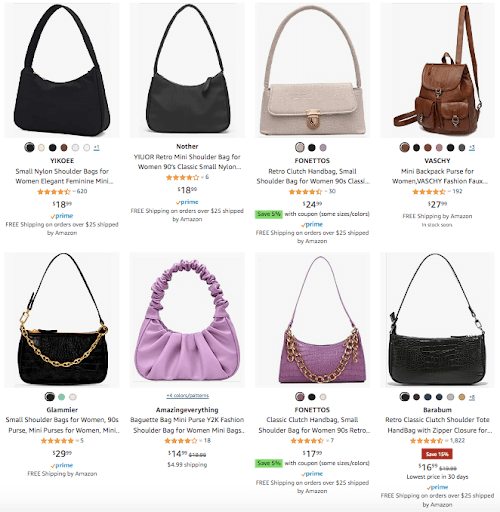 Next up in accessories, we have mini purses. It's safe to say that "small" was a fad in the 90's and early 2000s.
And now, with the sudden Y2K craze, it shouldn't come as a surprise that the small rounded bags with their distinctive short strap are selling like hotcakes.
Black is a popular and safe choice but look for color, detailed chains, embroidered prints, or any other unique marks to stay ahead of the competition.
13. Cufflinks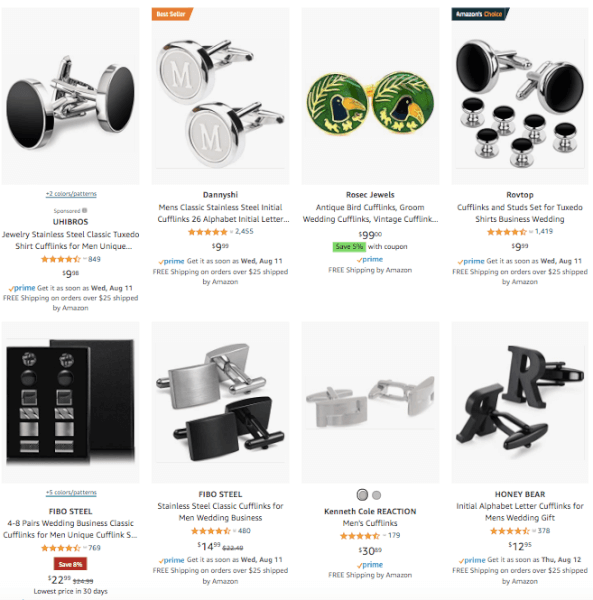 The third product on our list is cufflinks. Cufflinks have been popular for centuries now. They first emerged in the late 17th century during King Louis XIV of France's reign.
Due to their long history, different styles and designs of cufflinks have circulated, but they always remained in fashion.
Then In the 1970s, when fashion suddenly became dominated by the Woodstock generation, cufflinks disappeared almost completely. Fast-forward to 2022, they are back in business and perfect for dropshippers to sell.
If you decide to start selling cufflinks, always check what metal they're made of. Stainless steel and titanium are the best choice.
14. Bucket Hats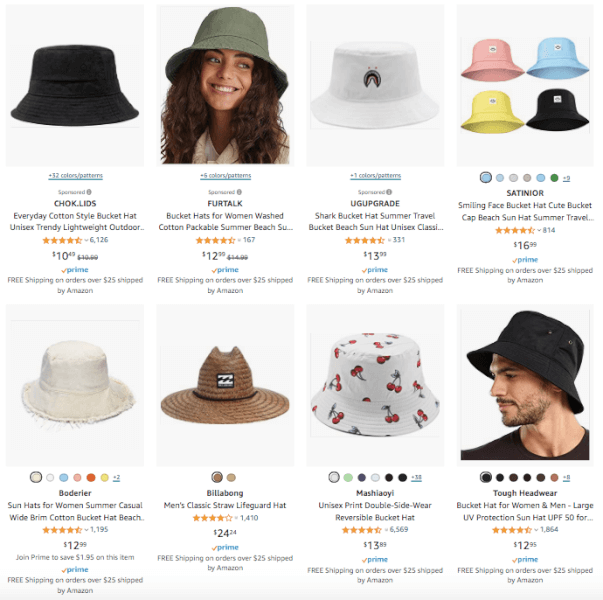 Up next we have bucket hats. If you didn't see these blow up back in 2020, you might be confused. The bucket hat is otherwise known as "The fisherman's hat" became a huge trend thanks to Gen Z.
They are still trending and in high demand, making them another best dropshipping accessory for 2022.
There are bucket hats designed for both men and women, and many are considered unisex. Offer a nice range of colors and designs to appeal to a wider market, and maximize sales.
15. Fanny Packs (Pouch Bag)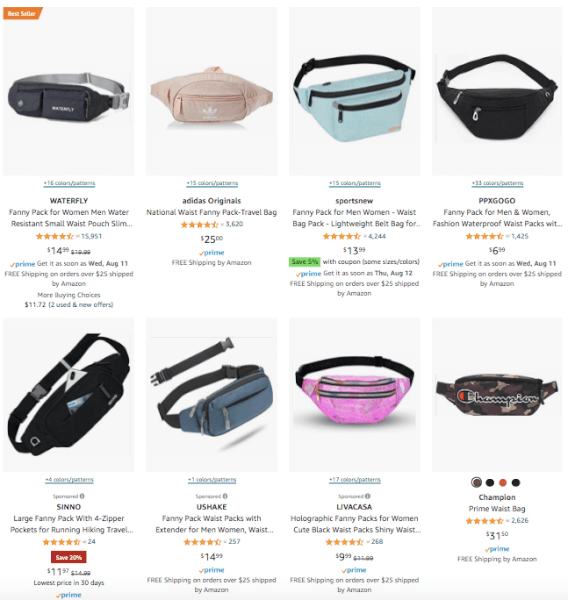 Last but definitely not least, we have fanny packs aka pouches. We have to hand it to Gen Z once again. Out of all the recent comebacks in fashion, no one expected fanny packs to make the cut.
They had their moment back in the 80's and against all odds, they can now be seen on almost any Instagram account.
Have a look at different suppliers for a variety of designs and different price points.
[post-banner]
Conclusion
By now, you have all of the reasons to begin to dropship clothes and start profiting from this amazing niche.
Out of all the great dropshipping product niches we researched and wrote about, clothing is definitely one of the biggest.
There are many niches with numerous categories and subcategories, but fashion offers truly endless profitable opportunities. We hope our article helped narrow things down to give you an easy start.
Remember that although clothing is a very stable niche, it is also quite diverse. Colors, trends, designs, and seasons are all factors to be considered.
This means you have four main opportunities to change your inventory to attract new buyers and returning customers.
With that said, do not be discouraged by this fast-paced niche. Although it will require a change of inventory along the way, these rapid changes are what keeps the fashion industry at the top in eCommerce.
So, if you were looking for a new niche to add to your dropshipping business, or just some new products for your clothing dropshipping store, you have tons of great options listed above.
Good luck, happy profiting and keep your eyes on our product-research content to keep you selling what's trending!