As the last quarter of the year (Q4) is fast approaching, we need to prepare our dropshipping stores. With that said, Halloween is just around the corner, and we need to 'spook up' our products to increase sales.
If you are not already familiar with Halloween, it is a special holiday celebrated on the 31st of October every year. With high enthusiasm, kids and adults await Halloween events full of costume parties, carved pumpkins, and spooky decorations.

With that in mind, there is a huge demand for Halloween products one month before Halloween. Thus, we must fill our dropshipping listings with trending Halloween items. So, whether we're just a beginner or an experienced dropshipper, this is an event we should take advantage of to optimize our profits.
Essentially, we can start Q4 with a bang by offering these products. As such, we're going to cover the 15 best-selling Halloween dropshipping products in this article so that you can reap the rewards.
Why Should I Dropship Halloween Products?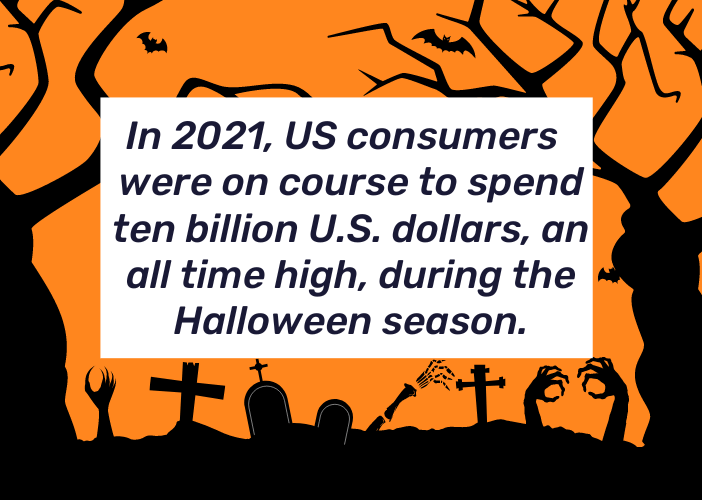 Before we reveal the best-sellers, let's discover why we should dropship Halloween products. Many people perceive Halloween as one of the best times to create fun memories with family and friends as well as bring out their inner creativity.
Therefore, there is a high demand for Halloween products every year, ranging from costumes, figurines, decorations, and more.
In 2021, Statista reported that consumers in the United States would spend a whopping ten billion U.S. dollars for the Halloween season. Although this is an all-time high record, sales in 2022 will reach even greater heights based on the upward trend in the market data.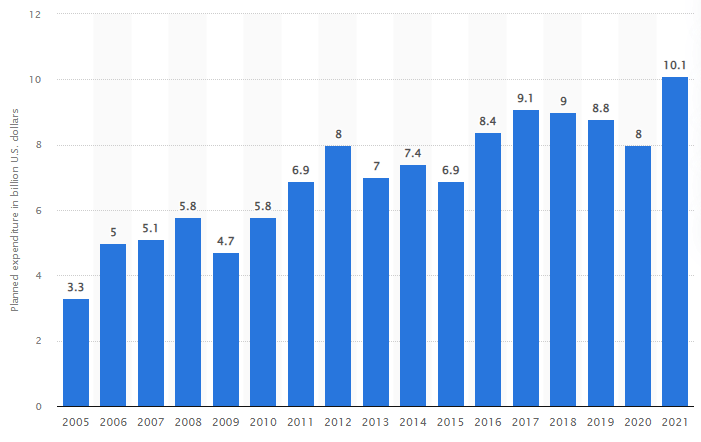 Furthermore, as dropshippers, we must stay relevant and competitive in the market. And, the best way to do so is by updating our stores with the latest trends. Additionally, even if we have a niche store, we can still provide Halloween-themed products.
For instance, if we are a pet niche store, we can offer pet Halloween costumes. Similarly, if we have a home decor niche store, we can sell Halloween-themed decor.
Overall, we have an excellent opportunity to cater to this rising demand. Moreover, as long as we update our stores with trending products, we can continuously multiply our profits.
15 Best Selling Halloween Dropshipping Products
Now, we know how profitable Halloween dropshipping can be. All that is left is to choose the right products from our suppliers. So, here are the 15 best Halloween dropshipping products to spice up our stores this October:
Let's dive right into the action.
1. Halloween Costumes
Halloween wouldn't be complete without a great costume. No matter how old or young people are, everyone enjoys putting on costumes and showing off their creativity at Halloween events. With that being said, here are Halloween costumes for men, women, kids, and even pets:
     1.1 Men's Costume: Jack Sparrow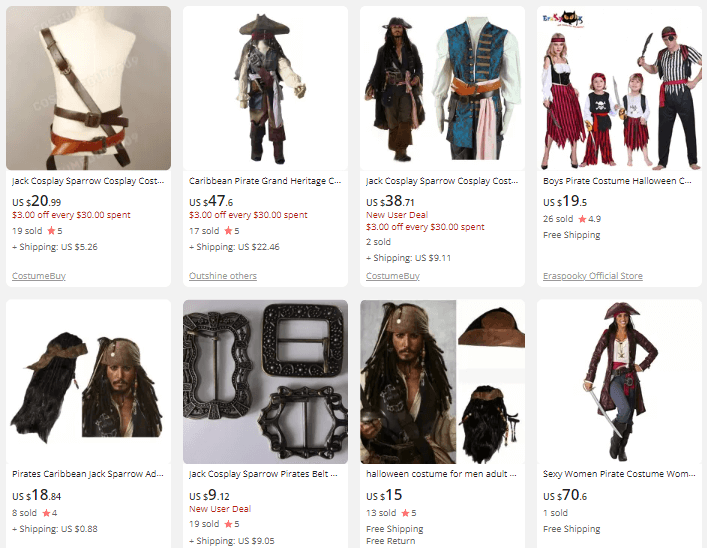 It's no secret that Jack Sparrow from the Pirates of the Caribbean movie is one of the best characters. As such, the character's costume is easily noticeable by all.
Additionally, with the recent publicity of the actor playing Jack Sparrow, the costume is in high demand this Halloween. Since the character is a pirate, his complete outfit includes a patterned red head scarf, brown coat, a blue vest, an ivory pirate shirt, and gray pants.
Plus, we can add other additions such as a sword belt, waist belts, and a brown pirate hat. Furthermore, with these movie-accurate pirate clothes, this costume will be popular to wear at parties and cosplays.
     1.2 Women's Costume: Top Gun Pilot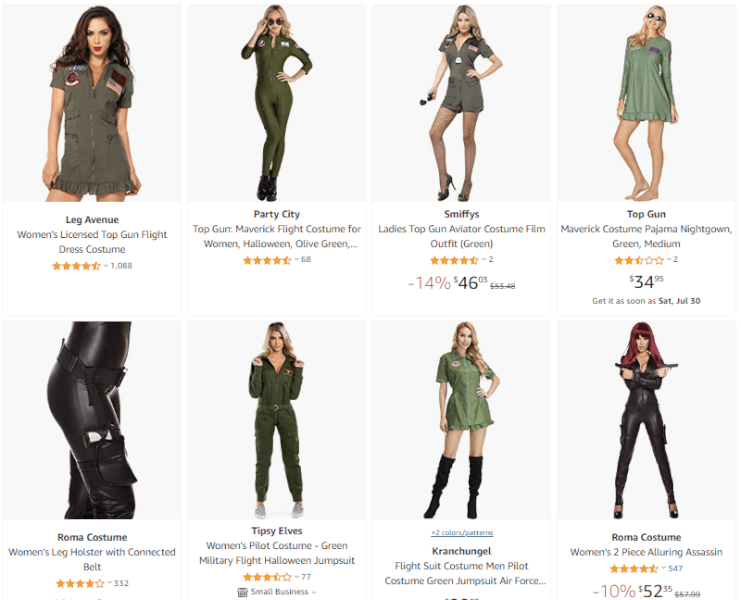 Who says women can't dress up as famous male characters? With the recent success of Top Gun: Maverick, women too are showing their dominant sides with the Top Gun Pilot Costume.
Basically, this costume comes as a slim-fit green jumpsuit with functional pockets, USA flag patches, an adjustable waistband, and a front zipper. Additionally, the pilot costume is comfortable, easy to put on, and reusable.
Furthermore, our customers will stand out at Halloween parties, making them fall in love with the Top Gun Pilot Costume even more. Because the movie is still the talk of the town, and the product is trending, we can profit by dropshipping this costume.
     1.3 Children's Costume: Spiderman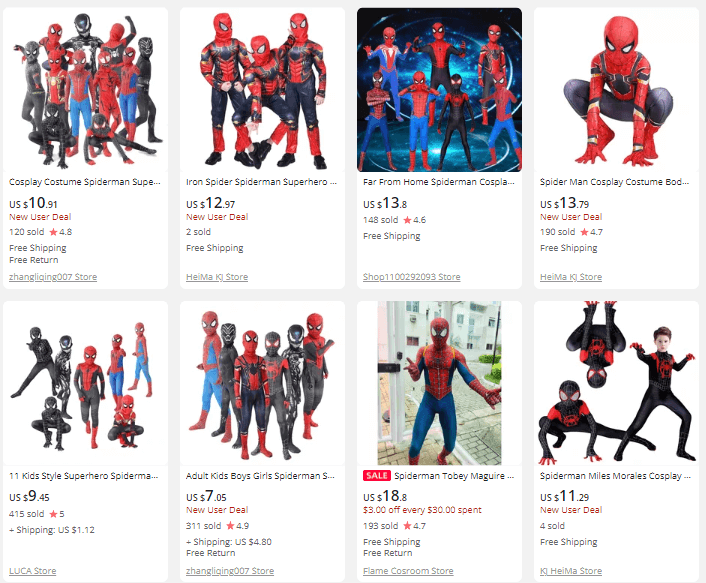 Most kids easily connect with superheroes. So, naturally, a superhero costume like Spiderman will attract a large audience of parents to your store this Halloween.
Generally, the Spider-Man costume includes a jumpsuit and a headpiece. As for its build quality, the costume is typically made of 100% polyester with cobweb details and the iconic spider symbol in the middle of the chest. Additionally, the red mask has a cobweb print to enhance the look.
We know very well that Spiderman is a popular figure most kids love. As such, we can never go wrong by dropshipping a children's Spiderman costume.
Beginner's Tip: We all know that Spider-Man has different looks. So, we can add a variety of Spider-Man costumes, such as the full black costume or one with a different shade of red.
     1.4 Pet Costume: Wizard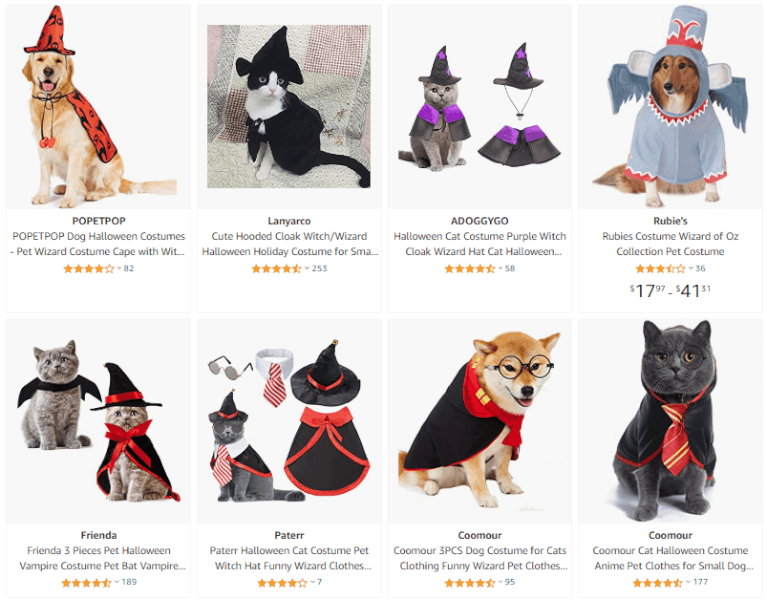 Dressing up pets is cute, but it's on a different level for Halloween! What's cuter than a dog or cat dressed in a Wizard costume, ready to take on the evil in Hogwarts? Generally, the pet wizard costume includes two items, the wizard cape and the wizard hat.
As such, it is easy to put on and store for future usage. Plus, some wizard costumes also feature a light-up collar which enhances the look of the costume. Besides that, we can add the wizard costumes in different colors and designs.
Moreover, most dropshippers will focus on adults' and kids' costumes for  Halloween. That's why pet wizard costumes are an ingenious idea that is not readily available everywhere. Thus, we can differentiate ourselves from the competition and gain huge profits this Halloween.
Beginner's Tip: When we list the pet Wizard costume, ensure to include a size chart. To clarify, size charts help customers find the perfect costume size for their pets.
2. Scary Bats Wall Stickers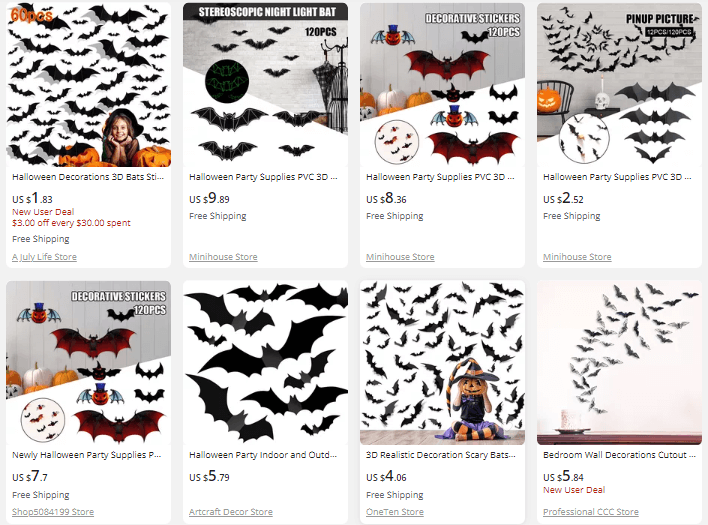 Up next on our list, we have Scary Bats Wall Stickers. These scary bats' wall stickers are stickers cut out in the shape of flying bats that can be placed on walls. Since the stickers are not attached with solid adhesive, they are easy to apply, reposition, and remove.
Additionally, we can modify them into different designs by changing their wing angles. Also, the stickers are easy to apply on hard surfaces like ceilings, doors, and glass. With that in mind, these scary bats' wall stickers are a fun addition to other Halloween decorations.
Beginner's Tip: Look for scary bats wall stickers made of waterproof and eco-friendly materials. On top of that, try to find stickers made of sturdy and durable materials as they can be used for a longer period of time.
3. Inflatable Outdoor Ghost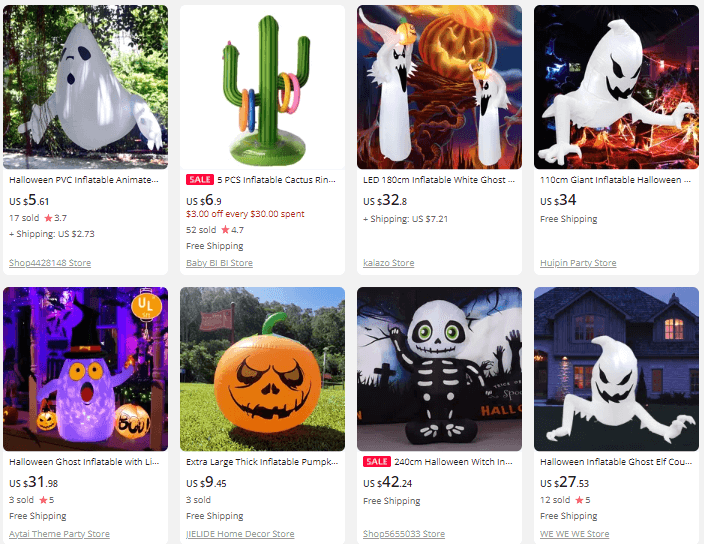 If your customers are serious about Halloween decorations, the Inflatable Outdoor Ghost won't disappoint them. In short, the Inflatable Outdoor Ghost is a blow-up doll that resembles a ghost.
Since this decoration is for the outdoors, it is made of waterproof and fade-resistant fabric. Additionally, they come in both smaller sizes and ones that reach 6-meters high. In any case, it is better to add multiple variations to increase our chances of sales conversions.
Furthermore, they come with color-changing LEDs to catch the attention of guests and neighbors. Therefore, this Halloween Inflatable Decoration is great for outdoor use as a garden or backyard decoration at Halloween parties. 
4. Spider Webs & Fake Spiders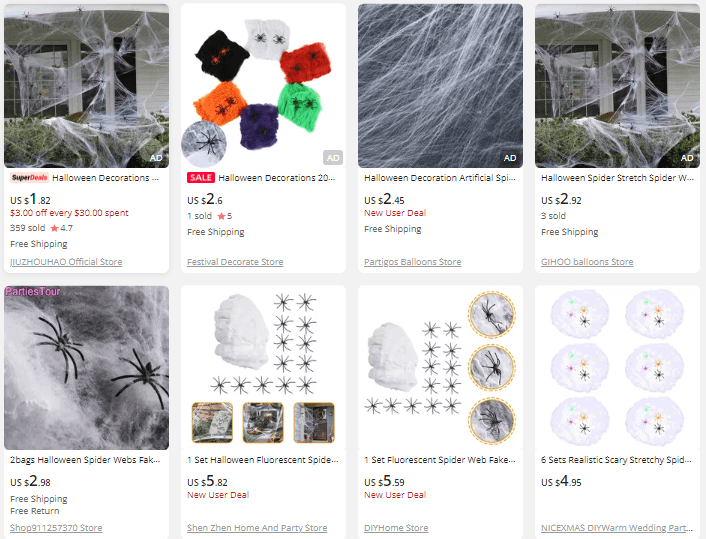 Do you know who doesn't like spiders? Pretty much everyone. They make people jump and run for their lives. And because of that fear, the Spider Webs & Fake Spiders are perfect additions for creating a terrifying Halloween setting.
The tangle-like web can be attached to windows, doorways, and furniture. Similarly, it can be placed on walls, ceilings, and trees with its hook.
Once the spider webs are attached, some fake plastic spiders can make the decoration even more realistic. If spooky Halloween decor is on your list of things to dropship, you should add these creepy crawlers to your dropshipping stores.
5. LED Pumpkin String Lights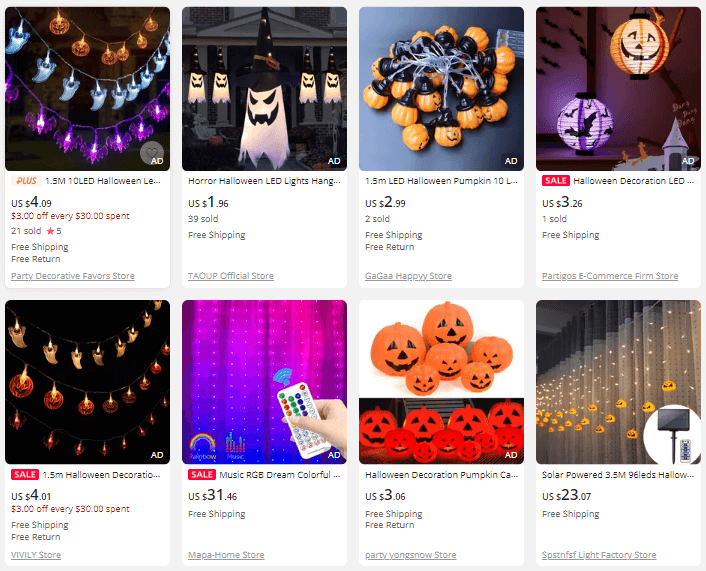 The LED Pumpkin String Lights will surely be a bash hit for those looking to decorate their space with Halloween lighting. This product is a series of Jack-o-lantern-shaped decor strung on a cord powered by batteries.
Not only can they be used as a decoration, but they are also suitable for lighting purposes. For that reason, the product has two modes, flashing and steady. On top of that, it does not require a plug to turn on and is made of durable plastic.
Whether it's an outdoor or indoor area, the LED pumpkin string lights will be a perfect fit. Furthermore, this product has made our list for the third time in a row. As such, it is among the best sellers every Halloween and thus, guaranteed to bring in high profits this Halloween season.
6. Trick-Or-Treat Tote Bags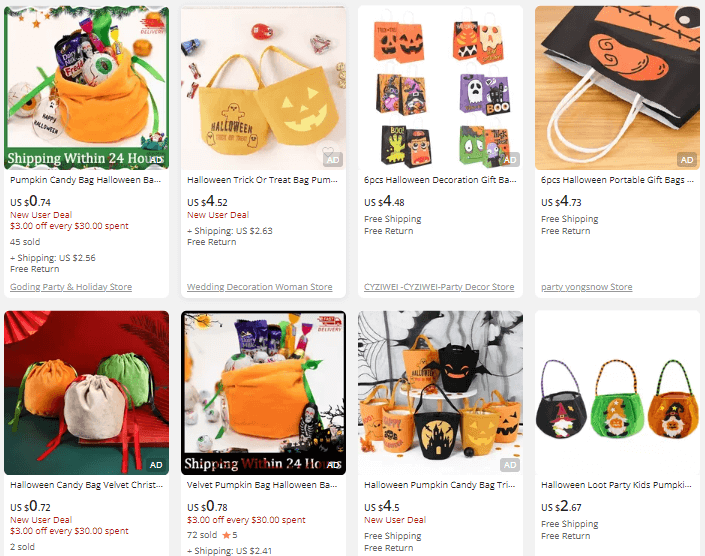 One of the traditions kids follow on Halloween is to dress up in costumes and go from house to house to collect candy. Especially when going door to door, they use Trick-or-Treat Tote Bags, which is a great way to carry those sweets throughout the day.
Since there are various selections of designs, prints, colors, and sizes, we can provide our customers with a massive variety of Trick Or Treat Tote Bags. This increases customer satisfaction as customers love choosing products from various options. So, Trick Or Tote Bags are high-potential products that can improve our profit margins.
7. Halloween Yard Scarecrow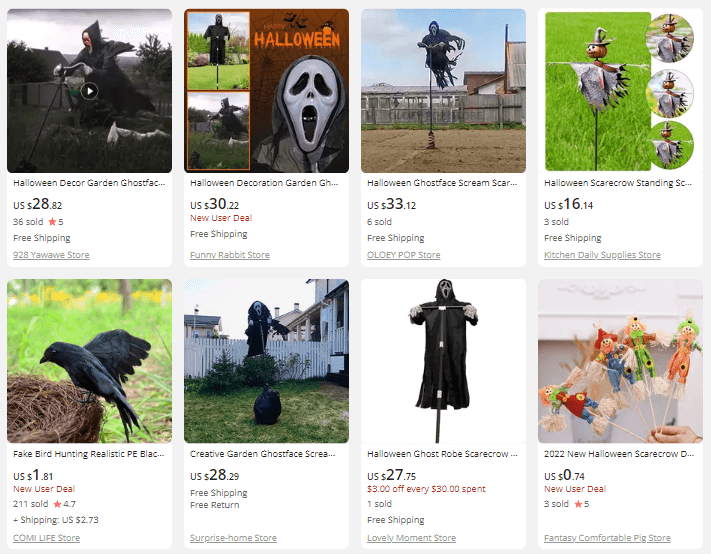 If you're looking for a product that is both fascinating and scary, then the Halloween Yard Scarecrow will not let you down! This item is a ghost figurine that can be placed anywhere outdoors. Plus, this Halloween Yard Scarecrow comprises metal tubes, a plastic mask, and Halloween-themed clothing.
With a realistic design, the Halloween Yard Scarecrow creates a spooky atmosphere in our backyard or garden. Additionally, the product is easy to assemble and disassemble, which is an excellent example of its functionality. On top of that, it comes in different designs, so we should dropship variations to ensure high sales volumes.

8. Hanging Halloween Animatronic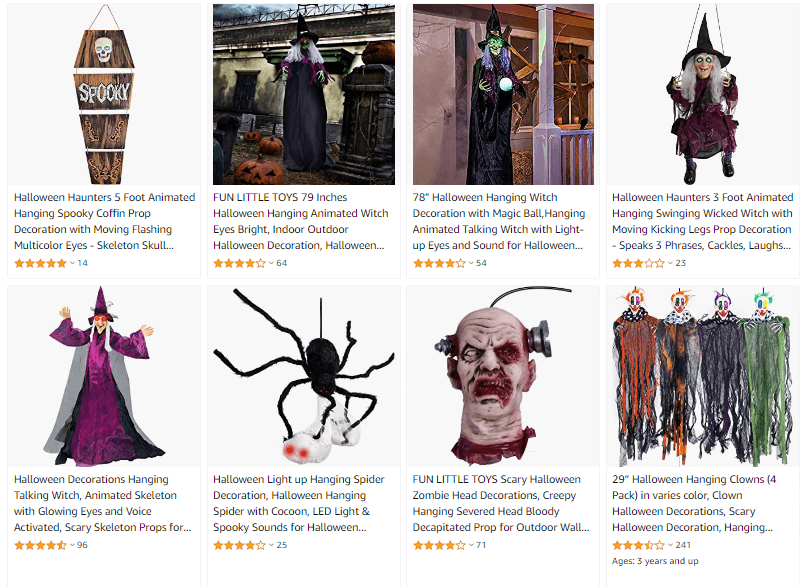 While stationary Halloween decorations are scary enough, imagine the thrill of Halloween figures that can move and talk. With that said, the Hanging Halloween Animatronic simulates a real-life creature with sounds and movements.
Generally, the Hanging Halloween Animatronic has batteries that power its movement, sound, and lights. So, imagine the fear of hearing noises from a scary clown or witch. As such, this product is great for haunted houses.
As for its build quality, the figures are made using rubber, plastic, fabric, and nylon. Overall, the Hanging Halloween Animatronic is perfect to spruce up a garden, yard, and porch.
Beginner's Tip: When adding the Hanging Halloween Animatronic, ensure to provide an instruction manual on how to use the product. Also, find suppliers who offer warranty since the products are battery-operated machines. Then, we can extend the warranty to our customers, increasing our store's credibility.
9. Animated Halloween Skull Bowl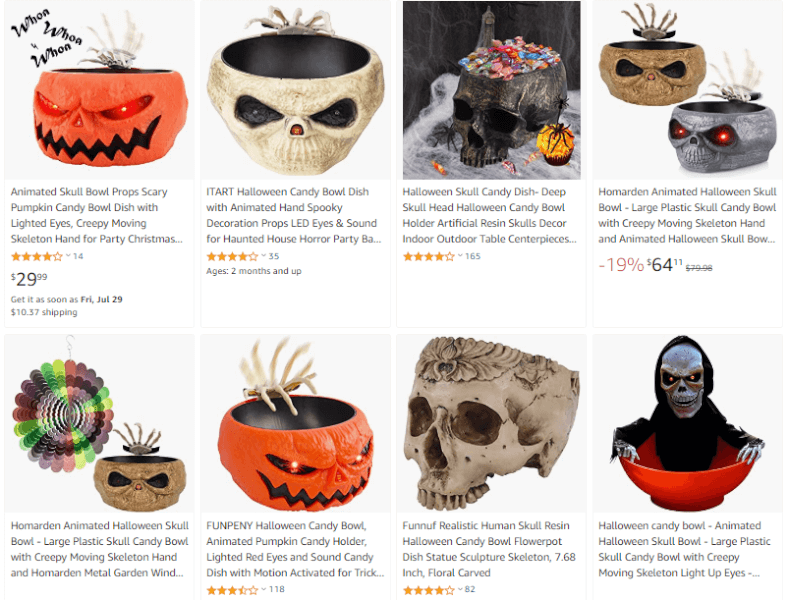 Up next on our list, we have the Animated Halloween Skull Bowl. It is an automatic battery-operated skull bowl that hands out candies and treats for kids. Plus, it has motion sensors that detect movement towards the bowl.
When it detects a motion, the attached skeleton arm grabs the candies and hands them accordingly. With LED lights, frightening sounds, and captivating movements, the Animated Halloween Skull Bowl is a great addition that adds an extra touch to the regular candy bowls. Thus, they are a high potential product that can help us gain significant profits.
10. Foam Graveyard Tombstones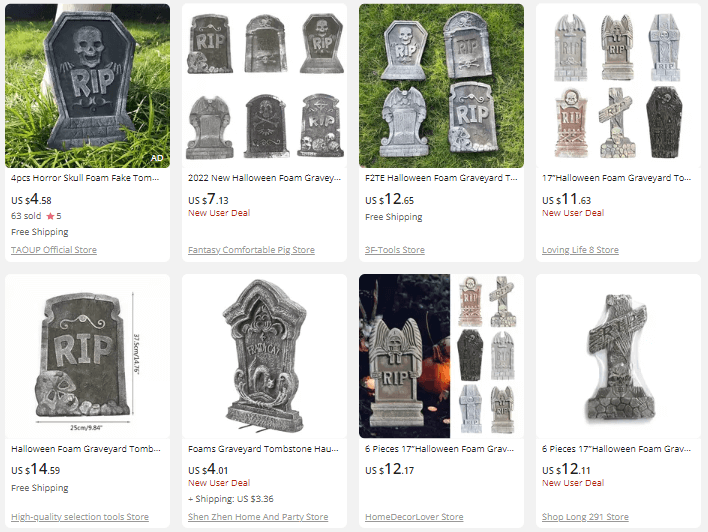 If the above Halloween products weren't spooky enough, then the Foam Graveyard Tombstones can solve that problem. These high-quality foams shaped and designed as graveyard tombstones are a great product to dropship.
Although Foam Graveyard Tombstones portray a deadly experience, they are lightweight and easy to move. Moreover, the foam tombstones include several metal stakes to secure them in the ground.
On top of that, they are available in different designs, encouraging customers to buy. So, it is a product worth dropshipping in our stores this Halloween.
11. Men's & Women's Costume Wigs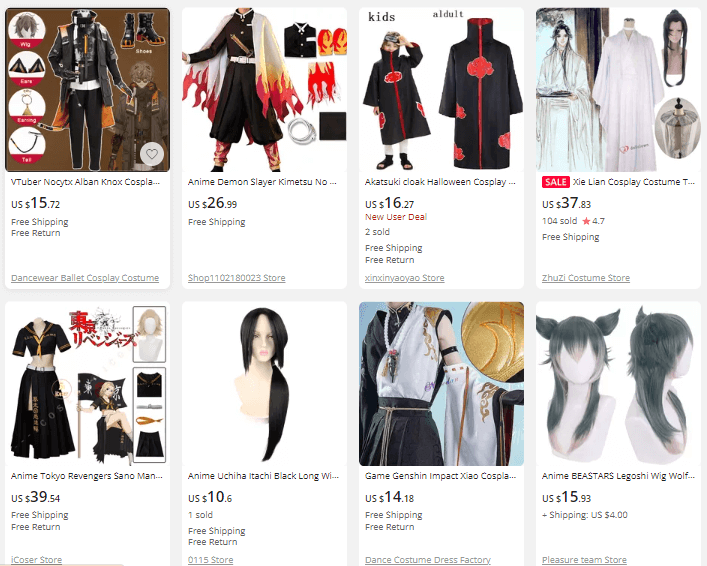 When people are planning their costumes, it's essential to take into account if their hair will match the overall outfit. So, to ensure our customers have the best Halloween costumes, we must add Men's & Women's Costume Wigs to our stores.
With that being said, Men's & Women's Costume Wigs are excellent products that our customers will be searching for. Also, costume wigs come in various colors and designs. For instance, we can sell mullet wigs, bob wigs, anime wigs, and so on. Thus, we can offer our customers a great selection of wigs that they're sure to love.
Beginner's Tip: Since costume wigs have a wide variety, we can include search filter options on the wig category page. We can add search filters like age, gender, length, and characters. Doing so will improve our store's user experience.
12. Halloween Headbands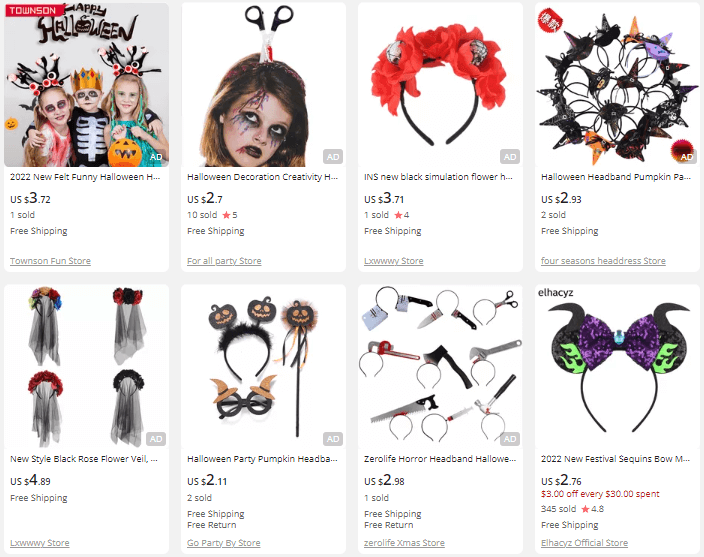 Similar to wigs, Halloween Headbands are popular among customers because of their quirky designs. Basically, Halloween Headbands are typical headbands with creative additions. For instance, the headbands with classic Halloween designs like spider webs, pumpkins, or flying bats add a fun element to the overall look.
Additionally, these headbands are made from durable plastic covered with fabric. Thus, they are comfortable to put on our heads and skin-friendly. Furthermore, their flexible sizes fit almost everyone, including children.
Beginner's Tip: We can offer multiple headbands at a lower price per headband to increase our profits. This marketing strategy, called product bundling, increases our average order value(AOV).
13. Witch Hat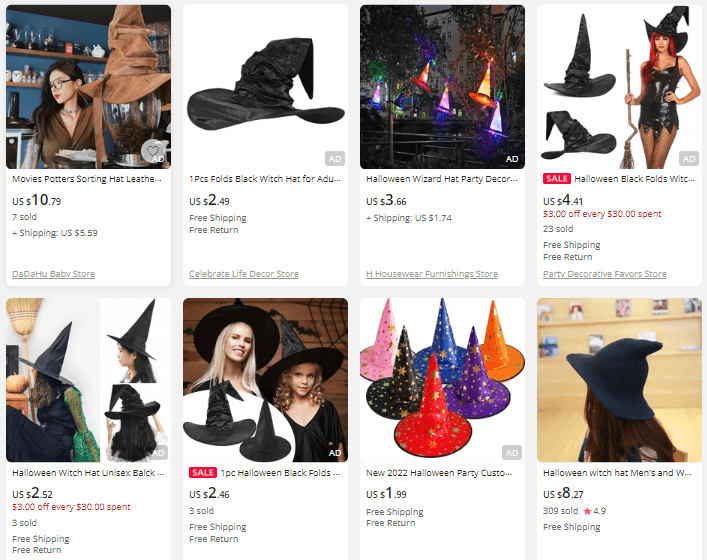 Another headgear that we can dropship this Halloween is the Witch Hat. Whether it's a Halloween party or a cosplay party, this product is always a hit! The Witch hat is a conical-shaped hat with a wide brim made popular by witches; women said to have magical powers.
While witch hats have the same conical shape, they are available in different colors and sizes. Plus, they are made of 100% fabric, which makes them light and wearable. In addition, they can also be made up of different materials, such as glossy fabric.
Moreover, some may have fancy features such as satin cones with a silver buckle and black feathers. As this Halloween product is versatile and always in demand for this holiday, adding it to our stores will indeed scale our profits.
14. Halloween Backdrops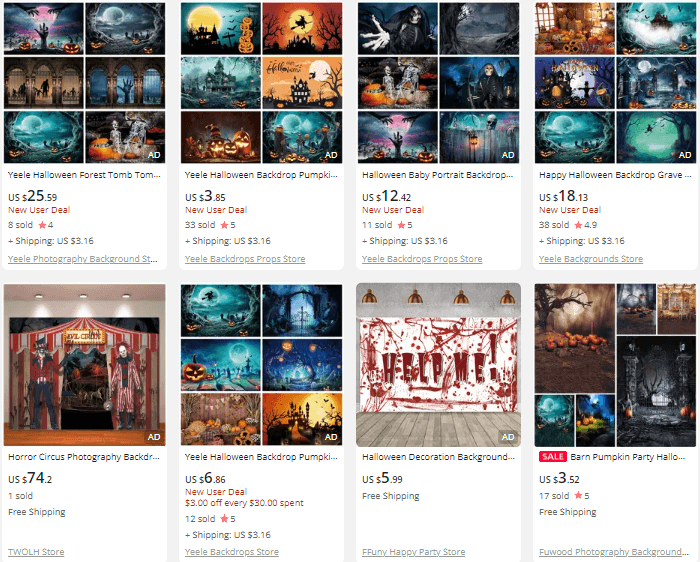 Since walls are the most customizable spaces for a Halloween-themed party, we have a perfect product that spices up plain walls. With the Halloween Backdrops, people can give a Halloween-themed ambiance to their rooms.
 With eye-catching details and lifelike colors, they can be used as photo booths, home decorations, wallpaper, and wall background scenes.
Furthermore, they are durable and tearproof, which makes them long-lasting. Plus, the wallpapers are light and non-fade, meaning they can be stored for future years. All in all, the Halloween Backdrops are affordable and trending products which makes them very easy to sell.
15. Orange & Black Garland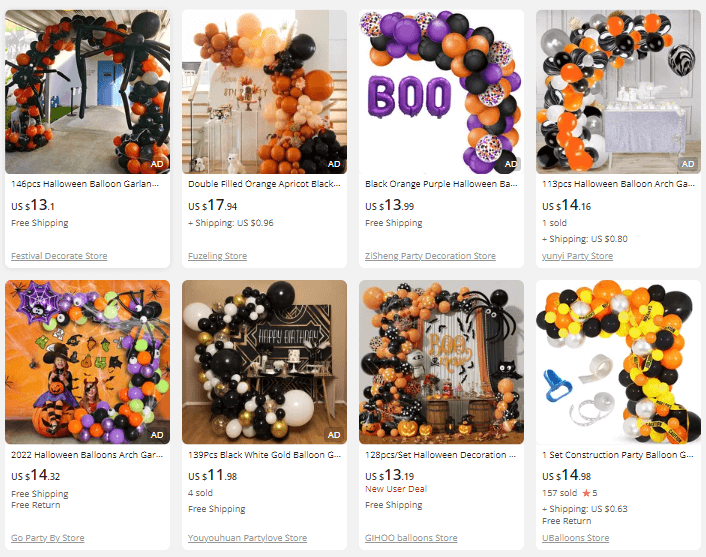 And finally, we have Orange & Black Garland on our list of best Halloween products. This product is a garland made of wide-cut orange and thin-cut black tinsel.
With classic black and orange colors and pumpkin elements, they add a beautiful and shiny appearance to homes. Additionally, they can be hung on walls, doors, ceilings, tables, staircases, branches, and more to decorate for Halloween perfectly.
Besides being attractive, Orange & Black Garlands are durable and reusable products making them great for long-term use. Furthermore, users can change the product's shape and length accordingly. Plus, they are lightweight. As a result, this product is easy to move around.
With these fantastic features, the Orange & Black Garland is a versatile product to dropship this Halloween.  As a result, we can generate lots of sales and scale our dropshipping profits.
Automate & Scale Your Halloween Dropshipping Store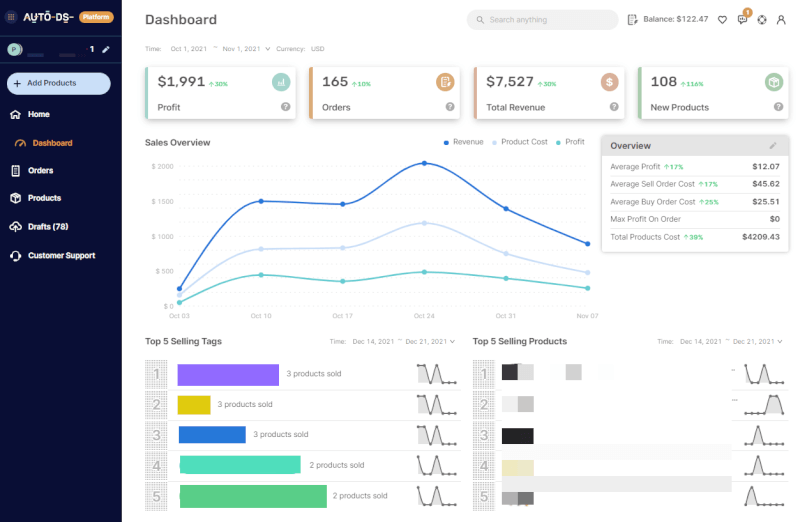 Great, now we have the 15 best Halloween dropshipping products list. As such, the next step is to list these products in our online store. In other words, we need to import them, which can be done either manually or automatically.
To clarify, manually importing Halloween products can be tedious and time-consuming. That's because we need to add product titles, images, and descriptions to our stores from the supplier's website.
On the other hand, we can save this time and effort by using AutoDS' automated product importing methods. With that in mind, here are the four product importing features of the AutoDS dropshipping software:
One-click importer 

Single product uploader 

Multiple URL/IDs

Bulk importer
Single Product Importer
To show how easy the product importing methods are, we will focus on the single product uploader as a demonstration. In a nutshell, the single product uploader lets us import a single product in just a few seconds. So, let's see how to use it!
First, copy the Halloween product's URL or ID from the supplier page. In this case, we are using an AliExpress product link.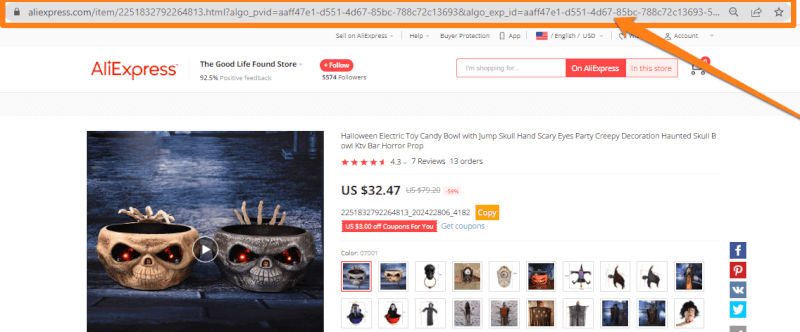 Second, head to the AutoDS platform and click on 'Add Products' on the top left menu. From the dropdown options, select the 'Single Product' option. Upon selecting the option, a dialog box will appear. Next, paste the product's URL and choose the 'Edit Now (Quick)' button.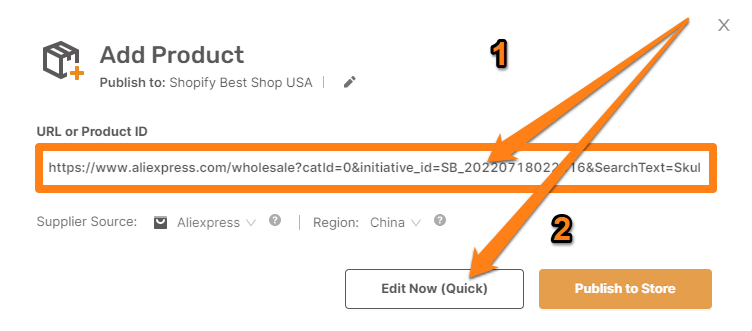 After this step, the software will upload the item's details on the draft page. To elaborate, the draft page is where we can optimize products before listing them in our stores.
When importing products, we should optimize them to stand out from our competitors. Also, when we optimize our products, they have a higher chance of ranking in the search engine results. As such, the optimization process includes editing the product's description, tags, images, and more. 
When you're ready to import the product to your dropshipping store, click 'Save and Import.' Now, the items will be imported to the 'Products' page from the draft page.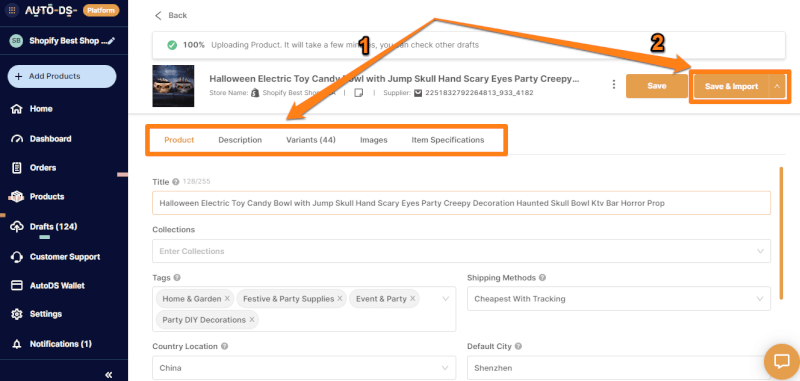 Finally, the process is complete, and customers can buy the Animated Halloween Skull Bowl in our stores. As we can see, AutoDS' Product Importing process makes adding products quickly to our stores much easier.
AutoDS Dropshipping Features
While product imports are one of the automation tools we can use, other ones can help scale our business, such as:
Product Research
Complete Order Fulfillment
Price/Stock Monitoring
Price Optimization
Easy Inventory Management

and more!
With all these features, AutoDS saves us so much time from manual dropshipping. Consequently, we can focus on other vital aspects of business, such as customer service or marketing. Therefore, when we work with the AutoDS dropshipping software, we can comfortably take our business to new heights.
Frequently Asked Questions
What Is The Most Popular Halloween Product To Sell? 
The most popular Halloween products are Halloween costumes, Trick-Or-Treat Tote Bags, Halloween Yard Scarecrow, Hanging Halloween Animatronic, and Halloween Headbands. Furthermore, we can find even more trending Halloween products with the help of the AutoDS product research tool.
Is It Legal To Dropship Halloween Costumes? 
Absolutely, dropshipping Halloween costumes is completely legal. While we can sell most Halloween costumes without any issues, we must keep an eye on those with copyright protection. Therefore, we need to avoid copyrighted products by following the VeRO guide. 
Where Can I Source Halloween Dropshipping Products? 
We can source Halloween dropshipping products from suppliers such as Amazon, Walmart, AliExpress, and more. Additionally, we can choose other reliable suppliers supported by AutoDS automation services, so we can easily scale our business. 
Conclusion
To summarize, Halloween is one of the year's most anticipated holidays. In general, there is a high demand for Halloween products since our customers want to have as much fun as possible celebrating the event.
As such, Halloween dropshipping is an excellent opportunity to increase our profits by selling the spookiest products. So, ensure to use the product list in this article to optimize your store's listings this season!
Undoubtedly, excellent product research can skyrocket your sales this Halloween. But you don't have to only rely on particular events. So, here are other products that can help us scale our profits: