Working online and running a business is the trend now, especially in nowadays, while the Coronavirus pandemic is a big thing; more people are working from home and online.
More businesses are going online, and people started to adapt to the mentality of buying everything without having to go to physical stores. And since entrepreneurs are people who are managing risks, finding solutions, and making the most out of every setback, dropshipping can be an excellent opportunity for them.
In this article, you will find a full dropshipping guide to starting your own dropshipping business. Especially during these tough times.
What Is Dropshipping?
For those who aren't familiar with the term, dropshipping is selling a product in an online store without holding physical inventory as a seller. Once there is a transaction, the product is then purchased from the supplier directly to the buyer's shipping address.

This way, the seller will not have to deal with any stock, shipping, or anything. And the seller, in this case, is called a dropshipper.
Here is a picture that shows precisely how dropshipping works: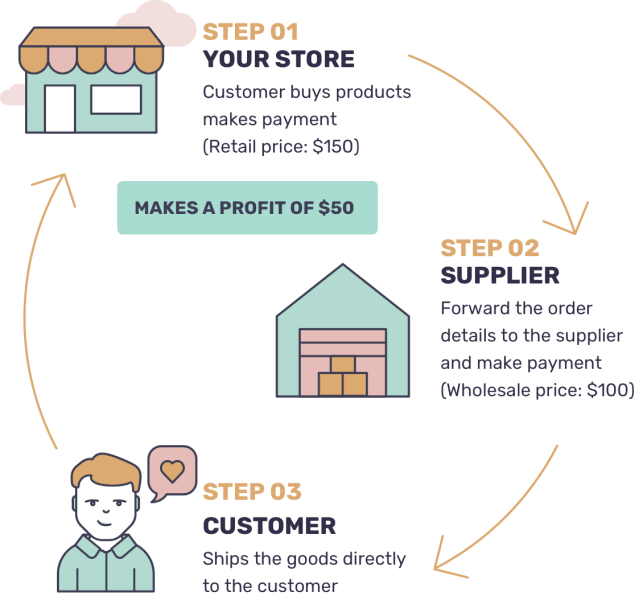 We all purchase online and if you have already done that before, chances are you've bought from a dropshipper rather than a physical store that holds the actual stock.
For example, if you've ever bought anything from eBay, you've most likely bought from dropshippers yourself. eBay is a platform for online stores, which most of them don't hold any stock themselves. They purchase the product from their suppliers once you buy the item from their shop.
It's a simple business model that has been working for years, turning many 9-5 workers into successful entrepreneurs. If you've ever dreamed of owning an online business but don't have an initial investment to start, you should learn about this business model.
What is eBay?
For beginners and professionals, one of the best dropshipping platforms to own and manage your store is eBay. eBay is a gigantic online marketplace, mainly known for its auctions and consumer-to-consumer sales.
It is a mix of sellers who hold physical stock and dropshippers and the best part of it is that anyone can do it. All you need is a computer or laptop, an internet connection, proper knowledge, and the right tools.
Why Dropship on eBay? Why Does It Work?
There are a few good reasons why eBay is the preferred choice for dropshippers worldwide. 
Free Traffic
eBay provides your store with a ton of organic traffic without needing to reach out to your buyers by spending money on promoted ads (Facebook Ads, Google Ads, etc.). 
No Upfront Costs
Dropshipping on eBay is a low-risk business, with a low barrier to entry. Creating an eBay account costs $0 and you, the dropshipper, have to purchase the products only after you generate sales.
This means that you can scale your dropshipping business exponentially. 
Easy Automation
The most successful dropshippers' businesses cannot breathe without tools to help them automate many things in their stores. eBay allows developers to create software based on eBay APIs, which enable sellers to work through them without accessing eBay. And one of the leading dropshipping tools is AutoDS, which allows you to automate your whole dropshipping business, save you time and money.
Endless Niches To Sell
You can sell almost anything you want from many different categories.
From household items, outdoor and camping, electronics, fashion products, sports, and more.
Some products are not allowed to be sold on eBay without proper authorization from the manufacturer. These products are called VERO products

Additionally, there are several forbidden categories on eBay. They include drugs, weapons, branded products (Apple, Nike, etc.), replica or counterfeit products, tobacco, and more.
Business Automation Leads To Financial Freedom
Time is your biggest friend, but also your worst enemy. Running a store requires time – and a lot of it. The more time you put in, the more you will learn, and the faster your dropshipping business will start to grow.
For a successful dropshipping business, you need three things: Your store, your supplier, and your customer. For managing and automating them, you can use software that can help you save a significant amount of time. 
At the beginning of their journey, some dropshippers try to handle everything manually and on their own. Once their stores start to sell, they are quick to realize that they are wasting way too much time on manual work.
Fulfilling the orders, going over all of the supplier's stock daily to make sure no items run out of stock—the amount of time it takes to upload every listing manually, and more.
Once you start working with automation software for your dropshipping business, you will have a solution to all of these time-consuming problems. Then you can focus on the most critical things to multiply your success and grow your online business.
What is a Dropshipping Software and Why Do You Need It?
Dropshipping success comes from hard work and useful software to help automate our stores.
As you grow and expand, one store becomes two; two become four, and so forth. A professional dropshipping tool can help automate your dropshipping store and do the things you love.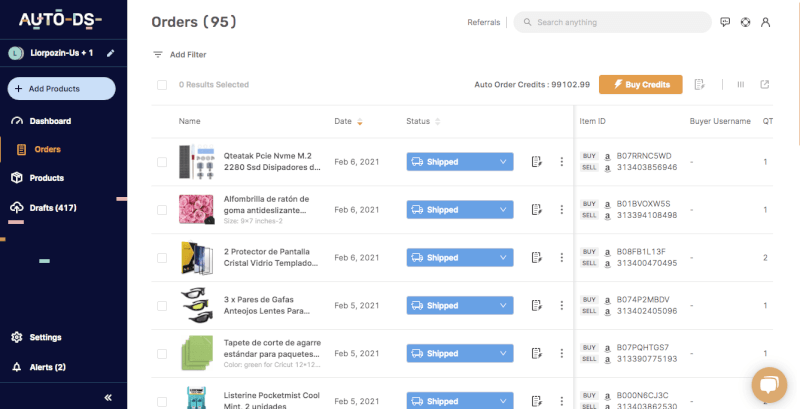 AutoDS is an all-in-one dropshipping tool that has endless features to help every dropshipper, no matter how big or small. From uploading products to your store straight from the supplier, handling customer service, automatically fulfilling your orders with your supplier, updating tracking, price/stock monitoring, bulk uploading, finding and uploading hot selling items from your supplier, and so much more.

"I'm always looking for the smartest and simplest way to dropship and AutoDS does that for me." – Paul Lipsky
Complete Dropshipping Guide For Running an eBay Dropshipping Business
There are 4 main steps to run an eBay dropshipping business:
1) Picking a Dropshipping Supplier
2) Finding Your First Winning Product
3) Listing Your Product
4) Fulfilling Orders
Let us cover each one of these steps and see how to do it together.

1) Picking a Dropshipping Supplier
Now that you've got the software, you need to find the right supplier. And actually, there are multiple suppliers that you can work with, including but not limited to Amazon, Walmart, HomeDepot, Costway, Wayfair, Banggood, AliExpress, and a lot more. These suppliers are among the AutoDS supported suppliers.
We'll take one of the biggest and well known dropshipping friendly platforms – AliExpress.
AliExpress is full of Chinese suppliers that we can source products from. Therefore, most of the warehouses are in China.
And like any other dropshipping beginner, you may start having questions like will my supplier ship and deliver products on time? Will the product match the item description? How do you even choose a supplier between doses of suppliers who sell the same product? And a lot more questions when it comes to finding suppliers to work with.
To answer these questions, let's start the filtering process and find an excellent supplier.
1. Filtering Out The Bad Suppliers
First, we will set our "Ship To" location from the top bar to "USA" to only see the products that are available to be shipped to the United States.

And let's say that we want to search for a "Portable Blender". From the filter menu, we will select the 4+ stars rating so we can only see the product that already got more than 4 stars rating. Also, we need to select the "Free Shipping" option to find just the product that offers free shipping on them.

Now you have the best-matched items from your search laid out. Each item is from a different supplier, with its rating and number of items sold. Here are the results for "Portable Blender" for this example: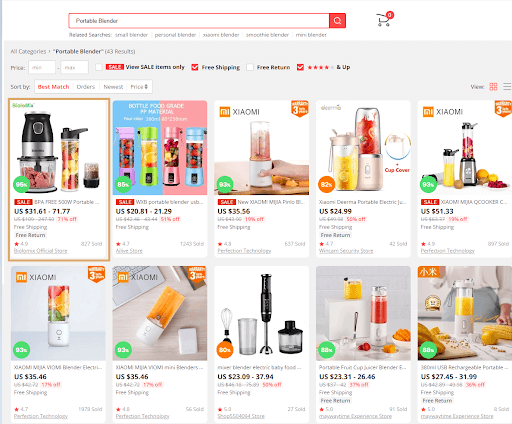 There are a few good examples for high-quality suppliers in this search, but for this specific search, we'll go with the highlighted product. 
From the outside view, we can see the supplier's store name "Biolomix Official Store," with 840 units sold on this specific product, a 4.9-star rating with free shipping and returns.
This looks like a very high potential supplier to work with, but we still need more information to make sure it's right for the eBay dropshipping model. To do this, let us click on the product to get more detailed information.
2. Checking Seller History
Now, make sure that the seller has been active for at least 1 year and has a high store rating (preferably 96% and up). We can do that by hovering over the seller's store name on the top left:

This supplier has been active for at least six years and has above-average ratings as opposed to other sellers on the platform. Therefore, this is an excellent example of a supplier you'd want to work with.
Save this supplier to your favorites and search for more suppliers until you have anywhere between 5-10 high-quality suppliers that you can start building your store with.
Now, make sure that the seller has been active for at least 1 year and has a high store rating (preferably 96% and up). We can do that by hovering over the seller's store name on the top left:

This supplier has been active for at least six years and has above-average ratings as opposed to other sellers on the platform. Therefore, this is an excellent example of a supplier you'd want to work with.
Save this supplier to your favorites and search for more suppliers until you have anywhere between 5-10 high-quality suppliers that you can start building your store with.
2. Communicate With Your Supplier
After you've arranged a list of suppliers with good ratings, it's time to test their communication skills. This is a crucial step that will save you a lot of unnecessary headaches in the future.
Try to get them to chat with you off of the Aliexpress platform for a smoother communication process. For example, WhatsApp, Wechat, or Skype.
Communicating with your supplier creates a needed bond and a long-term business relationship. If they don't respond within 24 up to 48 hours, consider moving on to a different supplier. 
2) Finding Your First Winning Product
Now that you've got your eBay store, your automation software, and your suppliers list, it's time to move on to the most crucial part of your work – finding winning products to upload to your store. There are multiple methods for finding hot selling products.
While there is more than one way to do your product research, we strongly believe that business automation is the best method out of them all. Even and especially when it comes to product research. That is why the AutoDS Finder was created. 
The AutoDS Finder supports multiple suppliers from different marketplaces and scans over 40,000 dropshippers, and over 1 million products per day to find the best dropshipping products for your store.
It's nearly impossible to get to these results with manual work.
Here's the amount of simplicity in what is meant to be such a head-breaking process:
1. Where to Find The AutoDS Finder
From the AutoDS side menu, click on "Add Products", and then "AutoDS Finder".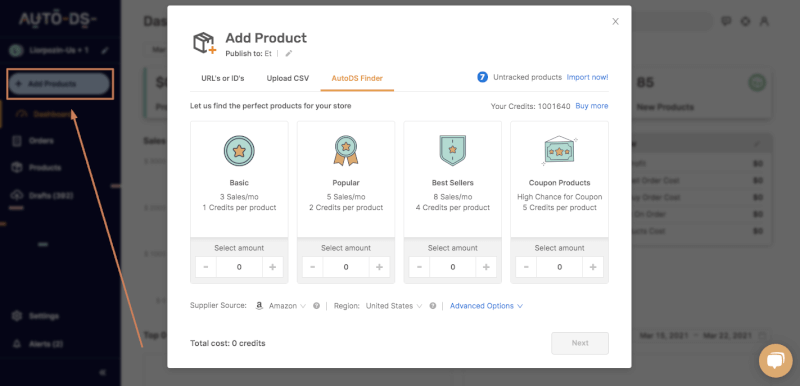 2. Choose the Product Category
Choose which product selling category fits you the best –  from items which sold 3, 5, or 8 times within the last month, and also products with a high chance of having coupons, which means more profit.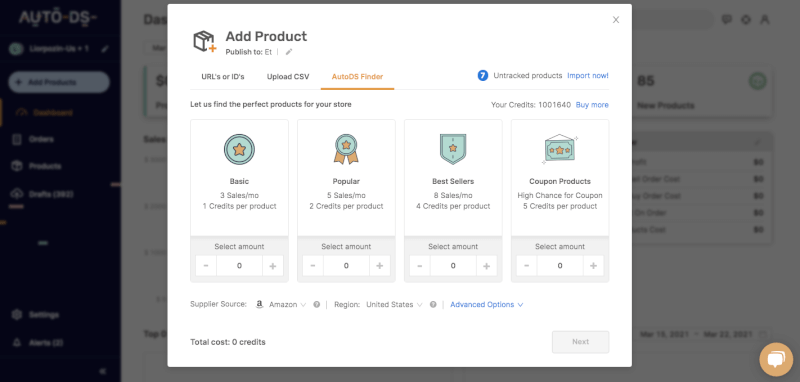 3. Choose a Supplier
Choose the supplier you'd like to grab the hot selling items from. There are over 15 suppliers to choose from. Once you're done with both steps, click "Next".


  4. Configure Your Upload Settings
In this step, you need to select your break-even, profit, quantity, and policy.
To help you calculate your break-even and profit on eBay, we recommend using our free eBay Calculator Tool.
Check out all of the options and use what suits you the best – upload variations, using the main listing's image as a collage, capitalizing the first letter of every word, etc.)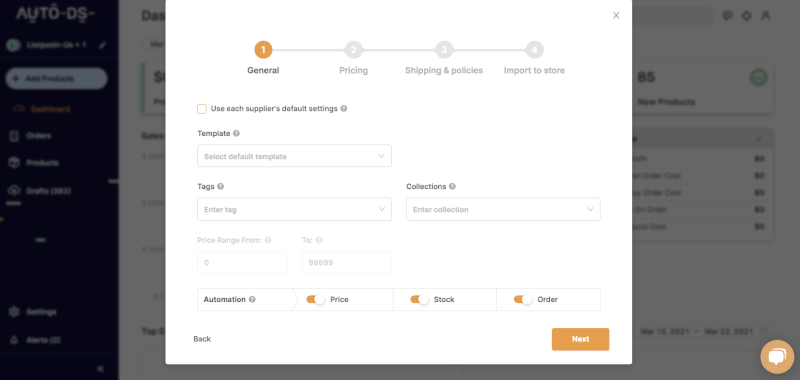 After checking all the settings, you have 3 options to upload products, the upload products to directly upload products to eBay, the scheduled upload to schedule products based on dates, and the create recurring uploads that will automatically do your hot selling product finding and listing for you every day. All you need to do is set the time and let it do the work for you.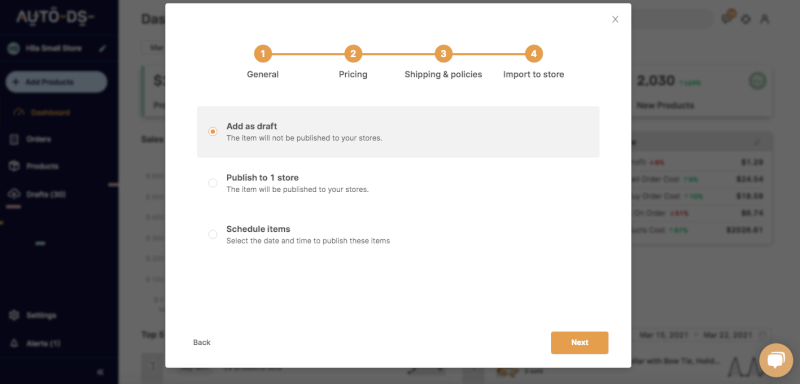 3) List Your Product/s

Whether you choose to upload each item individually, upload them in bulk or use the AutoDS Finder to upload your products, you need to familiarize yourself with the uploader section. This is where the magic happens. For example, we'll upload the following product from Amazon: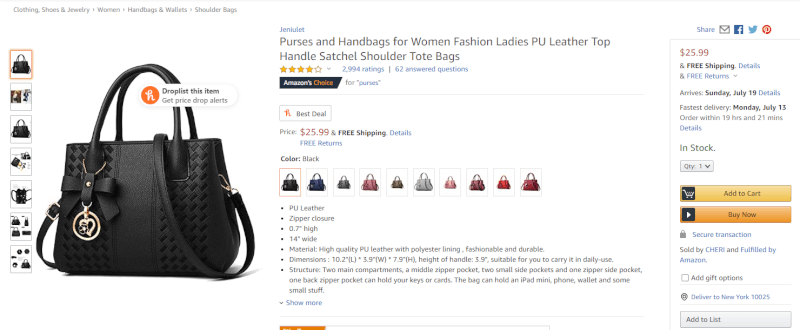 Using the AutoDS Uploader
On the AutoDS platform, you will be greeted with the uploader menu and all of its options. Under "URLs or IDs" you can enter the whole URL of the item's location, or just the product ID (In Amazon's case, the ASIN).
Under that section, you will see the option to choose the source product site and to which site you are uploading to, the region of the supplier if there are multiple choices, and a few "Advanced Options" that include options such as "Capitalize Title" or "Allow Vero" for example.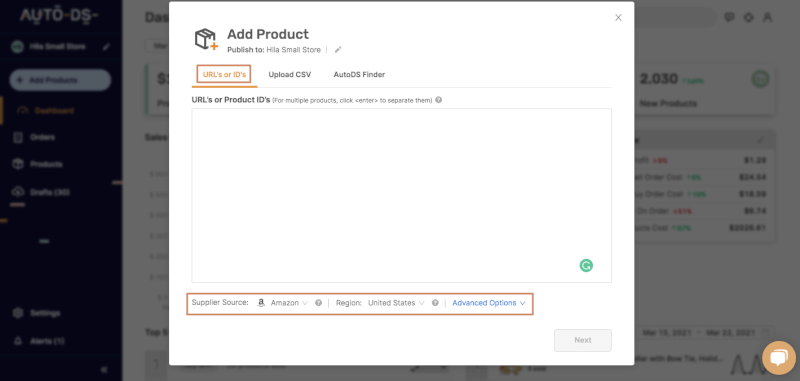 During this process, AutoDS takes all of the product information from the source site and converts it to an eBay listing for your store.
You can edit the product's title, change each variation's break-even %, price and profit by clicking on "Edit Variation":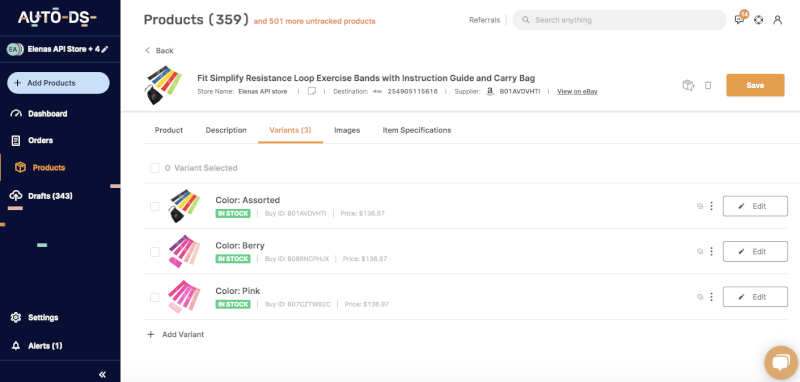 Next are the product's category and item specifics in which AutoDS does most of the work for you. Here, you can choose whether to add or edit the fields or leave them be. At the beginning of your journey, it's best to leave the recommended options as they are.
The more item specifics we have on our listings, the higher the chance that they will appear on the search results based on the buyer's filter.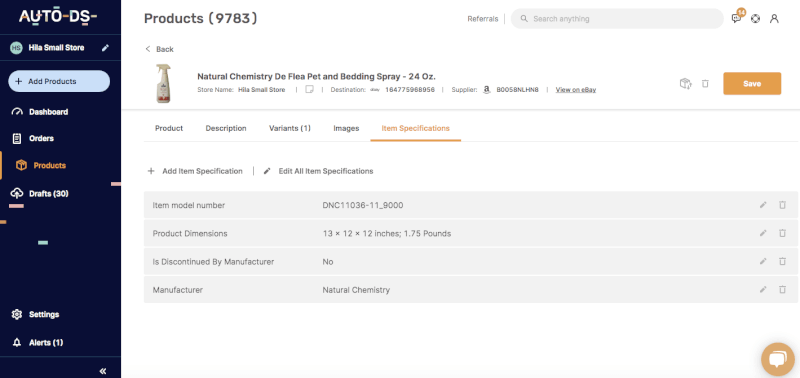 Product Images
Next is your listing's photos. As you can see, AutoDS grabbed the product's pictures, highlighting the main one. Here, you can highlight a different picture to be the main picture for the listing, manually upload new pictures, create a collage of 3-4 pictures, and set your own watermark on your images.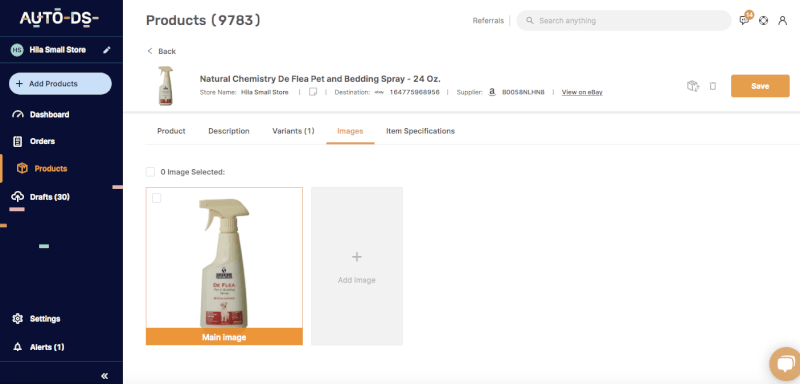 Finalizing The Listing
Last but not least is choosing your item's location and your business policies that include shipping and handling time, return, and payment options, all of which are configured in your eBay account's settings.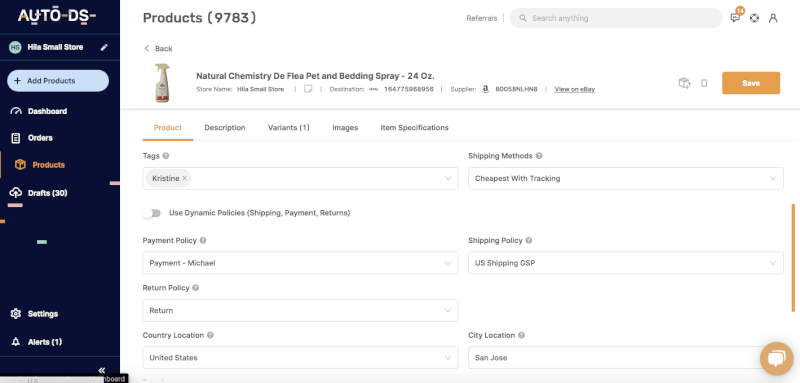 You can also add a tag to your product for future reference. It can be helpful to filter the listings and group them.
You're done working on your first product! Choose whether you want to upload it now, or use the "Schedule Upload" option to choose a specific time and date, and AutoDS will follow.
We recommend listing products daily. Because eBay boosts new listings for the first several hours, and there is a high chance that your listings will generate sales. This way, you will have a higher chance of generating sales. You can do that with the help of recurring uploads using the AutoDS Finder or using the Schedule Upload.
4) Fulfilling Orders
Cha-Ching is the sound that you will hear when you will generate an eBay sale. And it's better to get used to it. This sound means that it's time to order the product from the supplier straight to your customer.
You can do this manually by ordering the product from your supplier and entering the buyer's shipping address. This is what dropshipping is all about. In addition, you need to order the product quickly to comply with your shipping and handling policy.
As a result, your customer will be happy to receive the item quickly and will give you positive feedback. Plus, you'll need to be responsible to upload tracking information on time. 
Remember that we are all humans and we all make mistakes. For example, shipping to the wrong address, or forgetting to fulfill an order, or upload tracking information.
For this, you can get help from the AutoDS "Automatic Orders" feature. A feature that will save you time and money while automatically processing your orders. 
When you are using Automatic Orders, AutoDS will automatically order the products from your supplier directly to your buyer.
It will also automatically update the tracking number for you and will send three automatic messages to your buyer. Talk about the top-notch customer experience! All of this will provide a higher positive feedback rating for your store.
Choose from multiple suppliers to automate your orders, including Amazon US, Amazon UK, Amazon DE, Amazon FR, and AliExpress.
Case Study: From A Lawyer In New York City To Full Time Dropshipper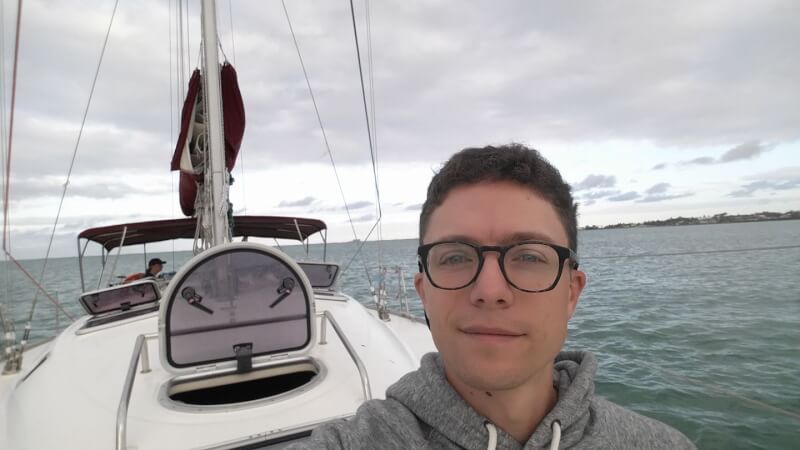 We've pretty much covered all we need to know to start dropshipping on eBay. But as you read this article, you might be wondering: Is it really possible to succeed without any experience?  
As an all-in-one dropshipping tool, we always encounter tons of beginners as well as professional dropshippers. We always build a relationship with them so we can grow together.
A few weeks ago, we interviewed a professional dropshipper named Paul J Lipsky, who is an eBay dropshipper and a big E-commerce Youtuber with more than 52K Youtube Subscribers. Paul's story is not only inspirational, but it also offers new dropshippers some great tips on getting started. 
This is the full interview that Lior Pozin, the CEO of AutoDS, had with Paul.
Lior Pozin:
Who are you?

Paul J Lipsky: Hi, I'm Paul! After I sold millions of dollars worth of products in my eBay dropshipping store, I quit my job as a lawyer in New York City and moved into a camper van to travel the country. Now I run my online businesses from the road while I run the largest YouTube channel devoted to teaching people the smart way to start their own profitable dropshipping stores. 
Lior Pozin:
How did you come into dropshipping, and why?

Paul J Lipsky: For my entire life I was promised that if I got good grades in school, went to college, and found a good job, I'd be set for life. I did everything I was "supposed to do" but ultimately didn't feel fulfilled. That's when I realized that true happiness for me came from freedom. So I tried a bunch of online businesses that could buy me that freedom. Ultimately, dropshipping was the only thing I found that was simple and that worked.

Lior Pozin:
How much time a day do you spend on your dropshipping business?

Paul J Lipsky: Right now, I only spend about an hour a day on my dropshipping business. Fortunately, I have tools that automate a lot of the daily tasks and I've hired virtual assistants to handle most of the rest of the work.

Lior Pozin:
What tools do you use to save time, so you can spend less time on daily tasks?

Paul J Lipsky: There are so many amazing tools you can use to automate your dropshipping business. But the first tool you need is a good repricer. It will help you list items on eBay very quickly and then will reprice those items automatically if the supplier changes their price. The only repricer I use and recommend is AutoDS. I'm always looking for the smartest and simplest way to dropship and AutoDS does that for me. 
Lior Pozin:
At what point did you decide to quit your 9 to 5 job as a full-time lawyer and become a full-time dropshipper?

Paul J Lipsky: For a while, I was both a lawyer and a dropshipper. It was a lot of work, and my schedule was a little crazy but it was ultimately worth it. Eventually, I started making a lot more money from dropshipping than I was from my job. I knew that if I quit my job and focused more on dropshipping, I could make even more. That's when I decided to quit.
Lior Pozin:
Why did you become a digital nomad?

Paul J Lipsky: Making money has always been about freedom for me. Many of my dropshipping friends have nice cars and big houses and I'm honestly very happy for them. For me though, I always wanted to travel and explore. Once I quit my job and wasn't tied to a single location, it made sense to make my dream a reality. So we sold everything, bought a camper van, and hit the road!
Lior Pozin:
In your opinion, what's needed to make a full-time living from dropshipping? Can everyone do that?

Paul J Lipsky: When I started dropshipping it was much harder because there wasn't a lot of information out there about how to dropship the right way. That's why when I saw success with dropshipping, I started sharing what worked with other people. If you learn from other successful dropshippers you'll save yourself a lot of headaches. But more importantly, you need to really want to be successful and need to know why you want it. I wanted freedom and that's what drove me to work hard. Like anything else in life, some things are not for everyone, but with the right dedication and training, I can tell that the majority of people can become full-time dropshippers.
Repeat, Grow, and Shine
If you've made it this far, you know everything there is to start and scale your dropshipping business using eBay as the dropshipping platform and suppliers. For example, AliExpress or Amazon. Plus, the automated features in AutoDS to upload listings individually or in bulk.
You also learned how to find high-quality suppliers to work with. Also, using the right product research tool to find your next best selling product.
Automation and expansion are the keys to every successful dropshipper. Just as Paul Lipsky, along with thousands of others have stated themselves. The more you grow, the more you'll need it. Therefore, you should work with automation from the start. 
Dropshipping doesn't require an initial investment to start. Therefore, it makes it even more comfortable and more worthwhile to begin.
In AutoDS, we created the AutoDS eBay Dropshipping Course which is an A to Z course to help you start from the bottom and launch your successful eBay business.
We hope that this article will help start to unleash that entrepreneur inside of you that you always knew you had. Take action, step by step, and the results will follow.