When we think of dropshipping, creating a gift dropshipping store probably does not cross our minds. However, the gift industry is in fact rising and proving to be very profitable. According to Statista, the market size of the gift industry was 24.7 billion in 2020. Moreover, it is projected to grow to an estimated 34.3 billion U.S. dollars by 2026.
Generally, physical store owners face a risk of overstocking or understocking products for special events and the holiday season. Conversely, with dropshipping, we don't need to pay for our inventory in advance or spend on overhead costs like rent, employee salary, and so on. In a nutshell, the growth in the gift industry coupled with the dropshipping model is a low-risk and high-reward business opportunity.
Therefore, in this article, we will list the best UK gift dropshipping suppliers to source gifts for our dropshipping store. Also, we will go through a step-by-step approach to establishing a gift dropshipping UK business.
What Is Gift Dropshipping In The UK?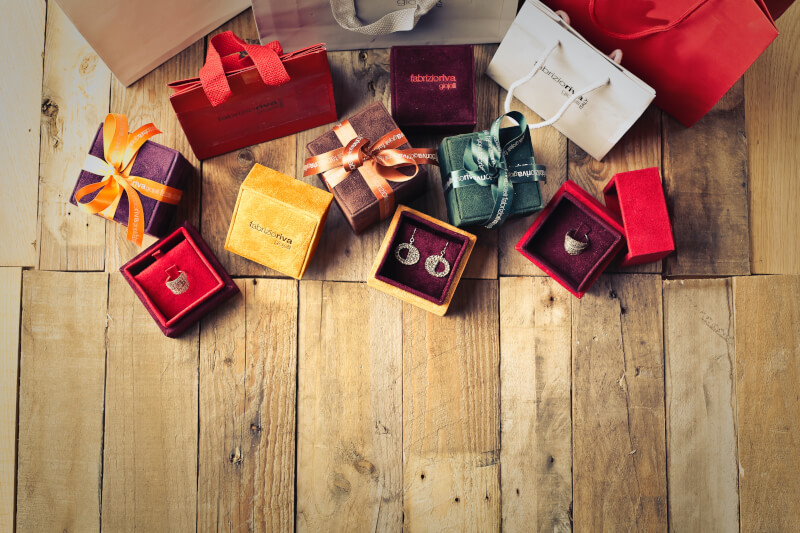 Generally, gifts are presents that people give to each other on special occasions such as birthdays, weddings, father's day, anniversaries and the list goes on and on.
Some gifts are categorized according to occasions, such as Father's day gifts, Mother's Day gifts, and New Year gifts. On the other hand, some gifts are presented for special events like birthday and wedding presents. In summary, a lot of products qualify as gifts.
For instance, gifts can range from Christmas stockings, and wristwatches to jewelry and home decorations. Similarly, kitchenware, candles, stationery, pet products, wall art, and ceramics are also examples of gifts.
Besides that, gift supplies like wrapping papers, gift boxes, and decorative tapes are also worth dropshipping. Overall, there are plenty of products that we can drop ship as gifts. So, we can scale our business easily in the future.
15 Best Gift Dropshipping UK Suppliers
Since many products can be presented as gifts; several dropshipping suppliers have a wide variety of gifts to choose from. With that said, let's explore suppliers that provide gift products to dropship in the UK. Thus, here are the 15 best gifts dropshipping UK suppliers:
To learn about the supplier's unique features and product range, let's look at each of them individually.
1. AliExpress UK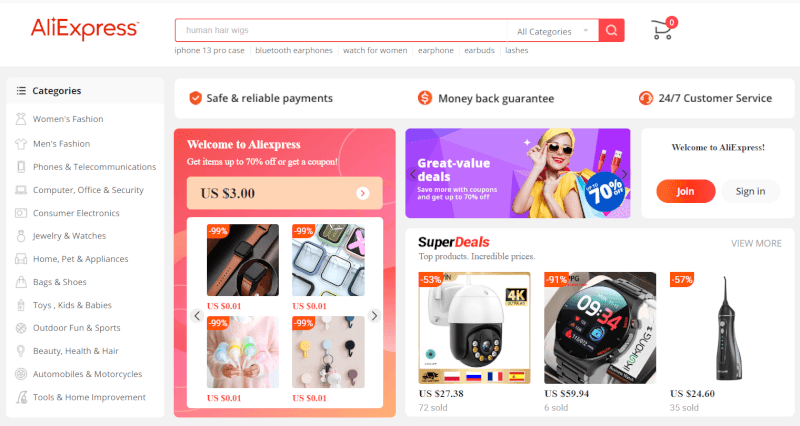 Regarded as one of the popular platforms to source products from, we have AliExpress UK. It is an online retail marketplace that connects us with many Chinese manufacturers and suppliers.
Key Features
Massive variety of gift products 

Affordable pricing

UK warehouses

Buyer/seller protection
One of the reasons AliExpress is popular among dropshippers is due to its massive range of products. While we can find over 100 million products from all categories, they also have a good variety in the gift category. Additionally, this supplier has affordable pricing, which increases our profit potential.
On top of that, AliExpress has global warehouses in different regions, including the UK. So, we expect our products to get delivered to customers in the UK swiftly.
Besides that, AliExpress UK also has buyer/seller protection, which protects buyers and sellers while trading products. This ensures that the gift products we buy from suppliers on AliExpress are as mentioned in the agreement. With these features, AliExpress UK is a fantastic supplier to source affordable gift products giving us more room for profitability.
Product Range
Because AliExpress has one of the most diverse product ranges, we can find various gifts on this platform. However, popular gift items offered by AliExpress are show pieces, toys, jewelry, incense, wall art, textiles, ceramics, and home fragrances.
2. Amazon UK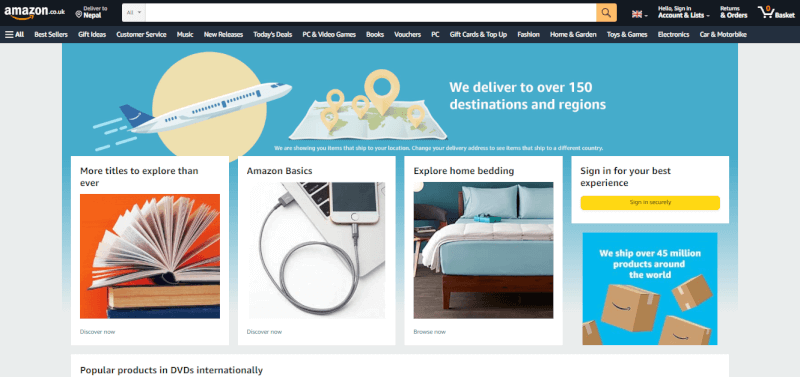 Up next, we have Amazon UK. Since Amazon is one of the largest eCommerce marketplaces, it is a great source to find gift products for our gift dropshipping UK stores.
Key Features
Large selection of products

Fast shipping times

Domestic warehouses in the UK

Excellent customer service
Working with one of the largest eCommerce marketplaces in the world has many perks. First, we can find a large selection of gift products. So, we can offer our customers the same massive selection, resulting in happy customers.
Aside from the vast product range, Amazon is also famous for its fast shipping times. Although shipping times can vary according to Amazon sellers, we can ensure faster delivery with Amazon prime. To clarify, Amazon Prime is a subscription service that grants us access to a variety of Amazon benefits including same-day as well as two-day delivery.
Additionally, Amazon has seven UK warehouses, allowing for even faster delivery for our customers. With such speedy shipping times, we can ship products to our customers instantly which increases customers' trust and satisfaction.
Furthermore, Amazon UK has top-notch customer service. Thus, if our customers encounter any issue with their orders or returns, we can quickly contact their customer service which is available 24/7 via phone or email.
Product Range
Amazon is one of the largest depositories of gift products with gifts ranging from various categories. Therefore, gift products include laptop bags, speakers, massage pillows, organic tea, bedroom decorations, jewelry, wind chimes, scented candles, clothing items, and much more.
3. eBay UK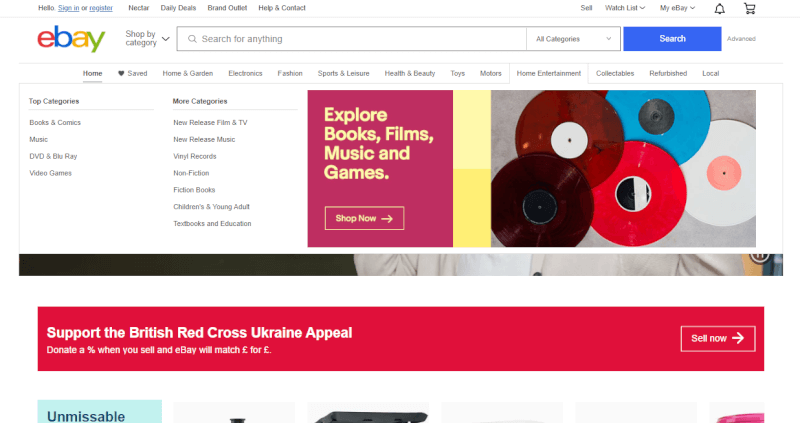 As one of the pioneers of eCommerce, eBay is a multinational company operating in more than 32 countries with over 150 million users. Also, eBay UK is an online marketplace that connects us to millions of suppliers worldwide.
Key Features
Wide range of gift products

Domestic warehouses

Quick shipping

Exceptional customer care

Buyer/Seller protection
With over 1.5 billion listings on its platform, eBay offers a massive selection of products from all categories. So, we can also add a vast range of gift products to sell in our stores.
Additionally, eBay offers quick delivery times to our UK customers with warehouses in Leicester and Birmingham. Also, due to the high competition, eBay sellers compete against each other to offer the best customer service. As such, it is highly beneficial to our dropshipping business because we end up receiving excellent customer service.
Furthermore, like AliExpress, eBay also has a buyer/seller protection program that ensures both buyers and sellers are safe on the platform. For the eBay platform, buyer/seller protection includes conflict resolution, money-back guarantees, payment protection, and scam prevention. Thus, partnering with eBay ensures our UK gift dropshipping store succeeds in the long run.
Product Range
Similar to Amazon, eBay has many sellers who offer gift products of all types. As such, we can find gift items such as jewelry, pendants, art sporting goods, body soaps, perfumes, gift cards, electronics, ceramics, soft toys, and books. 
4. Wayfair UK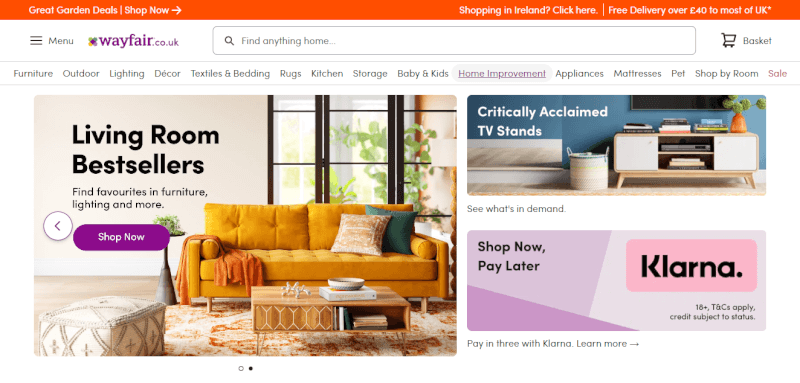 Specializing in the furniture and home goods niche, Wayfair UK is another dropshipping supplier where we can find gift products to sell. It is an online platform with over 15 million home improvement products from 11,000 global suppliers.
Key Features
Huge product selection

UK Warehouses

MYWAY program

Flexible payment options
Since furniture and home goods are also gift products, we can dropship the majority of the 15 million products from Wayfair UK. Thus, our customers will be happy to find such a diverse selection of gifts.
Moreover, most of the gifts from these suppliers are high-ticket items. To clarify, high ticket items are products that cost more than $100, meaning we'll gain higher profit margins. Additionally, with local warehouses in the UK, we can offer faster shipping times to our customers.
On top of that, Wayfair's "MYWAY" program includes free and same-day shipping for most online products. Plus, we can instantly access thousands of exclusive items only available to members.
Furthermore, Wayfair UK allows us to pay for products with a wide range of payment methods such as major credit cards, Apple Pay, PayPal, Wire Transfer, and many more. Therefore, Wayfair UK is a fantastic supplier for gift product seekers with all these features.
Product Range
The Wayfair UK product range comprises home and furniture products such as office furniture, coffee tables, garden lamps, bedding, bathing, rugs, lighting, home improvement, and more.
5. Banggood UK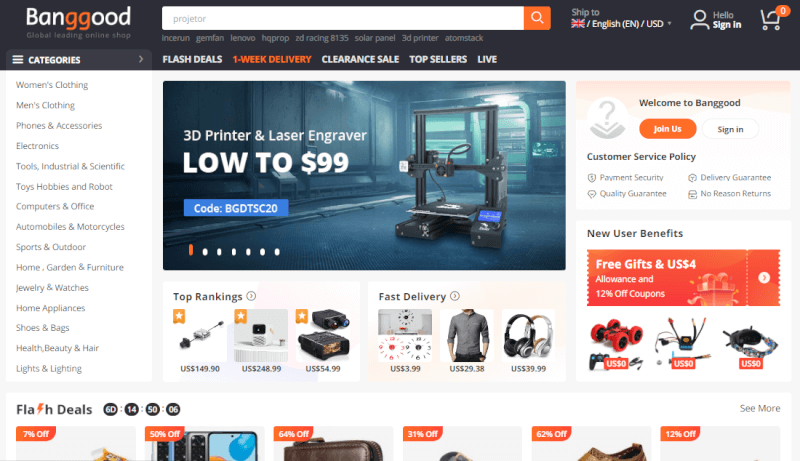 Another supplier on the list of the 15 top gift dropshipping suppliers is Bangood UK. Similar to AliExpress, it is a platform that connects dropshippers with manufacturers and suppliers in China.
Key Features
Low-cost products

Faster shipping with domestic warehouses

Cashback, promotions & exclusive deals

Non-branded packaging
Since Banggood UK connects us with Chinese manufacturers and suppliers, we can find gift products at affordable prices. For beginner dropshippers, finding low-cost products means higher profit margins. As a result, we can either enjoy higher profits or re-invest the money in our marketing campaigns.
Additionally, Bangood has multiple warehouses and fulfillment centers in the UK and neighboring countries. With local warehouses, we can expect our dropshipping products to reach our customers promptly, making customers more likely to buy from us again.
Moreover, gift dropshippers can further benefit from Banggood UK with its wholesale program and special offers. Plus, it also offers cash-backs, promotions, and exclusive deals.
Besides its dropshipping-friendly programs, Banggood UK provides non-branded packaging. That means our customers cannot find where the product originated from.
Thus, this confidentiality is beneficial as customers will not know we are reselling another supplier's products. But most importantly, we can start building brand awareness which gives us an edge over our competition.
Product Range
Bangood offers gift products from various categories such as stationery, home & garden, toys, outdoor recreation, jewelry, watches, and kitchen. As Banggood is a general dropshipping store where we can find all niches, we can find unlimited gift ideas on its platform. 
6. Costway UK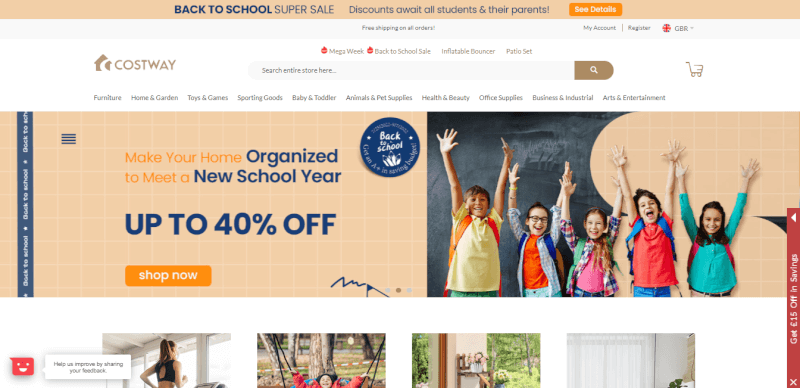 At the beginning of its formation, Costway began its eCommerce venture by selling on third-party platforms like Amazon and eBay. Currently, the supplier is one of the top retailers in the US, Europe, and the UK.
Key Features
Over 8000 white label products 

Dropshipping friendly program

Dropshipping agreement

Multiple warehouses in the UK
Being one of the top retailers, Costway UK offers over 8000 white label products. In short, white label products are generic products that we can sell with our brand name and packaging. Thus, it allows us to have a competitive advantage.
Additionally, Costway UK offers dropshipping programs such as wholesale pricing, two-day shipping, and a three-month product warranty.
While dropshipping copyrighted gift products is illegal, Costway's dropshipping agreement enables us to dropship branded products legally. This program can leverage well-known brands to increase our profit margins while offering high-quality products.
Furthermore, Costway UK has two domestic warehouses. That means our customers can receive their products without any delay.
Product Range
Costway gift products range from home furniture such as sofas and office tables to kitchen appliances such as dishwashers, mixers, ovens, and more.
7. VidaXL UK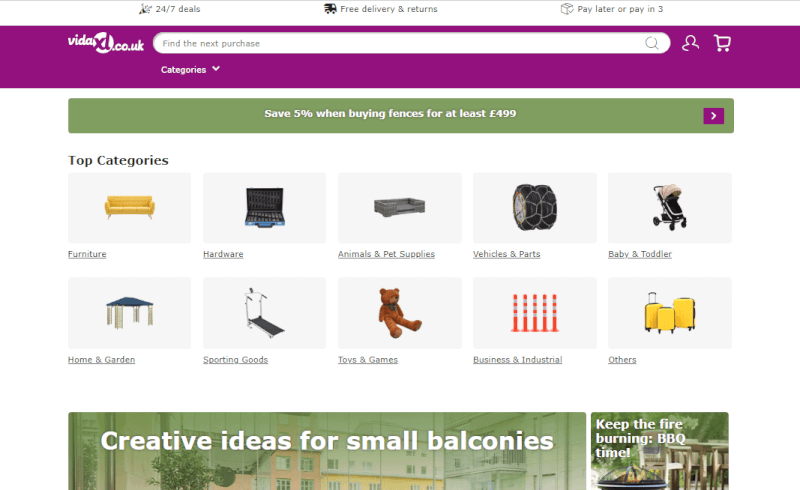 Primarily based in Europe, VidaXL is a retail platform that offers home improvement products such as furniture, home & garden, and more. As such, we can find various gift products on VidaXL UK.
Key Features
Over 90,000 products

Free shipping

Dropshipping XL program
When dropshipping, the higher number of products our supplier has, the better it is for us. With that said, VidaXL has more than 90,000 products from the furniture, home, and garden niche. On top of that, we can also find hardware, sporting goods, and garden accessories on VidaXL UK.
Furthermore, products on VidaXL have free shipping. Hence, we don't have to pay additional shipping costs. Thus, we can extend the same service to our customers and boost conversion rates and customer satisfaction.
Additionally, VidaXL offers "Dropshipping XL," a unique program that includes dropshipping services like speedy shipping and translation for over 20 different languages. Therefore, this service is designed to make our dropshipping operations efficient and more profitable.
Product Range
As VidaXL is a niche supplier; their gifts mainly include patio furniture, garden umbrellas, toys, sporting goods, pet products, and furniture.
8. DHGate UK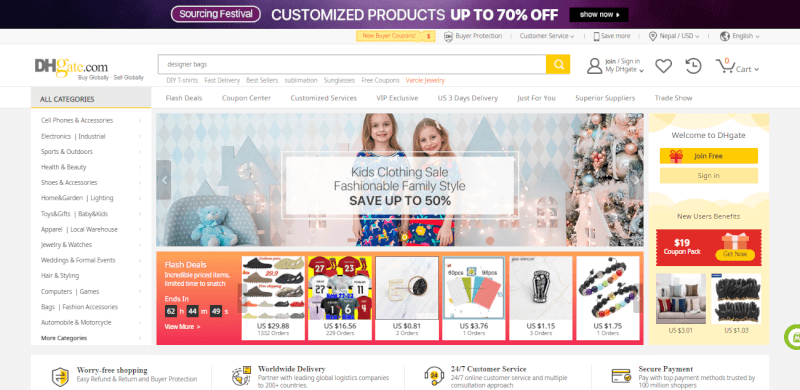 If we want direct access to wholesale suppliers, DHGate UK is one of the best options available. It is an online platform that connects us with Chinese wholesale gift suppliers.
Key Features
Large product selection 

Affordable products

Wholesale pricing

UK warehouses
With a selection of over 20 million products from different categories, DHGate UK has an extensive catalog of gift products. It is a general dropshipping supplier that offers products from all categories, such as electronics, kitchen appliances, clothing, furniture, and more.
Since DHGate is based in China, we can source products for affordable prices from Chinese suppliers. On top of that, they offer wholesale pricing because most suppliers on DHGate are wholesale suppliers. With wholesale deals, we can easily scale our profits.
Furthermore, DHGate has local UK warehouses, which means our customers will receive their products quickly. Thus, dropshipping from DHGate can help us increase our audience reach, multiplying our profits.
Product Range
The DHGate gift range includes fashion, home & garden, toys & gifts, fashion accessories bags, shoes & accessories, baby, kids & maternity gifts.
While the above suppliers are supported by the AutoDS dropshipping platform, the suppliers below are not supported by AutoDS. That means we can't benefit from dropshipping automation which will be demonstrated below. However, they are excellent suppliers that are either manufacturing or have warehouses in the UK.
9. AW Dropship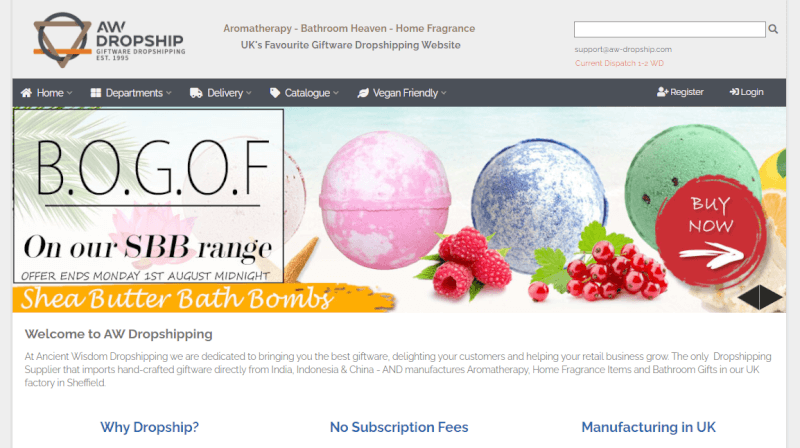 Up next on our list, we have AW Dropship. This dropshipping supplier started as a small chain of gift stores in the UK. After a surge in demand for aromatherapy, the company started manufacturing its products and started offering items to retailers and dropshippers.
Key Features
Low minimum order quantity

No subscription fee

2-year product warranty

UK factory and warehouse
Since AW Dropship is a wholesale supplier that mainly sells to retailers and dropshippers, they have a low Minimum Order Quantity(MOQ). To clarify, some manufacturers require a minimum number of orders before we can drop ship from them. As the dropshipping model is based on not having inventory, suppliers having MOQ is not the best option for dropshippers. However, with low requirements, AW Dropship offers low-cost prices for products.
Additionally, dropshipping from AW dropship means we don't have to pay subscription fees. Thus, we can save on additional costs and invest in other business areas such as marketing or automation tools.
Furthermore, except consumables, all products supplied by AW Dropship come with a 2-year warranty period. As such, we can offer the same warranty period to our customers, which increases customers' trust in our store and helps us establish credibility.
Plus, most products available on AW Dropship are manufactured in their UK factory. Also, they import and stock some of their products from other countries in their UK warehouse. Therefore, partnering with this dropshipping supplier ensures swift product deliveries. 
Product Range
AW Dropship's gift product range features bath bombs, hand-crafted soaps, essential oils, aromatherapy products, bags, jewelry, incense, home fragrance, and much more. 
10. Puckator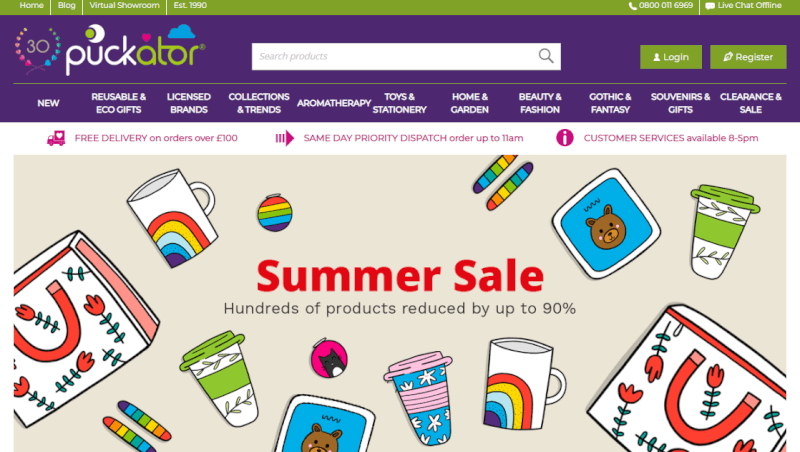 Another top-notch gift dropshipping UK supplier is Puckator. This dropshipping supplier works with suppliers worldwide to provide us with the latest gift products to sell, including professionally designed products.
Key Features
Large selection of gifts

3-day shipping in the UK

Free subscription

Wholesale pricing
Essentially, Puckator offers a wide variety of gift products great for every occasion such as birthdays, Christmas, or weddings. As such, we can offer a huge variety of products in our dropshipping stores. Additionally, Puckator has an excellent shipping time in the UK, with delivery times as fast as three days. With this super fast shipping time, we can attract more customers and gain a competitive edge over other sellers.
Furthermore, sourcing from Puckator is free. On top of that, they also have a wholesale program that offers lower prices. Although the wholesale program requires a minimum order value of £100, it is a meager amount. Therefore, this supplier enables us to get higher profit margins with its free service and affordable product pricing.
Product Range
Puckator's gift product selection includes packing boxes, fashion & beauty accessories, gift sets & gift packs, aromatherapy candles & candle holders, chimes & hangers, dream catchers, eco-friendly bags, gardens, homewares, incense, jewelry & accessories, kitchenware, money boxes, mugs, toys, and wedding favors.
11. Something Different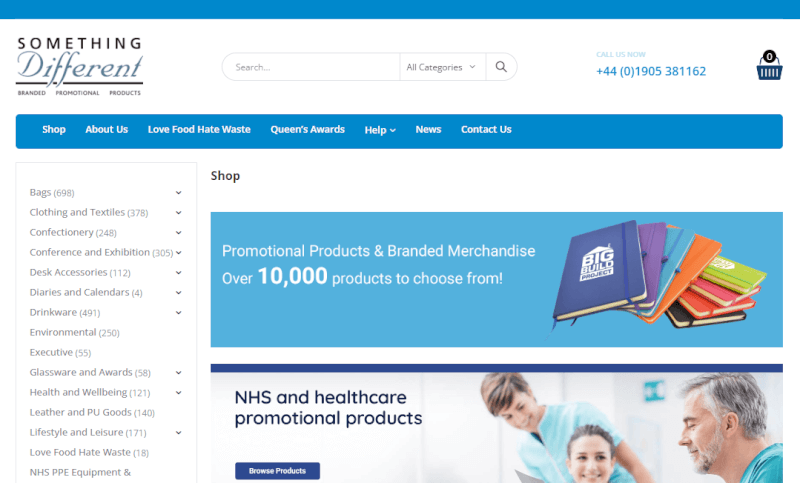 Like the name suggests, Something Different aims to offer unique gift items that will increase our sales. Based in Swindon, England, this dropshipping supplier has a wide range of products such as home fragrances, body soap, jewelry, and more.
Key Features
Quick shipping times

Free delivery

Competitive prices

Excellent customer service
Since Something Different is based in the UK, our orders are shipped to customers within 3 to 5 business days. Plus, if we opt for express shipping, we can offer even faster delivery within 3 business days.
Not only does Something Different provide faster delivery but it also offers free shipping for orders over £35. On top of that, they have competitive prices for their products as they source directly from manufacturers.
Furthermore, Something Different focuses on providing exceptional customer service. And that is demonstrated by hundreds of positive reviews on Trustpilot. This also means we can offer the same support to our customers increasing our website's credibility.
Product Range
Primarily focused on aromatherapy and herbal products; Something Different's product range includes home fragrances, body soaps, crystal balls, tarot cards, spiritual, ethnic, and wellbeing products, as well as home & garden, and kitchen & dining products.
12. UKSM Trade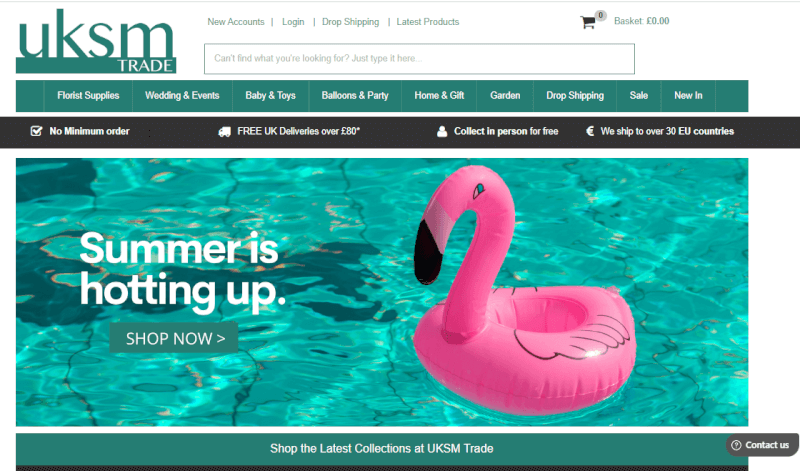 With a primary focus on party, garden, and event decorations, UKSM Trade is a trusted wholesale supplier in the UK. Additionally, this dropshipping supplier is highly rated and we can find plenty of gift products on their website.
Key Features
Trusted wholesale supplier

Over 6000 high-quality products

Non-branded packaging

Professional images
According to Feefo, an independent rating platform, UKSM is rated highly by customers with a rating of 4.9/5 stars from 311 reviews. As such, we can rely on this platform to find quality products and receive excellent customer service.
With more than 6000 products, UKSM Trade has a lot of variety in product selection. So, we can offer a vast range of products to our customers as well.
Additionally, UKSM Trade ships products to our customers without their packaging and paperwork. Therefore, customers will never find out where their products came from. And, it means we can focus on building our brand, which results in a loyal customer base.
Besides that, UKSM Trade offers professional product images for resellers to use on any selling platform. Thus, we will have a high-quality image of every product, which enhances our store's visual appearance and conversion rates.
Product Range
UKSM Trade's product range includes florist sundries, wedding & event decorations, parties, and garden-specific products. 
13. Signature Gifts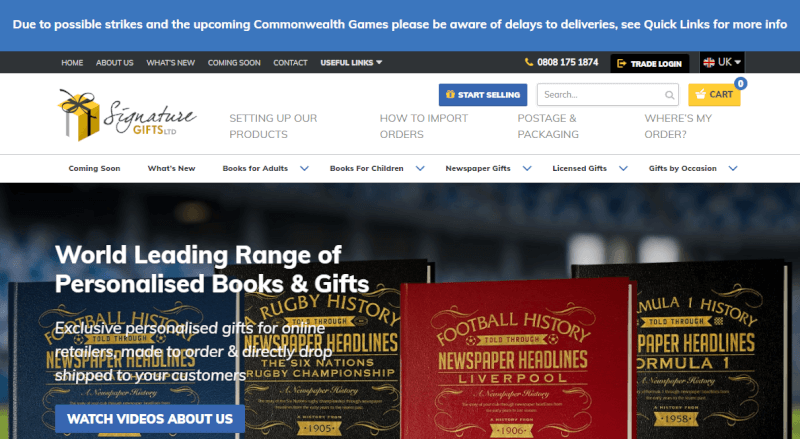 Partnering with one of the UK's leading manufacturers and wholesalers of personalized gifts will enable us to reap the ultimate benefits. To elaborate, Signature Gifts processes 500,000 orders on average each year which gives us an idea of how popular the supplier is.
Key Features
Customization option

Bulk upload products and descriptions

Tracking information update
With Signature Gifts, we can add customizations such as names, quotes, and images to the products. This is an additional service we can provide to our customers.
Additionally, Signature Gifts provides data to dropshippers so they can bulk upload products and their descriptions on their website. Thus, it will save us time if we are dropshipping a large number of items.
Furthermore, Signature Gifts offers tracking number updates which allow our customers to track their orders. With this clarity, our customers can find out their order status without having to contact us. 
Product Range
In general, Signature Gifts provides gift items such as personalized gifts, candles, glassware, kitchenware, stationery, pet products, wall art, textiles, ceramics, soft toys, books, and licensed gifts.
14. Oh So Cherished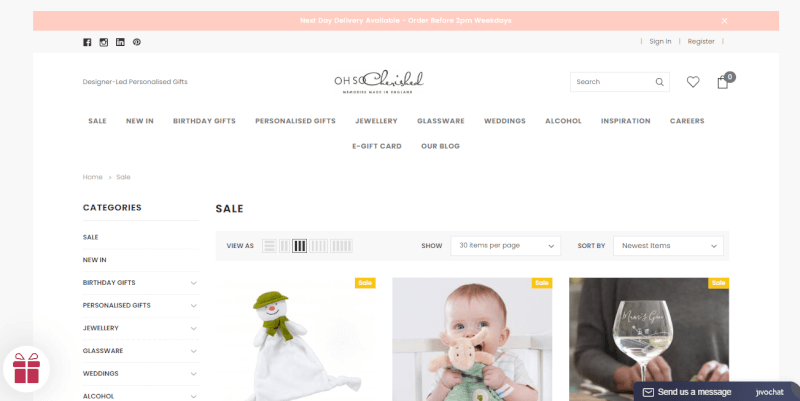 If we want products that are carefully crafted by a team of in-house designers, then we will love sourcing from Oh So Cherished. This supplier is a UK favorite for dropshipping personalized gifts and homeware.
Key Features
More than 2000 gift products

Selection of personalized gifts

Fast shipping time 

Professional images

Bulk order processingFast delivery

Professional designers

Customizable gift options
Overall, Oh So Cherished has over 2000 gift products which give us plenty of products to dropship. Also, they have a separate section for personalized gift items that allow us to customize gifts. Besides that, Oh So Cherished ships products within 4-5 days in the UK, which is comparatively faster than international suppliers.
Additionally, Oh So Cherished allows us to use their product images in our dropshipping stores. Generally, we should slightly edit the images from our suppliers to differentiate our images from everyone else.
On top of that, they also allow bulk order uploads via a CSV file. To clarify, bulk uploads allow us to import all products listed on the page into our stores. With these features, Oh So Cherished is a reliable dropshipping supplier to source our gift products. 
Product Range
Essentially, gift products from Oh So Cherished include giftware, occasion gifts, home accessories, soft furnishings, textiles, ornaments, glassware, wall hangings, keyrings, jewelry, soft toys, and wine.
15. Personalized Trade Gifts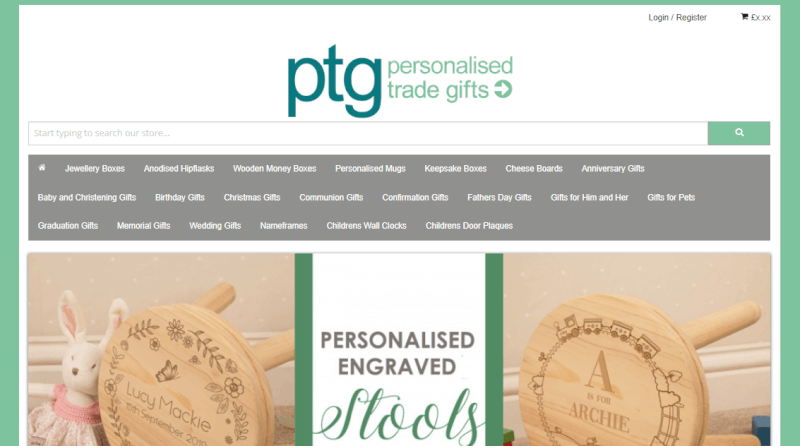 Last but not least, we have Personalized Trade Gifts. This dropshipping supplier has been providing personalized gifts to dropshippers in the UK since 2003. 
Key Features
Wide variety of gift products

Fast delivery

Professional designers

Customizable gift options
Essentially, Personalized Trade Gifts has an extensive catalog of products suitable for every event and occasion. Thus, we can provide a massive selection to our customers. On top of that, they deliver products to our UK customers within 2-4 working days.
Furthermore, Personalized Trade Gifts have professional designers to design new gift products. Therefore, we will always have new products with a high potential to sell. Besides these features, many gifts from their selection are customizable. Thus, we can offer personalized gift items that increase customer satisfaction.
Product Range
Personalized Trade Gifts has a massive variety of products. As such, we can find products such as jewelry boxes, money boxes, personalized mugs, keepsake boxes, anniversary gifts, baby and christening gifts, birthday gifts, and Christmas gifts. Furthermore, we can dropship communion Gifts, confirmation Gifts, Father's day gifts, gifts for him and her, gifts for pets, graduation gifts, and memorial gifts.
All in all, the suppliers mentioned above are great sources of gift products. In fact, we should look to work with multiple suppliers. To clarify, suppliers run into different problems such as production shortages, labor strikes, and stock shortages.
As these factors will directly affect our business, we should have a backup in place. Thus, working with multiple suppliers allows us to provide a massive selection of products, and security and enables us to scale our business to new heights.
How To Start A Gift Dropshipping UK Business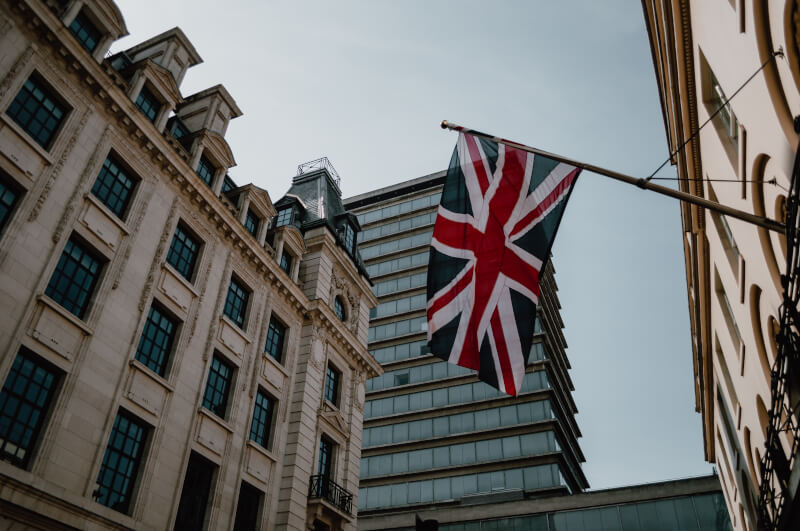 Now that we know where to source our gift products, we can start building our gift dropshipping UK business. So, without further delay, let's look at the seven steps to create our gift dropshipping UK store:
Let's learn how to perform each of these steps to perfection.
Step 1: Find The Best Gift Products In The UK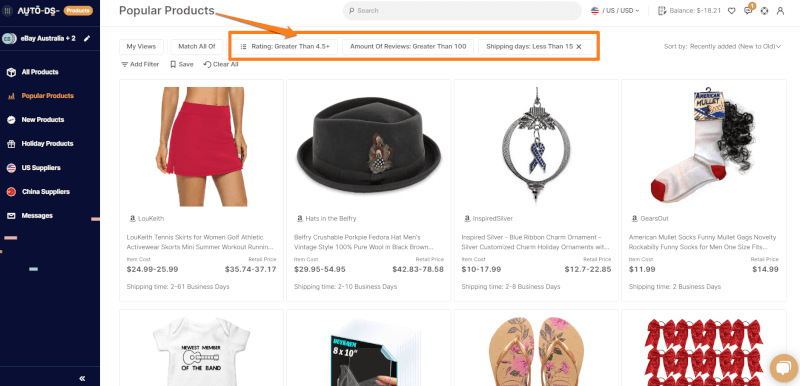 To begin dropshipping gift products, first, we need to find good gift products to sell in our stores. As such, we need to perform product research. To put it simply, we can research products to find gifts that are in demand and trending in the market.
When we list trending gift products, we can drive more traffic to our stores resulting in higher sales. With that in mind, let's learn successful ways to research dropshipping products:
Search Supplier's Best-Sellers 

Spy On The Competitor's Shopify and eBay Stores

AutoDS Product Research Tool

AutoDS Product-Finding Blog & YouTube Playlist 

Google Trends
Search Supplier's Best-Sellers
As we begin our search for gifts that can sell well, we should check what people are buying from suppliers. So, we should check suppliers' trending products sections to find in-demand products. For example, Amazon has a Best Sellers section where they list the best sellers from every category every hour.
In the same way, the AliExpress Dropship Center is a service provided by AliExpress that enables us to search for trending gift products. With the help of search filters like price, category, and delivery time, we can filter out unwanted products and find winning products.
Spy On The Competition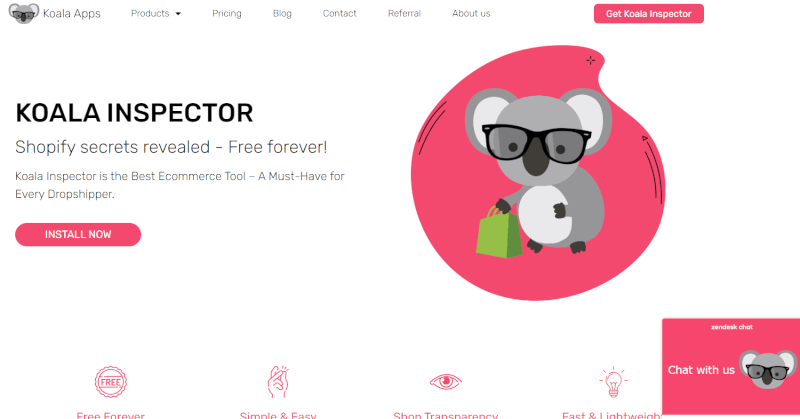 Although dropshipping businesses can have a lot of competition, we can use our competitors to our advantage. When researching products, we can spy on our competitors to find out what products are selling well in their stores.
In general, there are many spying software to help us constantly check what our competitors are up to. For instance, Koala Inspector is one of the spy tools for Shopify stores. By using Koala Inspector, we can check what products our competition is selling successfully. Plus, it also helps us find key metrics such as the total number of products in their Shopify stores and their average price.
However, Koala Inspector doesn't work on eBay. So, if we want to spy on eBay stores, we can use Zik Analytics. It is another spy tool that allows us to spot and research the most popular products on eBay.
Similarly, another excellent way to find trending products is by performing manual product research on eBay. We can begin by searching for our desired product and using search filters such as price, category, and the number of times sold.
In summary, there are a lot of successful sellers out there, and we can adopt their successful strategies and improve them with our techniques to remain at the top.
AutoDS Product Research Tool
If you are searching for an advanced product research tool to find winning gift products, your search ends here with the AutoDS Product Research tool. This tool helps us find high-potential products from US and Chinese suppliers.
Additionally, we can find trending products by applying different search filters such as price, rating, suppliers, and shipping time. Not only will we find products to sell, but we will get a complete product page for each product, including item specifications, privacy policies, and variations with the tool. 
AutoDS Product-Finding Blog & YouTube Playlist
Essentially, AutoDS has valuable resources that help us find trending gift products. The more information we receive, the more adept we are at spotting excellent products. With that in mind, we can learn from the AutoDS blog section and the "Sell These Now" Youtube playlist.
Essentially, the AutoDS blog section has a variety of articles, including product-finding articles that help us find the best products. Similarly, the "Sell These Now" Youtube playlist gives us a curated list of products to sell monthly and according to different categories.
Google Trends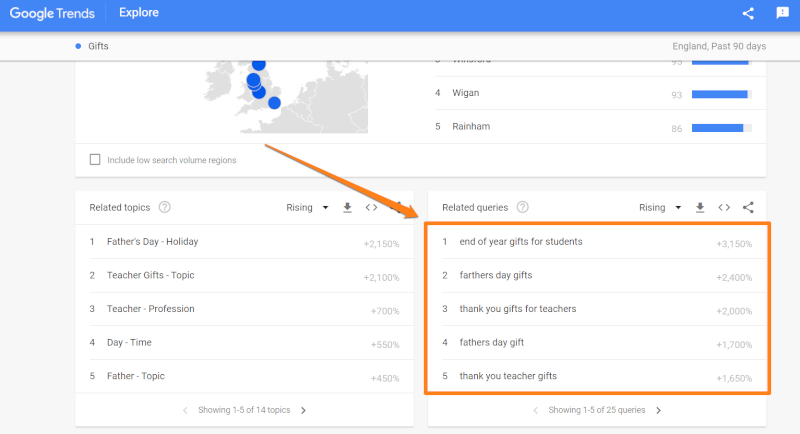 Another simple yet helpful method to find products is using Google Trends. To clarify, Google Trends is a research tool that shows trending search queries and their popularity.
By using Google Trends, we can find products with high search volumes. After finding such products, we can search those products on our suppliers' websites.
While these techniques allow us to find many trending gift products to sell, we have to further filter them. When we filter and choose the best products, we have a higher chance of achieving business success. To filter the products, we can use the product research spreadsheet, which includes a series of questions to help us pick best-sellers for our store.
Although researching for products takes time and effort, it is a crucial step to fulfill. And with proper product research, we are setting up a strong base for our gift dropshipping business.
Step 2: Choose A Gift Dropshipping UK Supplier
After we find great gift products, we need to source them in order to list them in our stores. With that said, we need to choose a reliable gift dropshipping supplier. Currently, there are many suppliers in the UK. Nevertheless, we should look for trusted UK dropshipping suppliers who handle the fulfillment and delivery of our products.
So, how do we ensure that the supplier is reliable? To determine which suppliers are reliable, we should watch out for these factors:
Clear business policies

Fast and responsive customer service

Wide gift product range 

Domestic warehouses 
Clear Business Policies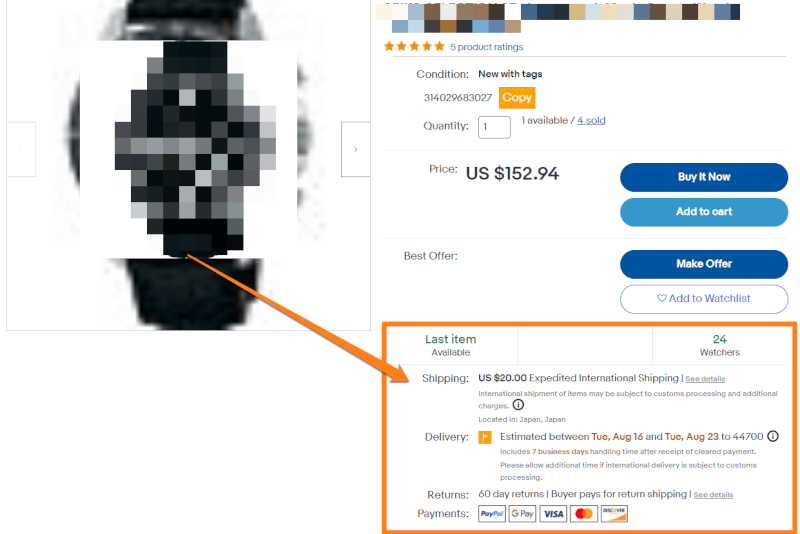 As we begin our search for dependable gift suppliers, the first indication of a reliable supplier is a clear business policy. In short, business policies are the terms of sale. They indicate the terms and conditions which we have to follow and refer to if we have any problem.
Some examples of business policies are:
In general, we should look for a supplier with clearly written business policies that are easy to understand and practical to follow. For example, choosing a supplier with a 90-day return policy offers our customers greater flexibility than a supplier offering a 30-day return policy.
Remember, we extend the same business policies to our customers, thus, we need to ensure they are optimal for our business.
Fast and Responsive Customer Service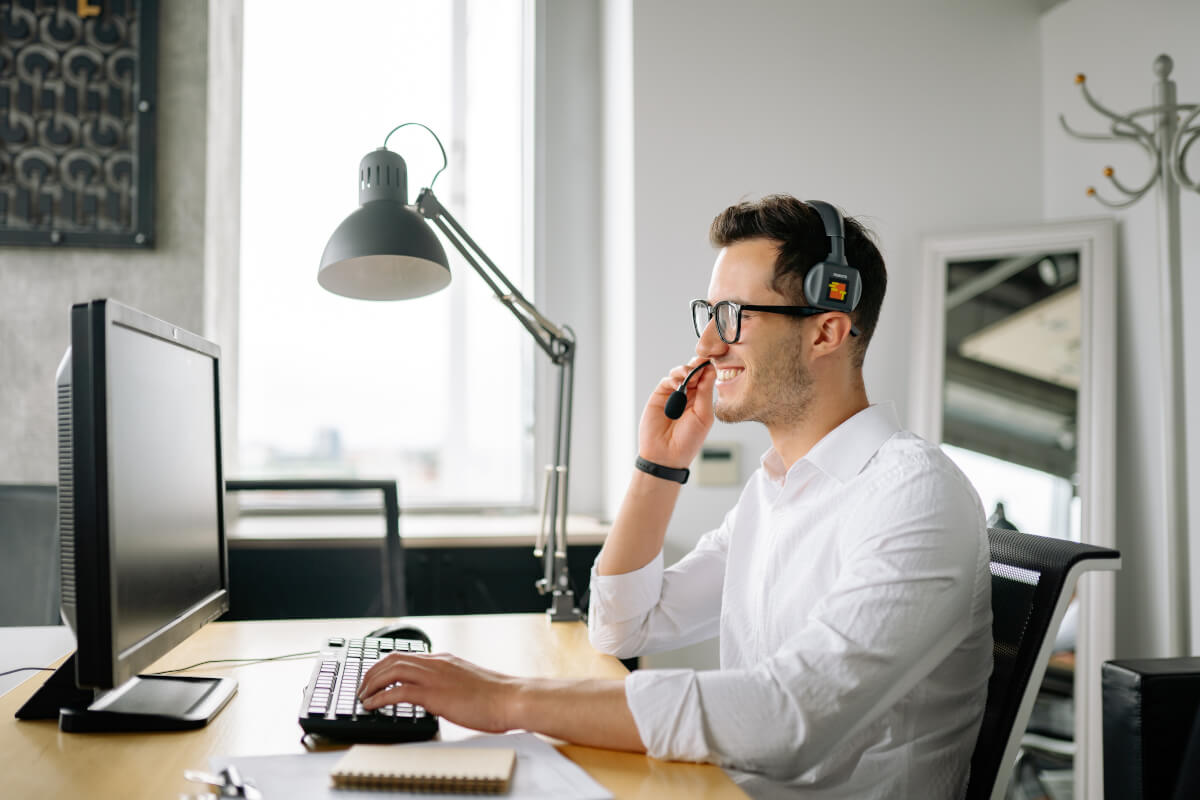 As dropshippers, we mainly sell our supplier's stock and rely on our suppliers for order fulfillment and shipping. And sometimes our customers can face challenges when buying products.
As such, we should find suppliers with fast and responsive customer service. That's because the customer support we get is what we extend to our customers. Since swift problem solving allows us to build a good rapport with our customers, through this, we can build a loyal customer base.
Wide Gift Product Range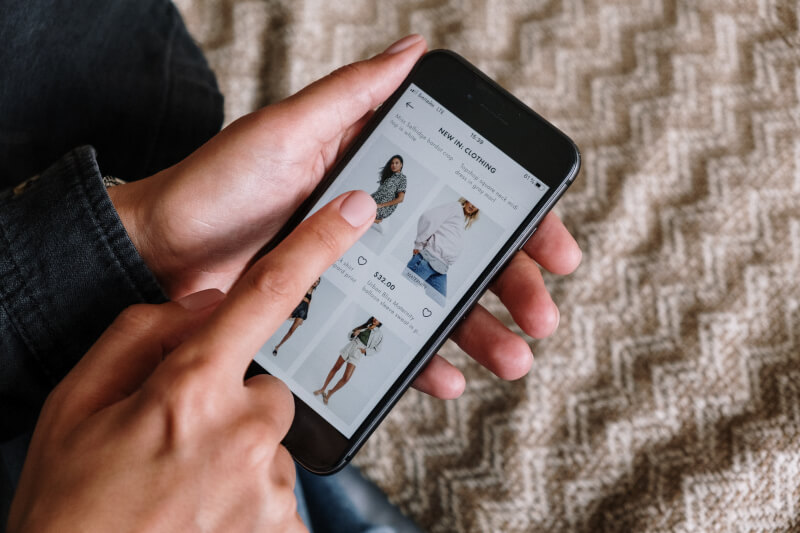 It goes without saying that gifts are products that have uncountable variety. So, customers may be searching for gifting anything from kitchenware to home decors. That's why the more variety our supplier has, the more variety we can offer our customers.
Having a wide range of products means our customers have higher chances of finding a suitable gift in our store. Thus, we should look for a supplier that offers a plethora of gift selections.
Domestic Warehouses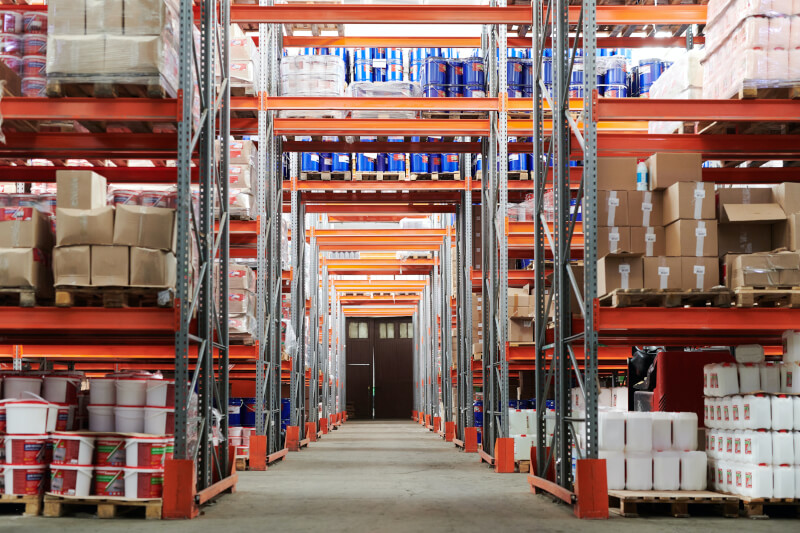 After the customer purchases a gift from our UK gift stores, they expect a delivery of their order. Since quick order delivery results in a positive customer experience, we need to find suppliers with UK warehouses. As domestic warehouses in the UK allow for faster fulfillment and shipping times, domestic warehouses give us an edge over our competitors.
Keeping these traits in mind, we can filter out unreliable suppliers and partner with the right gift dropshipping suppliers in the UK. While we have provided a solid list of UK gift dropshipping suppliers, we can continue looking for more. Plus, we can even work with more than one dropshipping supplier.
In fact, partnering with multiple dropshipping suppliers is an advantage for our business. By working with multiple suppliers, we can remain safe against factors such as production delays and material shortages while having a massive variety to choose from.
Step 3: Select A UK Selling Channel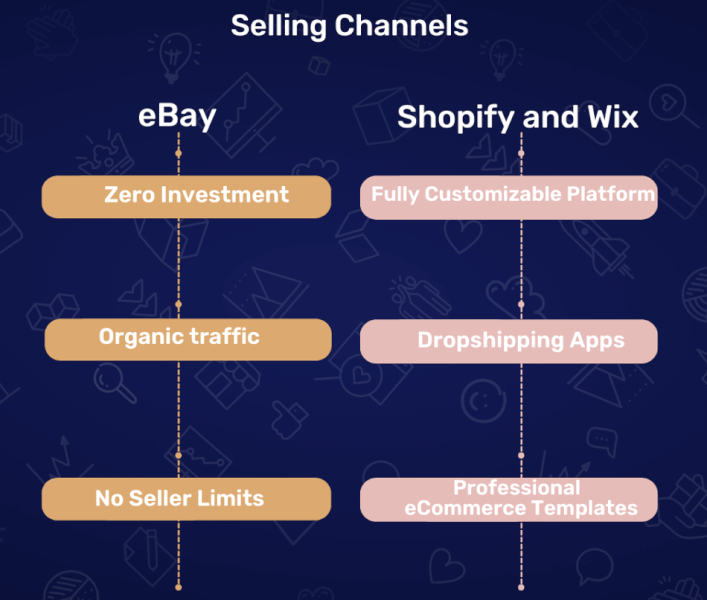 Now that we have chosen our gift dropshipping supplier, we need to select a suitable selling channel. In essence, a selling channel is an eCommerce platform that allows us to list products to sell. With that in mind, here are the three selling channels that are suitable for dropshipping gifts in the UK region:
The three selling channels listed above are among the most popular selling channels. As such, we can choose any selling channel and start listing our products. But before we do so, let's understand the types of selling channels.
Generally, selling channels are of two types: eCommerce marketplaces and customizable dropshipping platforms. To elaborate, eCommerce marketplaces like eBay can generate organic traffic for our gift stores due to the huge number of active users.
To clarify, organic traffic refers to people who land in our online stores without the need to pay for marketing. As a result, with the increased visibility, our dropshipping store generates higher sales. If we want to learn more, we have a full guide on eBay dropshipping UK. 
While eCommerce marketplaces are good at generating traffic, our dropshipping stores cannot be customized with professional templates and designs. And that's why we use customizable eCommerce platforms such as Shopify and Wix. These selling channels provide website-building features which we can use to create a dropshipping store with custom domain names.
With professionally designed store templates, themes, images, and logos, we can create a personalized experience for our customers. Such features differentiate our dropshipping store from the competition and ultimately help in building our brand.
Step 4: Import Gift Products To Your Store

At this point, we have excellent gift product ideas and the suppliers to source the products from. Plus, we have also set up a selling channel to list our products. So, in the next step, we should start importing gift products to our UK stores.
Mainly, importing gift products to our dropshipping store can be done in two ways: Manual and Automatic. In the manual method, we go to the supplier's website and manually copy the product's titles, descriptions, and images. While this is an easy process, we must do it one at a time. As such, it takes a lot of time (5-20 minutes per product) and effort if we import multiple products daily.
In contrast, an automatic method means using a product importing software to do the same task on our behalf. With automatic product importing tools, we can import thousands of products in a few seconds, saving us a lot of time in the process.
So, let's look at what the AutoDS product importing tool offers in terms of product importing features:
One-click Importer

Single Product Importer

Multiple Product Importer

Bulk Upload with a CSV file
One-Click Importer
To illustrate, let's use the One-click Importer which enables us to import products with a single click. For demonstration, we will import a gift product from Amazon into our stores. Before we begin the import process, we should install the AutoDS Helper Extension.
After we install this extension, go to the supplier's website and navigate to the product page of the gift you want to dropship. Here, you will see that the product page now has an "Import to AutoDS" button. Clicking on the button will enable the importer tool to gather all its information.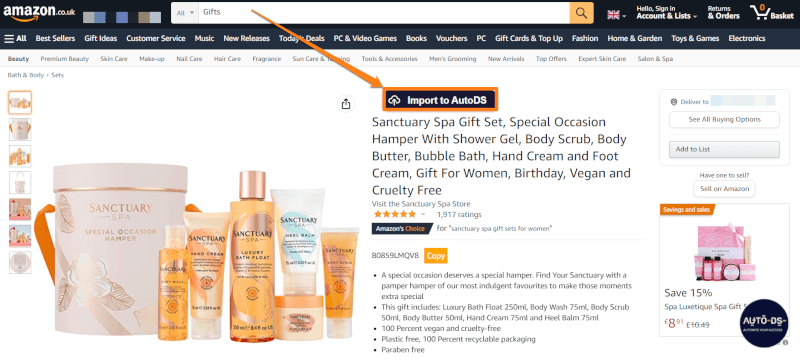 Then, the tool automatically uploads it to the draft page of the AutoDS platform. To clarify, the draft page is where products are optimized before publishing in our stores. On the drafts page, we can enhance the product's titles, images, descriptions, and more to help us differentiate our products from our competitors. After editing the product's draft, click on "Import" to list the product in your store.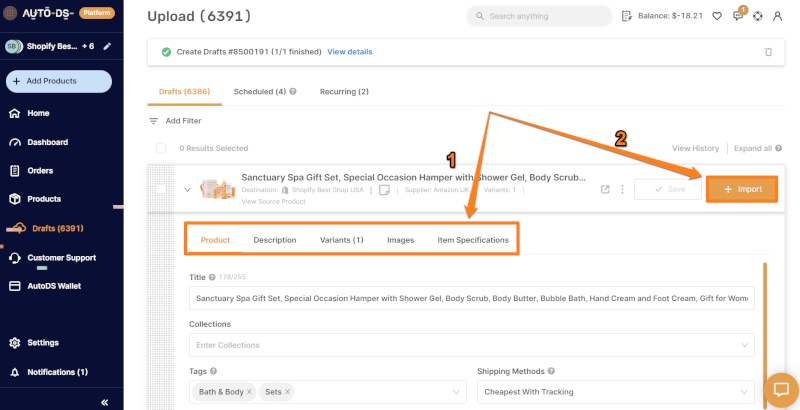 As we can see, the one-click importer helps us list all information about the product without us having to manually copy and paste it. As such, we can save a lot of time and energy allowing us to scale our business even further.
Additionally, items like gifts are often sold quickly because people are buying gift products all year round. So we need to ensure our listings are always 'stocked' and ready for our customers.
Step 5: Market Your Gift Dropshipping Products
Awesome! Our UK gift dropshipping business is set up! Now we must quickly think of ways to increase our visibility online through marketing. Because of the profitability, there is a lot of competition in the dropshipping industry. So, here are some marketing techniques we can adopt to ensure our gift store stands out from the competition:
Use professionally designed

themes/templates 

Gift bundles 

PPC ads

Influencer marketing

Blog
Professional Themes/ Templates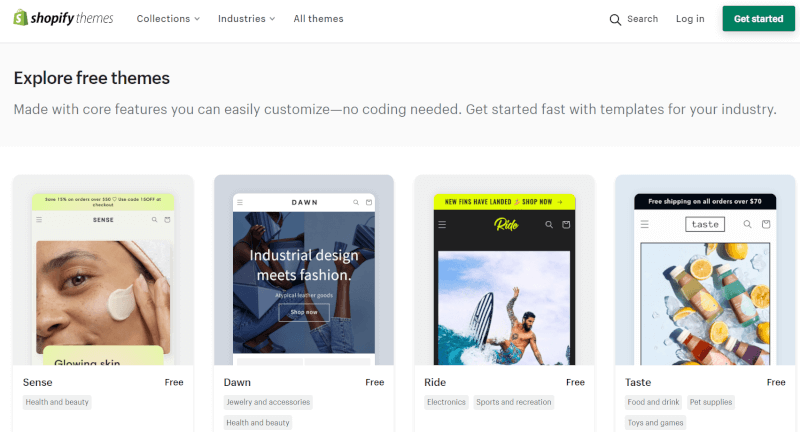 When customers visit our dropshipping stores, we need to ensure that they have a positive user experience. As such, we can use themes and templates that correspond to our brand image. To clarify, themes are templates that control the visuals and user functionality of our gift dropshipping websites.
Essentially, there are many professionally designed themes that allow us to personalize our Shopify and Wix dropshipping stores. While eBay is a marketplace that does not allow complete customization, we can use different eBay templates to design our eBay gift stores.
Gift Bundles
Another marketing strategy we can utilize is gift bundles. This technique includes making a package of similar gifts and offering it for slightly less than the sum of their individual prices. Generally, dropshippers use product bundling techniques to increase their average order value (AOV), bringing in more revenue.
PPC Ads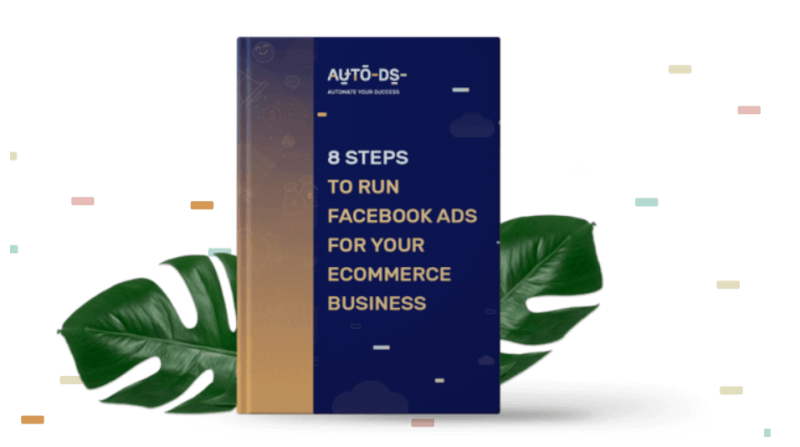 Additionally, Pay-per-click(PPC) advertising helps dropshippers get their gift products in front of users from different platforms. With PPC ads, our gift products are promoted on different platforms such as Facebook, Youtube, and Google.
When customers click on those ads, they are redirected to our dropshipping website. Thus, it increases the traffic on our website helping us make higher sales. As the name suggests, we have to pay a small fee every time someone clicks on our ads.
While we use this strategy mainly for Shopify and Wix stores, eBay dropshippers can use eBay PPC, a slightly different version of PPC ads. In general, the eBay PPC allows us to promote our products on eBay by ranking them higher in search results.
Like normal PPC ads, we pay every time a user clicks on our ads. Alongside eBay PPC, we can use the Promoted Listing Standard which also increases our visibility on eBay. However, unlike the eBay PPC, the costs for this promotional feature are charged after our products are sold.
Influencer Marketing
Besides PPC ads, we can use influencer marketing campaigns to market our gift products. To clarify, influencers are people who have a huge number of followers on social media platforms. Basically, we pay the influencers to promote our gift products to their massive list of followers.
For example, if we want to promote a new gift item like Yoga balls, then we can use fitness influencers. Therefore, if the influencers are from a specific niche that we are targeting,
there is a high potential to generate excellent sales. With that said, we can use influencer marketing to promote our products on both Shopify, Wix, and eBay.
Blog Pages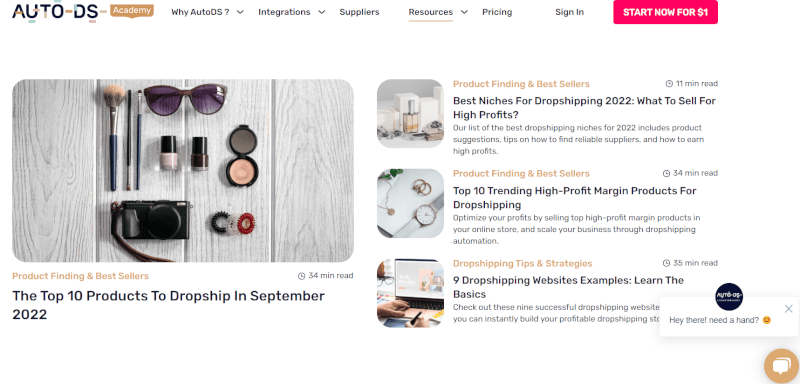 And finally, we have blog pages that serve as an excellent medium to market our products. To elaborate, blogs are articles on our dropshipping websites which talk about topics related to our products. So, we can create Search Engine Optimized(SEO) blog pages to increase the store's visibility on search results whenever customers search for relevant keywords.
In essence, a good blog page has the potential to generate huge organic traffic in our dropshipping stores. Therefore, it is a good tool to promote our gift products on Shopify/Wix stores. In fact, Shopify has a built-in blogging tool that allows us to create and manage our blogs.
Overall, with these valuable marketing tools and techniques, we can promote our stores to reach their full potential.
Step 6: Fulfill Your Customer Orders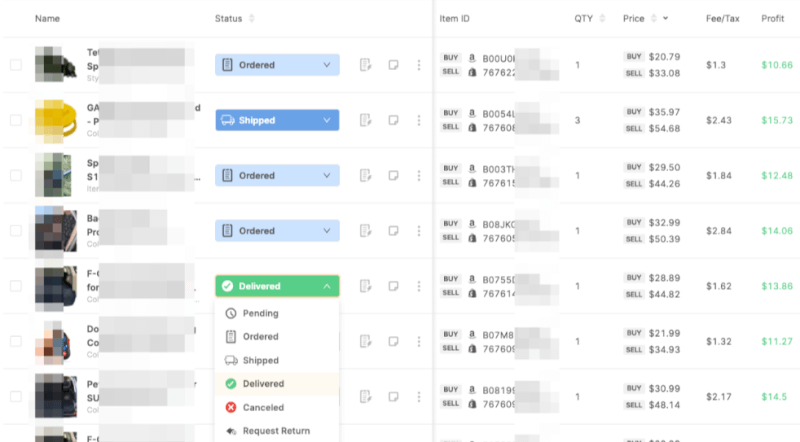 After we market our stores, we can expect customers to start purchasing gift products from our listings. Gradually, we will have to fulfill customers' orders accurately and in a timely manner. On the other hand, if we don't fulfill orders quickly, then we risk losing sales and customers.
As order fulfillment is one of the most important steps in dropshipping, we should fulfill orders swiftly while also avoiding errors. Generally, there are two types of order fulfillment methods: Manual and Automatic.
The manual method of order fulfillment includes going to our suppliers' websites, filling in customer details, product details, paying, and so on. While the process is not so hard, it takes a toll on us if we are fulfilling orders all day.
With that said, we can instead use the automatic method where dropshipping software fulfills our customer's orders automatically saving our time and effort. As such, the AutoDS Automatic Order tool is one of the best ways to automatically fulfill customers' orders. This tool fulfills our customer's orders swiftly and accurately.
Furthermore, the Automatic Order tool uses our buyer accounts to order gift products from our suppliers. In a nutshell, buyer accounts are our accounts on the supplier website with preferred payment methods.
Additionally, with automatic orders, the order status for each product changes accordingly. For example, if customers have just purchased a gift, then the tool will display a "pending" status.
Similarly, if the order has been paid for and already shipped to the customer, it will display "Shipped" in the order status. On top of that, after the orders are shipped, the automatic order tool will also update customers with tracking information.
In short, tracking information updates are messages sent to customers that include tracking numbers for their orders. That means customers can check the order status of the products themselves without needing to contact the sellers. Therefore, with these amazing features, AutoDS Automatic Orders offers us a complete order fulfillment solution leading to increased customer satisfaction.
Step 7: Provide Excellent Customer Service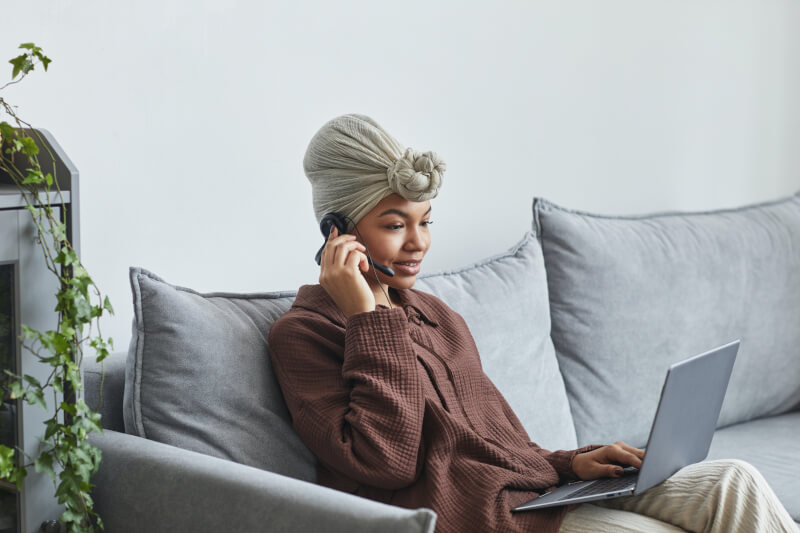 As excellent customer service goes a long way, we have to put the utmost effort into providing exceptional customer service. Also, exceptional customer service is the pillar of a strong dropshipping business. It gives us an edge over the competitors and helps us build a loyal customer base over time.
So, let's look at some of the ways we can provide exceptional customer service:
Handle customer queries and complaints promptly

Process return and refund requests promptly

Remain in contact with your customers

Create an FAQ page

Use a customer service management software
While running a dropshipping store, we can sometimes receive queries and complaints from customers. So, we need to promptly solve customers' issues and answer their queries.
However, despite our best efforts, customers can request returns and refunds. While this situation is not ideal, we should process their returns and refunds as soon as possible. Doing so increases customers' trust in our stores resulting in repeat customers and referrals.
Additionally, we should remain in touch with our customers throughout the purchasing process. With that in mind, we can send customized messages when shipping, sending tracking information, and also on delivery.
On top of that, we can add a follow-up message thanking the customers for buying with us. Sending a thank you message to our customers is a great way to make them feel appreciated after their purchase.
Besides that, we should include a Frequently Asked Question (FAQ) page, which helps many 
customers solve their queries, meaning less work for us. Also, we can use different customer service management (CSM) tools to provide an excellent customer experience.
With CSM tools such as the AutoDS eBay customer service management, we can manage all our customers from a single screen. Moreover, the AutoDS CSM tool works with multiple eBay stores and sends customer messages automatically according to order statuses.
With these tips, we can offer great customer service and attract even more customers while retaining those we already have.
What Is The Best Way To Scale A Gift Dropshipping UK Business?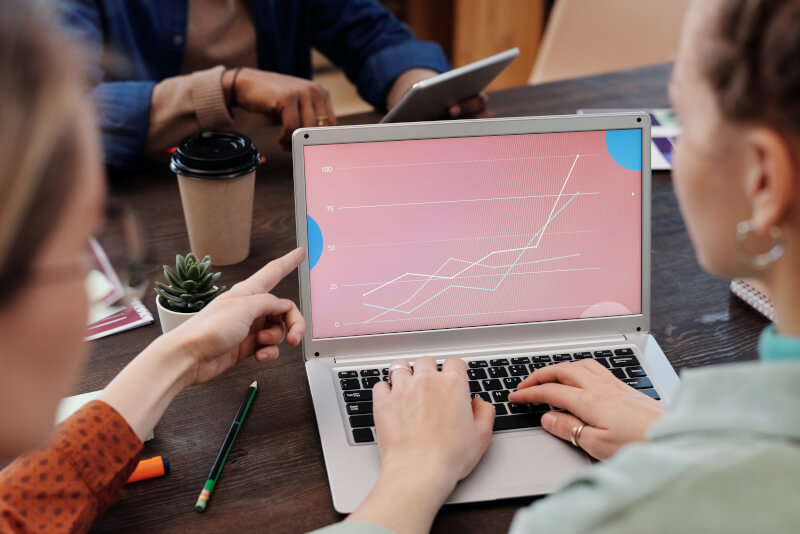 Great! Our gift dropshipping UK store is ready to launch and generate sales. But if we keep scaling our business, we can achieve maximum profits. With that in mind, the best way to scale our UK gift business is by automating our dropshipping stores.
While we learned about some of the automation tools above, there are even more ways to automate our business. As dropshippers, we must carry out all the business operations by ourselves, from adding products to servicing our customers. And if we start receiving multiple orders daily, the workload will overwhelm us.
Essentially, we should look to automate our dropshipping business processes. With the help of dropshipping automation tools, we can save a lot of time and work we put into doing repetitive tasks.
Moreover, it also eliminates the risk of human errors such as filling in the wrong shipping address. With that in mind, here are some additional automation tools that help us lighten our workload:
Overall, automation tools help us to scale our gift dropshipping UK business to new heights. Moreover, with dropshipping automation, we can make profits even while we are away from our screens.
Frequently Asked Questions
Is Dropshipping Legal In The UK?
Dropshipping is completely legal in the UK. However, we must avoid illegal products such as copyrighted products registered with the eBay VeRO list, alcohol, weapons, or live animals.
Is Gift Dropshipping Profitable In The UK? 
Absolutely, gift dropshipping is very profitable in the UK. According to studies, the market size of the gift industry was 24.7 billion in 2020. Moreover, it is projected to grow to an estimated 34.3 billion U.S. dollars by 2026.
Who Are The Best Gift Dropshipping UK Suppliers?
The best gift dropshipping UK suppliers are AliExpress UK, Wayfair UK, Signature gifts, and Personalized Trade Gifts. Additionally, we can also search for gift products from the 25+ AutoDS-supported suppliers.
Conclusion
With the above information, our minds are undoubtedly filled with many gift product ideas. As the potential of the gift industry is enormous, we can experiment with our gift dropshipping store in the UK.
Once we find winning products and reliable suppliers, the rest of the process is smooth-sailing. Moreover, we can use dropshipping software to automate our way to success and keep scaling our UK gift store from there on.
And there are many articles about dropshipping in the UK market. So, if you want to crack the UK market, here are some articles you can learn from: