E-commerce has become a very prominent aspect of our daily lives and it's globally redefining our commercial activities. The e-commerce industry has been continuously growing and it shows no signs of stopping or slowing down. With an unbelievable 4.9 trillion US dollars in e-commerce retail sales in 2021 and projections to double that in the next 4 years, buckle up for a ride that just keeps going up.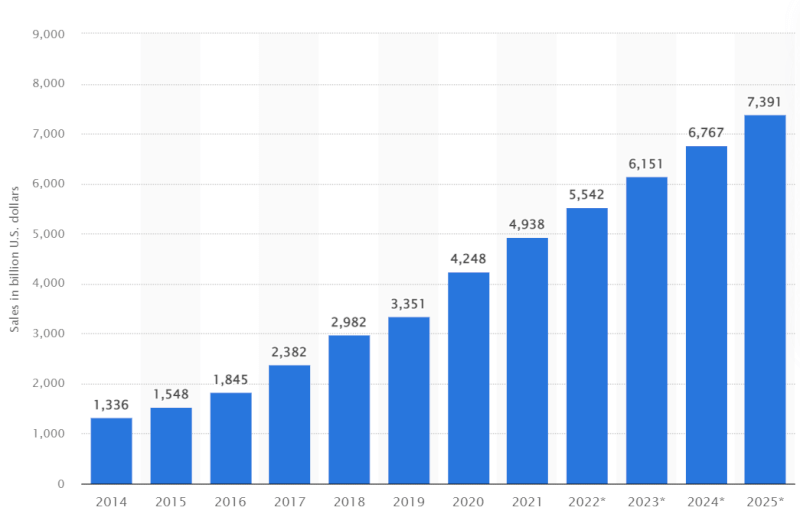 For any beginner looking to start their eCommerce business with a low-risk and low-investment model, dropshipping has been our holy grail. With dropshipping we're able to start our business and become eCommerce entrepreneurs without having to invest huge piles of money upfront.
With that said, anyone can become a dropshipper and the most convenient and easiest way is through Wix. Wix allows us to create and customize our online store while enabling us to target our ideal audience.
But, who's the main reason we're able to enjoy running our Wix store successfully? Well, the suppliers of course! The Wix dropshipping suppliers allow us to ship items from our store to our customers quickly and efficiently.
As such, this article will look at the best Wix suppliers to work with and their pros and cons.
15 Best Wix Dropshipping Suppliers 
Before we start exploring our list of Wix dropshipping suppliers, it's important to note that suppliers are available in different regions worldwide. This enables us to reach our target market both globally and locally.
In the process of choosing our Wix dropshipping suppliers, it's imperative that we make sure they have a domestic warehouse in the markets we're selling in. This consequently gives us the opportunity to offer faster shipping which ultimately brings about happy customers. Additionally, if we want to ensure our success, we also need to look for suppliers with a wide product catalog, and excellent customer service to ensure that we are fully committed to our customers.
With this in mind, here are the suppliers we'll be looking at today:
Now that we know what factors to look out for when searching for Wix dropshipping suppliers, let's dive in!.
Amazon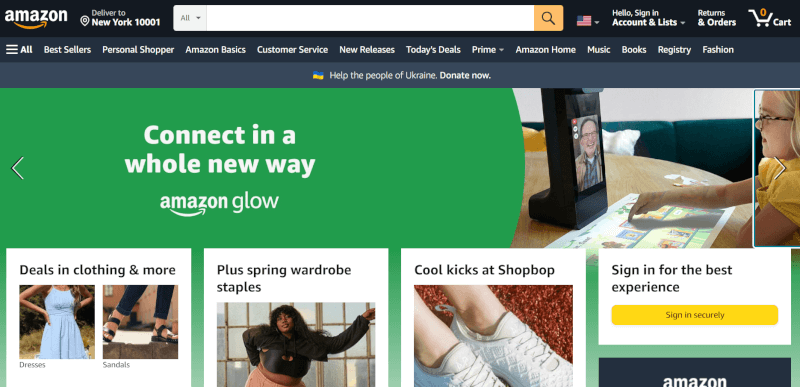 Amazon is one of the most attractive Wix dropshipping suppliers as it offers millions of products across all categories. Being one of THE most successful companies in the US, it houses thousands of dropshippers and their supply needs.
Pros:
Lightning-fast 2-day delivery 

International warehouses 

Wide product catalog 

Flexible return policy
Cons: 
Constant price fluctuations 

Quality Control
Amazon is extremely convenient when it comes to shipping and delivery as it offers a 2-day delivery standard for its Prime members. On top of that, it has a large number of warehouses with 110 fulfillment centers in the US and 185 centers globally. As a result, it is an excellent dropshipping supplier to use in the US and the broader European market.
Moreover, Amazon's huge product variety in all categories makes them a great choice. Coupled with their "no questions asked", free 30-day return policy makes it a top-tier Wix dropshipping supplier.
But, to really leverage your suppliers properly you also need to keep their drawbacks in mind. Notably, Amazon experiences constant price fluctuations which makes it harder to track your markups or markdowns in order to keep your preset profit margin.
However, we can run our Wix dropshipping business worry-free with the use of business automation. On top of that, since Amazon is a marketplace rather than a direct supplier, there is minimal quality control. So, keep in mind both the positives and negatives when considering Amazon as our Wix dropshipping supplier. 
AliExpress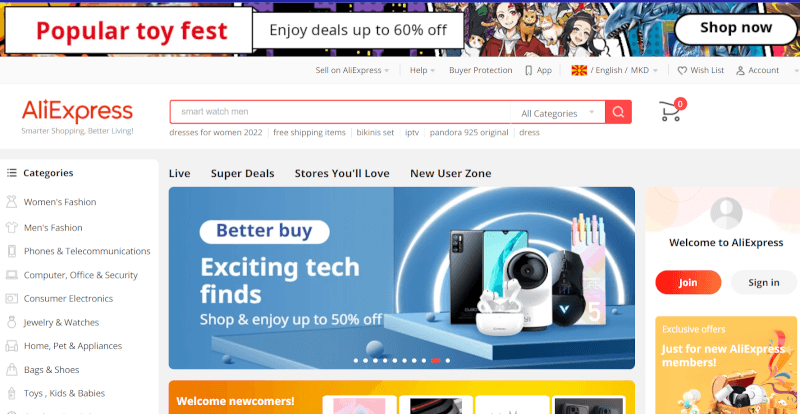 Next up on the roster is AliExpress. AliExpress is one of the most globally used marketplaces housing over 100 million products across every category imaginable. Additionally, what makes them an easy choice as a Wix dropshipping supplier is that they have warehouses around the world.
So, dropshippers, it's no wonder that sourcing from AliExpress is a no-brainer with its competitive prices, vast variety of products, and worldwide reach.
Pros: 
Huge product selection 

Low prices
Cons: 
Customer support 

Product quality
AliExpress has a very convenient dropshipping center that alleviates our dropshipping responsibilities. The dropshipping center helps us with our product research that will ultimately improve our Wix store. This comes in handy when choosing from their seemingly endless product categories and even more subcategories.
Consequently, the massive product pool at AliExpress encourages competitive pricing allowing us to leverage its low prices. Consequently, we'll be able to remain attractive to our customers with our affordability.
Be that as it may, AliExpress is not without its faults. One of AliExpress' biggest cons is poor customer support. Since customer support reps are not available 24/7 and don't speak English very well, it's a lot harder to get help in this marketplace.
Furthermore, as the products come from China and are very low cost, the quality is not always great or guaranteed.
CJDropshipping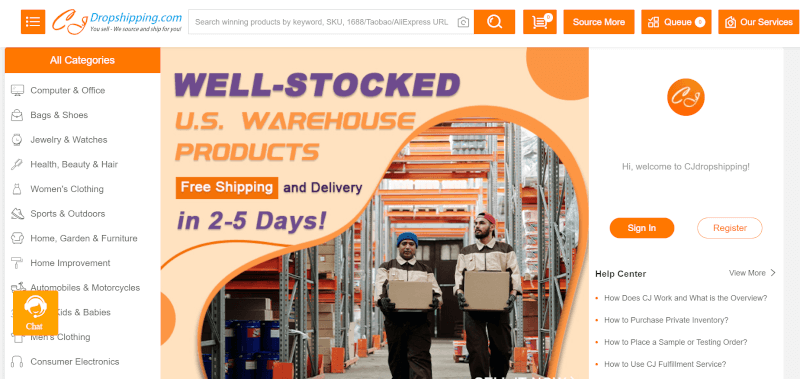 It's no surprise that CJDropshipping is one of the go-to Wix dropshipping suppliers. It has multiple dropship integration tools as well as 8 international warehouses. It's drawing you in, right?
Pros: 
White label product options 

Print on Demand (POD) features 

Quality control
Cons: 
Limited shipping options

User experience on website
One of CJDropshipping's most attractive traits is their white label solution. White label solutions allow for products and packaging to be available with a blank label open for branding. The "White Label" solution that CJDropshipping offers allows us to custom design our products and packaging. This offers us a considerable advantage when dropshipping as we are able to brand our products and store.
Coupled with CJDropshipping's own POD solution, you can dropship custom-designed products to your hearts' contempt. To clarify, print on demand is a process where we can customize white label products.
Not to be a bummer, but we must consider that they have limited shipping options and that they only deliver to 18 countries. Additionally, CJDropshipping's interface is cluttered and not very intuitive to use. However, they still remain a top Wix dropshipping supplier as they offer great dropshipping tools to help us scale our business.
To learn more about CJ Dropshipping, settle in with a cup of coffee and this article on CJ Dropshipping: Full Overview and How To Work With This Supplier.
eBay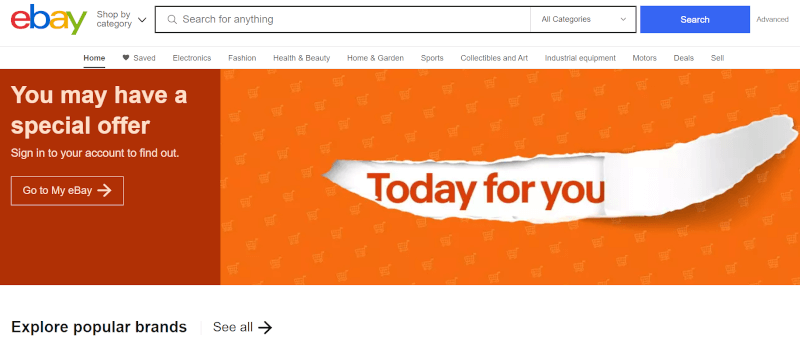 As dropshippers we're all more than familiar with eBay. But, eBay's versatility not only allows us to sell but to source as well. For this reason, eBay is a very attractive Wix dropshipping supplier for us because of its extensive product selection, its reliable customer support as well as convenient and express shipping options.
However, eBay is not without its faults. Let's dive into both its pros and cons.
Pros: 
Millions of products

Buyer/Seller Protection 

Spying on the competition
Cons: 
Different seller policies 

Lack of unique offers
Because eBay's primary nature is as a selling channel, it allows for a vast variety of hot products options to be sourced as well. In addition, with their buyer/seller protection, there are no headaches and stress when it comes to sourcing your products. We will always get what we ordered and we'll get it on time.
Moreover, with eBay, it's easy to spy on the competition and get the inside scoop on what's hot in the market. By simply searching for a product or niche, we can see how many sellers are selling it, as well as how many sales they're making.
On the other hand, eBay's lack of POD or white label options limits us from customizing or branding. Plus, since eBay is an open marketplace, there are thousands of sellers with different shipping/return policies that we have to pay attention to.
Wayfair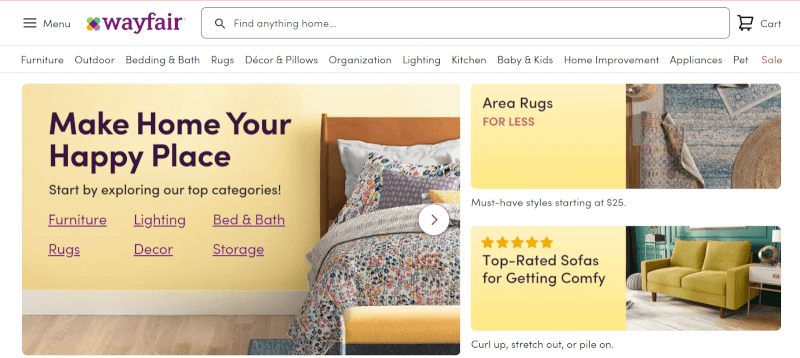 Up next is Wayfair. Wayfair is a great Wix dropshipping supplier in the "Home" niche offering an amazing and vast choice of products.
What makes them an attractive supplier for dropshippers is their global network of warehouses. Additionally, the US consumer flocks towards them because of their speedy 2-day shipping. Let's look at some of their traits, good and bad.
Pros:
MYWAY program 

Global warehouses

Huge product range
Cons: 
Higher prices 

Niche limitations
Let's take a look at the MyWay Program. The MYWAY Program is one of Wayfair's most attractive traits. This membership program offers benefits like free shipping on any order, member-exclusive products, and even free 1-day shipping for eligible products. Similarly, for non-members, their global network of warehouses guarantees fast shipping across different regions.
Although Wayfair is a niche supplier, it does still offer a wide variety of products. This huge product range is the reason why 'home niche' dropshippers swarm to Wayfair.
However, playing devil's advocate, we'll also learn that Wayfair is a supplier characterized by higher prices. Their pricing is directly related to the good quality of the products. And, since Wayfair's product selection is solely focused on the home goods market, we are limited to the home niche with this supplier.
Cozy up and learn more by checking out Wayfair Dropshipping: Full Overview and How To Work With This Supplier. 
Costco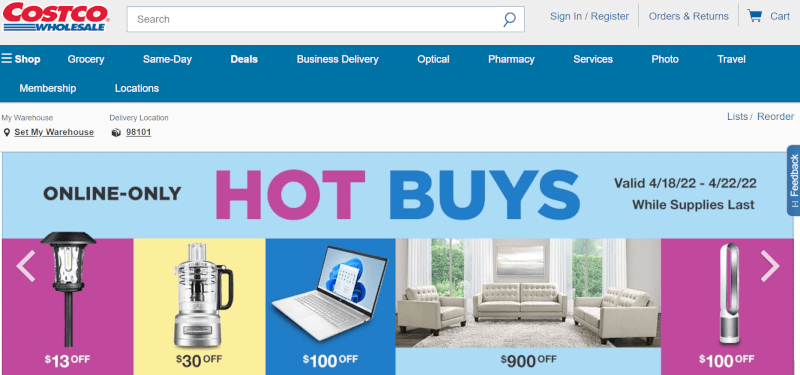 We continue our dive into the world of Wix dropshpping suppliers with Costco. Costco is America's great wholesaler renowned for its competitive prices.
Our gravitation towards Costco as dropshippers comes from its great deals, lean pricing, and fast 2-day delivery to most US locations.
Pros: 
Same-day shipping 

Wholesale prices 

Fantastic customer service
Cons: 
Free shipping is limited to orders $75+ 

Limited payment methods
Who doesn't love same-day shipping? But, remember that this is for the US only. Even if we encounter any issues with our cancellations, returns, tracking or we have any other issues at all, the fantastic Costco Customer Service team comes swiftly to the rescue.
Then again, their super affordable wholesale prices mean that we will remain affordable to our customers.
But, on the other hand, Costco does not offer free shipping for every order. Although most of us get giddy when we see the "Free Shipping" tag, at Costco we'll get free shipping only for orders $75 or above. On top of that, you can only use a debit or credit card or their "Costco Shop Card". In fact, payment methods like PayPal are not available.
Etsy

Our list continues with Etsy. Etsy is an American marketplace and home to a variety of one-of-a-kind items made by independent artists, crafters, and collectors.
By using Etsy as our Wix dropshipping supplier, we are able to source custom-made, vintage, and handmade décor, accessories, art, clothing, and much more. A nice little perk is that you support small businesses in the process.
Pros: 
Unique product range 

Niche central 

High-Profit potential
Cons: 
Individual seller policies
The extensive product range on Etsy is complemented by its uniqueness. There are over 2.7 million sellers, offering over 60 million unique products. So, take your pick and bring a little authenticity into your Wix dropshipping store. Correspondingly, Etsy has a reputation for unusual and specialty goods, rendering them the land of the niches.
Because of this, sourcing from Etsy gives us an opportunity to increase our profit margin due to the uniqueness of the items. Consumers are willing to drop bigger bucks on specialty items allowing us to reign in the cash.
But with all great things come their flaws. On Etsy, each seller sets their own individual seller policies regarding shipping time, costs, and returns. This makes it harder for us to follow all the different policies of diverse sellers. Consequently, we need to be well organized when sourcing from Etsy.
Banggood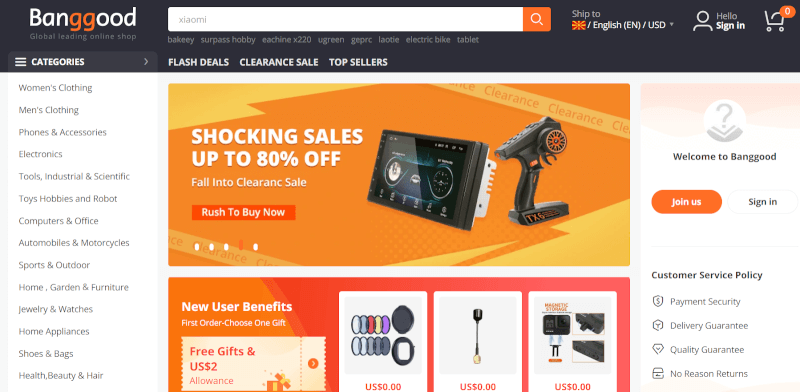 Banggood has become a major Chinese supplier for dropshippers around the world. It shows a lot of similarities with AliExpress by offering a large variety of products across different regions like Asia, Europe, the US, and Australia.
Pros: 
Certified dropshipper website

Dropship center 

Low costs
Cons: 
Product quality 

Customer service
Since Banggood is a certified dropshipper website, it provides dropshipping contracts to support dropshippers everywhere. They've got you covered if you need to submit a dropshipping contract.
In fact, Banggood continues its support for dropshippers by having a dropship center that offers benefits. The benefits include personalized product recommendations, cashback sites, a credit point accumulation system, and more.
On top of that, Banggood offers an enormous variety of products at a low cost. This is common with most Chinese suppliers, like AliExpress.
Consequently, as with most Chinese suppliers, product quality and customer support can be poor. However, despite their shortcomings, Banggood still remains one of the top Wix suppliers.
Walmart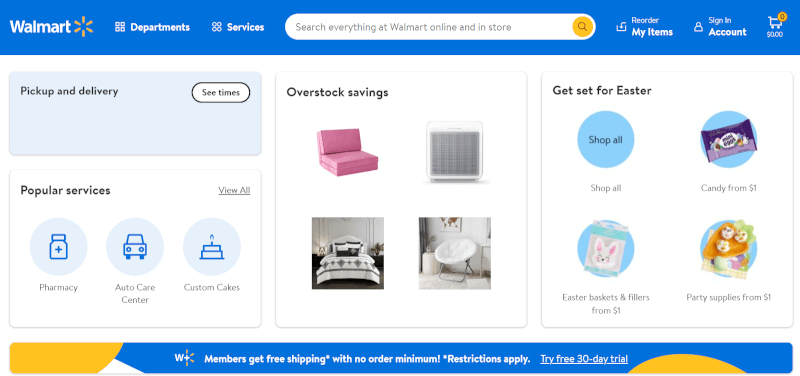 Although Walmart is primarily used to source products for the American consumer, it has delightful perks like a wide range of diverse products and next-day delivery. It also gives the option to send your product in gift packaging.
Pros: 
Price match policy 

Free & fast shipping

Savings and deals
Cons: 
One of Walmart's most attractive features is its price match policy. If a product goes on sale within the return period, by reaching out to customer support you'll be able to get a refund of the price difference. Continuing the theme of affordability, with Walmart's big sales and daily deals, we can earn a higher profit by finding opportunities for higher profit margins.
You can discover how to find trending items and deals by looking into Walmart's Saving Spotlight: How to Find Trending Products.
Additionally, with Walmart as your Wix dropshipping supplier, you'll be able to offer next-day delivery and free shipping options for your US consumers. But, keep in mind that they only accept credit and debit cards without the option of using PayPal.
Overstock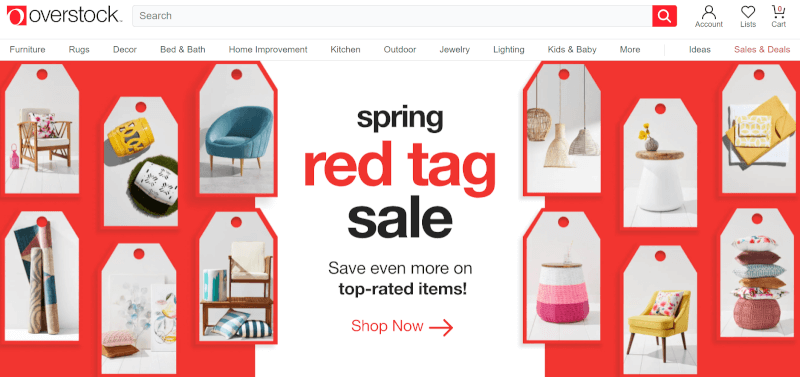 Overstock is an American, Wix dropshipping supplier offering high-quality products in the home niche. They can also be credited with the trifecta of great customer service, reliable shipping, and sensible prices.
They also pull us in with their daily deals that will surely pave the way for us to gain bigger profits.
Pros: 
Good return policy 

Club 0 program

Price match guarantee
Cons: 
Limited to one niche

Lack of control in shipping process
One of Overstock's most notable pros is their outstanding price match guarantee. If you find the product with a lower price from absolutely any other supplier in the world, Overstock will refund you the difference.
 And, not only are we able to price match but, we'll be able to take advantage of their 30-day return policy that will surely check a lot of boxes for dropshippers.
As for their loyalty program, Overstock's 'Club 0' program offers attractive benefits like 5% cashback on all purchases and free shipping. We also get to try it out for free in the 30 days after signing up, after which the monthly fee is $19.95.
On the other hand, it's important to mention that, as with most Wix dropshipping suppliers, we don't have much control over the shipping process. With that said, we need to diligently read our supplier's business policies. This is to ensure that our customers will receive their products promptly.
However, on a more negative note, by sourcing from Overstock, we'll be limited to the "home niche". They don't really branch out into any other product categories. Nonetheless, if we're specializing in the home niche then Overstock is a great choice as our Wix dropshipping supplier.
Alibaba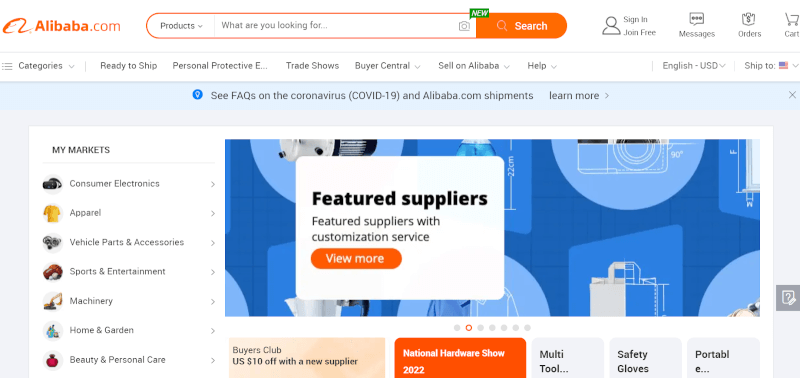 For most people, Alibaba is synonymous with AliExpress. However, AliExpress is part of the Alibaba Group. Since Alibaba is the parent company, it is massive and primarily a B2B supplier. This is something we need to keep in mind when considering it as a Wix dropshipping supplier. 
Pros: 
Wholesale prices 

Private label products
 Cons: 
Minimum order requirements

B2B supplier
With Alibaba, we're able to utilize their private label product options. We can find manufacturers to produce our own original design for a product. Additionally, it also allows us to brand existing products. What's more, we'll be able to get these items at wholesale prices.
Although we might be dazzled by these great features, the most notable Alibaba characteristic is that it is a B2B supplier rather than a retail marketplace. It is primarily used by businesses looking to source larger quantities of products.
With that said, since its primary focus is to source for business, Alibaba has a minimum order requirement of at least 100 units meaning we'll need to pre-purchase items that customers may not have ordered from our store yet.
Wish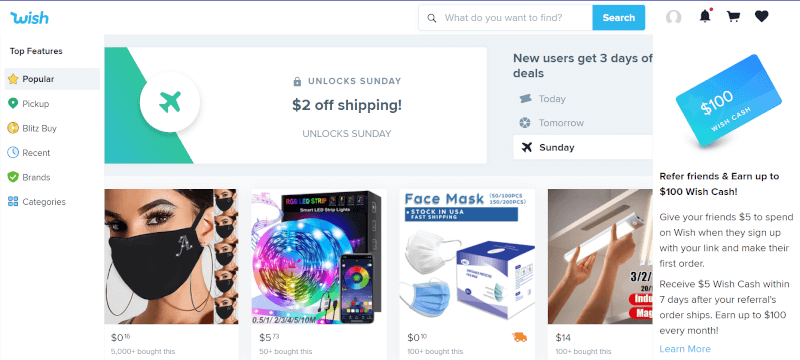 Wish is a US eCommerce platform that uses browsing technologies. What this means is that the shopping experience is personalized to each individual based on their searches and preferences. It's also the home to a million product lists offering up good diversity, making them a great choice as a Wix dropshipping supplier .
Pros: 
Blitz buy 

Shipping options
Cons: 
Product quality

Customer support
When considering Wish, we have to shed light on Blitz Buy. Blitz Buy is the gamification of our shopping experience on Wish. It's a Wheel-of-Fortune style game that offers up extra discounts on popular items. Blitz Buy can help us save money and thus continue pricing our products at retail costs, enabling us to have higher profit margins.
In terms of shipping, they offer a couple of options. For our impatient consumers, Wish offers express shipping that will get your order to you in 5 to 8 days. But for those of us who opt for the more dollar-conscious option, they have standard shipping that takes 2-3 weeks.
On the downside, when sourcing from Wish, we might not get the best quality products. Although the prices are super affordable, the quality matches the price. In addition, much like AliExpress, Wish's customer support is not very good. They are not available 24/7 for most markets, making it harder to cater to different time zones.
Target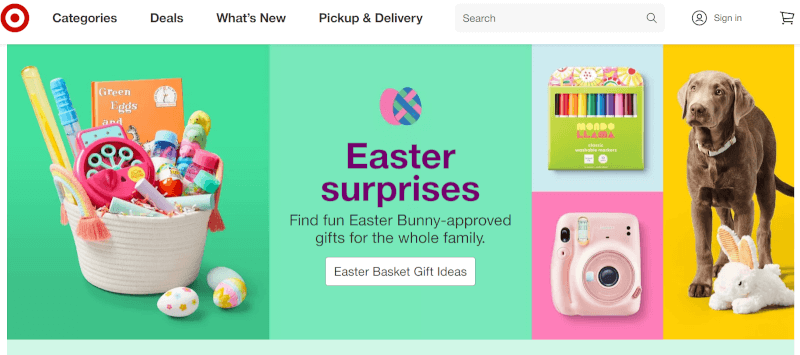 Up next we have Target. Target is a great Wix dropshipping supplier because of its diversity in products. You can find almost anything at Target.
A great aspect of sourcing from Target is that you can stay ahead of the competition during holidays by leveraging their holiday categories full of festive and themed products.
Pros: 
Generous return policy 

RedCard membership
Cons: 
Shipping options 

No specific dropshipping advantages
Target's generous return policy is a rarity in the dropshipping world. They offer a full-refund, 90-day return policy, and an extra 30 days if you have the Target RedCard. With the Target RedCard, you can get free 2-day shipping on thousands of items and free standard shipping on most products.
But, it doesn't end there. The membership allows you to get a 5% cashback on a large number of select items.
On the other hand, a con to keep in mind is their shipping options. Target only offers 2-day shipping for orders above $35 and some select items. However, if you have a membership card, the doors open up to the 2-day shipping option for more items. And, in terms of dropshipping, there are no specific advantages. We'll need to keep in mind that they don't offer any dropshipping agreements or perks.
Costway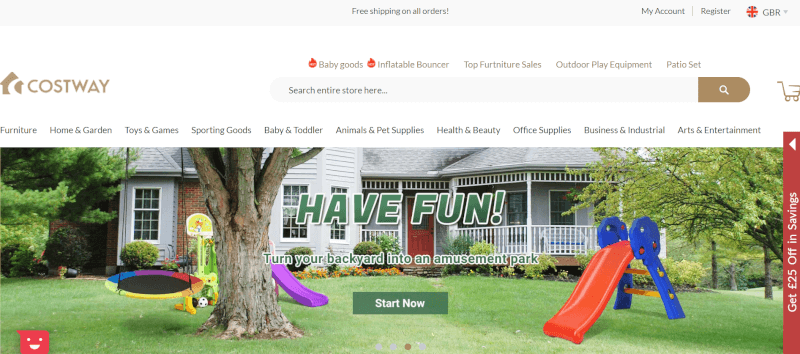 Since Costway was founded by dropshippers, it's very dropshipper-friendly, even offering dropshipping agreements. At Costway, dropshipping is encouraged and supported by their good selection of product variety.
Pros: 
90-day warranty 

Free standard shipping

Cashback 
Cons: 
Costway logo on delivery package

VIP membership program not compatible with dropshipping
Uniquely, Costway offers a great 90-day warranty. At Costway, if you receive a defective item, you can return it for a full refund or exchange it within 90 days after purchase. On top of that, we can always rely on Costway's 3-5 day standard shipping solution for all of their products.
Finally, they reel us in with their lucrative cashback system. We're able to earn a percentage of our money-back with any order we place.
Conversely, a Costway con to consider is that, although they have a VIP membership program, it is not compatible with the dropshipping program. In addition, we should keep in mind that when Costway ships our order, the package is branded with the Costway logo.
Home Depot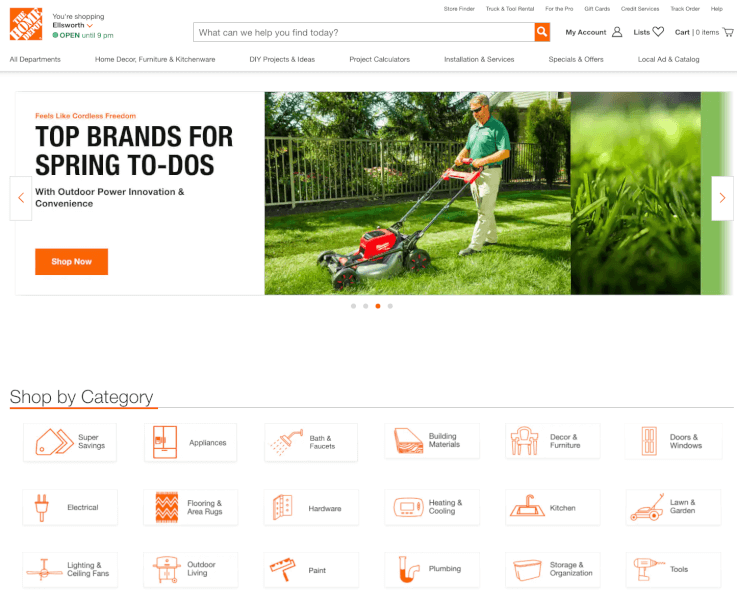 Home Depot is a Wix dropshipping supplier more targeted toward American customers. It has as many as 90 distribution centers across The States and a huge variety of items in the "Home Niche".
Pros:
Tax exemption program 

2-Day delivery
Cons: 
No international shipping 

Return policy

Niche-oriented
One of the most notable and unique aspects of Home Depot is its tax exemption program. Home Depot has a unique program where if you have a state/country or federal tax ID, you're able to be exempt from purchase taxes. You will need to fill in your tax-exempt ID number when you register online. If you're approved, you can save an extra 5% on purchases at checkout.
Not to mention their great shipping policy. Home Depot has a free 2-day delivery policy for over a million products and free delivery for orders $45+ with products not included in this category.
But, as mentioned above, Home Depot is targeted toward the American consumer so they don't have international shipping. However, if we want to source from Home Depot and sell to an international market, we'll have to utilize third-party shipping.
And of course, if we're looking to sell a variety of products across different categories in our store, then Home Depot may not be our best option. With Home Depot we're limited to only 1 niche and can only source "home" products. We also need to keep an eye out for their distinct return policy. Their return policy emphasizes that any return shipping costs will be covered by the customer.
Import Products From Dropshipping Suppliers To Wix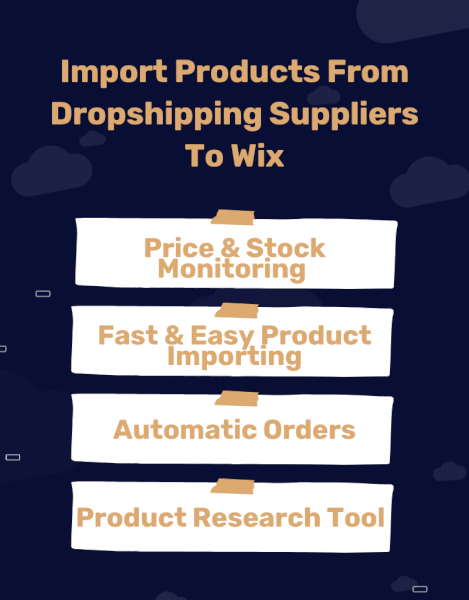 Considering all the information we've gained, there are definitely some steps we need to take when creating our Wix dropshipping store. However, we can use all of these Wix dropshipping suppliers to get the wheels turning. Once we solve our sourcing dilemma and pick the right suppliers, one of the best ways to scale and increase profits is with dropshipping automation.
Generally speaking, manual dropshipping can be very time-consuming, as it can get complicated and strenuous. In contrast, using an automation tool like AutoDS will alleviate the time and labor going into running our own eCommerce dropshipping business. The automation software does most of the work while also reducing errors in importing products and order fulfillment.
Let's take a look at these AutoDS automation tools that will give us complete control over our business:
Price & Stock Monitoring

Fast & Easy Product Importing

Automatic Orders

Product Research Tool
Price & Stock Monitoring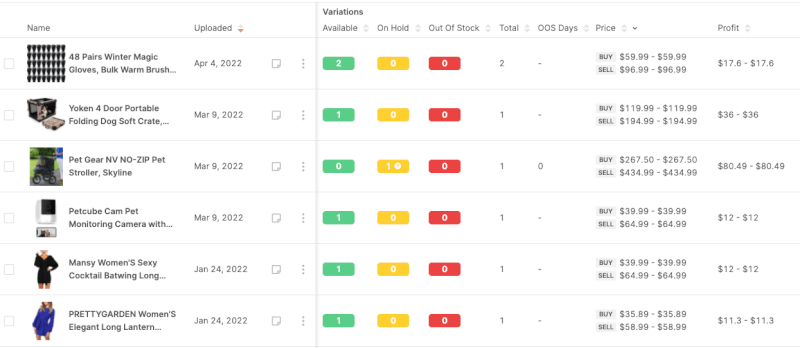 One of the best automation tools to keep track of your inventory is the Price and Stock Monitoring tool. By using this tool we'll be able to make sure that our product offerings are readily available and that they're priced right.
Not only does the AutoDS Stock and Price Monitoring tool help us keep track of stock levels, it also tracks price fluctuations. This will save us a lot of time as opposed to manually tracking each supplier. When our supplier runs out of a product, AutoDS marks this product as out of stock in our own store. How convenient is that?
Additionally, when there are price fluctuations, AutoDS makes sure to mark up or mark down the products in our store in order to keep the preset profit margin.
Fast & Easy Product Importing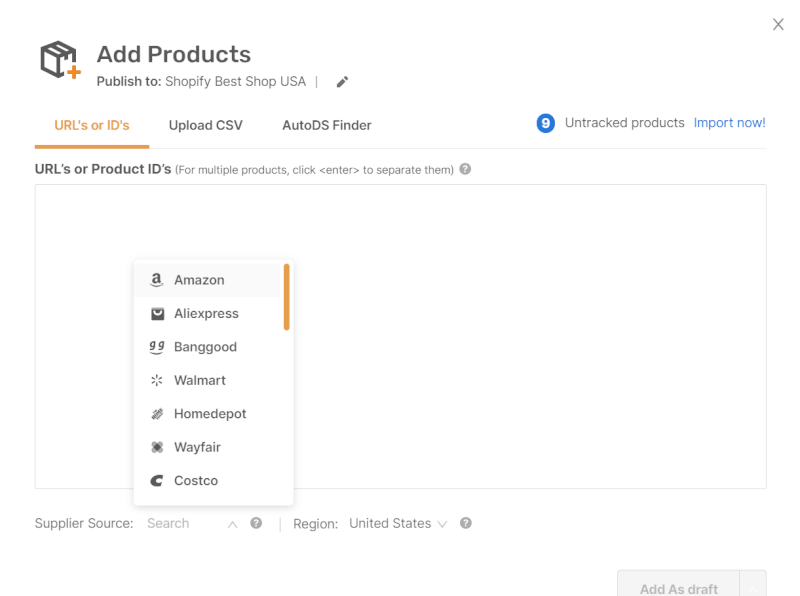 With the AutoDS Product Importing tool, we are able to save a ton of time by avoiding manually importing our desired products into our store. With AutoDS' bulk importer we're able to import thousands of products from our Wix dropshipping suppliers. Interestingly, we can import products with our specified description, image, specifications, or even title in seconds. Notably, this is only one of the four AutoDS import tools we can utilize.
Automatic Orders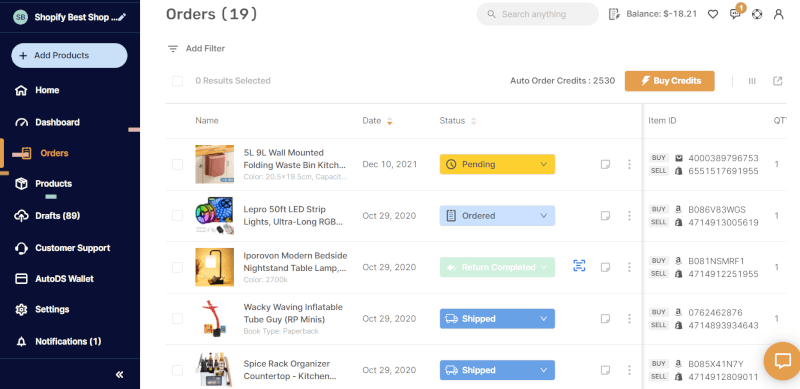 When we first start dropshipping, we won't have much problem fulfilling orders and handling returns manually. However, when we inevitably begin to scale our business and receive multiple orders a day, it will become difficult to manually manage and operate our dropshipping store.
With that said, the AutoDS Automatic Orders tool will solve the time-consuming issue of having to do these tasks manually. The entire process from 'order made' to 'order shipped' and everything in between, including tracking, is fully automated with the Automatic Orders tool.
Additionally, for US suppliers working with US currency, we can utilize Fulfilled by AutoDS. This tool uses an AutoDS account with our suppliers. No more worrying about getting any account locks or orders cancelations on our buyer accounts.
Product Research Tool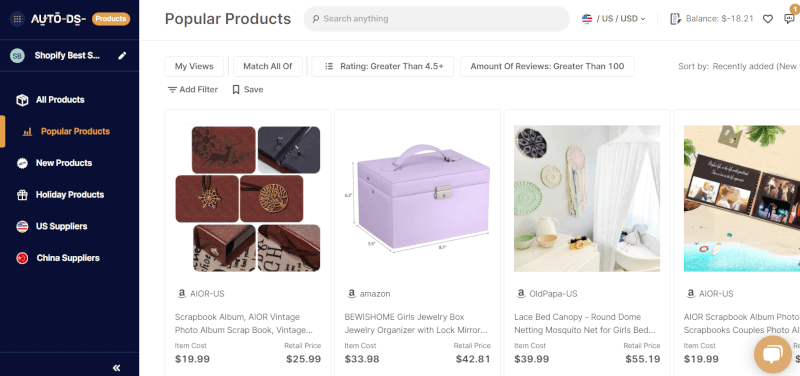 Notably, product research is a time-consuming task. It occupies us for hours, grinding us down until we find the best products for our dropshipping store.
The AutoDS Product Research Tool not only simplifies the process but also frees up so much of our valuable time. With the Product research tool, we have immediate access to the hottest and trendiest products from both US and Chinese Wix dropshipping suppliers.
However, the winning combo is pairing this tool with the AutoDS Product Finder. While the Product Research tool is deeply customizable, the Product Finder automatically finds hot products and imports them to your store. Pairing these two will no doubt fill your store with the trendiest products.
This variety of dropshipping automation tools and many more available with AutoDS will not only save you a ton of stress and effort but will improve your functionality. Moreover, they will save you a lot of time and will help you scale faster.
Conclusion 
Great, we've made it this far! Indeed, choosing the right Wix dropshipping suppliers for our store is imperative. Getting the right information will help you take the next steps toward building up your dropshipping store.
We are now ready to start conquering the dropshipping scene by using the vast information at our disposal. But, we don't want you just running with the big dogs, we want you to win. To not only compete but also get ahead in the dropshipping world, choose the right supplier that best fits your store and vision.
There are no mountains high enough that you cannot reach without the proper support and dedicated effort. To help you out in your journey, check out these helpful articles and guides:
Frequently Asked Questions
What Is Dropshipping?
Dropshipping is an order fulfillment method where a store doesn't keep the products it sells in stock. Instead, the dropshipper purchases inventory as needed from a third party (like one of the suppliers in this article) to fulfill orders.
Why Should I Dropship With Wix?
Dropshipping on Wix means customizing our online store and building our brand awareness. Plus, there are tons of dropshipping app options to choose from, designer-made templates, a simple checkout experience, and even integration with other tools (like AutoDS dropshipping automation).
Which Suppliers Are Best For Dropshipping?
Some of the best suppliers for dropshipping include Amazon, AliExpress, and eBay. However, there are a lot of great options out there, be sure to check out the 15 best Wix dropshipping suppliers in this article.