Recently, eBay started to automatically approve returns, which makes it extremely difficult for dropshippers to control. Because with eBay automatic returns, eBay supplies the buyer with a return label and charges the sellers for it, instead of allowing the sellers to provide their own return label from their suppliers as they have always been doing.
As eBay dropshippers, handling return cases correctly is a top priority as it affects your overall seller level. Sellers who do not handle their returns on time or the right way quickly find themselves in the "Below Average" seller level with lower visibility in their listings. Or even worse, account suspension. Therefore, it's crucial to check your returns daily and take action where necessary.
That's why in this article, we are going to cover everything you need to know about eBay automatic returns policy, how it works, the history around it, and the eBay automatic returns solution so that you can continue your dropshipping business without worrying about eBay automatically approving and charging you for your return labels.
The Difference Between Free and Paid Returns on eBay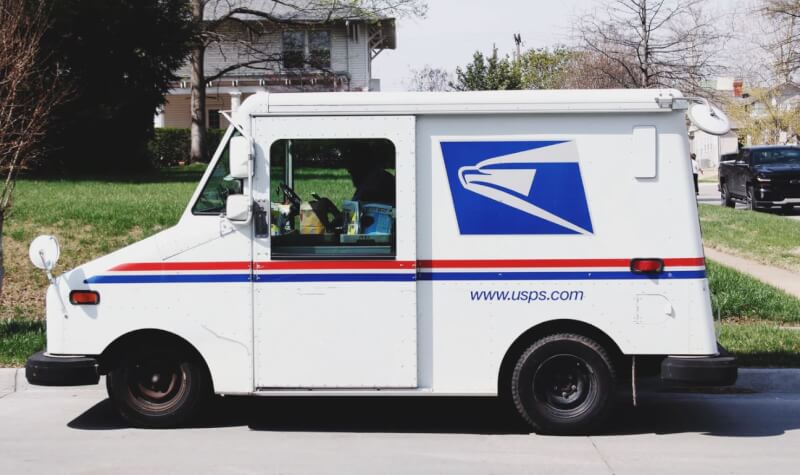 When a buyer opens a return request, someone will need to pay for the return label. Configure your eBay Business Policies to set your return policies according to your supplier's return conditions. 
Seller Pays For Return Shipping (Free Returns)
If your eBay Return Policy states free returns, you will have to supply the buyer with a return label. Note that your listing will rank higher than those who don't offer free returns. So always offer free returns where you can support it.

Buyer Pays For Return Shipping
On the other hand, if you don't offer free returns, then the buyer is responsible for shipping the package back to the return address that you supply him with. You'll still need to accept the return if eBay didn't automatically do so themselves.

However, if the buyer chooses that the reason for return is because the item arrived in damaged condition, or the item is not described in the listing, the seller will be responsible for purchasing the return label.
Therefore, make sure that your listing's titles and descriptions don't have any mistakes on them. If you find incorrect information, make the correct adjustments to avoid paying for return labels in the future.
The History of eBay Automatic Returns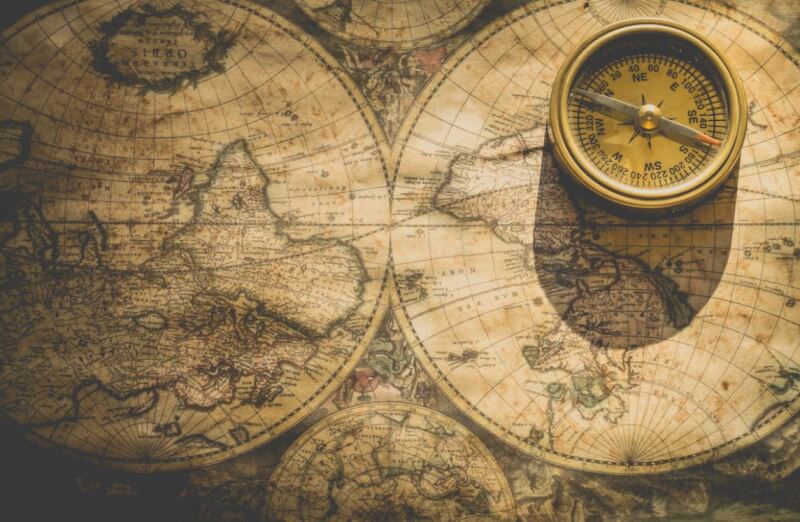 In the past, sellers were always given a chance to review the return case. Sellers would have a time window to supply return labels accordingly. They were overall more involved overall in the return process. Then, a few years ago, eBay made a small change which turned it to a challenging process, especially for dropshippers.
eBay Automatic Returns Problem
In 2017, eBay wanted to streamline buyers' and sellers' return process by automatically accepting return requests and supplying a return label with the seller's address. Even worse, the seller needs to pay eBay for issuing the return label.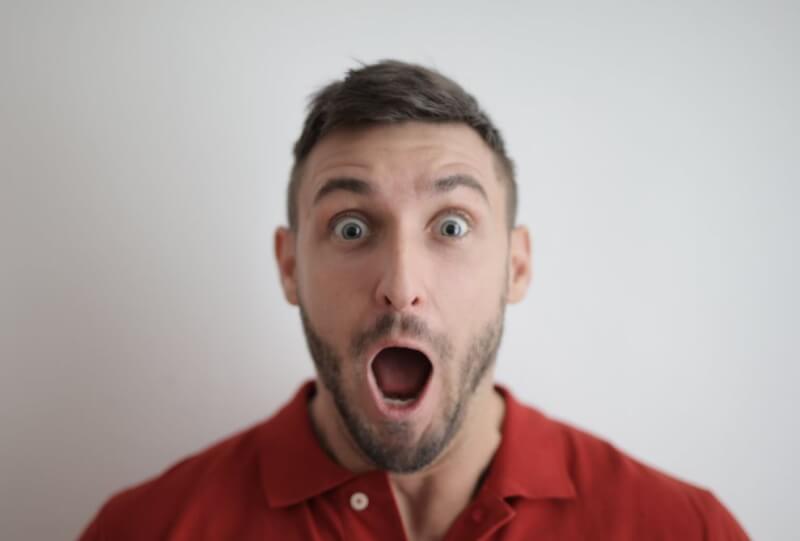 In 2018, eBay released eBay's seller update, where they explained more about this feature, and that's when we wrote an article about what to do with eBay's automatic returns.
Simply put, dropshippers need to obtain a return label from the supplier with the correct return address. This way, you won't have to deal with the returned products. As soon as the product returns to the supplier, the seller refunds the buyer while receiving a refund from their supplier.
That's why eBay automatic returns are a bad solution for dropshippers. When this update came out, dropshippers started to panic because they didn't want to pay eBay to issue a return label with their address. Buyers started sending their packages to the seller's address, which only helps the sellers who have their own stock. 
Noticeably, eBay understands that this is not practical for every situation. Therefore, there are some exceptions, which can sometimes make it more confusing.
eBay Automatic Returns Solution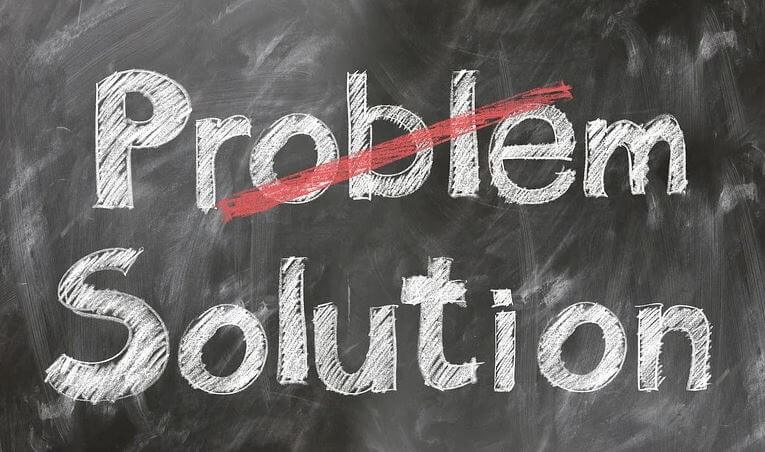 Like how every problem arises through the years, dropshippers always find a solution to the road bumps. After all, many dropshippers make a living through this profession, therefore, and thankfully, there is a solution to every problem. 
The solution to avoid eBay automatic returns is to check the "RMA number" box in the Seller Return Preferences page.
Once activated, eBay will give you time to upload your own return label instead of issuing yourself with your return address and charging you for it. 
Navigate there manually by clicking on Account Settings → Site Preferences. Scroll down to Return Preferences and click the Edit link on the right.

Scroll down to the RMA number checkbox, click it in and submit the changes. Yes, it's that simple!

After following these steps, eBay will stop automatically approving your buyer's returns. You will have time to upload your supplier's return label and handle the return case appropriately.
Keep in mind that until you supply a return label in the return case, the buyer will see your address as the return address. Therefore, you must supply a return label ASAP. 
You can also change your address's name to avoid confusion and add something like: "Do NOT return to this address. The seller will provide a return label shortly."
This way, the buyer won't mistake your address for the return address while you are waiting for a return label from your supplier. 
eBay's New Automated Returns Policy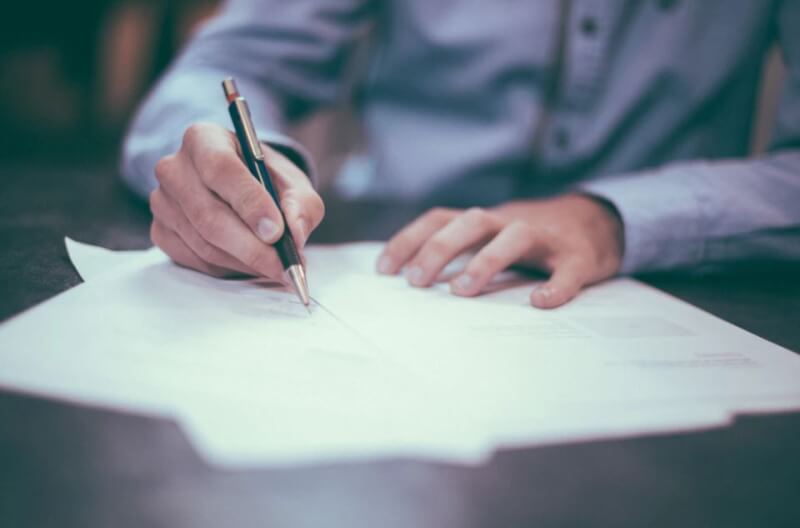 Recently, eBay sent a wave of emails explaining that they will automatically approve return requests and refunds for sellers in their managed payments system, starting September 14th, 2020. Once again, many dropshippers are confused and are trying to figure out what's going on.
Furthermore, in the email, eBay updated with a new "How Returns Work" explanation page, showing an image explaining how the new returns system works. Unfortunately, the image is causing mostly confusion and uncertainty: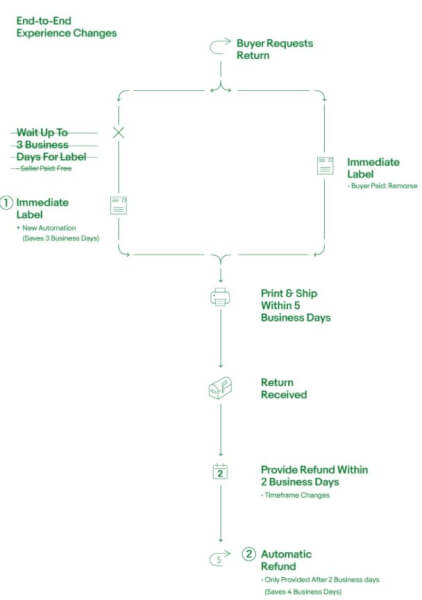 But don't worry, we'll break it down for you. Here are the main factors in eBay's new automated return policy and how to work around it as a dropshipper.
The New eBay Returns Experience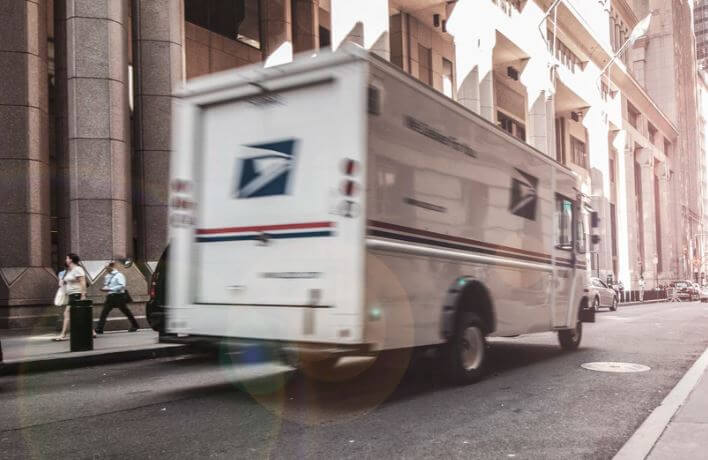 In order to make returns and refunds faster and easier for buyers and sellers alike, eBay is implementing an automatic return approvals system upon buyer request. Along with automatic refunds once the packages return. It's similar to the old system, with a few new twists.
The New Auto-Accept and Auto-Refund Process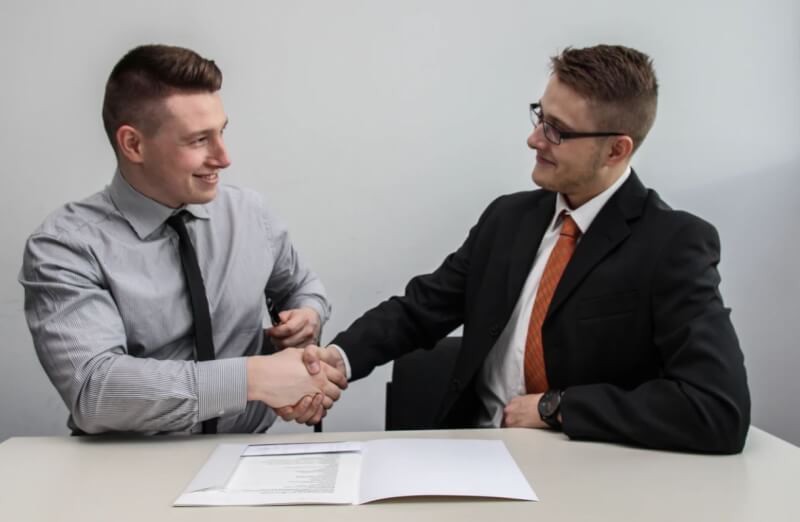 Every time a buyer opens a return request, eBay will automatically approve it and provide the buyer with a return label on the seller's expense, including the seller's return address. The new addition is once the item returns, eBay will automatically send a refund to the buyer after two days if the seller didn't initiate the refund. 
But don't worry, this isn't a big change compared to 3-5 days, and it won't affect your seller performance either. Even so, the automated return on eBay's behalf is still no good for the dropshipping business model since there are multiple warehouses to ship back to.
Exceptions For The Auto-Accept and Auto-Refund Feature
If one of the two following scenarios occur, eBay will not automatically approve the return. The seller will have the opportunity to review the case before approving the return:
1. Late Return Request 
The buyer opened a return request past the due return date according to the seller's business policies. 
For example, your return policy allows 30-day returns, and the buyer opened a return request after 35 days. In this scenario, you will have the option to choose whether to approve the return request. You will need to upload a return label or simply not to approve the return, and the case will close.
2. Product Returned In Damaged Condition / Lost Pieces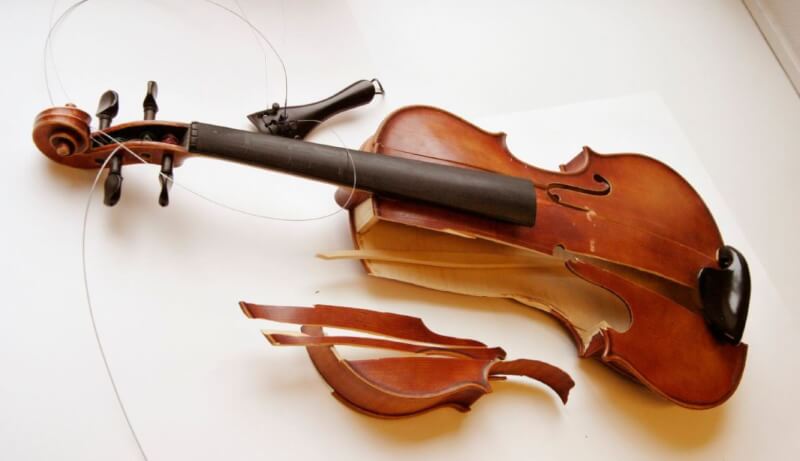 If the buyer chooses that the reason for return is that the product is damaged or has missing pieces, the seller will have the chance to review the case before approving.
Sellers Can Now Offer Partial Refunds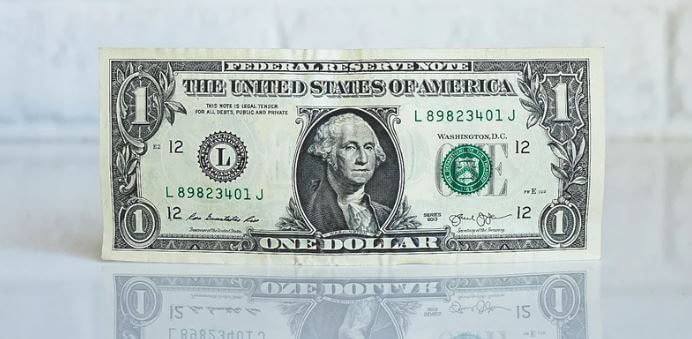 An additional feature to the new automated returns system allows the sellers to offer a partial refund if the buyer didn't return the product in the same condition. Only products with free returns are eligible for partial refunds. It is up to the seller to decide the partial refund amount. Keep in mind that if the buyer feels that the refund amount is unfair, they can elevate the case for eBay to decide. Therefore, don't get too greedy with the partial refunds and keep a high communication level between you and your buyers.
What Type Of Return Label Does eBay Provide?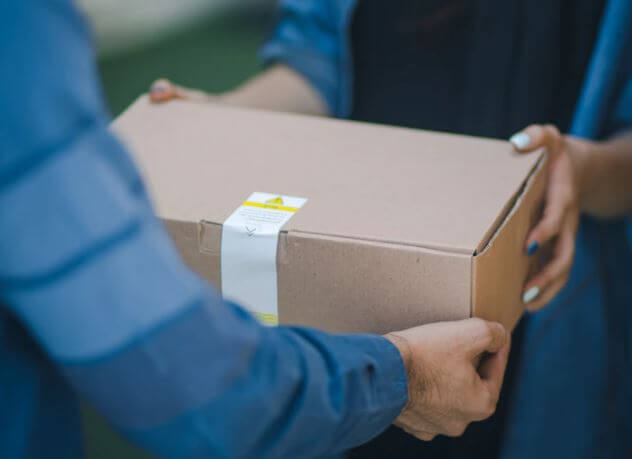 In cases where eBay provides a return label, eBay will purchase a USPS return label on your behalf with tracking information. This way, you'll be able to track your return. If this is the case and the product arrived at your house, consider selling it locally to make up for the return shipping loss.

How to Avoid Automatic eBay Returns In 2022?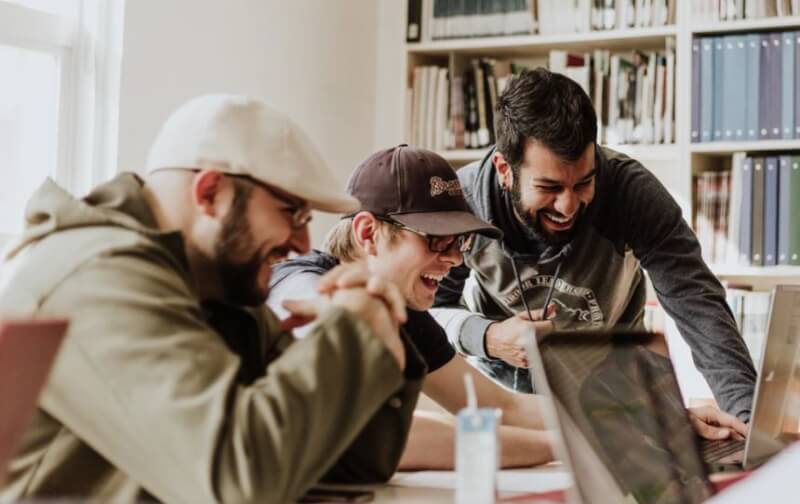 To avoid eBay's automatic returns, the solution is the same way it was back in 2017. All you have to do is enable the RMA option on the bottom of your eBay Return Preferences. The only difference is now eBay recognizes it as an official solution to the problem (instead of keeping the option hidden in the background only for the wise to know about it). 
Here's eBay's official solution which is the same as dropshippers found a few years back:

Therefore you shouldn't have to worry, as not much has changed. Besides some new features on how eBay handles the automated returns, you can forget about automated return approvals once you enable the RMA option.
In rare cases, if eBay still automatically approves the return and provides a return label, you can simply contact the buyer and let them know to use your return label instead. Since eBay will only charge you for their label if the buyer scanned and used it, you won't have to worry if the buyer doesn't use it. Reach out to them in the case and private messages, just in case.
In Conclusion
Changes are always happening in the dropshipping business. Some of them may seem scary at first. Remember that you are never alone in this ever-growing industry. For every new problem, there is a solution, and this is how it's always been. 
eBay automatic returns policy will not affect how dropshippers handle their returns once the return preferences are set correctly. Remember to handle your returns and other customer inquiries in a timely and professional manner. At the end of the day, that's what eBay is looking for, which will give you long term survivability.