Watches have become more than a simple accessory. Today, they serve as a fashion statement, a fitness tracker, and much more. As such, dropshipping watches are one of the best-selling niches. As it's an evergreen niche that applies to audiences of all ages, genders, and locations.
With that said, it's crucial to conduct proper product research when dropshipping watches. Not only are there many different watches available on the market, but also many suppliers and various regulations for dropshipping the products.
If you're looking for a new niche to enter or are currently dropshipping watches, this blog post will give you an overview of the best watch products, suppliers, and things to look out for.
​​
Why You Should Start Dropshipping Watches
As watches have multiple purposes now, there's a rising demand for the products in the eCommerce field. According to Grand View Research, the global watches market size is expected to grow from $50.1 billion in 2018 to $117.8 billion in 2025.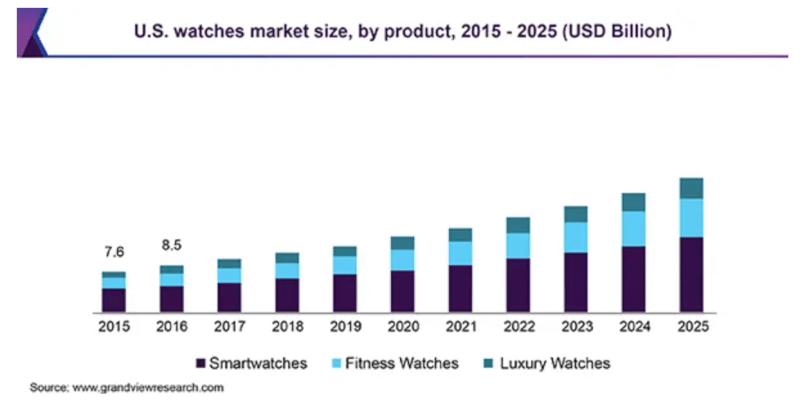 Suffice to say, dropshipping watches is a worthwhile investment as it is projected to offer a high return on investment (ROI). Now, the question persists: what are the reasons for such a high market growth?
As we now know, watches have become fashion statements, fitness trackers, customized gifts, communication tools, and so much more. Notably, big brands like Apple and Samsung have been driving watch innovation and further promoting them in the market.
Although, we need to be careful when dropshipping watches from certain brands. We'll cover all those details below.
With consistent product launches comes an increase in demand for the watches. From luxury watches to complete smartwatches, the products are becoming more aesthetically appealing, cost-effective, and useful. As a result, driving the expansion of the watch market.
Regarding eCommerce, watch sales reflect approximately 25% of all eCommerce sales. In correlation, the middle-class population's incomes are on the rise. Which means, more and more people can purchase such products.
Thus, it can be a competitive market to enter, but that's why we'll offer you some advice on which watches to dropship and from which suppliers.
11 Best Watch Dropshipping Products to Sell In 2022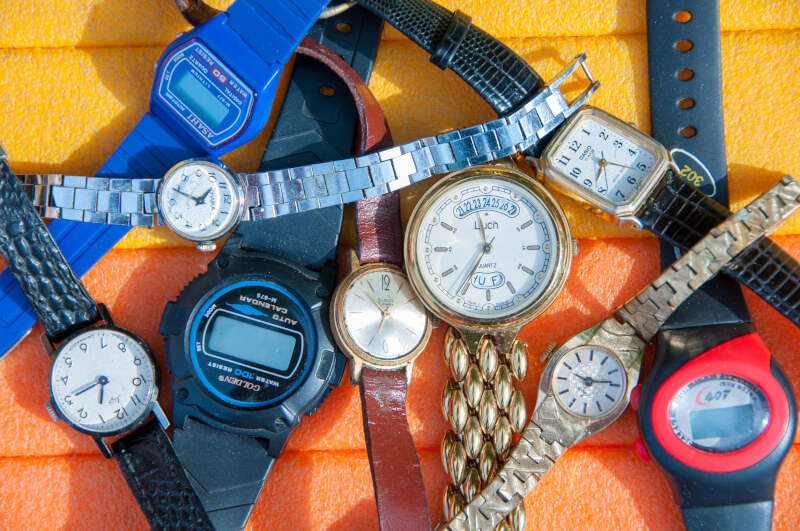 Now that we're familiar with the rising demand and different types of watches to sell let's look at the top 11 watch products for dropshipping.
These are the watches we'll be looking into:
For each mentioned niche, there are different types of watches. For example, different operation options between Quartz and Mechanical. Along with varying display types such as Analog and Digital.
Let's dive deeper into the explanation of each niche.
1. Smartwatches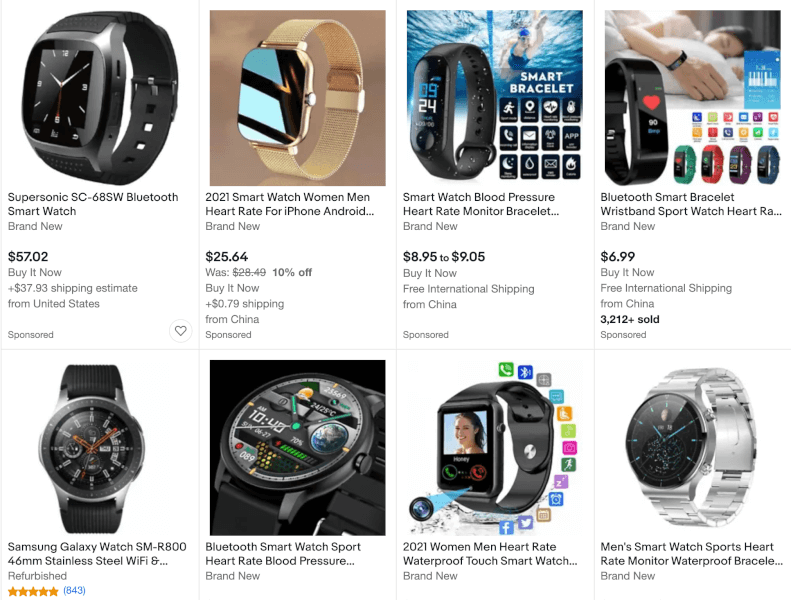 Smartwatches are wearable devices that have been gaining increasing popularity in the past years. According to Statista, smartwatch shipments are expected to increase from 37 million units in 2016 to 253 million unit sales by 2025.
Coinciding with the overall growth of the watch market, smartwatches are amongst the top driving factors of the market share. In turn, the smartwatch market isn't merely growing due to them being a trend. In fact, the increase in popularity of smartwatches is accredited by their various features.
Here are the top features that motivate consumers to purchase smartwatches:
GPS

Fitness trackers

Touch screen display

Sync with smartphone

Health monitors
These features improve the overall customer experience. Whether it's a fitness enthusiast or a business professional, there are a plethora of smartwatches to choose from. Given these points, smartwatches serve various purposes with different functions, all presented in a portable, wearable watch.
The convenience and various features contribute to the rising demand for smartwatches.
2. Fitness Watches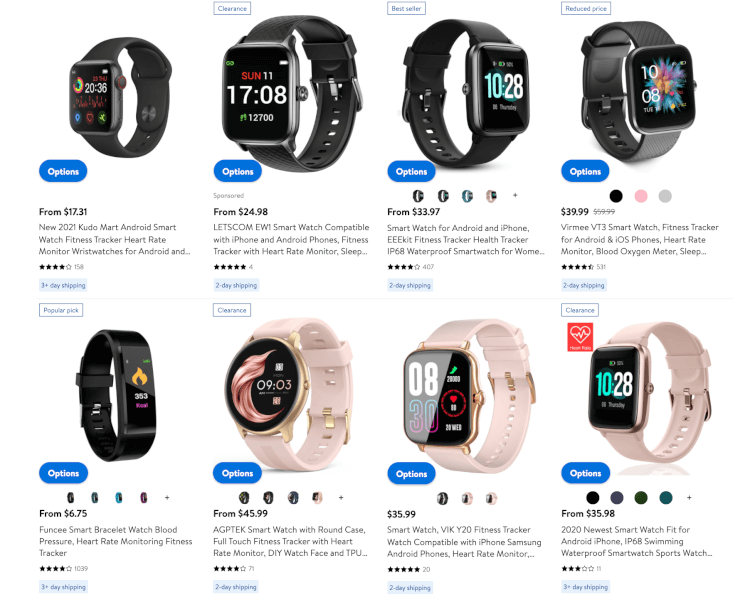 Fitness watches, much like smartwatches, are gaining more and more popularity. A fitness watch is a wearable device that optimizes sensors to track our orientation, rotation, and movement. From these sensors, data is collected and converted into calories, steps, sleep measurements, and general daily activity done throughout our day.
The key features of fitness watches are:
Pulse tracking

Measuring running time

Tracking steps and distance

Monitoring health
Unlike smartwatches, fitness watches lack other features such as syncing with your phone, calls, and messages. However, they remain a big hit with fitness and health-prone consumers. 
3. Sports Watches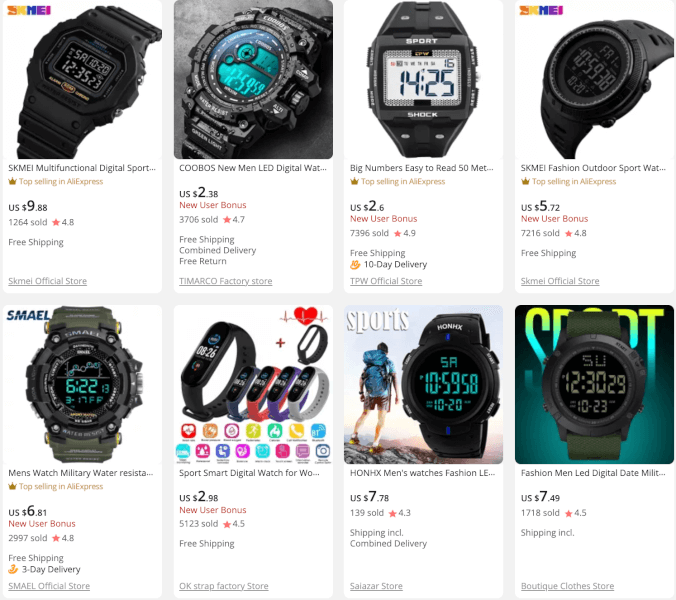 A sports watch is a rugged and waterproof wearable offered with analog and digital displays. Sports watches are highly popular amongst the athletic community. Generally, a sports watch combines the functions of an alarm, stopwatch, and wristwatch into one technological wearable.
Here are the best sports watch features:
Shock resistant

Water-resistant

Integrated chronometer

Strong and rugged material
Although sports watches aren't as enhanced as fitness and smartwatches, they greatly benefit athletes who need just a few simple features. For those of us who are actively training, a sports watch is a great option to stay motivated by our portable coach.
4. Luxury Watches
Luxury watches are high-ticket items (over $100) with a higher profit margin. In this case, since we're profiting in percentages, the higher the price, the higher our profit. Thus, luxury watches are optimal for dropshipping businesses.
While some consumers may pay for the brand name, most pay for the quality and artistry that comes with a luxury watch.
Some of the most sought-after features of luxury watches are:
Automatic movement

A synthetic sapphire crystal that is scratch-resistant

Chronometer rating

Stainless steel
Those looking for personal timepieces will most definitely opt-in for a luxury watch.
5. Fashion Watches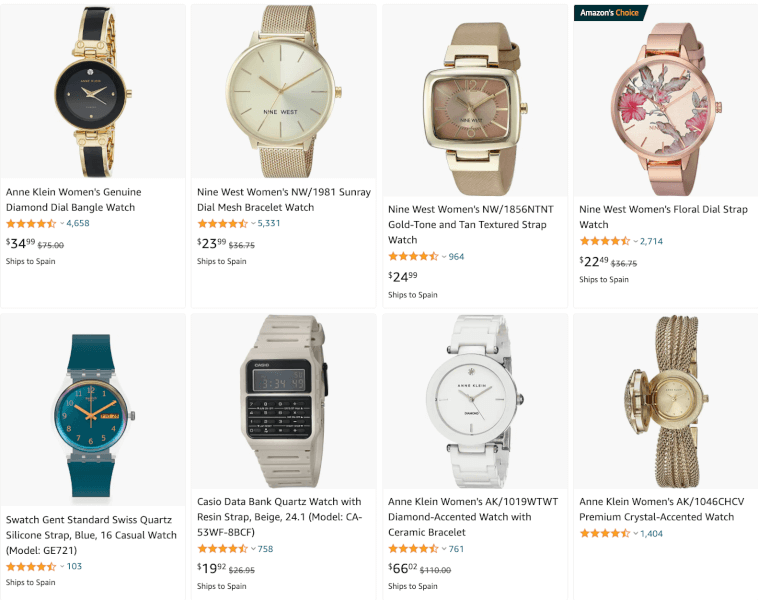 Next up, fashion watches are inherently designed for the sole purpose of being fashionable. These watches strive to obtain visual appeal rather than the generic functionalities of a watch. They're timepieces that reflect current trends and individual tastes.
The most common features of fashion watches are:
Trendy

Minimalistic

Aesthetically appealing
With that said, consumers choose fashion watches for multiple reasons. However, the main attribute of these products is their visual appearance. As dropshippers, we can benefit from selling fashion watches by marketing them as expressive timepieces.
Surely, we all have our own style, and fashion watches are the perfect way to express ourselves.
6. Skeleton Watches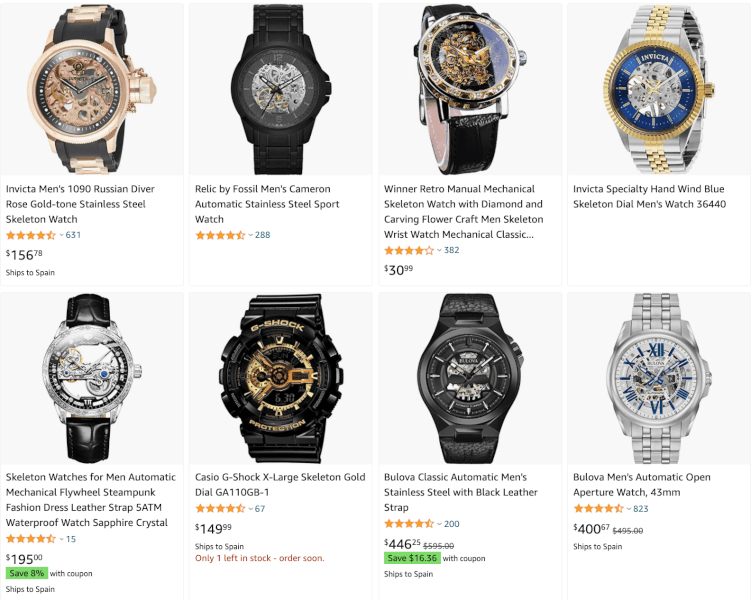 Skeleton watches are similar to luxury watches, except they offer a unique look. A skeleton watch shows you the inner mechanisms of the watch, commonly referred to as "bare-bones" watches. Avid watch enthusiasts love these watches as they appreciate the craftsmanship.
The small details are what make the skeleton watches highly desirable amongst consumers.
As such, the prominent features of these watches are:
Mechanical movement visible display

Conversation starter for like-minded watch enthusiasts

Looks and feels luxurious
Therefore, the ability to see the inside of a watch is what sets a skeleton watch apart from any other type of watch.
7. Wooden Watches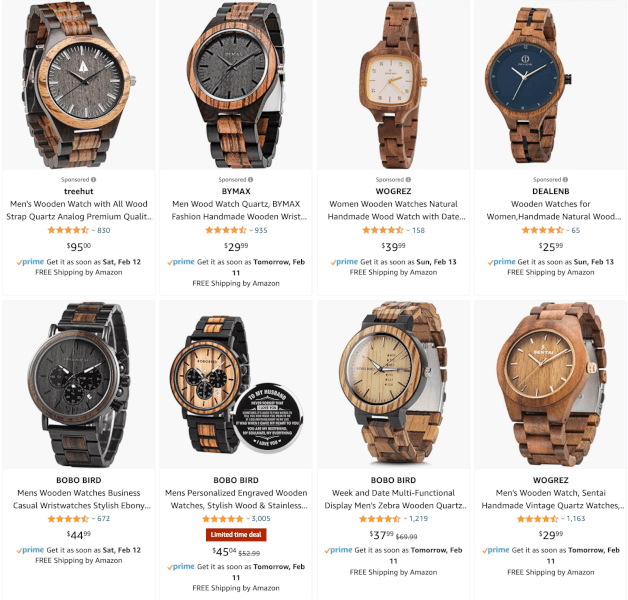 At first glance, wooden watches appear strange and different from the standard watches we're used to seeing. However, this is precisely what consumers love about these watches. It sets them apart from the crowd.
Besides this, the use of timber to create a wooden watch is both environmentally friendly and practical. With the result being a unique timepiece desired amongst a large group of watch lovers.
The top-selling points of wooden watches are:
Sustainable

Lightweight

Hypoallergenic
Not only are watches growing in popularity, but sustainability is as well. This is why wooden watches are a great option when deciding upon a watch niche to dropship.
8. Ultra-Thin Watches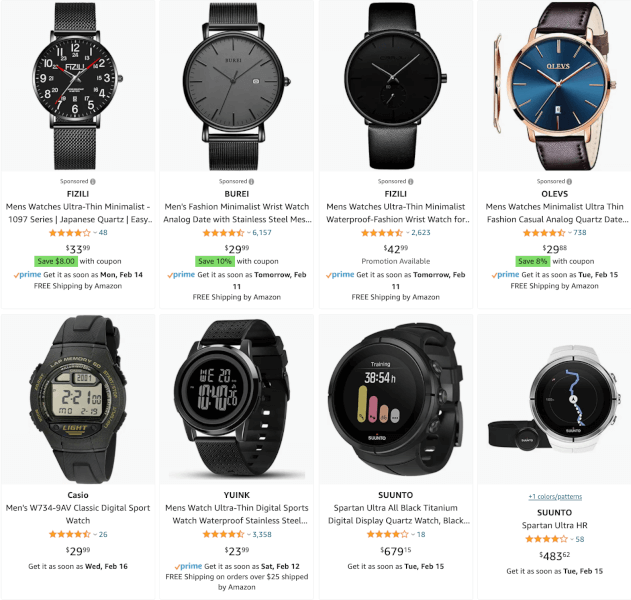 Ultra-Thin watches have become much trendier lately because of their sleek and minimalistic look. These watches are often below 9mm in thickness, giving a completely different feel than the classic, bulkier ones on the market.
This niche is famous not only for those looking for a classy accessory piece but also amongst watch enthusiasts. The enthusiasts appreciate the talent required to create such a timepiece.
Notably, the key features of Ultra-Thin watches are:
Lightweight

Comfortable

Versatile
With this in mind, Ultra-Thin watches are the perfect option when choosing your next niche to dropship. They're timeless and classic products that will surely grasp the attention of any watch lover.
9. Pocket Watches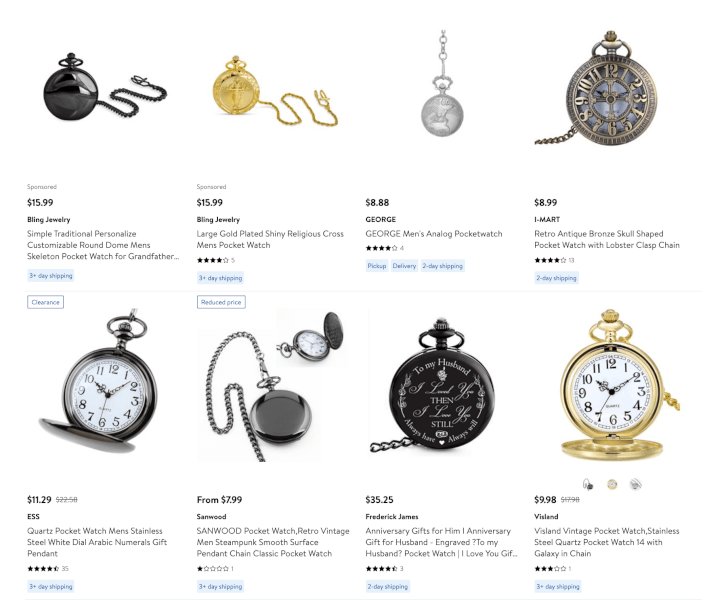 Pocket watches are truly a timeless timepiece. They have become an excellent way to make a statement and show off our unique personalities.
Even though they're often hidden in our pockets, these watches continue to be desirable amongst consumers for their vintage effect. After all, vintage pieces are continuously coming back into style, so it's time for us as dropshippers to take this opportunity.
Moreover, although pocket watches have a single design, there are different display types. The most popular ones are:
Open-face

Hunter-case

Full hunter
Styles are constantly changing, but the pocket watch is here to stay.
10. Iced-Out Watches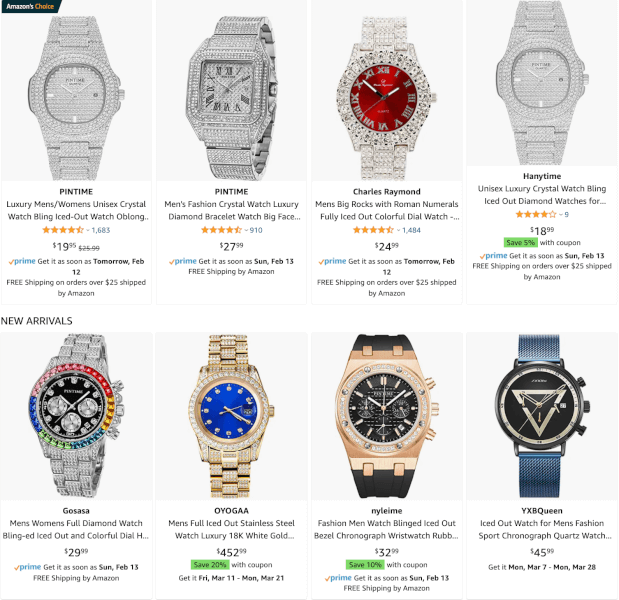 Iced-out watches are the perfect way to stand out and get noticed. These watches are characterized by the shining diamonds that are embedded into the watch.
As a matter of fact, these watches make for great gifts and add the perfect extra touch to our outfits.
Iced-out watches are known for:
Diamonds or other precious stones

Giving a luxurious look

Being flashy
As we mentioned earlier, the higher the product's price, the more profit we gain as dropshippers. Although we won't be able to sell big brand names (more on this below), we can still earn a higher percentage with iced-out watches.
These watches are especially popular among the higher middle-class group of consumers with more disposable income.
11. Custom Watches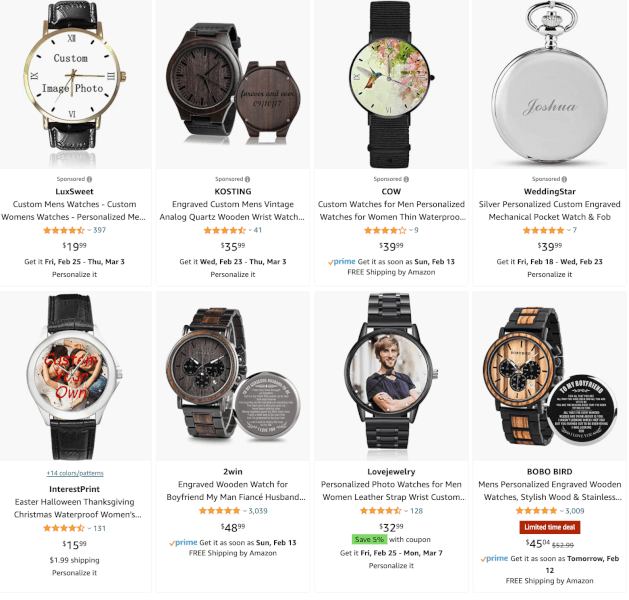 Custom watches are watches that are customized for each buyer on our websites. Using POD (print on demand) services, we can create our own watch designs and sell them. This gives the personalized aspect that many consumers are growing to be more interested in.
POD is a process where dropshippers work with white-label product suppliers to customize products on a per-order sale basis. Printify automates the entire process and makes it much easier for dropshippers to make their customers feel special with their customized watches.
Top 10 Watch Dropshipping Suppliers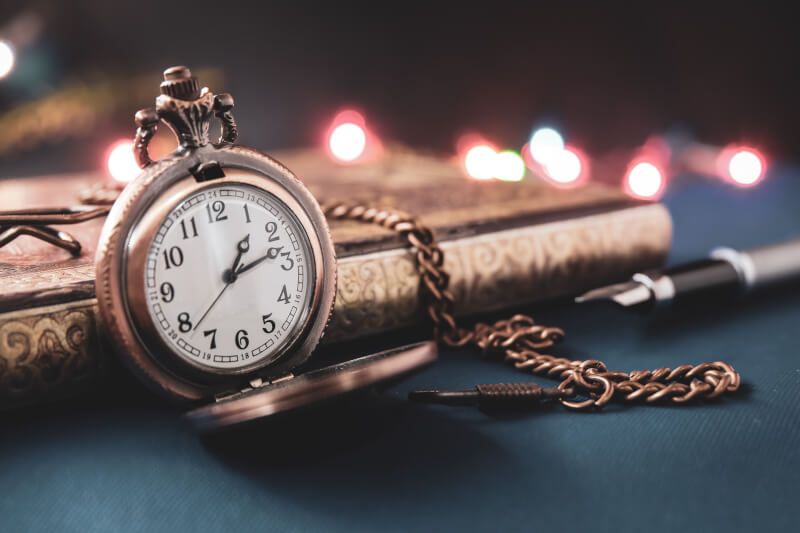 Now that we know the best watch dropshipping products to sell let's see which suppliers are the best ones to get these watches from.
As there are many options to choose from, we've compiled a list of the top 10 watch dropshipping suppliers. Before we dive in, we need to consider some factors when choosing a supplier for our dropshipping business.
With that said, here are some key things to look out for when choosing a watch dropshipping supplier:
First, the warehouse location is important. For example, if we're dropshipping to the US market, we want to look for a US supplier who can ship quickly domestically. We don't want our customers waiting for weeks on end to receive their watch.
Second, we have to ensure the supplier has positive customer reviews. This will allow us to assess whether the quality of products is up to the proper standard.
The last few essential factors are:
Shipping speed and costs

Quality of customer service (communication speed and efficiency)

Return and refunds policy

Payment options
Now that we know what to look out for, let's see which suppliers made the top 10 list:
1. AliExpress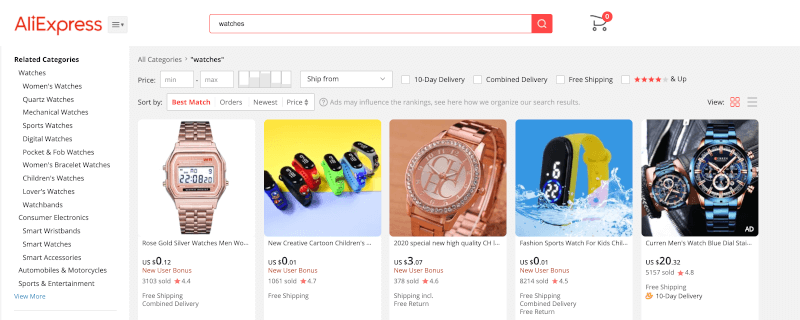 AliExpress is a leading online retail platform that offers various categories for dropshipping businesses. We have a large selection of watch products to source from with AliExpress. Here are the main benefits of having AliExpress as our dropshipping watch supplier:
Low competition

Worldwide shipping

Low prices
With hundreds of watch types, we're not limited by which watch products we want to sell through our dropshipping store. The best part is that the products are low-cost, and we're able to reach our customers on a global scale, making AliExpress a great dropshipping supplier.
2. CJDropshipping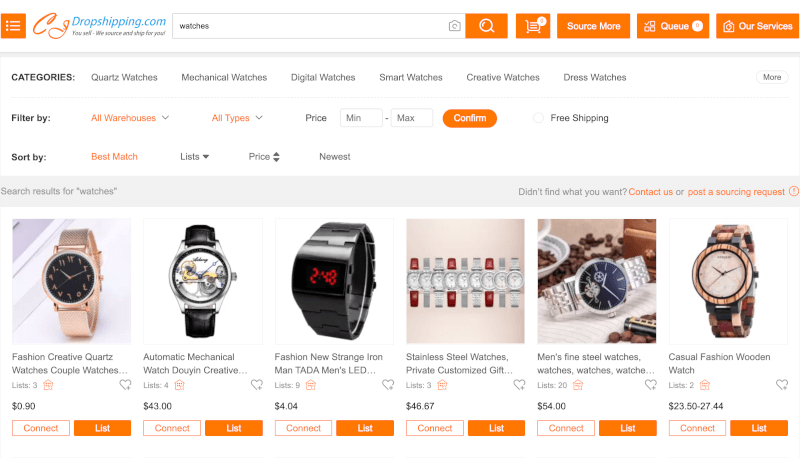 Second on our list is CJDropshipping, a China-based dropshipping supplier. With over 9000 watch products to choose from, we're able to offer our customers a great selection within the watch niche. With that said, these are the top reasons why CJDropshipping should be your next supplier:
Global warehouses

Wide range of watch products

No minimum order quantity with wholesale prices

Quality inspection on any products
As dropshippers must have a supplier with domestic warehouses, CJDropshipping makes for a great option. With over 10 worldwide warehouses, we're allotted faster, safer, and better product shipments for our customer orders.
3. Banggood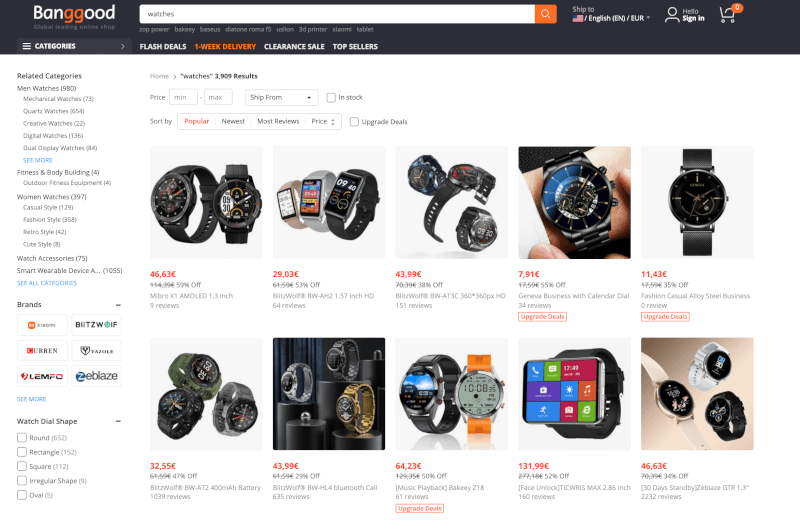 Banggood is another China-based dropshipping supplier offering over 250,000 products to choose from. With a significant amount of those products belonging to the watch niche. As such, this supplier is ideal for dropshippers for multiple reasons. The top benefits are:
Worldwide warehouses

Dropshipping-friendly supplier

Low-cost products

Exclusive discounts for dropshippers
By choosing Banggood as our dropshipping supplier, we gain a competitive advantage. With the guarantee of quality, support, and quick delivery times, we're set up on the path for success.
4. Etsy
Etsy is an online marketplace that offers a vast selection of handmade and crafted products. This supplier strives for uniqueness and could be a great option if your store sells vintage and custom watches. With that said, let's see what makes Etsy a good option as our next dropshipping supplier:
Niche markets

Supportive community

High-profit margins

Multiple shipping options
If your sales strategy is to hone in on a niche market, Etsy is your go-to dropshipping supplier. We can stand out amongst the competition with a unique watch product selection. Moreover, as most of the products are custom-made, we can optimize our profits by showcasing the rarity of the watches.
  5. Overstock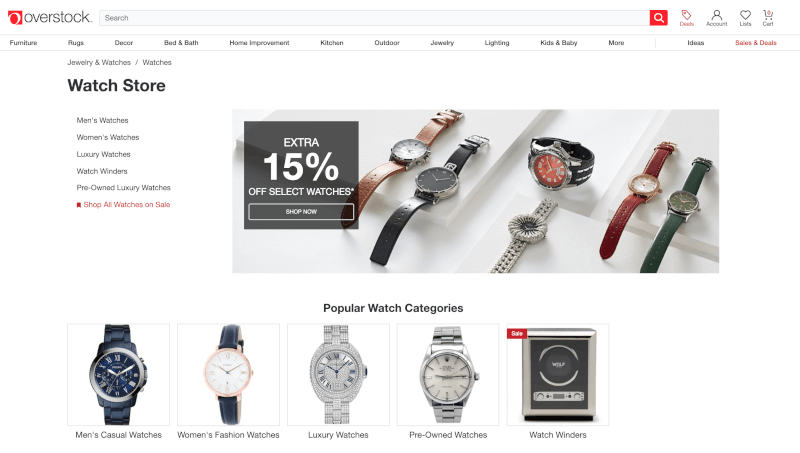 Overstock is an American online retail marketplace offering a diverse selection in the jewelry and watches category. In fact, the supplier is comparable to well-known marketplaces such as Amazon.
However, they maintain their uniqueness through different perks. Here are the benefits we receive when working with Overstock:
Optimal customer support

Competitive pricing

Fast delivery

Price matching

Club 0 program
Let's focus on what this Club 0 program is all about. This is specific to Overstock as it's their unique loyalty program, offering a free trial and exclusive pricing for dropshippers. Not only this, by joining this program, we can have access to free shipping for all our products. The fewer fees we pay, the more we profit.
6. AliBaba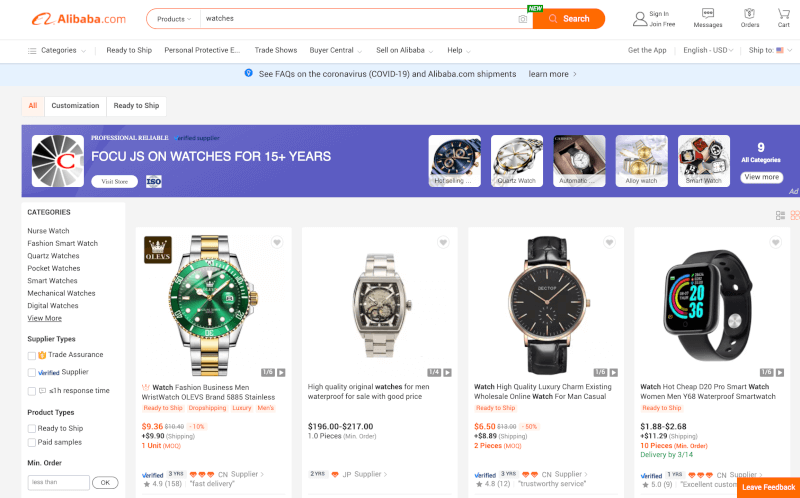 AliBaba is an affiliate of the AliBaba Group, one of the largest dropshipping suppliers. As such, AliBaba has a wide product selection ranging from machinery to beauty care to watches, offering everything a dropshipper could need. Besides this, these are the top reasons to work with AliBaba as your dropshipping watch supplier:
High-profit margins

Custom labels

Easy shipping options

Hundreds of sellers and manufacturers

Reliable customer support
However, it's important for us to discuss this watch supplier's MOQ (minimum order quantity). While some products have a MOQ of one unit, many other products on AliBaba require a higher MOQ and purchasing inventory in advance.
As dropshippers, we should be aware of this by checking each product's MOQ. On the other hand, prices remain very cheap as we're buying products directly from the manufacturers in most cases.
7. Wish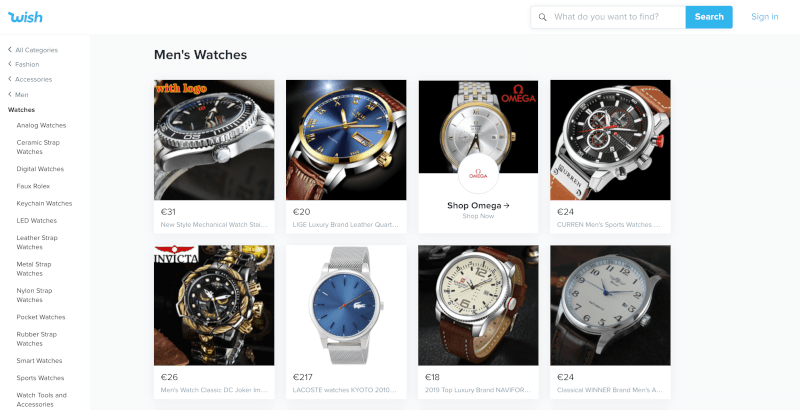 Wish is a fast-growing mobile-first online marketplace that's specifically prominent in the US. It's a good option for dropshippers as the platform is easy to use, and there's no monthly fee. Here are some of the main advantages of working with Wish as your watch dropshipping supplier:
Mobile commerce

Over 300 million customers

Niche markets

Low prices
In brief, Wish could be your dream watch dropshipping supplier if your sales strategy optimizes mobile commerce.
8. Amazon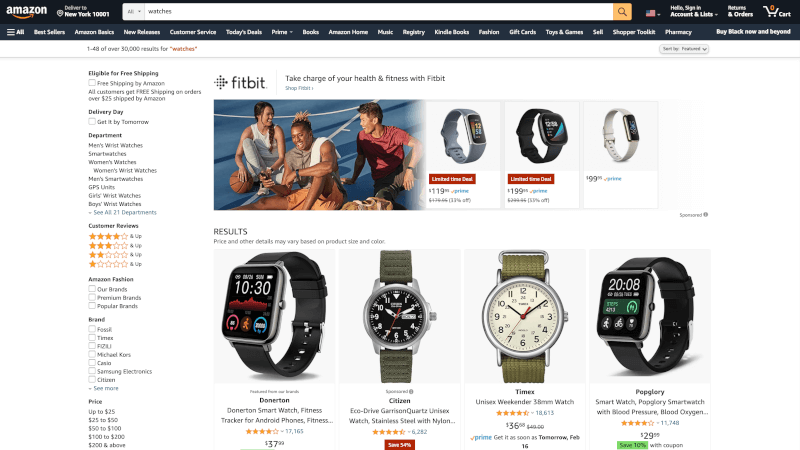 Amazon is the world's largest online retailer and a highly renowned dropshipping supplier. Besides their reputation and credibility, here are the top reasons why you should choose Amazon as your watch dropshipping supplier:
Global warehouses

Quick shipping times

Excellent customer service
If you're looking for a secure and reliable supplier, Amazon is the way to go. Especially if your dropshipping store caters to US customers, you immediately gain an advantage with their ultra-fast 2-day shipping. Along with multiple watch products to choose from, Amazon is a great option for your next watch supplier.
9. Walmart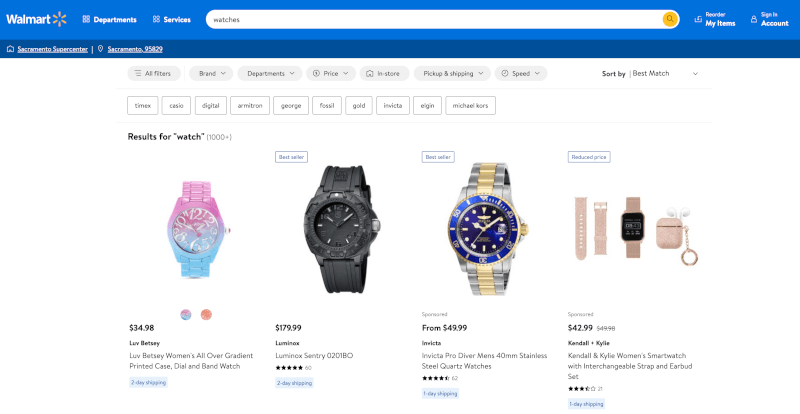 Walmart is also one of the largest dropshipping suppliers offering various product categories, including the watch niche. Besides this, Walmart is known for their excellent discounts, great prices, and overall deals throughout the year. Now, let's see what the top benefits are by working with Walmart:
Free next-day delivery

Large-scale of products

Price match policy

Great customer support
With a vast selection of watch products, Walmart serves as an optimal watch dropshipping supplier. Highlighting their price match policy, it allows us to earn a higher profit while simultaneously satisfying our customers.
10. Target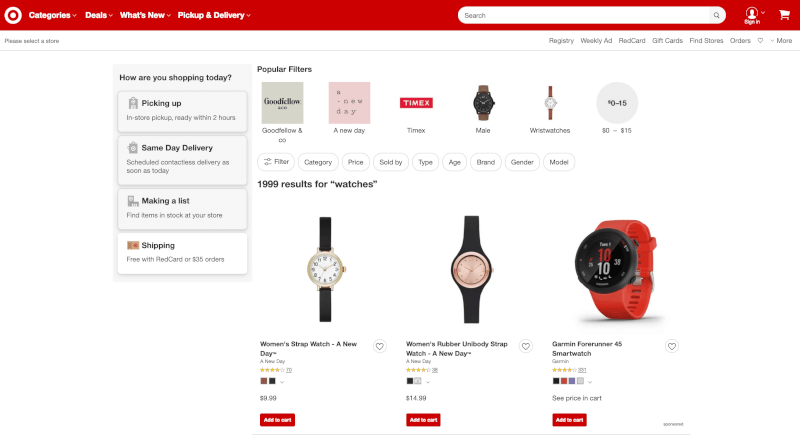 Target is not only one of the largest retailers in the US, but they also manage 45 private labels. What does this mean for us as dropshippers? It ensures that we will have a wide range of products to choose from, including watches. These are some advantages of working with Target as your watch dropshipping supplier:
Excellent customer support

Quality products

Fast and reliable shipping

Free and easy returns
Additionally, dropshippers have access to an extra 30-day return period when using the RedCard for payments.
Dropshipping Automation With Multiple Suppliers
Each supplier mentioned in this list has different advantages and disadvantages. That's why as dropshippers, it's best to work with multiple suppliers and stores simultaneously. That is to say, it can be hard to manage on our own, which is why it's best to automate our dropshipping processes. By doing so, we can get a full business overview of everything that's happening in our stores, all in one place.
With AutoDS, you're able to run your dropshipping business smoothly and stress-free. AutoDS can completely automate your dropshipping business using the suppliers above to dropship watches:
What Watch Products To Avoid
Now that we know what watch products are on the market along with the top dropshipping suppliers, let's learn what watch products we should avoid selling. It's essential to keep your store safe by not adding products you cannot resell.
Ensure you avoid selling:
Watches from known companies such as Apple or Fitbit

Products that are patented

VeRO products
The Verified Rights Owners Program (VeRO) is a system where companies can enforce product rights and require sellers to abide by IP compliance. AutoDS protects dropshippers from adding VeRO products with its VeRO database.
Conclusion
To wrap it all up, we've learned about dropshipping watches, who the best suppliers are, along with our guide on how to protect your store. So, what's the next step?
All that's left is for you to choose which watch products you want to sell and start the process.
To conclude, if you're interested in learning more about which products are best for dropshipping, we've curated a list of helpful resources to help you get started:
Frequently Asked Questions
Is Dropshipping Watches Legal?
Absolutely! Just make sure you aren't dropshipping copyrighted/patented watches.
Can I Make Money Dropshipping Watches?
Yes! Dropshipping watches is a great way to earn a profit. 
With the market size growing from $50.1 billion in 2018 to an estimated $117.8 billion in 2025, there's no better time to start dropshipping watches.
How Do I Start Dropshipping Watches?
Follow these 4 simple steps: 
Choose a supplier and watch products from this article.

Choose a selling channel (eBay, Shopify, Wix, Facebook Marketplace).

Import your watch products.

Start selling!
What Are The Best Watches To Dropship?
Smartwatches, fitness watches, and luxury watches are amongst the best-selling watches for dropshipping due to their growing popularity and high-profit margins.
However, there are many more options. Check out the top watches for dropshipping in this article. 
Who Are The Best Watch Dropshipping Suppliers?
Amazon, AliExpress, and CJDropshipping are among the top-ranked dropshipping watches suppliers. With their low-cost pricing and large watch selection, every dropshippers is sure to find the perfect collection of watches for their store.
Nonetheless, there are many more to choose from, so be sure to check out our list of watch suppliers in this article.