Valentine's Day, which is celebrated annually on February 14th, is a special occasion for lovers worldwide.
Couples express their affection with romantic dinners, fancy dates, and especially gifts. And, this is exactly where we come in as dropshippers, to help our customers find the right gifts for their significant other.
According to Statista, last year, we were at the peak of $27.4 billion in expected Valentine's Day sales. That's a significant rise from the years before, and it will continue to rise in the years to come.
You can see why as a dropshipper, Valentine's Day is not something you want to miss out on.
That's why in this article, we will learn the 10 best Valentine's Day products to add to your stores to maximize your profits and stay ahead of your competition. 
In the end, you'll have the best product ideas to implement in your stores and expand your dropshipping business.
Top 10 Valentine's Day Dropshipping Products To Sell 
Now that we understand the power that Valentine's Day can have on our eCommerce stores let's go over our top 10 dropshipping products that will turn this holiday into a successful one.
1. Valentine's Day Care Package
As number one on our list, we have Valentine's Day Care Packages. They are delicious and sweet for Valentine's Day. Lovers buy thousands of these baskets, as they come in a variety of sizes and bundle packs.
Make sure to check several suppliers to offer a few different price options to your buyers.
2. Explosion Gift Box
Second on our list an item that has been trending for a while. What's special about this product is that you can make creative photo albums, with a decorative object in the middle.
Opening the box has an 'explosion' effect to express love romantically to your partner and show her/him your love and affection.
So, we highly recommend you to add up to 20 products from each product idea that we are giving you to increase your sales.
3. Rose Flower Bear
Our third winning product is an environmentally friendly, colorful flowers, stylish, generous, and creative teddy bear—perfect for a Valentine's Day gift to show love and affection for your loved one.
That is why we had to add this amazing Valentine's Day gift to our top 10. And always remember to check out multiple suppliers to widen your reach, get more products, and stay ahead of your competitors.
4. LED Artificial Flower
Fourth, we recommend these beautiful decorative LED artificial flowers to consider when you start to add your Valentine's Day dropshipping products. And try to make maximum earnings together with listing more than the quantity of one.
Since many buyers are buying more than one unit from this decorative product, we don't want to miss those extra sales and profit.
So pick up the chance and don't let it slip away, and you won't be regretting it later!
5. Valentine's Day Inflatables
Next, we have these cheerful Valentine's Day Inflatables that help us get into the holiday mood. They can be used as an indoor or outdoor decorative unit.
When people see these big inflatable dolls, they can't help but fall in love with them.
The best part is, they come with a high price tag, which means more profit. After all, it's better to sell products that cost $50 with 20% profit than selling $10 products with 20% profit.
6. Valentines Day Wood Greeting Card
Anyone who is in love knows the importance of greeting cards. And, these wooden greeting cards add a beautiful twist to the greetings cards niche. They come in a variety of different forms, so be sure to take advantage of the great selection.
That's also why we suggest adding at least 20 different variations to test this trendy niche successfully and start geting those sales.
7. Preserved Flowers
As mentioned above, preserved flowers are a great way to show love to your partner during Valentine's Day and have an unforgettable evening.
These come in different styles, colors, and sizes, so offering variations is key to having a successful store.
8. Valentine's Day Candles
On to number eight, who doesn't like candles in a lovely romantic dinner? They are essential in special celebrations such as Valentine's Day, Christmas, Thanksgiving … etc.
Therefore, this is a type of product that people usually buy more than one. Be sure to add a quantity of 2 or more to rake in more sales and more profit.
9. 'I Love You To The Moon and Back' Necklace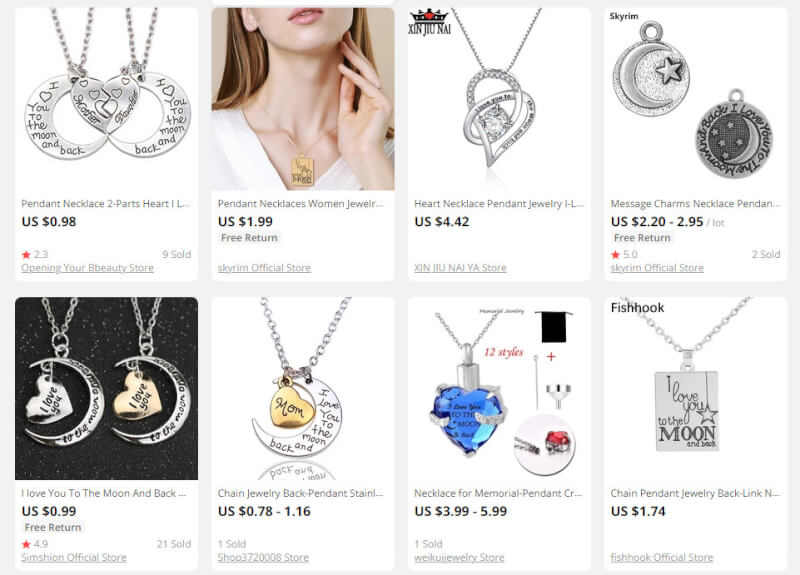 Next up, As we already know, Valentine's Day is a special occasion where lovers buy each other romantic gifts.
And, what better way to show your love and affection than buying a hot-selling 'I Love You To The Moon And Back' engraved necklace?
These unique necklaces are catching a huge trend, and now is the perfect time to have them in your stores.
10. Valentine's Day Pillow Covers
Finally, we have elegant, soft, lovely pillow covers. This decorative add-on to pillows is a great way of adding the romantic Valentine's Day vibe and having unforgettable holiday moments.
So, make sure to offer a wide variety so that the buyers will have the freedom to choose a suitable product for themselves, instead of going to your competitors. And that can not be done when you're working with only one supplier.
Using multiple suppliers is essential because you can find lower prices on the same product. Not only will you have different and more items than your competitors, but you will also stand out with a unique store.
In case you aren't using multiple suppliers yet, right now is the perfect time to start using them. It's not a problem to dropship with only one supplier, but why delimit your store? 
The idealistic number of suppliers that we suggest dealing with is 2-3. Working with more than 3-4 can make you feel confused. And this can even make you lose your way from reaching your full potential.
With AutoDS, you have access to over 20+ suppliers with more than 500,000,000 products. Therefore, switching between different suppliers is not a problem. When one doesn't work well for you, simply switch to another supplier.
Tagging Products – Analyze & Optimize
Our platform contains an elegant feature named "Tagging."
This function helps you classify and arrange your items once you create tags for niches to keep your products tracked.
The moment that you start adding Valentine's Day dropshipping products to your store, make sure to create the tag "Valentine's Day" and add all your Valentine products to analyze and enhance their performance in the future.
[post-banner]
Our entire mission on AutoDs is to save your time and help you take every step and action in the dropshipping business field. So, for that, our platform offers you an advanced importer that upholds single product imports, bulk, scheduled, and variations. Utilize our bulk importer to add all of your products in a couple of clicks.
Moreover, we have our distinguished Chrome Extension named the AutoDS Helper Extension.
Use our Helper to add a wide range of items to your store in just a few clicks.
As soon as you finish downloading and installing our extension, browse for your product, then click on the lower right corner's extension button. Then, click "extract" to grab all of the products on that page. 
Thereafter, a CSV file will download onto your computer. You can import that CSV file in the importer section of AutoDS.
This feature will help you import tens, thousands, to tens of thousands of products at once.
Conclusion
As a result, Valentine's Day is one of the most important niches to help grow, optimize and profit. Remember to use multiple suppliers to differentiate from your competitors and have a unique store with more hot-selling products.
We hope this article will help you reach significant profits in your dropshipping business. And to help you open your mind on approaching future dropshipping products in your product research phase.
In the end, make sure to keep in mind that whenever you get into a niche, you will need to add at least 20 products from each niche to collect enough data for analyzing its performance. This way, you will easily find your bestseller and start multiplying your success by adding more products similar to your bestsellers.
Furthermore, be sure to check out our product-finding YouTube playlist to stay up to date on all of the hot-selling products in the hottest categories, and take your dropshipping business to the next level!
Last but not least, Happy Valentine's Day!