Every so often, we like to share some of the eCommerce case studies from inside our AutoDS community.  Our goal with this is to help educate, inspire, and motivate people worldwide.
From how they got into dropshipping and all the way to their strategies, along with their favorite tips and tricks. 
Those that are thinking about getting into dropshipping and even experienced dropshippers can benefit from this greatly. 
In today's article, we bring you a story about Akin, a guy who manages 10 successful eBay dropshipping stores. Keep reading to learn how he built his dropshipping empire!
What Is Dropshipping?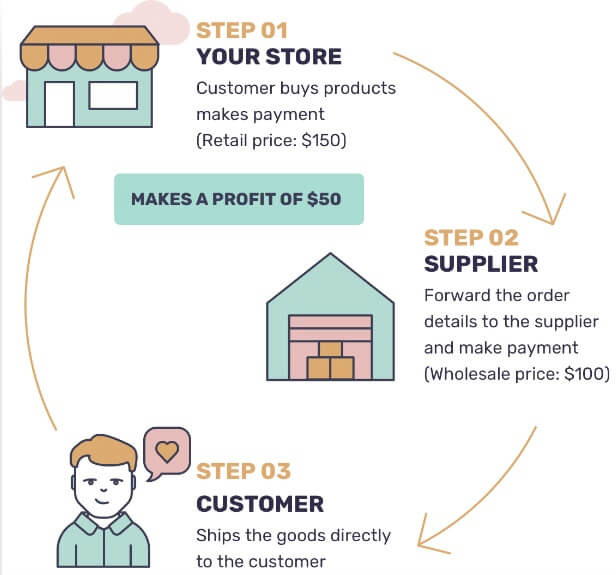 For those who aren't familiar with the term, dropshipping is an online business model where you sell a product in an online store or on a marketplace without holding physical inventory as a seller. 
Once you make your first sale, the product's payment is transferred from the buyer to you and then goes towards purchasing the product from the supplier using the buyer's shipping address. 
This way, the seller (dropshipper) will not have to deal with stock, storing the products, or shipping them. Sellers have no physical contact with the products that they are selling.
It's a simple and straightforward business model that's been around for years now and has allowed many 9-5 workers to become successful online entrepreneurs. 
If you're dreaming of owning an online business but don't have much of an investment to put forward, you should definitely learn more about this low-risk, high-reward business model. And who knows, you may be our next successful eCommerce case study!
How Akin Began His Dropshipping Journey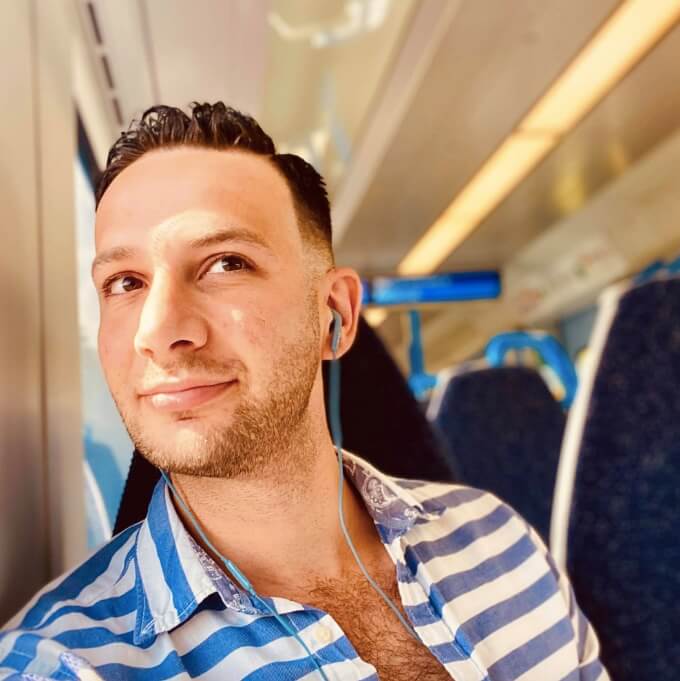 The story behind Akin's success is different from most dropshippers. Akin, originally from Turkey, started his first eBay business without ever hearing the term "dropshipping." He knew nothing about it nor that it existed. 
Due to his love for travel and his dreams of moving from Turkey to different parts of Europe, he was looking to make money online and knew that selling on a marketplace could be a solution.
Akin then opened a store on eBay and started working with a local Turkish supplier. He bought products for wholesale prices, listing them on eBay, and shipping them to his buyers. After he got the hang of it, he moved on and started selling on Amazon too. 
Now, this is where it gets a bit funny. After some time selling on both marketplaces, he stumbled upon a challenge. Buyers were asking Akin about different variations of the products he was selling. 
For a dropshipper, this wouldn't be a problem, but for Akin, this meant now buying more stock and possibly dealing with different shipping policies and/or prices. 
Akin turned to his supplier for advice and shared his dilemma with him. His supplier was quick to offer a solution. He told Akin to offer his buyers the products and pay him for the products once they sold in his store. 
He even suggested that he ship the products directly to his buyers, therefore lifting Akin's shoulders. This was not only a perfect solution to the immediate problem, but this new business structure was great long term too. 
It significantly facilitated, improved, and accelerated Akin's eBay business and was essentially the accidental start of his new dropshipping store.
Growing His Dropshipping Business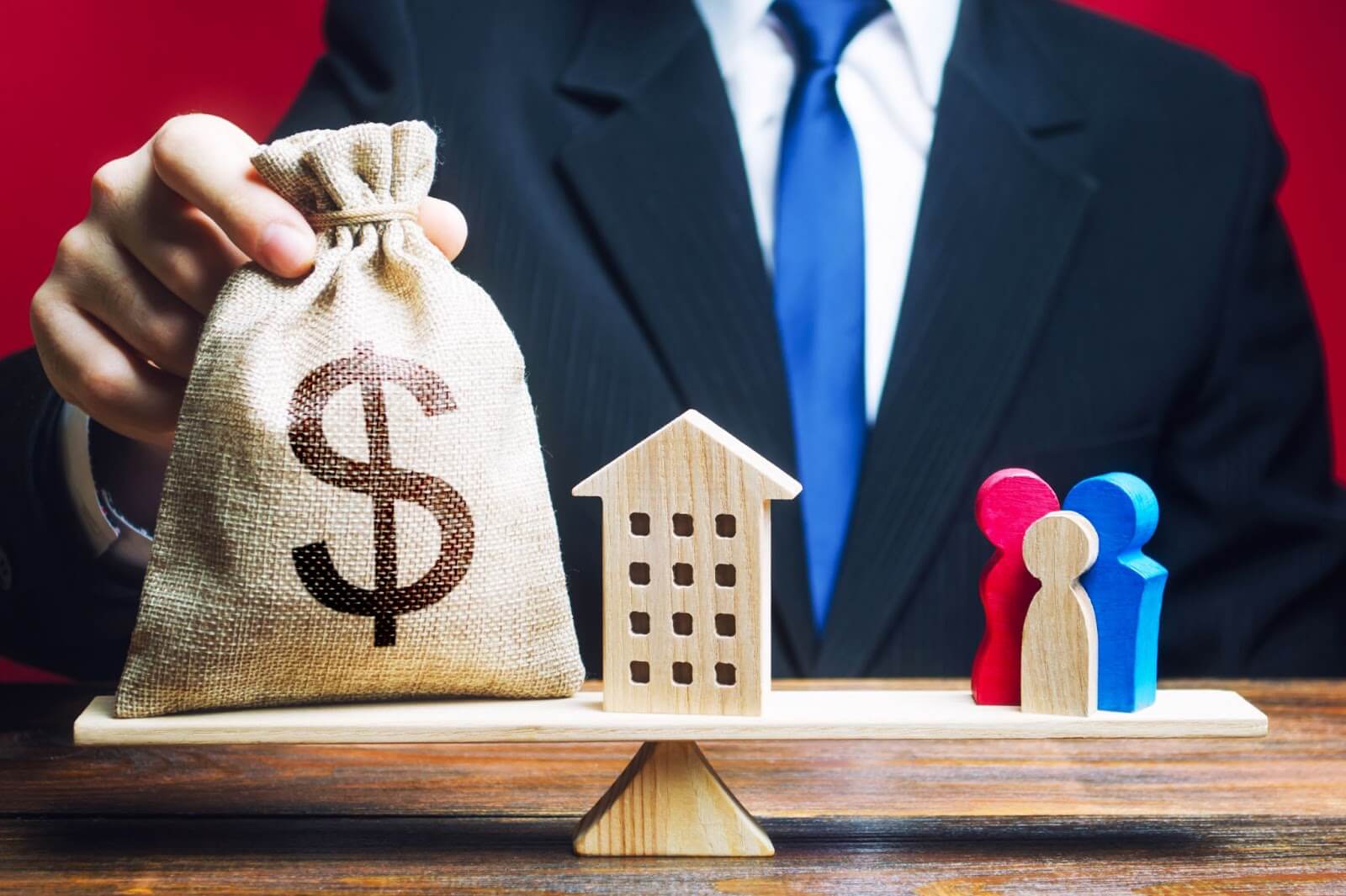 Now that Akin started dropshipping products to his eBay stores, he saved so much time on his everyday tasks.
By not worrying about managing or investing in inventory or stressing about shipping all his products, he began researching more about online selling. 
Eventually, he ran into the term dropshipping and understood that there is an actual name for what he is doing. He looked into it some more and became aware of the huge industry that lies behind it. 
That sparked his interest in all the offered courses, and he decided to purchase a few.
Throughout the many different courses he took, he gained more knowledge and experience, which then turned into new strategies to implement into his business. We'll share some of his strategies in this eCommerce case study.
Then, he quickly realized that he could use more than just one supplier, plus suppliers from all over the world and not just Turkey.
He started branching out, selling a wider range of products, which swiftly led to increased sales and profits. 
Scaling to Multiple Stores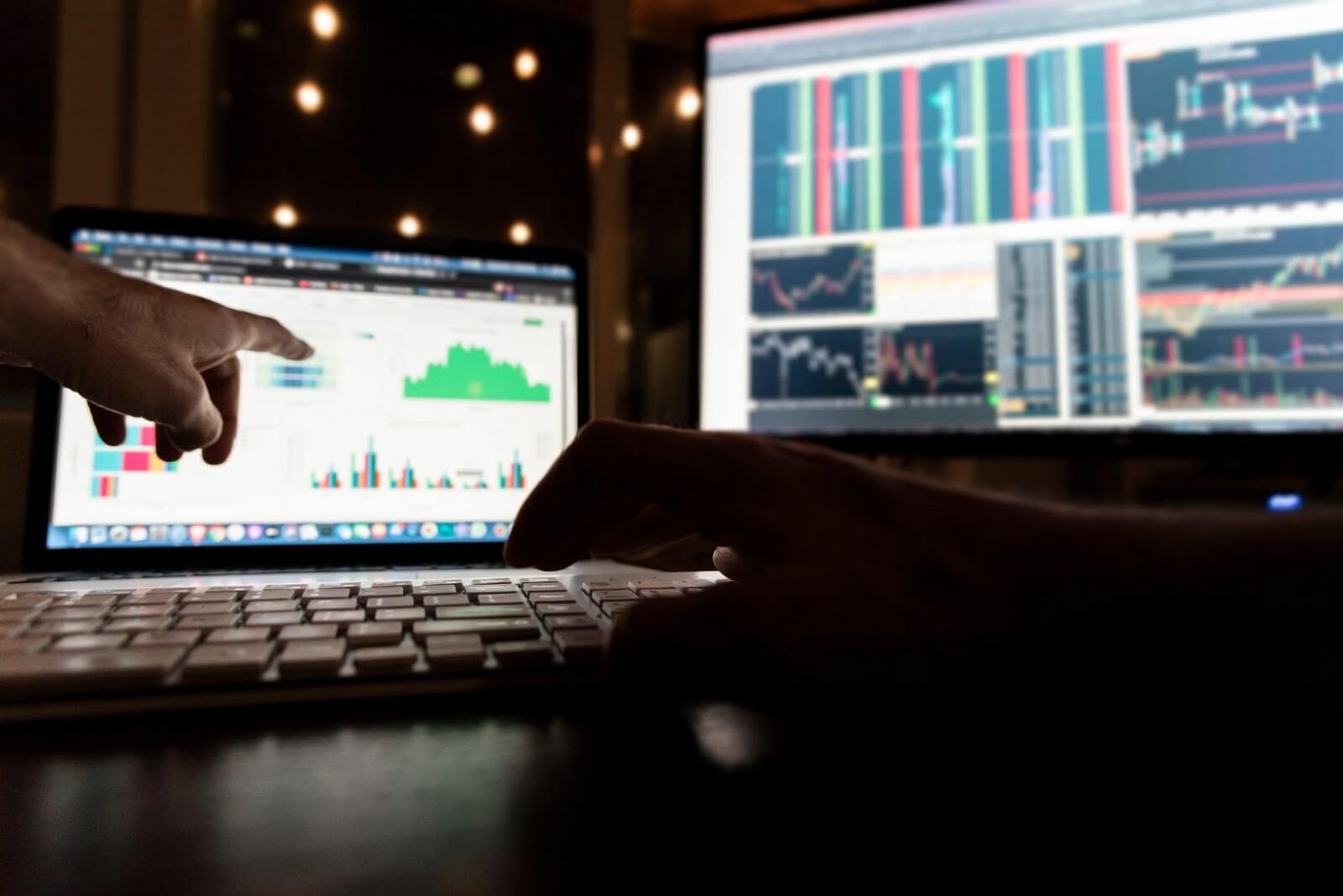 Since Akin's discovery and transition into the dropshipping business model, he rapidly learned new strategies, developed his own and tested out different methods. One of his moves was to open more eBay stores. 
Since there are 2 main store types; a general store (various mixed products) and a niche store (a more category dedicated store), Akin decided to test both options. 
Additionally, when recognizing a best-selling item, he would list them in all his general stores with multiple stores. This allowed him to increase the product's exposure and gain more sales. 
If there were hot selling items from one of his niche stores, he would do the same and add it to his general stores to sell it there too. 
You can succeed as a dropshipper with just one dropshipping store and using one supplier, but why limit your business? The sky's the limit! Let's move on to Akin's favorite strategies in his eCommerce case study.
Akin's Favorite Strategies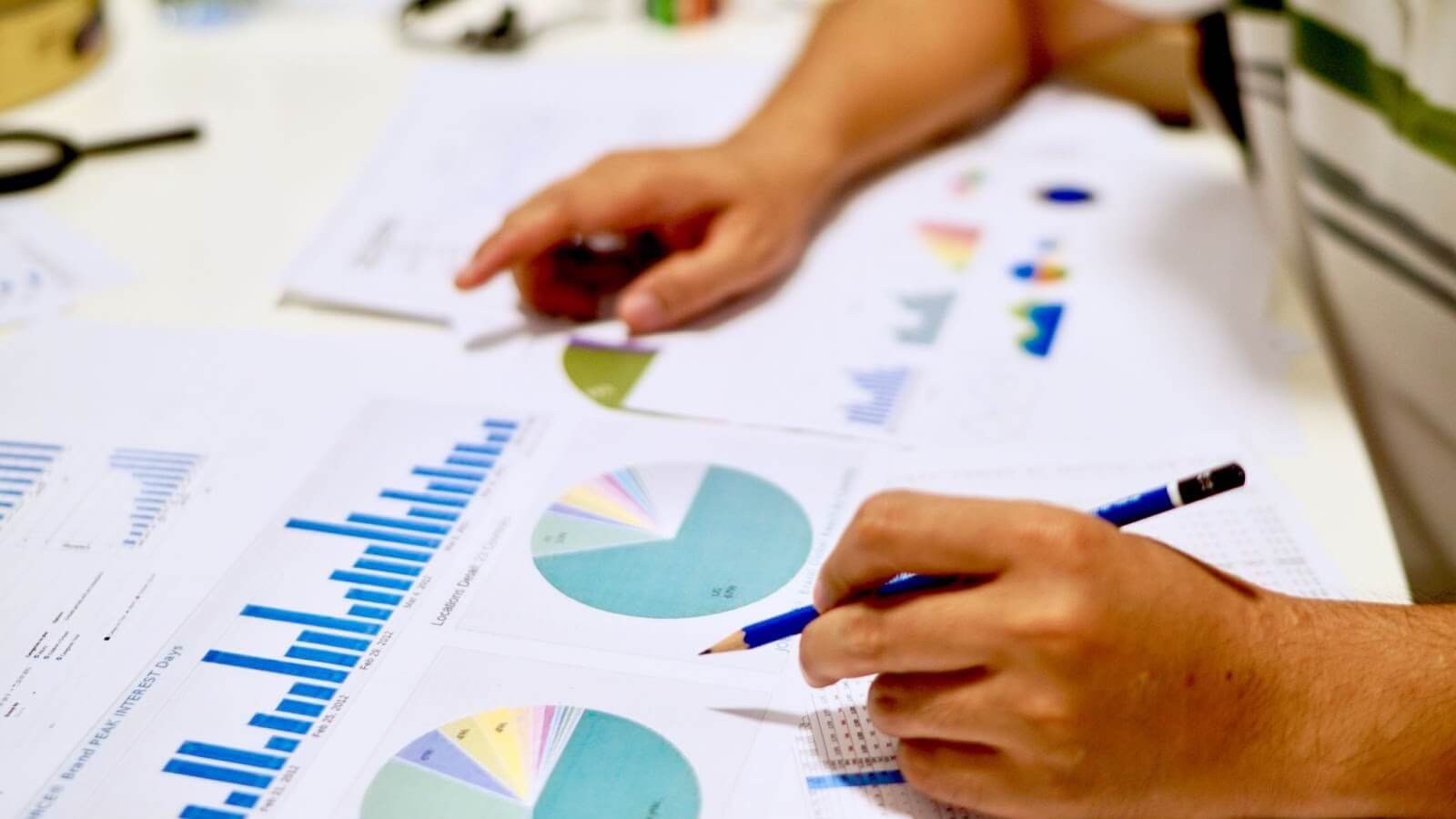 Since our CEO Lior interviewed Akin, we got the inside scoop on what methods he was implementing in his eBay dropshipping stores. Lior asked Akin to share his best tips and tricks regarding the different aspects of the business.
Finding Winning Products
Let's start with one of the most important tasks, product finding. When he was asked how he finds products to sell, he had a lot of information to share. Here are the different product finding methods Akin uses for his multiple stores.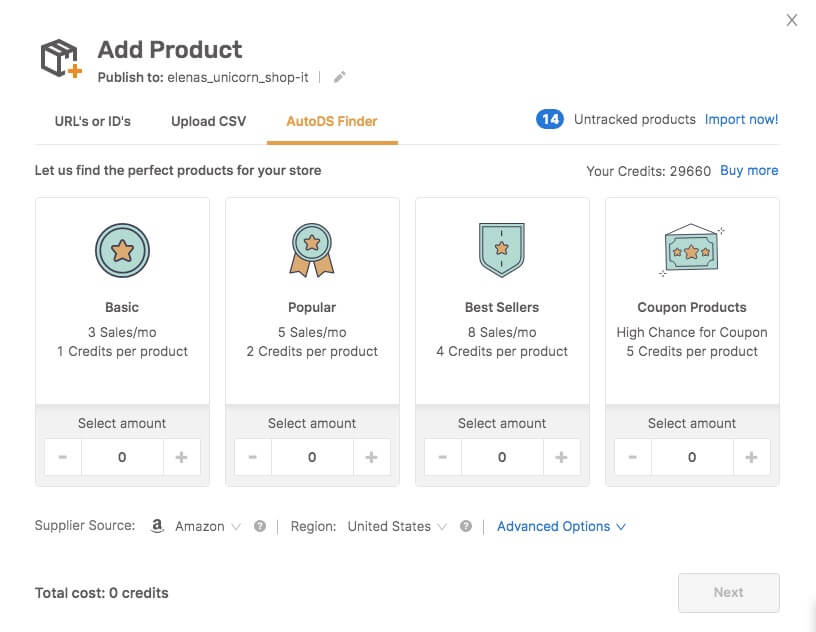 One of the first things that Akin mentioned in his eCommerce case study when being asked how he finds products to sell was our very own Hot Products Finder. The AutoDS Finder is built into our platform and supports thousands of suppliers from over 20 marketplaces. 
It also scans over 40,000 dropshippers and over 1 million products per day to find the best dropshipping products for your store.
Finding products can take hours, and even then, they don't always end up selling. By automating this process, you can put your time and energy elsewhere, and rest assured you're adding proven products to your store.
   2. Importing Products In Bulk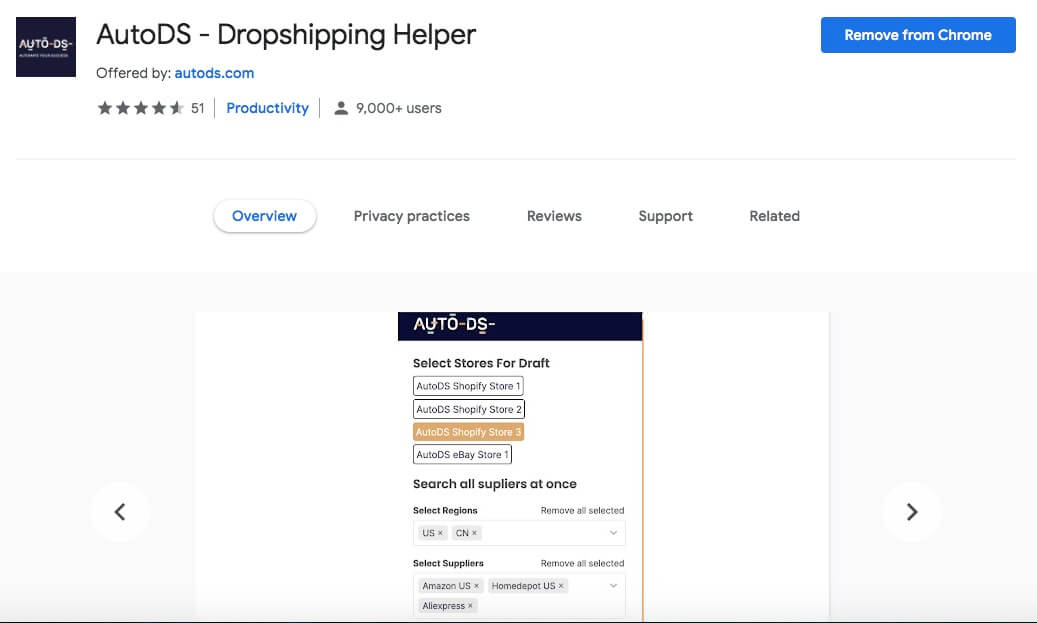 While bulk importing is not a direct product finding technique, it is definitely key to quickly finding products to list. In his eCommerce case study, Akin spoke about how he loves adding products in bulk because by adding multiple products, he saves loads of time on individual product research. 
Using the AutoDS' Helper extension (shown above) and our platform's advanced listing options, add a big range of products and wait to see which perform well. 
This is one of the best ways to test out different products and see which stick. Go to your favorite supplier, search for a product or niche, and use our Helper extension to grab all the products and click "Export as CSV" to create a CSV file to import.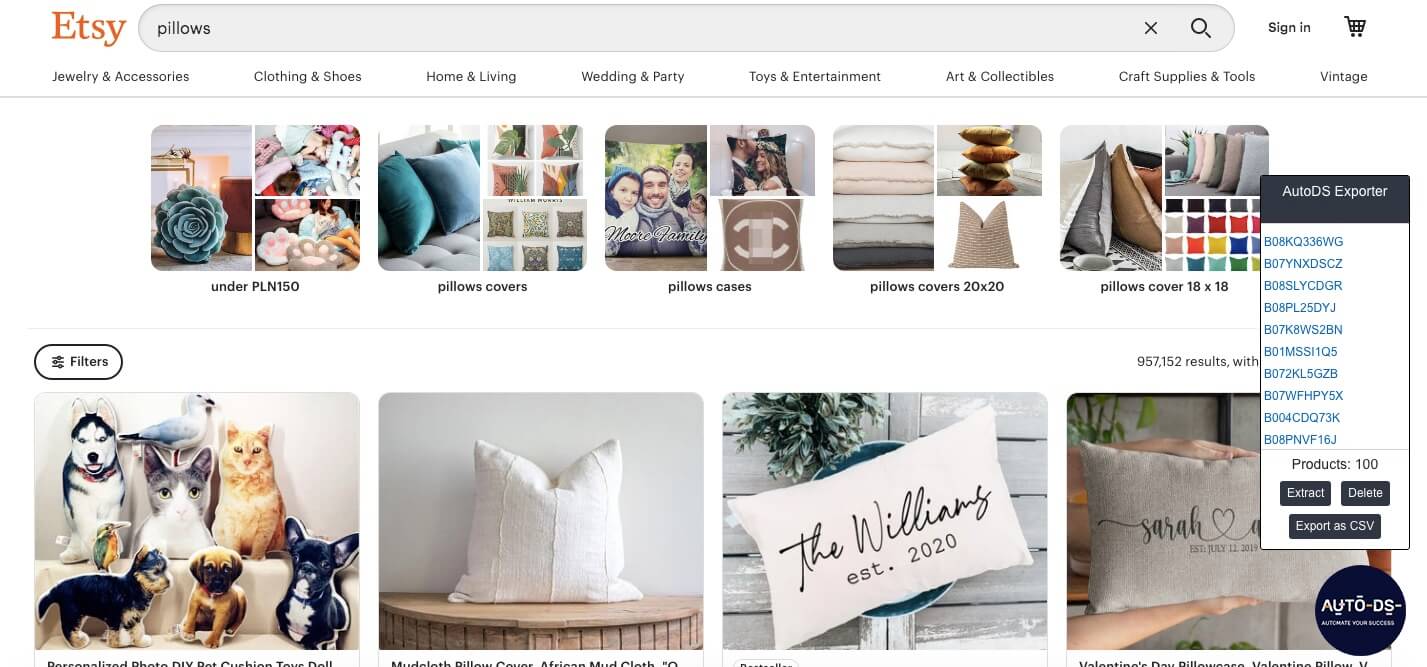 Then just log in to your AutoDS account, click "Add Products" on the top left, "Upload CSV," and drop in the CSV file the Helper created for you.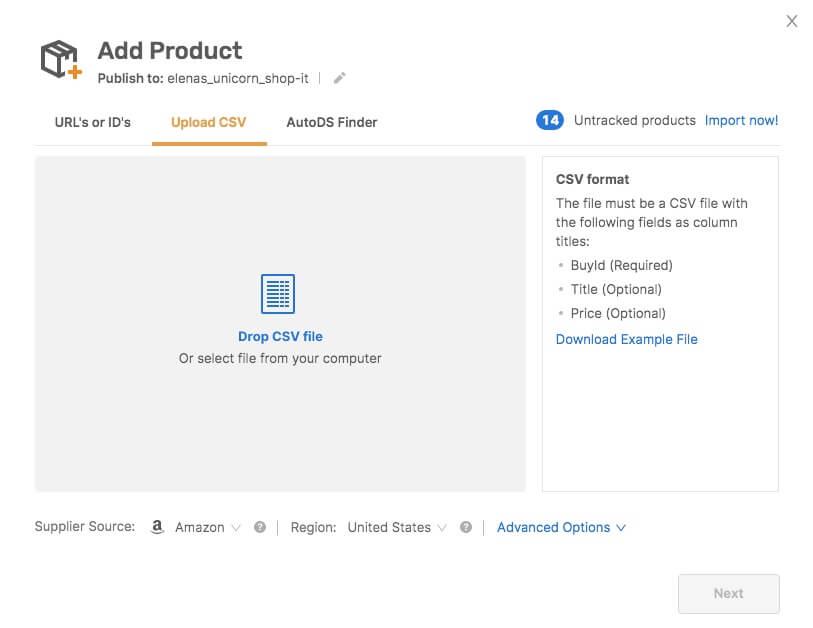 Some will sell, and some won't. It is a numbers game. Simply track their activity and optimize once you have enough data. Delete the poor performers and multiply your best-sellers. 
Sooner than later, with the right amount of work and research, the sales will start coming in, and the scalability is completely up to you.
Fulfilling Orders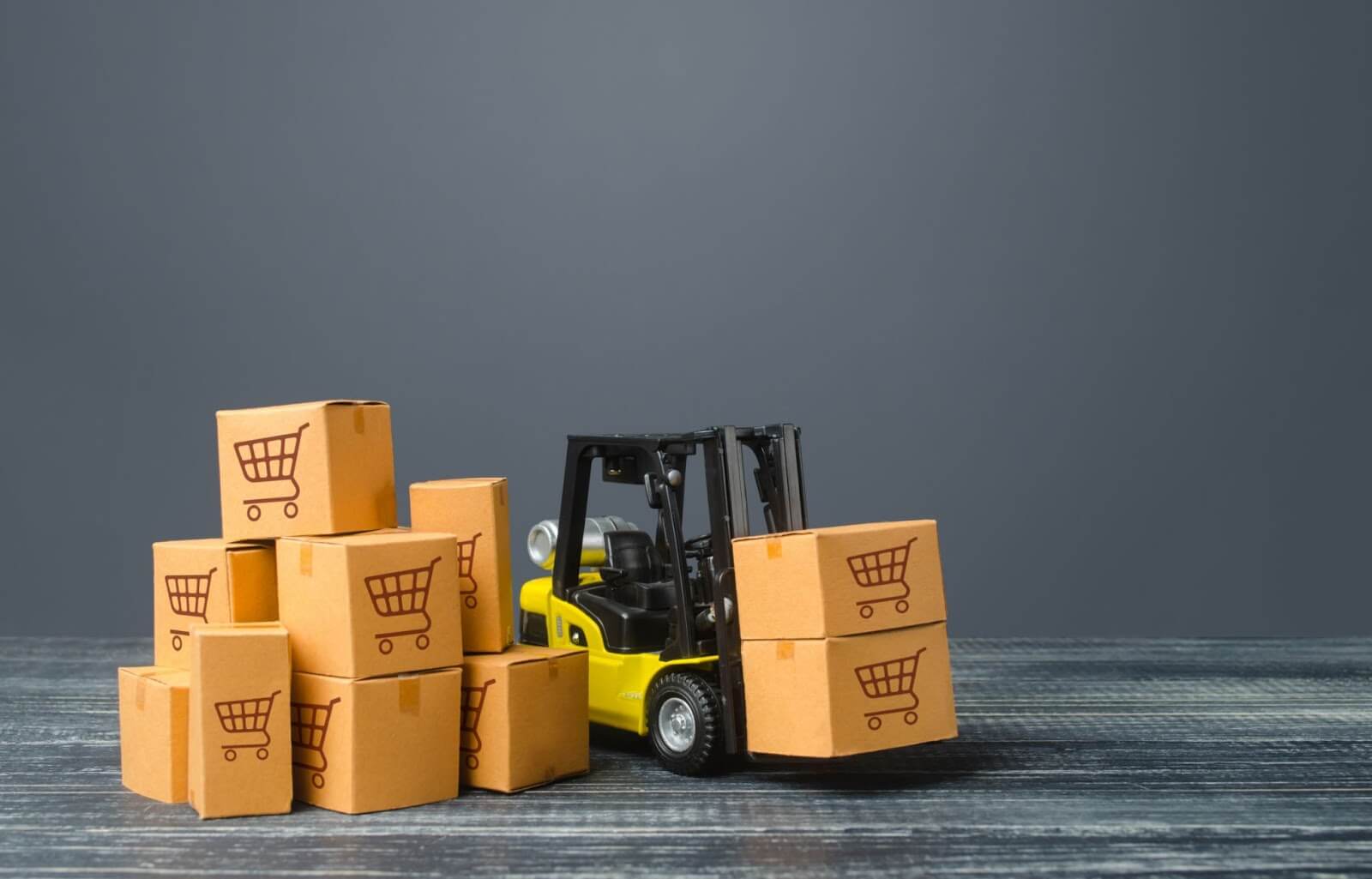 Order fulfillment is another key aspect of your dropshipping. When Akin started, he got excited over each sale and had fun taking care of all your incoming orders. 
However, as soon as his stores grew bigger and created multiple stores, he saw how much time is being wasted on manually fulfilling orders and what a headache it became. 
To save you time and to make sure your buyers are happy, automating your orders is key. Luckily, AutoDS offers two innovative solutions to make your dropshipping experience easier. We'll share these two methods in this eCommerce case study to help you scale your stores the right way.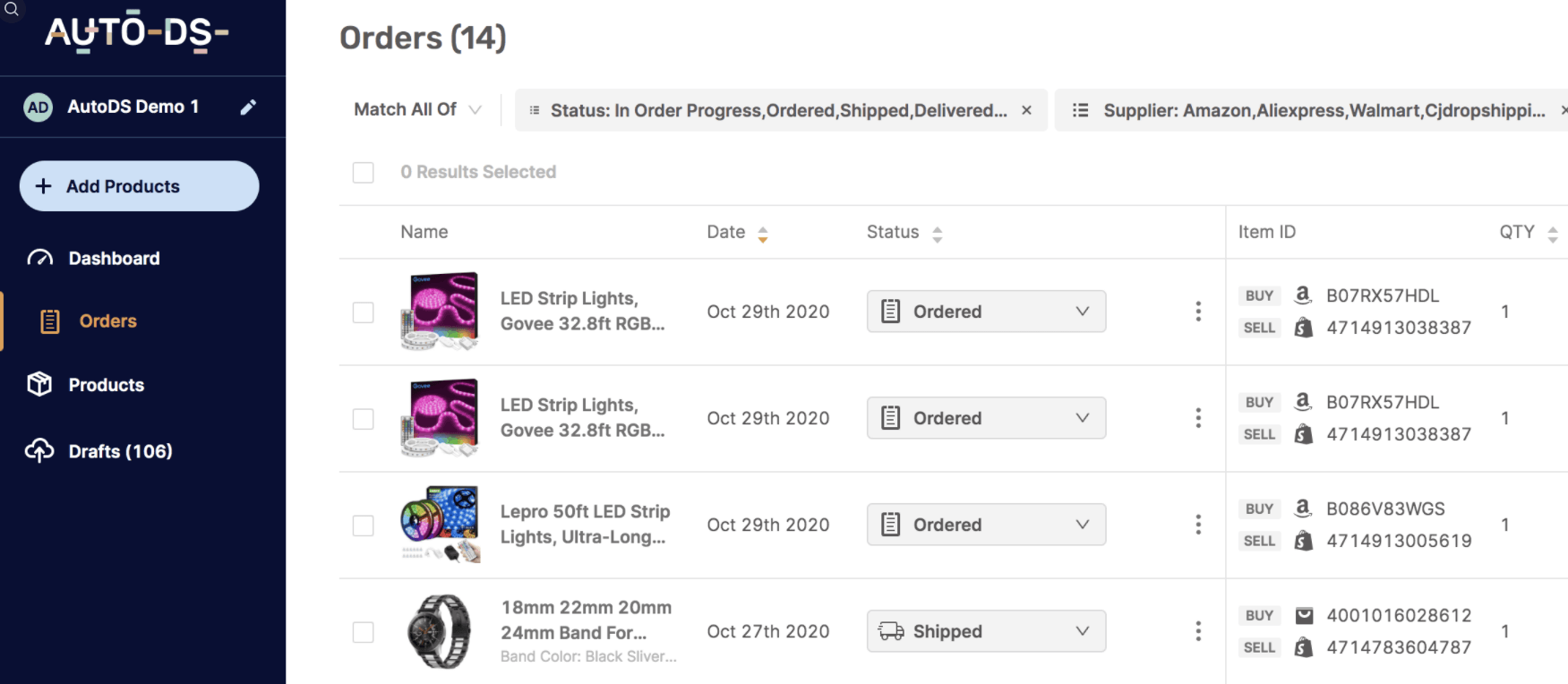 When using Automatic Orders, AutoDS will automatically order the products from your supplier for you.
This system automatically updates your buyers with their products tracking number information as soon as possible. Another great feature included in our automatic messages to buyers. 
This helps provide a top-notch customer experience, increases your seller metrics, and helps you gain more positive feedback ratings for your store.
If you're dropshipping using suppliers like Amazon US, Amazon UK, Amazon DE, Amazon FR, and AliExpress, then automate your orders using AutoDS to upgrade your dropshipping business.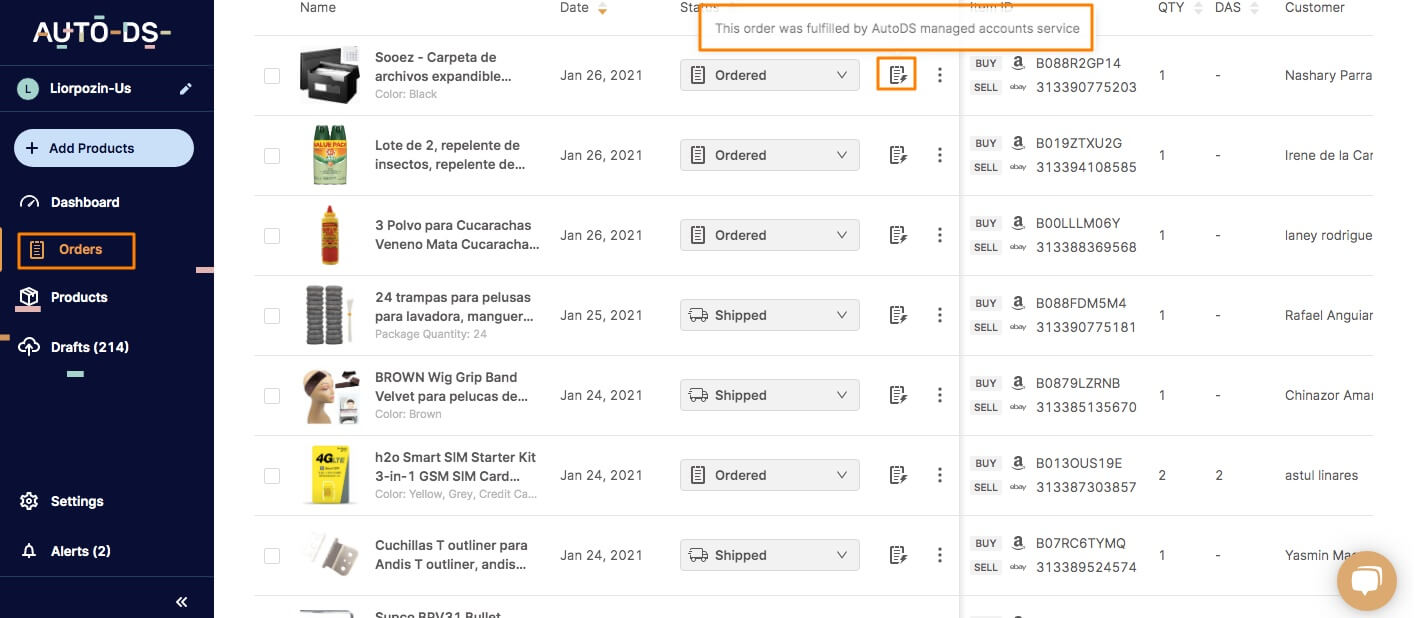 The second solution AutoDS offers to automate order fulfillment is our Fulfilled by AutoDS Service. This option is more advanced and helps with more than just the fulfillment of orders. 
One of the differences between Automatic Orders and The "Fulfilled by" service is that AutoDS purchases all the products for your buyers. This means no more account locks/orders cancelations/credit card cash flow or limits. 
Everything will be done using our accounts. All you need to do is load balance through payment methods like PayPal / Payoneer.
Another major feature is the quick and easy returns system. If a buyer wants to return a product, you will have a "Return" status for that order on the "Orders." When you click the button "Return," our team will get the return label and put it in the system for you. 

Another key point Akin mentioned in his interview with Lior is providing good customer service. This one of his concerns when it came to opening multiple stores.
He understood the value and importance of quality customer support and giving his buyers the best experience he can.
Besides our automation features, he enjoyed the perks of managing his customer service through AutoDS, especially since he has multiple stores.
Being able to view all his store messages, returns, and cancelations all in one place was a huge perk. 
Using our platform, he could create template messages to use as saved replies to his customers. 
This meant not having to have log-in to each store individually, have multiple tabs open, and constantly ping-pong back and forth. Needless to say, this is not ideal. 
Final Thoughts
Besides sharing Akin's impressive story, we hope this article has helped educate and motivate you if you're thinking about starting your own dropshipping store.
You can also watch Lior's video interview with Akin in case you missed it.
To those of you who are already dropshipping, we believe the tips and tricks shared here can help you scale and reach new heights on your dropshipping journey.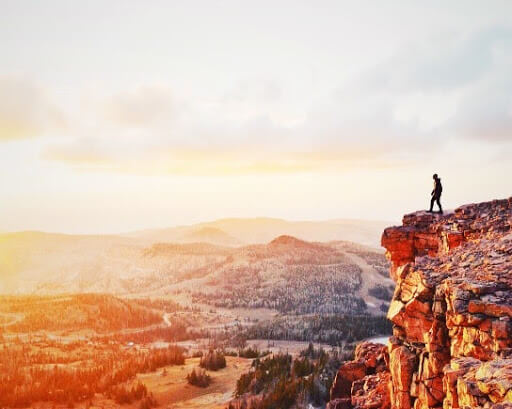 A considerable and common worry of new dropshippers is how to manage everything once they actually succeed. Scaling is important, otherwise, we'll find ourselves stuck at the same spot.
As you now know, pairing with the right dropshipping software is key. Luckily AutoDS and our team of experts are here to help guide you through. 
Creating your own e-commerce dropshipping business isn't always a walk in the park.
But with the help of AutoDS' dropshipping tools/app, our knowledge-packed blog, our YouTube channel, and the wonderful community we have on Facebook, you too can become a dropshipping pro.
We hope you enjoyed this Akin's eCommerce case study. Comment below if you have any questions, we'd love to hear your thoughts or any feedback you might have. 
Don't miss the eCommerce Success Stories section on our blog to read and get inspired from more successful dropshippers' rise to the top!