Wayfair is an exceptional e-commerce American retailer. It was founded in August 2002 as a two-person company, by Niraj Shah and Steve Conine.
Wayfair's niche is home goods; everything a home may need, from furniture to home appliances, décor items, and pet accessories.
Home products are a dropshipping niche that is widely preferred by eBay sellers. The main reason is that it's less dangerous than other categories, eg. electronics, and can have good profit margins.
The size of Wayfair's inventory depends on the warehouse but generally consists of more than 800K products, both in the US and UK warehouses. This number varies according to the season and can even reach the 1 million products.
AutoDS dropshipping platform supports Wayfair US and Wayfair UK in business automation.
But what are the main reasons why most eBay sellers consider Wayfair as a really good supplier for their eBay dropshipping businesses?
Wayfair started as a dropshipping business
The owners of Wayfair initially started from their homes. They opened several (more than 250) niche websites and relied on their dropshipping suppliers to ship their products.
After some time, they took the leap and merged all of their e-commerce websites into one huge e-commerce store, now known as Wayfair.
The company still works with dropshipping suppliers (over 10,000 suppliers), who ship 95% of their products.
Wayfair sites and locations
Wayfair has four large sites: Wayfair.com (US), Wayfair.co.uk (UK), Wayfair.de (Germany) and Wayfair.ca (Canada).
The headquarters are located in Boston, Massachusetts. Nevertheless, they also have offices and warehouses throughout the United States, Canada, Germany, Ireland, and the United Kingdom.

Huge variety of products for the Home and Garden category
As we mentioned above, the Home and Garden category is an eBay category that many dropshippers prefer for multiple reasons. The main one is that it's less complex and more profitable.
Thus, Wayfair is considered to be one of the best suppliers in this category.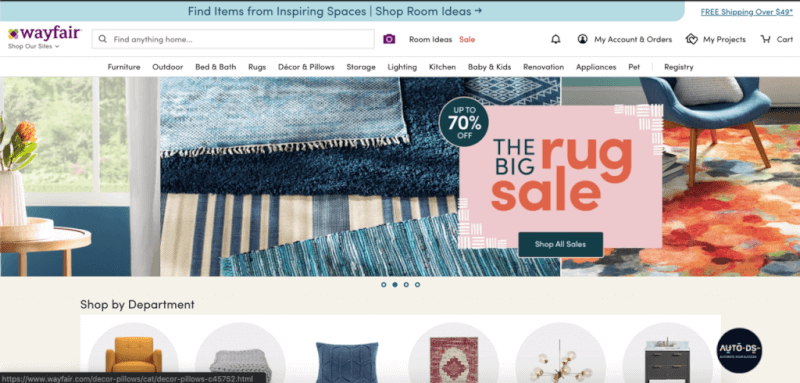 With millions of products and a great diversity in prices, it's no wonder why Wayfair is the number one selection of most eBay sellers.
The pricing of the products varies as well, from cheap products to very expensive ones that can provide high profitability.
Fast shipping option without any membership fees
Wayfair ships the orders quickly. For Wayfair US, they offer Fast 2-day shipping, and for the UK it's either 1 or 2 days shipping.
For Wayfair.com (US) orders of items with total price more than $49, are shipped for free (unless you are using the MYWAY program). However, if the total price is less than $49, there is a shipping cost of $4.99, that needs to be included in our prices.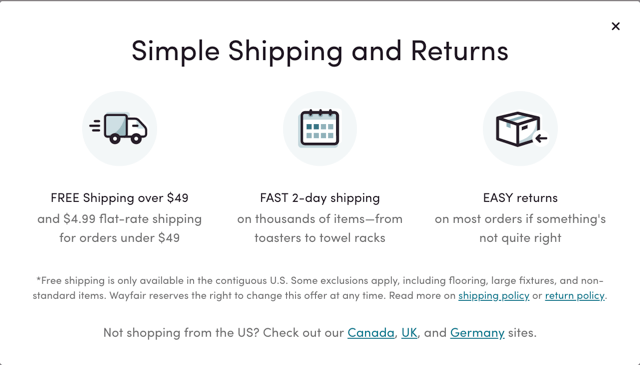 Additionally, for Wayfair.co.uk, the amount for free shipping is above £40, while for items less than this, the shipping cost is £4.99 which also needs to be included in our price.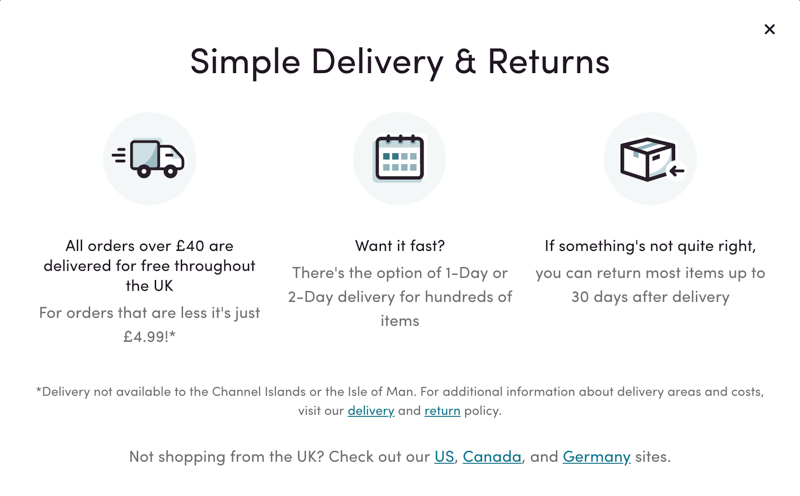 Note: Wayfair does not offer shipping to multiple addresses, as some other suppliers may offer. Each shipment can only be sent to one delivery address.
Sales up to 70%
At the top of Wayfair's page, there is a button called "Sale". This option is supported for both the US and UK website. When you click it, it takes you to a page with daily deals on items with discount up to 70%.
This is one great opportunity for every eBay dropshipper, to list items and make higher profits with these deals.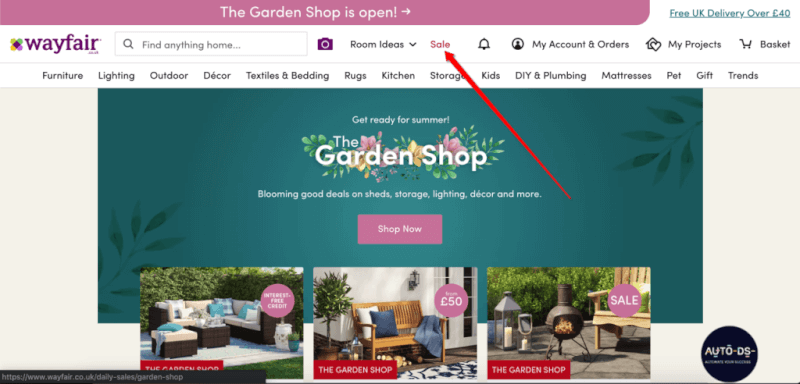 WayFair MYWAY program (get the edge over other dropshippers and competitors)


MYWAY program is a program that Wayfair has created for consistent customers, who tend to buy on a regular basis. Dropshippers from Wayfair to eBay can also receive the benefits of this program, and get a huge advantage over their competitors.
The membership cost for the MYWAY program is $29.99 per year, which is quite affordable, especially compared to Amazon's Prime Membership ($12.99 per month or $119.00 annually)
Here are the benefits of this program:
1) MYWAY members get free shipping on ANY ORDER, even on orders under $49.
This benefit can earn us another $5 on profit, or bring us more sales if we decrease the prices by $5.
2) Additionally, MYWAY members can get access to member exclusive products, which provides us, as dropshippers, the opportunity to list unique products that our competitors do not have access to.
3) One-day shipping for eligible products for FREE, instead of $10 shipping
TIP: We can create an one-business day shipping policy on eBay and charge it for $10. In many cases, this amount will be our additional profit since, as mentioned above, the shipping will be free for eligible products (see image below how).

You can pay with Paypal! 
Paying our suppliers with Paypal is very convenient since we don't need any other payment method to pay, like gift cards, credit cards, etc. that can result in paying extra fees.
We get paid from our buyers on eBay and we pay on Wayfair, directly through our Paypal account.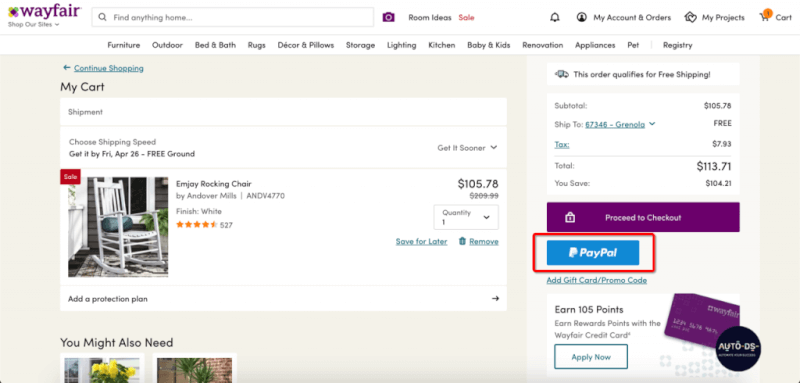 Earn some extra profit using Cashback sites
Wayfair UK is supported by Topcashback. If you make your purchases through TopCashback UK, you can get up to 3.15% cashback, which can add up to your items' profit and increase it significantly.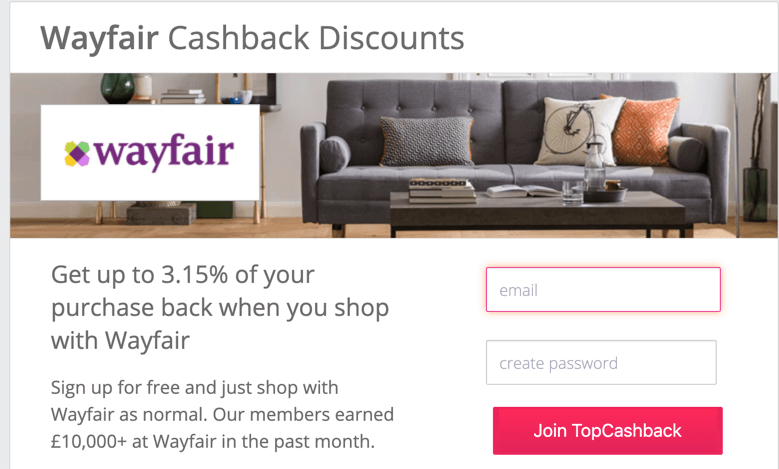 Also, BeFrugal offers coupons that you can also use and get discounts for your purchases on Wayfair.com.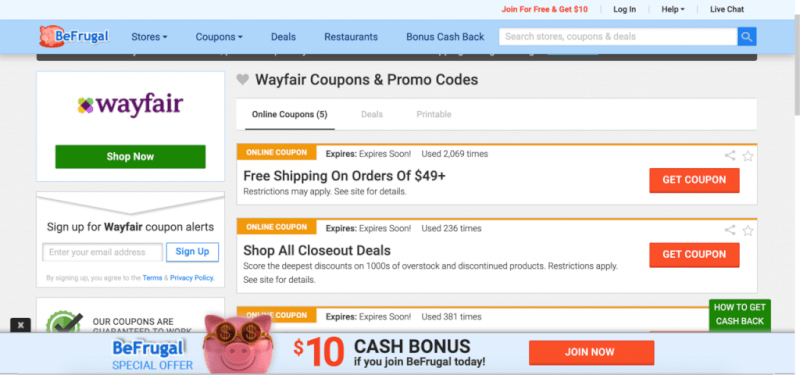 Another cashback site, that offers cashback for Wayfair UK is Quidco, where you can get £2.40 cashback for all purchases.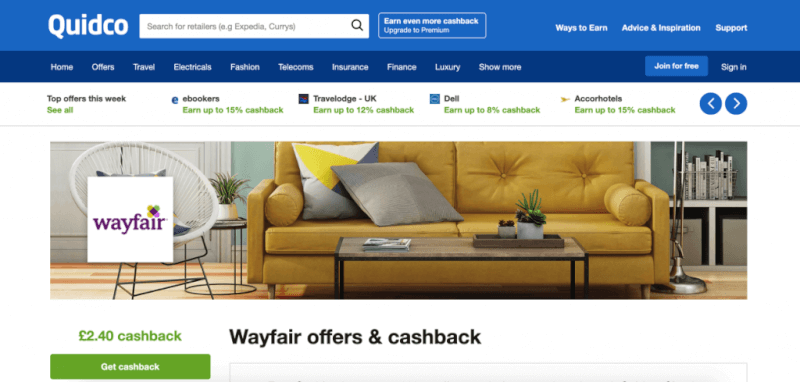 Supported by AutoDS Helper Chrome Extension
Wayfair is fully supported, like any other supplier, from our AutoDS Helper Chrome Extension.
You can export full pages of products, send a bulk upload of all the items, and upload them with all their variations and all their item specifics, directly to your eBay account.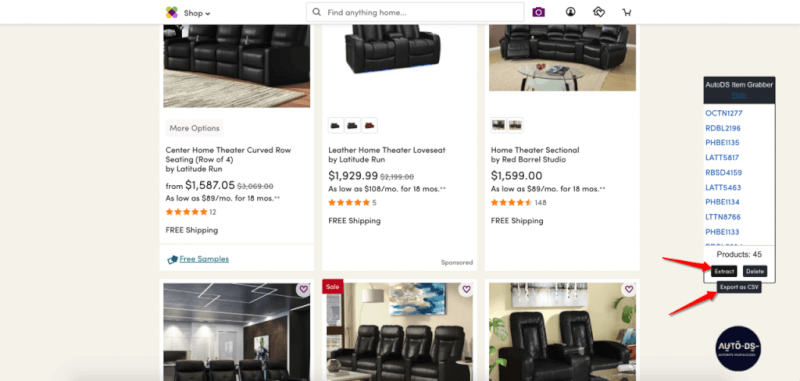 About Wayfair's Return Policies
According to Wayfair's return policy, customers can return their purchased items within 30 days. However, the returns are not free, which means that in such cases, the customer will pay the return fee. In order to avoid conflicts and not make your customers angry, the simplest thing is to create a return policy, where you set that the buyer pays the return shipping fee.
If by any chance, the item arrives damaged, all you need to do is contact Wayfair's customer support, and ask for a full refund.
Note: There are some items that can't be returned, such as: clearance items (unless damaged or defective), gift cards, personalized items. items marked "Non-Returnable" on the sale page, items purchased as part of a bundle at a discounted rate, e.g. "5 for $25" (unless the entire bundle is returned) and items you have already assembled.
What should I watch for in my Break-Even settings? 
The Break-Even is a percentage that we add on the supplier's price, to get the break-even point.
For more information, watch our video on the Break even explanation directly from our YouTube channel. 
Regarding Wayfair, and more specifically Wayfair.com (the US site), it's good to add another 5% on your break-even, to include taxes for shipping to all states.
The tax amount doesn't appear in the item's price but only becomes available during the purchase process, and depends on the delivery address.
What shipping policy should you make on eBay?
If you choose to work with Wayfair.com, the shipping policy you will need to choose a shipping option with 1-5 days delivery (standard shipping option), to make sure you will not be on the delivery dates.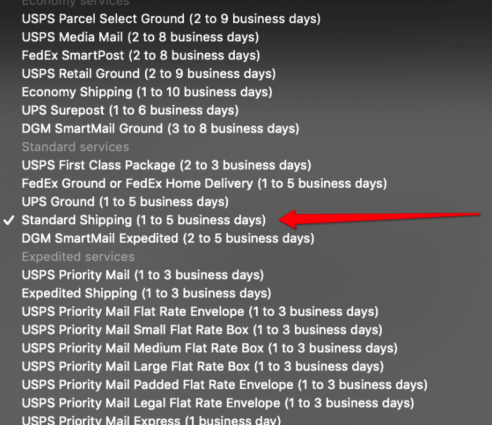 For Wayfair UK, the shipping policy scheme you can use is also pretty much the same, where you will need the same amount of days, to make sure you will not exceed this time range.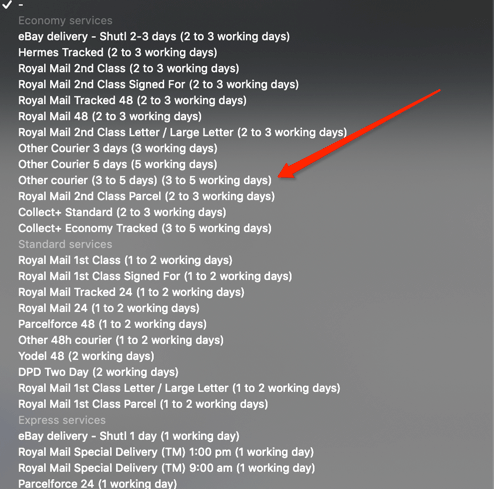 To sum things up
To sum up, Wayfair is a great supplier for any dropshipper who wants high-quality items, with variety in prices, and high profitability potential. AutoDS dropshipping platform supports importing products with all of their variations and item specifics from Wayfair.com and Wayfair.co.uk, among all other suppliers and amazing features that we support.
To learn how to dropship successfully with Wayfair on eBay, we recommend checking out this article: