Are you looking for dropshipping software to help grow and manage your eCommerce business? With the help of dropshipping tools, it becomes possible to streamline daily tasks. Thus, allowing us to scale our dropshipping ventures to greater heights.
Essentially, dropshipping is a profitable business that we can fully operate online. It's a low-risk order fulfillment model that requires minimal investment and no physical inventory. However, dropshipping using software enables us to automate many aspects of our business.
As a result, managing the business and scaling to higher profits becomes easier. That's why we will explore the top 17 dropshipping automation software in the eCommerce world. Ultimately, we'll be familiar with the most up-to-date technologies to help us thrive in 2023.
What Is A Dropshipping Software?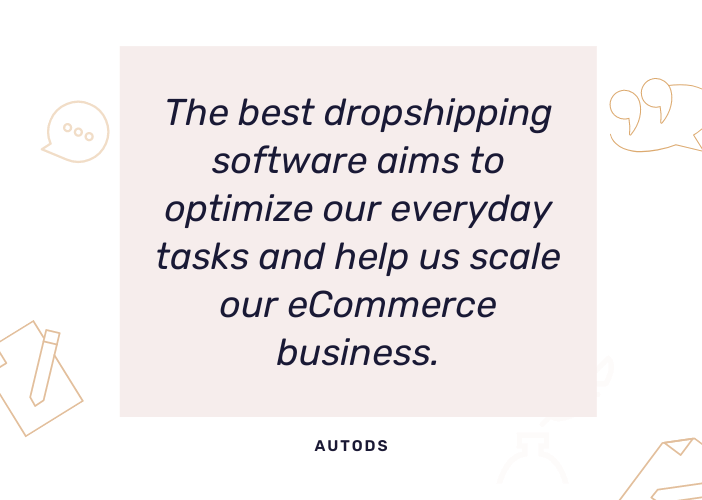 Before diving into the different tools for our online business, let's first discuss how dropshipping automation software works. Interestingly, dropshipping software encompasses a variety of tools that help us entirely set up and manage an eCommerce business.
As such, these tools allow us to refrain from time-consuming manual tasks by automating and speeding up business processes. For instance, product importing, price monitoring, stock monitoring, and order fulfillment are some of the processes we can automate. Moreover, there are many different types of dropshipping software, each with unique functions. 
On the one hand, some software can help with daily tasks like fulfilling orders and processing returns. Meanwhile, other tools focus on product research and profit calculation. Regardless of their nature, they share the same goal: to optimize our dropshipping business.
The 17 Best Dropshipping Software & Tools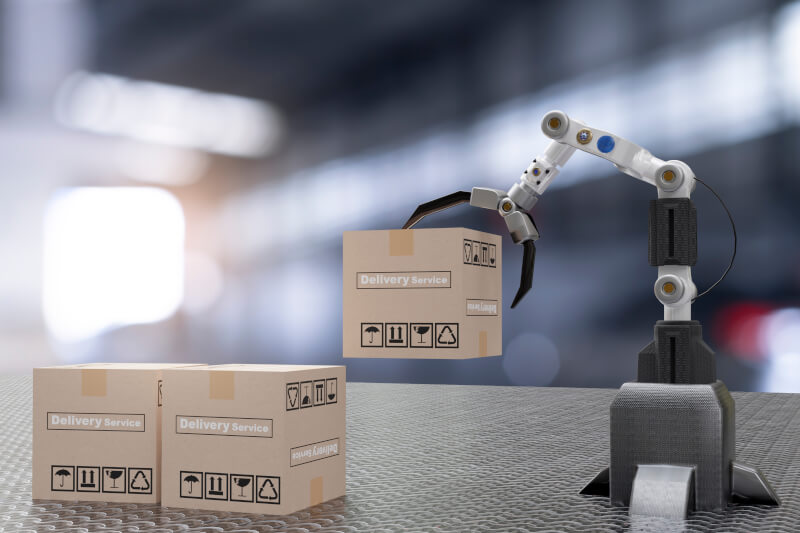 Generally, there are various kinds of dropshipping automation software in the market. Among the vast selection, let's take a look at the top 17 software and tools for managing a successful dropshipping business:
Let's analyze these categories and tools individually to understand how they can help our businesses flourish.
Dropshipping Automation Software
To begin with, dropshipping automation software is a computer system that manages the daily operations of a dropshipping store in place of a person. Instead of sitting at a computer to manually list products, fulfill orders, and monitor stock levels, automation software does the job for us.
Thus, below are the top tools that can help us automate our dropshipping business.
1. AutoDS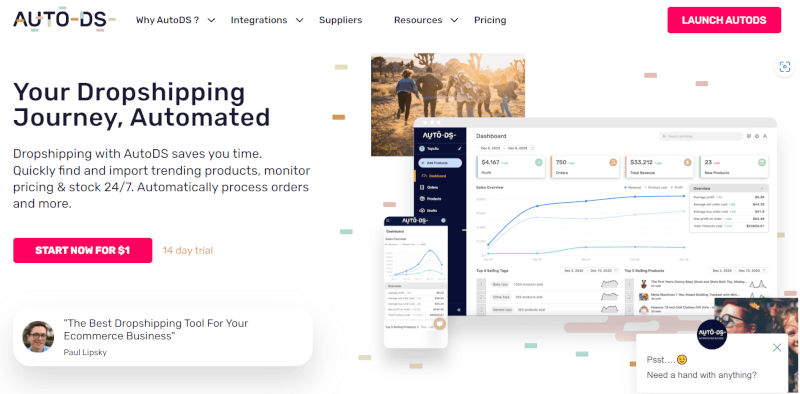 Notably, AutoDS is an all-in-one business automation solution for dropshippers worldwide. Now, here are the best features that AutoDS offers:
Multiple eCommerce Integrations

25+ Global Supported Suppliers

Product Research Tool

Price/Stock Monitoring

Quick & Easy Product Imports

Complete Order Fulfillment

Automatic Price Optimization

One-Screen Inventory Management

Automatic Tracking Updates

AutoDS Advanced Editor
Primarily, AutoDS offers its automation features on as many as 25+ handpicked dropshipping suppliers and popular selling channels. In addition, it has a built-in product research tool that allows us to find and import best-sellers. Moreover, its automatic order fulfillment methods enable us to track and deliver customer orders on time.
Meanwhile, AutoDS' price optimization feature maximizes our profits from top-selling items by automatically increasing their prices. Similarly, the platform has a stock monitoring system that updates the inventory of items to eliminate lost sales due to items' unavailability. Ultimately, we can manage all these features and more under one dashboard on AutoDS, saving us time and effort.
Chargeback & Disputes
Our next dropship software covers chargebacks and disputes. With this type of dropshipping software, we can automate chargeback prevention and contest ineligible disputes. Likewise, this tool can protect our business by eliminating fraudulent claims.
As a result, we can save time in dispute resolution and secure our revenues in the long run. So, here is an excellent chargeback and dispute dropshipping management software we can try:
2. Chargeflow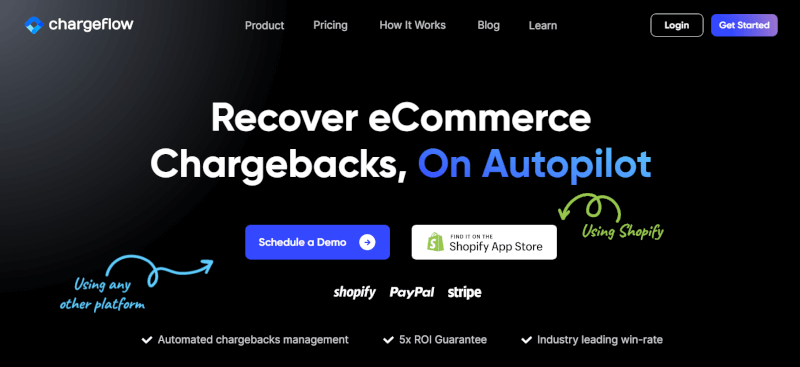 Remarkably, Chargeflow is a fully automated chargebacks management software. Here are more reasons to integrate with this dropshipping software:
Fully automated response

Science-backed system

Integration with major brands

Data security

Accessible support
With its science-based chargeback response, we can eliminate the complex and tedious chargeback resolution process. Likewise, the system utilizes smart algorithms to analyze millions of data points. As a result, we can enjoy unquestionable responses and pieces of evidence that will help us win more chargebacks.
Additionally, Chargeflow integrates with popular eCommerce brands, such as PayPal, Shopify, Stripe, and more. Besides that, this dropshipping software is designed to protect data security. Plus, its email and chat lines are accessible 24/7, resolving clients' concerns promptly.
Product Research Tools
Other than running daily operations, every good dropshipper knows that product research is a crucial determinant of success. However, finding the right products can be a lengthy and tiresome process that does not guarantee results.
That's why product research tools have become essential dropshipping automation software. When used correctly, they allow us to spot product trends. Let's get a closer look at the most reliable product research platforms for dropshipping:
3. Zik Analytics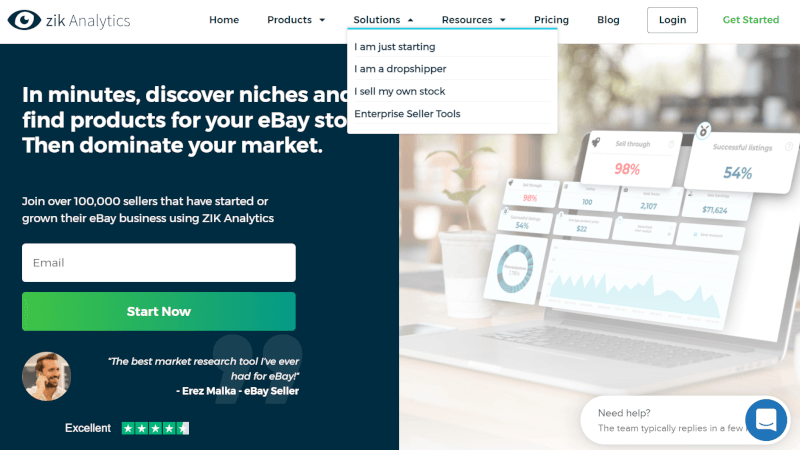 Discover the hottest products to sell on your eBay dropshipping store through Zik Analytics. This product research tool includes the following benefits for dropshippers:
Over 100 million product ideas

Integrates with approximately 20 suppliers

Store analytics and price analytics
Zik Analytics has a user-friendly interface that carries all your product research needs in one place. Its automatic product-finding feature offers millions of product ideas and the latest insights and trends. This product-finding tool works with about 20 suppliers, giving us more sources of trending products to sell in our stores.
Additionally, Zik Analytics enables us to analyze other eBay dropshippers using its store and price analytics feature. The powerful analytics features help us see what other eBay dropshipping stores are selling and what's working for them. As such, it allows us to discover low-competition, high-demand, and high-profit items easily.
4. Jungle Scout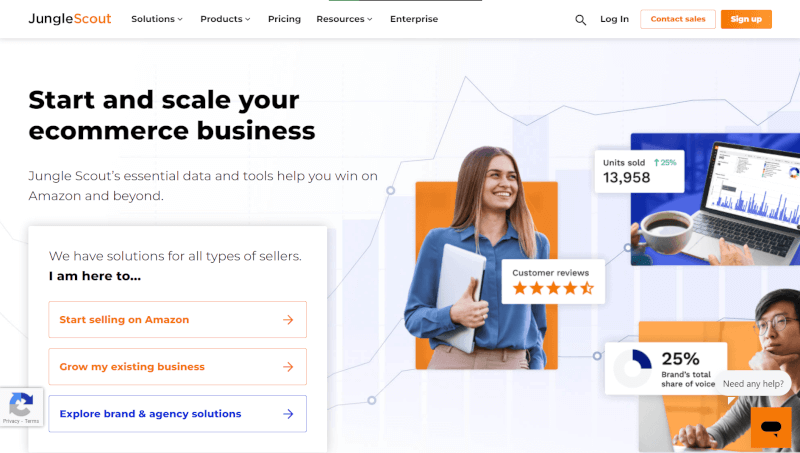 Next up, Jungle Scout is an all-in-one dropshipping software for selling on Amazon. Its powerful product research features provide the following advantages:
Spy on other sellers

Suppliers finder

Keyword research

Track product sales
We can easily find winning items by keyword, category, or filter through the 'Product Database' of Jungle Scout. At the same time, its 'Product Tracker' lets us access other sellers' sales, inventory, and revenue data. In addition, the 'Supplier Database' enables us to find reliable suppliers and see the top-selling products they source.
Another feature of Jungle Scout is the 'Keyword Scout.' It lets us know what people are searching for on Amazon and how we measure up compared to our competitors. Then, we can select new product ideas or expand our product listings using the information we gathered.
5. AliExpress Dropshipping Center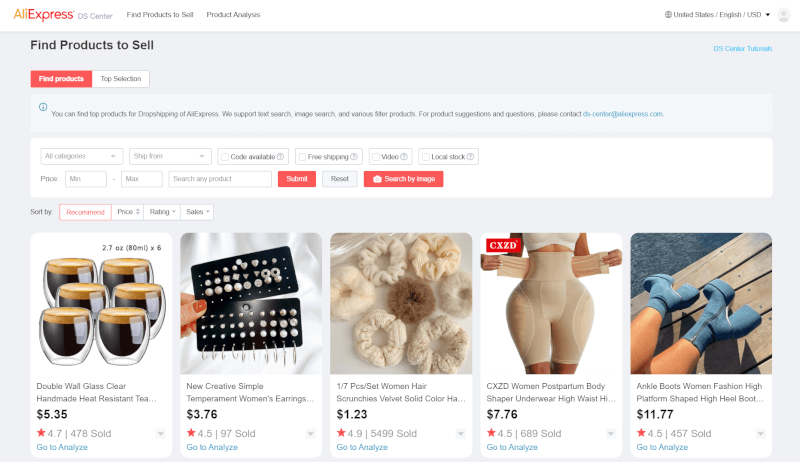 Our third product research platform is the AliExpress Dropshipping Center. When sourcing products from this dropshipping automation software, we can enjoy the following features:
Find Products feature

Top Selection button

Product analysis

Automatic importing
Notably, this dropshipping automation software allows us to set filters for more accurate product results with its 'Find Products' feature. For instance, we can find in-demand items according to their prices, ratings, sales, and more. Aside from this, the platform has a 'Top Selection' button where we can explore best-selling niches and items.
Meanwhile, its product analysis option enables quick analysis of a product's sales performance and customer ratings. Likewise, we can access in-depth insights about the product's profitability and popularity among customers. Finally, the platform allows automatic importing to supported marketplaces with just a few clicks.
6. AliExpress Assistant and Cashback

Another exceptional dropshipping software is the AliExpress Assistant and Cashback. Next, we'll discover how this tool can help us optimize our business:
Cashback and rebates

Price comparison

Product price trends tracking

Price-drop reminders

Search by the product image
Primarily, this tool highlights cashback and rebates. In fact, we can earn as much as 4% commission once we buy almost any item on AliExpress. On top of that, we can enjoy rewards of up to $25 for every customer we can successfully invite to AliExpress.
Moreover, this browser extension has a 90-day price tracker, allowing us to monitor and compare price fluctuations of products. Aside from that, the software notifies for price drops on top product selections. Finally, we can use images to search for similar products that we found elsewhere on AliExpress.
Spy Tools
Another category of dropshipping software is spy tools. With the tight market competition in eCommerce, spy tools help us uncover successes and adopt good selling practices. Conversely, we can learn from the failures of other sellers and improve different aspects of our stores too.
Therefore, spy tools are essential for us to keep track of our competitors. Overall, this dropshipping automation software can help us discover winning products and effective methods.
7. Koala Inspector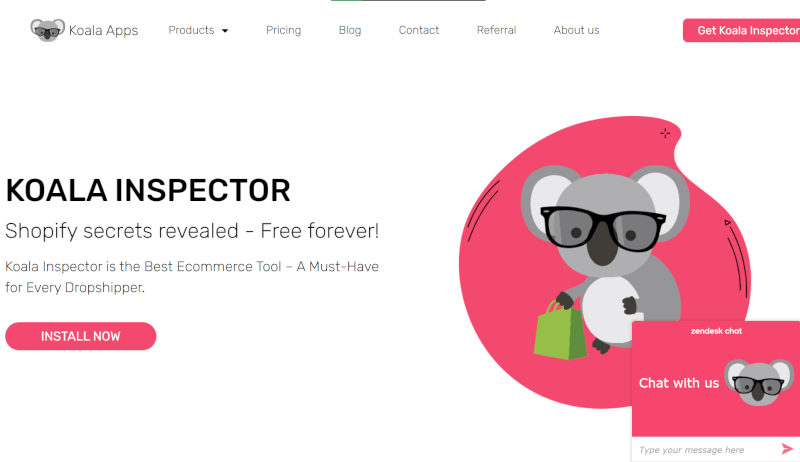 The Koala Inspector is the first spy dropshipping software on our list. Let's take a look at this dropshipping software's benefits:
Spy on Shopify stores

User-friendly interface

Collaborates with other dropshipping platforms

Flexible subscription plans
This dropshipping software can uncover the secrets behind Shopify stores. In just a matter of a click, we can discover a Shopify store's best strategies, top products, pricing schemes, and advertisement tools we can adopt in our stores. Additionally, the Koala Inspector reveals whether a store owner dropships from AliExpress, Amazon, eBay, or other platforms.
Furthermore, Koala Inspector collaborates with numerous dropshipping applications to maximize the features it offers to sellers. For instance, Koala Inspector integrates with AutoDS. Thus, we can import products we found using Koala Inspector to our stores in just one click.
8. AliInsider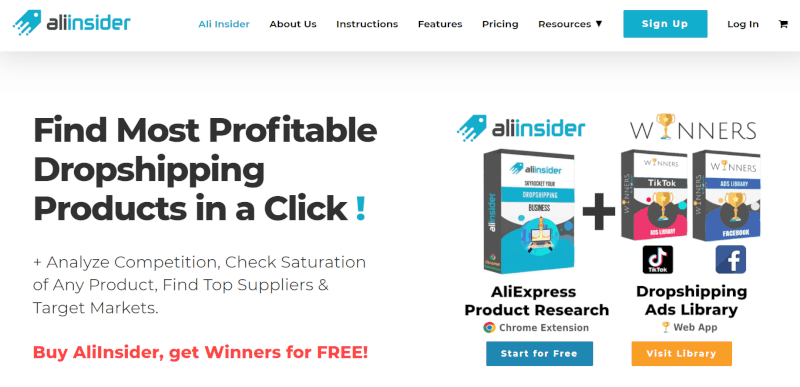 Undeniably, AliInsider is one of the best dropshipping software on AliExpress. As such, this tool extends the following key benefits for our business:
Diverse product catalog

Product analysis

Advanced sales and orders data

Competitor database
This dropshipping software offers a diverse product catalog that contains over 50,000 top-selling products. As a top dropshipping software on AliExpress, this tool allows us to uncover metrics on different products in the platform. Specifically, AliInsider provides product details, such as revenues, competitors, shipping fees, and more.
Thus, the software's advanced data on these metrics enable us to identify the items that will work well in our stores. On the other hand, this spy tool gives us access to a list of competitors from different platforms selling the same products. We can also extend our competitor analysis to established channels, such as Shopify, eBay, and Amazon.
9. Dropship Spy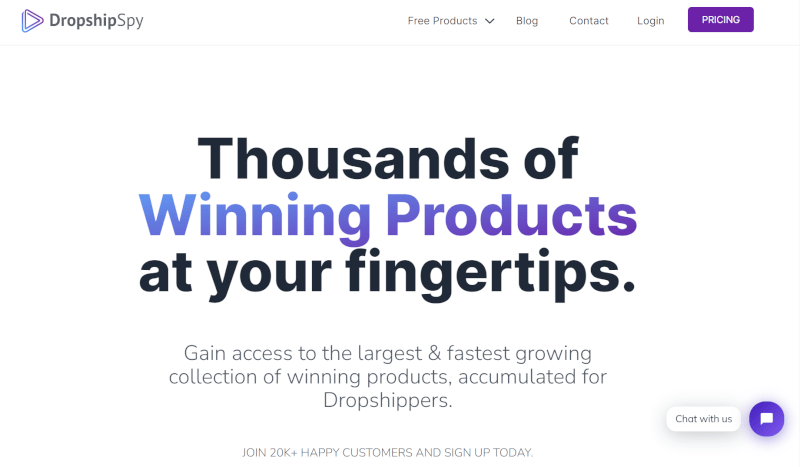 Another widely-used dropshipping software in the market is Dropship Spy. With that said, here are the advantages of choosing this dropshipping spy tool:
Comprehensive product offerings

Full access to sales metrics

Integration with eCommerce platforms

Wide user database
With Dropship Spy, we can uncover the successes of winning items among vast selections of product offerings from reliable suppliers. Likewise, the software covers thousands of social products from Facebook, TikTok, and Instagram. Also, this spy tool gives full access to product metrics, such as sales volumes, video ads, engagement rates, and more.
Besides that, the software integrates with popular eCommerce platforms. In fact, we can connect our Shopify stores to this tool and uncover our competitors' best-selling products. Undeniably, this tool's wide user database allows us to explore more in-demand product ideas in the market.
Image & Video Editing Tools
Marketing our dropshipping products is crucial to our success, but low-quality materials can do no good in advertising our dropshipping venture. To address this issue, we can utilize photo and video editing tools to enhance the quality of materials that help promote our business.
So, the list below tackles famous editing tools we can use to help market the products we sell.
10. Fotor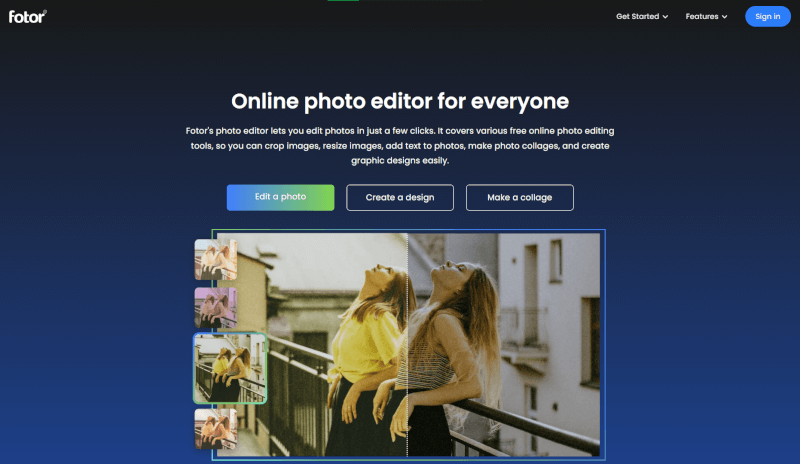 Let's begin with Fotor, a photo editing tool widely used by dropshipping entrepreneurs. This free online photo editor allows us to do the following:
Edit photos

Create designs

Make collages
Undoubtedly, we can easily optimize a product's image using Fotor's editing tools. Additionally, the tool allows us to generate stylish designs with available templates. These graphic designs help us customize our dropshipping stores using high-quality page banners, coupons, brochures, invoices, charts, and more.
Furthermore, the collage maker and photo stitching features of Fotor allow us to create enticing layouts. As such, these layouts help personalize our product appearances and other marketing materials. Doing so can help create product pages that stand out from the competition.
11. InVideo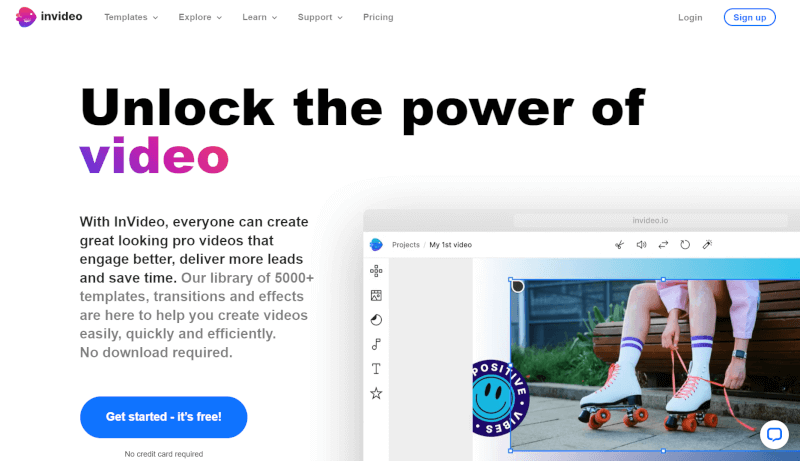 From a photo editor, let's proceed to a dropshipping video software that creates ads for our business. As such, InVideo is an online video editor with the following features:
Thousands of online templates

Integration with other platforms

Built-in music library

Creative transitions

No download is required
Interestingly, this powerful video editing software includes more than 5000 templates. Plus, it integrates with other online platforms, such as iStock, for high-quality media. Besides that, InVideo has a built-in music library, which brings life to our product or ad videos.
With InVideo's creative transitions, we can produce professional and enticing videos for our dropshipping stores. The software also allows text-to-video conversions with its over-the-top animations. What's more, we don't need to download anything since the software is available online for us to access anytime.
12. GIMP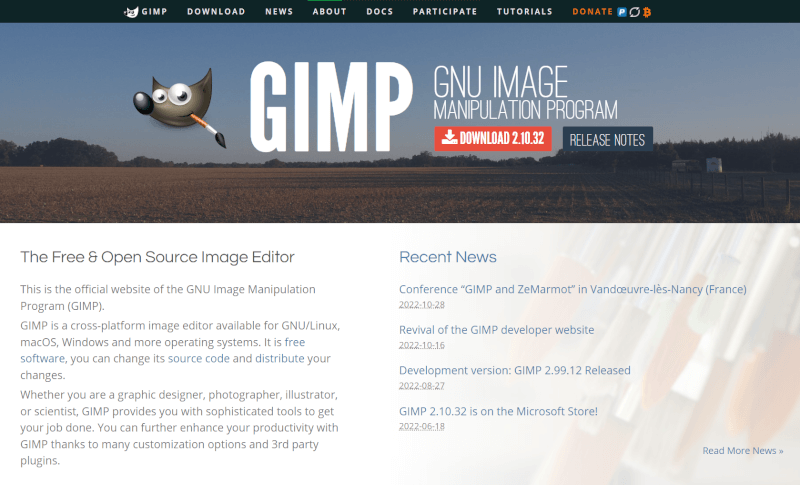 Our next editing tool is GIMP or also known as GNU Image Manipulation Program. This dropshipping software is a cross-platform image editor that is available in various operating systems. So, let's explore the wonders of using this editing tool:
Compatibility with different operating systems

Painting tools

System capacity

Advanced material manipulation

Expandable plug-ins

Loads of animations

File support
To begin, GIMP has a comprehensive list of painting tools that can enhance images in no time. Plus, its system capacity allows us to work with multiple images simultaneously. Moreover, GIMP has an advanced material manipulation feature that creates layers and special effects on images.
On the other hand, this dropshipping tool allows plug-ins to add new file formats and filter effects easily. Aside from that, numerous enticing animations are available to produce realistic effects on photos. Lastly, GIMP supports different file formats, enabling a hassle-free transfer of materials from the system to another platform.
13. Canva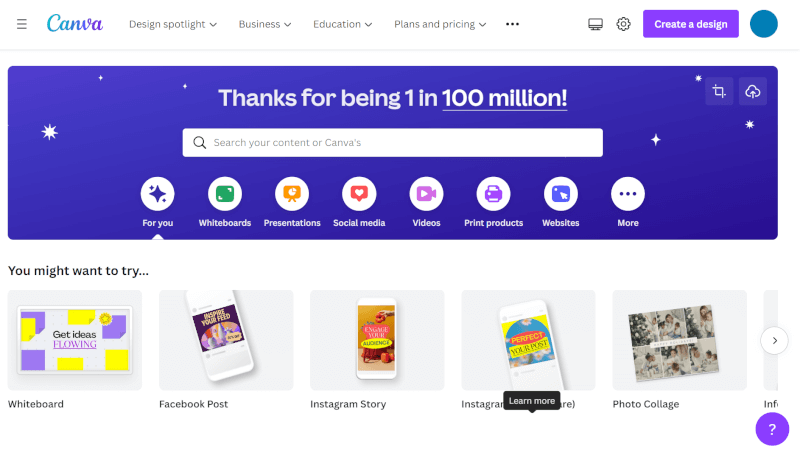 Unquestionably, images play a crucial role in showcasing our products and stores. To produce high-quality graphics, we need easy-to-use dropshipping software like Canva. With that said, let's uncover this graphic design tool's unique features:
High-quality graphics

Ready-to-use templates

Full material customization

Interactive presentations

Video editor

Built-in music library

Flexible file formats
Whether we're designing graphics from scratch or enhancing an image's size, we are confident in obtaining high-quality results from Canva. In addition, the platform provides endless ready-to-use templates suitable for any purpose or occasion. Plus, we can freely customize our materials by adding text, shapes, stickers, colors, and more.
If we want to step up our product presentation, we can utilize Canva's video editor or create interactive slides. Also, we won't have to worry about sounds because the platform has a built-in music library to add life to animations or videos. Finally, Canva has flexible file formats so that we can upload, download, and share materials according to our file type needs.
Logo Maker
One of the things that define our dropshipping business is our logos. Hence, we must create professional and attractive logos to represent our business goals and brand reputation. In this case, we can use a logo maker to produce distinct, high-quality logos.
While several dropshipping software can produce logos, we need to utilize reliable logo-making platforms that can offer excellent features. So, let's explore a superb logo generator below.
14. Hatchful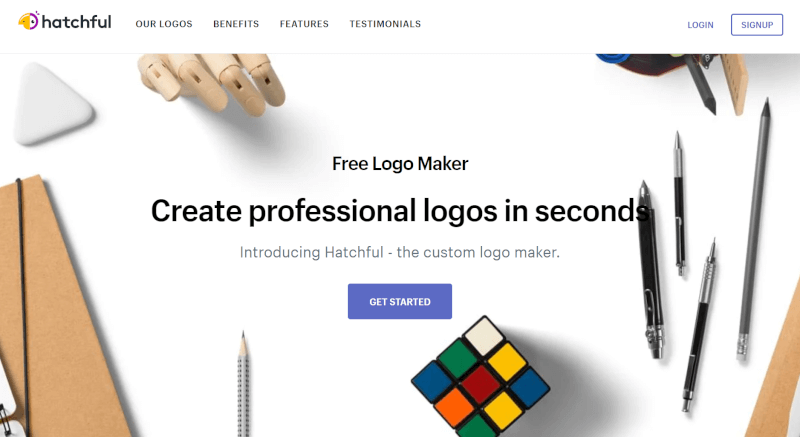 Remarkably, Hatchful is a free logo generator established by Shopify. Apart from that, here are the top reasons to utilize this logo maker:
Suitable for any designer level

Easy-to-use interface

Dedicated customization features per category

Top-caliber branding
Initially, Shopify created Hatchful to help online sellers who are just starting their businesses. That's why, this tool is suitable for everyone, even those without design experience. Its easy-to-use interface allows us to produce unique logos quickly.
In addition, thousands of logo templates are available on the website. In fact, we can filter the templates depending on the industry we're in, so our logos can represent the nature of our business accordingly. Ultimately, this dropshipping tool provides top-caliber logos to help us establish professional branding in the market.
Profit, Expense & Finance Calculators
Managing financial inflows and outflows can be nerve-wracking and time-consuming when running a business. Thus, we can utilize dropshipping automation software to lessen the bulk of work when monitoring dropshipping profits and expenses.
With the help of the Profit, Expense & Finance Calculators, we can be more confident that our dropshipping business is gaining and not losing financially.
15. eBay Fees Calculator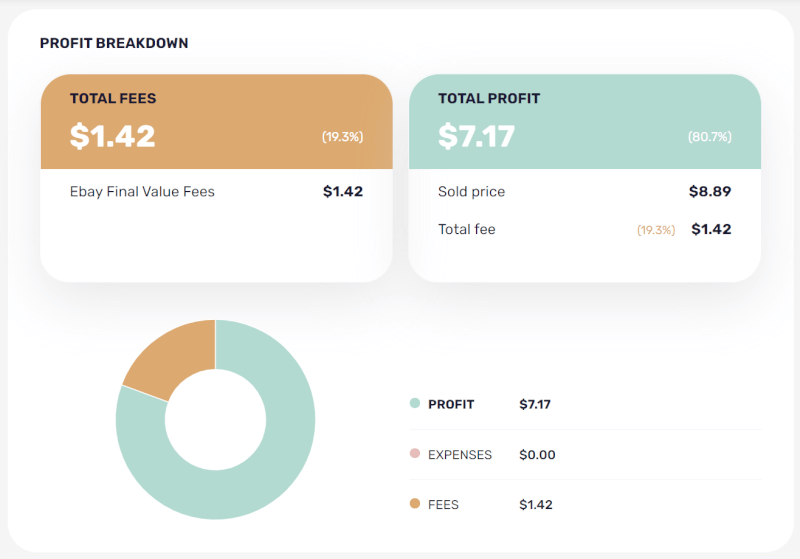 Next, we have the AutoDS eBay Fees Calculator. While not technically dropshipping software, this is a promising tool that helps us manage prices and profits on our eBay dropshipping stores.  Specifically, the eBay fees calculator offers:
Accurate profit calculation

Expense monitoring

Compatible with most product categories
When dropshipping on eBay, we pay selling fees that cut our profit margins. For instance, eBay gets between 1.5% and 12% as a final value fee. The percentage depends on the type of our store subscription or the kinds of products we sell.
To address this issue, the eBay Fees Calculator lets us accurately compute possible profits by factoring in all possible related fees. Using the eBay fees calculator entails inputting the selling price, shipping cost, and other expenses of a product into the appropriate fields. After entering all possible costs, and our account type, the calculator computes the expected profit for the product.
16. BeProfit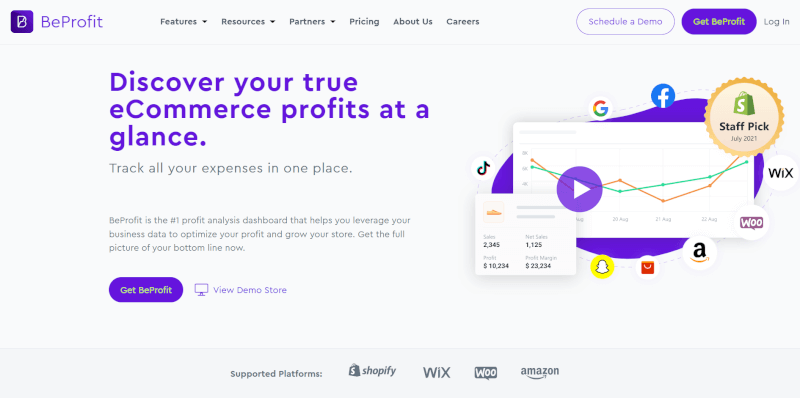 Dropshippers can now conveniently track expenses they incur and profits they gain with BeProfit. This profit calculator aids in the optimization of our earnings and the expansion of our business through these features:
Precise profit analysis

Ad spend tracking

Easy data access

Full customization

Seamless integration
BeProfit helps us assess the performance of products in our stores to see which ones work best for our business. As such, the software's tracking system helps us monitor our ad spending by automatically syncing with popular advertisement platforms.
Additionally, BeProfit gives us the freedom to create and export financial reports, add new shipping details, and customize our stores' information. Using this dropshipping software, we can schedule the receipt of our financial statements directly to our emails. Furthermore, BeProfit's integration with AutoDS gives Shopify dropshippers the powerful combination of fully automated selling and easy profit maximization.
Product Title Builder
Generally, a product title plays a crucial role in attracting customers. For one, a title must contain search engine-optimized keywords that make the product relevant in customer searches.
To help us establish a professional and enticing product title, let's explore our product title builder dropshipping software below.
17. eBay Title Builder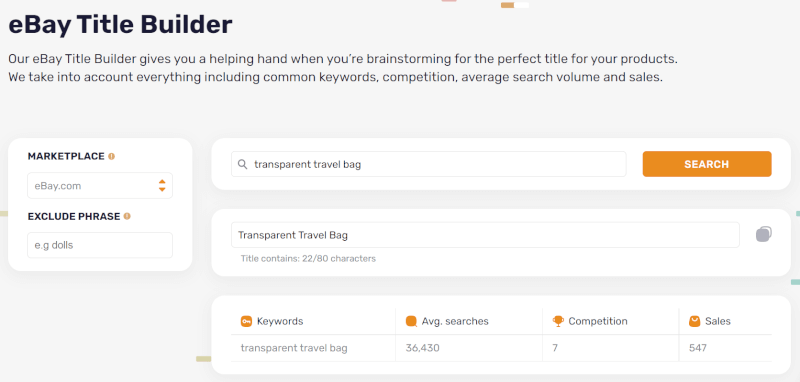 Our last dropshipping software on the list is eBay Title Builder. To know more about this tool's features, we'll explore them next:
Optimized product titles

Keyword analysis

Competitor keyword ranking
With the eBay Title Builder, we can create optimized product titles for our items. Remember that optimization is crucial, as we need to create search engine optimized (SEO) product listings. As such, we can ensure that our products are on top of customer search results using relevant keywords.
On that note, this tool performs keyword analysis to ensure that our titles rank higher than our competitors. Likewise, the system analyzes search volumes and sales for related tiles or keywords. This way, we can adapt and improve optimized titles to welcome increased traffic and huge sales.
On a final note, this tool isn't only relevant for eBay's selling channel. In fact, we can also utilize keywords to generate powerful listing titles for other selling platforms.
Frequently Asked Questions
What Is The Best Dropshipping Software?
In general, numerous dropshipping software is available in the market. However, we must pick the most efficient and reliable tools to help us scale our business. To mention some excellent choices, we have AutoDS, Chargeflow, Zik Analytics, and Koala Inspector.
Do I Need To Use A Dropshipping Software?
Yes, you need dropshipping software to ease everyday tasks in running your online venture. Plus, these tools maximize the full potential of your dropshipping business. In fact, we can stay ahead of the competition with faster, more accurate, and easier-to-use dropshipping tools. 
How Much Do Dropshipping Software And Tools Cost?
There is much dropshipping software that is free to use, such as the AliExpress Dropshipping Center, Hatchful, Koala Inspector, and more. Meanwhile, dropshipping software offers paid subscriptions to gain full access to complete features. For instance, at $1 for a seven-day trial, AutoDS allows us to establish our dropshipping career while automating our stores toward massive profits.
Conclusion
Way to go! We have learned about the best dropshipping software and its respective functionality and benefits. Unless we want to spend the whole day manually managing our online stores, we must utilize dropshipping tools to help us run our business.
What's more, using a combination of dropshipping software gives a significant competitive edge and increases profits. Therefore, we must select the most suitable software according to our business needs. As a result, we can start leveling up our dropshipping career in no time.
Continue expanding your dropshipping horizons with the help of insightful content. With that said, here are some ways to further bolster your success and optimize your dropshipping experience: