Everyone in the eCommerce industry waits all year in anticipation for Q4. It's the end of the year, the holiday season is upon us, and online spending is doubled compared to Q1-Q3. The best time to be in the eCommerce business and enjoy its fruits is Q4, and that time is now.
Therefore, in this article, you will find a full guide about dropshipping in Q4, from why it's important to dropship during Q4, why this year is more special with the Coronavirus pandemic still around, and what Q4 dropshipping products to sell during the holiday season.
The Importance of Dropshipping During Q4
Dropshipping during Q4 is the most profitable time of the year. New sales records are set every year compared to the year before, and it's continuing to grow. 
To show you what we mean, let's talk numbers. Did you know that the 2019 US Holiday Season surpassed the $1 trillion mark in sales for the first time? Now, check out this graph showing the expected holiday spending comparing between online and in-store purchases: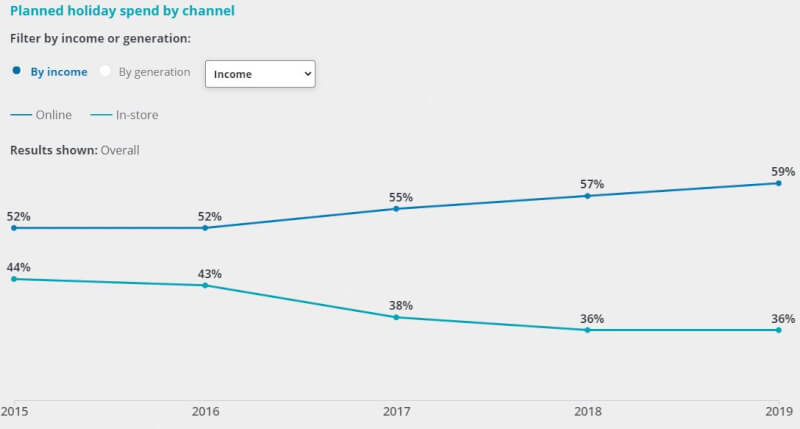 Online spending stands high at 59%, while in-store trails behind at only 36%. Mix that with the sharp transition to online shopping this year due to COVID-19, and expect even a bigger difference between the two.
Also, in the 2019 holiday season, a total of $2.3 billion was spent on average. That's a whopping $200 million increase from the previous year. In addition, 65% of buyers search for their holiday products online. So we already know that the majority today prefers to order their holiday goods online, which took a giant leap over in-store shopping.
Check out this graph showing what AutoDS users experienced in 2019 during the holiday season.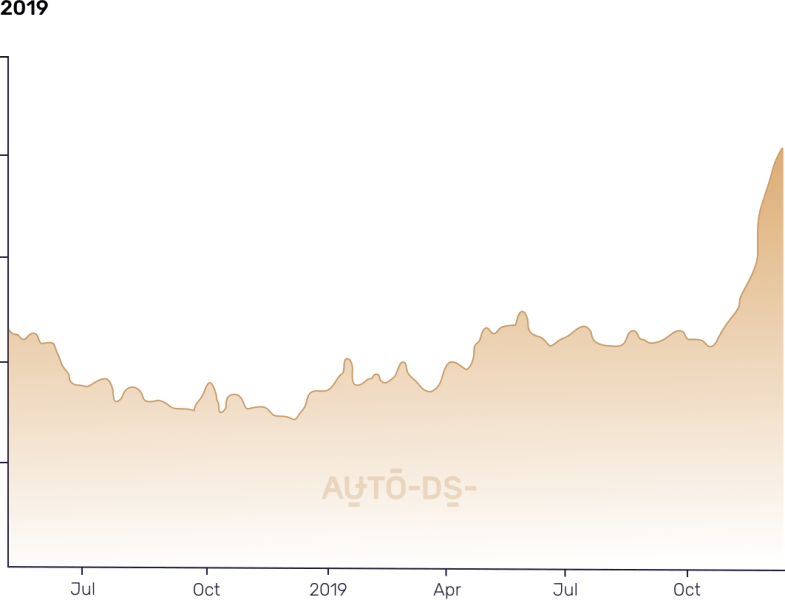 Furthermore, the average order value during the holiday season is $152.95, with an average family spend of $1,496. Not only do shoppers spend more during the Q4, but also the average spending amount is much higher than it is compared to the first three quarters of the year, which makes it the most profitable time of the year.
How Coronavirus (COVID-19) Is Impacting Ecommerce and Dropshippers?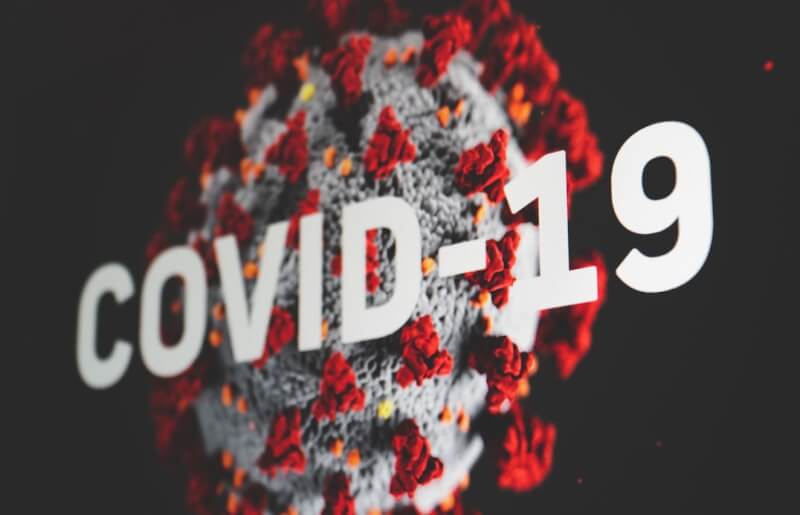 This year has been nothing short of amazing surprises, none of which anyone could have expected. When COVID-19 became a worldwide threat in March, the whole world came together to fight the spread through isolation. 
Physical stores started closing down and are still closing down to this day, and the majority of the shopping switched to online stores. On the one hand, many people lost their jobs. But on the other hand, eCommerce took a giant leap forward. Here in AutoDS, we noticed the sharp increase in sales, along with all of the dropshippers. To emphasize the subject, Lior Pozin, the CEO of AutoDS, posted a weekly sales graph of all of the dropshipper's sales during the peak in mid-March: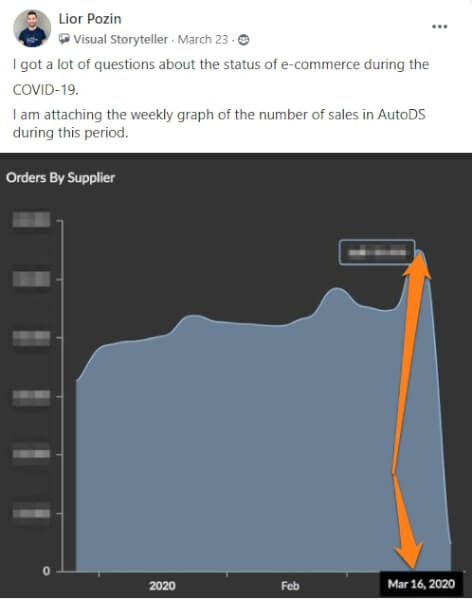 Everyone in the eCommerce business noticed the rise in online sales during March – until today and counting. And we're not just talking about the dropshippers. Ecommerce giants like eBay have been showing their support since March, offering bonuses every month to help sellers generate more sales and profit during this long period.
First, eBay announced that they are protecting the sellers' performance during COVID-19, so late shipments would not count or affect seller performance, as they understood that shipping carriers are experiencing significant delays. Buyers understood the situation, and sellers remained unharmed. 
Then, on March 23rd, eBay surprised everyone with a bonus of 100,000 free eBay listings to anyone with a store subscription until the end of April. This added bonus is to motivate sellers to test tens of thousands of new products and become successful sellers during the pandemic. 
For dropshippers, this is a goldmine, as the dropshipping business model doesn't include holding and paying for physical inventory. So testing thousands of listings comes with a 0$ fee.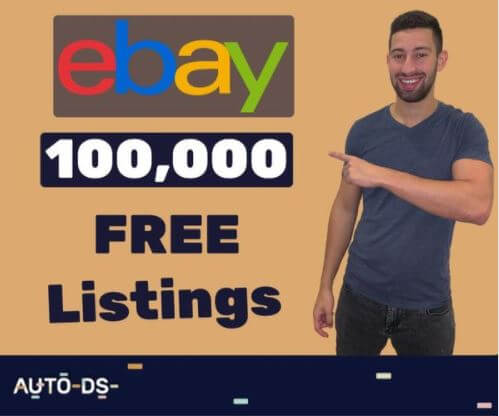 If that wasn't enough, eBay continued to show their support during May, June, and July by offering 50,000 free eBay listings for anyone with a store subscription. All of these bonuses save hundreds of dollars a month on store subscriptions, and anyone who took advantage of these promotions took their dropshipping business to a whole new level.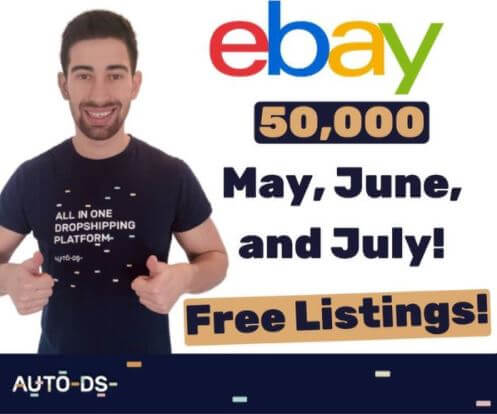 eBay supports sellers during difficult times, and they help them make it more profitable than before. Offering tens of thousands of free listings proves that they are supporters of the big numbers rule strategy, and anyone who implemented it during this period has felt the difference.
Also, we released an article about what to sell during the Coronavirus period, where we shared all the niches that will help you maximize your profit even more during COVID-19.
To hear from sellers firsthand, Lior posted a poll on the AutoDS Dropshipping Community Facebook group asking what sellers did to their dropshipping business during the pandemic. 79% stated that they scaled their dropshipping business, 15% slowed it down, and less than 1% didn't make any changes.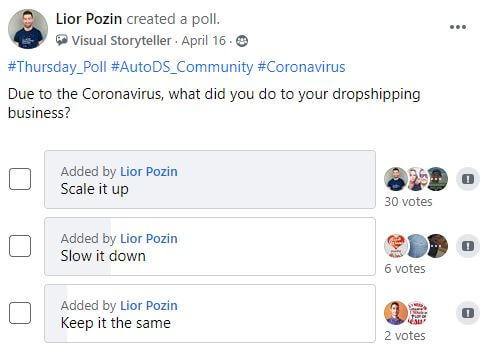 This comes to show that most sellers are making the right decisions for their online business, knowing when is the right time to scale and taking advantage of situations to maximize their profit.
What To Expect During The Coronavirus Year Q4 Holiday Season?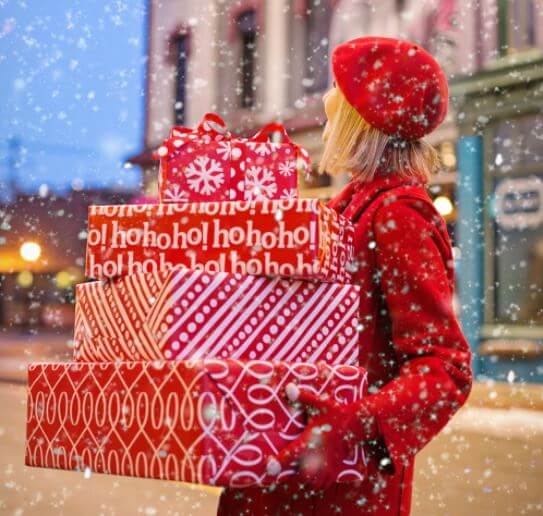 As if the numbers weren't already through the roof during each holiday season, mix it with consumer behavior since the start of COVID-19, and you have yourself a cocktail for a new level of success. Here are a few things to expect this year with eCommerce taking impressive leaps forward.
Many people send gifts to their loved ones during the holidays. This year, 88% plan to continue purchasing gifts online and sending them to their beloved.
Not to mention tens of thousands of newcomers to online shopping this year, due to physical stores shutting down because of the pandemic. 
Furthermore, from the same survey above, 52% of the Americans switched to cooking from home since the start of the crisis, giving strength to the kitchen and cooking niches. 50% have changed their outdoor habits to spending more time at home, giving strength to the home entertainment niche. 36% started exercising from home, strengthening the home fitness niche. 
Usually, more than 25% of holiday spending goes to socializing away from home. But this year will be different. There will be fewer flights, less dining out, fewer staying at overnight resorts. 
All of these new habits and changes due to the unexpected Coronavirus help fuel the increasing numbers in eCommerce and the dropshipping industry. 
So, what should you expect this year in numbers? For one, retail spending is expected to increase by 3.4% to a total of $1.042 trillion, a number almost impossible to grasp. On the other hand, eCommerce is expected to increase by 13.9%, reaching $156.69 billion. That's a huge increase comparing to retail spending and shows you in which direction online shopping is heading.
Where Do Buyers Spend During The Holidays?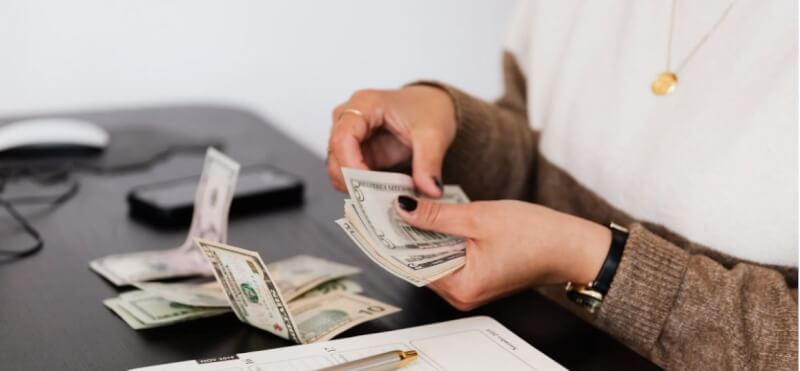 This holiday season, buyers will spend a lot more money on home and personal items, and much less in outdoor categories. 
Deloitte's report on holiday spending shows that the leading category is Clothes and Accessories (clothing, footwear, jewelry, etc.) with a 26% total share of the holiday spend. That's more than a quarter of the buyer's holiday shopping basket. 73% of total shoppers will buy products from this category, with an average spend of $387 per buyer.
Coming in close at second is the Food/Beverage/Health category with a 20% total share of the holiday shopping basket. 70% of total shoppers will buy from this category, with an average spend of $310 per buyer. 
Third place is Toys & Hobbies, with 17% of the total holiday shopping basket share. 64% of the buyers will buy from this category, with an average spend of $299 per shopper. 
Next is the Electronics and Accessories category (computers, tablets, smartwatches, etc.), with 15% of the total holiday basket share. 47% of the shoppers will buy from this category, with an average spend of $348 per shopper.
The Home and Kitchen (home improvement, kitchen appliances, furniture, etc.)  category is expected to take 9% of the holiday basket share, with 36% of total shoppers buying from this category.
The average spend is $280 per buyer. The rest of the categories will come in with 13% of total holiday shopping basket share, with 36% of total shoppers buying from them.
The average holiday spends on the rest of the categories is $418 per buyer. Therefore, make sure that you are listing Q4 dropshipping products within these categories while exploring new niches that you haven't tested before.
Which Holidays Are Coming Up, and When?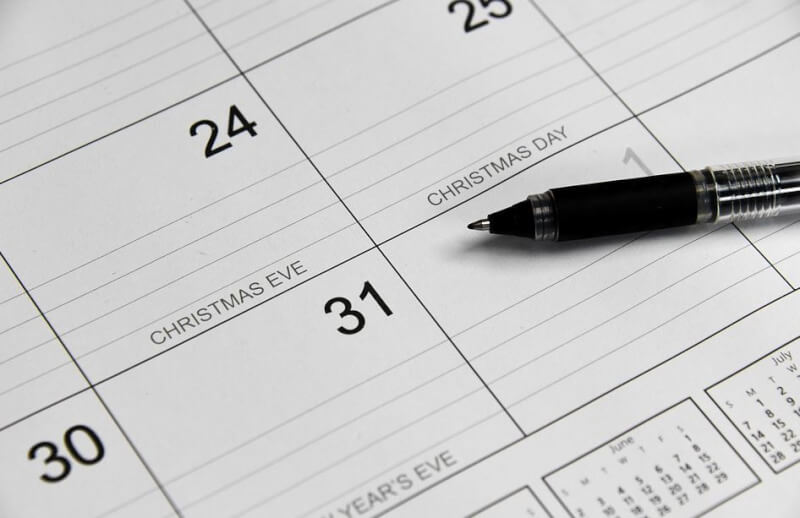 1. Halloween (October 31st, 2020)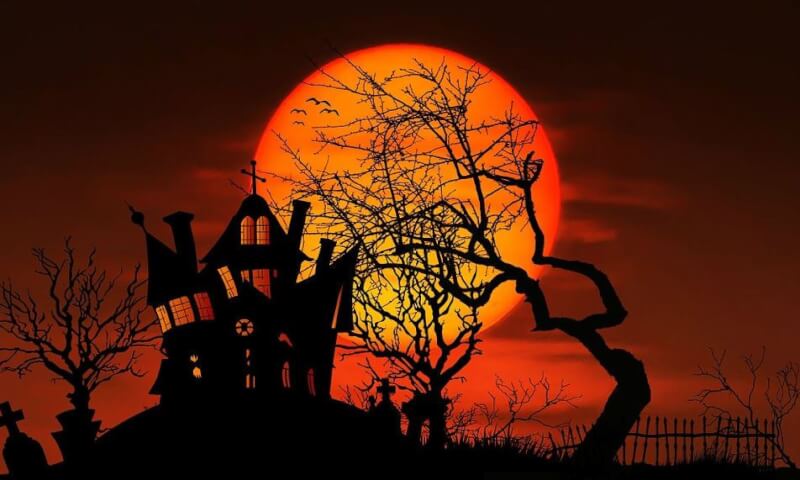 Halloween, the spooky holiday that everybody loves will occur on October 31st, just as it does every year. There is a lot of crazy holiday spending prior to Halloween, and it's not just on Halloween masks. 
To make the most out of this coming Halloween, read and implement the top Halloween products to sell on your dropshipping store in 2020. It is full of insight and Q4 dropshipping products ideas that are trending, and which have proven themselves in sales during the previous years at the same time. The sooner you prepare, the better!
Here's a sneak peek at hot products from the guide: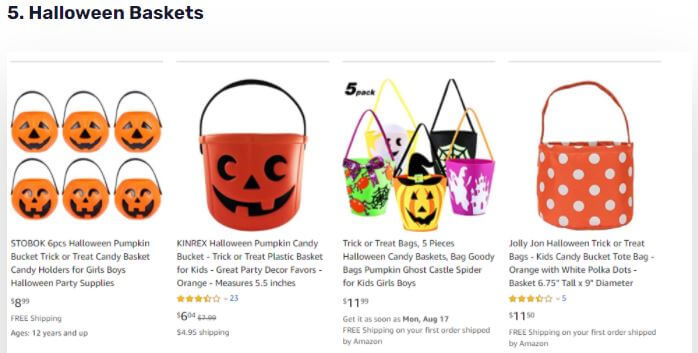 2. Thanksgiving (November 26th)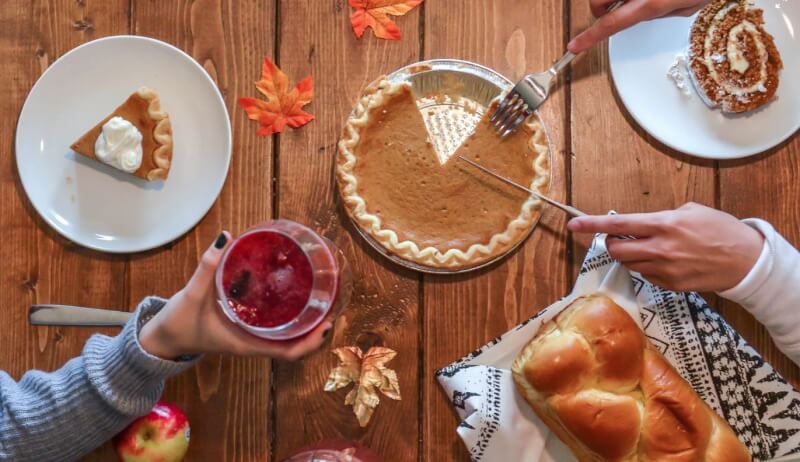 The first holiday in line for Q4 is Thanksgiving, which will occur on November 26th, 2020. After experiencing a huge increase in sales from the year before, Thanksgiving-related products will continue to sell like crazy this year, too. With larger numbers, given all of the information you read until now. 
If your store is not ready for Thanksgiving yet, start preparing for it now and stay ahead of your competitors. We released a guide on which products to sell during Thanksgiving to help you make this year more successful than before. Here's a small taste of hot and trending Q4 dropshipping products which you will find: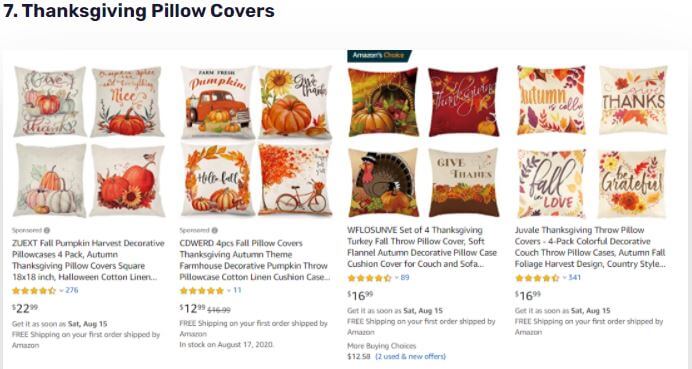 3. Black Friday (Nov 27th) and Cyber Monday (Nov 30th)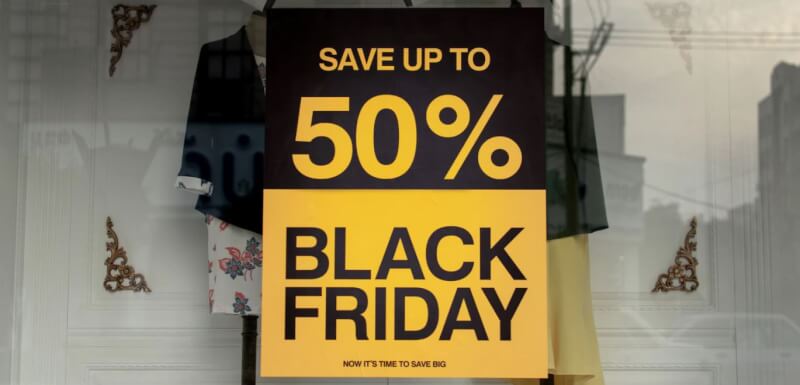 Black Friday (November 27th), followed by Cyber Monday (November 30th), are two of the biggest shopping events worldwide. They occur right after the Thanksgiving holiday and are all about offering enormous discounts to the consumer, in every category.
It started as a retailer's way of getting rid of inventory at the end of the year, and to make room for the new year. Since the consumer's buying behavior grew dramatically during this time, Black Friday was quick to make its way to eCommerce. Cyber Monday is to follow, giving buyers and sellers an extension to continue raking in the fruits from the discounts and sellouts.
Preparing for these two events is not an easy task, but it's definitely worthwhile. To help you prepare, check out the ultimate guide to dropshipping during Cyber Monday and Black Friday in 2020. The guide is packed with information on preparing your dropshipping stores, as well as Q4 dropshipping products to make a killing this year.
For example, did you know that Baby Nail Trimmers are a rising trend? All that and more.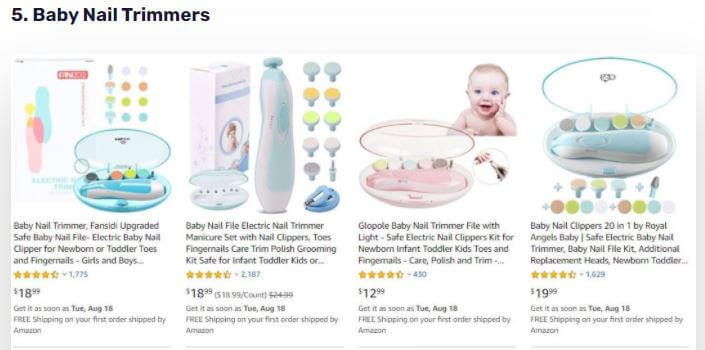 4. Christmas (December 25th, 2020)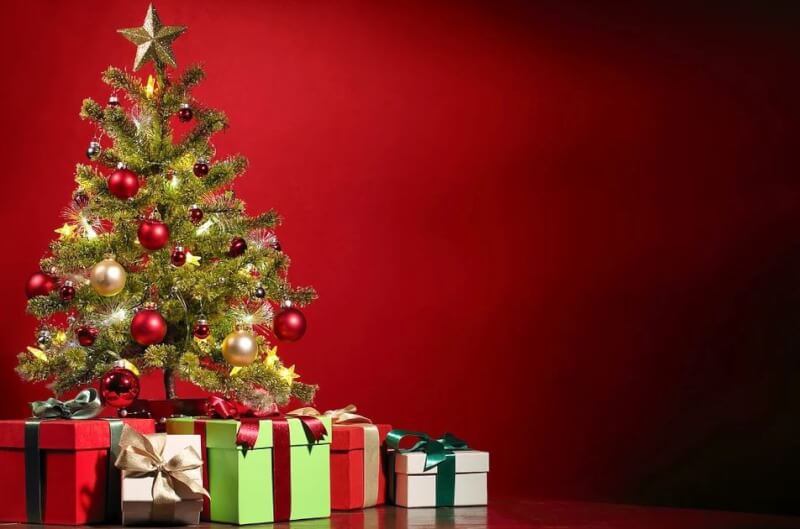 Last but not least is Christmas, which will occur on December 25th. Santa Claus will be extra generous and digital this year with the rise of eCommerce mixed with Q4 holiday season spendings. 
Many Christmas-related products and gifts are bought every year before the holiday. And this year will be more special than ever before. Check out the full list of product ideas to dropship during Christmas Holiday in 2020. The Christmas guide is full of tons of hot and trending Q4 dropshipping products ideas.
This fourteen-minute read will feed you with valuable information to spike your sales this Christmas, and successfully grow your online dropshipping business.
Don't Miss Out On Another Holiday!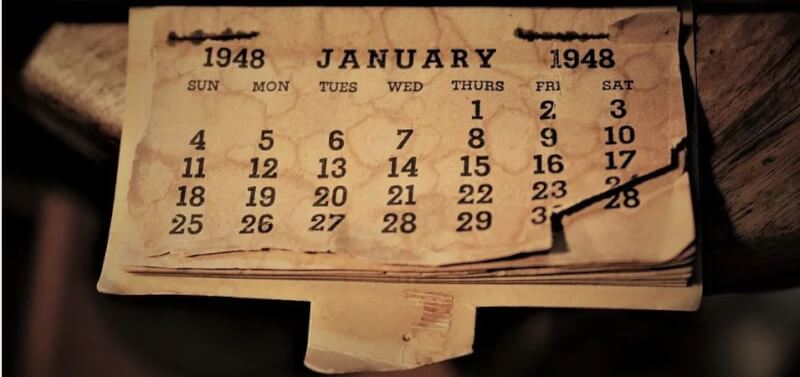 It's hard to keep track of every holiday and prepare for it on time. Many dropshippers tend to forget about them and realize it at the last minute. By then it's too late, as the other sharks swimming in the water are way ahead of you.
However, the eCommerce Calendar will make sure that you never miss out on holiday events. It's completely free and is always updated. Get your calendar now, and start planning now for 2021. We already got you covered for the remainder of this year in the guide above.
In Conclusion
There's still enough time to prepare for the coming Q4 holiday season. If you act now, you can take advantage and profit from each one of them without the feeling of missing out after the holidays are over. 
You have full Q4 dropshipping products, guides, and strategies above to make this Q4 the most successful and profitable one yet, with more than enough information to break your records this year. Plus, an eCommerce calendar to not miss out on future holiday opportunities. 
As you can tell, this year is different. The Coronavirus has changed consumer behavior, which is now leaning heavily towards online shopping. The dropshipping industry is at an all-time high, and it's not going anywhere anytime soon. Now is the best time to take action – let's crash this Q4!