One of the highly sought-after categories among online shoppers is the home decor niche. And the best part? As home decor dropshipping products are in-demand and have higher costs, we can set even higher profit margins.
Plus, the dropshipping model allows us to sell products without holding stocks, meaning we can benefit from a low-risk and high-reward business.
With that in mind, we've curated a list of the 23 best-selling home decor products for our dropshipping stores. Additionally, we'll discover the best home decor dropshipping suppliers to source the products from and selling channels to sell them on. So, are you ready to grow your business to new heights? Let's go!
Why Choose Home Decor For Dropshipping?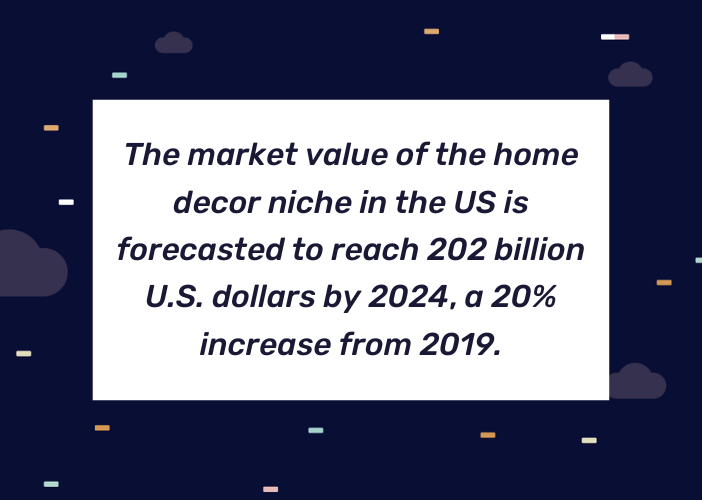 Before listing the items, let's understand why the Home Decor category is worth dropshipping. Essentially, the home decor niche is estimated to reach 202 billion U.S. dollars by 2024. This is a 20% growth from the home-decor market value in 2019, which means this niche has a large profit potential.
Moreover, during Covid, DIY projects were prevalent, with people trying creative and innovative ideas to decorate their homes. As such, this led to an increase in demand for home decor products.
Even after Covid, the home-decor niche remains popular. And catering to this enormous market size combined with the dropshipping model is a recipe for a successful business.
On top of that, we can quickly test products and replace them if they are not selling well. All in all, home decor dropshipping is a lucrative business venture that will help us make a lot of money.
23 Best Selling Home Decor Dropshipping Products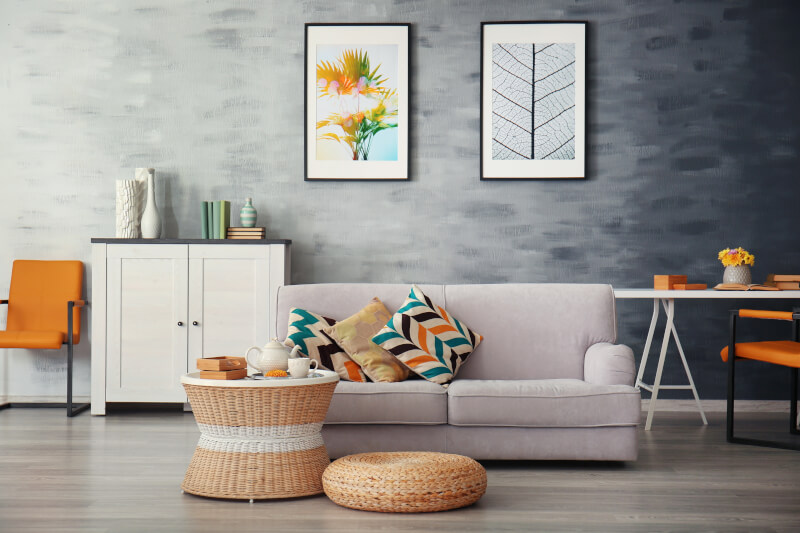 Now that we know the profitability of the home decor niche, let's learn about the 23 best-selling home decor dropshipping products:
Below, we'll see an in-depth overview of each product.
1. Luxury Feather Floor Lamp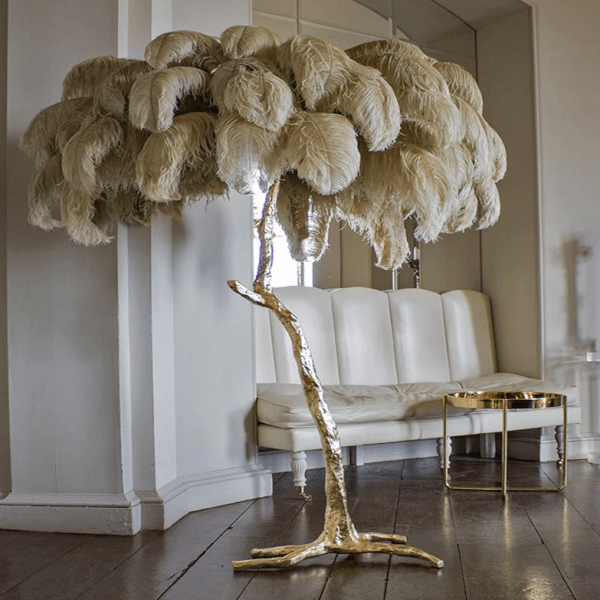 Kicking off the list of best home-decor dropshipping products is the Luxury Feather Floor Lamp. This product is a floor lamp designed as a luxury home decor item.
How significant is the profit potential of selling the luxury feather floor lamp?
Selling price

: $1,930.00

Source price

: $870.86 

Potential profit

: $1059.14
Target Audience 
Gender

: Male, Female

Age

: 21 to 65 years old

Marital Status

: Single, Married

Interests

: Furniture Collectors, Luxury Items Lovers

Economic Status

: Mid to High-income class
Let's take a look at the seller's website, FB ads, and source:
Seller's Facebook Ad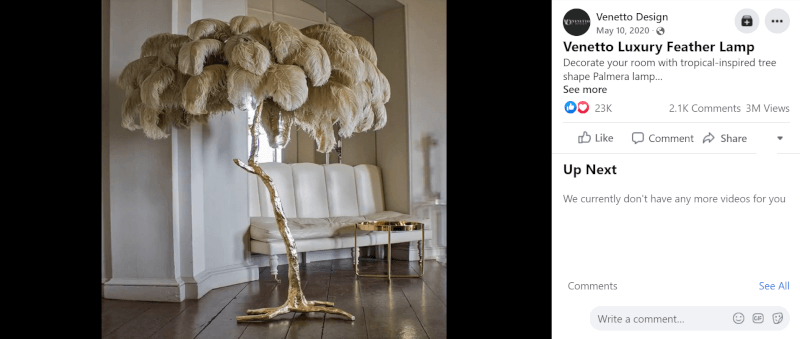 Let's delve into Venetto's luxury feather lamp Facebook Ad. By looking at the engagement, we can assess the success of the advertisement. First of all, the ad has a massive 3 million views. Also, it has garnered over 24,000 reactions and 2.2k comments. Additionally, the ad shows pictures of the lamp in high-end backgrounds to display it as a luxury item.
However, as this is a high-ticket item, we expected to see a marketing video instead of a compilation of photos with background music. So, here we can improve our marketing efforts by providing a high-quality video showing how the lamp works.
Seller's Website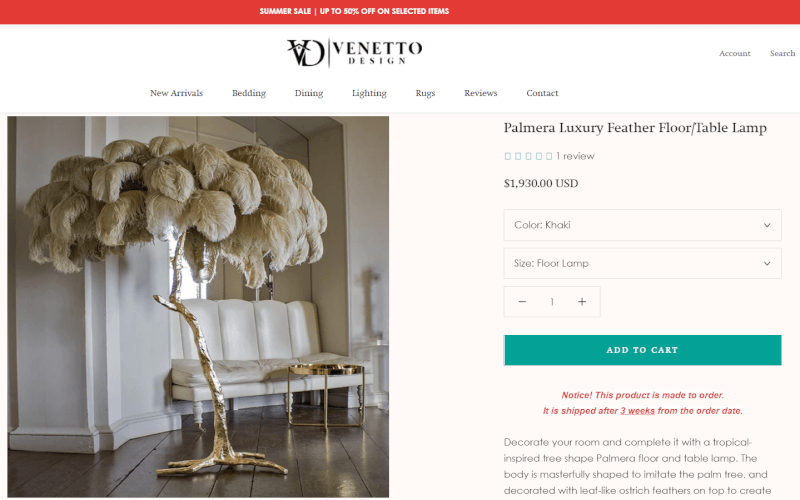 Now, let's analyze Venetto Design's online store. Upon entering their website, we see the product listed for $1,930.00. Also, Venetto Design has done a perfect job creating an upscale feel for the store. By having a minimalistic website, they are focusing on the products to make them stand out.
When we enter their website, we immediately receive a popup titled "spin to win," which offers extra perks to customers. To clarify, these marketing techniques help to increase engagement and, ultimately, our website's conversion rate. Additionally, Venetto Design uses a special offer countdown that encourages customers to buy the product before it's too late.
Supplier's Website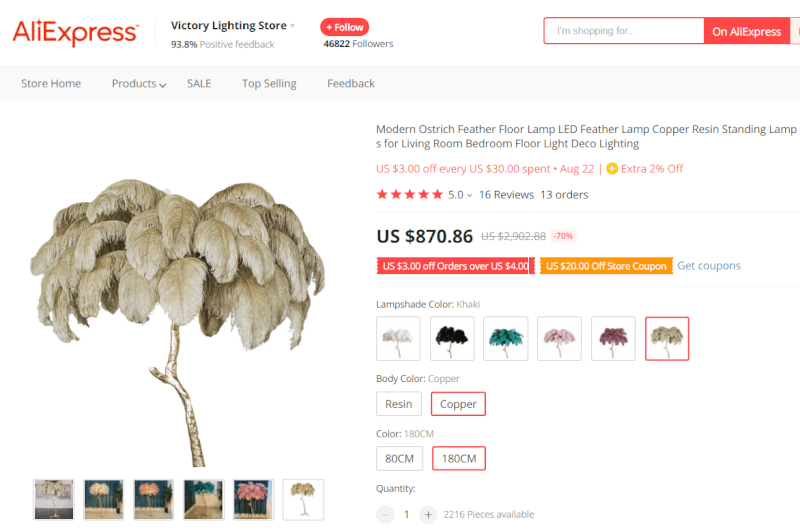 Upon researching, we found the same product on AliExpress. Here we can see the original price for the floor lamp is $870.86. While the supplier provides some pictures of the lamp, most of them don't look professional. To attract more customers and differentiate ourselves from the competition, we must use high-quality images and in-depth descriptions in our stores.
Moving ahead, we can see other details like specifications, product certifications, and composition materials. This is an excellent way to determine if the product is high quality and durable. Besides that, AliExpress offers discount coupons up to $120. Plus, the supplier has an overall rating of 5/5 stars, which means they are reliable.
2. Tiger Eyes Street Art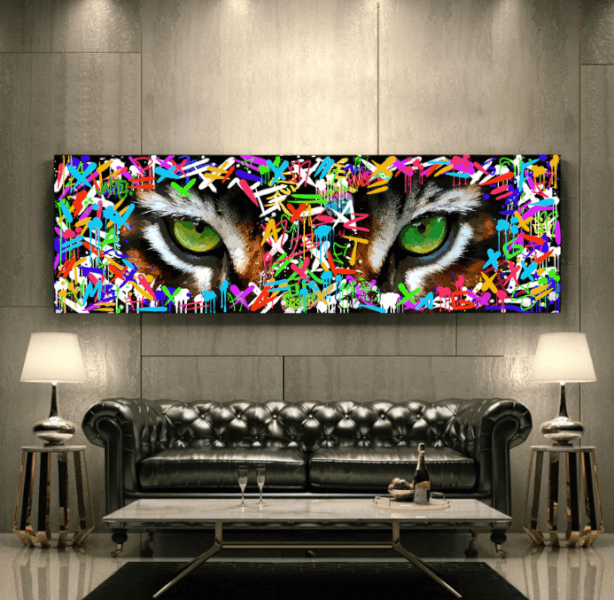 The best way to add a theme to a room is by having a signature picture or artwork. Then, everything else can be added around it later. With that in mind, the Tiger Eyes Street Art home decor product can be a defining piece in our customer's homes.
So, how high is the profit potential of selling the Tiger Eyes Street Art?
Selling price:

$

119.99

Source price:

$41.78

Potential profit:

$

78.21
Target Audience 
Gender

: Male, Female

Age

: 20 to 50 years old

Marital Status

: Single, Married

Interests

: Home-decor, Art Lovers
Let's take a look at the seller's website, FB ads, and source:
Seller's Facebook Ad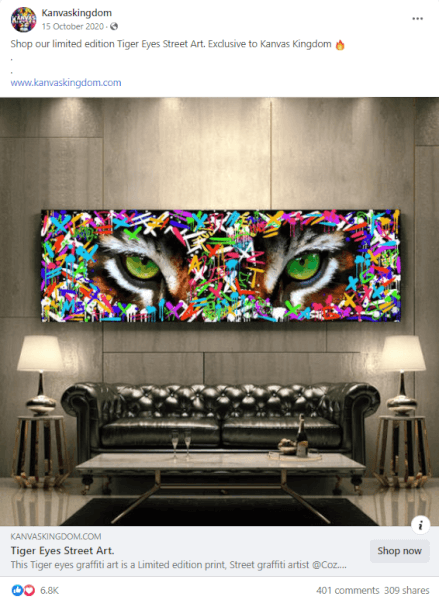 First, let's look at the Tiger Eyes Street Art FB Ad by the Kanvas Kingdom seller. Upon analyzing their ad, we can find attractive images and a catchy headline. On top of that, the ad post features a call to action (CTA) button.
To clarify, we should optimize our titles, descriptions, and images as they help us differentiate our products. And finally, we can increase our conversion rate with the CTA button. Additionally, they have garnered 6.8k reactions, 401 comments, and more than 309 shares, demonstrating a massive interest in the product.
Seller's Website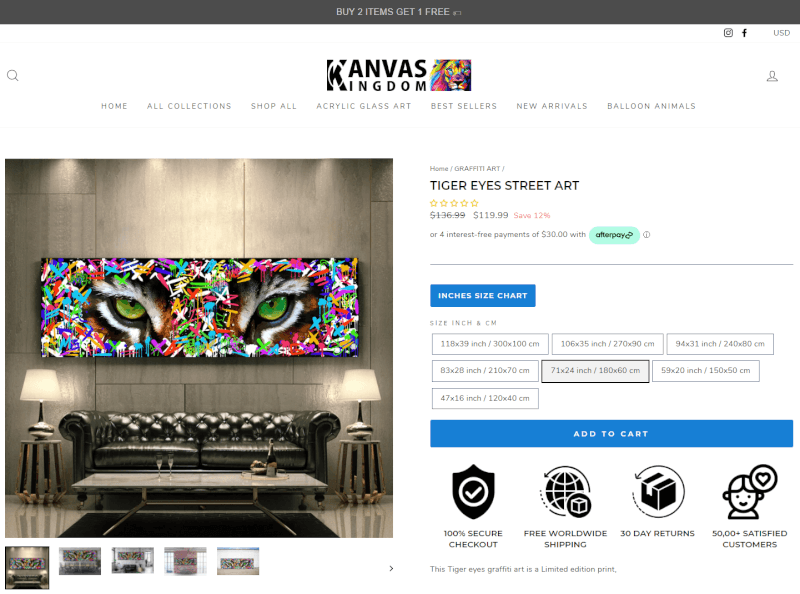 Next, let's head over to the Kanvas Kingdom, where the Tiger Eyes Street Art is priced at $119.99. Immediately after entering the website, viewers are greeted with a popup displaying a 15% discount in exchange for emails. This is called email marketing, where we can use customers' emails to promote our future products.
Plus, the Kanvas Kingdom's website has a minimalistic theme, which gives it a professional look. Besides that, the website also features a "Buy 2 Items Get 1 Free" banner at the top. These banners can increase the average order value (AOV), ultimately meaning more profits in our pockets.
Supplier's Website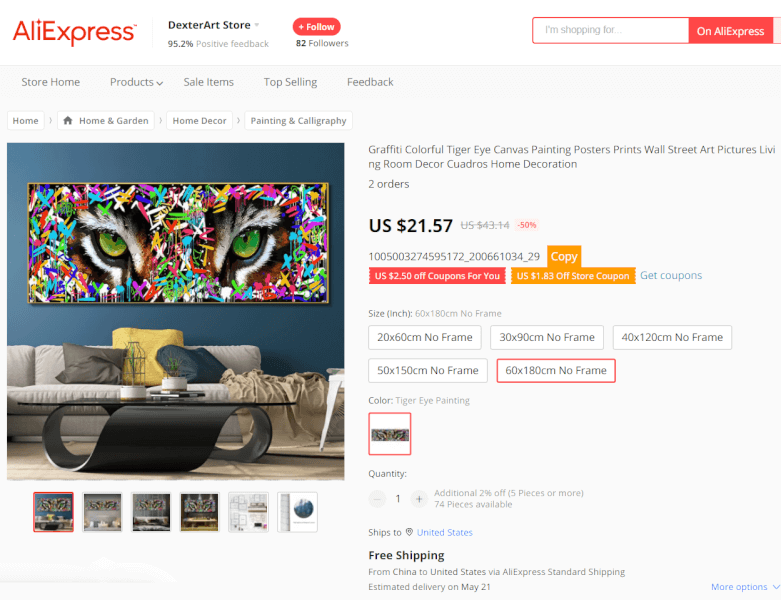 Moving to the supplier's website, we can find the same item for $41.78. Plus, they are giving a discount of $3 for every $30 spent. On top of that, they are offering 2% off on orders above five pieces. Additionally, they are offering the art piece in 5 different sizes. That means they are suitable for different sizes of rooms.
Moreover, the supplier has 91.2% positive feedback. Thus, we can rest assured that the supplier is reliable. While the product has a long title on AliExpress, Kanvas Kingdom has optimized the product title and description to make it look more professional.
3. Luminous Luxury Chandelier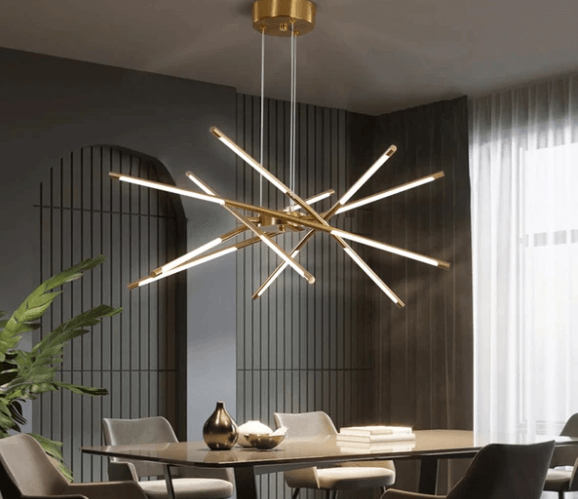 If your customers want something extravagant in their dining room, the Luminous Luxury Chandelier is a perfect product. It is suitable for people who want a high-end interior look to give their home an elegant feel. 
So, how high is the profit potential of selling Luminous Luxury Chandelier?
Selling price

: $707.95

Source price

: $213.15

Potential profit

: $494.80
Target Audience 
Gender

: Male, Female

Age

: 20 to 50 years old

Marital Status

: Single, Married

Interests

: Home-decor, Art Lovers
Let's take a look at the seller's website, FB ads, and source:
Seller's Facebook Ad

While luminous luxury chandeliers are a high-ticket product, Noosh Decor's Facebook ad has an average title and description, and the seller is missing a link to their website. As a result, many people thought the store was a physical store. So, we should provide a direct link to our store or product page for an optimized shopping experience.
Now focusing on the positives, they have an excellent video that showcases the product in a high-end dining room along with pleasant music. Overall, the video performs well, with over 420K views, 4K comments, and 73 comments, meaning the seller attained at least a 2% conversion rate.
Seller's Website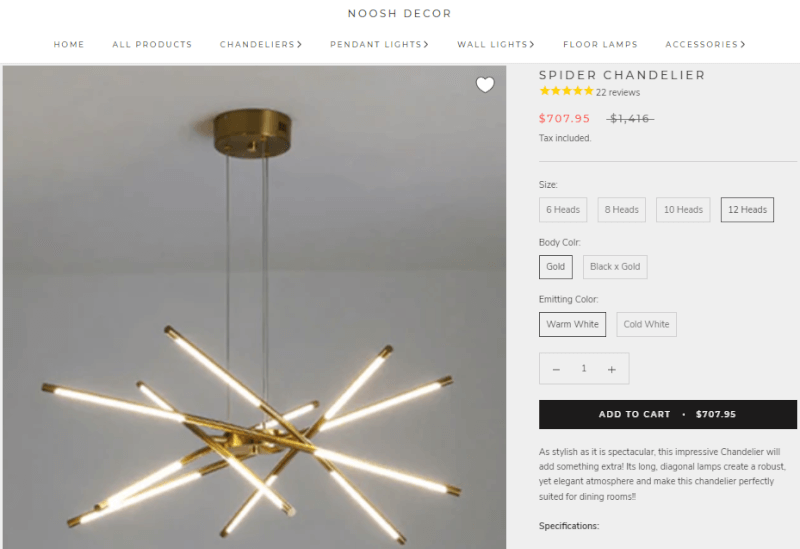 Heading over to Noosh Decor's website, they are selling the Luminous Luxury Chandelier for  $707.95. Additionally, the website offers different designs and colors. To elaborate, offering a wide variety of products increases our sales and customer satisfaction.
On top of that, they offer free worldwide shipping along with easy shipping and return policies. In essence, an easy and detailed shipping and return policy provides clarity for customers and credibility for our stores.
Supplier's Website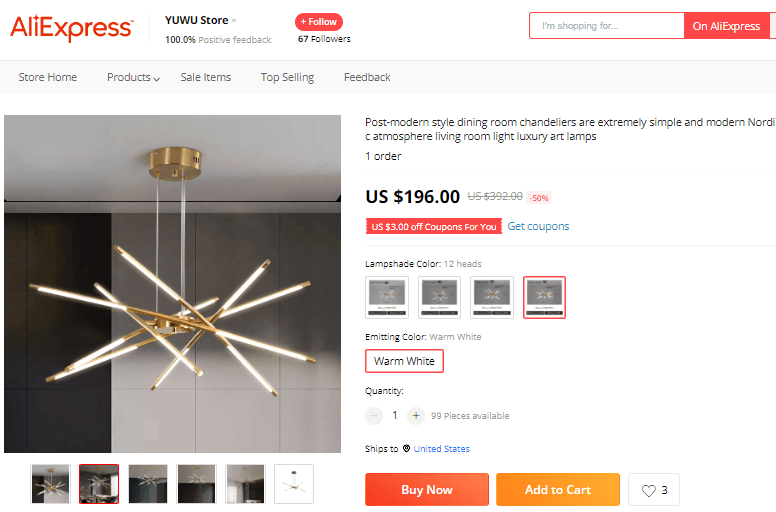 Finally, let's look at the supplier website for the Luminous Luxury Chandelier. On AliExpress, we can source this product for a discounted price of $213.15, including shipping costs. Additionally, on top of the 50% discount, the supplier is offering a $3 discount coupon code.
However, there are no product descriptions. In such cases, we must fill in product descriptions by researching the product or contacting our supplier. That's because product descriptions help our customers know more about the product, further persuading them to purchase.
Beginner's Tip: When listing Luminous Luxury Chandeliers, we should add as much variety as possible in our stores, such as a Chandelier with 8 heads, 12 heads, or a different color lighting.
4. Outdoor String Lights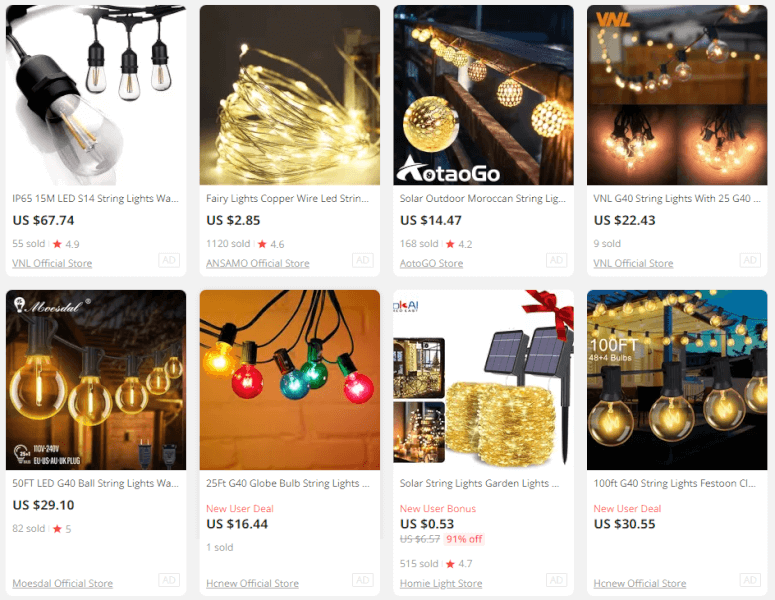 As lighting accessories are perfect for any event, Outdoor String Lights bring out the best of every occasion. This attractive product includes several small bulbs attached via a string. Besides its beautiful design, the bulbs are available in multiple designs and sizes. Since wide selection increases customer satisfaction, we should provide as much variety as possible.
According to Marketwatch, the global String Lights market is expected to reach $637.4 million by 2026, which is a 6% increase yearly from 2018. As for its cost, the Outdoor String Lights are available for $15 to $60 on AliExpress. With the proper selling strategies, dropshipping this best-selling product will result in big profits.
Beginner's Tip: When selling Outdoor String Lights, ensure the bulbs are weatherproof and won't easily shatter. As these bulbs are placed outdoors, we should ensure that we provide a durable product.
5. Wall Letter Signs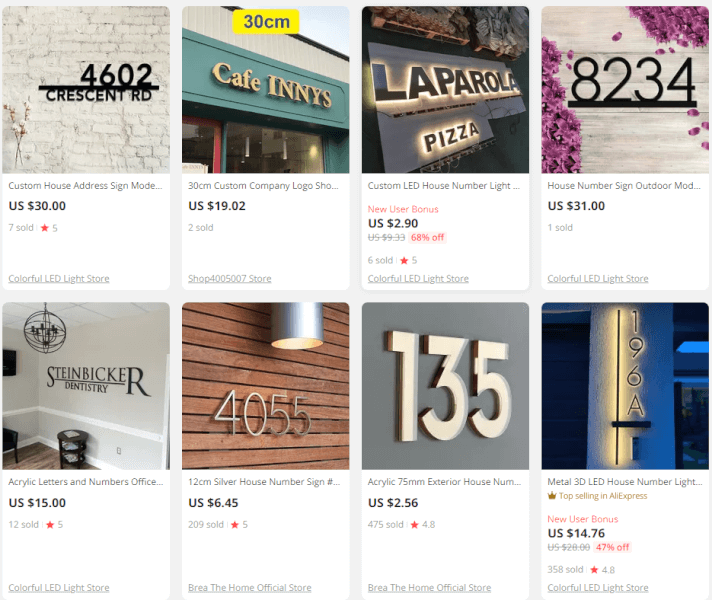 Whether for personal or professional use, Wall Letter Signs are an in-demand home decor product. Wall Letter Signs are made of various materials such as plastic, vinyl, and wood. Plus, they are straightforward to install using adhesives.
Furthermore, the wall decor industry is currently worth US$58.2 billion and is expected to reach US$70.9 billion by 2027. As the demand for wall letter signs is massive, we need to start sourcing immediately! With that said, we can find this product on AliExpress for $5 – $30.
6. Mini Wood Decorative Books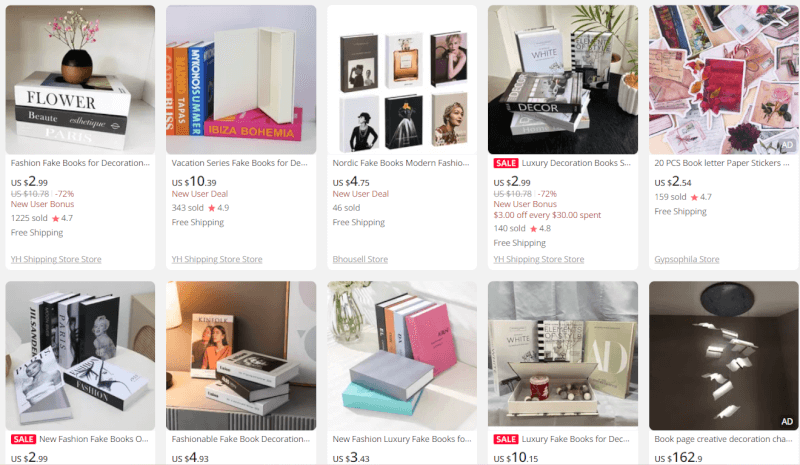 Up next, we have Mini Wood Decorative Books. This home decor item is designed to look like a collection of books. Plus, we can find them in different designs, sizes, and colors. On top of that, they are made up of high-quality wood that deters termites and other wood-eating insects.
Additionally, Mini Wood Decorative Books are available in different sizes and frames. As for its cost, we can source the product for $4 – $50. Because of its popularity, Mini Wood Decorative Books are among the best products to dropship in the home decor niche.
7. Throw Pillows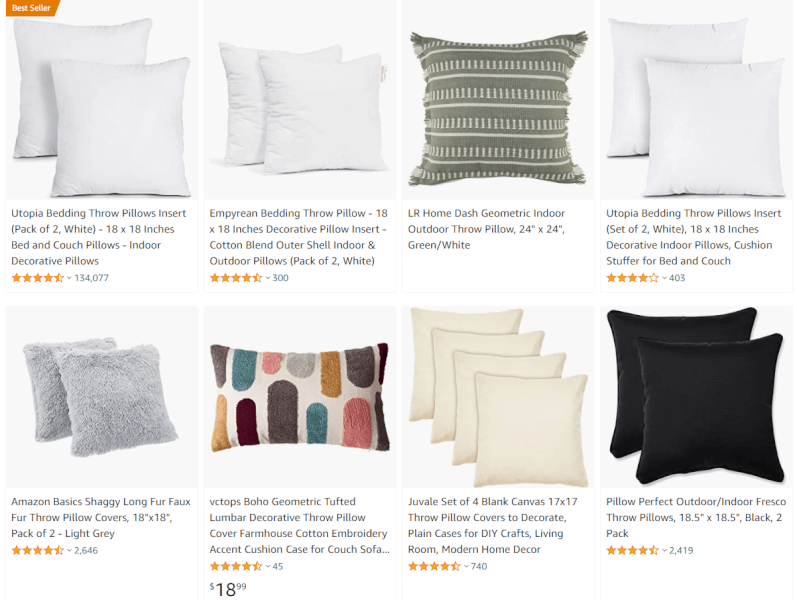 If we want to sell a product that adds a mix of comfort and cuteness to our home, then Throw Pillows will not disappoint. In essence, these products enhance the looks of bedrooms, sofas, and living rooms. Plus, throw pillows are made of down-feather, fiber, or foam, which makes them soft and comfortable to rest on. Furthermore, they can be covered with materials such as cotton, burlap, velvet, satin, and more.
Due to their comfort and elegant look, throw pillows are highly in demand. In fact, the average expenditure on decorative pillows in the United States was $5.21 per consumer unit in 2020. With this in mind, we can source this product from $2 to $30 on Amazon. With marketing efforts, this home decor item can skyrocket our sales.
Beginner's Tip: To increase our profit margins, we can sell throw pillows made of high-quality materials that provide extra comfort. Similarly, list throw pillows covered with high-end textiles such as faux fur, leather, velvet, and silk to increase the perceived value.
8. Thermal Insulated Curtains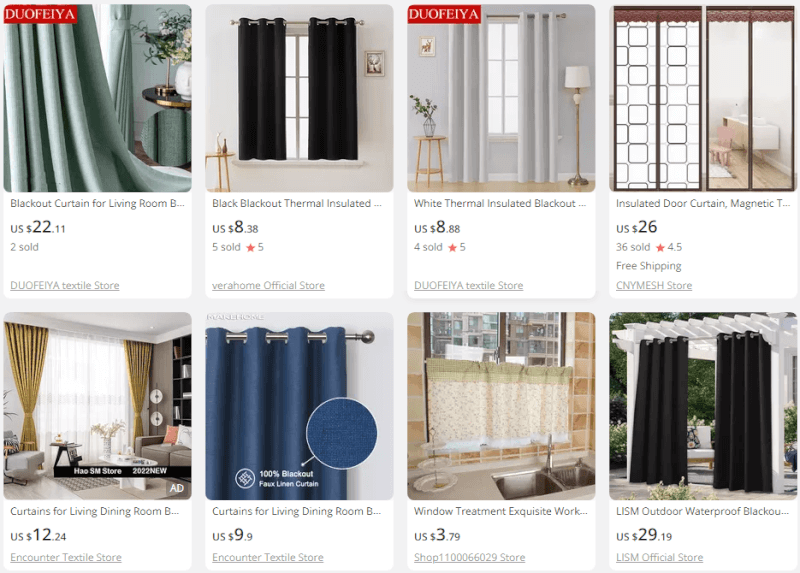 What better way to keep cold air from entering rooms than Thermal Insulated Curtains? These curtains are designed as an insulation layer that doesn't let cold or hot air enter our rooms. Since they are used to insulate rooms, the curtains are made of heat-resistant and cold-resistant materials.
Furthermore, some thermal curtains also feature a double and triple layer of acrylic foam to provide better insulation. Plus, the curtain can vary primarily in fabric type, energy efficiency capacity, and price. Regarding pricing, thermal insulated curtains cost between $15 – $90 on AliExpress.
Beginner's Tip: While we can offer cheaper options to our customers with PVC thermal insulated curtains, we can also provide high-range catalogs such as wool curtains which are more aesthetic and eco-friendly.
9. Picture Frame Set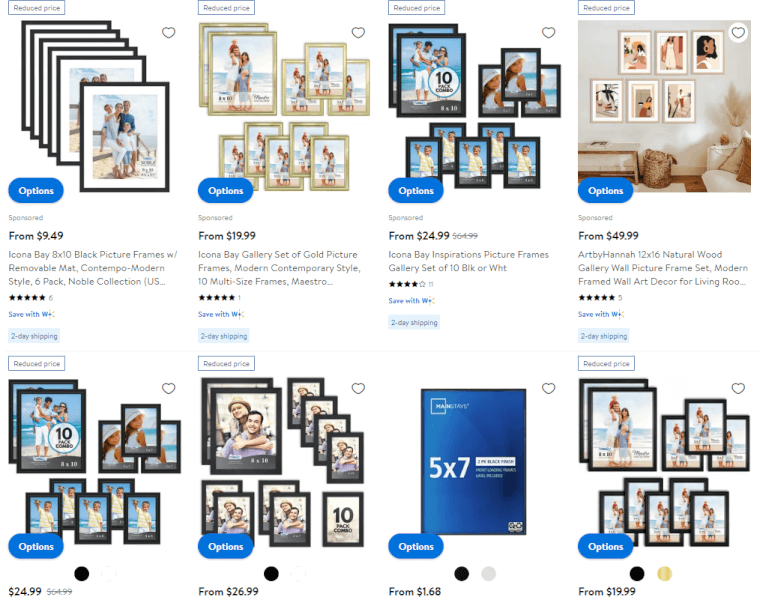 Although photos are stored in devices nowadays, physical frame sets are still trendy. That's because Picture Frame Sets are an excellent way to display unforgettable memories or unique pictures. When it comes to designs, picture frame sets have an endless selection. For example, customers can choose modern or contemporary frames according to their interiors.
Similarly, we can sell picture frame sets made of different materials such as wood, metal, plastic, or glass. According to reports, the picture frame market revenue is expected to reach US$8.8 billion by 2029 at an annual growth rate of 5.2%. With that in mind, we can start dropshipping this product from Walmart for $5-$50. Overall, offering high-picture frames at competitive prices will help us gain customer loyalty and repeat purchases.
10. Rug Pads Grippers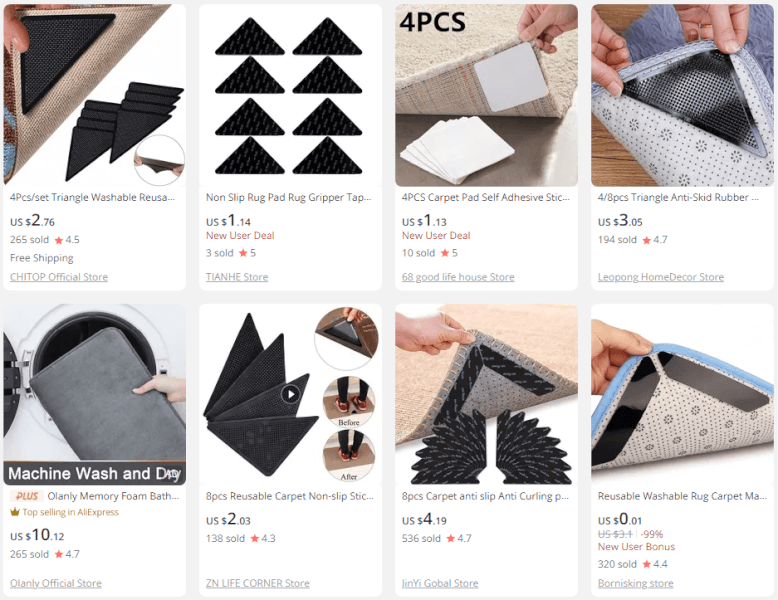 Another home decor product on our dropshipping list is Rug Pads Grippers. This product is mainly used to attach rugs and carpets to the floor to stay in place. Additionally, they are made of durable slip-resistant latex rubber. Plus, the grippers are versatile enough to function on different types of floorings, such as tiles, hardwood, parking, and others.
On top of that, Rug Pads Grippers can be easily removed once used. So, there's no hassle like taking off adhesives from the floors. Along with that, the grippers are washable and have a long shelf life. Whether people need to decorate or protect the floor with rugs, Rug Pads Grippers come in handy. Thus, we can find these products in the price range of $2- $20 to start making profits. 
11. Non-Slip Bath Mat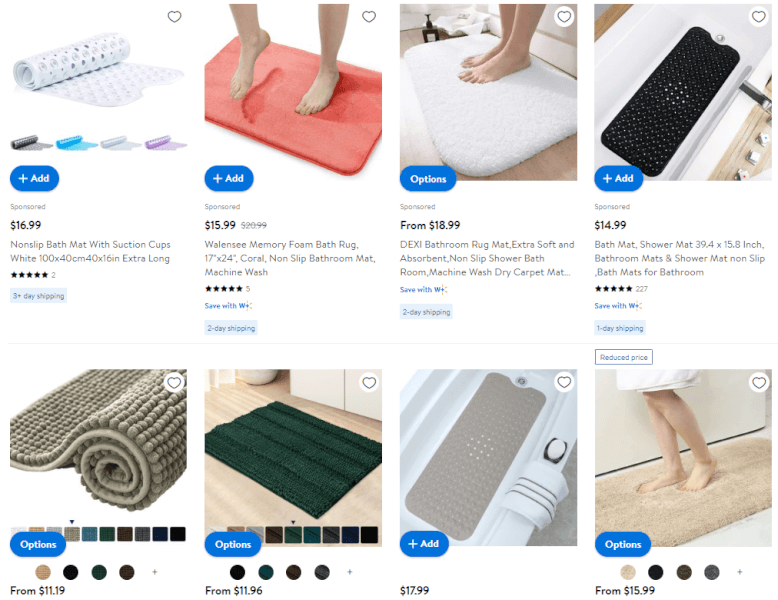 There is a severe risk of getting hurt in bathrooms with tiles or marble floors. So, the Non-Slip Bath Mat is designed to protect people from slippery bathroom floors while adding visual appeal to the bathroom. Generally, we can find Non-Slip Bath Mats in all shapes and sizes, such as oval, circular, square, or rectangular.

Additionally, the non-slip bath mats are made of different materials, such as rubber, bamboo, and polyester. Moreover, the non-slip bath mats are currently priced at $4 – $40 at Walmart. With proper marketing showcasing its sturdy grip and pleasing design, we can increase our conversion rates to maximize our profits.
12. Reversible Sofa Slipcover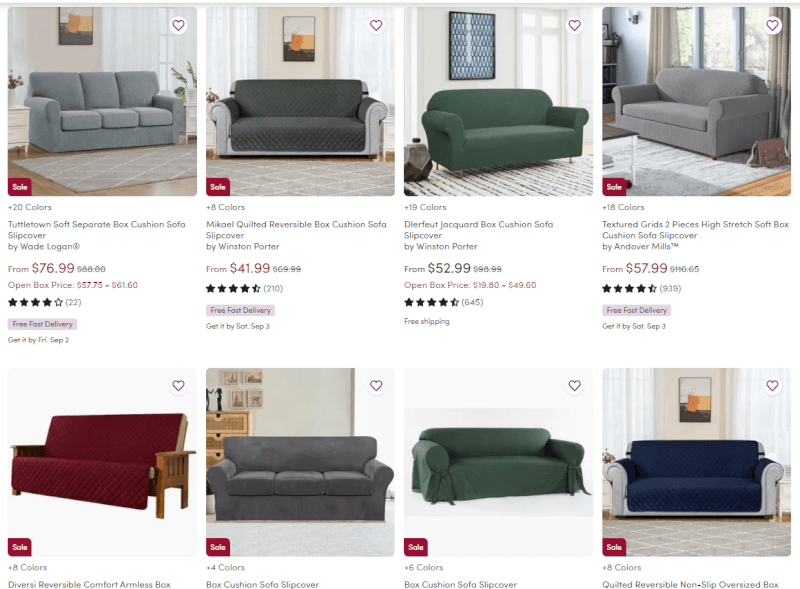 Whether it's an old sofa or a new one, customers can maintain and enhance the look of their sofas by buying a Reversible Sofa Slipcover. Essentially, Reversible Sofa Slipcovers are protective covers for sofas that can be used again by turning them inside out. As it is used as a protective layer, some sofa slipcovers are water repellent, whereas others can be resistant against coffee stains, dirt, scratches, and more.
These slipcovers can come in various designs specific to types of sofas, such as a three-seater or two-seater. While some slipcovers are simple, we can find high-end sofa slipcovers with a luxury feel. Therefore, if we wish to dropship this item, its current market prices range from $5-$50 on Wayfair.
13. Scented Candles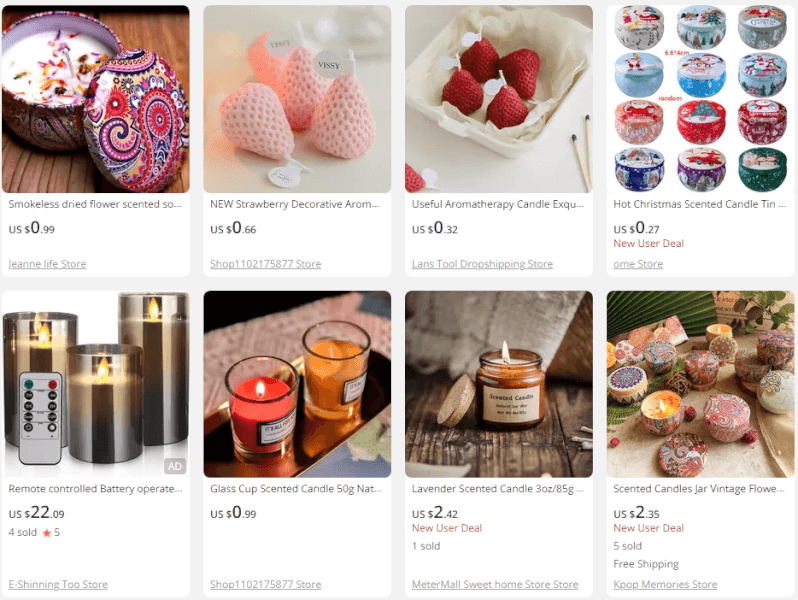 For people seeking to create an ambiance of well-being and relaxation, Scented Candles are a great option. Typically, scented candles are made by mixing fragrant oil with wax, and when lit, they give off a pleasant aroma such as apple, vanilla, chocolate, jasmine, or sandalwood. Plus, the candles do not emit smoke, meaning there is no health concern.
As for its demand,  private label brands of scented candles generated around US$906.6 million in sales in the United States. Meanwhile, scented candles range from $1 to $20 on AliExpress. Although the product has high market demand, they are low-cost products. So, there is plenty of room for profit.
Beginner's Tip: Since health and well-being products have a huge demand, we can focus our store on aromatherapy. In this niche store, we can sell scented candles and other relevant products such as hand-crafted body soaps, essential oils, incense, and bath bombs.
14. LED Moon Lamp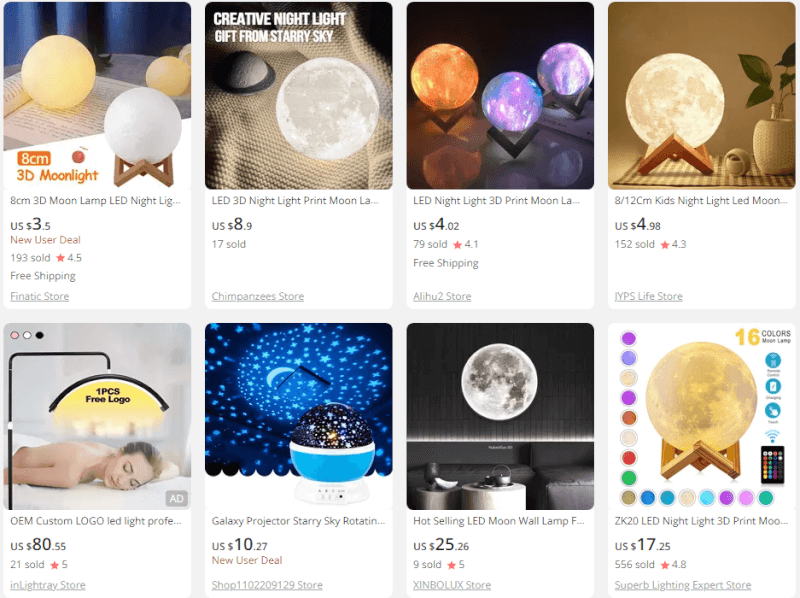 Another excellent home decor addition that is popular is the LED Moon Lamp. This home decor product is a LED Lamp that resembles a glowing moon. The LED Moon Lamp is also easily portable and has long battery life. Plus, the lamp has different light modes, adjustable brightness and comes with a stylish wooden stand.
Currently, we can source LED Moon Lamps for $5-$100 on AliExpress. Since this product is already viral on TikTok, customers are interested in these items. So, we can attract more traffic to our online stores by marketing and dropshipping this item.
Beginner's Tip: Remember to list an automated LED Moon Lamp in our store. The automatic one comes with a remote control that allows customers to operate it from a distance. When we list both types of lamps, we can increase our revenues.
15. Rustic Wall Sconces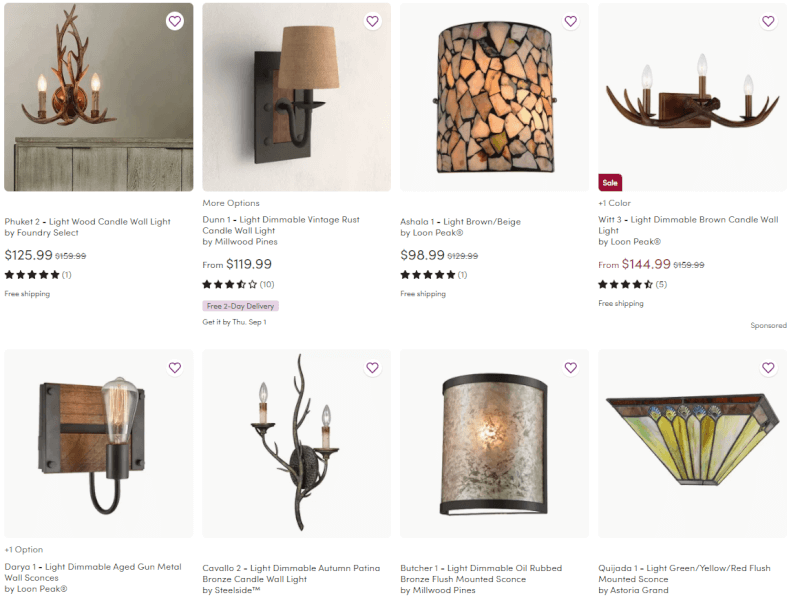 Are you tired of dropshipping ordinary lights with narrow profit margins? If yes, then Rustic Wall sconces are a great product to dropship. Essentially, this product is a great lighting option to add light layers to bedrooms, hallways, and living rooms. But the primary specialty of these lights is their unique designs.
With that in mind, a wide selection of rustic wall sconces is made of metal, plastic, glass, and wood. Additionally, the sconces are available in different retro, modern, or classic designs. So, we should offer a diverse selection of rustic wall sconces to ensure customer satisfaction. Through our market research, we found the same product available for $4 – $100 on Wayfair.
Beginner's Tip: Since most lighting products come with a warranty, look for a supplier that provides warranties on these products. This way, we can offer a warranty to our customers, which helps us gain a competitive advantage over our rivals.
16. Vintage Bathroom Canvas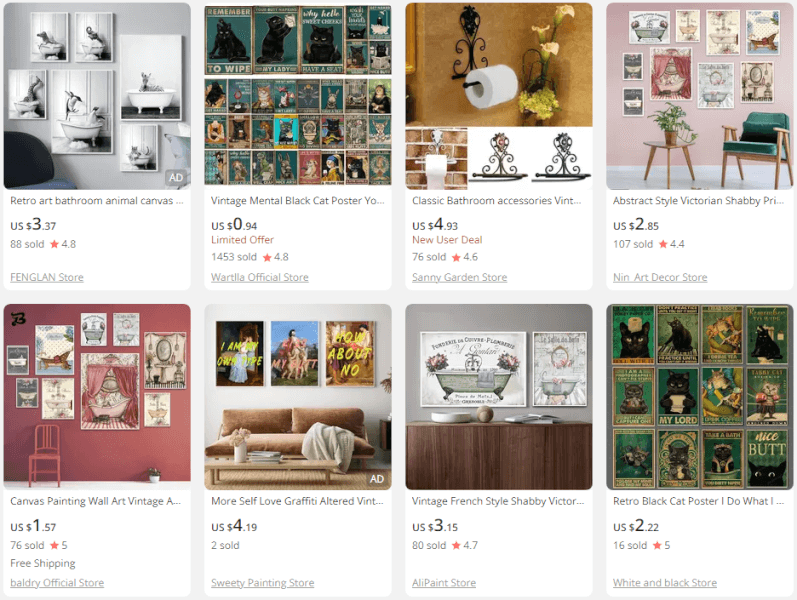 Besides living rooms and bedrooms, bathrooms are an essential space people seek to upgrade. As such, the Vintage Bathroom Canvas can bring the best out of bathroom walls. In general, bathroom canvases can be a painting or printed images. As they are quite similar to picture frames, most are composed of wood, whereas we can also find ones made of metal, vinyl, or plastic.
With that being said, this small yet significant home decor product is highly in demand and comes in a price range of $2 – $25 on AliExpress.
17. Digital LED Clock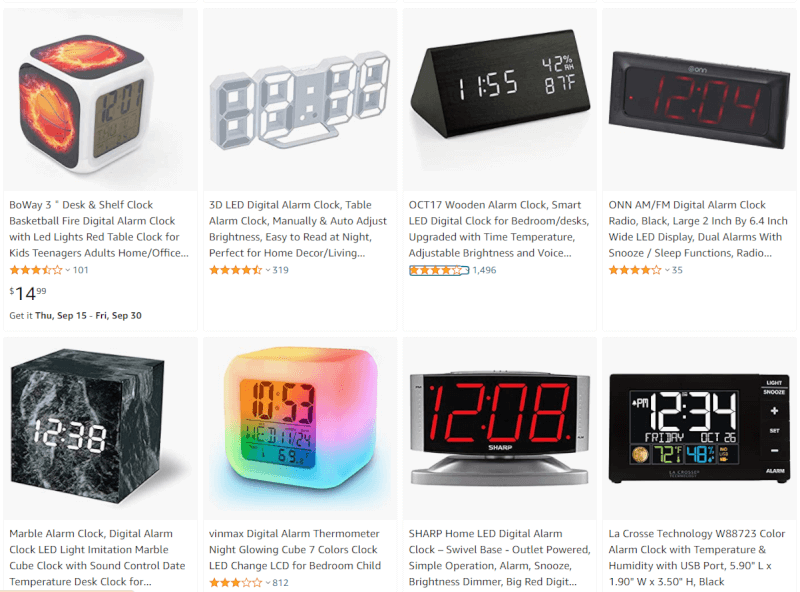 Next, we have the Digital LED Clock, a modern watch that shows time digitally. These clocks can be attached to any wall, desk, or table, which instantly adds elegance and a modern feel to our rooms. Additionally, the Digital LED clock is made of durable plastic, which lasts for a long time. And, to complement their durability, they are powered by a rechargeable battery with a long shelf life.
Moreover, some of them can also include USB ports, mini speakers, and adjustable brightness settings. According to research, the global digital clock market is estimated to reach US$239 million in 2028. So, if we're ready to earn big bucks, then we can dropship this product for $5 – $50 from Amazon. As such, we can reach a broad audience and increase sales by providing a durable, multi-functional Digital LED Clock.
18. Ceramic Flower Vase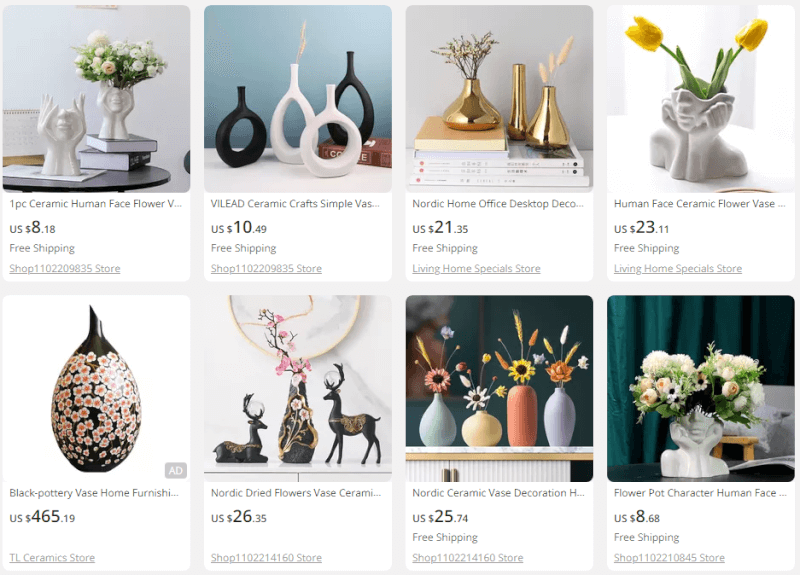 If our customers are after the latest home-decor items, Ceramic Flower Vases are perfect for our catalog. With that said, the Ceramic Flower Vase comes in different colors, styles, and shapes. That means we can add different variations, such as vases with contemporary, modern, or minimalistic designs.
On top of that, ceramic vases are durable, high-quality, and long-lasting. They are perfect for decorating tables, shelves, mantels, dining rooms, bathrooms, or patios. Upon our research, we found that the Ceramic Flower Vases are available on AliExpress for $8-$100.
19. Artificial Hanging Eucalyptus Plant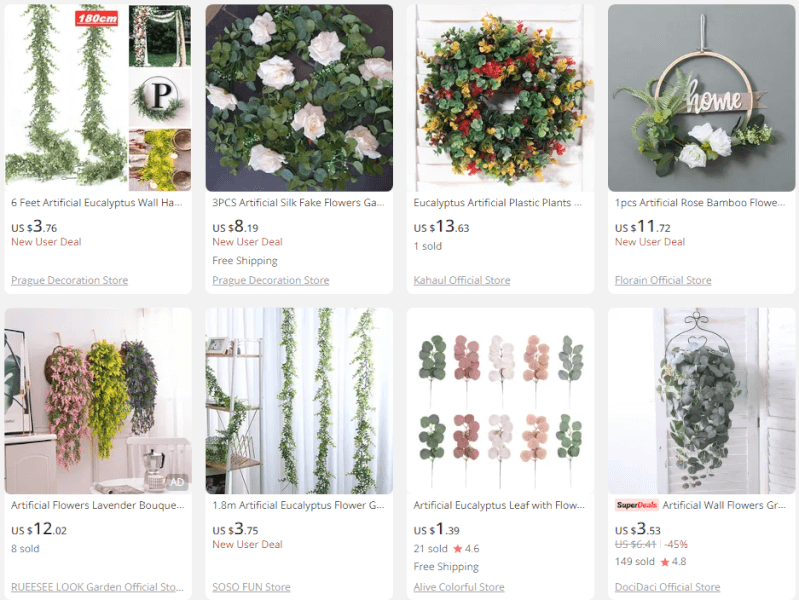 While Eucalyptus plants are beautiful home-decor items, growing a real one can be a hassle and impractical. But, there is an easier way. Artificial Hanging Eucalyptus Plants provide the same features as their authentic counterparts yet are much easier to maintain and care for.
As this product is artificial, these plants are made of high-quality plastic and fabric such as polyester. That means the plants are long-lasting and easy to clean. Moving on to the source of this product, we can find it on AliExpress for $3 – $30. Once we sell Artificial Hanging Eucalyptus Plants, we can scale our business to dropship more artificial plants and flowers.
Beginner's Tip: When selling this product, use a product bundling marketing strategy. With this strategy, we can offer a pack of 4 or 5 artificial plants for a discounted price. As a result, it encourages customers to buy more.
20. Over The Door Hooks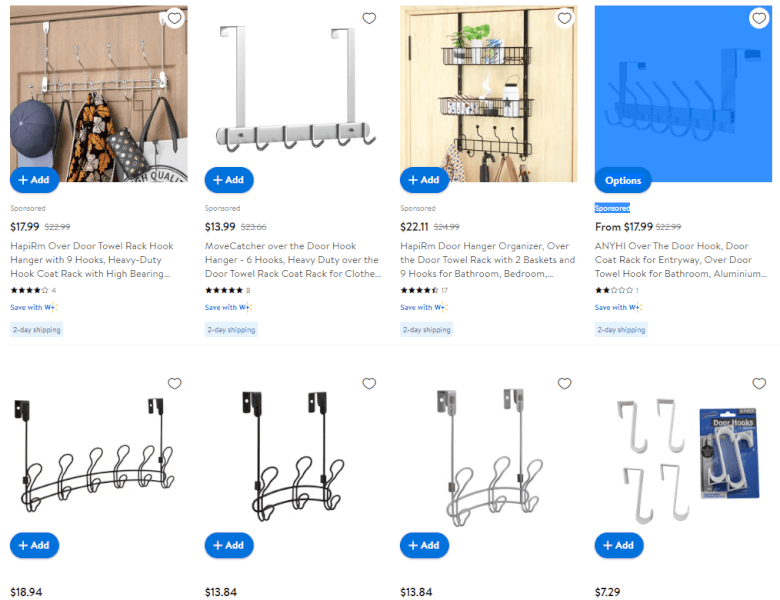 Most people find wearables or clothing items hectic to manage. That's why Over The Door Hooks is a popular product that comes to the rescue. This product comes in a set of hooks that helps to manage garments, kitchen utensils, and other accessories. They are made of metals such as aluminum or iron, making them durable and long-lasting.
If we want an affordable option, we can sell door hooks made of plastic or wood. Furthermore, these door hooks can come in different sizes and color options. Currently, Over The Door Hooks are selling for $2 – $20 on Walmart. Overall, if we provide a wide variety at competitive prices, we can see a massive increase in our store sales with this product.
21. Food Storage Containers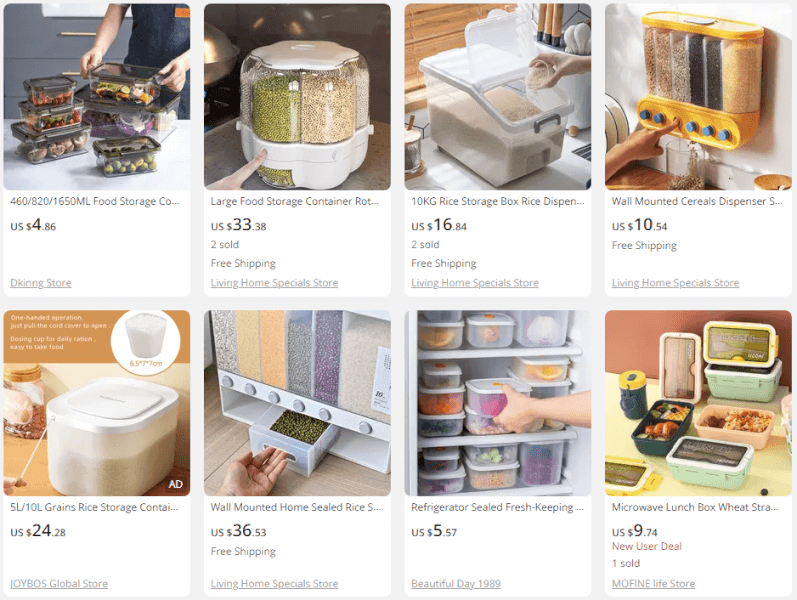 As a home improvement product for the kitchen, Food Storage Containers are one of the most trending products. Essentially, Food Storage Containers are airtight containers that keep moisture out. Furthermore, storage containers are water and cold resistant as they must be stored in refrigerators. Plus, they come in multiple colors and shapes.
According to Statista, the market value of food storage containers in the US was estimated to be around 60 million US Dollars in 2021. Moving on to the source of this product, we can find it for $3 – $40 on AliExpress.
22. Woven Laundry Hamper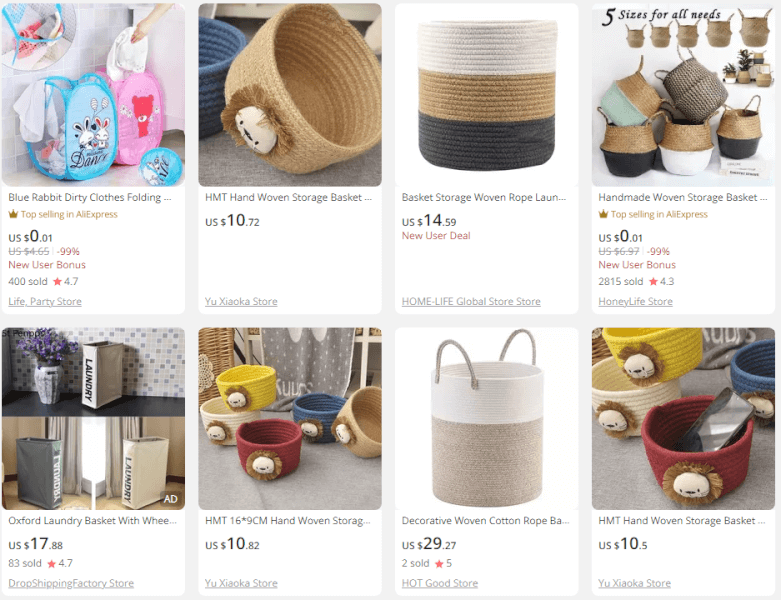 Essentially, the Woven Laundry Hamper is a functional home decor product in high demand. In general, the woven laundry hamper is made of jute and cotton threads. As such, they are eco-friendly and very durable. While some laundry hampers are machine woven, others may be hand woven. On top of that, they are very soft; they can be folded when not in use, which saves storage space.
As for its demand, the Home and Laundry Care market is set to generate 29.14 billion US Dollars in revenue in 2022. Moreover, the market is predicted to rise by 3.56% per year. Additionally, these attractive Woven Laundry Hampers are priced at $3 – $40 on AliExpress.
Beginner's Tip: While AliExpress has a huge variety of Woven Laundry Hampers, we can also source unique designs from Etsy. This will help differentiate our product from the competition, resulting in higher sales.
23. Bedside Lamp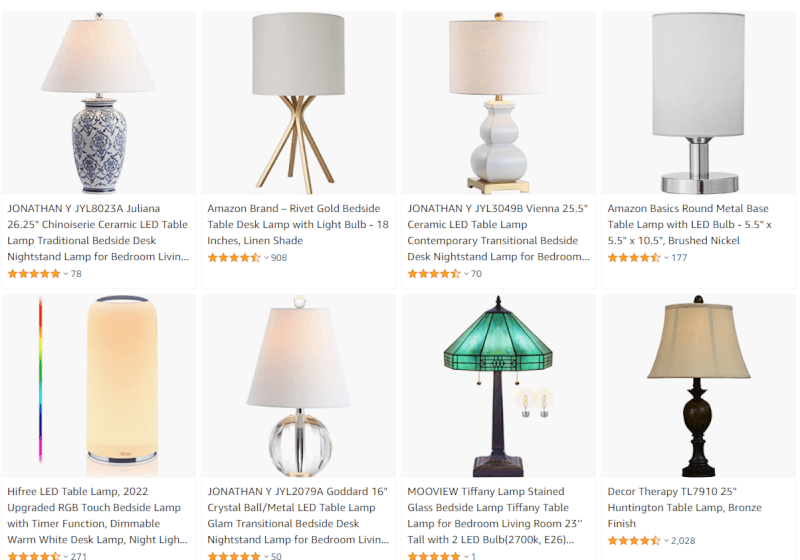 Last but not least, we have the Bedside Lamp on our list of best home decor products. This lamp has a graceful design that creates a pleasant ambiance in the bedroom. Additionally, they are available in different designs and shapes, such as spherical, mushroom-shaped, cylindrical, and more. Plus, these lamps can be made of metal, glass, wood, and ceramic.
As for its demand, the market revenue of the Lamps and Lighting segment is around 75.40 billion US dollars and is expected to reach $95 billion by 2026. Plus, we can find bedside lamps for $5 – $100 on Amazon. As such, we can price this product competitively and reap the rewards!
Wow! That sums up our list of best home decor dropshipping products. With this list, we have 23 high-potential products that can skyrocket our store sales this year.
Where Can I Find Home Decor Products For My Store?
Great! Now we have in-demand home decor product ideas for our dropshipping store, so what's next? We need reliable suppliers to source the items. So, here are five trusted suppliers we can source products from:
Let's look at them individually to learn about their features.
1. AliExpress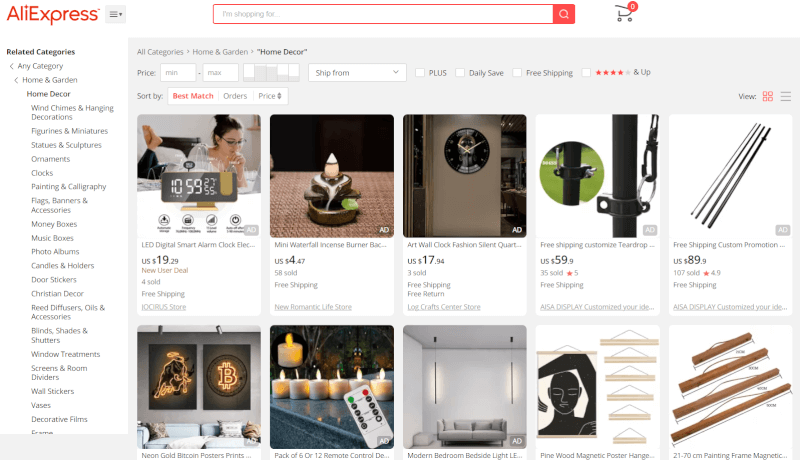 Kicking off the list, we have AliExpress, one of the beloved platforms to source products. This supplier is an online retail marketplace that connects us with many Chinese home decor manufacturers and suppliers.
Key Features
Massive variety of home decor products 

Low-cost products

Domestic warehouses

Dropship Center

Buyer/seller protection
As AliExpress is one of the largest eCommerce platforms, it provides a considerable catalog in the home decor niche. Additionally, this supplier has affordable pricing for all its products, which can boost our profit margins. Plus, AliExpress has global warehouses in major regions like the US, UK, and Europe. So, with domestic warehouses, we can offer fast shipping to our customers around the globe.
Additionally, the AliExpress Dropshipping Center is a product research platform. By adjusting the search filters such as price, supplier location, and the number of times sold, we can research and find in-demand home decor products. Besides that, AliExpress also has buyer/seller protection. This feature guarantees the quality and delivery time of home decor products as per the agreement terms with our AliExpress suppliers.
Overall, dropshipping from AliExpress allows us to boost our profits with a large variety of affordable home decor products.
2. CJDropshipping

Up next, we have CJDropshipping, an online dropshipping platform. This platform is designed and built by a team of experienced dropshippers, which helps us source home decor products from reliable suppliers. 
Key Features
Product sourcing platform

Quality Assurance

Domestic warehouses

Private Labeling
CJDropshipping is one of the dropshipping-friendly suppliers that offer product sourcing. That means we can request for products to be made available for us that are not yet listed on the platform. Additionally, CJDropshipping performs quality assurance tests on every home decor product before shipping them out from their warehouses.
Furthermore, CJDropshipping has warehouses in 30+countries, including significant regions like the US, Europe, and Canada, which enables faster shipping. Finally, CJDropshipping offers private label services. With this service, we can customize products according to our specifications and sell them under our brand name.
With that in mind, dropshipping from CJDropshipping helps us build a strong brand identity, allowing us to differentiate ourselves from the competition.
3. Amazon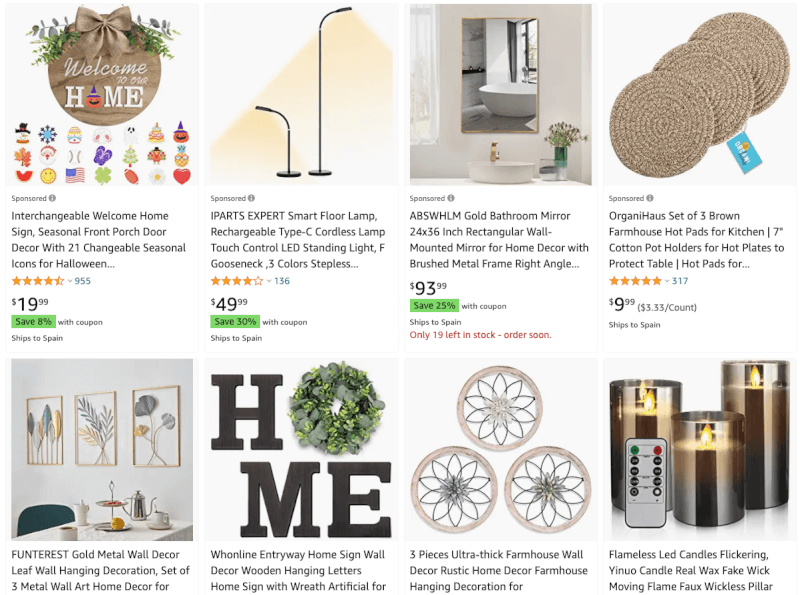 Sourcing from the world's largest eCommerce company can only work in our favor. Not only is Amazon a leading retailer, but they are also a reliable dropshipping supplier for home decor products.
Key Features
Massive selection of products

Exceptional customer service

Quick shipping speed

Domestic warehouses
As Amazon is one of the largest retailers in the world, we can find a large selection of home decor products. Moreover, Amazon has exceptional customer service. Therefore, they are available 24/7 via phone or email if our customers encounter any issues with their orders or returns. Besides that, Amazon is also famous for its super fast delivery times.
On top of that, Amazon has multiple warehouses and distribution centers in major countries, meaning even faster shipping for our customers. Hence, we can start dropshipping from Amazon to scale our business as soon as possible.
4. Wayfair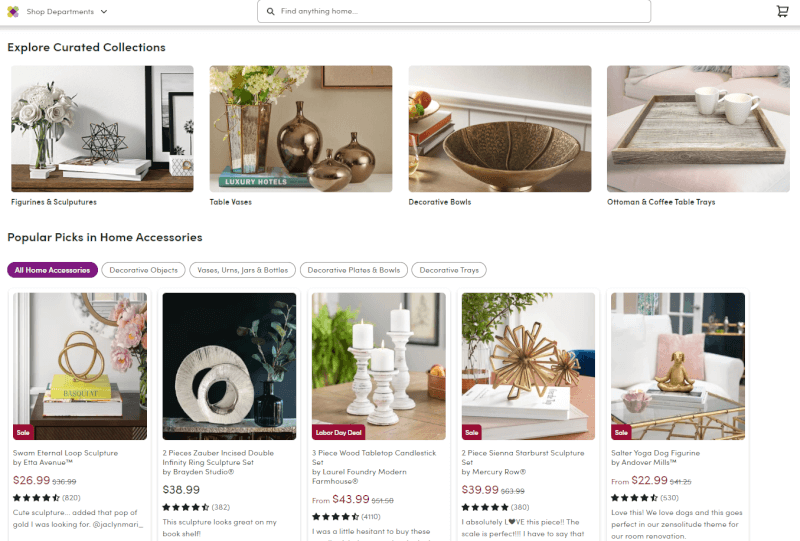 If we want to source home decor products, Wayfair is one of the best options. That's because they are a niche dropshipping supplier that offers over 15 million home improvement products from 11,000 global suppliers.
Key Features
Vast product catalog

Domestic Warehouses

MYWAY program

Flexible payment options
With a specialization in home improvement products, Wayfair offers a massive variety of products from furniture to bedding and bath. Plus, Wayfair has local warehouses in the US, UK, Germany, and more. So, we can offer faster shipping times to our customers, giving us a competitive edge over our rivals.
Furthermore, Wayfair's "MYWAY" program offers instant access to thousands of exclusive items only available to members and free and same-day shipping for most of the products. Finally, Wayfair accepts various payment methods such as major credit cards, Apple Pay, PayPal, Wire Transfer, etc. With all these features, dropshipping from Wayfair is very much worth it.
5. Costway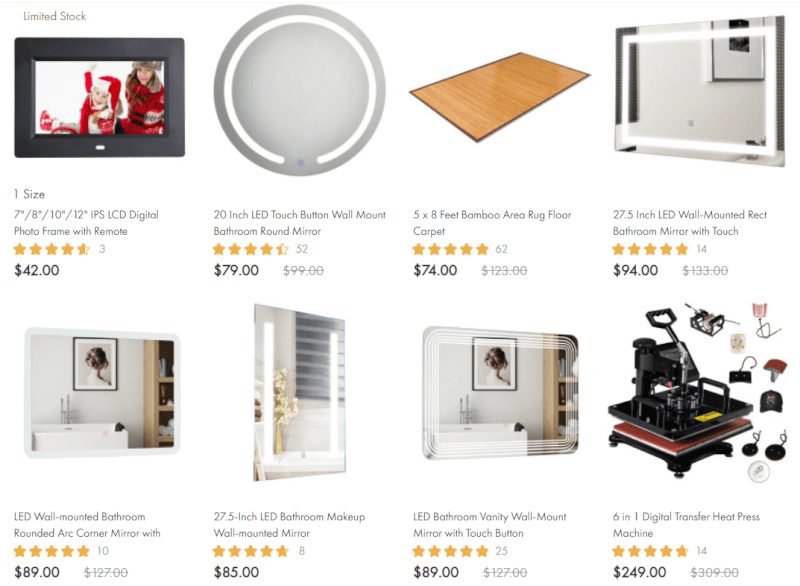 Last but not least, we have Costway, another niche dropshipping supplier focusing on home-decor products. Despite having humble beginnings as sellers on Amazon and eBay, Costway has become one of the top retailers in the US.
Key Features
Dropshipping program

Multiple domestic warehouses 

Dropshipping agreement
Although Costway is one of the largest retailers, they offer a considerate dropshipping program. This program includes dropshipping-friendly features such as affordable pricing, two-day shipping, and a three-month product warranty for most home-decor products.
Generally speaking, dropshipping copyrighted gift products is illegal. However, we can legally dropship branded products with Costway's dropshipping agreement. To clarify, we can use this program to leverage reputed brands. Furthermore, Costway has more than nine warehouses which means faster delivery to our customers. Therefore, dropshipping from Costway can help us maximize our profit potential.
These five dropshipping suppliers are some of the best choices for home-decor products. But they are not the only ones. We can enjoy various products from other reliable home decor suppliers. Additionally, we can also learn about the 25 best free dropshipping suppliers if we want to dropship products from other categories. 
Beginner's Tip: Remember that working with multiple suppliers is essential for our business. That's because we need a backup if our supplier is out of stock or faces shipping issues. Moreover, we can offer a huge variety of products to our customers.
The Best Selling Channels For Dropshipping Home Decor Products

After finding reliable suppliers to source products from, we need to list our home decor items on a selling channel. Essentially, selling channels are platforms where we showcase our products to our customers. Plus, it is also our first point of contact with our customers.
In general, there are two types of selling channels: eCommerce marketplaces and customizable dropshipping stores. To clarify, marketplaces like eBay and Facebook Marketplace (FBMP) are buying and selling platforms with many users. Due to this vast user base, our store generates organic traffic, which allows us to save marketing costs.
Conversely, customizable eCommerce platforms like Shopify and Wix enable us to build our home decor dropshipping stores from scratch. That means we create our custom domain and personalize our website with ready-made store templates, themes, images, logos, and more. Due to this, we can create a brand identity to increase our customer base.
With that in mind, let's look at the features of different selling channels to find out what they offer.
Features of Shopify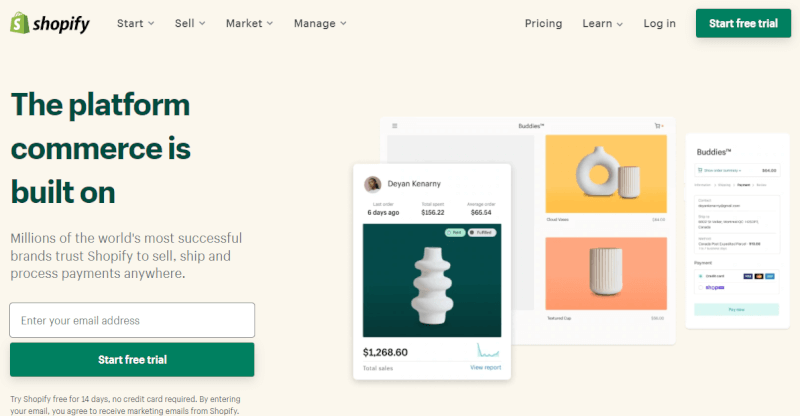 Professional eCommerce templates

3000+ app integrations

24/7 customer service

Built-in blogging feature
Due to its customization features, Shopify is one of the most popular selling channels among dropshippers. Generally, Shopify allows us to use professional eCommerce templates for our online stores and improves our store's user interface and visual attractiveness. Additionally, Shopify has its own App Store with 3000+ dropshipping tools and apps to level up our business.
On top of that, Shopify offers exceptional customer service, available 24/7 and in all languages. Hence, we can rely on Shopify to solve our issues swiftly, should they arise.
Finally, with Shopify's built-in blogging feature, we can optimize our website content with Search Engine Optimization (SEO). To clarify, blog posts combined with SEO are a great marketing tool that generates organic traffic to our website. 
Features of Wix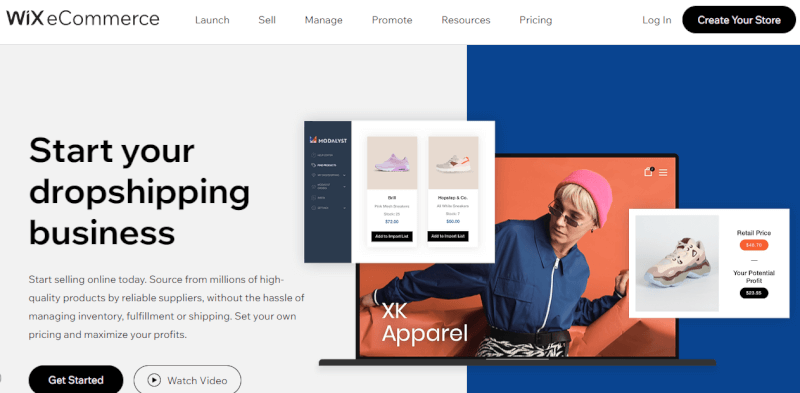 Fully customizable platform

Wix App Market

Easy-to-use interface
Similar to Shopify, Wix is also a customizable platform. We can personalize our dropshipping store with the Wix platform with custom designs, templates, and logos.
Additionally, the Wix App Market has many dropshipping apps and tools to help us in our dropshipping operations. Furthermore, the Wix platform is excellent for beginners because of its user-friendliness. We can manage our website's content with convenient features like the drag-and-drop tool. Thus, we can enhance our website's visual appearance without requiring coding or designing skills.
Features of eBay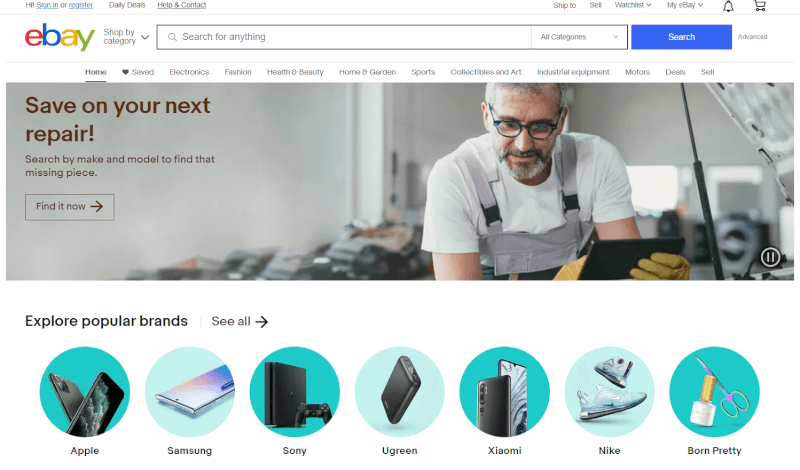 Free organic traffic 

Simple and easy interface

Zero upfront investment
As eBay is one of the eCommerce giants, it has more than 109 million visitors every month. With such a massive number of visitors, our eBay stores have the potential to generate organic traffic, helping us save money on marketing.
Furthermore, dropshipping on eBay is so easy that we can start selling as soon as we create an eBay account. Besides this, selling on eBay requires zero upfront investment, so we can start quickly!
Features of FBMP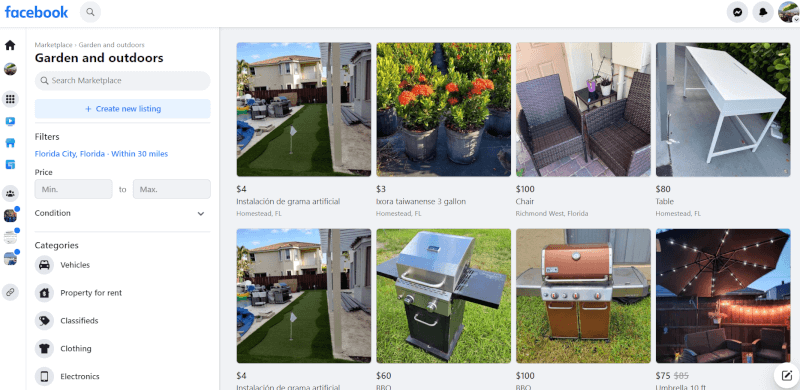 Free organic traffic  

No monthly subscription

Smooth buying & selling process

Low selling fees
Facebook Marketplace (FBMP) is another trading platform that caters to a massive number of monthly visitors. With this vast user base, our stores can generate free organic traffic. This expands our audience reach and helps us generate high sales.
Plus, unlike other selling channels, FBMP doesn't have subscription fees, so it requires zero investment upfront. Additionally, buying and selling on FBMP is a straightforward process.
Finally, dropshipping on FBMP requires a low selling fee. The cost of selling products is a 5% selling fee or a flat fee of $0.40, whichever is higher. And the best part is that we only pay the fees after we sell the products.
Overall, these four selling channels are some of the best platforms for our home-decor products. Once we find our winning products, we can select the most suitable selling platform to increase sales. After we succeed with one selling channel, we can start dropshipping on other platforms to multiply our profits.
How Can I Scale My Home Decor Dropshipping Business?
Before we understand how to scale our business, let's understand what scaling means. In general, scaling simply means expanding our business to make it more profitable. With the dropshipping model, we don't have to limit ourselves to narrow profit margins. In fact, we can keep maximizing our profits with different strategies. Let's go over key ones.
Marketing
One of the ways to grow the sales and profits of our dropshipping business is through marketing. We are making our business more visible online by marketing our products and stores. As such, more customers will come across our home decor products.
With that in mind, let's see the marketing strategies we can implement on different selling channels:
Shopify & Wix Marketing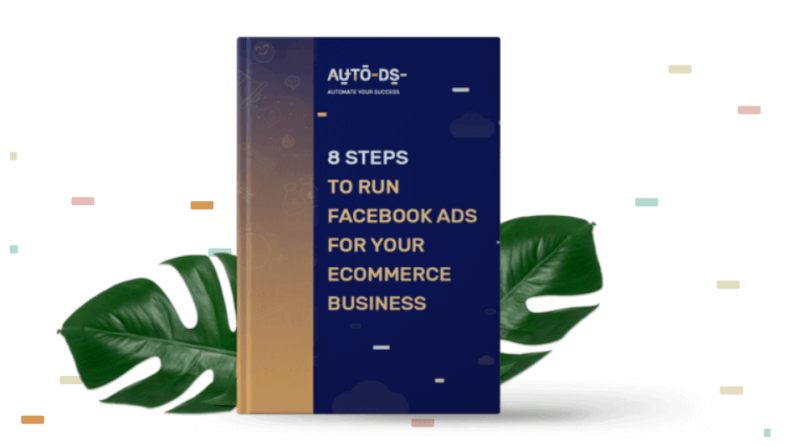 PPC Ads 

Email Marketing 

Influencer Marketing
As the Shopify and Wix platforms do not have readily-available traffic, we can use pay-per-click (PPC) ads to drive traffic into our stores. Using PPC Ads, we can market our products/stores on popular platforms like Google, Youtube, and Facebook.
As people start to see our ads on these platforms, they will click on them. Afterward, they are redirected to our website, where they can buy our home decor products. As the name suggests, we must pay whenever a customer clicks on our ad.
Additionally, we can use email marketing to promote our online store. To elaborate, an effective email campaign includes sending emails with promotional offers and discounts along with our home decor products to our customers.
Finally, the last marketing method for Shopify and Wix stores is influencer marketing. Since influencers have a significant following on social media, we can pay them to review and market products to increase our store's traffic and sales.
eBay Marketing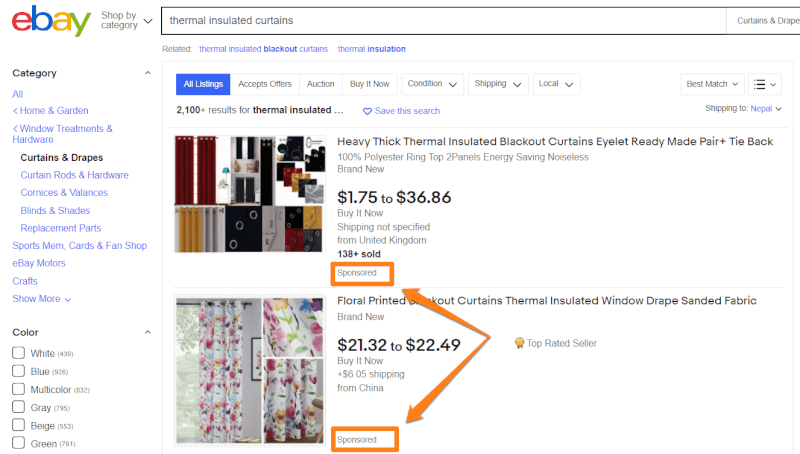 Promoted Listings Standard

Promoted Listings Advanced (eBay-PPC)
One of the reliable marketing methods on eBay is Promoted Listings Standard. With these promotional tools, we can feature our products on eBay. As a result, more customers can find our store when they search for relevant products. As for its cost, we have to pay a promotion fee after the product sells.
Similarly, like PPC ads, eBay has introduced Promoted Listings Advanced, which works on a pay-per-click basis. This feature allows us to run ad campaigns on eBay, which boosts our home decor products to the top spot on search results. Since this marketing feature functions like PPC ads, eBay charges us a certain fee every time a customer clicks on the ad.
FBMP Marketing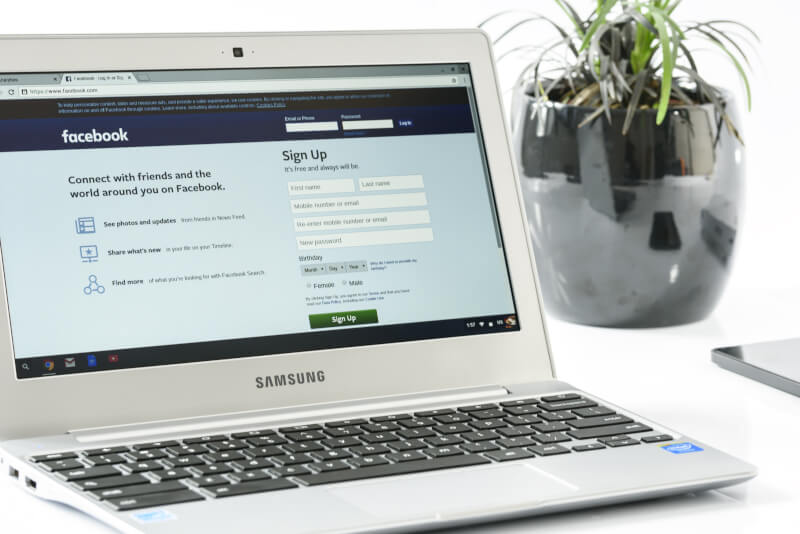 Boosted listings

Sharing our listing in buy/sell groups
As one of the largest social media platforms, Facebook Marketplace has over one billion active users. Therefore, it is an excellent platform to promote our home decor products at a low cost.
One of the ways we can market on FBMP is by using their boosted listings feature, which helps products rank on top when customers search for similar products. As such, customers are more likely to buy from us because we are more visible.
Besides boosted listings, we should share our listings in Facebook's buy and sell groups. With this technique, we can get our home decor products in front of as many customers as possible. Therefore, this strategy helps us increase our sales; the best part is that it's free.
Customer Service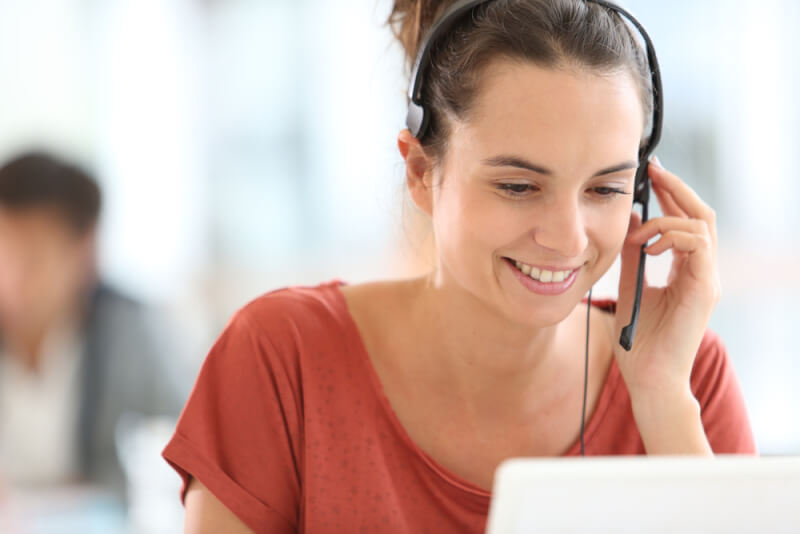 Once we have marketed our products, we should focus on improving our customer service to scale our business. Plus, providing excellent customer service is crucial in creating a successful dropshipping business. So, here are some tips to provide exceptional customer service:
Respond to customer messages and inquiries daily.

Handle returns/refunds/exchanges on time.

Ensure that every customer is answered to.

Offer promotions/discounts/cashback whenever possible to attain customer loyalty.

Use a customer support management system where we can easily track, manage, and answer all of our customers' messages.
With these methods, we should provide the best experience to our customers. By doing so, we can easily attract new customers while retaining our existing customer base, which is crucial to scaling our business.
AutoDS Dropshipping Automation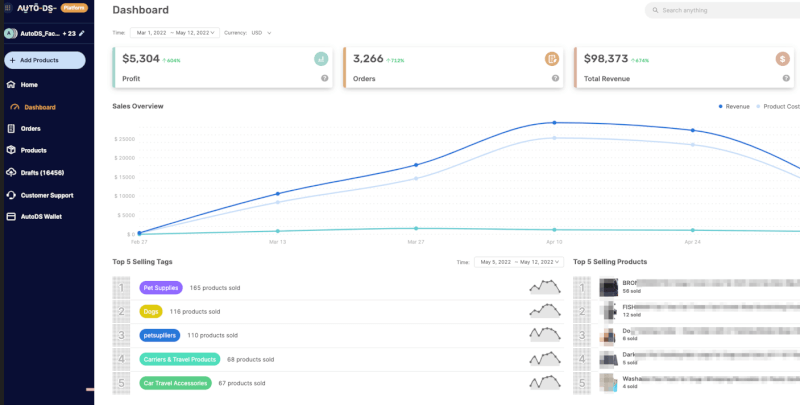 While marketing and customer service help us to increase our sales and profits, rapid growth only comes with dropshipping automation. In general, we can dropship in two ways: manual and automatic.
To clarify, manual dropshipping means handling dropshipping operations like product importing, stock/price monitoring, and order fulfillment individually for each customer. Since manual dropshipping takes a lot of time, it is not the best method to use.
Therefore, we need a dropshipping automation software like AutoDS, which helps us to automate our dropshipping operations. Not only does automation help us perform our tasks faster, but it also reduces human errors. Plus, it can be easily integrated with the four selling channels mentioned above.
With that in mind, here are the features of the AutoDS dropshipping software:
Easy & Quick Product Imports

Automatic Order Fulfillment

Product Research Tool

Price/Stock Monitoring

Inventory Management

Price Optimization

and much more!
For demonstration, let's look at how the product research tool helps us find winning products.
Product Research Tool
Product research is one of the most crucial steps in creating a dropshipping business. As excellent home-decor products have the potential to skyrocket our sales, we need to research trending and in-demand products.
As such, we can use the AutoDS product research platform to research products. In order to research products, first, we need to open an account with AutoDS. Once we create an account and log in, we will find ourselves on the home page.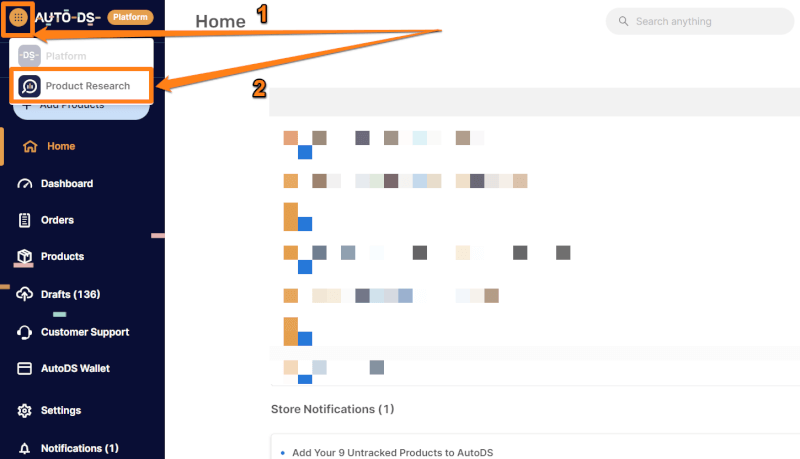 From here, choose the AutoDS product research platform from the top left corner. Doing so will redirect you to the product research page, where we can begin our research. We can start filtering our products to find the best sellers.
First, click on 'Add Filter' and choose Categories. From the drop-down menu, choose home and garden. Then, click on Home decor and then select Done. Adding this filter displays all the available home decor products from US and AliExpress suppliers.
Now, select the number of reviews and fill the box with a number. In this example, we are putting Greater than 100 to find products with at least 100 reviews. This ensures that we only find products that customers have bought and reviewed.
Plus, we can add another filter. This time, click on rating and select 4+. When we do so,  the platform will filter products with at least a 4/5 rating from the customers. This means the product is reliable and has been satisfying customers.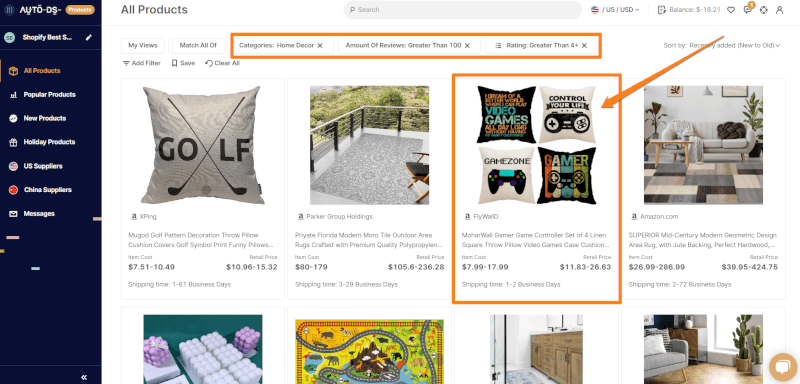 Once we find home-decor products suitable for our business, we can import them in a single click with the product importing tool. Overall, the product research platform is a handy tool that helps us find high-potential and winning products quickly. Besides these strategies, we can try various other dropshipping tips to increase our profits. 
Frequently Asked Questions
Is Home Decor Dropshipping Profitable?
Absolutely! Home decor dropshipping is profitable because the demand for home-decor products is constantly rising.   
How Can I Start A Home Decor Dropshipping Business?
To start a home decor dropshipping business, we need to find in-demand and trending products. Then we should select reliable dropshipping suppliers and selling channels to source and list the products, respectively. Finally, we should market our products and provide excellent customer service to increase profits.
How Much Does It Cost To Start A Home Decor Dropshipping Business?
We can start a home-decor dropshipping business with a minimal budget. For beginners, subscription costs of eCommerce platforms like Shopify/Wix amount to around $15- $30 per month in addition to domain name costs. On the other hand, selling fees on eBay/FBMP are also very low. However, since we don't have to pay for products in advance, home decor dropshipping has no starting capital.
Conclusion
Finally, we are at the end of the road, having gained all the valuable knowledge about home decor dropshipping. Now, we can instantly start our home decor dropshipping business with trending products and trustworthy suppliers.
Moreover, offering quality products at affordable prices will ensure our customers come back for more. On top of that, a suitable marketing strategy combined with dropshipping automation will send our sales and profits through the roof!
Once we learn the secrets of success, we can always add new home decor products to keep multiplying our profits. With that in mind, here are some articles that will help us get new home-related product ideas: