If you're an avid reader of AutoDS' blogs, you know that product research is crucial for our dropshipping business. And yes, product research is essential to our dropshipping success. However, product research also entails supplier research.
With this in mind, it can be challenging to find reliable free dropshipping suppliers to source products for our online store.
Plus, most of us dive right into dropshipping because of the low-risk and high-reward opportunities. Nevertheless, those who don't optimize their resources can miss substantial profit margins.
However, you can sit back and relax because we'll provide you with a list of the top 25 free dropshipping suppliers to work with for your business. Additionally, we'll learn about what these suppliers offer so that we benefit from them and maximize our earnings.
What Are Free Dropshipping Suppliers?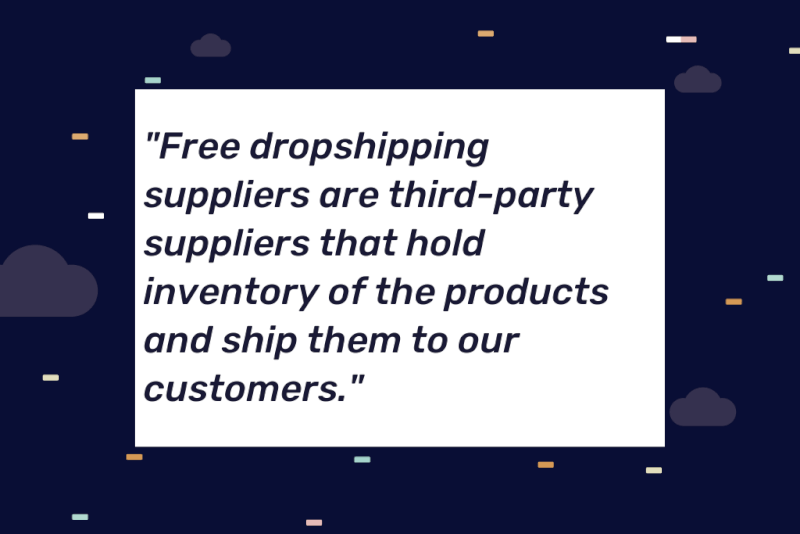 Alright, we know that you're excited to learn about the top suppliers. But let's first understand what free dropshipping suppliers are.
Free dropshipping suppliers are third-party suppliers that hold inventory of the products we are selling. Therefore, the products we dropship are sourced from the dropshipping suppliers.
Furthermore, another prominent feature of free dropshipping suppliers is the fulfillment service. Since we are dropshipping their products, they pack and ship the products to our customers' addresses. Although we do play an important role in the fulfillment process, the hardest part is taken care of by our suppliers.
That's why we will always pay our suppliers for their services at the end of the day. Without them, we wouldn't be able to dropship products and sell them to our customers. However, some suppliers offer free registration, dropshipping perks, member-exclusive deals, and more.
Thus, we should work with these free dropshipping suppliers that benefit our business. As such, free dropshipping suppliers help us avoid additional costs and scale our dropshipping business.
25 Free Dropshipping Suppliers For Your Online Store
Before we dive into the list of free dropshipping suppliers, we must first understand what we should be on the lookout for when searching for reliable dropshipping suppliers. So, here are some key features that our dropshipping supplier should provide us with:
Global warehouses

Quick shipping & delivery times 

Reliable customer service 

Wide product range 

Quality products 

Affordable pricing to scale our dropshipping business
With these features in mind, let's discover the 25 free dropshipping suppliers that are best for our dropshipping business:
While these 25 free dropshipping suppliers do not charge us, they have various features, pros, and cons. Let's look at each of them to see which suppliers suit us perfectly.
1. AliExpress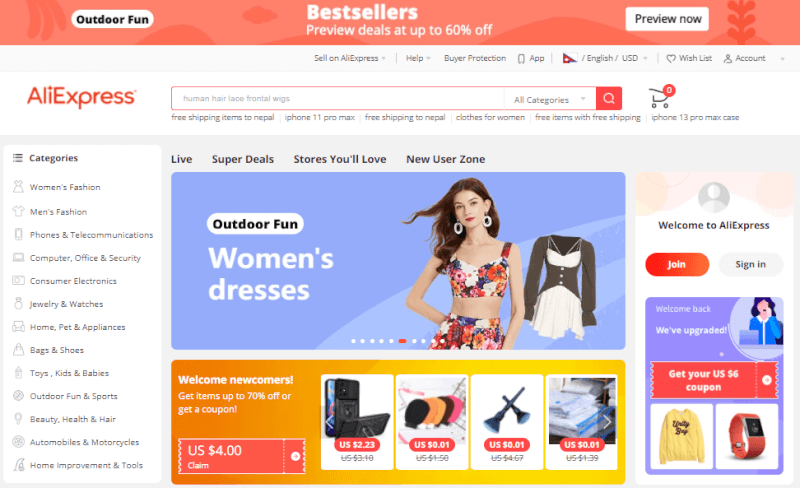 Kicking off the list is AliExpress. Owned by the Alibaba group, it is an online retail marketplace that connects dropshippers with many Chinese manufacturers and suppliers. 
Pros 
100 million+ product catalog

Low-cost products

Global warehouses enable faster shipping

AliExpress Dropship Center
As AliExpress is renowned in the world as one of the largest online retail platforms, they have a huge range of products. To give you an estimate, AliExpress currently has over 100 million products listed on its platform.
And, as AliExpress connects us with Chinese suppliers, we can find affordable prices on the platform. As a result, we can achieve a higher profit margin or simply attract more customers with discounted prices.
Additionally, AliExpress offers global shipping. Although based in China, it has multiple warehouses in major regions like the US, UK, and Europe. So, we can offer fast shipping to our customers around the world.
Furthermore, AliExpress offers dropshipping-oriented services. For example, the AliExpress Dropshipping Center is a platform where we can research products and find in-demand products.
Finally, we can filter products by price range, number of times sold, reviews, and more. Thus, we will always know what to sell.
Cons
Long shipping times from China

Language barriers
While AliExpress has a set of advantages, there are a couple of drawbacks. First, shipping times are relatively long when products have to ship from China. Usually, it takes 15-45 days for AliExpress to ship products from China, while domestic suppliers can ship products within 2-5 days.
Second, language barriers may be an issue with some Chinese suppliers who don't obtain a high level of English. However, only a few suppliers have such difficulty as most of them already work with international clients.
2. Banggood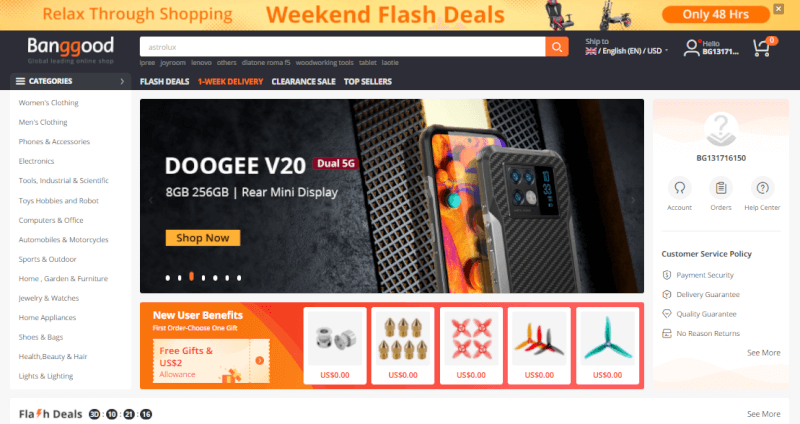 Another popular free dropshipping supplier is Banggood. Based in China, Banggood is a dropshipping platform that offers over 1 million products from 100,000 reliable suppliers.
Pros
Millions of products from all categories

Affordable prices

Worldwide warehouses with fast shipping

Cashback, promotions & exclusive deals
The first benefit is that Banggood has a vast product catalog of various categories. As such, its product range includes clothing, mobile phones, furniture, home products, health and beauty, and much more. Most importantly, Banggood offers these products at affordable prices, which means we can earn higher profits.
The second benefit is their fast shipping times worldwide. It has multiple warehouses in major regions like China, the US, the UK, France, Spain, and Australia. With warehouses spread across the world, we can ship products quickly to our customers.
Besides that, since Bangood is a dropshipping-friendly supplier, it offers wholesale programs and special deals. Moreover, the special offers include cashback, promotions, and exclusive deals. With great deals and discounts, we can price our products competitively and earn more money in the long run.
Cons
High return costs 

Limited payment option for dropshipping program

Certain products don't have any warranty
Although Banggood has many benefits, the return costs are very high if the product is coming from a Chinese warehouse. So, if we return products, we have to cover the costs of shipping them back to China.
Generally, it can cost $20- $100 just for return shipping, but it mainly depends on what type of product you are sending back. For example, a heavy product that takes plenty of space will cost comparatively more than a smaller one.
Another disadvantage is that Banggood offers a limited payment option for its dropshipping program. While the standard buying option supports various payment methods, we can only use PayPal for its dropshipping program.
Lastly, we should keep an eye out when dropshipping electronics. As Banggood does not provide any warranty on basic electronic parts, we should remember to communicate this to our customers.
3. CJDropshipping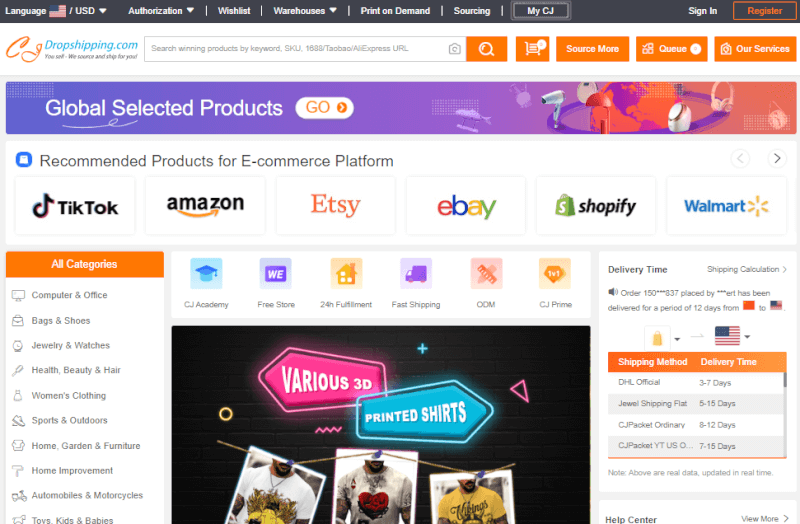 Up next on our list of free dropshipping suppliers is CJDropshipping. Designed and built by a team of experienced dropshippers, CJDropshipping is a perfect supplier for our dropshipping needs.
Pros
Sourcing platform

Quality control

POD options

White label branding
As one of the dropshipping-friendly suppliers, CJDropshipping has several benefits. One of the unique advantages is the product sourcing option it offers.
With product sourcing features, CJDropshipping allows us to request products if we can't find the products we are looking for. Therefore, we will be able to offer unique products that are not readily available in the market, giving us a competitive advantage.
Besides that, CJDropshipping performs quality analysis for every product before shipping them out. As a result, our customers only receive high-quality products increasing our store's credibility. This is a massive benefit for us as dropshippers as we usually can't test the product quality.
But wait, the personalization doesn't stop there. CJDropshipping also offers print-on-demand (POD) dropshipping. POD is an order fulfillment process where we can design and customize products like t-shirts.
Furthermore, it provides white-label branding options. Using their white-label service, we can package products under our brand, helping us build our brand awareness. 
Cons
Outdated website

Higher-cost products 

Limited shipping options for the US market
On the flipside, CJDropshipping has an outdated user interface which can cause difficulty for new users. Additionally, some products on CJDropshipping are expensive compared to other suppliers. For instance, it has higher prices than what we can find on AliExpress, its closest competitor.
As for shipping, CJDropshipping has limited shipping options in the US. Currently, they only ship via USPS if the products are stocked in their US warehouses. Nonetheless, CJDropshipping is a viable option with all of its great dropshipping perks.
4. Alibaba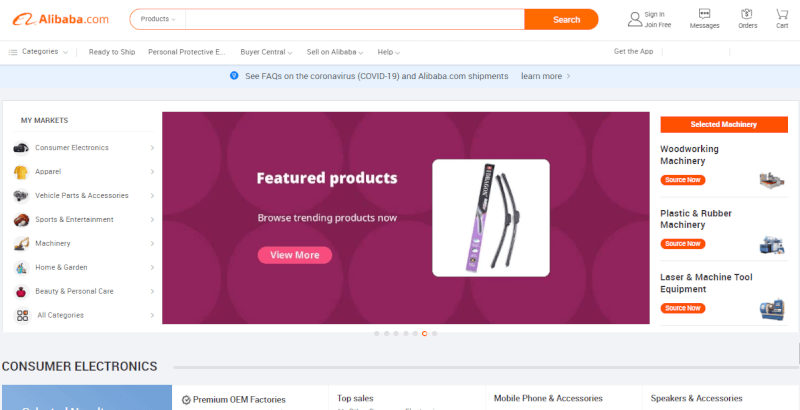 Grabbing the number four spot, we have Alibaba, the largest eCommerce marketplace for wholesale deals. As one of the leading eCommerce platforms, it connects dropshippers with wholesale suppliers that offer millions of products at wholesale prices.
Pros 
Massive variety of products

Wholesale suppliers

Private label solution
Being one of the largest online platforms in the world, Alibaba offers a large variety of products from every category. To give you an estimate, its platform has more than 8.5 million active sellers. Moreover, Alibaba is a wholesale platform, which means we can find products at wholesale prices for large orders.
In addition to the massive variety, Alibaba allows us to sell private label products. With private labeling, we can design products according to our specifications under our brand name and packaging.
After our supplier (Alibaba) manufactures the products for us, we can sell them in our dropshipping stores. As a result, we can differentiate our stores from the rest of the competition, allowing us to gain a generous profit margin.
Cons
Long shipping time 

Requires MOQ
The main disadvantage of Alibaba is the extended shipping times. Even under normal circumstances, products shipped from China can take 15-45 days to reach customers internationally.
Another shortcoming of Alibaba is its Minimum Order Quantity (MOQ) policy. Since suppliers on the Alibaba platform are wholesalers, most of them require a minimum number of products to be ordered by us before they even consider shipping.
However, that should not prevent us from negotiating with suppliers on Alibaba about the MOQ requirement. Some suppliers are happy to dropship even without requiring a MOQ.
5. Walmart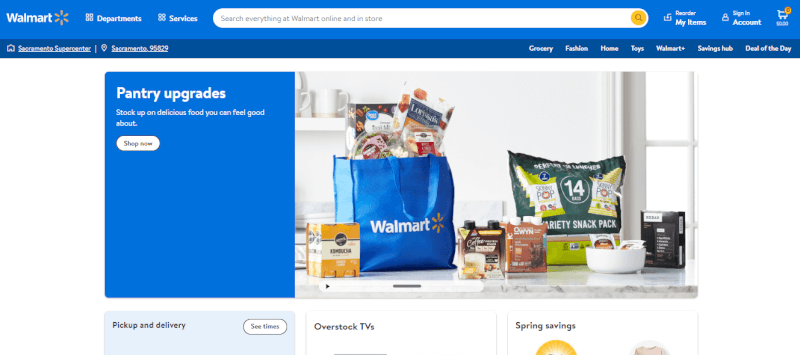 Sourcing products from the world's largest retail chain is undoubtedly an excellent way to find products. As such, Walmart is one of the most recognizable brands globally, aiding dropshippers in finding products through its online platform.
Pros
Huge catalog of products

Free next-day delivery

Price match policy
As Walmart is a retail giant, it's no surprise that it offers dropshippers a wide range of products. With 160 million products to choose from, we'll never run out of trending items for our dropshipping business.
On top of that, Walmart provides our customers with next-day delivery, which helps us increase our customer satisfaction. And not only will our customers love the quick delivery time, but any order over $35 comes with free shipping!
Furthermore, Walmart offers a price match policy for purchases made on its website. That means, if we find the products on another platform for a lower selling price, Walmart matches the price.
As long as the product is valid for return, Walmart matches the price with major online retailers like Amazon, Dollar General, Office Depot, and others. Thus, it ensures our customers get the best rates possible.
Cons
Strict dropshipping guidelines
While Walmart allows dropshipping, it has strict guidelines. For instance, dropshippers have to limit their defect rates for returns to lower than 2%. Moreover, a timely shipping rate and valid tracking rate should both be above 99%. All in all, the pros of Walmart outweigh the cons. With that in mind, it is a great dropshipping supplier which has many incredible products.
6. The Home Depot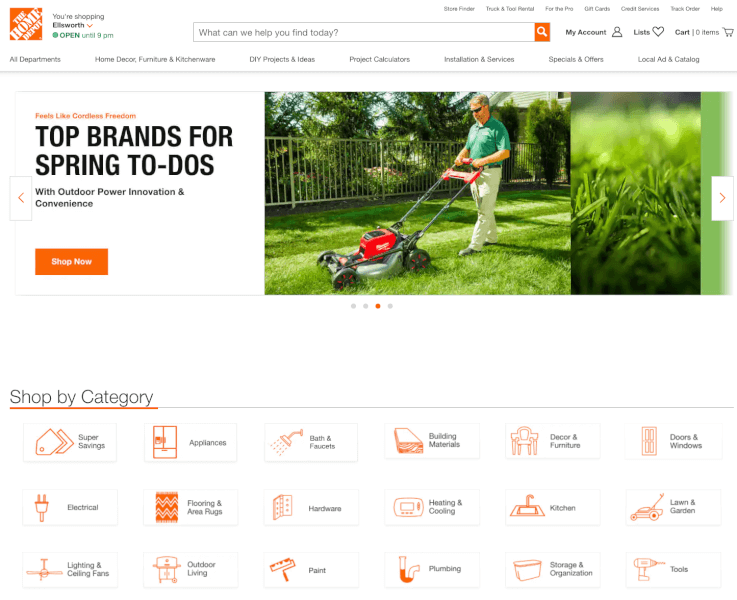 As a reliable name in the home improvement niche, Home Depot is among one of the best free dropshipping suppliers. This supplier offers building materials, garden products, and home appliances.
Pros
Large product selection

Tax exemption program

Free 2-day delivery

Price match guarantee
If you want to choose from a wide range of home improvement products, Home Depot is your best bet. That's because it offers more than 2 million home improvement products. On top of that, many products from Home Depot are eligible for two-day shipping. Additionally, it offers free shipping if orders are above $45.
Like Walmart, Home Depot also has a price match policy if we purchase from them and later find the same product elsewhere for cheaper. In that case, Home Depot refunds us the price difference if we notify them within 30-60 days.
Furthermore, Home Depot's tax exemption program enables tax-exempt shoppers to save an extra 5% on their purchases. To receive this benefit, we need to fill in our tax-exempt ID number when registering for a Home Depot account and wait for the approval.
Cons
Difficult return policy

Niche-specific
Despite all the benefits, Home Depot's return policy is not 'dropshipping-friendly.' In essence, we have to pay separately for return shipping if we want to return products to Home Depot.
Another disadvantage is Home Depot's limited product offerings. Since it focuses on the home improvement niche, we cannot find many products if we are selling in other categories. Nonetheless, having Home Depot as our supplier is beneficial if we choose to dropship products from the home improvement niche in our stores.
7. Etsy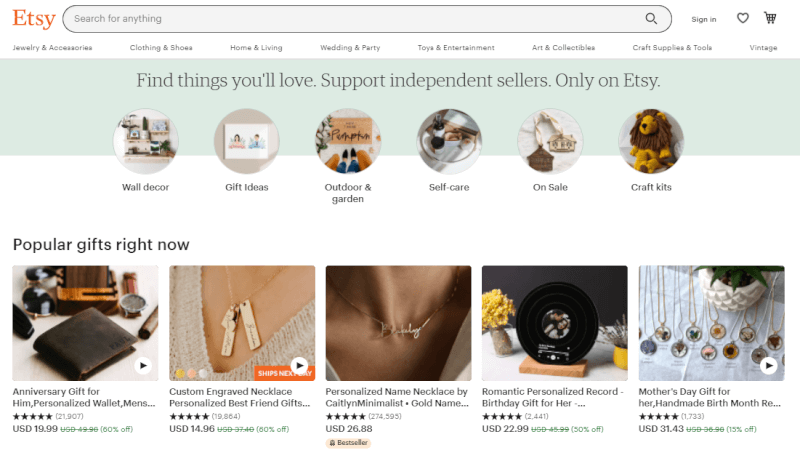 If we're looking for free dropshipping suppliers that stands out from the rest, Etsy is a great option. As an increasingly popular e-commerce company, Etsy focuses exclusively on handmade or vintage items and craft supplies. 
Pros
Custom-made and innovative products

High-profit margins

Free and fast shipping
The major benefit of using Etsy as a supplier is its innovative products. Their unique range of products allows us to gain a competitive edge against our competitors. Additionally, we can allocate a higher profit margin on our products because they are not readily available in the market.
Generally, Etsy products cost comparatively more. As a result, we price it higher, and our customers are willing to pay accordingly. That's because they receive a one-of-a-kind product which increases the overall value.
Moreover, many Etsy sellers provide free shipping within the US. Along with that, the delivery speed is quite remarkable as it takes a mere 1-3 business days for domestic shipping. Consequently, it means our customers can enjoy free and fast shipping too.
Cons
Inconsistent return policies

Risk of limited quantities

New dropshipping supplier
Regardless of the benefits, Etsy falls short with inconsistent shop policies. As all of the suppliers on Etsy are individual sellers, each one has its separate return and refund policies. As store owners, it's crucial to read each Etsy seller's policy before sourcing from them. When we do so, we are ensuring reliability and proper communication.
Also, since Etsy's products are custom-made, we can have problems if the Etsy seller has no supply on hand for our customer orders. Besides that, Etsy is a relatively new dropshipping supplier. Therefore, we should work with them patiently to overcome any problems.
8. eBay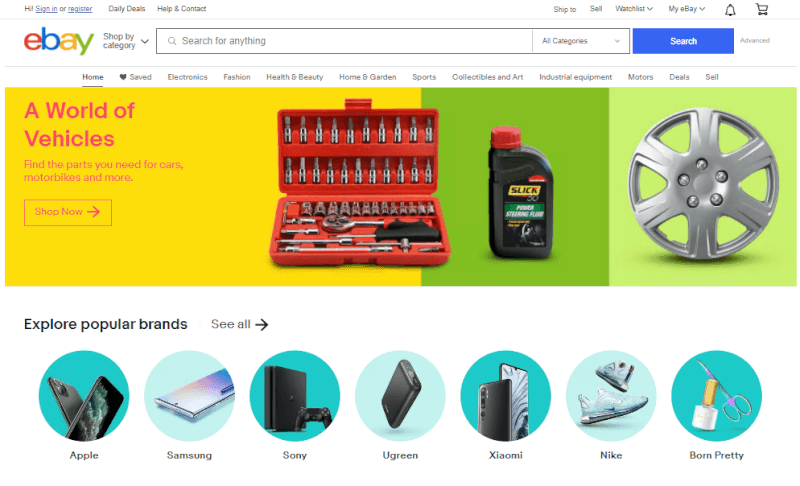 Ninth on our list of free dropshipping suppliers is eBay. As one of the eCommerce pioneers, eBay has over 150 million users and a wide product range that benefits us greatly.
Pros
Massive selection of products

Quick global shipping

Exceptional customer service

Buyer/Seller protection

Spy on the competition
eBay has an astonishing 1.5 billion listings on its platform. Let that sink in! With such a diverse range of products, we can find many products from different categories to sell in our stores.
Next, eBay's ability to reach global customers is evident with multiple warehouses in major countries like the US, UK, Canada, Germany, Spain, and many more. So, we can offer quick delivery times to our customers.
Another advantage of eBay is its amazing customer service. With a plethora of sellers, each one competes to provide the best possible service, thus highly benefiting our business. Moreover, with so many sellers, we can source products at competitive prices, allowing us to scale our business even further.
Furthermore, eBay ensures that both buyers and sellers are safe on the platform with its buyer/seller protection program. The buyer/seller protection includes money-back guarantees, conflict resolution, payment protection, and prevents scams.
Plus, as eBay is home to a massive number of sellers, it is also an excellent platform that we can use to spy on our competition. With the help of tools like Zik Analytics, we can discover trending product niches and categories, products recently added, and average sales of the product.
Cons
Inconsistent shipping and return policies

Large competition for product research
As eBay hosts many individual sellers, dropshipping from them means there are inconsistent shipping and return policies. Like Etsy, eBay allows sellers to set their shop policies resulting in contrasting shipping and return policies. Thus, be sure to diligently read through the business policies.
Additionally, there's massive competition for product research on eBay. Since there are about 1.5 billion listings, choosing which products to sell can be hard. However, we can solve that problem with the AutoDS product research tool. This will help us find high potential products that are guaranteed to sell well in our store.
9. Costco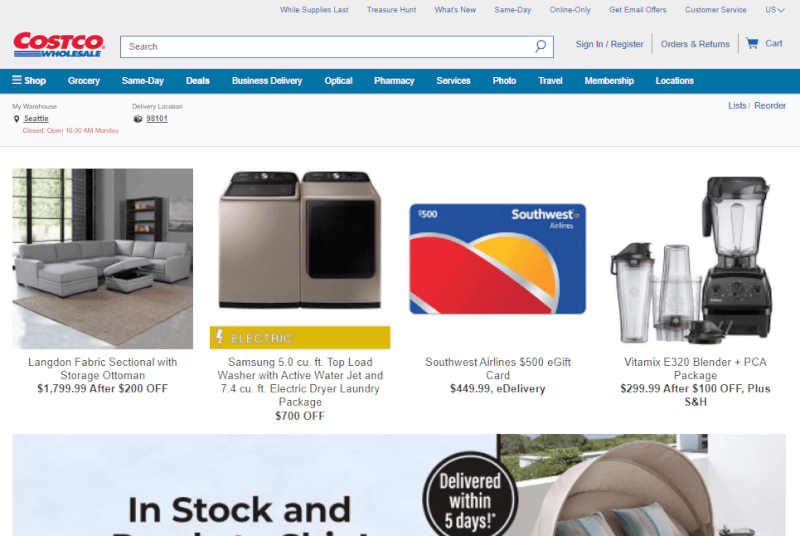 If you are looking for good deals, you'll never go wrong with sourcing products from America's largest wholesale supplier. Unlike other suppliers, Costco generates most of its revenue from its monthly membership fee rather than product sales.
Pros
Wide range of products

Unique products

Lots of discounts

Optimal customer support

90-day return policy

Fast shipping
As one of the largest wholesale suppliers, Costco offers a large selection of products from 20+ product categories. Moreover, the products we find at Costco are not readily available on different platforms. That's because their unique model only allows their members to access their wholesale products.
Along with their unique model, they offer daily deals and savings for dropshippers. Therefore, we can increase our profit margins by dropshipping products from Costco products at discount prices.
Furthermore, Costco's customer support resolves any issues related to tracking, returns, and refunds. On top of that, they have a convenient return policy where the return window is 0-90 days.
To top it all off, Costco offers fast shipping times. For regular delivery, it ships products within 3-5 days, whereas it also offers same-day deliveries within two hours (only in the US market).
Cons
Extra surcharge for non-members

Limited payment options

Free shipping limitation
Due to the business model, we need to acquire a membership to take full advantage of dropshipping products from Costco. Although it is possible to purchase products without a Costco membership, we will be charged an additional 5% on top of the original price.
Also, the payment options on Costco are limited. While it accepts mobile payments and credit cards, Costco doesn't accept PayPal as a payment method. Therefore, it can be an inconvenience for dropshippers who prefer Paypal.
In addition, there is also a free shipping limitation on Costco. As such, it's important to keep in mind that free shipping is only applicable for orders that sum up to $75 and more.
Membership fee
Even though we can order from Costco without being a member, its primary benefits are only accessible to the members. Generally, there are three membership plans for Costco. The first one is Gold Star which costs $60 per year. Similarly, the second plan, Business membership, also costs $60 per year. In contrast, the third one is the Executive membership which costs $120 per year.
10. Wayfair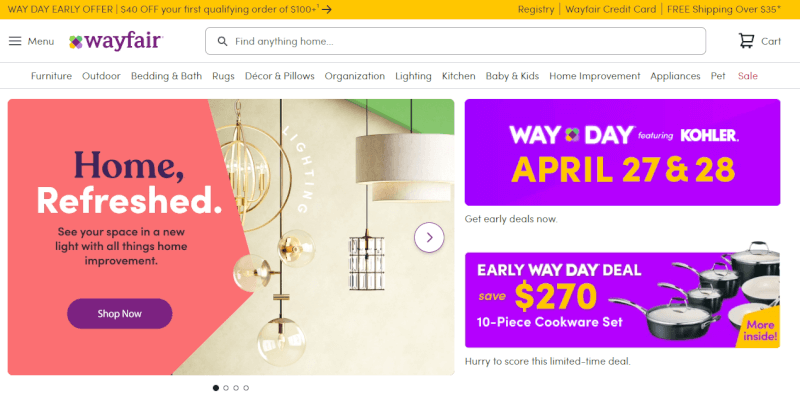 Another American supplier that works well for dropshippers is Wayfair, specializing in the furniture and home goods niche. It is an online platform with over 15 million home improvement products from 11,000 global suppliers.
Pros 
Free 2-day shipping

Worldwide Warehouses

Large product range

MYWAY program

Diverse payment options
When it comes to shipping, Wayfair provides free 2-day shipping on all US orders above $49. On the other hand, it charges a flat fee of $4.99 on orders below $49.
Regardless of which option we choose, all the orders are shipped out quickly. With their warehouses in the US, UK, and Germany, we can offer our customers faster shipping times.
Another major perk of Wayfair is its "MYWAY" program. The program offers free shipping for all online products and same-day shipping for most products. In addition, we also get instant access to thousands of exclusive items.
And, we can pay for products with various payment methods. For example, Wayfair supports payment from all major credit cards, Apple Pay, PayPal, Wire Transfer, and more. 
Cons
Niche-oriented

More expensive products
While Wayfair is one of the largest American suppliers, it only offers products from the home improvement niche. Therefore, it is not suitable if we want to dropship from a broad category of products.
Besides that, Wayfair's products are relatively more expensive than its competitors. Nevertheless, their high-quality products compensate for the higher costs, making them an excellent choice for dropshippers.
MYWAY Program Fee
While there's no dropshipping fee for Wayfair, the MYWAY program has an annual fee of $29.99. The fee comes with certain benefits such as access to insider sales, discounts, special deals, and more.
11. Target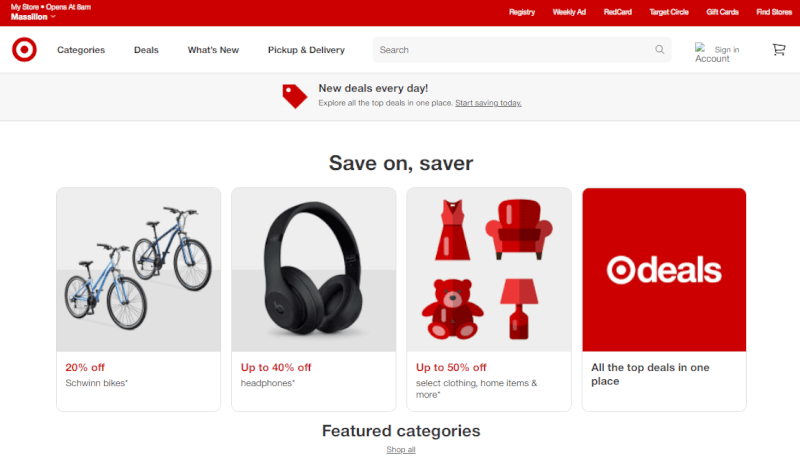 Next on our list is Target, one of the top ten largest retailers in the United States. With over 2000 physical stores and an online platform, Target is a popular free dropshipping supplier.
Pros 
Multiple warehouses and distribution centers

High-quality products

2-day shipping on orders above $35 

Target "Red Card"

Great return policy
Target has around 45 warehouses and distribution centers worldwide to deliver high-quality products quickly. Alongside quality products, it offers free 2-day shipping for any order above $35.
Additionally, signing up for Target's unique program "Red Card" allows us to enjoy free shipping without any minimum purchase. Moreover, we also receive an additional 5% discount at checkout and an extra 30 days in addition to its impressive 90-day return window.
Cons
More expensive

No dropshipping program
On the other hand, because their products are high-quality, they are relatively more expensive in comparison to other suppliers. Additionally, Target doesn't offer particular programs to support dropshipping. Despite not having a dropshipping program, Target continues to help us scale our business with their Red Card program. 
Red Card Program
Target's "Red Card" is free and it functions like a credit card. Therefore, there's no upfront fee and we can easily take advantage of this program.
12. Overstock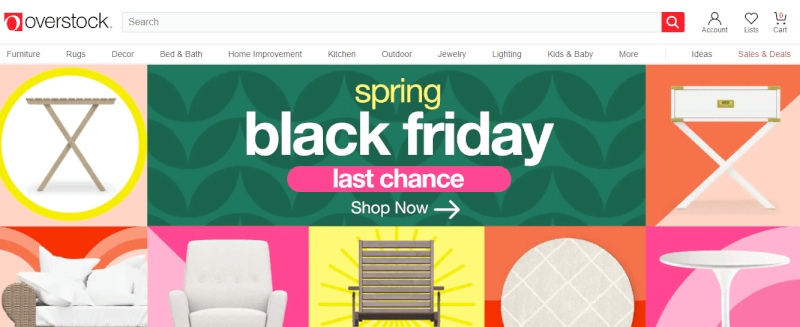 Another American supplier on the list is Overstock. Founded in 1999, Overstock is another online retail platform primarily selling home goods and furniture products.
Pros:
Huge product range

Price match guarantee

Club 0 Program

Fast shipping
Overstock offers a massive selection of items from all the categories of home decorations. The product range includes furniture, pillows, rugs, dinnerware, outdoor furniture, and even jewelry.
In addition, Overstock offers a price match guarantee if we find the same product at a lower cost. Thus, we will be giving our customers the most affordable deals on the market.
Furthermore, Overstock has a "Club 0" program. In general, the program allows us to enjoy free shipping and a 5% cashback on every purchase. Aside from free shipping, Overstock provides quick domestic delivery with shipping times between 1 and 3 days. With these benefits, we can satisfy our customers and ensure repeat sales. 
Cons:
Limited to US warehouses

Niche-dedicated

No control in the shipping process
While Overstock has numerous benefits, it falls short in a couple of departments. The first and significant drawback is the unavailability of international warehouses. Although Overstock has three warehouses in the US, we cannot offer fast shipping times to customers outside the US.
Aside from that, Overstock only supplies home improvement products. As such, it has limited options for providing a wide range of categories.
Another disadvantage is that we have no control over the shipping process. Since Overstock chooses the shipping method, we should be diligent in which products we source from Overstock and remain transparent with our customers.
Club 0 Program
When it comes to additional costs, Overstock doesn't charge a dropshipping fee. However, the "Club 0" program costs $19.95 per year. With this program, customers receive extra perks and benefits like promotional offers.
13. Costway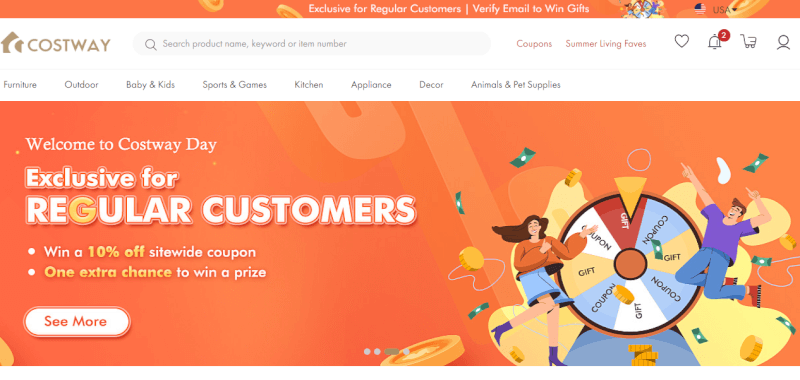 Up next on our free dropshipping supplier list is Costway. In the early days, Costway began its eCommerce journey by selling on third-party platforms like eBay and Amazon. Fast forward ten years, Costway is one of the top retailers in the US and Europe. 
Pros
Dropshipping program

8000+ white label products 

Dropshipping Agreement

Multiple warehouses in the US and Europe
Not only can we source a vast range of products from Costway, but this free dropshipping supplier offers a special dropshipping program. As such, the dropshipping program includes features like wholesale pricing, two-day shipping, and a three-month product warranty.
Equally impressive is its 8000+ white label product range. White label products are generic products that we can rebrand with our brand name and packaging. So, we can build our brand and have a competitive edge over rivals.
Plus, there are thousands of products from other popular brands. In general, we should avoid violating VeRO rules when dropshipping brand names.
However, Costway's dropshipping agreement allows us to dropship branded products legally. That means we can offer high-quality products to our customers and leverage well-known brands to increase our sales and profit.
Furthermore, Costway offers fast shipping times to our customers with its multiple warehouses worldwide. Talking about warehouse locations, Costway has warehouses in nine different locations.
Among them, five are in the US, two are in the UK, and the remaining two are in Germany. With their global presence, we can dropship in many countries and reach a broader audience.
Cons
Logos on packages 

VIP Membership program incompatible with the dropshipping program
Like other suppliers, sourcing products from Costway has its disadvantages. If we are fulfilling orders from Costway, they pack and ship products to our customers with Costway's logos on the package.
As a result, it can be harder to build brand awareness. However, on the large scale, customers do not care where the products come from as long as the product is delivered on time.
Another shortcoming is its VIP membership program. While the VIP Membership program offers many benefits for standard buyers, it is simply not compatible with the dropshipping program. 
VIP Membership Program
As for its VIP membership program, there are four different plans: Bronze, Silver, Platinum, and Diamond. While the Bronze plan is free, the Silver plan requires us to order at least one item of any value.
Similarly, the Platinum plan requires us to order a minimum of $300 throughout the year and the Diamond plan requires us to order more than $666 in a year. The Diamond plan includes offers such as special rewards, 20% discounts, and free returns within 30 days.
14. Lowe's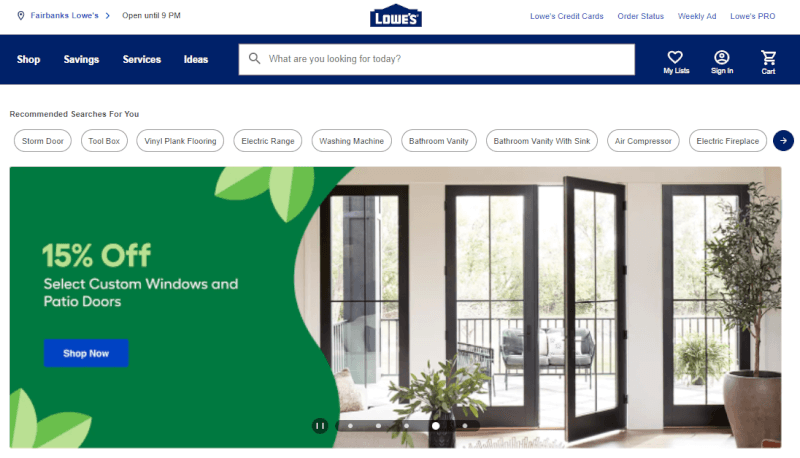 Next up, we have Lowe's. Founded in 1946, Lowe's is one of the oldest suppliers that has grown from a small-town hardware store in North Carolina to one of the largest home improvement retailers in the world.
Pros:
Fast and efficient shipping 

Business credit cards

Pro loyalty program

Protection plan
With three different shipping methods, Lowe's has fast and efficient shipping. The standard shipping method takes 1-3 business days to ship products. In addition, they have same-day shipping and 2-day shipping as well.
Essentially, with the business credit cards, we can enjoy a daily 5% discount, discounted deliveries, and much more. Similarly, Lowe's "Pro Loyalty" program is another unique feature.
With this program, we can enjoy personalized offers, track our spending and get specialized tools to manage our dropshipping business. As a matter of fact, Lowe's provides a protection plan that ensures an extensive product warranty without additional fees or deductibles.
Cons:
Shipping eligibility

Limited categories
On the downside, Lowe's standard shipping is not available for many products. That means we have to pay extra for shipping which ultimately increases our cost.
In addition, Lowe's is only suitable for dropshipping under the home improvement category. However, if we're focusing our dropshipping store on this niche, Lowe's is a great free dropshipping supplier.
Lowe's Pro Program Fee
The Pro Program is a reward program that doesn't cost additional fees. Instead, it requires us to have a minimum order yearly. Ranging from $2500-$25000, Lowe's has three different Pro plans: Silver MVP, Gold MVP, and Platinum MVP.
While all the plans offer gift cards and additional benefits, the Silver plan has 1% cashback, the Gold plan has 1.25% cashback, and the Platinum plan has 1.5% cashback.
15. Sam's Club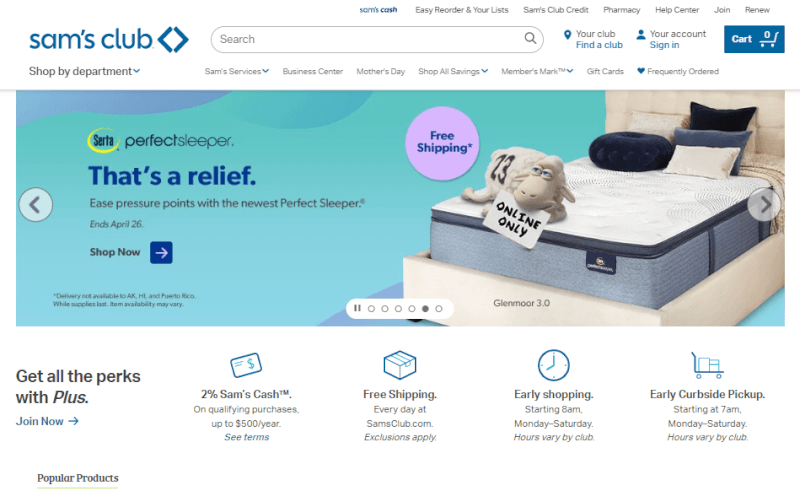 Similar to Costco, Sam's Club is another free dropshipping supplier offering membership-only benefits. Owned by Walmart, this American retail chain offers cashback rewards, savings, and special discounts. 
Pros 
Savings and rewards

365-day return window

Fast and free shipping
As a supplier popular for rewarding its customers, Sam's Club offers special discounts like cashback rewards and exclusive savings. So, dropshipping with Sam's club means we can extend these offers to our customers.
In addition, one of the significant advantages is that Sam's Club accepts returns within 365-days. While the offer is valid for products like apparel, they should be in good condition and have their original packaging.
Finally, Sam's Club has a quick shipping policy. For most orders, domestic shipping takes 1-3 business days and is completely free.
Cons
No PayPal payment method

Multiple return policies
On the downside, Sam's Club doesn't accept PayPal as a payment option. Since many dropshippers use PayPal as a payment option, this can be a definite drawback for some of us.
The next disadvantage lies in its return policy. Regarding returns, there are multiple return policies according to product categories. Hence, it may confuse our customers if we provide multiple return policies. However, we can overcome this challenge by writing clear and concise business policies to ensure transparency and credibility.
Membership Fee
Sam's Club has two membership plans which offer a plethora of benefits: Club and Plus. The "Club" plan costs $45 per year, and the "Plus" plan costs $100 per year. While the "Club" plan is the standard plan, the "Plus" plan offers free shipping for all orders, 2% cashback, and more. 
16. DHgate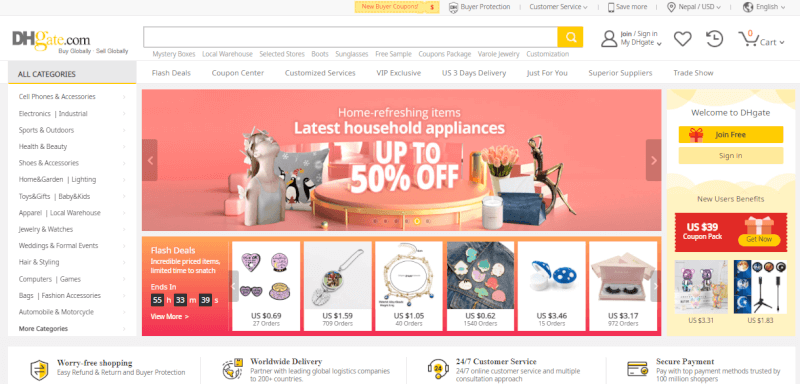 DHgate is a leading e-commerce platform that provides direct access to wholesale products. As an online platform connecting us with Chinese wholesale suppliers, dropshipping from DHGate means we can benefit from affordable prices and save money on large orders.
Pros 
Large product catalog

Low-cost products

Wholesale pricing

A massive network of warehouses
When dropshipping, the wider the product category our supplier has, the better it is for us. With that said, this free dropshipping supplier has over 20 million products from different categories. On the same note, it serves dropshippers from almost all categories, such as electronics, kitchen appliances, clothing, furniture, and more.
Like most Chinese suppliers, DHGate offers products at a low cost. With this in mind, we can sell items at a higher price in our dropshipping store, maximizing our profits.
On top of that, we get wholesale deals for products because most suppliers on DHGate are wholesale suppliers. So, if we have to fulfill a large order from our customers, we can multiply our profits by sourcing products from DHGate.
If you thought it couldn't get any better, DHGate has a massive network of local warehouses. With 16 warehouses in the US, UK, Australia, Europe, and other regions, we can ship products quickly to our customers worldwide.
Cons
On the flipside, DHGate offers low-quality products in comparison to other suppliers. For instance, they offer copies and replicas of branded products.
Therefore, if we are looking for high-quality items, this supplier may not be the best option. Nevertheless, we should always check product reviews before listing them in our store.
17. Gearbest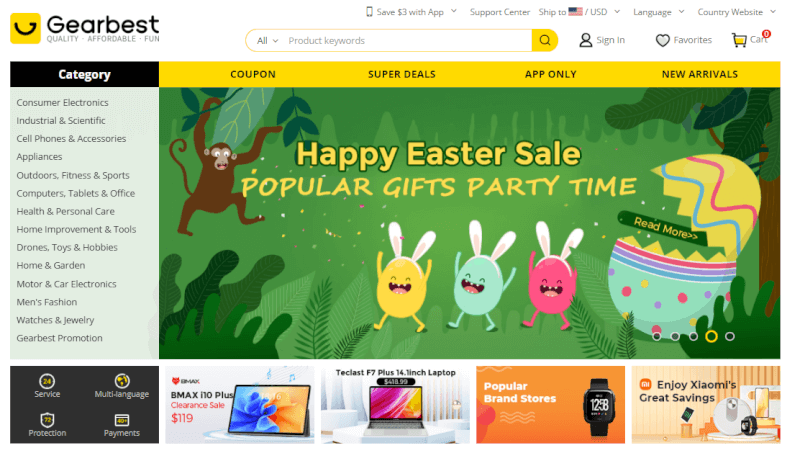 Another top-notch Chinese free dropshipping supplier is Gearbest. Dropshipping from this supplier allows us to sell premium electronic products with exceptional customer service.
Pros 
Specialization in electronic products

46 warehouses worldwide

3-day price protection
The first benefit of Gearbest is the particular niche it caters to. Although Gearbest offers products of different varieties, it specializes in supplying electronic products and gadgets. So, if our dropshipping store focuses on selling electronic items, then Gearbest is a great choice.
With 46 different warehouses worldwide, Gearbest ensures that all the products are shipped within 1-2 business days. Plus, we only see products on its online platform if they are available in the nearest warehouses.
Last but not least, Gearbest offers 72-hour price protection. Like the price matching policy, price protection ensures we get the lowest and best possible rates for our products.
Cons
No private labeling or custom packaging

Costly products
On the downside, Gearbest doesn't offer private labeling services. Private labeling allows us to design and sell products under our brand name. Therefore, we cannot offer unique products to our customers.
Additionally, products on Gearbest are comparatively more expensive than its closest competitors like AliExpress. However, there's no doubt that its pros outweigh the cons, making it an excellent choice for dropshippers in the electronics niche.
18. VidaXL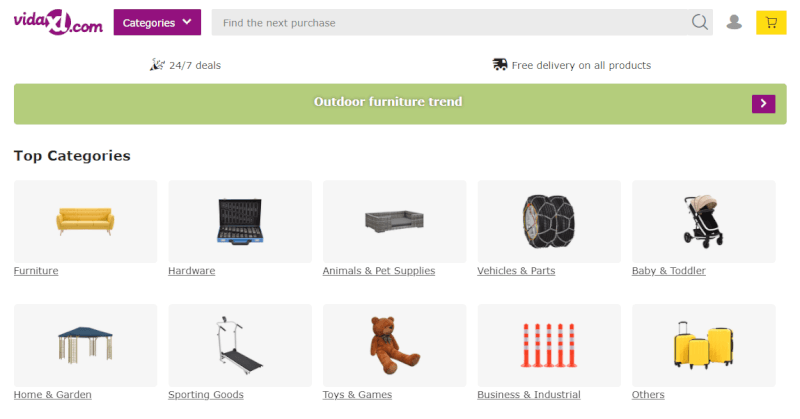 Next on our list is VidaXL, a dropshipping supplier based in Europe. Founded in 2006, VidaXL is an international retail platform that offers home improvement products such as furniture, home & garden, and more.
Pros 
90,000+ Products

Dropshipping XL program

Free shipping
In terms of benefits, VidaXL has an extensive catalog of more than 90,000 products. In addition, product categories include hardware, sporting goods, and garden accessories.
Furthermore, "Dropshipping XL" is a unique program of VidaXL that supports dropshipping. It provides services like speedy shipping and translation for over 20 different languages. With these services, it allows us to operate our dropshipping business smoothly.
Moreover, all products on VidaXL have free shipping. Therefore, we don't have to pay additional costs for delivery. This means our customers will also benefit from free shipping! 
Cons
A single account doesn't work for multiple countries

Not suitable for private label dropshippers
Although VidaXL has its fair share of advantages, it also has disadvantages. For instance, a single account on VidaXL can only dropship in a single country. Therefore, we have to open a new account if we want to dropship in another country. Moreover, since VidaXL is not a manufacturer, this supplier is not suitable for private label dropshippers. 
DropshippingXL Program
As for the cost of the DropshippingXL Program, it comes at around $30 per month. In return, VidaXL handles shipping, customer service, and returns on our behalf. 
19. Lightinthebox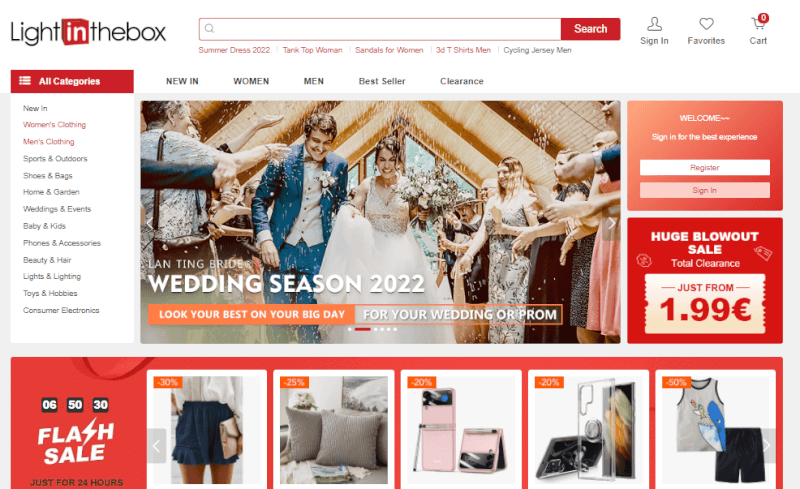 If you are searching for a free dropshipping supplier with fashion products as its core niche, LightInTheBox will not disappoint you. Lightinthebox is a Chinese online platform popular for sourcing products directly from manufacturers and suppliers in China. 
Pros
Low-cost products

Reliable shipping 

Great customer support
With a direct connection to manufacturers and suppliers, we can find products at low prices. Therefore, by dropshipping from this supplier, we can offer products at similar prices and increase our profits.
Additionally, Lightinthebox delivers products using reliable shipping couriers such as UPS, DHL, and FedEx. As such, working with multiple reliable couriers allows it to ship products to different regions worldwide while avoiding delays. Besides that, we can translate the platform to 26 major languages.
And finally, Lightinthebox provides a 14 day satisfaction guarantee period for its customers. During this time, customers can return the product without mentioning any reason and ask for a full refund or exchange. 
Cons
Although Lightinthebox accepts returns and exchanges within seven days, it can take up to 45 days to receive a refund or exchange.
Nevertheless, we can solve this problem by remaining in touch with our suppliers throughout the shipping process. This way, we can update our customers if there are any delays in shipping time.
20. Miniinthebox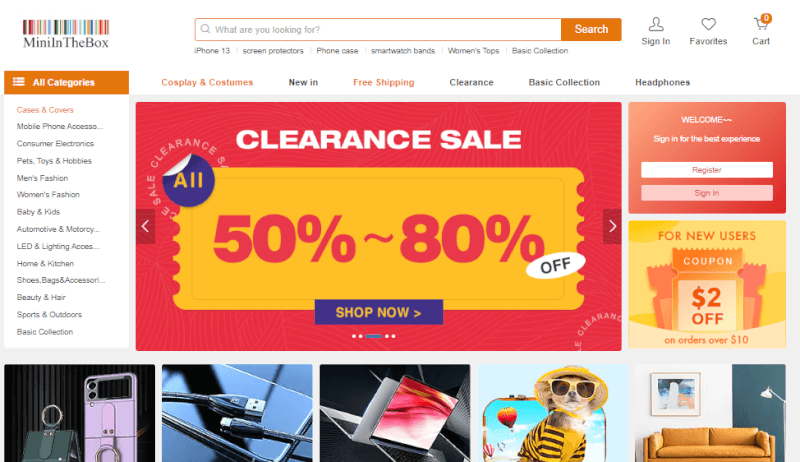 Like its sister company Lightinthebox, MiniInTheBox is also another online dropshipping platform. It works by connecting dropshippers directly with manufacturers and suppliers from China.
Pros
Sourced directly from manufacturer/supplier

Global shipments

Exceptional customer service
Similar to the model adopted by Lightinthebox, Miniinthebox offers products directly from manufacturers and suppliers in China. That means we can find products at considerably lower prices than local suppliers. Therefore, we can price our products competitively and reap the rewards.
Furthermore, Miniinthebox ships products with reliable shipping transporters such as DHL, UPS, FedEx, and TNT. Therefore, we can ship products to our customers anywhere in 5-8 business days.
Another perk Miniinthebox offers us is exceptional customer service. Their customer service team is always ready to solve our issues related to orders, returns, refunds, and more. With this in mind, we can rest assured that dropshipping from Miniinthebox will be smooth sailing.
Cons
Inconvenient return policy

Issues with tracking services
While their US warehouses allow US and European customers to return products quickly, customers outside these countries will need to ship products to China. Therefore, the returns are inconvenient if we are dropshipping outside the US and Europe.
Additionally, although Miniinthebox has efficient and fast shipping, many customers feel that the company's tracking service doesn't work or function well.
When dropshipping, we need to constantly provide accurate tracking information to update customers about the product. However, as they have a great customer support team, we can easily contact a representative for assistance. 
21. Redbubble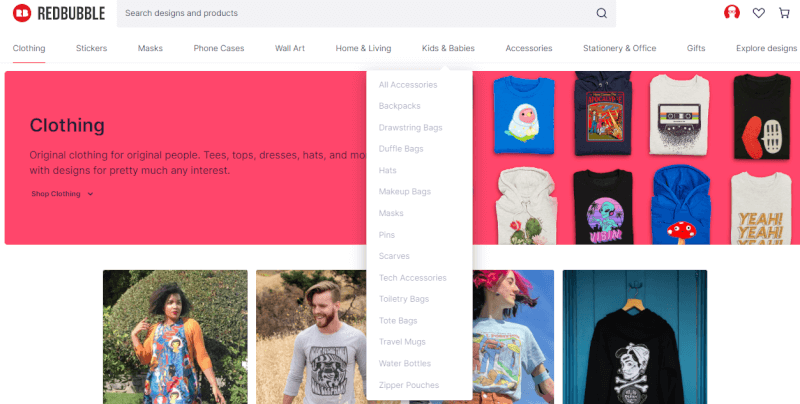 Up next, we have an Australian dropshipping supplier that provides products from the print-on-demand industry. Redbubble is a global online marketplace that provides print-on-demand products based on user-submitted artworks.
Pros 
Print-on-demand products

Huge art database

Global delivery options
As the print-on-demand industry is booming, Redbubble allows us to take advantage of this by customizing our products with our designs and selling them to our customers. Moreover, Redbubble offers unique products with designs from professional designers and independent artists.
Due to the above reasons, the products we source from Redbubble will be unique and creative. Hence, we can differentiate ourselves from the competition and quickly build our brand.
Although Redbubble is an Australian Company, they have warehouses and distribution centers globally. This allows us to dropship around the world. Equally impressive is their return policy, which offers free returns for all products.
Cons
High competition

Additional costs
On the other hand, the Redbubble platform is becoming highly saturated with new users. So, there is high competition on the platform in terms of finding unique products.
Additionally, there can be additional costs while dropshipping print-on-demand products. As we may have to pay the artist for their design, there can be extra costs associated with dropshipping from Redbubble.
22. Pure Formulas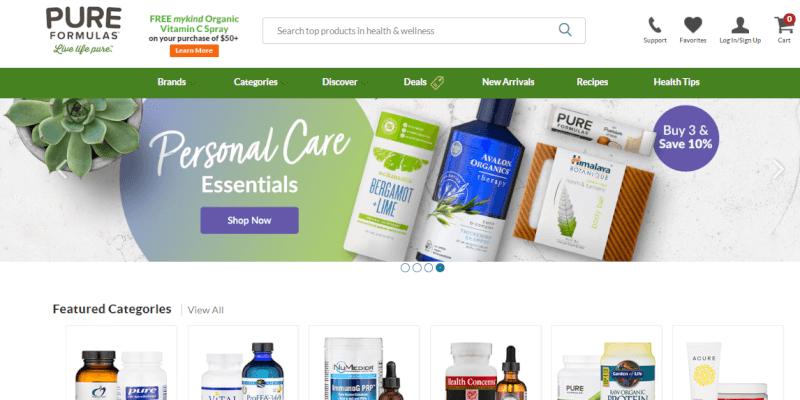 Next on our list is a free dropshipping supplier specializing in health supplements. Pure Formulas is a retail platform offering a range of vitamins, minerals, and other nutritional supplements.
Pros
Health supplement niche

Pure Rewards

Hassle-free returns
As we know now, PureFormulas offers products from the health supplement niche. With this in mind, we can differentiate our store from the rest of the competition because the health supplement niche has comparatively lower competition.
Furthermore, Pure Reward is a special offer from Pure Formulas that allows us to gain points when ordering from them. After we collect enough points, we can exchange them for in-store purchases. Offers and rewards like these help us gain discounts and maximize our overall profit.
Lastly, Pure Formulas has a convenient product return policy. In addition to a 30-day return window, they offer free returns. Moreover, the return shipping costs are paid by Pure Formulas. That means we can offer the same deal to our customers and, as a result, obtain customer loyalty. 
Cons
Price fluctuations

Requires specialized knowledge
While we can source unique products with Pure Formulas, the prices of their products are continuously fluctuating. As such, we should use stock and price monitoring tools to keep track of the changes.
Additionally, dropshipping with Pure Formulas requires time and patience. To dropship health supplements products, we need to have proper knowledge regarding the products.
23. Kmart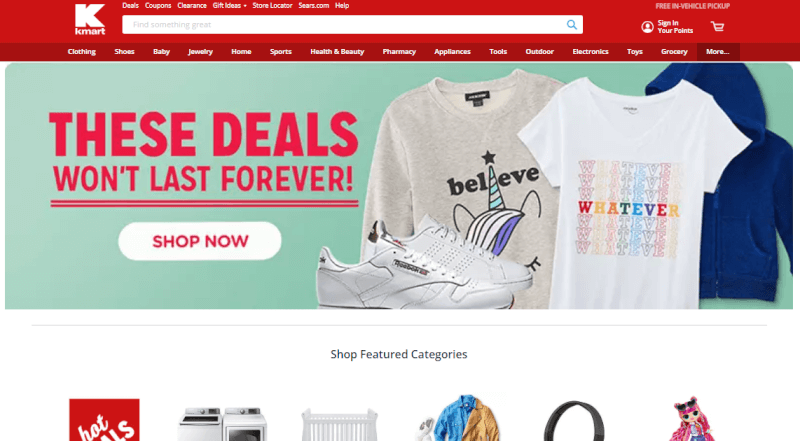 Founded in 1899, Kmart provides us with free dropshipping services. As one of the biggest retail chains, it is available in many countries such as the UK, Germany, the USA, Canada, Australia, and New Zealand. Due to Kmart's global reach, we can ship our products to customers worldwide.
Pros 
Huge catalog of products

60-day returns
As one of the largest retail chains, Kmart has a large selection of products from various categories. Plus, its product range includes furniture, fashion, home improvement, electronics, and more.
Additionally, Kmart accepts product returns within 60 days. With a 60-day return window, we can offer our customers a more comprehensive return policy. As a result, we gain a competitive edge in the market as most suppliers limit return periods to 30 days.
Cons
Despite being popular among dropshippers, Kmart doesn't have a specific dropshipping program. Nonetheless, there are no additional fees when sourcing products from Kmart, thus, we don't need any initial investments to start.
24. Wish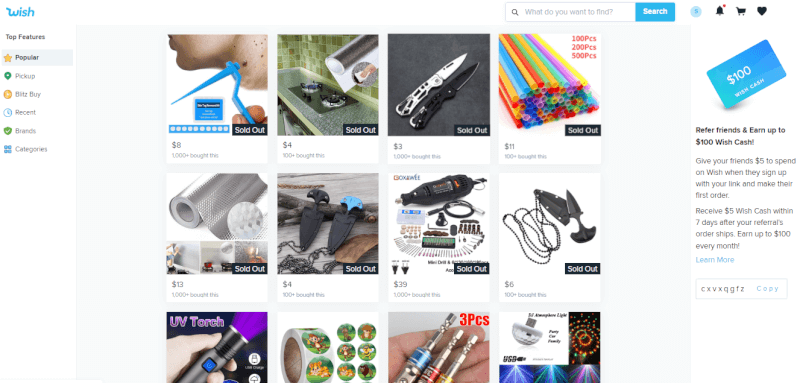 Nearing the end of our list, we have Wish. As a popular mobile-friendly online marketplace, Wish has a large selection of products and is specifically prominent in the US.
Pros 
Low prices

Verification system

Exclusive offers and gift cards
The first advantage is the relatively low prices of the products. To clarify, some products start from as low as $3. And that is also one of the many reasons that millions of customers visit Wish every day.
Another perk offered by Wish is its "Verified by Wish" service To clarify, Wish checks the quality of the products before shipping them out. Thus, it ensures that we are only listing quality products in our stores.
Aside from that, Wish also provides exclusive offers and gift cards. Usually, it offers reward points for purchases that we can later redeem to buy products. Using these offers, we can bring down our overall costs resulting in higher profits.
Cons
Inadequate product information

Late shipping times
On the downside, Wish's product pages lack sufficient product information. Thus, if a product lacks information, we won't have extensive product descriptions, so we should always conduct proper product research.
Plus, the shipping time is prolonged with Wish. Although they advertise faster shipping times, it can take months before customers receive their orders from Wish. This means we should be in touch with our supplier and regularly update our customers to overcome this problem.
25. Amazon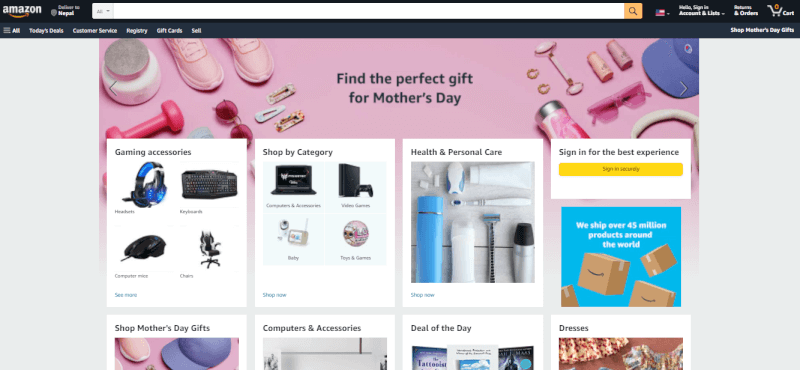 Last on our list of free dropshipping suppliers, we have one of the most popular names worldwide, Amazon. While Amazon is one of the largest eCommerce marketplaces, it is also a giant supplier of products from almost every category imaginable. 
Pros
Massive selection of products

Quick shipping

Amazon Best Seller section

Great customer service
It's no secret that Amazon has a massive selection of products from every niche. Therefore, we can offer the same variety to our customers. Having multiple varieties of products is crucial to attracting different types of customers.
Alongside its massive selection, Amazon is famous for its fast shipping times. Although shipping times normally depend on Amazon sellers, we can ensure our customers fast shipping when we opt-in for Amazon prime. Amazon Prime is a subscription service that gives us access to a variety of Amazon benefits.
As such, Amazon Prime offers same-day as well as two-day delivery. Therefore, we will have satisfied customers when we offer free and quick shipping times.
In addition to the massive product variety, Amazon has a 'Best Seller' section where we can see the best selling products on the platform, updated hourly. As such, we can find top products and sell the same product in our stores to multiply our profits.
Besides that, Amazon's customer service is top quality. If there's an issue with our orders or returns, they are ready to assist 24/7 via phone or email.
Cons
More Competition 

Constant price fluctuations

Account locks
On the downside, there is a high level of competition on Amazon. Since many people are buying products from Amazon, it can affect the availability and pricing of the products.
Another drawback of Amazon is the constant price fluctuation of products. Because Amazon sellers set the product's prices, they can constantly fluctuate which can be a challenge for dropshippers. However, we can remain up to date if the price or the availability of stock changes on our supplier's side with the AutoDS price and stock monitoring tool. 
Lastly, Amazon locks account that order frequently to different addresses. However, there is a solution. First, we can use Amazon as a product-finding platform and then source those same products from another free dropshipping supplier. Or, we can create multiple Amazon accounts to minimize the risk of account locks.
Amazon Prime
Dropshipping from Amazon doesn't require a membership, but only orders above $25 will be eligible for free shipping if we don't use their monthly Prime subscription. The "Amazon Prime" subscription cost is $139 per year.
"Beginner's Tip: When sourcing products from Amazon to eBay, we should use tracking conversion services like Bluecare Express and Aquiline to convert unreadable tracking information."
How To Work With Free Dropshipping Suppliers & Scale Your Business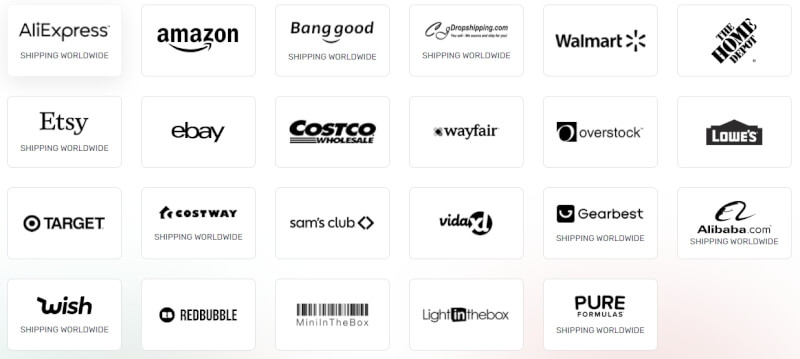 Great! Now we have an extensive list of free dropshipping suppliers to help us optimize our business. Most importantly, all of the above suppliers are supported by AutoDS, an excellent business automation software.
Talking about business automation, let's find out why it is crucial for a dropshipping store. Once we create a dropshipping business, we can run our operations in two ways: manual dropshipping and automatic dropshipping.
With manual dropshipping, we'll quickly realize that the business processes take time and effort. We need to repeat the same tasks on a daily basis, like filling in product information, shipping details, and uploading product images.
Not only do we have to spend a lot of time doing these tasks, but we also risk losing our profits if the product's price or stock availability fluctuates on our supplier's end. In addition, we are also not factoring in human errors like shipping to the wrong address.
However, we can quickly solve this issue with dropshipping automation. When we combine business automation with our dropshipping store, we can scale our business to new heights.
With that being said, dropshipping automation saves us loads of time, allowing us to focus on other business areas like marketing and customer service. From product imports to order fulfillment, the dropshipping automation software takes care of everything even while we sleep!
With this in mind, AutoDS is one of the best dropshipping automation software. Here are the automation solutions that dropshippers can benefit from when utilizing AutoDS:
To demonstrate, let's look at the Fulfilled by AutoDS feature. This feature is one of the types of automatic order fulfillment that helps us fulfill our customer's orders.
Fulfilled By AutoDS
Fulfilled by AutoDS is a complete order fulfillment tool that automatically fulfills our customer orders. Moreover, the software can send tracking information to our customers once they place an order. Plus, it also handles returns without us having to interact with the system.
While these are some features, the principal feature of Fulfilled by AutoDS is that the service doesn't require us to create buyer accounts. Buyer accounts are our accounts with suppliers' websites integrated with a payment option.
Instead, AutoDS uses its account to buy products from our suppliers. That means we don't have to use our credit line at the bank or worry about our buyer accounts getting locked.
All we need to do is opt-in for Fulfilled By AutoDS, load our balance (Auto Credits), and let the software do the rest. Plus, when working with these free dropshipping suppliers and AutoDS, we can instantly start listing our products on Shopify, Wix, eBay, and FBMP. As such, with AutoDS, we can scale our business to rake in substantial profits.
FAQ
Can You Dropship For Free?
Yes! We can source products for free with the list of free dropshipping suppliers like AliExpress, Costway, and Overstock. The only exception is the cost of selling channels we use to list products.
Which Supplier Is Best For Dropshipping? 
The best dropshipping supplier depends on our requirements and niche. We recommend choosing a supplier with a large variety of product categories and a good return policy for beginners.
For instance, if you have a general dropshipping store, Amazon or eBay is suitable. On the other hand, suppliers like Lowe's or Costco are an excellent choice if we are dropshipping home improvement products. 
How Do I Know If A Dropshipping Supplier Is Good?
To know if a dropshipping supplier is reliable, we need to perform supplier research. Usually, we should look for fast shipping times, high-quality products, reasonable return policies, no dropshipping fees, no MOQ, and affordable products. The more boxes suppliers check off, the more reliable they are. 
How Can I Get A Free Dropshipping Store?
We can create and build our free dropshipping store by using different selling channels. Generally, selling channels are of two types: eCommerce marketplaces and customizable platforms. In a nutshell, eCommerce marketplaces like eBay and Facebook Marketplace allow us to build our dropshipping stores without any upfront cost. And, customizable platforms like Shopify and Wix have free trial periods and free plans, which we can use to test them and optimize our store.
Where Can You Search For Free Dropshipping Suppliers?
The suppliers mentioned above are all free dropshipping suppliers. If you want more, you can simply perform a google search and contact suppliers that you find. Alternatively, we can head over to the AutoDS blog and find out about more suppliers by checking on the suppliers/marketplaces box.
Conclusion 
Hats off to you! Not everyone is as patient to gain so much valuable information about free dropshipping suppliers. But that's also why you are miles ahead of your competition.
With this knowledge, we are ready to start sourcing products. All that is left to do is product research and automate our dropshipping store. Eventually, we will start generating profits in no time and scale our dropshipping business to the next level.
In essence, if we want to enhance our skills, we need to keep learning. Here are some other helpful articles to kickstart your dropshipping venture: