In the past year, online sales have increased immensely, driving the overall growth of the US eCommerce market. According to Digital Commerce 360, eCommerce in the US grew by 14.2% in 2021. This demonstrates the overall increase in demand for online retail shopping and an increase in profit margins for dropshippers. With that said, we need to ensure we work with reliable US dropshipping suppliers for Shopify.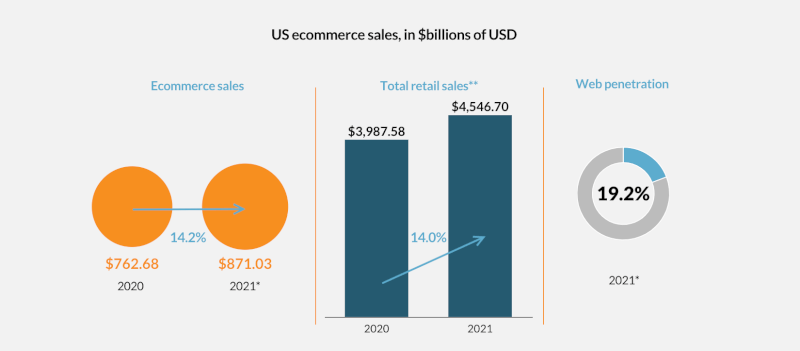 US dropshipping suppliers allow us to ship items quickly to the US market. Whereas Shopify will enable us to create, customize and efficiently target the US audience through our online store.
This article will go over the 16 best US dropshipping suppliers for Shopify, showcasing each one's pros and cons. As such, if you're interested in owning a successful Shopify dropshipping business, then continue reading to ensure you're working with the best possible suppliers.
16 Best US Dropshipping Suppliers For Shopify
While many dropshippers opt-in for working with Chinese suppliers due to their low pricing, there are other important factors when choosing a supplier for the US market. Such as higher quality products and faster shipping, both of which are often included when working with US suppliers and selling to the US market.
Now, with that said, let's learn about the best Shopify US dropshipping suppliers that will prompt loyal customers along with higher profit margins.
1. eBay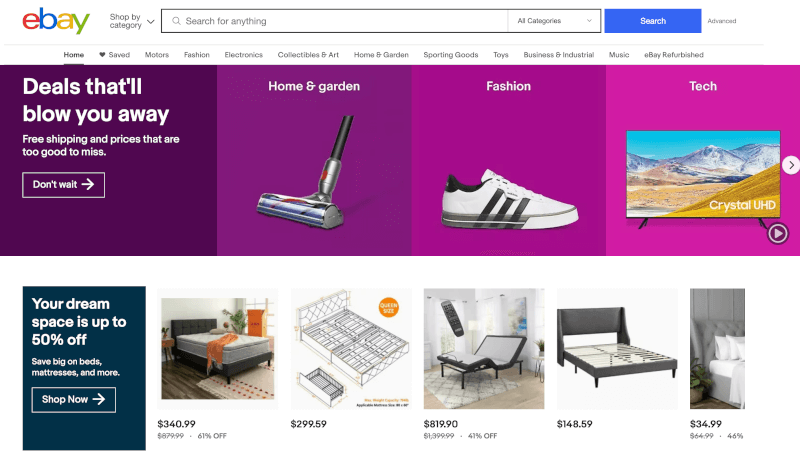 While eBay started as a platform for online auctions, today, it is one of the largest marketplaces online. Dropshipping from eBay to Shopify opens up a world of trending products to sell.
Pros:
Millions of products in different categories

Customer-oriented sellers

Fast domestic shipping times

Buyer/Seller protection 

Easy to spy on the competition
Cons: 
Marketplace- each product/seller has different policies

Massive competition for product research
With millions of products in many different categories, there's always something to find on eBay. Furthermore, eBay enforces its sellers to be highly customer-oriented and provides both buyer and seller protection, so we'll always get what we order- and on time.
Also, it's easy to spy on the competition and see what's trending on eBay. By simply searching for a product/niche, we can see how many sellers are selling it along with how many sales they are making.
On the downside, eBay is an open marketplace. Meaning there are thousands of sellers with different shipping/return policies. Since the competition is so big, it is more challenging to find trending products from eBay to sell on Shopify. Nonetheless, eBay is one of the top US dropshipping suppliers for Shopify due to its massive product catalog. 
2. Wayfair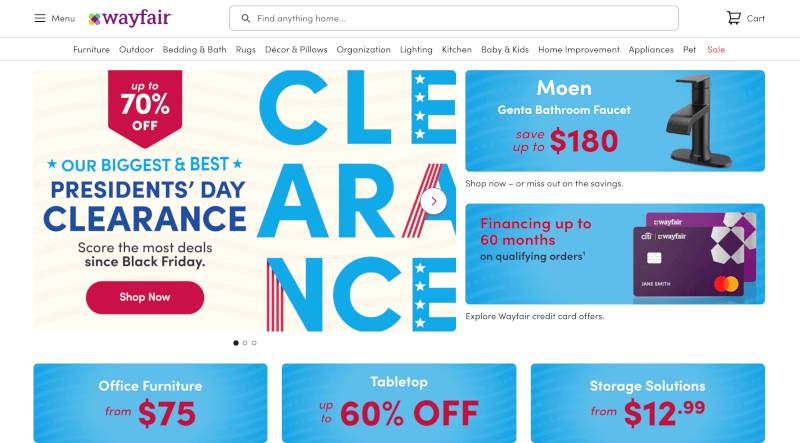 Wayfair specializes in the home goods niche and offers everything a home may need. In fact, Wayfair started as a dropshipping business and has successfully developed into one of the largest American e-commerce retailers, making Wayfair an ideal US dropshipping supplier for Shopify.
Pros:
Vast selection of products

International warehouses

Fast shipping options

The MYWAY program

Paypal payments
Cons:
One main niche

Higher pricing
With a focus on the home goods niche, Wayfair offers a large selection of furniture, home appliances, garden necessities, and anything else that's home-oriented. Correspondingly, these products are shipped quickly due to their domestic warehouses. Especially when dropshipping to the US market, we're able to get free or low-cost two-day shipping on all US orders.
Not to mention the Wayfair MYWAY program that benefits dropshippers with free shipping on any order, member-exclusive products, along with free one-day shipping for eligible products. The best part is that we can use Paypal for our purchases and take advantage of easy and secure transactions.
However, there is a niche limitation as Wayfair's products belong to the home goods market. Since there's such specific attention to this niche, the quality of the products is high, meaning their product pricing is higher than other home goods suppliers. Nevertheless, Wayfair is one of the best US dropshipping suppliers for Shopify as we can guarantee our customers top-notch products.
3. AliExpress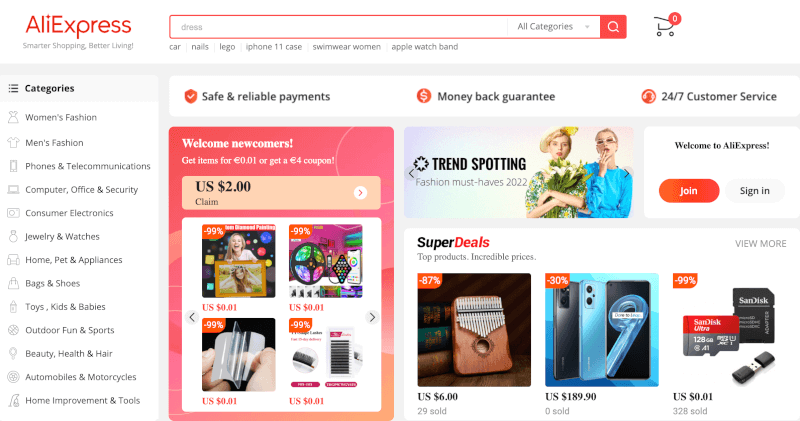 Based in China but with warehouses in the US, AliExpress is a large online retail platform offering various product categories for dropshippers. Dropshipping from AliExpress to Shopify means we aren't restricted to any specific niche.
Additionally, we can change the "Ship To" option to the United States on the top right corner. Then, we can run a search for any product or niche. Also, on the top, we can change the "Ship from" option to the US. Now we can see all the products that ship from and to the US. We can do the same from the AliExpress Dropshipping Center to help us with our product research.
Pros:
Domestic warehouses

Product research center

Massive product selection

Low prices
Cons:
Product quality

Shipment restrictions

Customer support
With what seems like an unlimited product range, we have a world of opportunities when selecting which products to sell through our Shopify dropshipping store. Not to mention the low cost and domestic warehouses, which allows us to offer fast shipping to our US customers.
On the other hand, low cost often comes with lower product quality, so we have to check the product reviews diligently. And although there is fast shipping, there are no bundle options meaning products are shipped separately. Lastly, the customer support is not up to par with other suppliers as there can be language barriers considering their main location being China. However, we should read the reviews to ensure we pick one of the more reliable sellers on AliExpress to be one of our US dropshipping suppliers for Shopify. 
4. Costway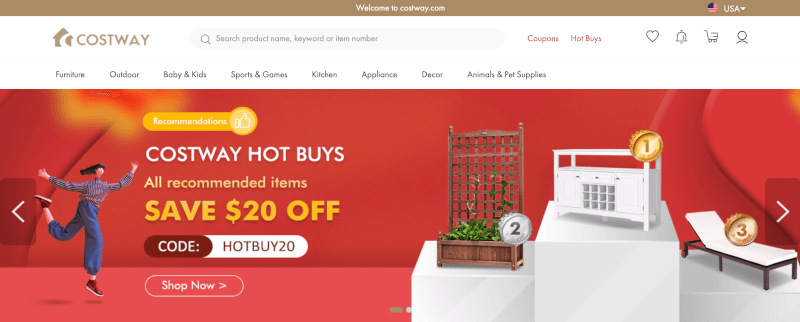 With over 10 years of experience in the dropshipping sector, Costway has grown to be one of the top-tier retailers in North America. Thus, dropshippers gain an advantage when using Costway as their US dropshipping supplier for Shopify.
Pros:
Free standard shipping

Multiple US warehouses

3-month warranty period

Excellent customer support
Cons:
Costway logo on delivery packages

VIP membership program is

not

compatible with the dropshipping program
One of the most significant benefits of Costway is their free standard shipping on all items. And yes, it does get better with 5 US warehouses, we can guarantee our customers fast shipping times. Not only this, but if our customers receive a damaged item, they are guaranteed a 90-day return or exchange period, all conducted through their excellent customer support team.
On the flipside, dropshippers can be at a disadvantage when items ship out with the Costway logo. Although most customers won't care where the package came from, so this isn't a big issue.
Furthermore, although Costway offers an appealing VIP membership program, it is unfortunately not compatible with the dropshipping program.
5. Banggood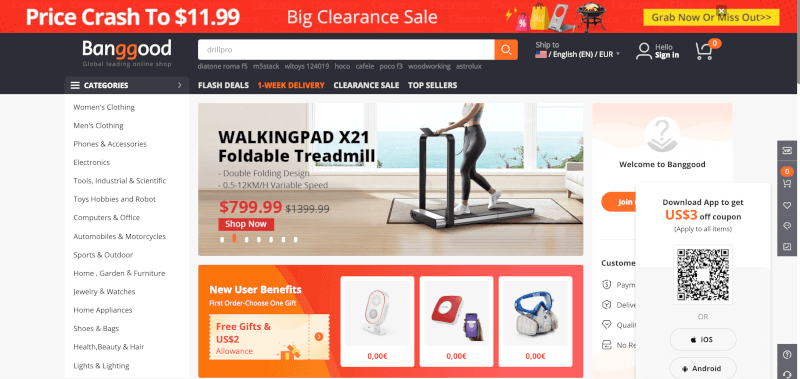 Similar to AliExpress, Banggood is a China-based supplier with US warehouses. And just as with AliExpress, we can change the Ship-To/From option to the USA when searching for products. With low pricing and various product categories, Banggood is another great  US dropshipping supplier for Shopify.
Pros:
Fast delivery

Multiple warehouses

Dropship center

Special programs
Cons:
No warranty on certain products

Issues with the return policy

Lengthy repair process
As we now know, with domestic warehouses we gain a competitive advantage by offering our customers fast delivery. Moreover, Banggood is dropshipping-friendly, demonstrated through their dropship center, where we have access to product recommendations, cashback, images without watermarks, and so forth.
Additionally, this supplier offers dropshippers special programs, including professional product videos to optimize from, affiliate programs, coupons, and a "Refer a Friend" incentive.
At the same time, Banggood's warranty policy is flawed as it often doesn't cover basic electronic parts on certain products. Along with this, their return policy is somewhat complicated, and there are no free returns. Lastly, their repair process for faulty items can take much longer than other suppliers. However, the pros certainly outweigh the cons making Banggood one of the more reliable US dropshipping suppliers for Shopify. 
6. Overstock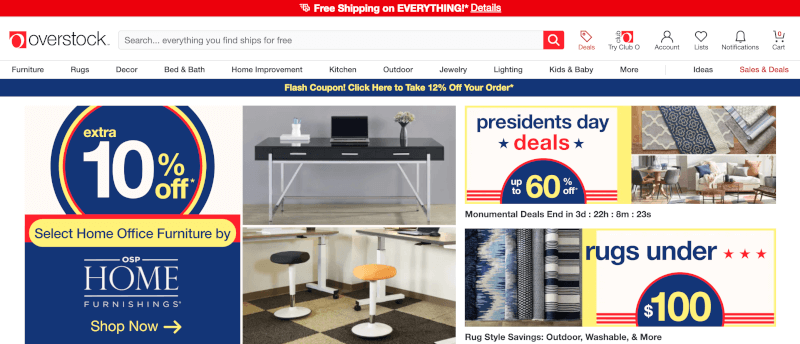 Dropshipping from Overstock is an excellent option for Shopify dropshippers because they offer free and fast shipping to the US. Known for their high-quality products, Overstock primarily sells products within the home goods and furniture niche.
Pros:
Price match guarantee

Free shipping

1-2 days for shipping

Return policy

Club 0 program
Cons:
Specialized niche supplier

No control in the shipping process
Not only does Overstock provide high-quality products at a fair pricing range, but they also offer a price match guarantee. So, if you find the same product at a lower cost, then Overstock will provide you with a lower price.
Another benefit that sets them apart from other suppliers is their Club 0 Program, where dropshippers can opt-in for free shipping on all orders along with a 5% cashback on purchases.
Along with free shipping, Overstock guarantees fast delivery times. With a shipping speed of 1-2 days, your customers will be happy, and you can reap the rewards.
Nevertheless, consider adding multiple suppliers to your list if you're looking to sell products outside of the home goods and furniture niche. Although, if you're new to dropshipping, starting with a specialized niche can help you kickstart your sales.
7. CJDropshipping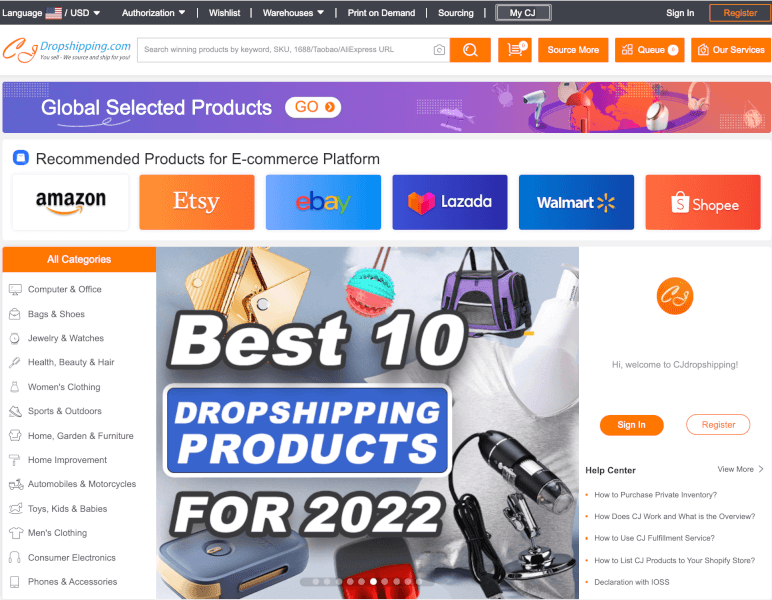 Designed by dropshippers for dropshippers, CJDropshipping is an optimal supplier for us. With 8 global warehouses, including ones in the US, dropshipping from CJDropshipping to Shopify is quick and reliable.
Pros:
Sourcing platform

POD options

Affordable prices

Quality control

White label branding
Cons:
Limited shipping options in the US

Cluttered website
One of the unique things about CJDropshipping is their product sourcing solution which allows you to put in product requests if they don't have what you're looking for. Along with this, CJDropshipping performs quality control for each item before they're shipped out, ensuring our customers' best possible quality products.
And if you thought it couldn't get more personalized, well brace yourself because they also offer a POD (print-on-demand) solution, allowing you to customize certain products. And why stop there? With their white label branding options, we can package our products with our store logos, increasing our brand awareness while scaling our business to new heights.
However, their user interface can be overwhelming and not as user-friendly as other suppliers. This is why we recommend checking out the CJDropshipping full overview and learning how to work with this supplier. Also, even with US warehouses, CJDropshipping has very limited shipping carriers, which can cause concern when promising quick delivery times to our customers.
8. Walmart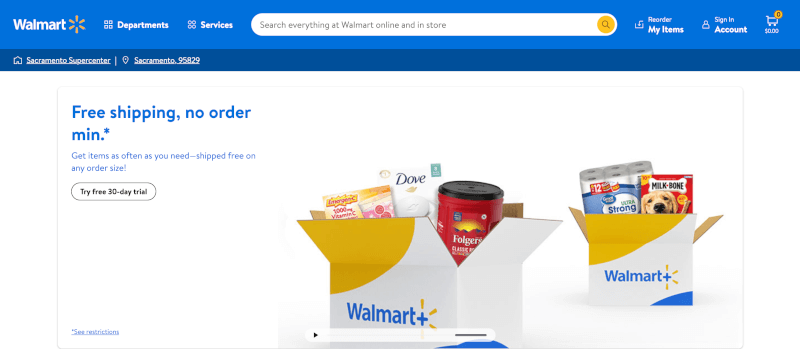 If you're selling to the US market, then you can't go wrong with choosing Walmart as your Shopify dropshipping supplier. Especially if your store sells classic American goods, then dropshipping from Walmart to Shopify is a perfect solution.
Pros:
Over 35 product categories

Price matching

Free and fast shipping
Cons:
Walmart is known for discounts, great prices, and overall deals, but if this isn't enough for us, they will also price match products to ensure we're optimizing our profits. All we need to do is notify Walmart's customer service that the price dropped after our purchase, and they will send us a refund for the difference.
Furthermore, with a vast selection of products not only can we offer a wide range to our customers, but we can also guarantee them next-day delivery.
 However, there's a lack of payments options. For instance, we're limited to the standard payment methods with no PayPal payment option.
9. Etsy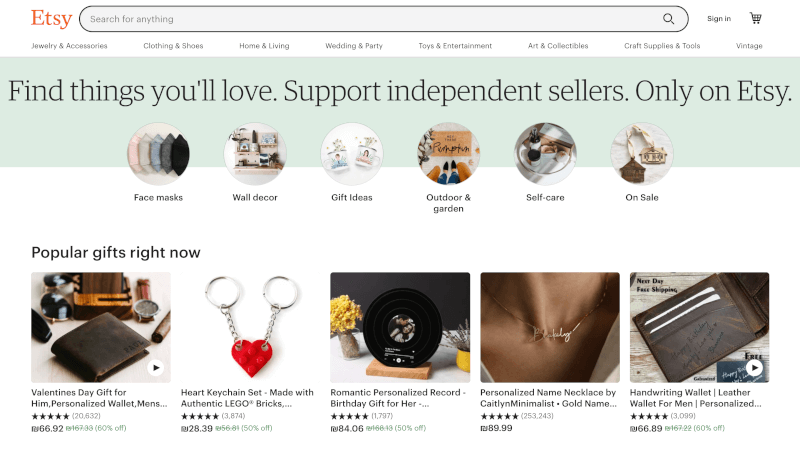 If you're looking to sell vintage, handmade, or custom-made products, Etsy is a great option. Dropshipping from Etsy to your Shopify store means supporting small businesses and offering your customers unique items.
Pros:
Wide catalog of products

High-profit margins

Niche oriented

Free shipping
Cons:
Individual return policies

New dropshipping supplier
Etsy has a reputation for unusual and specialty goods, rendering them the land of the niches. Meaning not only do they have a wide array of products to choose from, but these products are all unique. This gives us a competitive advantage by selling on a more personalized note.
Besides this, we can benefit from higher profit margins by selling such creative items due to their above-average pricing and custom-made details. Moreover, most Etsy sellers offer free shipping within the US, perfect for our target audience!
However, as Etsy is not our typical supplier platform, we can run into some issues. With over 2 million individual sellers, return policies differ from seller to seller. This means some sellers can refuse returns entirely, so we must be diligent when reading the policies.
With that said, Etsy is a relatively new dropshipping supplier. Therefore, it's best to start slow and gradually climb with them to avoid any big issues from arising.
10. Amazon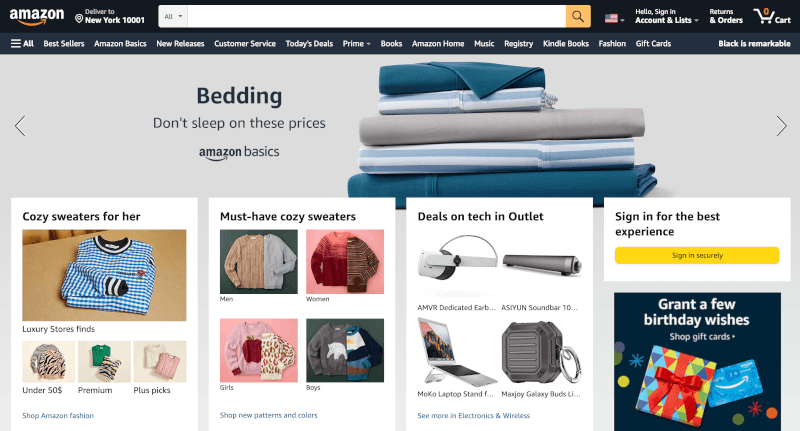 Earlier, we saw the overall growth of eCommerce in 2021. Well, Amazon accounts for 43.5% of US eCommerce, making them one of the most appealing marketplaces to source from.
With what started as an online book store, Amazon has exploded in its growth and is one of the most prominent eCommerce players, which is why dropshipping from Amazon to Shopify is an ideal option.
Pros:
2 Day Shipping (Amazon Prime)

30 Day Returns- No Questions Asked (Prime)

Multiple US Warehouses

Millions of Products
Cons:
Constant price fluctuation

Product quality control
With Amazon Prime, we can benefit from free and fast shipping, with some products offered as same-day shipping in the US. What better way to please our customers? Well, we can also guarantee 30 days for product returns without restrictions or reasoning when we opt-in for Amazon Prime.
Correspondingly, Amazon has 110 warehouses in the US alone, giving us the ability to choose from a wide selection of products while guaranteeing our customers reliable delivery.
Nonetheless, we can run into quality control issues with so many products. As Amazon is a selling channel and not a direct supplier, we must ensure we read the reviews on each product we select for our Shopify store. Likewise, unless we're watching the prices like a hawk, it's hard to keep track of pricing changes without using an automated tool.
11. Costco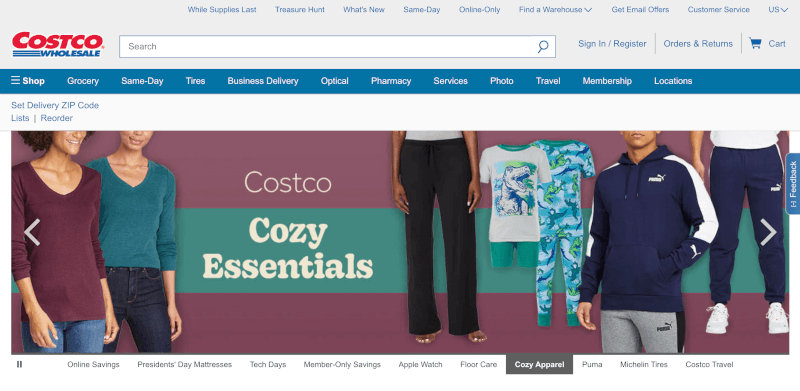 Costco is a large US wholesaler known for its membership club and low prices. Unlike the other suppliers we have seen so far, Costco profits from their membership fees rather than their product sales. For this reason, they offer competitive pricing, making them an appealing choice as our US dropshipping supplier for Shopify.
Pros:
Big discounts

Huge product range

Great customer support

Fast shipping
Cons:
Free shipping restriction

Limited payment options
Being a Costco member means having over 20 product categories to choose from and having access to unique products due to their wholesale business model. As such, we can earn higher profits by buying Costco products at discount prices.
The best part is that we can offer our customers same-day shipping. Especially since our target market is in the US, we even have the option to provide our customers with two-hour deliveries with Costco. Moreover, if there is ever any issue with shipments, returns, or the quality of the products, we can count on Costco's customer support team to resolve the issue for us.
On the downside, although Costco offers fast shipping, the free shipping option is limited to orders over $75. On the same note, if you primarily use PayPal as your payment method, you'll either need to choose another wholesaler or change to another payment method as Costco doesn't support PayPal.
12. Sam's Club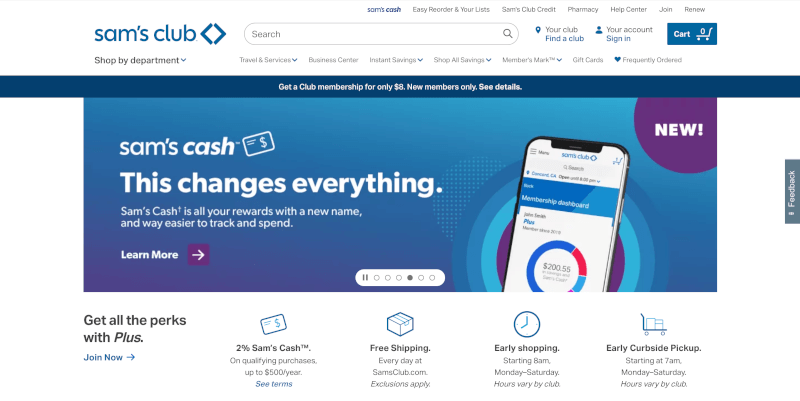 Much like Costco, Sam's Club is exclusive to members only. Dropshipping from Sam's Club to our Shopify store means benefiting from cashback rewards, savings, and much more.
Pros:
Savings and Rewards

US-focused

Free shipping
Cons:
No PayPal payment method

Multiple return policies
With specific attention to the US market, Sam's Club is an excellent choice if you're in search of a low-cost and reliable wholesale supplier. By signing up for a Sam's Club membership, we gain access to multiple product categories, free shipping, 2% cashback on qualifying products, and exclusive savings.
However, like Costco, Sam's Club doesn't offer PayPal as a payment method. Furthermore, although most of their products can be returned, there are multiple return policies depending on product categories. Therefore, we have to read to policies carefully.
13. Home Depot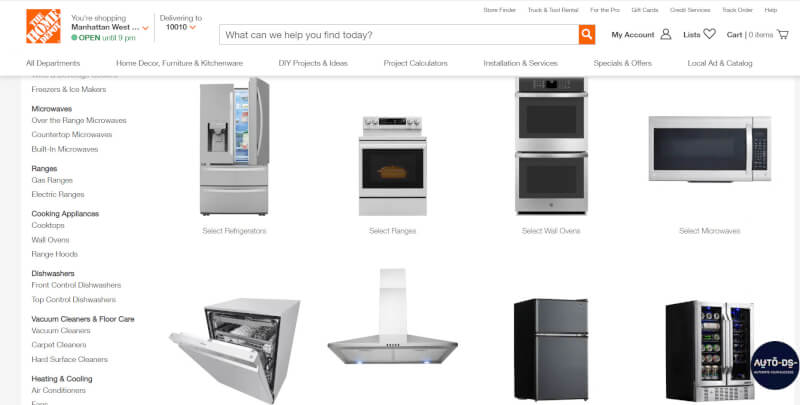 Home Depot specializes in the "Home & Garden" and "Home Improvements" niche. With 90 distribution centers, Home Depot is another dropshipper favorite as dropshipping from Home Depot to Shopify is fast and reliable.
Pros:
Free 2-day delivery

Large product selection

Price-match policy

Tax exemption program
Cons:
Return policy

Niche oriented
1 million out of 2 million products offered from Home Depot are available for free 2-day delivery. And if you thought it couldn't get better than that, they also offer a price-match policy. Meaning if we purchased a product from Home Depot and found it cheaper elsewhere within 30-60 days, we can get refunded for the price difference. This is one of the best advantages of working with Home Depot as our US dropshipping supplier for Shopify.
Additionally, if we qualify as a tax-exempt shopper, we can save an extra 5% on purchases with Home Depot's tax exemption program. All we need to do is fill in our tax-exempt ID number when registering online and wait to be approved.
Despite all the great advantages provided to us by Home Depot, we still need to be wary of potential issues. Such as their return policy which explicitly states that the customer is responsible for the return shipping expenses.
Thus, we will need to pay out of pocket for the shipping expenses unless Home Depot is at fault. And of course, if our store is offering products on a more general scale, then Home Depot may not be the best option for us as they focus only on the 'home' niche. Nonetheless, if we're specializing in this niche then Home Depot is a great option as one of our US dropshipping suppliers for Shopify.
14. Target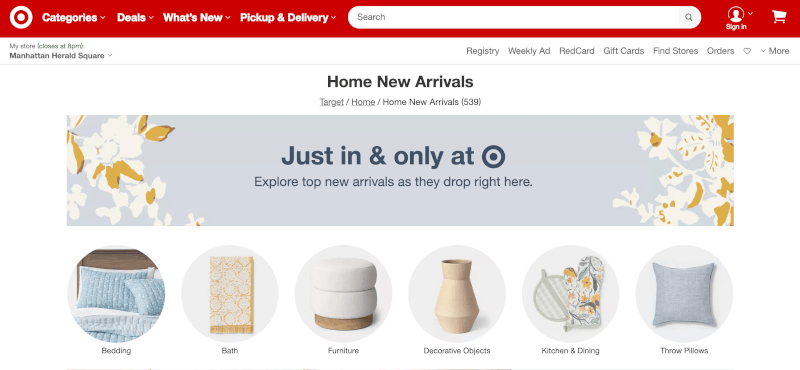 Target is the 8th-largest retailer in the US, offering 45 private labels ensuring something for everyone. Using Target as our Shopify dropshipping supplier means gaining access to various benefits. Here are some of the pros and cons of working with Target as our US dropshipping supplier for Shopify:
Pros:
High-quality products

Quick delivery times

Convenient return policy

Target "RedCard"
Cons:
Target offers various niches and is also known for high-quality items with products ranging from fashion to home decor and more. Moreover, if you're looking for exclusive deals, then opt-in for Target's special "RedCard" program. It grants you free 2-day shipping, an additional 5% discount, and an extra 30 days to the already impressive 90-day return policy.
Regardless of Target's special RedCard program, this supplier does not provide any dropshipping perks. So, if you're looking for a dropshipping supplier that offers specific dropshipping support, this may not be the best choice for you.
15. Lowe's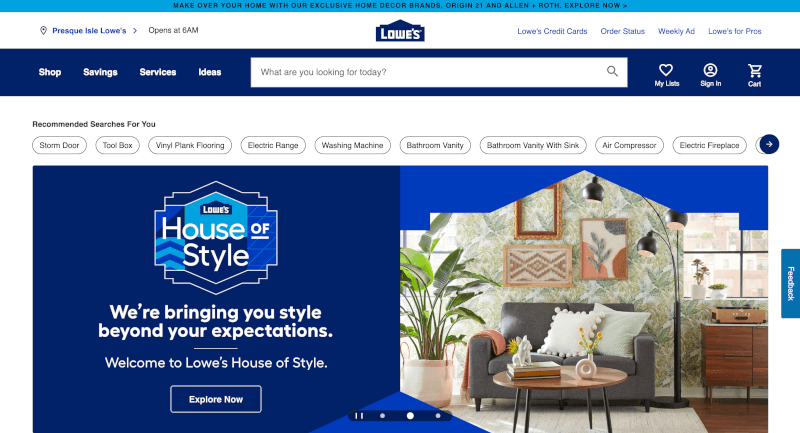 If you're looking for a supplier who specializes in home improvements, then Lowe's may be the one for you. With thousands of products within this niche, along with other advantages, dropshipping from Lowe's to our Shopify store is a great way to gain a competitive edge.
Pros:
Lowe's business credit cards

Pro loyalty program

Protection plan
Cons:
Shipping eligibility

Niche oriented
Like most suppliers on our list, Lowe's is no exception to fast and efficient shipping with 3 different shipping methods. However, what makes them truly stand out is their unique offerings. With their business credit cards, we can receive a daily 5% discount, discounted deliveries, and much more.
If you're not ready to commit to another credit card, don't worry, you can also opt-in for Lowe's Pro Loyalty Program. This program includes personalized offers, spending tracking, purchase history, and specialized tools that allow us to manage our business efficiently and effectively. Furthermore, as an extra touch, Lowe's offers a protection plan which ensures an extensive product warranty, no additional fees, and no deductibles.
However, despite their multiple shipping options, many items are not eligible for Lowe's standard shipping. This means that we can incur higher shipping fees, something we should keep in mind. Moreover, similar to Home Depot, Lowe's is niche dedicated. Therefore, they can be a great option as our US dropshipping supplier for Shopify as long as we're looking to specialize in the home improvements niche.
16. Printful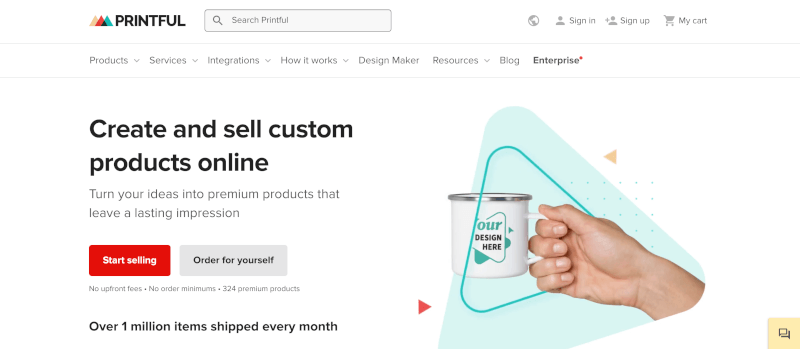 Printful is an on-demand printing and fulfillment company that allows us to design custom products with print-on-demand (POD) dropshipping. POD is a process where we work with a supplier to create customized products and sell them per-order. Working with Printful means selling products worry-free as they handle the order fulfillment and shipping.
Pros:
Custom designs

No need to print in bulk

No need to buy equipment
Cons:
No control in the fulfillment process

Returns management
We can offer more customization options to our customers by working with Printful, making our customers feel special, and showing them the value for their money. With POD, the emphasis is on the "on-demand," meaning there's no need to lose money ordering in bulk. Furthermore, Printful takes care of the technicalities, so there's no need for us to buy any printing equipment.
Nevertheless, just like with any dropshipping service, POD requires us to put our complete trust in the supplier. Thus, we lack control in the fulfillment process and quality control of the products themselves.
Since we're working with a third-party service, we also need to give special attention to return policies. For instance, if our customer directly returns the item and doesn't provide the correct address, there is a risk that we are held liable for reshipment costs.
Dropshipping From US Suppliers To Shopify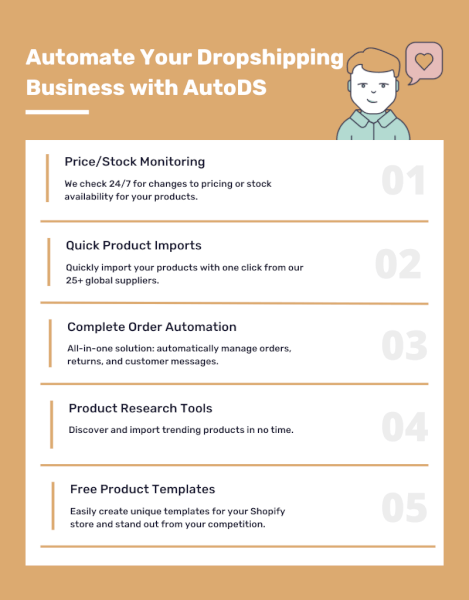 We can use all of the US suppliers above to dropship on Shopify. But with so many products to sell in our stores, how can we monitor our suppliers' price/stock changes? And, how can we save time importing all of their products to our stores?
To run and scale our Shopify dropshipping business successfully, we need a dropshipping automation tool. With the help of automation, we'll save the time we need to scale and grow our business successfully.
With AutoDS, we have complete control over our dropshipping business:
In other words, we can import tens to thousands of products at once in a matter of seconds. All of our prices and stock will update according to our suppliers.
With dropshipping order automation, our orders can get fulfilled automatically, even while we sleep. And, with internal product research tools, we don't need any other tool to help us find trending products to sell.
AutoDS supports automation with all of the suppliers mentioned above (besides Printful). 
US Dropshipping Suppliers For Shopify FAQ
1. How do I find a US dropshipping supplier for Shopify?
Some of the best US dropshipping suppliers for Shopify are mentioned in this article. You can also check out our suppliers page and filter by the USA region.
2. What features should we look for in US Shopify dropshipping suppliers?
Niche, product range, supported shipping carriers, shipping speed, and return policies.
3. Is there a free Shopify dropshipping course with US suppliers?
Definitely! Check out our free Shopify dropshipping course, where you'll learn how to build and market a successful Shopify dropshipping business from A-Z.
Conclusion
Now that we had a chance to look at the pros and cons of the 16 best US dropshipping suppliers for Shopify, we can take the next step in scaling our store to new heights. As our target market is the US, we have a wide array of options and can earn a lot of profit.
By automating our dropshipping business process, we can save time and re-allocate our resources to building our brand and optimizing our earnings.
Before we say goodbye, we've added in some extra tips and tricks if you're interested in expanding your dropshipping empire: