With 2023 just around the corner, it's time for us to set our new goals and resolutions. And, if your new year resolution is to achieve freedom and passive income (with high-profit margins), then you need to start dropshipping in 2023.
With that said, in this article, we will learn everything there is to know about dropshipping. From the pros and cons to suppliers, best-sellers, and the process itself, we'll cover it all. By the end, you'll be ready to achieve financial success with the lucrative dropshipping business model!
What Is Dropshipping And Is It Worth It In 2023?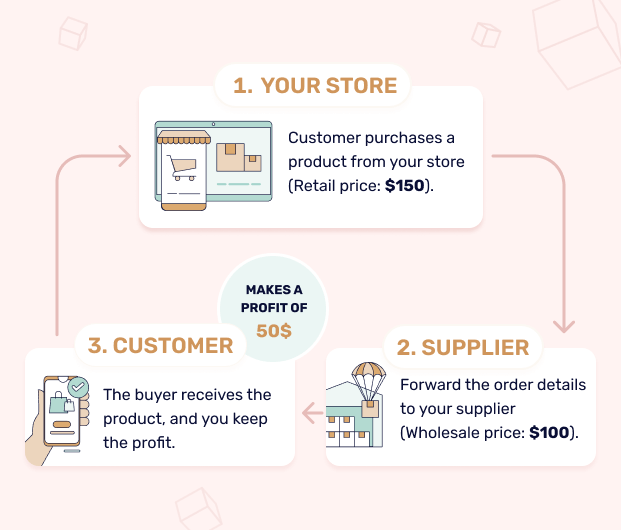 Uniquely, dropshipping is an eCommerce business model in which dropshippers do not keep products in stock. Instead, when a customer orders a product, the dropshipper then purchases the item from a third-party supplier. At last, the supplier then ships the products directly to our customer's door.
Notably, dropshipping is an ideal way for entrepreneurs to start their online stores with little upfront capital. It also helps us save on storage space and other costs since we don't need to stock inventory.
To demonstrate, let's say we're selling a women's coat for $100, which our supplier has priced at $65. From this sale alone, we can make a solid profit of $35. Thus, in dropshipping, we act as more of a middleman in the order fulfillment process.
Plus, the dropshipping business model is low-risk and high-reward, opening the door for us to make a hefty profit with minimal investment. As a matter of fact, the value of the dropshipping market size was forecast to grow to 476.1 billion U.S. dollars by 2026.
And, with eCommerce continuously on the rise, the potential from dropshipping does not show any signs of slowing down. In reality, eCommerce has been on the rise for years; however, with the pandemic, it took a strong swing. With that in mind, we need to note that it shifted the focus and fabric of shopping to the digital space.
The Advantages & Disadvantages Of Dropshipping In 2023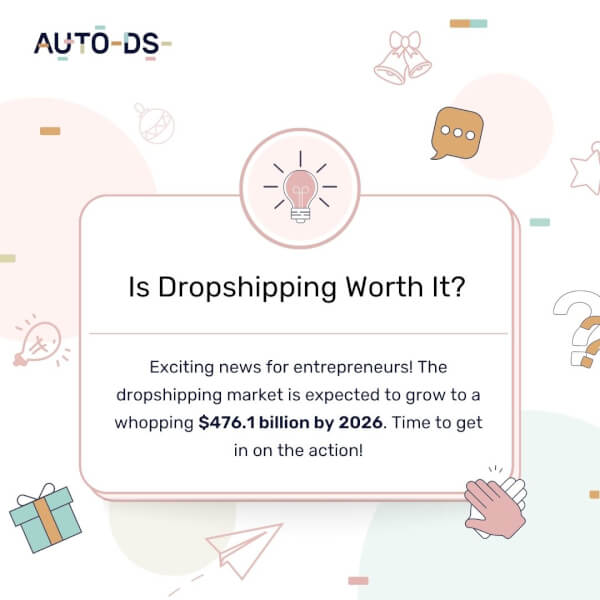 Now, since we know more about the dropshipping model, let's take a look at the advantages and disadvantages of dropshipping. 
Advantages Of Dropshipping in 2023
Now, this list of dropshipping advantages can help us in our decision-making process:
Little To No Upfront Investment 

Easy To Start 

Scalability 

Flexibility & Freedom 
Little To No Upfront Investment
We don't need to stock up on inventory with the dropshipping business model. Since we act as a middleman between the customer and supplier in the dropshipping model, we don't hold any inventory. Thus, we also avoid expenditures like storage and storage handling. With that in mind, we significantly save on upfront investments. 
Easy To Start
Notably, because the dropshipping business model is so straightforward, we don't need any previous experience. 
Also, we don't have to buy inventory or hire staff to handle warehousing and shipping. As a result, we save both time and money when working in the dropshipping world.
In addition, dropshipping has a low entry barrier. To explain, we don't need any previous experience or knowledge to start. In fact, since the dropshipping model is so straightforward, we can easily start our business. 
Scalability
Interestingly, we can choose to target as large of a market as we want. The sky's the limit! To note, with a wide audience reach, we can achieve higher profit margins. This is because we're not restricted to selling in only one region.
On top of that, with dropshipping, we have the opportunity to sell almost anything. This is possible because we can easily test and replace products until we build our optimal product catalog.
Additionally, automating our dropshipping business will allow us to optimize our store. And, as we optimize our process, we can scale more easily.
To clarify, dropshipping automation allows us to automate the entire dropshipping process. From product research and importing to price and stock monitoring and much more, automation tools like AutoDS have us covered. 
Flexibility & Freedom
Last but not least, one of the biggest advantages of dropshipping is freedom and flexibility. With the flexibility to run our own business from anywhere, at any time, dropshippers enjoy a lot of freedom.
Moreover, with dropshipping, we are not bound by our inventory, location, or time allowing us to focus on other things in life apart from business.
Plus, dropshipping automation tools can save a ton of time and effort. As a result, this gives us even more freedom and flexibility because we'll be able to automate our entire dropshipping process.
So, no more 9-5 grinds; we can sit back and relax as we watch the money roll in!
Disadvantages Of Dropshipping In 2023
On the other hand, there are some disadvantages of dropshipping that we need to consider. However, all of these disadvantages are obstacles we can overcome. With that said, let's look at some of the downsides of dropshipping:
Difficult To Build Brand Awareness

Finding Reliable Suppliers 

High Competition 

No Control Over Stock Or Prices 
Difficult To Build Brand Awareness
First and foremost,  when operating a dropshipping business it's challenging to build brand awareness. However, a way to bypass this is to work with print-on-demand and private label suppliers.
To clarify, print-on-demand suppliers are those who offer blank products on which we can print a chosen design. Apart from customizing the product, we can even brand the products with our logo.
On the other hand, private label suppliers manufacture products under the seller's brand name. With that, we can solve our branding issues.
Alternatively, we can also focus on branding our store rather than our products. To begin with, we need to create an identity around our store.
We can do this by defining our website's style, color, and other visuals. Next, we must create a logo and place it in the right spots. Then, we can also customize our store layout to showcase our brand identity, colors, and logo. Ultimately, achieving more brand awareness within the global market.
Finding Reliable Suppliers
Next, another challenge when dropshipping is finding reliable suppliers.  
However, there is a way to ensure we work with reliable suppliers. For example, we can use the AutoDS global suppliers list to ensure we are working with credible suppliers. 
Or, we can read through the supplier's reviews and ratings. This will give us insight into how the supplier operates and if they're worth working with.
Besides this, other great ways to vet dropshipping suppliers are by checking if they have international warehouses. And, we should check out their product range and test their customer service (as we extend this service to our customers).
High Competition
Considering the low-risk, low-investment, and high-profit potential model of dropshipping, competition is high. Now, as competition gets intense and saturated, it's harder for us to stand out and differentiate ourselves.
But, worry not, as there are tips we can follow to stand out from the competition. So, by nurturing and building our brand identity, we can become recognizable.
Also, by offering incredible customer service, we will not only gain a competitive edge but also customer loyalty. Plus, we can ensure our customers have a great shopping experience.
But, there is also the issue of market saturation. Simply put, the more competition, the more saturated the market becomes, which brings pricing down. But, we can utilize a price optimization tool that will ensure we enjoy good profit margins while remaining competitive. 
No Control Over Stock Or Prices
Lastly, as a result of not holding our inventory, we have no control over product pricing or stock availability. This is because both of these aspects are reliant on our supplier.
In truth, having no control over stock availability may lead us to offer products that we don't actually have. Thus, this may turn away customers, translating into lost revenue for us.
In addition, we need to consider the lack of control over supplier price changes. Specifically, this tampers with our profit margins as suppliers can increase or decrease their prices.
However, with an automated price and stock monitoring tool, we will never lose profit due to supplier price or stock changes. This tool monitors prices around the clock, and if there is a price change detected, it automatically updates our pricing.
Plus, it tracks the stock levels of all our products. And, if an item is out of stock, it notifies us immediately.
Now we've covered how dropshipping works and its advantages and disadvantages. So, let's take a look at which products are most profitable to sell in 2023.
Best-Selling Dropshipping Products To Scale Your Profits In 2023
With trends changing so quickly, the fast-paced world of eCommerce is always dynamic and ever-changing. As a result, we need to stay on top of the trends and constantly do our product research.
That said, we can save a ton of time and effort by utilizing this list of the hottest items to dropship. So, following eCommerce sales trends, the following list of best-selling products for 2023 will help us scale our profits:
Now, let's dive into each of these best-sellers and learn more about how to utilize their popularity.
Facial Beauty Roller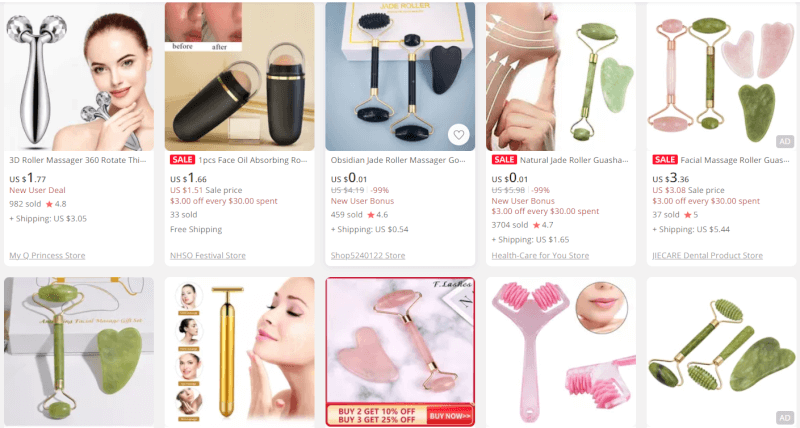 The facial beauty roller is a popular beauty product that's been on the market for over two years. In fact, it's a best-selling product for many eCommerce platforms, which is why we should be selling it in our dropshipping store as well. 
The product is used to help with the appearance of fine lines and wrinkles by using a gentle rolling motion to stimulate blood flow in the face. As a result, it's an excellent way to feel refreshed after a long day at work or school.
One of the reasons why it's so popular is because it's easy to use and affordable. Plus, it's an effective way to keep our skin looking fresh and vibrant.
Kids Straw Lid Insulated Water Bottle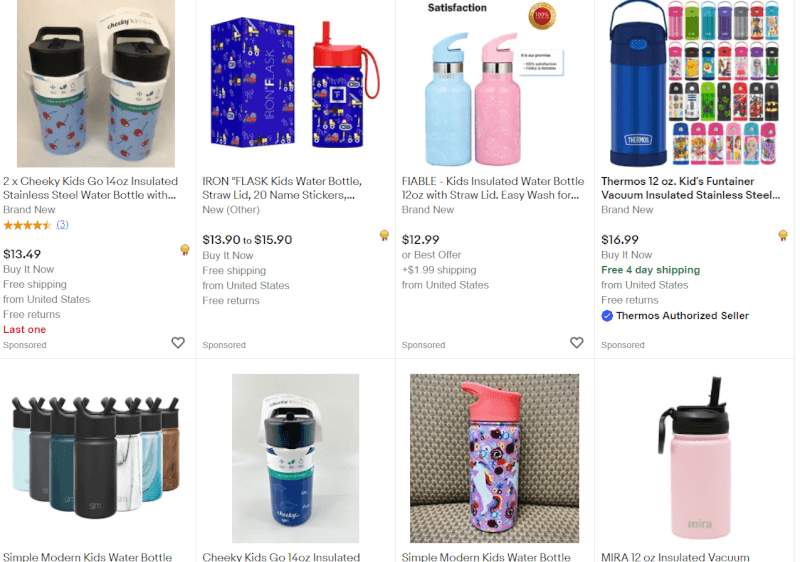 Up next, we have the kids' straw lid insulated water bottle as one of the bestsellers to dropship in 2023. It's a really convenient way to carry around water. Also, it's perfect for kids because it's leak-proof.
Notably, it has a durable, BPA-free plastic body with a leak-proof lid and straw. Moreover, the straw lid is designed to keep the straw away from the drink so that it doesn't get wet or dirty. In addition, the straw is made from silicone and can be removed for easy cleaning.
As such, the convenience of these water bottles makes them a best-seller. So, we should list them in our product catalog to leverage their profitability. 
Rechargeable Electric Men's Shaver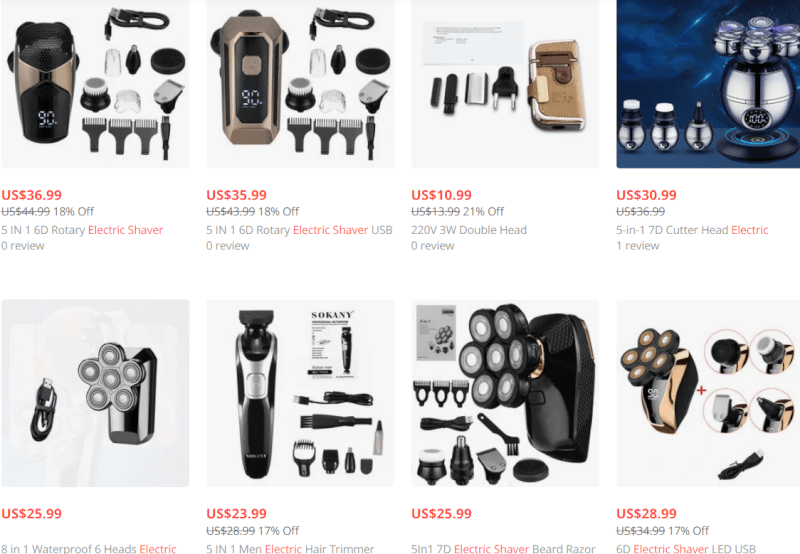 The rechargeable electric men's shaver is one of the hottest selling items in the eCommerce world. Actually, it has become a necessity for most men as it's super easy and convenient to use. It is also an excellent option for those looking to save money since you can recharge it rather than buying new batteries.
Uniquely, the shaver has an inbuilt battery that can be charged and used cordless. It also has a dual blade system that cuts hair more efficiently. On top of that, it's waterproof and can be used on wet and dry skin. All in all, with these features, the men's shaver will skyrocket our sales this new year! 
Beginner's Tip: Since this is a very giftable item, offer discounts around the gift-giving season to increase your sales volume.
Lift Top Coffee Table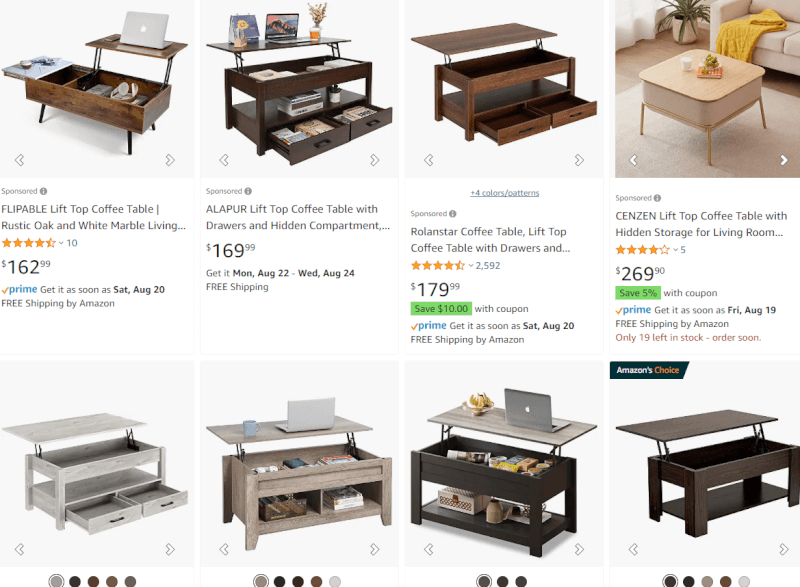 Next, one of the hottest items to dropship in 2023 is the lift top coffee table. Undeniably, this is a high-ticket item as it's more expensive than our usual dropshipping products. Thus, we can add a higher profit margin and remain competitive. 
To explain, this table is popular with people with limited home space. Moreover, this coffee table is a great way to introduce a modern, minimalist, and stylish design to your living room. Plus, the top of the table can easily lift up to reveal storage space. Notably, it's perfect for storing remotes, magazines, books, and more.
Beginner's Tip: Utilize marketing to sell other similar space-saving furniture to the customers that are interested in the lift-top coffee table. 
Silver Charm Set For Bracelets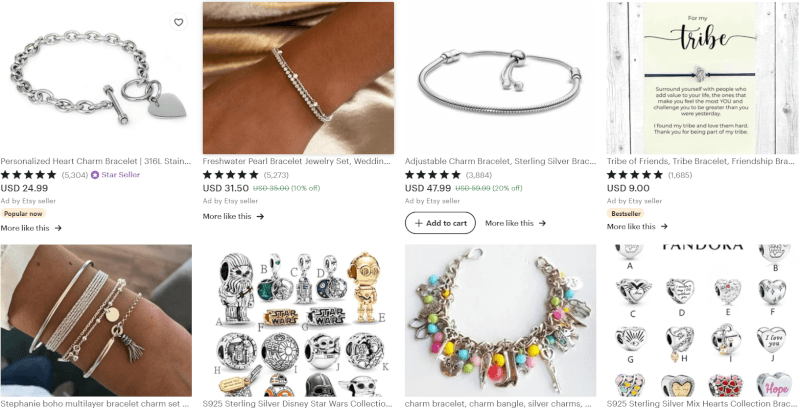 Next up, we have one of the best products to dropship in 2023, the silver charm set for bracelets. In truth, if we offer an attractive selection of silver bracelet charms, we can build customer loyalty. As a matter of fact, by having good quality and variety, we can benefit from returning customers. This is because it's the type of item that customers need multiples of.
Now, the silver charm set for bracelets is a unique and creative way to add charm to your jewelry. To note, each set includes multiple charms, each with a different design. Furthermore, the charms are made from high-quality silver and can be used with any kind of bracelet.
Beginner's Tip: These silver charm set for bracelets makes a great gift which is why we should advertise them during gift-giving holidays.
Adjustable Cell Phone Holder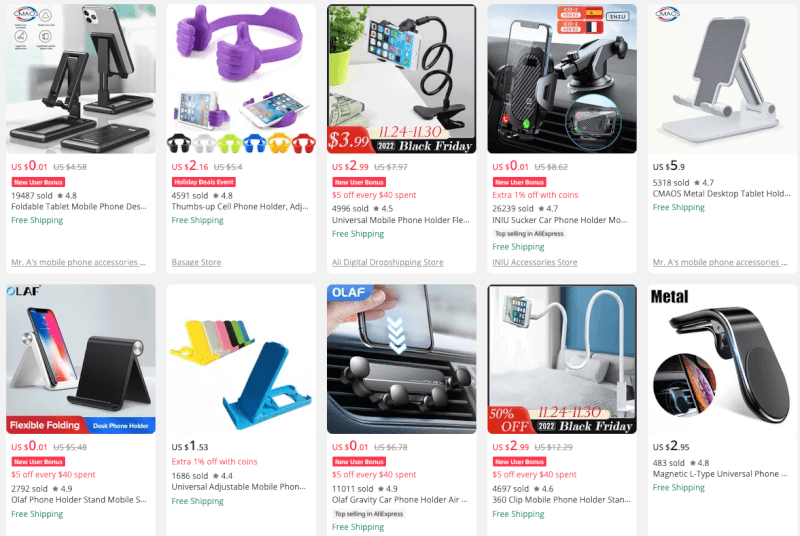 Whether we're taking selfies or multitasking, we need a reliable phone holder. That's why the adjustable cell phone holders is an absolute must-have in 2023. 
In particular, these cell phone holders come in sleek designs, appropriate for table tops or car dashboards. Finally, don't forget to offer styles, sizes, and colors that fit all phone models.
Wireless Gaming Headset With Microphone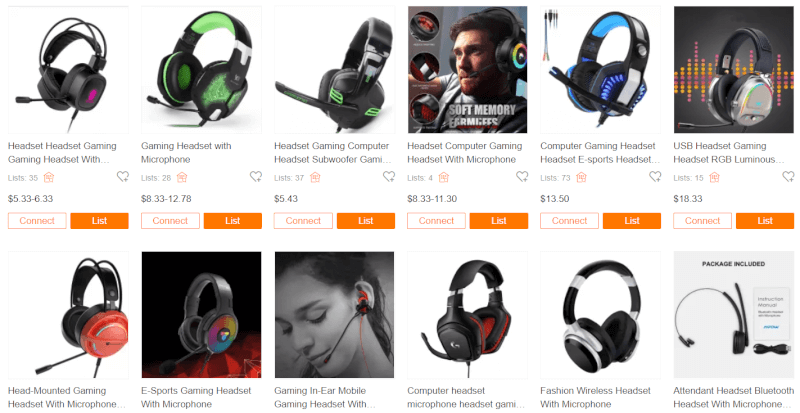 Interestingly, the wireless gaming headset with a microphone is a product that has been popular in the market for a while. So, there are many reasons why this product is so in-demand. However, the main one is that it can be used as a wireless headset for gaming. Or, with remote work being so prominent now, it can be used as an everyday headset with a microphone.
To take a closer look, the ear cups are made of foam and are very comfortable and soft. Furthermore, the headband also has foam that is covered with leather. As such, this headset is more comfortable than other headsets on the market. Thus, coupling all of this with the fact that they're wireless makes them more profitable than their wired counterparts. 
Beginner's Tip: Try cross-selling other items related to the wireless gaming headset. Offer bundles that also include a gaming mouse and keyboard to increase your average order value.
Door Hanger Hooks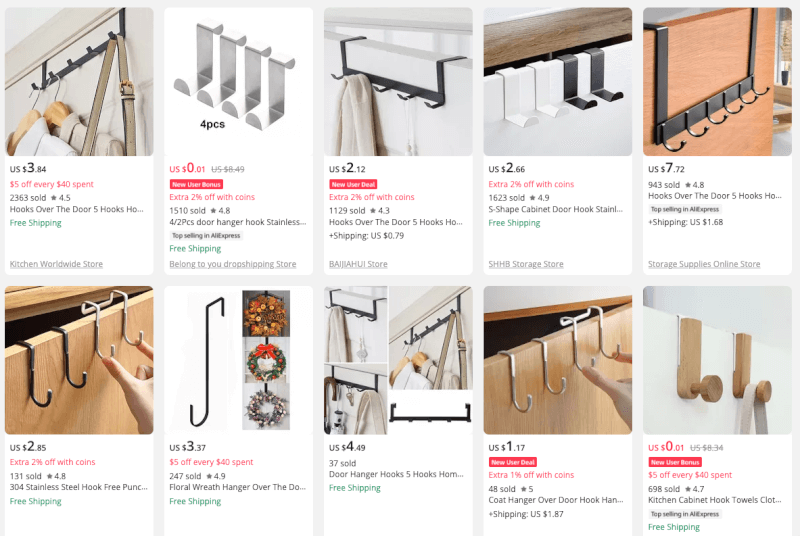 Most people find wearables or clothing items hectic to manage. That's why door hanger hooks is a popular product that helps us organize our belongings.
This product comes in a set of hooks that helps to manage garments, kitchen utensils, and other accessories. The best part is that we can easily hang them on any door for easy and convenient accessibility.
Indoor Fitness Trampoline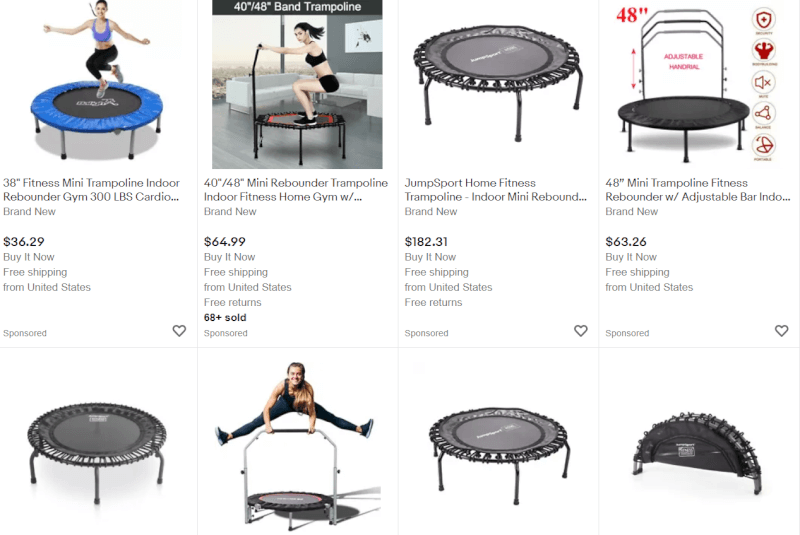 Without a doubt, most people's new year resolutions are to become fit and in shape. Because of this, offering items in the fitness niche will surely bring in profits in 2023. So, it's no wonder why one of the hottest items to sell in 2023 is the indoor fitness trampoline.
To note, the fitness trampoline is a very effective tool for indoor fitness. It provides an excellent workout for the whole body and can be used by people of all ages and fitness levels. Moreover, this product is designed to provide intense training while also providing a fun and engaging experience. All in all, it is an innovative new way to get in shape and have fun. 
Portable Dog Playpen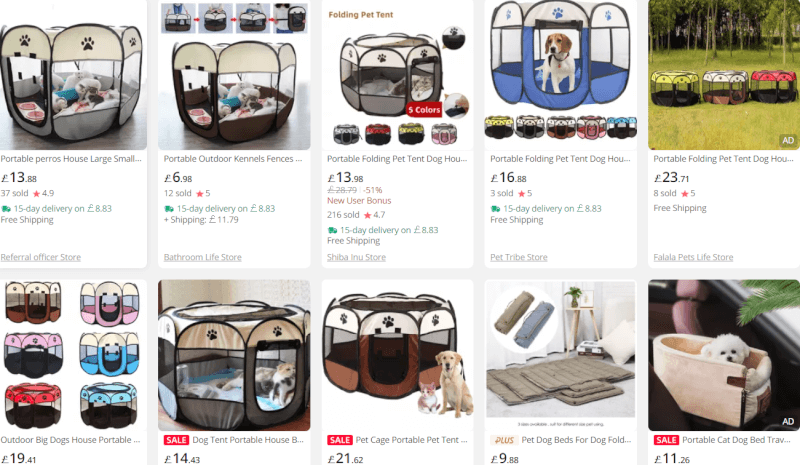 Now, we have a must-have for pet owners, the portable dog playpen. Undeniably, this item is a perfect way to take our pets with us on the go. The playpen is made from high-quality materials and has a durable design. What's more, it can be folded up for easy storage and transportation, making it ideal for traveling or outdoor use.
Plus, it's a great way to keep our pets safe and secure while we're out of the house. The playpen includes a mesh door that zips closed, and it has an adjustable floor height.
Hooray! With this solid list of best-sellers, we can create a winning product catalog to maximize our sales in 2023. However, there are more factors to consider when dropshipping, so let's dive into the next section to discover more!
What Products To Avoid Dropshipping In 2023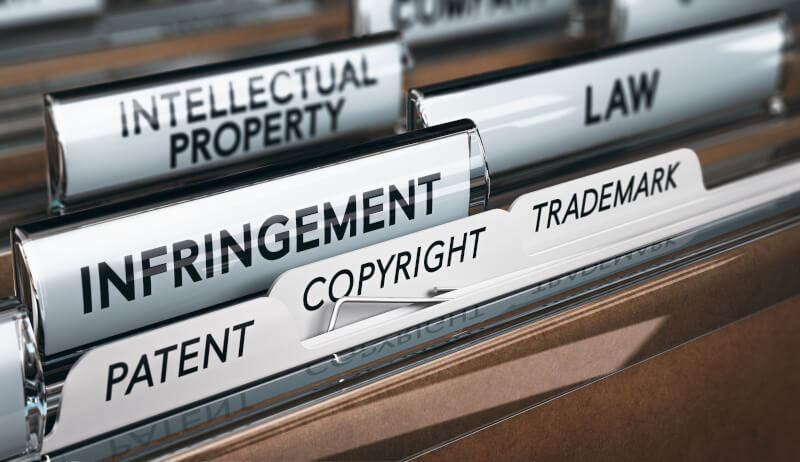 When dropshipping, we have access to a variety of products, but not all of them are up for grabs. In fact, there are some specific products and product categories that we should avoid. These products are the ones that are not suitable for an eCommerce business.
So, if we want to be successful dropshippers, we must do our due diligence when doing product research. Thus, we should be avoiding illegal and prohibited products such as:
Copyrighted items

Age-restricted products

Dangerous goods

Medicines or supplements
Uniquely, copyrighted items are protected by intellectual property laws. Actually, it's illegal to sell copyrighted products without the permission of the product or brand owner. So, to avoid copyright infringement, we won't sell these types of products in our store.
Another category to avoid is age-restricted items. For example, we cannot sell pornographic materials, liquors, and tobacco because it's illegal in dropshipping. 
Furthermore, we should avoid selling dangerous goods since laws regulate them. Under this category, we have products like weapons, ammunition, and other life-threatening devices. 
And lastly, we'll do good to avoid selling medicine and supplements. This is because medicine and supplements follow certain selling and use regulations. However, by utilizing a tool like the AutoDS VeRO guide, we can ensure our listings are up to proper standards to avoid legal sanctions.
So, we now know which are the best products to dropship and which to avoid. Now, let's take a look at where to source them from.
12 Reliable Dropshipping Suppliers In 2023
In truth, finding the right supplier is one of the most crucial steps in the dropshipping process. Importantly, we need reliable and trustworthy suppliers to ensure that our customers have a pleasant experience.
However, we should differentiate between retail and wholesale suppliers. The main difference is the services they can provide to dropshippers.
To elaborate, retailers may or may not support dropshippers, whereas most wholesalers do. Plus, wholesalers offer services to help dropshippers gain more sales and profit.
On the other hand, retailers may have a wider product range. So, the best advice is to mix and match and see what suppliers work best for our business.
Now, let's dive into the 12 most reliable wholesale and retail suppliers we can source from:
Retail Dropshipping Suppliers
Let's start with the top retail dropshipping suppliers! 
AliExpress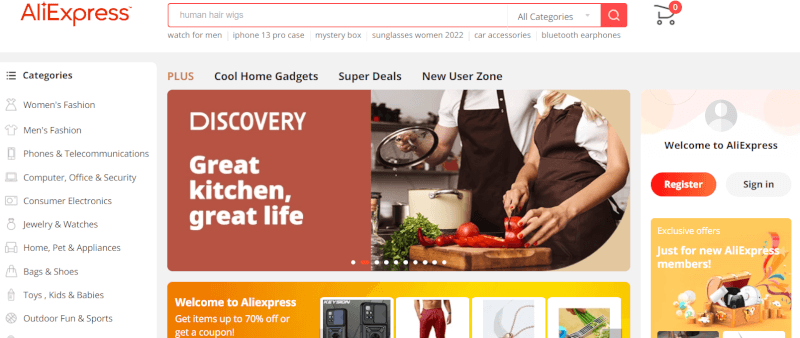 Starting off with AliExpress. AliExpress is a global supplier with warehouses all around the world. Plus, with their huge product selection, we can cater to a larger target market and stay on top of trends.
And there are other great features that make AliExpress a great supplier:
AliExpress Dropship Center 

Extensive product selection 

Low prices 
First and most important, AliExpress has a Dropship Center. Uniquely, we can conduct product research and improve our product listings by utilizing the dropship center. And, if we consider AliExpress' huge product selection, it comes in handy when finding our winning items.
Furthermore, since AliExpress is a Chinese supplier, their products have lower prices. As such, we can remain competitive while increasing our profit margins.
Walmart

Walmart is a great place to source products for American consumers due to its wide range of diverse products and next-day delivery option. It also offers the convenience of gift packaging.
Some key features that make it a top choice include:
Price match policy 

Free & fast shipping

Savings and deals
Its price match policy allows customers to receive a refund on the price difference if a product goes on sale within the return period. Walmart also frequently has big sales and daily deals, which allows us to offer competitive prices to our customers while still earning profits.
In addition, we can offer our US customers the convenience of next-day delivery and free shipping options through Walmart.
Banggood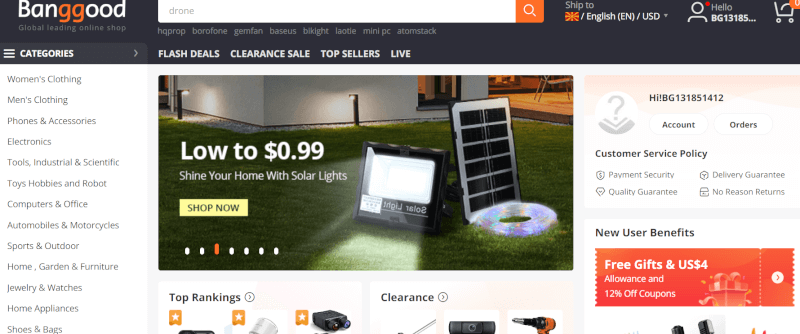 Next up, we have Banggood, another big Chinese retail supplier. Banggood is a great international supplier with locations in Asia, Europe, the US, and Australia. Plus, they have a great variety of products.
On top of that, it's characterized by great features like:
Certified dropshipper website

Dropship center 

Low costs
Distinctly, Banggood provides dropshipping contracts and support for dropshippers. This is a result of them being a certified dropshipper website.
What's more, with Banggood, we can enjoy credit point accumulation and solid cashback sites. Plus, we can get personalized product recommendations from its dropship center.
Similar to AliExpress, it also has low pricing across all products. Actually, this is common with most Chinese suppliers. 
eBay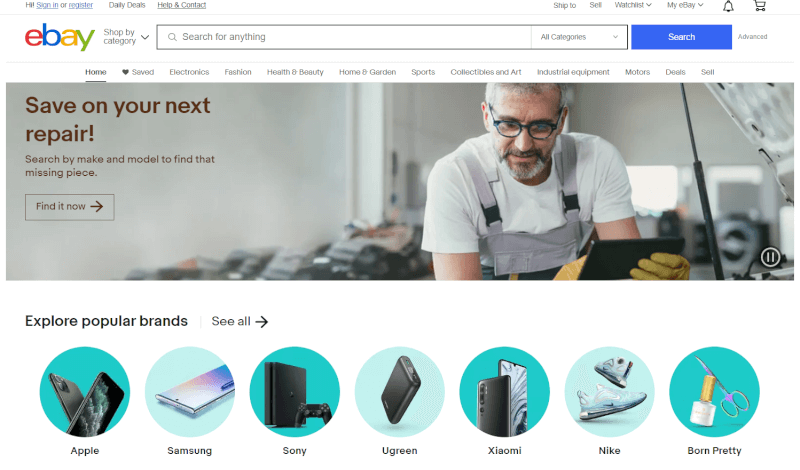 Next on our list is eBay. In truth, it's one of the best suppliers to source from because it's so diverse and well-supplied. Plus, they can deliver our customers' orders faster with their express shipping options.
With that said, there are some other key features worth mentioning:
Buyer/seller protection 

Easily spy on competition 

Reliable customer support
Most notably, eBay can step in and mitigate any case of dispute with their buyer/seller protection. For example, if the buyer or seller makes false claims, eBay will protect the right party.
In addition, eBay has great and reliable customer support allowing us to source products with ease.
Also, it's super easy to spy on our competitors. To elaborate, we can find profitable products by checking out what is selling well for our competitors.
In fact, we can see how many sellers are selling an item and how many sales they're making. Notably, this is done simply by searching for a product or niche on the eBay platform. Overall, enabling us to scale our stores.
Etsy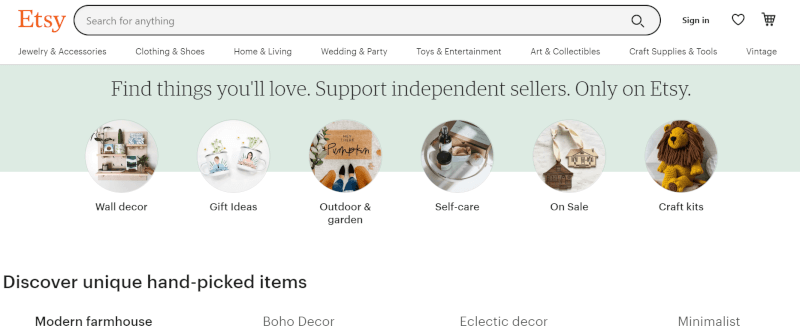 Now, Etsy is unique. It focuses on one-of-a-kind items made by independent artists, crafters, and collectors. Actually, this American marketplace is the optimal place to find unique, hand-crafted products that will set you apart from the competition.
Moreover, some other key features which make Etsy a great supplier to source from in 2023 are:
Unique products 

Niche-oriented

High-profit potential
Notably, Etsy is known as the land of the niches because it has a large assortment of unusual and specialty goods. And most of the products that we can source are custom-made, vintage, and handmade.
Plus, their extensive product catalog offers clothing, accessories, decor, art, and much more.
So, since customers are willing to spend more on specialty products, we can increase our profit margins. As a result, Etsy makes a great supplier to source from to boost sales and profits.
Wayfair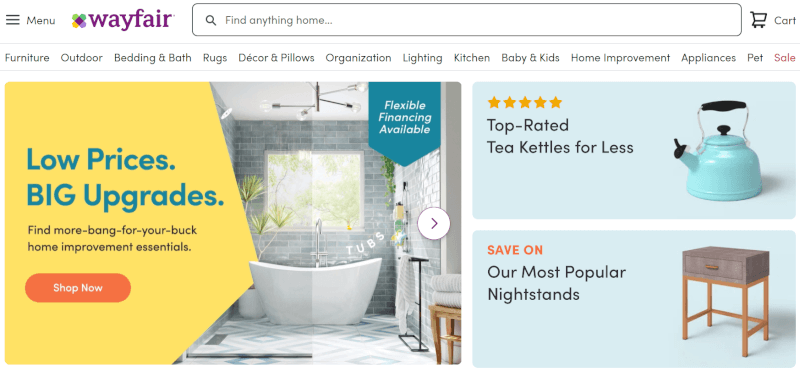 Up next is Wayfair. Wayfair is one of the best suppliers in the "Home" niche.
To note, Wayfair has a global network of warehouses, making them super dependable across international markets. Additionally, because of their warehouse network, they offer fast 2-day shipping that we can extend to our US consumers.
 Let's look at some of their great traits:
MYWAY program 

Global warehouses  

Huge product range
Undoubtedly, Wayfair brings the heat with their MYWAY Program. From benefits like free shipping and member-exclusive products to 1-day delivery for eligible products, the membership covers it all.
Similarly, for non-members, their global network of warehouses guarantees fast shipping across different regions.
Although Wayfair only supplies products in the home niche, it has a large product variety. This huge product range is why 'home niche' dropshippers rely on Wayfair. 
Overstock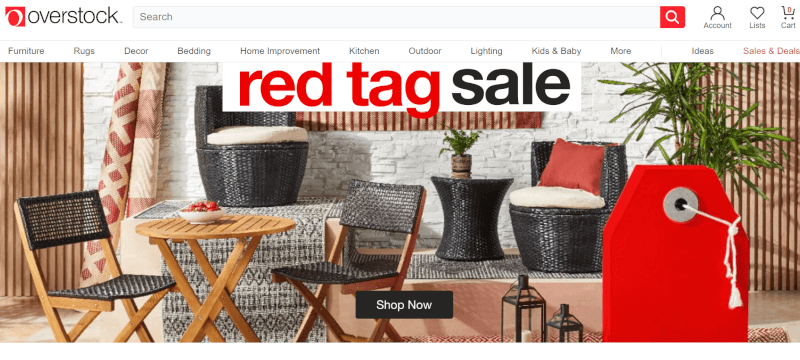 Moving on to Overstock. Overstock is an American supplier with high-quality products in the home niche. They also have great customer service, reliable shipping, and sensible prices.
With that said, let's look at some of their other great features:
Good return policy 

Club 0 program

Price match guarantee
Above all, one of Overstock's best features is their price match guarantee. To explain, if you find a product with a lower price from any other supplier, Overstock will refund you the difference. And we can also take advantage of their 30-day return policy.
As for their loyalty program, with Overstock's 'Club 0' program, you can get 5% cash back on all purchases and free shipping. Plus, we can test it out for free in the first 30 days we sign up. After that, the monthly fee is $19.95.
Amazon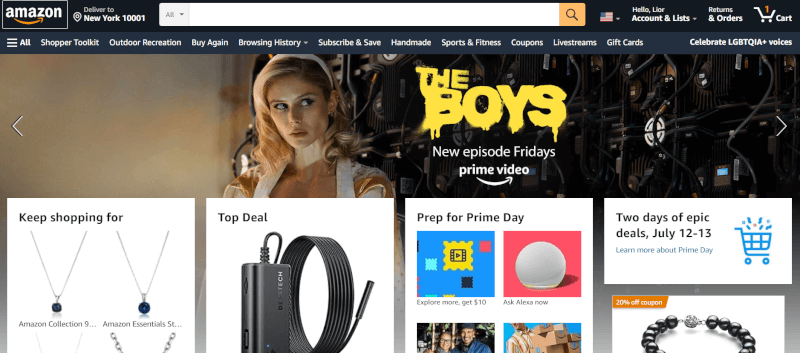 Finally, the last retail supplier on the list is Amazon. Amazon is one of the eCommerce leaders on a global scale. Plus, it has a huge product selection with millions of products covering every category. Because of this, they are one of the most attractive suppliers to source from.
Moreover, here are the key features of Amazon:
Fast 2-day delivery

International warehouses 

Flexible return policy 
Undeniably, one of the most attractive traits that Amazon has is their 2-day delivery for Prime members. As such, it ensures its Prime members get their orders at a lightning-fast speed.
On the same note, they can offer fast shipping because of their 110 fulfillment centers in the US and 185 centers globally. As a result, we can source from them regardless of the location of our target market.
On top of that, we can enjoy their free 30-day, "no questions asked" return policy. Thus, ensuring we maintain clear business policies and an optimal customer experience.
Now that we have more knowledge about the best retail dropshipping suppliers let's explore the top wholesalers.
Wholesale Dropshipping Suppliers
Now, let's cover the top wholesale dropshipping suppliers, starting with CJDropshipping.
CJDropshipping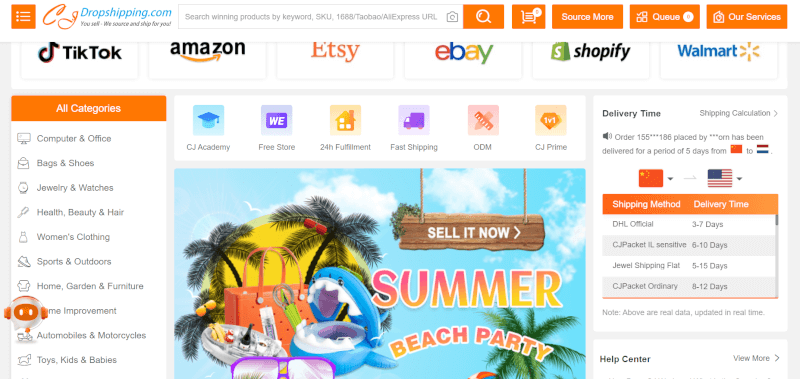 To kick off the list of wholesale suppliers, we have CJDropshipping. Notably, what makes CJDropshipping such a great wholesale supplier is its 8 international warehouses. As a result, they can offer quick shipping.
Plus, CJDropshipping has other great features like:
White-label products 

Print-on-demand products

Quality control
CJDropshipping attracts dropshippers with its white-label solution. To clarify, their white-label products are those that the manufacturer allows us to customize. This is great for building our brand.
Additionally, with their print-on-demand option, we can customize products.
Most importantly, CJDropshipping does product quality control, ensuring that we offer good quality products. As a result, we can guarantee high-quality items to our customers without compromising our integrity.
Alibaba
Next up, Alibaba. Most notably, Alibaba is the parent company housing another one of our suppliers, AliExpress.
Some of its interesting features are:
Wholesale prices 

Private label products

Massive product variety
With Alibaba; we can work on our branding with private label product options. This means that we can find manufacturers that allow us to brand the products we source from them.
On top of that, we'll be able to get these items at wholesale prices.
Additionally, Alibaba has a vast product selection offering a ton of variety. Thus, we can cater to a larger market since we can keep up with demand.
DHGate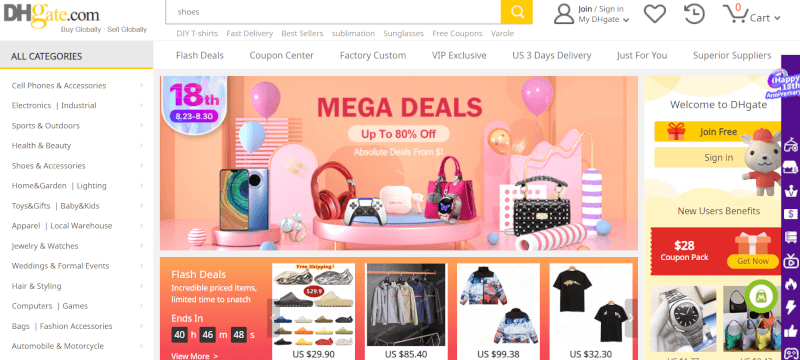 Now, we have DHGate. DHGate is a cross-border online marketplace mainly handling B2B services. They are a reliable and secure marketplace that attracts global buyers and sellers.
With that in mind, some of the key features we should consider are:
No minimum order quantity (MOQ) 

24/7 reliable customer service

Low-priced but quality items
First and foremost, a critical factor that we need to consider when sourcing from wholesalers is the minimum order quantity (MOQ). However, DHGate doesn't have an MOQ allowing us to be flexible with our sourcing.
Plus, this supplier is perfect for dropshipping businesses as it offers low-cost products without compromising quality. And, if we're not satisfied with something, we can rely on their very responsive and excellent customer service.
Costway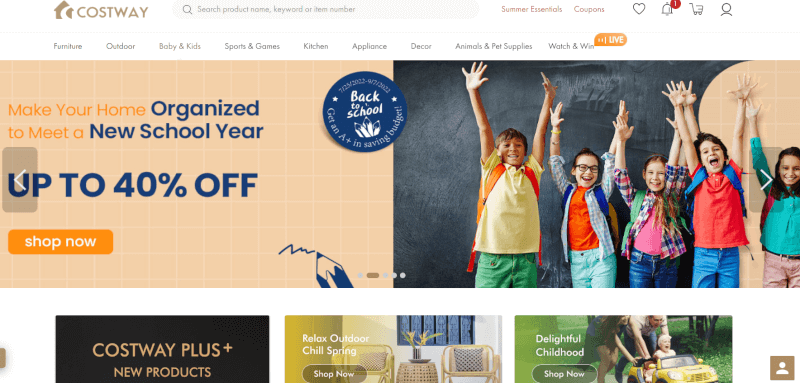 Last on our list of reliable dropshipping suppliers, we have Costway. Interestingly, Costway is super dropshipper friendly because it was founded by dropshippers, Uniquely, it even offers dropshipping agreements.
On top of that, Costway has some other interesting features to consider:
90-day warranty 

Free standard shipping

Cashback
First, Costway offers a great 90-day warranty. So, our customers can exchange their items or return them for a full refund within 90 days if the product is faulty. 
In addition, they have a great free standard shipping solution. As a matter of fact, we can rely on Costway to deliver our products within 3-5 days.
Lastly, they also offer a great cashback system. With this, we can earn a percentage of our money back with any order we place. As such, we can price products competitively and stay ahead of the competition.
To note, all of these suppliers are supported by AutoDS. As such, we can optimize our business by utilizing all of AutoDS' dropshipping automation tools and ease our business processes. 
How To Start A Dropshipping Business In 2023
Alright, now, on to the exciting part! Let's go through the steps that will ensure we run a successful eCommerce dropshipping business. Starting from the beginning, let's follow these ten easy steps to start an eCommerce dropshipping business:
So, let's get into each of these steps to learn more. 
1. Determine Your Business Requirements
First and foremost, we must understand what we need to do to ensure our business is legal and abides by regulations. The first thing we need to do is check if we need to register our business in the country we sell in.
Generally, most countries require us to pay an income tax on every source of income. This does not omit dropshipping. Since dropshipping is a source of income, we must pay taxes. However, the taxes and tax laws differ from country to country. So, we need to consult a local accountant to understand the tax laws.
2. Find Winning Products – Product Research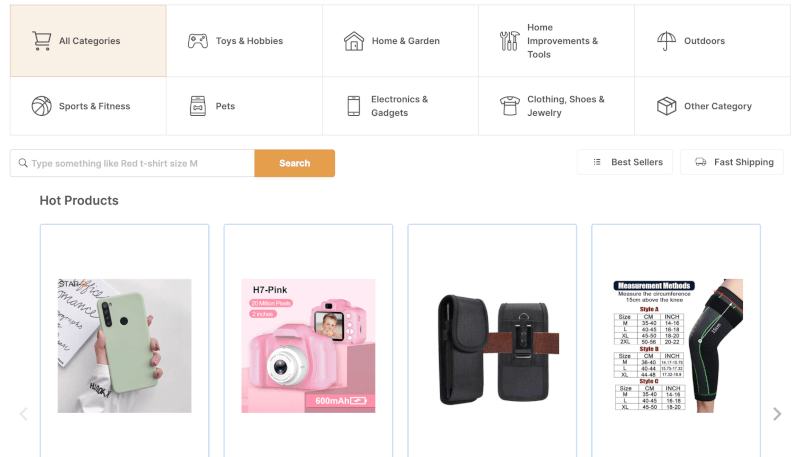 Undoubtedly, product research is essential for success. Of course, we gave a few examples of trending products, but there are many more to discover. So, to make sure we have a profitable product catalog, we need to do product research.
With this in mind, here are the best ways to conduct product research:
AutoDS product research tool

Supplier's websites 

Spy on the competition

Check social media hashtags

Google Trends & Google Lens
AutoDS Product Research Tool
Fire, we can also utilize the AutoDS product research tool. As a matter of fact, this tool allows us to discover, source, research, and import trending products in no time. Besides product imports, we can also do easy one-click returns.
Moreover, a convenient way to find winning products is with the AutoDS product-finding blog and YouTube best-sellers playlist. From here, we can get access to exclusive product suggestions.
Supplier's Websites
On top of that, we can utilize our suppliers' bestsellers lists. What this does is help us understand what is selling well. For example, we can utilize Amazon's best sellers list.
Spy On The Competition
Next, we can spy on our competition. This gives us an idea of what is selling well for other dropshippers.  In fact, spy software allows us to get an inside look into our competitors and the reasons for their success.
Check Social Media Hashtags
Then, we can also check out social media hashtags. By doing this, we can always be up to date on trends and in-demand products. For example, we can check out the TikTok hashtag #TikTokMadeMeBuyIt.
Google Trends & Google Lens
Additionally, we can take a look at Google Trends. To explain, Google Trends analyzes the popularity of top search queries. As such, it helps us understand the search volume for different items, which can help us understand the demand. 
Plus, we can optimize Google Lens to search for products with images. In this way, we can easily find hot-selling products and where other sellers are sourcing them from. Thus, enabling us to add the same best-sellers to our dropshipping stores.
And once we have a solid list of products, we can use the AutoDS product research spreadsheet to narrow it down.
3. Choose A Dropshipping Supplier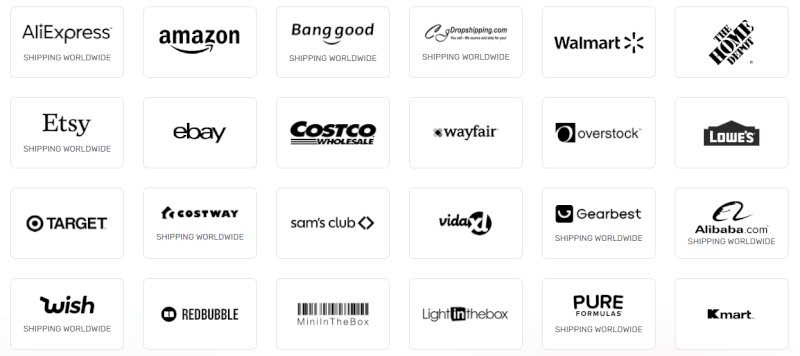 Importantly, our supplier needs to best fit our needs. Although we listed some great suppliers, there's always more. Plus, some may not work for our business, depending on their business policies and product range.
So, how can we be sure a supplier is a good match and reliable? Well, we need to look out for some vital characteristics:
Practical return, shipping, and payment policies 

International warehouses

Fast shipping times

Reliable shipping carriers with tracking information

Wide product range

Affordable & Quality products

Positive reviews 

Exceptional customer service
First, our supplier needs to have practical return, shipping, and payment policies. By aligning our policies with our supplier, we can extend those same policies to our customers.
Next, we need to ensure our supplier has international warehouses. This allows us to target a larger market and deliver orders faster. 
In tandem, we need our supplier to have reliable shipping carriers to avoid any delivery issues. Specifically, we need to ensure that they have tracking information so that our customers can track the order.
Also, our supplier must have a wide product range. With that said, our suppliers must have a variety of affordable and quality products. As such, we can cater to different demands, stay competitive and make a hefty profit while our customer gets quality items.
Moreover, we want to find a supplier with great reviews. This provides us with the experiences of other dropshippers with this supplier.
Lastly, we want to choose a supplier that provides excellent customer service. This will help us build a smoother relationship with our supplier and resolve issues faster. Plus, we can also extend that great customer service to our customers. 
4. Select A Dropshipping Selling Channel
Now, we need to know what a sales channel is. To elaborate, sales channels are places where we can market and sell products for our dropshipping business. However, we need to consider the differences between a marketplace and a customizable eCommerce website.
In truth, we can utilize a customizable website if we want better brand development. Plus, this way, our customers will focus solely on our products without being pulled to someone else's listing.
On the other hand, when using a marketplace, we have a lot of direct competition. But, marketplaces have a ton of organic traffic that we can leverage.
With all that being said, the top selling channels are:
Shopify

Wix

WooCommerce

Facebook Marketplace & Facebook Shops 

eBay

Amazon
Shopify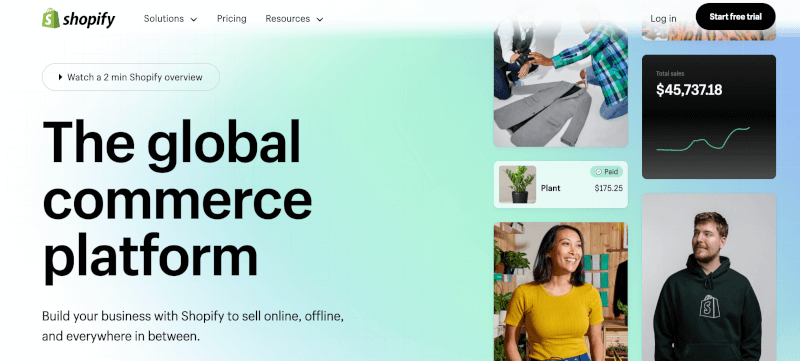 Shopify helps business entrepreneurs create and manage their online stores with zero coding. Additionally, it has numerous customization options that will help us create a unique store. On top of that, it has various tools that directly help us grow our dropshipping business.
With that in mind, let's look at some of Shopify's other features: 
Customization options

Professional templates  

Shipping discounts
Since Shopify is a hosted platform, we can get the skeleton of our dropshipping store. As such, it allows us to tailor it to follow our brand identity. On top of that, with their numerous themes and apps, we can customize our store.
And, Shopify has professionally made store templates with beautiful layouts that we can use.  Additionally, these templates are set up for conversions giving us a strong store layout optimized to turn viewers into buyers.
What's more, we can save money with Shopify's shipping discounts. Notably, their discounts go up as high as 64%.
Wix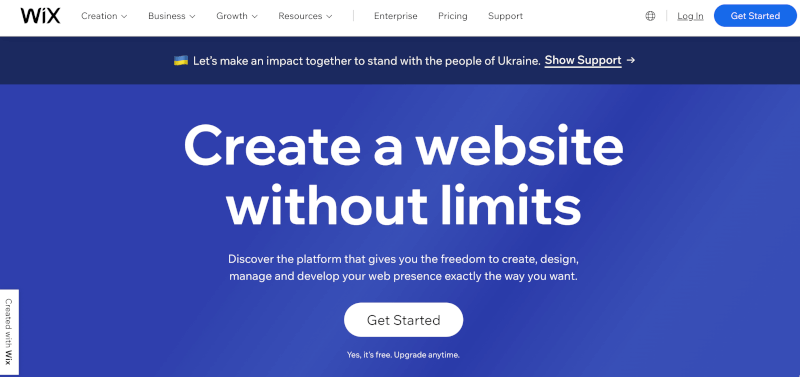 Next up, we have Wix. Wix is a super easy-to-use website builder. And, since it also supports dropshipping, we have the option to build an eCommerce store.
With that in mind, let's see what other features Wix has: 
Customizable platform 

No seller limits

Global market reach
To note, Wix has a lot of customization options that are easy to implement. Generally, it works on a drag-and-drop basis and gives us the flexibility to build a branded store.
In addition, Wix also doesn't have any seller limits allowing us to sell to as many people as we can reach.
Uniquely, with this platform, we can reach and appeal to the global market. Wix makes it easy with the Wix Multilingual tool, which can translate our website to reach vast audiences.
WooCommerce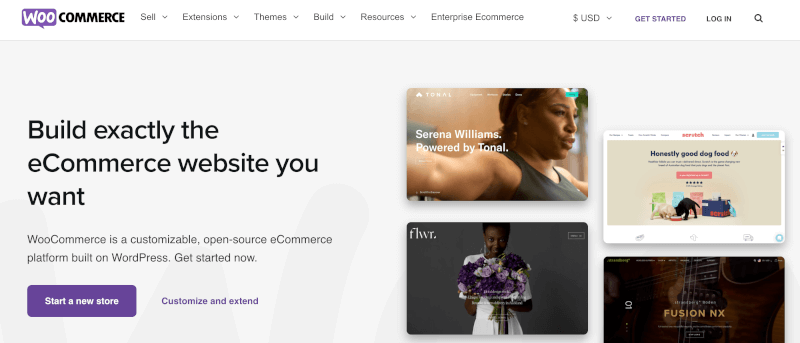 Another fantastic customizable eCommerce platform is WooCommerce. Many dropshippers are creating there storefronts on this platform, so let's explore more about WooCommerce.
Here are the key features of WooCommerce:
Fully customizable

High scalability

Tons of free & paid plugins/themes 
WooCommerce allows us to create a fully customized dropshipping store. And, since it's fully customizable, we can build it in relation to our brand. Another great advantage of WooCommerce dropshipping is that we can easily scale our business. We can list thousands of products and easily manage our store.
On top of that, WooCommerce has many free and paid plugins/themes. Ultimately, having these plugins and themes alleviates the process of creating and running a store.
Facebook Marketplace & Facebook Shops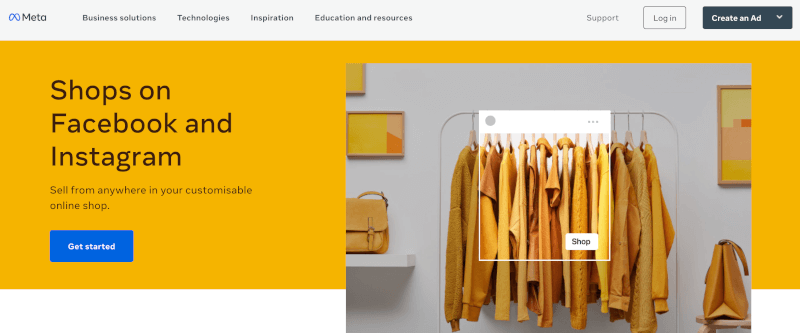 Now, let's take a look at Facebook Marketplace and Facebook Shops. These Facebook selling channels have only recently started being used for dropshipping. Interestingly, there are basically no start-up costs except for the reasonable selling fees.
What's more, there are other features we need to consider as well: 
Untapped market 

Organic traffic 

Dropship without a website 
Particularly, what makes these selling channels so profitable is that Facebook is an untapped market. So, there is not a lot of competition.
Apart from this, there is a huge audience on this platform. As a result, we can get a lot of organic traffic and boost sales.
And, we can dropship without using a website. Plus, if we are 18 or older and living in Facebook Marketplace-supported countries, we can use Facebook's business tools. For example, we can use order management tools and onsite checkout for payment processing.
eBay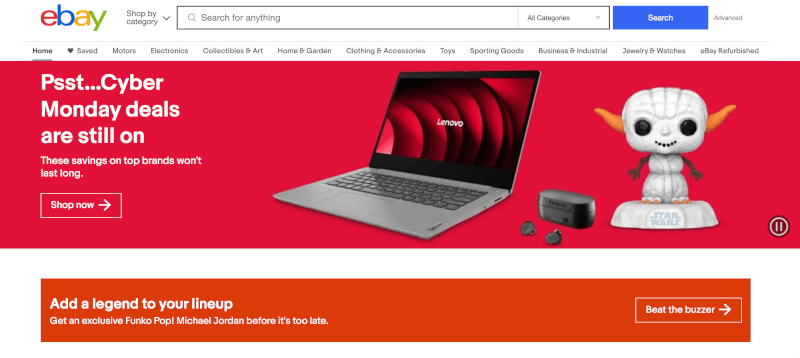 Next, we have eBay. eBay is one of the best-supplied and diverse online shopping sites. Notably, to dropship on eBay, we don't need any previous experience since the process is straightforward.
Importantly, we need to take into consideration eBay's other unique qualities: 
Vast and loyal customer base worldwide

Minimal investment required 

Buyer/seller protection
Since eBay is one of the most used open marketplaces, it has a vast and loyal customer base globally. Plus, it generates a lot of organic traffic that we can leverage to increase our sales and profits.
What's more, eBay doesn't have a subscription fee when we use it and the listing fees are super low. Thus, with minimal investment we can start dropshipping on eBay.
Plus, with buyer/seller protection, both parties can be protected. What this means is that in case of a dispute, eBay can intervene to help resolve it fairly.
Amazon

Lastly, Amazon, much like eBay, is a retail marketplace. Thus, we sell products alongside other sellers and can take advantage of the vast audience on the platform.
Furthermore, here are Amazon's key features as a selling channel:
Large and active customer base
Easy startup
Advertising options
Amazon's widespread recognition means that it already has a large and loyal user base, making it an attractive choice for dropshippers. Plus, getting setup on Amazon is easy and convenient.
And, cecause Amazon has all the necessary tools and services built into the platform, we don't have to worry about using an external ad service. We can eventually promote our products through other means, but using Amazon's built-in tools allows us to promote our business quickly.
All in all, we can sell on multiple selling channels just as we can work with various suppliers. In this way, we can multiply our dropshipping profits. Nonetheless, it's best to gain experience before opening numerous dropshipping stores. 
Each selling channel above is supported by AutoDS. Take advantage of dropshipping automation to scale your business to new heights in 2023.
5. Write Your Dropshipping Business Policies
Next, in the dropshipping business process, we need to write our business policies. As a matter of fact, having clear business policies is vital for establishing a trustworthy relationship with our customers. This way, we openly let our customers know how our business process will operate. 
Now, the policies we need to be concise and clear about are: payment policies, shipping, and returns policies. We can set them up to best fit our business as well as be fair to our customers in order to attain customer satisfaction.
With that said, we can use the AutoDS ready-made templates to help us generate them quickly. However, on eBay, we cannot use these same templates, so we need to set up our business policies directly on eBay. 
6. Automate Your Dropshipping Store
One of the best aspects of dropshipping is that we can automate our tasks! As such, dropshipping automation allows us to automate the entire dropshipping process. As a result, we save a bunch of time and effort while reducing errors in any of the steps. Plus, by automating our dropshipping processes, we can optimize our business and boost profits.
With this in mind, the best all-in-one automation tool to use is AutoDS. AutoDS has a myriad of tools that allow us to scale and grow our dropshipping business:
Price/Stock Monitoring

Product Importer 

Price Optimization

Complete Order Fulfillment

Easy Inventory Management 

Automatic Tracking Updates
Price & Stock Monitoring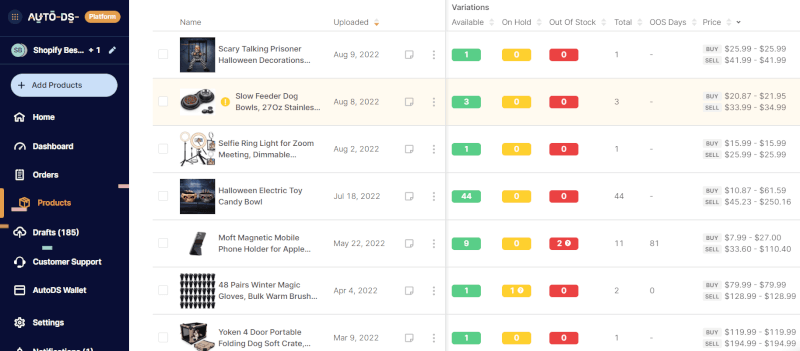 A vital AutoDS tool is the Price and Stock Monitoring tool. With this tool, we can make sure that all of our products are in stock and available. And we can also ensure that they're priced right.
Not only does the AutoDS Price and Stock Monitoring tool keep track of stock levels, but it also tracks price fluctuations. Thus, we can avoid manually checking these variables for every product in our catalog. To demonstrate, AutoDS marks the product out of stock and does not allow us to import it to our store when it is not available.
Product Importer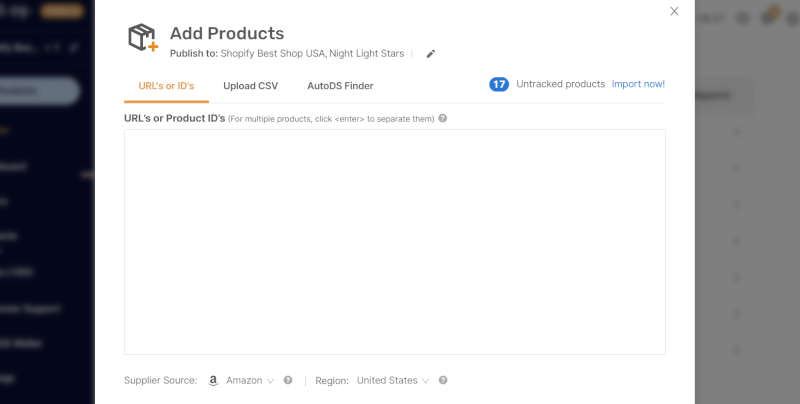 Next, the AutoDS Product Importer is a godsend for saving a bunch of time on the product importing process. Alternatively, when we import products manually, we have to copy/paste each detail separately for every item. In contrast, with automation, we can easily import all product details all at once in seconds.
Additionally, we can import thousands of products simultaneously with the bulk importer option. Or, we can even schedule single or bulk imports for future dates. 
Price Optimization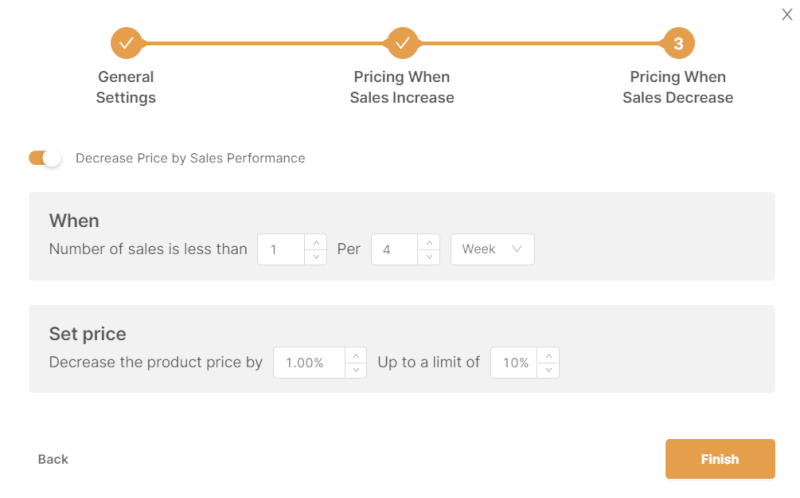 Undoubtedly, the AutoDS Automatic Price Optimization tool is one of the most valuable tools for our business. So, if we want to increase sales conversions, this is the perfect tool to use.
For example, if a product is selling well, then with price optimization, AutoDS will increase the price of that item. As a result, we can maximize our profits. On the other hand, if a product is not selling well, AutoDS will lower the price to encourage sales. 
Complete Order Fulfillment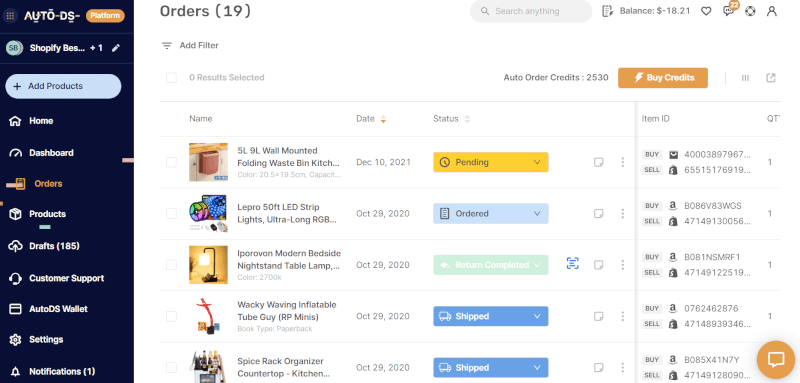 Undeniably, the sales will start pouring in once we optimize our dropshipping business. Consequently, if we fulfill orders manually, we risk having errors and delays.
As a solution, we can automate our order fulfillment process and save a lot of time and effort. Plus, with automation, we can altogether avoid making any errors like shipping to the wrong address or shipping the wrong product.
So, with tools like AutoDS Automatic Orders and Fulfilled by AutoDS, we are optimizing and expediting order fulfillment.
To explain, since the process is automated, fulfillment is much faster and smoother, including automatic tracking updates! This allows us to deliver the order to our customers faster and attain ultimate customer satisfaction.
Easy Inventory Management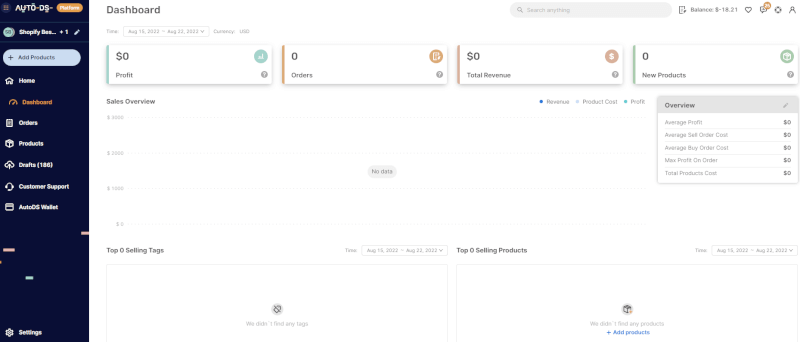 In addition, we can also take advantage of the AutoDS Inventory Management feature. In fact, with this tool with can easily manage all our inventory and products under one screen. Plus, it's perfect for managing multiple stores all in one place.
As such, we can optimize our store and have full visibility. All in all, it gives us a complete overview of our business operations.
Automatic Tracking Updates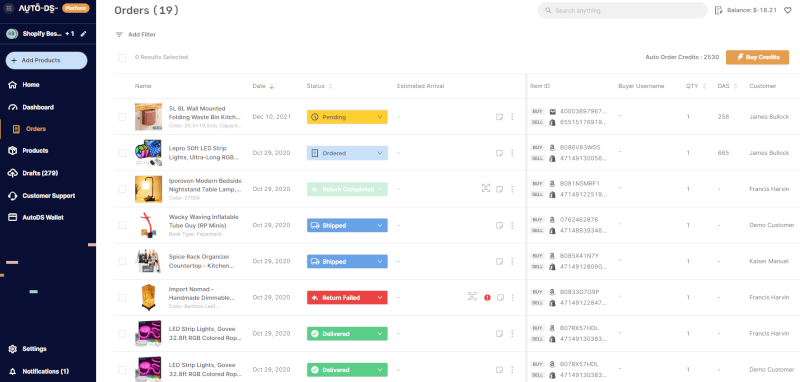 Lastly, a tool that benefits both our customers and us is the AutoDS Automatic Tracking Updates. Actually, automatic tracking updates can save us hours. So, once the tracking information is available from our supplier, AutoDS takes it and updates our customer.
In fact, when we start scaling and dealing with more orders, manually updating each order is almost impossible. But, automating the process can save time and eliminate errors.
7. Import Winning 2023 Products To Your Store
Now, we've come to the point in the process where we need to import products to our store. This way, we can build our product catalog and start doing business. And now that we know the benefits of dropshipping automation and automated product imports let's see a demonstration. 
To illustrate, let's import one of our bestsellers into our store with the AutoDS automated single product importing tool. To begin, we can click the 'Add Products' button on the AutoDS dashboard and choose the 'Single Product' option.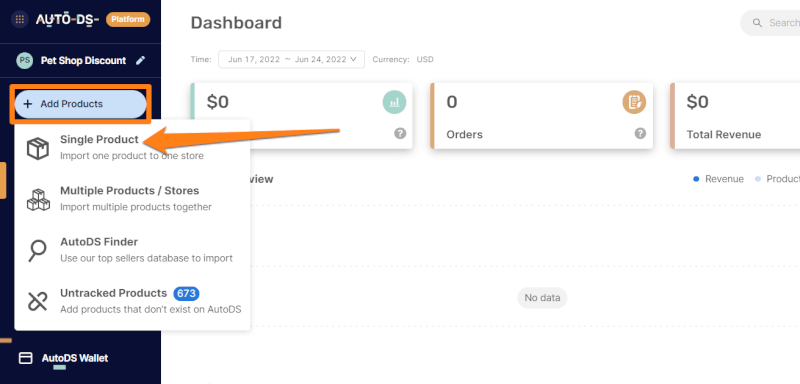 Then, to find the product we want to import, we need to go to our supplier's website and search for it there. From here, we'll find the URL or Product ID of the item.
Now, we need to paste the URL/ID into the AutoDS product importer. Then, we can publish it directly to our store or edit the listing. In reality, it's always a good idea to edit the product listing in order to optimize it.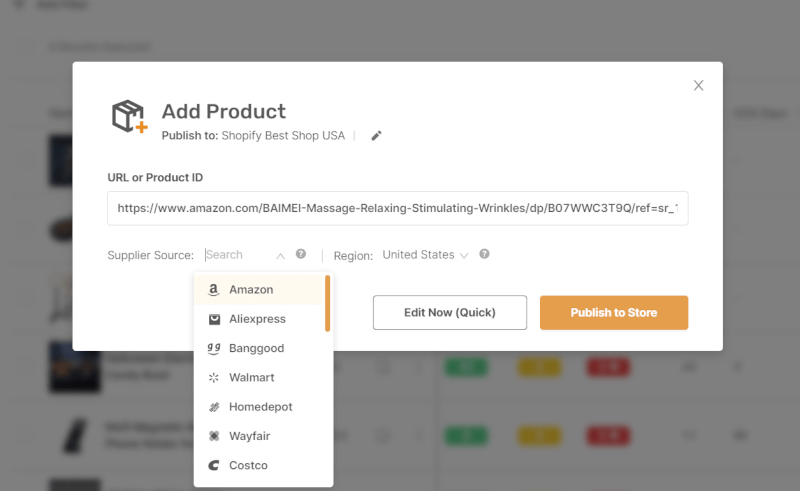 With that said, when we edit a listing, we can take advantage of all the editing options AutoDS has. For example, we can edit the title, tags, location, shipping options, description, images, and more.
These edits will help us fully optimize our listing for search engine optimization (SEO) purposes to attract more traffic to our website.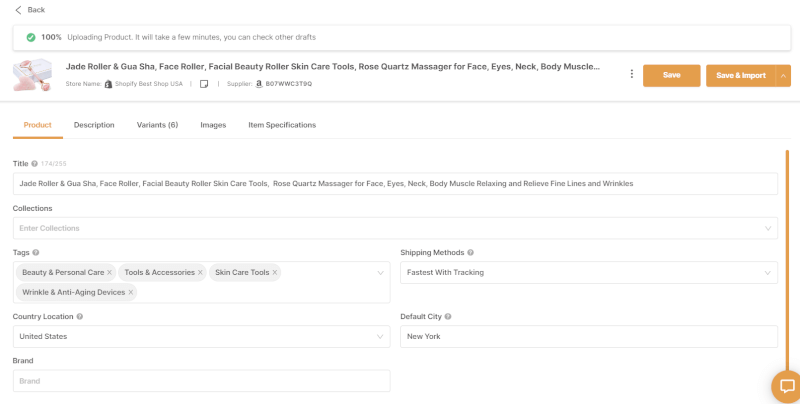 In contrast, if we had to do this process manually, we would have to start by going to our supplier's website. Then, once we find our product, we would have to copy/paste every individual detail one by one to create our listing.
And, when importing hundreds of products, this will take up an incredible amount of time. So, by automating the process, we are optimizing our business.
8. Market Your Dropshipping Business To The World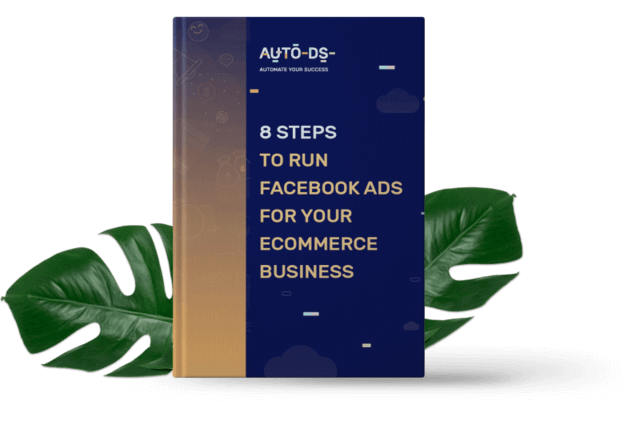 If we want to run a successful dropshipping business in 2023, we need to generate interest and turn that into sales. Plus, we need to navigate through the intense competition and do our best to stand out.
With that said, the best way to achieve this is through marketing. So, we need to get the right message in front of the right audience. Now, let's take a look at some marketing strategies, specifically for our selling channels:
Wix & Shopify
Email Marketing
Blog (free organic traffic)
eBay 
Volume Discounts
Sales Events
Facebook Marketplace & Facebook Shops 
Buy & Sell Groups
Facebook Promotions
9. Fulfill Your Customer Orders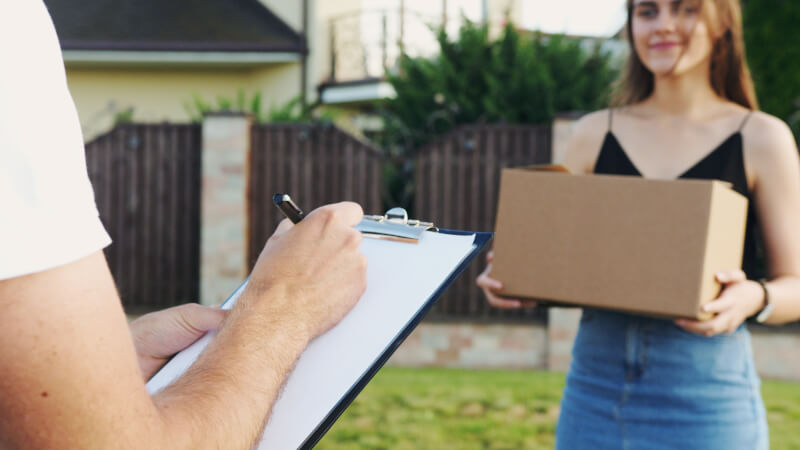 Notably, we need to fulfill our customers' orders as fast as we can to guarantee satisfaction. However, when we start receiving more orders daily, fulfilling them manually is a hassle. Plus, it opens the door for mistakes.
As a matter of fact, with manual fulfillment, we have to manually fill in every detail of our customer's shipping information. 
On the other hand, with AutoDS Automatic Orders, we can automate this process entirely. The whole process from 'order made' to 'order shipped,' and everything in between is fully automated, saving us time and reducing errors.
Additionally, if we work with US suppliers, we can use Fulfilled by AutoDS. This tool protects our personal buyer accounts by using AutoDS accounts when sourcing our items. Plus, Fulfilled By AutoDS automates the entire fulfillment process. 
Both AutoDS Automatic Orders and Fulfilled By AutoDS have automatic tracking updates. Thus, we can easily keep our customers up to date on the entire delivery process.
10. Provide Exceptional Customer Service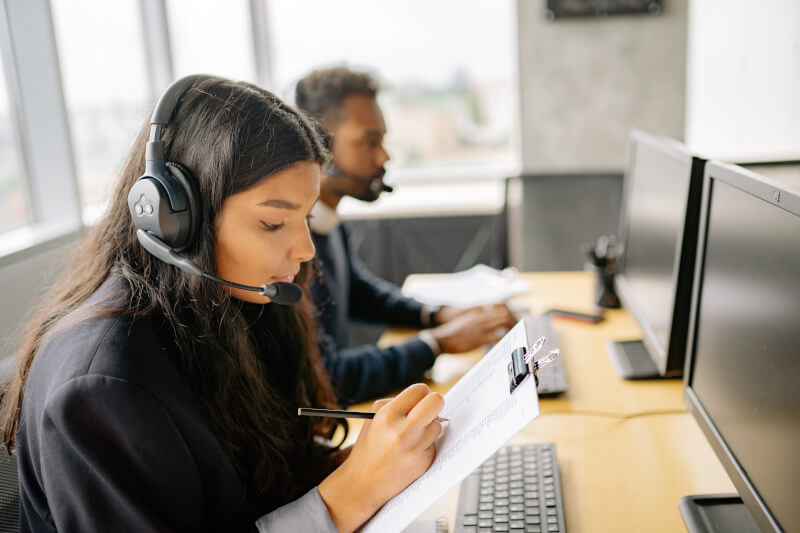 Undoubtedly, providing our customers exceptional customer service is vital for our success. This is because it helps us differentiate ourselves from the competition and attain customer loyalty. So, customers will be encouraged to return if they have a pleasant experience when purchasing from our store.
With this in mind, here are the top methods to provide excellent customer support:
FAQ Page
Email
Live Chat
Phone
At last, we have run down everything there is to know and learn about dropshipping in 2023. By following these steps, we can start and scale our dropshipping business.  Plus, we can always rely on the best dropshipping courses to ensure we run an optimal business. 
Frequently Asked Questions 
How Do I Succeed At Dropshipping In 2023? 
One of the most important things to do to succeed at dropshipping in 2023 is to find reliable suppliers and build a product catalog with bestsellers. Additionally, to ensure success, you need to automate your dropshipping business. 
What Is The Best Platform For Dropshipping In 2023?
The best platforms for dropshipping are Shopify, eBay, Wix, and Facebook Marketplace/Facebook Shops. 
How To Stay Ahead Of The Dropshipping Competition In 2023?
The best way to stay ahead of the competition in dropshipping in 2023 is by automating your business, branding and marketing your store, and offering stellar customer service. 
What Are The Most Profitable Dropshipping Products In 2023?
Some examples of the most profitable dropshipping products in 2023 are the facial beauty roller, rechargeable electric men's shaver, and wireless gaming headset. These are evergreen products that are sure to bring in high profits all year round. 
Conclusion
Hooray! We are now ready to dropship in 2023. We can start running a successful dropshipping business by utilizing the proper information and tools. Also, it's vital to fully understand dropshipping and how to succeed in 2023 to generate significant profits.
Thus, with this information, we can take on the dropshipping world fully prepared. And now, we can take a look at the following articles which will help us in our dropshipping endeavors in 2023: