People invest in high-quality home and garden items because 'home is where the heart is.' In fact, the worldwide home decor industry is foreseen to reach a market value of 898.3 billion USD by 2027. Thus, making the home and garden industry a promising area for eCommerce, particularly when it comes to dropshipping.
Let's dive deeper into the lucrative world of home and garden dropshipping. With the top 20 trending items to dropship, we'll have a fresh product catalog ready to fulfill our customers' home and garden needs!
20 Best Home And Garden Dropshipping Products
Unquestionably, it's always a good time to update homes and gardens with fresh product ideas. To help us get started, here are the top 20 home and garden dropshipping items:
Let's get the ball rolling!
1. Crystal Layered Chandelier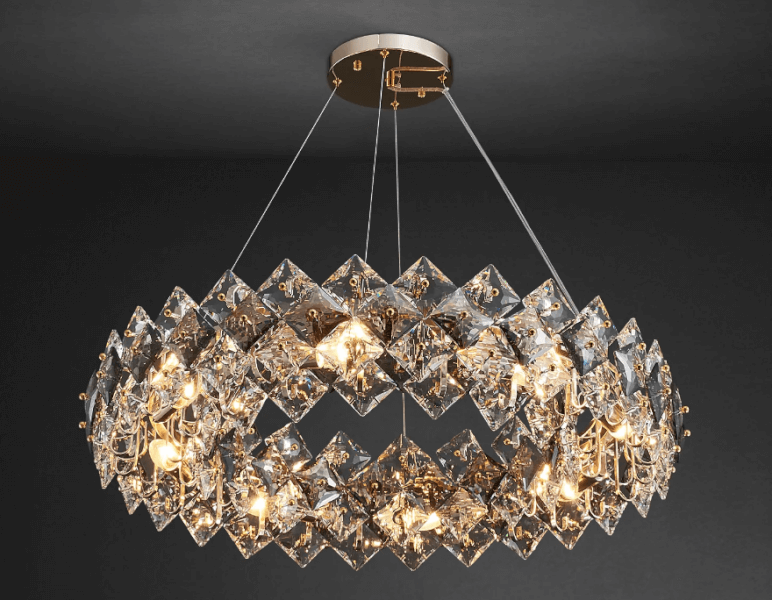 The crystal layered chandelier is one of the hottest home and garden dropshipping products. This item adds a touch of glamour and sophistication to any area, making it perfect for dining rooms, entryways, and ballrooms. As a high-ticket dropshipping product, selling this item can help us attain huge profits.
Prices & Profit Margin
Selling Price:

$1048.00

Source Price:

$654.50

Potential Profit:

$393.50
Seller/Supplier Links
Target Audience
Gender:

Female, Male

Age:

30-60

Marital Status:

Single, Married

 
Interests:

Interior Design, Home Decor
Seller's Facebook Ad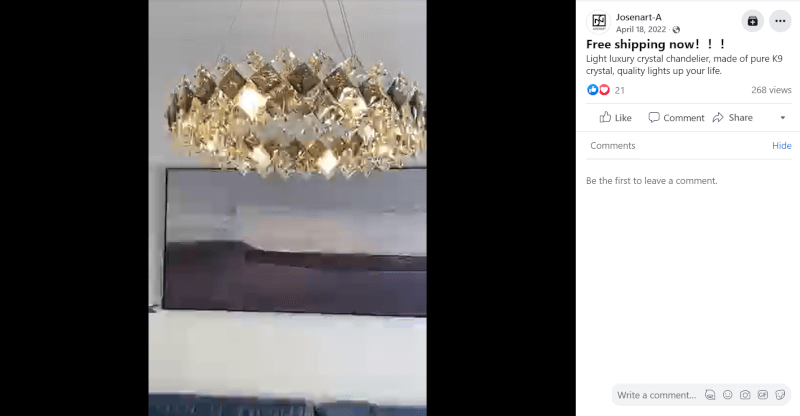 Josenart's FB ad showcases the appearance of the crystal layered chandelier in an actual home setting. Notably, the ad has 20+ reactions and 260+ views. We can optimize the product title and description to increase the ad's effectiveness further.
Plus, adding an active call to action, like a direct link to the seller's website, can help us convert more viewers into potential buyers. Nevertheless, the seller offers free shipping, which can help convert viewers into buyers.
Seller's Website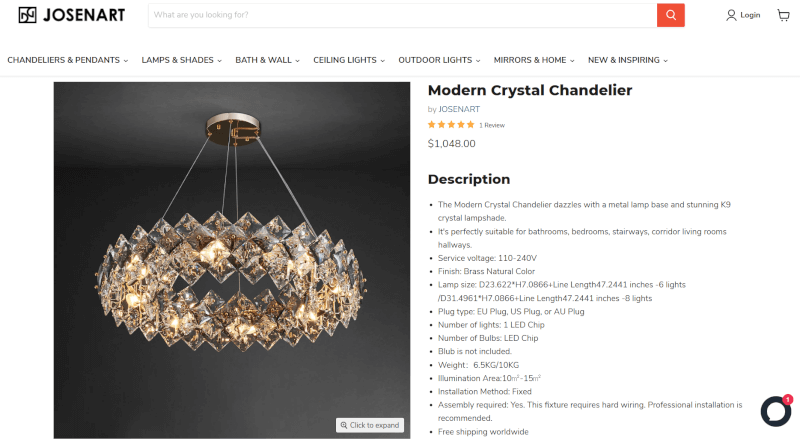 Proceeding to Josenart's website, the modern crystal chandelier costs $1,048.00, including shipping. The seller also extends a 15% clearance sale storewide, which can entice buyers to take advantage of the offer while it lasts. Interestingly, the product description provides comprehensive information, such as the weight, installation, assembly, size, materials, etc.
However, delivery takes two to four weeks due to the high demand for the product. Despite this, the seller ensures the high value of the item with 100% satisfaction or your money-back guarantee. Overall, the website has a minimalistic theme that helps highlight the elegance of this home and garden dropshipping product. 
Supplier's Website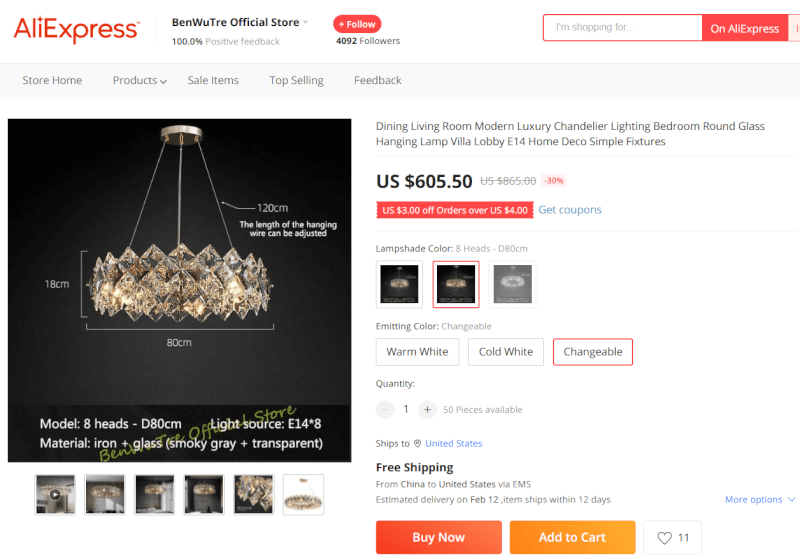 Are you interested in this home and garden trending product? We got you! Luckily, AliExpress offers the modern luxury chandelier at $654.50, including shipping. Plus, the item is at a 30% discount, allowing us to set a higher profit margin.
Although many videos and photos highlight the product's value, some improvements to the presentation need to be made. When sourcing this item, we need to change the non-English characters and present the item more professionally. Nonetheless, the AliExpress seller has 4000+ followers with 100% positive feedback, giving us confidence that we're sourcing from a legitimate supplier.
2. Luxury Bedding Set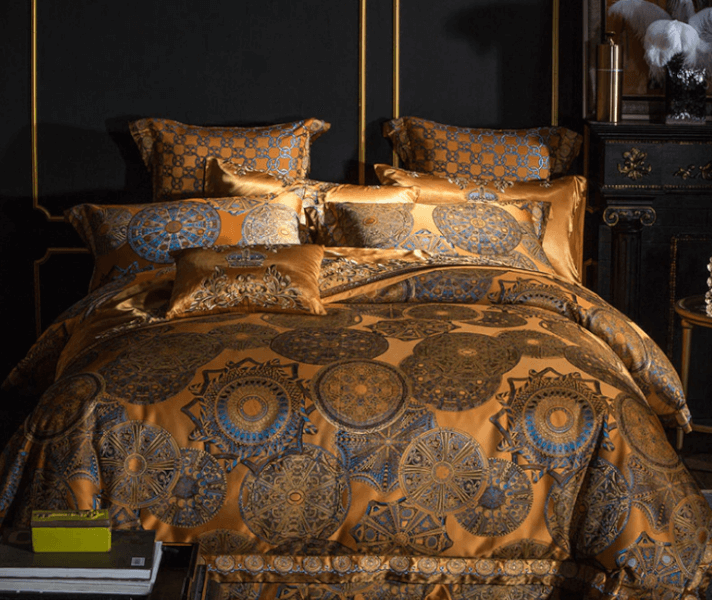 Our next best-selling home and garden product is the luxury bedding set. Made with a blend of soft cotton and silk, this item includes a duvet, bed sheet, and pillowcases. This luxury bedding set will provide a comfortable and sophisticated sleeping experience.  
Prices & Profit Margin
Selling Price:

$481.00

Source Price:

$405.99

Profit Potential:

$75.01

 
Seller/Supplier Links
Target Audience
Gender:

Male, Female

Age:

20-65

Marital Status:

Single, Married

Interests

: Home decor, Home Interior 
Seller's Facebook Ad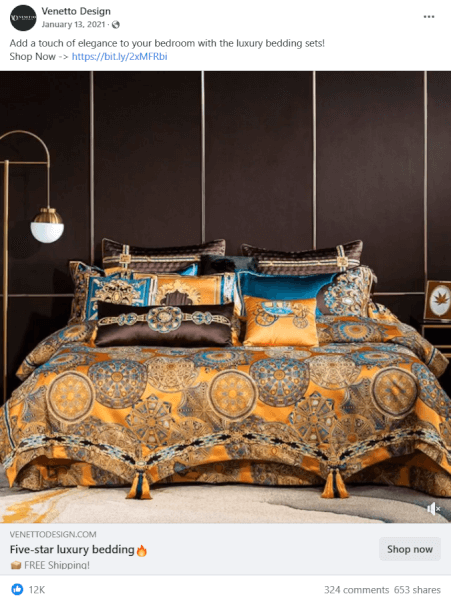 Remarkably, Venetto Design's FB ad for the luxury bedding set gains 12K+ reactions, 300+ comments, and 600+ shares. With these high engagement rates, it's safe to say that this product is an in-demand home and garden item. Besides that, the ad provides a direct link to the seller's website, where potential buyers can check out the item.
However, the promotional images don't highlight the value and use of the product. Perhaps, we can incorporate the benefits of using the item when marketing it to our target audience. Nevertheless, when buying the bedding set, customers can enjoy the free shipping offer.
Seller's Website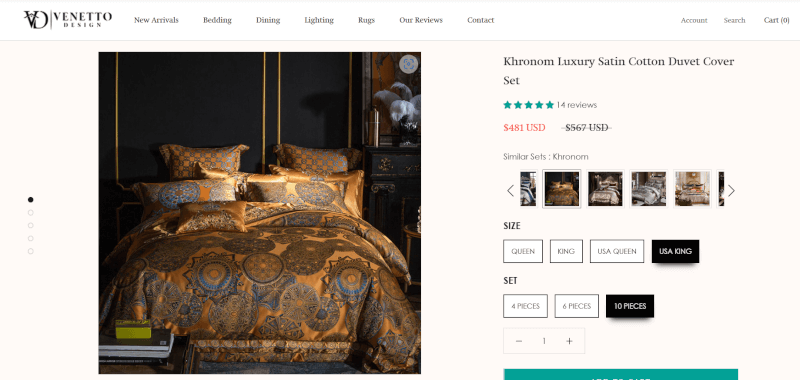 On Venetto Design's website, the luxury satin cotton duvet cover set sells at $481, including shipping. Notably, the seller offers many variations of the bedding set, allowing us to serve different customer preferences. This best-selling home and garden product receives an average rating of 4.79/5, showcasing high customer satisfaction.
One downside of the seller's website is the scrolling can be confusing toward the end of the page. So, we should design our website to be more user-friendly. Meanwhile, the seller uses a cross-selling technique that offers bundles at discounted prices, increasing the average order value.
Supplier's Website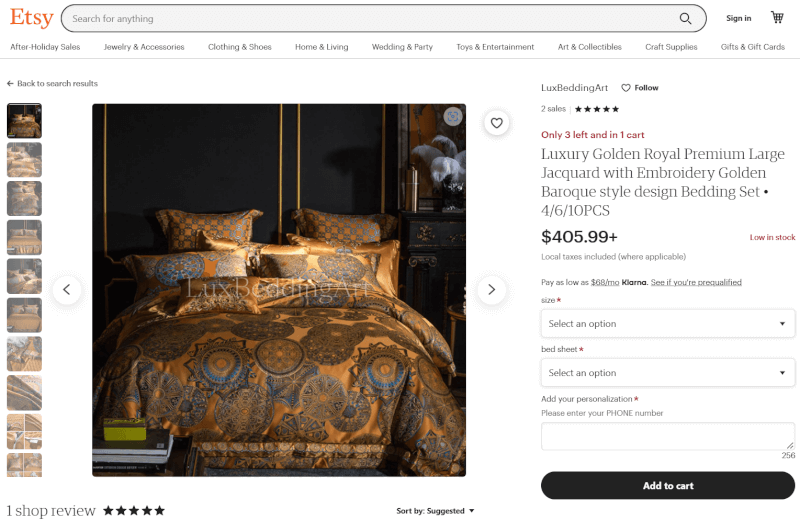 Interestingly, we can source the same bedding set from Etsy at $405.99, including shipping. The supplier's website provides necessary information about the product, including materials, sizes, and more. Plus, many images highlight different aspects of the item, which give the actual overview of the product we're selling.
Although shipping takes about 10 to 30 days, Etsy provides clients with real-time order tracking information. Furthermore, the supplier has a Purchase Protection program that ensures products that customers receive are correct and of high quality. Hence, we can extend these features to our stores and achieve high customer satisfaction.
3. Universal Filter Faucet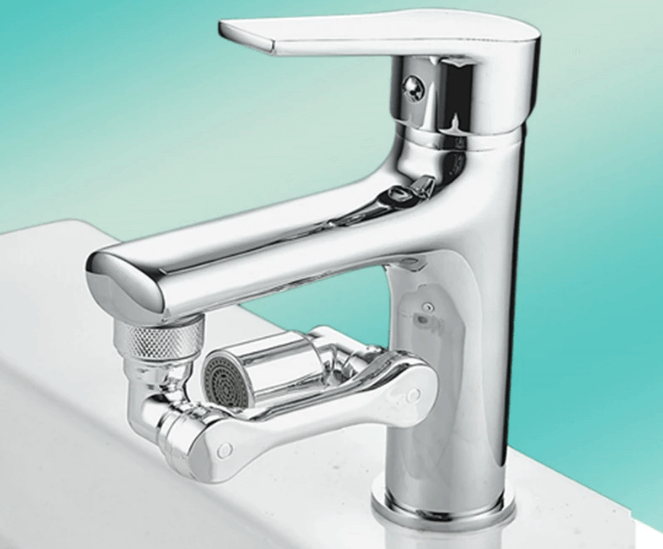 In third place on our home and garden products list, we have the universal filter faucet. Generally, this item is designed to fit a variety of kitchen sink configurations and can be used with most under-sink water filtration systems. With its functionality, this product is a top-selling item to dropship. 
Prices & Profit Margin
Selling Price:

$19.19

Source Price:

$4.30

Potential Profit:

$14.89

 
Seller/Supplier Links
Target Audience
Gender

: Male, Female

Age

: 25-50

Marital Status

: Single, Married

Interests:

Home improvements, Interior design
Seller's Facebook Ad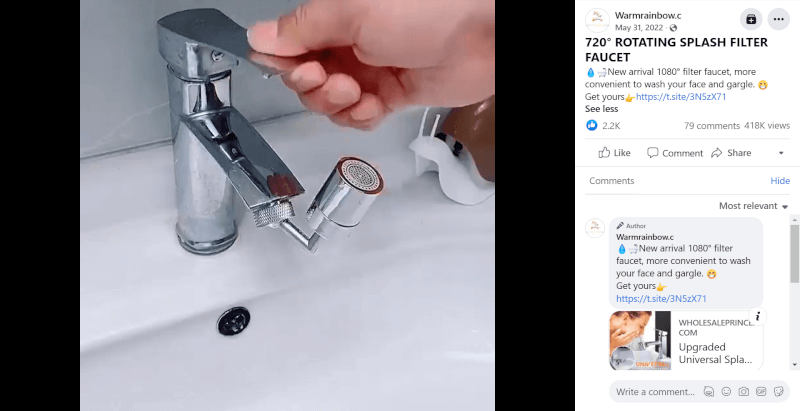 To begin, let's analyze the Wholesaleprince FB ad. At first glance, we can notice an inconsistency in the ad's caption, one showcases a 720-degree variation, and the other says a 1080-degree faucet. As such, we must clearly define the item we're selling to avoid confusion and returns.
Nevertheless, the ad engagement has 2.2K+ reactions, 70+ comments, and 400K+ views, showing that many viewers are interested in the item. Moreover, the ad video highlights this home and garden item's features and usage. When customers want to buy the item, they can just click the link that will take them to the seller's website.
Seller's Website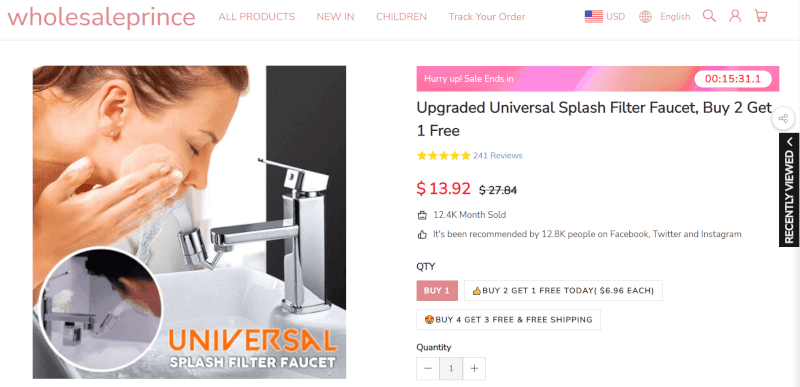 Interestingly, Wholesaleprince offers the universal splash filter faucet at a discounted price of $19.19, including shipping. On top of that, several promotions like the 'Buy 2, Get 1 Free' offer are available in-store. As advertised, the seller has sold over 12K units over time, proving the high demand for this home and garden item.
On the downside, the website uses different font sizes, styles, and colors, making it unorganized. With that said, we need to promote our business using a well-organized layout and professional materials. All in all, the seller offers free shipping and a 15-day return period that help improve the customer shopping experience.
Supplier's Website
On AliExpress, we can source the same faucet at a marked-down price of $4.30, including shipping. Besides the sale price, we can enjoy store discounts of up to $3. Adding to the deals, a 2% off is applied for purchasing two or more product quantities.
However, the product description needs refinement as to the layout and choice of characters. Nevertheless, the supplier presents the product's benefits and features in detail. Finally, we can extend the supplier's 75-day money-back guarantee and 15-day free returns to our own customers.
Now, we've gained insights into the profitability of selling home and garden products. In the following sections, we'll continue to explore top-rated items to dropship.
4. Round Wood Fire Pit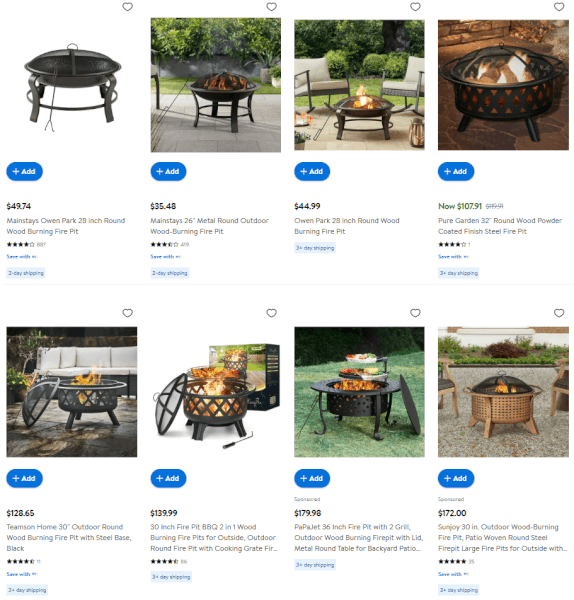 In essence, a round wood fire pit is an outdoor fireplace that is designed for burning wood. Typically made from metal or stone, this home and garden dropshipping item is used for roasting marshmallows or grilling meat. Besides cooking, this product is perfect for customers who enjoy the warmth and ambiance of a fire on a cool evening.
Beginner's Tip: We can add different styles, sizes, and colors of the fire pit to complement customers' garden landscape or outdoor design.
5. Wooden Garden Chair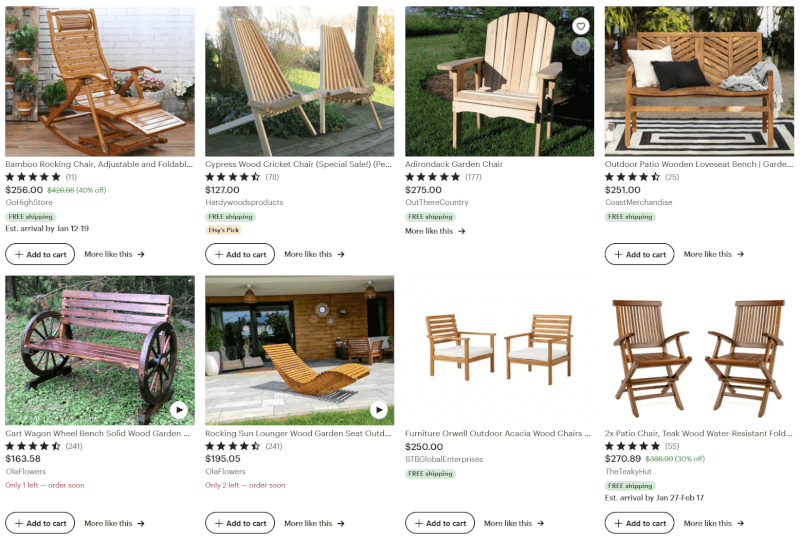 Joining our trending home and garden products list is the wooden garden chair. Notably, we can dropship different variations of wood, such as oak, pine, teak, and more. Moreover, we should consider additional features like adjustable backrests, cushions, and armrests to provide comfort and style.
Beginner's Tip: To manage the effects of environmental conditions and ensure long-lasting items, we must offer wooden chairs with protective paints or lacquer.
6. Gardening Tool Set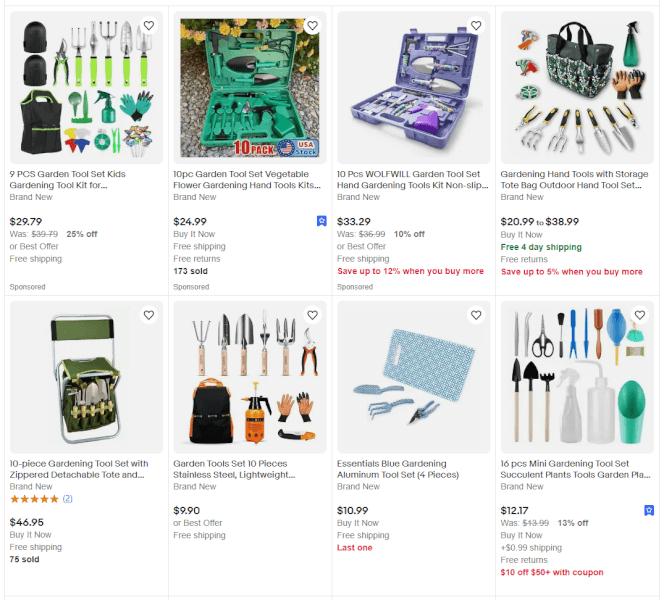 Another home and garden supply that will perk customers' interests is the gardening tool set. In fact, there is constant growth in garden equipment and tools demand, with expected sales totaling 130 billion U.S. dollars come 2024.
The set commonly includes various hand tools and some power equipment for landscaping or gardening. In particular, we can offer shovels, hoes, trowels, shears, pruning cans, and much more.
7. Gardening Gloves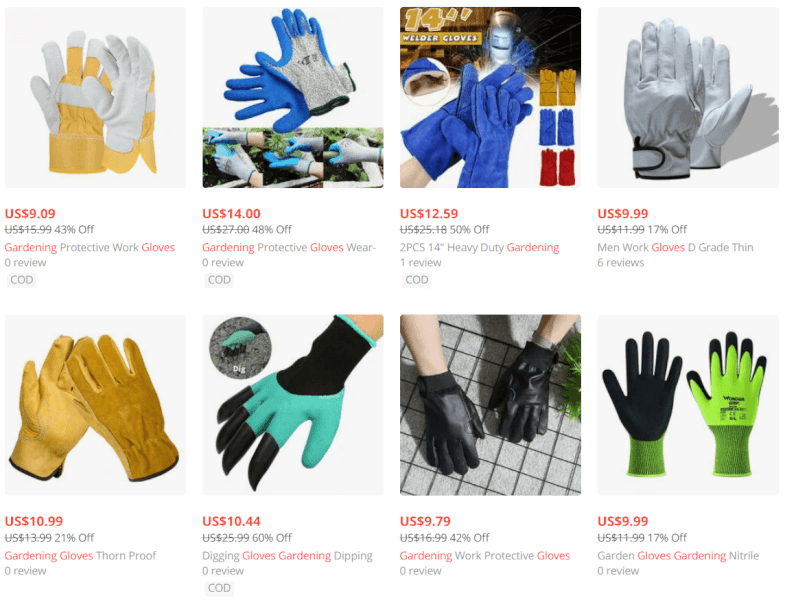 When dropshipping garden supplies, gardening gloves are important additions to our product listings. Protecting users' hands from dirt, thorns, and other hazards, these gloves are usually made from leather, canvas, or synthetic fabric. Besides that, we can add choices with textured grips or padded knuckles for a safer gardening experience.
8. Garden Hand Trowel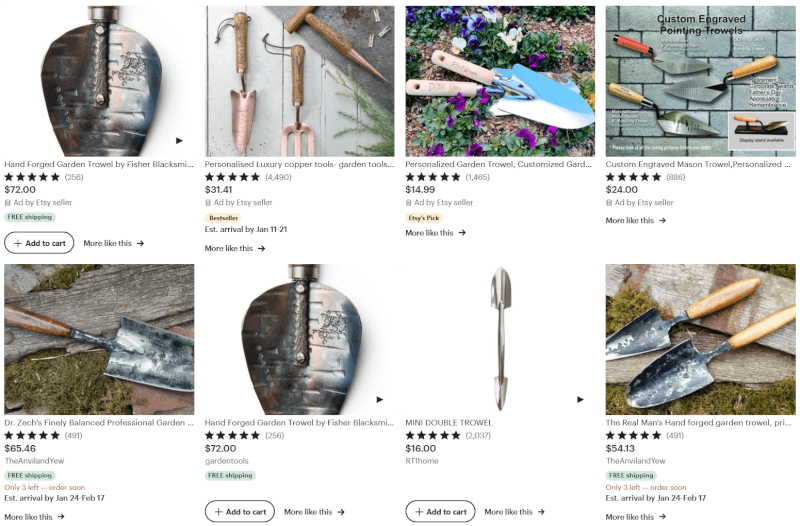 As an essential home and garden item, the garden hand trowel is a best-selling tool for dropshipping. This hand-held tool is perfect for customers who love planting seeds, transplanting small plants, weeding, and cultivating soil. So, consider durable materials, such as steel, wood, or plastic, when adding this product.
9. Garden Dump Cart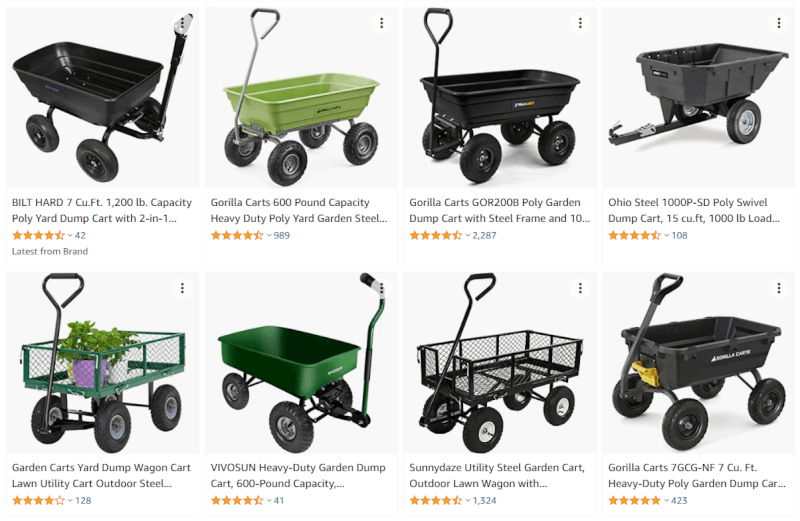 Designed to be pulled by a lawn tractor or driven by hand, the garden dump cart is every gardener's must-have equipment. This top home and garden item is utilized to haul dirt, plants, or tools around the yard more efficiently. As such, we should consider different cart colors, sizes, and designs to add style while gardening.
Beginner's Tip: When offering this item, we must add varieties with removable side panels and protective covers for a more long-lasting and durable dump cart.
10. Hydroponics Growing System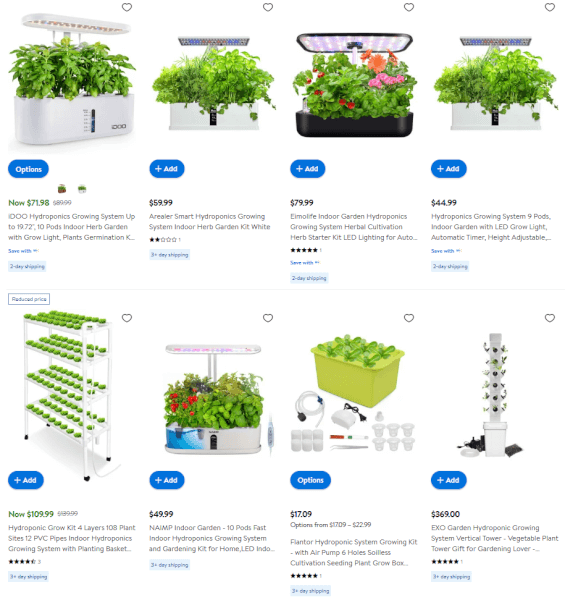 Undeniably, one of the most versatile home and garden products is the hydroponics growing system. Meanwhile, the global hydroponics market is expected to increase to 12 billion U.S. dollars by 2025.
Used to grow various plants, this item also delivers water, transports nutrients, and provides lighting to customers' garden settings. With its functional design, we can offer different sizes, capacities, styles, and layers for this gardening system.
11. Metal Watering Can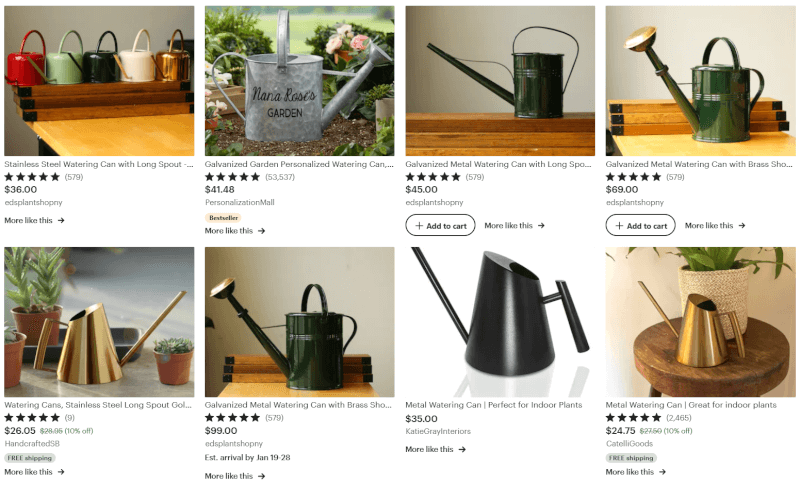 The metal watering can never go out of style as a traditional home and garden dropshipping item. To maximize our sales, we should add watering cans that are long-lasting and corrosion-resistant. Aside from that, we must consider essential features, including removable hoses, different volume capacities, and aesthetic designs.
12. Automatic Soap Dispenser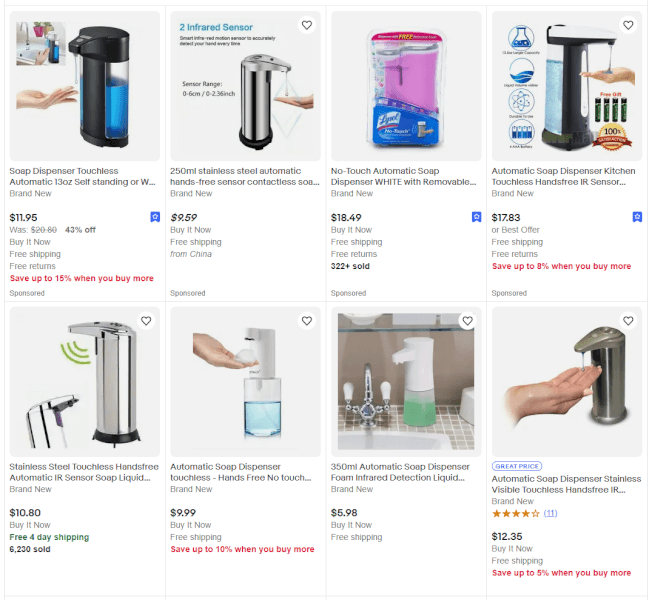 To maintain good hygiene and eliminate the spread of diseases, every home must have an automatic soap dispenser. Notably, this best-selling home and garden product is a hands-free assembly that operates using a sensor. Furthermore, some models have adjustable dispensing amounts and are mountable on walls or countertops.
Beginner's Tip: To maximize the usability of this item, we can sell options with added features like temperature screening.
13. 3-Tier Drawer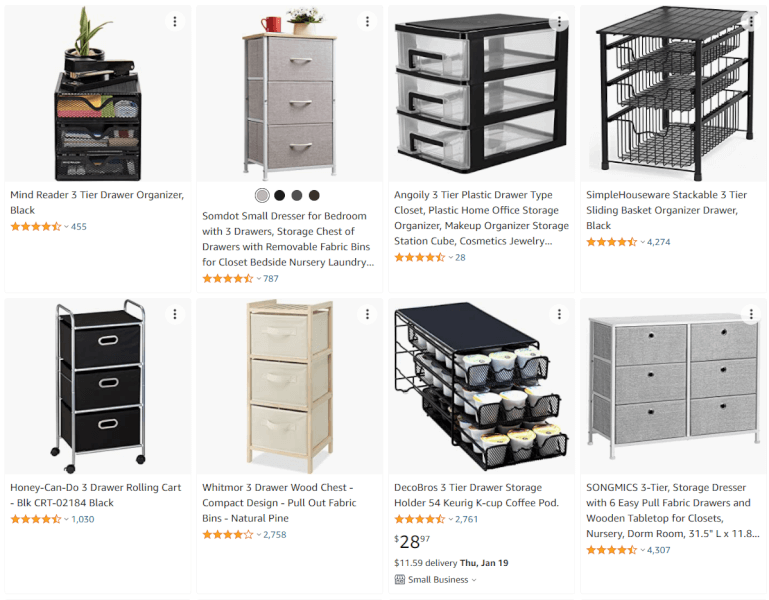 An organized setting gives every home a comfortable space. Thus, selling the 3-tier drawer is a practical home and garden product that allows users to access items in multiple drawers without taking up too much floor space. With that in mind, we must dropship different styles, capacities, colors, and designs, depending on customers' preferences.
Beginner's Tip: For more organized and safer storage, we can sell 3-tier drawers with security locks and multiple dividers.
14. Floating Bookshelf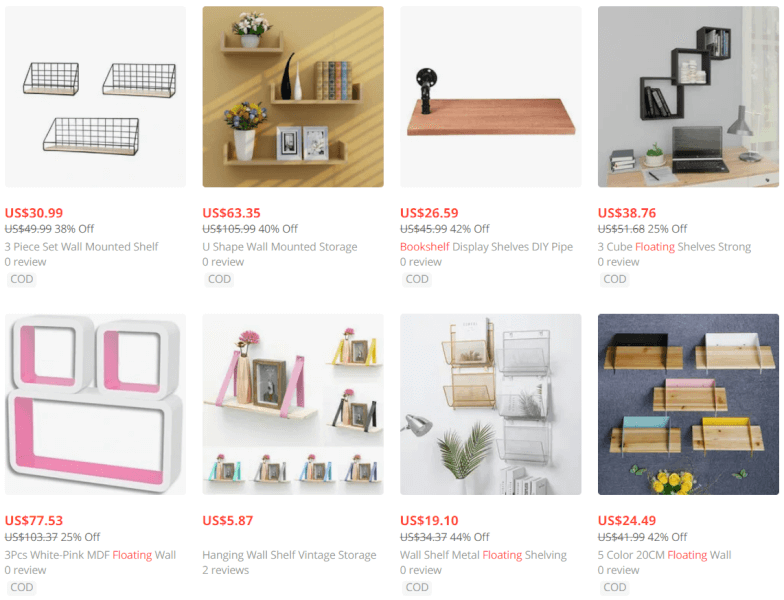 Next up, the floating bookshelf is a home and garden dropshipping item that provides sleek display options while taking up minimal space. Typically mounted on a wall, this bookshelf is usually made of high-quality wood, metal, or plastic to carry books, ornaments, or frames. Aside from this, we can offer options with built-in lights and adjustable shelves. 
15. Bottle & Glass Holder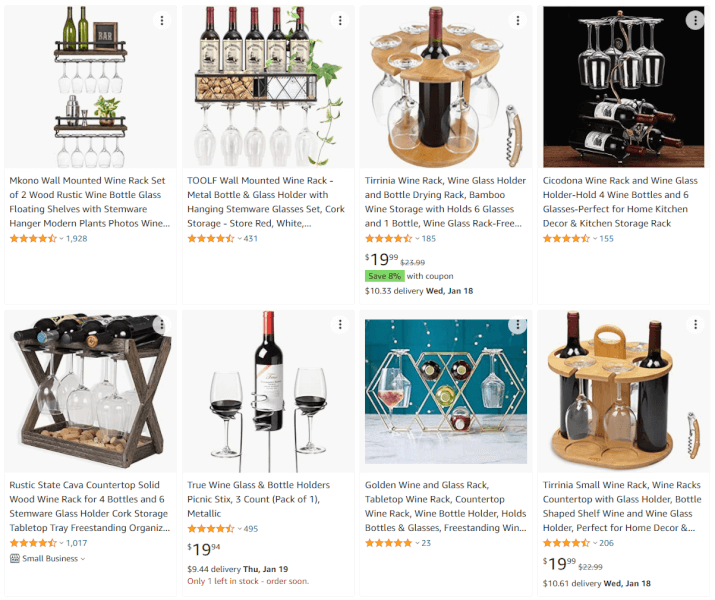 The next best-selling home and garden product is the bottle and glass holder. When offering this item, we must include metal, wood, or plastic variations. Plus, additional features like dividers, compartments, or adjustable shelves can add value to these dropshipping products.
16. Non-Stick Skillet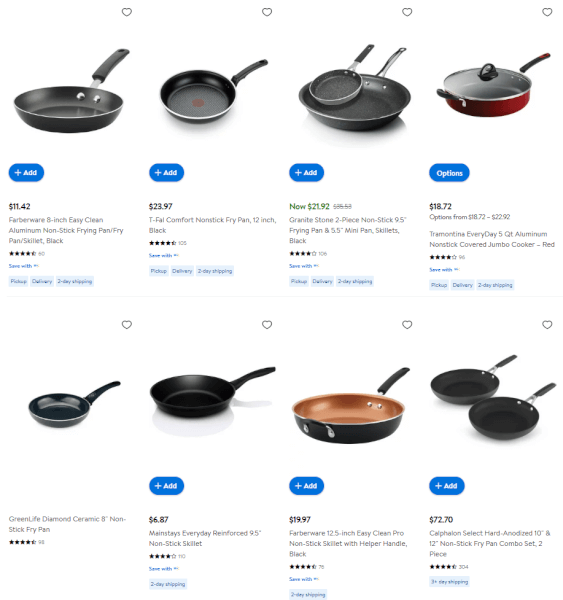 Essentially, the non-stick skillet is a type of frying or sauté pan with a coated layer that prevents food from sticking to the surface while cooking. To illustrate the demand for this product line, the worldwide non-stick cookware industry is expected to achieve a market value of 2.47 billion U.S. dollars in 2025.
This garden and home product is available in various sizes and styles, perfect for home cooks or professional chefs. Moreover, some varieties have features like an oven-safe handle, a glass lid, or an induction-compatible base.
17. Marble Dinnerware Set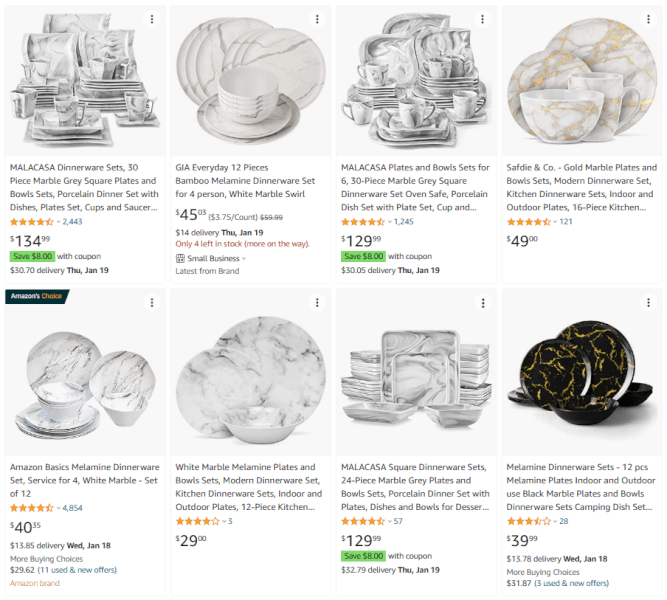 In general, the marble dinnerware set is a collection of dishes, bowls, cups, and other serving pieces. Often used for formal or special occasions, this home and garden product is known for its elegance and durability. As such, we must dropship combinations of dinnerware sets with aesthetic patterns and varying capacities. 
18. Countertop Ice Maker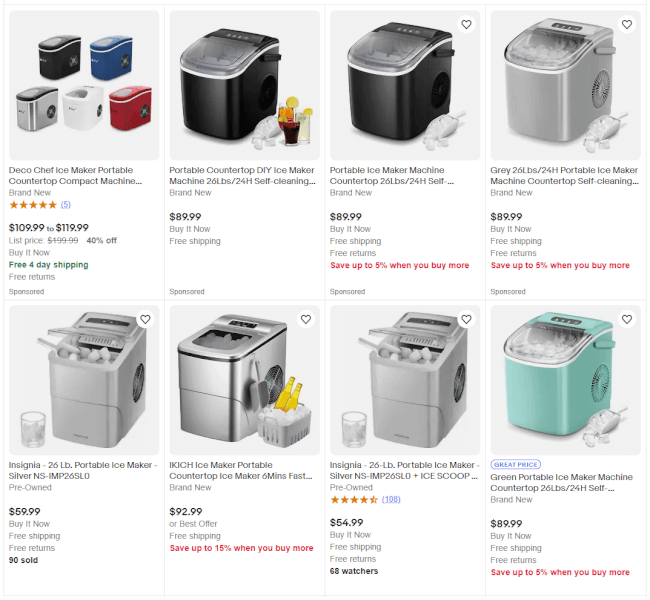 Another worthwhile home and garden product to dropship is the countertop ice maker. Some ice maker models have built-in freezers or can connect to existing freezers for added storage. Other features that we need to consider include a digital display, a timer, and an automatic shut-off.
19. Over The Toilet Storage Rack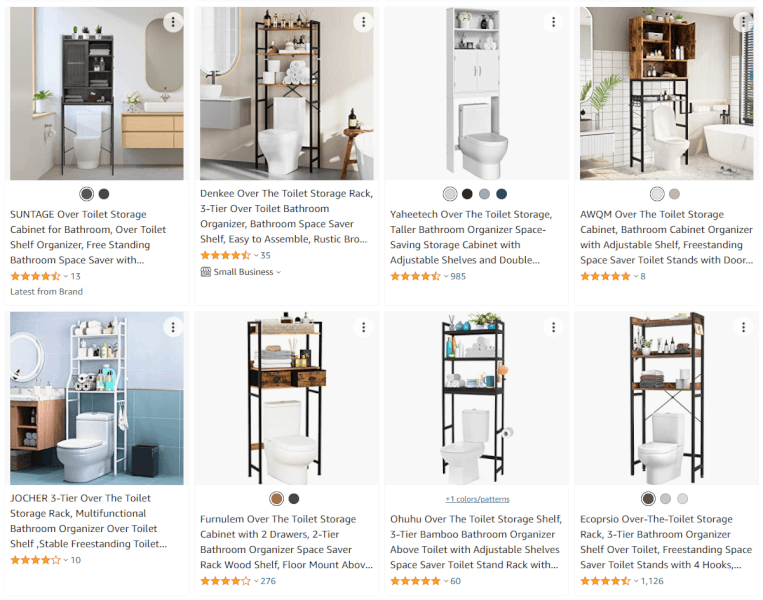 Remember to also add the over the toilet storage rack to our dropshipping stores. Over the toilet storage racks come in various sizes and styles to suit different bathroom decor and storage needs. On top of that, this home and garden item can be freestanding, while others may be mounted to the wall for added stability.
Beginner's Tip: We must dropship variations with adjustable shelves, doors, or drawers for more functional storage space.
20. Velvet Accent Chair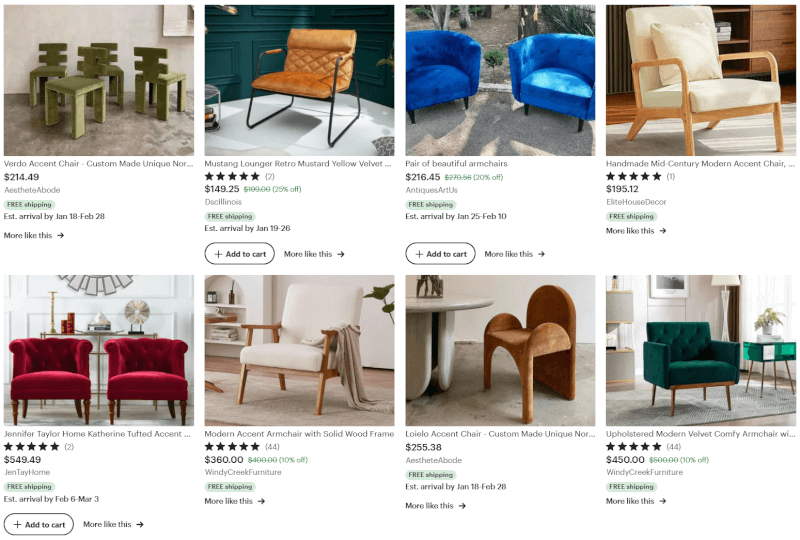 On to our final home and garden product idea, we have the velvet accent chair. Remarkably, these chairs come in a wide selection of styles and colors, giving any area traditional or modern aesthetics. Moreover, we can add choices with tufting, button detailing, or carved wood legs for a more stylish look.
Beginner's Tip: We can cross-sell the velvet accent chair with matching furniture pieces to complete a comfortable and chic setup.
How To Scale Your Home And Garden Dropshipping Business

Yay! With a list of best-selling home and garden products to dropship, we'll surely gain massive profits in no time. But wait, our dropshipping success doesn't end with trending product listings. With that said, we must take our home and garden dropshipping business to the next level with automation.
As a leading dropshipping automation software, AutoDS provides all-in-one solutions to our business needs. Essentially, home and garden is a lucrative niche, so we must not only add best-sellers but also test multiple product variations. However, manually adding several products at once is a tedious process, consuming significant time and effort.
To help us hasten the importing process, we can incorporate automatic importing methods. By doing so, software transfers trending items from the supplier's website to our selling channel. As a result, we can establish a more diversified product catalog in a shorter period of time.
Now, here are AutoDS' automatic importing methods to help us streamline our dropshipping processes:
One-Click Importer

Single Product Uploader

Multiple Product IDs/URLs

Bulk Importer
Let's showcase one of the most efficient ways to add several home and garden products at once: the bulk importer. As an important note, we must ensure a smooth importing process by working with AutoDS-supported suppliers like Walmart.
Bulk Importer
The bulk importer enables us to add numerous home and garden items using a CSV file. To begin, we must install the AutoDS Helper Chrome extension.
Afterward, let's go to the supplier's website to find trending products. Then, click the 'Extract' button on the AutoDS Helper to copy all product information. Next, download the CSV file containing all product IDs by clicking the 'Extract as CSV' button.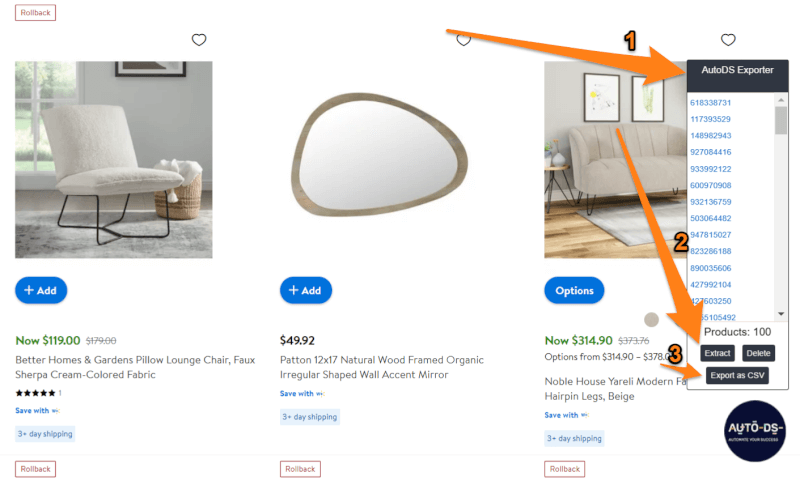 At this point, we'll proceed to the AutoDS platform to begin the transfer. On the platform, choose 'Add Products' on the left sidebar. Then, select the 'Multiple Products/Stores' option.
In the dialog box, click 'Upload CSV' and select the file from the computer. Alternatively, we can drag and drop the CSV file into the dialog box. Once done, click 'Add As Drafts' to upload all product IDs.
From there, we can optimize the product information 'Drafts' page. Product optimization involves setting search-engine-optimized (SEO) titles, descriptions, tags, and other details to improve the appearance and ranking of the products. Doing so presents the products more professionally and increases their visibility in customer searches.
After the product optimization, click the 'Save' button to apply the changes. Next, click the 'Save & Import' button to publish all items to our selling channel.
Now, our products have been transferred to the 'Products' page. And, voila! Customers can start accessing and purchasing products from our online dropshipping stores.
In addition to simplifying the product import process, AutoDS offers other automated features that can save time and resources:
Complete Order Fulfillment

Price & Stock Monitoring

Automatic Price Optimization

Easy Inventory Management

Tracking Number Updates

and much more!
Ultimately, efficient processes through automation can help us expand our home and garden dropshipping business. In the long run, we can convert more viewers into buyers and enjoy massive sales.
Frequently Asked Questions
Is The Home And Garden Niche Good For Dropshipping? 
Yes, the home and garden niche is a lucrative venture for dropshipping. In fact, the home decor eCommerce industry is foreseen to attain 898.3 billion USD in market value by 2027. Thus, it's a worthwhile dropshipping niche to start now. 
What Are The Best Home And Garden Products To Dropship?
Some of the best-selling home and garden products include the Crystal Layered Chandelier, Luxury Bedding Set, and Universal Filter Faucet. These versatile products have high market demands and high-profit potential, making them top product ideas to dropship.
How Can I Start Dropshipping Home And Garden Products?
You can start dropshipping home and garden products by finding current trends and sourcing them from reliable suppliers. Then, adopt business automation tools to simplify dropshipping processes, like product importing.
Conclusion
And, here you have it! We now have access to the top 20 trending home and garden dropshipping products to sell in 2023. With this evergreen niche, we'll surely find more best-sellers that can generate significant sales year-round.
To continually improve efficiency in our business, it is important to automate as many tasks as possible. This will save us a significant amount of time that we can then use to grow our dropshipping business.
In addition to the profitable niche we are already in, there are several other product categories that we can consider. With that said, let's explore other promising dropshipping ventures: