If we're in the dropshipping business, we know that finding and selling the right products can greatly impact our sales and profit. But where do we start? Product research is key to identifying high-demand and profitable products.
That's why we've compiled a list of 100+ top dropshipping products expected to be highly profitable in 2023. Keep reading to discover some great options for your business.
100+ Best Dropshipping Products To Sell In 2023
If we want to build a profitable online store, it's important to focus on products that are in popular dropshipping categories. These categories tend to have a high potential for success as they are in demand.
By listing 20-30 products from these categories, we can give our customers more options to choose from, including different colors, sizes, and designs. With that said, here are the top 12 dropshipping niches, along with the most highly sought-after products:
Let's look at the in-demand products from each category.
Patio, Lawn & Garden
First, we have Patio, Lawn, and Garden products on our list. These products provide customers with a comfortable place to relax and enjoy nature or entertain guests. On top of that, they can also transform an outdoor space into a beautiful area.
Additionally, the global market size for patio, lawn, and gardening products was valued at $19.50 billion in 2019. Moreover, it is expected to grow at 3.6% annually from 2020 to 2027.
Generally, these products are in demand among customers interested in gardening and outdoor decoration.
Beginner's Tip: Use Walmart as a dropshipping supplier of Patio, Lawn, and Garden products, as they offer a wide variety in this category.
Here are the most popular patio, lawn, and garden products to dropship in 2023:
Lawn Chairs

Large Patio Umbrella

Sun Shade Sail

Outdoor Privacy Screen

Metal Wind Chimes

Glass Bird Bath

Water Resistant Outdoor Cushions

Garden Solar String Lights

Artificial Grass Turf

Outdoor Water Fountain Cascade

Raised Garden Bed

Outdoor Plant Stand

Outdoor Patio Storage Box
Beauty Care & Health
Next up, we have the Beauty Care and Health category. In short, beauty products are mainly used as personal care products that enhance people's looks. On the other hand, healthcare products cater to consumers looking to improve their health.
For instance, health and beauty products include shower brushes, makeup brushes, nail polish, and other items used for face care, nail care, and hair care.
Due to the growing awareness of personal care, the Beauty Care and Health category has seen increasing demand in recent years. Moreover, by 2027, global e-commerce sales in the health and beauty category will reach roughly 449.6 billion U.S. dollars.
Beginner's Tip: List eco-friendly beauty care and health products that are not animal-tested. As customers have prioritized ethical business practices, listing cruelty-free items can give us a competitive advantage.
With that said, here are the top trending beauty care and health products to dropship in our stores:
Exfoliating Shower Brush

Scalp Massager

False Eyelashes Set

Makeup Brushes 

Eyeshadow Brush

Foundation Brush

Concealer Brush & Sponge 

Bronzer Brush

Wall Mounted Makeup Mirror

Ice Face Roller

USB Rechargeable Water Flosser

Nail Polish Gel Sets

Detangle Paddle Hair Brush

Hydrogel Eye Patches
Furniture
Since furniture is an essential item in day-to-day life, the furniture category is one of the best dropshipping categories. For instance, beds, sofas, and dining tables are valuable items that people use every day. In 2021, the global furniture industry was valued at USD 648.12 billion. Furthermore, it is expected to grow at a compound annual growth rate (CAGR) of 5.7% till 2030.
Driven by an increase in disposable incomes, the housing sector, and demand for premium and luxury furniture, the furniture market has seen a huge increase in demand. Since furniture can range anywhere from $50-$900, we can dropship high-ticket furniture to increase our profits. On top of that, the rising number of nuclear families can be our ideal target audience.
Beginner's Tip: When dropshipping high-ticket items like furniture, we should source from high-quality and reliable suppliers like Costco, Walmart, and Wayfair.
Some of the in-demand furniture products are as follows:
3-Tier Shoe Rack

Foam Crib Mattress

TV Monitor Wall Mount

Dinner Folding Tray

Multi-Shelf Bookcase

Foldable Platform Bed Frame

Steel Stand Hammock

Convertible Sleeper Sofa

Adjustable Indoor Recliner

Hand Towel Bar
Home Decor
One of the most popular dropshipping categories in 2023 is Home Decor. Essentially, Home decor products can range from a poster to a chandelier. This category includes items that personalize space, allowing people to express creativity.
Some home decor product examples are furniture, wall art, mirrors, lamps, rugs, curtains, and lighting. As it is an evergreen niche, the home decor niche is estimated to reach 202 billion U.S. dollars by 2024. This is a 20% growth from the home-decor market value in 2019.
Beginner's Tip: List Home Decor items under various categories as it allows the product to be more visible and cater to a broad customer base. For example, the Round Ceiling Light falls under the lighting, home decor, and home improvement niche.
Here is our curated list of home decor dropshipping products in 2023:
LED RGB Light Strips

Round Ceiling Light

Vintage Funny Bathroom Print

Abstract Art Poster

Quote Prints

Geometric Area Rug

Artificial Plants

Hanging Plants

Potted Plants

Fake Succulents

Floating Shelves

Boho Decorative Throw Pillows

Thermal Insulated Curtains

Glass Cylinder Vase

Full-Length Wall-Mounted Mirror
Jewelry & Accessories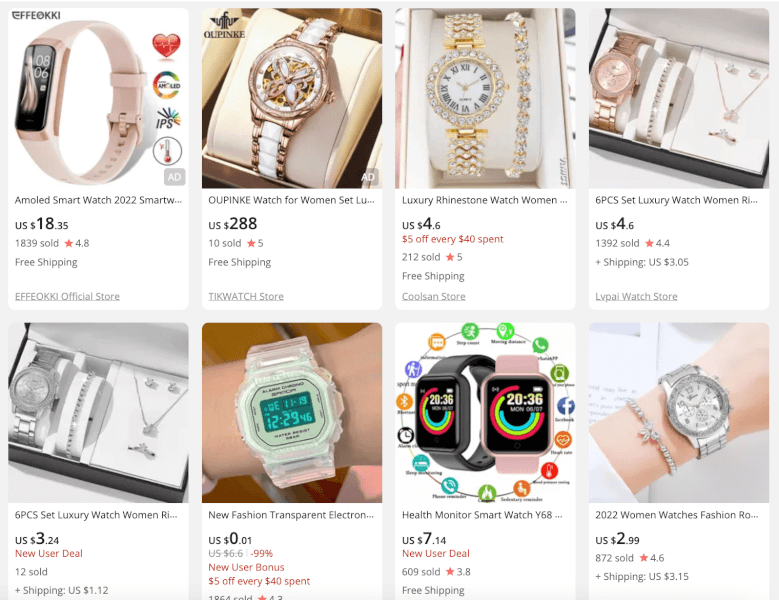 Another fantastic product category on our list is Jewelry & Accessories. Because of its overwhelming demand worldwide, Jewelry & Accessories is an excellent dropshipping product category.
To clarify, the global market revenue in the Jewelry & Accessories niche amounted to US$269.60 billion in 2022. Furthermore, it is estimated that the market is expected to grow annually at a CAGR of 5.39% till 2026, which shows how profitable it can be for us.
Additionally, we can offer jewelry made of different elements such as silver, gold, bronze, and other materials. Plus, we can offer stones, gems, crystals, and designs that attract people of all ages and genders. On top of that, our primary target audience can be women between the ages of 18-55, as they are the main consumers.
Beginner's Tip: When dropshipping products from the Jewelry and Accessories category, ensure not to list VeRO products. Dropshipping VeRO products is illegal and can land us in legal trouble.
Overall, we can start dropshipping these jewelry & accessories products to gain significant profits this year:
Large Hair Claw Clips

Minimalist Watch

Luxury Watch

Jewelry Storage Organizers

Travel Jewelry Box

Jewelry Cabinet With Mirror

Cinderella Pumpkin Carriage Jewelry Box

Jewelry Tree Stand

Natural Rose Quartz Stones

Black & White Letter DIY Dice For Bracelets

Silver Bracelet Charms

Rhinestone Water Drop Dangle Earrings

Gold Round Earrings

Vintage Pearl Buckle Necklace

Celtic Dragon Rings
Home Improvement
With a vast array of products, the Home Improvement category is an in-demand dropshipping niche. Home improvement products are essential and trending right now because they allow homeowners to make their homes more comfortable, safe, and aesthetically pleasing.
Additionally, homeowners can choose from various home improvement categories, including paint, flooring, décor, appliances, furniture, lighting fixtures, plumbing supplies, and much more. Also, they are an excellent choice for DIY projects.
With that in mind, the demand for home improvement items is skyrocketing. According to global market insights, the home improvement industry is expected to be worth more than $1 billion annually by 2027.
Beginner's Tip: When dropshipping home improvement items, add wireless, battery-powered, or rechargeable features as they attract more customers.
Here are the most profitable home improvement products to dropship in 2023:
Rug Pad Grippers

Water Filter For Pitchers

Long Extension Cords

Bathroom Vanity Lights

Heavy-Duty Storage Shelving Unit

High-Pressure Shower Head

LED Ceiling Lamp

Pneumatic Pipe Connector

Paint Brushes Set

Magnetic Hooks

Home Security

Wireless Security Camera

Outdoor Motion Sensor

Smart Video Doorbell

Reinforcement Locks
Electronics
It's incredible how far technology has come and how much easier it has made people's lives. One of the segments that have evolved with technology is Electronics. With electronic products now being an integral part of day-to-day lives, it is one of the top trending dropshipping categories.
According to reports, the electronics market in the US was around 505 billion U.S. dollars in 2022. Some of the products from the electronics category are computer accessories, TV accessories, game consoles, speakers, headphones, and more.
Beginner's Tip: When dropshipping electronic products, we can include accessories like protective coverings, gadget bags, and other add-ons. This encourages customers to buy from our stores, thus, giving us a competitive advantage.
Some amazing electronic products to dropship are as follows:
Mini GPS Tracker

Wireless TV Remote Control

Mini Projector

Full-Color LED Video Light

Podcast Microphone

Wireless Gaming Mouse

Backlit Keyboard

Noise Canceling Headset

Portable Bluetooth Speaker

Dual View Dash Camera
Cellphone Accessories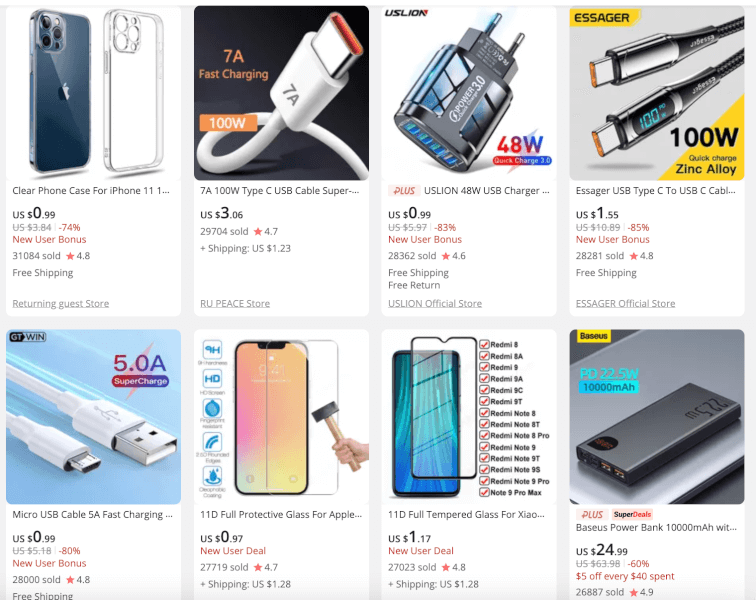 People rely on mobile phones for different things – from communicating and connecting with friends to playing games and ordering food. Because cell phones have become indispensable in our lives, there is a vast market for Cellphone Accessories.
According to reports, the global cellphone accessories market is expected to reach around 310 billion U.S. dollars in 2022. By 2030, the market is forecast to have a value of 413.2 billion U.S. dollars. Therefore, signifying that this is a worthwhile niche for our dropshipping business in 2023.
Beginners Tip: Ensure to list cellphone accessories for every type of mobile device. As a vast range of cellphone models is available, it increases our chances of a sale.
Here are the most popular cell phone accessories to dropship in 2023:
Tripod & Selfie Stick Set

Phone Stand

Glass Screen Protector

Shockproof Phone Case

Wallet Phone Case

Portable Power Bank

Wireless Phone Charger

Bike Phone Mount

Magnetic Car Cell Phone Holder

UV Phone Sanitizer
Fitness & Outdoor Entertainment
Since people are discovering new ways to keep themselves fit and active, the Fitness & Outdoor Entertainment niche has become increasingly popular in recent years.
According to reports, the Outdoor Gear & Equipment market size is expected to reach US $7.5 billion by 2028 at a CAGR of 5.8% during 2022-2028. Furthermore, the fitness equipment market is predicted to reach USD $16.56 billion by 2030, with a CAGR of 2.8% from 2022-2030.
In general, fitness products range from essential items such as dumbbells and jump ropes to more specialized pieces like yoga mats and heart rate monitors. From home gyms to outdoor running tracks, there is something for everyone regarding fitness and outdoor products.
Beginner's Tip: List high-quality fitness and outdoor products that are durable and resistant to constant wear and tear. We can build our brand and loyal customer base with these rugged products.
All in all, we can list the following fitness & outdoor entertainment products in our store to earn high profits:
Foldable Travel Bag

Professional Binoculars

Braided Fishing Line

Tri-Fold Exercise Mat

High-Density Foam Roller

Fitness Knee Braces

Resistance Bands

Trekking Poles

Hunting Trail Camera

Outdoor Inflatable Sleeping Pad

Portable Camping Tent

First Aid Kit
Pet Supplies
Next up, we have Pet Supplies. The pet industry is experiencing a surge in demand for pet products. Moreover, e-commerce is projected to become the primary sales channel for pet supplies by 2026.
Additionally, pet owners are seeking innovative and practical products that make their furry friends happy, comfortable, and playful. From pet beds to interactive toys and smart feeders, we can dropship an ever-expanding selection of pet products for every kind of pet.
Beginner's Tip: We can use an upselling strategy by offering additional pet products. For instance, we can offer pet mats, pet car leashes, and pet de-shedding brushes to increase our Average Order Value (AOV).
Here are some highly profitable dropshipping pet products in 2023:
Bird Cage Feeder

Cat Litter Box

Washable Pet Diaper Mat

Plush Animal Chewing Toys

Cat Window Perch

Stainless Steel Dog Bowl

Adjustable Pet Car Leash

Automatic Pet Food Dispenser

Pet Deshedding Brush

Pet Car Seat/Cover
Baby & Toddler Products
The Baby & Toddler niche revenue is expected to reach a whopping 77.3 billion U.S. dollars in 2023. And it highlights the immense popularity and potential of baby products.
To capitalize on this potential, dropshippers should start selling baby products as soon as possible. To begin, there are a wide variety of baby products, including items such as diapers, toys, bottles and feeding supplies, furniture, clothing, and much more.
Beginner's Tip: Dropship baby products made of non-toxic and baby-friendly materials such as food-grade silicon.
Here are the most popular baby products to serve the ever-growing demand for baby products in 2023:
Video Baby Monitor

Drawing Tool Kit

Inflatable Baby Water Play Mat

Remote Control Baby Swing

Potty Trainer

Silicone Teething Beads

Multifunctional Diaper Bag 

Baby Walker With Interactive Toys

Kids' Electric Car

Silicone Feeding Dishes
Office Products
Businesses of all sizes rely heavily on Office Products to help store, organize and manage their daily operations. From essential items like paper, pens, and toner cartridges to more specialized tools such as computers, printers, and other administrative staples, these products are essential items.
Moreover, the demand for office supplies is increasing. The global office supplies market is projected to reach USD 149.4 billion by 2028 at a CAGR rate of 1.9%. As such, dropshipping a wide variety of office products at competitive prices can go a long way toward building customer loyalty.
Beginner's Tip: Offer product bundles when dropshipping office products. For instance, we can make a product bundle of a printer, A4 size paper, and scanner at a discounted price to increase our Average Order Value (AOV).
Here are the top office products to dropship in 2023:
Rollerball Pens Set

Looseleaf A4 Notebooks

Dry Erase Markers

A4 Office Print Paper

Monthly Wall Calendar

Ring Plastic Binding Comb

Colored Filing Tabs

Multi-Layer Document Organ Bag

Clear Binder Pockets

Desk Supplies Organizer

Heavy Duty Stapler
Awesome! We now have an extensive list of profitable products. With these 100+ best dropshipping products from various categories, we can generate plenty of sales and profit in 2023.
New Trending Products From Recent Articles
We've looked at high-profit, top-selling items per product category. However, looking at what's selling throughout the year is essential so we stay updated on trends. By doing so, we can remain relevant to our customers.
In this portion, we'll summarize our curated lists of winning products from April to July 2023. Let's dive in!
April 2023 Winning Dropshipping Products
Starting us off is our list of top dropshipping products for April 2023. We started the second quarter of the year with a bang featuring these best-selling items:
Portable Camping Lamp

Wireless Earcuff Headphones 

Creative Contour Highlighter Pen

Wolf Pendant Necklace 

Thumbs Up Cell Phone Holder

3-Piece Fluffy Pajama Set

Insulated Lunch Container

Touch Control Crystal Lamp

Solar Firework Garden Lights

Abstract Lovers Necklace
May 2023 Winning Dropshipping Products
Next, check out this list of the top ten dropshipping products for May 2023:
Portable MultiTool With Hammer

Pop-Up Pencil Case 

Couple's Heart Necklace

Workbook Tracing Set

Motion Sensor Cabinet Light

Mini LED Flashlight

Leather Ankle Boots

Big Pullover Blanket

Door Hinge Repair Kit

Portable Frog-Shaped Potty
June 2023 Winning Dropshipping Products
We also ended the second quarter with our list of trending products for June 2023:
Diamond Art Stickers

Electric Portable Grinder

Shower Storage Shelf 

Aluminum Alloy Window Latch

Cat Door Holder

Laser Engraving Machine

Dog Tug Toy

Fishing Hook Removal Device

Women's Leather Sandals

Ab Wheeler Roller
July 2023 Winning Dropshipping Products
Now to kick off this year's third-quarter sales, here's our list of top-selling products of July 2023:
Car Ceramic Coating Spray 

Lawn Mower Razor Head

Long Distance Love Bracelets

RFID Blocking Leather Wallet

Pet Safety Door

Waterproof Shoe Covers

Window Hummingbird Feeder

Emergency Sleeping Bag

Hinged Flower Vase

Whitening Foam Toothpaste
11 Best-Selling Phone Cases
Next, when choosing products for our store, it's good to consider looking at trending items sold in varieties. An excellent example of this is phone cases which have gone from commodities to necessities as part of everyone's daily life. On that note, here's our catalog of the best-selling phone cases on the market:
Battery Charger Phone Case

Military Grade Phone Case

Lightweight Shockproof Phone Case

Extra Slim Silicone Phone Case

Glitter Design Phone Case

Black Leather Phone Case

Mirror Flip Phone Case

Matte Colored Phone Case

Wallet Phone Case

Transparent Shockproof Phone Case

Solid Color Gel Phone Case
12 Trending Swimwear Dropshipping Products
Similarly, another relevant product we should look into this season is swimwear. With that said, take a look at our list of trending swimwear products for dropshipping:
Animal Print Bikini

Push-Up Bra Bikini Set

Loose Beach Cover Up

Tie Dye Boho Bikini Cover Up

Men's Swim T-Shirt

Ruffle One Piece Swimsuit

Team Bride Swimsuit Sets

Men's Swimming Trunks

Kids Scuba Swimsuit

Women's Mesh Swimsuit

Quick Drying Swimming Shoes

Lace-Up Bikini
Great! We're now up to date with the best dropshipping products of 2023. Remember, it only helps us stay updated with the latest top-selling products to keep up with what customers want.
Take Your Dropshipping Business To The Next Level In 2023
Now that we have a solid list of trending dropshipping categories in 2023, we can start automating our dropshipping business to scale our profits. With dropshipping automation, we can quickly and efficiently manage our business operations. Thus, we can fulfill multiple tasks, saving us time and labor.
With that in mind, we can use AutoDS, one of the best dropshipping automation software in the market. By automating manual dropshipping operations, AutoDS helps us achieve more freedom by saving our time and effort. To find winning products, AutoDS offers an advanced product research tool. It has a special feature called the winning products hub which gives us access to many dropshipping products with high-profit potential.
When we select a product, AutoDS can provide us with advanced insights about it. For example, we can see how well its ads are doing on Facebook, what competitors sell them for, and how much it actually costs. We can also learn about the audience who would be interested in buying the product and all the source links.
Once we choose a product to dropship, we can import the item immediately. In general, we can import products in two methods: manual and automatic. When we are importing manually, we copy product information, such as images, titles, descriptions, and variations, from our suppliers. Undeniably, it can be overwhelming because it can take 5-15 minutes per product.
On the other hand, we can use the AutoDS built-in import tool, an automatic method to import products. With this tool, we can import products with a single click. Additionally, we can also import thousands of products with bulk importing features. Overall, this saves us plenty of valuable time and manual labor.
AutoDS Dropshipping Automation Features
Besides product research tool and automatic importer, here are more AutoDS automation tools we can take advantage of:
Price/Stock Monitoring

Complete Order Fulfillment

Automatic Price Optimization

Inventory Management

Order Tracking Numbers

and much more!
With these features, we can quickly scale our dropshipping business in 2023 and bring in huge profits.
Frequently Asked Questions
What Is The Most Profitable Dropshipping Product In 2023? 
The most profitable dropshipping product in 2023 depends upon what niche we are selling in our store. For instance, if we sell furniture, the Multi-Shelf Bookcase is a profitable product to dropship. On the other hand, if we dropship electronics, the Noise Canceling Headset can yield high profits.  
What Dropshipping Niche Is The Most Successful? 
Some of the most successful dropshipping niches are furniture, electronics, and pet supplies. Similarly, home decor, home improvement, and office products are popular categories to scale your business.
How Can I Find Best-Selling Dropshipping Products?
We can find the best-selling dropshipping products with product research. To find trending products, we can use strategies such as the AutoDS product research tool, the AutoDS product-finding blog, the AutoDS Best-Sellers Playlist, and supplier best-seller sections.
Conclusion
And, there we have it! Now we know about the 100+ top dropshipping products from trending categories in 2023. With that said, it's time to start dropshipping products!
Also, remember to keep testing products. Replace products that perform poorly and scale those that are doing well. Plus, we can automate our operations and run our business efficiently.
However, the road to dropshipping success is a long one. That means even with this great list, we still need to keep learning. Therefore, here are some articles that will help us in our dropshipping venture: