Is your dropshipping store ready to kick off January with the most trending products? With Q1 2022 just starting, now is the best time to introduce fresh product ideas to the market.
However, bear in mind that finding the best dropshipping products requires extensive product research. Furthermore, high-quality items will ensure returning satisfied customers.
Thus, in this article, we will explore the Top Ten Trending Products To Dropship In January 2022. We'll reveal the top-notch product lines that will bring more audience to our stores and help increase our profits.
Top 10 Trending Products To Dropship In January 2022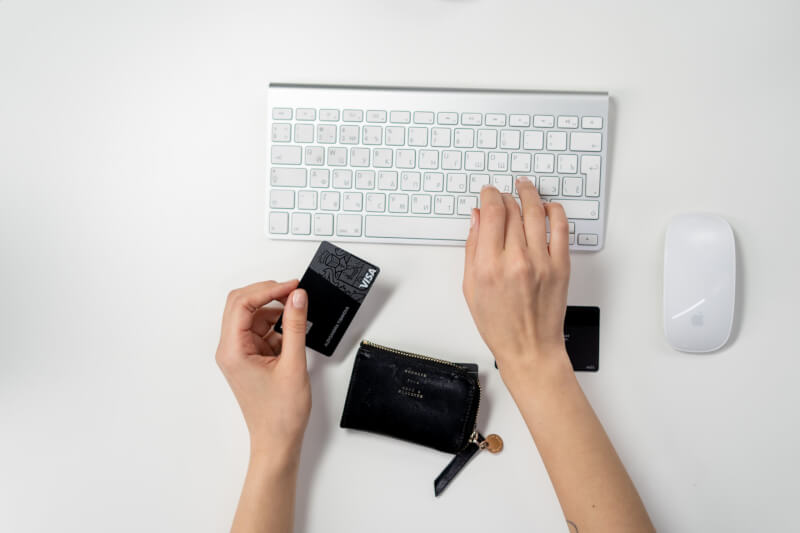 Before diving into the items on the list, remember that we should list 15 to 20 items under each product category. This way, when some of the products will start to sell, we can multiply our success by adding more items similar to them. Testing only one or two products from each product line will not give us the same results.
The more choices we give our buyers, the higher our chances of closing another sale. Plus, we'll gather more data on what products are selling while continuing to sell more.
Additionally, we must avoid dropshipping copyrighted brands or dangerous items. If we offer these categories of products for sale, our stores can get suspended. While AutoDS protects us from importing copyrighted and patented products, we recommend reading our eBay VeRo guide as well as Facebook's Commerce Policies to get an idea of what we can and cannot dropship.
Now, without further delays, here are the selection of the best products to dropship in January 2022:
Let's discover these items individually, starting from the first one:
1. Reverse Umbrellas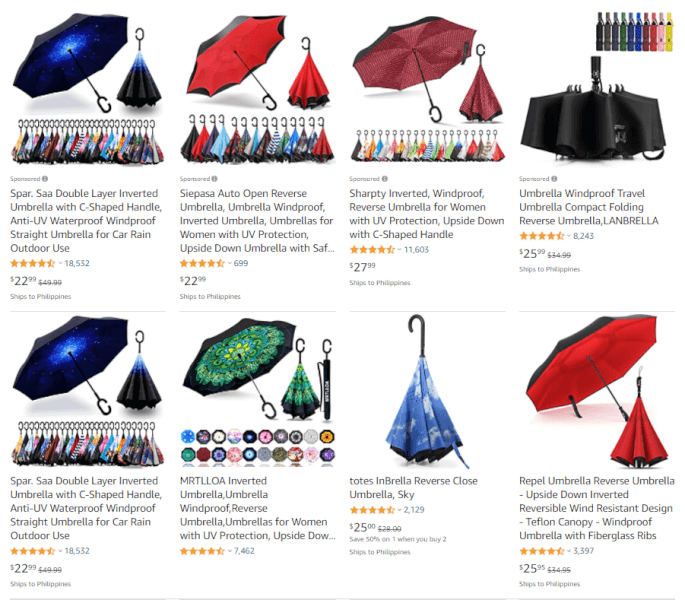 Our first product to dropship this rainy January is reverse umbrellas. Using a quality umbrella to protect us from environmental conditions such as rain is convenient. Well, until you need to carry around a dripping umbrella drenching your pathway, your car, or even yourself with excess raindrops.
To address this issue, customers use an innovative invention – the reverse umbrella. This item enables the user to close it away from the body to avoid getting wet from excess rainwater. Additionally, the reverse umbrella can stand on a flat surface without additional support.
When dropshipping this item, you can add several types, such as the single fold and the compact fold ones. Then, list choices of the lighter one-layered material or the windproof double-lined options in your store.
Beginner's Tip: Make sure to give your customers various options for this product in terms of colors, patterns, and sizes that suit different ages and genders.
2. Headlamps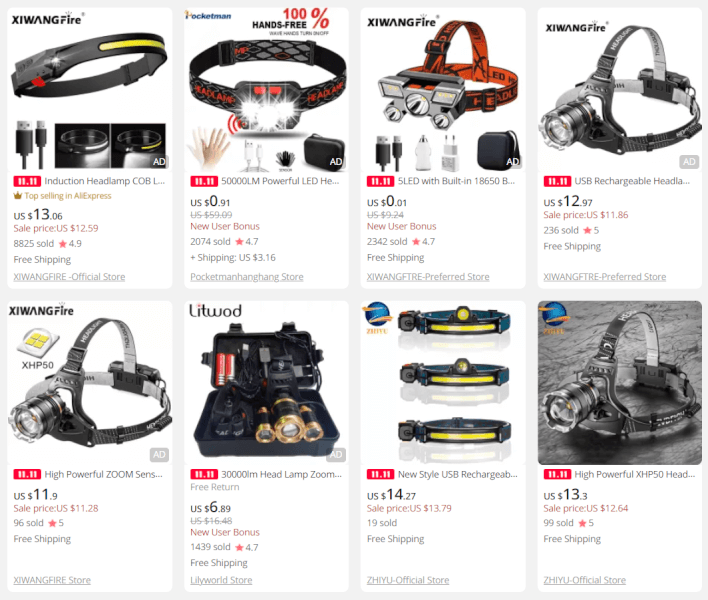 The second top-grade dropshipping product these days is headlamps. For customers who are outdoor enthusiasts or homebodies, situations such as staying out in the dark or experiencing power disruptions call for a reliable source of light. In these instances, headlamps or headlights can be a versatile light provider.
Given that headlamps are hands-free lighting solutions, listing variations in our dropshipping stores can help attract customers from different fields such as mining, medical, automobile, fishing, and many more.
In order to target as many audiences as possible, it's best to offer plenty of choices to our customers. For example, we can list headlamps with LED lights. Headlamps with different light colors, modes, and ranges can be great additions to our online stores.
Those of us who want to specialize further can include even more options. For instance, we can offer water-resistant and tilt-capable headlamps. Also, offering different materials and styles of the product can lead to higher profits. Lastly, we can add various choices of battery-operated or rechargeable ones.
3. Paint Brush Set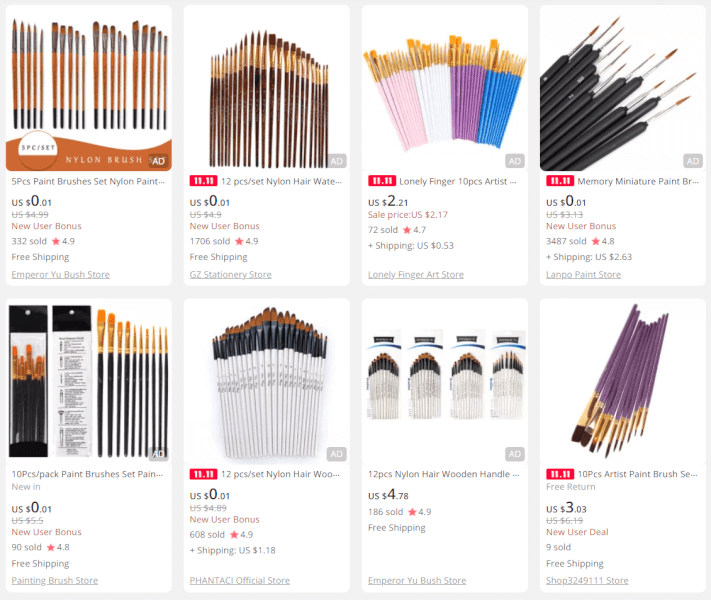 Another trending product to dropship on our list is a paint brush set. Dropshipping this item can pull diverse customers who indulge in artistry. So, whether your customers paint for a living or just a plain hobby, offering paint brush sets in your online store gives you an excellent chance to gain more sales.
Make sure to add different types of these products for decorators, trade painters, or artists. Also, offer your audience a vast selection of brush bristles suitable for different mediums such as oil, acrylic, ink, and many others.
Additionally, list various brush types, such as round, flat, filbert, fan, and several more. Bear in mind to also include in your dropshipping venture many choices of handles such as those made of wood, plastic, metals, or others.
Beginner's Tip: Since you're selling in sets, consider different quantities of these brushes in a package.
4. Rechargeable Book Light

The fourth top-notch product to dropship in January is the rechargeable book light. Customers need a dependable light source when they're pulling an all-nighter, whether reviewing for a nerve-cracking quiz or just completing a good read. In these instances, a rechargeable book light is a portable technology that allows people to read anywhere and anytime conveniently.
Moreover, adding a rechargeable book light in your dropshipping business will attract a significant market, especially those who are always on the go with their readings. You can list many selections in your store, such as stand-alone or those with clips. Also, include choices that are bendable and compact for the convenience of users.
Other product variations that you can consider adding to your store are those that can connect with USB cables or operate via Bluetooth. Lastly, consider putting different styles, colors, and sizes of rechargeable book lights into your selling channel.
Beginner's Tip: You can dropship variations of this product with adjustable light modes and colors.
5. Digital Tire Inflator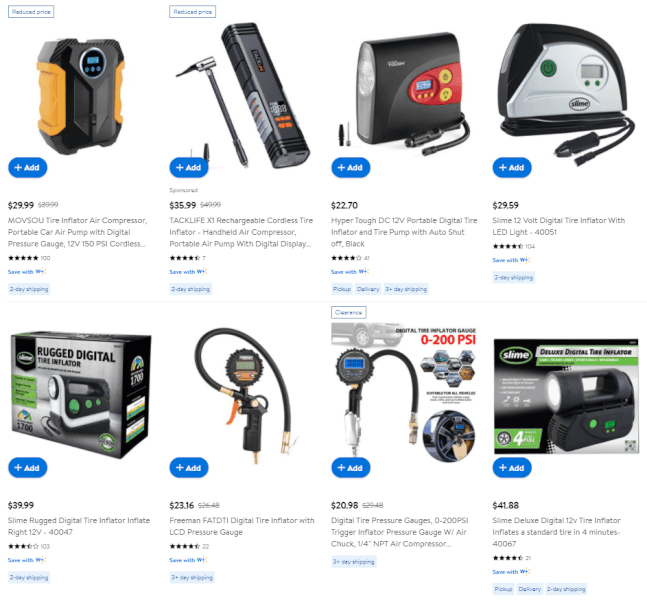 Today, with increasing travel demand, digital tire inflators can become a trending item in your dropshipping venture. A flat tire is not just a nuisance; it can also pose a safety hazard while on the road. Therefore, having access to a portable tire inflator when the unexpected comes is of utmost importance.
However, customers aren't exactly excited about the time-consuming and grueling work it requires to pump a tire manually. That's why there is an increasing demand for digital tire inflators.
Depending on the different vehicle tire types, we can offer our customers digital tire inflators that vary by capacity or power in our dropshipping stores.
Also, to account for compactness and portability, we must list different sizes and styles for this item. Finally, we can add digital tire inflators that are rechargeable using a battery or a direct outlet.
Pro Tip: Consider that additional functions with the product, such as emergency lights, can further attract customers.
6. Vanity Mirror Lights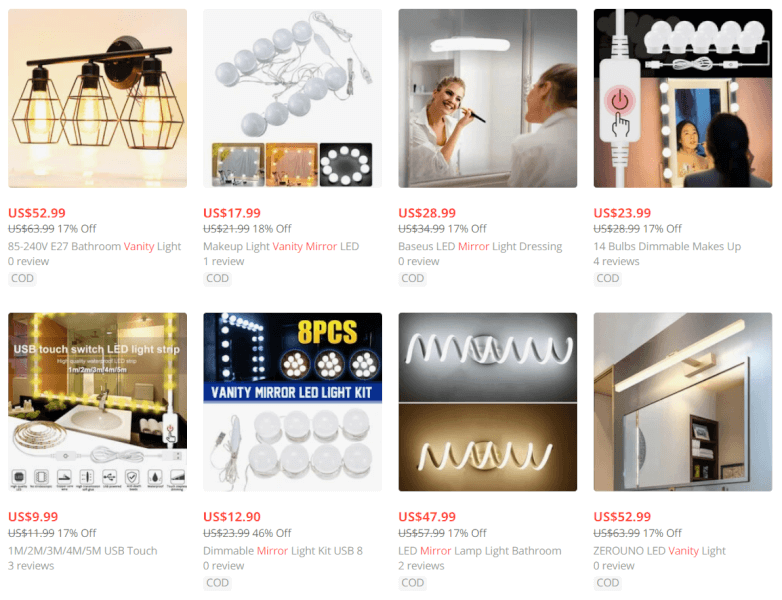 The next product that our customers love to purchase is vanity mirror lights. Good lighting is a must, especially when prepping for a new set of tasks or washing off after a rough day. Vanity mirror lights are not just to help women with their makeup but also serve as home decor with attractive lights.
When offering this dropshipping product, we must consider that different customers have dissimilar preferences. While some customers prefer single vanity light, others like the multiple or mix and match variations. Additionally, add a variety of shapes and sizes that will complement varying installations and furnishings.
Speaking of shapes, we can list choices of a bar, cage, globe, shaded, or tube vanity lights. Also, we can add to our selling platforms the halogen, incandescent, or LED types. Lastly, let's not forget to include a selection of light modes and colors of the vanity mirror lights.
7. Artificial Grass Puppy Pad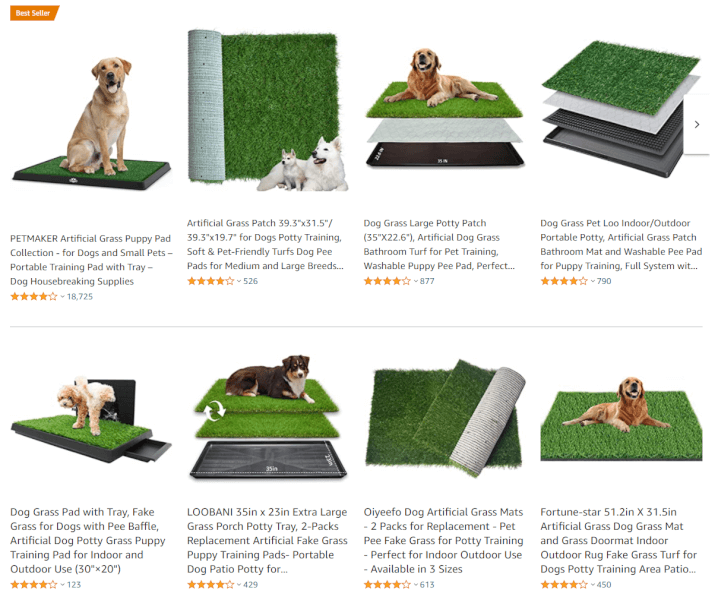 Offering artificial grass puppy pads can attract pet lovers to your dropshipping avenue. Potty training dogs can be a lot of work as we need to consider a lot of factors. For instance, dog owners need to determine a suitable area where their pets can do their necessities comfortably.
So, bear in mind to give shoppers a variety of selection of this product line. Since dogs also have different needs, make sure to add choices of these pads, such as those for indoor use, outdoor location, porch potty, and many more.
Also, there are options for urine-resistant ones or those with a waste collection tray attached to the pad. These potty training pads also come with various features like anti-microbial properties, training whistles, scented grass, and more.
Beginner's Tip: Add varying sizes of the pad to suit different ages or sizes of dogs. 
8. Spin Mop & Bucket Set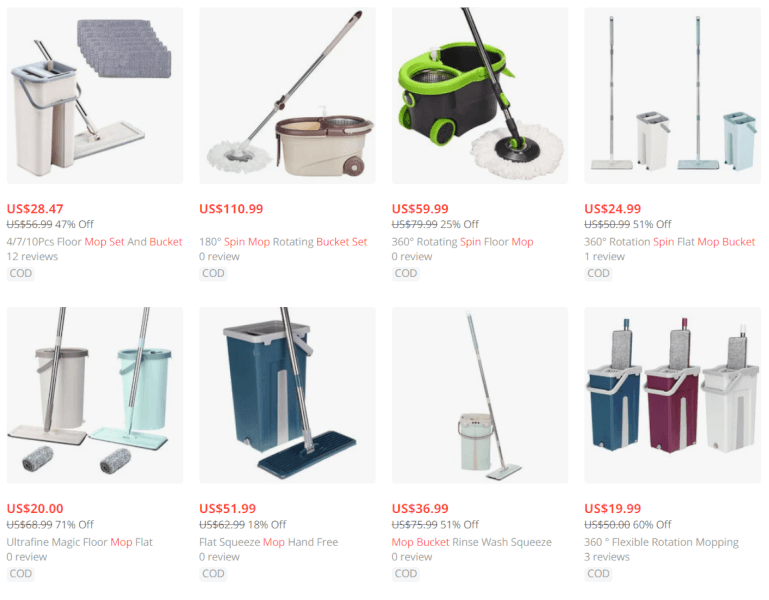 Our eighth product idea is the spin mop and bucket set, which can become every homebody's reliable tool to keep the cleaning tasks bearable. The advent of these different cleaning supplies helps customers carry out home routines faster and easier. With the rising market demand, dropshipping the mop and bucket set is an excellent idea.
When adding this product idea to your online venture, you can include different types, such as those made of stainless steel, plastic, aluminum, or a combination of these materials. Make sure to offer variations like buckets with wheels or buckets with a flat base too. Also, add variations of mop heads in circular shapes or rectangular ones.
Furthermore, since the microfiber head of the spin mop requires replacement every three to six months due to wear and tear, you can add options with extra mop heads included in the set. Lastly, some customers buy more than one quantity, so offer bundle pricing for several purchases.
9. Bamboo Drawer Organizer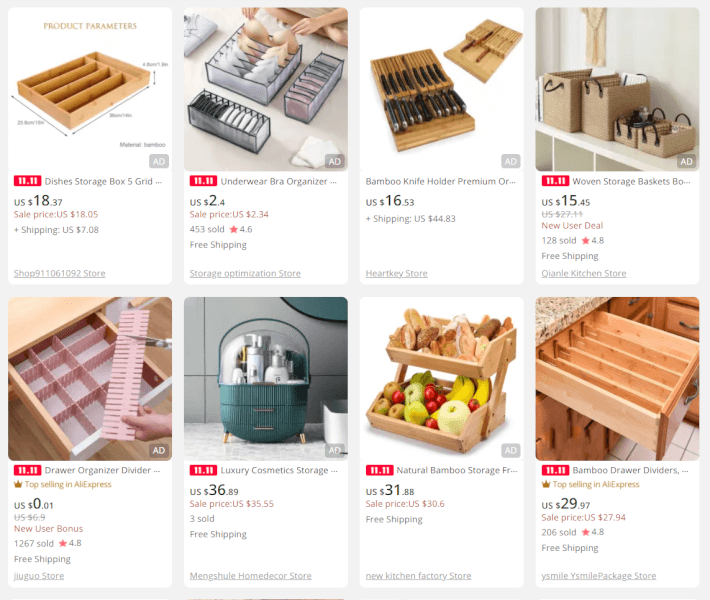 The bamboo drawer organizer is our ninth trending product to dropship this year. Since we're starting a new year, customers find satisfaction in organizing their homes. With the help of the bamboo drawer organizer, they don't have to endure the mess inside kitchen cabinets or the unnecessary clutter on top of vanity drawers anymore.
This dropshipping item is a sustainable, aesthetic, and efficient way to arrange the contents of our drawers. Also, the product comes in various custom-made compartment numbers, sizes, and styles, so consider adding a variety of choices to your store.
When listing this item, be sure to include variations suitable for kitchen wares, clothing, jewelry pieces, cosmetics, home tools, and other objects.
Beginner's Tip: Offer these organizers in sets and sell them at a discounted price per bundle.
10. Punching Bag For Kids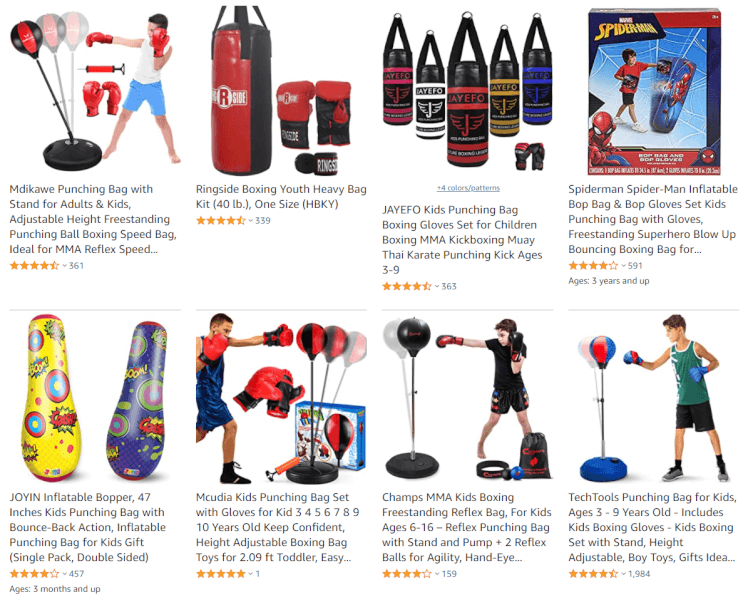 Our tenth and last trending product to dropship in January 2022 is the punching bag for kids. Punching bags are excellent mechanisms where kids can exert their energy or release their stresses healthily and safely. Since parents want their children to be physically active, dropshipping this product choice will gain you a significant audience.
When adding this item to your selling channel, you can include punching bags appropriate for different ages and sizes of kids. Additionally, you can list a selection that includes hanging ones or those with stands. Punching bags also come in various colors, designs, and shapes, so be sure to have these choices available in your selling channel.
Finally, to attract more shoppers to buy this product in your store, offer accessories alongside the punching bags, such as boxing gloves and shin guards. You can suggest a lower price for a set of these accessories too.
Automate Product Importing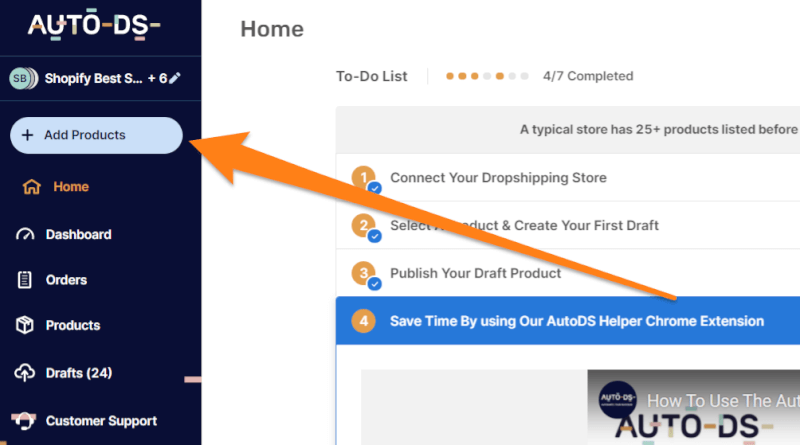 Now that we have in mind the top-notch products to dropship, the next step is to import these items to our dropshipping channels.
One technique to import dropshipping items is by manually copying all the product details from your supplier page and adding them to your selling channel. The downside of this method of importing products is that it requires a lot of time and effort.
On the other hand, automating the import process is a much more convenient and time-saving alternative. In this product importing method, a dropshipping software executes the tasks for you. Also, this feature gives you the liberty to optimize your product listings.
AutoDS is one of the best in dropshipping automation, as it offers dropshippers a smooth and automatic product importing process.
Specifically, there are three methods of importing our products with AutoDS, and they are:
Using the one-click importer

Adding the buy URL/ID

Importing products in bulk
Let's go through importing a product with just one click using the one-click importer. Here is the process:
Step 1

: Install The AutoDS Chrome Extension

Step 2

: Head To The Product Page

Step 3

: Click On 'Import To AutoDS' Above The Title
One-Click Importer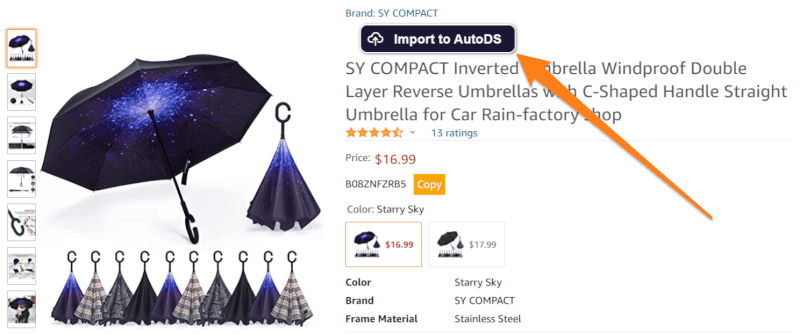 First of all, we must install the AutoDS Helper Chrome Extension before proceeding with the import process.
After doing so, log onto your supplier's website and head to your desired product page. There, you will see a button 'Import to AutoDS' just above the product title. By clicking this button, the software automatically imports the product from the supplier page to the drafts section of the AutoDS platform.
Next, when the item becomes available in the drafts section, it is ready for the optimization procedure. Begin optimizing the product's general information like title, description, collections, automation, tags, location, and any other components you see fit.
After optimizing the product, you can import the product to your selling platform by clicking the 'Import' button on the AutoDS drafts page.
Then, you will see the item and its information on the 'Products' page just above 'Drafts' on the left sidebar of the AutoDS site. Now, the object moves to the 'Products' section, which means that the product is already available in your selling channel, and anyone can start buying it.
Conclusion
We've come this far in our search for top-notch products to dropship in January 2022. Let's kick off the new year by adding these items to our dropshipping stores using the automatic product importer and start achieving more sales.
Also, we can utilize these new product ideas and discover chart-topping items in our dropshipping business. Keep in mind to list more similar items to our best-selling ones. Subsequently, adding similar products to those selling fast will increase the possibility of gaining more significant profits.
Ultimately, you can explore other trending niches and address the demands of the growing market. To guide you in finding your next winning items, take time to go through the following product research articles: