Dropshipping is an eCommerce business model composed of diverse sellers and buyers. One effective way to stand out among dropshipping competitors is the variety and quality of products that we sell. However, finding profitable products from millions of choices can be overwhelming.
That's why comprehensive product research is the first and most crucial step of dropshipping. In a nutshell, product research is a strategy to determine the market's needs and preferences so that we can translate these ideas into products. But don't worry, we've got you covered.
In this article, we'll present the top ten products to dropship in July, with an in-depth overview of each item. Not only will we look at best-selling items but we'll also analyze the sales potential, Facebook ads, source links, and show you how to do a better job than your competitors who are selling them successfuly.
Top 10 Products To Sell In July 2022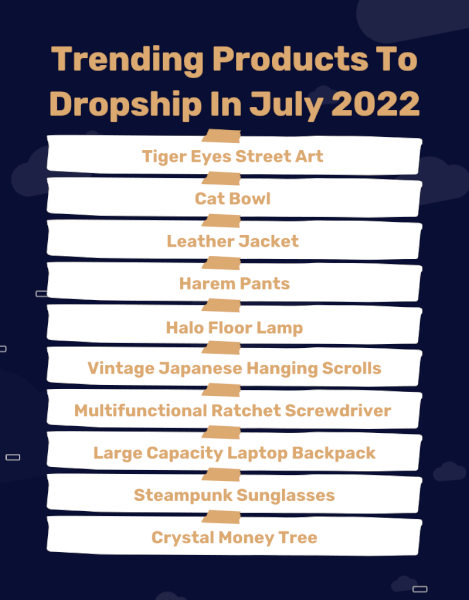 Now, let's get into action with our top-selling dropshipping items. Here are our top ten products to dropship in July:

So, let's get the ball rolling with our first trending July product.
1. Tiger Eyes Street Art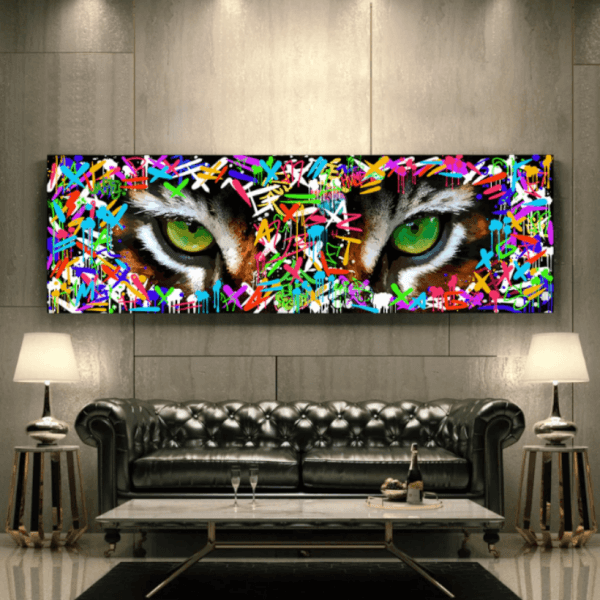 Starting off our top products to dropship in July is the Tiger Eyes Street Art, a unique decor that brightens up any room. Particularly, homeowners, art enthusiasts, and animal lovers would love this product because of its aesthetic effects.
To best analyze the potential of dropshipping this product, let's go over the current seller.

Selling price:

$

119.99

Source price:

$24.21

Potential profit:

$95.78
Seller's Facebook Ad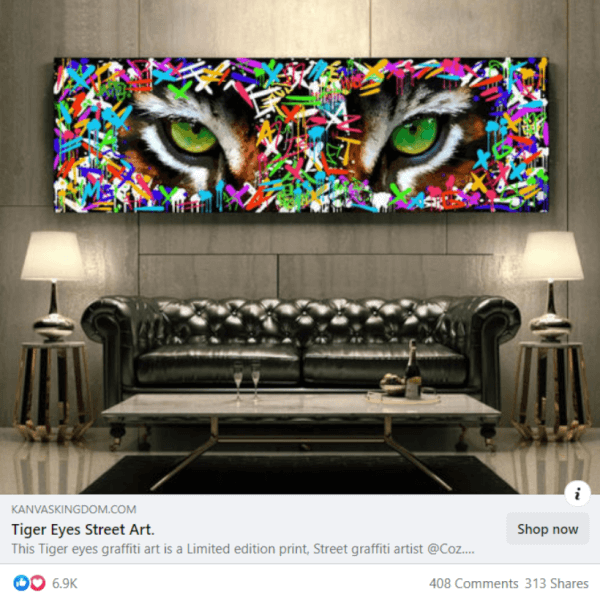 To begin, here is Kanvas Kingdom's Tiger Eyes Street Art FB ad. By seeing the ad, the image, headline, and call to action (CTA) definitely capture the viewer's attention.
Plus, the engagements show 6.9k reactions and 300+ shares that demonstrate the audience's interest in the item. Therefore, when selling this item, we can have this FB ad as an inspiration to establish and improve our tactics.
Seller's Website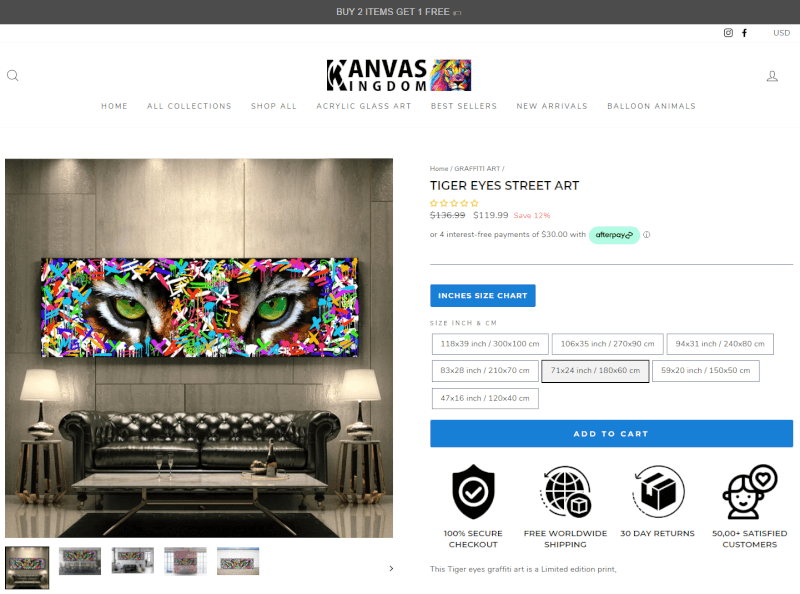 Next, let's see what works for Kanvas Kingdom, an online store that sells the Tiger Eyes Street Art. On the seller's website, the 180×60 cm Tiger Eyes Street Art costs $119.99, including shipping.
Primarily, conducting market research is important, especially in dropshipping. Consequently, a significant portion of market research involves analyzing our competitors. We evaluate what works for them, so we can replicate their strategies and improve these techniques to our advantage.
Going back to Kanvas Kingdom's website, entering the product page entitles you to a 15% discount if you provide your email. This is an effective marketing method that helps establish an email base for future promotions.
Generally, the Kanvas Kingdom's website looks professional with its minimalistic theme, giving emphasis to the vibrant products. Additionally, there is a banner at the top of the website specifying the "Buy 2 Items Get 1 Free." This offer can increase the average order value (AOV), which can help us attain greater profits.
Competitor's Product Features
Should we choose to sell this product, here are the worthwhile features that we can adopt from Kanvas Kingdom. Above all, the Tiger Eyes Street Art product description says, "limited edition," speaking about the item's scarcity. Thus, this is a good marketing strategy, because scarcity around a product means people will be more willing to purchase it because they believe it's an exclusive product.
Aside from the 180×60 cm, we can sell more sizes like 300×100, 270×90, and other options. Remember that not everyone will want the same size because customers will have different purposes for buying the product.
Thus, it's important to offer more variations in our stores to accommodate each customer's needs. Otherwise, the product's sales potential will decrease.
Another beneficial feature that the competitor provides is a size chart and several product images. Therefore, we should replicate these practices, because they give our customers clearer information about the product we're selling.
On the downside, there are no customer ratings available on the competitor's website. Bear in mind that customer reviews are necessary for customers to see the item's credibility.
Perhaps, when selling the Tiger Eyes Street Art, we can solicit customer reviews and display them in our stores, Likewise, adding more comprehensive descriptions to images will help improve customers' perception of the product.
Supplier's Website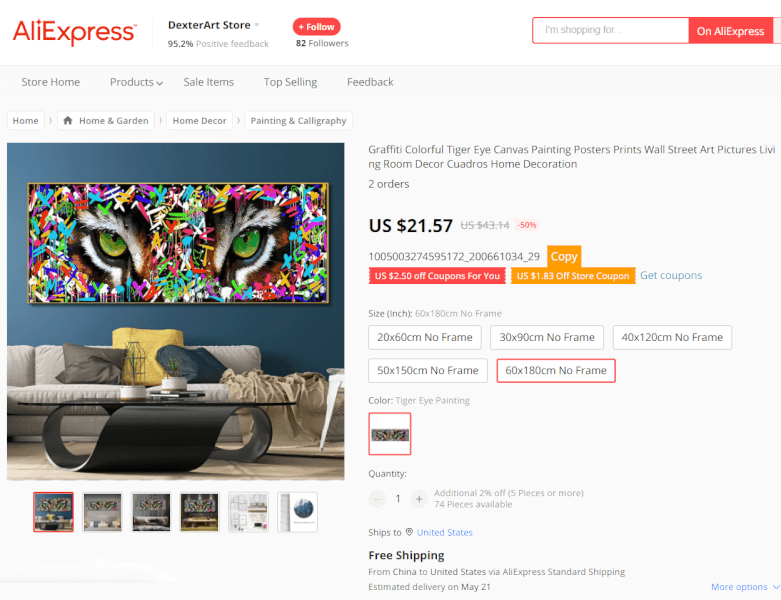 Subsequently, here's the same item we can source from AliExpress for $24.21, including shipping costs. Here, we're showing the source of the product, so we can examine what Kanvas Kingdom changed about the product's information. Also, we can see the profit potential of the item by comparing the prices.
Although the AliExpress' product page lacks product reviews, the ad engagements show that it's working well for dropshippers. Furthermore, the supplier offers free shipping for the product.
Also, we can notice that Kanvas Kingdom revised the product title and description, making them more SEO relevant. This means that the seller assigns product title, description, and tags with relevant keywords that customers frequently search.
Overall, Tiger Eyes Street Art has a profit potential of $95.78, excluding selling channel fees. These selling fees vary according to the selling platform where we'll be offering our dropshipping products. As we can see, selling this product can help us gain a high-profit margin.
Beginner's Tip: Provide variations of this product with a sizing chart so people can measure their rooms and see which one is best for them.
2. Cat Bowl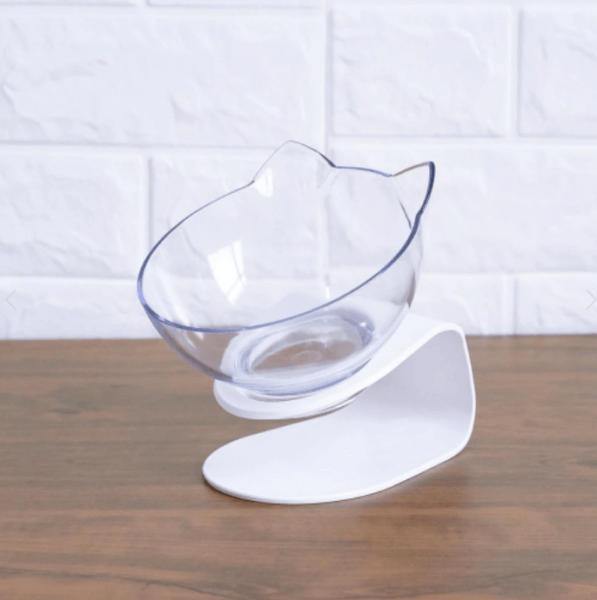 Our second trending dropshipping product is a veterinarian-recommended Cat Bowl that protects the cervical spine of cats. Its sleek design prevents neck strains and acid reflux, resulting in a comfortable feeding time. With these benefits, pet lovers will likely purchase this item for their feline buddies.
Now, let's further discover the benefits and downsides of the competitor's dropshipping store.

Selling price:

$24.99

Source price:

$5.25

Potential profit:

$19.74
Seller's Facebook Ad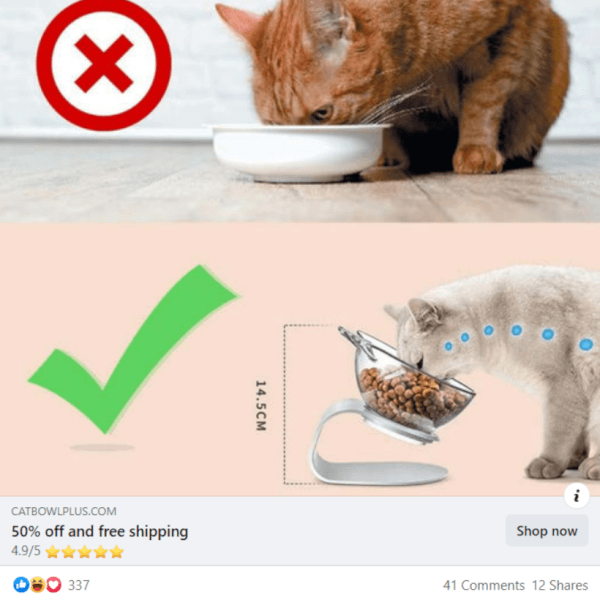 Here, we can see Cat Bowl Plus's FB ad that includes an image that depicts a direct message about its functionality. Moreover, it has a good CTA with its 'Shop Now' button that directs us to the store.
Although the ad has few engagements, it still showcases a 4.9/5 average rating. With this information, prospective buyers will take interest in the product, because of the good rating.
Seller's Website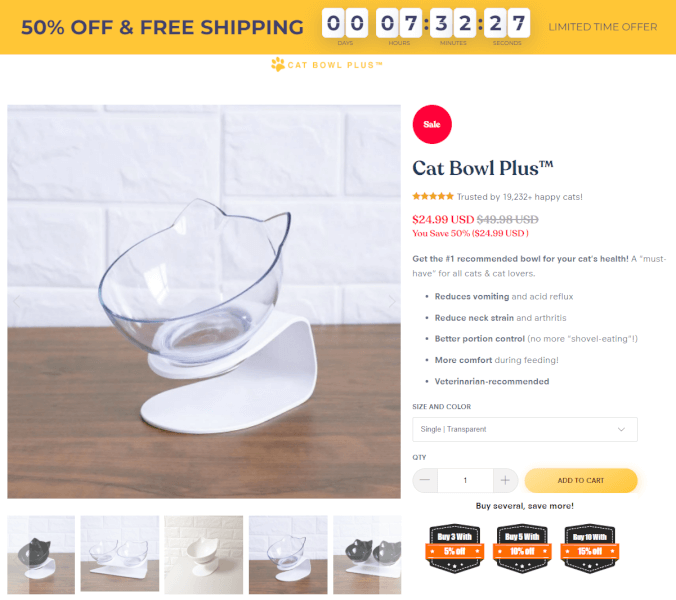 Primarily, Cat Bowl Plus is an online store that currently offers the cat bowl product. For this seller, the single/transparent product variation is priced at $24.99, including shipping.
Let's continue exploring this online store. Then, we can adopt the best features and improve the drawbacks, if we wish to sell the cat bowl.
For Cat Bowl Plus's website, the theme is generally minimalist, with a play of about three color schemes. It is also worth mentioning how the seller arranged the images and texts, so there is visual balance.
The banner on Cat Bowl Plus's upper portion of the page offers 50% off and free shipping for a limited time. Thus, this strategy sparks a sense of urgency to purchase the product immediately. As a result, this marketing strategy will encourage customers to buy the product immediately, while the offer lasts.
Competitor's Product Features
Apparently, Cat Bowl Plus's website contains several images with explanations. In these product illustrations, we can see relevant information, such as cleaning and maintenance tips. Presenting these details can help convince customers to buy the product because of its functionality and ease of use.
In addition, there are several variations like single and double bowls. Also, we can choose from white, black, transparent, or a combination of two colors. By giving more product variations for customers to choose from, it's more likely that will find the perfect match for them and their cats.
As presented on Cat Bowl Plus's product page, the product price is 50% off. Plus, the seller offers three markdown offers for bulk orders, giving up to a 15% discount for ten items. These marketing techniques are effective to entice customers to buy the product because it is available at lower prices than usual.
Adding value to the product, there are several customer reviews available. Then, to address customer queries, the page contains a FAQ section. We should put in mind to include product reviews when creating our stores, so customers can freely discuss their experiences with the products they buy.
On the downside, the seller offers a lot of upselling upon checkout, which we should minimize. Doing so can distract customers from proceeding to the checkout page, thus risking losing a sale.
However, if we want to include upselling, we can offer only about one to two suggestions, more relevant to the cat bowl. For instance, we can suggest mats to protect floors from food and water spills.
Supplier's Website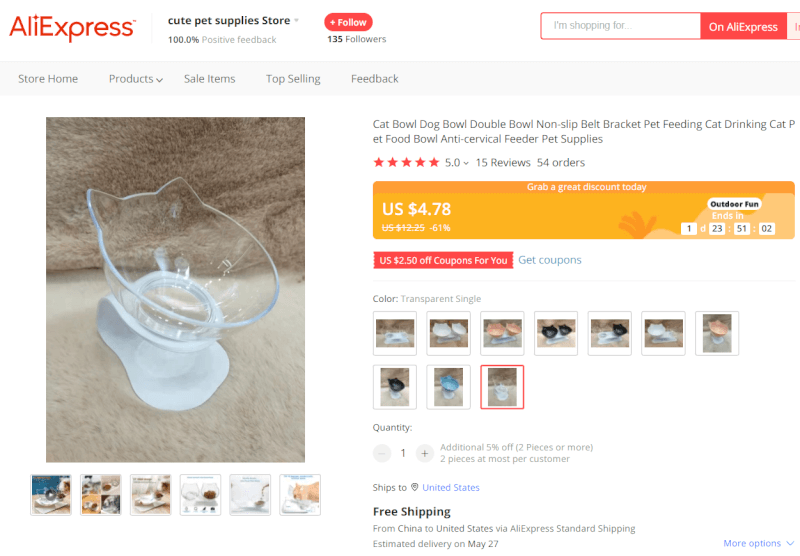 AliExpress sources the same item variation at $5.25, shipping included. By checking out the product reviews, we can see that clients love the product, giving it a 5-star rating.
What's more, the supplier provides discount coupons for the product. Besides that, you can enjoy a 5% markdown when purchasing two pieces.
However, Cat Bowl Plus simplified the product title, giving the product a more specific name. Just like the seller's website, AliExpress presents several images with information about the functionality of the item.
Finally, selling this product will yield a $19.74 profit potential. Once we start gaining sales, we can also try other variations of cat bowls to maximize our profits.
3. Leather Jacket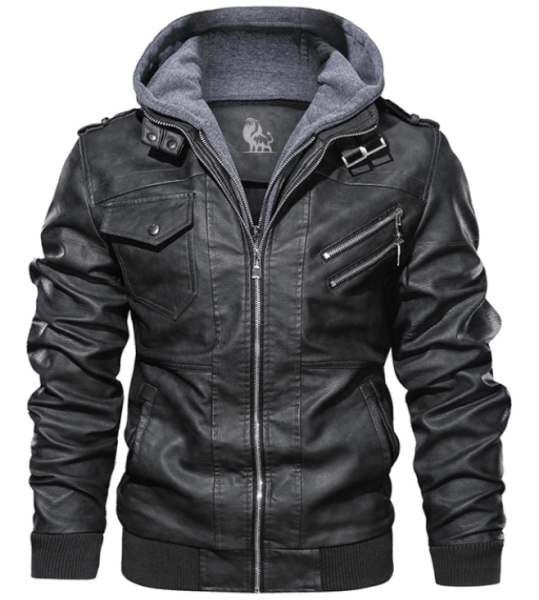 The third trending product to dropship in July is the Leather Jacket that can upgrade men's fashion statements. As such, the product showcases features like waterproof materials, shoulder straps, and premium rib hems. Plus, it comes with adjustable cuffs and removable hoodies tailored to fit users.

Next, we'll see the features of the seller's website pertaining to the product that can help us gain insights on selling the product.

Selling price:

$94.95

Source price:

$44

Potential profit:

$51
Seller's Facebook Ad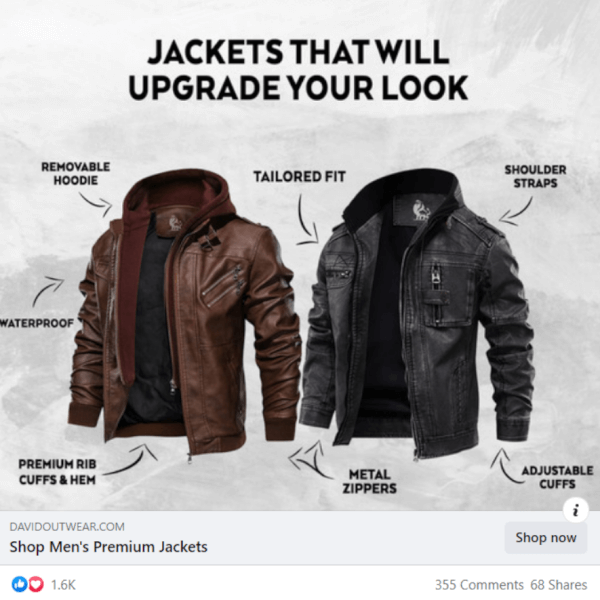 Let's divert ourselves to David Outwear's Salvador Leather Jacket FB ad. The image on the ad is on-point, directly displaying the product's key features. By doing this, we directly tell customers of the benefits they can get from using the jacket.
Noticeably, the ad has 1.6K reactions, telling us the number of people who possibly take interest in the item. Moreover, the ad invites shoppers to check out the product by clicking the 'Shop now' button. With thousands of ad reactions and shares, many customers take an interest in the item.
Seller's Website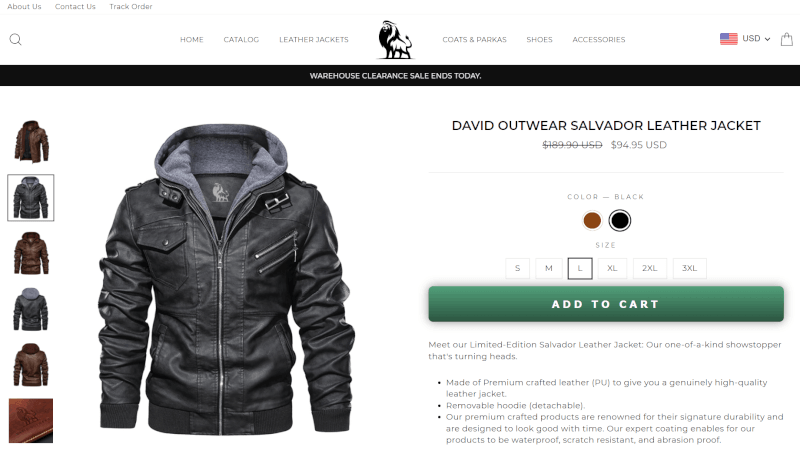 Now, let's explore David Outwear, a dropshipping competitor that offers the jacket for $94.95, shipping included. In general, the seller's website looks fitting to the nature of the products. It exudes masculine vibes through the colors and fonts used on the page.
Just like other dropshipping stores, David Outwear shows a discounted price for the item. 
Also, we can notice on the upper part of the product page, that a banner displays, 'Warehouse Clearance Sale Ends Today.'
With such great deals, the seller can entice buyers to purchase the product while the offer is available.
Competitor's Product Features
Down David Outwear's product page, an in-depth presentation of the product features is available. Through this guide, customers can understand better the functionality and durability of the item, making it a valuable purchase. For instance, it advertises the jacket as built to last, tailored fit, moisture/dust resistant, and more.
Additionally, the seller offers black and brown variations, with several sizes ranging from Small to 3XL. Regardless of the jacket variation, buyers can get any product at the same price.
Likewise, David Outwear provides a body sizing guide, with measurements in English and SI units, fit for diverse customers. Essentially, measurement guides help customers find the perfect jacket size for them. As a result, we can lessen returns due to bad fitting.
Further below, the seller utilizes upselling by recommending accessories to complete the look. This is an upselling technique that entices buyers to purchase other items to have a complete look. By adopting this strategy, we can gain higher profits when customers add more products to their orders.
Moreover, upon check out, the box is automatically ticked for email marketing, a good technique for establishing a customer base. On the other hand, the page shows customer testimonials talking about the item's quality and their general shopping experiences.
However, regardless of the currency you set, the checkout page automatically reverts the fees to USD. Therefore, the total cost will convert according to the prevailing exchange rate in your area for non-USD payers.
Supplier's Website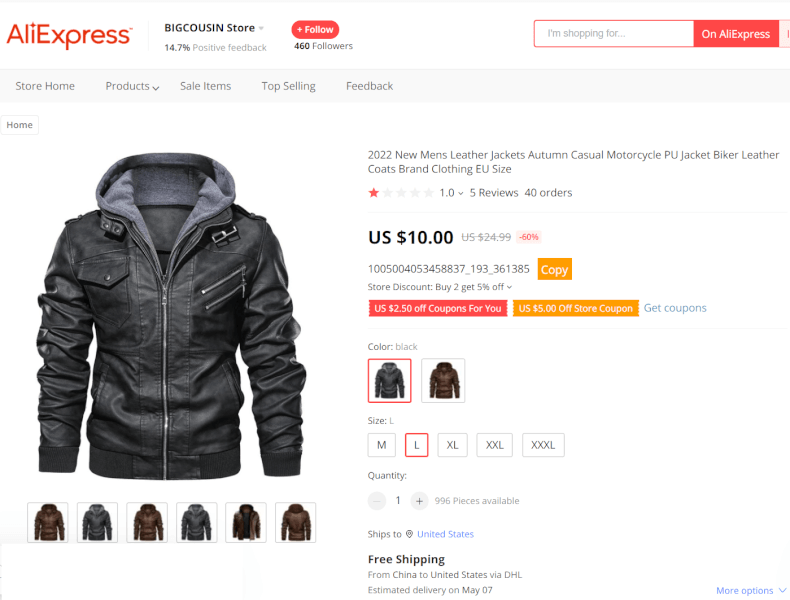 On AliExpress, the same leather jacket sells at $44, including shipping. 
Similar to David Outwear, AliExpress offers two color choices: brown and black. Also, the supplier provides size options, along with a size table.
As a trending product, dropshipping this jacket will potentially give us $51 in profit. So, it's time to explore this product idea and achieve the gains we deserve. 
4. Harem Pants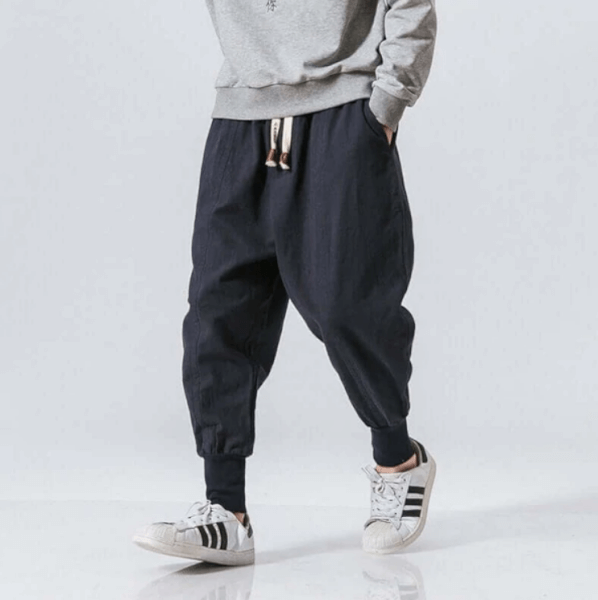 Another in-demand product to dropship is the Harem Pants. This trendy apparel provides comfort and style to the user. Popularly, this product targets men, but unisex variations are also available.
Let's uncover the best features of this seller, and learn from the aspects that don't work.
Selling price:

$49.95

Source price:

$16.93

Potential profit:

$33.02
Seller's Facebook Ad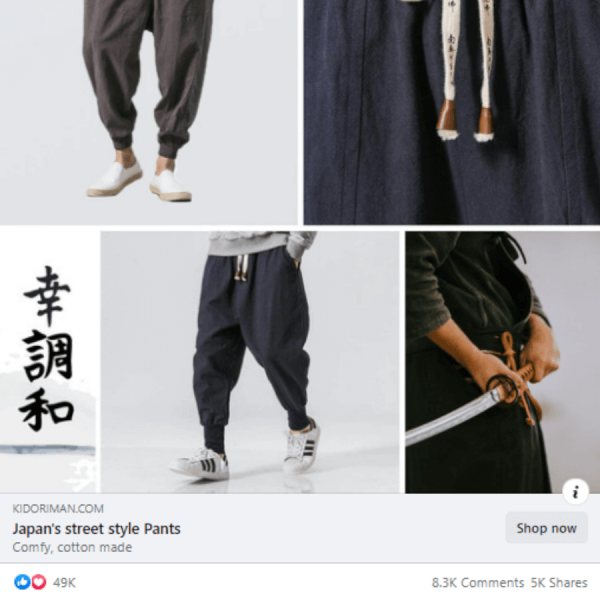 Beginning with marketing, the Kidoriman's FB ad on the Gelyu Harem Pants displays customer's testimonies, increasing the item's reliability. Also, the ad has 49K reactions, 8.3K comments, and 5K shares. With these substantial engagements, we can say that the harem pants is in-demand.
Additionally, the seller gives the link to access the general pants category. By doing this, we might lose the sales potential of the original product that we're marketing. So, to give emphasis on Gelyu Harem Pants, we should provide a direct link to the product page instead.
Seller's Website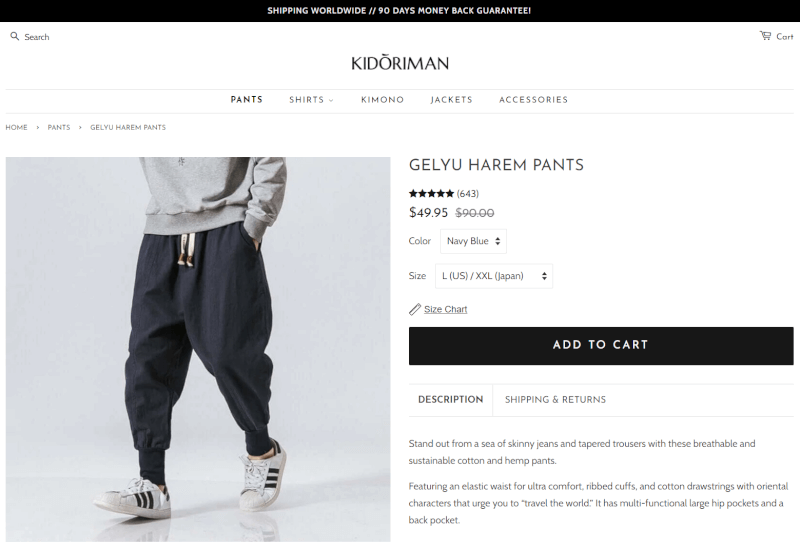 After a thorough search, we found Kidoriman, which sells a navy blue Gelyu Harem Pants. From this seller, we can score the Gelyu Harem Pants at $49.95, plus free shipping.
On the seller's website, we can notice a black and white theme, producing a polished effect. This kind of theme isn't too distracting, thus, it gives more emphasis to the product itself. Also, navigation links are well-organized and accessible.
Besides that, product prices are shown at discounted rates. Through this technique, the item appears to be affordable, leading to customers purchasing it.
Likewise, lingering on the website for 30 seconds will prompt a 10% discount pop-up. While this is good, providing the offer earlier will reduce the bounce rate and increase sales potential.
Competitor's Product Features
Now, let's analyze the worthwhile features of Gelyu Harem Pants from Kidoriman. For one, the online store provides several photos of the pants. We can also find the description of the product, such as types, styles, and materials.
Correspondingly, the seller offers US and Japan sizes, with a note differentiating the two categories. Also, buyers can refer to a size chart for more accurate measures.
Likewise, Kidoriman provides color varieties, such as navy blue, black, and red. Once again, it's essential that we offer our buyers more product choices, so we'll achieve higher sales potential.
Apart from that, we can also find a straightforward shipping section that discusses a 90-day free return period for unsatisfied customers. In addition, the seller presents shipping times in various countries in the world. This section gives us an insight that the seller caters to buyers worldwide, gaining a bigger market reach.
Moreover, the website displays photos of customers wearing the product. Similarly, the product page shows plenty of positive customer reviews that tell about the satisfactory quality of the item.
Besides the Gelyu Harem Pants, Kidoriman's website advertises similar products down the page. By having this section, the store lets customers know about other products that they can buy. So, the more items that buyers purchase, the more profits we gain.
 Supplier's Website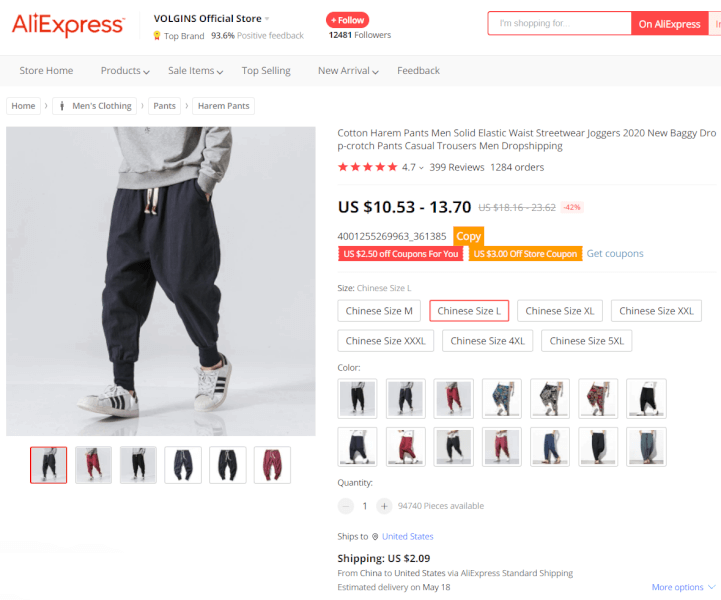 Alternately, we can source a similar item from AliExpress at $16.93, exclusive of selling fees. Let's see what more can we get about the Gelyu Harem Pants from this supplier's website.
On the supplier page, the product comes with store coupons. Unfortunately, sizes on AliExpress are in Chinese measurements. Therefore, buyers should refer to the sizing chart below as their reference.
As we can notice, AliExpress offers more color choices than Kidoriman. Here, we can dropship navy, red, black, gray green, and even printed ones. For the reviews, the item gets positive feedback from users about its high quality.
Furthermore, Gelyu Harem Pants has a profit potential of $33.02. So, knowing that many customers enjoy this product, dropshipping it can be a good stream of profits.
5. Halo Floor Lamp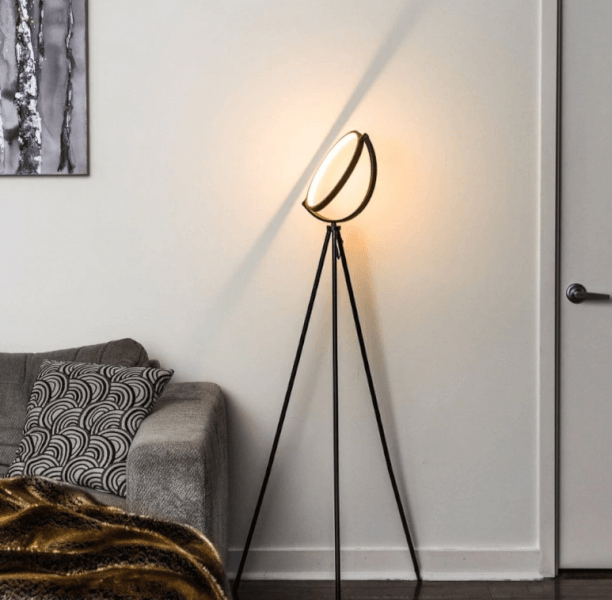 Who doesn't love a sleek floor lamp that exhibits Nordic vibes? With that said, the Halo Floor Lamp is a chic and functional item that would complement any room. Therefore, homebodies and designers will likely have their eyes on this item.
So, let's analyze what makes this competitor stand out for selling the Halo Floor Lamp.

Selling price:

$

199.00

Source price:

$162.67

Potential profit:

$36.33
Seller's Facebook Ad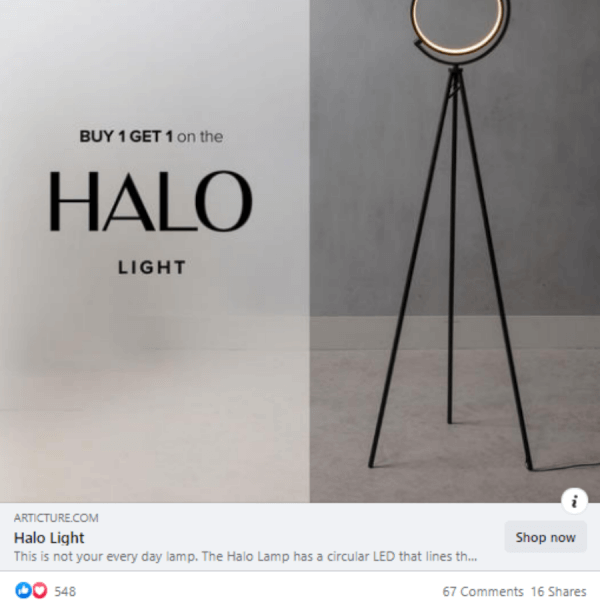 Moving on to Articture's Halo Floor Lamp FB ad, we can notice that it is professional-looking. Also, the FB ad has several reactions, shares, and comments from prospective buyers. The engagements show that many customers are noticing the ad, which can help the seller to gain more sales.
In addition, the main feature that entices shoppers is its "Buy One, Get One Free" offer. Since the ad markets the offer as good for one week only, it entices buyers to purchase the item while it lasts.
Seller's Website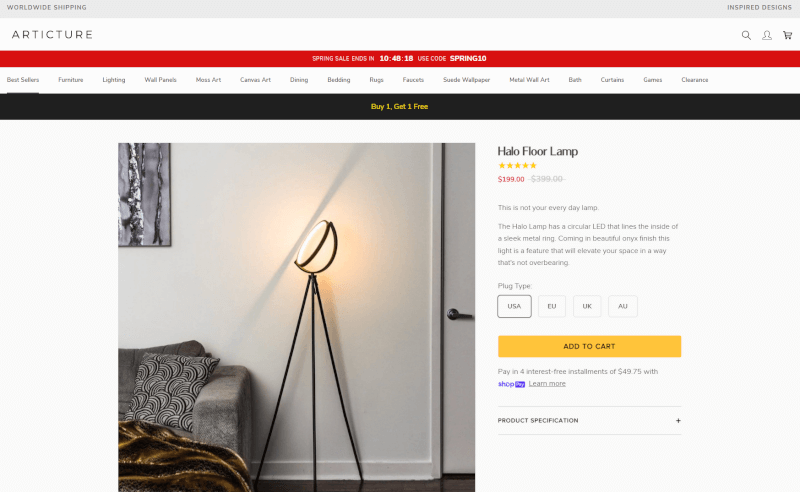 One popular seller of this product is Articture. On the product page, the item sells for $199.00, including shipping.
When entering the website, a dialog box appears, asking for your email address in exchange for possibly winning a gift card. Essentially, this is an effective marketing method to lure customers into providing their contact information.
Predominantly, the website exudes a simple yet elegant theme. Overall, the details on the website are well-organized and easy to navigate.
Moreover, the seller displays different plug type options for various regions right away. Providing these options is crucial if we're targeting a global market.
Competitor's Product Features
On Articture's Halo Floor Lamp product page, we can see a short but direct item description. Several photos that illustrate how the lamp appears in different areas are also available.
Additionally, the customer review section allows us to filter ratings according to the lamp, light, quality, and other features. By allowing customers to filter reviews, they will be able to analyze the product specific to their preferences.
Unluckily, the lamp has only one variation. So, if we choose to dropship this product, we can add more choices as to the size, height, and bulb capacities. By doing so, customers will have more options, depending on the area where they wish to display the lamp.
Moreover, the seller offers an installment payment method through Shop Pay. This option allows customers to pay in four parts for the product, allowing buyers to purchase the item without paying the full price at once.
Furthermore, the seller doesn't allow debit/credit payment options. This drawback can lead to a decrease in our sales potential, since other customers use cards in their online transactions. Therefore, when we establish our dropshipping store, ensure that we include flexible payment options for our customers. 
Supplier's Website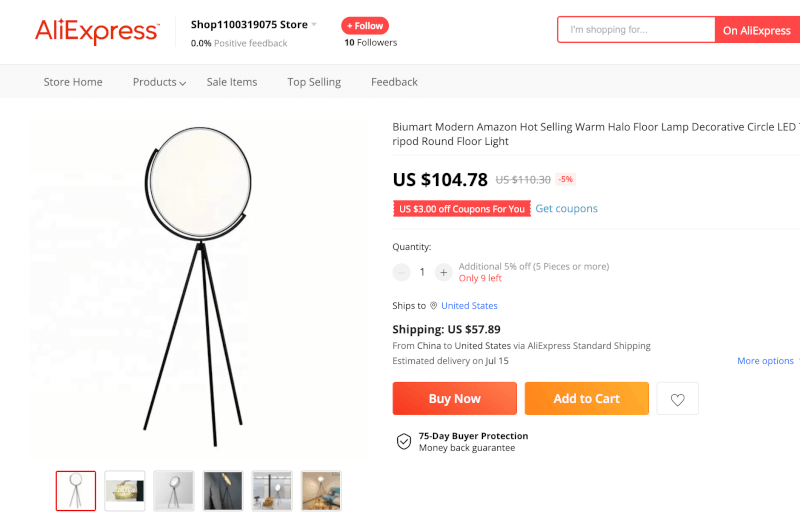 Checking out AliExpress, we found the same product at $162.67, including shipping fees. If we wish to source the Halo Floor Lamp from this supplier, we must consider the advantages and disadvantages of doing so.
Here, bundled store discounts offer a 3% markdown for one lamp or 7% markdown for two items. On top of that, clients can also enjoy an additional 1% off when buying two or more products. With all these perks, marketing will surely be effective to attract customers to buy the floor lamp.
On the downside, the product description is filled with images without explanations. Furthermore, we can't verify the product quality because of the unavailability of reviews.
 Overall, the product gives us a potential profit equal to $36.33. With more sales, we can further maximize our profit margins from selling this item.
Beginner's Tip: We can sell floor lamps with more variations, such as bulb options that have different light intensities and colors, so they will perfectly complement any room.
6. Vintage Japanese Hanging Scrolls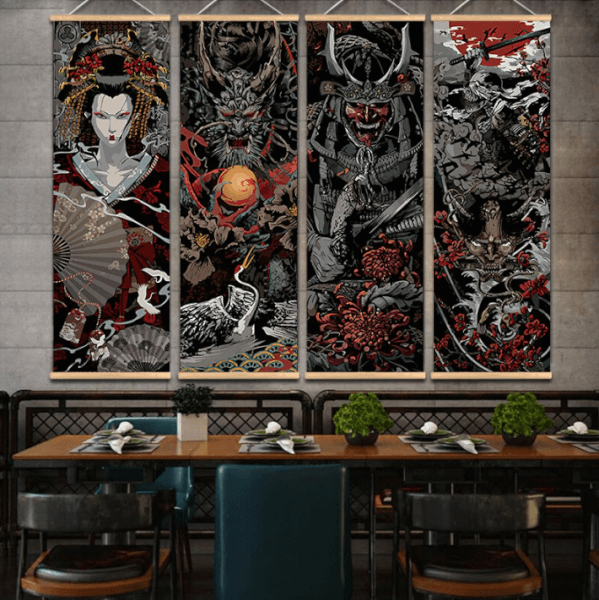 Our next trending products are Vintage Japanese Hanging Scrolls. These decors can transform plain walls into magical views. With that said, these scrolls will excite customers who are into boho arts or vintage collections.
In the following sections, we'll be exploring the best practices that work for this dropshipper and other features that we can improve.

Selling price

: $94

Source price

: $41.57

Potential profit

: $52.43
Seller's Facebook Ad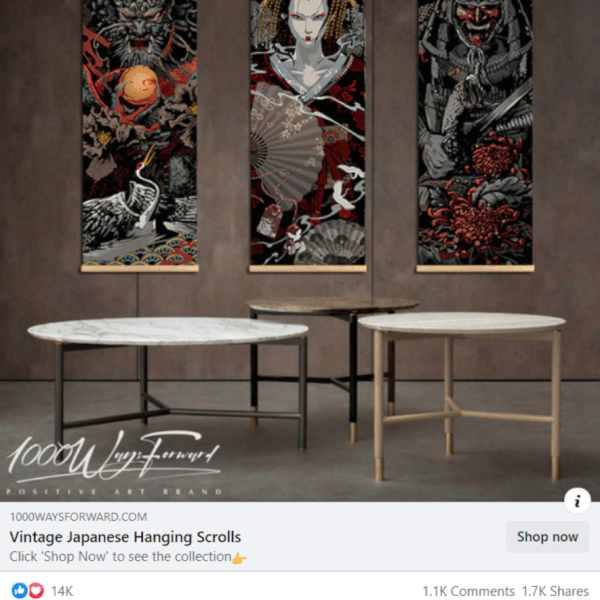 Meanwhile, 1000 Ways Forward's Vintage Japanese Hanging Scroll FB ad emphasizes its magical effects on any space. For one, the photo presents a realistic illustration of how the scrolls appear when installed on a wall. As a result, customers can picture the final look of the scrolls, which can help manage their expectations.
Moreover, the ad engagements consist of 14k reactions and 1.7k shares. These figures show the high sales potential of the item, because of the number of engagements that the ad can reach.
Seller's Website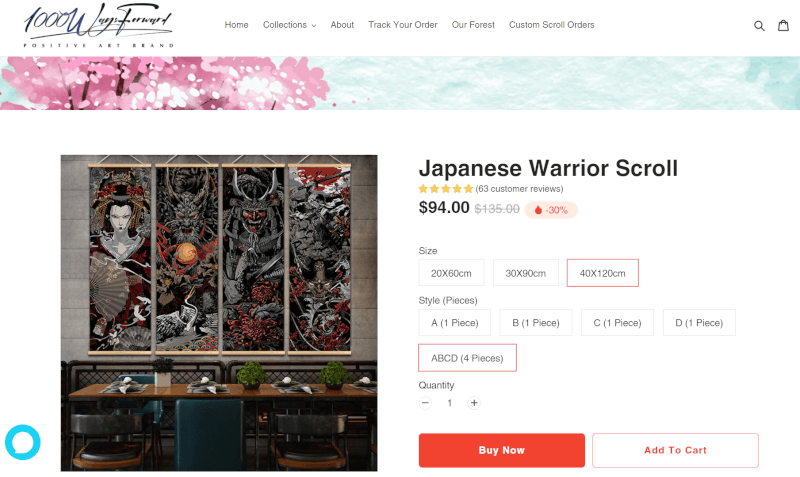 An eCommerce store, 1000 Ways Forward, offers the Japanese Warrior Scroll. Specifically, the four-piece 40×120 cm variation costs $94, including shipping.
Since the store sells striking and colorful art pieces, it's only fitting that the website theme is not too overpowering. By having a minimalist product page, the products are well-highlighted.

Plus, the seller displays trust badges like "100 Satisfaction Guaranteed." The presence of these trust badges helps us showcase the quality of business we provide.

Besides that, an "About Us" section brands the business as environmentally aware. For instance, the website markets "1 Order = 1 Tree Planted." By having this marketing technique, we can attract more customers, especially environmental advocates, to purchase the hanging scrolls because of the good cause they support.
Competitor's Product Features
For the product features, 1000 Ways Forward markets the hanging scrolls at a 30% markdown. Showing customers that they can purchase the products at a lower price will likely lead to substantial sales.

Remarkably, the website includes customer reviews with actual photos. By showcasing these testaments, potential customers will see the satisfaction ratings of other buyers. Thus, it will help them decide to purchase the scrolls because they're of good quality.

Another good feature is the flexible payment options. For example, customers can pay using GPay, PayPal, and cards.

Additionally, 1000 Ways Forward provides four style variations for customers. Letting our buyers have several choices is beneficial not only for them but also for our business. In this way, customers can purchase the right fit for their walls, and in return, we'll receive significant sales.

Correspondingly, the size references are available, especially since the seller relates the size to a guitar for better visualization. On this part, the seller provides three size options, like 20×60 cm, 30×90 cm, and 40×120 cm.

However, the size illustrations seem to be out of place, and they aren't labeled as 'size references' or a similar title. Hence, it would be better if they appeared earlier on the page, preferably along with size and style choices.
Supplier's Website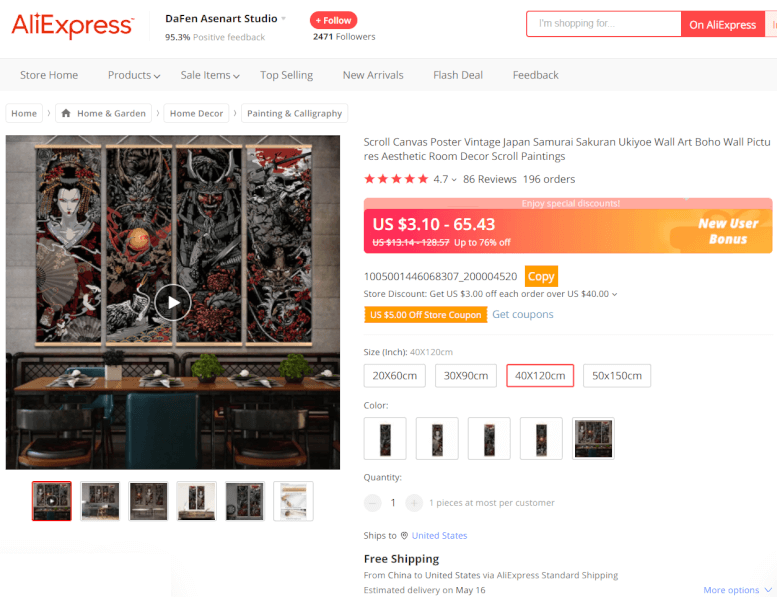 To dropship the same item, we can source it from AliExpress at $41.57, including shipping. To begin, the product title on the supplier's page may be too overwhelming and long. That's why, 1000 Ways Forward simplified the title, so customers won't have a hard time searching for the product.

Plus, we can enjoy up to a $3 discount for each order costing $40 and above. Also, a $5 store coupon is redeemable upon check out. Once again, adding perks is one effective marketing strategy that will attract clients to source from AliExpress, since these discounts can lead to higher profit margins.
In addition, AliExpress provides five color choices and four size variations of the scrolls. Moving on to the customer reviews, the product has an average rating of 4.7/5.

Furthermore, the technical specifications of the product are available. However, its description may not be too comprehensive. When selling this item, we can add more relevant information to let customers know better about what they're buying from us.
Beyond that, dropshipping this product gives a whopping $52.43 potential profit, excluding selling fees. Now, that's a substantial profit that can help our business grow.
7. Multifunctional Ratchet Screwdriver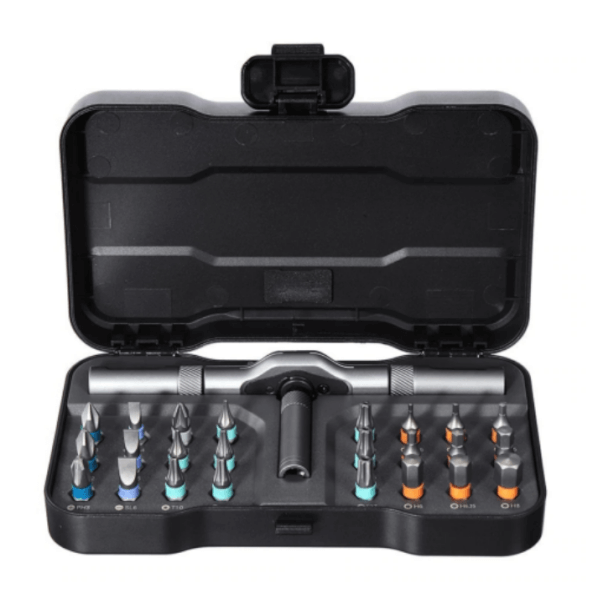 From decors, let's proceed to Multifunctional Ratchet Screwdriver. This dropshipping product is an all-in-one solution for repair problems. Undoubtedly, this is a valuable item for DIY enthusiasts and handymen.

Now, let's see how the seller rises from the competition while dropshipping this product.

Selling price

: $49.99

Source price

: $18.60

Potential profit:

$31.39
Seller's Facebook Ad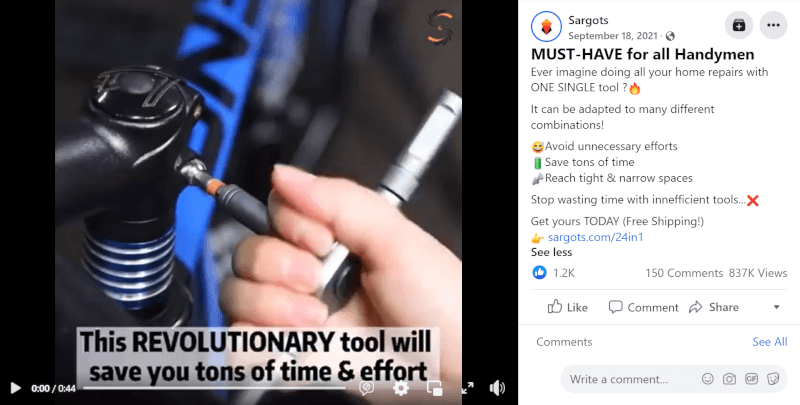 Unlike the website, the Sargot's Multifunctional Ratchet Screwdriver Tool Repair Set FB ad video appears more professional. As such, the video presents the features and benefits of using the toolset.

To enter the product page, we have to open the ad description and click the provided link. Lastly, thousands of people engage in the ad, as shown in the 1.2k reactions and 837k views. Having said that, many potential customers explore the product, meaning, we can likely have a large audience if we dropship the toolset.
Seller's Website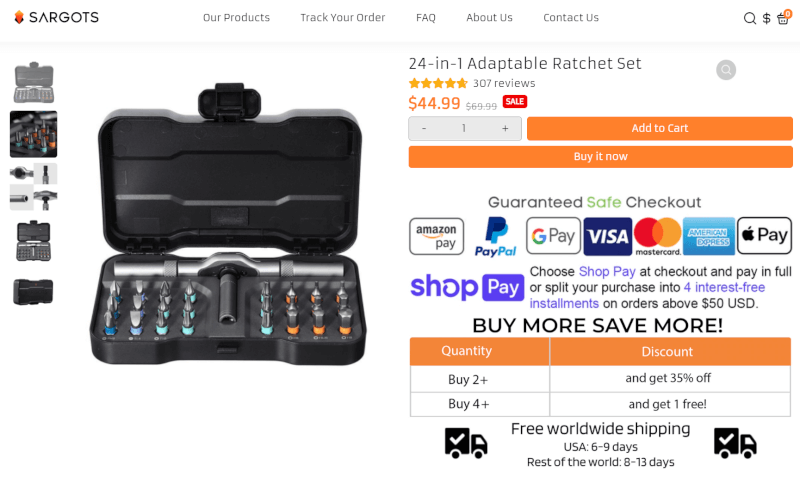 Among the selection of sellers, Sargots offers a 24-in-1 toolset at $49.99, shipping fees added. Next, we'll discuss the pros and cons of this dropshipping website.
Primarily, it's with mentioning that the website uses animated clips to show the functionality of the products. Also, a detailed discussion of the features is available to help customers know about the uses and benefits of the toolset.
Unfortunately, the seller's website is not well-optimized. The features in the main product section are cluttered, and they appear too overwhelming. 
Noticeably, there are blank spaces on the website, which could have been utilized for other information. Remember, having an unorganized website can cause viewers to leave, thus, reducing the conversion rate.
Competitor's Product Features
Now, moving to the features of the toolset from Sargots, the store advertises that the product is on sale. For orders $50 and above, the store offers four-interest free installment from Shop Pay.
On top of that, the seller provides a 35% discount when buying at least two pieces. Additionally, the shop gives a free product for every four sets purchased. More often than not, customers will likely take advantage of benefits like these ones, resulting to a higher sales volume for our business.
Conveniently, the store provides flexible payment methods like Visa, Mastercard, PayPal, etc. Also, we'll find the business' trusted partners, adding to the seller's legitimacy. 
In addition, presenting customers' feedback with their locations is a plus. Through this information, we'll know that the product reaches a worldwide market.
Although several photos and descriptions are available, however, they don't seem to appear well-organized. Therefore, arranging them will maximize the use of spaces and give customers a better visual experience.
Finally, aside from the 24-in-1 toolset, we can explore more options as to the number of tools in one set. By doing so, we can cater to the different needs of our customers. Thus, the more needs we address, the more sales we'll likely achieve.

Supplier's Website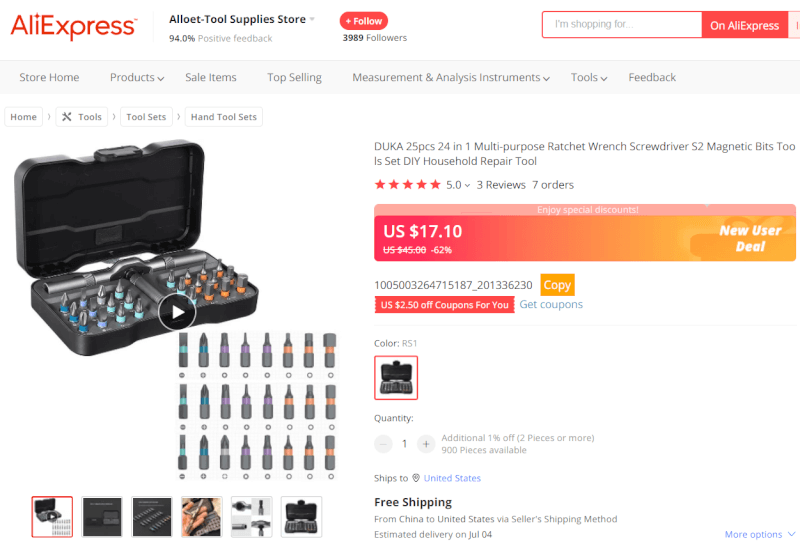 Now, unto the product source, we can get the exact item for $18.60, shipping fees included, from AliExpress. For US customers, they can enjoy free shipping via our choice of shipping method.

On the supplier's website, a professional-looking video ad is available for our utilization. However, the description is in Chinese characters. Therefore, we need to edit it and change the text to English for our global audiences.

Furthermore, the supplier offers a 1% discount for two pieces or more orders. Plus, AliExpress provides store coupons upon purchase of the toolset. However, it only provides one variation, which is the 24-in-1 toolset.

Conclusively, selling this item welcomes a $31.39 potential profit. Thus, this product idea is a top choice for our dropshipping business this July.

Beginner's Tip: We can source other toolset options that provide different kinds and numbers of supplies in a set, and also a choice of colors and sizes for the box or carrier.
8. Large Capacity Laptop Backpack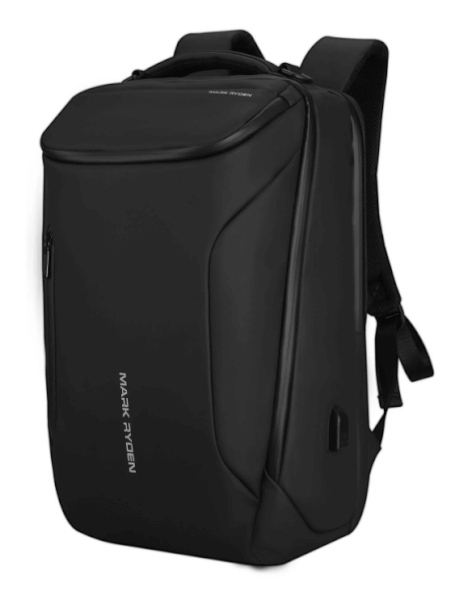 Let's dive into our eighth top product to dropship in July: Large Capacity Laptop Backpack. This anti-theft bag serves as a functional and stylish travel accessory. Thus, dropshipping this item will definitely attract travelers.

From here, we'll analyze the techniques of the sellers in selling the large capacity laptop backpack.
Selling price

: $87

Source price

: $55.02

Potential profit

: $31.98
Seller's Facebook Ad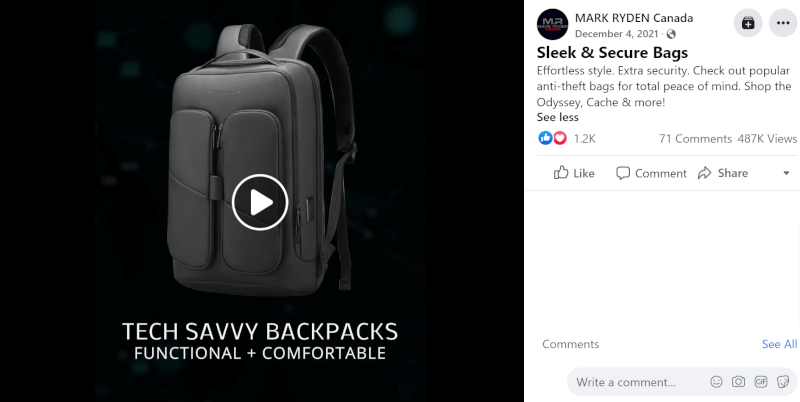 On the other hand, the item's FB ad by Mark Ryden Canada presents a video showing various designs. Also, the engagement is substantial, reaching 1.3k reactions and 502k views.

However, it lacks a strong CTA since a link that would directly bring an audience to the store is missing. So, other customers might become disinterested if they find it hard to search for the product on the seller's website. Therefore, if we plan to sell Navarro II, ensure that our ad will directly lead potential buyers to our product page.
Seller's Website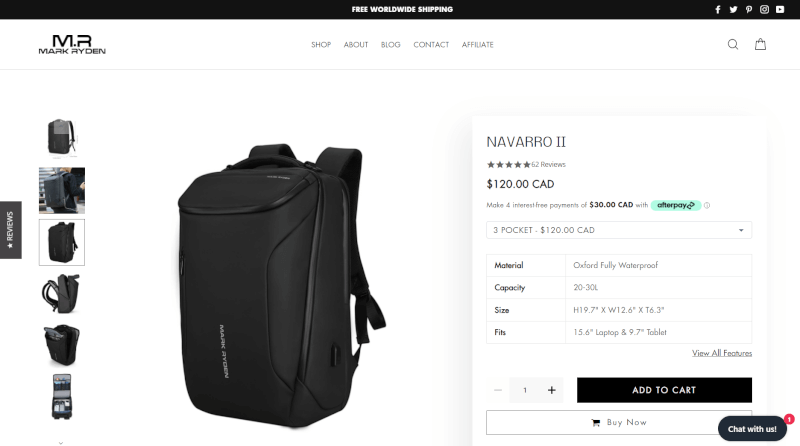 At this point, we'll inspect the online store of a competitor selling the Navaro II. Notably, Mark Ryden Canada sells Navaro II at $87, including shipping.
Generally, the website looks clean, with a simple black and white theme. Also, the navigation links are accessible and other page content is easily navigable.
Additionally, the website has a pop-up that provides a 10% discount whenever a visitor provides an email address. Again, this appealing marketing technique allows a seller to collect leads.
Furthermore, Mark Ryden Canada utilizes numerous photos with descriptions. Besides that, a professional-looking video presentation about the bag's features is available below the page. With these advertising tools, customers will be knowledgeable about the benefits that they can get when using the item.
Competitor's Product Features
Interestingly, the seller provides suggestions for what can fit in the backpack. For instance, a 15.6" laptop and a 9.7" tablet. Doing so helps potential buyers to visualize the capacity of the item.
Mark Ryden Canada also provides two-pocket and three-pocket options for customers at different costs. Moreover, we can find the product specifications like material, capacity, and size along with the item description.
On the lower part of the product page, we'll find the Product Details and FAQ section. Here, we'll see more information about the product, such as charging instructions, shipping arrangements, and a 30-day return guarantee policy. It's also commendable that there's an 'Ask A Question' portion, where customers can directly inquire about the product.
Besides that, we can also find customer comments in the review section. As we can see, the product receives a lot of five-star ratings, which gives us an idea that it's a good product to dropship.
Scrolling down, we'll see "Product Highlights," however, it specifies that the features don't apply to all products. In terms of marketing, doing this could create doubts about the product. Instead, customizing each item ensures clarity for our customers.
Lastly, when dropshipping this item, we can explore and add other color choices and more size variations. By doing so, we can address more audience preferences, especially those who don't want to stick with black bags.
Supplier's Website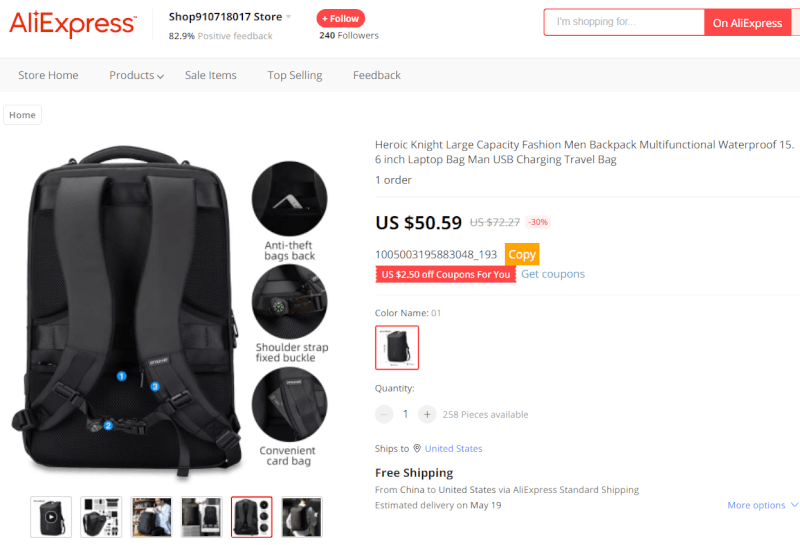 Now, checking Navarro II on the supplier's website, AliExpress sells it for $55.02, including shipping. Also, the seller markets the product price to be 30% cheaper than its original cost. Plus, AliExpress offers free shipping and discount coupons. By doing this, buyers will see the product price as a good deal, leading them to purchase it.
On the item description below the page, the details are on point and comprehensive. Product descriptions and features are well-incorporated with the images, presenting essential details about Navarro II.
On the downside, the item doesn't have customer reviews, so we can't confirm its worthiness. Also, the title needs revision to make it more appealing, as Mark Ryden Canada did on its website.

Nevertheless, dropshipping Navarro II will potentially give us a $31.98 profit. With its versatility, many people will love finding this product in our stores.
Beginner's Tip: Once again, we can sell more size, color, and design options when dropshipping this anti-theft bag, so we can offer the product to more diverse customers worldwide.
9. Steampunk Sunglasses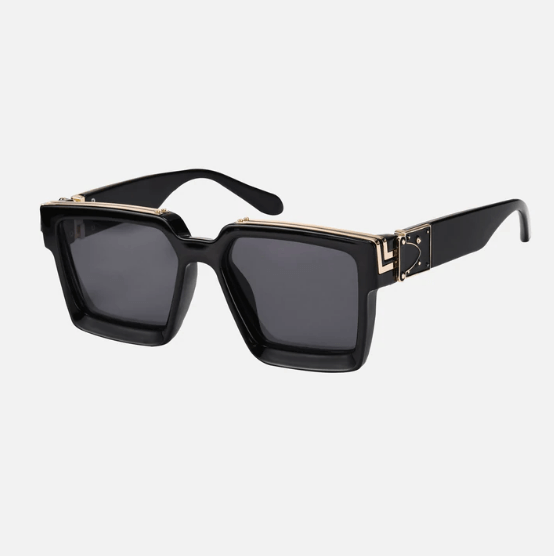 What could be cooler than an accessory that perfects a look? Well, Steampunk Sunglasses is definitely for people who value trendy sunglasses. Not only that it's fashionable, but it also offers benefits like anti-glare.

Next up, we'll uncover the secrets behind the success of dropshipping the Steampunk Sunglasses.

Selling price

: $50

Source price

: $2.41

Potential profit

: $47.59
Seller's Facebook Ad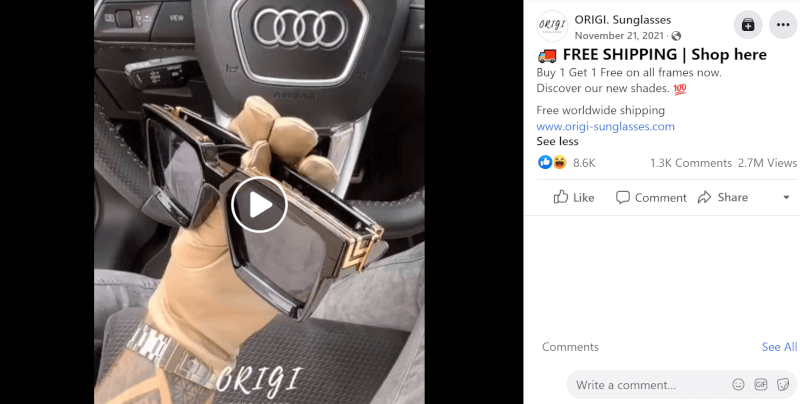 The Origi's Drippy FB video ad directly markets a buy one, take one offer and free worldwide shipping. These good deals can attract many customers to check out the product, which can result in a higher sales conversion of the ad.

Although the video ad has thousands of engagements, it doesn't appear professional. Also, the seller provides a link to the store but not specifically to the product page. So, when dropshipping Drippy, add a more presentable add to optimize the user experience.
Seller's Website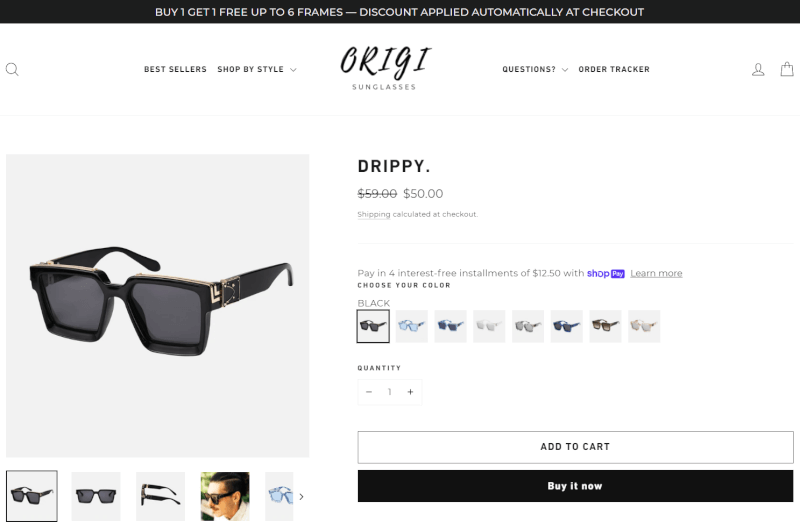 Primarily, let's find and analyze a dropshipping store that offers Drippy and see what works for them. We can find a black Drippy at $50, with free shipping, from Origi.

Similar to other stores, the website radiates minimalism. Moreover, recent purchase notifications appear on the lower-left section of the page. Having this feature tells the audience about the market demand for this product.

To attract more customers, Origi offers "Buy One Get One Free." Besides that, the store offers another pop-up promotion, the "2 for 1," if customers will provide their email addresses. Again, this is an email marketing technique to establish a substantial customer base, allowing the seller to market the business to diverse audiences.

On the lower section of the product page, we'll find navigations that lead to content about 'Luxury Frames,' 'About Us and Guarantees,' and 'Best Sellers."
Competitor's Product Features
Aside from the black variation, Origi provides other Drippy options. For instance, buyers can choose from solid-colored or printed designs.
As featured in the photos, the product comes with accessories, such as the box, lens wipe, and pouch. By offering these essentials, the product becomes an all-in-one package for a pair of glasses.
Likewise, the product comes with specifications to guide customers. Some of the important information we can find in this section include the sizes and materials of the frame and lens. By giving customers this information, they will be able to visualize the product better.
Additionally, a size chart is available for customers to pick the right pair of glasses for them. We can also find the payment methods and other store policies along with the product description.
Overall, the store provides high-quality photos and videos of Drippy. By presenting the product in a professional manner, customers will likely find the product to be legitimate and reliable.

Furthermore, we'll find upselling suggestions, such as offering four pairs of glasses at a discounted bundled price. However, the combination of items is not constant, resulting in poor customer experiences.
Supplier's Website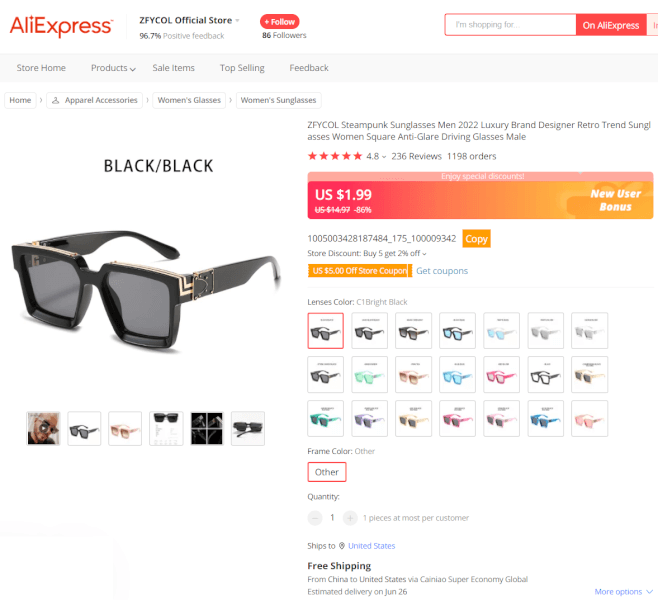 This time, let's see the product source of Drippy and the features we can adopt from its product page. For only $2.41, inclusive of shipping, we can source Drippy from AliExpress. 
Besides the black variation, the supplier provides more lens options, such as blue, brown, purple, and more colors. Plus, we can enjoy a $5 store coupon upon purchase of Drippy. On top of that, we'll also have a 2% discount for purchasing at least five pieces.
Unlike the seller's video ad, AliExpress' video ad looks better. The page also shows a lot of good customer reviews about the item. On the downside, customers can only place one quantity per order.

With a significant potential profit totaling $47.59, selling Drippy will undoubtedly benefit your eCommerce business. So, dropship this product and start expanding your profit profile.

Beginner's Tip: Since the supplier limits the quantity of every purchase, we can try exploring other options that allow us to purchase multiple pairs of glasses at the same time to minimize added shipping costs.
10. Crystal Money Tree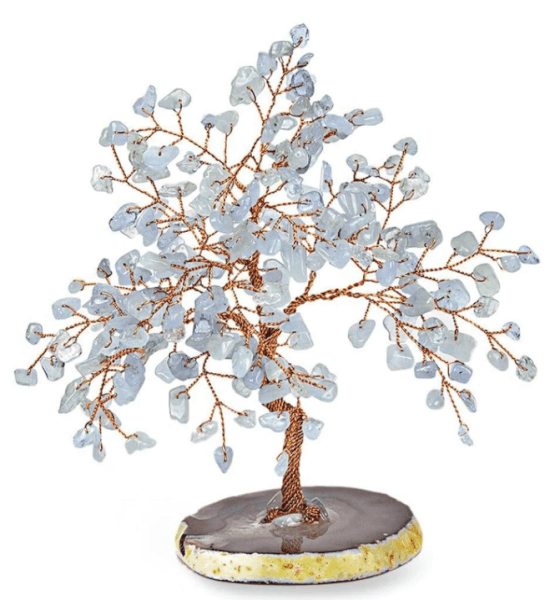 Completing our trending products list is the Crystal Money Tree. The product's water-like crystals relieve stress and bring peace. Therefore, we can market this item to feng shui believers or ornament lovers.

Let's find out what's behind the dropshipping success of the seller because of selling the Crystal Money Tree.

Selling price

: $170.13

Source price

: $18.05

Potential profit

: $152.08
Seller's Facebook Ad
Noticeably, Karma and Luck's Facebook page is verified, making the business more legitimate. Meanwhile, the stone tree's FB ad presents an enticing photo that emphasizes the mystical feeling that the product exudes.

Plus, the ad comes with a promo code, "Buy 2 Get 1 Free," that customers can utilize upon check out. On top of that, the engagement is at 8.6k reactions and counting, making it a potential best-selling dropshipping item.
Seller's Website
One seller, Karma And Luck, retails a medium-sized tree at $170.13, including shipping. Clearly, the seller's website is sophisticated, with the general theme getting along with the kind of product the store is selling.

When entering the product page, a pop-up offers a 15% discount in return for email subscriptions. This marketing strategy benefits the buyer through a coupon and the seller gets to collect the contact information of buyers for future promotions.

At the banner on top of the page, we'll see promotions, such as a 30% discount offer. Additionally, a loyalty program lets buyers earn points for every purchase.

Essentially, the business supports the "Make A Wish Foundation," where it donates a portion of every sale. By doing this, the seller convinces shoppers to purchase the product to contribute to the cause. 
Competitor's Product Features
Karma and Luck's product page includes several photos and videos showcasing the item. Plus, the seller provides an illustration of the possible locations of the stone tree in a given area, with their corresponding meanings.

In the product description, we'll find an in-depth description of the product and its benefits. Moreover, Karma and Luck provides size options: small, medium, and large.

Aside from that, the seller allows the buyer to mark the item as a gift. Every order will also include the "Manifest Your Dreams" card and envelope.

Furthermore, guarantees like "Authentic Gemstones" and "Blessed by a singing bowl." By marketing the product this way, we can ensure customers of the authenticity of the stone tress that we're selling.
In addition, reviews are available to check customers' satisfaction with the product. The review section also enables customers to search for testimonies according to tree, gift, home, branches, and other filters. By presenting this option, buyers can know customers' experiences according to various bases.

To amplify the item's credibility, the page displays platforms that featured the product. For instance, the store presents that the Relaxing Lullaby Feng Shui Aquamarina Stone Tree was featured in Vogue, Forbes, and Glamour.
Supplier's Website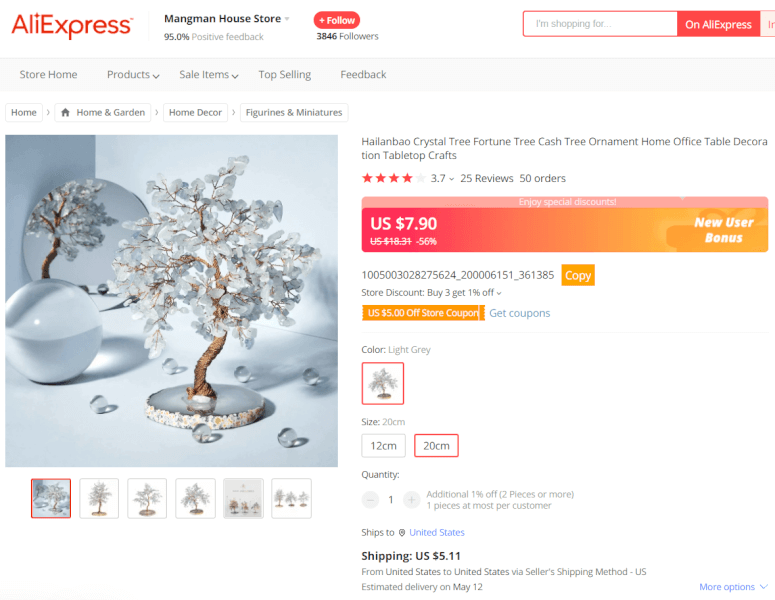 Meanwhile, AliExpress sources the crystal tree for $18.05, shipping added. As a marketing technique to attract customers, this supplier offers store coupons up to $5. In addition, we can get a 1% off for sourcing at least three pieces of the product.

Aside from a helpful guide on setting up the tree, the rest of the description can do better. Although the chart size shows three size options, there are only two choices in the product itself.

For the reviews on the supplier page, we can read dissatisfaction from some customers. As a result, the product gets a 3.7/5 average rating. Therefore, when dropshipping the crystal tree from AliExpress, we must analyze the reasons behind the low ratings, so we can improve them in our stores.
Otherwise, the product has a massive potential profit of $152.08. Ultimately, ensure to list high-quality variations that will win customers' satisfaction.
Increase Your Profit Margins With Dropshipping Automation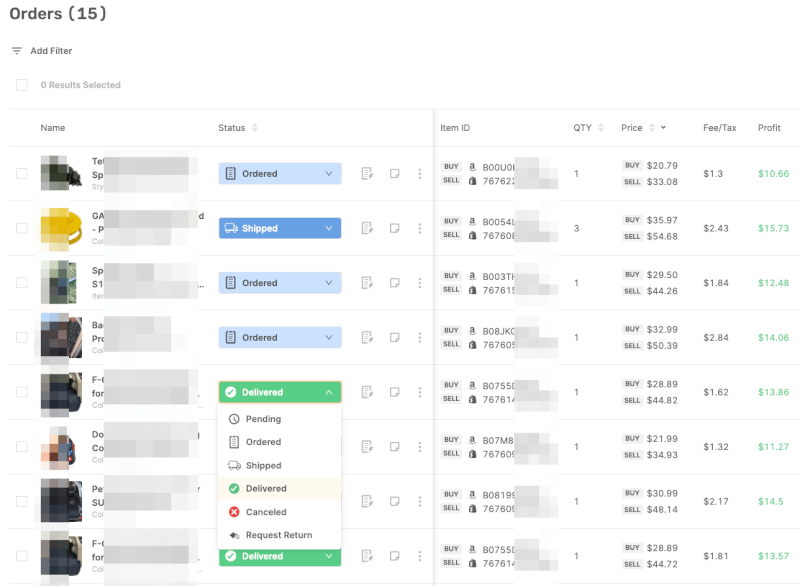 After discovering the most in-demand products, it's time to step up our eCommerce journey by automating our business. But before we go into the details of automation, let's first talk about the manual dropshipping method.
Essentially, manually running our online stores becomes a tedious task. To illustrate, manual product importation requires us to copy each product's information from the supplier's website. Then, we transfer the details individually to our selling channels.
In contrast with manual dropshipping procedures, automated operations enable us to save time and effort. As such, dropshipping automation manages crucial everyday tasks for us. Thus, efficient dropshipping processes help us gain higher profit margins.
Specifically, we can automate different features with the help of dropshipping tools. For instance, we can automatically carry out product research, product importing, and price/stock monitoring.
Speaking of automatic product importing, AutoDS is a leading dropshipping platform that provides excellent product importing methods:
One-click Importer

Single Product Uploader

Multiple Product IDs/URLs

Bulk Importer
For one, these convenient product importing means let us add items to our stores, as fast as one click. Plus, import automation enables us to optimize our product listings.
Remember that optimization is necessary for us to set relevant information pertaining to the items we sell, such as titles, descriptions, tags, and more. In a way, the professional presentation of our products reflects the quality of service we provide our customers.
Ultimately, these automated dropshipping solutions are just the initial steps toward scaling our business. Once again, automation allows us to gain profits while we sit back and relax.
With that said, we don't have to worry anymore about making manual mistakes when inputting our customers' shipping details. Likewise, finding our next top sellers is just a few clicks away with AutoDS' dropshipping tools!
Conclusion
Well done! We're finally ready to multiply our eCommerce sales with the top ten products to dropship in July. The next step to dropshipping success is adding these trending items to our online stores.
As always, bear in mind to continuously test the market to determine what products work for our dropshipping business. Then, we can further multiply best selling products and gain more profits. Meanwhile, we should remove items with poor sales conversions and make way for fresh product ideas.
In closing, broaden your eCommerce horizons by researching and understanding different dropshipping niches. Here are relevant articles to help you get equipped with worthwhile dropshipping product ideas: