Wondering about trending products to dropship in June 2022? You're not alone. Many store owners can't decide what to sell in their stores.
With hundreds of categories and thousands of products, we can easily feel overwhelmed when choosing what to sell. That's why product research is crucial. Essentially, product research gives us the best chance to achieve dropshipping success.
However, not everyone has the time and energy to dig out best-selling products. Considering that, we gathered a list of the top 10 trending products to dropship in June. Plus, we will learn how to add the products to our stores quickly and easily.
Top 10 Dropshipping Products To Sell In June 2022
Before diving into the list of top trending products to dropship, remember that we have to avoid selling copyrighted or trademarked products. Copyright and trademark are legal ways to protect a brand's intellectual properties. For example, branded products like Samsung TV and Nike T-Shirts.
Therefore, when sourcing products from suppliers, we must perform our due diligence to ensure we are not violating copyright and trademark laws. With the help of the eBay Verified Rights Owner (VeRO) guide, we can understand what products we should avoid dropshipping.
With that said, here is the list of trending products for June:
So, let's take a look at each product below.
 Father's Day Products
With Father's Day just around the corner, get a head start on selling Father's Day products to gain a competitive advantage. Father's day is a special day dedicated to honoring and celebrating the impact of every father in their family. On this day, many customers will want to show love and affection to their fathers by giving them a gift.
Therefore, here are three trending products that customers will be looking to get their hands on this father's day:
        1.1 Power Drills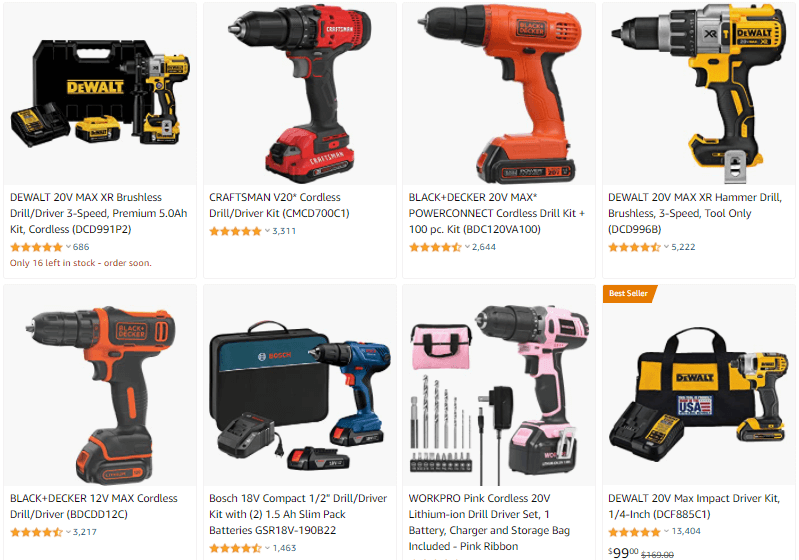 The first product on our list is Power Drills, an electrical tool used in home improvement projects to help build objects or renovate homes. As we know, most fathers are pretty handy around their homes.
So why not give our customers something that will please their fathers? Dropshipping power drills is a great idea to generate sales and gain higher profits this father's day.
In general, there are several different power drills: hammer drills, cordless drills, screwdriver drills, and more. The more variety we offer in our products, the more sales we will receive. As a result, the more satisfied customers we will have and we will be on the path toward long-term success.
Beginner's Tip: Include a free maintenance kit with every Power Drill offer to increase profits.
        1.2 Smartwatches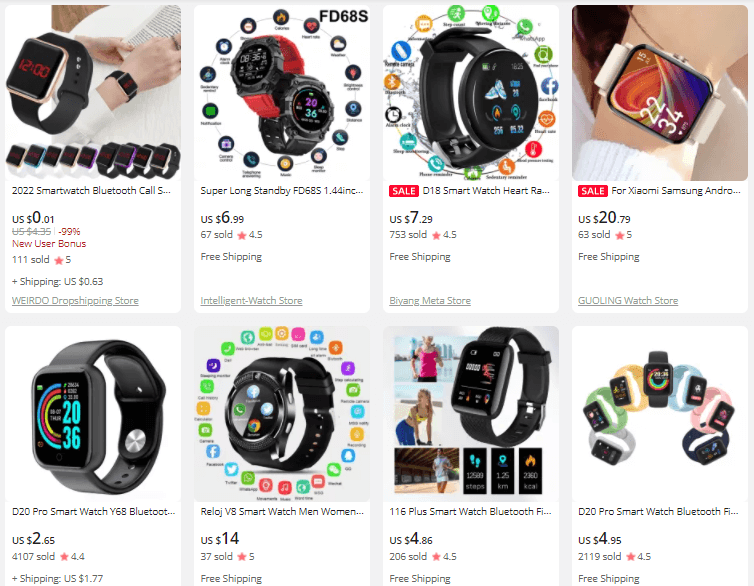 Another great product to offer on Father's Day is Smartwatch. Smartwatches are wearable devices that have superior functionalities to a regular watch. Here are some of the features that make customers love smartwatches over standard watches:
Health monitoring

Integrated operating system 

GPS tracking

Touch screen
Overall, smartwatches are a great product that customers will want to buy. Most importantly, smartwatches are an excellent gift for our fathers because it is a trendy technology upgrade.
When dropshipping smartwatches, we should list them with as many features as possible. In fact, the more features in a smartwatch, the higher the sale potential is.
Beginner's Tip: Smartwatches are medium-ticket products, so remember to price them competitively to earn higher profit margins.
        1.3 Fishing Rods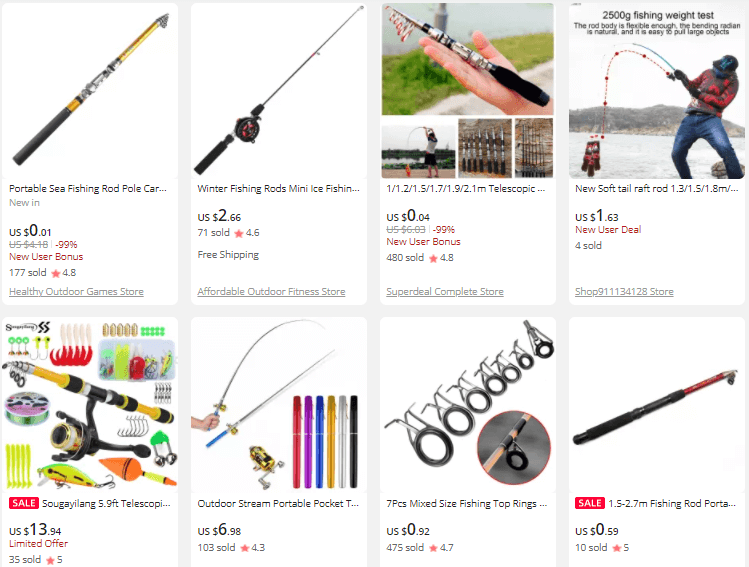 Next up on our father's day product list are Fishing Rods. The fishing rod is a device that consists of a long pole with a line held in place to catch fish.
Recently, people of all ages have been enjoying fishing as a sport. And, fathers love outdoor activities like fishing as it gives them a sense of relaxation, and de-stressing from their daily work. In essence, this category has much higher sales conversions, especially for Father's Day.
Furthermore, fishing equipment products are a unique niche, and not many people are selling fishing rods on the market. That is why providing good quality rods and excellent customer service will help us build our brand.
Beginner's Tip: Include fishing rods of different lengths. While shorter rods are easier to control and catch fish, longer ones can throw a line farther.
Now that we know which products are trending for father's day, let's continue exploring the rest of the top products for June.
    2. Ultra Cotton T-Shirts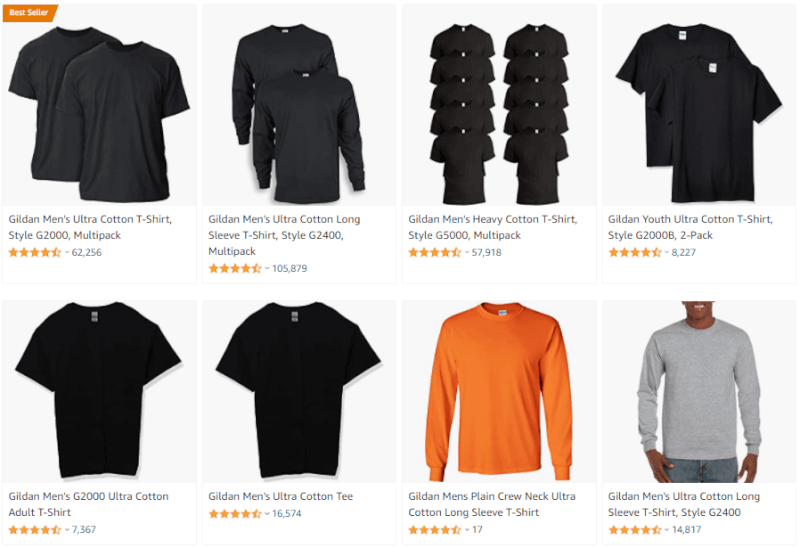 Second on our list of top 10 trading products to dropship in June is Ultra Cotton T-Shirts. Typically, t-shirts are versatile clothing pieces that look fashionable in several styles. As for Ultra Cotton T-Shirts, they are t-shirts manufactured with high-quality cotton material. Hence, it caters to customers looking for both style and comfort.
As people have different color preferences, adding a variety of colors helps us increase the sale potential. In addition, we can sell print-on-demand (POD) Ultra Cotton T-Shirts. The print-on-demand model allows us to design unique t-shirts, which helps us stand out from the competition.
Beginner's Tip: Source Ultra Cotton T-shirts from POD suppliers to customize and sell Ultra Cotton T-Shirts.
    3. Smart Security Camera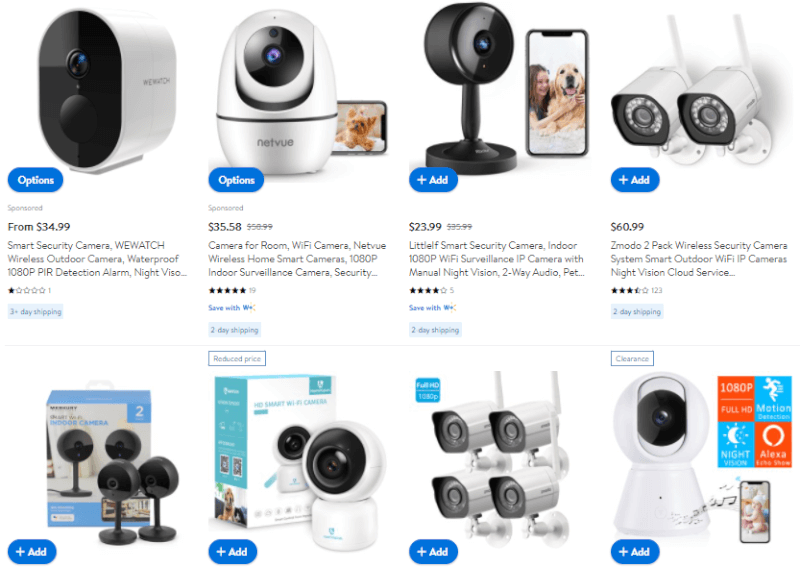 Third on our list, we have Smart Security Cameras. This product serves as a multi-functional security camera that monitors real-time activity in the area it's placed.
In today's world, advanced security systems are making us safer, more innovative, and more efficient. Also, that is one of the reasons the popularity of products like Smart Security Cameras is on the rise. According to Statista, the global smart home security market revenue stands at 2.7 billion U.S. dollars. Plus, the growth is continuously increasing, expected to reach over 5 billion U.S. dollars by 2025.
Not only does Smart Security Cameras work as a surveillance system, but they also have a variety of features. Here are some of the features that make this product popular.
Ring alarms

Two-way audio

Notifications via mobile phones

Cloud storage

High-quality feed
Besides these excellent features, the price of intelligent security cameras may range from $30- $500. It depends on different suppliers in the market or overall features available in the product. With that said, it's best to offer various cameras at different prices to accommodate different budgets.
Beginner's Tip: List other kinds of advanced security systems so that you can bundle products together and sell for higher profits.
    4. Garden Lead-In Hose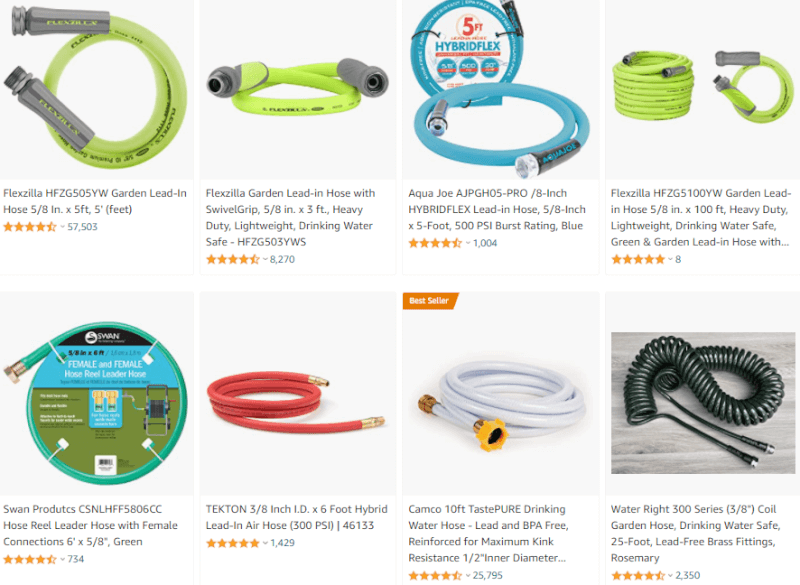 The next product on our list of trending products to dropship is the Garden Lead-In Hose. This trendy product idea is prevalent because it incorporates durability and safety. Therefore, dropshipping it and its slight variations increases the chance of significant sales.
In general, Garden Lead-In Hoses are short-length hoses that can connect a garden reel with a spigot. Moreover, a garden reel can also be attached to the end of an existing hose.
Moreover, Garden Lead-In Hose comes in various weights, materials, and designs. With this in mind, ensure to list as many of these hoses as possible with different designs, weights, and flexibility. By doing so, we provide more options to our customers, which is likely to generate more sales.
Beginner's Tip: Add Garden Lead-In Hoses that prevent chemicals like lead from mixing with water. Additionally, ensure that all hoses are made from flexible material and do not break easily.
    5. Lawn Lounge Chairs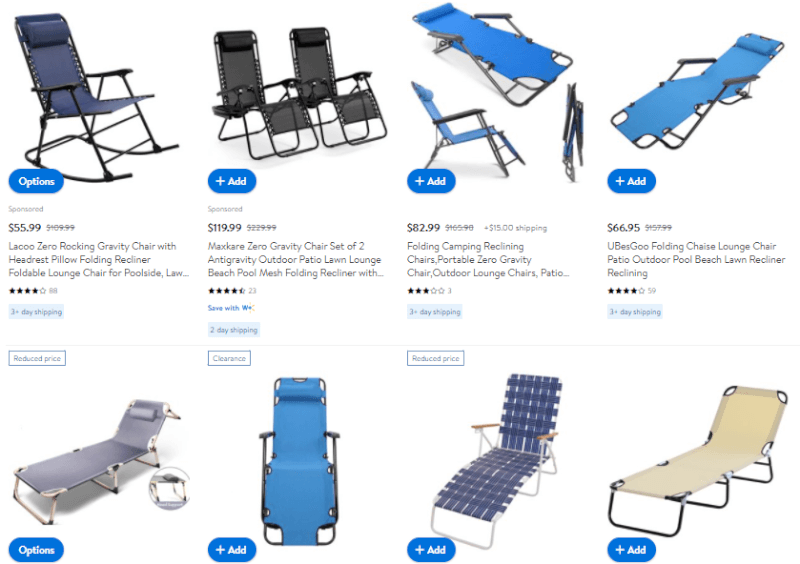 Grabbing the number five position on our list is Lawn Lounge Chairs. As a unique addition, Lawn Lounge Chairs bring style and comfort to every outdoor space. Additionally, with the summer months ahead of us, lawn lounge chairs are perfect items to dropship for June.
Today, Lawn Lounge Chairs are not only stylish but also a medium ticket product. As medium ticket products pricing ranges between $20-and $150, it allows us to have a higher profit margin.
Beginner's Tip: We should list chairs made of various materials as customers prefer to choose from many options. As of now, the body of Lounge Chairs is made from aluminum, steel, hardwood, softwood, wicker, and much more.
    6. Blue Light Blocking Glasses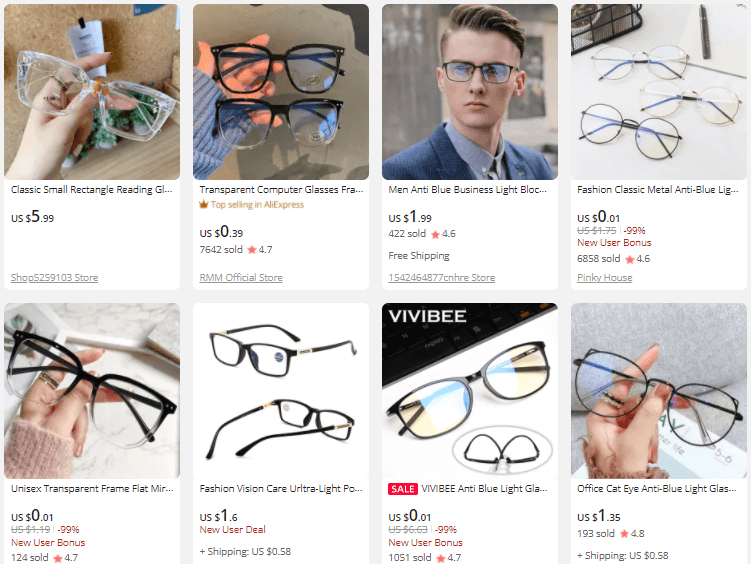 Sixth on our list of trending products to dropship is Blue Light Blocking Glasses. These glasses are for those who spend a lot of time in front of computers and mobile screens. In fact, the blue light emitted by computers and laptops harms the eyes and negatively affects our sleep cycle.
That's where these glasses come in handy. Blue Light Blocking Glasses prevent blue light from cell phones and computers. As a result, it helps reduce eye strain and improves sleep at night.
By dropshipping this product, we are solving a problem for our customers. Additionally, since it is low-cost and trending, it is one of the easiest products to sell this June.
On the other hand, it's essential to provide glasses in various colors. Similarly, offer as many shapes and sizes as possible to further scale your online store.
Beginner's Tip: Provide glasses with multiple options, including glasses that block UV rays.
    7. Retro Sunglasses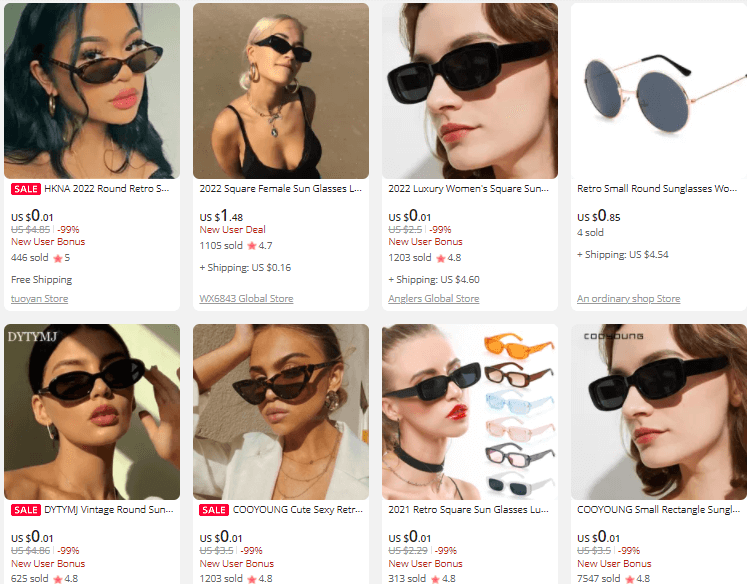 Another top-selling wearable product is Retro Sunglasses for both men and women. Since regular sunglasses are seen everywhere, wouldn't it be more fun to sell some vintage options and gain a competitive edge in the market?
To clarify, Retro Sunglasses are sunglasses with an old-school or vintage look. In recent days, Retro Sunglasses have become one of the trending products to dropship.
As people are looking for something that can bring back that nostalgic feeling, we've seen it make a comeback multiple times over the past decade or so. As such, retro sunglasses are popular and cheap items which makes them an impulse purchase.
Beginner's Tip: Provide a wide variety of Retro sunglasses to increase sales, such as round frame vintage sunglasses or wayfarer vintage sunglasses.
8. Microfiber Bed Sheet Set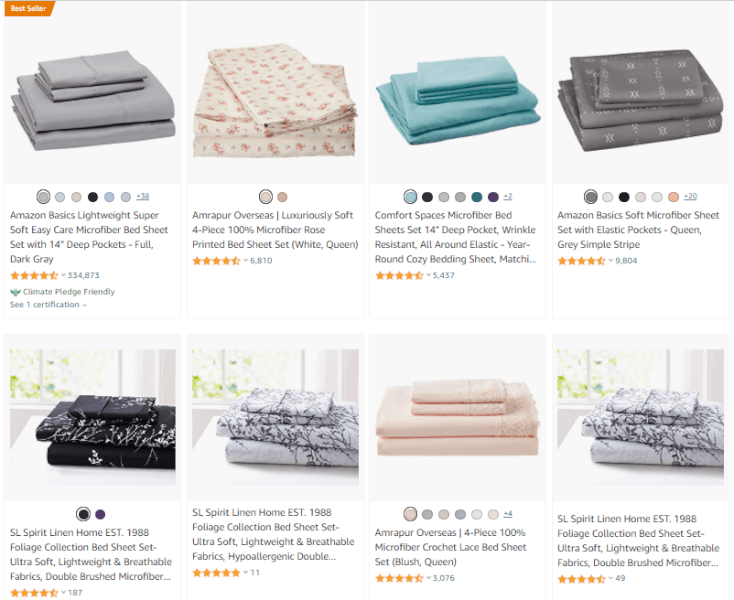 While most of the products on our list are specific to summer, Microfiber Bed Sheet Sets are best-sellers all year round. If you're on the hunt for high-quality bed sheets, microfiber could be an excellent option for your bedding. Microfiber bedding is made of finely woven synthetic fibers from wood pulp, polyester, or nylon.
While Microfiber bed sheets are affordable and soft, they are more durable than polyester sheets. Moreover, as a synthetic fabric, microfiber doesn't easily wrinkle in comparison to natural fabrics like cotton.
To increase the chance of high sales, provide Microfiber Bed Sheet Sets with a flat weave rather than a waffle weave. Microfiber sheets with a flat weave are long-lasting, stain-resistant, and moisture-repellent. So, dropshipping high-quality microfiber bed sheets with a flat weave will produce repeat sales and thus, a loyal customer base.
Beginner's Tip: Although cheaper than cotton, Microfiber Bed Sheet Sets are still available at a wide range of prices. So, make sure you add products from all price ranges.
9. Exfoliating Silicone Body Scrubber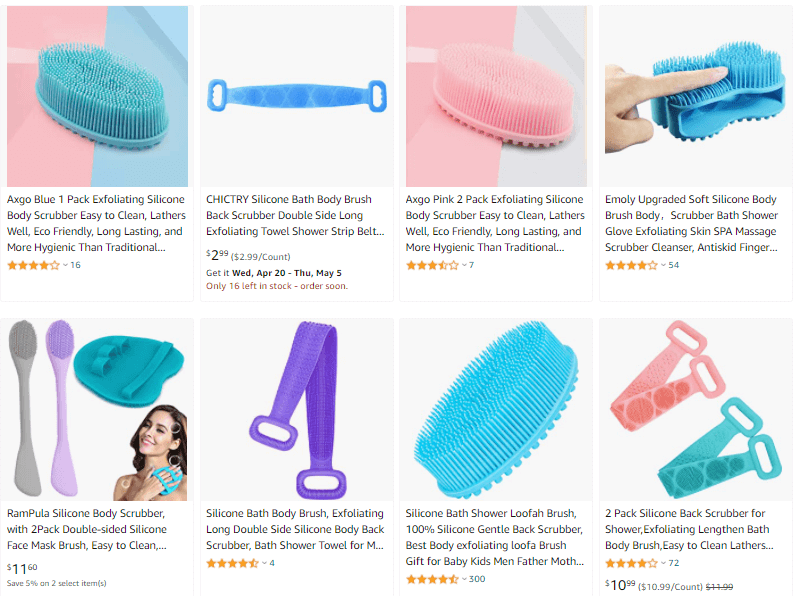 The ninth product on our list is an Exfoliating Silicone Body Scrubber, a soft scrubbing product that helps exfoliate our skin. Although it is soft, the scrubber can take off any dead skin, dirt, or calluses with minimal effort.
In fact, its primary purpose is to make bathing fun and enjoyable. With these features, our customers will fall in love with the product. As such, it is a fantastic product to dropship and earn profits this June.
To increase sales in our store, we should provide a variety of glove design fits. So that no matter the hand size, everyone can benefit from this product. Plus, we can list bath towel accessories and bath sponges as bundle items when selling exfoliating silicone body scrubbers.
Beginner's Tip: Bundle it with other bathing products such as bath sponges, loofahs, towels, and brushes to increase the average order value.
10. Protein Shaker Bottle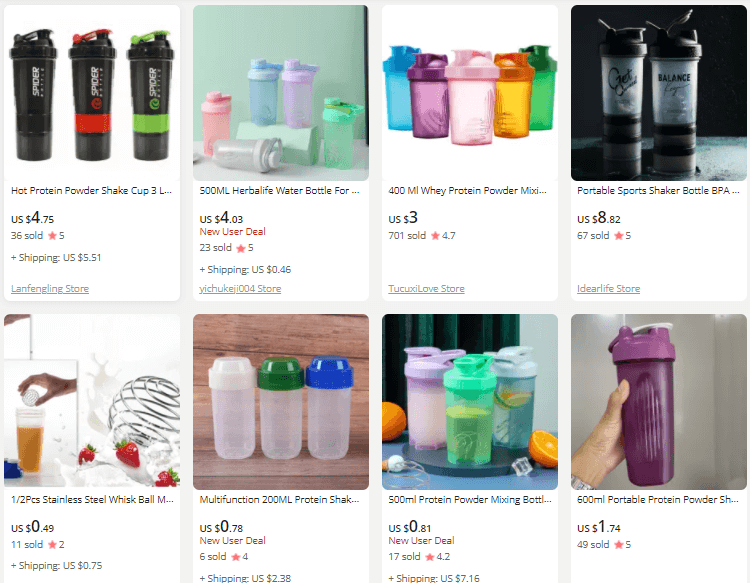 Last on our list of trending products to dropship, we have Protein Shaker Bottles. A protein shaker bottle is a type of container that helps to mix our drinks inside it, especially protein shakes. As such, it is a trendy product that athletes or bodybuilders most often seek.
When adding protein shaker bottles to our stores, pay close attention to the lid design. The shaker bottles must be leakproof and well insulated to prevent unwanted spills. And this is especially important because protein shaker bottles are also carried at work or while exercising.
Beginner's Tip: Add Protein Shaker Bottles that are easy to clean in the dishwasher and include a variety of colors to cater to a larger number of customers.
Save Time With Automatic Product Importing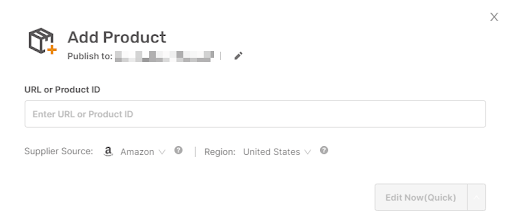 Now, we have great products to add to our stores immediately. As such, the next step is to import them to our stores from the suppliers' page.
If we are a beginner dropshipper, manually importing a product is fine. However, as we scale up, manually importing each item to our stores will be a daunting task that takes time and effort.
Instead, we can use the AutoDS Product Importing feature. By automating the product import process, we save loads of time that we can use for marketing and customer service. So, here are four AutoDS product import tools:
One-click Importer

Single Product Importer

Multiple Product Importer

Bulk Upload with a

CSV

file
To demonstrate, let's look at the one-click product importing feature.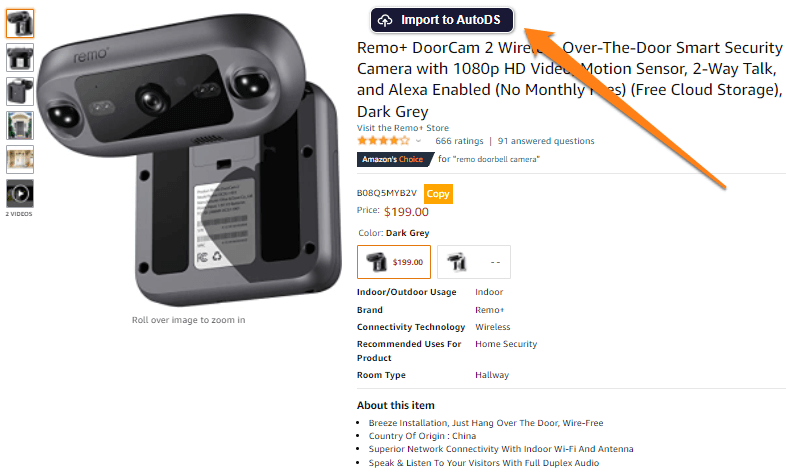 As the name suggests, the one-click product importing feature allows us to import trending products with just one click. Furthermore, we can choose from millions of products to import from all of AutoDS' Suppliers.
Before you start the importing process, install the AutoDS Dropshipping Helper Extension.
Then, to begin importing a product into the AutoDS platform, go over to the product page on our suppliers' website. Next, click on the 'Import to AutoDS' button above the product's title.
Afterward, the AutoDS extension gathers images, titles, product descriptions, and variants of the product. Afterward, the tool uploads the information directly to the drafts page in the AutoDS platform. 
For example, we can optimize the product's titles to ensure we're using proper keywords to increase our SEO and gain more website traffic.
Given these points, automation tools help dropshippers save time which they can use on marketing and customer service. With our focus on marketing and customer service, we can scale our business to reach higher levels.
Conclusion
There you go! You have the list of top 10 trending products to dropship in June. You can easily make profits by adding these products to your dropshipping store.
But don't stop here! With continuous learning, you can discover more best-sellers to continuously scale your business. With AutoDS' product research tool, we can optimize our best-selling products and add similar products to ensure continuous success.
Finally, if you want to learn more about the best products to scale your dropshipping business, check out these articles: