Whether you're just getting your dropshipping business off the ground or already have an established dropshipping store, you probably already noticed that knowing what to sell is essential to your success.
Therefore, staying on top of product research and knowing about hot or best-selling products is perhaps the most critical element of running a dropshipping business.
Because of this, our content team dedicates so much time and effort to creating endless articles, videos, and posts all about the best products to dropship to save you time and help you stay ahead of your competitors.
This article presents over ten hot dropshipping products to sell in your dropshipping store for October 2021. You will find evergreen products that you can sell all year round, along with current hot and trending items.
Top 10 Trending Products To Sell In October 2021
Before we get started, since this article is for October, we couldn't help but mention Halloween. Halloween is a substantial Q4 holiday, so if you haven't yet added any Halloween products to your store, now is the time!
If you have started add Halloween products to your dropshipping store but need help finding even more great products, then our Halloween products article is just a click away.
And now, without further ado, here are the top ten products to sell in October 2021. 
1. Makeup Kits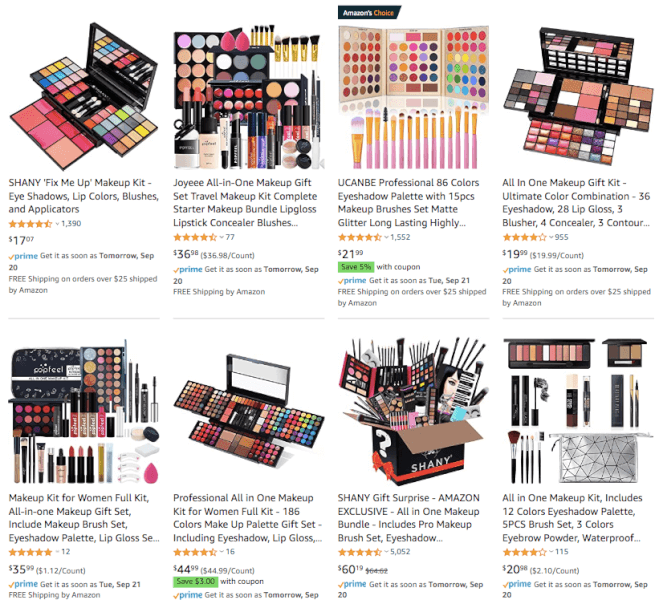 As first on our list, we have makeup kits. These fun bundles come with various fun products and are an appealing choice for a broad audience.
From young new makeup enthusiasts to makeup artists on the go, makeup kits have become very popular as they include a nice mix of products for a relatively low price.
Additionally, there are various makeup kits available, so be sure to offer your buyers a selection. They are split into categories according to size and product types.
Some kits are made up of eyeshadows and eye makeup brushes; others may be revolving around lip glosses and lipsticks. Then there are the holy-grails of makeup kits, the all-in-one for a complete makeup look.
Add a few of each variation to see which works best and optimize accordingly.
Makeup Bags (Bonus Product)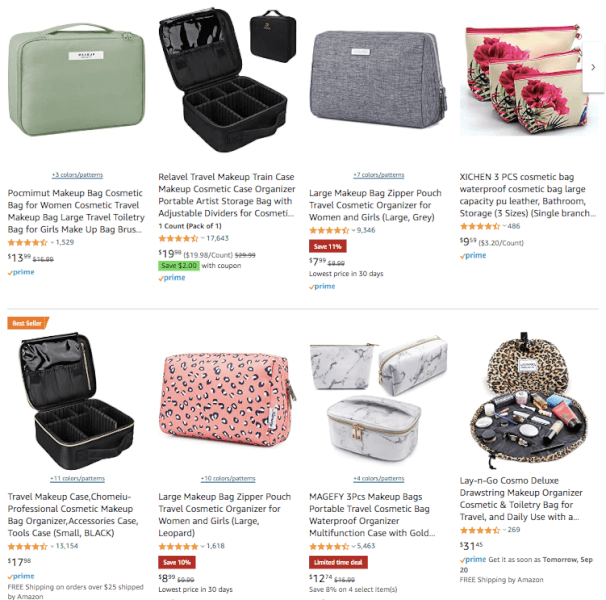 To go along with makeup kits, we have makeup bags. Many who buy makeup kits will need a storage solution or might want a different travel case than the one included in the kit.
Besides being an excellent up-sell item, any makeup user knows the benefits of having a makeup case/bag to organize their makeup for home use or while on the road.
Makeup bags come in many shapes, sizes, colors, and patterns. Import multiple options to make the most of this item in October or in the months to come.
2. Satin Pillowcases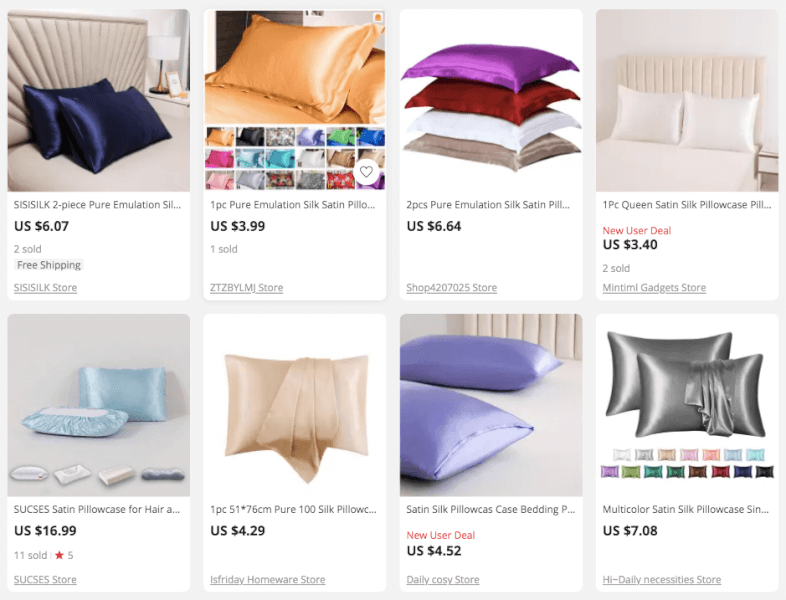 Next on our list of hot October dropshipping products, we have these lovely sleek satin pillowcases. This is a perfect example of an evergreen product. Satin has been popular for years and continues to be a great cheaper alternative for those looking for a silk look-alike.
Additionally, satin is meant to be especially great for anyone with long hair, as the silk-like fabric doesn't tug and pull on delicate strands. Furthermore, since it is not as drying as cotton, this will be the better choice for anyone with dry skin.
When adding satin pillowcases to your store, focus on colors, sizes, and different price ranges. You can also bank a nice profit margin from value-pack deals, so try multiple suppliers to see which is best to use for this product.
3. Insulated Lunch Box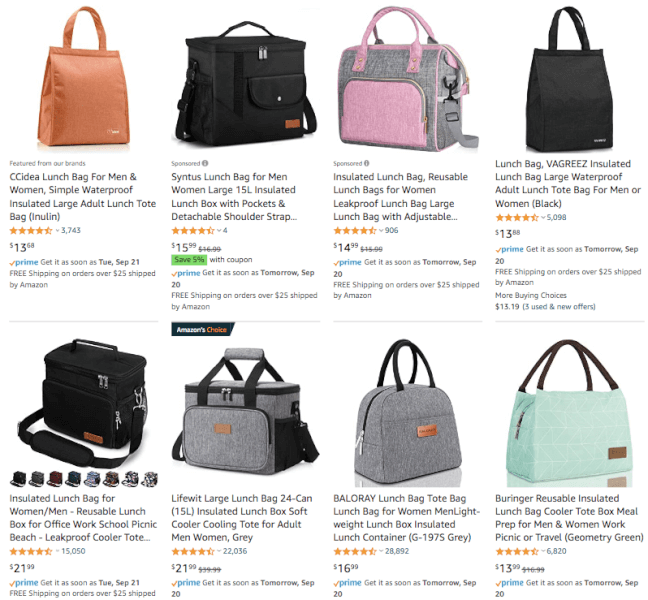 As our third product, we have insulated lunch boxes. This is a great "back to school" item for kids.
Although the school year begins in September, parents are still shopping for everyday supplies and other accessories their kids might need.
Lunch boxes are a basic necessity, and although more in demand now, they can still be sold throughout the year as they are not just for kids or students.
Additionally, they can come in handy on road trips, hiking and camping trips, and other activities. As always, add a nice mix of colors, patterns, sizes, and shapes to offer something for everyone.
4. Bamboo Bed Sheets
For our fourth product, we make our way back to the bedroom. Since we have pillowcases, let's add a hot and trendy choice for bed sheets.
The evergreen bamboo bed sheets are known to be super soft, more comfortable, breathable, and better for the environment. It is also said they last longer as they don't wear out as quickly in the laundry.
These have been turning heads for a while and continue to be making significant sales, therefore making them a great choice for October as well as the later months of the year. Add different colors and sizes to rake in big profits.
5. Music Stands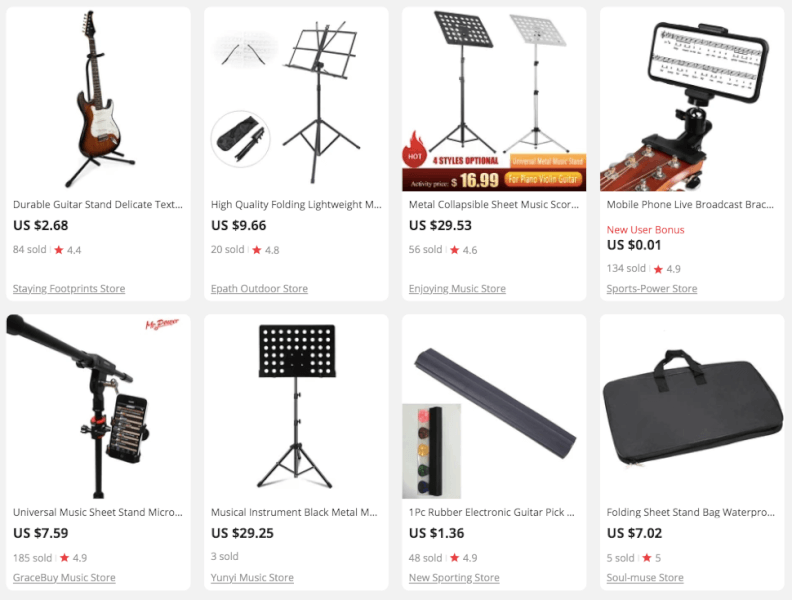 Next on our list, we have another evergreen product, music stands. Since there are many different music stand types, we chose the two best-selling ones to share with you. 
Music Sheet Stands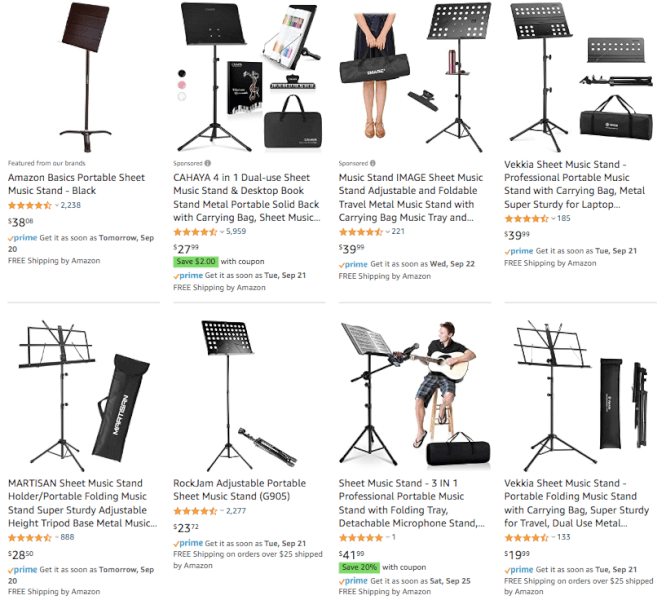 Musicians of all sorts can use the first type of music stand since they are specifically designed for music sheets. For anyone reading music note sheets whether, for singing, guitar, violin, or any other instrument, these will be a must-have.
There is a bit of a price range for this product, which means you can offer different price points to buyers and have quite the profit margin potential.
Guitar Stands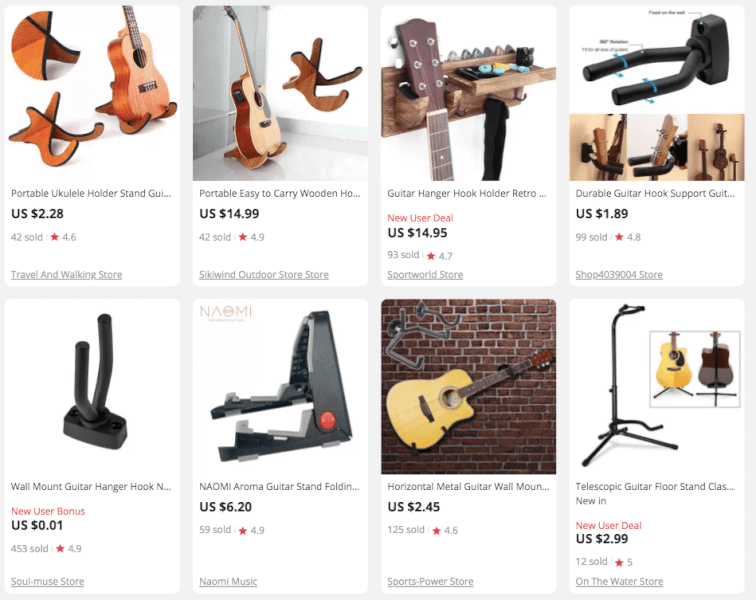 The second best-selling music stand we have is the guitar stand. For beginners or expert guitar shredders, these guitar stands will surely come in handy.
There are a few types of guitar stands, so keep your eye out for the various styles and offer a few of each to your buyers.
6. Canopy Water Weight Bags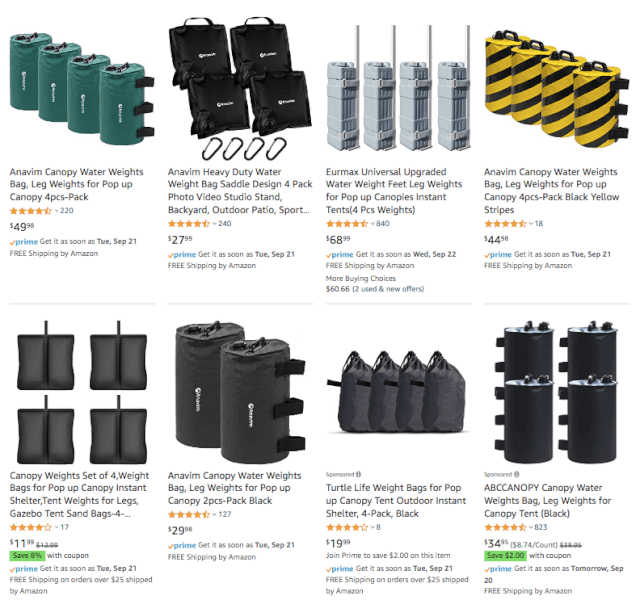 Sixth on our list of hot October products are canopy water weight bags. These water weight bags are specifically designed to be filled with water and act as weights for canopies or tents.
Although October is a bit chillier than the hot summer months, there are still many people traveling and hiking or camping that will need this item.
Notice the different price points for this item and import from different suppliers to get a nice mix of styles and sizes.
7. Dog Harness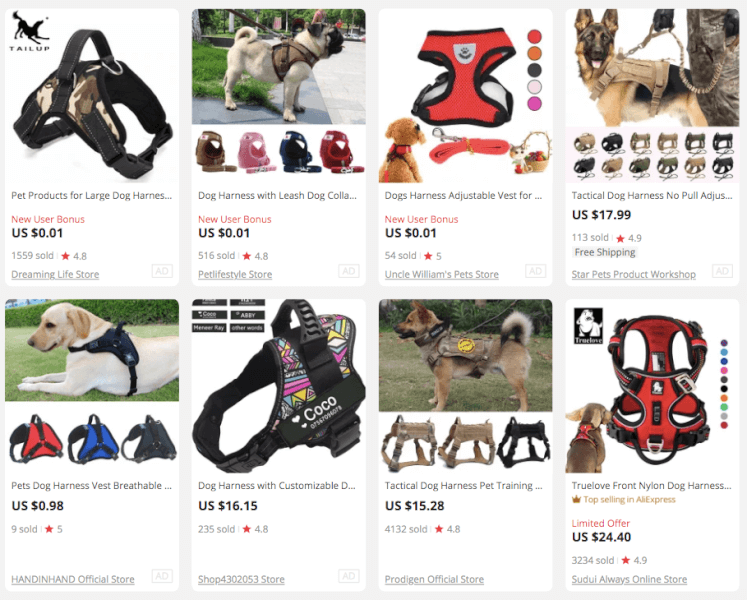 Moving on to our seventh item, we have something for dog lovers. Although standard collars have been the primary go-to for dogs, more and more dog owners are switching to harnesses for their furry babies in recent years.
Additionally, while initially and more commonly used for big dogs, since gaining more popularity, harnesses have become an excellent choice for small breeds as well.
Be sure to add different sizes for different breeds, various color options, and multiple styles to appeal to more customers.
8. Air Mattresses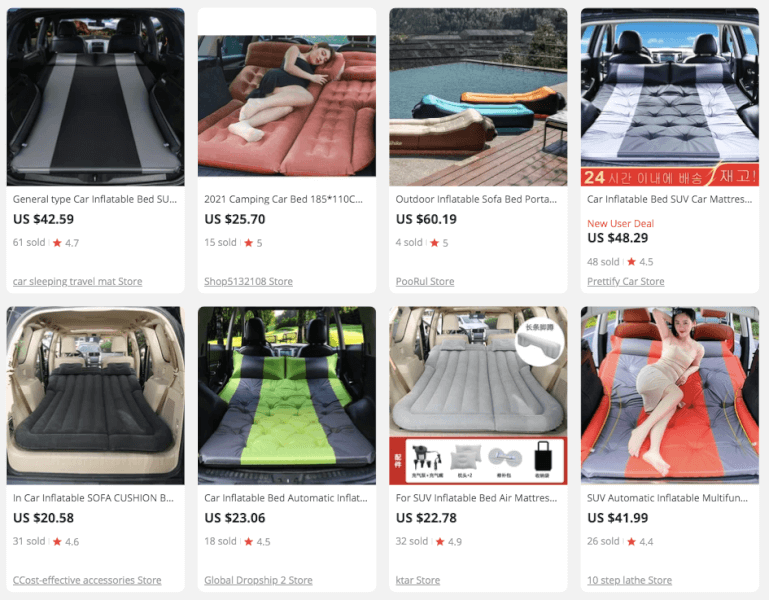 Our eighth hot-selling item is the infamous air mattress. Although technically this is an evergreen item due to its many uses, its sales recently spiked due to the growing trend of van living.
Young travel lovers worldwide, especially from the US, have started ditching their 9-5 jobs, breaking their apartment rental contracts, and embarking on new adventures while living on the road.
This of course just increases sales to this already popular product. Additionally, to make the most of this product, sell different sizes, colors, and designs.
Furthermore, there are blow-up mattresses and inflatable mattresses that come up with pumps, so be sure to notice the different types. Selling these in October and hop on a big current trend.
9. Pepper Spray Keychains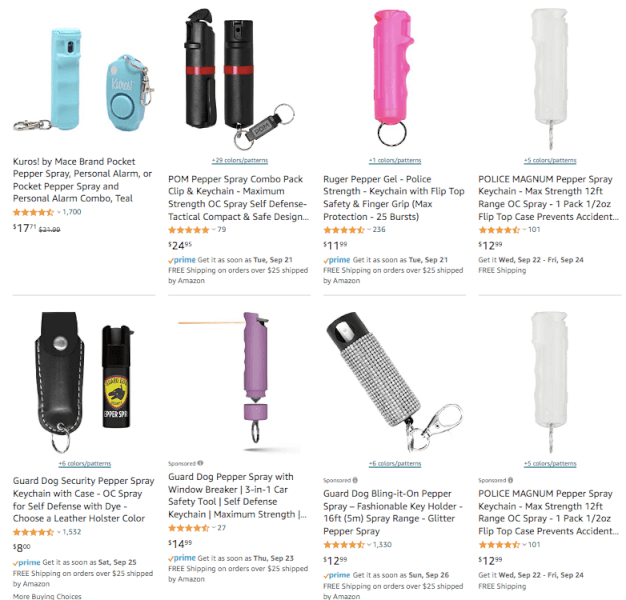 Second to last on our list of trendy October dropshipping products, we have a beneficial and potentially life-saving product. With the unfortunately high levels of crime and violence, you can never be too safe.
Pepper spray keychains give immediate results in emergencies when you have just seconds to react and help buy time to escape danger.
This item, similarly to others on the list, has a wide price range. Prices mainly depend on how much fluid they contain, so offer various options to buyers.
Additionally, there are countless designs and styles. Although this product is for our protection, it doesn't mean it can't look cute.
10. Headlamps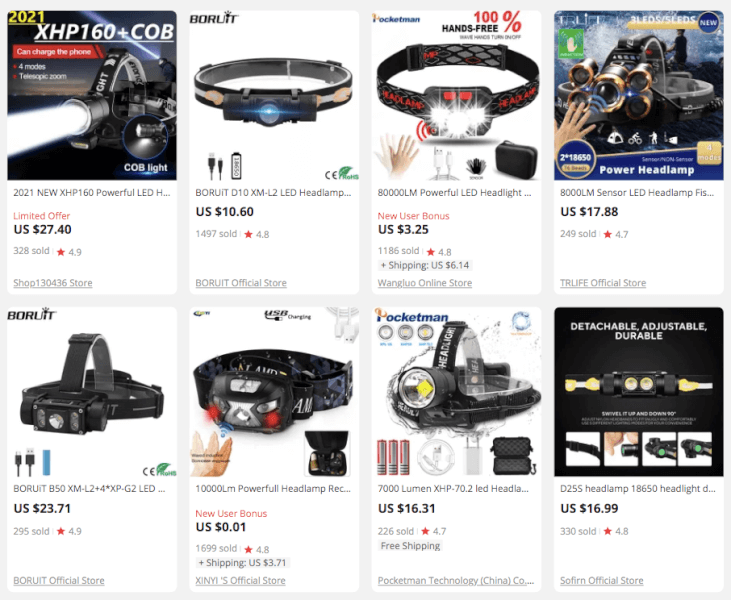 Last but not least, the item to finish off our October best-sellers is the handy dandy headlamp. 
A headlamp or headlight is a light source affixed to the head for outdoor activities at night or in dark conditions.
Common activities include caving, orienteering, hiking, skiing, backpacking, camping, mountaineering, mountain biking, and many more.
This can easily be bought by or as a present for any adrenaline junkie. Additionally, there are differently powered headlamps, so pay close attention to the different options available when selecting the right ones for your dropshipping store.
[post-banner]
Quick & Easy Product Importing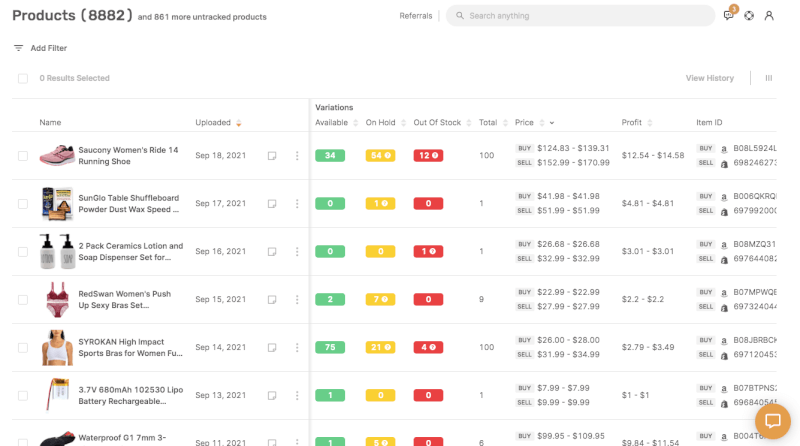 Now that you know which products to start adding, let's show you the fastest way to bulk import products to save you hours of manual work.
AutoDS provides a few different importing methods, one of which is the bulk importing option via CSV file. For this, you will need our AutoDS Helper Chrome extension.
Once you have downloaded our Helper extension, add it to your browser, and head over to your favorite supplier.
Once on our supplier site, search for your desired item. We searched for "dresses".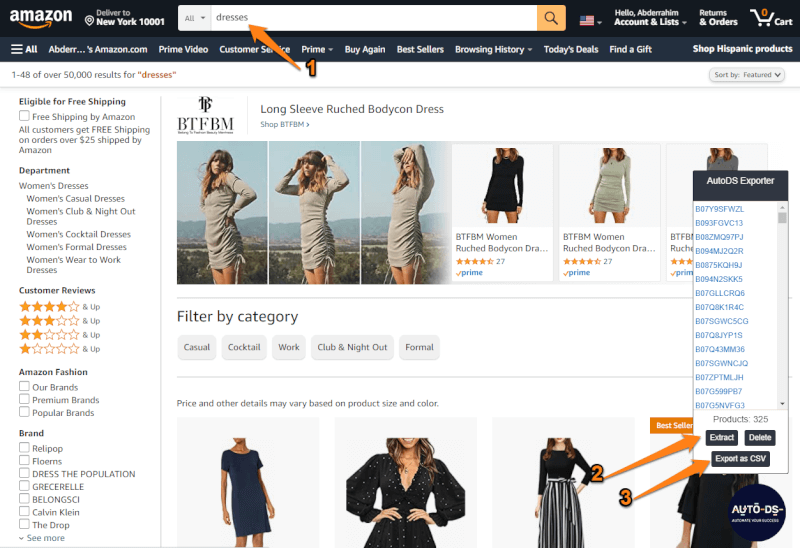 To easily grab all the shown items and create a CSV file to upload and import products directly to your store simply click 'Extract' and then 'Export' as shown above.
That will activate the Helper extension to create and download the CSV file in seconds. From there, go to your AutoDS account and click "Add Products" using the left menu.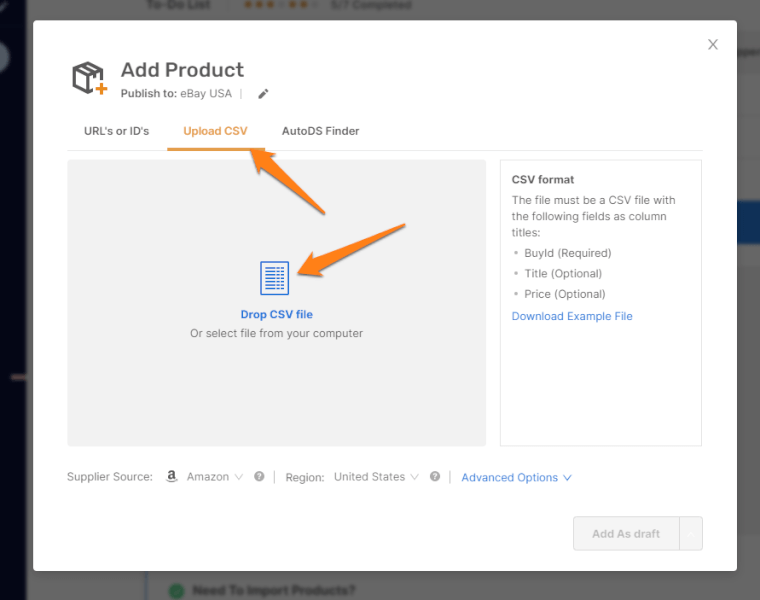 After clicking on "Add Products", our product lister will appear. Click on the second tab "Upload CSV". Drag and drop the CSV file the Helper has created and they will start importing to your account.
Within minutes, your import will be complete. While in action, you can see the status of the import on the top.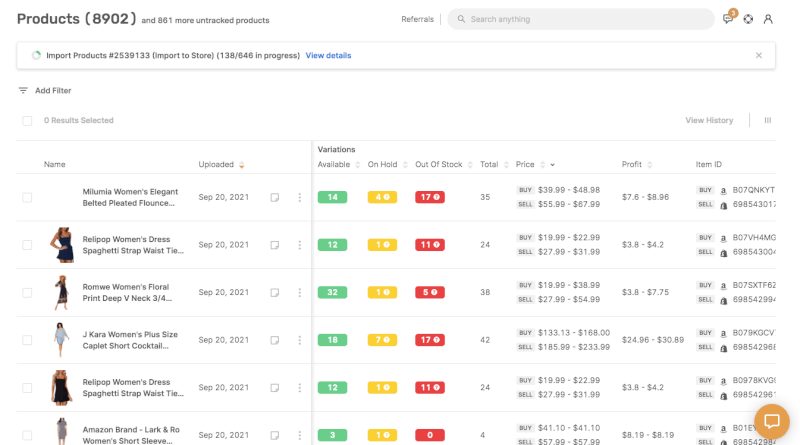 Additionally, our Helper extension provides another method for single product importing through our One-Click Importer feature.
The third option is for both single and bulk imports using product URLs, which is done through the first option on our product lister. 
Conclusion
As always we hope this article has been helpful. We truly do our best to give a wide range of product recommendations so there will be something for everyone.
Whether your dropshipping store is a general store or niche store, we're confident this list has something for you.
Additionally, if you're looking to learn some product-finding methods, check out the product-finding section of our blog. We share various strategies on how to find best-selling items to rake you in major sales.
Furthermore, if you are looking for niche products, we have that too. Here are just some of the many niches we cover: