Do you want to find top trending products to dropship in April 2022? Attracting a large customer base requires us to pick items that are in demand this spring season.
Typically, searching for the best products to sell requires time and effort, regardless of the time of year. However, not every dropshipper has the time or energy for such an undertaking.
That's why this article does the job for us, with a list of the top nine trending products to dropship in April 2022. In the end, we'll know which in-demand dropshipping product ideas will lead to more sales and profits this April.
Top 9 Products To Dropship In April 2022
Before we get to the list of trending products, remember to test the market by adding 15 to 20 dropshipping items per category. By doing this, we can analyze our products' sales performances and separate high-selling ones from slow-movers. Then, we can add similar items to the in-demand products and remove/replace those that fall behind the sales.
Additionally, when listing products in our stores, we must ensure not to sell copyrighted or trademarked products. Brands under this category have Intellectual Property rights; thus, the unauthorized listing of these products can lead to legal sanctions. Concerning property owner's rights, eBay VeRO is a useful page to know what products or brands we must avoid dropshipping, regardless of the selling channel we use.
With that said, let's divert our attention back to the top trending products in April 2022:
Now, starting with the topmost item:
1. Easter Products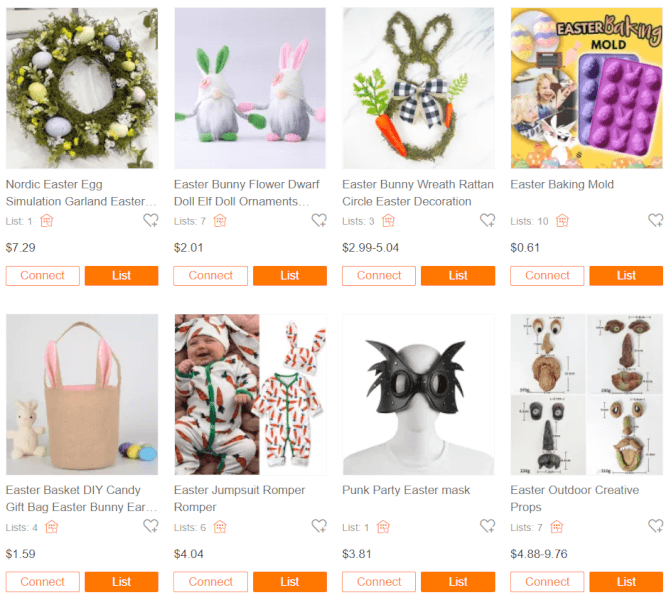 Kicking off the list of trending items in April are Easter products. As we celebrate Easter on the 17th of this month, we must prepare items that add essence to the festivities. Dropshipping such timely products can help us gain more sales and higher profits.
Easter will not be complete without egg hunting. So, make sure to offer colorful Easter eggs containing unique gifts. Also, you can list outdoor Easter inflatables that come in different designs and sizes.
Another product idea for Easter is a yard sign, which plenty of customer put up to add to the holiday atmosphere. Furthermore, the celebration will not be complete without party decorations. Remember to add an array of decors including banners, balloons, toppers, and other enticing Easter accessories.
Beginner's Tip: Attract more buyers by offering party decoration packages that come at bundled pricing.
2. Foldable Tool Bags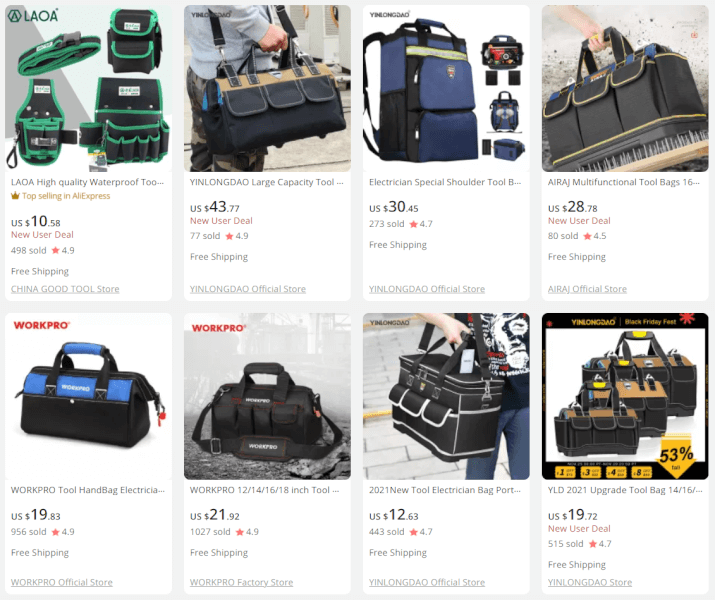 The second product idea on our list is the foldable tool bag. This trending item offers safety and convenience in storing essential tools. Dropshipping this item will attract homebodies and industry workers alike.
We can offer variations of foldable tool bags, including shoulder, tote, backpack, and holdall. Also, these portable products are available in plastic, fabric, canvas, and leather materials. Moreover, we can dropship a selection of tool bags that workers can safely attach to ladders, HVAC, buckets, and more.
Beginner's Tip: Make sure to add specialized portable tool bags designed for plumbers, electricians, and other workers.
3. UV Nail Dryers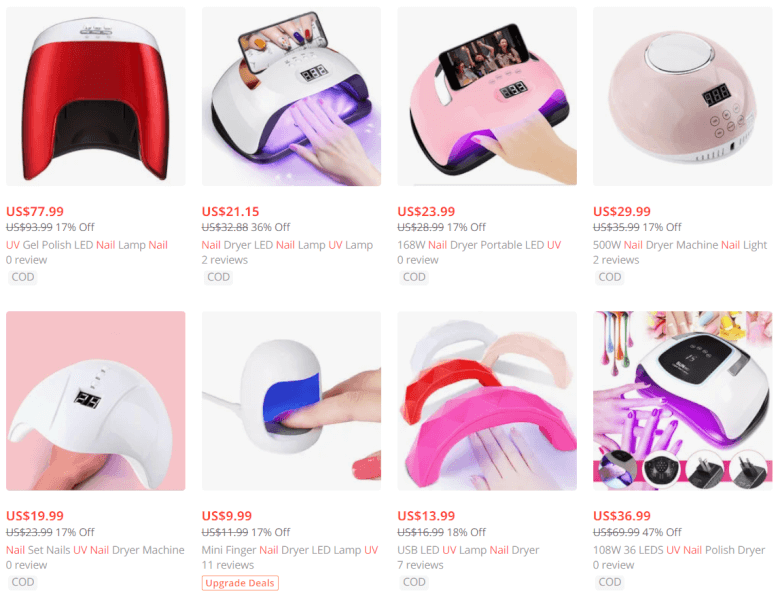 The ultraviolet (UV) nail dyer is the third trending product on this list worth dropshipping in April. UV nail dryers serve to dry or cure acrylic and gel nail polishes.
The dropshipping product comes with lamps or LEDs, so make sure to offer both variations in your store. Additionally, we can sell UV nail dyers with one-touch buttons, timer settings, and automatic shut-off features.
Furthermore, we can list UV nail dryers that vary in size, style, and colors. Finally, allow customers to choose from wireless, rechargeable, battery-powered, and more options from your stores.
4. LED Neon Bar Signs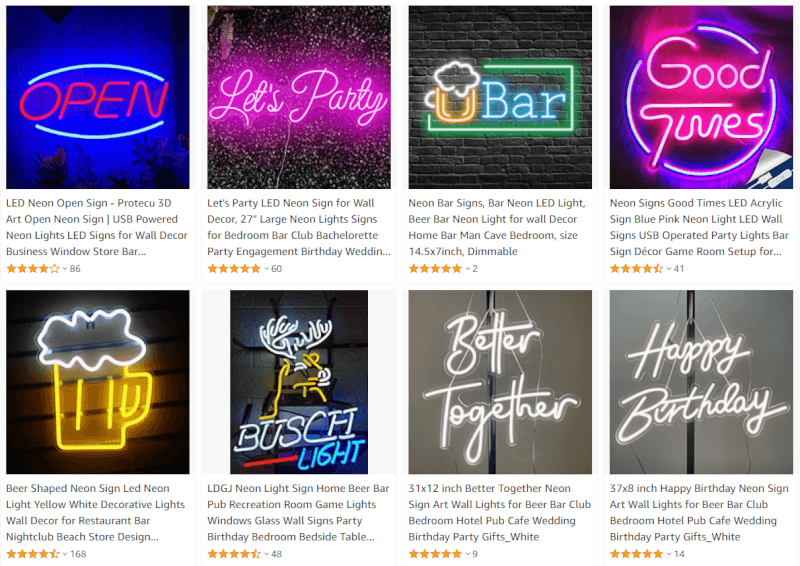 The next top-selling products for April are LED neon bar signs. They can be used as an energy-efficient lighting solution or for artistic and decorative purposes. In addition, these items are especially in demand by business owners as they are convenient and easy to install.
Neon bar signs are available in different sizes and colors. Some variations come with adjustable light intensities or changing colors. So, make sure that you provide these options in your online stores.
Moreover, LED neon bar signs can be customized into various styles. By offering multiple designs, your customers are more likely to find the best fit for them. Lastly, provide options that have varying power capacities and water-proof features.
5. RFID Slim Wallets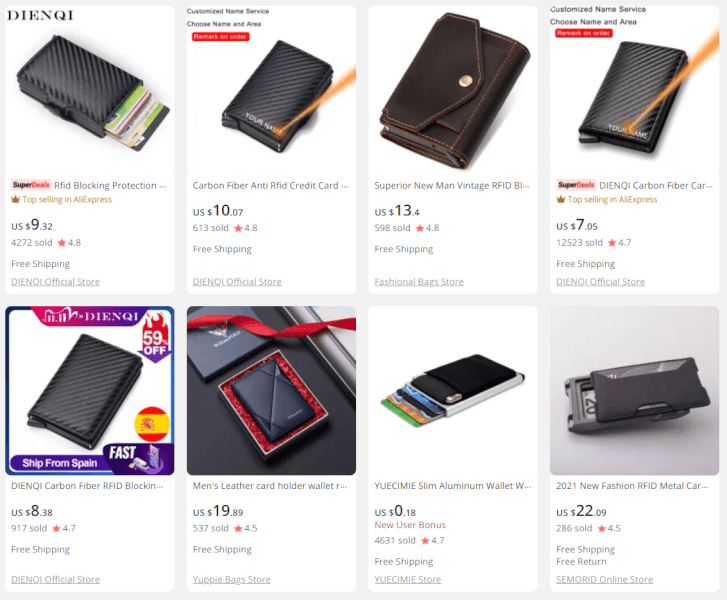 Making it to the fifth spot on our list is the RFID slim wallet. This wallet prevents thieves from stealing confidential information on cards. It does this by using a technology that blocks Radio Frequency Identification skimming devices. Like any wallet, it also helps organize cards and money.
This trending dropshipping product varies in styles, designs, sizes, and colors both for men and women. Also, the product comes in two versions, bi-fold or trifold.
Another feature we can consider when selling RFID slim wallets is material composition. While the most popular choices are those made of leather and metal, we would benefit most by adding a greater variety to our store selection.
Finally, provide options with cash pockets or coin compartments for added functionality.
6. Silicone Tablewear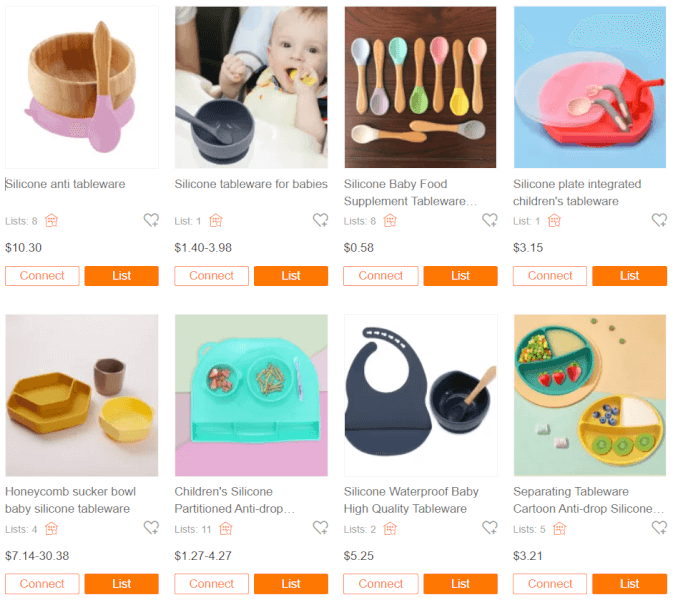 Another set of trending dropshipping products worthy of our attention is silicone tableware. Customers can turn their little ones' meals into a feast with these items. Silicone tableware can include spoons, forks, plates, bowls, cups, and a lot more.
We should offer cool colors, designs, and shapes when selling these items. Additionally, we can provide options that are safe in ovens, microwaves, dishwashers, and freezers. Also, ensure that the variations you offer are BPA-free and food-grade silicone for your customers' safety.
Beginner's Tip: Sell sets of silicone tableware and offer them at bundled prices.
7. Nordic Style LED Wall Lamp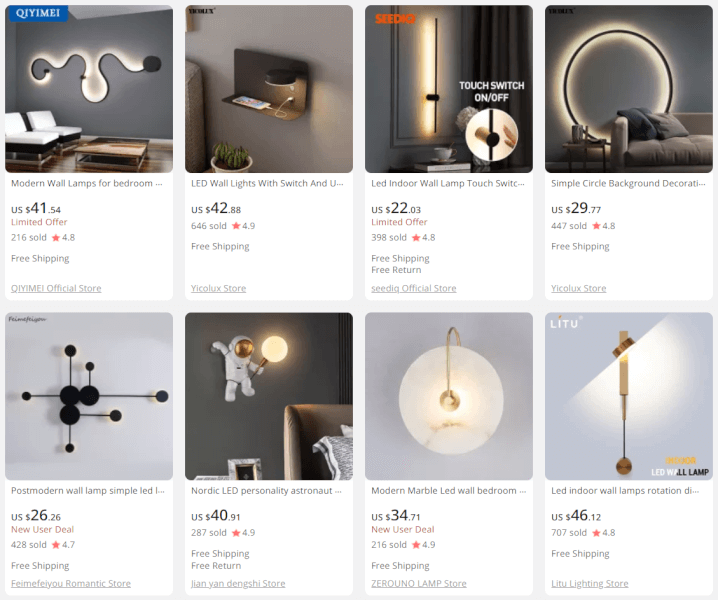 Our seventh dropshipping product is the Nordic style LED wall lamp. This trendy product idea has high market demands because it incorporates function and style. Therefore, dropshipping variations of this product increase the chance of significant sales.
These elegant products come in different Nordic styles, suitable for indoor and outdoor installations. Make sure to add options for both settings in your online stores to capture more audiences.
Nordic style LED wall lamps also come in varying colors and adjustable lights that we can sell. In addition, these lamps are available in materials like metals, ceramics, glass, and more. Consider listing as many of these options as possible to increase the chance of converting sales.
Last but not least, list battery-powered, hard-wired, and plug-in options in your dropshipping store. The type of power source of these lamps gives consumers the idea of a product's portability and mobility.
8. Portable Bag Sealing Machine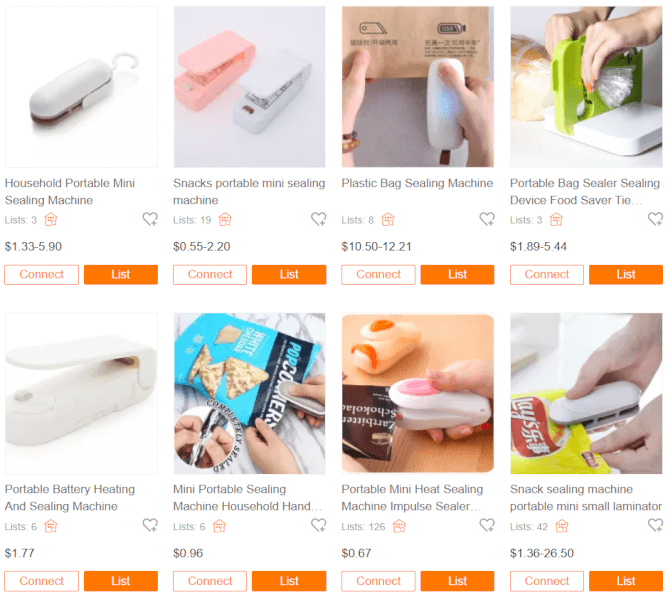 Next up, we have the top-selling portable bag sealing machine. This trending dropshipping product helps customers seal bags filled with food, clothing, accessories, and other contents quickly.
Add different sizes, styles, colors, and designs when dropshipping this product. Also, make sure to offer variations suited to seal plastic, silicone, and other bag materials. Moreover, we can provide choices of battery-operated and rechargeable sealers.
Furthermore, portable bag sealing machines are available as heat sealers, vacuum sealers, and hot air sealers. Therefore, another feature you need to consider when selling this product is the heat capacity and adjustments. The products' heat capacities are essential because they must be high enough to securely and quickly seal containers or bags of any material.
9. Lint Remover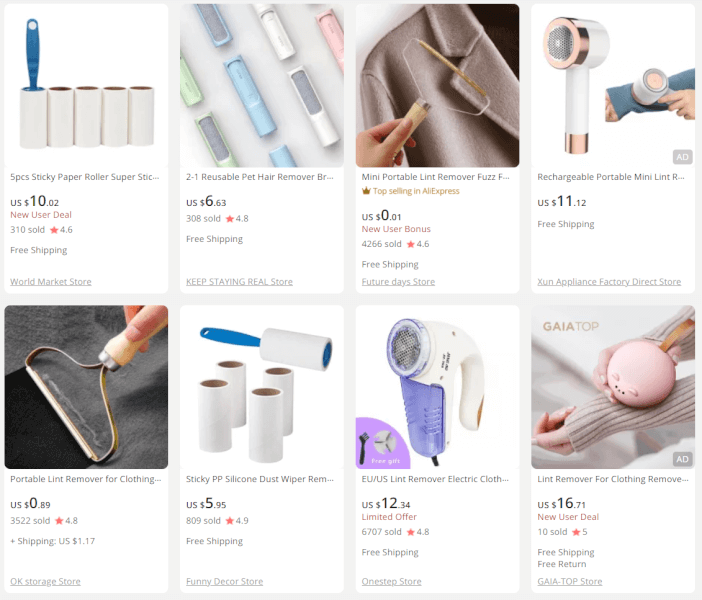 Finishing the list of trending dropshipping items in April is the lint remover. This best-selling item eliminates lint on clothes, upholstery, and fabrics, making them look polished. Due to the quick and easy removal of lint, many consumers purchase this product at all times of the year, including April.
To increase the chance of high sales, provide your customers with choices of both manual and automatic lint removers. Manual lint removers don't require electricity to work, so they are usually cheaper than automatic ones. Additionally, manual lint removers can be in the form of paper on a cardboard or a plastic barrel connected to a spindle, so consider listing both of these options too.
On the other hand, automatic lint removers can do the job faster and smoother than doing it by hand. For automatic ones, you can list options with adjustable razor speeds and blade depths. Also, try and sell rechargeable or battery-powered alternatives to cater to a wider variety of customer preferences.
Beginner's Tip: Sell variants of this dropshipping product that removes lint and serve as a fabric shaver or a sweater defuzzer.
Save Time Importing Trending Products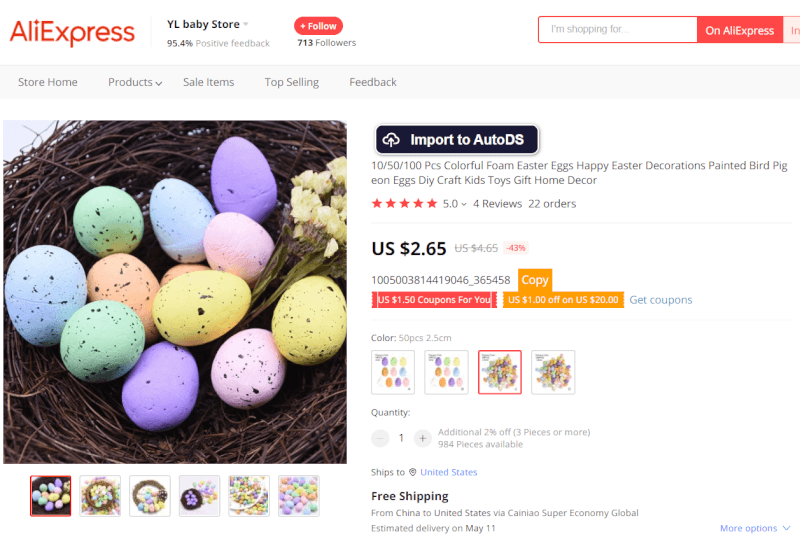 The next step to dropshipping success is to list these top trending products in our online stores. Generally, we can add products to our selling channels manually or automatically.
However, manual importing of products can be a laborious task. In this method, you need to copy a product's details from the supplier's website and input them into your sales platform. To save time and effort, we can adopt the AutoDS' automated product importing methods.
Automatically import products by using any of the following options:
One-click importer 

Single product uploader 

Copying the product URL/ID 

Bulk importer
While all of these methods are excellent, we'll focus on demonstrating the single product uploader. The single product uploader lets us import one item at a time in just a few seconds.
Single Product Uploader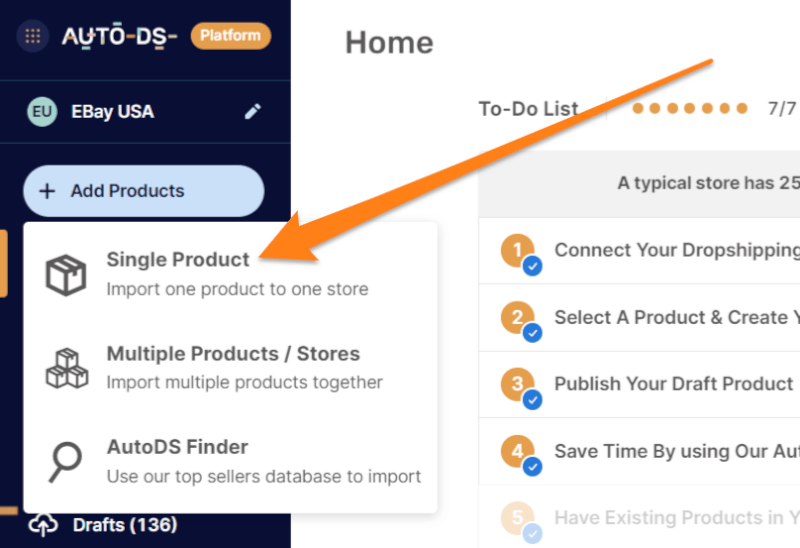 Here is how the single product uploader works:
Start the importing process by copying a product's URL or ID from the supplier page. Then, proceed to the AutoDS platform and click 'Add Products' on the left sidebar.
Select the 'Single Product' option and paste the URL/ID of the product.
Next, click the 'Edit Now (Quick)' button, and a dialog box will appear on the top of the page, signifying that the software is in the process of saving the item's draft. In just a few seconds, the product will be ready for optimization. The optimization process entails setting a product's description, tags, images, and more.
After optimization, click 'Save' to update the item's information. When you're ready to import the product to your selling platform, click 'Save and Import.' Your item now moves to the 'Products' page from being a draft.
Finally, your product becomes live in your online store, and customers can purchase it!
In Conclusion
At last, we now have top trending products to dropship in April. We can start listing these top-selling products in our dropshipping stores and gain high profits.
To discover our next winning products, we can test multiple variations under different categories so that we'll find which items are raking in sales. Then, we can add similar items and multiply our dropshipping profits.
Want to learn more? Master the most effective product finding techniques by exploring these related articles: