Are you searching for the best products to dropship in 2022? With such a vast selection of products in the market, choosing the best items to dropship can be challenging.
While searching for the best dropshipping products, we must understand the market trends and the audiences' needs.
Here, comprehensive product research plays a crucial role in landing our next winning items. With the help of product research, we sell top-selling products that suit our buyers' demands and make our profit.
With that said, this article will guide us in our product-finding adventure and provide us with the 100+ best dropshipping products to sell in 2022. As such, we've curated the best-selling products that will help us rank in more sales and higher profits.
100+ Best Dropshipping Products To Sell In 2022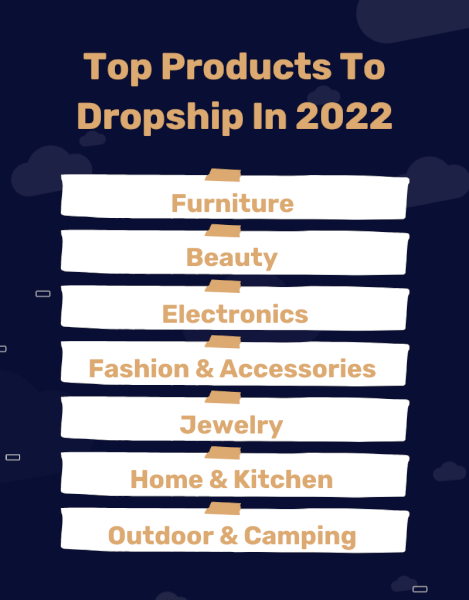 Before we go into our list of the best dropshipping products to sell in 2022, bear in mind to add 20-30 products from each product category. Doing so can help us test and analyze our products and niches until we find our winners.
Moreover, we can source products from multiple dropshipping suppliers. In this way, we'll have more choices as to product variations, shipping times, and other services.
In addition, we must not offer products belonging to copyrighted brands, age-restricted items, or dangerous products. Dropshipping items under these categories, such as weapons, liquors, drugs, and other illegal items, can get our stores suspended.
Now, without further ado, here are the best dropshipping categories in 2022:
Below, we'll explore the top 100+ dropshipping products under each category.
Furniture Dropshipping Products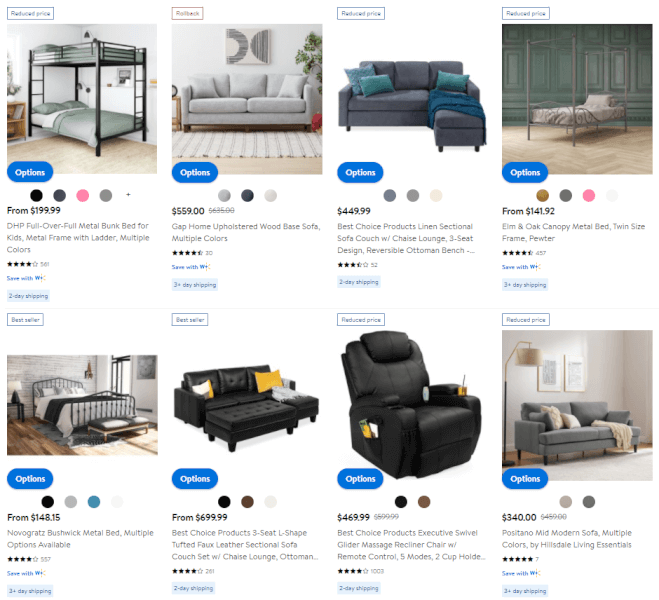 Starting off the list, we have furniture as one of the best categories to dropship. As a high ticket dropshipping category, selling expensive furniture will increase profit margins. Since we're profiting in percentages, the higher the price, the more we profit. Moreover, furniture sets are essential for homes and establishments, so they have high consumer demands all year round.
When adding furniture items to our stores, we must include several types that serve different purposes. We can offer variations of chairs, tables, beds, cabinets, and other furniture must-haves.
Furthermore, we can sell furniture made of high-quality materials like metals, wood, plastic, glass, leather, and more. Also, we can provide stylish options that will suit different room designs. Bear in mind to sell only heavy-duty and tested furniture to ensure your customers are satisfied with their purchase.
Beginner's Tip: Offer furniture in sets, such as a sofa set with a matching center table, to add more value to your products.
Here are the most trending furniture dropshipping ideas to sell now:
Outdoor Patio Furniture Set

Computer Desk

Sofas and Couches

Bookshelves

Office Chairs



Dining Tables

Nightstands

Round Side Table

Kids Storage Table

Bathroom Cabinet
Beauty Dropshipping Products
The second top dropshipping items are beauty products. According to Statista, beauty and personal care contributed 11.38% of the total retail eCommerce sales in the US in 2021. This increasing trend of beauty-related needs in the market makes it a profitable dropshipping category to sell today.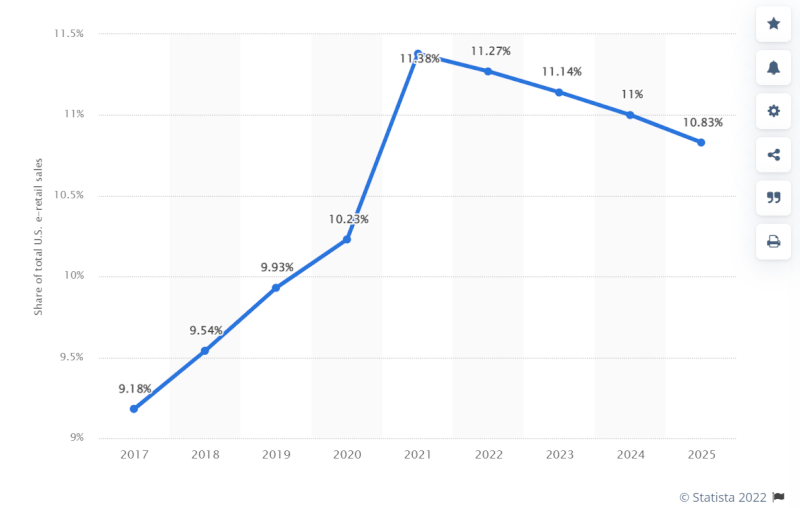 We can offer beauty products in varying designs, colors, and sizes to suit buyers' preferences. Also, we can provide equipment made of silicone, metal, plastic, glass, and other materials.
Additionally, beauty equipment can come in manual or automatic settings. So, make sure to add variations like battery-operated, electricity-powered, Bluetooth-connected, and more.
Beginner's Tip: Since beauty products are usually small and affordable, you can add multiple quantities so that buyers can purchase several at once, increasing our AOV (average order value) and profit.
With that in mind, here's our list of the best beauty products to dropship in 2022:
IPL Hair Removal

Nail Kits

Hot-Air Hair Brushes

Hair Brush Set For Detangling Curly Hair

Hair Extensions

Scalp Massager Shampoo Brush

Makeup Sponge Blender

Makeup Brush/Sponge Cleaners

Makeup Cleaning Mats

Makeup Cleaner Sprays

Electric Makeup Brush Cleaners

Makeup Organizers

Lash Products

Lash Lifting Kits

Lash Extensions

Magnetic Lashes

Makeup Mirrors

Facial Steamer

Black Head Remover

Black Head Remover Tool Kit

Black Head Remover Vacuum

Cosmetic Display Cases

Hair Drying Hair Brush
Electronic Dropshipping Products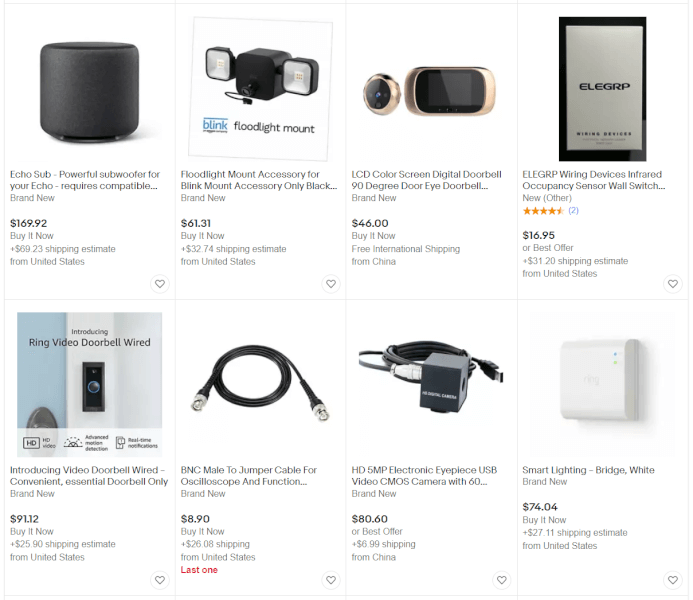 Our next top-selling dropshipping category is electronics. According to The Business Research Company, the electronics market is expected to reach 1,653.2 billion USD in global sales come 2025. With this figure, electronic products can lead to substantial sales in the eCommerce industry.
When selling electronic products, we must consider the portability, capacity, connectivity, and installation of these items. For instance, we can offer wireless, battery-operated, chargeable, and other options. Also, we can add electronic items with different storage capacities and power requirements.
Moreover, it's also a plus when electronic products can connect with other gadgets for added functionality. For instance, some security cameras connect with mobile phones so that customers can monitor their homes from anywhere in the world. Finally, we can provide buyers with an assortment of colors, styles, sizes, and more.
Beginner's Tip: Remember that when dropshipping electronic products, you can include accessories like protective coverings, gadget bags, and other add-ons.
Here are the leading electronics that made it to our list for 2022:
True Wireless Earbuds

Selfie Ring Light

Portable Bluetooth Speaker

Webcams

Tablet Replacement Parts

Accessories For iPhone 13/Pro/Max

Protective Cases

Screen Protectors

Front/Rear Dual Dash Cams (Cars)

Two-Way Walkie Talkie Radio

Surveillance Video Equipment 

Drawing Tablets

Condenser Microphones (Podcasts)

USB Wall Charger Surge Protector
Fashion & Accessories Dropshipping Products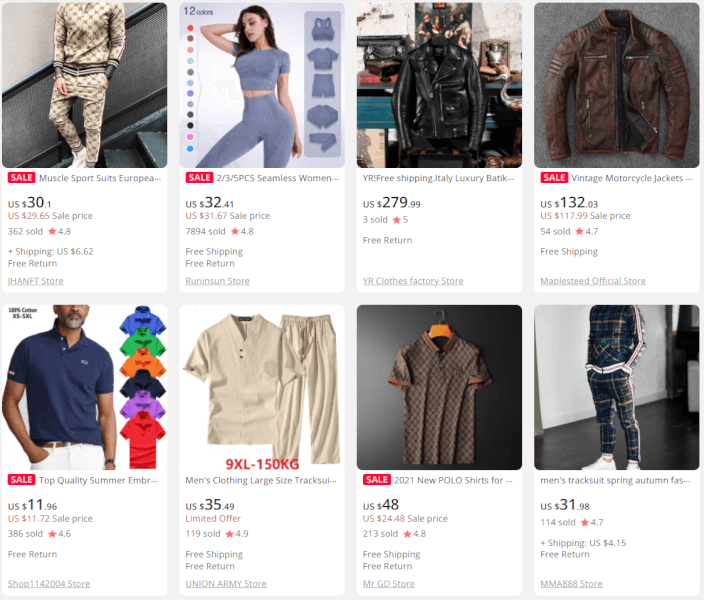 Fashion and accessories is the fourth dropshipping category worth adding to our online stores. As reported by Statista, the fashion industry is anticipated to achieve 987,065 million USD in eCommerce sales by the end of 2022. Thus, the growing trend in the fashion sector can be related to the market's demands for trendy clothing and accessories.
Now, we can sell fashion items and accessories suitable for males, females, children, and adults. In addition, we can offer styles for all occasions, such as formal suits, home wear, beach outfits, party trends, and a lot more.
Of course, we should consider different materials, such as cotton, denim, satin, leather, and other fabrics. Lastly, remember to add options with different colors, sizes, prints, and designs.
Beginner's Tip: You can offer suggestions of complementing clothes and accessories so that customers can purchase these items together.
To top it off, the fashion and accessories category wouldn't be complete without these top-notch dropshipping products:
Women's Clothing

Bralettes

Bodycon Dresses

Oversized Padded Blazers

Wide-Legged Pants

Maxi Dresses

Men's Clothing

Cargo Pants

Slim-Fit Trousers

Denim Jackets

Corduroy Shirts

Floral Shirts

Turtleneck Hoodie

Clothing Accessories

Sunglasses

Retro Sunglasses

Mini "Y2K" Sunglasses

Mini Purses

Cufflinks

Bucket Hats

Fanny Packs (Pouch Bag)

Clothes Storage Bag Organizer

Makeup Kits

Heated Socks

Clothes Steamer
Jewelry Dropshipping Products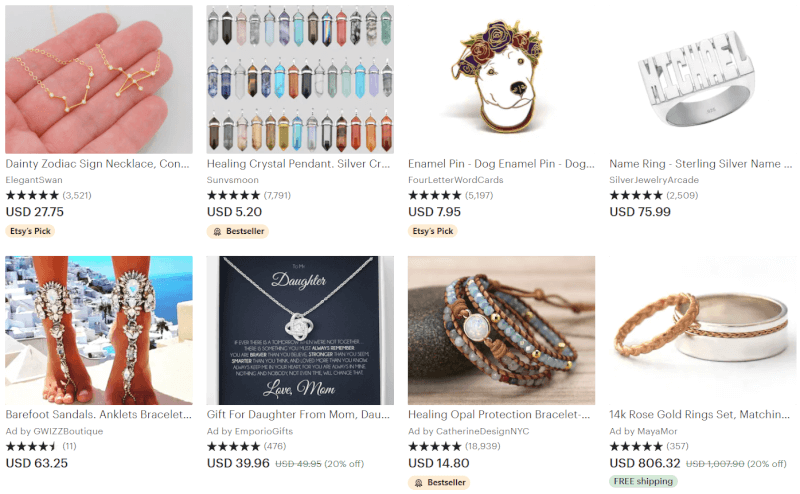 Another top product idea to dropship is jewelry. As luxury items, jewelry pieces belong to an astounding billion-dollar market worldwide. This category includes high-quality and top-selling premium dropshipping items that can bring significant profits to your business.
When listing jewelry products, add choices of silver, gold, bronze, and other materials. Also, we can offer colorful attributes like stones, gems, crystals, and other features that make our products more attractive.
In addition, we can offer different designs, lengths, sizes, and styles that suit different ages and genders. Also, we can sell stainless, durable, and customized jewelry pieces.
Beginner's Tip: You can upsell through gift ideas like matching earrings and necklaces or coordinating bracelets and watches.
Here are the in-demand jewelry pieces that you need to add to your dropshipping store:
Tree Of Life Necklace

Bridal Jewelry Sets

Chain Jewelry

Chain Necklaces

Chain Bracelets

DIY Chains

Boho Dangle Earrings

Cross Jewelry

Chakra Bracelet

Angel Wing Necklace

Teardrop Earrings

Choker Necklace

Jewelry Storage

Jewelry Trays

Jewelry Boxes
Home & Kitchen Dropshipping Products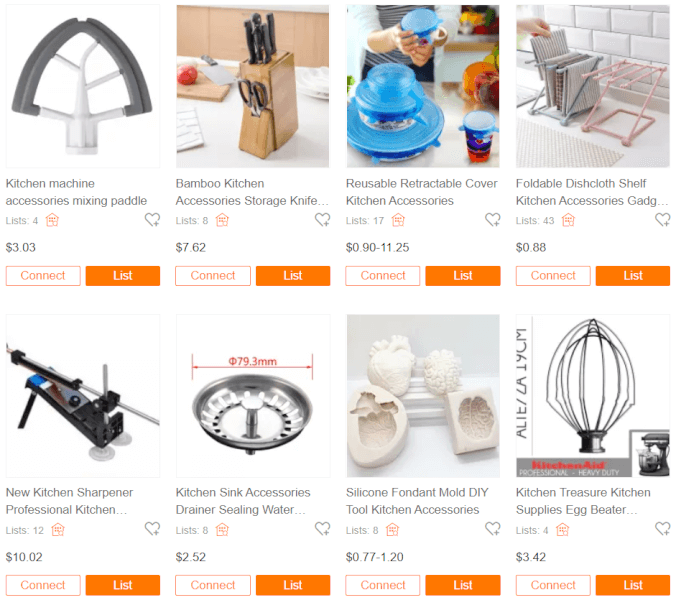 Another high-selling product category to dropship is home and kitchen. The home and kitchen section is an evergreen category, meaning that customers purchase items from this product line regardless of the time of the year. Therefore, we can choose from a vast selection of home and kitchen products and gain huge sales from the home and kitchen niche.
The home and kitchen dropshipping product category is vast. So, make sure to include a wide selection of living room, bedroom, bathroom, kitchen, and other home needs. Also, consider offering alternatives like color, style, and design variations that fit different room areas or interiors.
Furthermore, we can consider home and kitchen goods that are portable and adjustable to suit different living conditions. We can add wireless, battery-powered, rechargeable, or power-connected options for home equipment.
Beginner's Tip: You can sell home and kitchen items in bundled packages at discounted rates, like a set of spoons, forks, plates, bowls, and cups in one.
Start dropshipping these top-tier home and kitchen products and gain significant profits this year:
Satin Pillowcases

Waterproof Mattress Protector

Insulated Lunch Box

Bamboo Bed Sheets

Standing Desk Converter

Pot Rack Organizers

Heated Throw Blanket

Umbrella Holder/Stand

Coffee Pod Carousel

Portable Heaters

Waterproof Food Thermometers

Food Kitchen Scales

Dish Drying Rack

Wall-mounted Mop/Broom Holder

Spin Mop & Bucket Set

Vanity Mirror Lights

Cooling Elevated Pet Bed

Bamboo Drawer Organizer

Punching Bag For Kids

Nursing Pillow

Baby Bottle Drying Rack

Electric Tools Sets

Door Stopper Wall Protector

Mesh Popup Laundry Hamper

Paint Brush Set

DIY Craft Kits & Craft Accessories

DIY Snow Globe Making Kit

Acrylic Paint Pen Kits

Water Filters

Guitar Stands

Rechargeable Book Light

Cable Sleeves

Stickers For Water Bottles

Fingertip Pulse Oximeter
Outdoor & Camping Dropshipping Products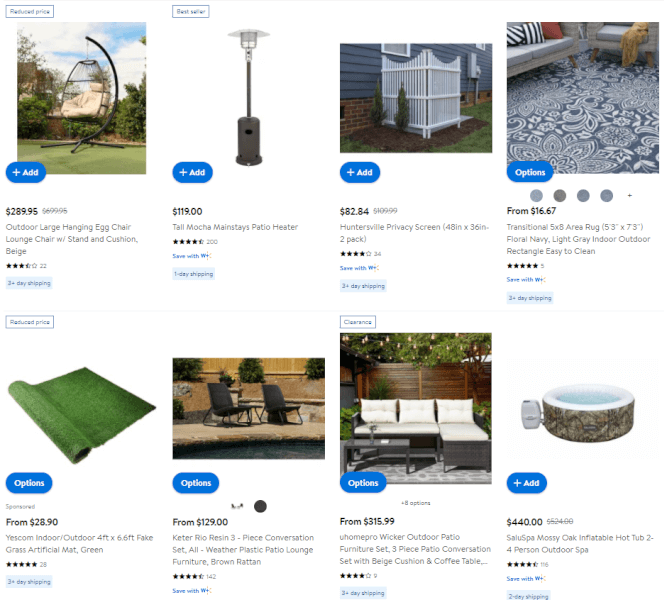 To end off our best dropshipping products list, we have outdoor and camping necessities. Whatever season we are in, people take part in different outdoor activities in their backyard, at parks, along rivers, in the mountains, and just about anywhere. So, dropshipping trending products under the outdoor and camping category will surely attract customers to your store.
We can sell multiple variations of gears, tools, and equipment from the outdoor and camping dropshipping category. Make sure to add a wide selection of colors, designs, styles, and sizes to accommodate varying buyers' preferences.
Moreover, since these items are utilized outdoors, consider offering portable and compact options for convenience. To attract customers, we can add rechargeable, battery-operated, and other relevant choices. Additionally, we can list outdoor items made of weatherproof materials to protect against environmental conditions.
Lastly, this niche is perfect for the warmer months, so remember to optimize your summer dropshipping products and align it with outdoor and camping necessities. 
Beginner's Tip: Add specialty items that specifically suit activities, such as cycling, mountaineering, camping, swimming, and more.
Here are our carefully-picked outdoor and camping dropshipping products in 2022:
Outdoor Curtains

Reverse Umbrellas

Canopy Water Weight Bags

Dog Harness

Air Mattresses

Pepper Spray Keychains

Headlamps

Portable Baby Changing Pads

Digital Tire Inflator

Artificial Grass Puppy Pad

Snow Rakes

Portable Toilet

Camping Utensils
Conclusion
And that's a wrap! We now have the 100 best dropshipping product ideas in 2022 to sell in our dropshipping stores. You can now start listing these top-selling items to your selling platforms and start profiting well this year.
Remember to monitor how each product performs and add similar items to those that sell fast. By doing so, we can multiply our success and scale our dropshipping business. 
Furthermore, expand your dropshipping store's product selection by getting more ideas on what trending items to sell by exploring AutoDS' Hottest Dropshipping Products.
And, in order to take full advantage of dropshipping and boost profits, check out the following article: