Looking for trending February dropshipping products to sell in 2022? Whether you want to save some time or effort, we got you covered.
With a wide selection available, it can be challenging to decide which products have the most potential to sell in our store. We need to know about the latest trends to find the best products to ease this process.
Therefore, this article will go over 11 top dropshipping products that are on an upwards trend for February 2022. By the end, you'll be ready to make more sales this February!
Top 11 Trending Products To Dropship In February 2022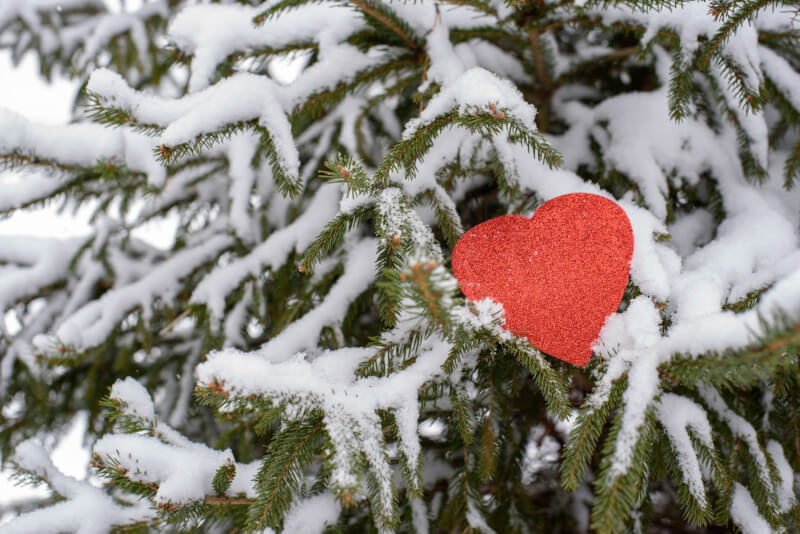 Before we dive right into the list of top products, we should keep in mind to add 10 to 15 items from each product category below to get the desired results. The more products we test, the more likely we will find our next winners.
With that being said, here are some of the best products to dropship this February:
Let's discuss why each of them has the potential to increase our sales:
    1. Electric Tools Sets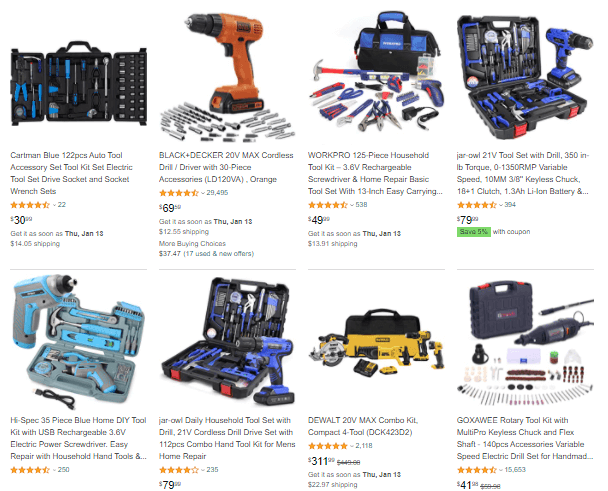 First on our list of top February products is Electric Tools Set, a multipurpose home improvement tool. It consists of power tool accessories that are used in home improvement projects.
The typical components of electric tools sets include drills, level, saws, sander, screwdrivers, wrench box, and flashlight. The best part about the Electric Tools Sets is their multi-built characteristics that can help you do various jobs in a few days.
As electric tools are high ticket products, we can list a wider variety for a higher price range. As a result, this can help us achieve higher profit margins.
Therefore, we need reliable suppliers with proven track records to ensure we always sell high-quality toolsets. Regarding reliability, AutoDS has over 25 suppliers to source quality products.
    2. USB Wall Charger Surge Protector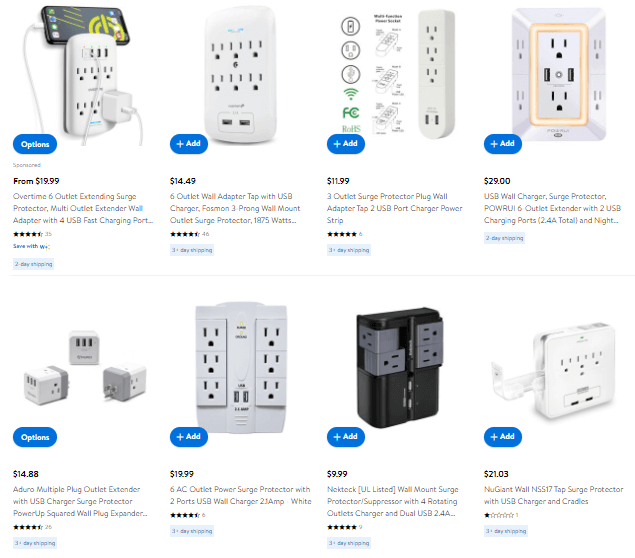 Second, on our list of February dropshipping products is USB Wall Charger Surge Protector. Having an electronic device plugged into the wall socket that experiences frequent surges can ruin our device.
We can avoid this with the USB Wall Charger Surge Protector, which protects our devices and electronics from electric surges and brief overvoltage spikes.
Additionally, they all have a combination of regular outlets and USB outlets in one piece, and the product is super convenient.
Recently, many suppliers have been selling this product, and most customers who bought it are delighted with their purchase. With this level of satisfaction, it is easy for you to get your first sale immediately.
While many look similar, they differ in terms of reliability and convenience.  Here are some features to help you differentiate before you list them:
Number of ports

Space between charging sockets
    3. Cooling Elevated Pet Bed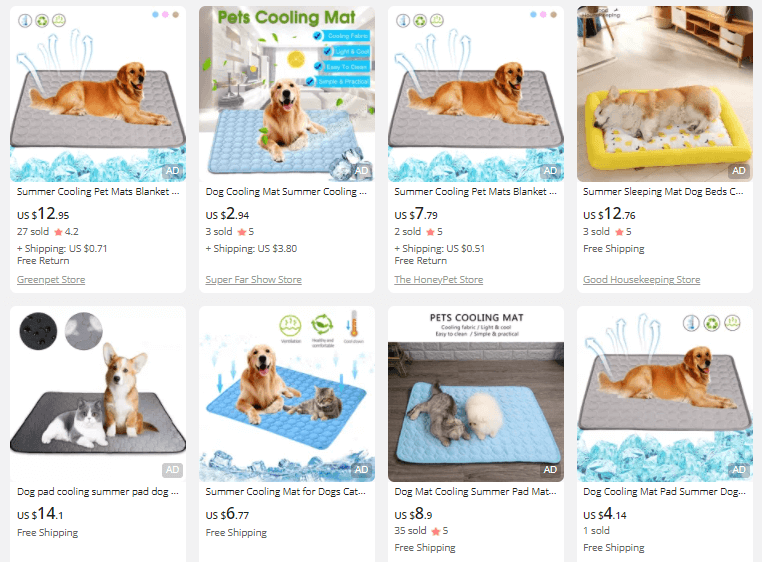 Moving on to our third item, we have a Cooling Elevated Pet Bed for our furry friends. This product is an excellent buy for pet owners, not just a comfortable bed for pets. They also cool down your pets from a hot summer's day.
Dogs and cats alike feel uncomfortably warm during the hot seasons. To solve this issue, Cooling Elevated Pet Bed works as a 2 in 1 product. On the one hand, it combines the comfort of a raised pet mat. On the other, it has cooling properties to soothe our pets.
Always make sure to add different sizes and color options to the customers. Since pets come in different sizes, it is necessary to provide various options to choose from accordingly.
    4. Nursing Pillow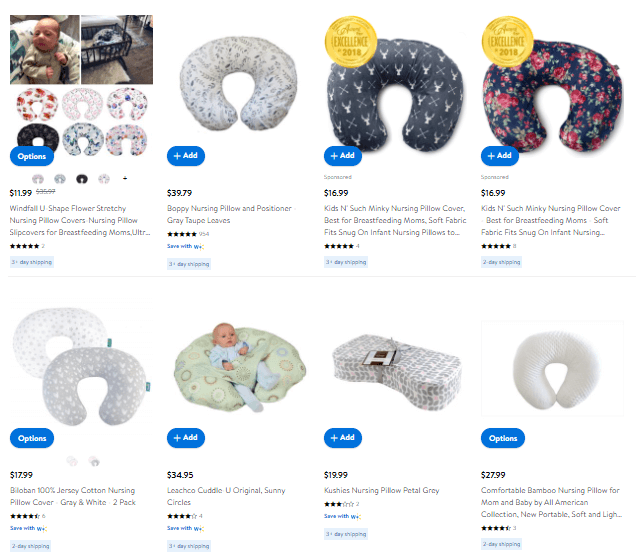 Fourth on our list of top products for February is Nursing Pillows. Since babies need support while being fed, nursing pillows make positioning the baby more accessible and comfortable.
A nursing pillow is made with a contour shape that supports the baby's head, neck, back, and tummy. In addition, it allows the baby to stay close and secure while you are free to do other things.
Be on the lookout for different shapes, sizes, and materials to make nursing pillows. Listing as much variety as possible attracts a wide variety of customers.
    5. Door Stopper Wall Protector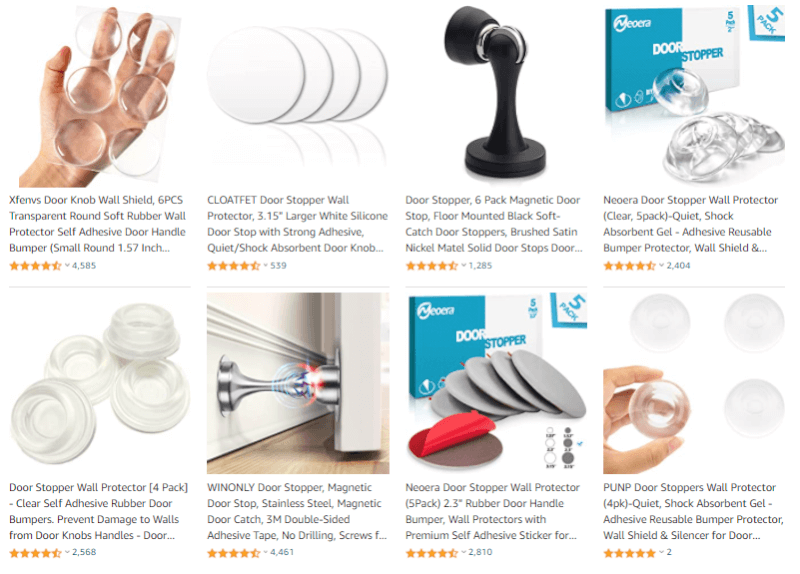 Next on our list, we have Door Stopper/Wall Protectors. No one would like their walls or doors damaged because of their frequent use? Door stoppers are excellent and easy-to-use products that protect our walls from regular wear and tear.
Door stoppers are a great product to sell online. They're small and light, which means they provide a shallow risk of breakage and can be shipped cheaply.
What's also great about them is we can sell them in multiple colors and varieties. That's because people who buy them tend to buy more than one product as they have multiple doors in their homes.
    6. Snow Rakes
Sixth on our list, we have Snow Rakes, a seasonal product to remove snow from rooftops and driveways. As much as it's beautiful to see everything covered in snow, we need snow rakes to keep our territory clean.
The wind always seems to blow just when you need a little help moving it on the lawn, or your snow blower seems to break down on the worst day of the year. With snow rakes, you'll be able to clear and remove snow in no time.
Be sure to add manual snow rake and electric snow rake. While manual snow rakes are cheaper, electric snow rakes are efficient. There's always something for us to sell with variety to offer our buyers.
    7. Waterproof Food Thermometers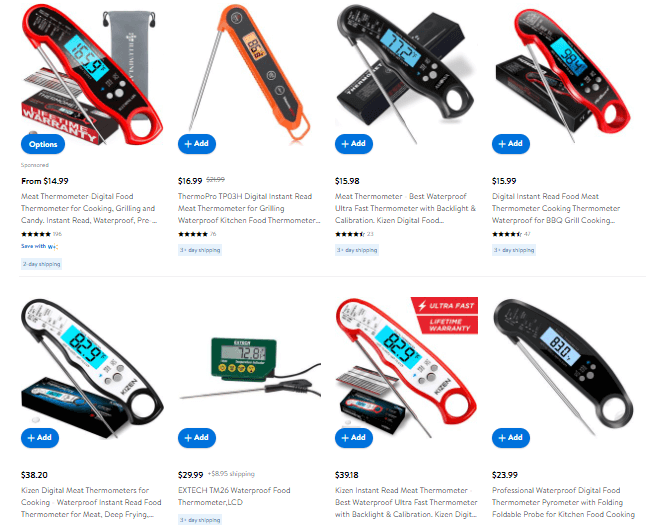 Have you ever been unsure of the correct temperature for food when you cook? Was it too hot or too cold? Now you can find out with Waterproof Digital Cooking Thermometer, a simple yet incredibly accurate product to measure temperature.
A good food thermometer, when used correctly, can be a valuable addition to any kitchen. Similarly, the Waterproof Food Thermometer will not just tell you the temperature of your grilled food but keep your hands safe from heat as well.
In addition, we can list a variety of Waterproof food thermometers that are available according to a range of foods, including meat, vegetables, and cake mixes. In addition, some thermometers have a large display, while some have a buzzer to alert us.
    8. Digital Indoor Thermometers/Hygrometers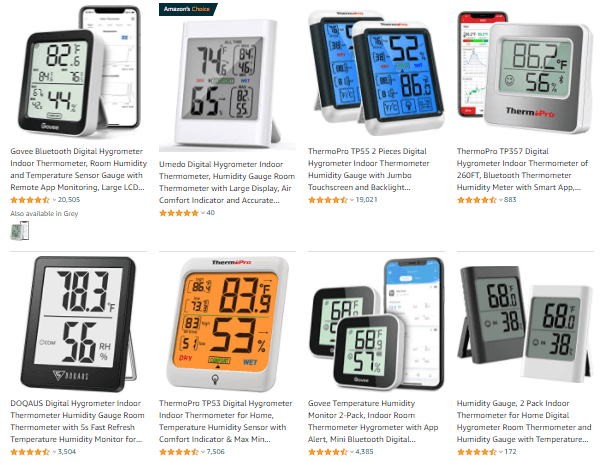 A Digital Indoor Thermometer is an easy way to keep track of your home's temperature, and they also act as a Hygrometer. A Hygrometer measures the humidity levels in a room.
Thanks to their LCD panels, they are easy to use, read, and show the actual temperature in both Celsius and Fahrenheit.
In addition to its importance, the Digital Indoor Thermometer is an evergreen product that sells all year round. More importantly, they are a medium ticket product, which means we can make considerable profits selling them.
    9. Food Kitchen Scales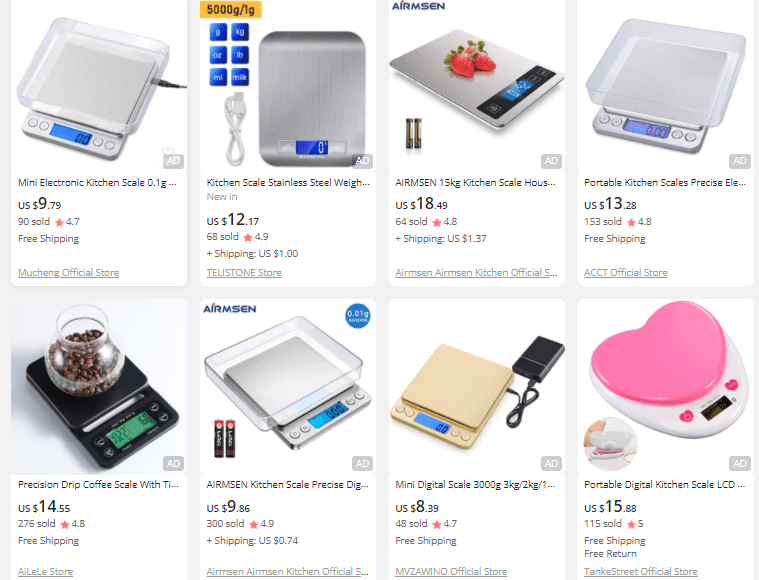 When it comes to cooking and baking, kitchen scales can improve our skills by helping us measure ingredients correctly. Food Kitchen Scales are a must-have for any keen home cook or budding Gordon Ramsay wannabe.
Whether measuring ingredients accurately or dieting and counting calories, food and kitchen scales are essential to the modern kitchen.
Furthermore, Food Kitchen scales are an inexpensive product that costs $10-30 and slightly more for additional features. It is ideal for adding regular kitchen scales and those with additional features.
For example, we can list Kitchen scales that pair with mobile apps or show nutritional content. This way, we can differentiate ourselves from the competition and stay unique in the market.
    10. Mesh Popup Laundry Hamper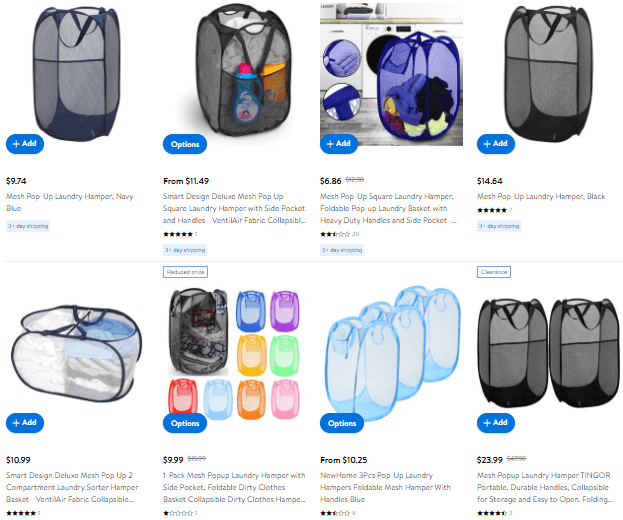 Our eighth hot-selling item is the Mesh Popup Laundry Hamper. Its design makes life easier by keeping the dirty clothes contained and off the floor. Featuring a durable frame, we can use the Mesh Popup Laundry Hamper for years to come.
Despite not having as many reviews as other products from bestseller section products, it has recently broken out in sales. So, list this product to get on the trend early and profit if it takes off in the future.
When adding these laundry bags, try looking for bundle packs of 2 or more instead of singles. This is also an excellent way to increase our average order value (AOV) and profit more when we sell them.
    11. Hair Brush Set For Detangling Curly Hair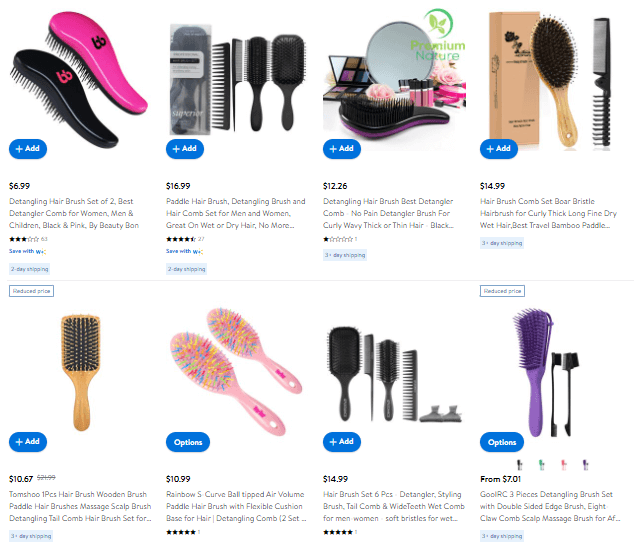 Last but not least, we have a solution to a problem for women with curly hair. Detangling curly hair is a significant pain point. Let's face it: women with curly hair have difficulty styling their hair daily. However, now you can sell hairbrush sets to help them manage their hair.
No more painful pulling and tugging with your fingers. Instead, the brushes leave your hair looking soft and shiny. This brush set is designed to make styling hair so much easier as it is designed to manage curly and wavy hair.
Furthermore, our suppliers have excellent reviews for this product, and it comes in all sorts of different variety packs. With so many good reviews and variety, it is one of the most trending dropshipping products to sell.
Avoid Copyrighted Dropshipping Products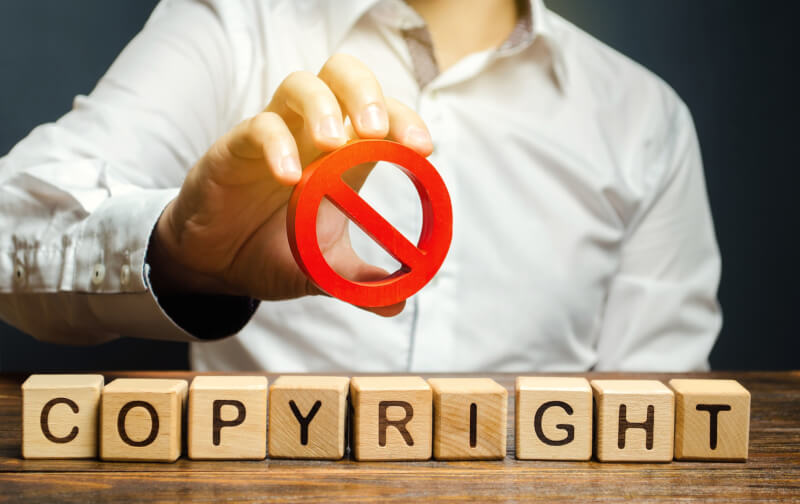 While the above list of products can increase sales, we shouldn't sell branded products that infringe copyrights and trademarks. That's because doing so can land us in legal trouble.
For this, the eBay VeRO guide allows us to find products protected by copyright and trademark laws. eBay's VeRO applies to major selling channels like Shopify, Facebook Marketplace, and eBay. So no matter what selling channel you're on, avoiding VeRO violations will keep your dropshipping business safe in the long run.
With the AutoDS VeRO detector, dropshippers like us are always protected. It is programmed to warn us whenever we try to import a VeRO product into our store. So you always have that extra layer of protection.
Automate Product Importing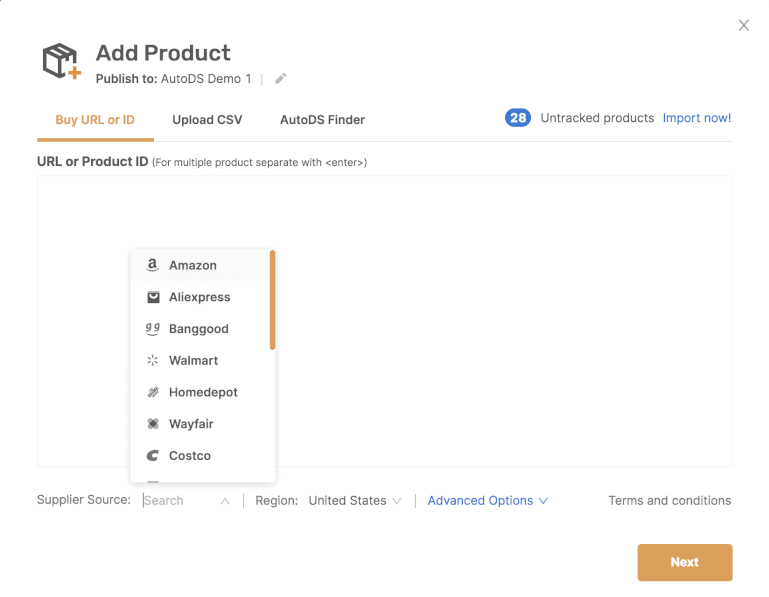 With the list of products to sell, the next step is to add them to our stores. Importing them one at a time becomes a time-consuming process since we are importing and adding multiple products.
That's where AutoDS' product importing feature comes into play. With this feature, we can replace tedious tasks with automation.
Here are three main product importing features of the AutoDS platform:
One-Click

Importer

Single (quick) Product Importer

Multiple Product Importer/Bulk Upload with a

CSV

file
Give our one-click product importing feature a try. This feature allows us to import any individual hot product with just one click. Moreover, with more than twenty-five supported suppliers, we can choose from millions of products.
To import a product into AutoDS, head over to the product page and click on 'Import to AutoDS' above the title. The button will be visible once you install the AutoDS dropshipping helper extension.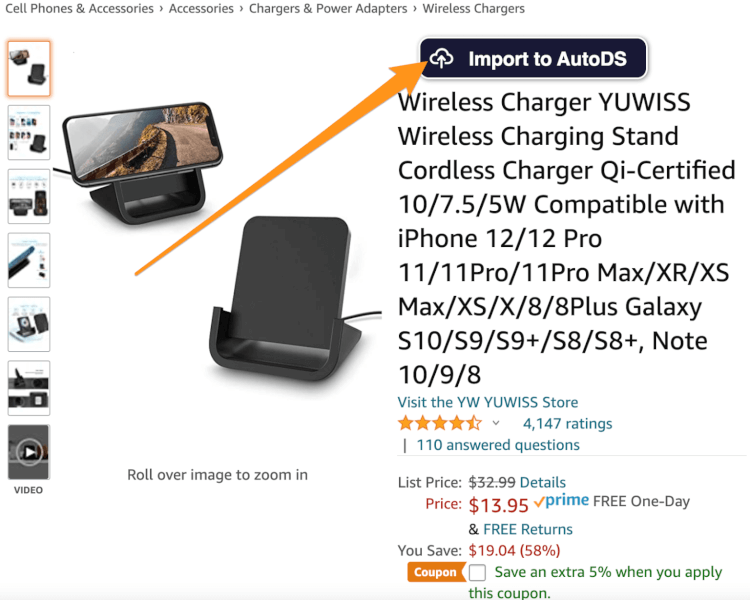 The one-click importing feature allows the AutoDS extension to gather all images, titles, product descriptions, and variants. Then, the extension uploads the product directly to the drafts page.
On the drafts page, we can edit the product's title, image, description, item specification, pricing, and more before uploading it to our store. 
The other two features are the Single/Multiple Product Importer and Bulk upload using a CSV file.
The Single Product Importer allows you to import one product to one store in a matter of seconds by simply adding the product URL or ID.
Additionally, you can use the multiple product importer by adding multiple URLs/Buy IDs, or by importing a CSV file that can hold hundreds or thousands of products inside. The AutoDS Helper can export that CSV file from our supplier's website.
Testing multiple products is crucial in finding winning products. The more products we test, the more chances we will find products or niches that are profitable for us. That's where bulk uploader helps us save time and effort in importing up to tens of thousands of products in a few clicks.
If you want to learn more about product importing, here is a step-by-step explanation of How To Import Products With The Single And Bulk Uploader.
Conclusion
And that's a wrap! We hope you found the list of top trending dropshipping products for February helpful and were able to find trending products to sell in your store. Don't forget that it's a trial and error method until we succeed.
With Valentine's Day just around the corner, make your customer fall in love with your store by adding the right products that they can also buy as gifts to their beloved. Nevertheless, if you still can't find what you're looking for, don't be discouraged! We will be releasing updated product lists every month to guide all our readers.
Finally, best of luck with your dropshipping endeavors, and remember to use what you learned here to fuel your product-finding desire even further! If you want to learn about additional product sources, recommendations, or strategies, then check out the following content: