After the successes from April's top products, we've now gathered a list of the most trending dropshipping products for May. Running an eCommerce business requires us to stay up to date with the latest trends in the market. Additionally, your store must have relevant offerings during special holidays, such as Mother's Day this May.
However, picking out the best products for our dropshipping stores can be tiresome because of the wide selection of items available. With that said, product research is an effective strategy to discover the current trends in the dropshipping scene.
That's why in this article, we'll reveal the ten most trending dropshipping products to sell in May 2022. With that list in hand, we'll have a clear path toward attracting more customers and increasing dropshipping sales.
Top 10 Dropshipping Products To Sell In May 2022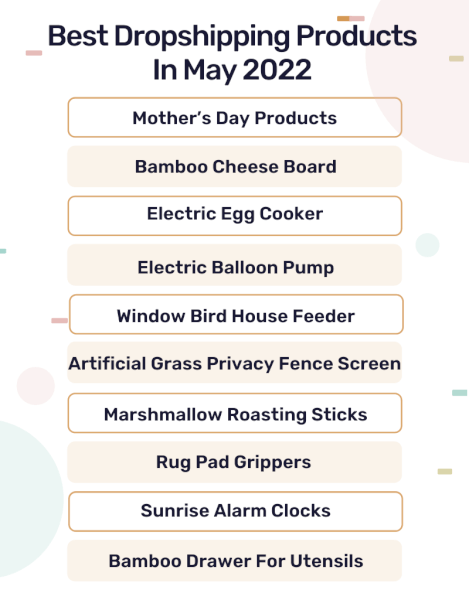 Before we uncover the top trending products to sell in May 2022, we must remember to list about 15 to 20 products for each category and avoid selling copyright-protected items. These dropshipping practices help our business maintain its legal standing. Additionally, selling multiple product ideas can increase our chances of higher sales conversions.
Now, here are the top ten trending products to dropship in May 2022:
Mother's Day Products

Preserved Flowers

Roses

Teddy Bears

Best Mom Mugs
Let's get the ball rolling, beginning with our first top-selling product idea.
1. Mother's Day Products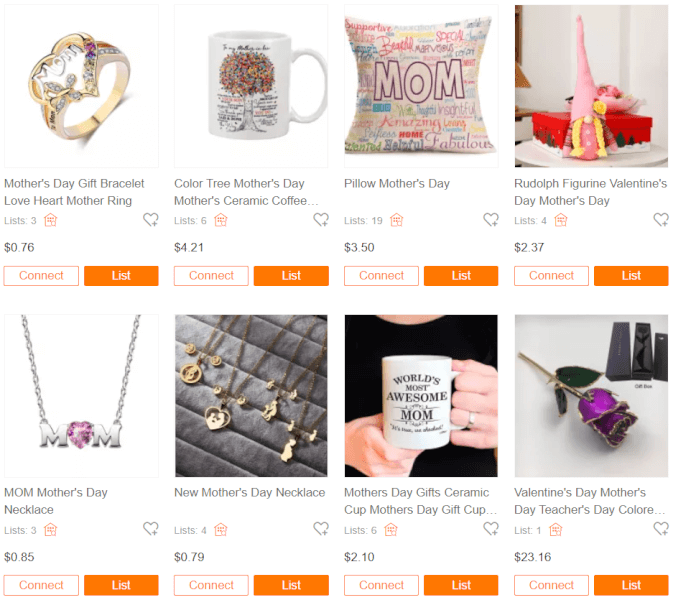 At the top of our trending dropshipping products list are Mother's Day must-haves. Mother's Day is an annual celebration that occurs every second Sunday of May to honor the efforts and sacrifices of mothers and mother figures worldwide. This year, it falls on the 8th of May, which gives us an early head start to dropship these products.
Among the vast selection of Mother's Day items, preserved flowers are a great product that we can offer. Moreover, we can stand out by adding special packages for these items, such as containers with LED lights for preserved flowers. Similarly, we can target more customers by providing bouquets of different colors, quantities, and sizes of roses.
However, not all mothers love flowers, so we need to remember to add different types of gift ideas. With this in mind, a teddy bear is another excellent Mother's Day product that customers love to buy as gifts. We can sell mini teddy bears and even gigantic ones in different colors. In addition, we can offer assortments of this cuddly gift idea that comes with ribbons, shirts, and other designs.
Lastly, we can never go wrong with selling 'Best Mom' themed mugs as they possess the unique combination of being both a practical and a sentimental gift for moms. When offering this item, we can consider customized options like mugs with photos or names. Also, remember to include clear, frosted, ceramic, and other material choices.
Beginner's Tip: Selling Mother's Day gift sets that include different products inside is a great idea, like a mug with a tiny teddy bear inside.
2. Bamboo Cheese Board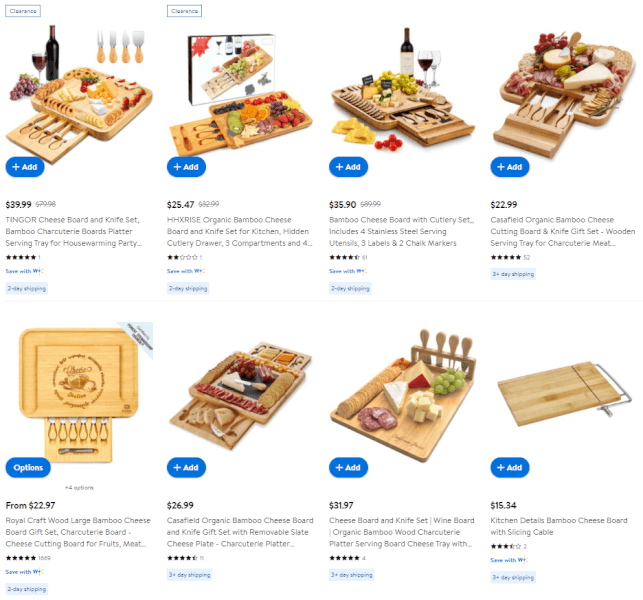 In the second spot for May's trending dropshipping products is a bamboo cheese board. The top-notch item is perfect for holding bite-sized cheese, meats, nuts, or fruits. Whether you have a passion for cheeseboards or not, this dropshipping product will be a hit with the right audience. Whether for a special occasion or a movie night, everyone can enjoy a bamboo cheese board.
This eco-friendly product is available in circular, square, rectangular, and custom-made shapes. Also, aside from the flat design, some bamboo cheese boards come with adjustable stands or cutlery drawers. So, offer all of these variations and more in your dropshipping store.
Additionally, bamboo cheese boards come in varying sizes and capacities. To accommodate the more selective crowd, we can offer antibacterial, scratch-resistant, and non-absorbent board types.
Beginner's Tip: Offer add-ons to the cheese board like cutting knives and service tools with matching bamboo handles.
3. Electric Egg Cooker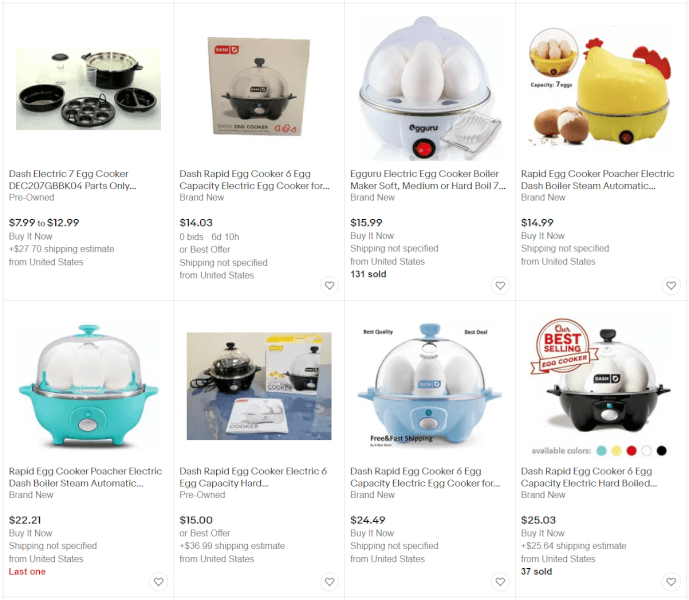 The electric egg cooker is our next best dropshipping product idea this May. An electric egg cooker works as a steamer, with a hot plate at its base that boils the water and creates the steam. It can quickly cook eggs to a consumer's liking without the hassle of boiling water separately.
Furthermore, we can offer choices that can hold and cook different quantities of eggs at once. Moreover, electric egg cookers come in glass, metal, plastic, and other materials that we can offer. Also, remember to provide easy to clean or dishwasher-safe egg cookers.
While some customers find this dropshipping product practical, it's important to show them the value behind the price. Therefore, we should include electric egg cookers with additional egg poaching and omelet-making features. Also, options with automatic timers, indicators, or alarms will be fabulous finds for buyers.
4. Electric Balloon Pump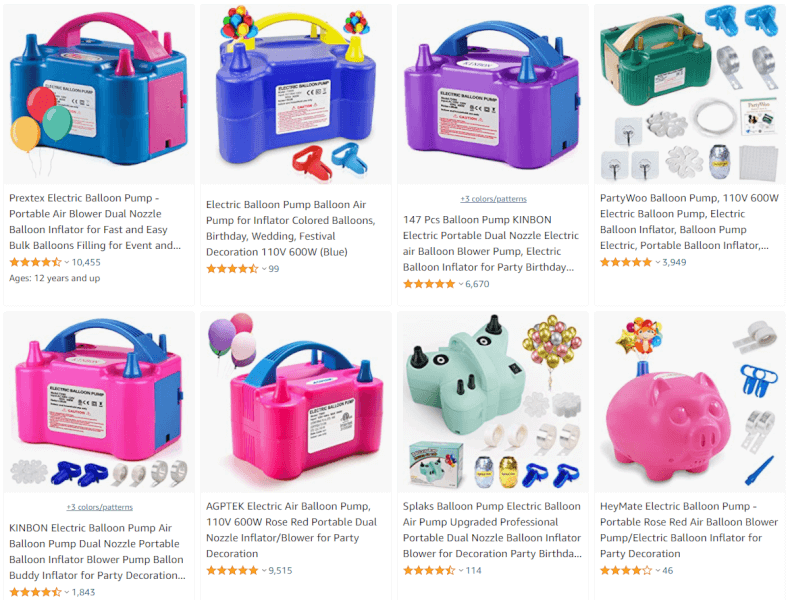 Our fourth top trending dropshipping product is the cost-effective and time-saving electric balloon pump. This superb product idea lets customers create their balloon masterpieces easily and quickly without going through manual inflation that leaves them breathless. Selling an electric balloon pump will surely attract homebodies, party planners, or DIY lovers to your eCommerce store.
When selling electric balloon pumps, we should consider adding portable and rechargeable battery-powered options. Conversely, for buyers who may want to opt for the conventional plugged-in ones, add choices that have long extension cords for convenience.
Moreover, these balloon pumps come in different styles, sizes, colors, and capacities that we should offer our customers. For maximum variety, we can also include pumps that inflate balloons using pedals or buttons.
Beginner's Tip: Sell electric balloon pumps with added features like replaceable nozzles and automatic twisters.
5. Window Bird House Feeder

Next, we have the window bird house feeder. The product allows bird lovers to attract and feed their feathered friends. These feeders come with suction cups that attach to windows, enabling a bird's close-up view.
Window bird house feeders are available in acrylic, wood, plastic, metal, and other materials. Also, these feeders come in varying sizes to cater to different species of birds.
In addition, we should consider adding durable and weatherproof feeders since they are exposed to the environment. We can also offer feeders in different styles, shapes, and colors. Lastly, adding food and water container variations will increase the perceived value, prompting higher sales.
6. Artificial Grass Privacy Fence Screen
Another worthwhile trending dropshipping product to consider selling this May is an artificial grass privacy fence screen. Customers can install these items indoors or outdoors to offer privacy and a decorative facade. Usually, customers purchase large quantities to cover vast areas, so selling this item can lead to high sales.
To address the diverse preferences of customers, we can add artificial grass privacy fence screens that vary in size and color. We can offer UV-resistant, nonflammable, and weatherproof options for added protection.
Furthermore, these fence screens are made of different textures and materials, so we should add several options to our stores. Remember that customers also consider installation methods when buying this product, so make sure to offer easy installation options. As customer satisfaction is essential for our dropshipping business, the more product features we offer, the higher our customer loyalty will be. Therefore, this will result in long-term sales and success.
7. Marshmallow Roasting Sticks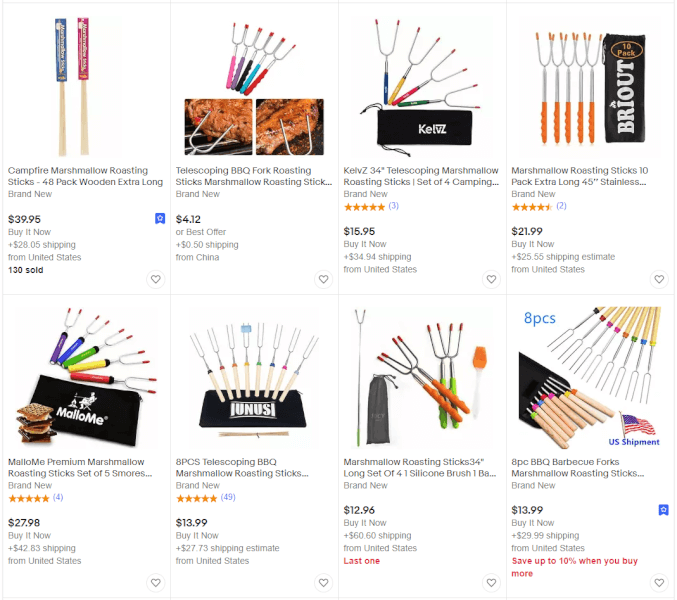 Marshmallow roasting sticks are a must when doing outdoor adventures like camping since it's a no-frill roasting solution for camping treats anywhere and anytime. Thus, marshmallow roasting sticks have high market demand, especially in the warmer months. So let's get ahead of our competition this summer and take advantage of dropshipping this product!
We can dropship marshmallow roasting sticks made of durable steel or disposable bamboo. These sticks usually vary from 10 inches to about 45 inches in length, so make sure to add several choices. Also, we can offer rotating or retractable options for our customers.
To add flavor to customers' campfire experience, we can offer marshmallow roasting sticks in brilliant colors. Finally, we must ensure that we sell food-grade marshmallow roasting sticks to our buyers to ensure their safety from harmful chemicals.
Beginner's Tip: You can sell multiple marshmallow roasting sticks in packs since customers will likely buy more than one piece.
8. Rug Pad Grippers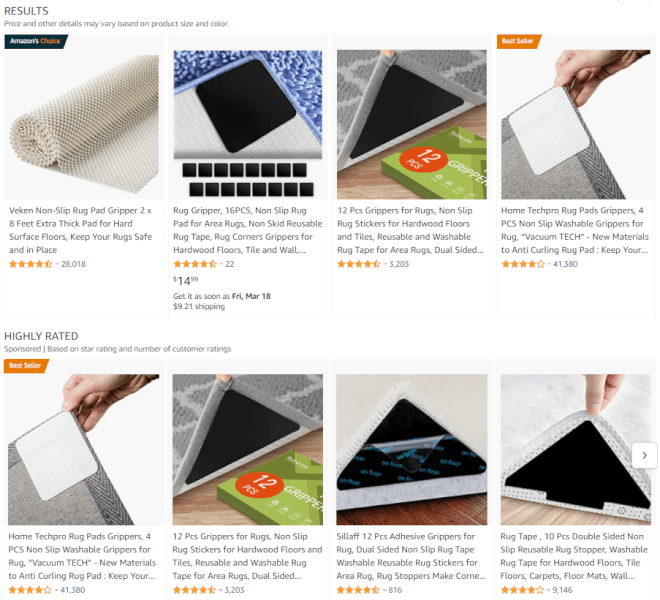 Next up, we have rug pad grippers. This in-demand product protects floors and prolongs the use of rugs. Additionally, rug pad grippers prevent slippages from moving rugs, so we can market these for their excellent safety feature!
Therefore, we can start adding rug pad grippers that come in varieties of sizes and thicknesses that can be cut easily according to the customers' preferences. Also, we can add a selection of colors, styles, and designs that would complement buyers' rugs or floorings.
Furthermore, we can sell rug pads made of felt, rubber, foam, PVC, latex, or a combination of several materials. Some rug pads have noteworthy features like added cushioning, waterproofing, or soundproofing, so ensure to include them to maximize your profit potential.
Beginner's Tip: Add a selection of rug pad grippers suitable for concrete, tiled, wood, and other flooring materials.
9. Sunrise Alarm Clocks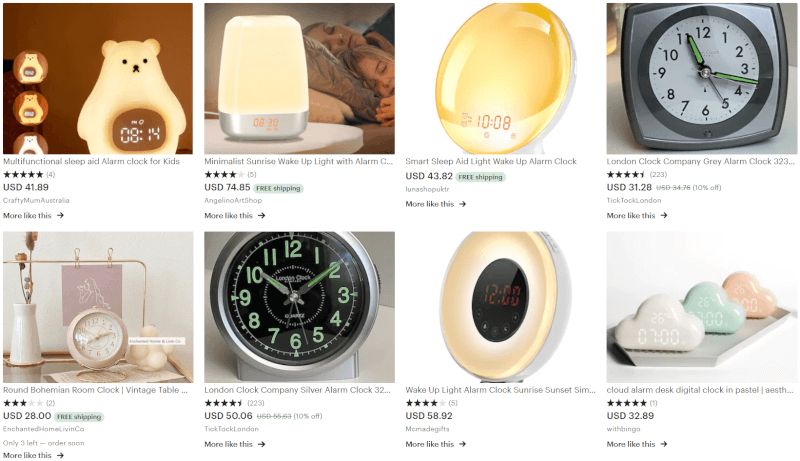 Let's start our days on the right side of the bed with sunrise alarm clocks. These alarm clocks are all the hype lately, and for a good reason. Not only can we customize the sound waking us up, but we can wake up to a beautiful sunrise and fall asleep to a beach-like sunset. Who wouldn't want that?
When dropshipping this product, we have to include ergonomic sizes and styles that will fit varying bedside tables or room designs. Also, light simulations of sunrise alarm clocks are available in red-tinted, natural, and sunset options. Meaning our customers can personalize the product to fit their needs.
We can further customize the sunrise alarm clocks with adjustable light brightness and soothing sounds. Thus, we need to communicate this with our audience when selling the product to ensure they see the value in the item.
Beginner's Tip: This dropshipping product has electricity-powered, battery-operated, and rechargeable variations that we can add.
10. Bamboo Drawer For Utensils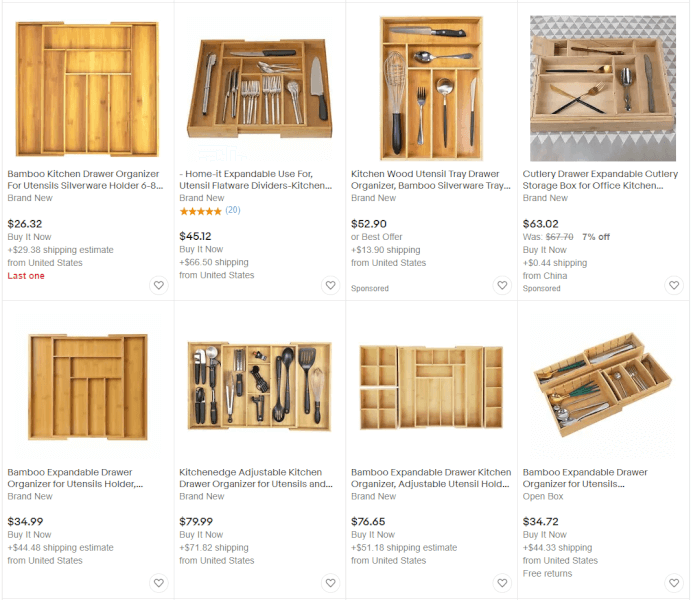 To end off our list of the best dropshipping products for May is a bamboo drawer for utensils. This top-selling product idea is a clean and aesthetic way of organizing utensils. Since utensil drawers are kitchen must-haves, they can increase sales for your dropshipping store.
Bamboo drawers for utensils come in numerous compartments and sizes, so add several options to accommodate various utensils. Some variations of this dropshipping product that we can sell have removable or adjustable compartments. So no matter the kitchen, everyone can benefit from this great product!
In addition, these drawers are available in many shapes and styles that will complement different countertops or kitchen drawers. Of course, we have to consider dishwasher safe, waterproof, and heat resistant bamboo drawers too. These added functionalities ensure safety and sanitation when customers use these products.
Beginner's Tip: You can increase profits by cross-selling the bamboo drawer with complimentary cutlery sets.
Import Products Quickly & Save Time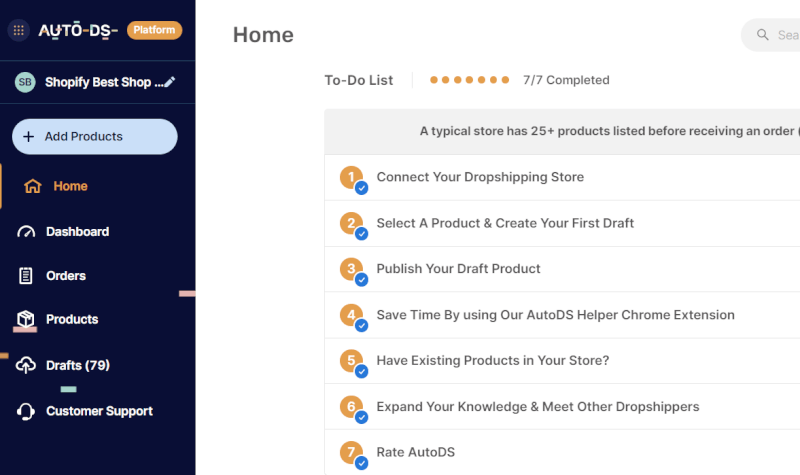 Great, we're almost ready to start selling trending products for this May! The next step is to list the products to our selling channel, which means we need to import the items from our supplier. There are two ways of importing products: manually and automatically.
For manual importing, we have to copy all the product details from the supplier websites and add them to our selling channels. This method requires a lot of time and effort.
On the other hand, we can use automation tools to import our dropshipping products quickly. Doing so saves us loads of time that we can instead dedicate to marketing and customer service. In addition, these dropshipping tools help carry out the importing process on our behalf.
With that said, there are various dropshipping tools to help automate our importing process. Amongst the top automation software, we have the AutoDS importer tool. The AutoDS importer provides us with multiple automated methods of importing our dropshipping products:
One-click Importer

Single Product Importer

Multiple Product Importer

Bulk CSV (for hundreds or even thousands of products at once) 
To demonstrate, let's import multiple items by adding the products' URLs/IDs with the AutoDS multiple product importer.
Import Multiple Products Using URLs/IDs
The multiple product importer allows you to list several dropshipping items by adding the products' URLs/IDS. With this tool, we can quickly import lots of products at once to avoid the tedious back and forth of the manual import process.
Now, let's go over the steps in importing multiple product URLs/IDs:
Step 1:

Search for products to import on the supplier's website

Step 2:

Copy the URLs/IDs of the products

Step 3:

Open 'Multiple Products/Stores' 

Step 4:

Paste the URLs/IDs in the dialog box

Step 5:

Optimize your products

Step 6:

Import to your selling platform
First, find the products you want to import from your supplier's website and copy the item's URL/ID from its product page. You can copy several product URLs/IDs that you want to import to your online store.
Then, go to the AutoDS platform and click 'Add Products.' Choose 'Multiple Products/Stores' from the list, and a dialog box will appear. Ensure that you're in the 'URL's or ID's' section of the dialog box.
Next, paste all product URLs/IDs you copied in step #2 on the space provided. After doing so, click 'Add as Draft.' At this point, your products will be available in the 'Drafts' section of the AutoDS page.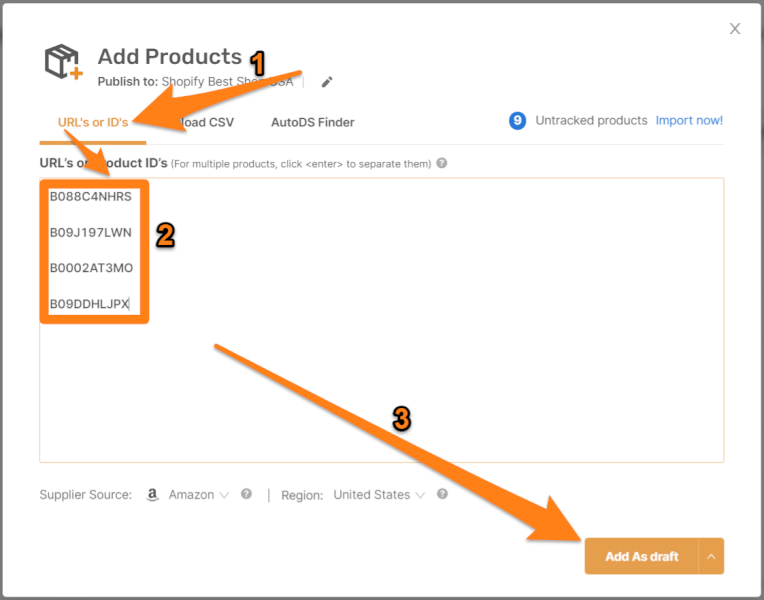 The next step is to optimize your products by setting the title, description, tags, and other relevant information. Optimization allows us to present our products professionally. Besides that, it helps improve our SEO (search engine optimization), bringing more organic traffic to our website.
After the optimization process, you can select the products you want to list and click 'Import All.' Then, a dialog box will appear asking for your confirmation.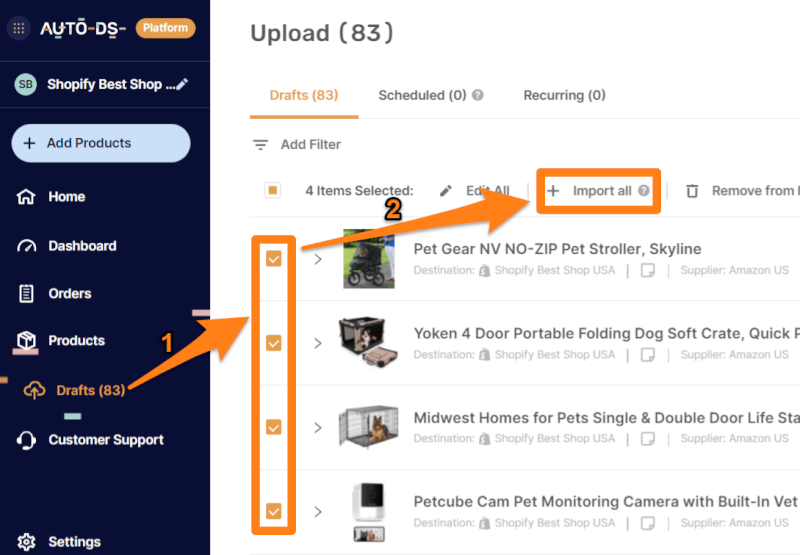 Now, your items move from 'Drafts' to the 'Products' section of the platform. Finally, your products are now live in your selling channel, and customers can start purchasing them.
Conclusion
Hooray! We now have the best products to dropship in May 2022. Let's begin listing these top product ideas to our dropshipping stores, and start gaining remarkable profits.
Don't forget to monitor your dropshipping products' sales performances and continuously promote your best sellers to scale your online store. Remember, the more trending products you have, the greater your chances of success.
To wrap up, you can expand your product listings by discovering more trending product ideas to sell in 2022 with these helpful articles: