Looking for some November dropshipping products? Look no further. Whether you're new to dropshipping or you're an experienced dropshipper, you most likely know how time-consuming it can be to find proven best-selling products to sell in your dropshipping store.
With an overwhelming amount of products online, it may become difficult and even frustrating when searching for new products to dropship.
That is exactly why we put this article together for you. To give you a head start, we rounded up over ten best-selling products to sell in your dropshipping store in November 2021.
Here we share products from multiple niches and include evergreen products, currently trending products, as well as Thanksgiving dropshipping products. Keep reading to find out what are the best November dropshipping products to sell in your dropshipping store. 
Top 10 Trending Products To Dropship In November 2021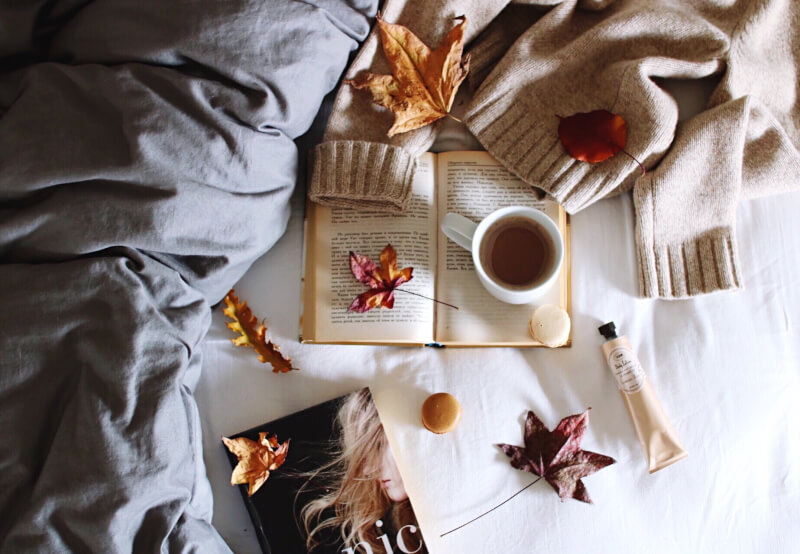 As mentioned, within our November dropshipping products list for 2021, we have a wide variety of products. When choosing products for your store this month, keep in mind the four big components:
Thanksgiving

products – since Thanksgiving is November 25th (part of Q4)

Autumn/Winter

products 

Evergreen

products that sell all year

Current

trendy

products
By selling multiple products from all four categories, you will ensure your store has more sales and the most profitable November yet.
So, what are the hottest products to sell in November 2021? Let's get into it. 
Thanksgiving Products
Accessories for iPhone 13
DIY Craft Kits & Accessories
Snow Globes Making Kit
Acrylic Paint Pens
Hair Drying Hair Brush
Clothes Steamer
Water Filter
Waterproof Mattress Protector
Standing Desk Converter
Pot Rack Organizers
Outdoor Curtains
1. Thanksgiving Products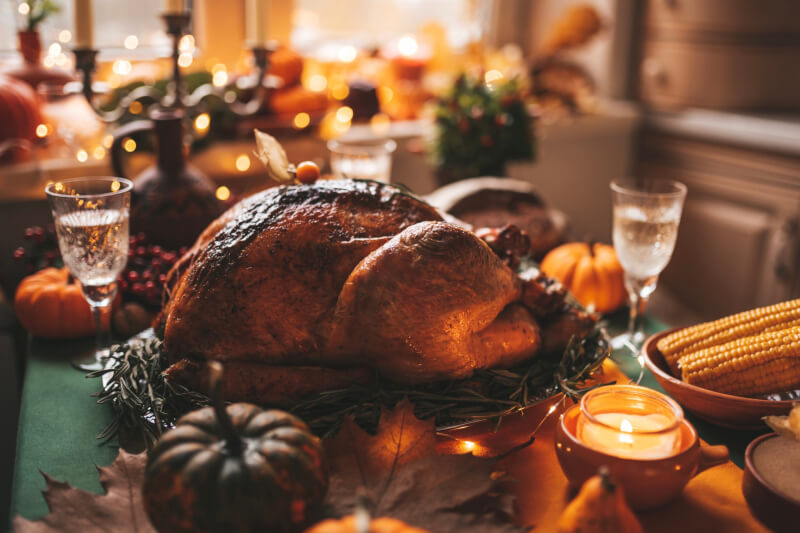 As part of Q4 every year, Thanksgiving rolls around to finish off the month of November. Thanksgiving originated as a harvest festival, and the centerpiece of Thanksgiving celebrations remains the Thanksgiving dinner.
Additionally, to go along with the festivities, anything turkey or autumn-themed counts into the Thanksgiving theme. There are countless products to dropship for Thanksgiving, and to save you time, we have listed below four best-sellers for 2021.
Pillow Covers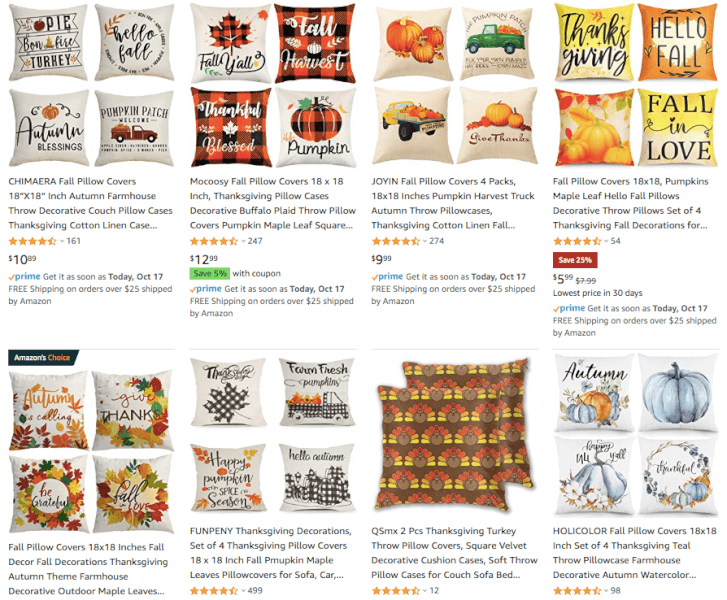 First up from within the four hot Thanksgiving dropshipping products, we have Thanksgiving-themed pillowcases. These are simple yet cute and perfect for decorating the house to bring in some holiday joy.
There are tons of pillowcase designs, plus they come in various sizes. Additionally, the price range is quite vast. Stand out this Thanksgiving and attract more buyers by adding a nice variety of decorative pillowcases to your dropshipping store. 
Table Runners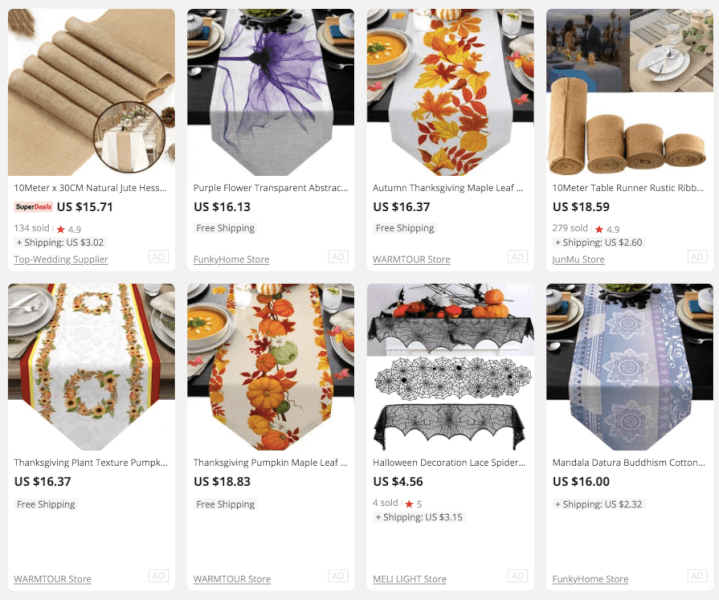 Second on our list for Thanksgiving are table runners. Specially designed Thanksgiving table runners are a lovely addition to any Thanksgiving feast.
Covering the table while adding some color and flare, this has been a Thanksgiving favorite for years. Use multiple suppliers to get a more extensive selection of variations of this product and rake in more sales.
Yard Stakes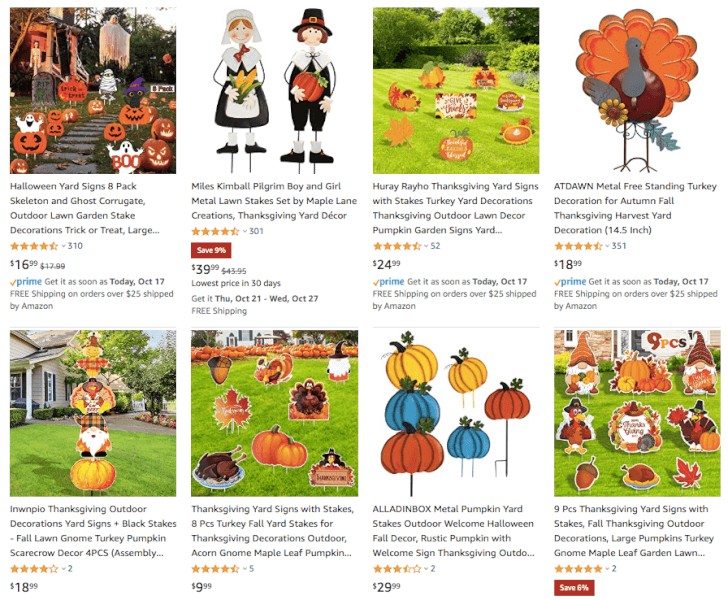 Third up we have yard stakes. These fun outdoor decorations have become a popular choice in the last few years and are here to stay.
They are a fabulous addition to any yard, backyard, flowerpots, front porches, entryways, and much more. Since there are so many to choose from, buyers often buy multiple designs.
Same as with previous products, add variations to offer multiple choices to your buyers. 
Inflatable Turkeys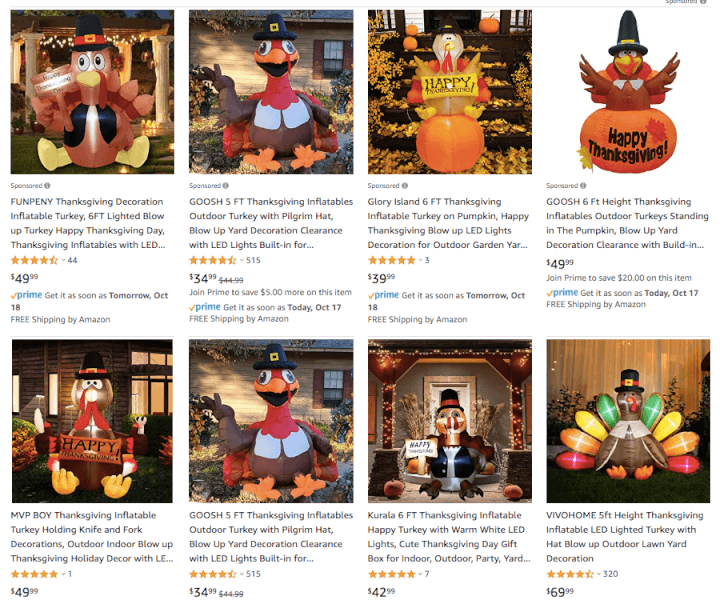 For our last Thanksgiving dropshipping product, we have another high-demand decoration. Inflatables are great for any occasion and especially holiday celebrations.
They have become trendy, and therefore, inflatables of all kinds exist. For Thanksgiving, turkey inflatables have become increasingly popular.
There is an excellent price range to play, so add variations at all price points and increase your potential profit margin.
2. Accessories For the iPhone 13 / 13 Pro / 13 Pro Max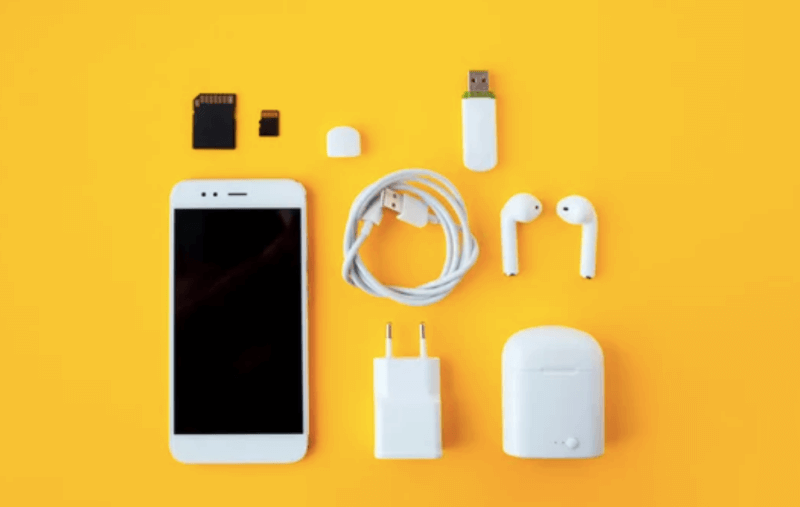 Moving on to our next hot dropshipping product category for November, we have an insanely popular niche, phone accessories.
With 80% of the world's population owning a phone, it shouldn't come as a surprise that phone accessories are a hot category. With over 15 billion phones currently in use worldwide, it is safe to say it'll be hard to run out of products and buyers.
With that said, don't let the big numbers overwhelm you, though. It is straightforward to narrow down your search. Since more than 1 billion consumers are currently using iPhones, we went ahead and searched for the two top-selling iPhone accessories for November 2021.
Furthermore, to focus our search further, we chose products for Apple's newest iPhone model series. Apple recently released their iPhone 13 series, and with iPhone 13 sales comes a wave of iPhone 13 accessory sales.
Jump on the trend while it's hot to make the most of these products, but feel free to leave them in your store. After the first big wave, the new iPhones will keep selling and so will their accessories.
iPhone 13 / 13 Pro / 13 Pro Max Protective Cases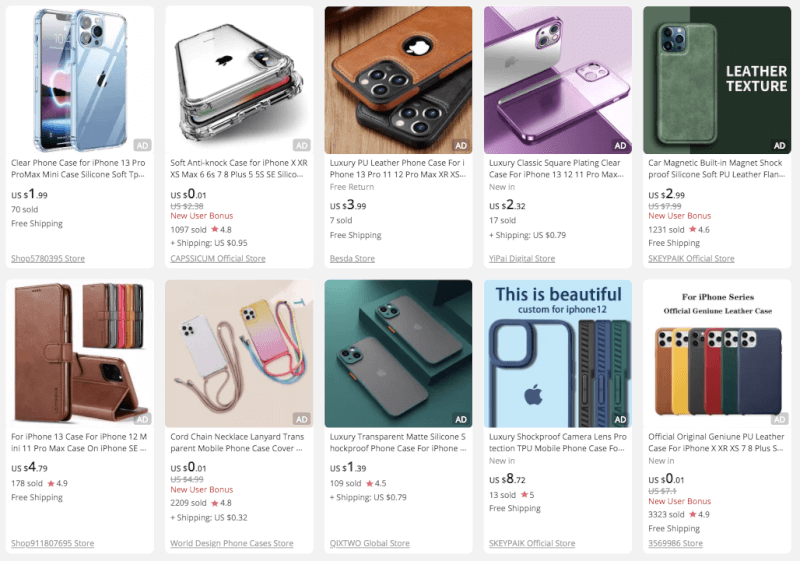 As our first best-selling item from the iPhone accessories category, we have iPhone 13 protective phone cases. This is by far the most purchased phone accessory for any phone type, and iPhones are no exception.
Originally designed to protect our phones from scratches and breaks, protective cases are a must-have. Besides being practical and keeping our phones safe, phone cases have evolved into a sort of decoration for phones as well.
Additionally, there are millions of iPhone cases to choose from. When importing cases to your store, keep in mind the different:
Case materials

Colors

Designs

Styles
Furthermore, now that many see cases as fashion statements, consumers often buy multiple cases and alternate between them. And besides different design variations, it is crucial to include all iPhone 13 models for truly significant sales and profits. 
Lastly, using multiple suppliers will help you diversify and stand out against competitors. If you're an AutoDS member, take advantage of our Advanced Product Lister and create variation product listings using as many supported suppliers as you like.
iPhone Screen Protectors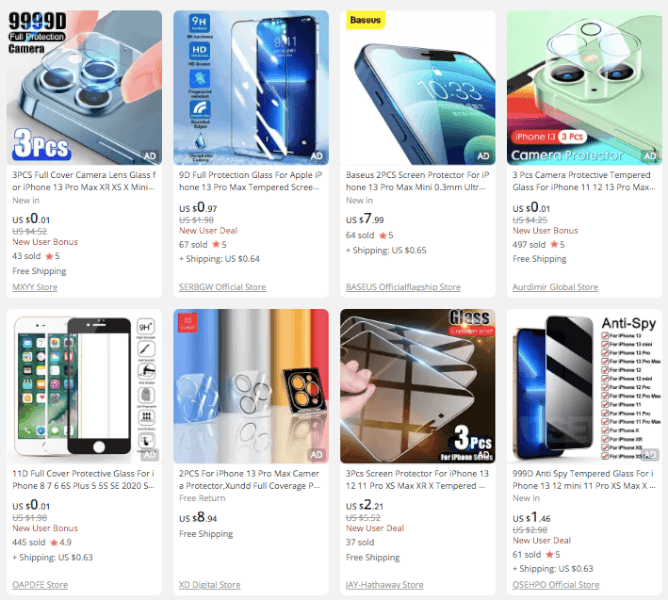 The second best-selling iPhone 13 accessory is another protective product. To go along with protective cases, we have screen protectors. Although phone cases, for the most part, do a decent job of protecting our phones, they aren't always enough.
This is where screen protectors come in and act as an additional layer of protection for the more extreme cases. Additionally, it is unfortunately common for screens to get scratches even from just sitting in a bag or our pocket, so a phone case will more often than not still leave your phone screen vulnerable.  
Moreover, there are many types of screen protectors at various price points. When adding iPhone screen protectors to your dropshipping store, pay close attention to material type and thickness.
The five main types of screen protectors are as follows:
Tempered Glass Screen Protector

PET Plastic Screen Protector

TPU Plastic Screen Protector

Privacy Screen Protector

Anti-Glare Screen Protector
Lastly, besides the classic transparent screen protectors, you can find mirrored screen protectors, tinted screen protectors, privacy screen protectors, and more. Add a few of each type to give your buyers a nice variety.
3. DIY Craft Kits & Craft Accessories
The following two November best-sellers we found for you are from the very fun and trendy DIY crafts niche. This, too, is a vast product category, and it has a lot to offer. From complete craft kits, tools, and accessories, there is something for everyone.
When browsing products from within this niche, you can narrow down your search by choosing general categories such as clothing, jewelry, toys, and many more. Additionally, there are craft kits for all ages.
Add variations from each subcategory and be sure to be age-inclusive to supply fun for all age groups.
Furthermore, the two products we have for you for November are perfect for keeping in your store throughout December too. Christmas is around the corner, and these will make for perfect Christmas presents. 
DIY Snow Globe Making Kit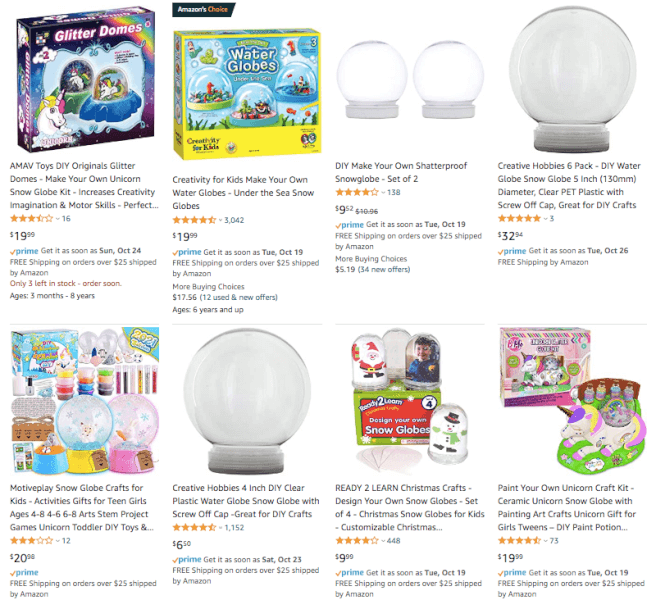 First up from within the crafts niche, we have a cute and very "on-theme" product. Perfect for the winter holiday season, snow globe-making kits are a fun way to keep busy on a cold winter's day.
Additionally, besides being an amusement, it can easily double as a home decoration throughout the holidays. 
Acrylic Paint Pen Kits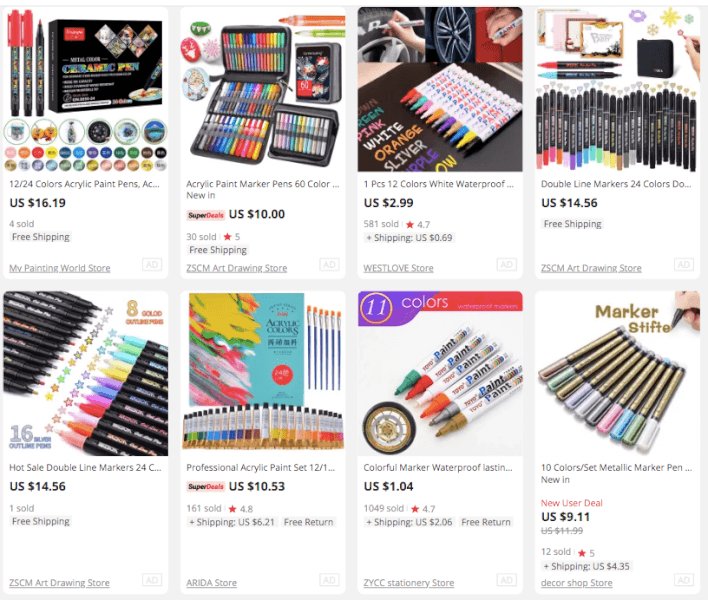 The second crafts product to sell in your store in November is acrylic paint pen kits. Acrylic paint pens work perfectly on plastic surfaces and light-colored surfaces.
They are also ideal for stone, wood paintings, ceramic, glass, and t-shirt painting. Due to their diversity, they indeed are significant for numerous types of DIY projects. Additionally, they are safe for kids to use, which makes them even more attractive.
This has proven to be an evergreen product and is currently selling very well, plus it would make for a great stocking stuffer for Christmas! Add various sizes packs with different color combinations to appeal to a broader audience. 
More Best Sellers to Dropship in November
For the last section in our November trending products article, we wanted to finish strong with a handful of currently hot and trendy products.
Additionally, we made sure to give you a nice mix of products, so whether you manage a general store or niche store, there are products here for your dropshipping business. 
4. Hair Drying Hair Brush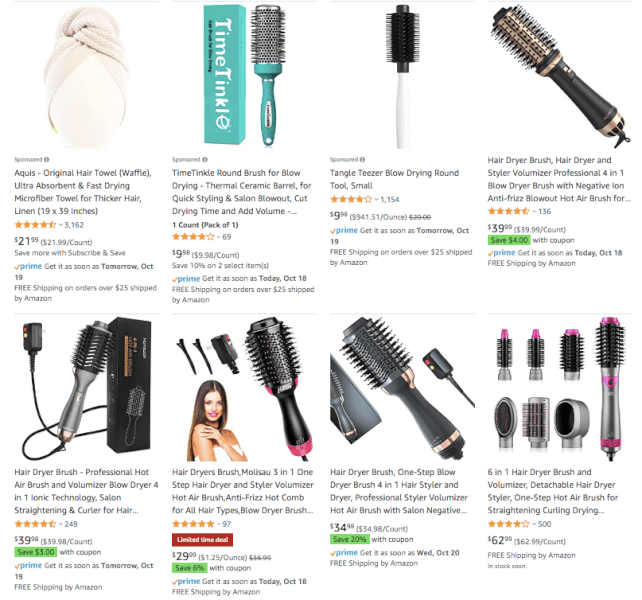 Our next hot November dropshipping product is from the beauty niche and has taken the world by storm. The hairdryer brush is a corded round brush that blows heat from the inside out to dry your hair as you brush, twirl, and style it.
It combines your blow dryer and your round brush, so you only need one tool to blow out your hair. This 2-in-1 has become a new favorite as it saves time and makes for lighter traveling too.
Additionally, due to its popularity, many companies are manufacturing the hairdryer brush. This results in quite the price range, which allows for higher profit margins for us dropshippers.
Sell hairdryer brushes of all price points and in different colors to attract more customers. 
5. Clothes Steamer
Moving on to our following product, we have the clothes steamer. A clothes steamer, aka a garment steamer, is a device used for quickly removing wrinkles from garments and fabrics using high-temperature steam.
The clothes steamer is a light and convenient device, with its most prominent benefit being, it doesn't require an ironing board.
Steamers can be used on most fabrics but are especially recommended for delicate garments as they reduce the risk of scorching.
Additionally, similar to some of the previous products mentioned, this product has a vast price range. There are various types of garment steamers, with prices starting around $15-$20 and going up to even a few hundred dollars.
6. Water Filters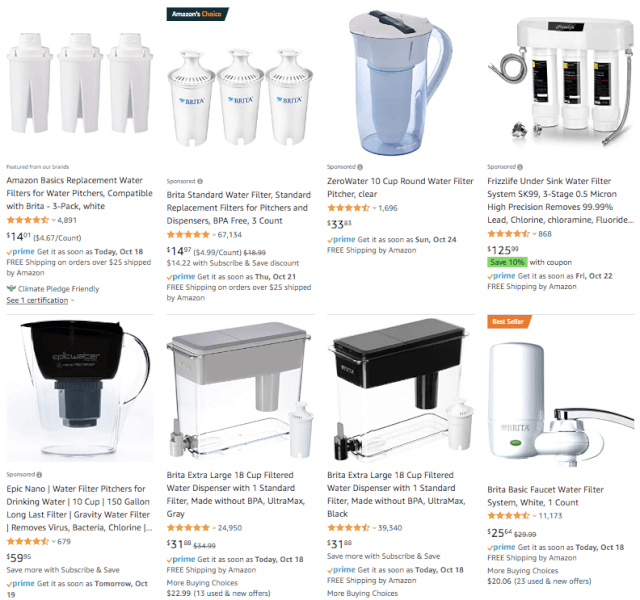 Next, we have water filters. Although most developed countries have drinkable tap water, water filtration provides better tasting and better smelling drinking water.
This happens by the filter removing chlorine, chemicals, pesticides, heavy metals, and bacterial contaminants. The most common water filters are used immediately before consumption, therefore preventing all sorts of potentially harmful substances from entering our bodies.
Additionally, although water filters are pretty long-lasting, they do need minimal maintenance now and then.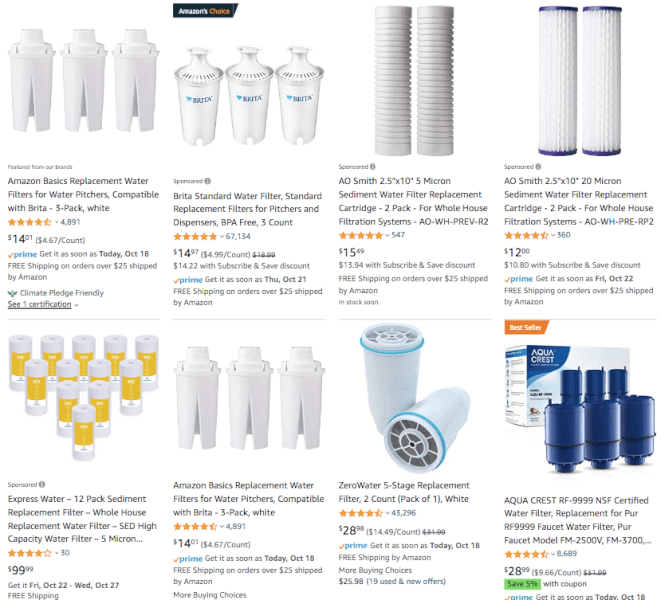 The filter itself needs replacing; therefore, selling water filter replacement parts is a great choice too. They make for a great upsell product but can just as easily be purchased separately.
7. Waterproof Mattress Protector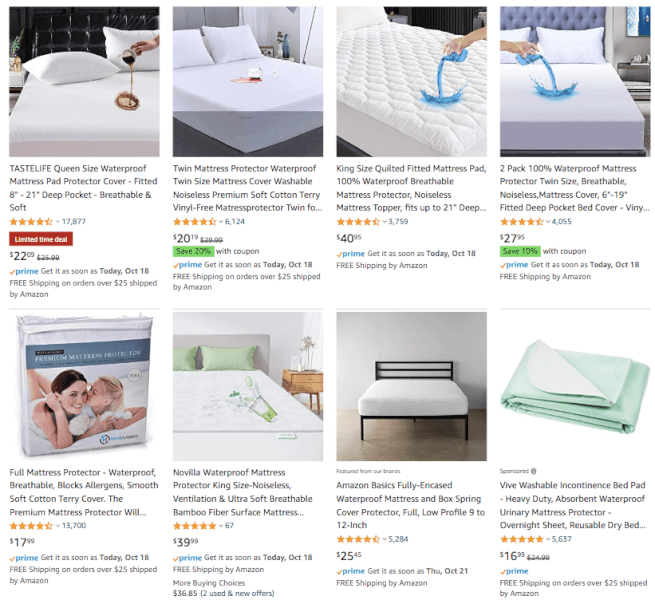 Continuing, up next are waterproof mattress protectors. Mattress protectors are essential for two primary reasons: keeping your mattress free of stains and preventing exposure to dust mites, dead skin cells, microbes, and other potential allergens.
While mattress protectors are beneficial in other areas, these are the two most important. Additional uses include preventing any unwanted mess caused by children or pets or simply for hygiene purposes.
Same as with many previous items, these come in a wide price range and offer a high potential profit margin. As for variations, there are not so many style options available for the waterproof mattress protectors, but keep in mind the different bed sizes. 
8. Standing Desk Converter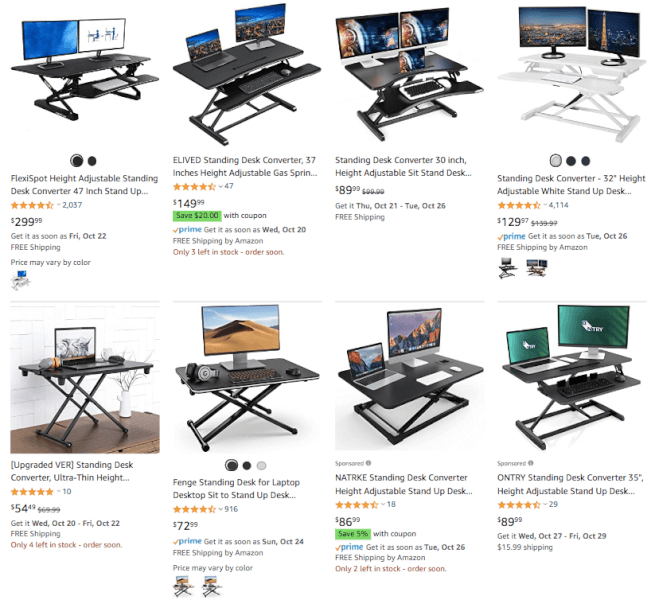 For our next item, we have standing desk converters. Also known as desktop toppers, standing desk converters are adjustable units you place on top of your existing desk. Their design gives you the option of a standing desk without the need for a completely new desk.
Additionally, consumers are becoming big fans of standing desk converters because they are usually the least expensive and easier option to get a standing desk.
When adding them to your dropshipping store, keep in mind that standing desk converters come in various sizes, designs, and budgets.
9. Pot Rack Organizers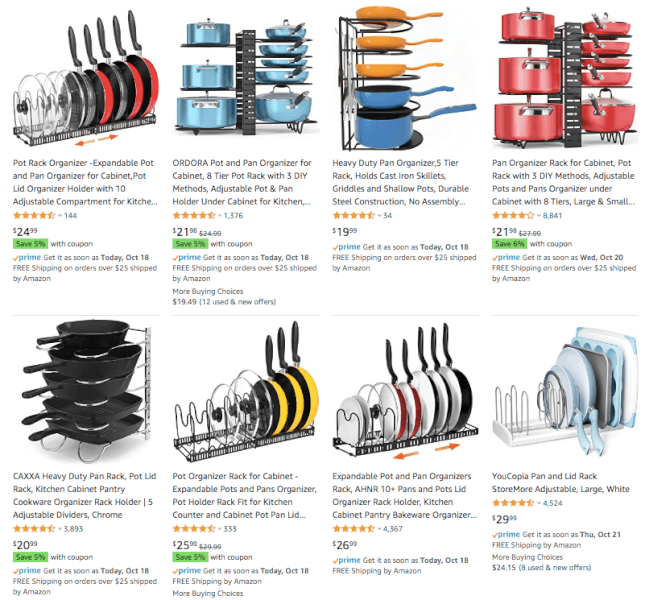 Now for another kitchen product, we have pot racks. A pot rack is a functional piece of kitchen furniture used to hang or store cooking pots and pans.
Pot racks provide convenience. They save storage and cupboard space while even adding decorative value. Additionally, the most common pot racks come in steel, wood, wrought iron, and a few other metals.
When searching for pot racks to sell, look for different types, sizes, and colors.
10. Outdoor Curtains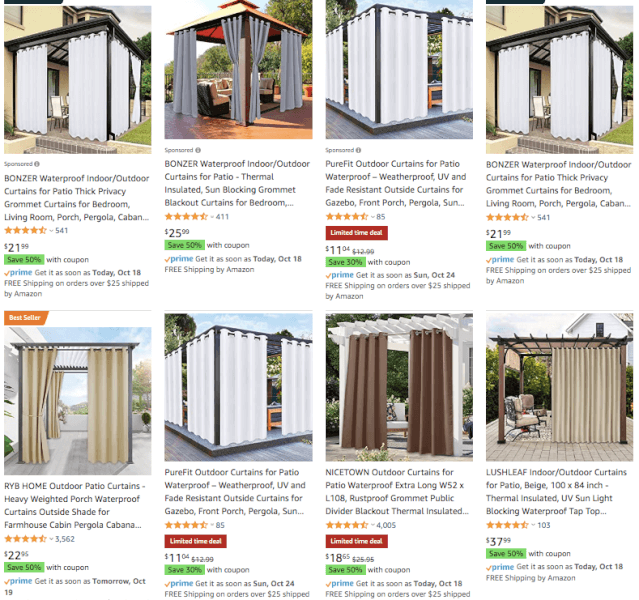 Last but not least, we finish off with a fabulous solution for outdoor privacy and protection. Outdoor curtains are truly evergreen since their year-round use. ​​These sun-blocking curtains can block out sunlight and help protect from some UV rays.
Additionally, while being perfect for summer, outdoor curtains come in waterproof fabrics and can keep out the rain and snow.
Moreover, this balanced multi-use product comes in various sizes, colors, and designs. To boost your sales, offer variations and pay attention to the different price points too.
Save Time Importing Products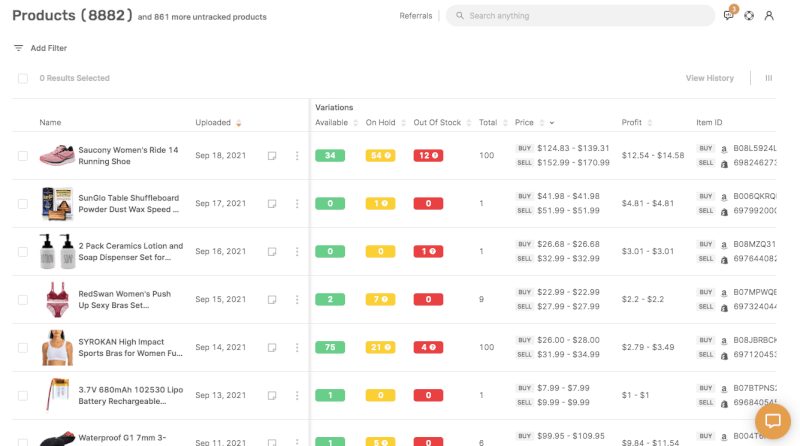 Now that have you have new items for your dropshipping store it's time to start importing. With AutoDS, you can automate your product importing process to save hours on manual work.
Using the AutoDS Products Lister, there are three quick and easy importing options to use. Let's start with the fastest solution for bulk imports.
For this, you will need our AutoDS Helper Chrome extension. From here, all you need to do is:
Install and add the Helper extension to your browser: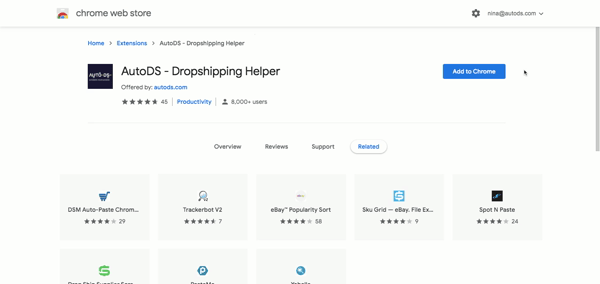 Head over to your favorite supplier. Then search for your desired item.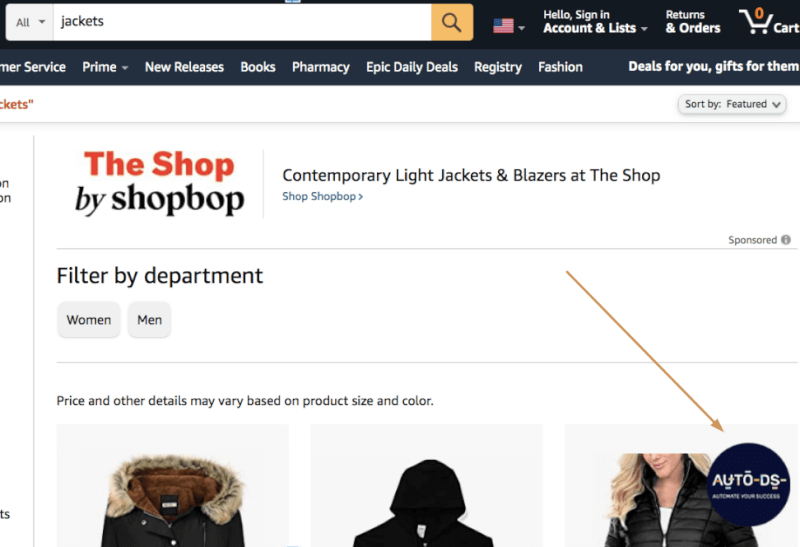 Once you get to an item search page you like, activate the extension by clicking on the logo in the bottom right corner.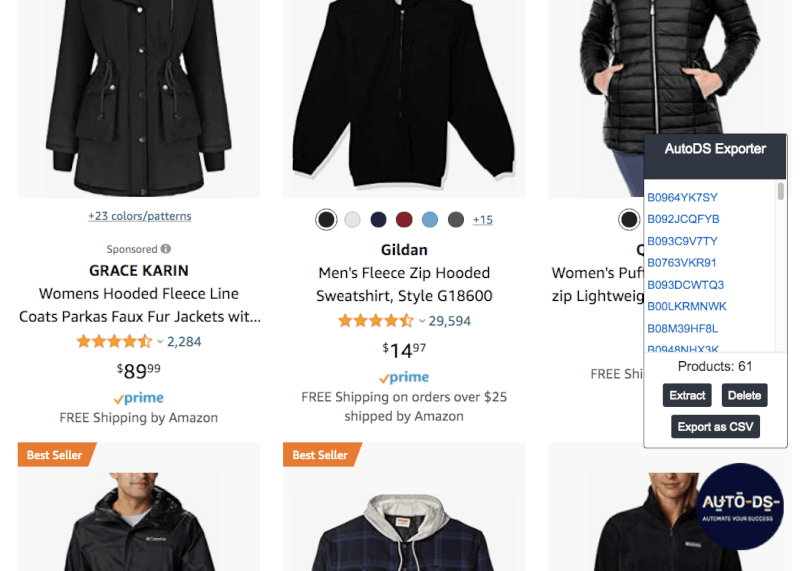 As soon as the Helper extension is activated, click 'Extract' followed by 'Export as CSV'. This will trigger the extension to create and download a CSV file, including all the items on your search page.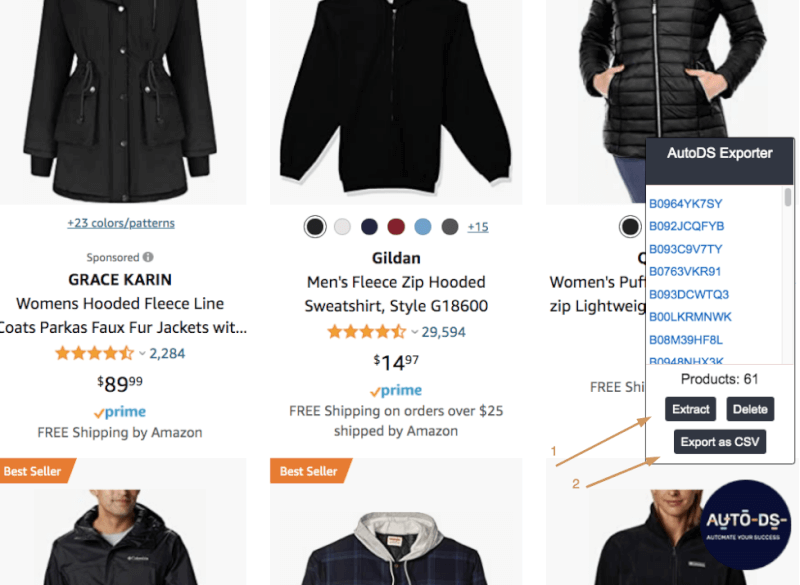 Once the CSV file is ready, go to your AutoDS account and click 'Add Products.' After clicking on "Add Products," our product lister will pop up.
Click on the second tab, "Upload CSV."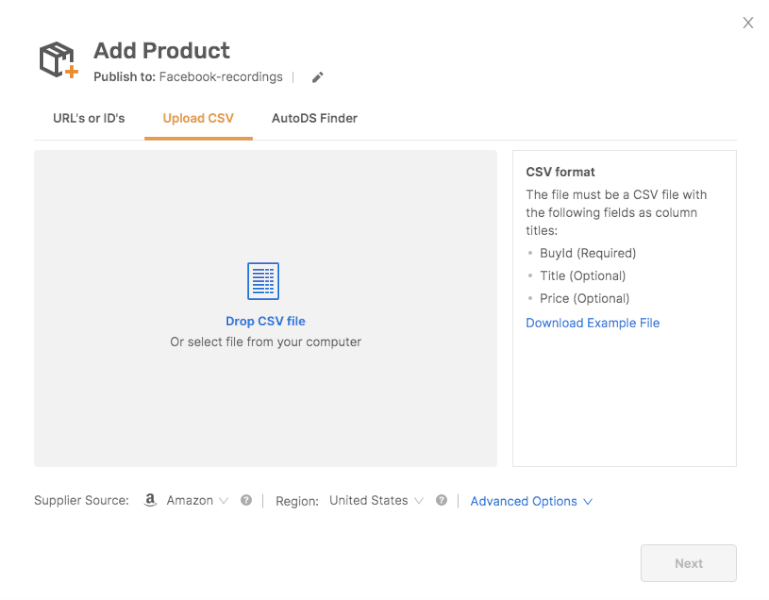 Drag and drop the CSV file the Helper has created, and it will start to import all your new products to your AutoDS account.
Within minutes, your import will be complete. While in progress, you can check the status of the import on the top of the page.
Additionally, our Helper extension provides another solution for importing single products using our One-Click Importer feature.
Lastly, the third importing method available is for both single and bulk imports. Using our product lister, you can import products using your supplier's product URL or product ID. 
Conclusion
If you've made it until here, congrats! You now have 16 new dropshipping product ideas for November 2021.
Continue enriching your product research knowledge with these related articles: